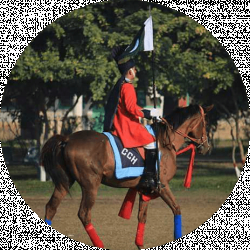 Latest posts by Boo Ali Khan
(see all)
Are you an equestrian who frequently needs to transport their horses for various equestrian events? If yes, I highly recommend you consider investing in a horse trailer, as they make transporting your precious horses extraordinarily convenient and safe.
But that's not all you need to know about these trailers. They also come in many styles, depending on your use. Each trailer design includes its own unique set of features and amenities. Furthermore, they are fully customizable and can be stocked with additional elements.
And amongst such types, one of the most popular is the Gooseneck trailers. Not only are they perfect for long-distance hauling, but they are also capable of carrying a heavy load capacity. But before you buy them, there are still some things you have to consider, including if they are the right type for you.
So in this Gooseneck trailer guide, I will outline what makes this trailer type unique from others in the same category. I will also share some tips and recommendations that will save you a lot of trouble buying your own Gooseneck horse trailer.
Furthermore, I will try to give a complete overview of the Gooseneck trailers that have made it to my top picks, and also answer some of the frequently asked questions that the readers might have about them.
Bottom Line Up Front
Although I have recommended a number of Gooseneck horse trailers in this guide, the trailer that inspired me the most is the Model 8413 Stock Combo Gooseneck Horse Trailer. Due to its spaciousness, it is hugely inviting, even to nervous horses.
There are plenty of windows and doors available with lockable sliders. And the white aluminum adds a touch of class and poise to the interior. You can even have exterior graphics for a spectacular look. Not to mention the side ramps which enable loading and unloading from the flanks, making it a very convenient choice.
But if this trailer doesn't fit your requirement, there are various other options for you to pick from the list given below.
My Top 8 Gooseneck Horse Trailers Picks:
What Makes Gooseneck Trailers So Special?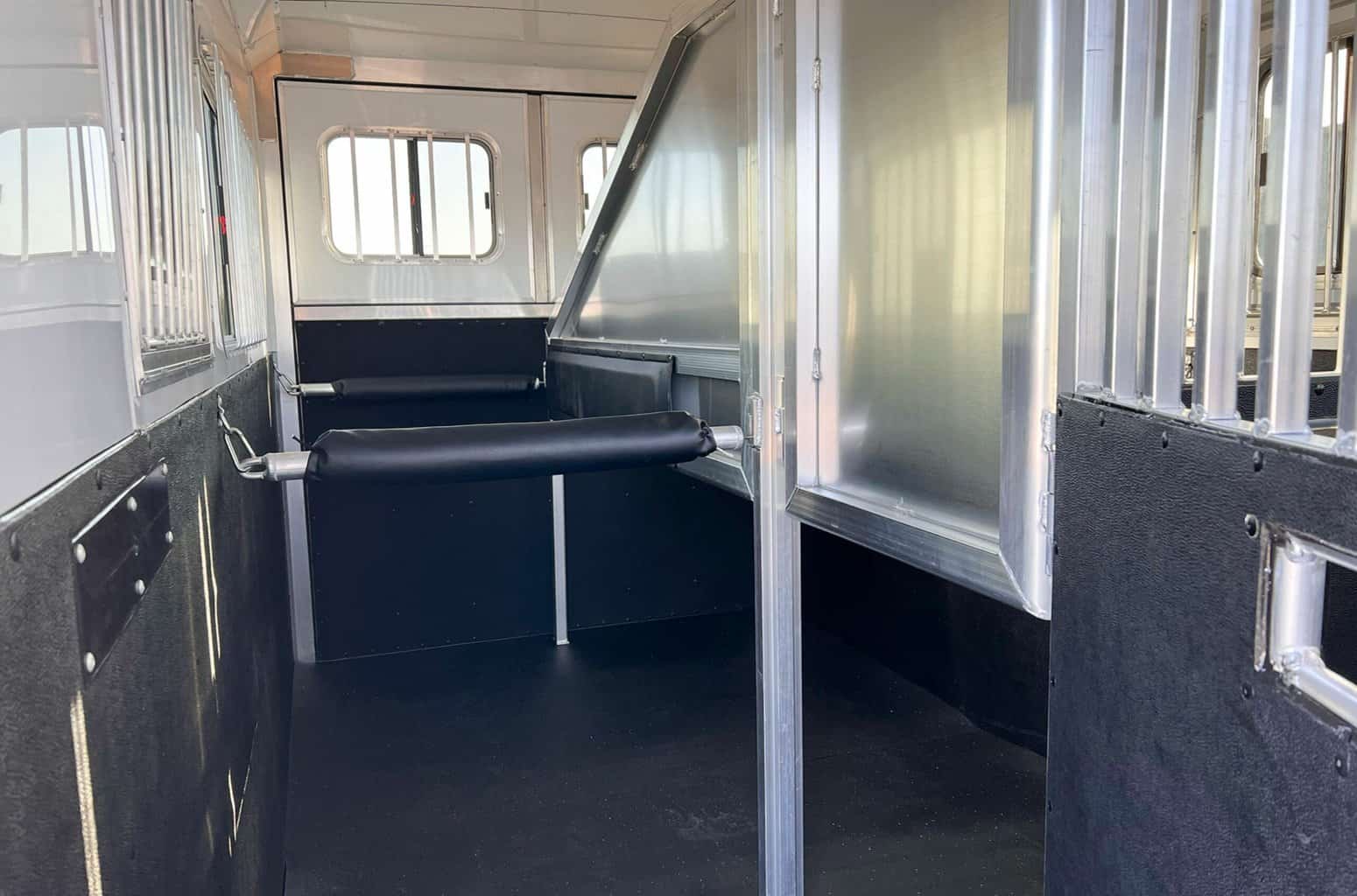 Gooseneck trailers are a widely popular type of horse trailers that many equestrians prefer. With a unique long shape in the front, they are known for their sturdiness and durability. They are also ideal for long distances and offer extra storage space with increased carrying capacity.
Due to their long neck, the Gooseneck horse trailers maximize maneuverability with minimal travel sway while traveling. As opposed to trailers that rest upon the bumper of the towing vehicle, Gooseneck trailers lie on the rear axle, reducing the unbalanced stress on your towing car.
Able to be configured in different styles, Gooseneck trailers are an incredibly flexible option for your hauling needs. The ample storage space at the front can be used to store necessary items. Some models even feature additional rooms where a small bed can be placed for your long journeys.
My Selection Criteria For Gooseneck Trailers:
Before adding any Gooseneck horse trailers to this guide, I have tried to ensure that they meet the following criteria:
All the horse trailers I have mentioned can haul at least four horses.
All the trailers are customizable.
All the trailers are available at reputable and legit sites.
All the top picks are made of durable material which will last a long time.
Buying Tips:
Regarding Gooseneck Horse Trailers, the following tips will help you select the suitable model following your needs.
Determine Your Use
Before you set your eyes on any Gooseneck model, determine your exact need. If you need to haul more than 4 horses, I suggest going for a slant load. Similarly, choosing a trailer with a bigger dressing room can be beneficial if you need a lot of storage space.
Check Its Size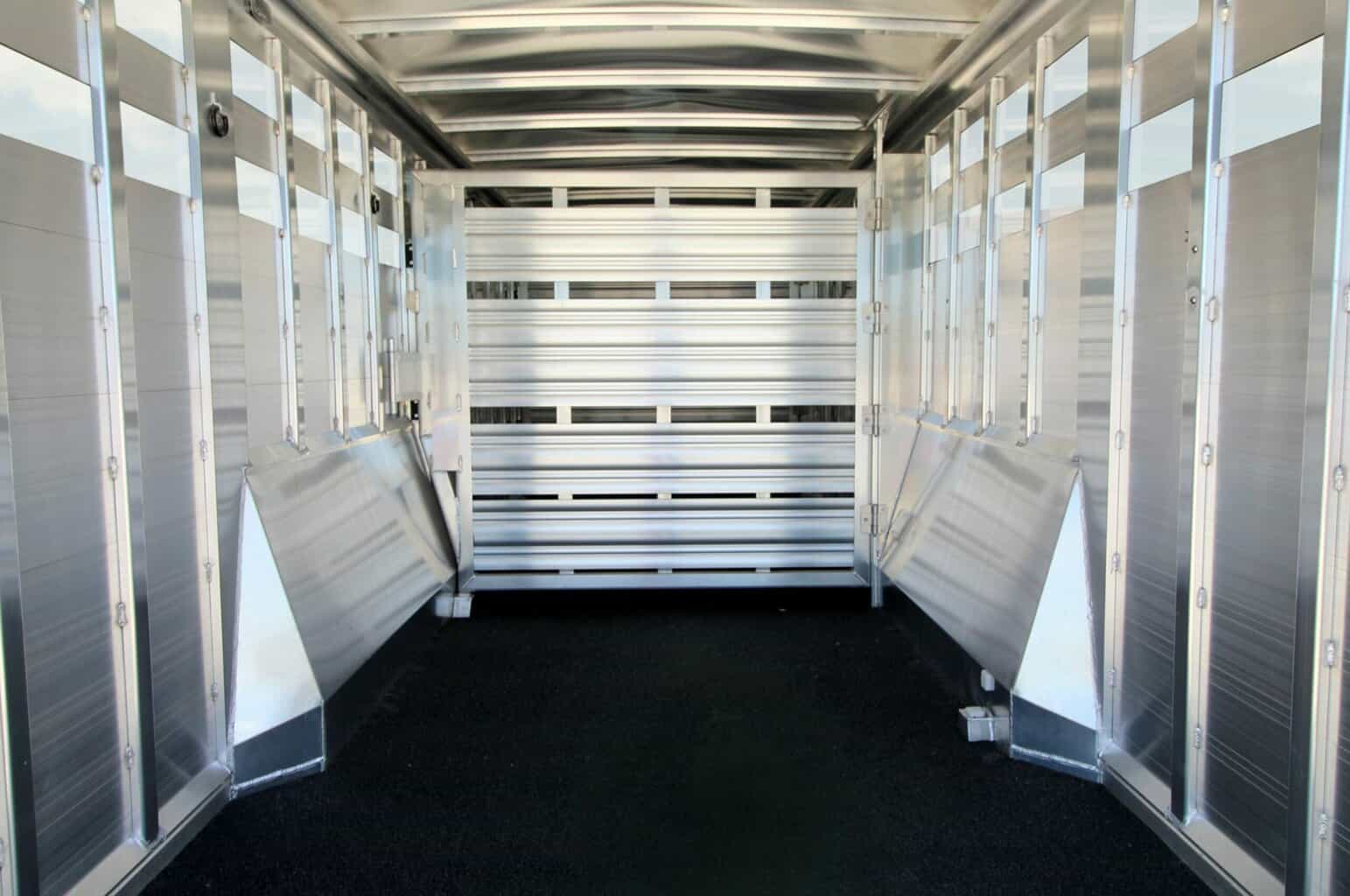 It is imperative to check the dimensions of the Gooseneck trailer you intend to buy. I would recommend choosing according to the size of your horses. If you have larger horse breeds like the Thoroughbreds and Arabians, consider going for an equally sized Gooseneck trailer. A rule of thumb for the trailer's height is ensuring that your horse can generally stand while hauling without hunching over.
Check The Material
Manufacturers make use of different materials for their trailers. Steel trailers are low maintenance and inexpensive. Although they are heavy to haul and can be prone to the buildup of rust. Aluminum trailers are lightweight, but the upfront and repairing costs are higher. So consider all this and check which material will best fit your use case before buying your favorite Gooseneck trailer.
Form A Budget
You mustn't end up spending too much on the trailer. I would recommend different surveying sites before you decide on a Gooseneck model. Forming a budget range and deciding on the trailer beforehand can come in handy in this regard.
See Availability And Cost
On most websites, you won't be able to see the price of the listed Gooseneck horse trailers directly. To know the cost and availability, you might need to input your zip code and the type of trailer required in the inventory search. The site would then redirect you to dealers close by, and you can check if they are in stock and meet your price range.
My Top Gooseneck Horse Trailers Recommendations:
Model 7541 Horse Trailer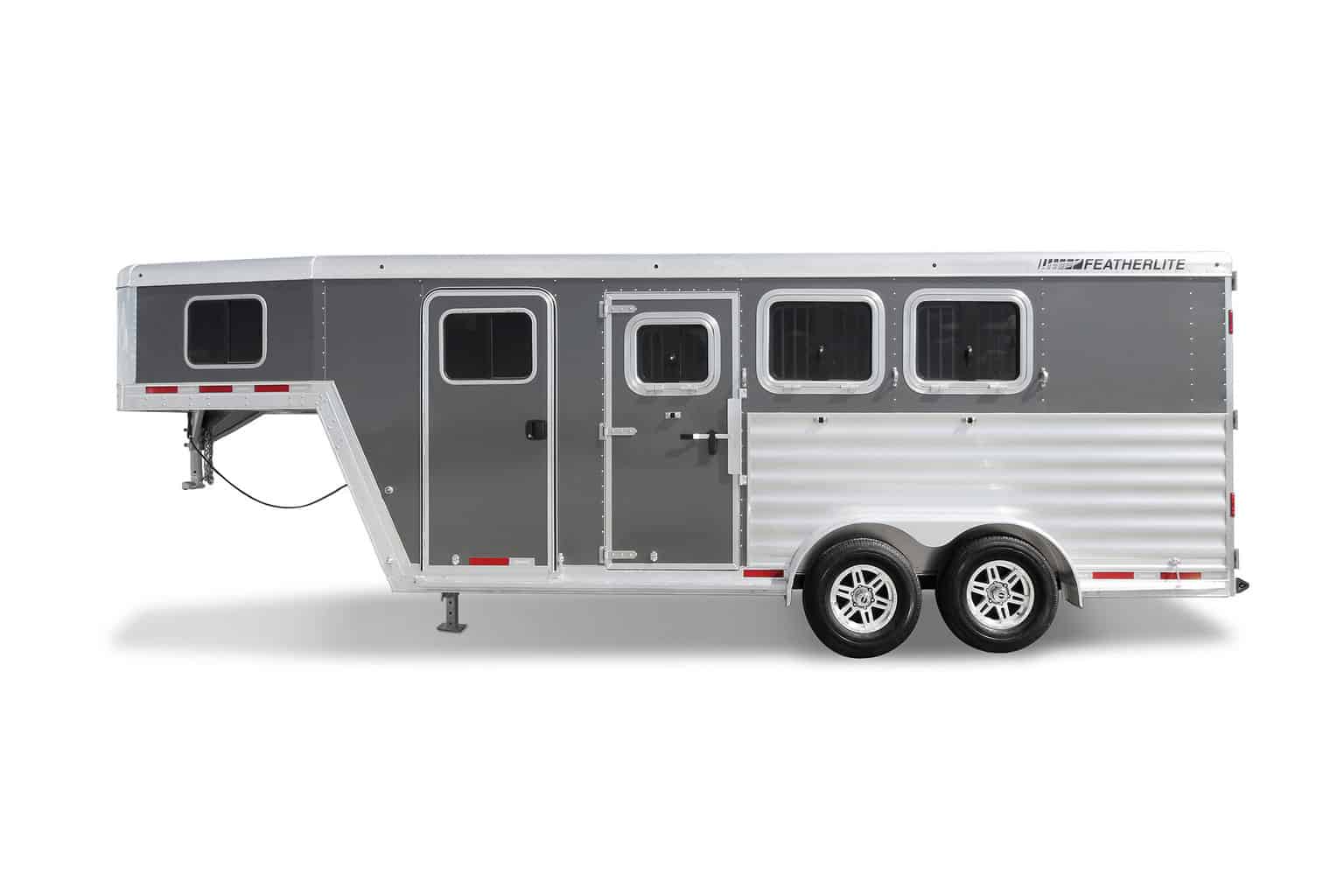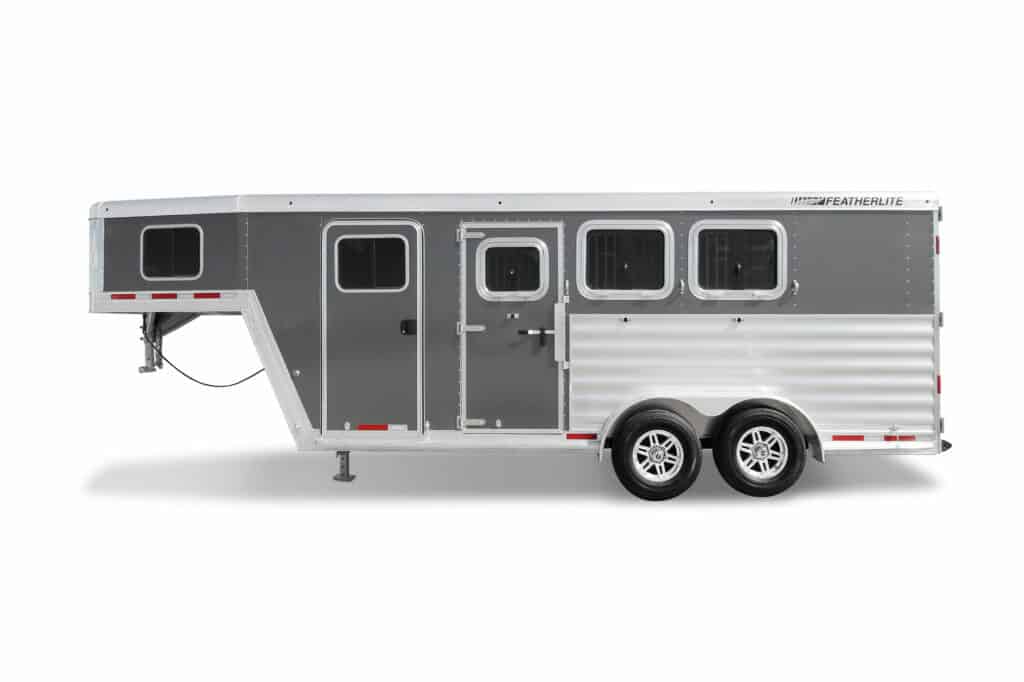 Description
The Model 7541 Horse Trailer comes in various floor plans to match your hauling needs. Manufactured by Featherlite, the trailer comes in different sizes, letting you haul as many as 6 horses. And it comes in the slant load configuration, which allows for much more significant storage space.
The 7541 Gooseneck also provides durability and quality at a reasonable cost, something that I really like about this trailer. The outer surface is made from aluminum for strength and resilience to corrosion.
The polished aluminum wheels ensure the trailer looks as good as new even after prolonged use. The flooring is also of the same metal, which is further equipped with rubber mats in the horse compartment to provide a stable and smooth grip.
For more straightforward hauling, the trailer measures 7 feet in width and height, allowing you to transport larger horses without difficulty. A 4.5ft dressing room is also attached, which could be used to store supplies or change clothes.
In my opinion, each stall, measuring up to 40 inches, provides ample space for your horse. The trailer is lined with LED lights which, when combined with the white lining on the walls, increase the brightness. This might feel like a very trivial detail, but it really comes in handy when you have to load and unload your horses at night. Furthermore, the white lining also improves the visual appeal of the trailer. However, if you are a fan of robust colors, you may order this Gooseneck trailer in red or burgundy color.
Pros
The Aluminium build of this trailer is highly resistant to rust and corrosion.
This trailer has thick exterior sheets for added strength.
This Gooseneck trailer has the option to choose from several floor plans.
Cons
The trailer's slant load design makes reaching the horse at the front stall tricky.
Express GN-XT Edition Horse Trailer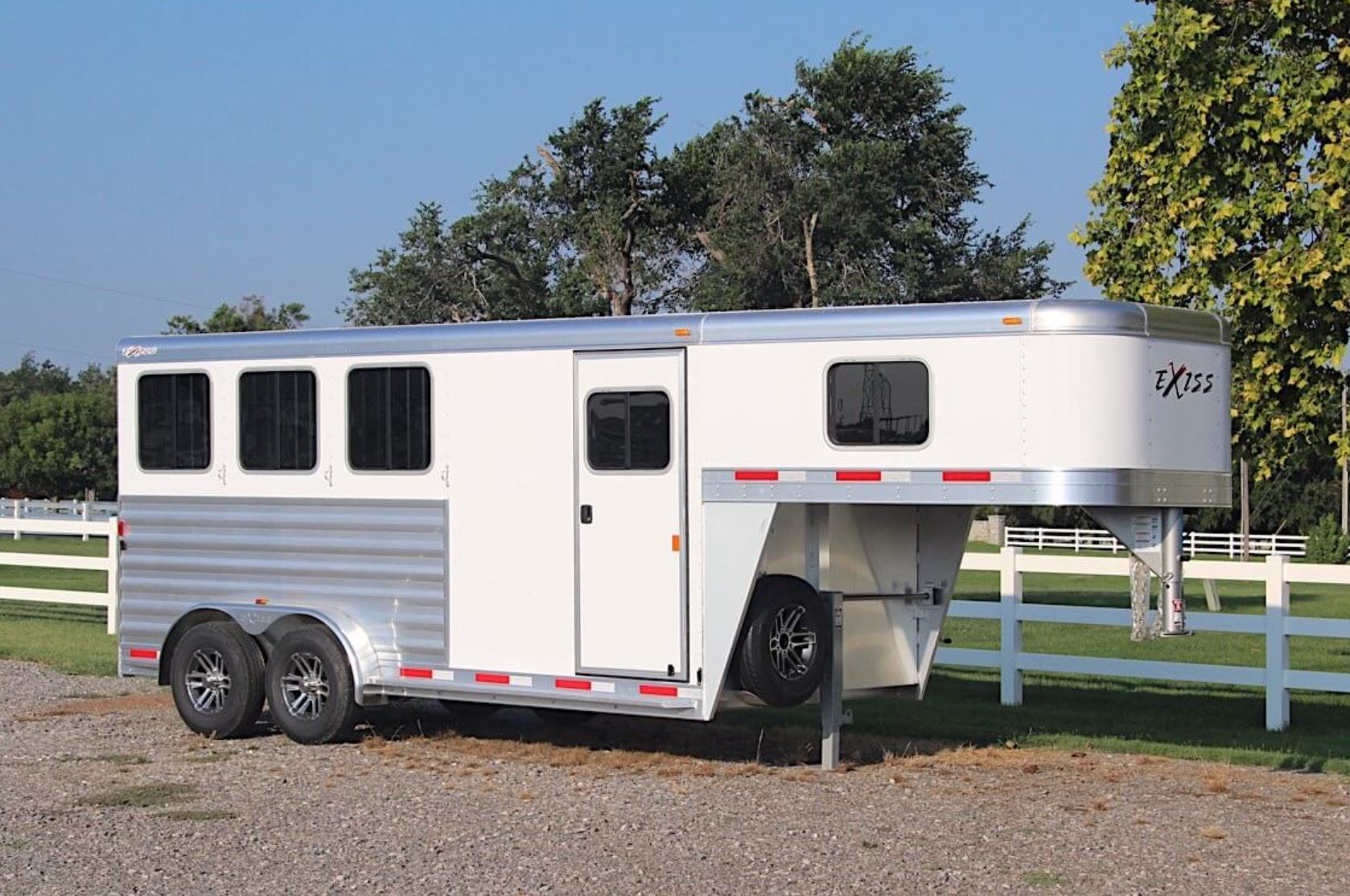 Description
One of Exiss's most robust offerings, the Express Gooseneck XT Edition Horse Trailer, is a trailer designed to haul 3 or 4 horses at a time. The smooth exterior skin of aluminum enhances its allure and adds strength and stability to the trailer.
I particularly like the Express GN-XT as its slant load not only extends a lot of airiness and openness to the horses but also allows more horses to be hauled in comparatively less space than a straight bag. And due to its spacious stalls, horses can easily be turned around while leading out of the trailer.
The stall dividers on this saddle are also removable. And can also be customized if you need to transport fewer horses. The inside height of the trailer is 7.2ft, which is more significant than the Model 7541, meaning many tall horses, even reaching up to 17 hands, can fit inside it without bending their heads.
The trailer also comes with street-side windows, making horse feeding very convenient. Aluminum vents are fitted in each stall, allowing more air and breathability to keep the horses calm. And I am always a strong proponent of such trailers that allow sufficient airflow, as traveling under the scorching heat for hours can drastically raise the inside temperature of a trailer.
Unlike the 7541, however, the flooring of the Express XT is made of planks, which feels less durable and has a cheaper feel compared to solid sheets of steel or aluminum.
Pros
The trailer comes with durable aluminum wheels.
The slant load configuration on this trailer allows for the effortless loading of horses.
The ample space in this trailer can help the horse feel more comfortable and provide space for the horse to move around.
Cons
The whole trailer needs to be unloaded if the front horse needs attention or is causing trouble.
The extruded plank flooring on this trailer requires regular inspection.
Model 9810 Gooseneck Horse Trailer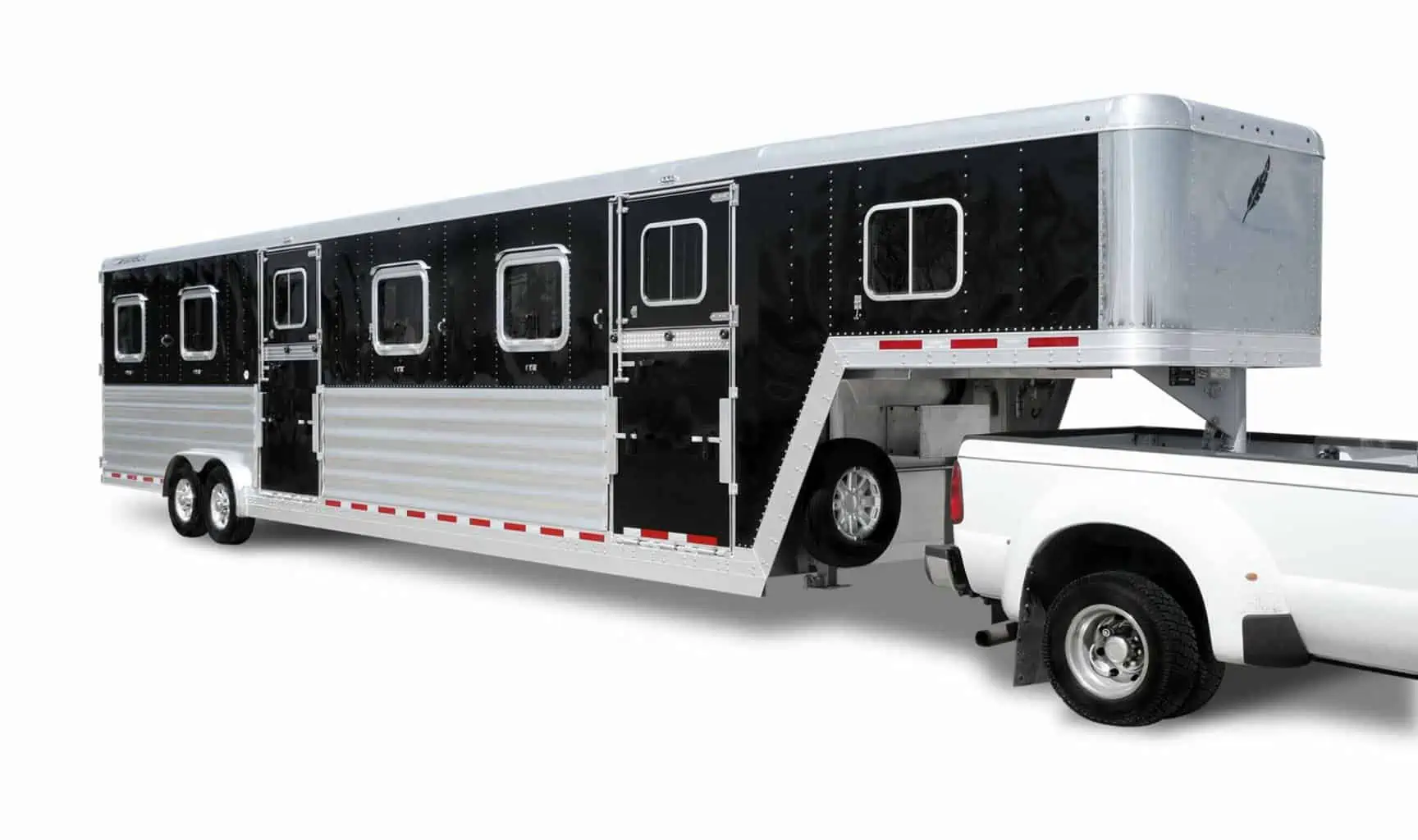 Description
If you ask me, loading horses in a trailer is the biggest challenge any trailer keeper has to face. So, by allowing you to haul horses from the rear as well as the two doors on either side, Featherlite's Model 9810 Gooseneck Horse Trailer makes loading and unloading simpler than ever before. If you regularly need to transport several horses comfortably and conveniently, I suggest going for the 9810 Model.
This horse trailer allows you to haul 6 horses and can even be converted into a 4-horse trailer by removing the stall dividers. Its straight-load design has a fairly open appearance. I like the 9810 model as the side doors will enable you to reach all the horses easily without having to unload the entire trailer. This can especially come in handy in case of an emergency.
Tack storage is also available in the enjoined dressing room, which measures 5 feet wide. The dressing room has a turf floor, a brush tray, and halter hooks. And the trailer's beautiful black side sheets make it all the more aesthetically pleasing. It also provides ample lighting for visibility at night, with 16 clearance LED lights. A limited structural warranty for 10 years is also provided on purchase, informing you that this trailer will last a long time.
However, if you're still not satisfied with the provided amenities offered in the model, you can also add additional features. These include brush trays, side sheets, LEDs, electrical landing gear, and even an air conditioner to keep your horses cool.
Pros
The black side sheets on this trailer give it a gorgeous look.
Horses can be hauled from the rear, right, and left with this trailer's rear and side ramps.
Cons
This trailer is fairly large and can be challenging to maneuver.
2023 New 3 Horse Shadow 69216E Pro 2+1 Gooseneck Horse Trailer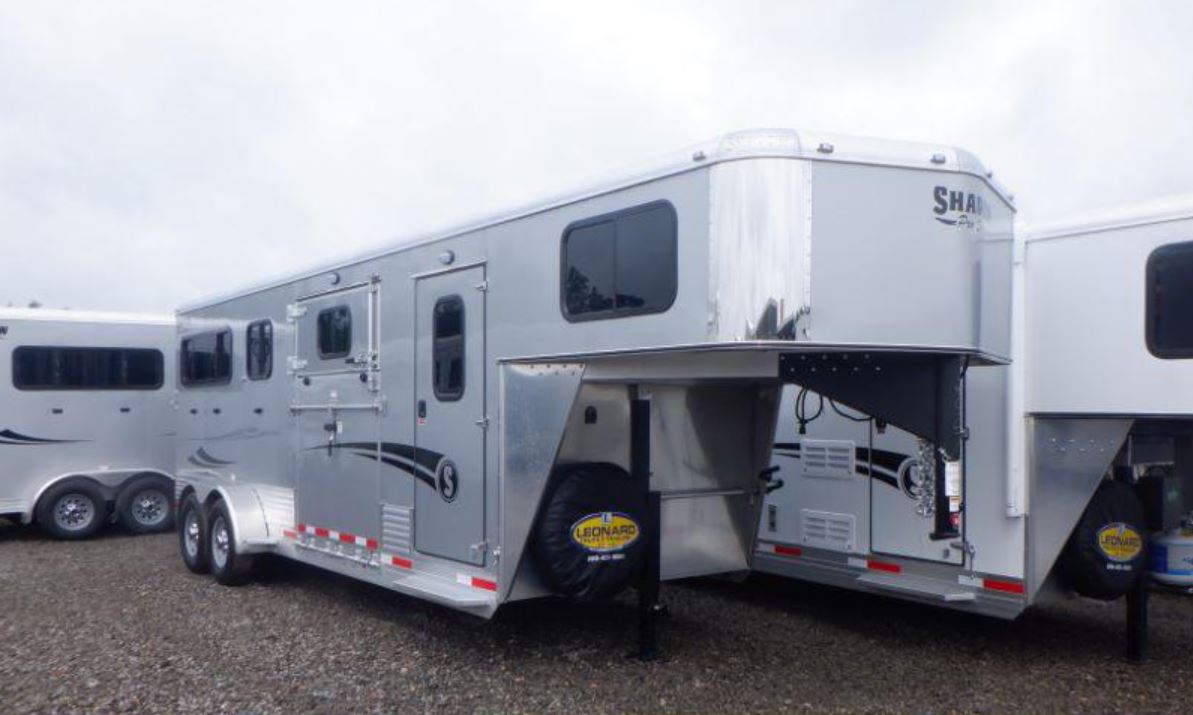 Description
When it comes to horse trailers, the 2023 New 3 Horse Shadow 69216E Pro 2+1 Gooseneck Horse Trailer is one of the most versatile options.
This model is neither a straight nor a slant load but rather a combination of the two. It is one of the things I love in this trailer, as its unique configuration can be used to haul up to 3 horses at a time. While leaving you enough space to store your extra riding gear and other accessories.
Its 7.5ft height makes it the perfect choice for tall horses. And to protect them from sharp edges inside the trailer, breast and butt bars are also included to ensure the horse's safety. The 69216E also has rubber lining to prevent the horses from slipping while traveling on bumpy roads.
The horse area is lined with white aluminum, which resists corrosion. Still, I feel the plain white color can be a little bland for many equestrians. The wheels are made of aluminum and come with a spare should there be any emergency along the way.
As I am a fan of good lighting, plenty of lighting options are also available on both the exterior and the interior of the trailer in the form of LED lights. The dressing room contains halter hooks and clothing rods while its floor is fully carpeted. Moreover, a camper door is installed that comes along with a sliding window. All these make this trailer a well-rounded option for the horses and their owners.
Pros
This trailer has enough room for up to 3 horses and other necessary items.
The aluminum on this trailer is coated with an anti-corrosive coating to protect its metal from rusting.
Cons
As this trailer is made of aluminum, its repairs can be challenging to accommodate into a tight budget.
Model 8413 Stock Combo Gooseneck Horse Trailer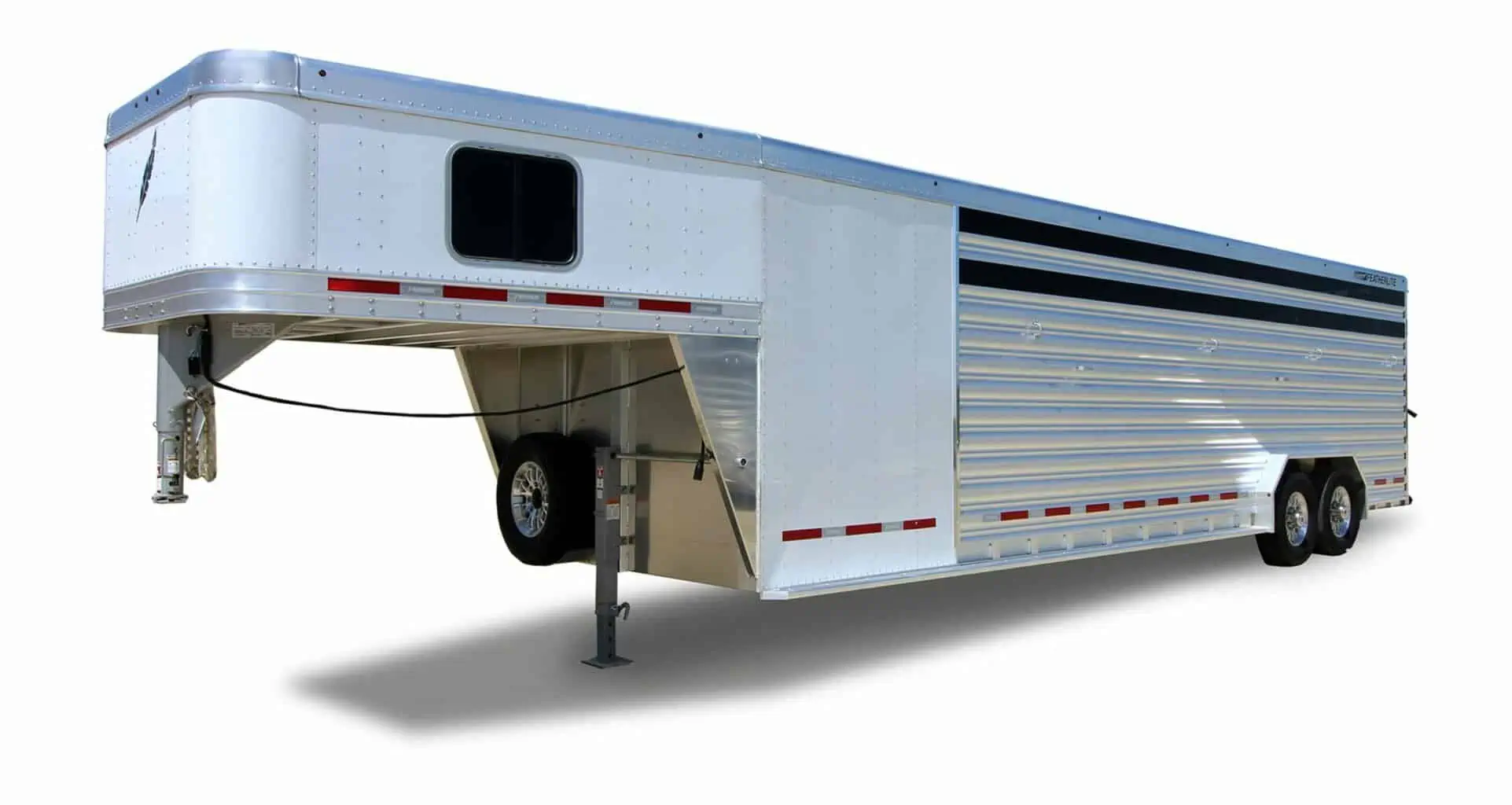 Description
Featherlite's Model 8413 Stock Combo Gooseneck Trailer is a comprehensive and open trailer that can be used to haul 4 horses. Extremely resourceful and adaptable, the trailer will provide several features to make loading, unloading, and moving of horses effortless, something that we all equestrians ever want.
Among the many options listed in this guide, the Model 8413 Stock Combo is easily my favorite. It is quite spacious, and the lighter paint coats on the aluminum further help brighten the inside, making your horses feel safe and happy.
It can also be configured as either a slant load or a straight load, and I recommend choosing according to your needs. You can reach out to the front horses through the side doors without having to open the rear gates or disturbing the others at the back. The sliding doors at the back also help to slip through into the trailer without moving the horses from the front of the gate.
The trailer comes in various lengths, varying from 16ft to 32ft. At the same time, the width is also customizable depending on your chosen configuration. However, the inside height of the trailer is fixed at 7 feet.
Aluminum side panels are also mounted on the exterior with a shiny coating that helps reflect some of the heat, preventing the trailer from becoming an oven inside. The flooring is also aluminum, providing the trailer structural integrity and the non-skid mats on top provide something to grip for the horses. A dressing room is also attached, which can be used as a storage area.
Pros
This trailer is available in multiple configurations and floor plans.
You can also add optional stall dividers.
Cons
It is a heavy trailer that can be very hard to tow for small vehicles.
7200 ST Gooseneck Horse Trailer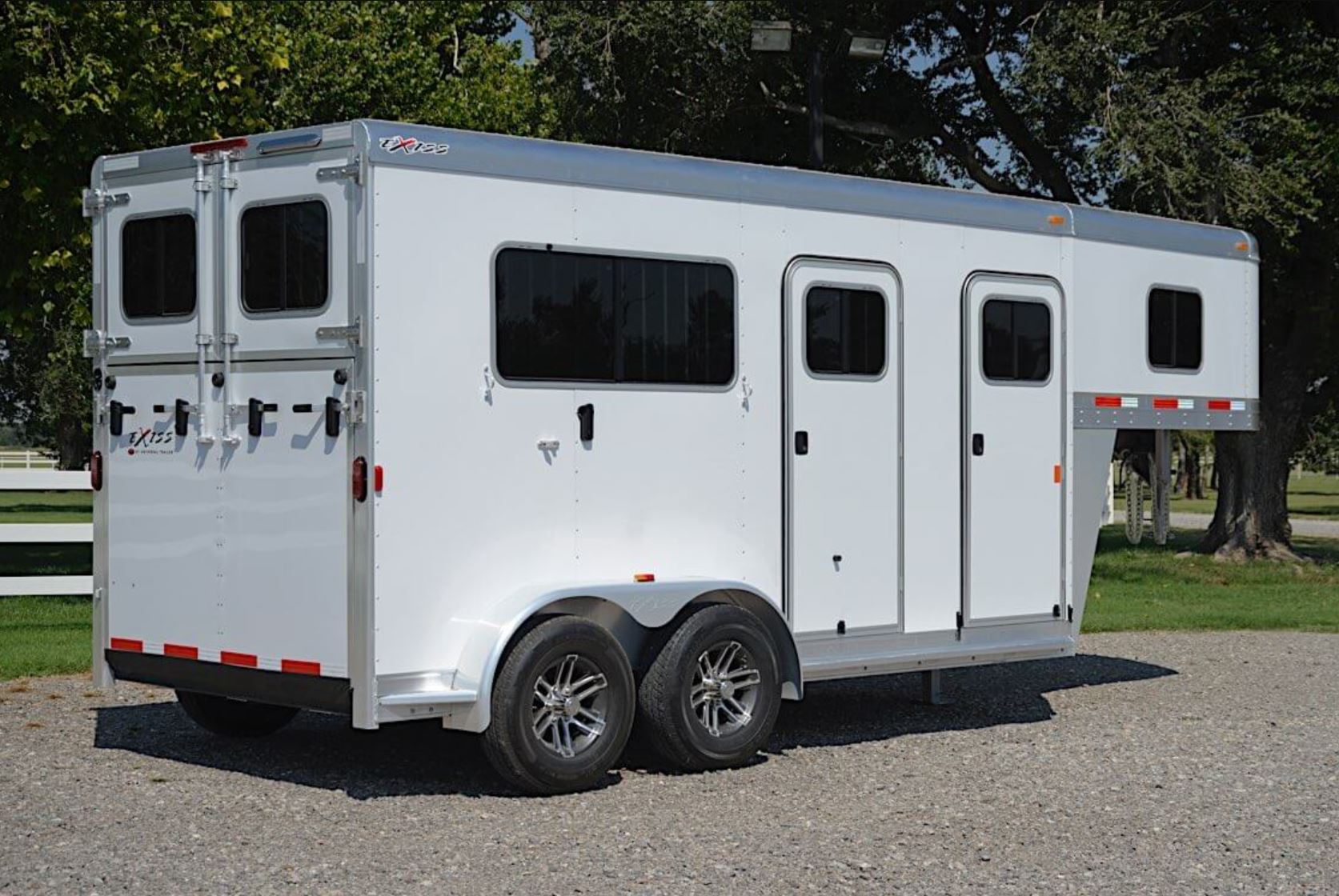 Description
If you regularly need to haul 2 horses, I might have a perfect option for you in the form of Exiss's 7200 ST Gooseneck Horse Trailer. Designed explicitly for more giant horses, it is a superb combination of value, luxury, and convenience. With the 7200 ST, the safety and security of your animals are also paramount.
In my opinion, this straight-load trailer is nothing short of an engineering marvel. Concise and practical, the trailer measures 7 feet in width. Compared to slant loads with greater width, it is easier to navigate and maneuver on the road. The inside height of the trailer is 7 feet and 8 inches, making it an ideal choice to haul large horses while giving them enough room to stand and move.
The trailer flooring is made from wood and lined with lifetime rubber mats. A vent is also installed on the roof and breast bars on the rear for each stall. However, I have to say that with only one window at each stall, this trailer is less ventilated than the trailers enlisted above.
Other features of the trailer include running boards, inside and outside tie rings for each horse, hitch safety, a camper door with a sliding window, and a carpeted dressing room floor with several tack items.
Pros
This trailer is the perfect choice for larger horses due to its extraordinary height.
Plenty of lighting is available on this trailer's interior and exterior.
Cons
The aluminum side sheets on this trailer are prone to rust and corrosion.
2022 New 6 Horse Logan Riot Slant Load Gooseneck Horse Trailer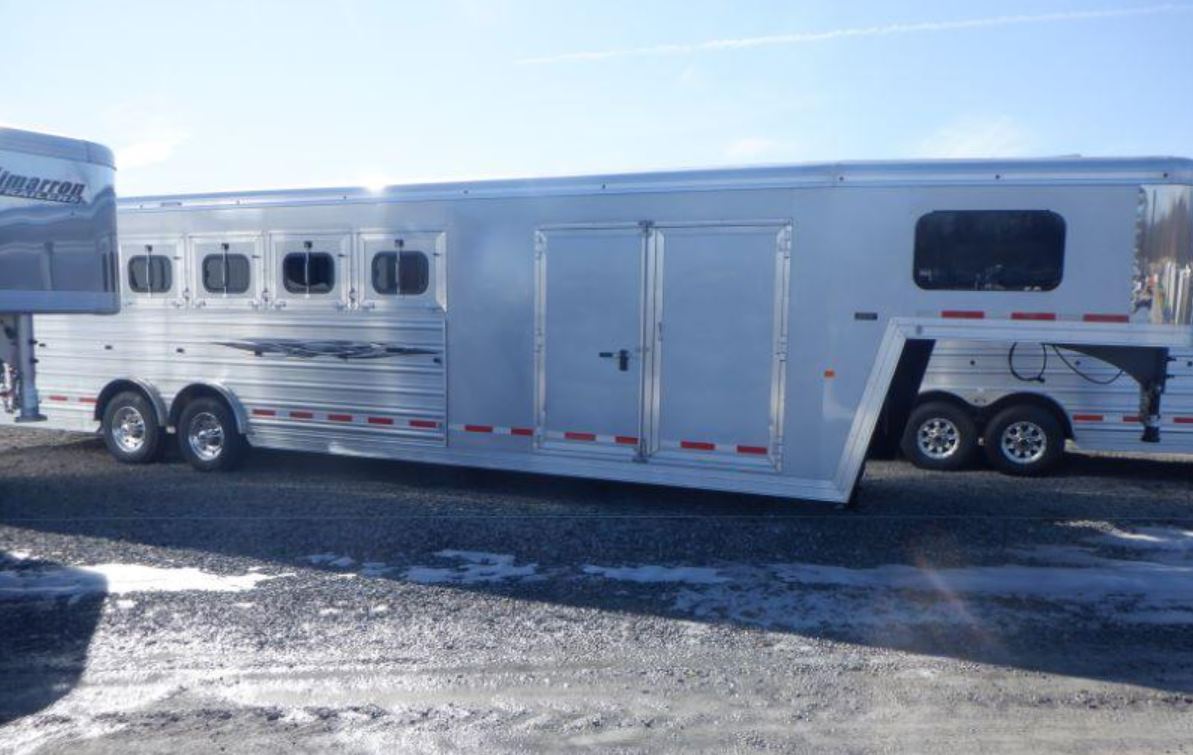 Description
If you own several horses and often have to spend hundreds of dollars on their transportation, you might want to check out this option. Standard features and an exceptionally high price are the hallmarks of the 2022 New 6-Horse Logan Riot Gooseneck Horse Trailer. The slant load allows the hauling of a maximum of 6 horses, which means more horses can fit into a relatively shorter length than a straight load trailer.
The Logan Riot Gooseneck trailer also has a relatively expansive rear entrance. Since the dividers are pushed aside in a slant load, it is pretty inviting to a nervous horse. I have found that this makes loading horses much more accessible. Even while unloading, the horses can be led headfirst as there is enough room to move around.
The trailer measures 35ft in length and 8ft in width. The inside height is 7.5 feet, which is reasonable for most horses. The model includes smooth aluminum on its exterior and a one-piece roof skin.
I also like the aluminum flooring on this trailer that is covered with a Sure grip which will help your horses maintain balance, even without any support, when the trailer is moving.
A tie ring is also provided on the exterior. And the tires have torsion axles and self-adjusting brakes installed, making this trailer one of the safest options. An array of LEDs also light up the horse bay, dressing room, and exterior, allowing you to check up on your horses regularly.
Pros
This trailer's wider width makes it easy to maneuver on the road.
The trailer includes quality flooring and padded rubber.
Cons
This trailer needs a heavy-duty towing truck which can be very expensive to rent.
7400 ST Gooseneck Horse Trailer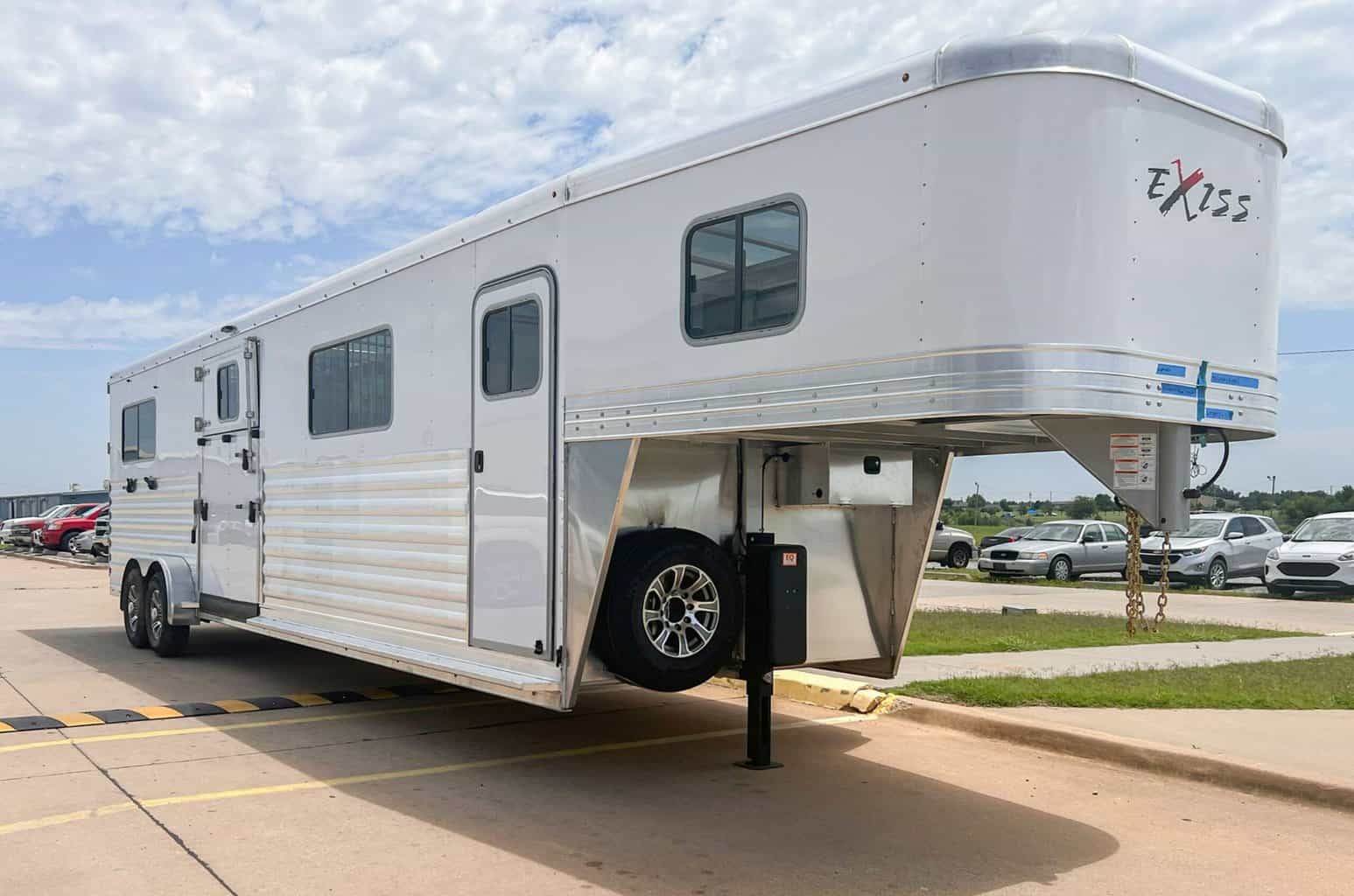 Description
Now, allow me to talk about another congenial option for our lovely horses. The 7400 ST Gooseneck Horse Trailer by Exiss allows you to haul 4 horses in a straight load arrangement. It has many distinctive features besides meeting your basic hauling needs.
The horse-friendly structure inside the trailer has an imposing feeling, and I believe its aluminum exterior gives it an exceptional touch. It allows both street-side and curbside access to the horses through the doors, not to mention the rear ramp also enables comfortable loading and unloading. The inside height is 7ft 8 inches – equal to Exiss's Model 7200 ST – capable of hauling horses of all sizes.
The four horse stalls measure 40 inches in width with chest bars at the rear end, while the area's walls are insulated with aluminum. Unlike most trailers that I have seen, this model has two windows with bars installed on each side of the room to allow maximum light and air.
For every stall, two tie rings are attached inside and two on the outside. Removable saddle racks are also included with a complete height adjusting stand. The 4 ft long dressing room has a carpeted floor and ample space for storing necessary equipment. And don't forget, like most Exiss trailers, you can also have this model customized with your favorite colors.
Pros
This trailer allows convenient hauling of horses of all sizes with its multiple access doors.
The side ramps on this trailer make it very easy to load and unload horses.
Cons
The plank flooring on this trailer can be less durable than solid aluminum panels.
FAQs
Question: How long is a Gooseneck Trailer?
Answer: The more horses a Gooseneck trailer can haul, the longer it is. The Featherlite Model 7541, for instance, comes in various sizes, from 2-horse to 6-horse ranges from 15'4" to 28'8". The longest in this guide, the Logan Riot 6-horse trailer, has a total trailer length of 35 feet.
Question: How much does a Gooseneck trailer weigh?
Answer: The weight of a Gooseneck trailer depends on several factors, such as the flooring material, dressing room, and the number of horses it can fit. A 2-horse gooseneck trailer, while empty, can range from 3700-4700 lbs. Furthermore, the weight also increases with its height. The Featherlite 8413 combo, my favorite horse trailer on this list, has a weight of 3700 lbs.
Question: How tall is a Gooseneck Horse Trailer?
Answer: The inside height of most Gooseneck trailers is at least 7 feet to allow the horses enough space to stand upright. Some models, such as the 7200ST Gooseneck by Exiss, have a height of 7ft 8 inches. They are pretty helpful in hauling larger-sized horses.
Question: What is the difference between straight load and slant load Gooseneck?
Answer: In straight load Gooseneck trailers, the horses are transported with their heads facing the front of the trailer. These usually have a much more relaxed look. These trailers, however, have breast or chest bars fitted to prevent the horses from walking out of the door.
In slant load Goosenecks, the horses are hauled at an angle to the road (usually 45 degrees). This way, more horses can be fit into a shorter-length trailer.
Final Thoughts
If you're in the market for Gooseneck Horse Trailers, the number of options and available customizations can feel a little overwhelming. To ensure that you haul your horses as conveniently as possible, this guide contains an overview of my experiences and suggestions to ease your decision-making.
The buying tips and recommendations made above will help you get started on which Gooseneck Horse Trailer to opt for. Try to stay within the confines of your budget, carefully ascertain your use and choose the trailer accordingly.
Also, remember to check the dimensions of the trailer and the number of horses it can haul. Reviewing the material used for the exterior and flooring, the configuration, and optional features are other helpful tips to be mindful of before you bring your beloved Gooseneck trailer home.
If I have to pick my one ultimate favorite, it would be the Model 8413 Stock Combo Gooseneck Horse Trailer. It has an assortment of unique features and is an exceptionally versatile option. But its repair can cost you a fortune, so keep that in mind if you're on a tight budget. The roominess and smooth padded flooring will guarantee that your horse remains safe and sound even if you're traveling on a bumpy road.
I hope this guide helps clear any confusion you might have about Gooseneck Horse Trailers and will prove helpful when researching the market for a suitable trailer. Good luck!
Read More: