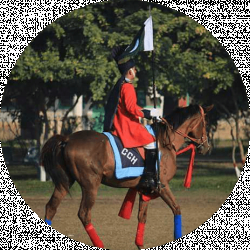 Latest posts by Boo Ali Khan
(see all)
Are you having horse trailer hitch problems, or are you constantly worried about your horse trailer going out of control on your trips? Then it's time for you to invest in a Horse Box.
But what are Horse Box trailers? And what really sets them apart from any other trailer types you can find in the market? All of this boils down to its basic structure, design, and use. And allowing this specific type to possess several perks, which you will not see in other trailer types.
So, in this Best Horse Box Trailer Buying Guide, I will tell you what's so different about this specific trailer type. I will also talk about some of the Horse Boxes that have caught my eye. And while doing so, I will also share some of the best buying tips you should keep in mind before getting yourself one.
Bottom Lines Up Front:
Horse Box Trailers are another unique type when it comes to horse trailers while offering several options. But amongst those, the one Horse Box Trailer that intrigued me the most is the Ume Light 3 Horse Box Trailer.
This Horse Box is not only one of the smallest and most compact on this list, making it easy to park in a small garage. But as it is also lighter, it uses less fuel. Talking about its interior, its seat comes with three-point seat belts for the driver's safety. And the horse compartment is lined with rubber mats to provide extra grip for the horses.
My Top 9 Horse Box Trailer Picks:
To add a little variety, alongside my favorite, I have also compiled a list of some of the best Horse Box Trailers available in the market.
My Selection Criteria For These Horse Box Trailers:
To make sure that all my top picks are authentic and worth recommending, I followed the following selection criteria:
All the horse box trailers are made of suitable quality materials.
Every trailer pick comes with a powerful engine that can support the weight of a couple of horses easily.
All the boxes have a protective coating to save them from rust or corrosion.
All the picks have everything essential for moving horses.
All of these offer a comfortable journey to both the horses and the owners.
Horse Box Trailer: A Quick Overview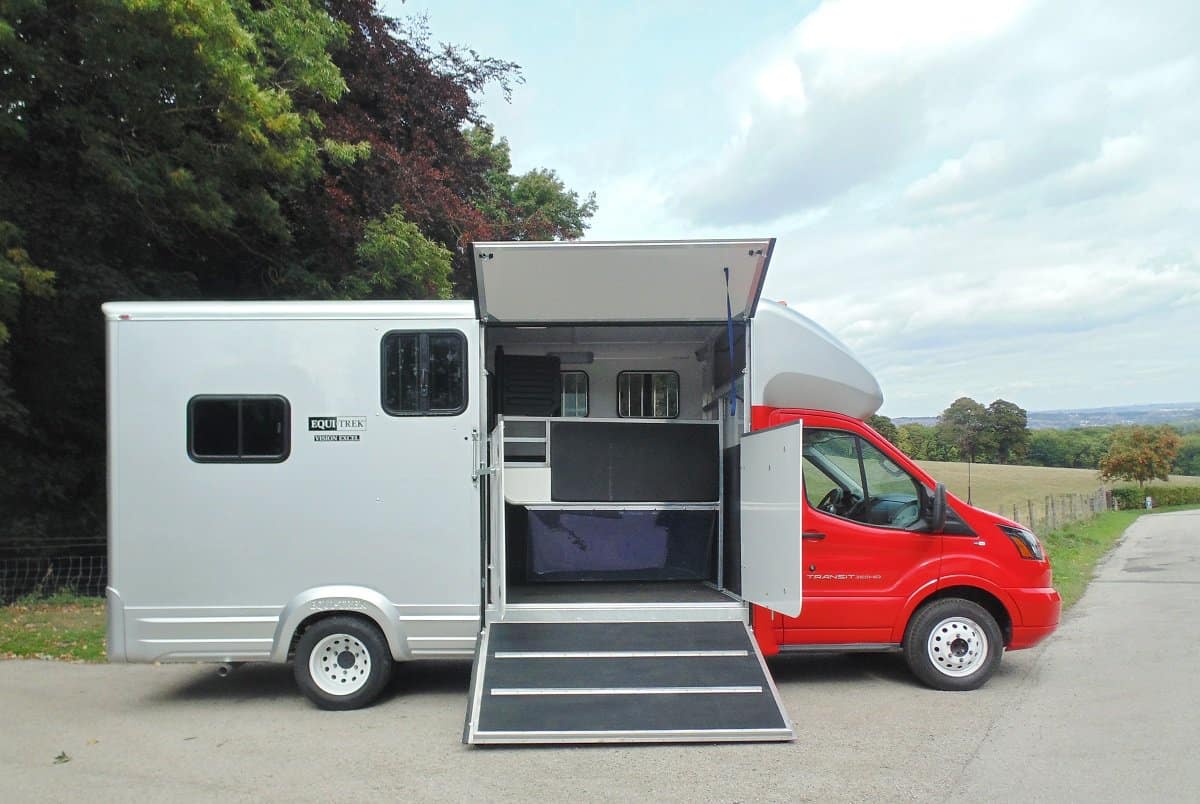 Before deep diving into all the buying tips and top picks, let me just give you a quick summary of what Horse Box trailers actually are. As the name applies, a Horse Box is another type of horse trailer used to transport horses. But their similarities end where, unlike most trailers linked with another towing vehicle to pull them around, they are a one-unit trailer.
Horse Box trailers come with their own engine and axel, so you don't have to worry about renting a separate car compatible with them.
You can almost consider these Horse Box trailers like RVs for your horses. Driving these trailers is also much less stressful as you don't have to worry about the trailer compartment constantly spinning out of control on the highway.
Buying Guide For Horse Box Trailers:
Now before you set out to get yourself a Horse Box, remember to follow these tips to make sure you get a smooth buying experience:
Consider Your Use For The Horse Box: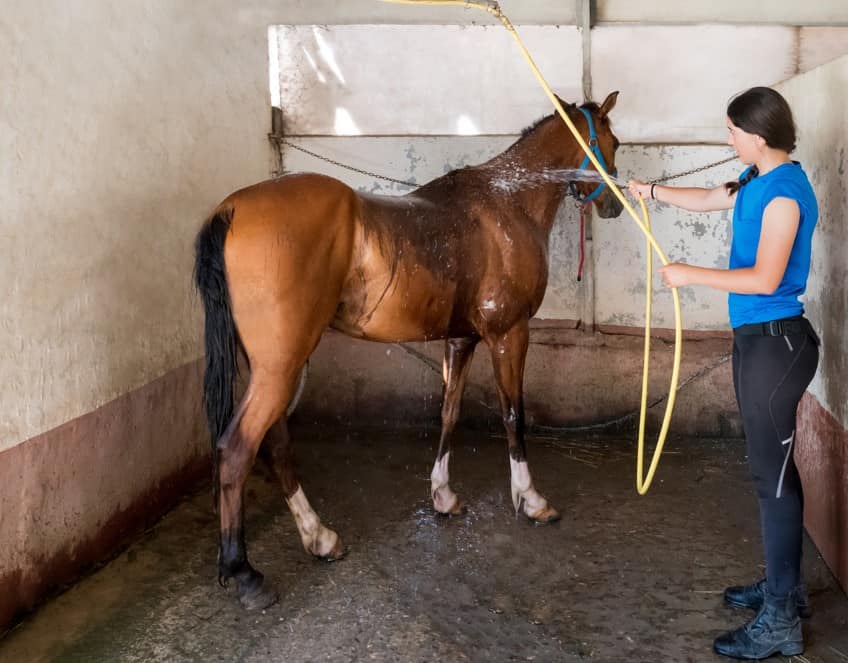 Before going into the market and searching for the best Horse Box, I recommend you first consider how you will use it. What I actually mean is, take into account your number of horses, your average trip length, and what amenities you want in your Horse Box.
If you own 3-4 horses, go for a horsebox with a slant-load style. If you go on cross-country trips for weeks on end, choose one with a large fuel tank and comfortable chairs. And if you also like to save money on hotel rooms, investing in a Horse Box with a living compartment would be a great idea.
Set A Budget For Yourself Beforehand:
Yeah, owning an elegant and luxurious Horse Box to visit in your next horse show event would be nice. But of course, not everyone has the budget for that. And this is especially true with Horse Box trailers, where one can cost you upwards of $50-60,000.
So to ensure you get something worth it that doesn't cross the confines of your pocket, I recommend setting a budget. And while doing so, I would also recommend doing thorough research to ensure you select a budget that is neither too small nor too big for a Horse Box.
Find A Trailer Dealer Close To Where You Live:
This is one of the most underrated tips for buying any horse trailer, which can drastically change what you get for the same price. If you have ever searched for Horse Box trailers, you must have noticed that these are available all across the state.
But because of their size, most of them don't come with home delivery, so you have to physically drive to the dealership or manufacturer to buy them. And this can be a huge hassle and waste of time and money. So, to avoid this, I recommend you to find Horse Box trailers listed near your area.
Going For A Used Horse Box Isn't Always A Bad Idea:
You might have set a budget for yourself, and you're also trying to find Horse Box dealers near you, but you still can't find options that fit your budget. Then going the used route isn't a bad idea. This way, you can get an expensive trailer for sometimes even half the price of its new counterpart.
But while this is a valid option, you still have to remember to check the condition and parts of the trailer if they are in working condition. And don't forget to check the trailer's finish for any rusting or damage.
My Top Horse Box Trailer Picks:
Equi-Trek Vision Horse Box Trailer: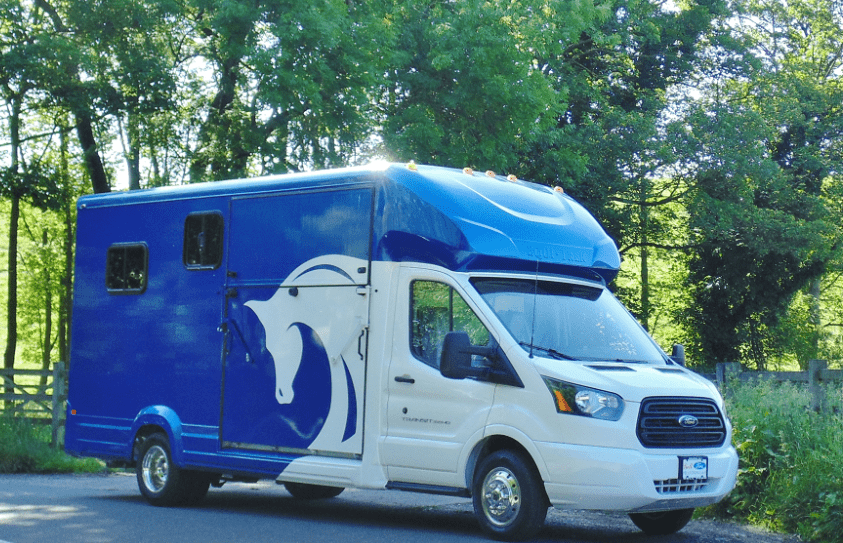 Description:
The Vision Equi-Trek is an excellent option for equestrians who want to treat themselves and their horses with the best-in-class trailer.
The design features a metallic jean finish with an elegant blue color horse through negative space, perfect for equestrians with a knack for art on the side. The trailer's exterior also has a drop-down ramp and a full-size back door for easy loading and unloading horses.
Moving into the horse compartment, this trailer has its whole set of amenities. These include saddle racks and several hooks so you can attach anything from extra accessories to essential tacks. You can even store large bags and luggage on the top shelves. The trailer's interior walls are white, with additional lights on each side to ensure your horses don't feel gloomy.
Overall this is a robust 1-ton Horse Box, and to pull it, Equi-trek has gone with a Ford 3.7-liter V-6 engine. And talking about the front end, the cabin is fully equipped with an A/C, airbags, traction control, and even a decent size bed, so you can adequately rest between stops. This is a lifesaver if you plan to save from hotel room bills.
And don't forget, if you are a fan of sharp colors, this Horse Box is also available in red color.
Pros:
This trailer features full-size drop-down ramps and doors, making loading and unloading horses easy.
The trailer comes with several windows for ventilation and natural light.
Cons:
The trailer's interior only comes in white, which shows stains very quickly.
Bockmann Big Equipe S: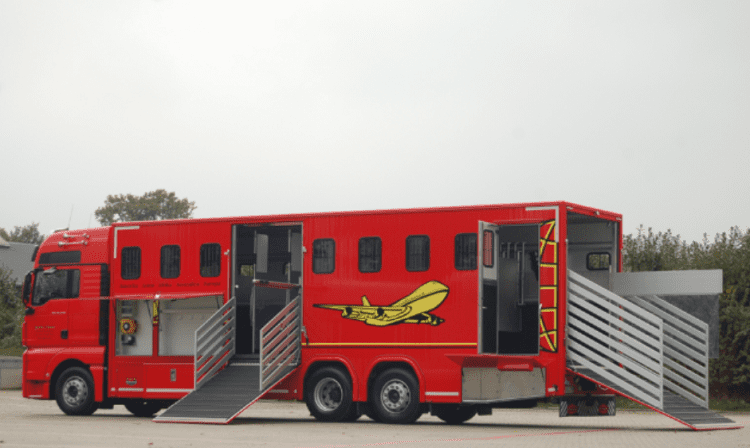 Description:
If you often travel with fellow equestrians and want something that can house a whole fleet of horses, then this Bockmann Big Equipe S can be a suitable option. From the outside, this trailer has a detailed yet elegant graphical design depicting a horse. And you may customize the design further to your needs.
The unique thing about this trailer is its customization; it comes in 12 distinct configurations, each with a different size horse compartment to make way for the living quarter. Amongst these, the S 6.40.26 is my favorite as it provides a full-size kitchen and bathroom and still can accommodate six horses.
And as you may have already guessed by all the options, this Horse Box can be pretty heavy. So to ride it to your favorite horse show events, it offers a 326 hp 25 L engine, which can easily pull upwards of 36000 kg. Quite powerful, right? Another excellent addition is its 130-gallon fuel tank, so you don't have to worry about constantly refueling during long trips.
Pros:
The base trailer comes with a beautiful and elegant design.
The trailer comes in several configurations, making it relatively versatile.
Cons:
It boasts a relatively large build which can be hard to maneuver for untrained drivers.
Overlander R240 2-Stalled Horse Box: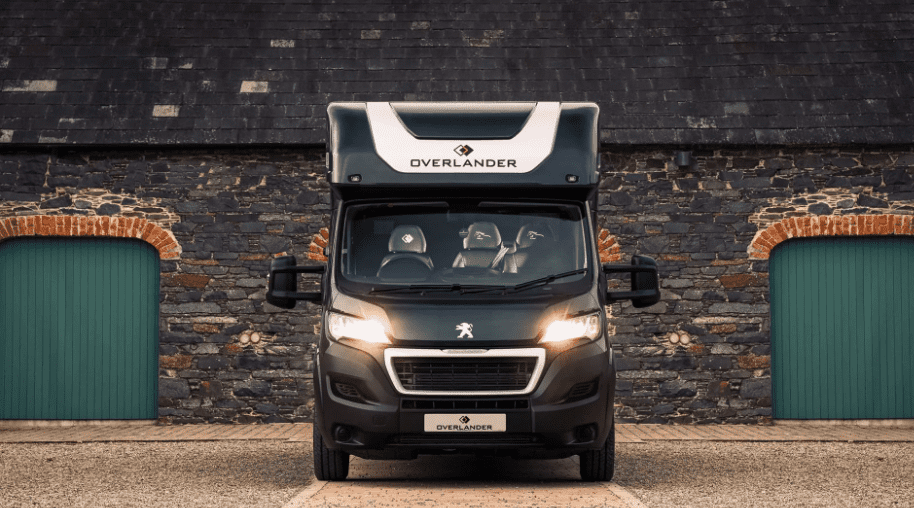 Description:
The Overlander R240 2-Stalled Horse Box is an excellent option for equestrians looking for a more compact and stylish option for their next horse trip. It comes with a Pudget Boxer 3.5-ton chassis featuring a complete metal build which helps give it a robust feel.
And it's not only about the built; it also comes with several customization options for the exterior so you can get the color that suits you.
The cab also features many amenities to smooth your journey, including air conditioning, a Bluetooth music system, and storage areas on desks and behind the seats. It also offers cruise control which will help you take your mind off the pedals. This amazing Horse Box is equipped with extended side mirrors and a battery guard that can provide up to 9 hours of ventilation in case of a breakdown.
The exterior panels on this trailer are also quite robust with a high-density polyurethane core, making them relatively light. The horse compartment has several clips and interior tie rings so you can attach anything from feed buckets to tacks. And its roofs are also lined with several LEDs to provide a lively environment for your horses.
Pros:
The trailer comes in a relatively compact style which is easy to park.
It has several LEDs, both inside and outside, for easy visibility during the night.
Cons:
Its stalls' straight load design offers less space than other slant load options.
Equi-Trek Vision Excel Horse Box Trailer: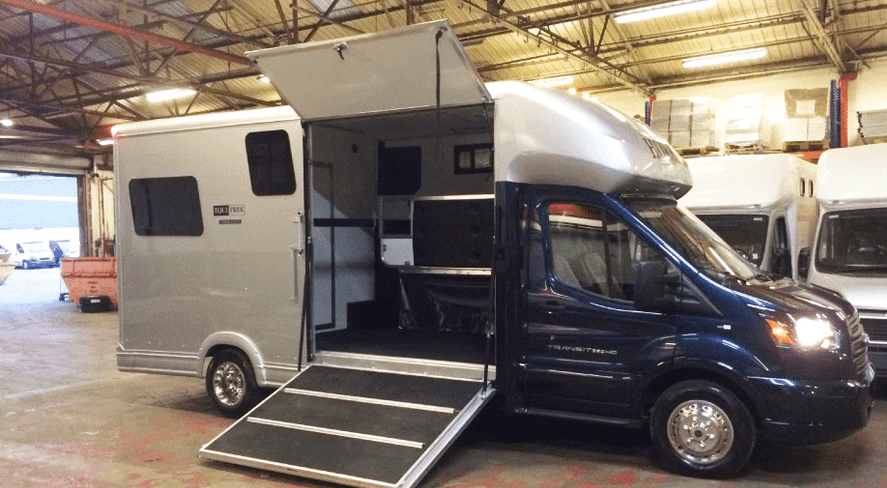 Description:
Another great Horse Box from Equi-Trek is their Vision Excel. This model features a Ford V-6 gas engine that is plenty for pulling its 1-ton weight. And due to its entire air-conditioned cabin and horse stall, you and your horse will never feel the heat. It even has a hill launch assist feature, so you don't have to worry about crossing steep roads.
Talking about the exterior, it features 7 different options, each having different overall colors and graphics. Even its rims add a custom feel with an alloy build, providing them with much more strength. This also protects them from rust, so you don't have to worry about changing them every few months.
Now coming towards the most crucial part of this trailer, its Horse compartment, which can easily fit 2 horses with plenty of extra space so they can move freely. The horse compartment also has dividers, so you can use them if your horses are not getting along.
Aside from that, the flooring is lined with custom padding, making it easy for the horses to stand. Not to mention, the horse area and living compartment are also wholly separated.
Pros:
The trailer's exterior has a reflective coating that protects it from rust.
The trailer has side ramps, making it relatively easy to move horses.
Cons:
The living compartment in the back of the trailer is relatively small, making it hard to rest.
Bockmann Performance Trio: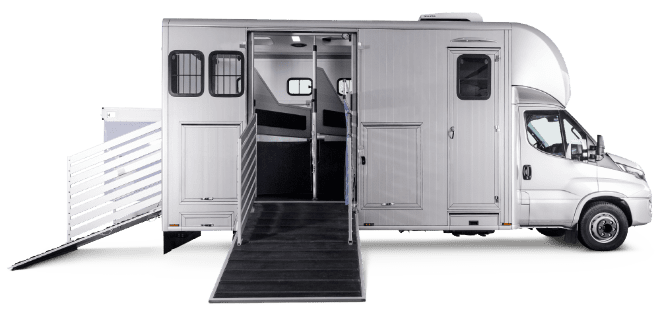 Description:
Now suppose you want something compact but still want to carry at least three horses. Then the Bockmann Performance Trio can be a viable option. This trailer features a slant load design, allowing it to reach this level of compactness despite adding a full-size kitchen. It also has two separate storage compartments, with one even having saddle racks. But I did find them relatively hard to access.
Now about its aesthetic appeal, the whole kitchen is painted in a neutral light brown and white color. The flooring is lined with PVC, an excellent step up from a simple cold bare metal floor. The horse area is also padded with dark color mats, which provide plenty of grips so the horses can stand still during bumpy rides.
The Horse Box also includes full-size ramp doors on both the back and sides, which is a massive help with unloading. And the added railings just add another level of security. The several windows, skyline, and roof ventilator also help keep the internal temperature down while allowing for natural light.
Pros:
The Horse Box has durable aluminum wheels, which won't rust over time.
The trailer has ample room to help the horse feel more comfortable moving around.
Cons:
The PVC flooring of the Box is less durable than the metallic ones.
Supersport Chest Bar 3 Seater: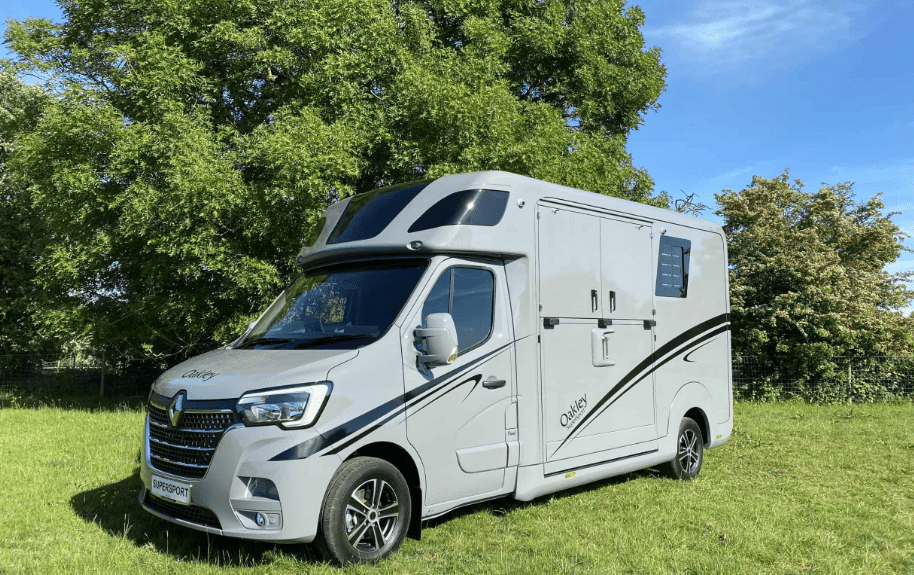 Description:
If you're looking for a Horse Box with a more minimalistic design but still has all the features you will find in modern horse trailers, then the Supersport Chest Bar 3 Seater will be a dream come true. One unique thing about this trailer is its three-seater cab, which is widely helpful if you have company of friends.
Now, the horse area is a whole different story as it comes with two separate large stalls, with plenty of space for the horses to sit and move. And due to this, all the walls and floor are layered with padding to prevent sharp edges. The divider in the middle of the stalls can also be opened, giving easy access to both horses, further making it easy to unload through the side ramp.
Just in front of the stalls, the trailer also comprises a reasonably large tack room that can be used to store all your riding and horse grooming equipment. The tack area also contains several LEDs, giving a very aesthetic look to the overall interior. But the 4 drainage point is the best part, which makes it relatively easy to wash the whole thing from the inside.
Pros:
The compact style makes this Horse Box easy to drive even through heavy traffic.
The driver cabin on this trailer features soft padded seats, making them relatively comfortable to sit on for extended driving trips.
Cons:
All the electronic features on this trailer take quite some time to get a hold of for people not used to tech.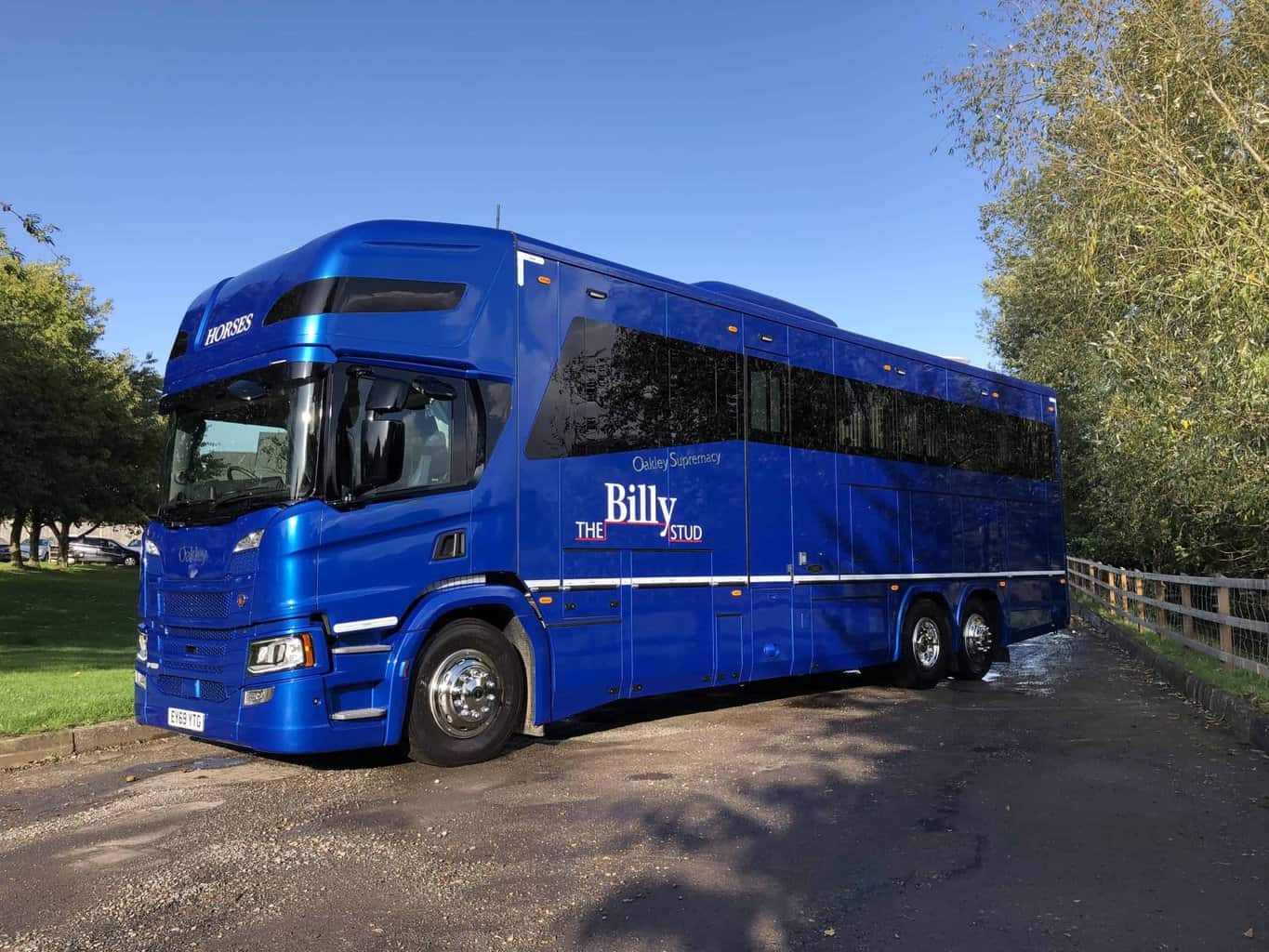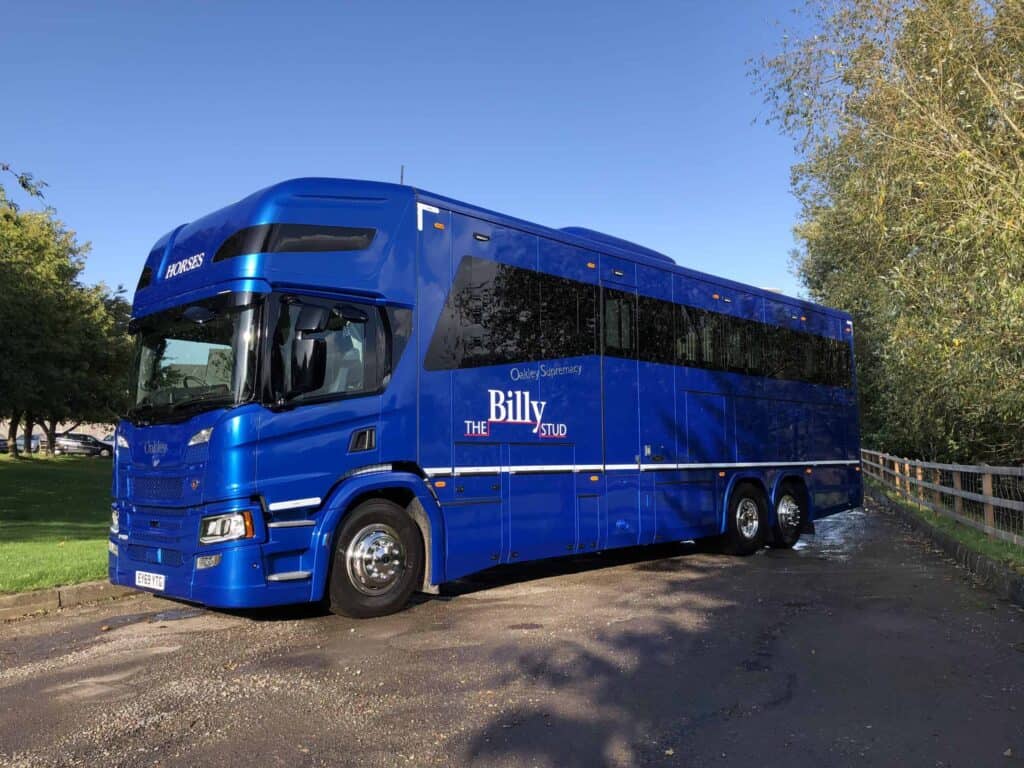 Description:
As the name suggests, the Oakley Supremacy is a Horse Box that has it all. The exterior is made of a solid metal build with a jet finish which you can customize in any color you want. It also features several windows along the sides, which provides the RV with adequate natural light. And during the night, the same is also achieved through its full array of LEDs.
Moving to the inside, the whole interior is decorated with walnut-colored timber, making it aesthetically pleasing and giving the trailer a natural feel. The rest of the interior also offers wooden flooring and a mix of different materials for the sofas and beds. And due to its massive inside space, the trailer also boasts a full-size washroom and several beds for a comfortable riding experience.
Talking about the most essential part of a Horse Box, the horse area, this Box is hard to overlook, seeing how Oakley has decked it out with everything a horse could dream of. It features full-size horse stalls which can hold up to 6 horses comfortably. And due to their side-load design, there is ample space for them to even sit on the well-padded rubber floor.
Pros:
The trailer offers a very appealing living area with a homely feeling.
The Horse Box has a sizeable cooking stove and an oven to carter many people.
Cons: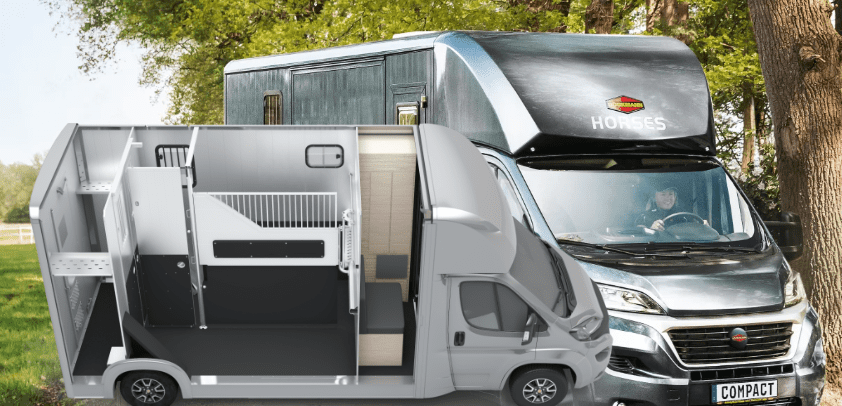 Description:
This is another compact Horse Box option from Bockmann, the Compact L Plus Stall Tour. It comes in around 4500 kg, which is pretty low for most trailer options on this list. Consequently, it uses less fuel overall, a fact that should not be overlooked considering the contemporary fuel situation. But despite this, it still has ample space to house two horses with full-size metal dividers to separate them.
It also features a 30-inch living space where you can straighten your legs during stops. At the back, the trailer also comprises a separate storage compartment which you can use for storing saddles or tacks. The Horse Box also has several windows with livestock bars and vents for adequate ventilation and natural sunlight.
And for security, the horse area is wired with a video camera, and its feed can be easily viewed from the front cabin or a separate smartphone. The front also comprises a fully air-conditioned system and soft padded seat, making the entire experience relatively comfortable.
Pros:
This Horse Box has enough room for up to 2 horses and other necessary items.
Plenty of lighting is available on this trailer's interior and exterior.
Cons:
This trailer's plain silver finish can be dull for many equestrians.
Stephex Horse Box Trailer: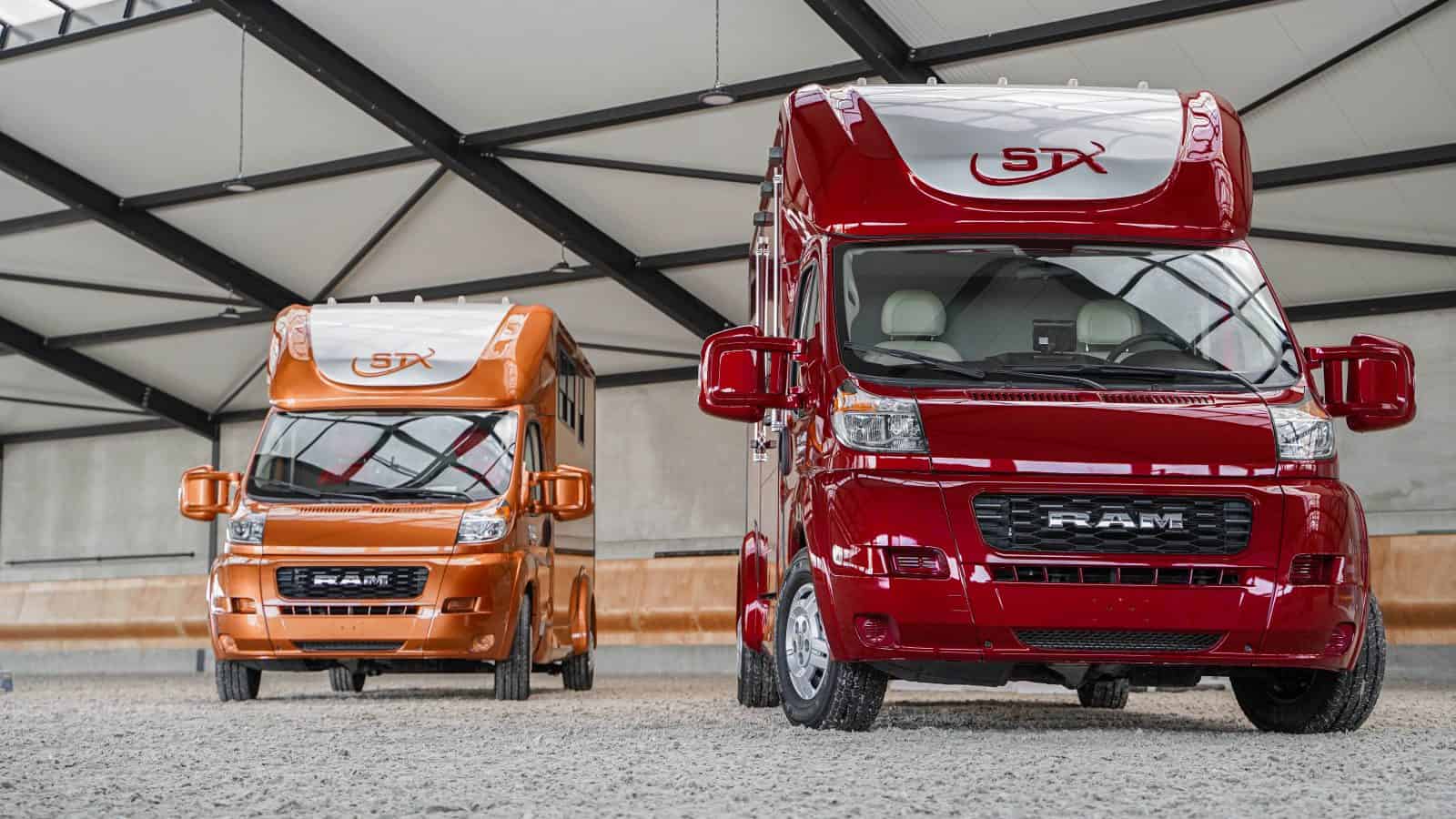 Description:
If you're looking for a Horse Box with no compromise in performance and security, then the Horse Box Trailer from Stephex can be one of the best options, in my view. And it may be the last trailer on this list, but this doesn't make it any less superior than any other trailer out there.
It features a jet finish with multiple paint options, including red and orange. It comes in around 3500 kg and offers a 280 HP engine, so don't worry about getting late to your next horse show event. The trailer cabin comprises two seats, each with its separate armrest for added comfort. This might be a very trivial detail, but those who spend a lot of time on the road are well aware of its significance. And let's not forget the central locking system that makes the whole thing pretty secure.
The STX Horse Box horse area has adjustable stalls, so you can adjust them in both slant and straight load configurations. A skylight is also a nice touch, so your horses don't feel isolated from the outside world. The powerful LED lighting further strengthens this by giving it a lively feel. And don't forget, you can always store your belongings in the extra storage compartment at the back.
Pros:
This trailer's configuration and floor plan are fully customizable.
The Horse Box includes soft flooring and padded rubber along the whole base.
Cons:
Some of the non-coated metal parts on this trailer can quickly start to rust.
FAQs
Question: Can I Use A Horse Box Instead Of A Horse Trailer To Transport Horses?
Answer: Regarding the primary function, both Horse Box and Horse trailers transport horses. So, yes, you can use a Horse Box instead of a Horse trailer. But you also have to consider their differences to be sure you're ready to use a Horse Box.
I believe Horse Box trailers are much easier to drive and manage than standard horse trailers. But all this comes at a price, as Horse Box trailers are way more costly.
Question: Does a Horse Box Use More Fuel Than a Horse Trailer?
Answer: This answer isn't simple as a yes or no, as that depends on the type of trailer in question. The Horse Box usually burns more fuel than you would need to pull a bumper pull or gooseneck. But the Horse Box consumption isn't even close to the average fuel consumption of a truck towing a living quarter or a 5-8 horse trailer.
Question: Can You Customize A Horse Box Trailer?
Answer: Yes, most of the Horse Box trailers available in the market can be fully customized, from their exterior paints and design to their interior leather seats. You can even add multiple accessories to the horse compartment, including divider pads and foam padding for the floor. But while doing all this, keep the trailer's weight in mind, as it shouldn't exceed the maximum weight rating for the horse.
Wrapping Up:
When buying horse trailers, you may browse over the Horse Box like any other trailer type. But in reality, it is a relatively unique concept with its own sets of pros and cons. The Horse Box is a sort of an RV designed to carry horses, which does not let you worry about owning or renting a separate car or truck to tow it to your next horse show event.
But as good as this may sound, buying one can sometimes be a big hassle. However, following these steps can make the process a lot more streamlined. Consider your specific use for the trailer, the number of horses, how long you plan to stay on the road, or even which amenities you want.
While doing that, set a reasonable budget and try not to exceed it. And remember to pick a Horse Box dealer near where you live.
For my fellow equestrians, I have enlisted my top Horse Box trailer picks in this guide. And if I were to choose my favorite from the list, it would be the Supersport Chest Bar 3-Seater. This trailer is very compact and easy to manage. And despite its size, it still has all the amenities that an equestrian could ask for. It also has a two-way extractor fan and a heavy-duty vent for the horse compartment, making the rear cabin well ventilated.
By now, I hope you have all the information you need to buy a good Horse Box for yourself. Good luck!
Read More: