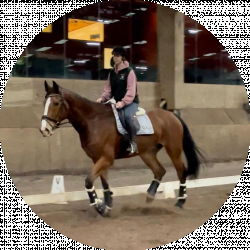 Latest posts by Maddy Chiffey
(see all)
As a horse owner, it's essential to take every precaution to ensure the comfort and safety of horses during travel, and horse trailer cameras are the easiest way to do this. But finding the best can be a challenge. As modern technology goes, horse trailer cameras are straightforward to use and have so many benefits that even the least tech-savvy owner can quickly get to grips with them.
In my horse trailer cameras guide, I have featured six of the best trailer cameras around today. I've included their pros and cons for a true overview of the product. But, if you want to see my findings, in brief, they're just below.
My Bottom Line up Front:
Sleek and water-resistant, the Swifthitch SH04 Wireless Battery Camera System is my overall top pick. This incredibly versatile horse trailer camera links directly onto your smartphone or tablet and works wirelessly, creating its hotspots for low signal areas. It is ideal for all kinds of applications, including parking, blindspots, and keeping an eye on horses in the trailer.
At a Glance: 5 Best Horse Trailer Cameras
What is a Horse Trailer Camera?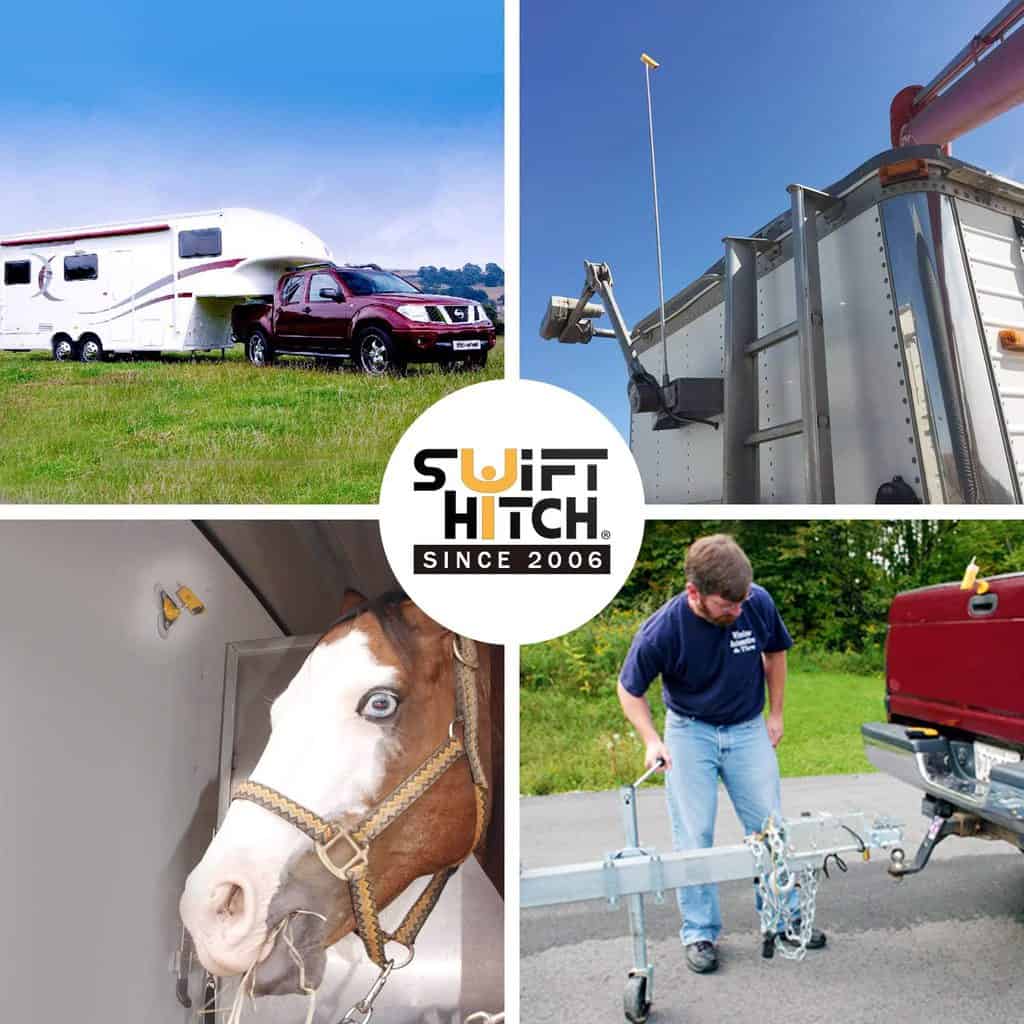 Before we get fully into this article, it's worth noting what a horse trailer camera is. Horse trailer cameras let you monitor your horse(s) during transit, which means you can stop to take immediate action if needed. Owners of sickly, aged, or pregnant horses are more likely to want this level of monitoring, but there are benefits to all owners.
Being able to drive in a more relaxed state is very beneficial, but reaching your destination with a horse that isn't injured or distressed is the most significant advantage of a horse trailer camera. Additionally, multi-view horse trailer cameras provide extra visibility of the road, which can be invaluable when reversing or parking.
How to Choose a Horse Trailer Camera
When shopping for the best horse trailer camera, there are a few things to take into account, as there are with all technological products. Horse trailer cameras aren't the cheapest product in the equestrian market, so it's important to make the right purchase the first time around.
I have broken down the things to consider when buying a horse trailer camera below.
Connectivity
There are two options for connecting the camera to your cabin display: internet data or cables – wired or wireless. A wired horse trailer camera is the more expensive option and requires more involvement with the setup. But, many users find this type to have greater advantages, such as the fact they work in any kind of vehicle, often result in sharper images, and they don't lose their signal – providing better peace of mind.
Wireless horse trailer cameras are much less expensive and straightforward to install – often compatible with in-car cigarette lighters or a 12-volt DC connection. However, the drawback is that they can often be unreliable and lose signal.
Display Quality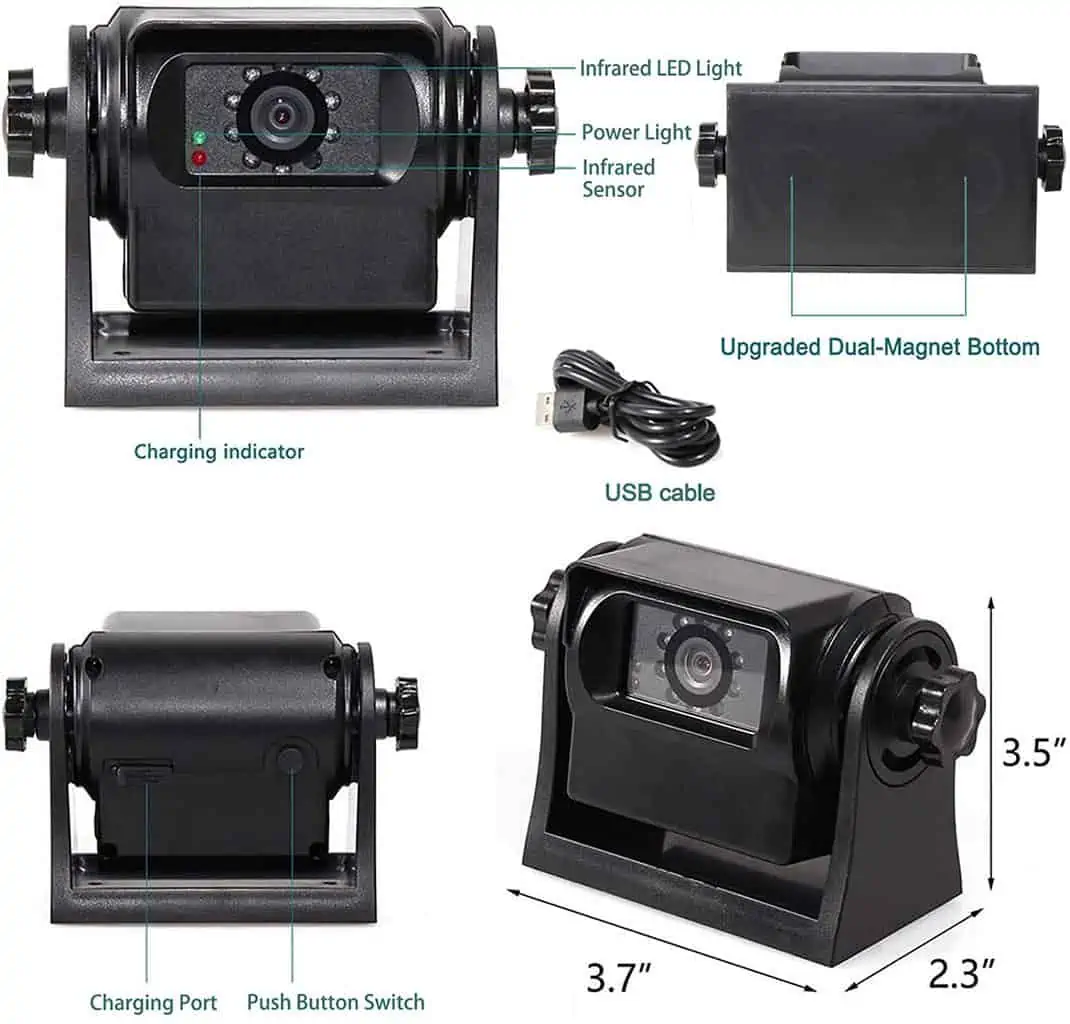 Horse trailer cameras are available in various sizes, but for the greatest convenience and imagery, it is best to look for screens of 7-in and above. The best horse trailer cameras will provide full HD 1080p displays, but this level of display quality comes at a cost and may not be necessary for all readers.
Waterproof
Horse trailer cameras are often exposed to the weather, dust, dirt, and debris. A rating of IP69K indicates that the camera is resistant to spray downs, close-range high pressure, and is dust-tight. Cameras in this caliber have greater longevity and are more durable, but they're more expensive, too.
Recording Functionality
It can be convenient to be able to record with your horse trailer camera. If you're involved in an accident while backing up or driving the trailer, or if there are any problems with your horse(s) during transit, you will be able to review the footage to identify the cause. This can help not only with peace of mind but also for insurance claims.
Moreover, a recording functionality could be helpful if situations of vandalism occur.
Nighttime Visibility
A feature I believe to be essential is night vision. While most horses are calmer in the dark, this doesn't stop accidents or illnesses from occurring, so it is still as important to be able to monitor your horse at night as it is during the day.
My Product Criteria
There were some things I wanted to ensure with the products before researching them further and ultimately recommending them to you. Here's a breakdown: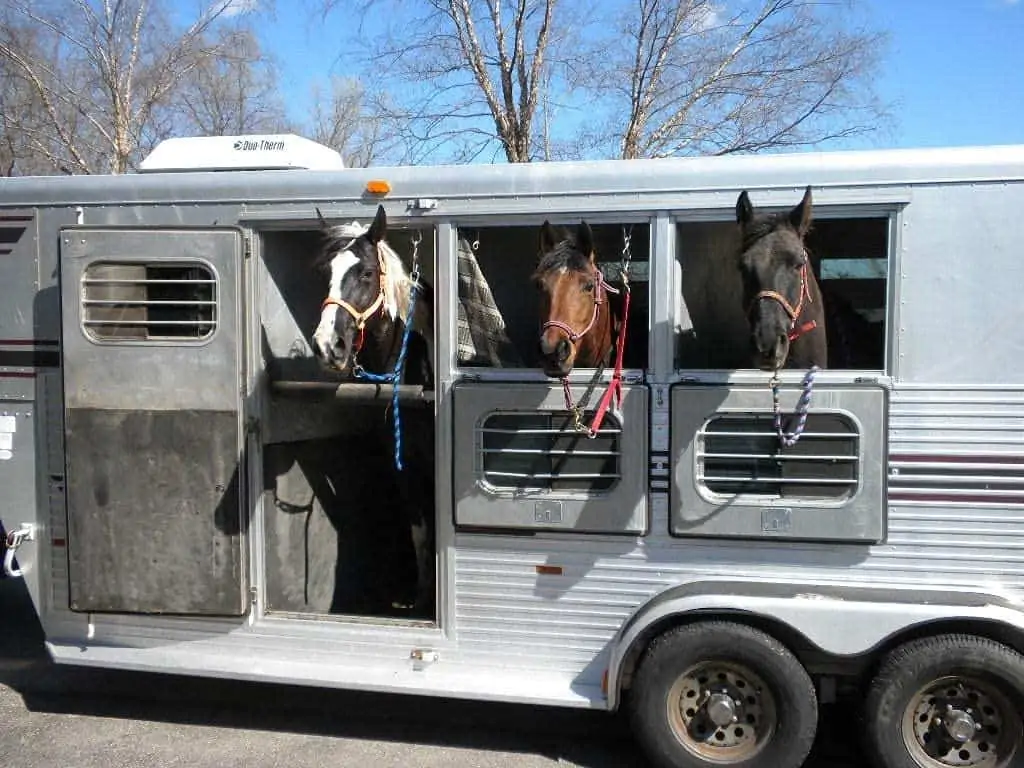 Brand
I feel it is essential to examine the brand behind the camera to ensure the camera has been manufactured by an experienced and reputable business. I am aware that more major brands will have a premium price over the lesser-known, but for horse trailer cameras, I genuinely think you get what you pay for – and reliability is so important here.
Warranty
As with all electrical equipment, it is always worth examining the warranty for reassurance that you're covered with a repair or replacement if something goes wrong. Often the warranty for horse trailer cameras will be just 6-months, but some brands have extended this to 24-months.
I have ensured a generous and verified warranty with all cameras in this guide.
Consumer Feedback
The greatest asset of online shopping is the experience of other consumers. As great as I may find a horse trailer camera, I feel more confident recommending it if others back up my findings.
Price
Horse trailer cameras are not cheap. But, you mustn't be paying over the odds. I carefully considered the prices of each trailer camera to ensure it was relative; when all things were considered. While you may not find a budget buy here, you will find value for money.
My Chosen 5 Best Horse Trailer Cameras
#1 Swifthitch SH04 Wireless Battery Camera System – #1 Top Pick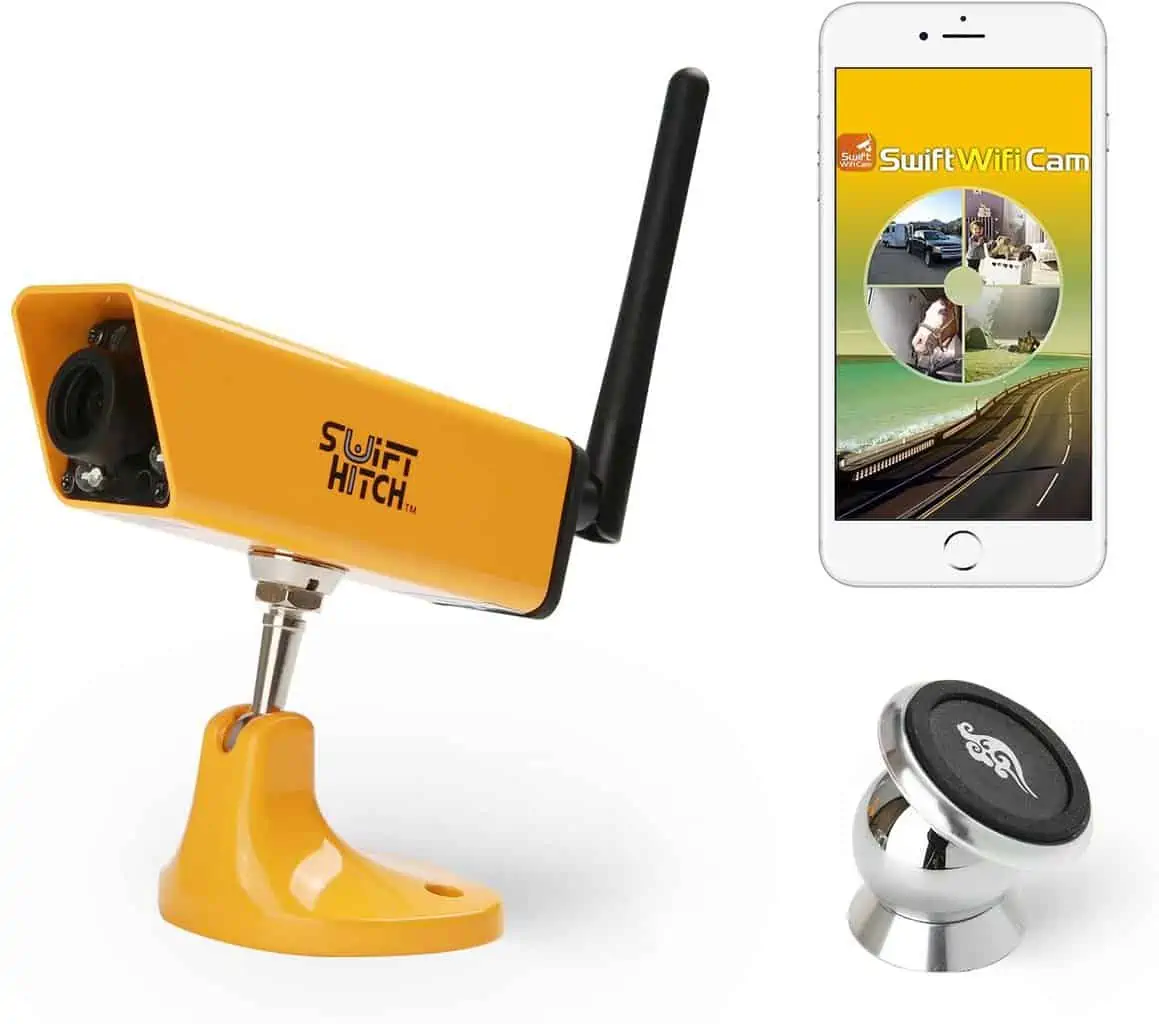 After careful consideration, I have confidently chosen the Swifthitch SH04 Wireless Battery Camera System as my overall best horse trailer camera. This is for a variety of reasons. Firstly, I am not a tech-savvy consumer, yet I found this super easy to set up and operate. It is a wireless camera and links to your smartphone or tablet with minimal effort.
The Swifthitch SH04 doesn't require an internet connection and forms its mobile hotspot for low-to-no signal areas. Most consumers found this feature to be reliable.
As it connects to your phone, you may worry about it taking over its usage, but this isn't the case. While in camera mode, you are still able to receive texts and calls on your phone. The camera comes with a hands-free holder, adapter, and charger.
The build quality, however, is superb, and several mounting options are providing excellent flexibility. I love the ball-and-socket base joint, which helps to get that perfect viewing angle. It would be perfect if this came with a screw option for extra stability. However, the physical hardware is very good as it is.
The image quality is sufficient, although daytime footage is much sharper and more accurate than nighttime shots. I did expect Nightvision to somehow activate automatically, but this isn't the case, and it must be done manually – a niggle if you forget.
If, like many, your vision changes with hours spent on the road, the Swifthitch camera has lots of customization options that can help, such as adjustable parameters like saturation, contrast, and hue. Overall this is a camera that offers good value for money, useful features, and has a good build quality. It would be a truly awesome buy with a couple of tweaks, but as it stands, it's pretty darn good!
Pros
Excellent Build Quality
Flexible Viewing
Easy to Set Up and Operate
View on Your Smartphone or Tablet
Good Range of Charging Options
Low Battery Indicator
Excellent Wireless Range
Cons
Fairly Small Display Screen
Resolution and Color Isn't Outstanding
Manual Input to Change to Night Vision Required
#2 Rohent R3 HD 1080P Digital Wireless Backup Camera – #1 Top Budget Pick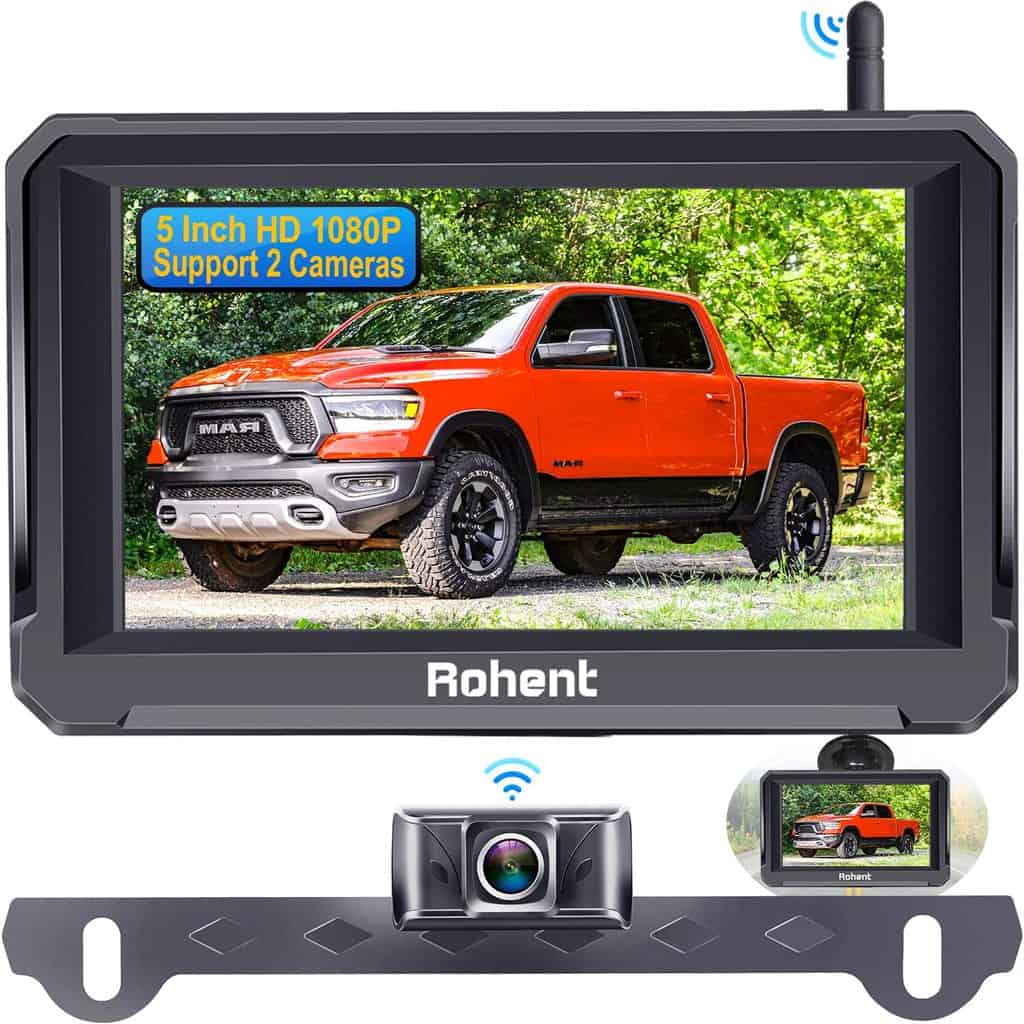 The Rohent R3 HD 1080P Digital Wireless Backup Camera offers high-quality specs at a highly affordable price and has hundreds of positive reviews online attesting to this.
There is a high-definition 960p resolution on display – which is 5-in. The display is super clear, but the brightness and contrast adjustments are not on a par with the Swifthitch camera. The box contains one camera that features two channels, for inside and outside of the trailer, and works with a split-screen display to transfer both images simultaneously.
I found the infrared lighting a great feature, as it means you can keep a clear eye on your horse during the night with little disturbance to the animal. There is a 150-degree viewing angle, which significantly helps with parking and reversing.
Another excellent feature of the Rohent RS is the IP69K waterproof ratings, meaning it is exceptionally resistant to harsh weather conditions and should last a long time.
Installation is straightforward. You simply connect to your in-car cigarette lighter and another power source inside or outside the trailer, and you're good to go. I haven't found many consumers have issues with the stability of this wireless connectivity, and visibility seems to remain clear day and night.
There is 24-hour tech support available and a 2-year warranty.
Pros
Great Value for Money
Easy Installation
Split Screen Function
Clear Picture
150-Degree Viewing Angle
Infrared Lights
Resistant to Harsh Weather Conditions
Excellent After Sales Service
Cons
Small Display Screen
Contrast and Brightness Adjustments Aren't The Best
#3 TadiBrothers Wireless Backup Camera Kit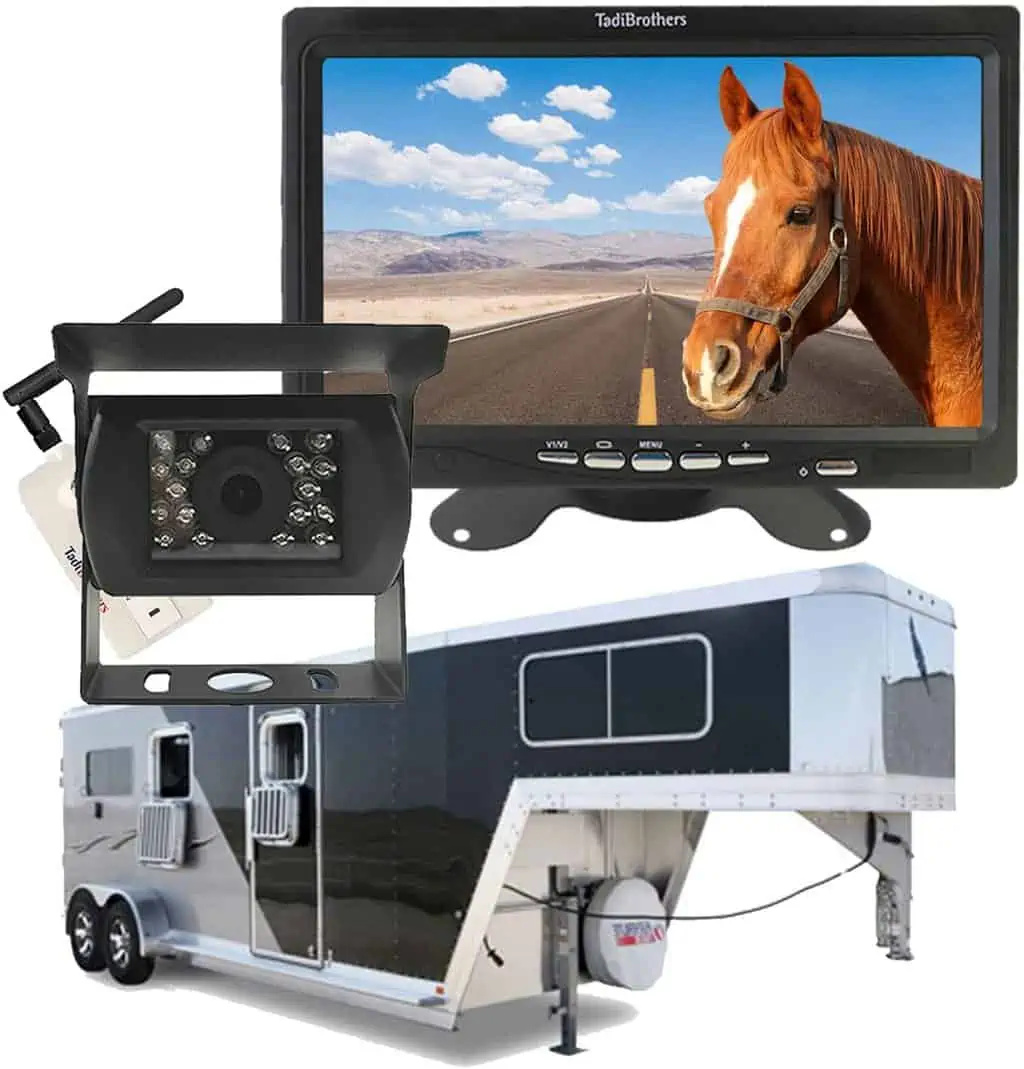 Firstly, there are few reviews on Amazon for the TadiBrothers Wireless Backup Camera Kit. Still, I have spent a lot of time researching the brand and am confident that it is reliable and to be trusted. See here for more details on this. If still unsure, it may put your mind at rest to know there is a 100% money-back guarantee (within 30 days).
This camera is more expensive than most in this guide, but many people will think this is worth it once all the features and quality levels have been considered.
Inside the box, you will receive all you need to get going immediately, including a 7-in LCD monitor, x2 mounts, and a wireless transmitter. There's also an easy-to-follow instruction manual to help with the installation – which is straightforward.
This camera is compatible with all vehicles and provides a 120-degree view outside of the trailer, with a 70-foot range when used inside. There is a superb night vision function that adjusts to allow visibility in low light conditions, plus a fantastic sun shield to minimize glare.
I found the full-color images to be crystal clear and of superior quality to most. The split-screen feature allows you to add up to four cameras in the future.
Pros
Excellent Quality
Split Screen Function
Fantastic Night Vision
Compatible With all Vehicles
Long Range
Waterproof
Cons
Quite Expensive
Few Reviews on Amazon
#4 EWAY WiFi Magnetic Hitch Wireless Backup Camera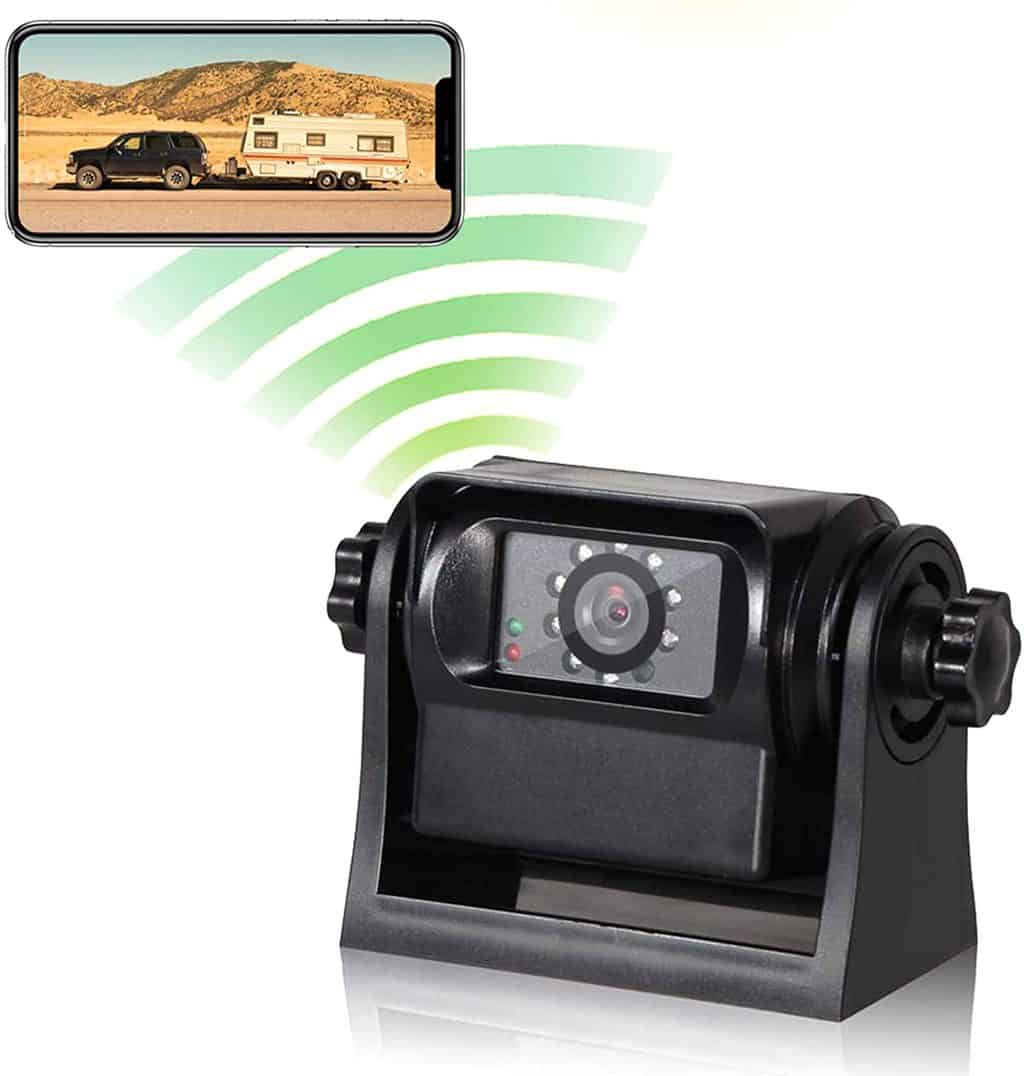 The durability of the EWAY WiFi Magnetic Hitch Wireless Backup Camera is like no other; submerge in water, no problem, expose to storms, that's fine, connect via a simple magnet, yep!
With an above-average price, you expect above-average quality, and this is what you get with the EWAY camera. Although my absolute favorite aspect is there is no hardware whatsoever; simply attaches to a metallic surface for a strong magnetic hold.
This is a completely wireless camera, working via WiFi technology. It has a rechargeable battery that takes 6-hours for a full charge through a USB power cable. It is rated IP8, which means it will withstand all weather elements. Many consumers have used this as an exterior security camera for their homes due to its durability in all weather conditions.
There are x9 infrared night vision lights that provide around 30-feet of footage.
There seems to be a little confusion around the app to use and what smartphones are compatible with, so I would suggest contacting the manufacturer or further researching about your smartphone to ensure it will pair properly before purchasing.
Pros
Magnetic No-Fuss Installation
Superior Durability
X9 Infrared Lights
Rechargeable Battery
High-Quality Camera
150-Degree View
Cons
Some Confusion Regarding Pairing App
It doesn't Work With All Smartphones
#5 Yuwei Wireless Backup Camera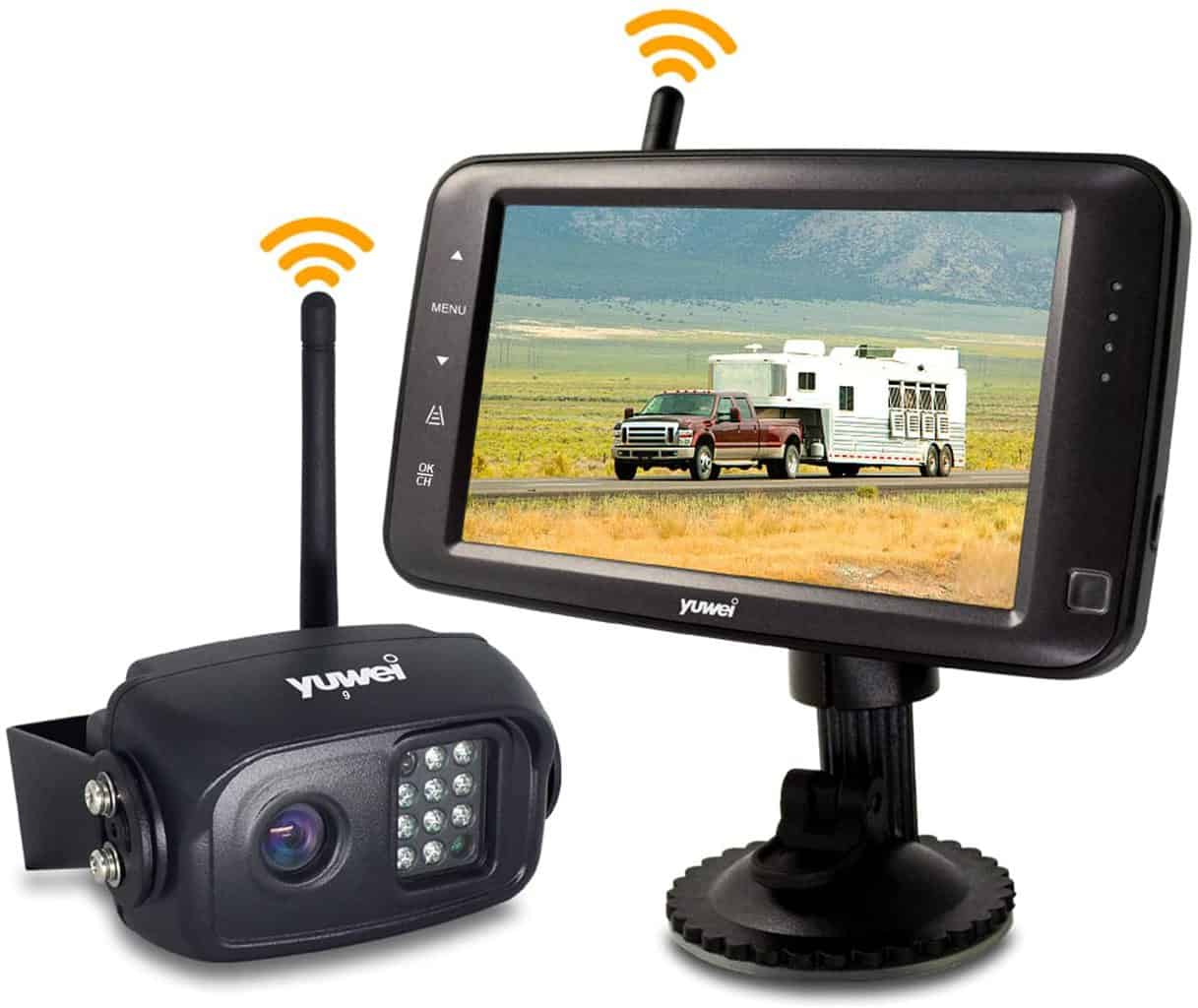 The Yuwei Wireless Backup Camera is a highly portable camera that works via the cigarette lighter on the dash, which makes it super simple to install and remove. I found the system to be quick and easy to operate and get to grips with initially – which could contribute to the fact this camera is an online best seller!
The screen size is an average 7-in but can support up to four wireless cameras at a time, so you can view outside and inside the trailer for excellent peace of mind. There is infrared night vision and a generous viewing angle of 120-degrees.
As with most other horse trailer cameras in my guide, the Yuwei camera is waterproof – however, there can be great confidence taken from this statement as the brand tests their devices under 3-meters of water for 2-hours before shipping. So, it's waterproof and features a rating of IP69.
You can do lots of things with the images, such as mirroring – I don't know why you'd want this, but it seems to be a hit with many consumers.
There is a 12-month replacement warranty, and the brand is noted to have a worry-free, convenient after-sales service.
Pros
Outstanding Waterproof Protection
Excellent Durability
12-Month Replacement Warranty
Easy to Use
Online Best Seller
Cons
Suction Cup Could be Stronger
FAQs
Question: What is the point of owning a horse?
Answer: There are many benefits to owning and riding horses, from developing responsibility, building an emotional connection, therapeutic support, muscle and balance development to cardiovascular strength, and aid for depression. 
Question: What is the cost of owning a horse?
Answer: The cost of owning a horse depends on what facilities you will be using and where you live. If you keep a horse in the city, you will pay substantially more than if you keep the horse on your ranch or out in the country at a boarding facility. The average cost of boarding and feeding a horse is $5-$8 per day. This cost does not include routine vet care or injury-related vet care. 
Question: Are horses a big responsibility?
Answer: Horses are your responsibility. Their care and cost to keep are much higher than other pets like dogs or cats. Additionally, a horse has an increased life expectancy if well cared for by you. Horses can reach an average age of 30+ years, with some horses reaching into their 40s. Owning horses is a substantial time and financial investment. 
Question: Do you have to provide stables for horses?
Answer: No, horses are wild animals, and they do well when provided with enough space to graze and some shelter from wind and rain. Older horses benefit from being stabled and blanketed to prevent heat loss (and the resulting weight loss) during cold or wet weather. 
Question: What are the cons of owning horses?
Answer: While owning horses is a joy, other aspects aren't as pleasant:

• Horses are expensive to buy and keep
• Horses can injure you
• Horses can be messy, and there are usually flies and manure around their stables
• Horses require a lot of time to train, ride and work with
• Horses will steal your heart, and let go to sell them, or when it's time for euthanasia is hard
Question: How much space does a horse need?
Answer: When you need to figure out how much space you need for your horse if you intend to keep your horse on its own, the average guide is two acres per horse. Most stabling or boarding facilities will work according to a careful calculation of their available space. 
The Best Horse Trailer Cameras Summary
I believe all of the horse trailer cameras in this guide to be beneficial products, but some shine more than others. I think the waterproof level of the Yuwei Wireless Backup Camera is second-to-none and would recommend this camera for this alone. The durability of this camera is sublime, and there's a 1-year replacement guarantee. However, few products are perfect, and I feel the suction cup needs improvement.
For ease of installation, there are few greater than the EWAY WiFi Magnetic Hitch Wireless Backup Camera and its magnetic hold. I found the durability to be fantastic and the images to be of very high quality. But, the EWAY camera isn't compatible with all smartphones, and there seems to be some confusion over apps.
I was very impressed with the TadiBrothers Wireless Backup Camera Kit and think this will adequately meet the needs of most. Yet, the price is high, and you have to dig to find previous consumers. The value for money provided with the Rohent R3 HD 1080P Digital Wireless Backup Camera is fantastic, but the screen size is smaller than most, and the images could be sharper.
My overall favorite horse trailer camera is the Swifthitch SH04 Wireless Battery Camera System. There are a few drawbacks, but the pros outweigh the cons, and I love the flexibility offered.
Recommended Reads: