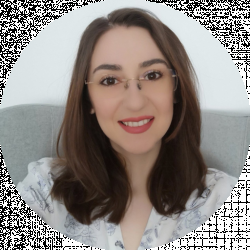 Latest posts by Alexandra Gavrilescu
(see all)
I've always loved horses, thinking they're the most majestic and graceful animals of all. I admire their beauty and respect their power. Years ago, I used to fear their large size, but after several years of practicing the pleasurable activity of horseback riding, I now love them more than ever.
I enjoy horseback riding, but I'm always attentive to how the horse feels. I want it to be comfortable and relaxed without pain or discomfort. In fact, I can't stand to see an animal that hurts or suffers. That's why, for me, finding the best saddle pads is very important. Saddle pads ensure the horse's comfort, but they're also crucial for your safety.
In today's article, I've detailed all the guidelines you need to know to buy the proper saddle pads. Moreover, you'll find some of my recommendations when it comes to the best saddle pads available on the market.
My Bottom Line Up Front!
From my experience, there are certain things to keep in mind when searching for the best saddle pad you can afford:
Comfort – besides safety, comfort is the most important feature of any saddle pad. Both you and your horse will remain happy and calm as long as you use the right kind of saddle pad in terms of shape, size, and material;
Safety – the fact that you should always choose high-quality and well-made pads goes without saying. Cheap or low-quality alternatives could put you at risk while also hurting the back of your horse;
Durability – this is important, especially if you plan to ride your horse outdoors and not so much in covered arenas. Durability ensures that the pad will remain intact even when it rains, or you encounter lower tree branches;
Cost – your budget is also essential, and if riding horses is your favorite and regular hobby, then you'll be willing to invest in a premium saddle pad that will last for a long time. If, on the contrary, you only ride once in a while, then I'm sure you'll find various decent options that are less expensive;
Riding discipline – all the riders I know use western riding gear, but others could engage in English riding or endurance riding. Based on your discipline, you should opt for a specific saddle pad that's suitable for what you've chosen to do.
How to Find the Best Saddle Pads – Things to Consider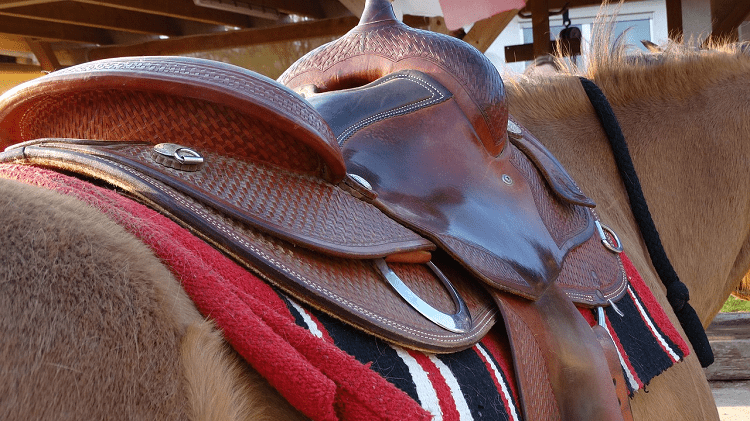 Let's find out the most important aspects to consider when selecting the best saddle pads for your horse.
Find the Right Style
Saddle pads come in three main styles: square, shaped, and half pads. Riders use square pads when they're training horses or during shows when they perform Dressage tricks.
However, shaped pads are more common during jumping contests and hunting events. Regarding the third style, the half pads, you'll see it in numerous disciplines; they're used as they are, on their own, or paired with any of the other two types of pads.
Match the Curvatures and Contours of Your Horse
To avoid any unnecessary pressure applied on the horse's body, you must pick a saddle pad that fits the shape of the horse's back, as well as its contours features right under the saddle.
Inappropriate pads could lead to spine damage in horses. When it comes to the horse's back shape, you can choose between two pad options: mutton-withered and high-withered.
Choose the Correct Size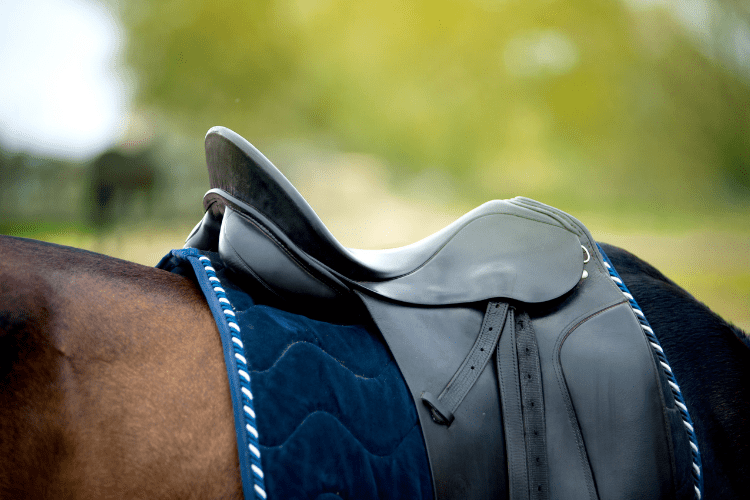 For starters, the proper pad should match the size of your saddle. Each pad type is created as the ideal fit for a specific saddle style. For instance, dressage pads accommodate longer flaps and have straighter cuts. These pads pair well with a dressage saddle that has wider flaps.
Features such as shorter lengths and forward cuts can be seen in close contact saddle pads, while a combo or hybrid between the two designs mentioned above is meant to serve all purposes. Finally, smaller saddles require smaller pads, and they're suitable for both kids and pony saddles.
To make sure the pad is a good match for your saddle and horse, place it on the back of the horse and see if it exceeds the saddle's edges without covering the horse's last rib.
Opt for Pads that Improve the Saddle's Fit
Saddle pads don't have the purpose of improving ill-fitting saddles. Therefore, you must first find the proper saddle type that suits your horse's body before looking for a proper pad. Still, in many cases, a correct pad can and will fix the saddle's fit in a highly efficient way.
For example, let's say that the horse you're about to ride isn't completely developed yet. If that's the case, you must use a specialized and customized saddle pad to alleviate part of the pressure the animal will feel. That usually occurs when horses are used again after long break periods. I'm always saying that no animal should be hurt during any equestrian activities. The best solutions for these sorts of situations are shim pads or half pads.
Pay Attention to the Materials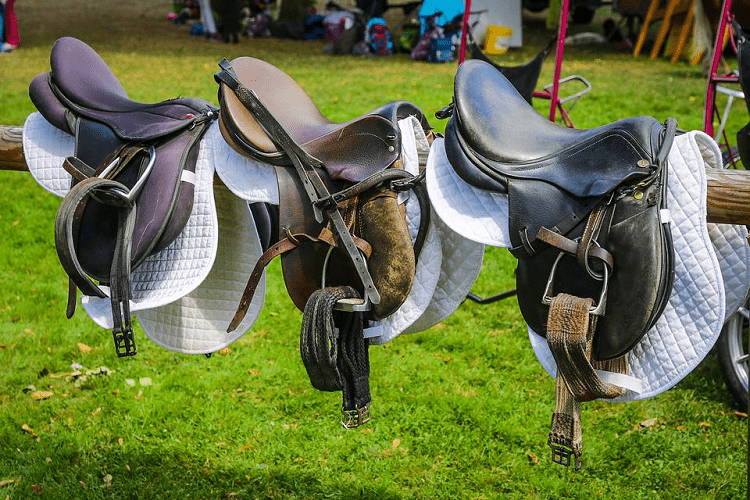 Choosing the best materials is highly important. There are numerous options out there, but you should only pick those saddle pads that are made of premium and durable fabrics (as long as your budget allows it). Among the most popular alternatives are cotton pads and fleece pads. These two are great when it comes to their wicking properties.
If you choose to buy a fleece pad, you should know that it could be made of wool, sheepskin, or synthetic fabric. If you want something more affordable and low-maintenance, you should go with either cotton or synthetic fleece. The ideal choices are wool and sheepskin for those who can afford something more expensive and more efficient. However, these two versions require specialized care.
At the same time, wool and sheepskin saddle pads are perfect for absorbing sweat, accumulating up to three times their weight in water. Cotton pads only absorb their own weight. For extra protection, comfort, and cushioning, you should pick those pads that feature an inner layer made of foam or gel batting. These will boost the product's shock absorption.
How to Find the Best Saddle Pad – My Personal Top 4 Choices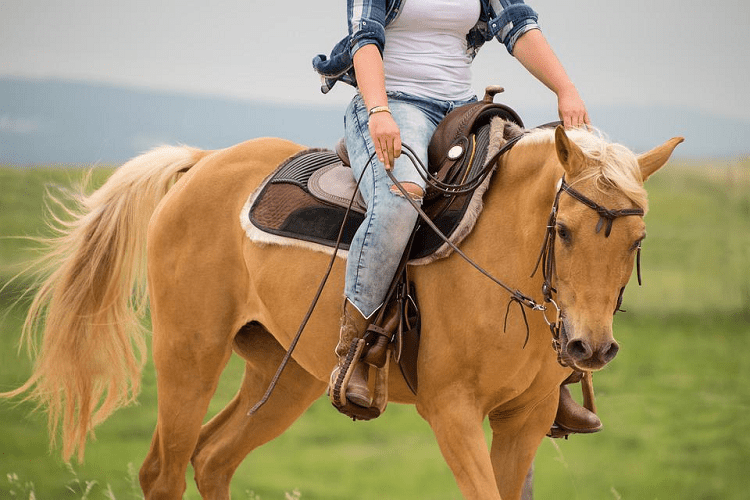 I've chosen and listed the following saddle pads based on their features and durability. However, I haven't presented them in any particular order:
Imperial Riding Saddle Pad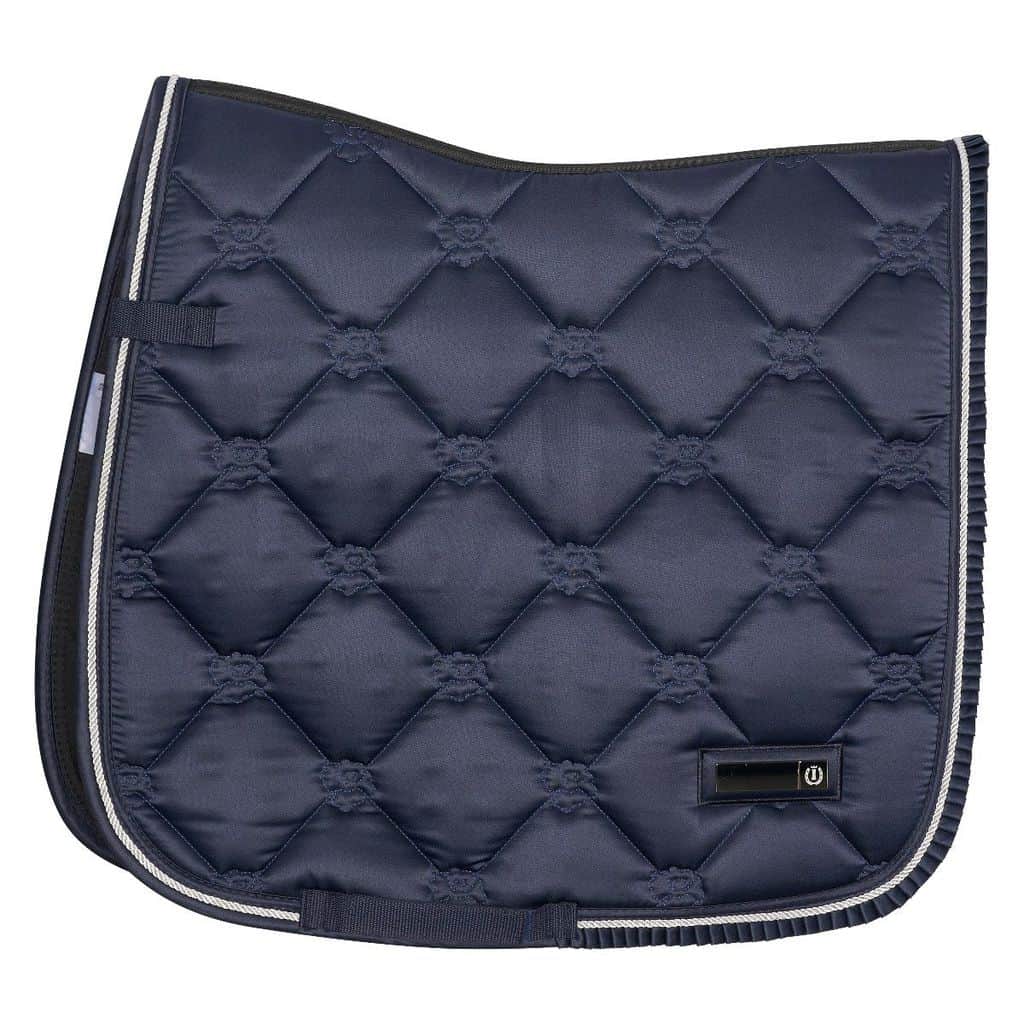 You'll find this saddle pad online. It's suitable for dressage. I love how stylish and elegant this pad looks. Another thing I like about it is its fabric. The pad is made of breathable mesh back seam, feminine ruffle edges, a branded badge, moisture-repellent materials, technical lining, and retaining straps;
Weather Beeta Saddle Pad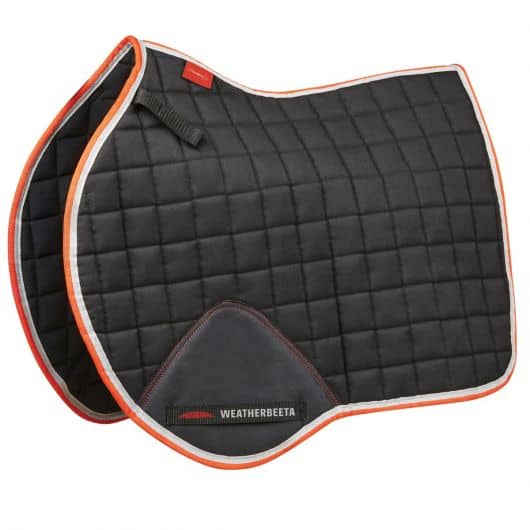 This excellent saddle pad is an all-purpose option that comes in black, red, and silver. It relies on the innovative Therapy-Tec that boosts your horse's comfort. Its ceramic lining will improve the horse's blood circulation and muscle function while also aiding and speeding recovery;
Le Mieux Suede Saddle Pad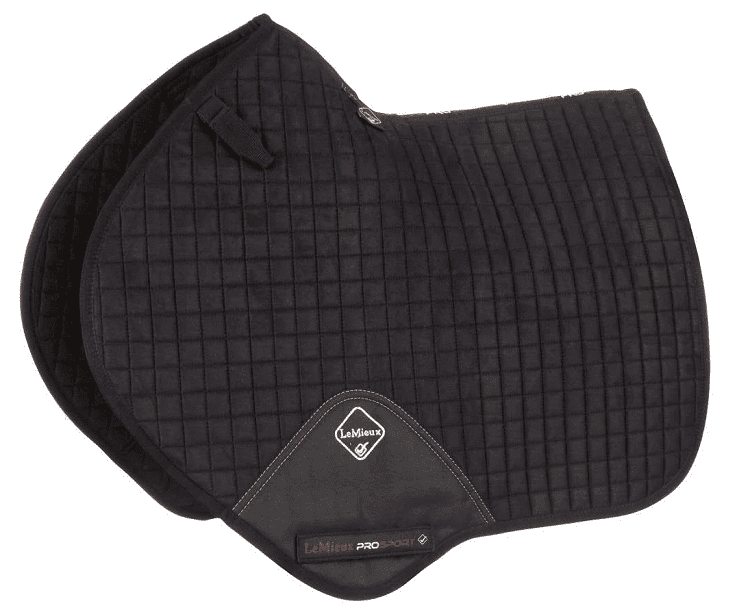 This saddle pad serves the purpose of close contact. It comes in black, and the material is a soft and luxurious one. The pad was created with your horse in mind, enabling increased performance, style, and durability.
I really like its professional and sleek appearance. I'm all about comfort, so I instantly become joyful when I hear the word soft about a saddle or a pad. Those who ride know precisely how sore our tighs can feel after a long riding session;
Le Mieux Merino Saddle Pad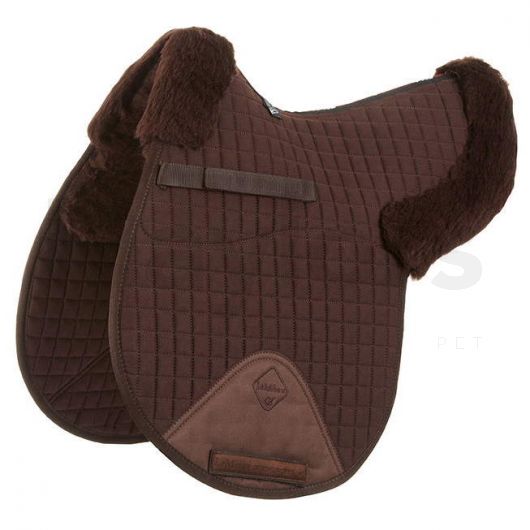 This one is my favorite out of all the pads mentioned today since it looks and feels excellent due to the merino wool fabric that was used to create it. The material mix can easily contract or expand to maintain its strength and position.
That particular feature makes this saddle pad the ideal choice for jumping over obstacles. It's a dense and soft material that controls moisture and regulates body temperature.
FAQs
Question: Why Must You Use Saddle Pads?
Answer: Saddle pads are crucial if you want to avoid any injuries and help your horse remain relaxed, comfortable, and calm. There are numerous benefits of using a saddle pad, but the two most important ones are the shock absorption these products achieve and the fact that they dissipate heat:
Shock absorption – most horse saddles ad extra pounds to the rider's weight which translates into more pressure put on the horse's back. To lower that pressure, you must use a high-quality saddle pad such as the ones made of wool fleece. That represents a pretty thick padding layer that comes between the saddle and the spine of the horse, which further leads to a bouncier and less sore horse;
Heat dissipation – during long training sessions, riding contests, and other related events, you could see sweat coming down from your horse's body, especially from under the saddle. All the movements your horse engages in generate a lot of heat, especially if the event takes place during a hot summer day. To achieve optimal performance, you must help your horse regulate its body temperature by dissipating that heat through fleece or wool saddle pads.
Question: How Do You Measure Saddle Pads?
Answer: You must consider two measurements to make sure you choose the right saddle pad size:
Drop – start measuring from one side, going over the withers, all the way down the other side;
Length – establish the longest points, and then measure that length, from back to front or vice versa.
The best pad size is the one that can be seen from under the saddle. You should be able to see it approximately two inches around the saddle and under it. This enables the saddle's shifting process when you're riding.
Question: How Should You Take Care of Your Saddle Pads?
Answer: There are several things you must do to make sure your saddle pads are in optimal condition:
Keep them clean at all times – to avoid any sores on your horse, you must clean your saddle pads as often as possible. When you're not using them, place the pads in a safe place that doesn't have dust or dirt. Between washings, you can always clean your pads with a dandy brush. Use special soaps to wash your wool or sheepskin saddle pads and then allow them to air dry by placing them upright somewhere;
Check their fit regularly – just like your body, your horse's organism will also change, which means the pads you're currently using might become inappropriate after a while. Pay attention to how your horse's muscle, size, and shape change over time, and then purchase an upgraded pad version. For instance, after a long inactive break, you should use a thinner pad. Moreover, thicker pads aren't efficient for horses that have long hair;
Alleviate pad pressure – pull up the saddle pad's front part once it's placed on your horse's back. This should move the pad into your saddle's gullet. Pads that lay flat on your horse's spine might rub against its body and negatively impact its movements because of the pressure the animal experiences.
Question: What are Saddle Blankets?
Answer: Compared to saddle pads, saddle blankets are thinner. Still, it would help if you didn't use a blanket on its own. Instead, it would be best to place it on top of your saddle pad. In addition, many riders use colorful blankets during competitions.
Question: How Thick Should a Saddle Pad Be?
Answer: The ideal thickness for saddle pads is between seven and eight inches. This type of saddle pad is comfy and works great for several riding activities such as barrel racing, trail riding, and more.
Question: What Do You Need If You Want to Do Trail Riding?
Answer: Here's the apparel you'll need for trail riding:
• Saddle and saddle pad;
• Helmet;
• Riding boots;
• Raincoat;
• Gloves;
• Breast collar;
• Fly mask;
• Bug spray, etc. 
Drawing to a Close
Riding your horse is always an enjoyable experience if you come fully equipped and well-prepared. That preparation includes choosing the best saddle pad you can afford. It would be best to opt for a specific pad based on your horse's characteristics, your main riding activities, and all the other details I've presented above.