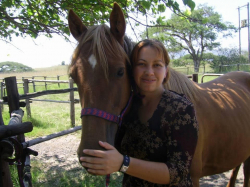 Latest posts by Talitha vanNiekerk
(see all)
When I started riding, I learned with an old beat-up trail saddle and a blanket as a saddle pad. Many years later, I finally switched to English riding and discovered a world of superb tack, including brilliant saddle pads in all the colors under the sun. 
I also discovered that not all saddle pads are the same, and there's a vast difference between an il-cheapo saddle pad at $10.99 and a great quality saddle pad like LeMieux. For one, the better quality saddle pad will last longer. Secondly, your horse will thank you for choosing a quality product that improves their ability to carry their saddle and you without pain or discomfort. 
When I started teaching horse riding lessons, I immediately instilled in my students the principle to buy the best quality they could afford in all tack once they got their own ponies. Don't neglect a saddle pad. It's not simply a piece of fabric that keeps your saddle clean. 
LeMieux has built a name in all things horse-related, but their saddle pads are considered the pinnacle of horse comfort and technical proficiency. When asked to write about their range of saddle pads, I jumped at the chance to try out the whole range, as there were a few types of saddle pads I hadn't had the opportunity to try before. 
Oh, what a delicious journey into luxury and sophistication with the LeMieux brand guide. Let's saddle up! 
Best LeMieux Saddle Pad Bottom Line Up Front
After trying out the full range of LeMieux saddle pads, choosing the best had me stumped. So I chose the saddle pad that best met my personal needs. 
The LeMieux® Merino+ Half-Lined Close Contact Square is simply stunning. I'm not a blingy person, but I love the shape, extra wither support, and outstanding features of this close-contact half-lined saddle pad.
My Top LeMieux Saddle Pads Picks at a Glance
LeMieux Saddle Pads Explanation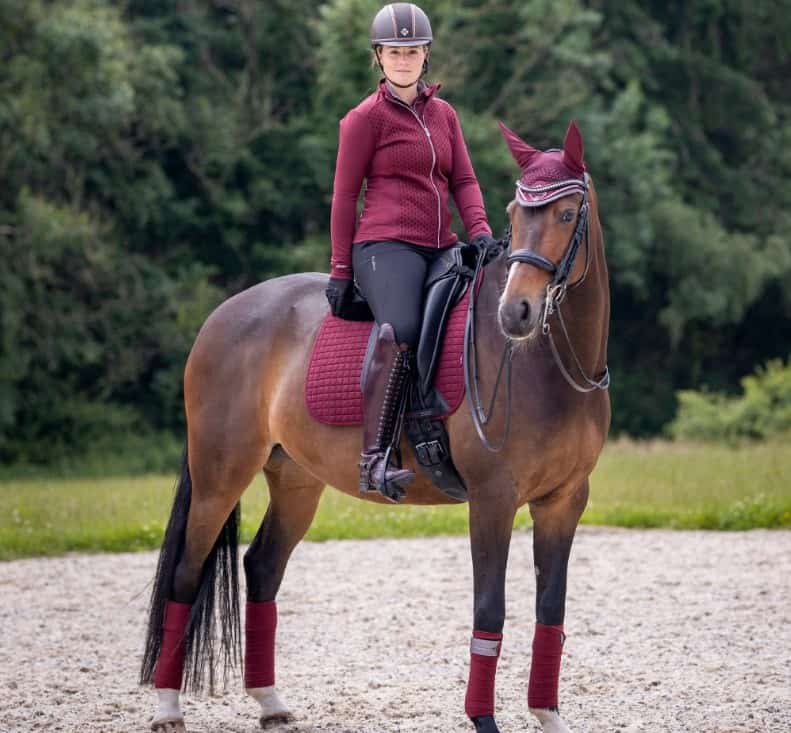 If you are looking for technical sophistication par none, the LeMieux range of saddle pads is ideal. Whether you are a dressage rider, general rider, or jumper, these saddle pads are ideal for their specific purposes, especially when matched to the correct type of saddle for your sport and horse.
The different types of saddle pads in the LeMieux range are available in several options: suede, Loire (blingy or shiny fabric), cotton, cooling weave, or merino wool, as well as different colors. In the LeMieux range, there are different types of saddle pads suited to English riding, such as:
Close Contact Saddle Pads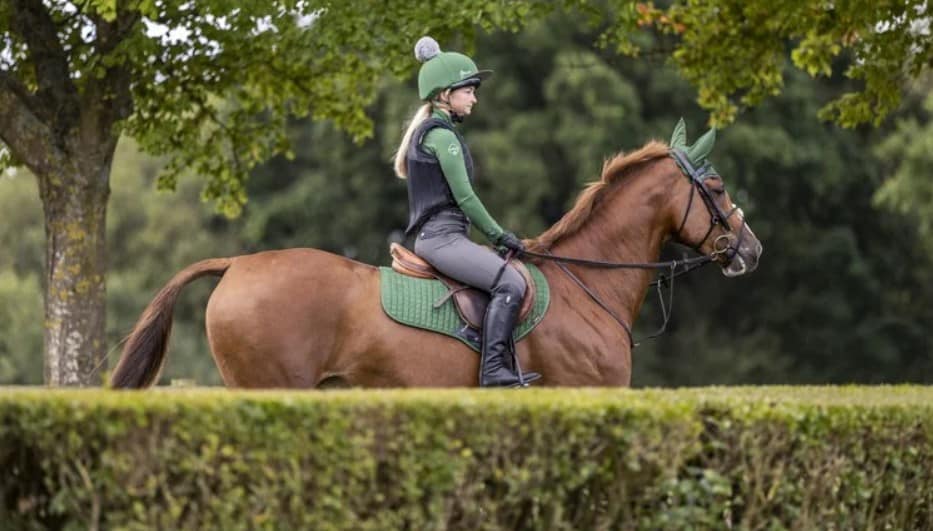 Close contact saddle pads fit the horse's body anatomically, with the top line of the saddle pad curved to mimic the horse's shoulders and withers closely. Within the close contact range, you can also select cooling, extra padded, and glitter saddle pads to best suit the use of that particular saddle pad. 
Corrective half pads can also be built into the close contact saddle pad, helping address pressure issues and better fitment. 
General Purpose Saddle Pads
For daily riding or when your saddle is an odd shape, general-purpose saddle pads are ideal for protecting your horse from rubbing while keeping your saddle clean. Choose a blingy saddle pad, opt for a half sheepskin lined pad, or invest in a merino wool lined pad. LeMieux general-purpose saddle pads are hardworking and fully washable.
Dressage Saddle Pads
Whether it's show day or even for training, LeMieux dressage saddle pads are specially tailored to fit most dressage saddles. Additionally, choose a suede, bling, cotton, cooling, merino, or x-grip featured saddle pad to give you that competitive edge and ensure your horse's comfort. 
Show Jumping Saddle Pads
When showjumping, your horse will require a bit more room over the withers, which is where the extra bit of room in LeMieux saddle pads is ideal. Choose from suede, cotton, merino, and x-grip features to best suit your horse and saddle. 
Pony Saddle Pads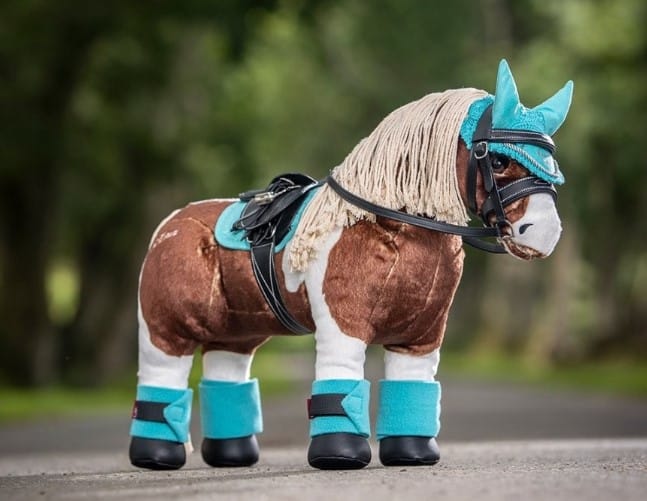 Ideal for smaller and shorter backed horses, LeMieux pony saddle pads suit saddle sizes from 14 inches down for the young rider. Pony pads are available in jump, dressage, and general purpose cuts with bling, cotton, or merino features. 
Corrective Saddle Pads
Saddle pads can help a horse transition to a new saddle, correct a slightly ill-fitting saddle, and help accommodate a young horse's changing body shape. Choose between half pads and full saddle pads with inserts to help distribute pressure and improve the saddle fit, half pads with adjustable inserts, or rider pads to help balance a saddle. 
Showing Saddle Pads
Showing pads are specially designed to hug the saddle, creating an invisible look or leaving a wool edge only to finish off the show saddle.
Half Pads
LeMieux has a massive range of half pads that aid in improving fit, helping your saddle breathe, and providing non-slip surfaces for those hardworking eventers. Choose from half pads with inserts, wool lining, silicone lining, aerated finishes for breathability, and memory-foam filling to create an ideal footprint for your saddle according to your horse's back.
Tips and Advice for Caring For Your LeMieux Saddle Pads
As saddle pads go, LeMieux is the boutique version, and it's not cheap. When you've paid a lot for a product, you want to keep it in the best possible condition to ensure it lasts and get the best value for your money from its use. 
Caring for LeMieux Saddle Pads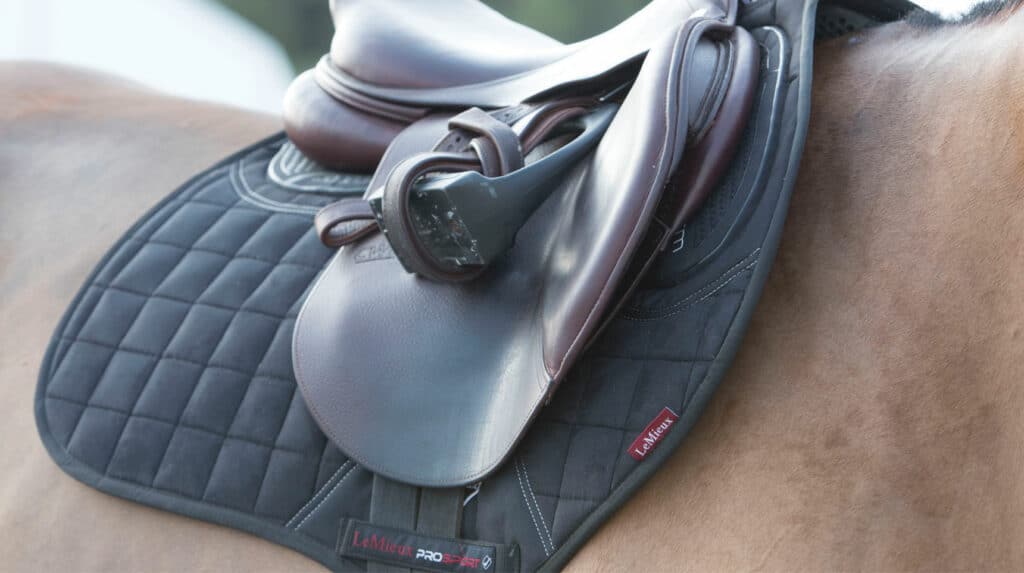 Your saddle pads will require good washing now and again. When the saddle pad is plain cotton or suede finish, you can wash it in your washing machine on the lowest or most gentle setting. However, I found the best way to ensure your saddle pads stay clean is to prevent or limit them from getting dirty in the first place. 
To care for my LeMieux Saddle Pads, I have a little routine:
I never saddle a dirty horse
If the horse is already dirty, your saddle pad will become dirty too, which means more washing, meaning more wear and tear. Always groom your horse before you get on for a ride, and bathe dirty horses. 
After a ride, rinse the saddle area (if not the whole horse) and let them dry in their stable to eliminate excess sweat and prevent grime from forming. 
After each ride, I air the saddle pad
Once done riding, hang your saddle pad with the underside up. Remove the foam squares to help the pad dry better if it's a pad with inserts. Do this in a cool place but not in direct sunlight. 
Once dry, I brush the saddle pad
I keep an extra body brush or dandy brush that's only for brushing saddle pads. Working methodically, I brush the hair and any loose dirt from the top and underside of the saddle pad. With LeMieux saddle pads that have Loire or blingy piping, it's essential to brush hair and dirt from the piping (but do so gently). 
I always hang the saddle pads correctly
In my tack room, the golden rule is that no saddle pad ever gets dumped in a corner. Each saddle pad is hung on a special rack. This lets the saddle pads hang in the same position as they would be fitted to the horse. No overlapping of saddle pads, and never hang a still-wet saddle pad over other saddle pads. 
If you have many saddle pads and some are rarely used, you need to keep a watchful eye out for mold and rats. I once had a rat chew through a $150 riser pad—ouch! Best to keep your tack room rat-proof. 
I wash the saddle pads 

before

they become too dirty
While you don't want to wash your LeMieux saddle pads too frequently, it's still a good idea to wash them before they become caked with grime or have discoloration from recently oiled saddles rubbing at them. When the saddle pads start to get tacky, I wash them. This method ensures I don't have to scrub or wash for longer cycles, which does more damage. 
Washing Wool Lined LeMieux Saddle Pads
Robert LeMieux, who founded the brand, has some interesting advice for washing your wool saddle pads—human hair conditioner. Yep, no soap. Apply a little hair conditioner, then pop in the washing machine on the lightest wool cycle, dry flat in the shade, and off you go. 
At first, this was a bit messy to do (have you tried to smear hair conditioner over wool? #Yucky). So I quickly discovered that mixing the hair conditioner with a little water and applying it with another body brush is the easiest and most even way to get the job done. This method also ensures there are no blobby bits that won't wash out of the saddle pad. 
If I find the saddle pad is a little "fatty" after the wash, I usually rinse it in plain cold water, then dry it flat in the shade. I'd also recommend using a simple "normal" hair conditioner as conditioners for colored hair, extra shine, and breakage may contain additives that aren't a great idea. 
What to Do With a VERY Dirty LeMieux Saddle Pad?
Okay, so one fine day, a student of mine used a nice GP LeMieux saddle pad to go rough it overland. She returned my saddle pad covered in mud, sweat, and tree sap (of all things). 
Worse still, I was away when she returned to the yard, so I only saw the damage the next day when the whole mess had dried. (She didn't wash the saddle pad or brush it and simply threw it in a corner—needless to say, she doesn't get access to my tack room anymore.)
Thankfully, I have a trusty pressure sprayer I use to clean out stables. This is a serious all-or-nothing solution, and I wouldn't recommend it for daily washing, but it saved the heavily soiled saddle pad. After soaking in a bucket with some plain soapy water, I flattened the saddle pad on the concrete, then turned up the pressure and sprayed the saddle pad from end to end (praying all the time). 
I was lucky and all of the dirt, including the tree sap, came off (#grateful). After this, I washed the saddle pad in the machine as usual and dried it flat in the shade. If you take care of your LeMieux saddle pads, they will last many seasons. 
LeMieux Selection Criteria
So how do you know what LeMieux saddle pad is right for you and your horse? Here are some of the criteria I use when buying my saddle pads: 
Your Equestrian Sport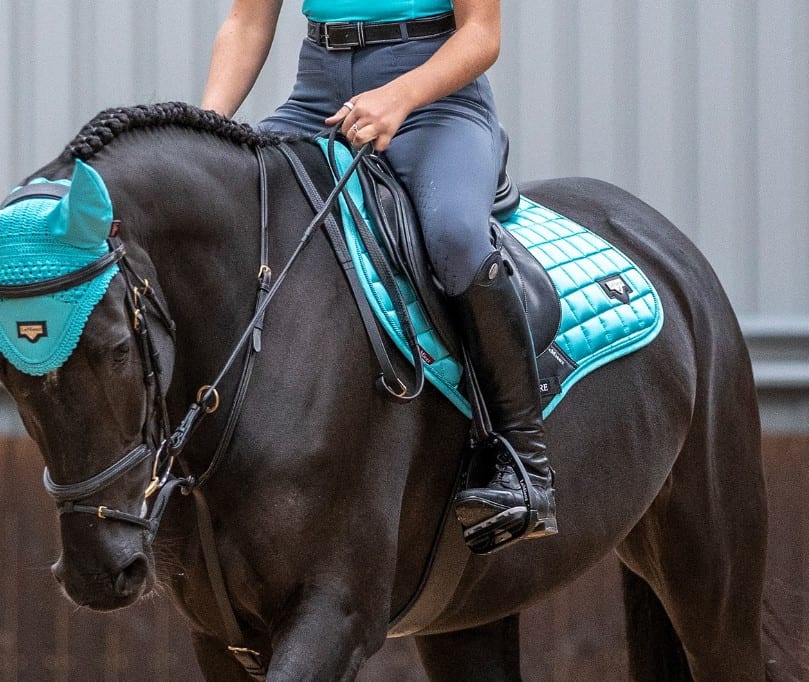 The sport you and your horse participate in will influence the type of LeMieux saddle pad you choose. You should look for a dressage saddle pad if you are a dressage rider. Again, if it's for participating in affiliated or graded shows, the Federation Equestrian International (FEI) rules will apply, so get a white, brown, or black saddle pad only. 
If the saddle pad is for exercising and schooling your dressage horse, you can opt for fun and funky colors with as much bling as you desire. 
Your Saddle Type 
LeMieux saddle pads are typically meant for English saddles, though some riders use them with trail saddles. However, when choosing a type of saddle pad, it must fit your saddle's cut. 
The saddle pad should comfortably extend a few inches beyond your saddle on all sides unless you have a close-cut English saddle for dressage, where the saddle pad fits the saddle exactly. 
When measuring your saddle and saddle pad, ensure you add some extra give as you need to pull the saddle pad up into the saddle's gullet. The shape of your horse's barrel will also influence how much of the saddle pad will show on the saddle's skirts.  
Your Horse's Build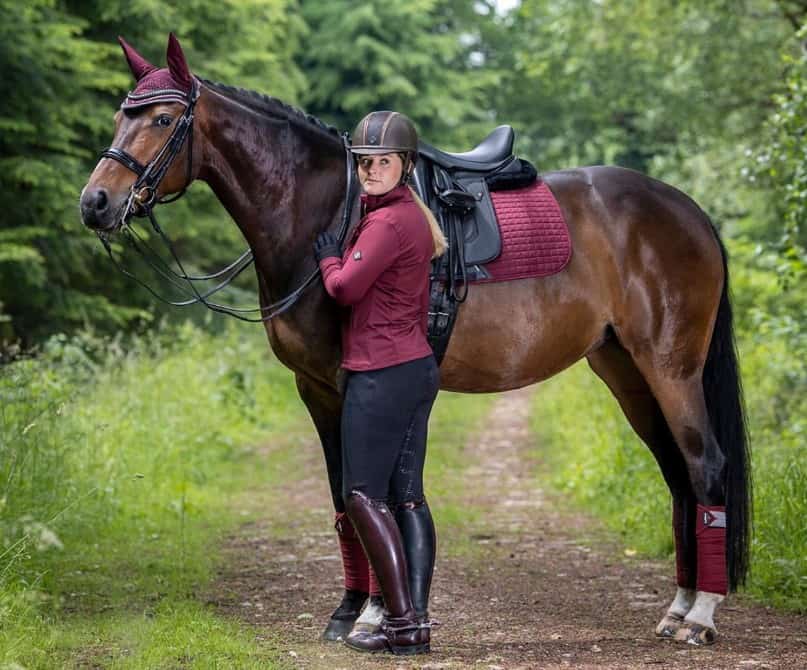 For high-withered horses, a saddle pad with a higher cut will prove more comfortable. Saddle pads that ride low over the horse's withers will create pressure and possible nerve damage, not to mention that it will also make the horse very uncomfortable. 
Colors and Personal Taste
It's your saddle pad, and if you're like me, you've got a color theme for your horse or each of your horses. I have five horses, so Mihr has an all-black color theme, McG is my purple boy, while Sonskyn has a sky blue saddle pad with silver trim. Nugget, my newest addition, looks gorgeous in red, while Albion (the baby) will be decked out in turquoise when she's old enough to back. 
What colors would you choose for your horse? 
If you're not color-obsessed (like me), you may want to consider which colors are easiest to keep clean. Black, brown, and maroon saddle pads usually clean the easiest, while white, gold, yellow, red, and light blue are difficult to keep clean. 
Budget
Money, money, money. Yep, unfortunately, it is a big consideration for most of us. While you love that $150 saddle pad with the gel inserts and silver trim, it may be more than you can spend. Ultimately, your budget will factor in when it comes to choosing the LeMieux that works for you and your horse. 
LeMieux Saddle Pads Recommendations
With so many gorgeous LeMieux saddle pads available, choosing which you'd like to buy is hard. I've decided to choose the best saddle pads in each of their saddle pad types, as well as a bonus – the best budget saddle pad. 
Best LeMieux Close Contact Saddle Pad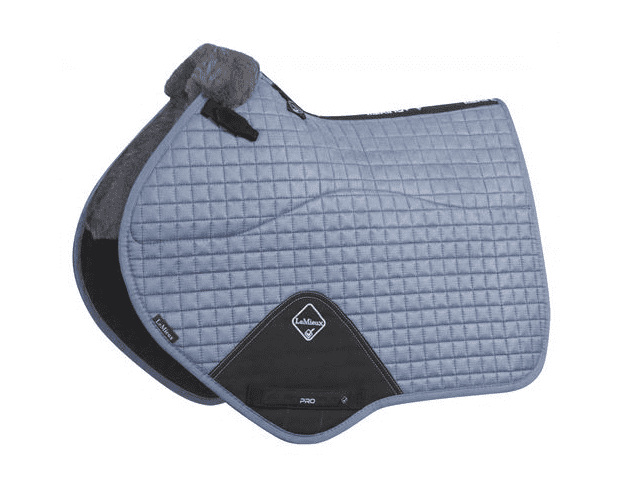 The LeMieux® Merino+ Half-Lined Close Contact Square is as efficient as it is beautiful. The merino lambswool built-in half pad creates a cooling effect with moisture-wicking technology that can reduce sweat by as much as 30%. 
Pros
Merino lambswool is resilient and can be washed frequently and ridden on daily

The moisture-wicking ability of the natural merino fibers keeps the horse's back cool during work

The fabric, lambswool, dyes, and threads are all tested to medical-grade quality to avoid sensitivity

It fits most jumping and general-purpose saddles

Wool-lined wither protector and girth protectors for extra comfort and durability
Cons
Quite pricey at $199.95 (on special)

Saddle pad may become bulky and bunch up with a mutton withered horse
Best LeMieux General Purpose Saddle Pad
The Cotton GP Square, Black is a better option for more barrel-shaped horses. The saddle pad is well-made, featuring some LeMieux staples such as the girth straps and protector that help prevent unnecessary rubbing of the saddle pad. 
Pros
More freedom at the wither (without becoming bulky) with the swan neck design

The bamboo lining wicks moisture while providing a soft non-allergenic feel to the horse's skin

Rounded cut to better accommodate several saddle types from dressage, general purpose, and jumping to trail saddles 

Available in two sizes and seven colors, including Benneton blue, brown, or burgundy 

Reasonably priced at $62.95
Cons
Import costs may apply if not purchased through a local supplier

Some bunching may occur on truly mutton withered horses
Best LeMieux Dressage Saddle Pad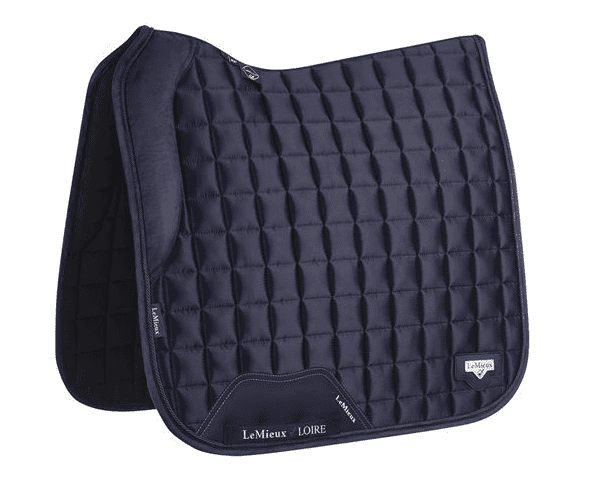 With the help of memory foam, the LeMieux® Loire Satin Memory Foam Dressage Pad helps settle the saddle pad over the horse's back for perfect placement. The bamboo inner helps keep your horse's back nice and dry. 
Pros
The satin sheen of the woven satin outer provides an understated appeal 

The saddle is supported better with the bolstered memory foam neckpiece 

The contoured topline of saddle pad helps fit average to higher withered horses

Wear guards reinforce and protects the saddle pad where the billets or elasticated ends of a dressage girth may cause friction 
Cons
Bring your wallet because this one is pricey at $129.95 (on special)
Best LeMieux Show Jumping Saddle Pad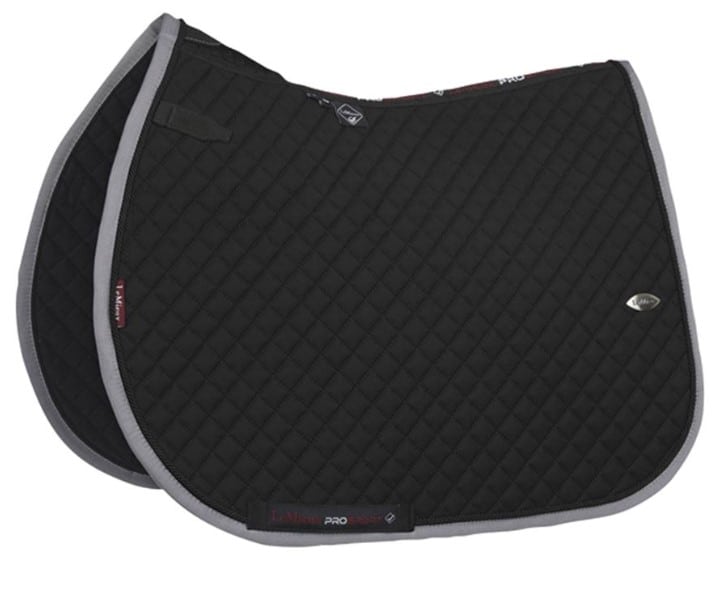 Any professional jumper will confirm that horses require freedom to move their neck and shoulders to achieve better jump clearance. The LeMieux® Wither Relief Jump Square helps spread pressure more evenly while helping the horse improve their range of movement. 
Pros
Carbon mesh supporting the withers

Girth straps offering different billet cinching options

A shaped topline reduces pressure on the withers and shoulders

Antibacterial bamboo lining 

Moisture wicking and quick drying technology 

Binding and braided outer finish

Reasonably priced at $99.95
Cons
Some riders may find the thickness of the saddle pad too thin, depending on their horse's coat thickness
Best LeMieux Pony Saddle Pad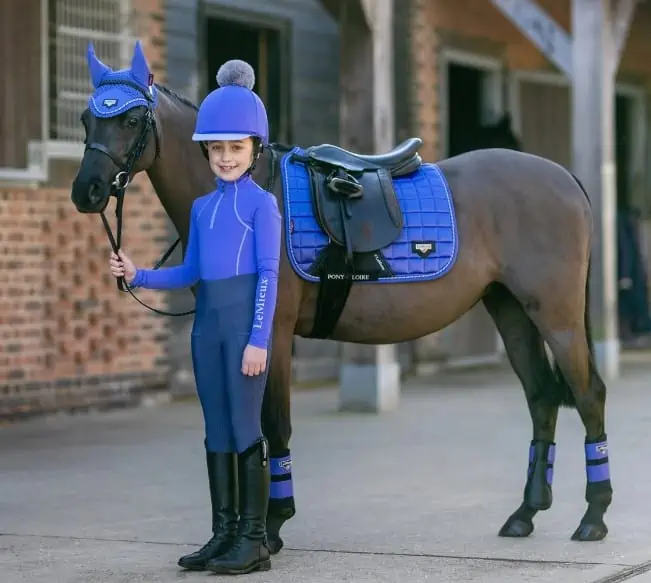 The purple-blue Junior Loire Dressage Square Bluebell saddle pad is ideal for my kid-loving pony, McG. He looks gorgeous in this color, and I am super happy to have my nieces ride him when he's all decked out in a bit of bling. The satin fabric is soft and has a lovely sheen that matches the two-tone tape and rope binding.
Pros
Bamboo lining controls body heat and reduces sweating 

The suede taping that edges the saddle pad is friction-free for added comfort

Double girth loops feature over a PLU leather girth protective section to prevent the girth rubbing

Available in two colors 

Currently on sale at $62.96, making it relatively affordable
Cons
Only one size for ponies, which can mean that smaller size saddles will leave a large amount of the saddle pad exposed
Best LeMieux Corrective Saddle Pad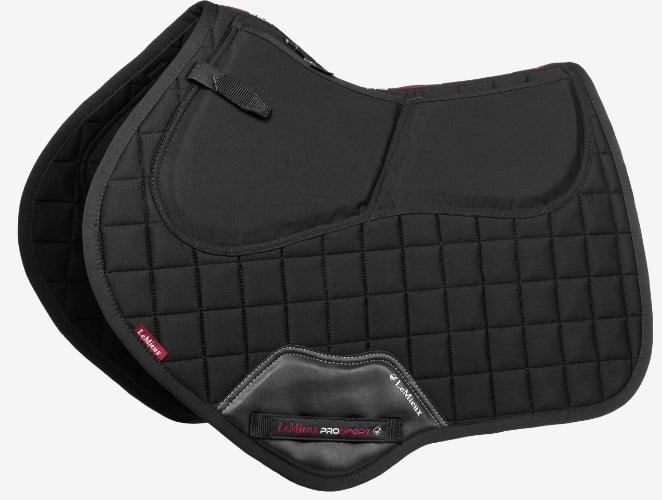 Some people use a corrective saddle pad to make a bad saddle "fit," but this is simply impossible. Instead, use a corrective saddle pad to help an almost perfect saddle balance and fit better. 
The ProSorb Close Contact Square Black is a specialized system that helps raise or lower the front or back end of the saddle with a series of memory foam inserts that slip into four pockets sewn along the saddle pad's topline. 
Pros
Sweat-wicking inner layer

Four insert pockets and two sets of four foam pads of 9 millimeters and 13 millimeters each

Adding inserts to the front pocket raises the pommel area, while adding inserts to the back two pockets will raise the cantel area

Available in three colors 

Swan neck wither design for the saddle pad
Cons
The inserts will eventually lose density and will need replacement 

Additional front billet straps would have helped prevent any saddle slippage

Higher cost due to corrective pads being a specialty item

(current price is $104.95)
Best LeMieux Showing Saddle Pad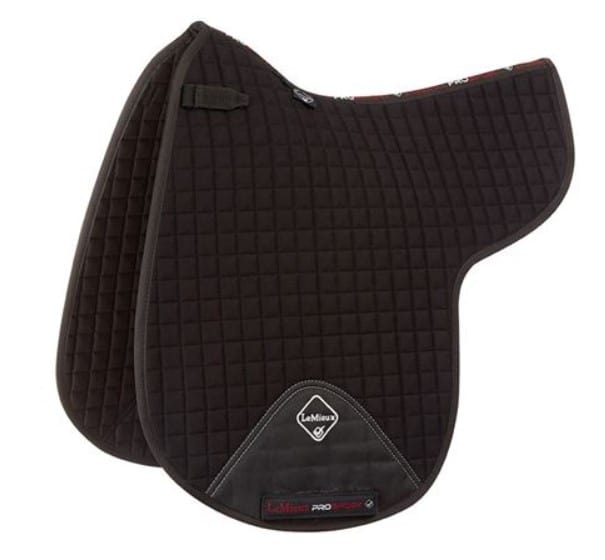 When showing, you either want the sheepskin lining to show along the edges of your dressage saddle, or you aim for a completely invisible look, such as with the LeMieux® ProSport Dressage Numnah. 
Pros
Classic-shaped saddle pad

Low profile look for an invisible look

It offers comfort, moisture wicking, and is lightly padded for extra comfort

Highest quality cotton outer and bamboo lining 

D-ring attachments allow fitment of the breastplate, making the saddle pad ideal for jumping too
Cons
With the small size of the saddle pad, any oversized saddles won't fit

Quite pricey ($79.95), given that the saddle pad has fewer features than some of the other saddle pads in LeMieux's line
Best LeMieux Half Pad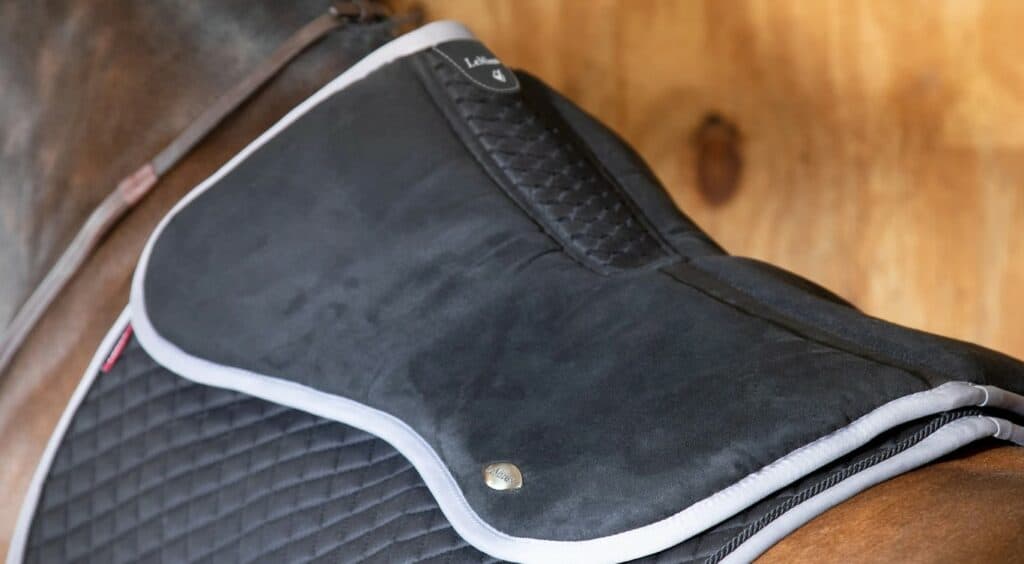 Half pads are a blessing to equestrians where even the slightest discomfort or imbalance can affect your horse's performance. With its soft and malleable filling, I've fallen in love with the Wither Relief Memory Foam Half Pad Black. No straps are needed; simply add the half pad under your saddle and feel an instant improvement in the saddle fit.
Pros
Memory foam molds to the saddle panels when heated up by the horse's back

No slippage

Better balanced fit 

Reduces back sensitivity in the horse 

Special mesh gusset section to reduce wither pressure
Cons
It's quite a pricey addition at $111.95, but still less than buying a different saddle
Best Budget LeMieux Saddle Pad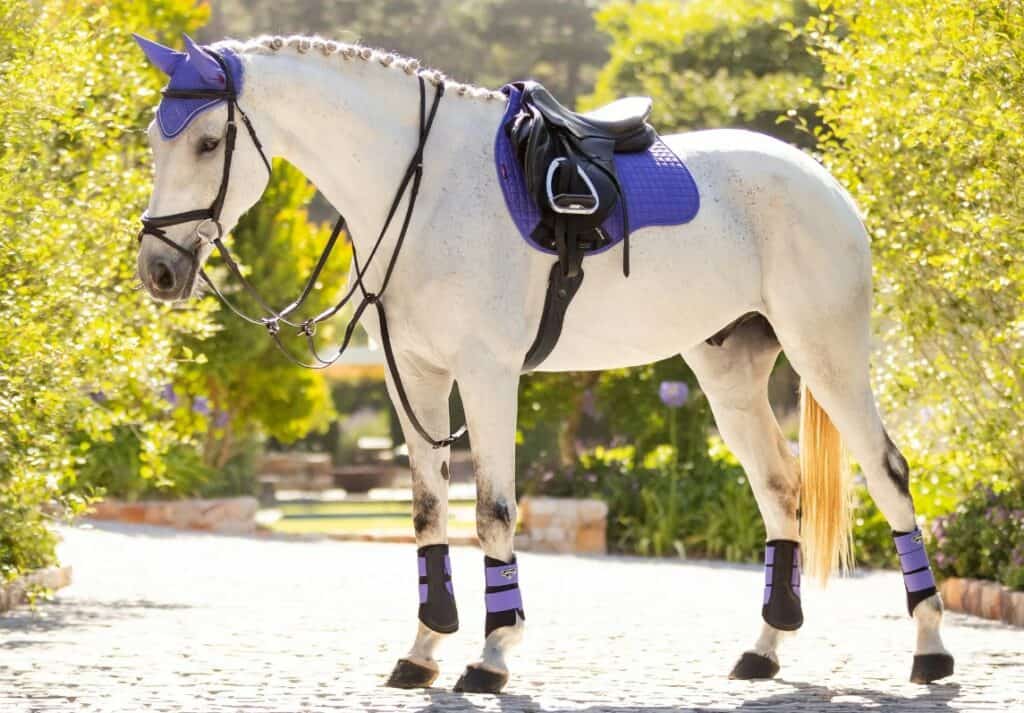 When I looked for a budget option to suit my rather naughty plump boy, I was thrilled to find this stunning Suede GP Square Bluebell on special at a low-low-low $47.21. It's an absolute steal at that price. 
Pros
All the basic LeMieux features are there: bamboo lining, moisture wicking, soft and non-friction edging, and ample wither room with a generous cut

PLU leather girth protection area, bottom girth straps, and front girth straps

Suede top for a softer feel

Suitable for all saddle types such as general purpose, dressage, jumping, and hunter
Cons
Sadly, only a few of the colors are on special, such as papaya and square oak
FAQs
Question: Is LeMieux a good brand?
Answer: The LeMieux equestrian brand has taken the world of horse owners and equestrians by storm with matching sets where riders can coordinate colors for saddle pads, halters, browbands, and rider couture. The quality of LeMieux products is matched by their innovative designs and technological advances, such as self-cooling saddle pads and gel riser pads. 
Question: Can you put LeMieux saddle pads in the dryer?
Answer: Saddle pads have a unique filling that gives them special characteristics, such as moisture-wicking abilities. The heat and tumbling motion of the dryer can damage the internal structure of saddle pads. 
LeMieux saddle pads are not intended for tumble drying. Instead, dry them flat, or air dry them by hanging them from the Velcro fastenings. Avoid hanging them in direct sunlight. 
Question: What are LeMieux saddle pads made of?
Answer: The outer shell of LeMieux saddle pads is made of different fabrics like cotton, suede, and satin. However, the inside of their saddle pads is usually made from 100% bamboo fiber for better moisture handling and quicker drying. 
When the saddle pad has a woolen inner or fleece, this is made of merino wool, woven to the finest quality to produce a long-lasting finish. 
Best Le Mieux Saddle Pads: The Last Saddle Pad
I have fallen in love with LeMieux all over again. The brand consistently delivers quality and innovation and meets every lady horserider's heart's desire with all the colors under the rainbow available in many of their saddle pads. 
Of course, the horses aren't complaining, either. With moisture-wicking technology, generous cuts, and special padding, LeMieux is a brand to be reckoned with in the horse world. If you'd like to learn more about how to choose saddle pads, read our guide on choosing the best saddle pads.
Recommended Reads: