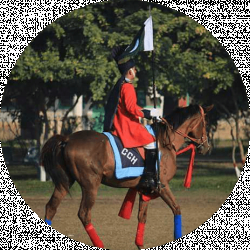 Latest posts by Boo Ali Khan
(see all)
Horse trailers might show a very minimalistic structure, apparently. However, they are a fantastic and sophisticated piece of machinery that helps equestrians and their horses reach their desired destination. And when it comes to mechanical structures, they depreciate over time, and a horse trailer is no exception.
So, if you are wondering why your horse trailer is not working at its full potential, it might be because it requires some new trailer parts.
The parts of a trailer, from tires to windows, should be paid much attention and the new pieces that need to be installed must exactly serve the purpose you are looking for. But to do this, you require an in-depth knowledge of what these parts do and how they are crafted for their specific use.
So, in this horse trailer parts guide, I will share my knowledge about the different parts of a trailer. However, as there are countless parts of a trailer, my focus would be on the ones that can significantly improve your trailer experience. Furthermore, I will also share my preferred pick when it comes to replacing a trailer part.
Bottom Line Up Front:
Although I have mentioned more than a dozen different horse trailer parts, the ones I consider the most important are the trailer tires. As they say, "No matter how strong your engine is if you don't have any wheels, you're not going anywhere."
Therefore, my favorite horse trailer tires are these Halberd Premium Trailer Tires. These tires have a fantastic combination of different features, including the heat-resistant design of the lateral grooves and sipes on the shoulders.
My Preferred Pick For Every Horse Trailer Part:
My Reasons For Picking These Parts
The picks that I made in this guide follow the following criteria:
Going For Pristine Condition Parts
Making a horse trailer work at its full potential requires parts to be as good as new. So, all the selected parts in my top picks are in pristine condition.
Availability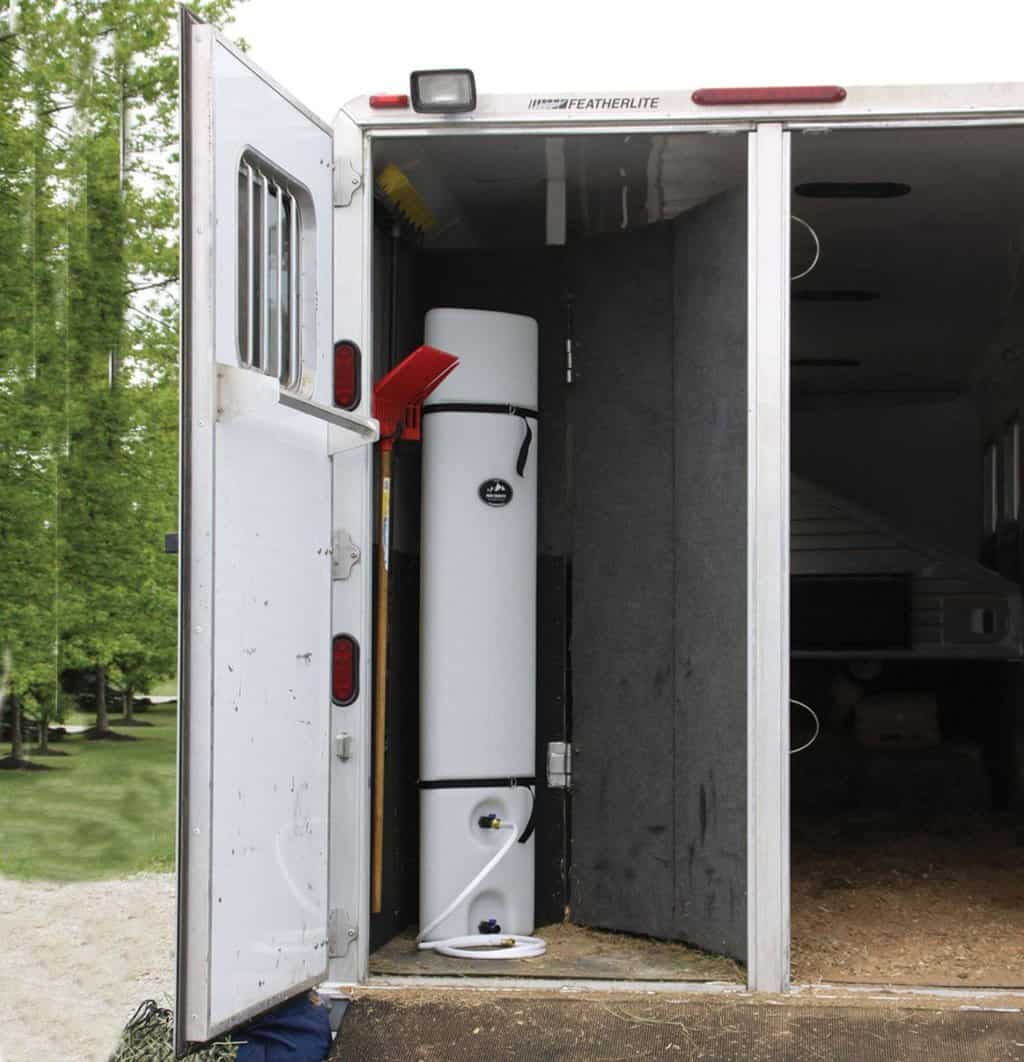 The picks that I have made are well in stock online and can also be found at many retail stores.
Being Water And Dust Resistant
Horse trailers travel long distances and pass through various terrains during their journey. So, to be safe from natural conditions, all the parts I have selected in my top picks provide at least some level of water and dust-resistant.
Ingenuity
The picks that are made bring something new to the table. Their material, usefulness, and design set them apart from other conventional parts.
Different Parts Of A Horse Trailer
Exterior Horse Trailer Parts
Following is a list of some horse trailer parts that constitute the exterior of your trailer.
Horse Trailer Hitch Covers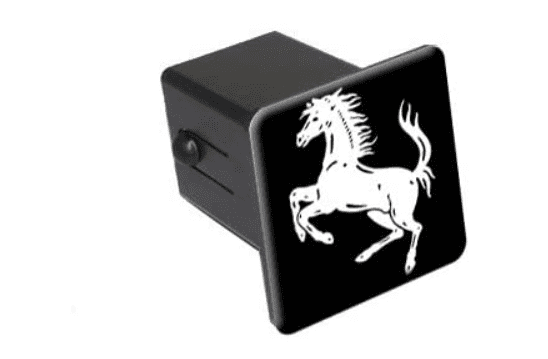 Description
Getting rust on your brand new trailers hitch is never a pleasing sight. And this can also lead to the quality of the hitch degrading over time. So to prevent that from happening, I recommend you invest in a specialized cover for your trailer hitch. And while it's true that these covers add an extra layer of protection from water and moisture, they also add an aesthetic feel to an otherwise bland-looking part.
Now, if you are in the market for these hitch covers, you will find them made mostly from ABS plastic as it is much more water-resistant than ordinary polyethylene. Furthermore, most of these covers also have a special coating to block UV light, which helps the hitch retain its finish.
But if you want something eye-catching, you can always check out this Horse Rearing Up Trailer Hitch Cover. And what makes it unique is its black polished finish, which really gives a classy look.
LED Trailer Lights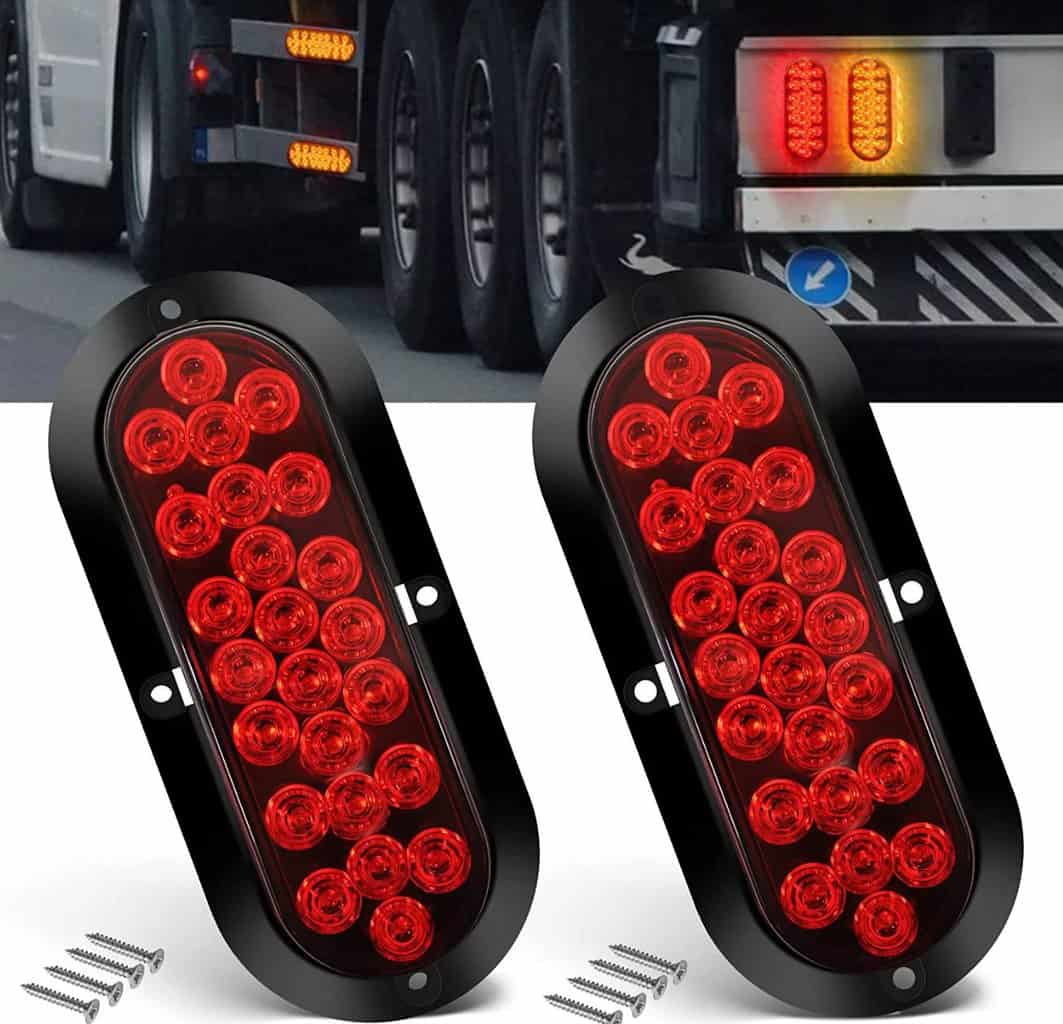 Description
Lights are one of the parts that indicate the flow of a vehicle's movements and, if given proper attention, can stop many accidents from occurring. And this fact isn't ignored when it comes to horse trailers, so special LEDs are made for these heavy cargos. And one such specialty is that trailer LEDs are much brighter than the ones you will find for regular SUVs.
Moreover, the complete trailer lights typically have a 24 SMD LED lights array that emits high brightness. However, if you are looking for extra features, check out the DInfu Surface Mounting 24 LED Trailer Lights. Its LED's have two different brightness levels, high for brake lights and low for simple parking or running lights.
Horse Trailer Metal Vents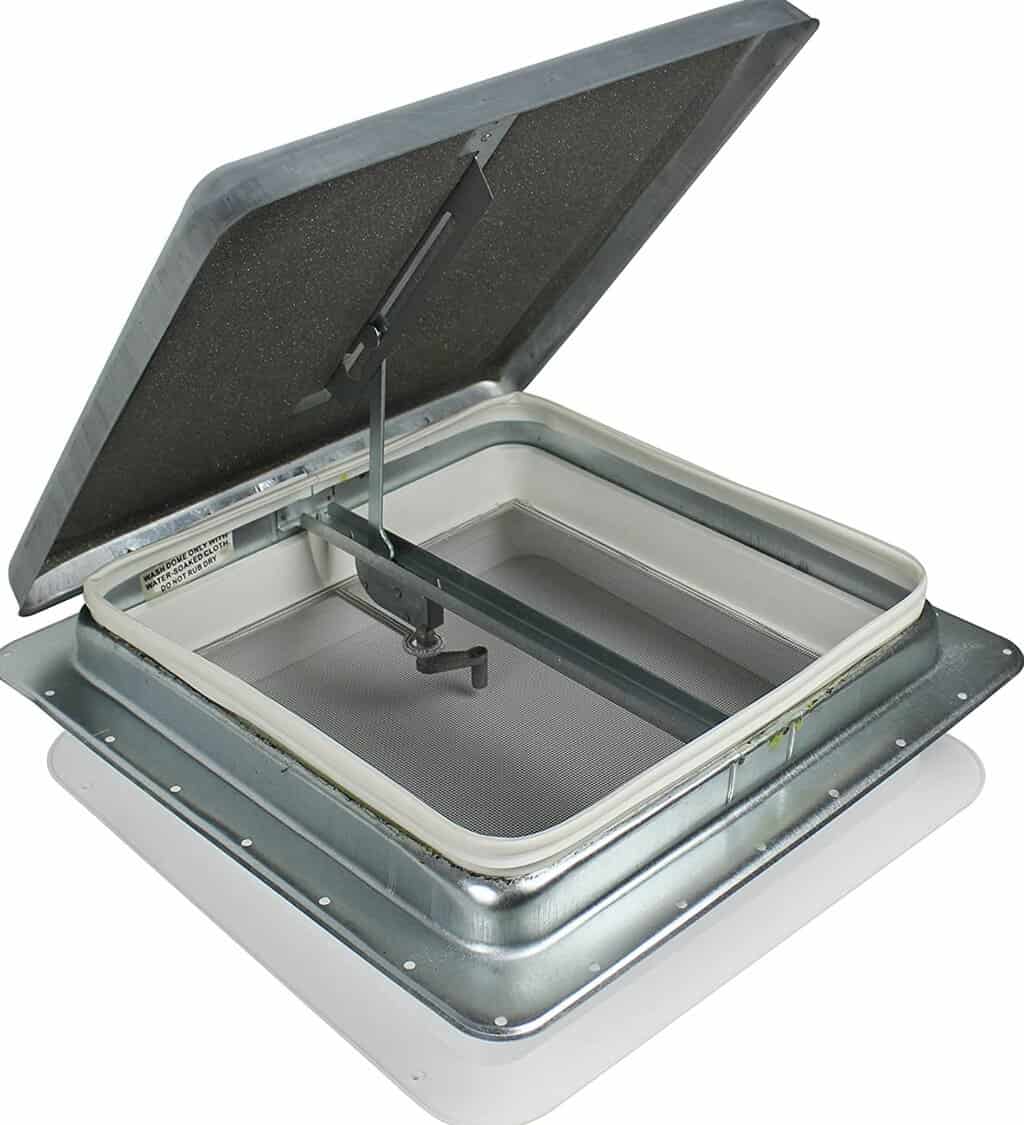 Description
If you are searching for a part to have some nice air ventilation through your trailer, the significance of metal vents cannot be overlooked. These metal vents are built with all kinds of trailers in mind, so buying one of a specific size would fit most of the trailers. Furthermore, many of these vents have a metal top and a galvanized metal base beneath them.
Their metal build is also mostly constructed to withstand water and wind, so you don't worry about your horse trailer getting filled with water after every rain. However, if you ask me for a vent that would also complement your horse trailer's exterior, I would suggest Heng's Universal Metal Vent because of its colonial white finish.
Horse Trailer Prop Rod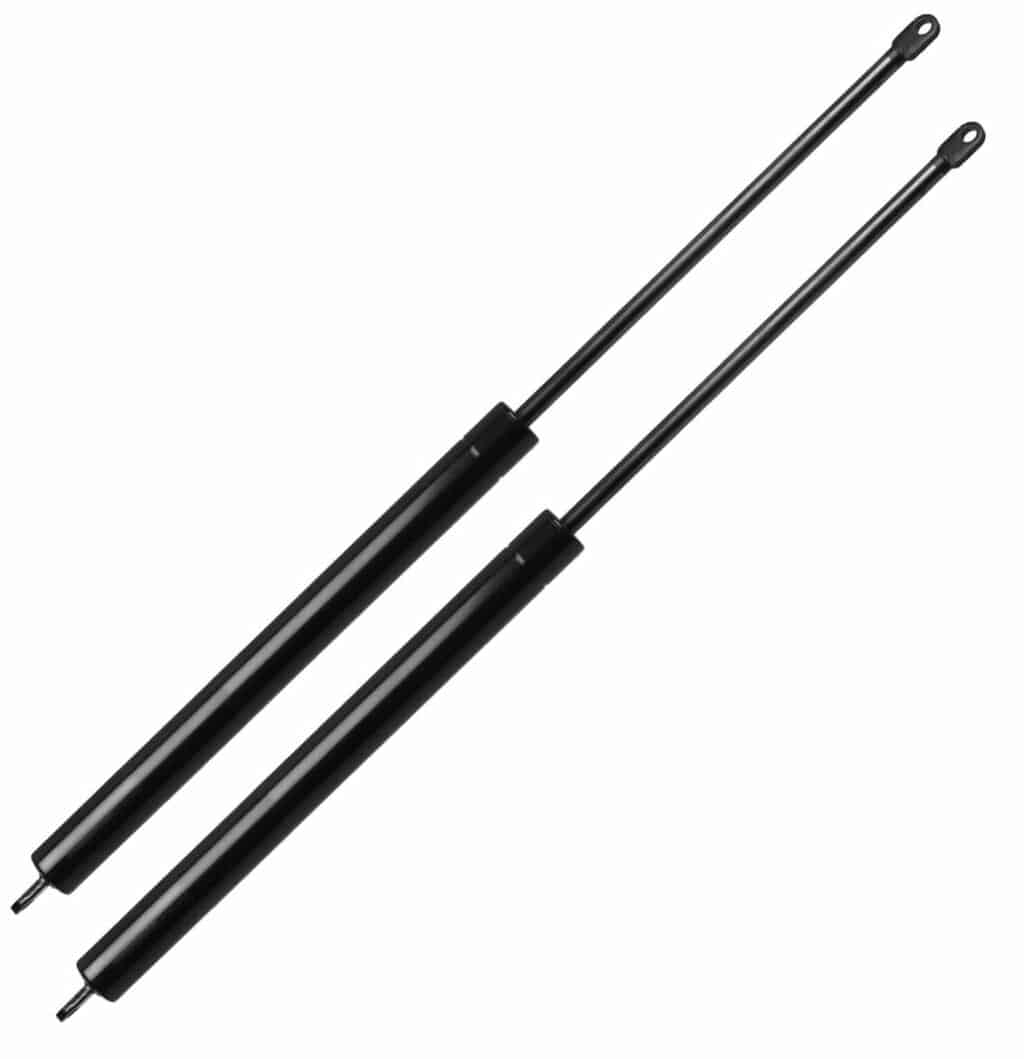 Description
Keeping your trailer's tailgates open while loading your horses can be a hassle, especially if you are all alone. To help make it easy, check the market for some prop rods. These tailgate prop rods, in most cases, come in about 2 x 24 inches in length, which can fit almost any horse trailer.
Furthermore, most prop rods come with shocks to replace the spring available in the standard rods. And these help in keeping the tailgates raised when you want to load or unload your horses.
So overall, prop rods are a great way to add a bit more functionality to your existing horse trailer tailgates. Now, if you're looking to add one to your cart, go for the Horse Trailer Gas Strut Prop Rods, as these have a special system that lubricates the rods with every lifting stroke, so they can work much smoother.
Slider Window For Horse Trailers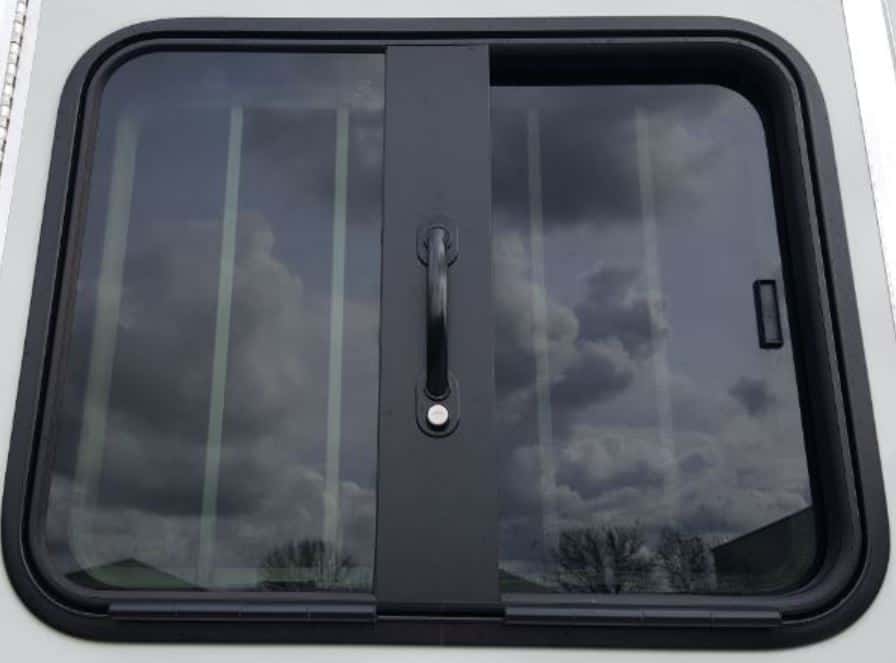 Description
Keeping your horses safe is essential. But that does not mean they should be locked shut in the dark. So, a slider window is an option that can be added to make the trailer feel open yet safe by also providing sufficient ventilation. Most of these slider windows are built with high-quality aluminum, making them lightweight and robust.
Furthermore, these windows also have a waterproof seal to prevent water from entering the horse compartment. These windows are also corrosion resistant, so there is no need to worry about them being in a moist and muddy atmosphere.
However, if you would ask me to select one such window, I would go for this Slider Window, as it comes with preinstalled livestock bars. These bars also provide security to the trailer without needing to close its windows.
Horse Trailer Tires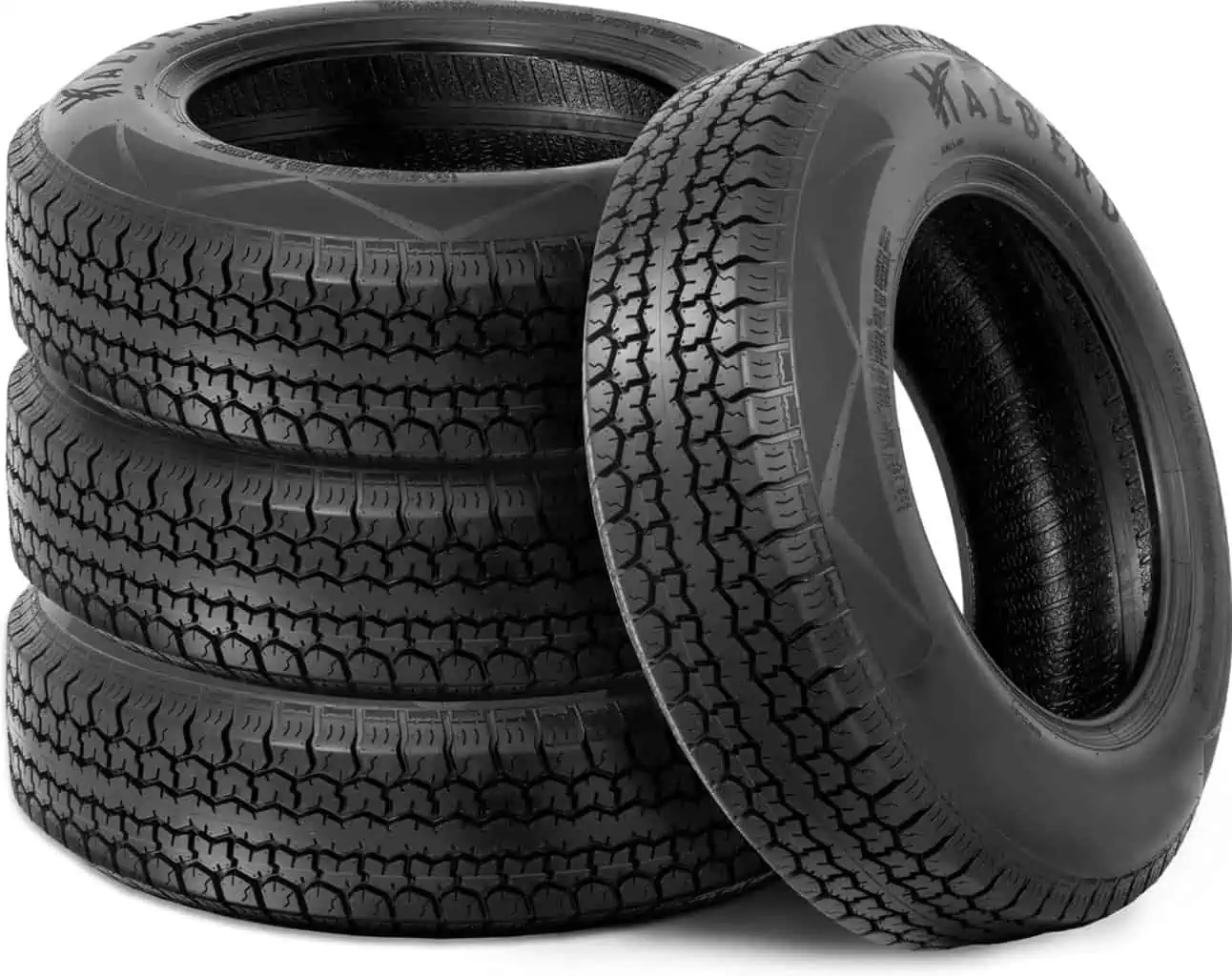 Description
Suppose you have noticed your horse trailer rides are getting a little rough. Then a new pair of horse trailer tires might be the solution you were looking for. The trailer tires available in the market have a tread design in the combination of longitudinal and lateral grooves as it gives the trailer a lot of grips while being towed on the road. And the tracks in the center have a symmetrical design, making these tires much more heat resistant.
However, with their symmetrical pattern, these tires usually make noise and have high rolling resistance. So, to prevent this and increase fuel efficiency, you can try the Halberd Premium New Trailer Tire. These tires have an asymmetrical crown in the center, which helps reduce rolling resistance and less overall noise.
Drip Rail For Tack Room Doors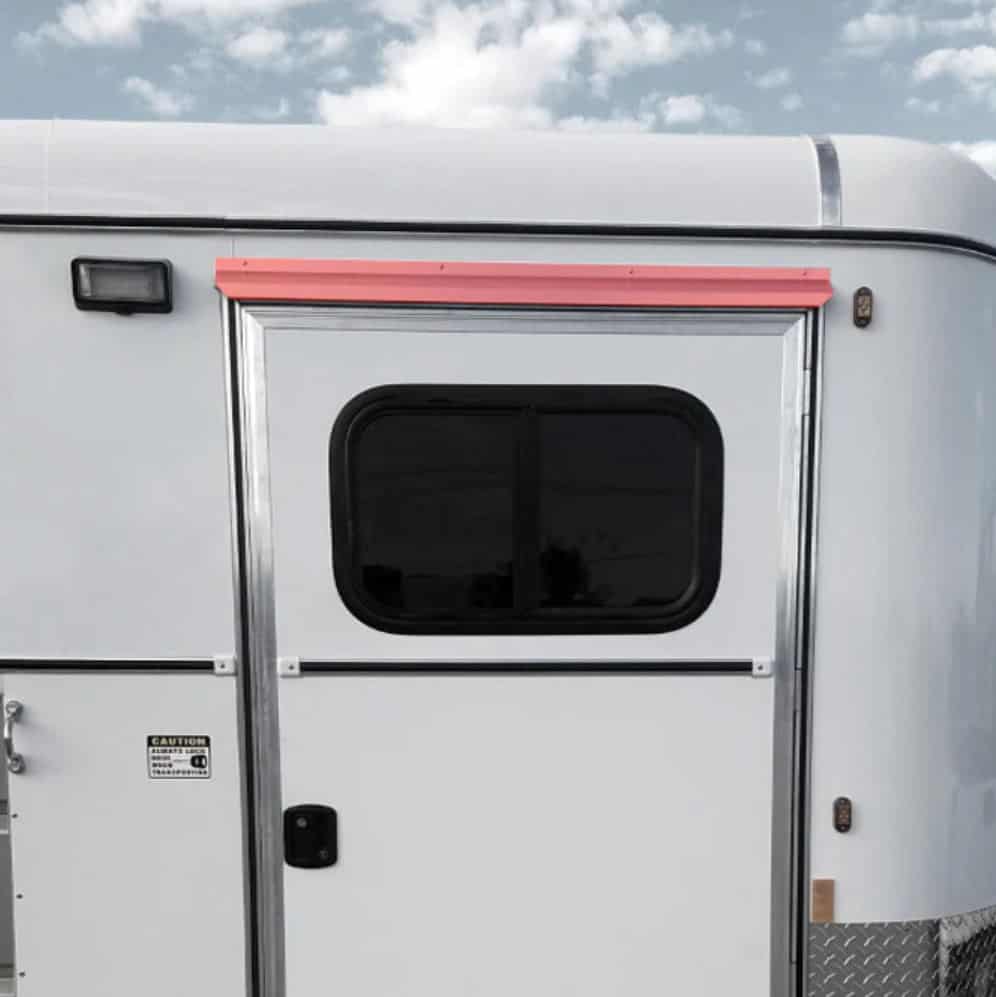 Description
Tack room doors are present on the outer side of the trailer and are, therefore, exposed to harsh weather conditions. So, if you want something to keep your tack room door safe from rusting, don't worry. A piece as simple as a drip rail can save you from the hassle.
It is easily mounted over the entry door of your horse trailer. Just match it with the mounting hole made for it and then tighten it with screws.
And not to mention, most drip rails are made of aluminum, similar to the tack room doors they protect. This makes them quite durable while also providing little extra safety from corrosion. However, finding a part as small and simple is sometimes not easy, so I suggest this Drip Rail Tack Room Door.
Fender Step Aluminum Frame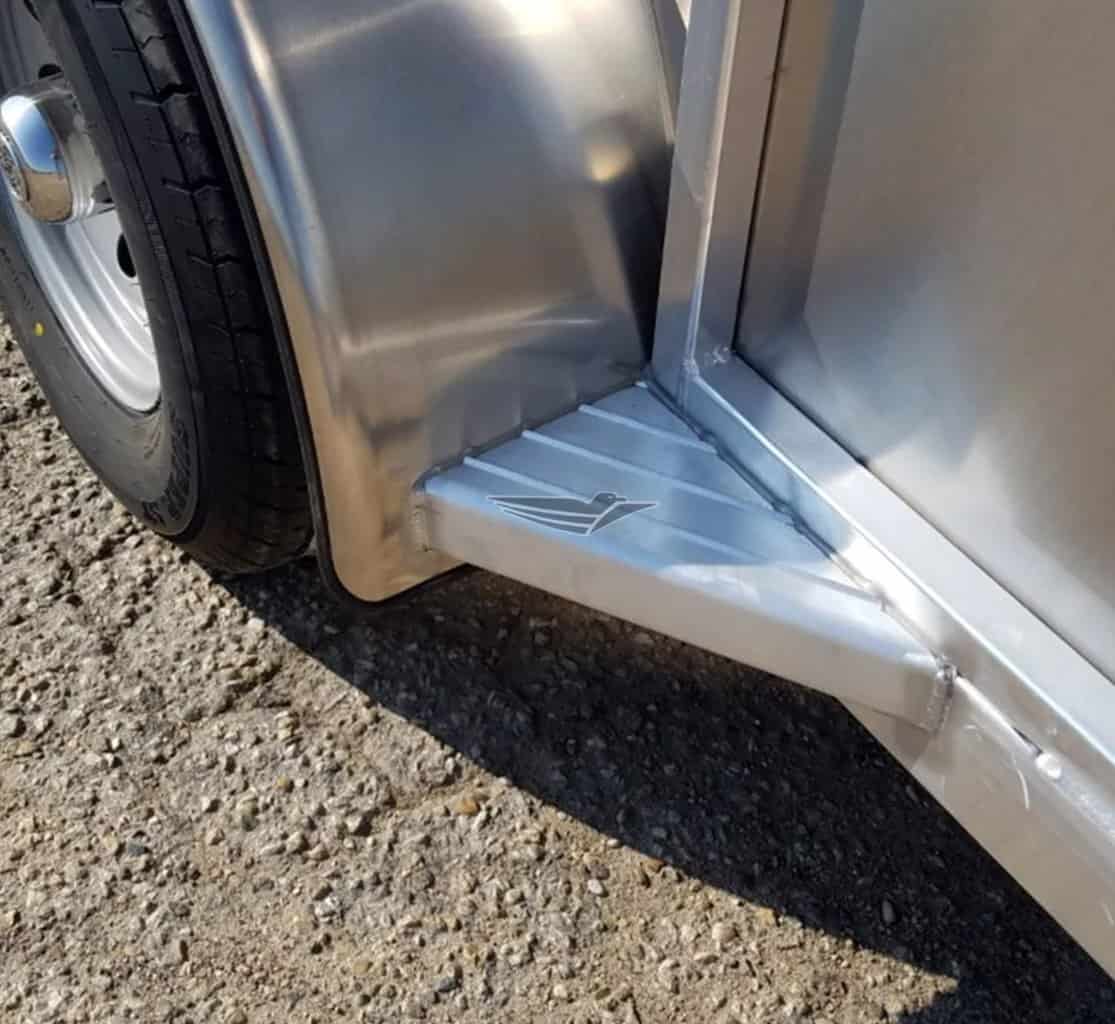 Description
A fender step is one of the trailer parts that are very easy to overlook. However, it is literally the stepping stone of a trailer. A fender step is mostly attached to the side of a fender, but it is also seen running along the whole length of a trailer to help the horse easily get into or out of the trailer by stepping on it.
You will mostly find fender steps in aluminum, which makes them durable and allows for a bit of flex to save them from breaking. Therefore, these steps can easily sustain the heavy weight of a horse.
If you can't find a fender step for your horse trailer, check out this Fender Step With Aluminum Frame, available in different sizes.
Trailer Safety Screens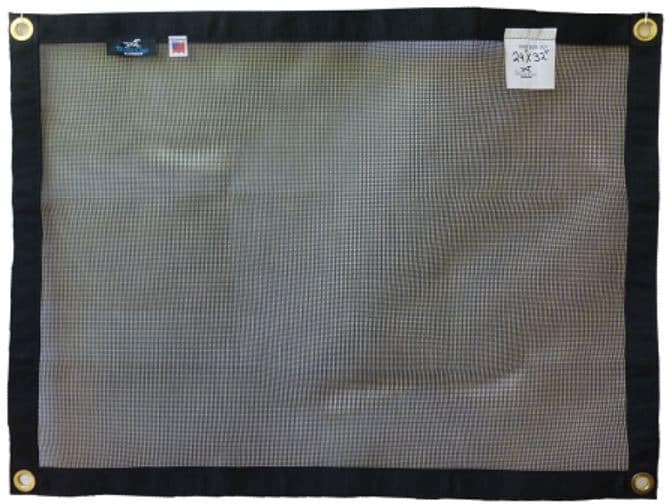 Description
Trailer Safety screens are a wise option to prevent insects or debris from entering your precious trailer through windows. Moreover, these safety screens are well built, and the materials are usually like hard rubber. Furthermore, the grommets on the corners of the screen provide a firm way to attach it to a trailer wall.
However, if you don't know where to look for these safety screens, Trailer Safety Screens With Grommets can be a good option. This safety screen features a zipper at the center that you can even use to offer water to your horse.
Horse Trailer Axle Beam

Description
An axle keeps the trailer's suspension and tires stable and keeps the tires connected. So if you're having unconventional balance issues, you should consider a good axle beam. Most of these trailer axle beams are constructed with pressure-bearing solid steel that is perfect for the enormous amount of weight these have to bear.
These also have a slight bend structure, which helps keep the trailer camber angle at zero degrees. But remember that most of these axles are built to work with a straight-line acceleration and controlled balanced towing.
And if you feel your axle needs a replacement, I highly recommend this Dexter Trailer Axle Beam With E-Z Lube Spindles with a 95mm axle beam, which will work with most horse trailers types in the market.
Aluminum Horse Trailer Ramp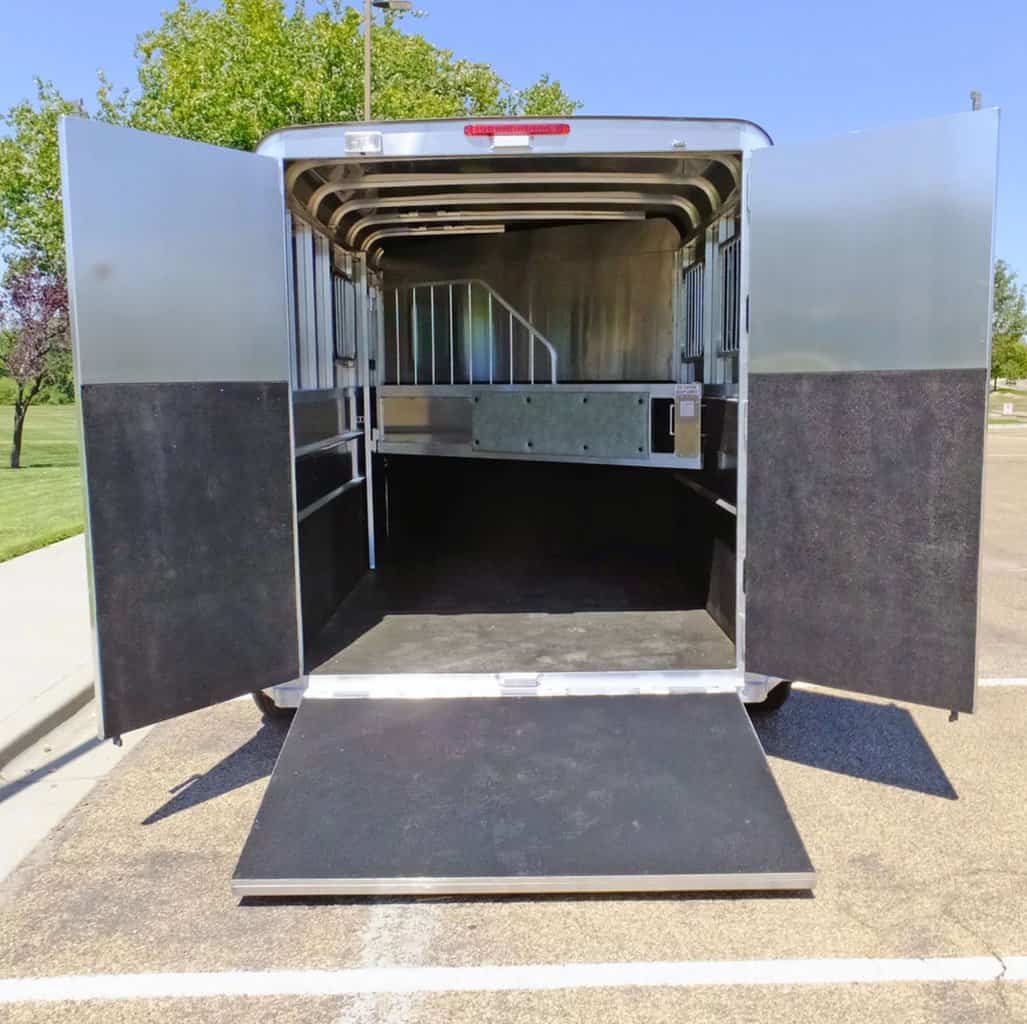 Description
Getting your horse injured because of a step-up trailer can be a real bummer. So, to save your horse and yourself from this situation, a trailer ramp can be attached to the trailer's back. These ramps come in an aluminum body as aluminum makes them durable yet lightweight.
Not to mention they are also rust and water resistant. You can also find most of them in a relatively flush design and can easily be mounted in place of the bumper.
However, having a single slab of smooth aluminum can be slippery for horses and people. So, to avoid this, you can check the Aluminum Horse Trailer Ramp. It has a glued rubber mat on the front side of the trailer, which is grippy and provides a good traction.
Electric Trailer Brake Kits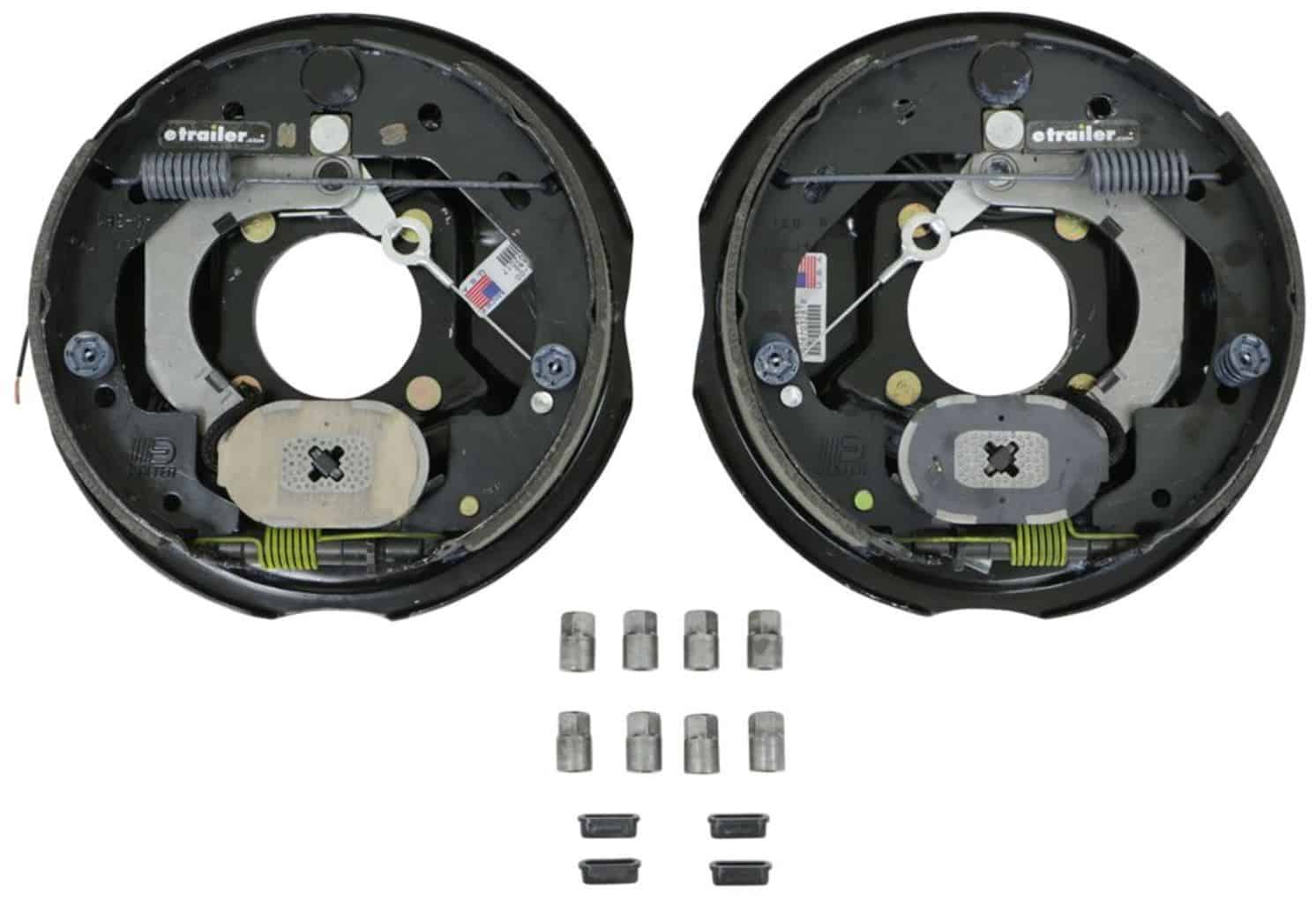 Description
Disengaging hydraulic brakes while reversing can be a hassle in a large vehicle like a horse trailer. So, electric brakes are a better option if you have a little extra money on hand.
In my personal opinion, I would always recommend swapping the hydraulic brakes with electric brakes, as they are way more efficient in controlling a horse trailer. These electric breaks have durable pads inside the coils, providing exceptionally gripping force to stop a horse trailer.
But you also have to consider that these brakes a complex pieces of machinery, and most of them can be tricky to install. However, if you want to avoid that trouble, I suggest you check out the Dexter Electric Trailer Brake Kit. It has an easy installation as it only requires an electric brake controller.
Teardrop Horse Trailer Fenders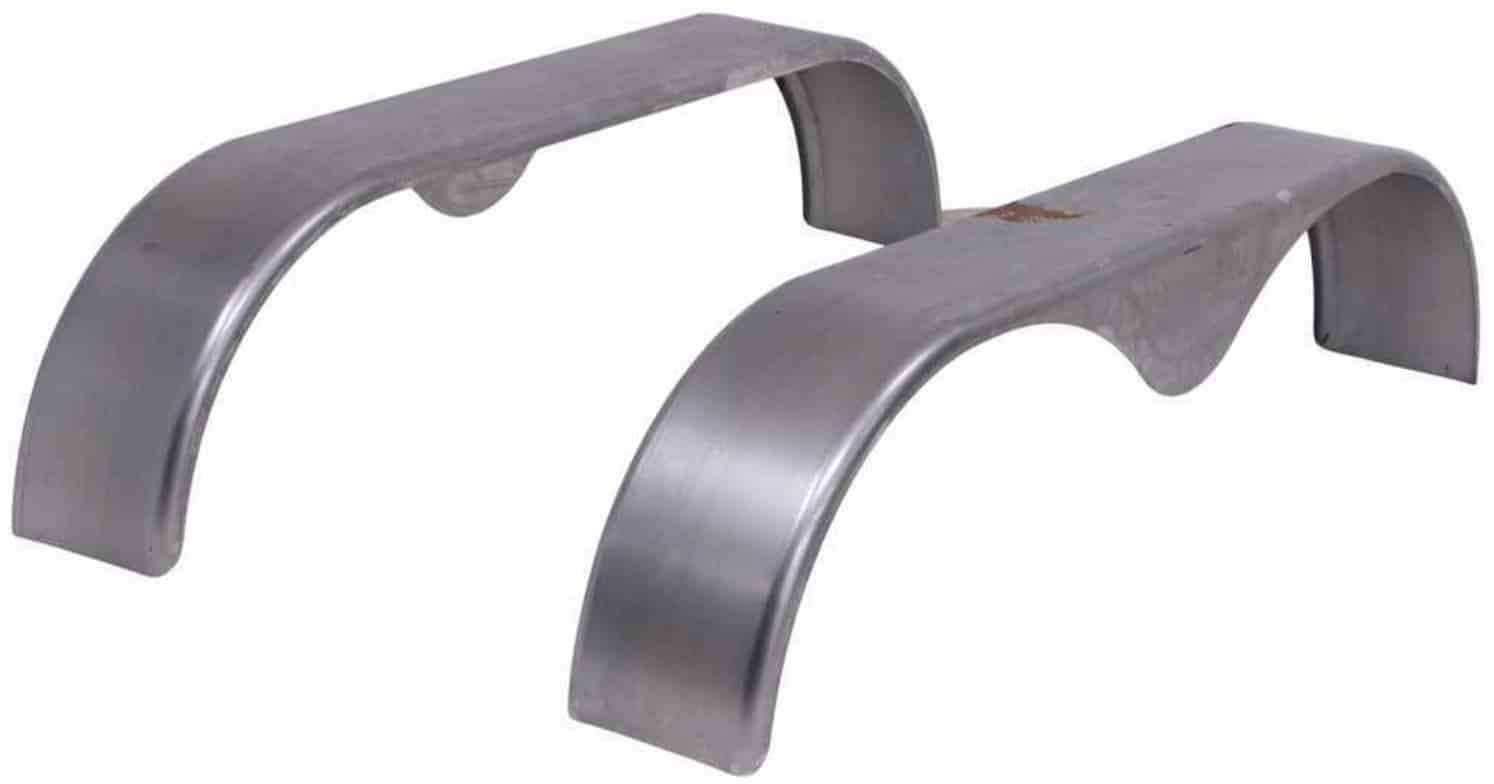 Description
Do you have to go through the trouble of cleaning debris from your horse trailer every time you come back from a journey? It is most probable that your trailer does not have fenders.
Most new horse trailers come with preinstalled fenders, and they nicely cover the tires of a trailer in a well-built metal body. And it saves your horse trailer from getting scratched if something accidentally hits the side of the trailer.
However, if your trailer lacks fenders and you want a good quality fender, then you can try the Teardrop Horse Trailer Fenders. It has an aluminum body that is water and dust resistant and can easily cover trailers with a dual wheel configuration.
Horse Trailer Tie System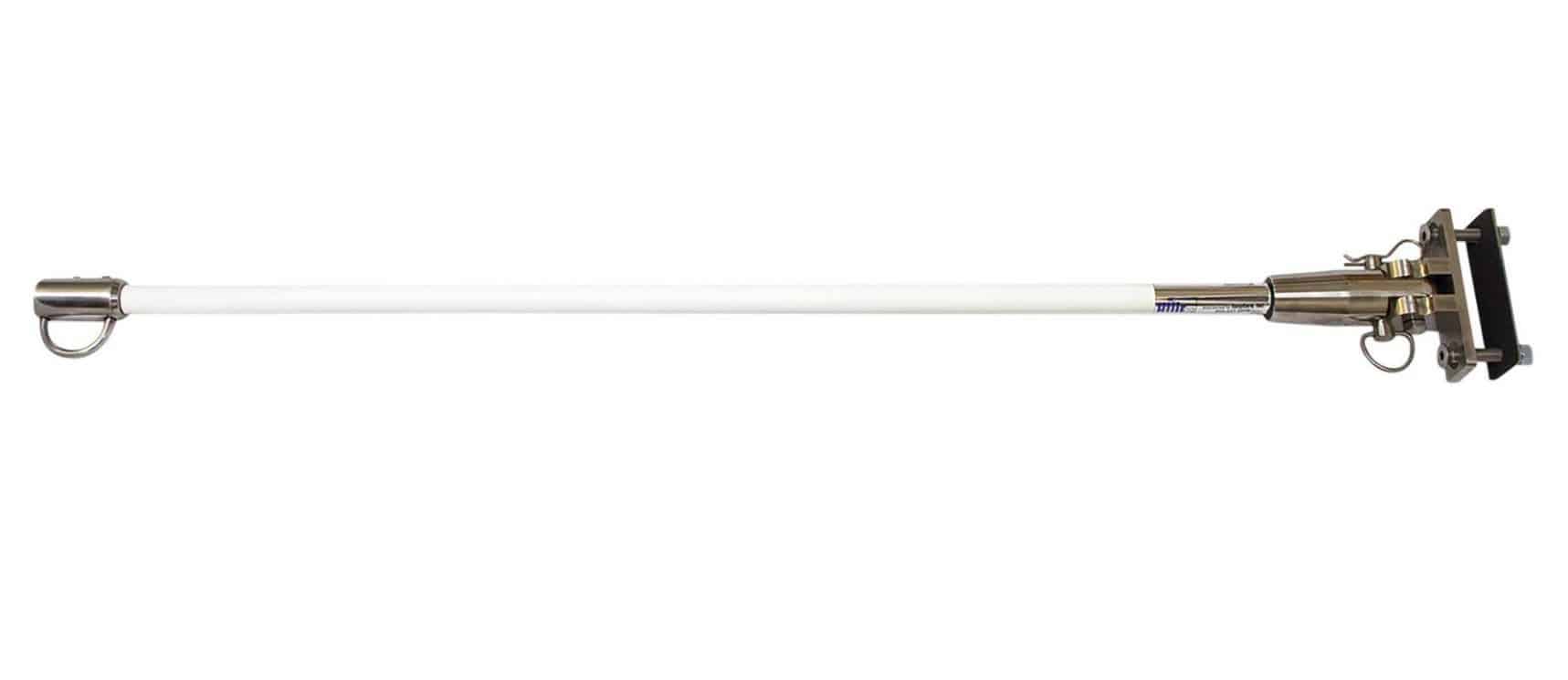 Description
Tying your horse in the open after taking it out of a trailer can be really tough. Some people tie the rope with the hitch, which makes it too close to the trailer, restricting the horse's movements to the extent that it can't even eat its feed. So, a trailer tie system gives your horse enough space to move while still keeping it tied to the trailer.
These systems are usually built from robust stainless steel construction with a flexible arm. This allows them to easily withstand the horse's movement even if it applies its full force to pull it. Pretty durable, right? And as most of these come with a 4-5 feet long rod, your horse will have ample room to move around.
Now, if you're looking for one such tie system, I recommend you try the Hi-Tie trailer tie system. It is well built and doesn't make any rattling noises despite the horse's movement.
Interior Horse Trailer Parts:
Suppose you're looking to add some new parts to your horse trailer for aesthetic or functional reasons. In that case, you can definitely check the ones listed below.
Load Water Caddy For Horse Trailers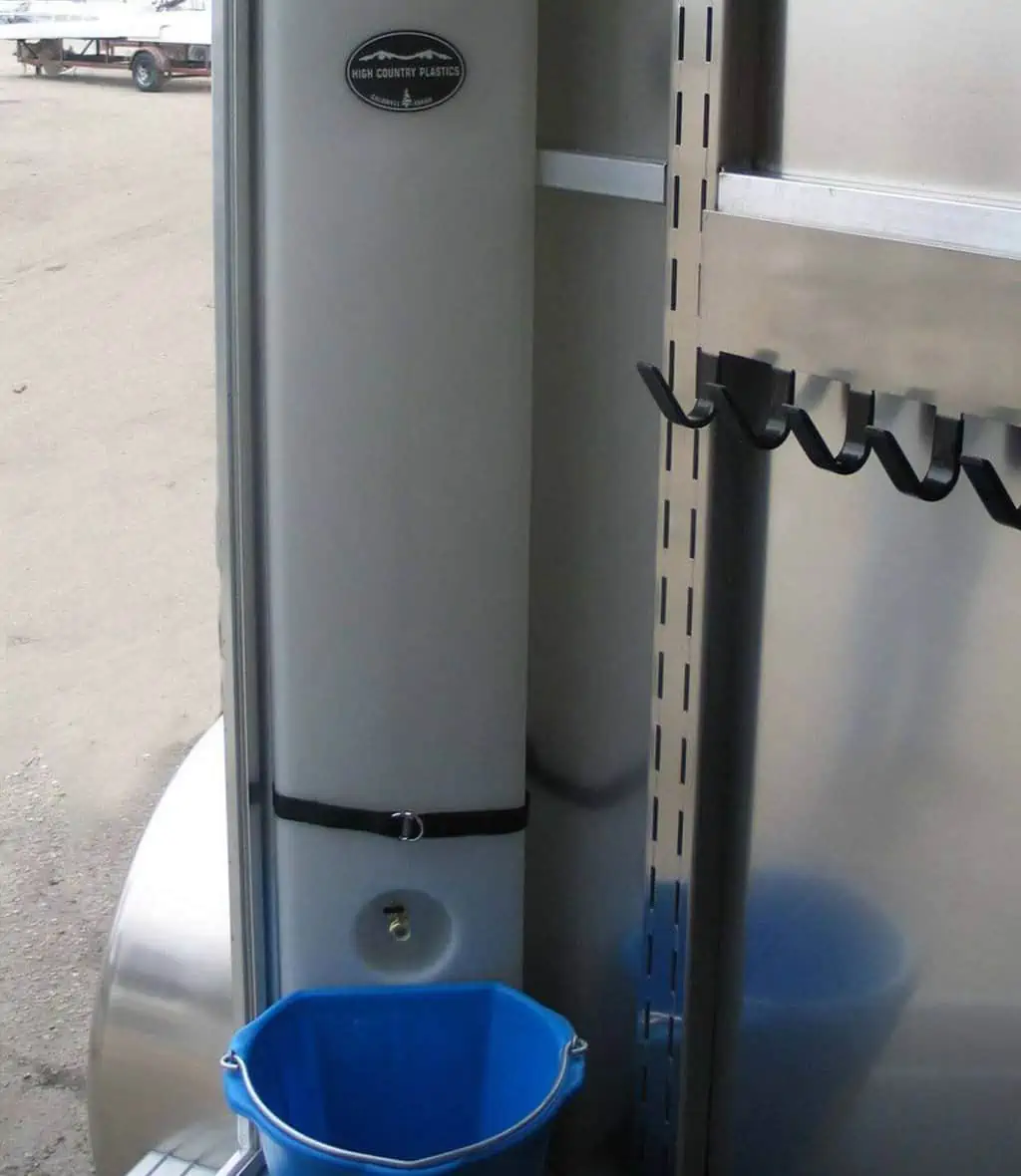 Description
Most horse trailers don't have a convenient way to store water, and people often use water buckets or water tanks. So, having a water caddy is a lot better option to store and manage water. Most water caddy options can be mounted with the walls of the horse trailer with simple straps.
And most of them use materials that are most translucent in nature, which comes in handy when checking the water level. And unlike other water caddies, a horse trailer caddy occupies less space.
However, finding one that meets all the perks mentioned above can be challenging. To avoid that, check out this 39 Slant Load Water Caddy. This is a complete package, with even an included water bucket for whenever you just want a little amount on the go. Its sleek design saves you a lot of space while also giving a good look to the trailer.
Mini GPS Tracking Device For Horse Trailer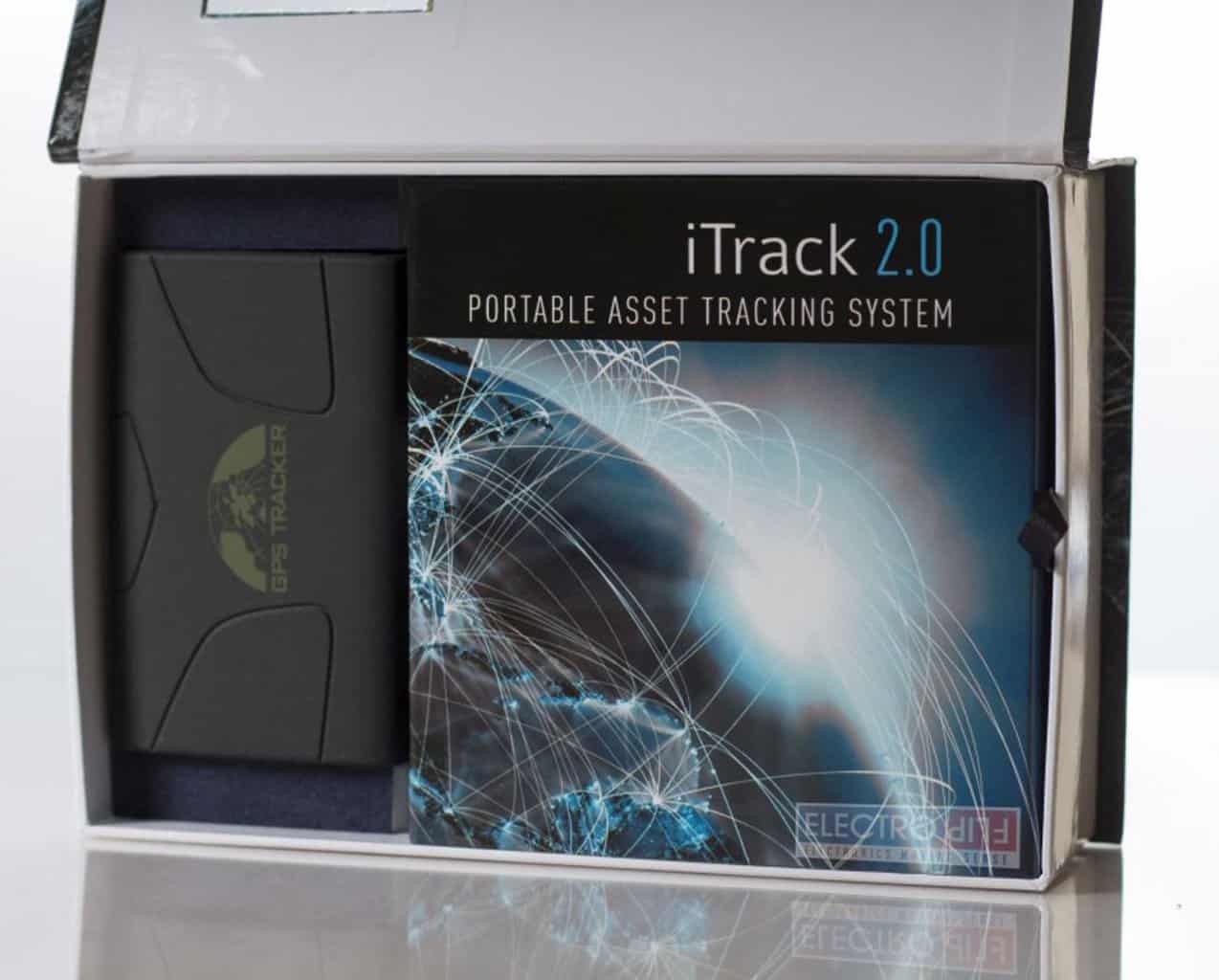 Description
Mini GPS Tracking Devices are essential to keep a check on your horse trailer. No one would ever want to lose their precious horse trailer after all. These devices are generally small-sized, so you can fit them anywhere in your horse trailer. They are minimalistic, mainly in design, complimenting your horse trailer inventory overall. Not to mention these devices come with long last battery life despite their small size. And in some cases, these batteries can last for months. Furthermore, most of these devices come with a long-range antenna, so keeping track of your trailer even when it's far away is never a problem.
However, if you don't have the time to look for a good tracker, you may consider this Mini GPS Tracking Device Horse Trailer. The specialty of this part is that it can be firmly attached anywhere with a strong magnet on its back.
Horse Trailer Pads
Description
Wall pads are an excellent addition to the interior of a horse trailer that insulate the trailer's walls. They usually have a dark finish, making them look pretty cool. And most of these pads also come in a vinyl coating, which makes them much more resistant to water or moisture. Furthermore, these pads being plastic, are also easy to clean.
Not to mention in most cases, wall pads are not pricey. Still, if you have a problem choosing the one according to your liking, you can go for the Horse Trailer Pad, Black. Although plastic, it has a grainy finish that still brings out the feel of leather.
Horse Trailer Folding Saddle Racks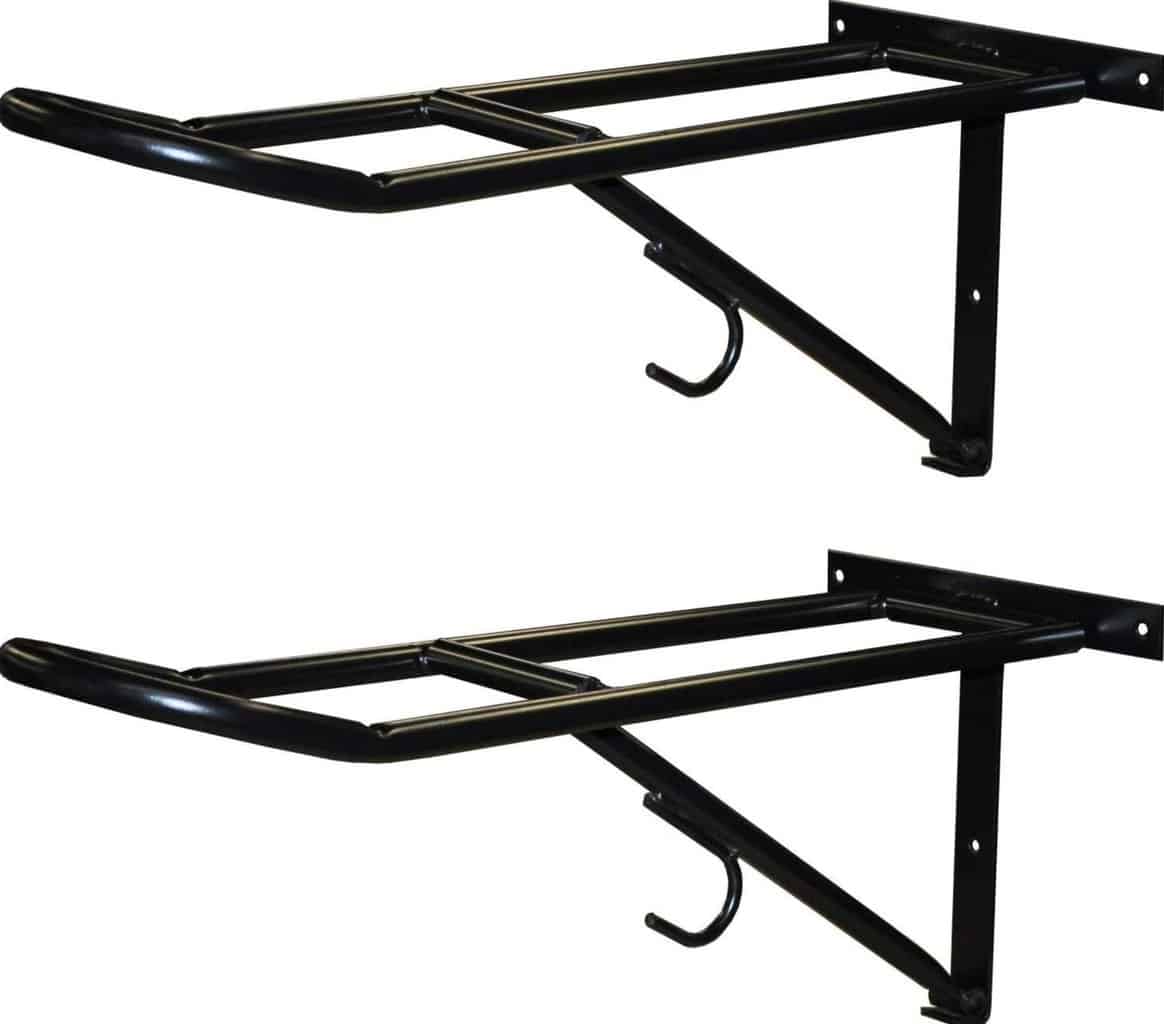 Description
Saddle racks are another part of a horse trailer that keep your saddles organized and dust-free. These racks used to occupy large space in a tack room. However, most modern trailers offer these saddle racks with a folding mechanism allowing the frame to take up much less space. These racks are typically made of stainless steel to make them solid and durable.
Not to mention stainless steel is also easy to clean, so there is no need to worry if your saddle racks ever get dirty. However, if you are looking for a saddle rack that can also hold your horse's blankets, check the Country Manufacturing Folding Saddle Rack. It has a durable bridle hook from which you can hang anything from cleaning cloths to different tacks.
Horse Trailer Divider Pads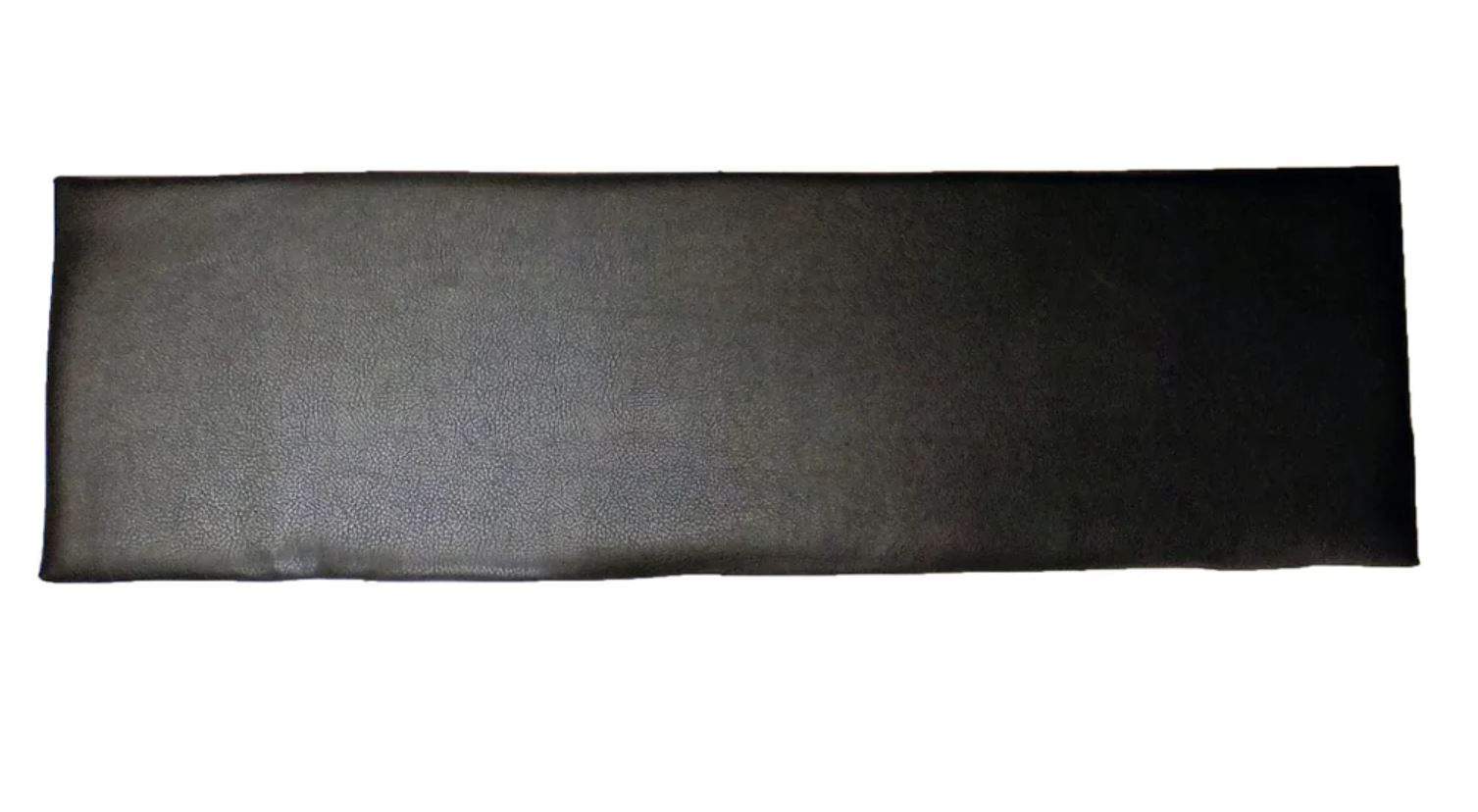 Description
Many people overlook divider padding as some auxiliary accessory that is not needed. However, if you ask me, a below-standard divider pad can be a deal breaker for me. But suppose you already own a horse trailer that lacks sufficient cushioning of the dividers. In that case, you can still purchase separate padding for your trailer dividers.
These divider pads have a soft foam coating, which can save your horse from getting injured if, by any chance, they hit the divider. Moreover, these divers also have a plastic coating on the top cover to make the material last longer. These are also relatively easy to install and can be attached with a good quality adhesive or small screws.
And when it comes to such dividers, my first choice would be the Divider Pad, Vinyl Covered Foam Padding. These come with threaded holes and retainer pins, making them very easy to install.
Wireless Backup Camera System For Horse Trailers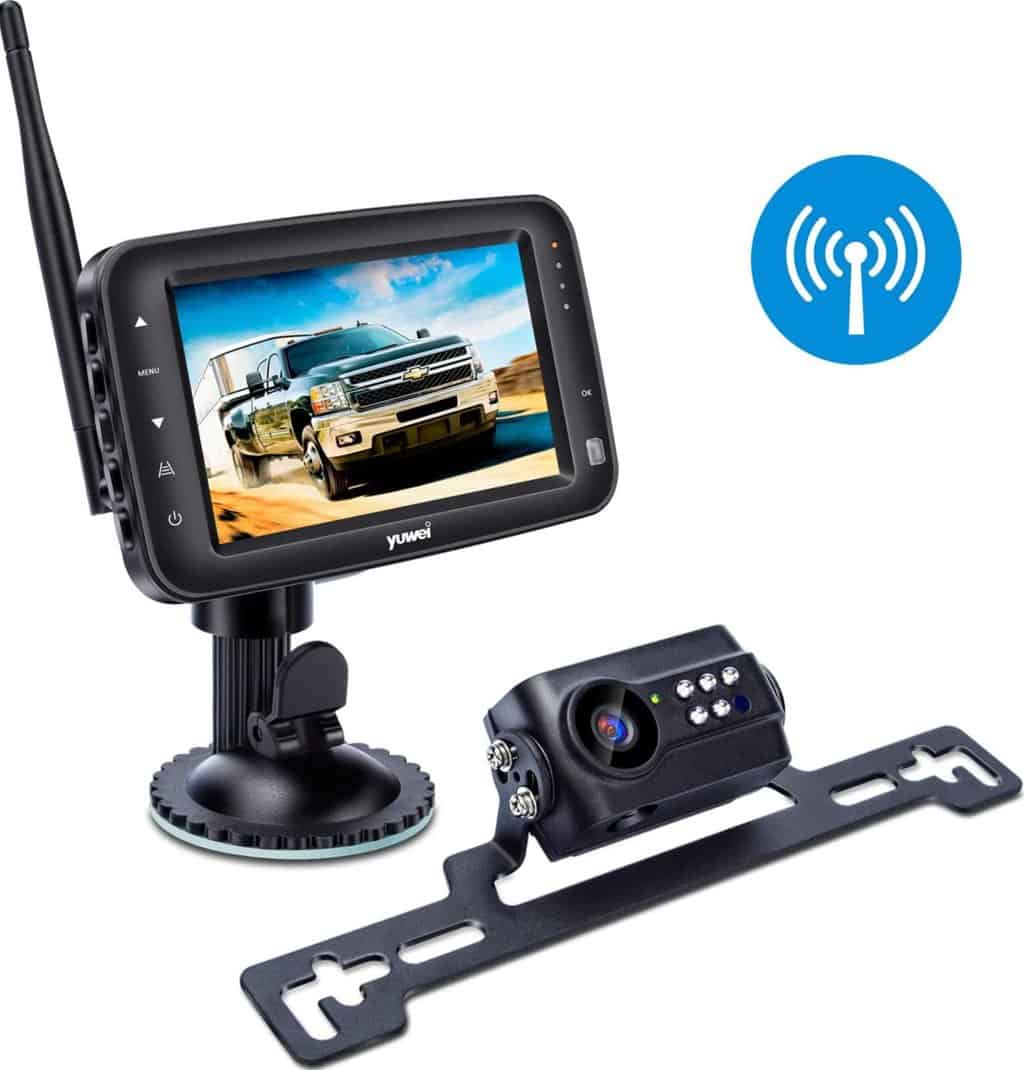 Description
If you have ever driven a horse trailer, you will know that reversing this tall and long vehicle is an arduous task. So, to make this job easier, having a wireless camera should be a must-have option.
These wireless cameras usually come with an external antenna that provides a smooth connection even if you are about 200ft away from its tower. Not to mention the casing is usually built with water and dust-resistant material.
These devices are also tiny and mostly come with a minimalistic design with a small LCD in the frame. But if you're unsure you possess the skills to mount one by yourself, go for this Wireless Backup Camera System For a Trailer.
Horse Trailer Grooming Bag For Horses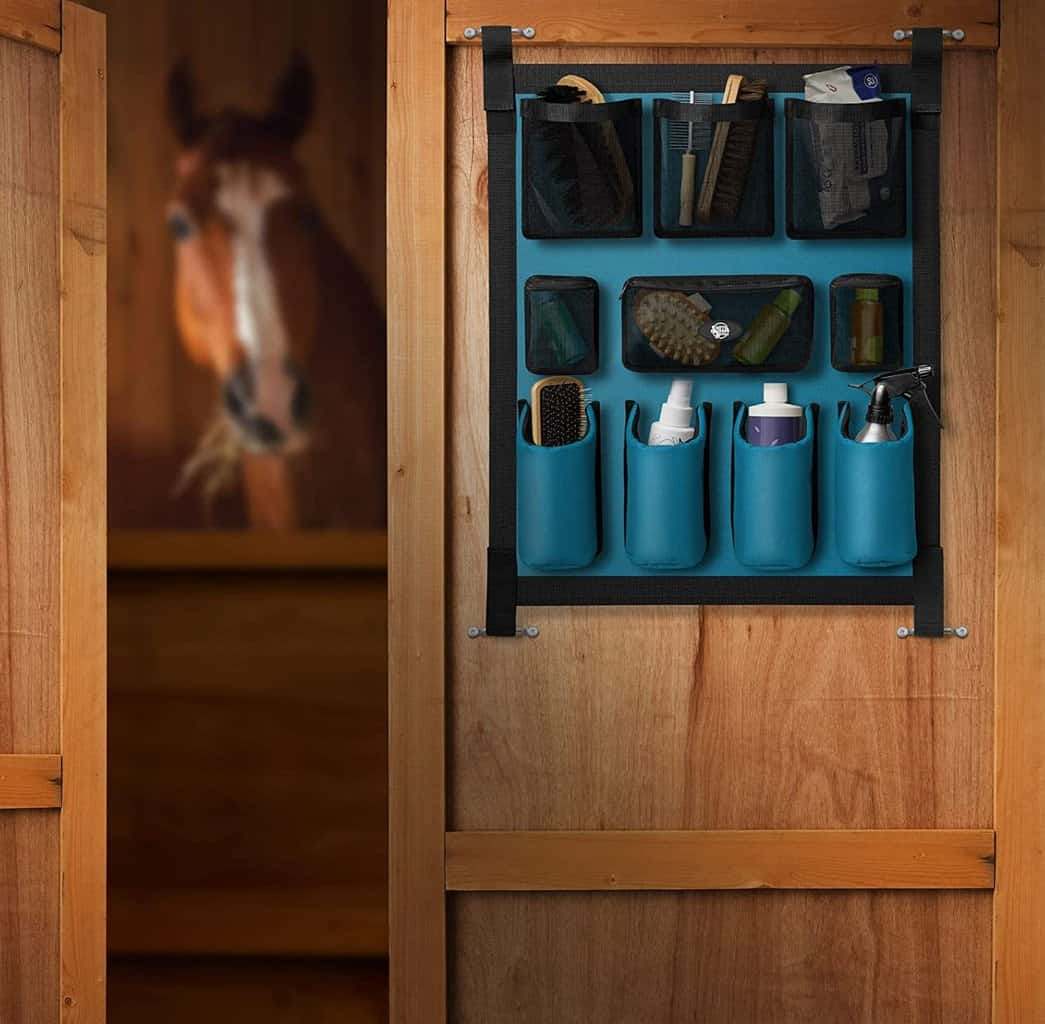 Description
Grooming tools sometimes become challenging to manage, especially when you are on the road. So, this is where a grooming bag comes in, where you can easily organize all the items. The grooming bag is usually made with polyester so that the bag remains light and durable. And also have a flexible mounting system that makes them very easy to install and remove.
Moreover, as horse trailer rides tend to be on the rough side, all the compartments in these bags are well padded to keep all your precious items safe. And if you're looking for one such popular option, go for the Horse Trailer Grooming Bag For Horses. The unique thing about this grooming bag is its stainless steel mounting system that can withstand even the roughest of horse trailer rides.
FAQs
Question: How Do I Get Replacement Parts For My Horse Trailer?
Answer: Check your trailer's model number if you want a replacement part for your horse trailer. Then search for the parts you need online accordingly. Or you can bring the faulty part of your trailer to any physical horse trailer parts store and get an expert opinion on what are the possible alternatives for that part.
Question: How Do I Find An Authorized Dealer For Horse Trailer Parts?
Answer: Not knowing which part is original and which part is fake can be a real headache. So to check the parts' authenticity, you can match the serial number on them with the brand's website. Another thing to remember is that if the serial on a part is purposely scratched, it is a clear indication that it's a counterfeit product.
Question: Should I Buy Pre-Owned Horse Trailer Parts?
Answer: When it comes to pre-owned trailer parts, you have to consider a lot of things before buying one. But one perk these do provide is being a lot cheaper than their new counterpart. So if you find used trailer parts in good condition which don't seem to be repaired, going for one can help you save quite some money. However, the peace of mind that comes with buying a brand new part is irreplaceable, so consider that too.
Wrapping Up:
With every trip, different parts of the horse trailer wear out or need repair or changes. So, in order to make yourself and your horse comfortable during your equestrian trips, you must keep an eye out for these parts.
However, deciding which ones are worth your money can be more than one can ask for. Therefore, this guide gives you a comprehensive overview of the different parts of a horse trailer, and what are the best options available in the market, in my opinion.
While keeping all this in mind, I think the most crucial part for maintaining a smooth ride is horse trailer tires. They are explicitly designed for horse trailers, as their more robust build makes them perfect for supporting heavy loads.
And one such trailer tires are the Halberd Premium Trailer Tires. Their unique groove design makes them good at dissipating heat, thus keeping their overall temperature down. Not to mention the treaded design also provide good traction.
So, by now, I hope you have understood the importance of different horse trailer parts and have somewhat of an idea of what your trailer lacks. It's time to spend some money on your precious horse trailer. Until later!
Read More: