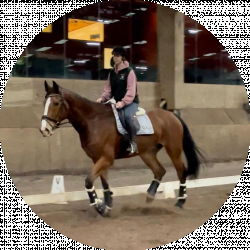 Latest posts by Maddy Chiffey
(see all)
When the goal is to transport horses, or a horse, a short distance, then a bumper pull horse trailer could be the best choice. However, it can be hard to distinguish the best bumper pull horse trailers from the rest. And this is where my guide should help!
In this post, I will first discuss what a bumper pull horse trailer is and its significant advantages over larger, gooseneck models for both driver and horse. I will then provide detailed reviews of my chosen five best bumper pull horse trailers.
But, if you're eager to start shopping, you can see an overview of my findings just below.
My Bottom Line Up Front
The Sundowner's Sportsman is one of the best, most affordable trailers on the market today. The brand has been in business for more than four decades and has a sound reputation due to its consistently well-built, safe, and durable trailers.
At a Glance: 5 Best Bumper Pull Horse Trailers
What Is a Bumper Pull Horse Trailer?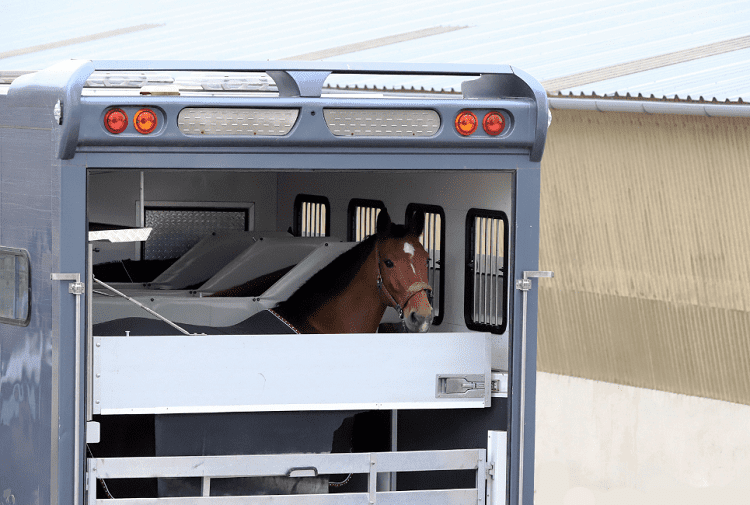 Also known as a tagalong trailer, a bumper pull horse trailer features a frame hitch that bolts onto the vehicle's towing frame. For this reason, your vehicle must have a tow bar to be able to pull this trailer.
What Are The Benefits of a Bumper Pull Horse Trailers?
Bumper pull horse trailers are incredibly popular due to their huge number of benefits over the alternatives out there today. Firstly, they are significantly easier to tow than traditional trailers, making driving and parking a more straightforward affair.
Secondly, this type of trailer is much less of a financial outlay than a gooseneck trailer. But, these aren't the only advantages to bumper pull horse trailers. Let's look at a few more:
You can use a bumper pull horse trailer without having a pickup truck; vehicle selection is much more vast than if you were towing a gooseneck trailer.
Due to their popularity, it's more likely that you'll find someone with a suitable vehicle to help out with towing should the need arise.
Making a u-turn and turning corners with this type of trailer is simple, with a much lower risk of scrapes or bangs.
Looking to pull a trailer for the first time? A bumper pull horse trailer is much less intimidating and easier to get to grips with.
Bumper pull horse trailers require less storage space than larger models, with many able to fit comfortably inside a standard garage, driveway, or yard, reducing costs further.
You don't need to declare a pull horse trailer as commercial because it is under 10,001 pounds, which makes licensing less complicated.
How to Choose the Best Bumper Pull Horse Trailers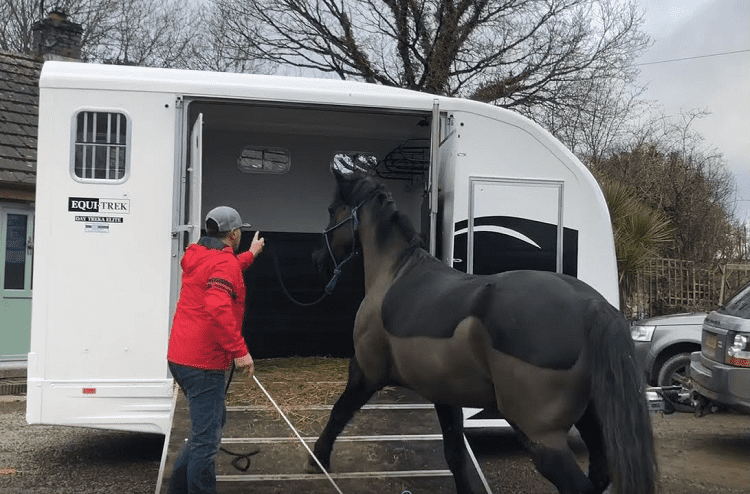 There are some characteristics to look for in a bumper pull horse trailer before buying, and we'll look at these here:
Size
One of the greatest benefits of this type of trailer is the small and compact size compared to other models. However, the size has to be adequate for your needs, for example, suitable for the number of horses you want to transport.
Ideally, a horse trailer of any design should be large enough so that a horse can move its head comfortably. It is recommended that trailers are a minimum of 7-feet high for a standard horse.
Brakes
The more modern bumper pull horse trailers will likely feature electric brakes, breakaway systems, and a rechargeable battery. These are all valuable features that can prevent devastation if the trailer becomes detached during transit.
Lights
Some older models will have little-to-no lighting fitted, whereas the modern-day bumper pull horse trailer can be lit up like a nativity scene. In my book, the more visibility on the road, the better. But, rather than this being a determining factor, it is merely a consideration due to the ability to buy additional vehicle lights to attach to any horse trailer.
Insulating Features
Extra insulation will contribute to additional heat, which can be vital during harsh winters. Insulation will also dampen exterior sounds that otherwise could stress or frighten the horse, resulting in upset or injury.
Ventilation
Look for how the trailer allows airflow – and how well ventilated the trailer is. If transporting horses in hot or humid weather, that animal's ability to breathe fresh air is crucial.
An Escape Door
When confining a horse into a trailer, it is very common for that animal to become scared and physically react to it with lunging, kicking, or aggression. As the loader, this puts you in great danger of injury if there isn't an additional escape door, ideally at the side of the trailer. For some, this may not be a determining factor, but for others, it is vital.
It is also important to look at ways to reduce your horse's transport stress for the safety of everyone during the journey.
My Product Criteria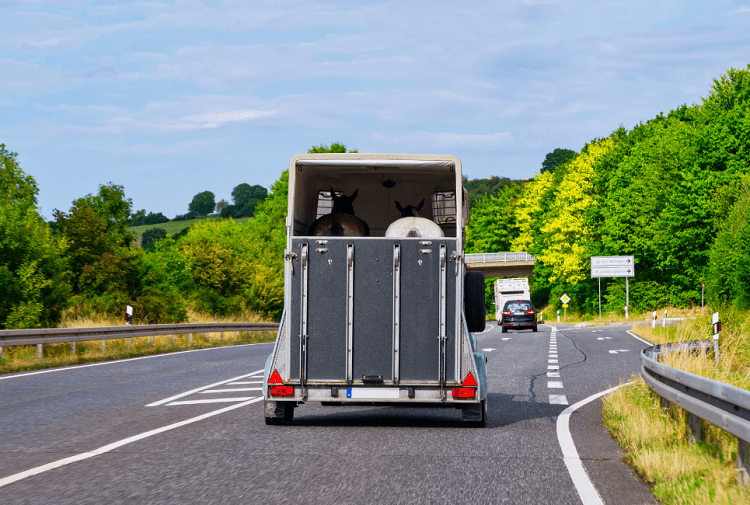 When asked to do this feature, there were several things I was looking for before feeling confident enough to review and recommend a bumper pull horse trailer. And these were:
Accessibility
I thought it essential only to recommend bumper pull horse trailers you could actually buy. So I looked for brands that had dealers and retailers dotted about the US, rather than being limited to one or a few areas.
Affordability
Anyone experienced in the equine industry will know this is not an affordable field, but it shouldn't be unnecessarily expensive. I wanted to ensure that the bumper pull horse trailers I reviewed were priced reasonably when all features were considered.
Safety Features
For both animal and driver, it is crucial to buy a bumper pull horse trailer that is safe. This can differ from person to person, but generally, it means things like a sound braking system, weight distribution, ventilation, and a secondary exit door. Other things, such as lights, can be added to a trailer once purchased.
My Chosen 5 Best Bumper Pull Horse Trailers
Sundowner's Sportsman – #1 Top Pick

Slant Load
Aluminum Construction
Interior and Exterior Lights

Find it Here
Logan Coach Cross Fire – #1 Top Budget Pick

Galva-Strong Galvanized Structural Tubing
Padded Divider
8-Year Structural Warranty

Find Here
Trails West Royale Trailer

Triple Wall Construction
Aluminum Wheel Upgrade
Organized Tack Room

Find it Here
Trails West Adventure MX

Steel-Framed Aluminum Build
Newly Designed Aerodynamic Front
Drop Down Feed Windows

Find it Here
2022 Gore Trailers Bumper Pull Horse Trailer

Interior Dressing Room
X2 Full Sized Escape Doors
Fiberglass Roof

Find it Here
#1 Sundowner's Sportsman – #1 Top Pick

The Sundowner's Sportsman comes from a reputable American brand with 40-years of experience. Known for safe, well-built, and robust horse trailers, any model will have a good resale value, which softens the initial outlay somewhat. However, with that being said, the Sportman bumper pull trailer is still one of the more affordable options.
This slant loading trailer features convenient drop-down windows and drop-down feed doors. The trailer is 7-feet tall and 6-feet 9-inches wide. It has padded dividers and has models that comfortably fit up to four horses. Inside the trailer, I found there to be excellent ventilation, and each stall has its own pop-up vent. Stalls also have individual drop-down head doors and sliding windows.
I found the tack room not to be the most spacious but to make the most of the space with things like a convenient swing-out saddle rack. The tack room also features six-track hooks, a blanket bar, and a mounted brush tray. Lighting is sufficient, the door is lockable, and the floor is finished with rubber matting.
These models range from 12-feet 9-inches to 19-feet 3-inches, which keeps them firmly within the moderately sized. Owners find them straightforward to tow and park. The exterior is pre-painted aluminum and available in several finishes; white, black, silver, charcoal, and champagne.
The safety features are pretty top-notch and include electric brakes with a safety breakaway. The trailer has many upgrade options, such as faceguards, additional lighting, and extra height. This brand has one of the best warranties in the industry, including an 8-years structural warranty for recreational users.
Pros
Great Brand Reputation
Excellent Longevity
Fantastic Warranty
Good Safety Features
Upgrades Available
Cons
Dealers aren't as widespread as some.
#2 Trails West Royale Trailer – #1 Top Budget Pick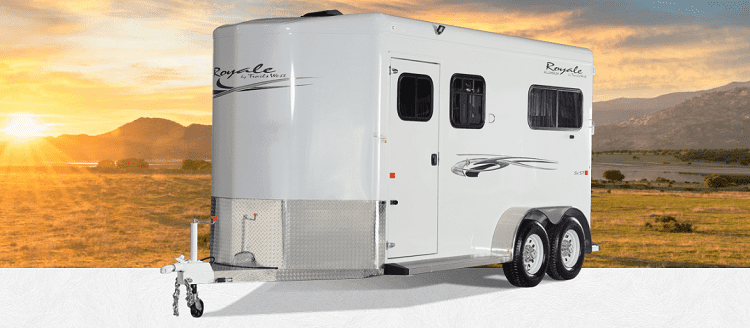 Beautiful simplicity is what you get with the Trails West Royale Trailer. This compact and modern designed trailer has everything you and your horse need for a road trip and comes with a list of optional extras, including a water tank, aluminum wheel upgrade, floodlights, and a hotwire package.
At 15-feet 11-inches, 6-feet 9-inches wide, and 7-feet 5-inches tall, this bumper pull horse trailer is ideal for an extensive range of cars, as well as trucks.
If you're not the most confident of towers, then the smaller-sized Royale could be the one for you. You can almost forget it is behind your vehicle; it is so light and easy to maneuver; even U-turns and turning tight corners are no big deal – and parking is a breeze.
The triple wall construction gives a good level of protection to the horse(s), and the walk-through style offers excellent convenience for the user. The warranty deserves a special mention here, too. You get an 8-year limited floor warranty, 5-year limited structure warranty, and 3-year limited paint/trim warranty.
There are 47 different US locations where you will be able to head down to check this model out further – you may be mighty glad you did!
Pros
Lots of Dealers Around the US
Under $20,000
Excellent Warranty
Beautiful Simplicity
Compact Design
Suitable for Most Vehicles
Cons
Upgrade Options are Quite Pricey
#3 2022 Gore Trailers Bumper Pull Horse Trailer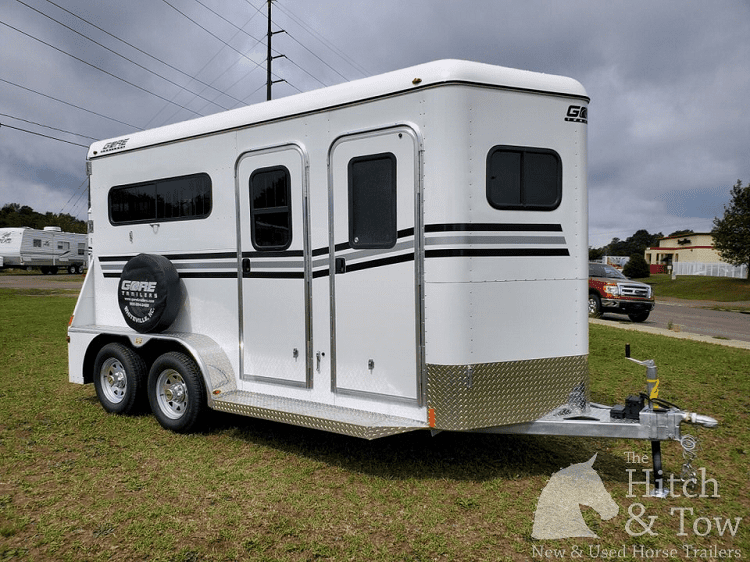 Located in the unofficial 'home of the horses,' Aiken is a family-run dealership that stocks a range of affordable trailers – with financing options available. Browsing their website, I came across the 2022 Gore Trailers Bumper Pull Horse Trailer and thought it deserved further reviewing.
Sadly, I couldn't find any shipping information, and this company seems to have just one location. However, there are plenty more dealers of Gore trailers; with varying prices.
On first inspection, I found the trailer to be very well equipped with everything you could want for a long journey. This includes a carpeted dressing room, rubber-lined walls, a removable center divider, and two sliding bulkhead windows.
What stands out most for me are the two full-sized escape doors, which offer a greater level of safety for the loader. There are two-way vents in the trailer's roof, providing more than sufficient ventilation for animals, and I love how easy the ramp is to lift – super light.
Interior and exterior lighting results in an excellent level of visibility on darker nights, and the screen door insert is perfect for summer shows. The dressing room is equipped with a blanket and clothes bar, bridle hooks, and two saddle racks.
For under $25,000, this is a budget-friendly trailer with high-end features.
Pros
Good Price
Financing Options Available
Great Safety Features
Well Equipped Dressing Room
X2 Full-Sized Escape Doors
Fantastic Ventilation
Good Lighting
Cons
Prices Vary Depending on the Dealership
#4 Trails West Adventure MX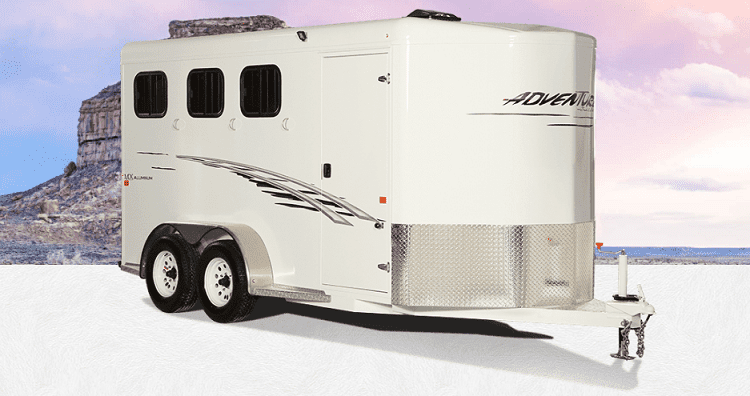 The Trails West Adventure MX is within the affordable range and is the best-selling horse trailer of the brands. It features a super-tough steel chassis and aluminum body yet is relatively lightweight at under 3,000 lbs. There are so many things about this particular bumper pull horse trailer I love.
Firstly, it has clearly been designed with the horse's safety and needs as a main priority, and this is obvious with the rubber wall mats and wooden floors. Wood is much cooler than metal flooring due to less heat transfer from hot roads. And the rubber walls soften any bumps to the animal during transit.
Between the wood on the floor are subtle spaces which act as drains to take away any contaminants, rather than allowing them to settle under the foot of the horse. Additionally, this will prevent corrosion build-up and make the clean down much easier after use.
Like the other models in this post feature, the MX has drop-down feed windows and sliding windows for easy access to the horse and good ventilation.
The track room of the MX is one of the best I have seen. Depending on the size of model you're interested in, there can be up to four-place saddle racks, a four-place blanket rack, and all models feature a clothes rod, vent, carpeted floor, deck, and angled wall. There's up to 16 bridle hooks, a door brush tray, a corner brush tray, a dome light, and a 32-in door.
Pros
Best Selling Trailer
Fully Equipped Track Room
Horse Safety Features
Additional Upgrades Available
Cons
Prices May Vary Depending on Dealership
#5 Logan Coach Cross Fire
The Logan Coach Cross Fire is an entry-level bumper pull horse trailer built for everyday use. It is a basic design but extremely well made with Galva-strong galvanized structural tubing, floor, wall uprights, and frame rails. There is also an aluminum structured roof and aluminum wall sheets.
Aluminum is a durable metal that's also cheap to build with, and this is reflected in the price of the CrossFire. It is also a kinder metal to use for the horse; due to it reflecting sunlight, it will keep the stall area cooler during warmer days.
The build is finished with an extra coating of Vortex rubber in parts, which will extend the lifespan by resisting corrosion from the horse and the road.
There's good drainage in the flooring because the aluminum floor planks have slots. I found them to be smooth, so they should be comfortable under the hoof/shoe and cause no irritation. For a more compact trailer, the stalls are generous at 135-in by 40-in.
I like the rubber-coated walls and padded dividers, which have the horses' comfort and safety in mind. Each stall has good airflow due to pop-up vents. A great benefit of this trailer is its lightweight, at 2,540 lbs. It is 7-feet tall and 6-feet 9-in wide, meaning it will be suitable for most breeds. The biggest drawback is that the Cross Fire doesn't come with a ramp.
You can physically see this trailer at almost 40 different locations around the US, and if you are interested in buying, you may be pleased to learn of a 2-year hitch-to-bumper warranty and 8-year warranty.
Pros
Comfort and Safety for the Horse
Excellent Longevity
Could be a Great Price (Location Depending)
Great Warranty
Multiple Locations Around the US
Cons
Most dealers stock the Logan Coach CrossFire for between $15,000 and $23,000, meaning your location will depend on the amount of money you pay.
My Best Bumper Pull Horse Trailers Summary
I would feel comfortable towing any of the five bumper pull horse trailers in this guide. However, the Sundowner's Sportsman is worthy of position one due to the incredible safety features, brand reputation, and fantastic warranty.
I love the Trails West Adventure MX track room and think this is one of the best around. However, similar to the Logan Coach Cross Fire, prices will vary depending on the dealer you use.
The 2022 Gore Trailers Bumper Pull Horse Trailer has two full-sized escape doors, making it unique from the other featured models. I liked the interior and felt this was one of the more comfortable stalls for horses, with plenty of safety features. I found this trailer in Aiken, but it is available nationwide – with varying prices.
My top budget pick is the Trails West Royale Trailer, and this has lots of upgrade options available that still leave it within the affordable range.
FAQs
Question: What Would Make a Bumper Pull Horse Trailer Unsuitable For Me?
Answer: If you travel with multiple horses long distances, you may be better off looking at Gooseneck trailers. Goosenecks are able to handle more weight and offer a greater level of stability on the road. Additionally, there will be living quarters and more room for the horse, or horses, inside than you'd find with a bumper pull horse trailer.
Question: What Are The Disadvantages of Bumper Pull Horse Trailers?
Answer: The biggest disadvantage to a bumper pull trailer is a lack of stability compared to other designs. However, there are ways around this, such as the addition of weight distributing hitches and anti-sway bars (I have found this anti-sway bar to be the most popular for this purpose). Bumper pull horse trailers cannot carry the same weight as their larger counterparts, with the largest bumper pulls only accommodating four horses and having no living quarters on board.
Question: What Items Are Essential When Using a Bumper Pull Horse Trailer?
Answer: If you're in the market for a bumper pull trailer, you're likely not a novice in horse care and travel. But, it can be easy to go online and read long, comprehensive lists of 'must-haves' that leave you wondering what is essential. I have concluded, through extensive research, that there are only five essential items you need to take on the road with you. And these are:

• Emergency Roadside Kit
• Tire Changing Tools
• Large Water Containers
• Horse First Aid Kit
• Human First Aid Kit
Recommended Reads: