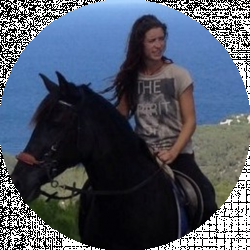 Latest posts by Tanya Taylor
(see all)
If you're looking for the best small horse trailer options, you've come to the right place. As a Thoroughbred stud assistant, I've safely transported foals, yearlings, and broodmares to the races, sales, and stud, so I know a thing or two about horse trailers.
Horse trailers add a whole new dimension to horse ownership and are a worthwhile investment even if you only have one horse. So, if you want to know how to find the best small horse trailers on the market, take a look at my guide below. 
Bottom Line Up Front
If you're looking for a small horse trailer, I highly recommend Featherlite 7442. The 7442 is one of the smallest and lightest trailers on the market and is made here in the USA. Featherlite is a trusted equine trailer brand which produces high-quality, durable trailers and offers plenty of optional extra features.
My Top Choices at A Glance
Before we dive into the world of small horse trailers, take a sneak peek at my top choices:
The Featherlite 7442:

 I love this trailer because it's lightweight, small, compact, and has a distinctive, sleek design. 

The Sundowner Charter SE:

The Charter SE is one of the smallest trailers on the market. Sundowner is a trusted American brand – whose trailers are strong, sturdy, and durable.

The Bockmann Portax:

Bockmann trailers are made in Germany with an eye-catching aluminum/polyester hybrid design, so they're aerodynamic, lightweight, and long-lasting. 
Let's Look At The Benefits Of Small Horse Trailers
Horse trailers are a fantastic way to broaden your horizons as an owner, and they give you peace of mind because you know you can transport your horse to a hospital in an emergency. If you travel to shows regularly and often hire trailers, owning your own will save you money.
With a trailer, you have more independence as an owner and can head out to explore new trails whenever you like. You have the freedom to go to the beach and cool off in the summer or attend horse clinics around the country. You can even use a trailer to transport things like bales and sacks of horse food. 
Horse trailers come in many sizes, styles, and designs, and small horse trailers are ideal if you have a small vehicle and one or two horses. They're cheaper to buy than large ones, easier to maintain, and they consume less gasoline to tow them. It's much easier to find a place to store a small horse trailer, and you don't need a special license or car to take them on the road. 
How I Choose The Best Small Horse Trailer
Horse trailers are a substantial investment, and you must consider many things before you buy one. The main things I look at when I buy a trailer are the size and weight, the type of trailer, the loading method, and the trailer material. 
Below, I'll talk you through the essential things to look out for when you buy a small horse trailer. 
1. The Size and Weight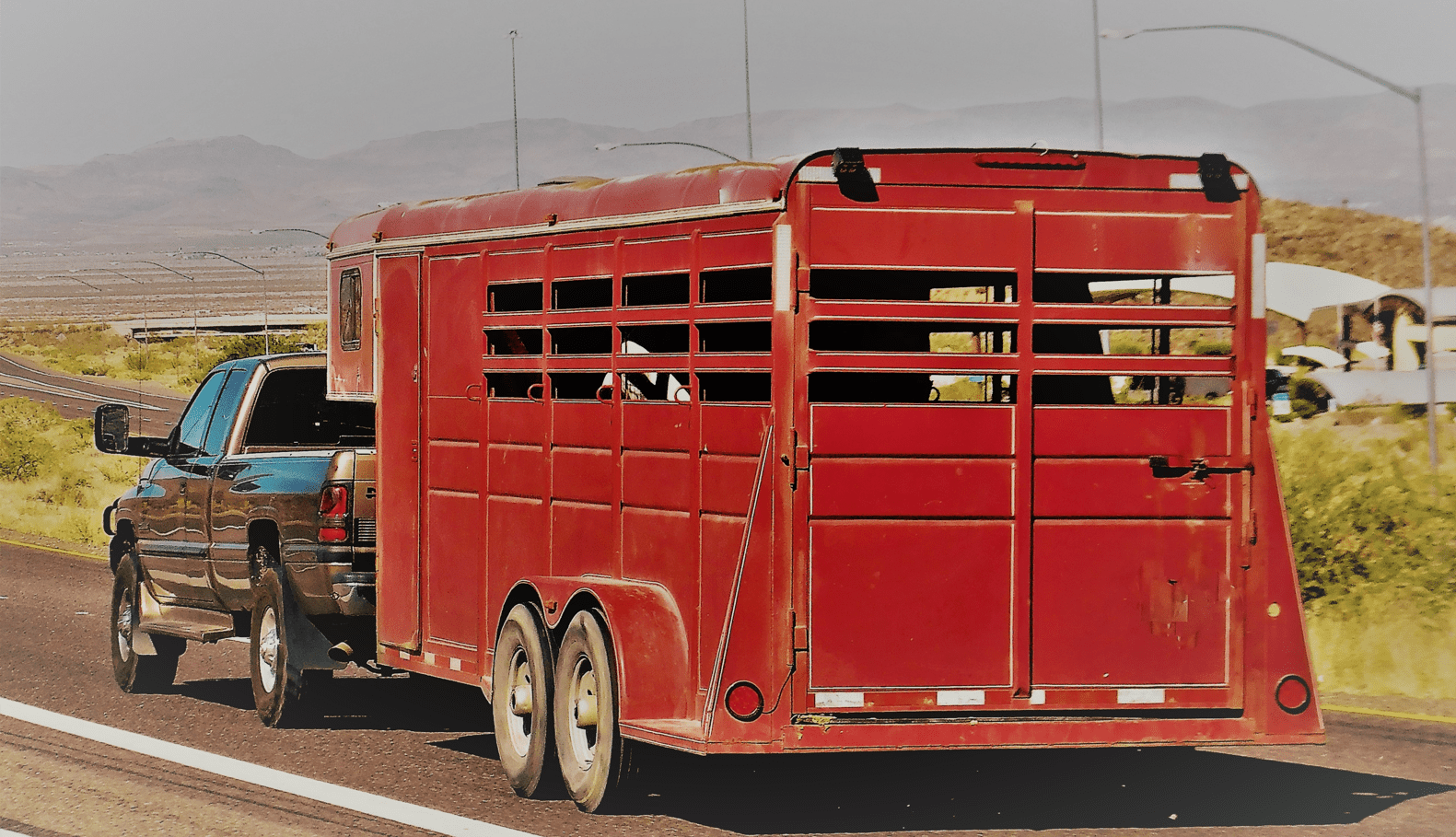 Small horse trailers will carry one or two horses up to around 16.3 hands. The average small horse trailer is approximately 7'6" high, 6'7" wide, 14' long, and weighs between 2-3000 lb. The weight is one of the most important things to consider when you buy a trailer. You must make sure it's the right weight for your vehicle – you can usually tow a small horse trailer with a full-sized SUV. 
To find out how much weight you can tow, you need to find out your car's tongue weight – you can find this in the handbook.
You must calculate the weight of your horses and equipment along with the trailer weight because this will be the maximum capacity – so, the lighter the trailer, the more weight you can carry. If the load is too heavy for your vehicle, it will affect braking and is dangerous. 
You must also ensure the trailer is big enough for your horse. Ideally, the horse should have around a foot of head space in the back.
2. The Material
Horse trailers must be robust and sturdy, so they're usually made from steel or aluminum. Some lightweight trailers are made from fiberglass, but these are rare, and some have polyester parts, such as a roof, to reduce the weight.  
Let's take a closer look at horse trailer materials:
Steel:

Steel trailers are usually more economical to buy and are heavy and sturdy, and less likely to break in a collision. Steel is durable and easy to repair but is prone to rust. 

Aluminum:

Aluminum trailers are lightweight, which means they can carry a heavier load. They're easier to maintain because they don't rust, but they can corrode from urine if you don't clean them regularly after use. 

Fiberglass:

Fiberglass are the lightest horse trailers, but they're quite rare. Fiberglass trailers are cooler inside than metal ones because they don't conduct heat and are durable because they won't mold or rust.  

Polyester:

 Some trailers have polyester roofs or outer shells to make them more lightweight. Polyester is durable and easy to clean and maintain.  
3. The Loading Method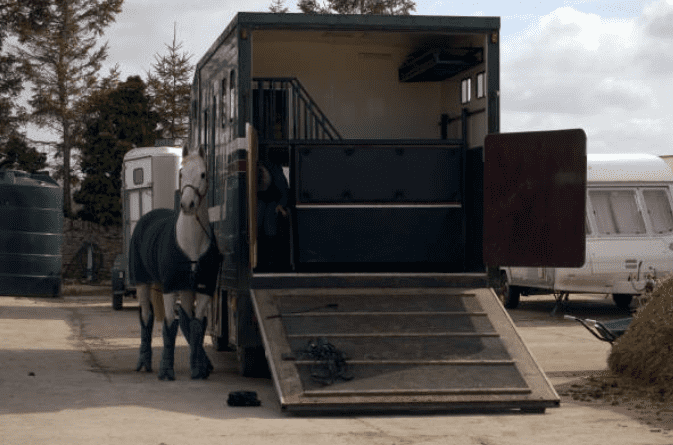 Most small horse trailers are straight loading, which means horses enter the trailer from the back and stand with their head at the front of the trailer and their body parallel to the wall. Unlike slant loading trailers, where horses stand at a diagonal to the walls – slant loading is usually exclusive to large horse trailers. 
Horses will load into a trailer by a ramp or a step, and each trailer design is different, so you should choose a step or ramp trailer, depending on which one your horse is familiar with. 
Step Up Trailers
Step-up trailers don't have a ramp – instead, horses step into the trailer. Horses seem to understand the concept of steps better than they do noisy hollow ramps, but it can be unnerving for some horses to step off the trailer backwards. Step-up trailers are lighter because they don't have a ramp but are more suited to horses who are comfortable with loading. For extra safety with a step-up trailer, protect the step with cushioning, so your horse can't scrape its legs.
Ramp Loading Trailers
Ramp loading trailers are ideal for young, inexperienced horses, small horses with short legs and older stiff ones who would struggle with a step. However, a ramp can become slippery and dangerous for horses, so ensure it has rubber mats for extra grip. Many owners prefer ramp loading trailers because they have more room to maneuver when they load their horses.  
4. Standard and Extra Features
Modern small horse trailers come with lots of extra features such as cameras, GPS, Bluetooth connections and stall fans. Usually, the manufacturer will list optional add-on's and you can choose the ones that appeal to your needs. 
When it comes to standard horse trailer features, there are some essential things to look out for that will enhance your horse's comfort and safety, such as:
Windows and vents

Rubber matting on the floor, walls and ramps

Quick release breast and rear bars

Lights and electrical connections for inside and outside 

D rings and tack hooks 

Kick plates
5. The Type
Trailers generally come in three styles: bumper pull, gooseneck and living quarters. Gooseneck and living quarter trailers are large, so when you look for a small horse trailer, you will usually find bumper pull ones. Bumper pull trailers attach the bumper of your car or truck with a bumper hitch, so they're easy to hitch up, and you don't need any modifications. Bumper trailers are more economical to buy and are better for transporting one or two horses at a time.
The Best Small Horse Trailers on The Market
There's a whole load of trailer manufacturers, and a horse trailer isn't the type of thing you can buy quickly off Amazon. So, to help you make the right choice and save you time trawling through the internet, I've listed the best small horse trailers on the market below.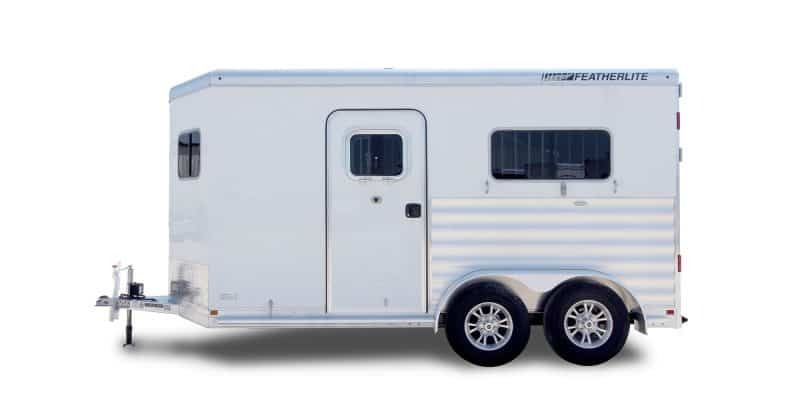 Featherlite are leaders in the horse trailer industry and are famous for their lightweight trailers. One of the smallest Featherlite trailers is the 7442 model – a straight load bumper pull with a rear ramp suitable for 1 or 2 horses. 
Specifications
Height: 7'6" 

Length: 14'4

Width: 7 ft

Weight: Model 204A = 2950 lb. Model 204B = 2850 lb 

4 x 16-inch aluminum wheels

25 and 16th coupler with crank type jack with wheel

Clearance, stop and turn lights.

 2 x tie rings inside per horse and 1 per horse outside

Dome lights in the dressing area and stalls

Full-length escape door
Inside, the trailer is bright and airy, with 46" x 20″ windows on each side of the horse area and pop-up roof vents. The stalls have padded chest and rear bars with rubber lining and a padded shoulder separator with a swinging, removable head divider.
The aluminum floor is robust and sturdy and fitted with rubber mats to give your horse extra stability, and the stall walls are rubber-lined to protect them against kicks. I love Featherlite trailers because they have many optional add-on's such as stall fans, trailer graphics, easy care flooring, and feed bags.  
One of the most appealing things about this trailer is the unique dressing room which is practical, and secure with halter hooks, a brush tray, blanket bar, clothes rod, and 2 x adjustable saddle racks. The 204A model has a 51-inch dressing room, and the 204B has a 43-inch room.
Pros
It's one of the lightest trailers on the market

It comes with a 10-year structural warranty and a 3-year bumper hitch warranty 

It's available in 6 colors
Cons
Some customers feel Featherlight could improve their aftercare service

There might be a long wait on some models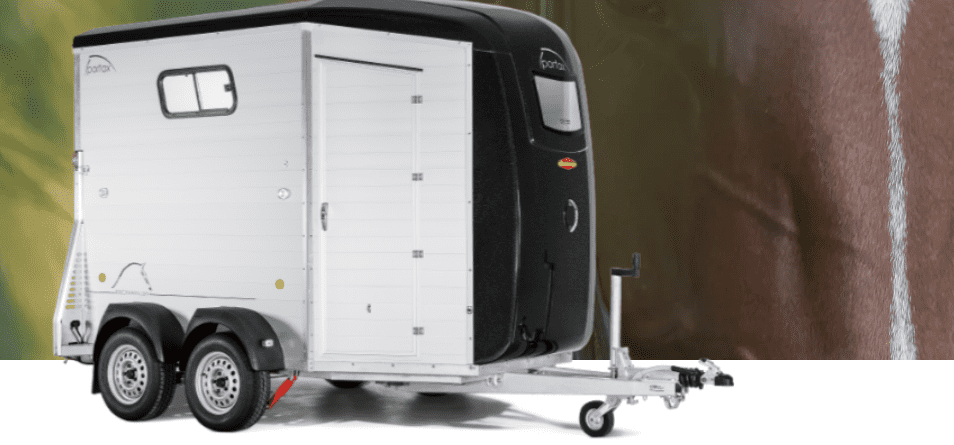 Bockmann produces high-quality, lightweight trailers in Germany and are leaders in horse transport solutions. Their unique design means their trailers are self-balancing and aerodynamic, with less pull which ultimately puts less stress on your vehicle and saves you money on gas.
The Portax can carry two horses up to 18 hands, and the polyester roof comes in several attractive colors. Bokermann trailers have many features which keep the stalls cool and quiet during transport, making the experience less stressful for horses.
Specifications
Height: 9'3"

Length: 15'6"

Width: 7'9"

Weight: 2700 lb

Mounted spare wheel and chocks

Rubber mats on loading ramp with safety treads

WCF shocks and coil spring suspension on all wheels

Independent hydraulic braking system

Aluminum floor fitted with rubber mats and padded side walls

Removable transparent PVC partition on swivel bars

Gas shocks on the ramps help with opening and closing 
The Portax is made from anodized aluminum with a polyester roof and front bow, making it one of the lightest trailers on the market. Inside, it's airy and light with several windows and two roof vents. The fantastic thing about the Portax is that the loading ramp doubles up as a swinging door, and you can use it as a ramp loading or step-up trailer.  
I also love the multi-safe stall bar system in these trailers with padded chest bars – you can adjust the length and width of the stalls and release the chest and rear bars from outside the trailer in case of an emergency. I also love the secure polyester tack storage chest in the front bow, which comes with a broom, shovel, saddle racks, and bridle hooks. 
Pros
It's lightweight

It has a secure tack chest in the bow
Cons
It's one of the most expensive small horse trailers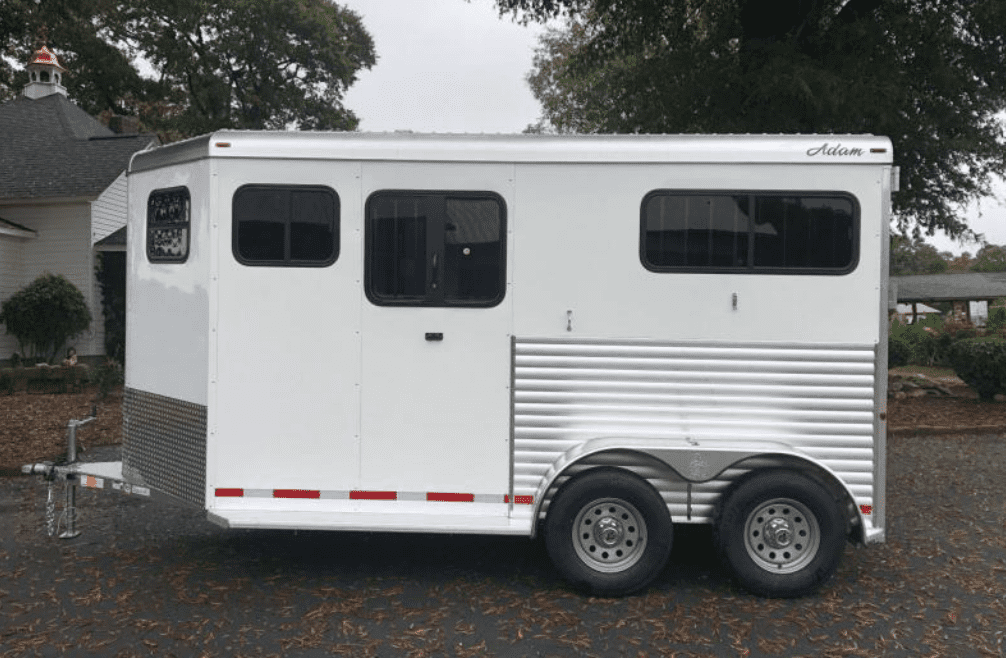 The Julite 743 from Adam Trailers is an aluminum, two-horse straight load bumper pull trailer with a rear loading ramp. It has a low-profile roof and semi-rounded front, which will reduce pull, and it comes with a dressing room and tack storage underneath two feed mangers.  
Specifications
Height: 7'6"

Length: 743 = 11' 743-DR = 14'

Width: 6'6"

Weight: 3000 lb

15-inch radial tires with two 3500 lb brake axles

7-way plug. Clearance lights

breakaway kit 

Gravel guard

Dome light inside

Loading light at the back

Saddle rack and bridle hooks in the tack storage area
The stalls have padded rear bars and a padded divider which is partially removable. The floor is made from treated wood and covered with heavy-duty rubber matting. The trailer is light and spacious inside, with top doors and drop-down windows for your horse's head and two aluminum roof vents.
I like the Julite 743 because it looks compact and streamlined, and it comes with convenient tack storage. I also love that it comes with a mounted spare tyre and you can choose between white, champagne, black and charcoal.   
Pros
It's lightweight

It comes with a mounted spare tire
Cons
It has a wooden floor which is less durable than steel or aluminum.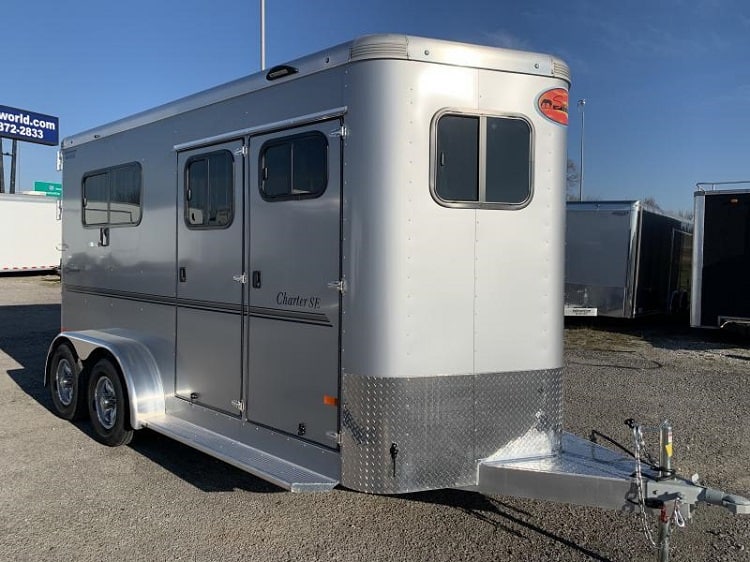 Sundowner are leaders in the American horse trailer industry since 1976, and they're one of the nation's favorite and most trusted trailer brands. The Charter bumper pull is a 2-horse, straight loading, all-aluminum trailer, so it's durable and lightweight. 
Specifications
Width: 6'9"

Height: 7'6"

Weight: 2900 lb

Rubber torsion axles

Electric brakes on four wheels with safety break away 

LED clearance and tail lights

Top wind jack

Pop up vents in the stalls
The spacious stalls have a padded airflow head and shoulder divider, breast and rear bars and a durable, rubber-coated aluminum floor. It feels bright and spacious inside, with two large sliding windows on the sides and two smaller windows on the bow. It has a dome light in the stall – and 1 x tie ring outside, and 2 x tie rings inside for each horse.  
I love Sundowner trailers because they look smart and have a reputation for durability. I particularly like this model because of the full-size side access door and spring-loaded rubber-lined ramp, which is sturdy and easy to operate. The Carter SE is Sundowner's smallest bumper pull trailer and doesn't have a dressing room. If you want a dressing room, you can find one in the TRSE model, which is the next size up.
Pros
It's strong and long-lasting

It comes with a 3-year hitch-to-bumper warranty and an 8-year structural warranty
Cons
There is no dressing room or tack storage area in the small model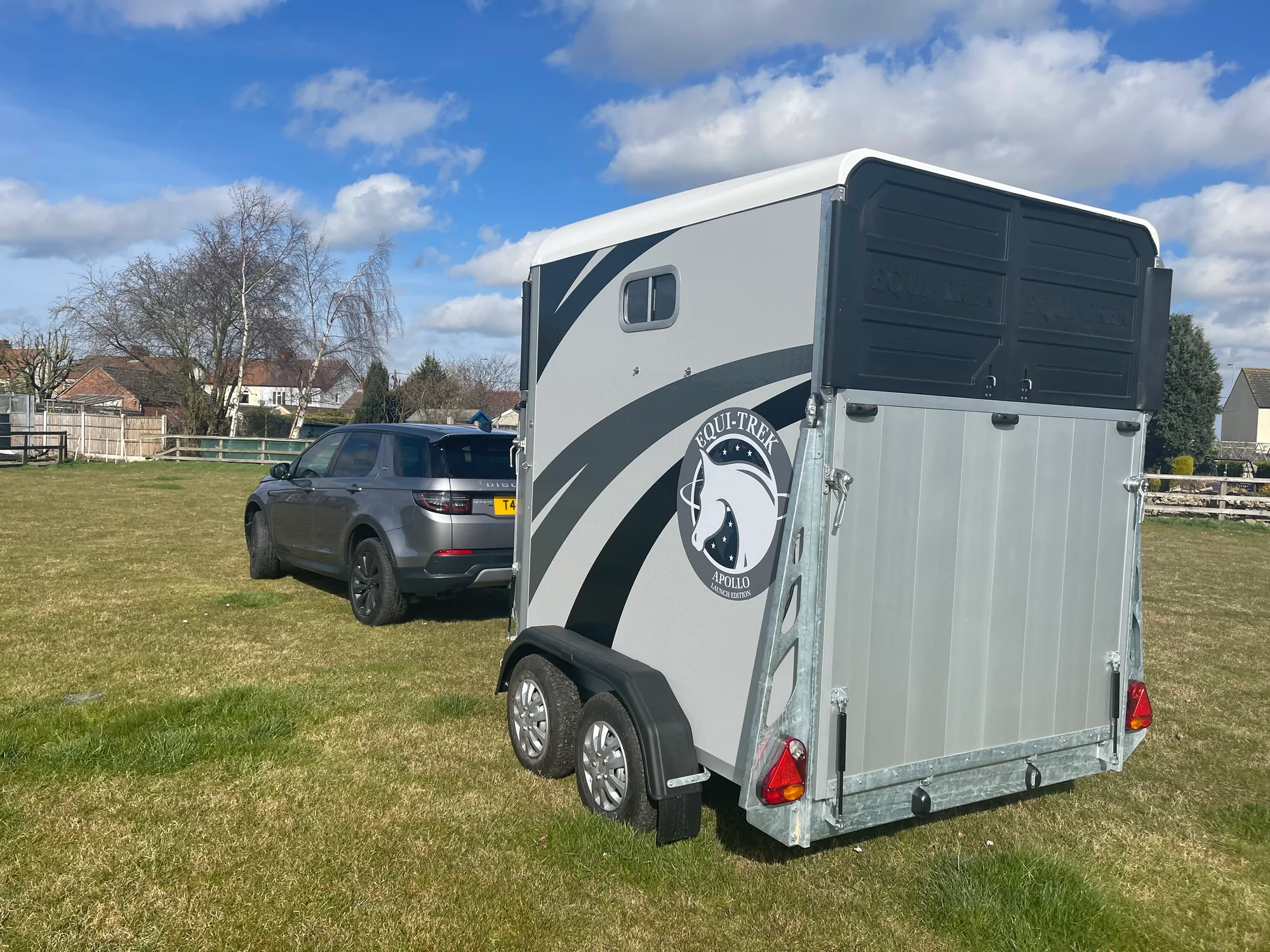 The Equi Trek Apollo is manufactured in the UK, safety tested in Germany and is a favorite among professional equestrians. This trailer is robust but lightweight with a steel chassis and a molded fiberglass body – designed with horse welfare and safety in mind. 
Specifications
Height: 9'2"

Length: 14'5"

Width: 7'6" 

Weight: 1800 lb

4 x wheels with individual brakes

Independent suspension

Two tie rings per horse inside

Kick plates

Aluminum floor

One interior light

Head divider
The Apollo is a fantastic small trailer for tall horses because it has plenty of headroom and can accommodate horses up to 18 hands. It's a straight loading with a durable, rubber-finished ramp at the back and an extra wide front ramp for unloading – both ramps are lightweight and easy to operate.
Inside, the trailer feels spacious and light, with two large windows and top doors which lock open. The stalls have a strong central partition with a PVC skirt, which is moveable at the rear to give horses more loading space. 
I love the Apollo because it's one of the strongest and most durable small horse trailers on the market, and it's small and compact, with an eye-catching, aerodynamic design. I also like the removable breast bars, which you can release from outside the trailer in case of an emergency.   
Pros
It's durable and long-lasting

It's made from fiberglass and is super lightweight
Cons
It only comes as white as standard – you have to pay extra for other colors
FAQs
Question: Can You Sleep In A Horse Trailer?
Answer: Some horse trailers come with human living quarters, which is fantastic if you go on many long journeys with your horse. Horse trailer accommodation ranges from a basic bed and a basin setup to luxury RV accommodation with a kitchen and bathroom, depending on the size of the trailer. If you go camping with your horse and have small living quarters, you can clear out the stalls when you arrive at your destination and use this area as a living space.
Question: What is the lightest trailer?
Answer: The lightest horse trailers are fiberglass ones, but these are quite rare in the USA. Aluminum trailers are also lightweight and often have a fiberglass or polyester roof or bow, which makes them lighter still. Step-up trailers are usually lighter than ramp loading ones because they don't have the extra weight of the ramp.  
Question: Are Livestock Trailers Good For Horses?
Answer: Livestock trailers are designed to take all kinds of farm animals, including goats and pigs and are not the same as horse trailers. They're usually smaller and more open around the sides because they have slats instead of a solid wall. 
Horses can travel in livestock trailers, but they are breezy and usually too small to transport large horses. Livestock trailers are less expensive, but it's generally safer for horses to travel in horse trailers. If you use a livestock trailer to transport a horse, put a blanket on them to travel long distances, especially in winter or if your horse is clipped. 
My Top Choice and Conclusion
My overall top choice in small horse trailers is the Featherlite 7442. I love Featherlite trailers because they're durable and lightweight and have everything you need to keep your horse comfortable on the road. Featherlite trailers are safe, practical and long-lasting, so they're one of the best small horse trailers to invest in. 
If you own a horse, it's certainly worth investing in a small horse trailer, especially if you travel to shows and horse clinics regularly. With a trailer, you have the freedom to travel anywhere you like with your horse to enjoy new trails and adventures.
The critical thing to remember when you buy a horse trailer is that it's compatible with the tow weight limits of your vehicle once it's loaded. If you try to pull a trailer with too much weight, it won't brake correctly – which is dangerous for the horse and driver. 
Resources 
Allisonlowther. "Buyer's Guide to Horse Trailers." Your Horse, 26 Apr. 2022, www.yourhorse.co.uk/horse-care/horse-transport/buyers-guide-to-trailers.
Blob99. "Lightweight Trailers Designed to Be Pulled by Smaller Vehicles." Chronicle Forums, 2 Feb. 2021, forum.chronofhorse.com/t/lightweight-trailers-designed-to-be-pulled-by-smaller-vehicles/756027.
Co., Dixie Horse &Amp; Mule. "Horse Trailer Terms Explained – Dixie Horse and Mule Co. – Terms & Abbreviations." Resources for Horse Trailer Owners, 31 Oct. 2017, www.dhmco.com/resources/dhmco/horse-trailer-lingo.
Horseponydogcrazy. "Which Is Safer Step up or Ramp?" The Horse Forum, 14 July 2019, www.horseforum.com/threads/which-is-safer-step-up-or-ramp.805509.
Recommended Reads: