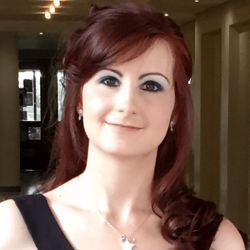 Latest posts by Denine Walters
(see all)
The right type of horseback riding boots can save your life or help prevent serious injuries. I've seen a rider get dragged, and she ended up in a wheelchair for weeks of painful recovery after being unable to free her boots from her stirrups when she fell. 
This incident was easily preventable with the right riding boots. There are horse riding boots for all things horse-related. You get riding boots designed for dressage; others are ideal for eventing or jumping, while yard boots and jodhpur boots are always a firm favorite. 
What you ride in is not about only the brand; comfort, performance, and quality matter too. It may sound like an expensive investment to pay a few hundred dollars for a quality riding boot, but it's certainly cheaper than a few weeks in a wheelchair! 
I've been advising riders at the yard where my children learned for a few years now, and one of the first things I hammer on is the quality of horse riding boots and why riders should wear riding boots when around and on the horses.
A History of Horseback Riding Boots 
Some shape or form of a horseback riding boot has existed in every country where men rode horses. Boots and horses seem to go together, and today, riding boots have even become a fashion statement, but back to the evolution of the riding boot. 
Some aspects of modern riding boots are found in the 10th century. At this time, "high-heeled shoes" or boots were first worn to help the Persian cavalry. 
The purpose of the heel (just like it's today) was to help horse riders keep their shoes in the stirrups since shoes without a heel can slide through (and this is quite dangerous if you fall since your horse can drag you along as they gallop away).
The Persians also realized a heel gave them more stability when they had to shoot their bows and arrows at the enemy. The heel was also relatively high and meant to keep the wearer "off" dirty and muddy ground. There are accounts of the existence of English riding boots (in some form or another) in the 11th century. Henry VIII wore cavalier boots in 1544. These boots were popular in Europe from the 16th century for around 200 years. 
By the 17th century, shoes with an inch heel (a much lower heel than before) were the standard for every Persian horse rider. You were wealthy if you owned horses, and by extension, heeled shoes became a symbol of power and money. 
So How Did These Horseback Riding Shoes Become the Norm Worldwide? 
Near the end of the 17th century, a delegation of Persian soldiers was sent to Spain, Russia, and Germany to establish ties. The locals must have liked the Persian riding shoes, and soon male aristocrats all over Europe adopted the look (the inch-heeled shoes, together with tight stockings and britches that was fashionable at the time).
And What About Ordinary Folk Adopting the Heeled Riding Shoes? 
Fewer aristocratic males were wearing these kinds of shoes by 1730 when the heeled shoes became more feminized, but the 1789 French Revolution made sure males didn't generally wear heeled boots. 
Cowboy boots are the only exception, as they've always looked "masculine." The vaquero-style boots that the Spanish brought to the "Wild West" in the late 1600s inspired cowboy boots. Another inspiration for cowboy boots was the Wellington boot, which was inspired by Hessian boots. 
From the earliest versions of the one-inch boot, a few types of horseback riding boots have evolved (and I will share the details on these soon).
What Are Horse Riding Boots?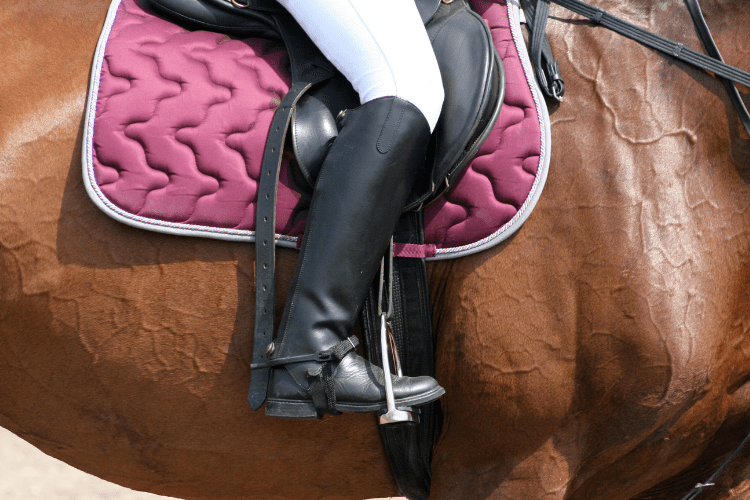 Horse riding boots (also called horseback riding boots, riding boots, or equestrian boots) are an essential part of a horse rider's tack, just like the helmet you wear to keep you safe when on the horse.  These boots are specifically designed for horse riding; however, these days, the footwear is sometimes a fashion statement, making it harder to distinguish which are for fashion and which are functional horse riding boots. 
Horseback riding boots are typically made from leather or other durable materials. The boots have a rubber sole to provide traction and stability while the boot is in the stirrup, and the sturdy, one-inch heel also helps your foot stay in place.
The boot's closed and protected toe area also offers protection should your horse accidentally step on your foot. 
The riding boots further support your ankles and help ensure your legs are (and stay) in the correct position while on the saddle. Riding boots also have metal plating inside to provide stability and arch support due to the exaggerated "heels-down" position that riders need to maintain. 
Can You Ride Horses with Other Shoes? 
You can ride in other boots, provided they have at least a one-inch heel. However, these non-horse riding boots won't have the same traction to help you retain grip in the stirrups. Riding with hiking boots, for example, poses another challenge. Hiking boots will give you the traction you need, but there's no heel. The boots may be too wide to fit in the stirrup. 
Sneakers don't meet any of the criteria you need in riding boots, and rain boots are too loose around your ankle or calf area, making riding uncomfortable. 
Types of Horseback Riding Boots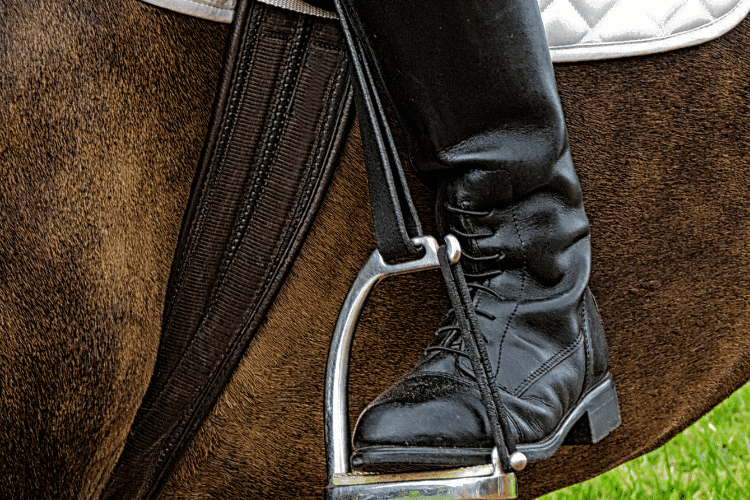 There are various types of horseback riding boots to suit the riding discipline you ride in, your budget, your comfort level, and whether you are schooling, showing, jumping, or riding for pleasure. 
Here's a quick guide to the types of horse riding boots before we dive into more detail: 
| | | |
| --- | --- | --- |
| Horse Riding Boot Type  | Tall or Short?  | What It's Mainly Used For |
| Field Boots  | Tall  | Hunter, jumper (show and event), and lower levels of dressage competition  |
| Dressage Boots  | Tall | Dressage, showing, and formal hunter classes  |
| Dress Boots  | Tall | Dressage, showing, and equitation |
| Paddock Boots  | Short  | Pleasure riding, everyday riding, yard work |
| Jodhpur Boots | Short | Used for everyday purposes and with gaiters for lower-level showing, dressage, and jumping |
| Rubber Boots  | Tall  | Rainy weather yard boots and for hacking |
| Wellies (or Muck Boots) | Mid-length to knee-high | Mostly yard work  |
| Western Riding Boots  | Mid-calf  | Western riding  |
| Cowboy boots  | Mid-calf or above ankle | Used for Western riding, rodeo, and farm work |
1. Field Boots 
Field boots are tall English riding boots that mounted police and horse riders wear. These comfortable and flexible boots nearly reach your knee. These boots are made from soft, supple leather, giving you additional flexibility at your ankles. The soft leather also allows you to feel the barrel of the horse, enabling you to communicate with your horse better. 
Because the boots feature front lacing at your instep or vamp, you have more flexibility when flexing your foot into a deep heel position for more stability (for when you are jumping with the horse). These days, the traditional lacing used to be bow-tied is elastic speed laces. 
The field boots also have a Spanish cut, so the outside is higher than the inside. The boots have a contoured cut to fit snugly from your ankle through your calf to the top for an elegant look.  Some field boots have bands of textural detail at the cuff, spur rests, and punched or plain toe caps. 
Field boots are suitable for hunter riders, hunt seat equitation, and jumping competitions.
2. Dressage Boots 
Dressage boots are also sometimes called dress boots (even though they are different). These tall English riding boots are made from less flexible leather than field boots and don't have any laces. 
The stiffer leather ensures the boots have a straight "stovepipe" fit down your leg and don't crease at the ankle, preventing your ankle from dropping. The boots support your feet's semi-flat position in the stirrup, and the long leg position ensures you have maximum contact with the horse's barrel. 
These days, dressage boots have a high Spanish top, textural accents at the cuff, and full-length zippers at the inside or back of your calf. If you prefer pull-on boots, you'll need to custom order these. 
As the name suggests, dressage boots are ideal for dressage events.
3. Dress Boots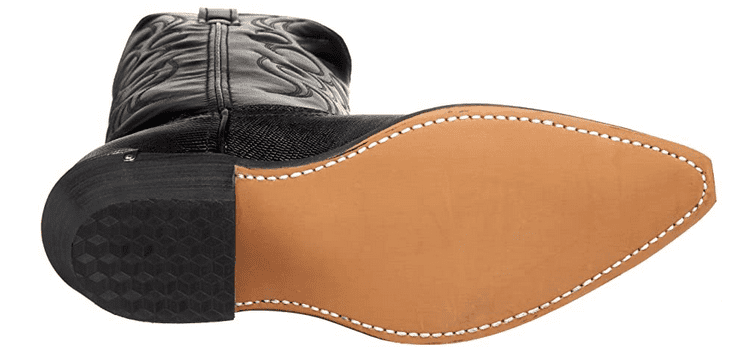 Dress boots are another tall English riding boot. Equestrian riders see these boots as the "black-tie standard" horse riding boots because they are super elegant. 
These have no lacing, and they are stiffer than field boots. However, similar to field boots, these boots are also contoured to fit your legs, which lets you flex your ankle and sit comfortably in the shorter position needed for jumping. 
Some dress boots have a full-length zipper to allow you to put the boots on and take them off quickly. Some modern dress boots feature an ergonomic, curved zipper at the back or side of your calf. Wear your dress boots for showing, formal hunter classes, jumping, or dressage.
4. Paddock Boots 
Paddock boots are short, everyday-wear boots often confused with jodhpur boots. When compared to jodhpurs, paddock boots feature a thicker sole. Paddock boots are made from a water-resistant or waterproof, durable material, ideal when you need to feed, groom, or hose your horse. 
Children typically wear these boots. Adults wear paddock boots for yard work and everyday riding so their more expensive boots can stay in tip-top condition. 
5. Jodphur Boots 
Jodphur boots (also called Chelsea boots in the UK) are short, ankle-high riding boots. They are made from leather and have elastic insets so you can slip them on and off. Some jodhpur boots have zippers, laces, or buckles. 
These boots were made specifically to be worn with jodhs, or jodhpur pants. Jodhpur boots are typically paired with half chaps or gaiters to protect your calf and give you the same grip as tall riding boots. Children wear jodhs when riding, and adults mostly wear these short-style riding boots for everyday rides or trail riding (or to show in when combined with gaiters). 
6. Rubber Boots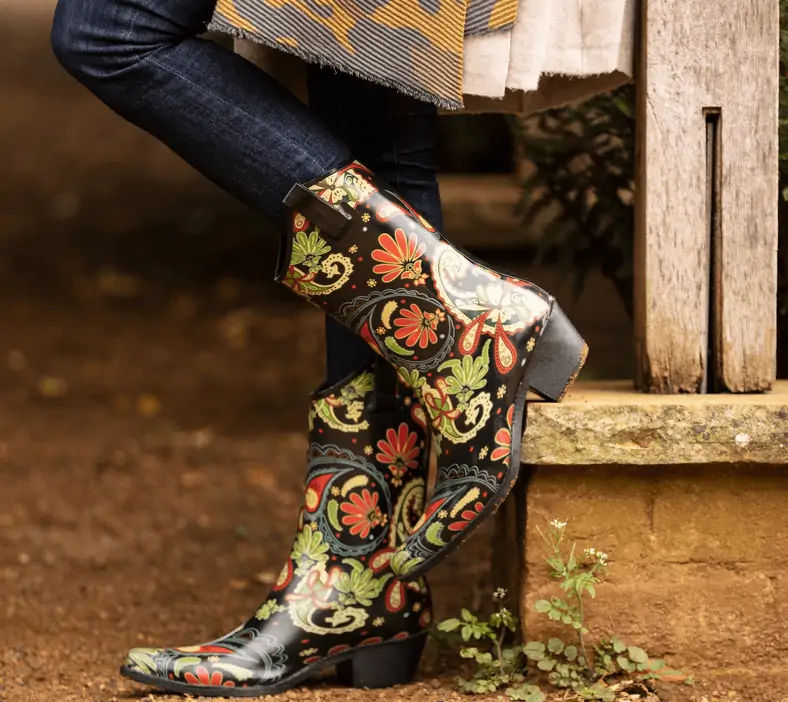 Rubber boots aren't technically riding boots since they are better suited for yard work since they are easy to clean. Rubber boots also keep your feet dry, and they are durable. However, many riders go riding with their rubber boots since they are versatile. 
7. Wellies (Muck Boots) 
Wellies, or Wellington boots, are also called muck boots in the equestrian world. These plastic or rubber boots are ideal for barn or yard work since they are waterproof and have a textured sole so you won't be slippin' and slidin' in muddy or wet areas. 
You can easily put on some wellies, while others feature front ties or buckles. Muck boots are easy to clean. Hose these off, and they look like new. Like with the rubber boots, some horse riders prefer to ride with their Wellies too (and keep their more expensive leather riding boots for eventing and shows). 
8. Western Riding Boots 
Some riders call Western riding boots cowboy or cowgirl boots, but these boots aren't the same. Western boots have pointed or square toes, ornate designs, and a higher heel than English riding boots. 
Many non-riders like cowboy or Western riding boots because they are the perfect fashion accessory, but these boots are functional for equestrians. The stirrups of a Western saddle are wider than those of an English or general purpose saddle, so the higher heel ensures your foot doesn't slip through. 
Another difference compared to English riding boots is that the shaft of Western boots is shorter, so the boot has a looser fit. You can easily pull on and take off your Western riding boots, so there's no need for laces or a zip. These boots are also designed so you can attach spurs, which are used to urge the horse on. 
Western riding boots are made of leather, and they have a steel toe and shank to protect your foot. Wear your Western riding boots in Western riding disciplines. 
9. Cowboy Boots 
Cowboy boots are often used outside of the horse riding world because these boots feature intricate designs on the shaft and vamp. But traditional cowboys will wear their cowboy boots while walking or doing easy work on the ranch and when they go riding. After all, cowboy boots were designed for an easy transition on and off the horse. 
There are two cowboy boot styles: Western and roper.
Western cowboy boots also have a higher shaft when I compare them to Western riding boots, so your legs are more protected when you ride. They also feature a snip or pointed toe and an angled, walking (flat, block-like) heel (rather than a more tapered, riding heel). 
Roper cowboy boots are a newer design, and the shaft of these boots is shorter (stopping between the ankle and mid-calf). They also have laces, a shorter, squared, less-than-an-inch heel, and rounded toes.  When going horseback riding, rather opt for the Western cowboy-style riding boots because of the higher heel, higher shaft, and absence of lacing. 
My Best Tips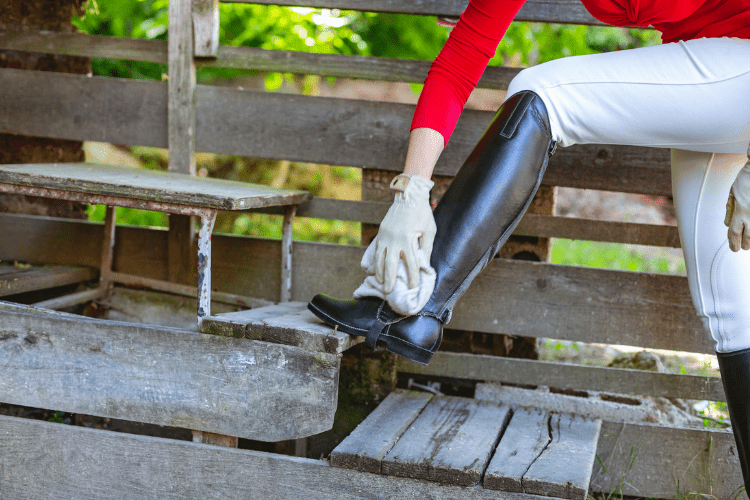 There are some other factors you should also keep in mind when buying horseback riding boots. 
1. Check the Quality of the Stitching 
The stitching quality on riding boots is a good indicator of durability (aside from the leather or other synthetic materials used). But the stitching on the seams is a weak spot, becoming excessively worn when exposed to the elements. 
So you'd want to ensure if you are doing yard work with your horse riding boots, the stitching at the seams has been treated with a sealant such as a beeswax to protect your boots and keep them lasting a long time. 
2. Check the Zip Strength and Care for Your Boot Zippers
I know my one friend at the yard where we keep the horses once bought a pair of boots, and after wearing them only a few times, the zipper started jamming. After a forceful pull, the zip broke. When buying riding boots, check the zip strength. A good-quality zipper provides extra boot protection, preserves the boot's form, and makes it durable. 
Ensuring the zipper lasts means caring for it, just like you taking care of your horseback riding boots. 
Tips for caring for your riding boot zippers: 
Don't put any leather cleaner on the zip. 

Before closing up the zipper, brush the zip teeth. 

Clean the zips with a zip-cleaning agent or lubricant (avoid silicone-containing products as they attract dirt). 

Wait for the zips to be thoroughly dry before closing them up and storing the boots.
3. Ensure You Have Enough Toe Space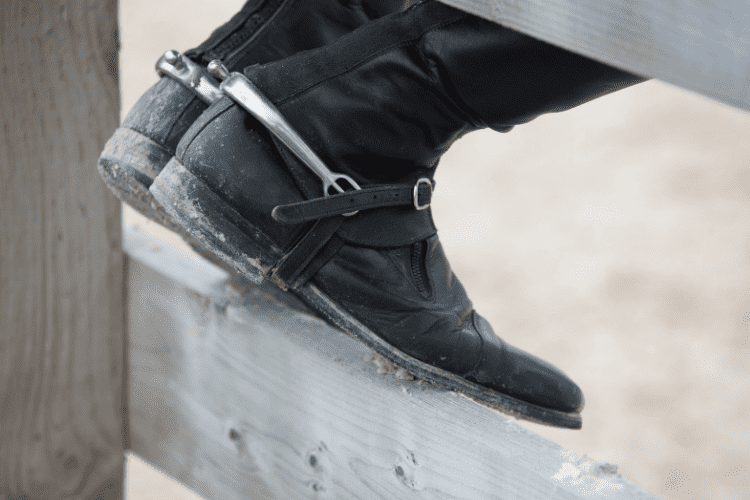 I've found this is an important consideration, especially if you have long toes or wide feet. As you ride on your horse, it's only natural for your feet to slip in the boot, and this can mean your toes get (even more) squashed by the front of the riding boots. 
Also, if you opt for cowboy boots or Western riding boots that have a narrower and pointier toe space, try on the boots and ensure there's space for your toes. 
4. There are More Boot Sizes 
When you check the boot sizes at your local tack shop or on eCommerce websites (like Amazon.com), you'll see a list of sizes for the shoes. These sizes are what is currently available. Your tack shop may be able to order riding boots in your size (if you know what your size is – it may not be the same size as your "normal," everyday footwear). 
It may be worthwhile to check on the manufacturer's website or contact them and find out what other sizes they stock and whether you can custom order. After all, not every one of us is a 6-foot-tall fairy with skinny legs and tiny feet. 
5. Custom Order If Needed 
Regular equestrian training builds muscle. Not all of us look like the picture-perfect ladies (and men) you see on equestrian ads, and horse riding may overdevelop your calf muscles, resulting in bigger calves. The downside of this is that when I try on calf-length or tall horse riding boots, I struggle to find something that fits. And if I go for a bigger boot, it fits around my calf, but my feet have too much space, which isn't ideal. 
Custom ordering your riding boots is a benefit. 
You may need custom boots if you are short – tall riding boots may reach over your knee, making for an uncomfortable fit – or if you have wide or too-narrow feet. You may also want to order boots with a zipper, lacing, or pull tag. 
You can use a Der-Dau Custom Riding Boots Order Kit to help send the correct measurements. 
Buying Information for Types of Riding Boots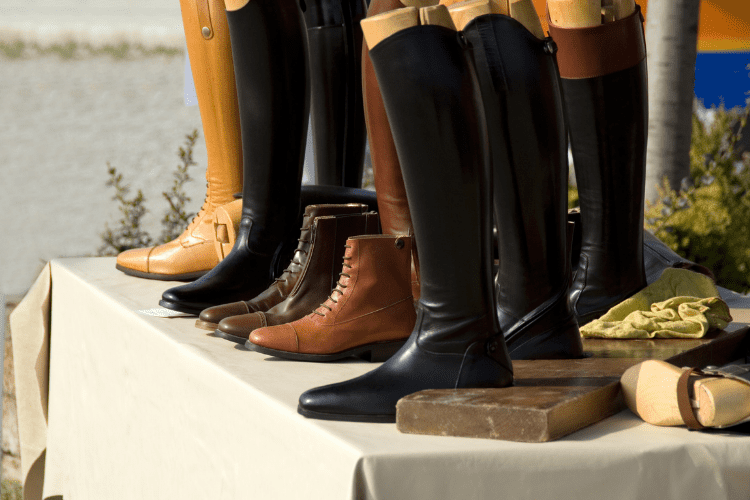 Consider these aspects when buying horse riding boots:
Material 
Horseback riding boots can be made from natural or synthetic leather, rubber, canvas, or other materials. If you wear the horse riding boots every day and even do yard work with them on, you'll want durable boots that are waterproof and easy to clean. 
If you are buying boots for eventing or shows, you also want durable boots but need something in leather to meet the riding discipline's requirements. If you are still learning how to ride, consider a pair of jodhpur boots that are affordable since you'll only wear these when riding once or a few times a week. 
Purpose or Riding Style 
Your riding style also influences the type of horseback riding boots you go for. Riding boots were designed with a riding discipline or function in mind, and they are also made to work with the required riding gear you need. If you are a newbie, opt for versatile jodhpur boots you can use in most riding disciplines. Jumpers would prefer dress or field boots because they are comfortable, have a flexible design, and look formal. 
Dressage riders would prefer a dressage boot, and those practicing Western riding would go for a cowboy or Western riding boot. 
Comfort
How the boot fits your feet is a significant factor and probably the most important one too. If your riding boots are ill-fitting and uncomfortable, you won't be able to focus on riding your horse, training, or schooling. 
Riding boots should fit snugly and not rub in any place. Leather boots may be uncomfortable at first since you need to "break them in." 
Budget 
Budget is a big factor when we make a purchase. And horseback riding boots made from quality leather ain't cheap. So you'll need to invest in tall English riding boots or Western riding boots if you want to participate in shows and eventing. 
To preserve your expensive showing boots, consider a more affordable pair of boots like paddock boots or rubber boots for everyday riding, walking around the yard, and any muck or yard work. 
Reviews 
When you are ready to buy horseback riding boots, ask your riding instructor for recommendations. Or, ask the other riders at the yard what they wear, how comfortable the boots are, and how the wear and tear is. 
Alternatively, check out the reviews online. Type "[boot name] reviews" in the search bar and see what comes up. This will give you a good indication if you should click buy, or search for another pair of boots. 
My Recommendations for the Best Horse Riding Boots 
Here are my recommendations for the best riding boots. I've split them into categories so you can easily find the right boot for you. 
Best Tall English Riding Boots (Dressage)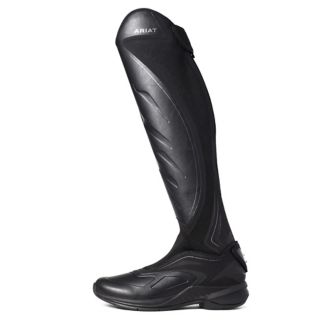 Price: from $359.95
Ariat is a well-known brand in the equestrian world, so you know you get quality when you buy the Ariat Women's Ascent Tall Boot that's ideal for dressage, showing, and formal hunter classes. You can choose a boot size and width size to order an almost custom fit. 
These tall black boots are made from a high-tech synthetic material that's breathable and lightweight. 
Pros
ATS technology provides all-day comfort and stability 

Shock-absorbing FLX foam midsole 

No-sew overlay for support and boot structure reinforcement 

YKK zipper 

Rider-tested traction zones on the outsole 
Cons
Some reviewers say the boots can fit better at the ankle 
Best Jodhpur/Paddock Boots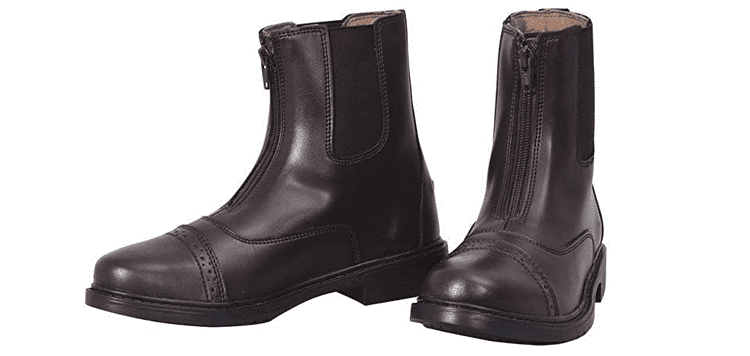 Price: $31.19
The best jodhpur/paddock boots (because they are so similar) are a current #1 best seller, the TuffRider Ladies Starter Front Zip Paddock Boots. These boots come in mocha or black and are ideal for yard work and riding. 
Pros
Elastic gusset and a front zip for an easy on/off 

Breathable, soft interior 

PVC outsole, ideal for all weather conditions

Punched toe caps 

Easy to clean 
Cons
Decorative strip across the toe is a weak spot 
Best Rubber Boots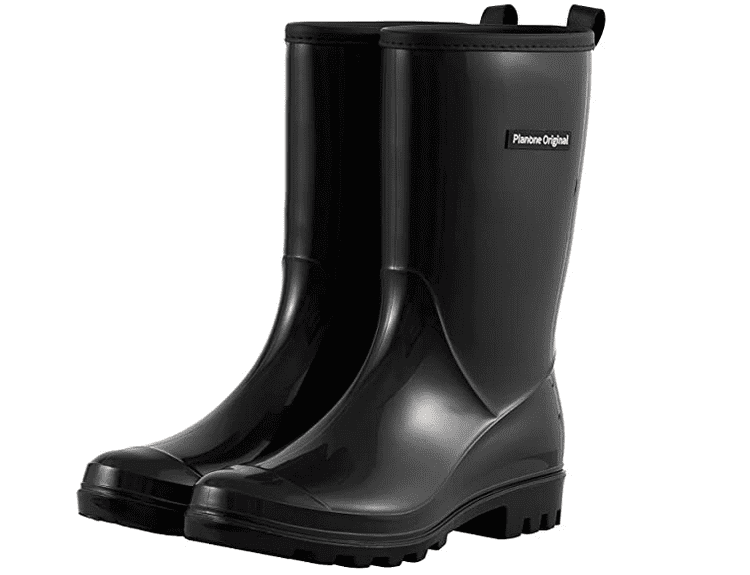 Price: $39.80
The best rubber boots for yard work (or muck work) are the PLANONE Mid-Calf Rain Boots. These boots come in 10 colors, from black and gray to blue, green, and pink. You can also go riding in these boots since they have a 1.1-inch heel and outsoles that give you traction. 
Pros
Tabs so you can easily pull these shoes on 

Made for comfort with the removable, molded sole that's breathable and sweat-absorbent 

Seamless, waterproof design 
Cons
Some wearers find the boots a tight fit, so consider buying half a size up 
Best Western Riding Boots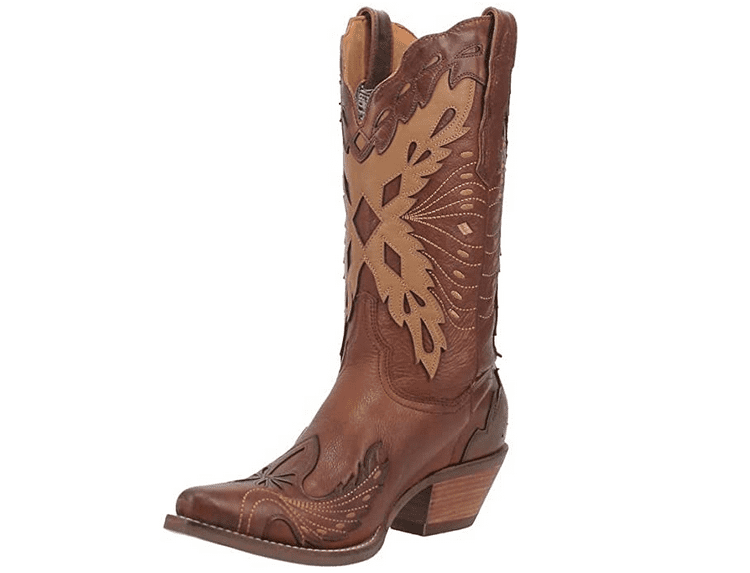 Price: $162.95
The Dan Post Dingo Ladies' Monterey Boots are a boho-style Western or cowgirl riding boot with a longer-than-an-inch tapered heel and narrower or snip toe. The boots are made from leather and feature an embroidered design that reminds me of an abstract butterfly. 
The boots are available in brown/tan and black/red. 
Pros
Easy to clean 

Beautiful design 

Ideal for Western riding and showing 
Cons
Might not offer enough foot support 
Best Riding Boots for Kids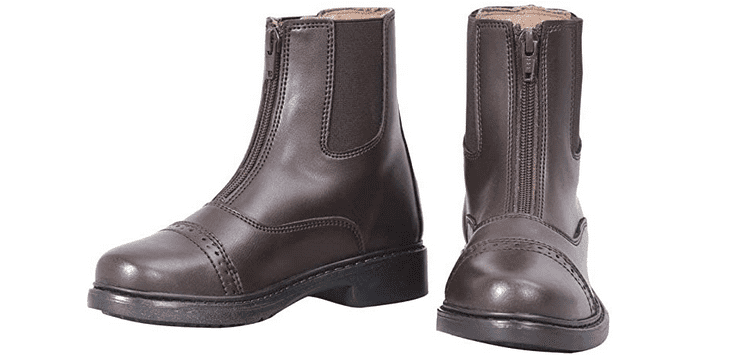 Price: $32.36
Paddock/jodhpur boots like the TuffRider Children's Starter Front Zip Equestrian Horse Riding English Boots are ideal if your child wants to learn how to ride a horse. These boots are available in mocha and black, and they come in various kid sizes. 
Pros
Water-resistant 

Elastic gusset and zip for your kid to easily slip into or out of their boots 

Interior is soft and breathable 

All-weather, PVC outer sole 
Cons
FAQs
Question: Can You Wear Cowboy Boots for Horseback Riding? 
Answer: Cowboy boots can certainly be worn when riding your horse. These boots, made for horse riders, are generally made from leather (so they are durable).
They have a good heel height to keep your feet in the stirrups and a protected toe area. Cowboys wear cowboy boots to help them easily transition from the ground to the saddle and then back again when they work on their ranches. 
Question: Can You Wear Sneakers when You go Horseback Riding? 
Answer: Sneakers don't meet the criteria to keep you safe in the stirrups when you ride your horse. These athletic shoes don't have a heel, protected toe, or grip underneath the sole for traction. So don't go horseback riding with sneakers, but you can wear them before you ride or afterward on the way home. 
Question: Can You Wear Riding Boots Casually? 
Answer: You most certainly can wear your horse riding boots casually. Riding boots are quite elegant, and they work with various outfits, whether you wear jeans and a T or a knee-length wrap-around dress.
Pair your outfit with some accessories, and you're good to go on a date, for coffee with your besties, or to the office. However, if you want your riding boots to last long, then you'll keep them for riding only. 
Final Thoughts on Types of Horseback Riding Boots 
Choosing the right type of horseback riding boots for your equestrian endeavors is essential. Not only do these boots help keep your feet in the stirrups, but they also ensure you can easily get out of the stirrups when you need to. 
I've seen too many things go wrong with riders not paying enough attention to their riding tack as they should. Wear your sneakers around the yard, especially if you are on your feet for hours, but put on your horse riding boots when it's time to enjoy training and schooling your horse. 
Recommended Reads: