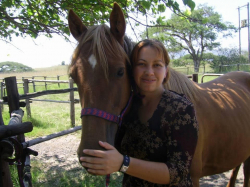 Latest posts by Talitha vanNiekerk
(see all)
When I first started with horses, I wanted to do everything right. I struck the local feed store like a tornado, and the sales team loved me (of course), as they could punt off every supplement under the sun to this new horse owner. 
With so many horse supplements on the market, it's hard to know what your horse needs and if you're making the right choices in supplementing them. I am a firm believer in giving your horse the right supplement. Like people, horses are often deficient in some basic building blocks for their overall health, which is where the right supplement can be beneficial. 
Over the years, I have learned a lot about great supplements and others that are only there to absorb your money. 
Here are some of my favorite horse supplements, what these are for, why you should feed them, and the most important information about feeding your horse supplements. 
Bottom Line Up Front: Best Horse Supplements
These are the best horse supplements according to their categories:
What Is a Horse Supplement?
A horse supplement is like a human supplement. It is a concentrated combination of vital nutrients like magnesium, vitamins B, A, C, and D, iron, biotin, omega oil, and more. Each combination of nutrients serves a specific purpose, helping your horse to maintain better overall health. 
It's a myth that horses can't overfeed on supplements, as they can develop a real imbalance if they receive too much of a particular nutrient. Even feeding too much vitamin C could potentially damage their liver and kidneys, though overfeeding is unlikely as a horse could require as much as 5,000 mg per day.  
I've found that too much of one nutrient can lead to poor absorption of another element. Too much potassium can lead to poor calcium balance, leading to bone deformation. 
A significant problem with horse supplements is that these concentrated nutrient packages have carrier substances, fillers, and preservatives that can harm your horse. Naturally sourced supplements are best. 
Types of Horse Supplements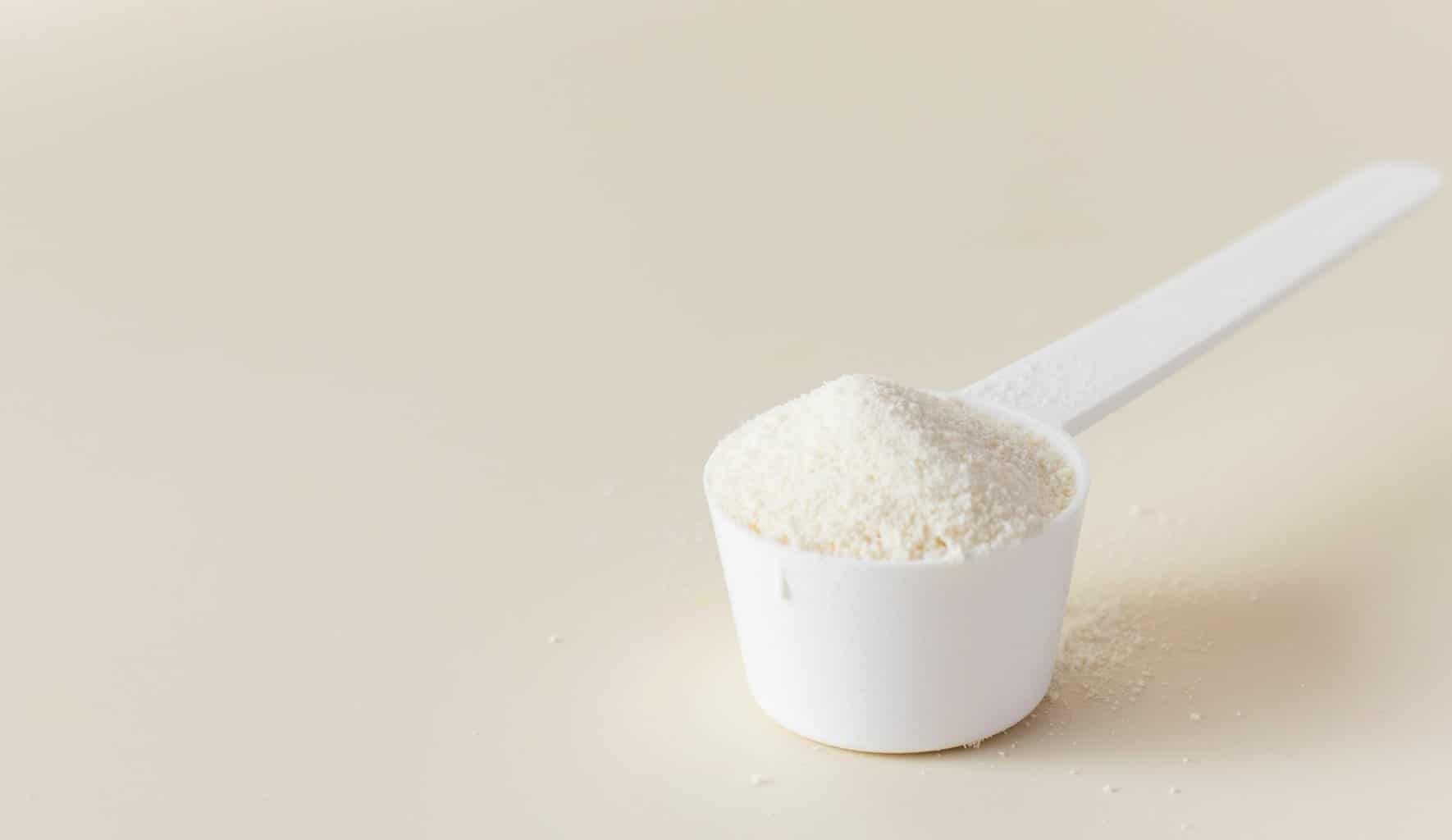 Considering the different horse supplements on the market should always be done while exercising caution to not over-supplement your horse.  
| | |
| --- | --- |
| Horse Supplement | Why Your Horse May Need This Supplement |
| General maintenance supplements | Improved basic nutrients that may be missing from the available grazing |
| Joint supplements  | Protects and repairs joints, easing symptoms of arthritis and joint decay |
| Coat and skin supplements  | Specific nutrients for better shine and skin health |
| Hoof supplements  | Minerals and amino acids to improve hoof growth and strength |
| Electrolyte supplements  | Specific minerals that help with fluid replacement for horses in hard work or that are recovering from illness |
| Gut health supplements  | Ranging from probiotics to specific minerals and vitamins that all target improved digestion and gut health |
| Herbal tonics  | Herbal blends that target general or specific health issues |
| Specialized horse supplements  | Supplements that target specific issues, such as eye health, diabetics, blood cleansing, liver health, and more |
Choosing the Best Horse Supplements: My Selection Criteria 
Of course, you can't simply pick a supplement with pretty pictures on the outside and believe it will work for your horse. Here are my selection criteria for choosing a supplement for horses:
Main Ingredients
When choosing a supplement, looking at what you're paying for is important. Therefore, I always look at the main ingredients. 
If I buy a joint supplement, I want a great combination like MSM, chondroitin, and glucosamine, as these are scientifically proven to improve joint health. If the main ingredient isn't active in helping my horse, then I know I am wasting money.
Fillers 
Medicines and supplements often have filler substances, which carry the main ingredients, improve the taste, or ensure it lasts longer (as in preservatives). When fillers are harmful, I steer clear. Natural materials such as oat bran, dehydrated apple, or protein are better filler materials. 
Scientifically Tested
Supplements tested by a medical review board or based on scientific study are more reputable, and I am buying value for money.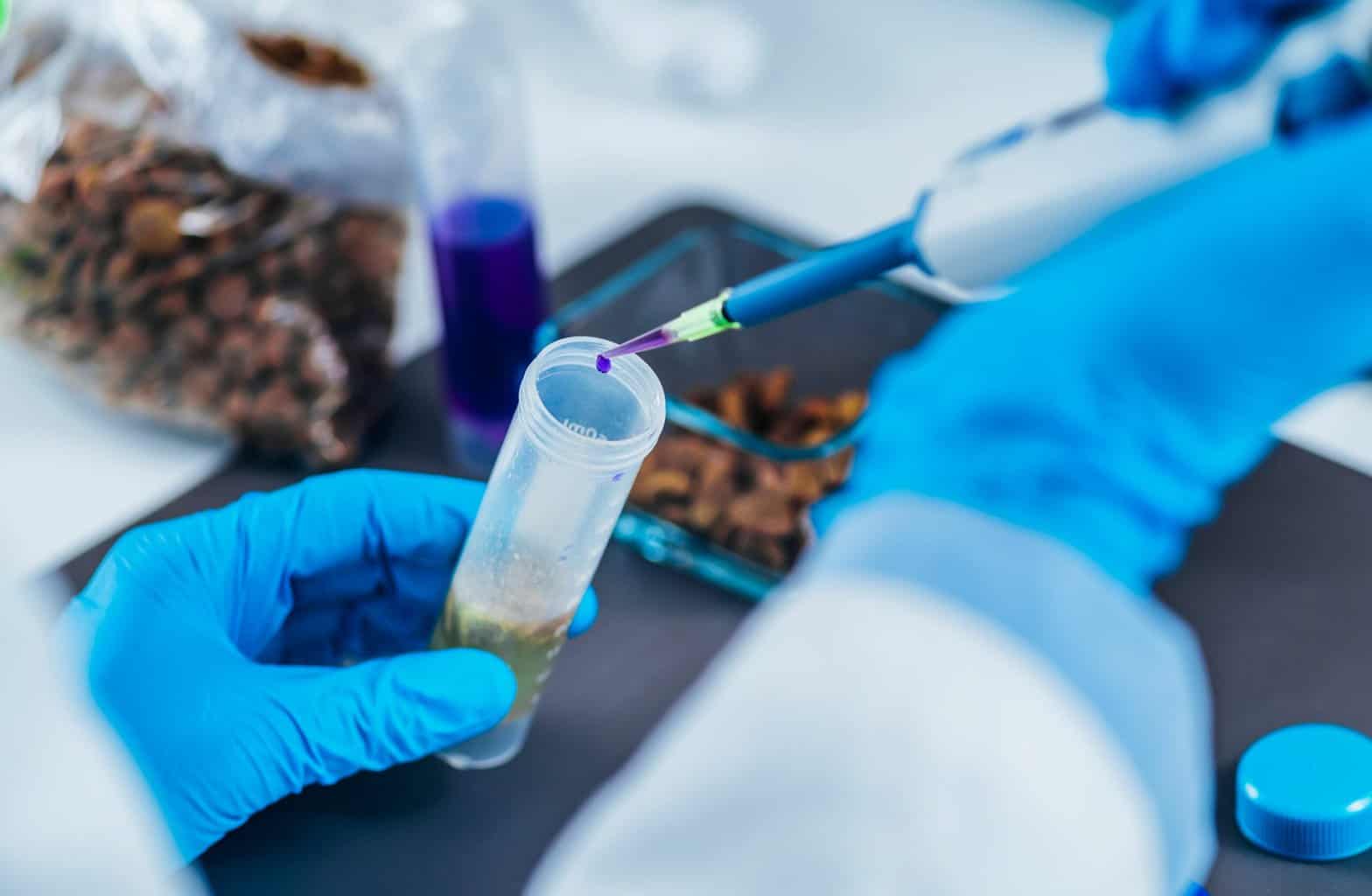 Reputable Brands
Products from a reputable brand will be more successful as there's more research and better quality evaluation since the brand name is on the table with each of their products.  
Peer Reviews
Looking at the feedback of other horse owners is often a great way to see what works. Horse owners like to share when they find something that works, so a rating can really help you decide what's quality or what may work for your horse. 
I found a suitable joint supplement for my horse, McG, based on a review by a customer of the product, describing exactly what I was hoping to treat. 
Price
Finally, the price of a supplement has to be reasonable as your horse is likely to be on it for a long time, perhaps even forever. If it costs too much, you are unlikely to continue buying it, which will negate the benefits. 
I have five horses, so I have to factor in that I need five times the amount of supplement as someone with one horse. Cost is a fundamental factor for me. 
11 Best Horse Supplements to Consider Feeding Your Horse
Let's get down to the best horse supplements to consider for your horse. Remember, feed these to address an imbalance or point of concern with your horse.   
General Maintenance Supplements
Why Feed It?
Feed a general maintenance supplement when your horse shows early signs of less-than-perfect health, such as a dull coat, loss of muscle tone (without a change in their exercise routine), or when they don't look as perky as usual. 
Best Overall General Maintenance Supplement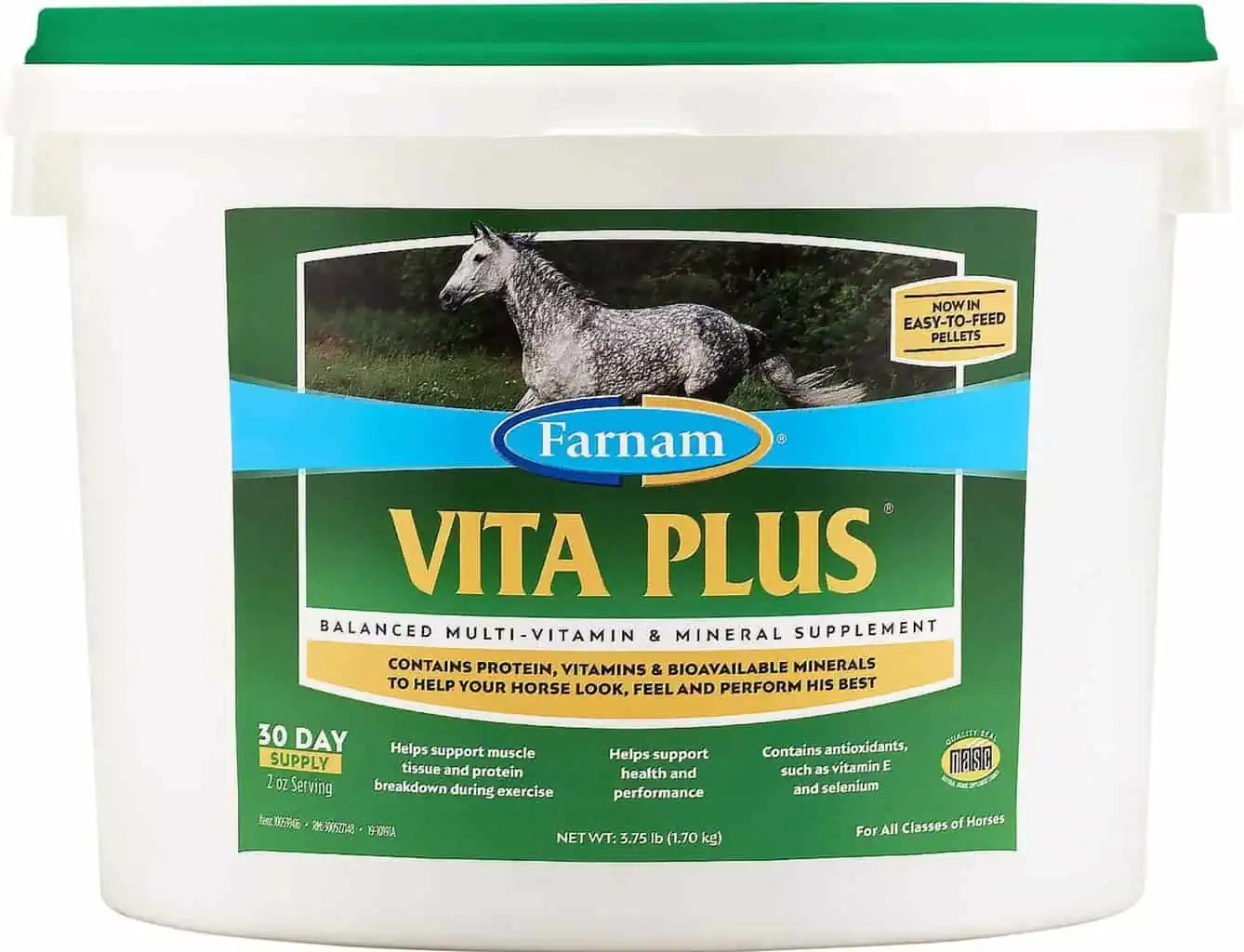 Farnam Vita Plus Balanced Multi-Vitamin & Mineral Horse Supplement is the best general maintenance supplement for horses. The Farnam brand has been a trusted name in equine supplements for decades, and you can rest assured of their supplements' quality. 
Vita Plus Balanced Multi-Vitamin is ideal for muscle health and essential dietary supplementation to ensure your horse doesn't develop deficiencies. This general maintenance supplement is easy to feed as it comes in handy pellets. And since you can mix these pellets with your horse's daily feed, no picky eater will refuse. 
Pros
It comes in two sizes: 3.75 pounds and 7.5 pounds

3.75 pounds is enough for 30 servings, ideal for one horse

The formula is extra beneficial for older horses or those recovering from illness

Rich in protein, bioavailable minerals, vitamins, and antioxidants

Affordably priced at less than a dollar per serving
Cons
Due to the product weight, ordering online creates shipping problems
Why I Like It
I love the ease of adding this multivitamin supplement to my horses' feed. With one scoop, I have all the basic building blocks to ensure good general health for my horses. 
The golden oldies have definitely shown improved overall performance and health since I began supplementing with Farnam's.
Joint Supplements 
Why Feed It?
Older horses especially need joint supplements, but you don't have to wait until your horse is old to start feeding them a joint supplement. In fact, it's best to begin providing a good quality joint supplement while your horse is still healthy to ensure their joints remain healthy. 
Joint supplements come in two groups: those that nourish the synovial joint fluid and help the formation of healthy cartilage in the joint and supplements that help combat inflammation and reduce pain from already compromised joints. 
Some supplements do both.  
Best Overall Joint Supplement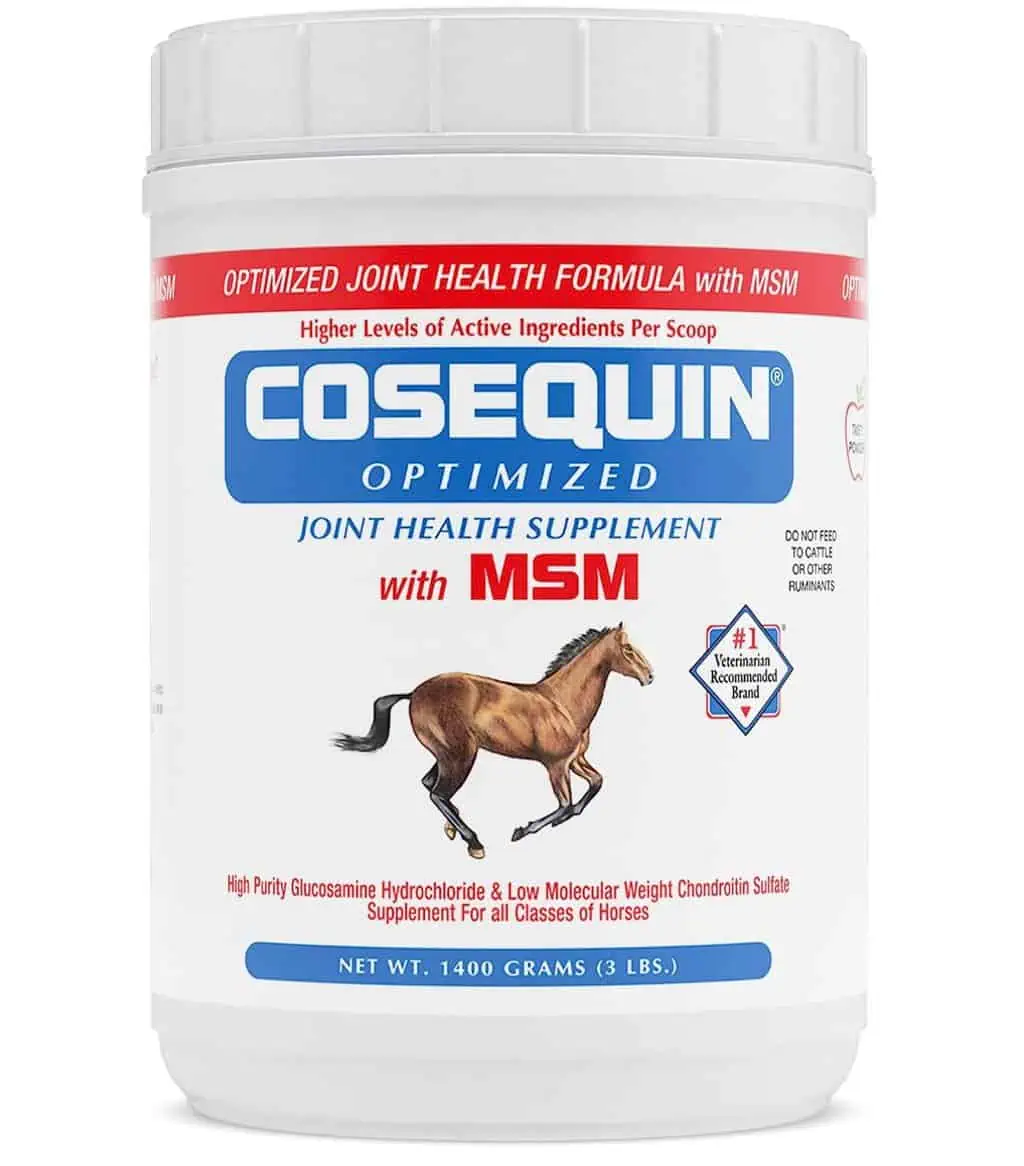 The best choice for overall joint health is to supplement with chondroitin, MSM, and glucosamine, which is where Nutramax Cosequin Optimized with MSM Joint Health Supplement for Horses comes in. 
This joint supplement is ideally balanced. It has all the necessary supportive nutrients to improve joint health, help manage joint pain and inflammation, and reduce joint swelling. 
Pros
Recommended by vets

It contains glucosamine, chondroitin, MSM, and manganese

Fewer fillers (and mostly natural ones)

At one scoop per day, it will last a long time

Apple flavor ensures horses eat it 
Cons
Fairly pricey if you have more than one horse
Why I Like It
I definitely saw an improvement in McG's joint issues when I started him on this supplement. He improved noticeably in the first two weeks, which is when I could reduce the "loading dose" to half as a maintenance dose. 
Cold weather no longer bothers his joints as much, and while it won't reverse joint damage, it can definitely help manage pain and inflammation. 
For more on joint supplementation, read our guide on joint supplements.
Coat and Skin Supplements 
Why Feed It?
My mare, Sunshine, has recently begun developing a dry coat, looking a little dull. While I know winter is rough on them, their coats should stay nourished and full. So, to combat partial hair loss and flakey skin, I began feeding a skin and coat supplement, and what a difference! 
Best Overall Coat and Skin Supplement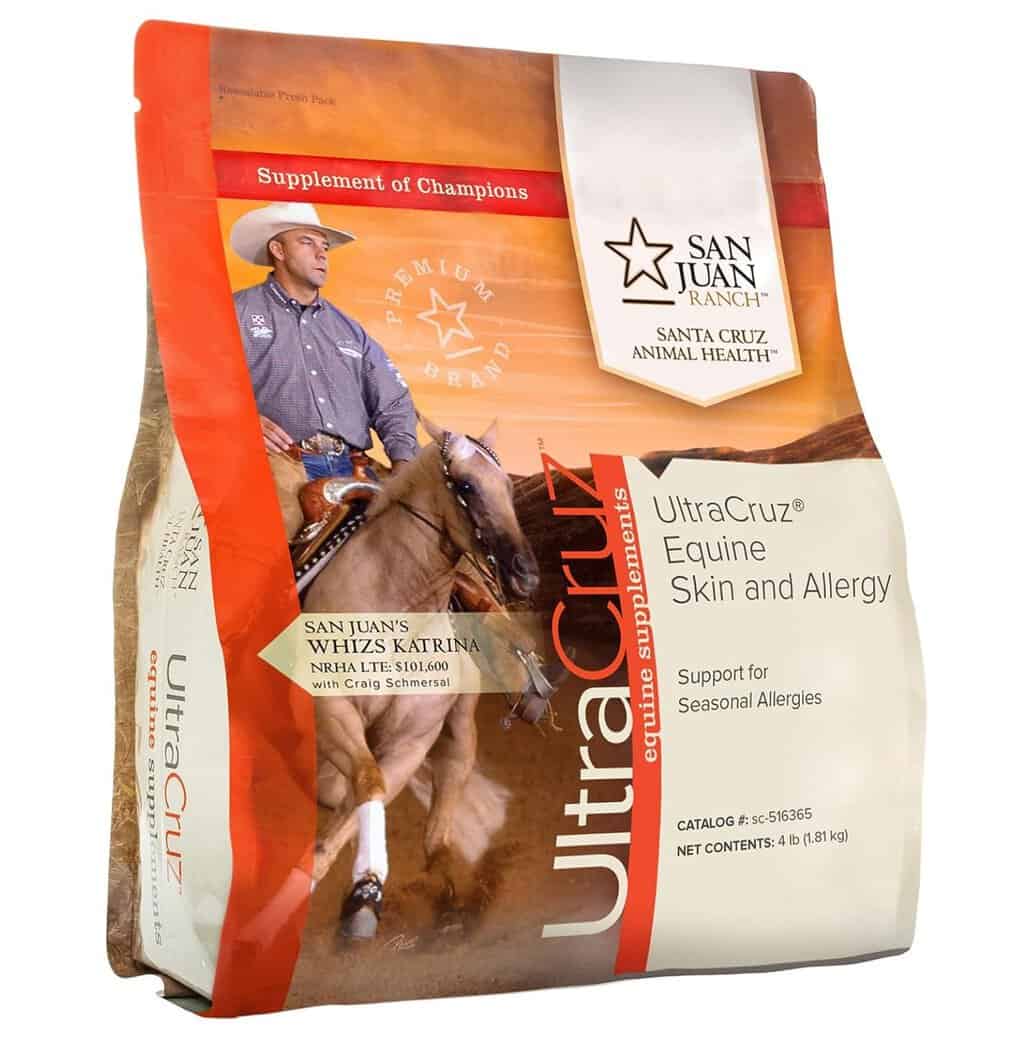 The best overall skin and coat supplement with allergy management is UltraCruz Equine Skin and Allergy Supplement for Horses. Allergies are often to blame for horses becoming itchy and rubbing. 
Feeding a supplement enriched with vital oils rich in amino acids, such as omega-3 fatty acids, is essential to nourish the skin and counter any excessive dryness.
Pros
Formulated to counter itchiness by maintaining natural histamine levels

Promotes a healthy immune system, reducing skin inflammation, which causes itching and rubbing

It comes in a four-pound bag of pellets

Fillers are natural ingredients like alfalfa, flax seed, soybean oil, apple powder, etc. 

Four pounds is equal to 31 servings

Budget-friendly at $1.40 per serving
Cons
The loading period is lengthy, and you won't see results as quickly as with other types of supplements
Why I Like It
Honestly, I combined this supplement with boiled linseed for added benefit. What I like is that while the linseed improved the initial benefits for Sunshine, the UltraCruz built up to a better absorption rate and long-term benefits. 
Hoof Supplements 
Why Feed It?
Horses can develop brittle hooves that easily break and become damaged. A hoof supplement increases hoof growth, stimulates and reinforces the hoof capsule, and assists in reducing cracks.
Best Overall Hoof Supplement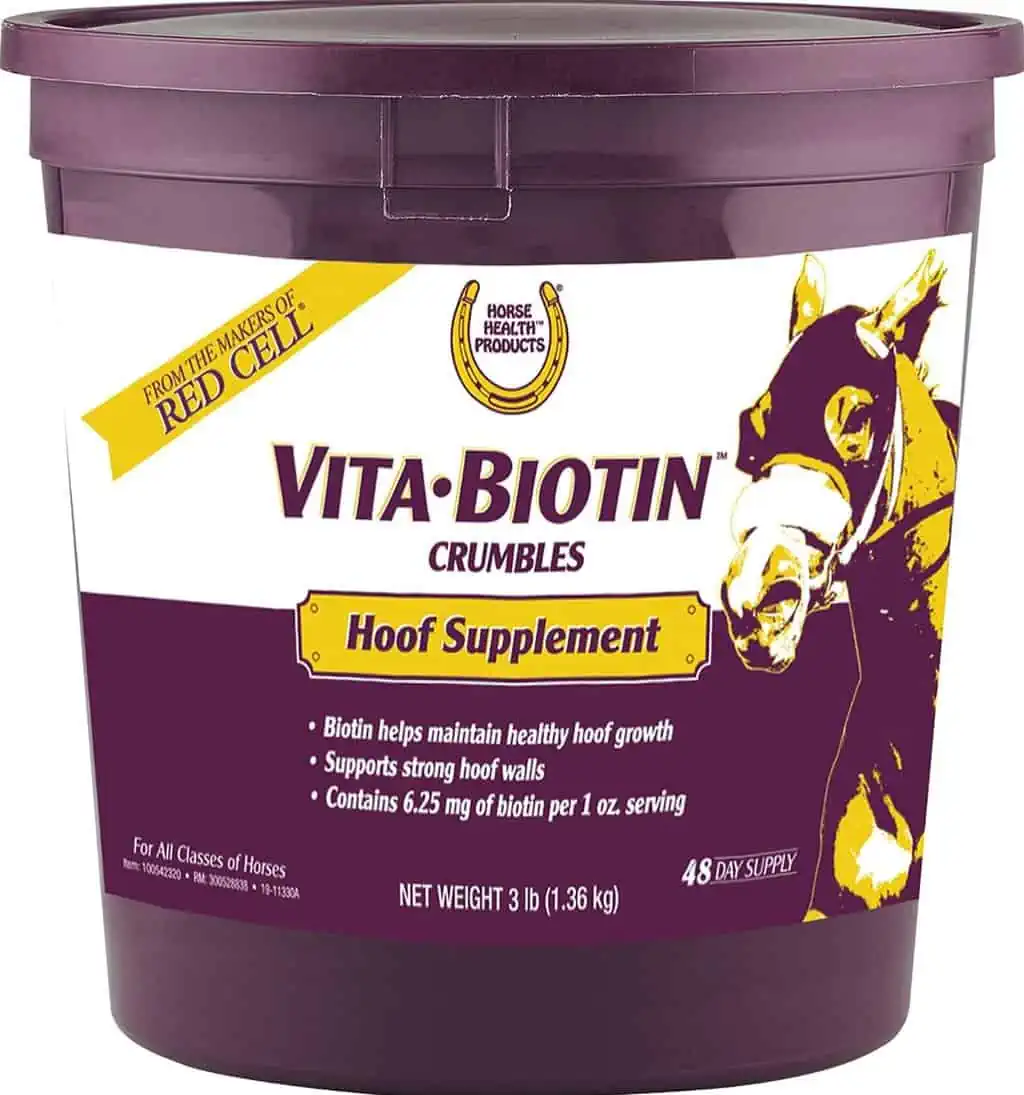 The best general hoof supplement is Horse Health Vita Biotin Crumbles Horse Hoof Supplement. Since biotin is a natural substance that's rich in amino acids, it provides all the raw material the hoof requires to heal and regenerate. Because this supplement is rich in biotin, it's ideal for a general horse hoof supplement. 
Pros
Rich in biotin

Easily absorbed

Highly palatable 

Three pounds is sufficient for 48 servings

Very affordable at less than 50 cents per serving
Cons
Pellets may be difficult to chew for older horses
Why I Like It
I love feeding a biotin supplement for my older horses like Mihr and Sunshine since it's easy to digest and helps with hooves, skin, coat, and overall health. 
Because it's so affordable and rarely has fillers, I prefer feeding biotin to other combination hoof products. These biotin crumbles are real value for money, so I love them.  
Electrolyte Supplements
Why Feed It?
Horses sweat a lot while in work, just like any other athlete. When a horse sweats, they also lose vital minerals, which can cause them to dehydrate faster, become ill, and suffer dehydration-related concerns. Feeding an electrolyte can help stimulate the thirst response in horses, encouraging them to drink more water. 
Adding electrolytes to your horse's daily feeding can help prevent dehydration and improve overall circulatory health.  
Best Overall Electrolyte Supplement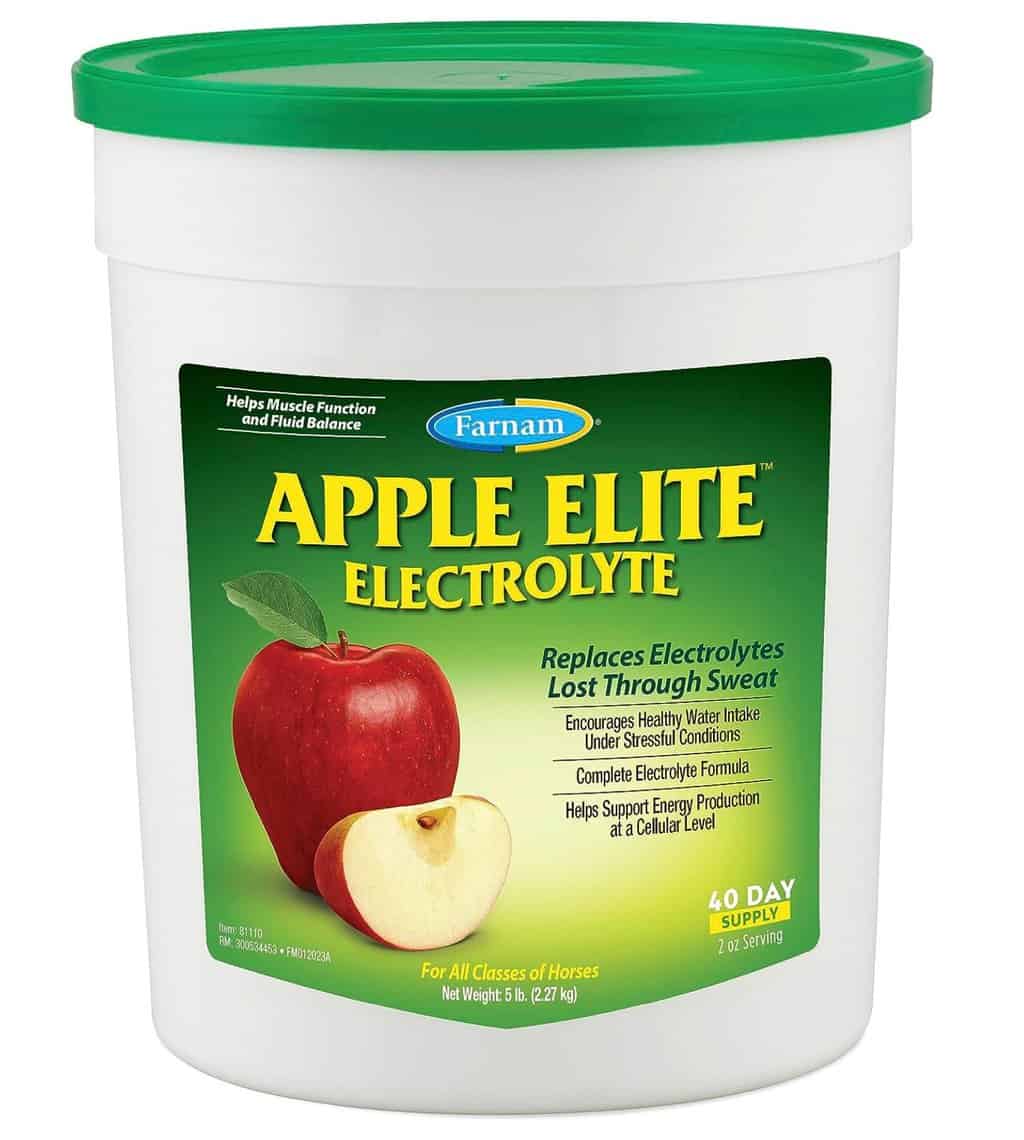 An electrolyte replacement supplement like Farnam Apple Elite Horse Electrolyte Powder is ideal for your horse. Farnam is known for producing quality supplements for horses, and this apple-flavored electrolyte is a great product to add to your feeding regime if your horse does moderate amounts of work or doesn't sweat enough (yeah, sweating can be healthy too). 
Feed an electrolyte like Farnam Apple Elite when there are sudden weather changes and if your horse has been ill, dehydrated, or lacking appetite. 
Pros
Great digestive aid due to the fluid-balancing influence

It contains sodium chloride, magnesium, potassium, and calcium 

It helps minimize stress when fed before a big event for your horse

Available in five or 20-pound sizes

Five pounds lasts 40 days

Apple-flavored powder, which is easily absorbed in feed

Also available in pellet or paste form

At only 40 cents per day, it's a steal
Cons
Feeding in water may make a horse only want to drink water with this supplement, which can cause an imbalance
Why I Like It
I like feeding electrolyte supplements like Farnam Apple Elite when the season changes and the benefits are numerous. Horses respond well to the extra minerals in the electrolyte powder, pellets, or paste, and I can see that my show horse perks up much quicker after an intense training session. 
Gut Health Supplements
Why Feed It?
When a horse's gut becomes compromised due to illness, immunity challenges, poor diet, stress, or genetic factors, it can affect their whole health. An unhealthy gut is a gut that struggles to process food, which means the horse's nutrient absorption decreases dramatically. 
Horses may also develop ulcers or other stomach conditions when their gut goes out of whack. 
Feeding a gut supplement can help restore the horse's natural gut balance, improve their digestion, aid in reducing bloat and ulcers, and reduce cases of diarrhea.  
Best Overall Gut Health Supplement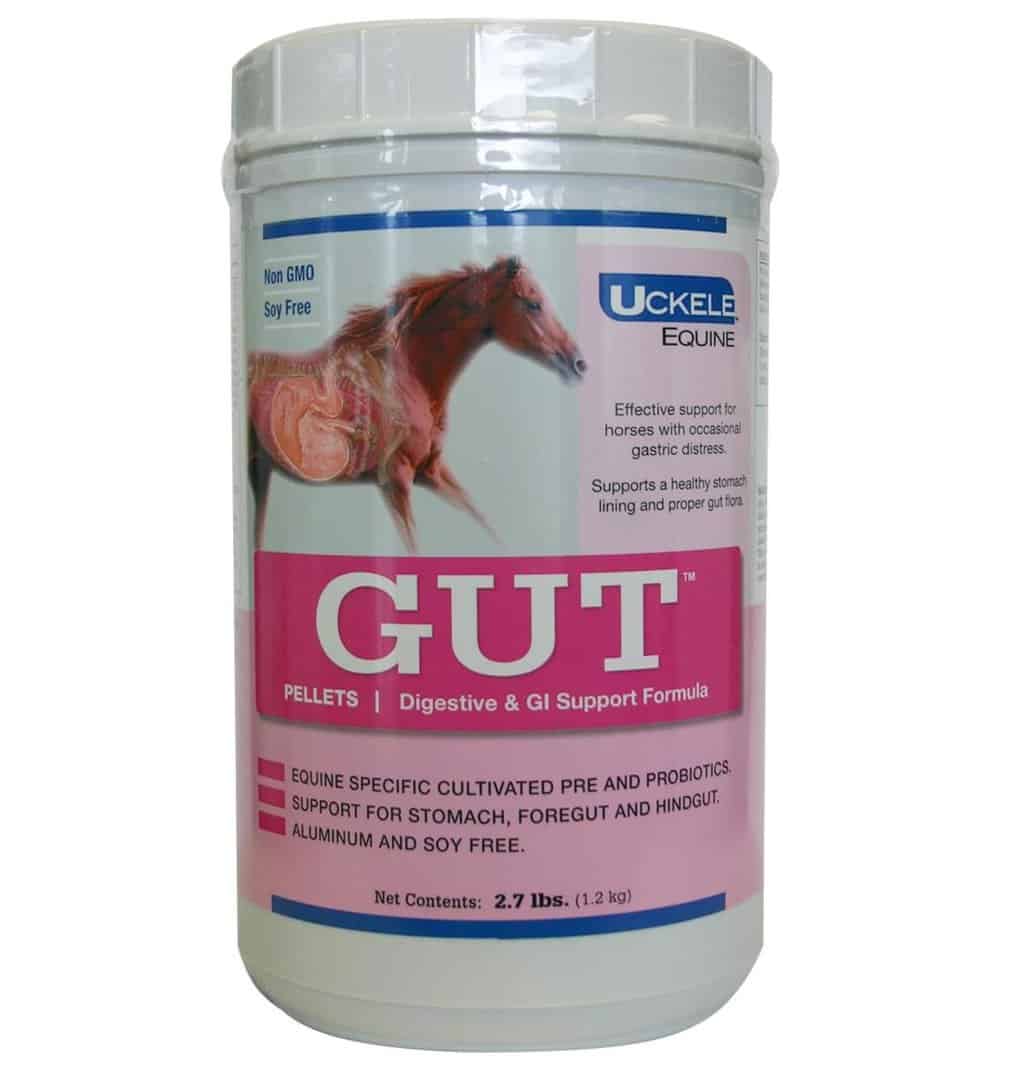 My overall gut health supplement choice is Uckele Gut Pellets Horse Supplement. This is the whole package, and Uckele gut pellets include:
Pre and probiotics.

L-glutamine.

Herbal components (like marshmallow root and slippery elm bark).

Collagen to promote cell healing. 
These pellets are easy to feed, and horses love the taste. The formula is ideal for improving gut health, pH, and overall gut flora and reducing inflammation.
Pros
Contains pre and probiotics (a broad spectrum of gut-friendly bacteria)

Even the filler substances are all natural and healthy for your horse

Available in powder, pellets, and oral paste

Cost-effective at less than 99 cents per day

Easy to feed; just add the supplement to your horse's daily meal

Available in 2.7 pounds and 13.5 pounds
Cons
The powder can be difficult to measure 
Why I Like It
I've discovered how important family is to me, and I love how Uckele helps me take care of my equine family. Uckele gut health pellets are a staple in my barn. 
Herbal Tonics 
Why Feed It?
A herbal tonic can act as a stabilizing supplement to help address overall health, minimize environmental stressors, and boost immunity for a healthier horse. A herbal mixture is more natural than chemically sourced supplements, and it's also safer to feed in correct dosages to horses.  
Best Overall Herbal Tonic Supplement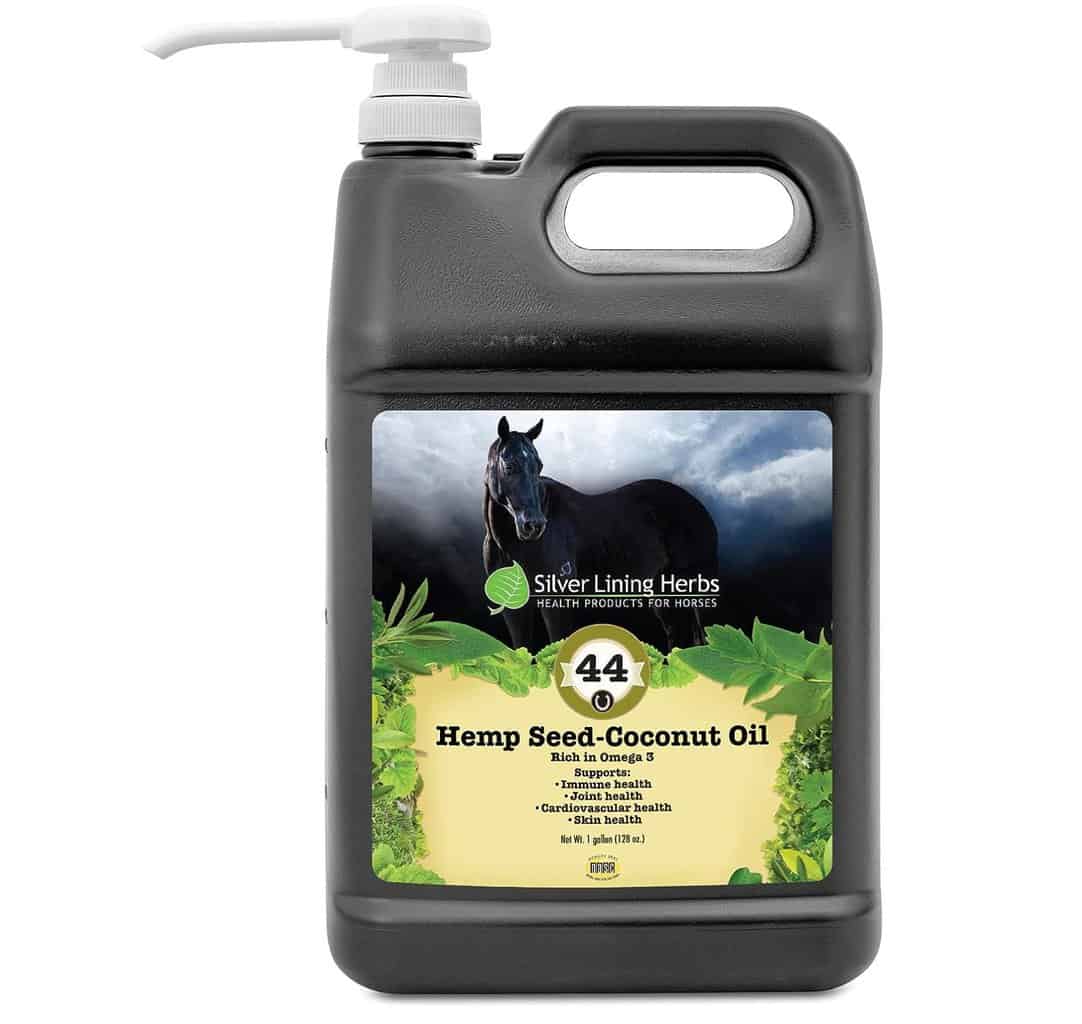 Herbal tonics can often take the form of a supplemental oil, such as Silver Lining Herbs Hemp Seed Oil-Coconut Oil, which is ideal for addressing issues such as immunity, inflammatory responses, skin and coat issues, and more. 
Pros
Made from natural oils

It contains hemp, soybean, vitamin E, coconut, and flaxseed oils

It helps relieve a number of problems, such as joint pain, poor skin, stress, and mental tension

It comes with an ideal one-ounce pump

A gallon will last two to three months

Affordable at less than $30 per month
Cons
Oil can spoil easier if incorrectly stored
Why I Like It
The glow-up effect of this herbal tonic/oil is incredible; horses quickly perk up and gain weight, and my horses love the taste.
Specialized Horse Supplements 
Why Feed It?
A specialized horse supplement addresses refined health issues, such as poor eyesight, insulin resistance, arthritis, respiratory distress, or colic. Feeding this type of supplement is about providing specialized nutrients that target the specific need, and it's about being precise and not giving a general supplement only.  
Best Overall Specialized Needs Supplements
Horses have several specialized supplemental needs, and the following products are ideal for helping resolve issues before they become serious problems: 
Pros
A specialized feed supplement is usually high-yield on results 

Specialized supplements can help improve your horse's health in specific aspects

Using a specialized supplement can support your vet's conventional treatment

Ideal for horses prone to a particular ailment
Cons
It can be quite costly

Not always as widely available

Horses may need to be on it long term
Why I Like It
My horse, Nugget, developed a stable cough this past winter, and while he was on a general supplement, I didn't like the early morning cough he seemed to struggle with. With a cough supplement from Farnam, he quickly began breathing easier and was less reactive to environmental triggers like dust. 
I like being able to help my horses with their specific ailments with a targeted supplement when they need it. 
How to Feed Horse Supplements
Feeding a horse daily supplements should always be done according to the manufacturer's recommendations. Increasing the dose will not necessarily lead to a faster result, but it could cause serious internal organ damage if you feed more of a supplement than needed. 
Add powdered and pelletized supplements to the horse's daily feed or dose with liquid supplements as oral injectables. 
Give high-dosage supplements intramuscularly for short-term health recovery. Often, your vet gives these injections as an emergency supportive treatment for a horse in poor health.  
Does My Horse Need Supplements?
Knowing whether your horse needs supplementation can be difficult. It's not just a case of supplementing because everyone else is doing it. The best would be to speak to your horse vet and work from their recommendation. 
If your horse has a specific and easily identifiable deficiency, such as joint swelling or chronic eye inflammation, you can safely assume they need supplementation to help manage their condition. 
Ultimately, the best is to do a broad spectrum blood panel and see what specific vitamins and minerals your horse is deficient in, which will also help you determine what dosage is right for your horse. 
Tips to Remember When Feeding Supplements to Your Horse
Once you've chosen your supplement to feed, there are a few tips to follow in ensuring your horse gains maximum benefit.  
Introduce supplements gradually, especially oil supplements, as the digestive tract needs to adjust, and you don't want to have digestive upsets put your horse off their food.

Some supplements have a load period, which means you'd have to feed more for the initial two to four weeks. Plan accordingly, ordering extra or a larger container so you don't have to order more immediately.

Supplements can go stale quickly if incorrectly stored. Keep them away from direct sunlight, heat, and water, and close the containers tightly to avoid bug infestation.

Avoid feeding multiple supplements, as over-supplementation can quickly compromise your horse's organs.

When feeding more than one supplement, check the ingredients carefully, calculating your horse's total gain in vitamins, minerals, and fatty acids. Never feed more than a horse's daily requirement for a specific nutrient. 

Remember that treats can also have a massive nutrient boost, so take care when feeding treats to a horse that's already heavily supplemented. Learn more about

safe treats for horses

in our handy guide. 
FAQs
Question: What supplements should horses get?
Answer: Horses should only receive supplements for nutrients they are deficient in. The usual necessary nutrients are vitamins A, D, B, E, and C, as these are essential to daily health. Amino acids in biotin are beneficial, while minerals like phosphorus, calcium, iron, and selenium are also vital.
Question: What are the benefits of horse supplements?
Answer: Correctly supplementing your horse will improve their overall health, offering specific benefits like improved skin and coat, stronger hooves, and better joint health. 
Question: How do I know what supplements my horse needs?
Answer: The best way to know what your horse needs is to analyze their health, grazing, hay, and feed contents. A qualified equine nutritionist can help you with this. Your vet can help run blood panels to check your horse's possible deficiencies. 
Conclusion
Supplementing your horse should always have a purpose. It's never a good idea to feed a supplement simply because you feel like it. A horse supplement should address a deficiency in your horse or assist in treating a condition such as dry skin or joint health.
I feed my horses a joint supplement because they are older, so their joints need additional support. Additionally, I add a general herbal tonic that helps to address minor issues such as coat fade, summer itch, and improve their digestion.
What are the issues you want to address by supplementing your horse? If you know the concerns, you can decide what supplements to add to their daily nutrition.
For more on caring for your horse, read my guide on basic horse management.
Read More:
• Best Supplements for Horse with Loose Droppings – My Top 5 Picks [2023]
• Best Antibiotics for Horse Wounds: What to Expect When Your Horse Has an Injury