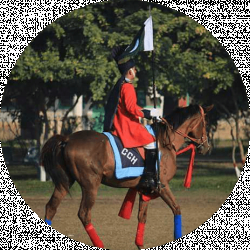 Latest posts by Boo Ali Khan
(see all)
Horse trailers are definitely a major part of an equestrian lifestyle. Taking horses on long trips or to an event is only possible because of a horse trailer. Not to mention there is no moment when you are away from your beloved horses. However, these long journeys can take a heavy toll on one's health, and a refreshing rest is essential for a horse trailer keeper.
But leaving your precious horse trailer and champion horses out of sight to get some rest is something no equestrian would prefer. So, a horse trailer with living quarters is a viable option to save yourself from all this hassle.
These horse trailers are usually large, heavy-duty, and commonly come with a gooseneck design for stability on the road. They have all the facilities of a small apartment, from a bathroom and kitchen to a nice comfy bed.
So, now that you have a good idea about a horse trailer with living quarters, in this best 4 horse trailers with living quarters guide, I am going to talk about four trailers that I believe would be a good option for equestrians looking for any such trailers.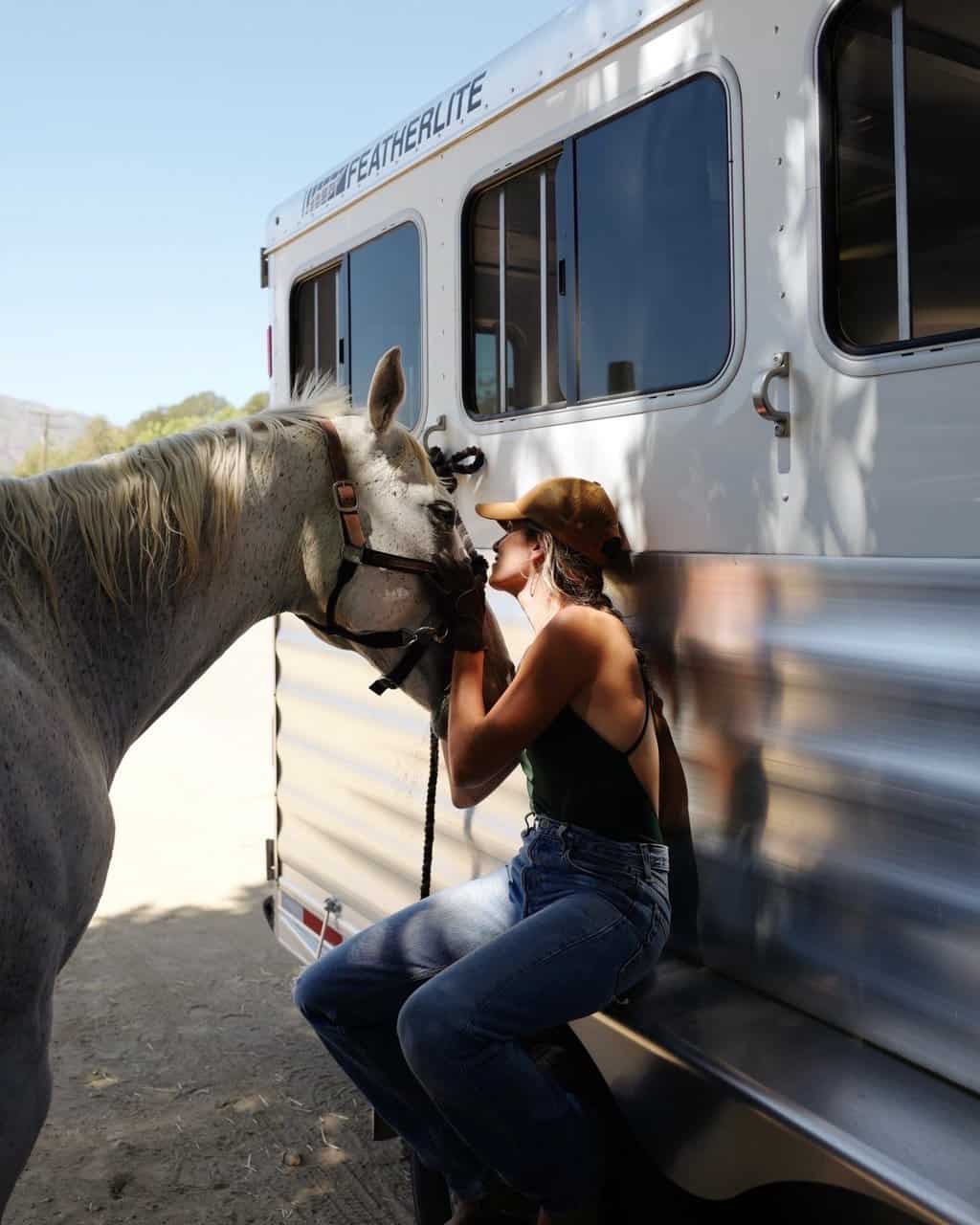 Bottom Line Up Front
Out of all four trailers, the one that piqued my interest is the 8581 Living Quarters Horse Trailer. What really appeals to me is its simplistic exterior finish and heavy-duty aluminum build. Moreover, it has a luxurious living quarter with leather sofas and a soft, comfortable bed.
The space is also big enough to welcome guests for a friendly chat over a cup of tea or coffee and snacks that can be easily made in the kitchen of the living quarter.
My Top Picks
My Selection Criteria
To make my options much more streamlined, all the selected horse trailers in my top picks meet the following selection criteria:
Gooseneck Design
Horse trailers with living quarters are heavy load trailers, and the bumper pull design can't handle this high-level weight, nor do they remain stable. So, all the horse trailers in my selected top picks have a gooseneck design to give a stable ride on the road.
Heavy Load Capacity
Living quarters add a lot of load to an otherwise lightweight horse trailer. Therefore, the axles should be well built and can carry heavy loads. So, all the horse trailers in my top picks have durable axles and are specially designed for carrying heavy loads.
Durable Material
Horse trailers with living quarters are offered at a pretty high cost. So, anyone purchasing these horse trailers expects them to work for a long time. Hence, for these horse trailers to work for long periods, they should have durable materials. So, all the horse trailers I selected have a heavy-duty and durable build.
Availability
While looking through the market, the item you want to buy must be readily available as it makes getting it replaced or repaired much more accessible. So, all the horse trailers in my selected top picks are not outdated, and their spare parts are readily available in online markets and physical stores.
Accessories for Customization
Everyone with a living quarter horse trailer wishes it looks just like what they imagine. So, to make that possible, all the horse trailers I mentioned in my top picks are fully customizable.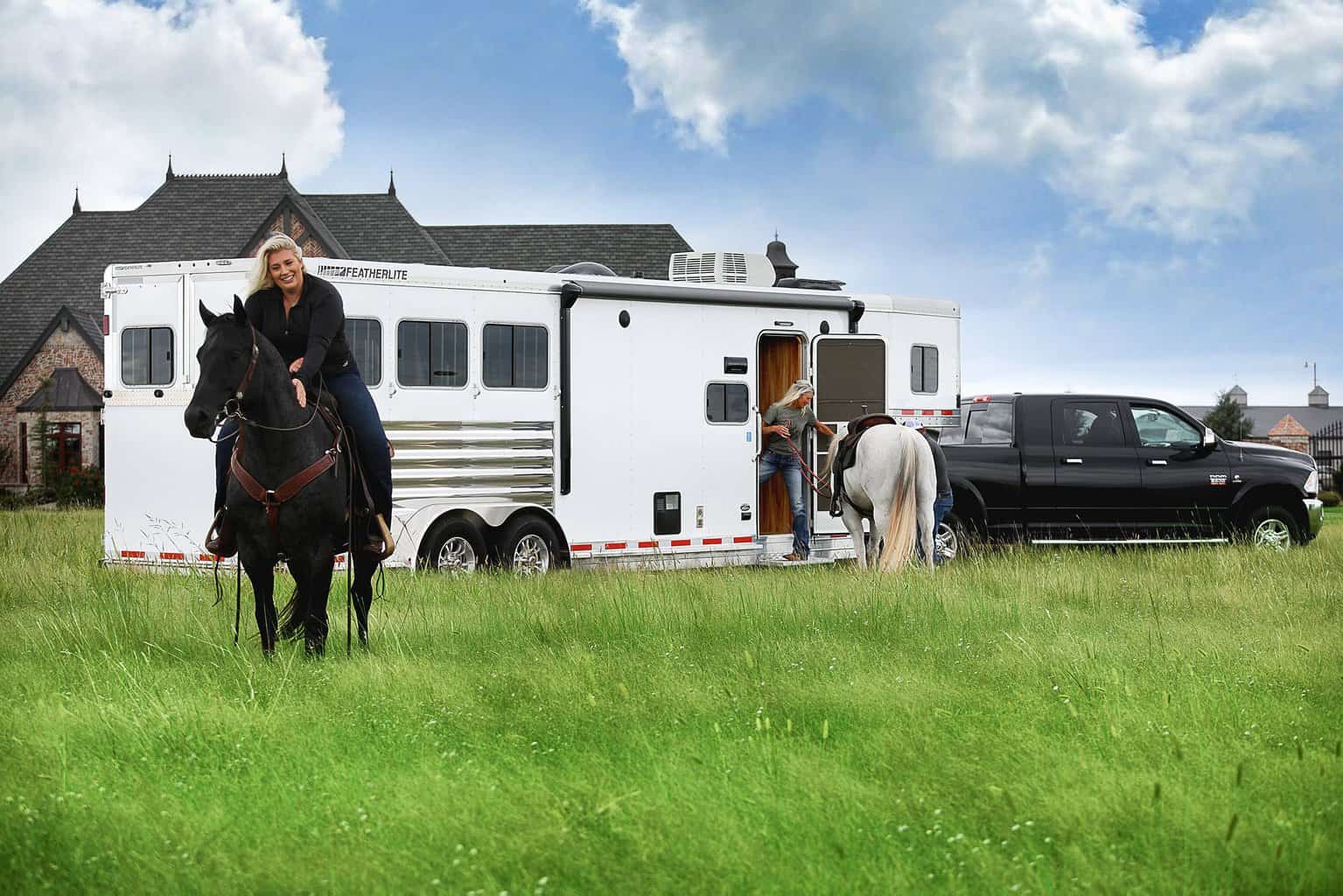 Some Buying Tips You Should Never Forget
The varying designs, shapes, and sizes can make buying horse trailers with living quarters a little bit overwhelming. So, to help you make a better decision, here are some tips you should definitely follow.
Check Its Size
If you want a horse trailer with living quarters that best suits you, then carefully assess its size. You should calculate storage space if you want everything to fit easily, especially if they are exotic equestrian tacks. Moreover, the area should be sufficient to load or unload your horses easily.
Furthermore, as you are spending thousands of dollars, the living quarter should be spacious for you to sleep in and according to your height.
Carefully Pick Out Options
Horse trailers with living quarters already have a high demanding price. So, if you are a person who is a little tight on the budget, you should carefully pick out the options that don't lack any essential features. You don't have to go after the delicacies it offers in its living room or the costly paint job done on its exterior.
Go for a TrustWorthy Dealer
When buying such an expensive piece of machinery, you shouldn't just aimlessly walk into any dealer's shop. It is always better to ask a trailer keeper about their experience with their dealership, and go for the one that offers good customer support. Some dealerships that are trusted across the states include: Transwest and Featherlite Trailers.
My Top 4 Horse Trailers with Living Quarters Recommendations
Model 8581 Horse Trailer With Living Quarters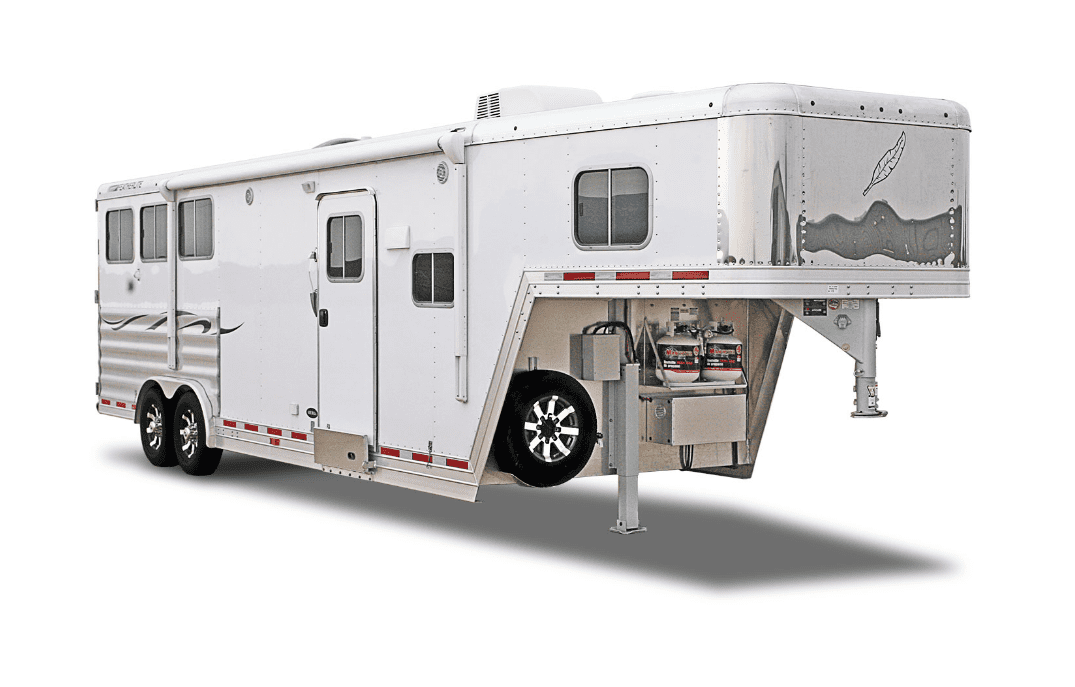 Exterior
Starting with my personal favorite, this Model 8581 Horse Trailer With Living Quarters is definitely what any stable owner can look for.
It has a simplistic design with little to no accessories attached to the exterior, and the body has a nice texture on the back and a smooth white finish on the front. It has a heavy load capacity to handle the weight of even six horses.
Moreover, both vertically and horizontally designed windows can be seen on its exterior. Both are seamlessly connected to the frame and have a sliding mechanism for easy opening and closing. Not to mention, the roof comes with nice metal vents as well. This combination of windows and vents provides sufficient ventilation to keep your horses cool and calm.
The two doors on the side come with robust fender steps, making it a lot easier to step in or out of the trailer. The storage space also comes with the standard step-up design rather than a ramp for easy loading and unloading.
The tires have a radial design and have alloy rims that can withstand stress. They are well covered with mudguards, so you don't have to worry about taking your precious trailer to the offroad rides. And talking about its stability, the frame has a gooseneck design with a sturdy hitch that does not let the trailer sway on the road while driving.
Although this horse trailer has amazing facilities that caught the eye, it does leave some essential features out. It doesn't come pre-installed with a water caddy, so you might have to buy one if you want to keep your horses hydrated during a long trip.
Interior
This living quarters horse trailer leaves nothing out when it comes to its interior. The interior has a luxurious design with a leather finish on the sofas and a brown finish on the cabinets and closets to give a sensation like you're inside a beautiful bar.
The bed beside the couch is also lavishly designed with a comfy soft mattress and a sturdy frame. Although there isn't much you can do with a small kitchen, it still has a gorgeous design and goes well with the overall look of the interior.
The living quarter also has a carefully designed bathroom that fits perfectly in this tiny apartment; even though it is small, it still feels spacious with the carefully placed shower and other sanitary wares.
The horse area is also skilfully crafted with a slant load shape so that you can utilize the extra space near the horses for keeping your equestrian tacks. Moreover, the saddle racks in the tack room also come in handy to keep the saddles organized.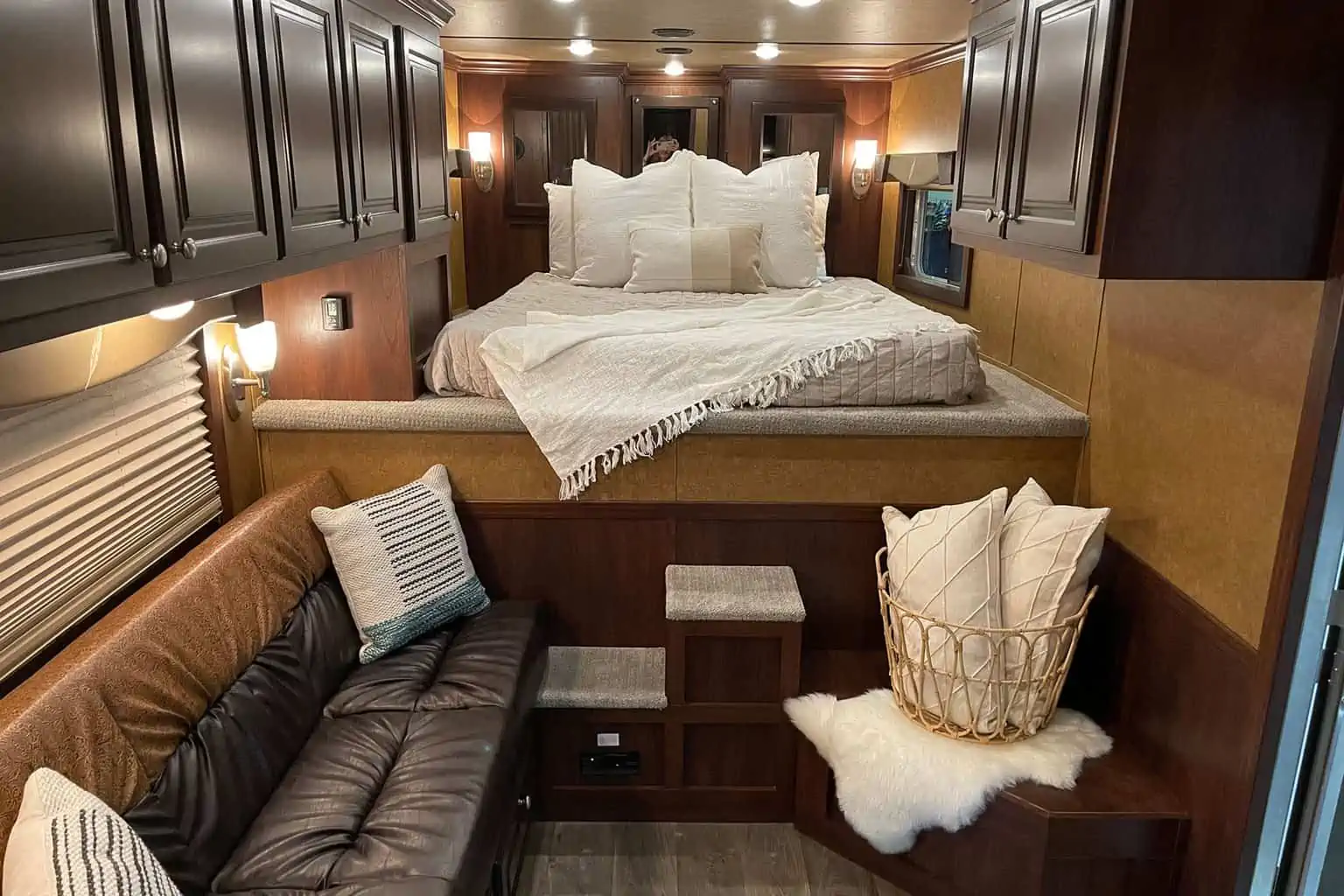 Pros
The horse trailer has polished aluminum tires that match well with the overall look of the horse trailer.
This horse trailer has a relatively low price tag for people with tight budgets.
Cons
The horse trailer has no padding inside the aluminum walls, making the trailer body vulnerable to sudden horse kicks.
There is no arrangement inside the trailer to store drinking water for horses.
Lakota Big Horn BH8X11 Horse Trailer with Living Quarters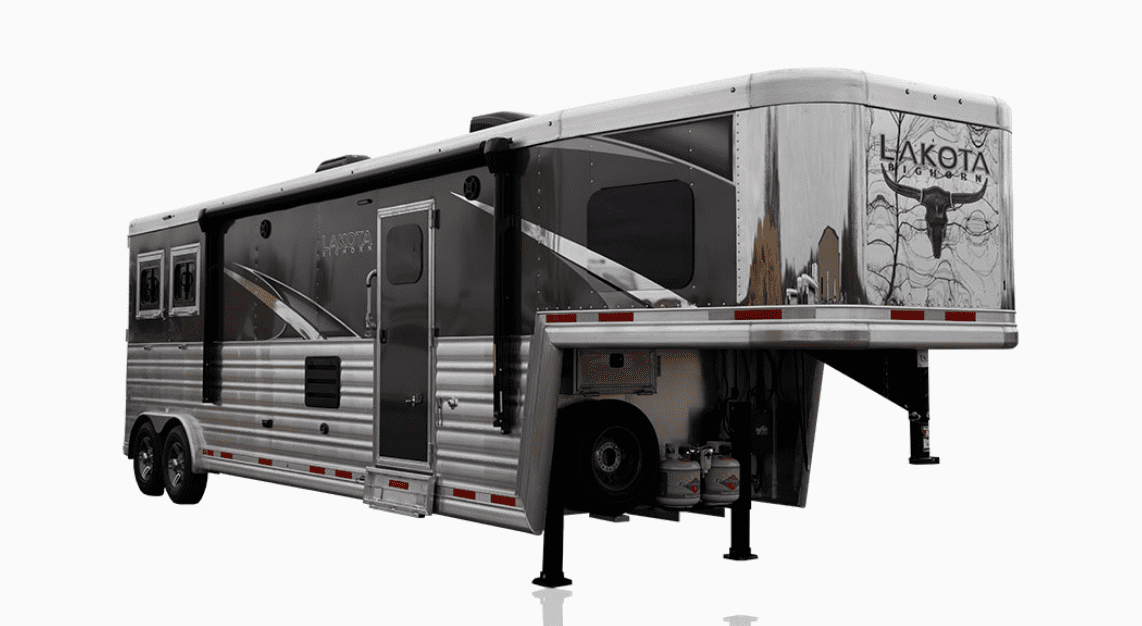 Exterior
Are you looking for a compact yet durable living quarter-horse trailer? Then look no more. This Lakota Big Horn BH8X11 Horse Trailer With Living Quarters is something you shouldn't overlook. With dimensions of 11 feet in length and 8 feet in width, this horse trailer looks pretty gorgeous in its black finish.
Moreover, the heavy-duty aluminum build makes the trailer sturdy and highly resistant to corrosion and water, so using the trailer for a long time won't be a problem. The exterior also comes with sliding windows and drop-down feed windows, making it a lot easy to feed the horse. Not to mention the nervous horses who don't like the enclosed walls would feel a lot more relaxed with all the open yet safe windows in front of them.
The exterior doesn't end there. The gooseneck hitch is pretty solid and well-built than most trailers, griping the towing vehicle firmly and remaining stable during long rides. However, this model doesn't have a ramp, so loading and unloading horses might be an arduous task.
With three different LEDs to help other vehicles easily understand the trailer's movement on the road, the lights on the back of the horse trailer are nothing less than impressive. Furthermore, this trailer also offers two rooftop vents with a shiny black finish to match the overall tone of the trailer.
Interior
The interior of this horse trailer is just breathtaking. The cabinets and closets have a complete wooden finish, and the walls have an off-white finish resembling the walls of an apartment. However, the color pattern can be customized according to one's liking.
Insulation is present beneath the floor to maintain the temperature of the living quarters and prevent any heat loss. This significantly keeps your trailer cool in the hot summers while warm in the winter. The interior also comes with Led lighting throughout the room.
The faucets and the bathroom's lavatory are made of nickel and stainless steel, respectively. This not only makes cleaning easier but also saves the bathroom from developing any rust pockets.
Now, coming towards some of my favorite features. If you want to entertain any guests you bring to your living quarters, don't worry; this horse trailer has luxurious deep bass stereo speakers for some nice tunes. Watching some horse events also becomes much more entertaining with these speakers and a 32-inch LCD TV on the front. And don't forget, if you want a bigger TV for your trailer, you just have to tell the dealership.
Furthermore, the wardrobes of these living quarters are nothing less when compared to that of a good house. They come with lighted shelves and hanging drawers so you can set your clothes properly in place.
If I am to put it short, this horse trailer has so many customization options for the already beautiful interior and exterior. From white or black exterior to hickory or chestnut interior, you always have something to look forward to when buying this trailer.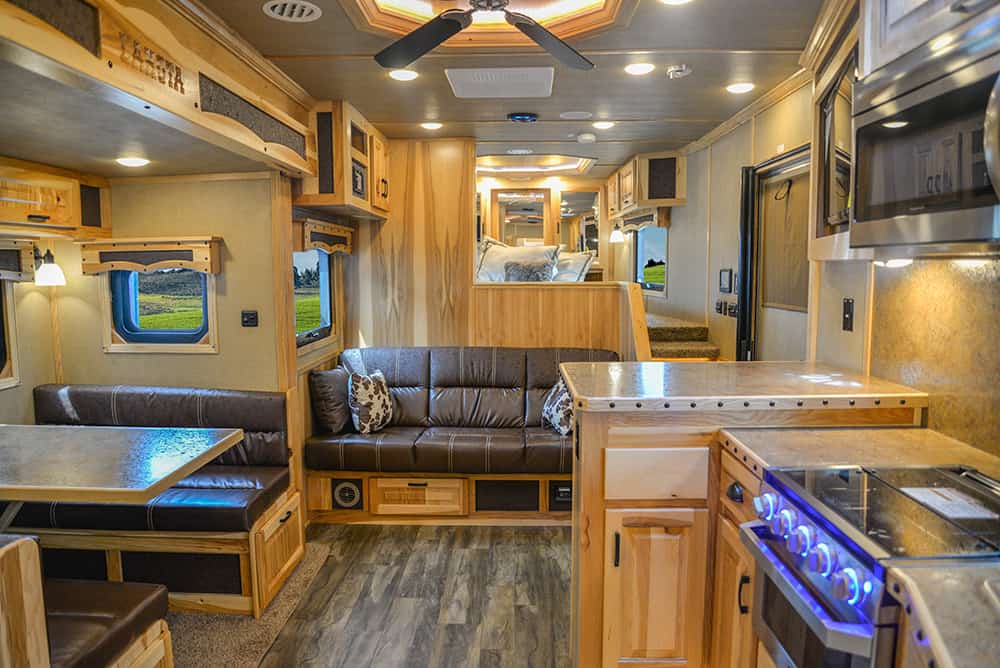 Pros
The customization options in this trailer never end.
The insulated floor of the living quarter makes this trailer a good fit for harsh weather.
The manufacturer offers 8 years warranty on its Aluminum structure.
Cons
The Aluminum sheets on the exterior give this trailer a very cheap look.
Bloomer Trailers New 2022 Horse Trailer with Living Quarters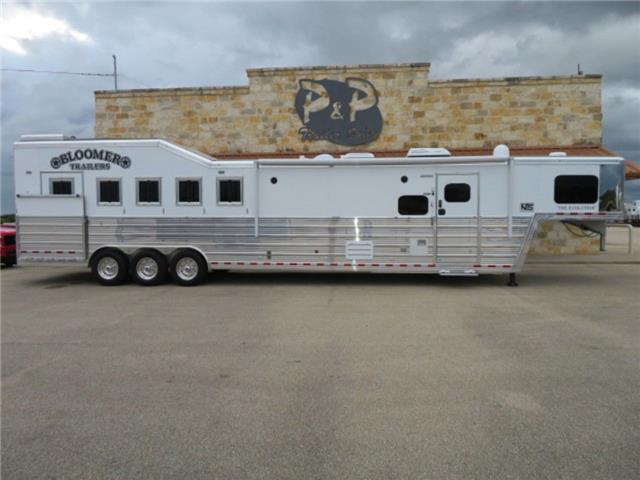 Exterior
This New 2022 Horse Trailer With Living Quarters is undoubtedly one of Bloomer's finest works. The exterior design of this horse trailer will surely turn some heads when it is on the road. The shiny aluminum rail design and the textureless smooth white finish on the rest of the horse trailer not only make it feel fresh but also premium.
The unique gooseneck design that attaches to any truck also complements the overall look of the trailer. The ladder at the back not only falls in line with the trailer's overall look but also makes the rooftop easily accessible. So, any extra equipment can be placed on top of the horse trailer, or you can even use it for transporting hay.
The windows closer to the hitch are simple slider windows, while the ones near the tires are drop-down feed windows. The two doors on the back lead to the storage or tack room. While a large door on the side is present for loading or unloading horses. The included side ramp will save you from hefty vet expenses as your horses won't get injured while entering the horse trailer.
This huge horse trailer stretches up to 14 feet in length. And its slant load design can haul up to 5 horses with extra storage space for emergency kits. But don't worry; the heavy-duty axles can bear heavy loads, so hauling five horses and carrying some extra load will never be a problem.
While going on trips, you don't know how the traffic around you will react, so having effective pressure-bearing brakes is essential. So, this horse trailer comes equipped with hydraulic brakes, which have a super heat dissipation system that won't let the brakes get overheated, allowing them to give their best performance for a long time.
Interior
The interior is carefully designed, with each necessary feature being on full display. The bed area has a big mattress and side windows that offer a very pleasant view.
The floor is made of wood that keeps the interior cool in hot summers. Not to mention, some insulation is also present in the walls of the trailer. The cautiously placed lights on each side of the sofa make the interior feel pretty lively.
The beautiful kitchen of this trailer offers an energy-efficient stove and microwave oven to give you a warm fresh meal whenever you feel hungry. The sink's faucet has a black finish that matches the interior's black surroundings.
The tack room has a proper saddle rack and some bridle hooks, so keeping your grooming kits and saddles safe doesn't become a headache. The stalls in the horse area are well-padded to keep the horses safe from getting injured.
And don't forget, this trailer comes with pre-installed blinds on the windows of the living quarter, offering you optimum privacy while also saving yourself from the scorching sun. But all of these amenities come at a price, literally. This horse trailer is over 200000 USD; yes, I didn't add any extra zero. So be thoughtful of your pocket.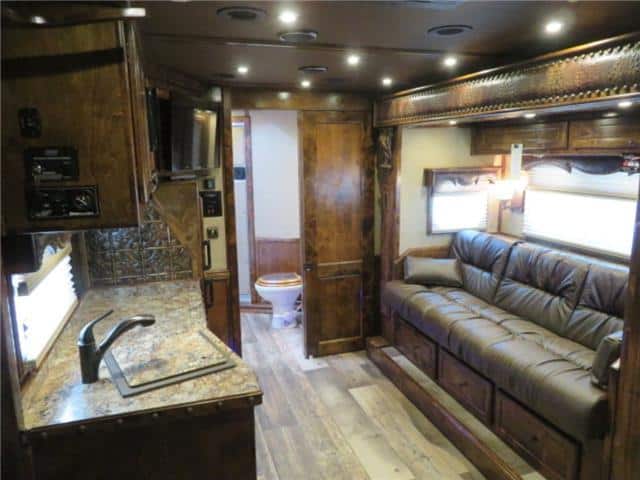 Pros
The durable material of the horse trailer can handle heavy loads.
The insulated floors of the interior keep the horse trailer safe from getting too cold or too hot.
A very beautiful saddle-based toilet seat.
Cons
The very high price tag makes it a difficult purchase for people with low budgets.
Being a pretty big trailer makes it difficult to maneuver or find a good parking space.
New 2023 4-Star Horse Trailer with Living Quarters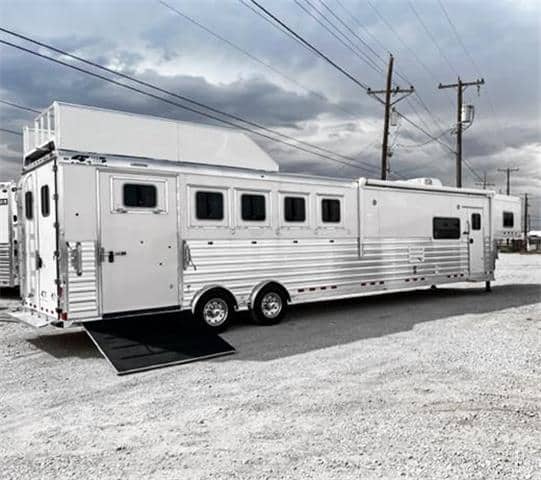 Exterior
This New 2023 4-Star Horse Trailer With Living Quarters is another feature-packed option on my bucket list. This is a large living quarter-horse trailer that can also haul up to 5 horses. Moreover, the 8 feet width of the trailer helps turn the horses around easily while loading or unloading them.
The shiny aluminum rims of the tires give the trailer an overall classy look, and the strong build also helps them last much longer in any weather. However, you can still add all sorts of graphics to the simplistic exterior of the trailer to give it a more lively look.
The front of the horse trailer comes with a reflective finish, something that is quite extraordinary, and the 4-star logo is printed on it. Beneath the gooseneck slant of the trailer is a replacement tire, beside which two water tanks are also present that can store sufficient water to go for a week-long trip.
This horse trailer also has a hay pod on the rooftop, so you don't have to worry about the feed. The radial tires are also something not to forget as they provide the horse trailer firm grip while traveling on slippery and bumpy roads.
Interior
This horse trailer definitely has a unique look when it comes to interiors. The interior design doesn't feel heavily customized with an absurd amount of accessories, nor does it feel too simplistic. It has a nice balance that appeals to any horse trailer keeper.
The interior of the living quarter of this horse trailer has a grey finish, with the wooden flooring and some cabinets being the exception. This grey finish gives a very visually appealing look to the soft and cushy couches. Moreover, the dark brown finish of the cabinets goes well with bright colored sinks and walls of the interior.
And talking about its washroom, the half-circle shower enclosure and the grey shower design also match well with the overall design of the living quarter. Not to mention, the luxuriously built porcelain sink also adds to the grandiosity of the trailer.
The horse trailer is equipped with unique stalls in the horses' cabin that can be folded as per your needs. The floor is also glued with rubber mats, so the horses don't slip and injure themselves while on bumpy road trips. And you don't have to worry about the dark. The carefully placed Onan generator on the rooftop of the horse trailer will keep your electric appliances running for a long time.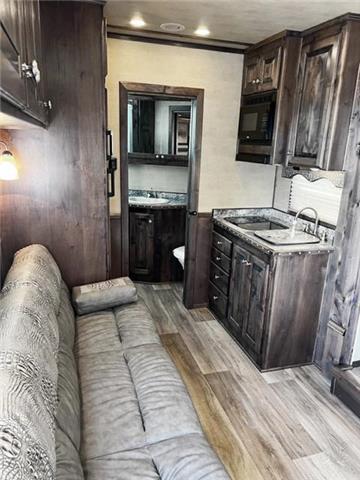 Pros
The horse trailer's floor padding maintains the interior's temperature and provides a great grip while traveling on bumpy terrains.
The pre-installed blinds on the window provide shade from the scorching sun and offer privacy. Also, you don't have to worry about renovating the interior just to fix the blind's railing.
Cons
The maintenance of the slideout interior comes at a high cost.
The vanity occupies a sizeable area leaving very little space for the toilet in the washroom.
FAQs
Question: Are Steel Horse Trailers With Living Quarters Better Than Aluminum?
Answer: Living quarters horse trailers with a steel build are much more durable. They can withstand scratches and dents and are much cheaper. Manufacturers have a much easier time working on it. And the steel trailers can also bear much heavier loads.
On the other hand, the Aluminum-built living quarters horse trailers are susceptible to scratches and dents. However, aluminum lasts much longer and is also resistant to rust. Not to mention the horse trailers made of aluminum are also lightweight and have a better resale in the market. But, these trailers are not a budget-friendly option.
So, looking at the pros and cons of these builds, I would encourage you to go for aluminum horse trailers if you are looking for a long-term investment.
Question: How Long Does A horse Trailer With Living Quarters Last?
Answer: Every machine depreciates over time, and horse trailers are no exception. After a certain period, the living quarter horse trailers start to reveal their age with many kinds of problems showing their ugly faces.
However, for a horse trailer that is not well built and is cheap, this usually happens in 10 to 15 years.
On the contrary, a good, carefully crafted horse trailer with living quarters can last up to 15-25 years. But still, it ultimately depends on how well a horse trailer keeper treats their beloved trailer.
Question: How Heavy Is A Horse trailer With Living Quarters?
Answer: The weight of a horse trailer with living quarters isn't precisely defined anywhere. Many factors contribute to it. And the size of the horses' cabin, the build material, and the size of the living quarters are just some things to keep in mind.
These types of horse trailers have the capacity for three to eight horses, considerably increasing the overall weight of the trailer. The weight starts from over 2000 pounds with a space of two horses. However, it can go over 10000 pounds if you add a lavish quarter and more stalls.
Question: How Much Does A Brand New Horse Trailer With Living Quarters Cost?
Answer: The prices vary according to the horse trailer size. A standard Aluminum built horse trailer without any lavish living quarters, and a capacity for two horses ranges from 25000 USD to 40000 USD. However, if you go for an option that offers extra load-bearing capacity, and a luxurious living quarter, the price can range anywhere from 150,000 USD to 250,000 USD!
Final Thoughts
Nowadays, transporting your champion horses is not only expensive but highly stressful. Driving for several hours makes a person highly exhausted, and the expenses of a hotel add insult to injury. Not to mention, finding a good place to stay is also not available everywhere.
Horse trailers with living quarters are versatile pieces of machinery that efficiently solve this problem. These vehicles provide the person an easy way to transport their beloved horses and the living quarters allow the driver to remain fresh by relaxing or taking a quick nap whenever they feel exhausted.
The small kitchen, bed, and bathroom make the living quarter's horse trailer a literal apartment. However, trying to purchase these appealing vehicles is challenging. So, make sure to follow these buying tips. All the stuff you plan to take with you for the equestrian event must easily fit into the horse trailer.
Moreover, as horse trailers are expensive, you must do your research and pick the options that don't lack any necessary features. Furthermore, only buy from a trustworthy dealer, as horse trailers are a one-time investment.
The living quarter trailer that attracts me the most is the 8581 Living Quarters Horse Trailer. The simplistic white finish catches the eye of a minimalist like me. Moreover, the wooden aesthetic of the interior is beautifully decorated like a bar. Not to mention the leather material on the couches makes them pretty soft and comfortable. Also, the side window makes feeding the horse much less complicated.
However, if you want a horse trailer that has a stylish exterior or an exorbitant amount of accessories in its living quarter, you may refer to other options on the list. Good luck with your purchase!
Read More: