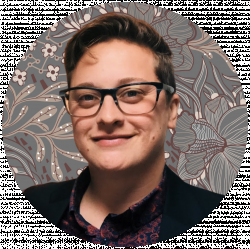 Latest posts by Emily Parker
(see all)
A sense of adventure comes with any purchase of mobile living quarters. The idea that you can go anywhere your rig can take you, and live comfortably, stirs something that's been with us throughout our history as a species. Adding in the ability to take your horse with you really gets our imagination going.
Will you take a 3-day weekend to the mountains? Will you travel cross country and hit your dream horse shows? Wherever your destination, with a 3 Horse Trailer with Living Quarters, you can have up to three of your best equine friends with you (and several of the human variety as well).
As someone who spent most of her life traveling for horse shows, I can attest that owning a horse trailer with living quarters is a game-changer. Not only will you save on hotel rooms, but you'll end the stress of leaving your horse unattended in an unfamiliar stable or boarding pen. You may be concerned that you won't be as comfortable as you would be in a motel room, but I'm not alone when I say I usually prefer my travel trailer.
I live full-time permanently in my camper, so I have a unique take on what's important away from your sticks and bricks. As I meet more and more full-timers living in horse trailers with living quarters and permanently traveling the country with their horses in tow, I wonder if it might be time to pick up a new pony to share in my adventure.
Bottom Line Up Front
My best bang for your buck or all-around best three-horse trailer with living quarters is the Sundowner Santa Fe. I think this trailer is an excellent combination of quality and affordability. Live-in trailers aren't cheap, especially new. However, Sundowner does an excellent job of keeping their cost down while still including high-end features such as high-quality mats and partitions.
The living quarters have everything you need without any extra gimmicks. I especially like that you may choose between a couch or a dinette, depending on whether you'll be lounging for a weekend or living for long stretches in this trailer.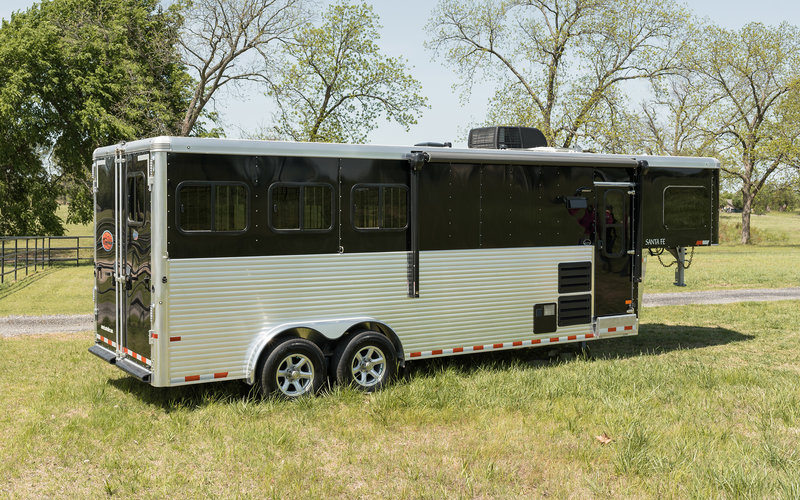 What to Look For in a 3 Horse Trailer with Living Quarters
Horse safety comes first; price comes second. As equestrians, you're probably pretty familiar with this golden rule. There are always corners that can be cut when purchasing items for your horse, but safety is one we never sacrifice.
This facet of horse ownership is not just due to our care for our equines. Still, it can also be attributed to the massive damage a horse can do to other human beings. Trailers are no exception to this dangerous problem. They can cause harm to your horse and huge amounts of damage to other travelers.
For these reasons, safety was my first consideration when researching these horse trailers, and trailer cost came in second.
Comfort came in at third, but if you have the money, you can be as comfortable as you are in your own home in your live-in horse trailer. However, there are some bare minimums for comfort (take it from someone living permanently in a travel trailer), so there was no need to include trailers that didn't meet these.
You can certainly find cheaper options with simple bunks in the gooseneck for more of a camping experience. If you only aim to overnight, these may be the perfect solution. If you plan to stay for several days, consider a trailer with living quarters.
If this is your path, I would suggest a trailer with a separate toilet and shower, room for an RV queen bed, at least 30 lbs of propane, and 30 gallon+ black and grey tanks, with an even larger fresh tank or room to add more. I only have a 26-gallon freshwater tank and 23-gallon black and grey tanks, and dealing with the fresh and grey is the most irritating part of my existence as a full-timer.
I certainly wouldn't want to leave the showgrounds or a hard-to-reach trail after a day to dump and fill water, especially if I had horses in tow.
Why You Should Consider a Horse Trailer with Living Quarters
If you dream of a long show weekend or a camping trip near some trails, a live-in horse trailer might be the right decision for you. The living quarters in a horse trailer have the same amenities as an average camper. You'll have working outlets, running water, and flushing toilets when they're hooked up. When they're not hooked up, they're still a huge step above tent camping and will make for a comfortable sleep before another long day of trail riding.
The best time to consider a trailer with living quarters is when you're ready to upgrade your trailer (more horses!). This will help you save money on trailer trades in the long run. Trailer trading is an expensive hobby; best to limit how often you have to sell one.
There are a couple of considerations when upgrading your rig. The first is your towing weight: a standard 3-horse gooseneck trailer weighs around 5000 lbs, which is easily towable for a standard half-ton truck (F150, Ram 1500, Silverado 1500). A typical weight for a 3-horse trailer with living quarters is 10,000 lbs, which means your tow vehicle may also need to be upgraded.
If you're truly adventurous, you may even consider permanently packing up and moving into your horse trailer with living quarters. It is certainly more difficult to live permanently in a travel trailer with horses, but you won't need to look hard to find folk doing it.
Whether it's traveling and working as a ranch hand or trainer or simply traveling with your horses and riding BLM land, there are many camps and RV parks that have amenities for horses across the country.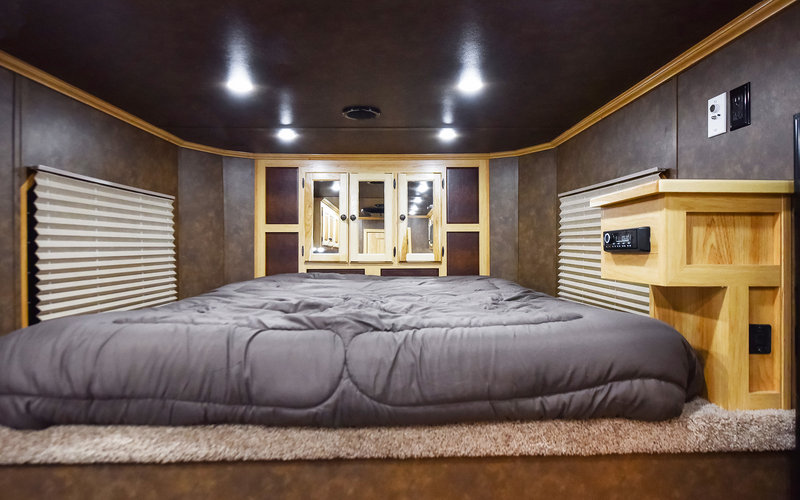 How a Horse Trailer with Living Quarters Works
A horse trailer with living quarters combines a camper and a horse trailer. They are usually slant-load gooseneck trailers due to the significant addition to their weight that the living quarters add. Companies like to list the following basic camper features as things that set their trailer apart. Still, I've compiled them here so you know what should come standard on and horse trailer with living quarters.
Trailers come in 50 Amp and 30 Amp service, and you'll want to ensure the showgrounds fit the type of service you need, or pack a dogbone adaptor and make do. Once you've connected the city water and hooked up the sewer, everything in your horse trailer will run almost as well as in your home.
If you cannot hook up, or the amenities are a little shy at the grounds you'll be overnighting in, many things will still work (for a time) in your trailer. There are two electrical systems in horse trailers with living quarters, 110v shore power and 12v battery power.
When you're plugged into shore power, your battery charges, and the 110v appliances work. Many of the systems in your new trailer will work off the battery when not plugged in. Some even come with a truck cable to charge the battery from your truck's alternator.
I'll be honest with you, most showgrounds don't have sewer, and even if they do, you'll still need to maintain your trailer's tanks. Any horse trailer with living quarters will come with a black and grey tank. The black is for sewage, and the grey is for everything else (sinks and showers). When not connected to a sewer line, you'll have a limited number of days until you'll need to visit an RV dump station.
Horse trailers with living quarters will also come with a freshwater tank, which can be used when no spigot is available to hook up to. Your 12v water pump will run off your battery to pump water in the living quarters. These trailers also come with propane for the furnace, water heater, and fridge.
The Best 3-Horse Trailers with Living Quarters
Let's get into my top live-in trailers for three horses currently on the market without further ado. There isn't a wrong choice on the list, and you're sure to enjoy your excursions in any of these trailers.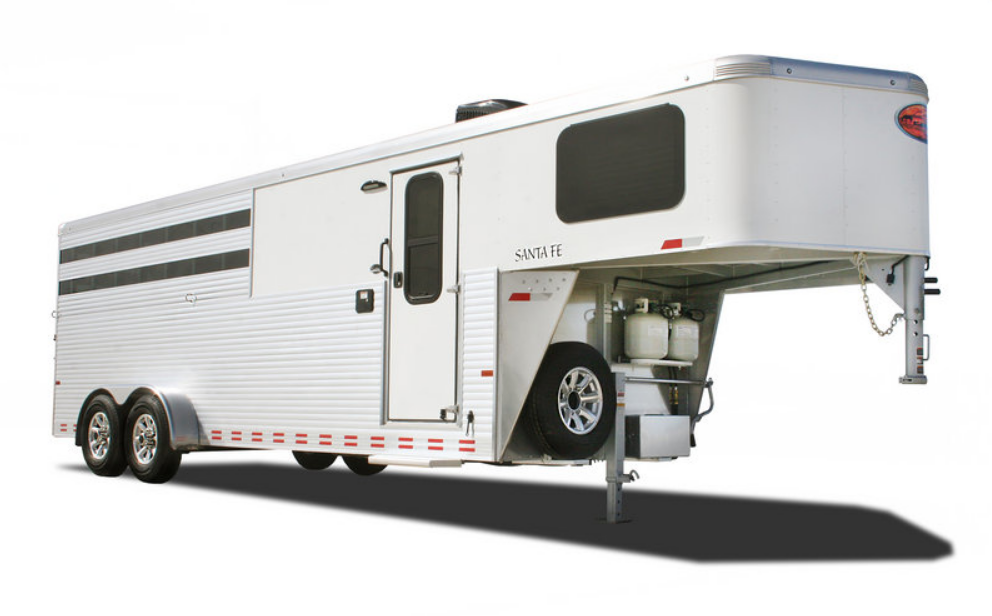 You can't go wrong with a Sundowner. It's always my preferred trailer, no matter the utility. They have a reputation for putting safety and quality first while still making affordable units. I remember our first trailer was a Sundowner 2-horse bumper pull, made sometime in the 1990s.
I do not doubt that the tough little trailer is still safely hauling another little girl's first barrel ponies to a show somewhere.
Living Area
While not the most critical aspect of a horse trailer, it is the most exciting. So, let's talk about the Sundowner Santa Fe's living quarters first. The Santa Fe Trailer has everything you need; without anything, you don't. It's made by a company that knows what an affordable and quality trailer should include. There's a small kitchen, plenty of overhead cabinets, an RV queen bed, and a separate shower and toilet.
You can order this trailer in a lot of different ways, but let's talk about the model I would suggest. Model 6905 is the perfect size for an excellent price. The 6905 doesn't include the dinette or sofa but does have a relatively large kitchen and lots of storage space.
Unless you'll need the dinette to work remotely, or you're planning on living in it full time, I'd sacrifice it to save a couple of bucks. You certainly don't need the sofa, but it does look like a pretty comfortable set-up if you don't mind the added weight that floor space entails. I prefer the larger kitchen of the Model 6905 anyway!
The big things to note about this trailer are the separate toilet, shower, and RV queen bed. You'll also find a truck charging cable, two 20lb propane tanks, 15000 BTU air conditioning (you'll need to be plugged in!), and 31-gallon black and grey tanks. These are pretty big features for such a lightweight and relatively affordable trailer.
Trailer Area
This trailer is 7′ tall and 7′ wide and made entirely of aluminum, with plenty of room for large ponies without the weight. The Santa Fe has padded slant stalls with stock air flow dividers and rump/kick pads. It's safety first in the horse's area, and Sundowners stock floor mats are better than some brands' upgrades.
The feed manger is a drop-down style for an even more comfortable ride when not in use. The collapsable rear tack area is cleverly built and easy to remove when not needed. You'll be able to load your golf cart or ATV into the third stall with little to no hassle by removing the tack area completely.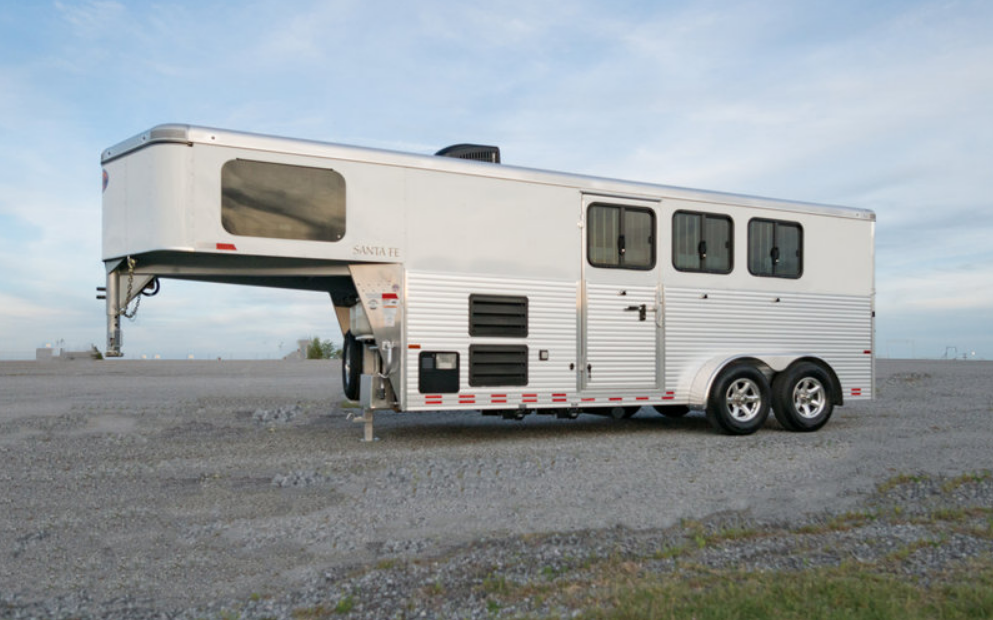 Pros
Safe trailer area with stock padded stalls and quality mats
Removable tack area
Lightweight aluminum construction
Separate toilet and shower
40 lbs of propane
31-gallon grey and black tanks
Queen RV bed
Cons
The MSRP on a brand new Santa Fe is $60,000+. A good deal, but still a bit pricey.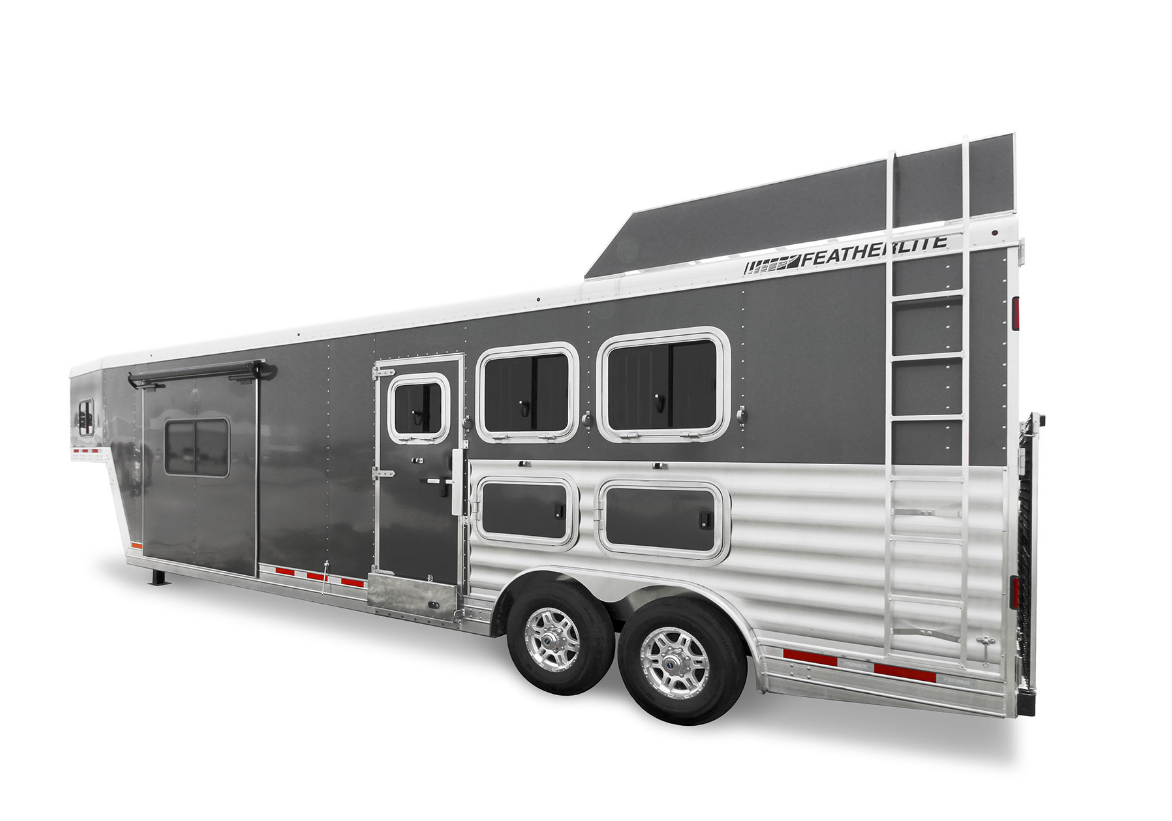 Featherlite is coming for the Sundowner Santa Fe with its Model 7821. The prices line up with Santa Fe for a 3-horse trailer with living quarters, depending on its features. The Santa Fe may be my favorite, but check out the Featherlite 7821 before making your decision! Featherlite's site is a very customized experience. If you choose every feature, you can make this model cost more than a new home.
Living Area
The Featherlite 7821 is a larger trailer that is 8 ft wide and 8ft tall. This means the living space is slightly more spacious than smaller trailers. It comes with a sofa or dinette (your choice, or have both), a kitchen with a 6 CU refrigerator, and a large queen mattress.
You'll have a separate porcelain toilet along with a sink and shower. The large overhead cabinets and storage compartments are above most trailer living quarters.
The 7821 has air conditioning, 40 lbs of propane, and 30-gallon grey and black tanks. Best of all, this Featherlite has a 50-gallon freshwater tank stock. The cherry on top will be whatever you add to this trailer, whether the electric awning or recessed LED lighting.
Trailer Area
This aluminum trailer is larger than most at 8 feet wide and almost 8 feet tall. They've managed to still keep the rig light, with three horse options averaging 10,000 lbs. Padded stall dividers separate the slant stalls, but as with everything Featherlite, adding airflow slants and padded rump bars is an optional upgrade. The feed mangers are typical gooseneck slant feeders.
Depending on the money you'd like to spend on this trailer, its length primarily consists of living areas. The tack area in the rear is more of a tack wall, though the saddle posts are removable and fold away easily.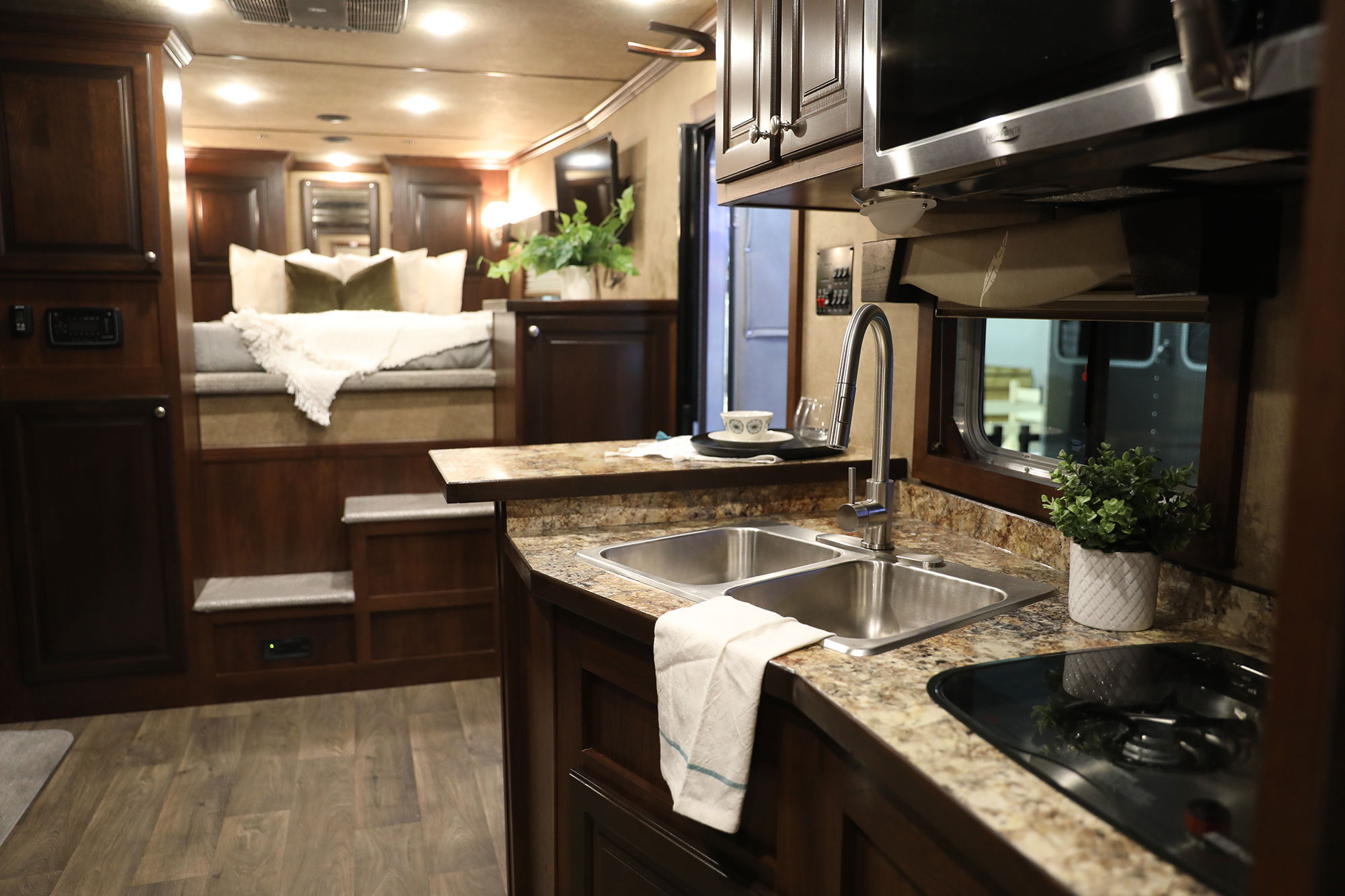 Pros
Highly customizable
50-gallon fresh water tank
40lbs of propane
Separate porcelain toilet (fit for a king!)
Large trailer, while still being light
Cons
Everything is an add-on, quickly increasing the $60,000 MSRP for basic upgrades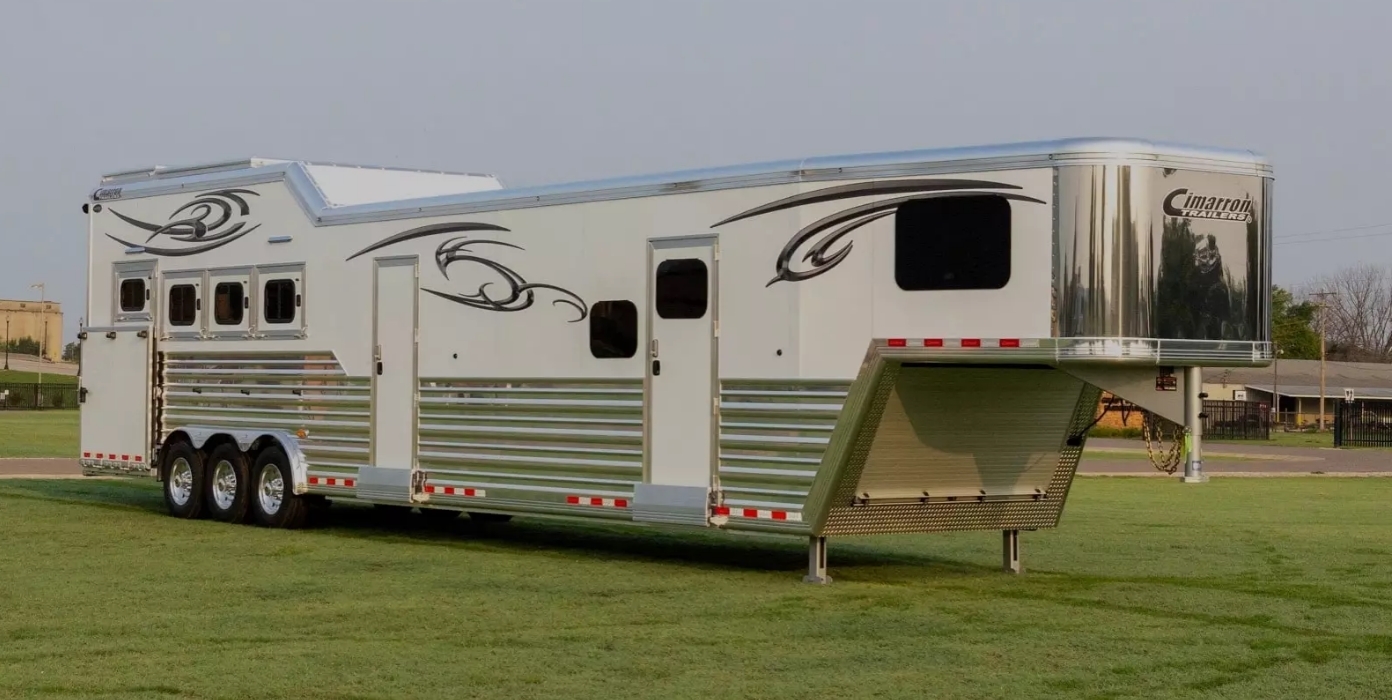 If your wallet weighs heavy in your Wrangler pocket, or perhaps you're considering a full-time move into your horse trailer with living quarters, it's best to take a look at Cimmarron. They're known for being top of the line across the board. Instead of flashy features and questionable add-ons, you'll find their site simply showcasing the durability and quality of their horse trailers.
In addition, instead of entering into the realm of RV parts, they partner with quality vehicle/camper converters to build their trailers. The trailer will arrive to you as a finished product, but by allowing high-quality professionals to build the interior, you'll end up with a superior living area.
Typical RV parts and practices are cheap. Folks that know they will be in their trailer often would instead begin their journey with quality workmanship and quality parts. This is a huge consideration when you know you'll be putting a lot of use on your trailer.
Living Area
This depends on the conversion company you go with. For instance, the Trail Boss Conversion appears to be an epic rancher on wheels, while Outback Customs looks like a full-timer's dream. Try Signature Quarters for a truly unique space. You can choose your own interior, tank size, refrigerator size, air conditioner, and propane set-up. Once you've decided, be assured it'll be top of the line.
Trailer Area
You won't find a better-built horse trailer than Cimarron, and the price tag reflects that. They are the toughest aluminum goosenecks on the market. They are also entirely custom-built, so start with the trailer of your dreams and have the living quarters added.
Your choices range from the types of stall separators to the mangers and the floor mats. These aren't just add-ons but features that you'll need to consider and choose yourself. In addition, you'll have access to top-of-the-line components (that are unique to Cimarron) in any area you prefer. At the same time, you can go cheaper in other areas less important to you.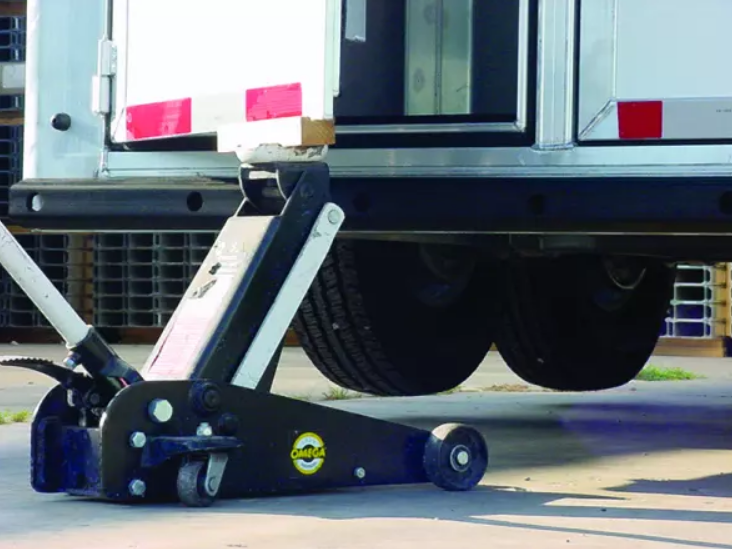 Pros
Completely customizable trailer
Top-of-the-line quality and components
Outsourced build for the living quarters, your trailer will outshine most RVs
Custom living quarters mean they fit your exact needs for the space
Cons
Expect to pay well over $100,000 and possibly over $200,000 for a custom Cimarron 3-horse trailer with living quarters.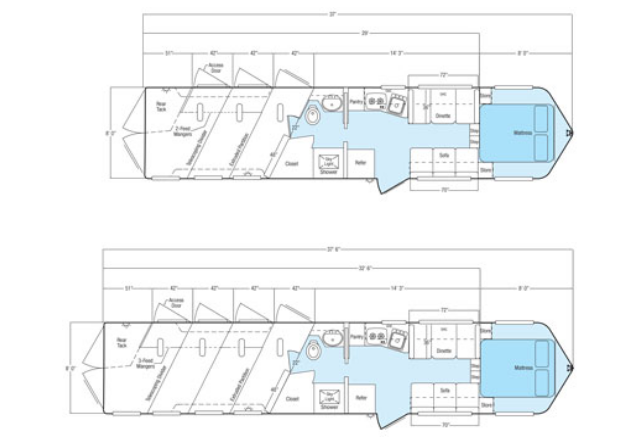 If a purely custom trailer is still a little pricey for your taste, but you'd like a pretty comfortable living situation, consider a trusted brand with a slide. A slide takes your existing living space and can almost double it without increasing the overall size of the trailer.
What a magical component! Why don't all trailers have slides, then? They add more maintenance responsibility and make the trailer difficult to use without deploying. They are also more expensive but worth the investment if you need more living space.
Living Area
The Sundowner Special Edition Grand has all the features of the other Sundowners with living quarters, including a kitchen, separate toilet and shower, and queen RV mattress. There are 40 lbs of propane and a 15,000 BTU air conditioner.
Due to the extra space, the Special Edition comes with an 8 CU refrigerator and a couch or dinette. There are some cute upgrades, like crown molding and day/night shades. You may be the only camper at the showground with a China toilet!
The Special Edition Grand is perfect if you don't want to make many choices.
Trailer Area
This is a large trailer at 8 ft wide before the slide-out and 14ft long. Even the aluminum build won't keep you from owning a large tow vehicle for this one. Sundowner has built its Special Edition Grand with its most premium features in the horse area and an easy access door between the living and horse areas.
The slant stalls have padded dividers, mats, and rump guards. The feed mangers have individual access points, two ties, and domed vents. There is a skylight both front and back, and the rear tack area is completely collapsable.
Pros
Sundowner quality and affordability on their best-in-show 3-horse trailer with living quarters
Slide for a sofa or dinette and extra closet
Separate China toilet
Separate manger access doors
8 CU refrigerator
A convenient door between the living area and the horse area
Cons
A high MSRP for a trailer that isn't customizable, but a good solution for those that want the lower price tag on a quality pre-built
Questions to Ask Your Trailer Dealer
If you have a moment before you go write that big check, there are a couple of very consequential things that I wish I knew to ask the dealer before I made my final trailer decisions. These items relate to upgrades and/or fixes you'll make right out of the gate.
You would think the information would be easy to find on these very expensive items. The reality is that once it's built, it will take some forum deep dives to find your solutions. The answers will be buried even deeper if it's a custom build. Best to know ahead of time while you have the seller on the hook.
If you enjoy camping without hookups, you will likely be installing solar to run your trailer. The deep cycle battery included with your rig will not last more than a night if it's running anything serious (like a fridge, TV, or charging your nice laptop). The dealer may tell you the trailer is "solar-prepped," but this is rarely true.
The AWG on the wires you'll need to run will be much higher for practical use. The battery bank you're looking at won't even include the original battery if you want to go lithium. Shoot, even the shore power converter may not be ready to charge your new battery bank, though if you have enough solar, this may be a non-issue.
Don't be afraid to walk into the showroom with a notebook of questions. Is there an inverter already installed? What model is the converter? If there's already solar, what model is the controller? Learn the basics of solar before making a trailer decision, so you can have the dealer point out the 12v components you'll be ripping out later.
Your plumbing will be the first thing to go. Your poor water systems will experience an earthquake with every new destination. Have the dealer point out the black and grey tanks under the trailer and where they enter the trailer.
Have them show you the tank roof vent and look down them. There should be an access point to any sink and shower trap, and it won't be long until you wish you knew where they were. Have the dealer explain where the pipes run, and draw yourself a map.
Most plumbing can only be accessed by cutting into the trailer's protective barrier underneath or the floor from above. When you get your first leak, you'll wish you knew where to start cutting. In addition, mice love horses, and they love travel trailers. Combine the two, and you're sure to make a few new friends on your travels. You'll wish you clocked all the large holes in the "basement" of your trailer before you bought it.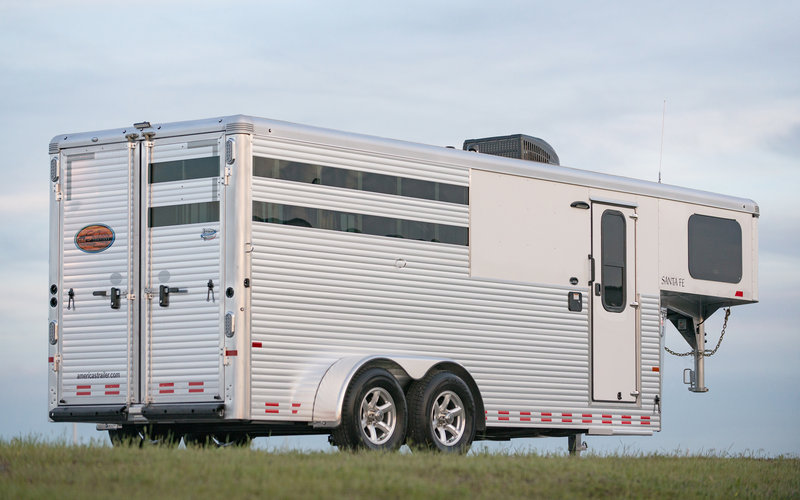 Go Live in a $100k Rig Down By the River (With Your Horses)
There's no doubt about it. A nice slant load 3-horse trailer with living quarters is an expensive purchase. If you're willing to look, there is one secret about any vehicle with living quarters that can be exploited in your favor: consider buying a used 3-horse trailer with living quarters.
Trailers with living quarters drop drastically in price (even more so than normal horse trailers) immediately after they leave the lot and excessively over the first ten years of ownership.
Even after paying a cleaning company for a full deep clean and repair shop for a few upgrades, you'll still come ahead. If you are planning any upgrades of your own, it sure does feel a lot better cutting open a used rig.
If you'd rather have a brand new 3-horse trailer with living quarters, or you're lucky enough to find one of these used, I still recommend the Sundowner Santa Fe as the best bang for your buck. It's got all the features you'll need for a long show weekend or a trip up to the mountains. Whichever trailer you go with, you can't go wrong adding even more quality time with your horses to your calendar.
Best 3 Horse Trailer with Living Quarters: FAQs
Question: How long is a 3-horse trailer with living quarters?
Answer: Three-horse trailers with living quarters are usually between 20 and 30 feet long. The living space will be between 10 and 14 ft long, while the horse area will be at least 10. They are generally 8 ft wide and 7.5 feet tall. Some have slides that will make them even wider when deployed.
Question: How much does a 3-horse trailer with living quarters weigh?
Answer: Though they may be as light as 8,000 lbs, expect an average 3-horse trailer with living quarters to weigh around 10,000 lbs unloaded. When calculating tow weight, don't forget to include the water tanks. Most come with at least a 40-gallon fresh water tank or almost 400lbs of water. If each horse weighs 1000 lbs and you're carrying water and a couple of family members, your tow vehicle should be rated at 15k+.
Question: How much does a 3-horse trailer with living quarters cost?
Answer: A 3-horse trailer with a bunk over the gooseneck may only be around $30,000 MSRP, but this is not what the industry considers a horse trailer with living quarters. True living quarters are RV components, such as a toilet, shower, and kitchen. These trailers will cost $60,000+ MSRP.
Question: Do they make bumper pull trailers with living quarters?
Answer: Yes, but it's unethical, and they shouldn't. These trailers are too heavy to be bumper pulls, especially in the 3-horse variety. Even the two-horse bumper pulls are excessively heavy at the tongue (1,500+lbs). This exceeds most vehicles' safe hitch weight rating and is unsafe to pull via bumper hitch.
Question: What do you call a horse trailer with living quarters?
Answer: The easiest way to look up your favorite horse trailer with living quarters is to add the LQ designation after your brand and model name. Manufacturers can add living quarters to some models. Still, at the very least, you should get that brand's most comparable LQ trailer as your search result.
Recommended Reads: