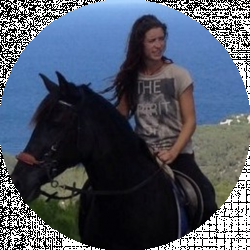 Latest posts by Tanya Taylor
(see all)
As a professional horsewoman, I know exactly what items will keep you and your horse comfortable on the road. I understand that traveling with horses can be stressful, but you can make your life easier with trailer accessories. So, if you want to know what to add to your trailer to improve the traveling experience, look at my best horse trailer accessories guide below.
Bottom Line Up Front
When it comes to the best horse trailer accessories, I highly recommend the High Country 48-gallon trailer water caddy. This trailer water tank is tall and narrow and will fit comfortably against the wall of most horse trailers. If there's one thing that will make your life easier on the road, it's having your own supply of fresh, clean water. 
My Top Choices at a Glance
Before we dive deep into the world of horse trailer accessories, here's a quick look at my top choices: 
High Country Trailer Water Caddy

– This is a durable and practical water container made from FDA-approved polyethylene. It's easy to fill and dispense water and is translucent so you can see the water levels. 

Trailering Equine First Aid Kit

– This is the best trailer accessory to have in case of emergencies. The Trailering first aid kit has everything you need and more to give first aid to horses in transit. 

Cashel Trailer Door Organizer

– It's easy to get disorganized on a horse trailer because of the limited space – and this door organizer from Cashel will help you utilize trailer space and stay organized when you travel with horses. 
What are Horse Trailer Accessories?
Horse trailer accessories are items designed to assist you and your horse during transport. Trailer space is usually limited when you travel with horses, and accessories such as door organizers or tack hooks can help you stay organized. 
Transporting equines can be a risky business, and there are plenty of accessories to improve your horse's comfort and safety, such as trailer cameras or stall fans. Below, I'll tell you more about the most common horse trailer accessories:
#1 – Water Tanks
Trailer water tanks are one of the most practical horse trailer accessories. Life on the road with horses is much easier when you have a supply of fresh, clean water. Trailer water tanks are usually plastic and come in many shapes and sizes to fit any trailer.
Trailer tanks are a lifesaver because you never know when you might get stranded without water. Horses sweat during transport too, so it's good to know you can keep them hydrated in every situation. You can use the water from a caddy to clean your horse, trailer, or wounds in case of an injury. 
#2 – Feeders and Hay Nets
Feeders and hay nets are a fantastic way to keep your trailer clean and organized – they save floor space and help prevent mess and food wastage. Hay nets are a must when you travel because horses are tied up, and their mouths can't reach the ground, so you must feed them in an upright position.  
#3 – Stall Fans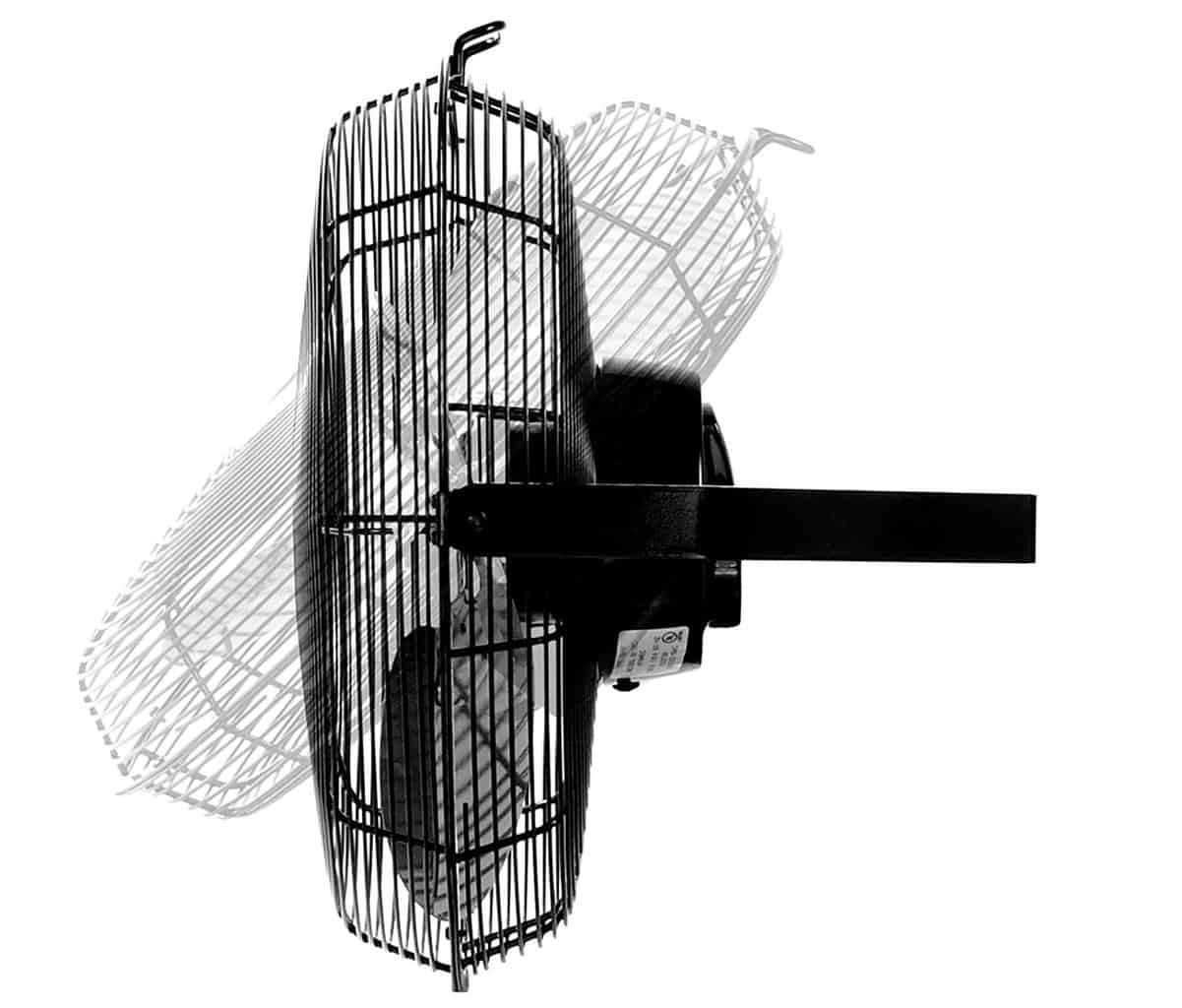 Most horse trailers are metal, which is a good heat conductor, and they get pretty hot inside, especially if they're full of sweaty, stressed horses. Horse trailers usually have windows and air vents to help keep horses cool, but sometimes this isn't enough, especially in summer. 
Horse trailer fans are a fantastic way to promote airflow in your trailer. They come in a range of strengths and sizes to suit all trailers. The best place to put trailer fans is in the front of the trailer. The fan should be above your horse, facing the back of the trailer, and you should use them with windows and air vents open for maximum effect.
#4 – Cameras
Horse trailer cameras are a fantastic way to monitor your horse while you drive. You place the camera in the stalls and have a dash monitor to view it. Horses can be noisy in transit – they move around and stamp their feet to keep balanced. With a trailer camera, instead of wondering if your horses are OK each time you hear a bump – you can glance at the monitor to ensure they're still upright. 
#5 – Equine (and Human) First Aid Kit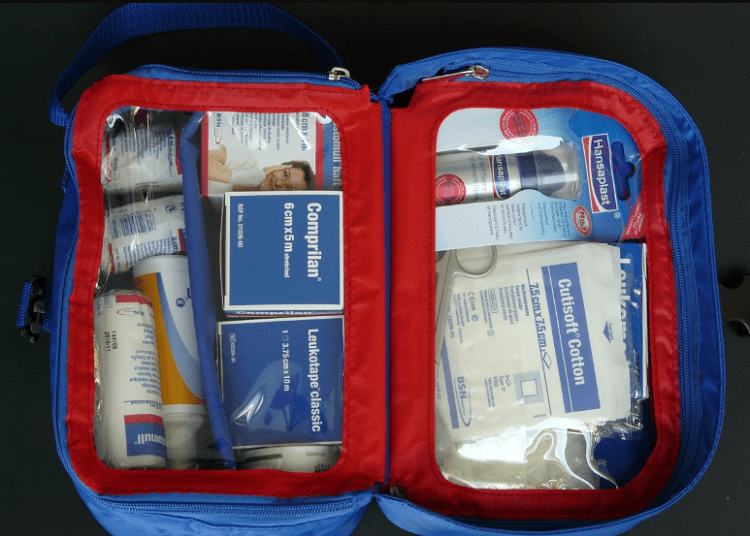 It's always a good idea to have a human and equine first aid kit on hand whenever you travel with a horse. Equine first aid kits for trailers are small and compact and have a comprehensive selection of first aid items for your horse. 
Traveling can be risky, and it's not uncommon for horses to scrape themselves when they load or during transit. When you have a first aid kit, you can treat the wound and reduce the chances of infection.  
Here's an idea of the vital things you should have in an equine first aid kit for the trailer:
Thermometer and lubricant such as Vaseline.

Antiseptic wound cleaner

Wound powder

Bandages

Vet Wrap

Poultice

Scissors

Tweezers

Cotton or gauze

Betadine
#6 – Roadside Emergency Kit
A roadside emergency kit is a critical piece of trailer equipment that will help you if you break down. Roadside emergency kits contain items such as reflective triangles to make you more visible on the road, a flashlight, tow rope, jump cables and a range of tools to help you carry out minor repairs or wheel changes on the roadside. 
#7 – Trailer Ties
Horse trailer ties are a fantastic way to tie your horse to a trailer when you arrive at your destination. They are usually bungee-style, so they're short but will lengthen to let your horse move freely or lie down. Trailer ties don't leave slack, so there's no risk of your horse becoming tangled in them. 
#8 – Wheel Jack or Tire Change Ramp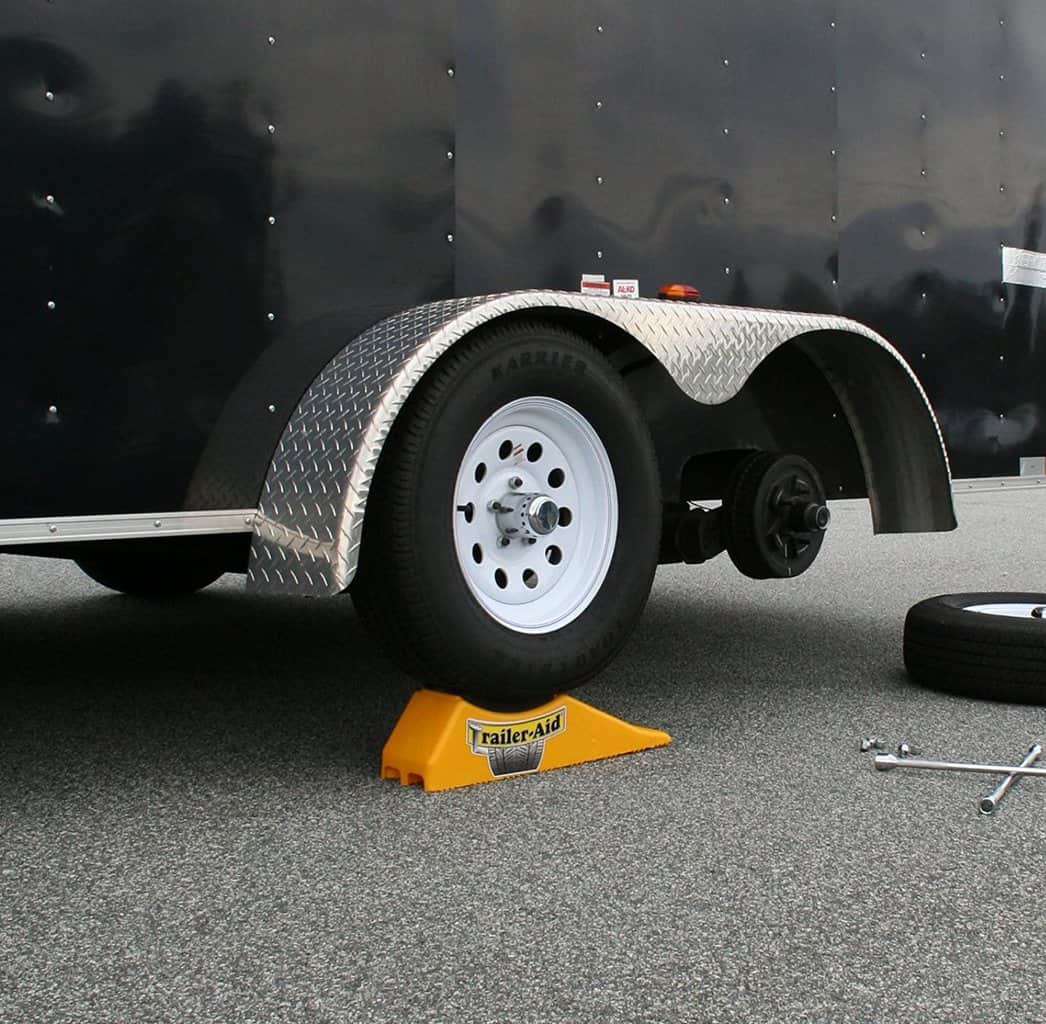 A wheel jack and wrench are vital because if you use your trailer enough, you're sure to burst a tire. Horse trailers are heavy, so you need a hydraulic jack or trailer tire change ramp to change a tire. Tire change ramps are practical because they are designed for heavy loads, and you don't have to remove the horses from the trailer to change the tire. 
#9 – Trailer Organizers
When you go on the road with your horse trailer space is usually limited, and if you don't utilize it correctly before you know it, you'll lose or misplace items. Horse trailer organizers are things you can add to help with storage, such as hay nets, feeders, tack hooks and net door organizers, which you hang from the trailer door. Trailer organizers are the best way to keep essential items on hand in case of an emergency.
How I Choose The Best Horse Trailer Accessories
Before I buy a new accessory for my trailer, there are several things I consider. First, I decide what items I need in my trailer to make life a little easier. Next, I make sure they're compatible with my trailer. Finally, I check the quality and durability of the product, and if it's an electrical item, I make sure it's safety tested. 
Let's take a closer look at the vital things I look out for when I buy trailer accessories:
#1 – My Trailer Size
There are a lot of different equine trailers – some are huge and can accommodate many horses, and others are small enough to pull on the back of your car. Before buying accessories, I ensure they're compatible with my trailer size. A small trailer only needs a small water tank, but a large trailer will need a large water tank. The same goes for fans – the bigger the trailer, the larger the fan you need. A large fan in a small trailer might do more harm than good.  
#2 – My Needs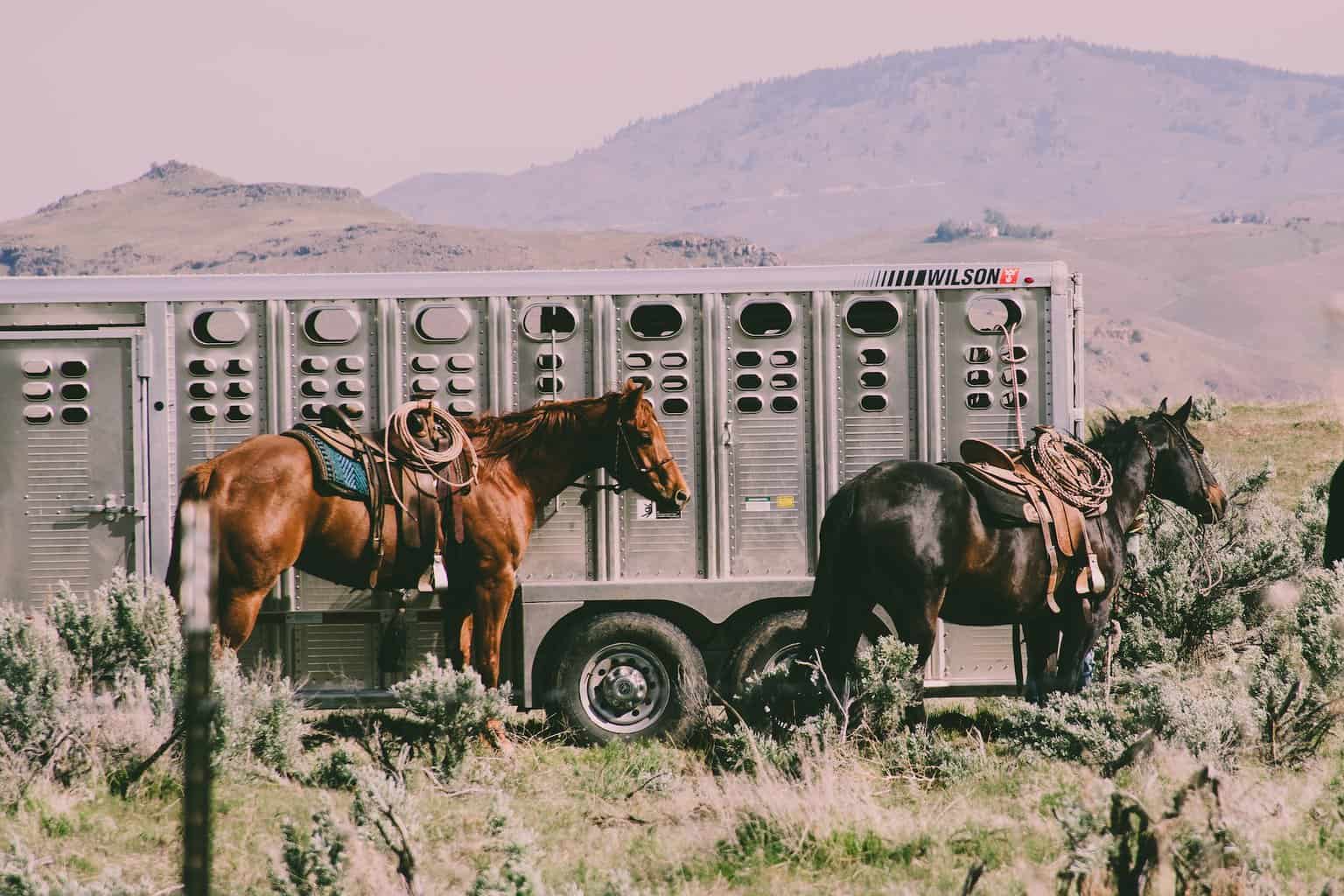 I always select trailer accessories according to my needs, so if I plan to stay out overnight with my horses, food travel accessories such as water containers, hay nets, and feeders are a must.
If I travel with my horses in summer or hot climates, I always install trailer fans, but they aren't always necessary in the winter or if you live in a cool climate. Some accessories are essential for every situation, such as a tire jack and a first aid kit, and others, such as stall cameras, could be considered luxury items. 
#3 – The Durability
Like all equine products, trailer accessories need to be tough and durable, so I always ensure they're designed for horses and produced by trusted equine brands – especially safety items such as ties and first aid kits. 
I always check electrical items are safety certified and that the wattage is suitable for my trailer, and I never buy cheap trailer products. A horse's safety is paramount when traveling, so it's worth investing in high-quality products. 
My Top Choices in The Best Horse Trailer Accessories
Now you know what to look for in trailer accessories – you must find the right ones for your needs. There are many accessories available – each has a unique function and purpose. So, to help your search for the best ones, I've listed my favorite horse trailer accessories for every situation below. 
#1 – The Best Horse Trailer Accessories For Emergencies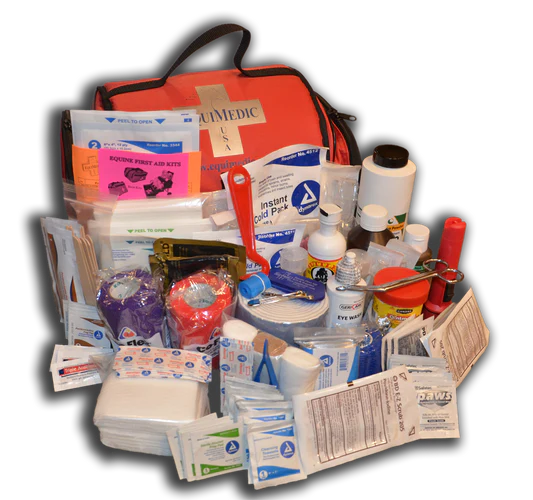 The Trailering equine first aid kit is made exclusively for trailers and has everything you need to provide first aid to your horse on the road. It contains sterile and non-sterile dressings, a flashlight, hoof pick, gauze, scissors, forceps, betadine, sterile wipes, and wound powder, to name a few things. The kit has 180 essential items and covers all your equine first aid needs. 
I love this first aid kit because it's packed with functional items, and efficiently organized in a durable and compact bag. It has plenty of compartments, and everything is easily accessible. 
Pros:
It's a comprehensive kit that contains everything you need to give a horse first aid on the road. 

It comes in a practical, durable first aid bag, which you can hang up. 
Cons:
It's only suitable for 2 – 3 horses but is also available in large.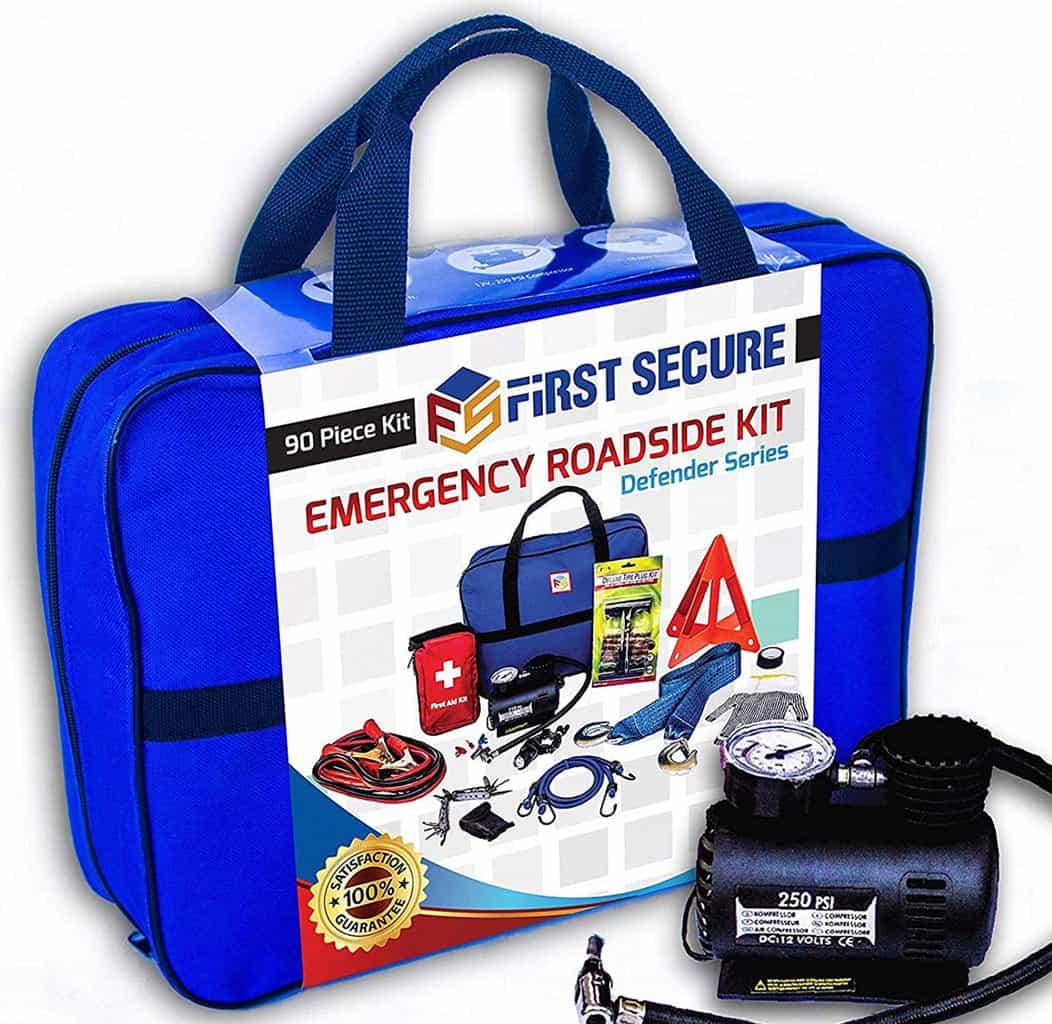 The First Secure emergency roadside breakdown has you covered for everything if your car or trailer breaks down. It includes 10-foot jump cables, a tow strap, a tire pump with pressure gauge, gloves, a tool kit, first aid kit, warning triangles, a headlamp, electrical tape, bungee cords and a tire repair kit. 
I love this kit because the items feel durable, well made, and like they won't let you down in an emergency. It's also small and compact and doesn't take up much precious trailer space. 
Pros:
It's one of the most comprehensive breakdown kits on the market.

It comes with a 48-piece first aid kit.
Cons:
The air compressor isn't very powerful – it takes a while to inflate a tire.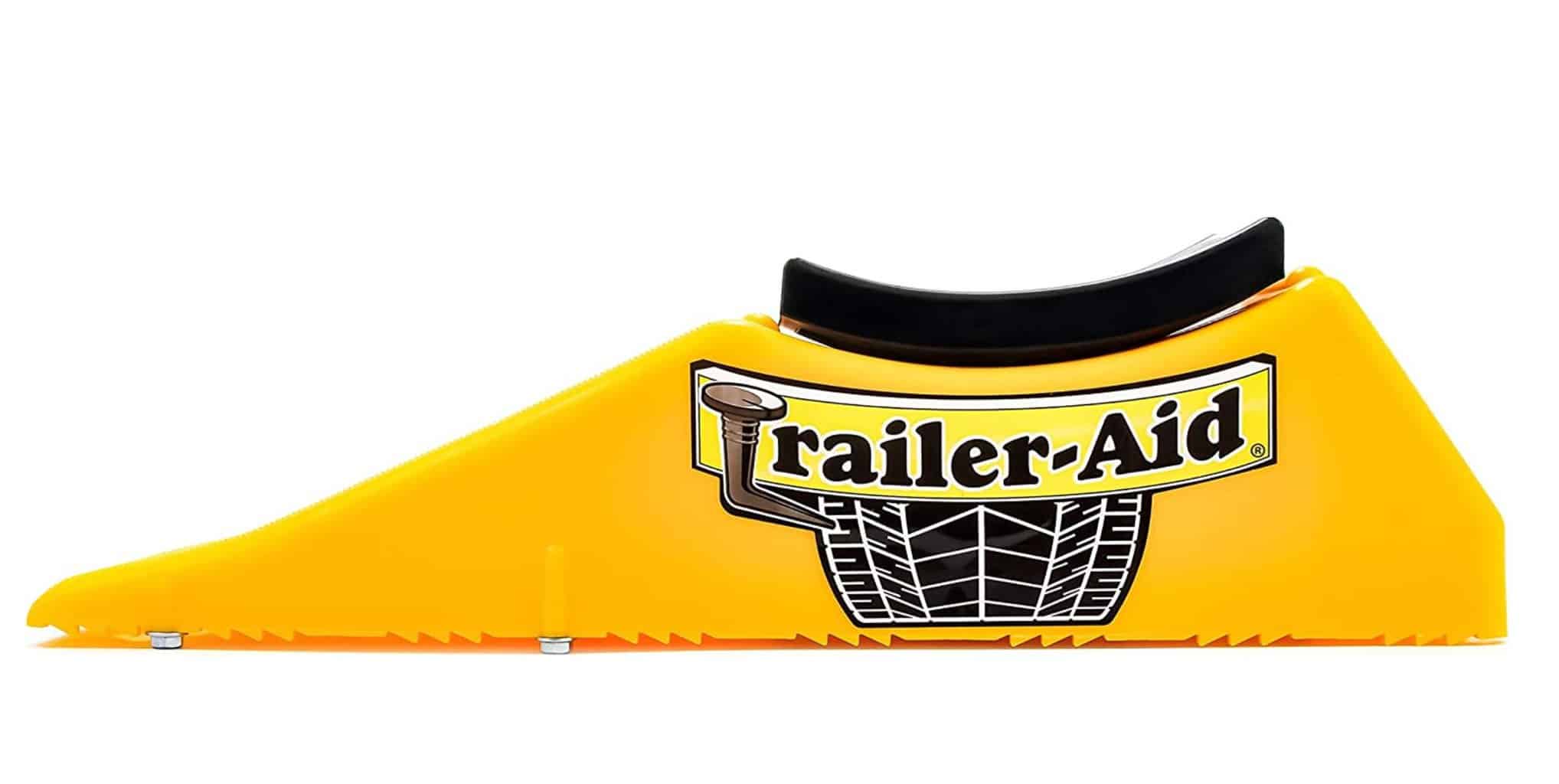 The Trailer-Aid tire change ramp is made by Camco, who are experts in outdoor and camping equipment. With the Trailer-Aid, instead of jacking the trailer to change a burst tire, you drive the wheel you need to change onto the ramp which provides a 5.5-inch lift. The ramp is made from polymer and is waterproof, rustproof and durable. 
I love the Trailer/Aid because it's ideal for large trailers, so you don't have to unload your horses to change a tire. I like that the ramp is lightweight and compact and doesn't take up much room in the trailer. 
Pros:
It's small and lightweight.

You can use it while the trailer is loaded.
Cons:
It doesn't work on leaf spring trailers. 
#2 – The Best Horse Trailer Accessories for Your Horses Comfort
Air Kings are leaders in the world of industrial and domestic fans, and they produce high-quality, durable products. This stainless steel industrial fan is ideal for a small to a medium-sized horse trailer. It measures 12 x 15 x 15 inches and has a pull chain power cord and 12-inch powder-covered metal blades. 
The Air King fan is an excellent choice for a horse trailer because it's easy to install with a single bolt mount. It also has a pivoting head and three speed settings to keep the stalls well ventilated – and it has a long 9 ft power cord.
Pros:
It comes with a 1-year warranty.

It's safety tested and certified.
Cons:
It doesn't come with screws and washers to attach it – you have to buy them separately. 
High Country plastics have a solid reputation in the equestrian world and are my favorite choice in horse water containers. This durable 48-gallon, half-moon caddy is manufactured from FDA-approved polyethylene. It measures 63 x 18 x 12 inches, weighs 26 lb, and has a flat back, so it fits against most trailer walls.
This is a fantastic trailer caddy because it's practical to use with a central filling hole at the top and two molded aluminum drainage holes with shut-off valves at the bottom. I also like that it's translucent, so you can easily see the water levels. 
Pros:
It comes with a 3-year warranty.

It's super durable and fits most trailers.
Cons:
The straps are pretty short.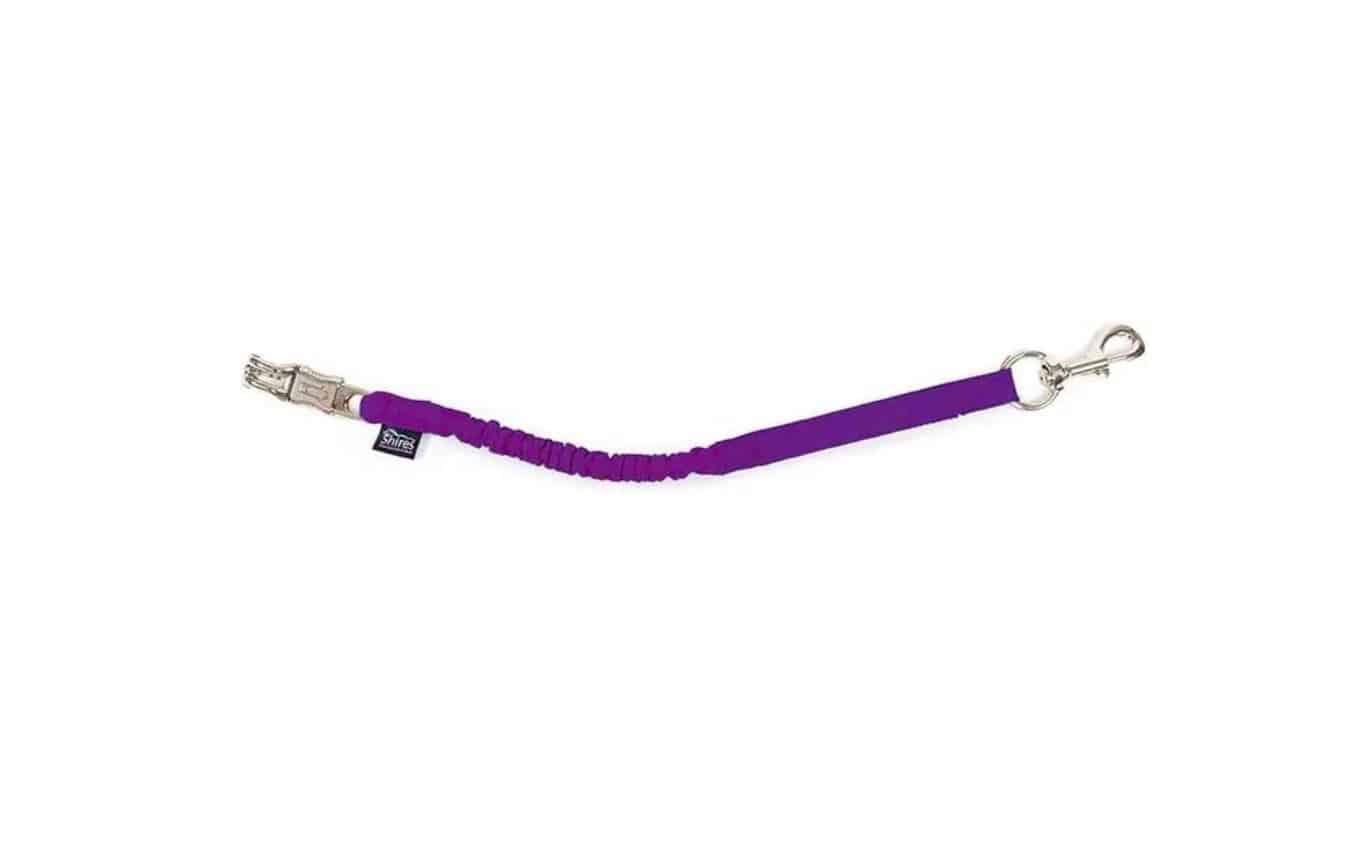 Shires are a trusted brand in the equestrian world and have a reputation for producing high-quality products. These 27-inch long breakaway bungee trailer ties are safe and secure, and you can rest easy knowing your horse won't get tangled up in their ropes. 
I love the safety features of this trailer tie – it has a touch-close breakaway which leaves a short tether on your horse's head collar so you can catch them if they break away. It also has a quick-release clip so you can free your horse quickly in an emergency. 
Pros:
It's a high-quality product from a trusted equine brand.

It has several emergency quick-release features. 

It comes in four colors.
Cons:
Some customers find this tie a bit on the short side.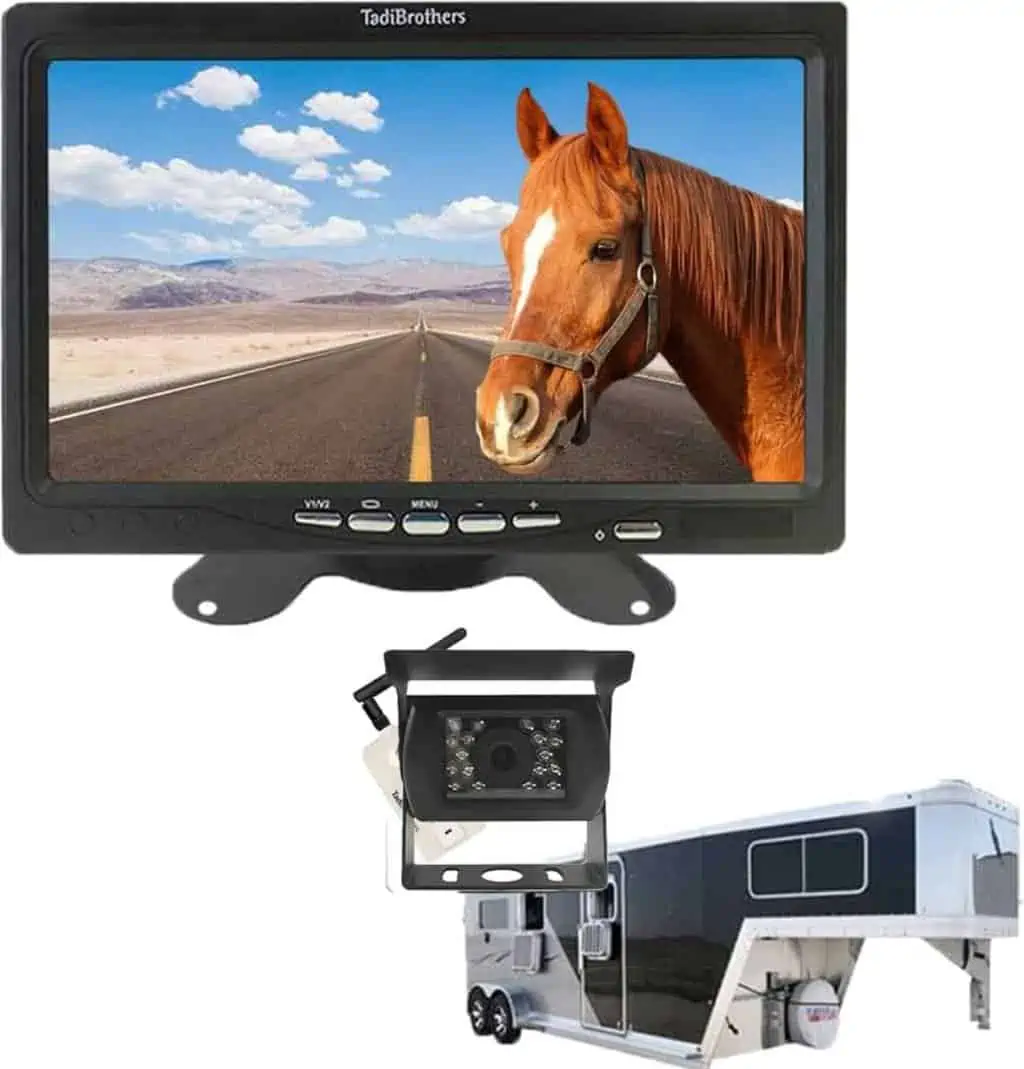 TadiBrothers produce high-quality cameras made with premium materials, and this monitor is specifically designed for horse trailers. You can use it in the stalls or attached outside the trailer as a backup camera and watch the stream from a 7-inch dash mount LCD screen. 
The camera is durable, waterproof, easy to install, and has cables and easy-to-follow instructions. The best thing about it is that it has 120-degree vision, will adjust to light levels and has night vision – to keep an eye on your horse any time of night or day. 
Pros:
It comes with a 30-day money-back guarantee.

It has a 70-foot wireless range.
Cons:
You have to buy a second camera to use as a backup camera, but it will feed into the same system.
#3 – The Best Horse Trailer Accessories For Organization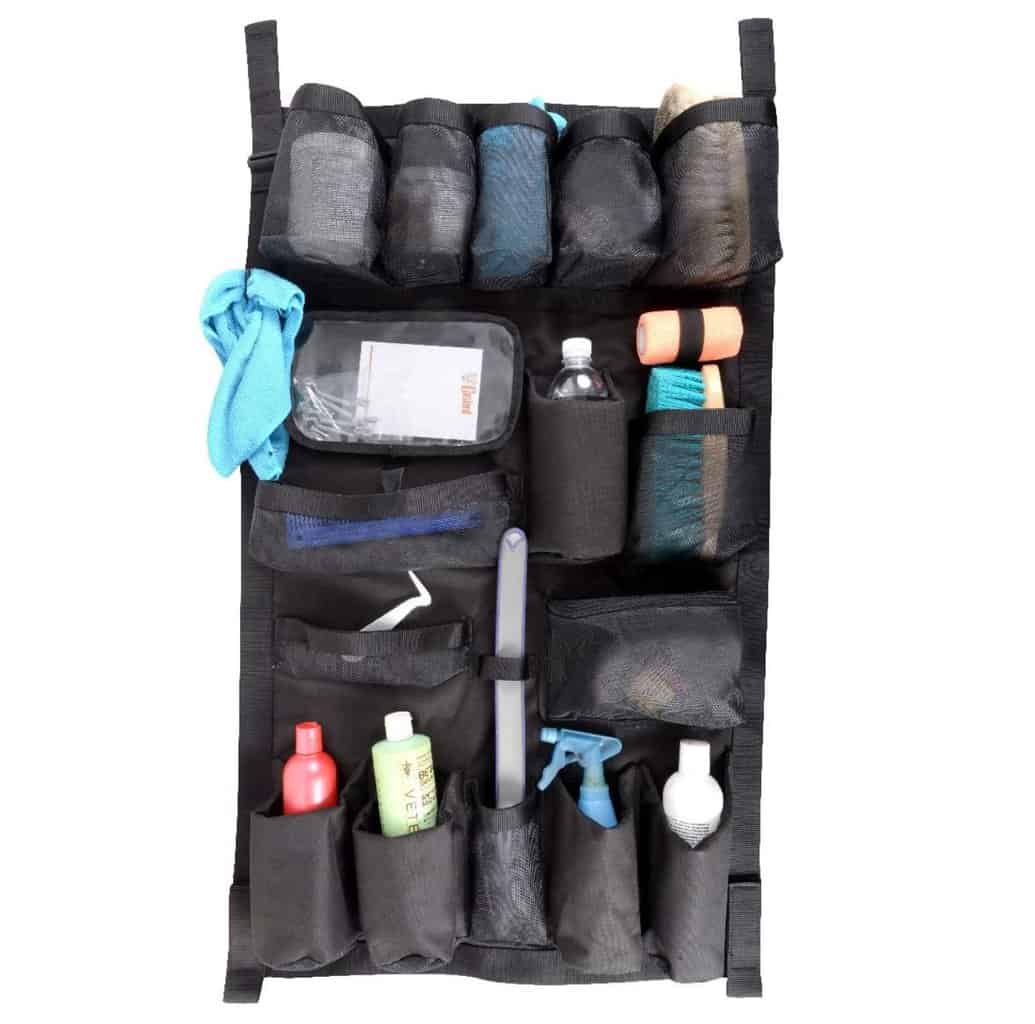 This 24 x 40 inch, full door organizer from Cashel is a must for any horse trailer. It has 14 square-bottomed compartments where you can store anything from tins of hoof oil, grooming brushes, and even tasty treats for your horse. 
I love this door organizer because it keeps my essential items organized on the road and within easy reach. I also like that it comes with a removable zipper pocket which is fantastic for storing vital documents such as passports.  
Pros:
It's durable and well made.

It has many happy customer reviews.
Cons:
It's only available in black.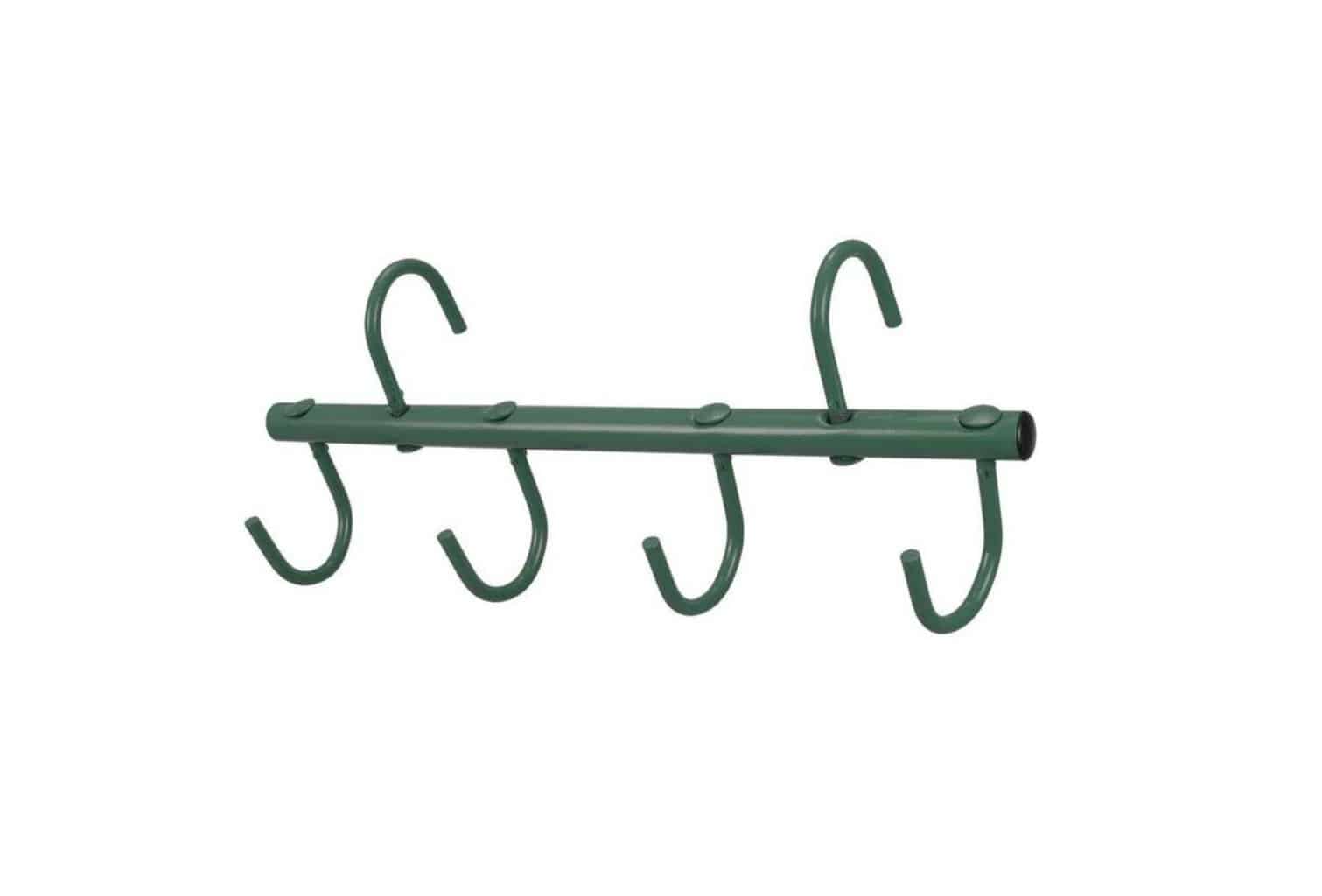 If you want to keep your tack organized on the road, look no further than this portable, four-prolonged tack hook from Tough-1. It's sturdy and durable, holds many items, and folds up for easy storage when you don't use it. 
I love this tack hook because it's easy to move around – you can hang it on a door, partition or fence. It does a fantastic job keeping bridles, ropes, fly masks and empty hay nets organized during transit. 
Pros:
It comes in hunter green or royal blue.

You can use it in the trailer or at the barn.
Cons:
The end caps tend to come loose after time.
FAQs
Question: Is it better to tie a horse in a trailer?
Answer: It's better to tie a horse up in the trailer because it stops them from turning around, annoying or bullying their travel partners, jumping if something spooks them, or bolting out of the door upon arrival.
Always tie your horse up tightly in the trailer so they can't get their legs tangled in the slack, and use a quick release knot so you can release them quickly in case of an emergency. You can also use trailer ties with a quick release mechanism, but always use adjustable trailer ties rather than bungee ones inside the trailer. 
Question: How do you keep a horse trailer warm?
Answer: Horse trailers are generally warm because they're made of metal and heat up quickly. If you want to keep a trailer warm, close the windows and vents when you travel. Livestock trailers are drafty because they usually have slats on the side. You can't heat livestock trailers, so put a blanket on your horse to keep them warm in a livestock trailer. 
Question: Should I Tarp My Horse Trailer Over Winter?
Answer: Ideally, you should store your horse trailer indoors over winter – if it's not indoors, you should cover it in a tarp. Covering a horse trailer prevents rust and moisture damage, fading in the sun and will ultimately prolong its life, and you should cover the tires too. Make sure you cushion sharp corners or edges of the trail before you cover it because they will potentially rip through the tarp.
My Top Choice and Conclusion
When it comes to choosing the best trailer accessories, my overall top choice is the High Country trailer water caddy. It's essential to keep your horses hydrated on the road, and this durable caddy will ensure you have plenty of clean water for every eventuality. 
The main thing to remember about horse trailer accessories is that you should always choose high-quality products from a reputable brand. Traveling with horses can be risky, so you want your trailer equipment to be durable and fit for purpose. Ensure the items you buy are compatible with your trailer and that you always use them per the manufacturer's instructions. 
Resources
Equisearch. "Trailer Load the Right Way." EquiSearch, 20 Mar. 2017, equisearch.com/articles/trailer-load-the-right-way.
Gimenez, Rebecca. "Safe Trailer Practices." Equine Wellness Magazine, 15 May 2019, equinewellnessmagazine.com/safe-trailer-practices/#:%7E:text=Tying%20your%20horse%20in%20the,to%20escape%20from%20the%20attack.
Henry, Miles. "5 Essentials For Horse Trailers: Safety, First Aid, and Tools." Horse Racing Sense, 2 Apr. 2022, horseracingsense.com/horse-trailer-essentials-tools-first-aid.
Milobloom. "Battery Powered Fans/Camping Fans for Horse Trailers?" Chronicle Forums, 12 Aug. 2020, forum.chronofhorse.com/t/battery-powered-fans-camping-fans-for-horse-trailers/459659.
Trailers, Blue Ridge. "5 Must-Have Horse Trailer Accessories | Blue Ridge Trailers." Blue Ridge Trailers, 12 Sept. 2018, www.blueridgetrailer.com/blog/horse-trailer-accessories.
Read More: