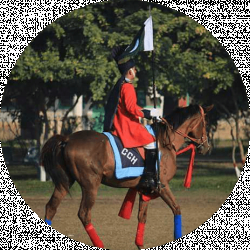 Latest posts by Boo Ali Khan
(see all)
Fast, clock-ticking, and heart-pounding, this is what barrel racing is. And though I have participated in several equestrian games, the adrenaline rush is just phenomenal when it comes to barrel racing.
But like every other equestrian sport, no racer can ever fully experience barrel racing without the right barrel saddle. I do agree that an ordinary Western saddle can also be used in barrel racing or, at the very least, while practicing; their relatively small cantle and heavyweight cannot provide you with the comfort or balance that the barrel saddles offer.
So, if you are an aspiring barrel racer or a professional looking to add some valuable saddles to your inventory, this guide is for you. In this Best Barrel Saddles Guide, I will not only be talking about my favorite barrel racing saddles but will also be sharing their common problems and solutions that you need to be mindful of.
Also, to ensure the longevity of your precious barrel saddle, I will be talking about my recommended practice to store and maintain your barrel saddles properly.
Bottom Line Up Front
When it comes to barrel saddles, they can be divided into several categories, each of which is attuned to a specific purpose. Still, overall, one saddle that truly shines is the Circle Y Kelly Kaminski Swift Flex2 Barrel Saddle.
I must confess that this saddle is no less than a piece of art. Its construction is made to fit you and your horse comfortably while enhancing its natural movements. Also, the saddle's mere 21-pound weight further solidifies its position as one of the lightest in the market.
My Selection Criteria For Barrel Saddles
When curating the barrel saddle picks for in this guide, I have tried to adhere to the following selection criteria:
Most of these barrel saddles are crafted with premium materials to ensure durability and longevity.
All the featured saddles are available in a variety of sizes.
These picks cater to the needs of both learners and professional barrel racers.
All the recommended barrel saddles come from renowned brands and reputable sources.
Common Problems With Barrel Saddles And Their Solution
Improper Sizing
Sometimes a racer might lose balance while making a sharp turn during barrel racing. Though with practice, this issue could be overcome; improper sizing of the saddle, especially the seat and cantle, is another core reason behind it.
Therefore, it is always advised to measure your sit bone width and seat length by sitting on a chair before ordering or buying any barrel saddle.
Conchos Getting Loose
Although conchos add more allure to your barrel saddle, they often get loosen up with time and get caught in your clothes. If these conchos are only meant for decoration and don't have saddle strings passing through them, I always suggest using leather-based adhesive around the bottom of these conchos.
Saddle Giving Off Smell
You might experience a foul odor from your new barrel saddle even after a few uses. This happens because the saddle's tree soaks up the sweat of your equine buddy. While this cannot be totally avoided, using a good saddle pad and placing your barrel saddle upside down in direct sunlight for a few minutes after every use can mitigate this problem.
Maintaining Your Barrel Saddle
Cleaning And Conditioning The Leather
It is essential to regularly clean and condition the saddle's leather to maintain its quality and longevity. Personally, I use a damp cloth and saddle soap to remove sweat and dirt after every few uses. Moreover, I would also suggest using a leather conditioner to avoid cracking of the leather under direct sunlight.
Clean The Metal Accessories
In addition to caring for the leather, you should regularly clean the metal parts of your barrel saddles, such as buckles and conchos, with soap and hot water. If left unattended, they accumulate dirt, which leads to rusting over time.
Proper Storage
Be very mindful of where you store your saddle, as moisture and dampness can be very damaging to the saddle. Therefore, keep your barrel saddle in a dry place. Also, I always recommend using a saddle cover for your barrel saddle to save it from weather elements.
My Top Barrel Saddles Recommendations
Youth Barrel Saddles
Youth barrel saddles are designed specifically for young equestrians. Compared to regular barrel saddles, these usually have smaller seats and shorter stirrups lengths; however, they consist of a deeper seat and higher cantle to provide extra safety. Their prices vary based on quality, from a few hundred to three thousand dollars.
Acerugs Youth Kids Barrel Racing Saddle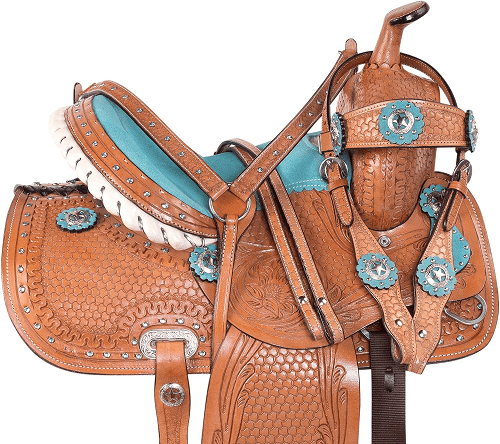 Made from 100% cowhide leather, The Acerugs Youth Barrel Racing Saddle has a very flashy look. And I have to say, the intricate hand-carved tooling and the shiny silver conchos add an outstanding appeal to this barrel saddle.
Weighing only 16 pounds, to offer greater variety to novice riders, Acerugs allows you to choose between a suede seat or a roughout hard one. Not to mention, the saddle's leaning pommel enables the rider to stay centered during sharp turns.
The Acerugs Saddle is suitable for both adult horses and ponies. The pony-sized saddle has a 10-inch seat and a 5-inch gullet, while the horse size features a 6.5-inch gullet and seat ranging from 12-14 inches. Talking about the overall look and feel, though I personally prefer the blue one, the saddle is available in 4 unique color options as well.
In my opinion, the Acerugs barrel saddle truly impresses with its quality and price. What's more, depending on the color you choose for the saddle, it also offers matching reins, a headstall, and a breast collar.
Pros
The saddle has a deeper seat to provide a secure grip for riders.
It includes matching accessories such as breast collar and reins.
Cons
The saddle may require additional padding for comfort.
Circle Y MJ80 Josey-Mitchell Youth Avenger Barrel Saddle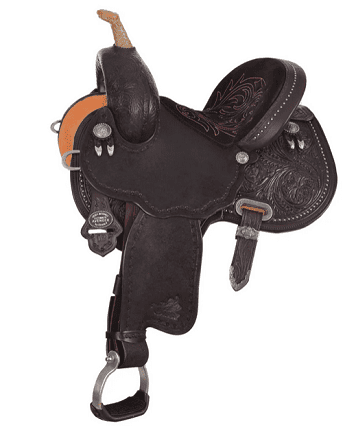 If you're searching for an ultimate barrel saddle for your kid, then the MJ80 Josey-Mitchell Youth Avenger Barrel Saddle is the perfect choice to accompany them to their barrel racing competitions.
What I find striking about this saddle is how it blends superior craftsmanship and innovative design while simultaneously prioritizing exceptional performance. But I must mention, despite being an item for kids, this barrel saddle comes at a hefty price tag.
When it comes to design, I have to say that the allure of its floral patterns is just captivating. Furthermore, it offers a variety of seat colors and sizes, even allowing you to select between regular or wide tree types. However, both types have forward-leaning fenders specifically designed to keep the rider's feet in place, saving them from being tossed forward.
And let's not forget, its 3-way rigging system helps to spread the pressure evenly over the horse's back. This makes it comfortable even for your equine buddy, as you don't need a rear cinch for this barrel saddle.
Pros
Exquisite half tooling and full border add an elegant touch to the saddle.
The high cantel promotes stability and safety.
The lack of a rear cinch makes it comfortable for the horse.
Cons
It is pretty costly for a youth saddle.
Traditional Barrel Saddles
Though all barrel saddles are based on the Western equestrian style, the traditional barrel saddles take it to a whole new level by featuring intricate designs and decorative accents.
With their high cantles and forward-leaning horns, these traditional saddles are often made of exquisite materials, making them easily cost a few thousand bucks. However, some low-end options also exist in the market for those who can't afford a genuine traditional barrel saddle.
Usher Brand Barrel Saddle UBBR-029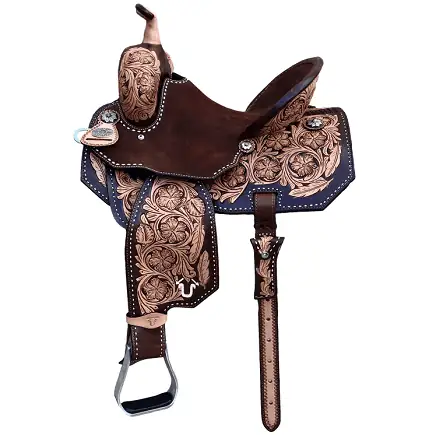 If you want something exotic, the Usher Brand's UBBR-0229 Barrel Saddle is the right choice for you. But before you get too overwhelmed by this barrel saddle, let me tell you that you need about five grand in your pocket to have this perfect fusion of classic design and heavy-duty performance.
This barrel saddle is made of exquisite Wickett and Graig leather, which offers a chocolate seat jockey giving it a warm look. Moreover, you can customize various aspects of this saddle, as there are multiple options for the tree, seat size, and length of the fender.
Still, the best part is its intricate Wyoming floral tooling which is pretty detailed and a testament to outstanding craftsmanship. Besides, the overall brown hue and feathered borders make the UBBR-029 stand out even more. Simply put, this saddle undoubtedly reflects the very spirit of traditional barrel racing.
Pros
This barrel saddle offers a very intricate design and tooling.
Offers lightweight tree made of fiberglass.
It is made from high-quality leather.
Cons
The order can take 14-16 weeks to arrive.
This barrel saddle costs an arm and a leg.
HILASON Western Barrel Saddle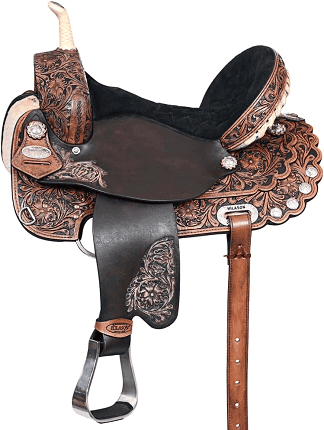 If the Usher Brand saddles are too expensive for you and you are looking for a traditional style barrel saddle that is lighter on your pocket, you should check out the Hilason Barrel Saddle.
Made from dark-brown American leather with hand-painted black inlay, this Hilason saddle has a very charming design palette, which more or less looks the same as that of the UBBR-029 saddle. And let's not forget, its rough-out leather seat not only provides a good grip but also offers a pleasing contrast to the saddle's brown shade.
This barrel saddle offers a treeless design which significantly reduces the overall weight of the saddle, making it perfect for small horse breeds. However, if you ask me, I would not recommend this Hilason Saddle for professional barrel racing competitions. Though it is great for practicing and even trail riding, its stitches cannot tolerate severe pulls and tugs, which can compromise your safety in a competition.
Pros
It has a nice and pleasing outlook, just like a high-end traditional saddle.
For a traditional saddle, this barrel saddle is relatively lightweight.
Cons
The leather of the saddle feels a little stiff.
The saddle is not very sturdy.
Lightweight Barrel Saddles
Lightweight barrel saddles are the go-to choice for riders seeking agility. These saddles are constructed with lighter materials and innovative designs to maximize performance and allow for quick maneuvers.
Their slim profiles and specialized lightweight tree designs set them apart from a traditional barrel saddle. Nevertheless, a good lightweight barrel saddle costs anywhere between 1500-2500 USD.
Circle Y Kelly Kaminski Swift Flex2 Barrel Saddle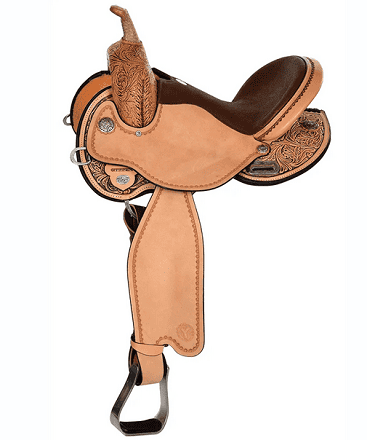 Now coming towards my favorite pick from the list – the Kelly Kaminski Flex2 Barrel Saddle.
The saddle is created with a unique SRS seating with a textured surface to give you a better grip while riding, especially during never-ending training sessions when you are prone to slipping due to heavy sweating. Moreover, with its almost foot-high fork, this saddle also guarantees exceptional safety while making turns.
The Kelly Kaminski barrel Saddle is available in 2 colors and can be ordered in various sizes, from 13 to 17 inches. But the best part of the saddle is that it only weighs 21 pounds, making it one of the lightest barrel saddles on the market.
This lightweight feature can enhance your barrel racing manifold, especially when dealing with small breeds like Appaloosa and American Quarter Horse.
Also, I would recommend this barrel saddle to any equestrian who does not prefer extravagant designs. But remember, if you are going for the Antique color, you have to be mindful about its skirt and fenders getting dirty.
Pros
This saddle ensures enhanced speed and maneuverability due to its lightweight design.
The textured surface on the seat provides a secure grip.
Cons
It Antique design gets dirty quickly.
American Saddlery Denero II Racer Barrel Saddle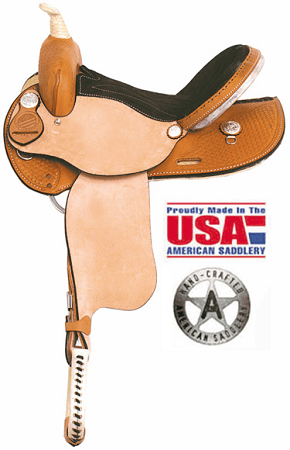 When it comes to American Saddlery, you can rest assured that quality is guaranteed. Introducing the Denero II Racer Barrel Saddle that not only showcases the exquisite attention to detail but also offers a number of features to make it stand out from the rest; not to mention, it only weighs around 25 lbs.
Offering a silver-laced rawhide cantle and silver conchos, this USA-made handcrafted barrel saddle comes with a braided horn, which provides exceptional grip while going around the barrels. However, if you ask me, this color combination of dark seat, white horn, and brown swell does not look very appealing.
Talking about its rigging, the saddle comes with a 7/8 design, which, though suitable with only a front cinch, can be supported with a rear cinch for more balance. Furthermore, the rawhide-covered Western stirrups look fabulous on this saddle.
Pros
The 7/8 rigging can also be used with a rear cinch to offer more balance.
The stirrups offer a unique Western design.
Its gullet width makes it suitable for most horse breeds.
Cons
The overall color combination does not look good on the saddle.
Professional Barrel Saddles
Pro barrel saddles are top-of-the-line models designed for professionals and competitive events. These saddles usually incorporate advanced features and can be customized according to the rider's requirements. Nevertheless, made with premium materials, professional barrel saddles come with a hefty price tag.
Double J Pro Flex Barrel Racer Saddle SPRF321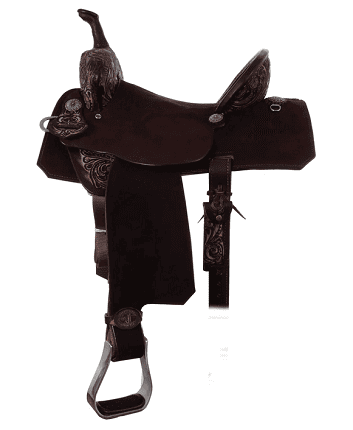 Introducing the Double J Pro Flex Barrel Racer Saddle SPRF321, the perfect balance of style and functionality. This saddle consists of a fiberglass tree with a leather ground seat that not only makes the saddle lightweight and flexible but also provides soft cushioning for the horse.
Unlike most barrel saddles, this saddle offers a very sleek design. Its skirt and fenders are relatively small and have straight edges instead of round ends.
Moreover, its stirrups are made of aluminum, which, despite being plain, looks very classy. And if I am being honest, although I do like traditional saddles and their intricate designs, this saddle's minimalist design is one of a kind.
All in all, if you want a professional-grade barrel saddle that incorporates a deep dish cantle, low-rise seat, and forward-leaning pommel, I can confidently say that this saddle would not be a bad bet.
Pros
This barrel saddle offers a sleek and minimalistic design.
Its stirrups are pretty lightweight.
Cons
This saddle only offers limited color options.
Usher Brand Barrel Saddle UBBR-1252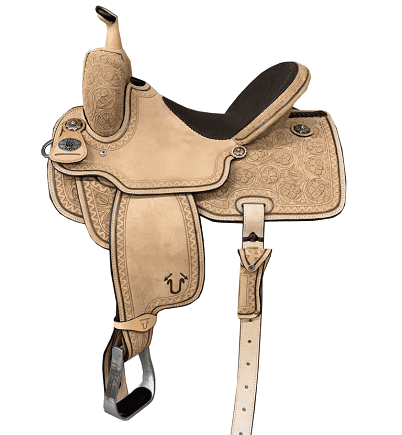 Though most barrel racers prefer dark colors, if you are more into light-colored barrel saddles, the UBBR-1252 from Usher Brand is built for you.
Offering an exquisite half mini-floral tooling, this saddle has an exceptionally classy appearance that is neither minimalistic nor too ostentatious. Moreover, the Usher Brand signature conchos go perfectly well with the beige color of the saddle.
To make it more attuned to the specific requirements of a professional barrel racer, this saddle allows you to customize the seat, fender, and tree size to have the best riding experience. In addition to that, its straight pommel saves you from falling forward; something which is part and parcel of barrel racing.
And although this barrel saddle is a piece of art, what I really love about it is its billet-mounted knife pouch, which, though not practical for barrel racing, gives a very intimidating look to this barrel saddle.
Pros
This barrel saddle provides a wide range of size options.
It offers a very balanced tooling.
The straight-up pommel and horn save the rider from falling forward.
Cons
Smudges and spots are easily visible on this saddle.
The silver stirrups don't quite match the general theme of the saddle.
FAQs
Question: How do I Choose the Right Barrel Saddle Size for my Horse?
Answer: With no standard tree size of a barrel saddle, you will have to determine your saddle size by assessing your horse's build. The withers of the horse and its flank are essential things to consider while selecting a saddle.

Generally, saddles with medium bars will be appropriate for most horses. However, you should go for the wide gullet if your horse has a plain back and low withers. But remember, the gullet should be at least 2-3 inches from your horse's withers.
Question: What Features Should I Look for in a Barrel Saddle?
Answer: Though it comes to your horse and personal preference while selecting a barrel saddle, as a rule of thumb, you should pay close attention to its build material, weight, seat, and cantle size.

A good build material ensures the longevity of your barrel saddle, while the lightweight design allows for greater maneuverability by enhancing your horse's performance. Similarly, a high cantle provides increased support and safety for the rider.
Question: Are Barrel Saddles Suitable for Kids?
Answer: Yes, several barrel saddles are designed specifically for beginners and young riders. These saddles are usually lighter in weight and have a deeper seat to provide a stable riding position. Also, they have higher cantles than professional barrel saddles to offer extra protection against slips.
Wrapping Up
Barrel racing is a game of adrenaline rush. But if you want to enter this sport, you should first gear up to avoid unwanted accidents. However, in addition to all the safety equipment, a good barrel saddle not only provides you with the best barrel racing experience but also provides great safety to the rider.
Among the different barrel saddles I have reviewed, my personal favorite is the Circle Y Kelly Kaminski Swift Flex2 Barrel Saddle.
Its lightweight and flexible construction allows you to maneuver your horse around the barrels easily, while the unique horn style adds to its overall balance. Also, its SRS seating gives you the feeling of being in control. All in all, if you want speed and agility, this is your go-to.
But remember, it's not just about owning a barrel saddle. If you want to ensure the longevity of your favorite saddle, clean your saddle after every few uses. And don't forget to store it in a dry place, preferably in a saddle cover, when not in use.
Before we part ways, I would also recommend taking your time out and exploring all options before you finalize your purchase.
And remember, if you are not a professional barrel racer, you don't have to spend thousands of dollars to get a pro barrel saddle. On the contrary, having a traditional or lightweight barrel saddle would also work great. Until next time!