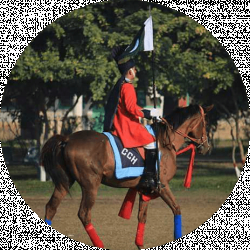 Latest posts by Boo Ali Khan
(see all)
Riding crops have recently come under fire from animal lovers due to their perceived abuse. So, before I begin, allow me to talk briefly about these riding crops.
A riding crop is not used to punish the horse; instead, it is just a guiding tool to help the rider effectively communicate with the horse. Some horses are stubborn, and riding crops can gently guide a horse to follow orders. Plus, many states have implemented different rules, especially in races, prohibiting its usage, which could lead to hurting the horse.
If used the right way, riding crops do not hurt the horse, as they are meant to gently tap the shoulders or hind quarters of the horse. And so, modern riding crops have been designed to be as painless as possible. They can make a loud sound when you hit the horse, but that should not concern you.
It isn't painful and is just used to alert the horse. Believe me, I am a horse lover. And just like you, I had this thought come to me at the onset of my equestrian journey. Therefore, before using it on the horses, I hit my leg with the popper, and I knew it was not what it might seem.
Now you may ask, how to find the best riding crop? Well, don't worry, because for all my fellow equestrians, here is my detailed insight on the riding crops with all the best options to make your equestrian journey more exciting.
Bottom Lines Up Front:
Whether you're an amateur or a professional, the Dublin Gel Crop is the perfect riding crop for you. With a smooth, bright finish, this crop looks attractive, and with a wide leather end, it is much softer on the horse.
It also has excellent grip, so it is unlikely to fall when you are out riding. This crop has been my constant aid for quite some time, and I cannot go to the stable without it. The following is a list of some of my top picks for riding crops.
My Top Picks: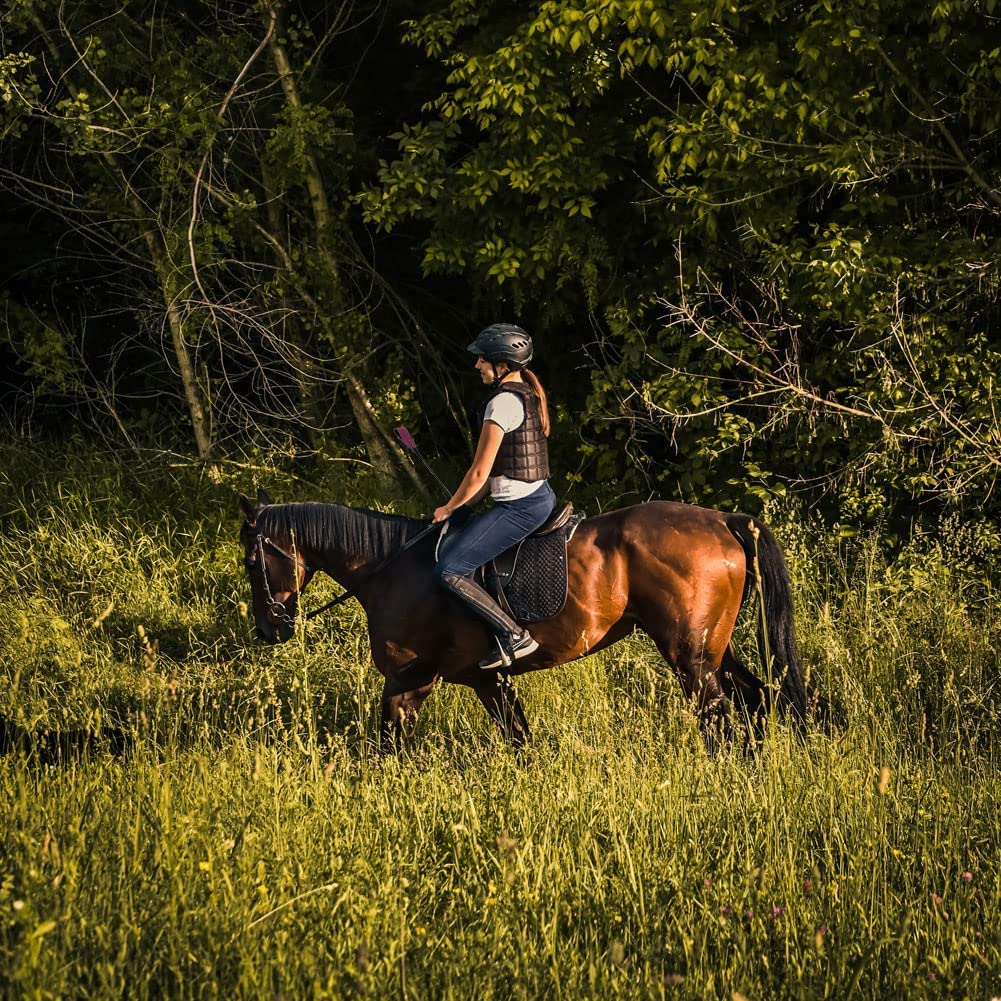 Riding Crops; Why And How To:
A riding crop helps both the aspiring and the professional riders alike. They cue the horse to better understand your commands where your natural aids are not working efficiently. And unlike standard whips, these are far shorter, making them much faster in comparison.
But I recommend you be careful to not lose balance when trying to use a crop. And remember to ask a skilled rider to help you and teach you how to switch between hands. As I have seen many racers losing their balance while doing so.
Don't worry; it took me some time to use a riding crop properly, i.e., using only the popper/keeper for tapping, not the shaft. However, once you start using them, you can get the best responses from a horse and have an excellent riding experience.
The Questions I Asked Myself When Picking These Crops:
If you are still wondering what made me pick these beautiful crops, below are the questions that were in my mind while making my selection:
Does the crop feature a good grip?
Are these widely available?
Are they made from durable materials?
Do they come at a reasonable price in contrast to their quality?
Do these riding crops feature a design that doesn't contradict the horse racing board?
Buying Tips:
As an experienced equestrian, the following are my tips to any equestrian looking for a riding crop:
Buy From Dedicated Horse Stores

When buying riding crops, I recommend looking for dedicated stores that specifically deal in horse-related items. As these not only have items at cheaper rates but also feature a better variety of crops to pick from.
DoverSaddlery and horse.com are some of the websites I use myself, as these usually offer speedy delivery inside the States. Don't get me wrong, I am not discouraging Amazon, but it is just that with dedicated horse stores, you can typically find a better product.
Check The Reviews
When ordering online, make sure you take the time to go through the review section. This way, you can find out if there are any issues with the riding crop. The customer responses can tell you about the overall product quality and if the riding crop specifications are as shown or if there are any alterations.
You can also find whether the crop is sufficiently padded along the popper. Which is challenging to get an idea of with just the descriptions and pictures provided by the seller. Of course, most sellers won't tell the flaws in their product, so going for reviews proves an excellent way to judge a crop as these reviews feature the most unbiased opinion.
Buy An Extra Crop
If you can afford it, I would recommend buying an extra crop. Riding crops can break, and I have lost a number of them, especially during tent pegging. Since a riding crop is an essential aid to help you effectively communicate with a horse, losing it can drastically change your riding experience.
Many a time, the item gets out of stock, or you have to wait for days, even weeks, to get it delivered. And I know skipping a day when preparing for an event feels nothing short of a week!
My Top 12 Picks:
Tough 1 24" Sparkle Riding Crop: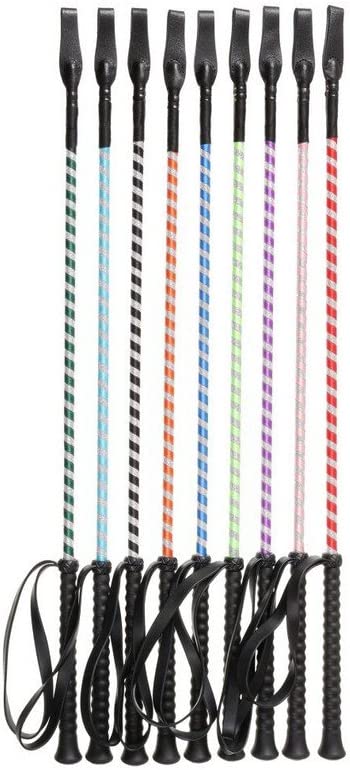 Description:
This riding crop is beautifully crafted and features an overall mesmerizing spiral design. Reminding me of going round in circles with my loyal horse, Breathing Pack. It is a long crop, at about 24 inches, and can be used easily and without much effort. Even my younger brother, also an experienced rider, loves this crop.
The handle has an excellent grip, but with the addition of wrist loops, this riding crop always stays safe in my hand. For those who love to stand out like me, this riding crop has up to five colors to choose from and is perfect for younger riders in their teens.
However, the spiral sticker design can sometimes fall off. But, I believe this riding crop may not be a fit for a professional jockey, as they prefer more of a classic look.
Pros:
It has a trendy spiral design.
It is available in multiple colors.
Cons:
The sticker design comes off easily.
Shimmer Fiberglass Crop: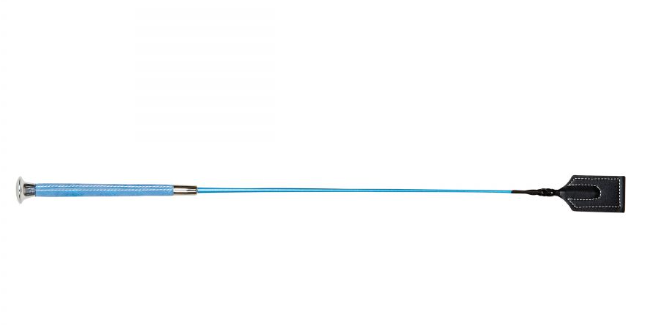 Description:
This riding crop is an excellent addition to any experienced equestrian. The fiberglass frame makes it lightweight, and I can switch it seamlessly from my left to my right hand with little effort. It might seem odd, but this crop's bright color helps me quickly find it in the barn.
Well, I have a terrible habit of forgetting where I placed things. Furthermore, its material gives off a particular glow whenever I  shine a light on it, something I find mesmerizing.
Because of its lightweight, I can also go on long horse rides while holding it without tiring my arms. The mushroom handle also ensures that you always have an excellent grip on it. And coming in 2 colors, it helps you infuse a sense of your personality into your riding crop.
My favorite color is blue because I love the beach and the clear sky (I am not trying to be philosophical here). And so I got the blue riding crop for myself. What color will you choose?
Pros:
It is made of fiberglass and is lightweight.
It has a mushroom handle top to prevent it from slipping off your hand.
Cons:
The keeper is not tightly attached to the shaft.
Chenyesun 24" Riding Horse Crop: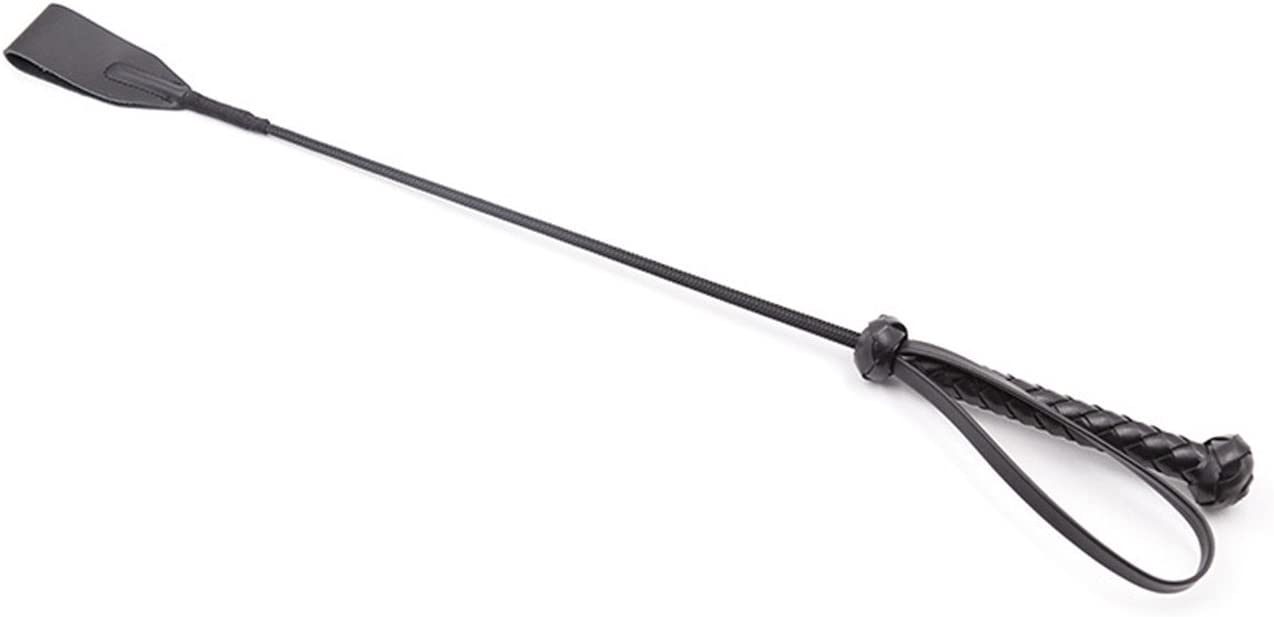 Description:
This graceful riding crop is made of 100% leatherette, although not the genuine leather but close enough. Its shaft is fiberglass, but you can't tell as the whole thing is covered in faux leather. This crop has a classic look and always steals the light. Well, there is no bad bragging about your classy crop. After all, all riders do that.
This crop has an ideal length of about 21 inches. And because of such manageable length, it can also be used for jumping and eventing, along with recreational riding. Another best thing about this crop is its handle, which provides a sufficient length of six inches.
Moreover, this fine threading on the handle allows you to grip it firmly without worrying about losing it while riding. Did I mention it also comes at an affordable price of about 10 USD?
Pros:
The whole thing is covered in a soft leather casing.
It has a classical design and is perfect for shows.
Cons:
The faux leather covering the crop flakes off with time.
Exselle Gel Handle Riding Crop:
Description:
This riding crop is one of my best ones so far. I liked how it was perfectly balanced with a mushroom handle to ensure it never slipped out of my hand. With various color options, it is available in mint green, pink, and purple colors.
I went out for a ride on a sunny day with it, and I loved how it shimmered in the sunlight. Although most crops come with a small keeper, I prefer the ones with a bigger keeper as it makes an excellent slapping sound but is more painless for my horse. Furthermore, being a rider who went through tiring training, its ergonomic grip is also something that makes it my favorite.
I find that most female riders may prefer this crop due to its attractive colors. And if you're looking for a crop on a small budget, this Exselle riding crop should definitely be on your bucket list.
Pros:
A sizeable popper at the end to make a good sound.
It has a great set of colors to choose from.
Cons:
The color quality is not excellent and is prone to sweating and sunlight.
Dublin Gel Crop: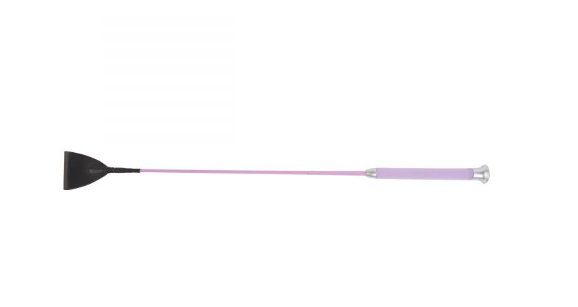 Description:
This riding crop is my personal favorite on this list. I enjoyed riding with it as it has a comfortable gel handle, giving it an excellent grip. Well, I have experienced other crops with a gel grip, but its grip was almost like rubber. And if you have experienced riding, you will agree that holding reigns for long or pulling them hard often causes calluses. The grip of this whip also works as a healing gel and lets me soothe my hands whenever I get a break. By now, you might have noticed that I am a fan of some good-quality grips.
The bright colors on this crop also helped me stand out from a distance. And why not? After the rider and his horse, whips are the next thing you recognize a rider from.
For the female riders, this crop is also available in pink. The silver cap adds a nice final touch. You might think a silver cap is pretty common among crops, but this one is bigger than the usual ones, making it more elegant.
Pros:
It has a comfortable handle design that reduces hand fatigue.
The color quality is really impressive.
Cons:
The stains are prominent on the light-colored options this crop provides.
Gatsby Girl English Riding Crop 10 Pack: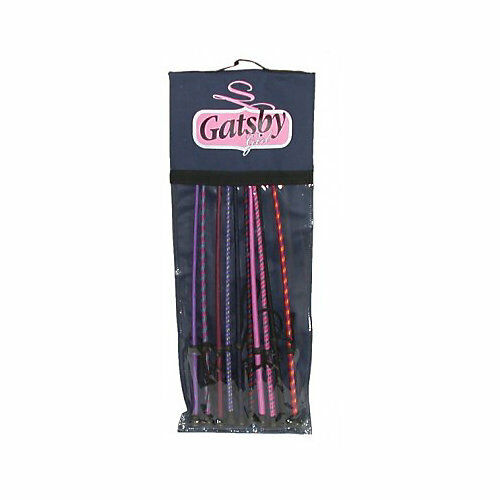 Description:
Do you want a group ride with your friends but don't have enough riding crops? Worry no more as now you can get riding crops for all of them with this 10 pack. These crops were a hit at my college riding club, and I gifted each team member one crop, something you have to do as a Vice-Captain. As it has been years since I gave them these crops, I can say it was offered at some pretty reasonable price.
They are still very trendy, and how can they not be? It's an irresistible deal, after all. My favorite was the purple-colored crop, which was my go-to until it mysteriously disappeared. Maybe you're as clumsy as me and lose your crops frequently.
I hope now you can understand why I suggested you, in my buying tips, to buy an extra whip. Even if you don't want to spend your money on others, something I wouldn't suggest, you can still get this 10 pack and ride without fearing losing your crop. But I must warn you that these are not made to last.
Pros:
For the price of under $35, this pack is very affordable.
You have a variety of colors and designs to choose from.
Cons:
The build quality isn't fantastic, and the whip can break after long use.
Fleck® Delta Crop: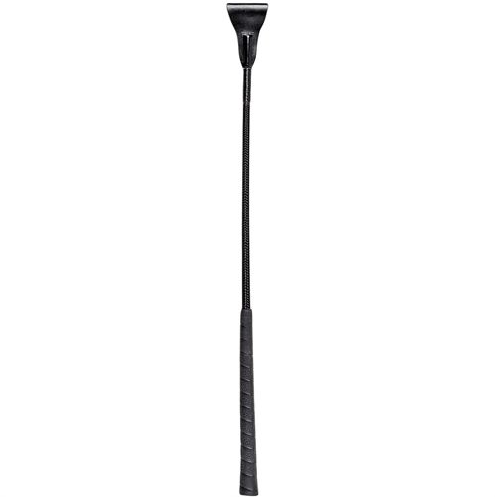 Description:
This riding crop is an excellent addition for any avid equestrian. This crop makes a wonderful addition to my horsing gear with a classical look. In case you wondered, this crop is made in Germany, and you might have heard of its brand, Fleck, if you are into buying riding gears. It undoubtedly catches people's eyes, and if you are attending an event, you might want to show off this german beauty.
I must say, for a professional rider, this crop is a perfect fit. I especially love the sleek finish with a touch of leather. The grip rests comfortably in my hand. And with its solid and elegant triangular design, I don't have to worry about the popper getting loose and falling off.
Pros:
This finish on crop looks excellent at shows.
It works great for professional riders. After all, looks do matter.
Cons:
Its price is slightly higher than others. A bit disheartening for on-budget equestrians.
Woof Wear Gel Fusion Riding Crop: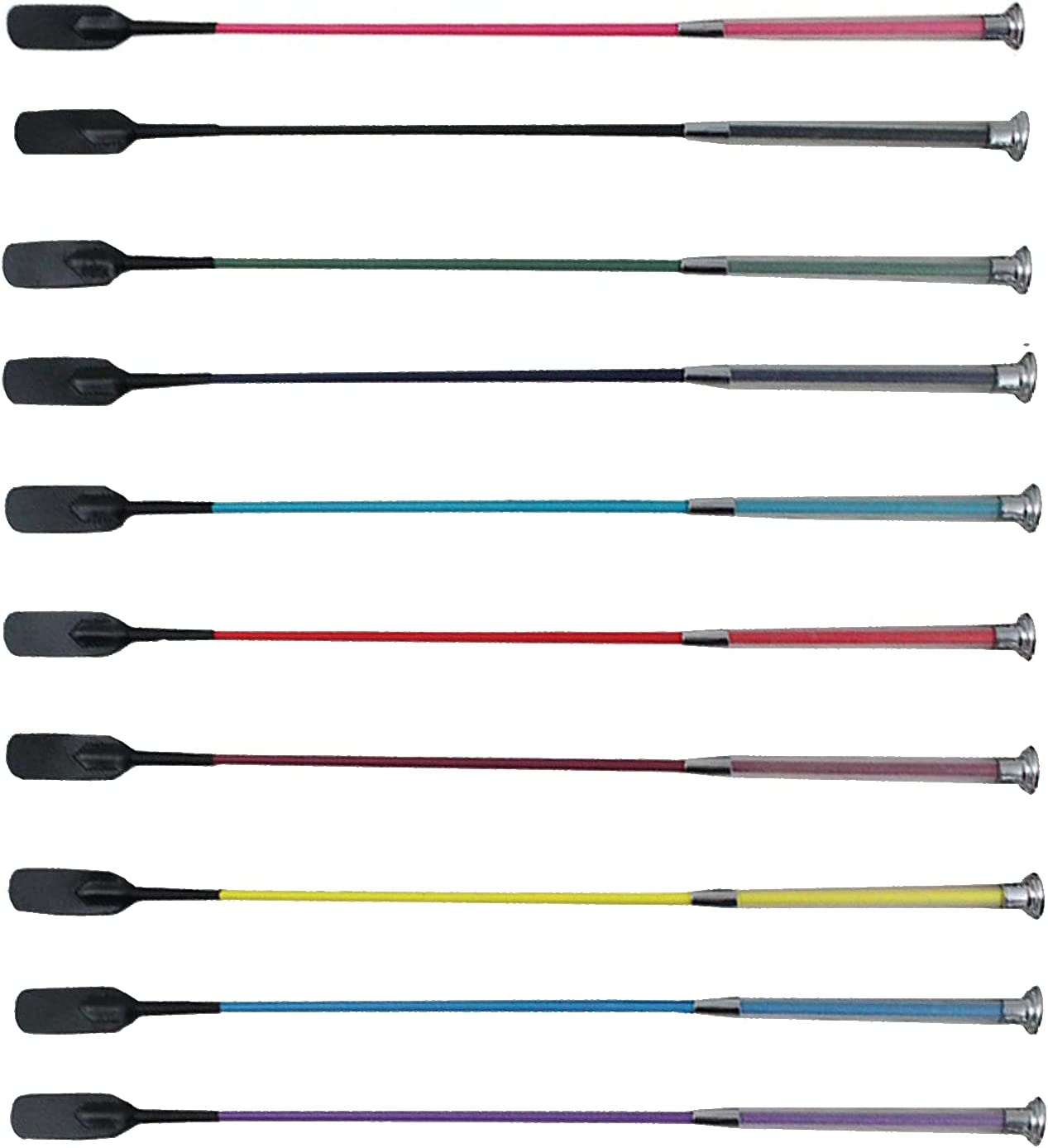 Description:
To be honest, this riding crop does not offer many more specialties to its functioning than other crops. But it sure has something that caught my eye, i.e., a translucent grip. Furthermore, this handle has gel inside, making it very comfortable, even on long rides. Even when your hands get sweaty like mine, this rubber-like material ensures that the riding crop never slips from your hand.
Since it is made with a fiberglass shaft, this crop is incredibly light, and you won't notice its weight while riding. However, this crop offers a small popper, something I don't like. And there is a chance that you may hit the horse with the shaft, so be conscious.
Pros:
This riding crop's handle has an excellent grip and a cool look.
It is available in more than 10 color options.
Cons:
The silver top does not offer good quality.
Dublin® Sparkly Unicorn Crop: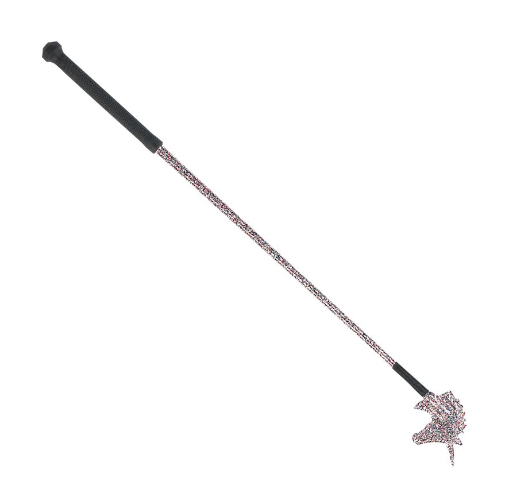 Description:
I gave this riding crop to my younger cousin for her birthday, and she loved it. It is a cute little crop for younger equestrians. Believe me, if I were a girl, this shining crop would have been my first riding crop. I mean, who doesn't love unicorns?
I think the weight is distributed perfectly, and I did not find it heavy for its size. Despite its appearance, this unicorn-shaped topper is soft on the horse. But it will leave a glittering kiss on your horsey. This riding crop is 25 inches long, which, I believe, would be a bit difficult for a child to handle.
Yes, dressage whips are even bigger for adults, but we are talking children here. Still, it works as a great present for aspiring younger equestrians.
Pros:
A perfect present for kids and younger riders.
An affordable price for such a beautiful crop.
Cons:
The glitter on the popper and shaft comes off real quick.
Real Riding Crop for Horses: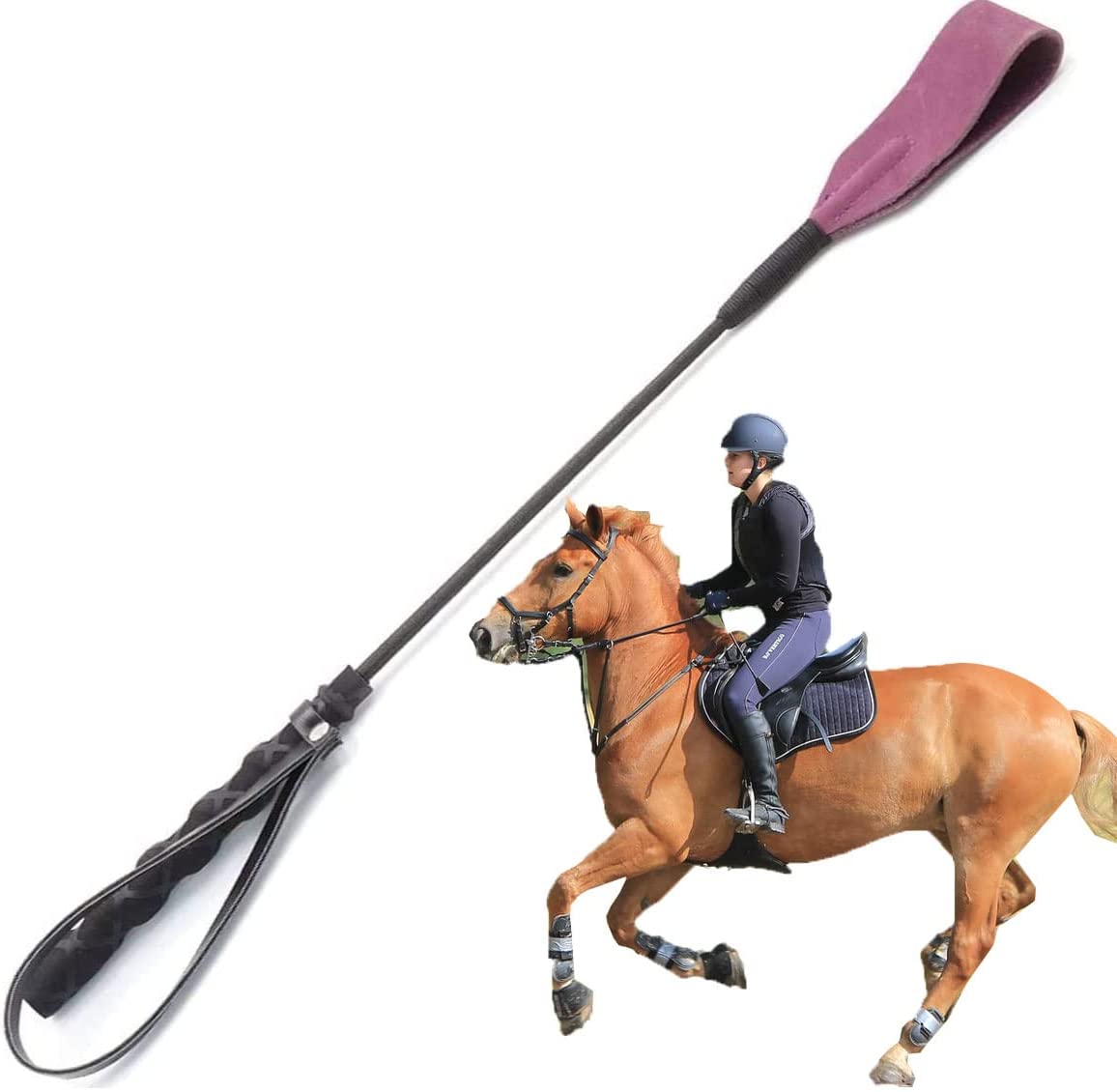 Description:
This riding crop offers a genuine leather popper and wrist loop. I loved how the ergonomic design is drawn on the crop's grip. It has a great look that makes it more sporty. Not only does the stylish grip looks excellent, but it is also quite comfortable. Well, obviously, not as comfortable as a gel-grip handle.
The leather flapper also works great; though it makes less sound when tapped, it is best for the horse's skin. Also, how the popper is stitched around the end of the shaft makes the joint more durable. Otherwise, the thread holding the popper in place often detaches with time, the headache we all equestrians usually go through. Not to mention, the genuine leather also gives this crop a very professional look.
Since the color purple is, in my opinion, a regal color, this crop will make any rider look majestic. Talking about its wrist loop, if you don't have to switch your crop between hands, this feature can really come in handy.
Pros:
This riding crop comes with a leather strap, and you don't have to lose your crop anymore.
The color on the popper looks stylish and vibrant in broad daylight.
Cons:
The strap breaks after extended use.
Riding Crop With Wrist Loop Assorted: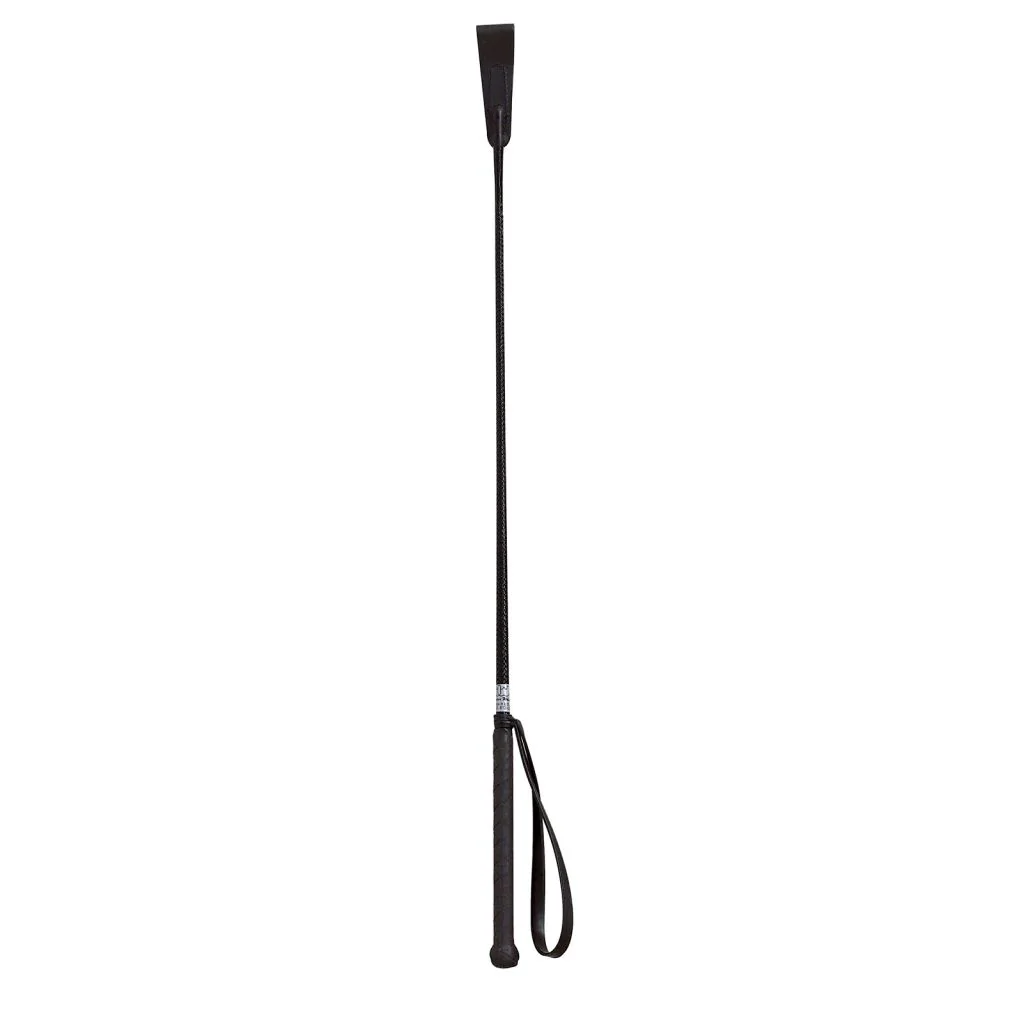 Description:
The start of an equestrian journey is always mesmerizing but still has its downside. I would say it is more or less like a wedding. You are very excited, but when it comes to expenses, you often end up postponing its date.
Well, I would not ask you to delay your onset of the equestrian journey. Instead, you can go for the equestrian accessories that do not cost much. I will leave the affordable equestrian options for another guide, but as far as crops are concerned, you can listen to my word on this riding crop. With its affordable price range, this crop is perfect when you're just starting to learn how to use a crop.
The crop offers a leatherette keeper and an ordinary grip. The shaft is also webbed with fiber, just like any other common crop. The color of the whole crop is black; even the lower handle tip is black. Some riders might not like this full black color, but it seems nice and unique to me. The crop is also surprisingly long-lasting and its durability, even after constant use, really impressed me. Something I do not expect from a crop under $7!
Pros:
The loop is a nice addition for amateur riders.
This riding crop is available at a low price.
Cons:
The wrist loop can sometimes snap during bumpy rides.
Coolrunner Riding Crop for Horse, 18 Inch: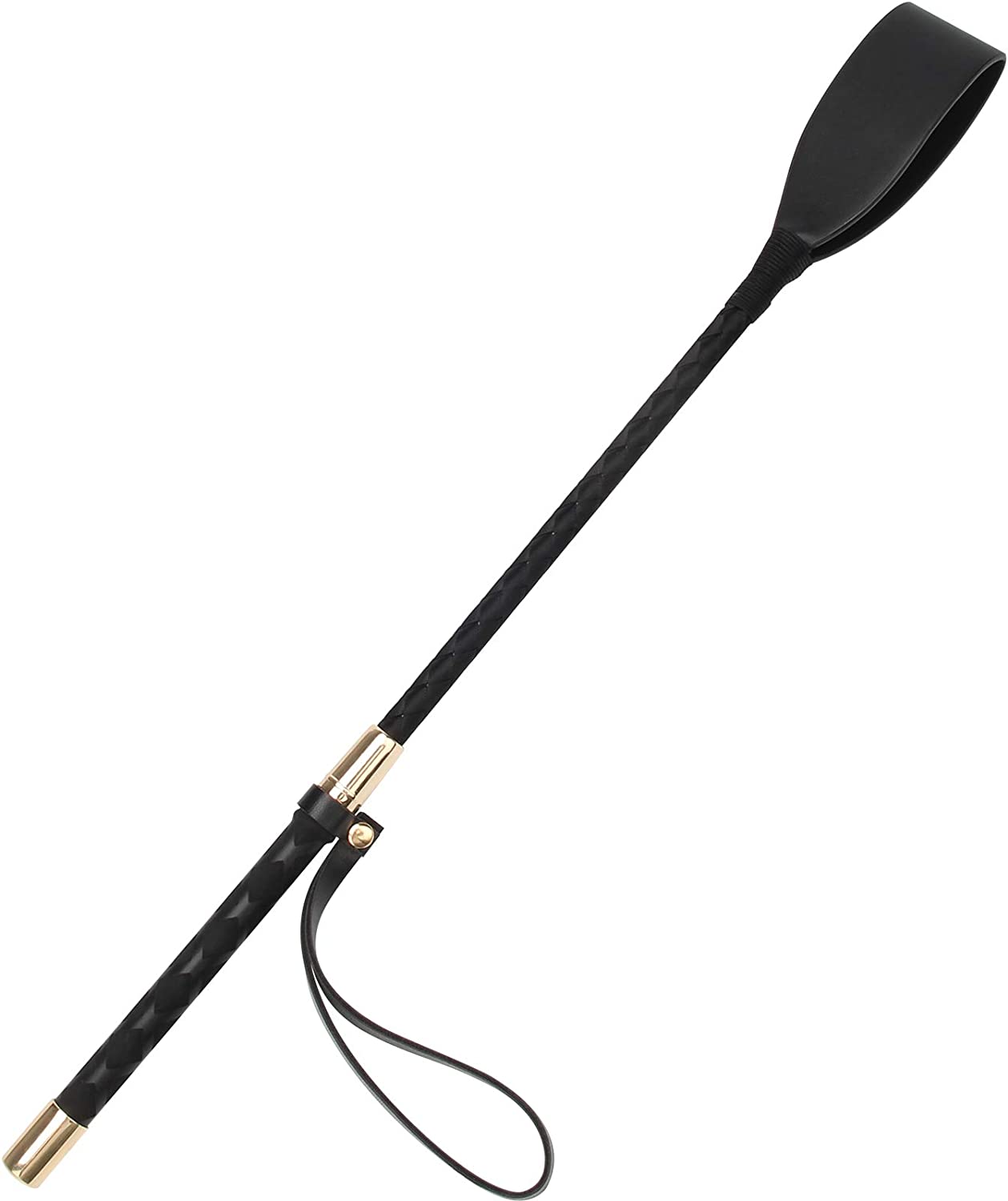 Description:
With a simple design, this riding crop may be easy to write off, but this crop is a great addition for any horse rider. I have been loving this design. And this was probably one of the whips I used for most equestrian activities. It also has a wrist loop, so it makes this perfect for riders with different levels of experience.
With the wrist loop, you can focus on riding without fear of losing its grip. I have to say, slipping the crop out of my hand always felt like I dropped my sword. After all, we all equestrians feel like preparing for battle whenever we ride. Don't we?
Even though I used this crop for different purposes, I had to let go of my hand holding the reigns to tap the horse's front legs. But, being an experienced rider, I was never bothered by doing that; after all, it was another way of flaunting my crop.
Not to mention, I did gift this to a few younger equestrians, and they were okay with the shorter design, saying it was easier to handle. And how can I not talk about its keeper? Like most of the listings I have given above, it is also sizeable and makes some good sound.
Pros:
The wrist loop makes this great for training new riders.
It offers an elegant design at an affordable price
Cons:
Its shaft is covered in plaited faux leather, which can easily unravel.
FAQs
Question: Do riding crops hurt horses?
Answer: This matter has been a hot topic for several years now, with various US states even introducing laws on how many times you can hit a horse during a race. Modern riding crops are made using lightweight materials; even the poppers are slightly stuffed to increase their cushion to avoid hurting the horse. They make a loud sound when they hit the horse, but they are designed that way to cue them. Therefore, they don't hurt the horse if used according to the guidelines.
Question: Should riding crops be made of leather?
Answer: While leather was regularly used to make riding crops in the past, modern riding crops use a mix of leather and plastic or leatherette. Some can even be made of rubber. These new riding crops are not painful on the horse and are perfectly balanced. However, most professional riders prefer to use leather. This all depends on your taste. I myself like a mix between leather and plastic, as it is usually budget-friendly.
Question: What Is The Difference Between A Whip And A Crop?
Answer: A riding crop is generally shorter than a whip. Whips can be very long, and some of them can even reach 43 inches, like the dressage whip, not to mention the lunge whip, a training whip that can reach up to 14 feet. Riding crops are generally used for pleasure riding, training, or jumping. However, the term "whip" can also be used as a general term that includes riding crops, whips, and jumping bats.
Wrapping Up:
When it comes to riding crops, they are greatly misunderstood, and they may be a point of contention with animal lovers, But you don't have to worry; they are not what they seem to be. Tap your hand with the popper of the crop, and all of your underlying answers will be answered.
My favorite crop is the Dublin Gel Crop. This crop has all the things that made it to my top pick. A big popper, a unique color, a comfortable grip, not so high price, these are the things that I believe an ideal crop should have.
To get the best riding crops, go to dedicated horse shops where you can get better deals and a better variety of riding crops. Also, when ordering riding crops online, always read the customer reviews. Never buy a product that has a lot of negative reviews. And do not forget, purchasing an extra crop is not a bad option.
Riding crops are here to stay and are even more animal friendly than before. With so many choices of riding crops to choose from, there is a crop for everyone, no matter your level of experience or riding style. Then what are you waiting for?