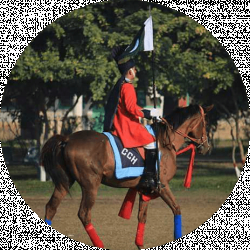 Latest posts by Boo Ali Khan
(see all)
Hi equestrian lovers, are you browsing through different markets for a pair of riding pants? And after hours of research, are you still confused about which kind to buy? Then follow along; I am going to talk about everything there is to know about these pants in this guide. And I am quite sure that you will be able to find the best riding pair for yourself at the end of this guide.
Let me just brush over the significance of riding pants, as many still think owning a good pair of riding pants isn't more than just being flashy. Well, you will be surprised how much this simple piece of clothing will affect your horse's mood, making your riding experience much safer. Wearing them can save you from scrapes and injuries while providing you with a better grip when you're on the horse.
I can vividly recall one of the earliest lectures by our riding coach on the importance of good-quality riding pants when I started my equestrian journey.
Alongside the grip it provides, we were told that our horses become shockingly more comfortable whenever we wear a proper pair of pants. After all, the bond between a rider and his horse matters the most during this journey. And it is only possible when your horse is in a good mood.
Now that you are somewhat educated about riding pants. Let's dive deeper into some of the more crucial elements you must remember while buying these pants. But don't forget, you should be thankful for not having to take this lecture in a stable on a hot summer day.
Bottom Line Up Front:
When it comes to riding pants, you must make several design choices. And while we are on the topic of buying good quality riding pants, my favorite pant has to be these Men Jakata Breeches. Due to its agate fabric, it is comfortable to move in because of its flexible nature.
It's also well ventilated due to the mixtures of different materials, making it perfect for summer sessions. And the included pockets and stud clips make it very versatile overall.
Here is a list of some great options, in my opinion. And you can easily buy them through their provided links:
My Top Riding Pants Picks:
My Buying Criteria For These Riding Pants: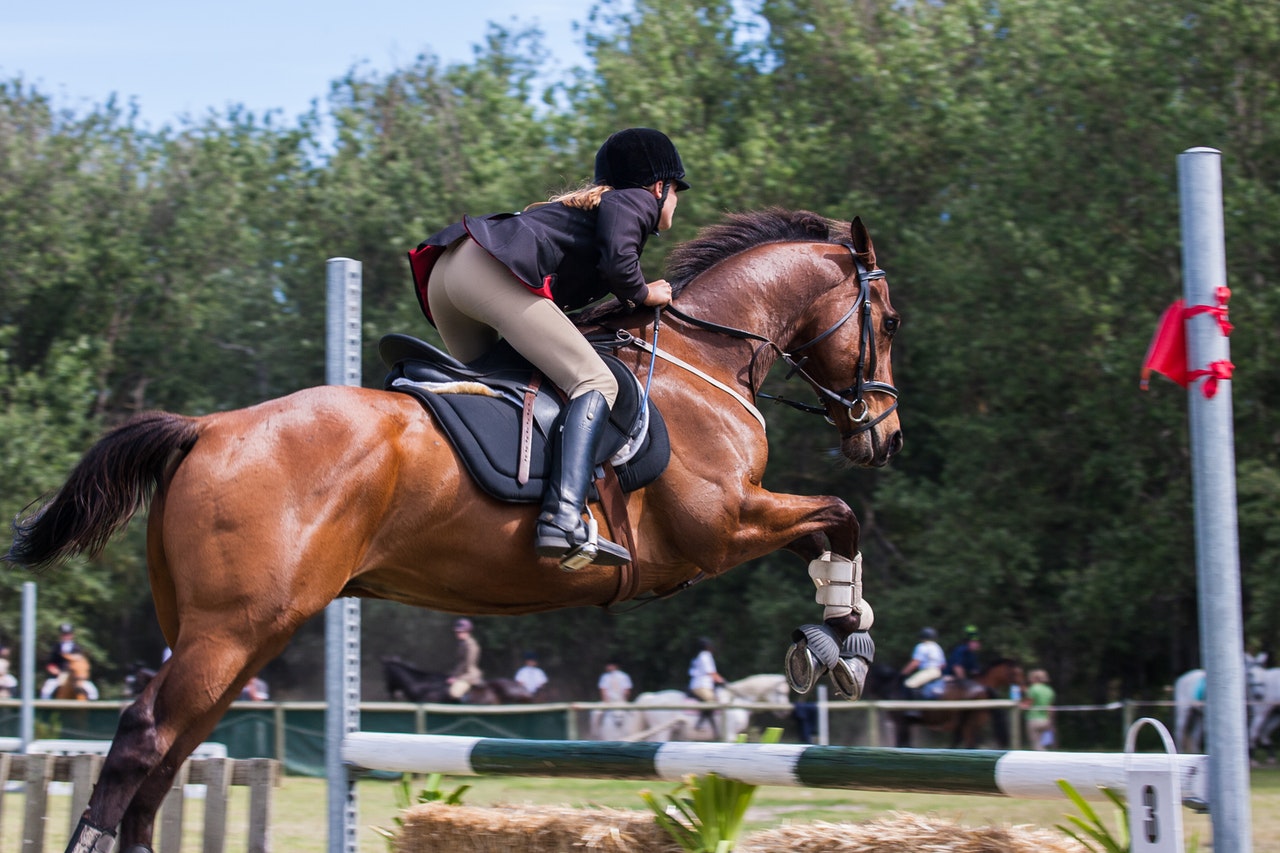 There is a lot more than just good quality I look for when it comes to riding pants. And some of these factors include:
Soft fabric, comfortable to wear for longer sessions.
Stretchy material doesn't restrict the normal range of motion.
Sufficiently padded can prevent minor bruises.
Well ventilated.
Provides a good grip on the horses.
Essential Tips To Keep An Eye For When Buying Riding Pants:
Here are some valuable guidelines you should keep in mind whenever selecting the perfect trousers for you:
Decide The Type Of Pants You Want Beforehand:
If you have searched online for a pair of riding pants, you would have seen several options. So, I highly recommend you decide beforehand which style and type of pants you want.
Whether you prefer Breeches over Jodhpurs, or do you like full seat grips over knee patch grips? These are some crucial questions you should be asking yourself before going out to buy any riding pants. Also, pick out any particular feature you want in your riding pants, like extra pockets or horse clips.
Picking all these things beforehand can save your time and effort. While also making your buying experience smoother and objectively better.
Take Proper Measurements:
When buying riding pants, just like buying any other piece of clothing, the most important thing to consider is the size. Of course, you can't wear pants if they are too loose or even too tight unless you want your pants to look like a balloon when you wear riding shoes over them. Yes, that was how my khakis looked like during my first year at the equestrian club.
An excellent snug fit is one thing you should watch for, and avoid any hanging pieces of cloth as this can be pretty irritating on your horse's skin. Following this, I recommend you take your waist and inseam measurements beforehand. And try to be as precise as possible during measurements. If you have no previous experience taking your measurements, then going to a professional tailor would be ideal.
Staying In The Budget:
In recent years, new varieties of riding pants have been introduced, each with its pros and cons. And with this, the prices of these pants have also increased significantly. So, buying good quality riding pants/trousers on a tight budget can be difficult, especially for the newcomers.
Something I always recommend is a reasonable budget. Try your best to stay within that budget, and don't tempt yourself with extra features. I try to visit several online and retail marketplaces, looking around as to which place offers me the best price. This helped me save a lot of money, as many retail shops offer the same pair for different prices.
Take Your Time:
Whenever you're in the market for a new pair of riding pants, you will have issues deciding which kind to buy. One thing that always helps is to clear your head and take your time. During my experience with horse riding, I have seen many newbies getting whatever comes first on their way without thinking if those pants would serve the purpose.
As these pants are usually a significant investment due to their price, you wouldn't want your investment to go to waste. There is no rush to buy a new pair. Just stay calm and look around as much as you want until you get the perfect one that is affordable and fits all your needs.
My Top Riding Pant Recommendations: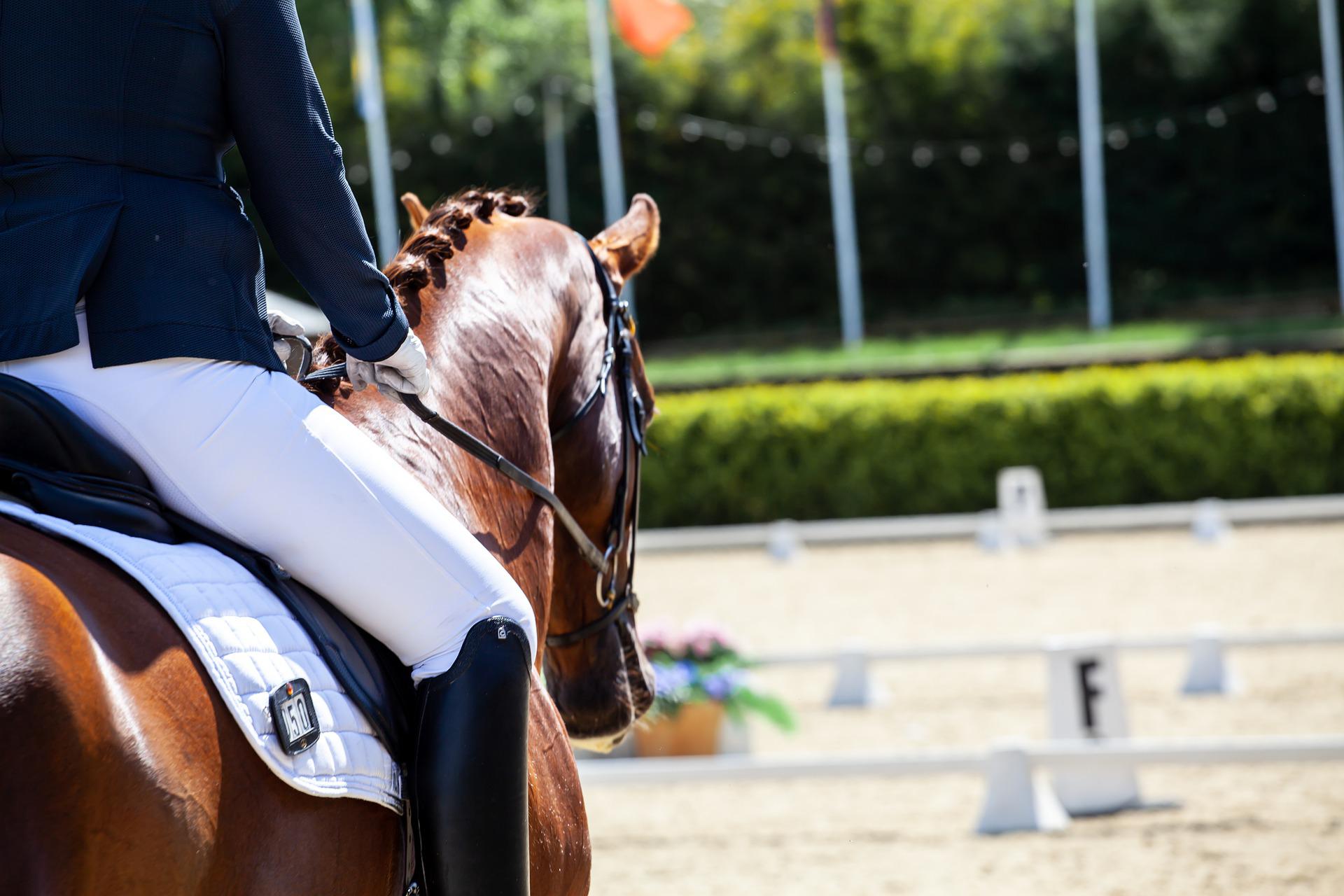 There are several options to select from when it comes to riding pants, each tailored to a specific need. So, I have tried to pick out the best riding pants while being as diverse as possible. Following are my picks based on their type, unique features, and uses:
Knee Patch:
As the name suggests, knee patch riding pants consists of a small leather or silicone cut along the inner side of the knee area. It can also be seen on both Breeches and Jodhpurs. Its principal function is to provide a small amount of grip on the knees. And every rider knows that firmly pressing their knees against the knee rolls of the saddle is the primary step of learning to ride a horse.
These small patches give the rider sufficient leverage to stay on the horse while allowing a full range of motion for tricks or fancy celebrations. These are mainly seen in hunting and eventing and are primarily used by riders who like to jump their horses.
Knee patch riding pants are also known for their versatility. And can easily be worn as regular pants. You can check out the designs mentioned below if you are looking for some good knee patch pants.
Dublin Momentum Supa-Fit Suede Knee Patch: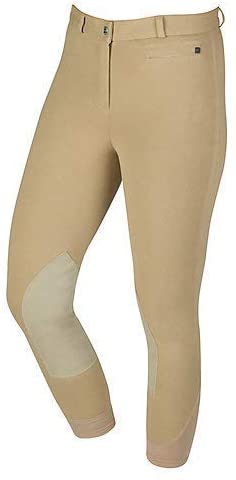 Description:
These Dublin Momentum knee patch pants are some of the more affordable options. And at this low price, they feature a snug fit and an impressive knit quality. The tolerance on the fabric is also very tight, but this can also make it less comfortable for riders with wider waists.
The design features a front zip closure, making it easy to take off and vice versa. And even the knee patches on the ankles are made of Suede, which wasn't too harsh on my Thoroughbred's coat.
Something I wasn't a fan of with these knee patch pants was their material. It is mostly made of spandex, which despite giving it a good fit, also makes it less breathable. I found myself very sweaty during long sessions when wearing these pants. And believe me, it wasn't a nice feeling. Maybe I was gaining a bit. But, still, that could not be the only reason.
Pros:
Overall, has a snug fit.
Features a button and zip enclosure.
Soft textured knee patches, good grip while not being rough.
Cons:
Not recommended for riders with wider waist.
The material is less breathable.
BasEQ Lily Children's Low-Rise Pull-On Jodhpurs Knee Patch:

Description:
There are very few options I would recommend when it comes to knee patch riding pants for younger equestrians. And these riding pants by BasEQ happen to be amongst those few.
Alongside being cheap, they feature everything my younger self would have wanted in riding pants. Their Jodhpur design makes them very comfortable. And the knee patches provide them with just enough grip to stay on the saddle.
The material is also very breathable due to its mix of different fabrics. And the soft-touch finish they offer is also excellent for the horse's hair. They are relatively easy to get dirty, but cleaning them isn't much of a chore to be machine wash safe.
The overall design of these pants makes them fashionable while also being stretchy, making them easy to move in. So whether it is an equestrian show or horse riding, these pants are ready to conquer every field.
Pros:
Very comfortable.
The design is perfect for several occasions.
Fairly breathable.
Machine washable.
Cons:
Full Seat:
Full seat pants have a grip material, like leather or synthetic rubber, covering the whole inner sides of the inseam and lower knees. These provide a lot more grip compared to traditional knee patch pants. It would not be wrong to say that they are like diff-locks of a rider.
Therefore, in recent years, more and more riders are shifting to using full seat breeches due to the safety they provide while riding a horse.
Although knee patch pants are primarily acceptable in entry-level horse riding. But when it comes to professional horse racing, full seat breeches or Jodhpurs are preferred by most riders. And if you plan to buy a pair for horse racing events, I recommend choosing from one of the following options.
TuffRider Men's Cotton Full Seat Breech:

Description:
If you're a fan of snug-fit breeches and prefer full grip on the saddle, these TuffRider riding pants would be best for you. It is made chiefly of 92% cotton, and the rest is spandex which provides it a little stretch. The pant's inseam and curves have an excellent quality stitching, and pulling on these reveals their durability.
The backside of the whole pant is lined with UltraGripp faux leather, which provides it with excellent traction with the saddle. And makes it a perfect match for professional horse riders. It does come in at a relatively high price, but not enough to break the bank.
And the added zippers add even greater value. The waist of the pant is also lined with a belt loop. So, you can match it with the color-matched belt.
Pros:
Elastic nature makes them comfortable to wear.
High-quality stitching.
Zipper pockets.
Features a belt loop.
Cons:
Kerrits GripTek II Full Seat Breech: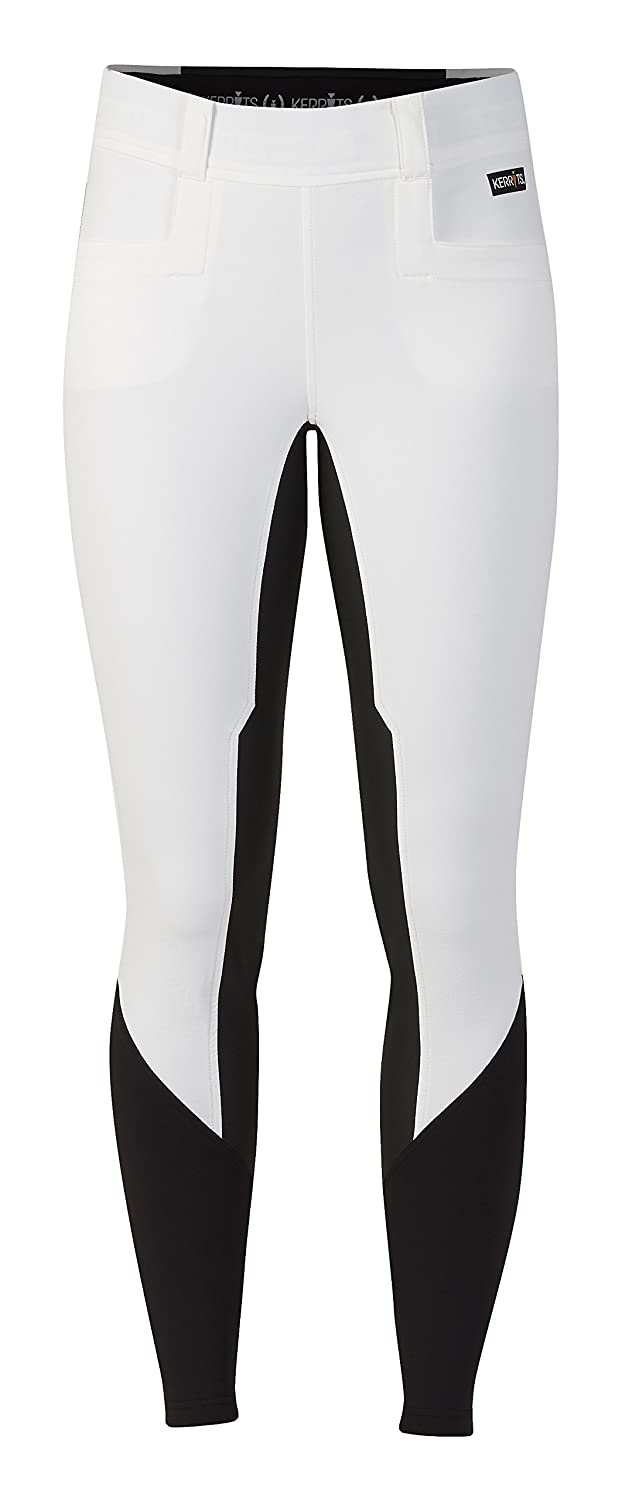 Description:
Are you bored of the same old designs every traditional riding pant offer? Well, then these full-seat breeches will be the one for you. They feature an almost futuristic design with several color combos. However, my personal favorite is black and white.
The whole back of the pants is lined with unique GripTek material. Which gives it exceptional grip even when wet. But the material does limit a fair bit of range of motion.
I also liked their design choice, as the entire seat nicely blends in with the pants. While the woven fabric features a "no-show" coverage, making its appearance all the more appealing. Taking them off and on wasn't much of a hassle with their side opening closure. But I would recommend saving some money upfront, as they come at a pretty high price point.
Pros:
No-show woven fabric.
Exceptional grip on the saddle.
Easy to take off and on.
Cons:
A high price may be challenging to buy on a small budget.
The extra-grip full seat can restrict motion.
Breeches:
The term "breeches" comes from Middle English, translating to "breech." And in the early sixteen century to the late eighteen century, it was the primary fashion trend among European and American men. And it's used slowly evolved from standard attire to more of a tool used in several sports.
In the modern era, breeches refer to a shorter pair of tights mainly used as horse riding pants. These pants are mostly a mix of cotton and spandex, allowing for a snug fit that avoids chafing. It finishes around the rider's mid-calf and has a tight elastic, typically around its end, allowing a firm grip on the rider's leg.
Breeches are a type of riding pants mainly used by high-skill riders. And due to the recent innovations in its design, their options are better than ever. And let's face it, we all love how our butts look in breeches.
Some of my recommended breaches include:
FITS PerforMAX Pull-On Breeches Full Seat:

Description:
When it comes to casual horse riding, my favorite type of pants would be good-quality breeches. And these FITS breeches strongly contest for a place. Their shorter design goes well with my long-riding boots and anklets. At the same time, the added full seat provides grip in the wildest of riding situations. The fabric on these is also somewhat perforated, making them well ventilated and comfortable to wear for more extended periods.
But looking at its around $180 price tag, I recommend you look for other options on this list if you're on a tight budget. Other than that, I also found the small pockets on it useless to fit some big items, especially my sunglasses case.
Pros:
Provides extraordinary grip.
Fully breathable.
Cons:
HyPERFORMANCE Men's Jakata Breeches: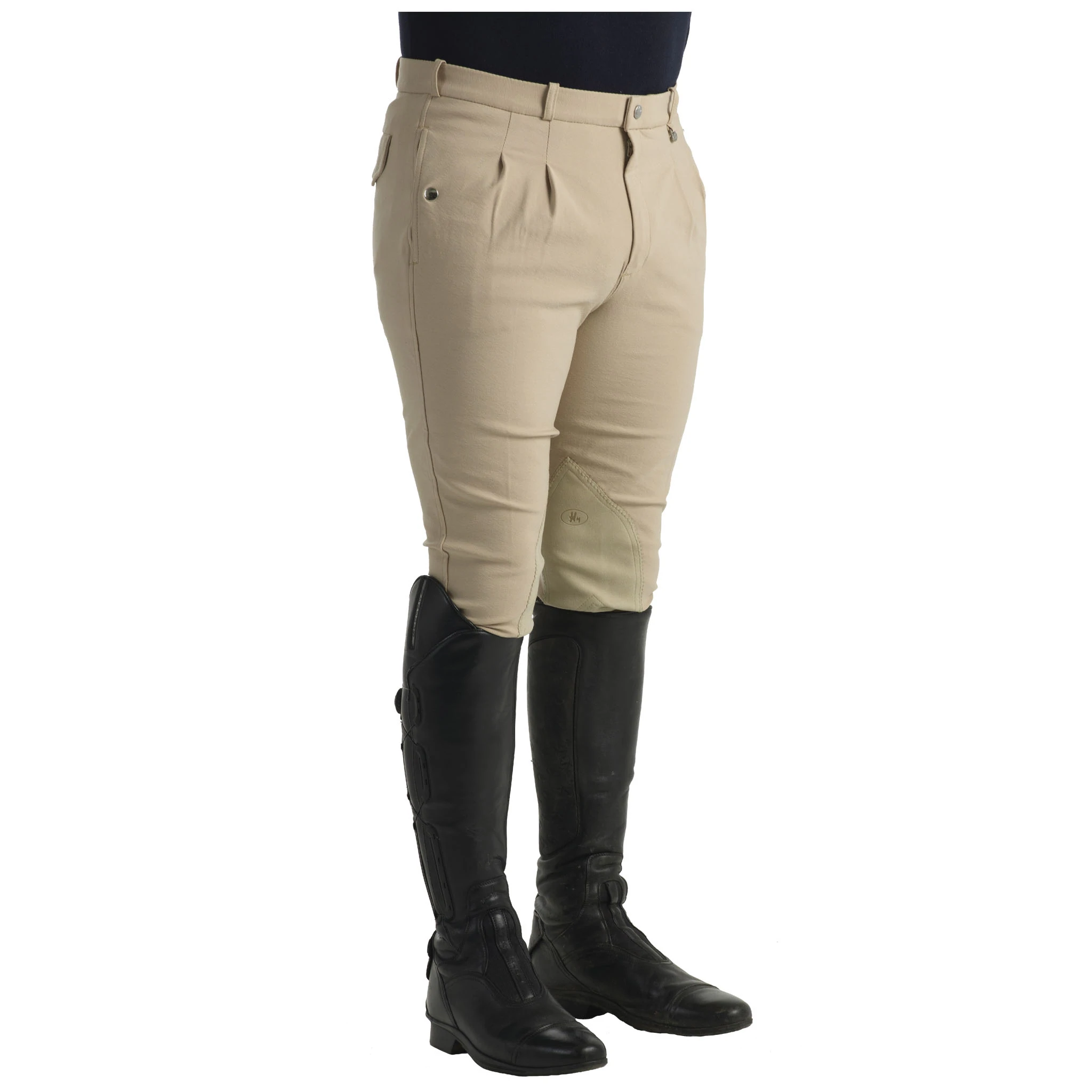 Description:
Now it is time to mention my favorite pair of pants on this list. As a fan of the tight-fit breeches offer, buying these Jakata Breeches was a no-brainer. Their price is a little high but is well worth the features and versatility it offers. And of course, I love the overall design, as it reminds me of traditional cowboy pants with a hint of modernization.
And the included belt loop also features a whip holder, so I can focus on riding my horse rather than worrying about where to keep my whip.
The fabric it uses is a mix of cotton and polyamide, with a small portion of lycra. And all these different components make it not only stretchy but also very breathable. And at the end of the day, if it was ever dirty, I could just throw it in the washing machine.
Pros:
Safe to wash in the machine or dryer.
The blend of different fabrics makes it breathable.
Very stylish, with a traditional vibe.
Cons:
A little heavy on a small pocket.
Limited stock.
Dover Saddlery® Wellesley Silicone Full-Seat Breech:

Description:
Now, suppose you like the feel of elastic material on your legs. In that case, you can check out these Dover Saddlery silicon Breeches. I don't recommend silicone breeches in most cases because they can be a little too tight on the knees, which can be uncomfortable for extended sessions. But because of Dover Saddlery's bit-by-bit print, they are pretty easy to move in.
I did find that the print didn't help with its breathing issues, due to which it can be highly sweaty during summers. And can bring up any underlying skin allergies you may suffer. For these reasons, I mostly prefer wearing them in winter. But another way to mitigate some heat is by choosing a lighter tone like lilac instead of black.
Pros:
Comes in both lighter and darker tones.
Provides sufficient pressure on all the right spots.
Flexible and easy to move in.
Cons:
Not recommended for riders with skin allergies.
Jodhpurs:
Riding pants come in several forms and varieties, and each features a specific function. Where its use can very much depend on the rider. The Jodhpurs is also one of these kinds and is primarily popular with younger riders due to its stylish design.
The identifying feature of these pants is that they are relatively longer than most riding pants and go down to at least the ankles of the riders. The fit on these pants is also very loose around the ankle with often a flare edge, which allows the end to be neatly folded up.
The Jodhpurs are not used by professional jockeys. Mainly because of their loose fit. But in recent years, I have seen more and more companies manufacturing Jodhpurs and changing some fundamental design flaws. And this has led to many adults also using them. But, to be honest, those flaws were what made them Jodhpurs.
Ovation Ladies Euroweave Kentucky Jodhpur: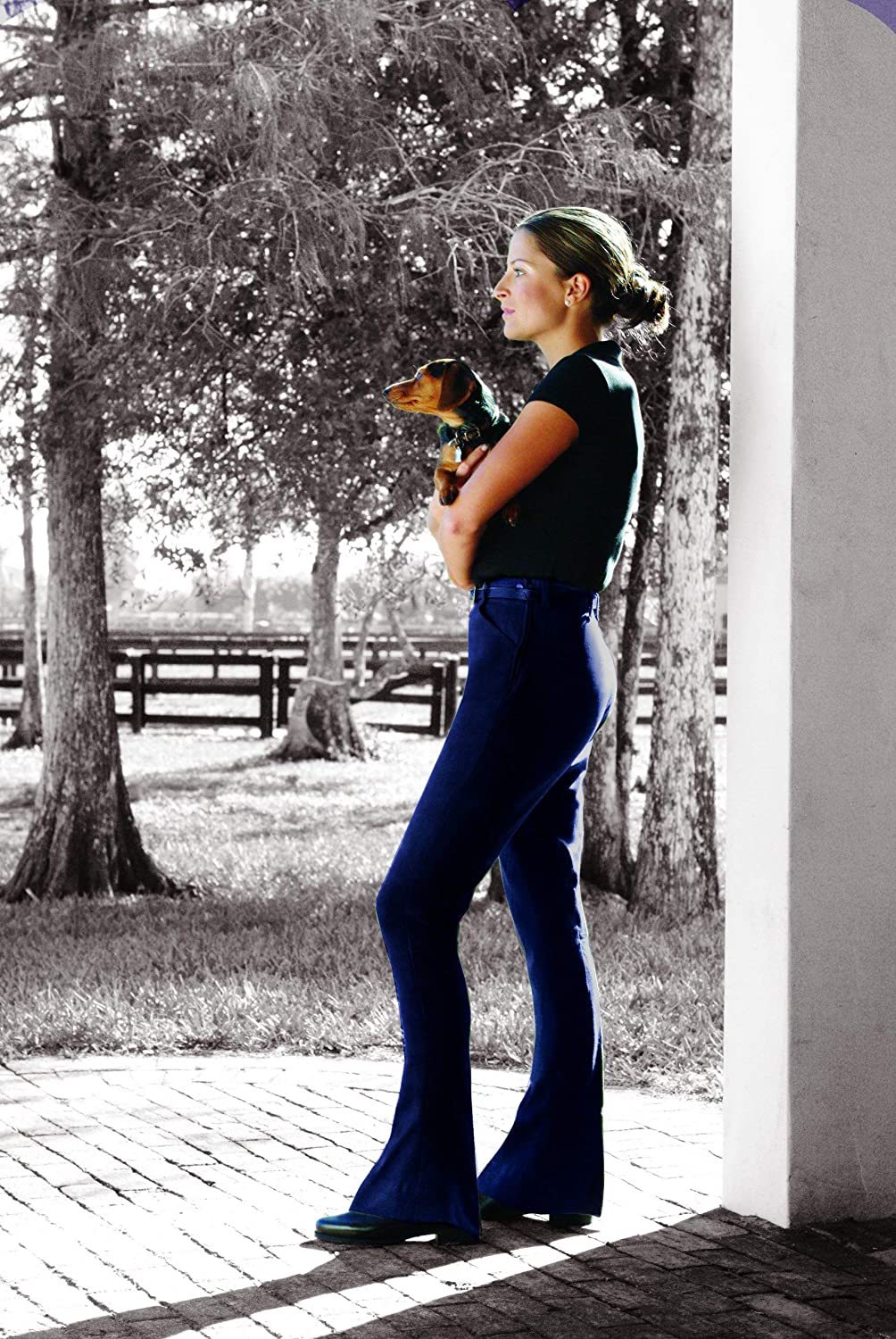 Description:
These Ovation Euroweave Kentucky Jodphurs can be a superb option for female equestrians. They feature a loose fit, so it doesn't restrict the range of motion on and off the horse. And can also be great everyday pants. However, in my experience, I have not often seen their use in equestrian activities, and they are mostly worn while not riding a horse.
Anyway, I am a little concerned about the jeans-like texture these pants are using. This can be very rough on a horse's coat and can cause a lot of chafing. But if you don't spend most of your time on a horse's back, these are as easy as it gets. And the added large pockets and belt loop are just some added perks that are nice to see at its high price point.
Pros:
A fashionable design for female equestrians.
A loose fit is great for everyday use.
Added large pockets and belt loop.
Cons:
The rough material on the jeans isn't good for the horse's coat.
The hanging end of the pant can cause chafing.
TuffRider Boys Patrol Light Jodhpurs:

Description:
If you're looking for a high-quality pair of Jodhpurs for your younger rider, I have some good news. Because TuffPider has also introduced their line-up of soft and elegant Jodhpurs in smaller sizes. These feature all the perks you can find in much more expensive riding pants, and with the knee patch design, you can be assured that your child is safe.
The end of the pants offers a flared edge that is very easy to fold up and adjust according to the child's high. But I would have liked the pants coming in darker colors, as the light tan coat is pretty easy to get dirty. And its high cotton ratio also makes it more susceptible to shrinking under constant machine washes, so I recommend you wash it by hand.
Pros:
Reasonably easy to own on a tight budget.
Flare edges allow for adjustable length.
Cons:
The light tone makes the stains easy to spot.
Vulnerable to shrinking.
Belle & Bow Equestrian Show Jodhpurs:
Description:
If you're in the market for a new pair of riding pants, consider adding this Belle & Bow show Jodhpurs to your collection. It features a soft-touch design, and the stylish embroidered patch also makes it stylish and versatile at the same time. The soft micro-poly build makes it durable, giving it a stretch factor that makes it comfortable for more extended show events.
Whatever the occasion, these are also great for out-of-the-ring events. And the inclusion of two pockets on each side was also a great touch. Like every Jodhpur, these come down your ankles and can be dangerous if you plan to use them for professional race events.
A disclaimer! If you ask me who I have seen falling on the ground when even not riding, I would mention young riders in these Jodhpurs. Yet, even if I was also not a fan of their high price, the quality of the pants material does show itself.
Pros:
Comfortable design.
The knee patch offers terrific grip and durability.
Cons:
High price.
The flare ends can be dangerous for race events.
Buying Riding Pants: Summing Everything Up
When it comes to horse riding, the sport has evolved many folds into a more elegant and amusing activity as we see it today. And with it becoming more streamlined, many types of equipment have also been introduced that make the riding experience a lot safer for your average Joe.
Riding pants are also part of these types of equipment. And with their ever-growing market, many riders find it difficult to buy one for themselves. And if you plan to buy a pair for yourself, remember to select the type you want beforehand and take proper measurements. Staying within the budget and taking your time will surely help you find the best match for you.
From the above-mentioned top picks, my personal favorite is no other than Men Jakata Breeches. They offer a fantastic snug fit, and their fabric is very breathable, keeping them from getting too hot in summer. And the overall design is also great, as I found them perfect both inside and outside the stable.
Don't forget to follow my buying tips, and I hope you will land buying the best fit for your needs.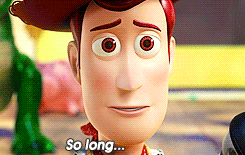 FAQs
Questions: Does wearing riding pants affect your horse?
Answer: Yes, and very much so at that. When it comes to horse riding, using the proper equipment is very important. And riding pants happen to be on the list for a reason. Riding pants tend to have a tight and smooth texture, preventing them from grabbing onto the horse's hair. During my equestrian journey, I have noticed that the poor material of the pants not only irritates the horse but also damages its skin. Also, wearing riding pants provides a better grip on the horse and helps you control it more easily.
Question: Which Type of Riding Pants will be the best for me?
Answer: There is no clear answer to this, as every kind of riding pants caters to a different rider. And one type of pants will not be the best for all occasions. If you actively participate in show jumping, I recommend you try the knee patch kind. And if you are more into casual horse racing, full-seat pants can be a better option. Still, if you prefer a snug fit, you can try breeches, and if you like classic cowboy fashion, Jodhpurs can also be a viable option.
Question: What should be an average budget for buying good quality riding pants?
Answer: If you are in the market for buying a good quality pair of riding pants, managing a reasonable budget is every bit important. But when it comes to the average budget suitable for all equestrian lovers, the matter becomes tricky. Although for most riders, a budget of a little over 100 dollars will be great to buy a high-quality pair of pants. But this amount can drastically change depending on which specific features you want in your pants.