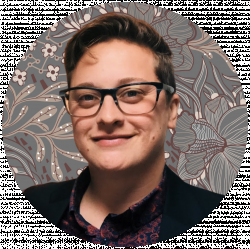 Latest posts by Emily Parker
(see all)
Oh, so you're a good rider then? It is incredible what the human body can do, and our ability to stick to a horse without stirrups never ceases to amaze me. Unfortunately, many equestrians will never put the work in to ride proficiently without stirrups. If you're on this buying guide, then that's not you, and I can't wait for you to join the bareback club if you haven't already.
I grew up riding horses in 4H barrel racing competitions in a predominantly English riding part of the country. I actually learned how to ride English and was jumping (very small) fences while I was in kindergarten.
My background didn't matter; when I showed up to a cross-discipline show, English girls took one look at the western saddle and assumed I didn't know how to ride. To be fair, it was mostly the nasty adult trainers and coaches that would start the bullying, and that was passed down to them from their nasty adult coaches and trainers.
Their jaws would drop and their mouths would shut if I took my bareback pad out for warm-ups. We may use our horns to save the horse's back while we're in the show ring (because our discipline requires several huge stops and starts), but any barrel racer worth their salt drops their stirrups or uses a bareback pad in training.
Abusing a horn is not western tradition, and neither is reliance on stirrups. Just take a look at how loose our cinch is for proof. I owned very difficult horses, but it wasn't long until I was trail riding and training on a bareback pad with every one of them.
Bottom Line Up Front
The highest-quality and most reasonably priced bareback pad on the list is the handmade Trailmaster Ranger. This is the only pad safely recommended for endurance riders, so your week-long trek won't even be close to an issue for your horse's back.
Its padded and structured design is easy to stick to and meant to distribute weight away from your horse's spine. Provided you're comfortable with leather care this pad will last a lifetime or more. Your order process will be a custom experience; enjoy picking out your own colors and designs for your one-of-a-kind bareback pad.
How I Chose the Best Bareback Pads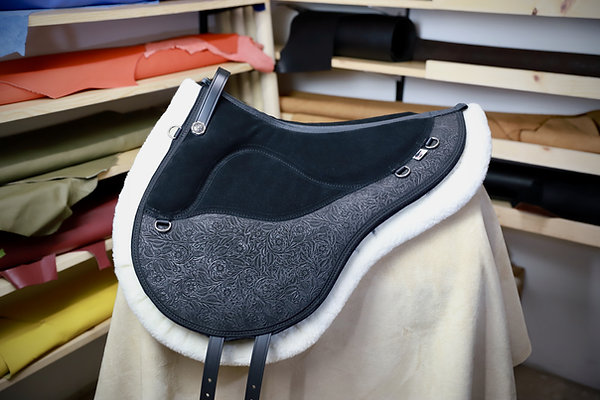 We should look at equal parts functionality and durability when choosing a bareback pad. There's no use having a tough pad that is uncomfortable and doesn't work correctly. There's also no use in having an intelligently designed pad that falls apart after hard use. This is one item where both of these are equally important.
When considering durability, I looked for tough nylon or leather construction. A bonus would be a comfortable seat material such as sheepskin. The hardware needed to appear heavy-duty and designed for daily use. Companies can get away with making a bareback pad out of inferior materials, but that doesn't mean they should.
When considering functionality, I looked for either suede or leather pads for leg and knee friction or a structured seat. Something has to assist in holding you on to this thing if you plan on using it for anything other than a lazy trail day.
Though removable stirrups are a bonus, I would not recommend buying a subpar pad just because it comes with stirrups. Please give yourself a leg up and get a pad that encourages your body to use its seat instead of the stirrups to balance itself.
The Benefits of Bareback
Similar to bitless bridles, I cannot recommend bareback pads enough. They will make you a more considerate and more balanced equestrian. Balance and responsiveness are a kindness to your pony. If you only rely on stirrups, you are doing them a disservice.
Your seat should always be controlled by your thighs and core, especially as a western rider. English riders may rely more on constant stirrup contact, but they should be dropping their irons often to keep themselves from turning into a dead weight on their ponies.
What better way to practice this than by using a bareback pad? Stirrups create a fulcrum on your horse's back at the withers, and if you are too reliant on them, you will create an uncomfortable experience for them. You will also fall off a lot more often.
When a horse makes an unexpected movement, our bodies can only use instinct to react. If our instinct is to grind into our stirrups in fear, we will not be balanced and may likely fall. If our instinct is to sink into our thighs, we will have a balanced seat and may not even be slightly displaced by the same movement. Use a bareback pad to teach yourself to rely on your seat instead of your feet.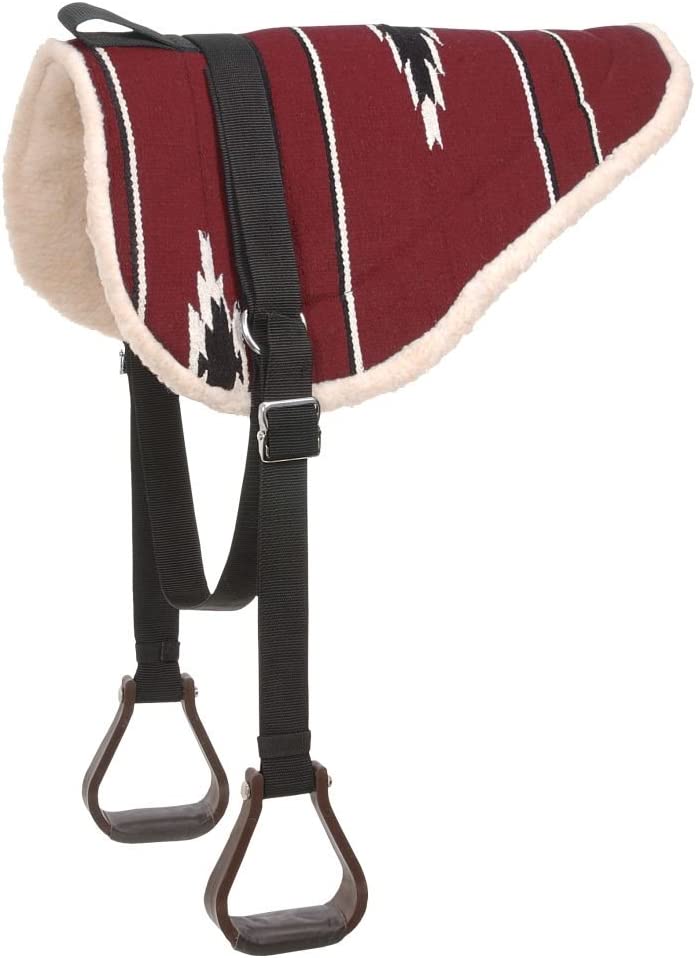 Ok, I know I said not to get a pad without seat assists, but this pad is at an unbeatable price and may allow some to try the practice out before fully committing. This pad could be a great fit for beginners that aren't quite sure they're ready to commit or for kids that have iron seats anyway. You should be able to find this pad for around $40 or less.
For a basic pad, it's durably constructed and easy to wash. The removable stirrups are a bonus, and the heavy felt center gives it a little bit of structure. The pad comes in a variety of colors, and its unique looks will be what makes you click the buy button.
Unfortunately, the pad isn't meant for long adventures. The girth is subpar, and there are no rings for gear. There is also no seat structure or suede pads to assist with any kind of athletic endeavors. Buy this pad to try out the hobby, but you may soon find yourself upgrading.
Try not to rely heavily on the hand hold at the withers or the included stirrups, both would be defeating the purpose of the pad.
Pros
Very affordable bareback pad, only $40
It comes in a vast variety of colors
Attractive pattern
Relatively durable construction
Removable stirrups
Heavy felt center
Cons
No seat structure or suede leg pads
No additional padding besides fleece liner
Subpar nylon girth
This pad is perfect for the bareback enthusiast. While there is no seat structure to assist in your adventures, advanced bareback pad riders don't always want any added form to their pad. Instead, this pad has large suede leg pads to create friction with your thighs and knees.
It's also made of 1″ thick gel on top of the felt lining. This gives the rider the ability to sink into the pad and use it to hold their seat. It is also more comfortable for long rides for both the horse and rider. The included girth is high-quality and lined.
The only real downside I see to this pad is that there are no gear rings, so you'll only be able to take it in the ring or on a short trail. This pad seems to be intended for training in the ring, so if you're looking for a trail riding pad I would keep looking. You should be able to find this pad for under $200.
Pros
1″ thick gel insert for maximum comfort
Suede leg pads for extra grip
Tough nylon and suede construction
Included felt girt won't need to be replaced
Clean and quality look
Easy to clean as long as the suede is taken care of
Cons
Nearly $200
No gear rings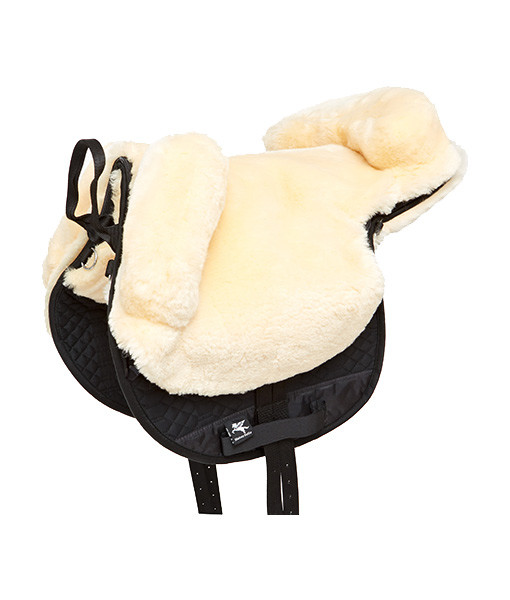 Now this one will hurt your wallet, but you can rest assured that it's a cut above the rest. Sheepskin is the perfect material for a bareback pad, and this pad is made from 100% Australian sheepskin. It's highly breathable, easy to clean, and incredibly comfortable.
It's also expensive; you'll have a hard time finding this pad for under $500. If you compare it to the average price of a saddle, however, the pad seems a lot more reasonable. You can make this comparison because this pad is designed to be used just as much as a standard saddle and is just as tough.
I love the way sheepskin performs, but my favorite part about this particular sheepskin pad is its structure. The pad has foam inserts at the pommel and cantle to keep you seated without stirrups. These pads, as well as many of the other parts of this saddle, are removable and easy to clean.
This bareback pad includes tons of convenient gear rings. Attach saddle bags, a pommel bag, breastplate or crupper. You'll be able to make this pad work with any horse or any trip, and that's often worth the money.
Pros
Made from 100% Australian sheepskin
Sheepskin is highly durable, breathable, and comfortable
The pad molds to your horse's body and provides thick padding between you and them
Foam inserts at the cantle and pommel provide an easy way to secure your seat
Included D-rings allow breastplate, crupper, or saddle bags to be attached to this pad
High-quality Engels construction
Cons
Just shy of $500, though I would argue the pad is worth the investment if you're serious about bareback riding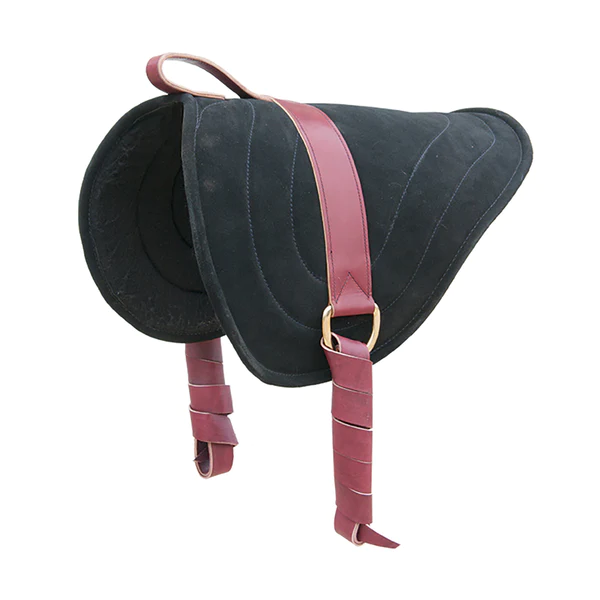 Here's one for western riders looking for a simple and elegant solution to their bareback pad search. This entirely suede pad will keep you seated, and its thin design will keep you connected to your horse. It may be a simple design, but Parelli always seems to know what he's doing.
It's an excellent fit for a western rider looking for a training pad and the thinnest option on the list. In fact, this pad may have you asking: Why not just ride completely bareback? I'm glad you asked! The suede pad is much easier to stick to than a horse would be, and I don't know if you've done any active bareback riding, but this pad will also prevent a hot, sweaty mess while still providing a near bareback experience.
The pad is also very attractive, with a beautiful leather cinch strap and visible white stitching. You'll find it in a variety of colors; this one will definitely stand out on your horse. Unfortunately, the only D-Rings on the pad are for latigos to fit a western cinch, so this may not be a pad to consider for long rides.
It's also a pretty expensive pad due to all the leather, so you better really like how it looks if you decide to pay $300 for it. You'll also want to be familiar with leather care to take care of this investment.
Pros
Fully suede top to keep your wrangler butt well seated
Large latigo D-rings for western cinch
Beautiful leather center strap
It comes in a variety of colors
Thin construction for a truly bareback feel
Cons
$300 pad with no frills
Girth not included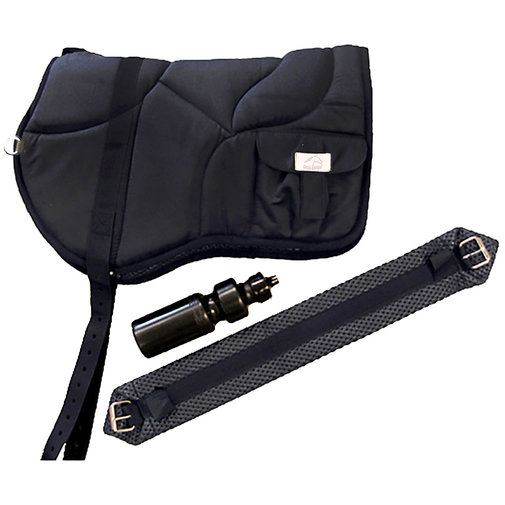 Here's a pad for those of you ready to hit the trail without the need for seat aid like suede or foam inserts. Maybe your horse is of the gentler and trustworthy variety, or maybe you're a certified badass rider with a seat of iron. In any case, there's no need to pay for features you don't need, and this might be the pad for you.
I don't want to scare beginners off either; the whole pad is made from synthetic suede, which will give you quite a bit of stick without dedicated pads or inserts. For $125, this trail bareback pad is a great deal.
The pad includes a water bottle holder pocket and front D rings. It should be easy to attach a pommel bag for long rides or a breastplate to keep the pad in place. The included girth is pretty basic but should get the job done for short rides.
Keep in mind that girths do much less work when stirrups aren't involved, so a subpar girth is not always a deal-breaker with a bareback pad. The joke in the western world is that when you see daylight between a horse and its cinch, you know you're dealing with a real cowgirl.
Pros
Synthetic suede design that will help keep you in the saddle
Water bottle pocket with an included water bottle
Included girth
Front D-rings for accessories or breastplate
$125 price point
Cons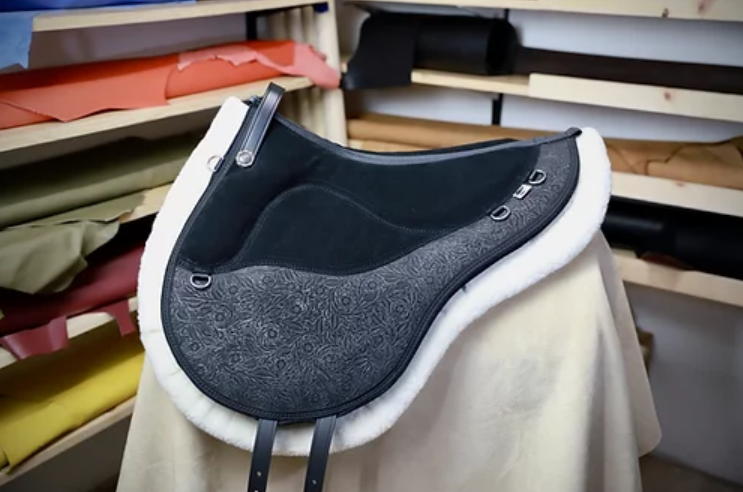 This pad is the best pad on the list, but as it's American-made by a small business, you will pay a fair price for it and its accessories. If you ride bareback at all, you'll quickly understand the need for a quality pad, so don't be scared off by the $400 price tag. It's very reasonable for the quality pad you'll end up with.
This pad is durably constructed and made from thick, hand-sewn leather. Unlike any other pad listed, these pads are recommended for endurance riders and several-day treks. Their padding is sewn on either side of your horse's spine to mimic the support a tree would give a standard saddle. For this reason, you may use stirrups with this pad permanently or as advised depending on your horse.
These pads are absolutely stunning and come in custom colors to order. The pad comes with eight stainless steel D-rings for any type of gear configuration that makes sense for your horse. You can buy matching packs, breast collars, and cruppers or use your own.
The pad is heavily structured, which will be comfortable for your horse and you on long rides. The full leather construction of your choice means you'll have as much stick as you would on a standard saddle. The optional rubber grip pads mean you may wind up with a better grip than a traditional saddle.
Pros
Support a small business!
Highest quality bareback pad on the list
Beautiful selection of colors and designs
Eight heavy-duty stainless steel D-rings
Padding distributes weight away from the spine
Matching accessories
Only $400 for a fully American-made pad
Cons
How to Use Your First Bareback Pad
I recommend you use it in training, but I highly recommend you take it on the trail. There's so much benefit to a long day out on the trail with a bareback pad that cannot be mimicked in the ring. Of course, you must do this safely and will need to train on it in the ring first.
You don't want to fall off at your horse's first spook in the middle of nowhere. If you can jump or gymkhana on a bareback pad in the ring, then your body knows the motion if your horse gets spooked out in the wilderness.
Some bareback pads even come with removable stirrups so that you can get a feel for the pad before removing your safety net. I recommend these for beginners because you can always pack the stirrups for a long day out on the trail or add them back for a hard day in the ring.
Be aware that stirrups are not a healthy long-term solution on any but the highest quality bareback pad. Without the aid of a tree, stirrups will cause the pad to drag on your horse's spine. They should be used as a temporary training step only, hopefully with plans to remove them in the near future.
Drop Your Irons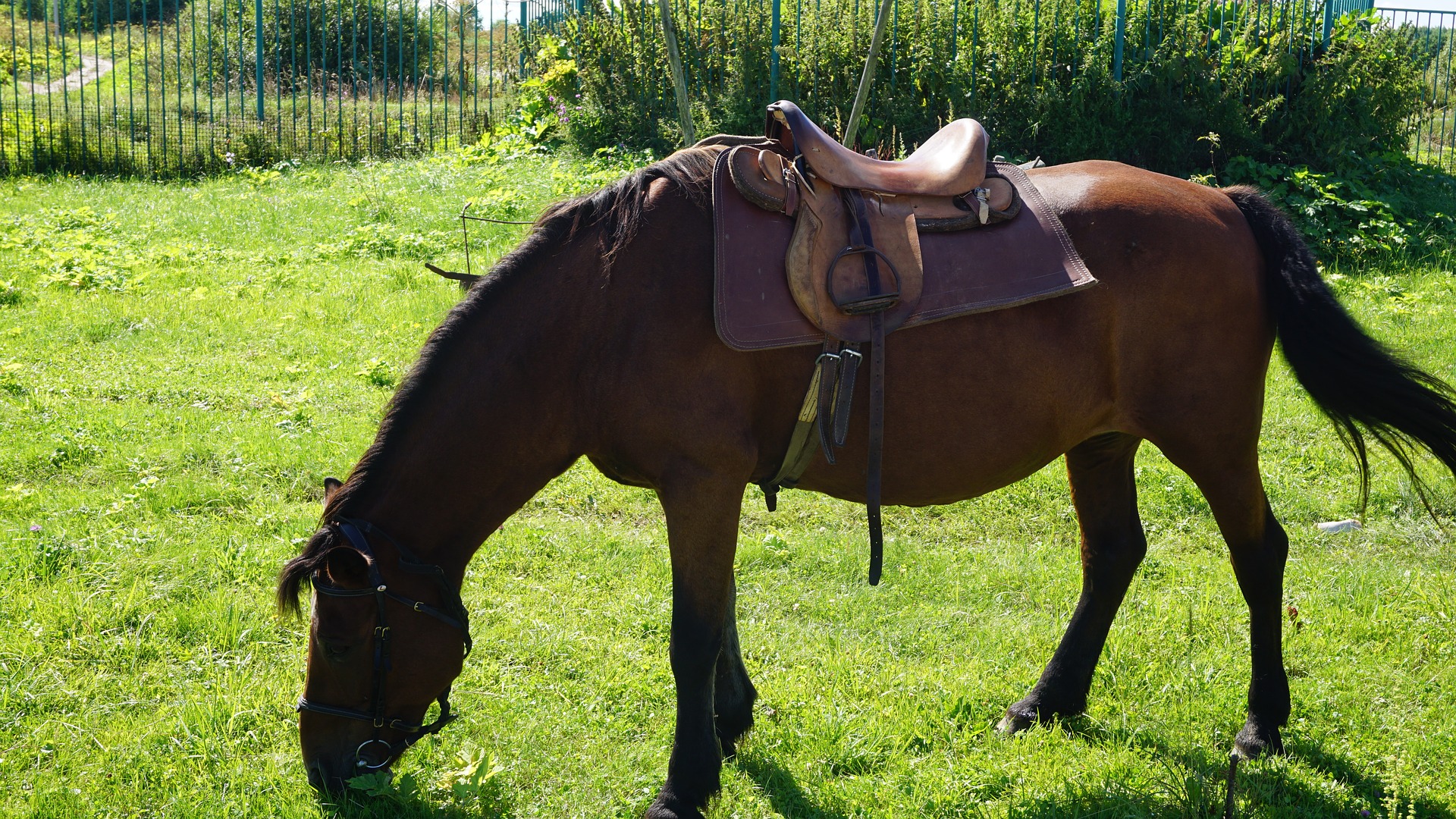 Who needs stirrups? Not you. A bareback pad is a valuable tool in developing an independent, iron seat. There's not a better one on this list than the Trailmaster Ranger, though each pad suits a different purpose. If you are looking for a high-quality pad that's safe for your horse's back (no matter the distance), this is the pad for you. It'll also be one of your most beautiful pieces of tack, and with 8 D-rings, you'll be able to use it with almost any other piece.
It's important to buy a quality pad or know how to use an affordable one. Not only can a bareback pad be dangerous for the rider, but it can also stress a horse's spine when used incorrectly. Always train on the pad before you hit the trail, and don't use stirrups for extended periods on any but the highest quality pad.
The benefits of a bareback pad are exponential. Your seat will improve, you'll have a new understanding of your horse underneath you, and they'll thank you for the decreased weight. Welcome to the bareback club!
FAQs
Question: Does a bareback pad help?
Answer: Yes! A bareback pad is beneficial for both horse and rider. It teaches the rider an independent seat or sticking on without stirrups. This is one of the most important aspects you'll need to learn to become an advanced equestrian. Your seat is your number one safety asset when on horseback, and improving it will make you a safer rider. A horse appreciates the reduced weight, but they also appreciate a rider with a more balanced seat.
Question: What is a bareback pad used for?
Answer: A bareback is used to simulate bareback riding without all the hair and sweat. It's also helpful to have a cushion between you and your horse, even if neither of you is particularly bony. If the bareback pad is well-made, it may even include grippy materials to assist riders in staying put without the aid of stirrups. Of course, riding bareback (or ditching the stirrups) has a ton of training benefits.
Question: How do you ride in a bareback pad?
Answer: First, start your adventure on your bareback pad in a training ring, round pen, or at the very least, an enclosed field. Not only will your horse be easier to work with, but you won't lose them if you take a fall. Bareback pads are not easy to ride, but that's the point. Concentrate on your seat and posture. It will take a lot of repetition, but any bad habits your stirrups have produced will eventually be traded for a well-balanced seat.
Question: Is it bad to ride a horse without a saddle?
Answer: No. It's beneficial for both you and the horse. There are some circumstances where you may cause your horse pain, such as an overweight rider, a long ride with a beginner rider, or putting stirrups on an inferior pad. A rider with a good pad and a great seat can ride their horse indefinitely and the horse will be more comfortable than had they had a saddle on.
Question: Can you attach stirrups to a bareback pad?
Answer: Only the best bareback pads should be used with stirrups, and even they suggest parameters for their stirrup use. The majority of bareback should not be used with stirrups except occasionally or while learning. Stirrups probably never should have been added to the pads in the first place. They create a dangerous fulcrum at the spine on a pad without structure. While this is a small issue for saddles, the tree keeps it from becoming a major issue. Bareback pads do not have a tree.