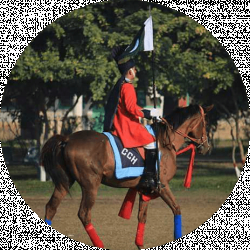 Latest posts by Boo Ali Khan
(see all)
I know it can be tough to find a waterproof pair of river boots that are not only stylish but also comfortable to wear for extended periods. Plus, even if you find a couple with these qualities, there is no guarantee that that pair will be widely available. Suppose you also happen to be new to this market and don't know anything about river boots beforehand, then the journey can be pretty bumpy for you.
So, to save you from all the hassle and trouble of doing countless hours of research, I have compiled many tips. While also squeezing in some of my suggestions in this best river boots buying guide to get you started. Okay, so let's begin with my river boots experience.
When I started my equestrian journey at Cadet College Hasan Abdal, I faced the constant issue of my socks getting wet inside the riding boots. But then my captain suggested I use river boots, which changed my life. Gone were the problems of soggy socks and wet feet.
But as good as these sound, they are no replacement for the usual riding boots. Instead, these are more useful for equestrians who like to ride horses off and on and are looking to wear waterproof boots for daily activities around them.
The Bottom Line: My Top River Boot Pick
As I promised, I have mentioned my picks for Dublin river boots below. I highly recommend you check them out if you are still picking which river boots will be best for you.
Coming back to my favorite, it would be these Dublin River Boots III. Why specifically these? Because they have a stylish two-tone design and have a comparatively lose grip. I also found them perfect for all my messy activities around the stable, and they work well as makeshift riding boots whenever I want to blow off some steam on the ranch.
My Top River Boot Picks at a Glance:
My Reason for Choosing These River Boots
The river boots I enlisted in this guide correspond to the following factors I mostly look for while deciding whether a pair of river boots is suitable or not.
Completely Waterproof
Of course, when it comes to river boots, first of all,l I check whether the specific pair is fully waterproof. Many boots today are said to be river boots just to sell higher units but don't really have something to avoid moister from seeping in.
Properly Stitched Pairs
To further check the quality of the boots, I also see whether the boot has high-quality stitching. This also proves to be a significant factor in ensuring the shoes will last a long time.
Another thing I make sure to check is the material used to stitch it together. Good-quality Dublin river boots are mostly stitched with nylon rather than regular thread.
Sufficiently Padded
When it comes to river boots, unlike regular riding boots, these are made to be worn all day through strenuous activities around the stable. To do this, you have to consider the comfort of your feet too. So selecting whether a river boot is padded appropriately or not was an important factor in determining my top picks.
Suitable for Standard Stirrups
Of course, when picking out good-quality river boots, I have to consider whether the boot is suitable for a standard size stirrup. Because alongside being all-rounded boots, at the end of the day, these are riding boots. So, in my opinion, if a river boot can't even fit in a stirrup, it shouldn't be a valid option for you to consider.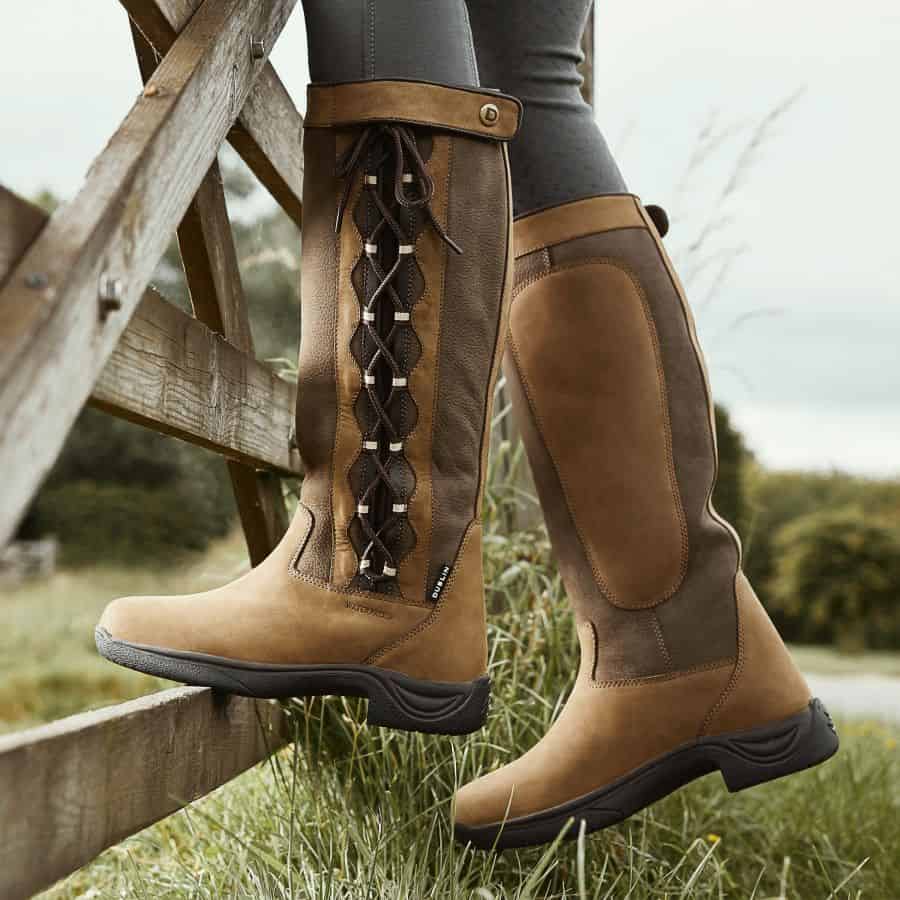 Buying Tips for Finding the Best River Boots
When I first encountered the job of picking out a pair of river boots for myself, I faced many problems. So to ensure you don't have to face the issues I met, I have mentioned some of the best buying tips to streamline your river boots buying experience.
Always Buy from Authorized Sellers
Whenever you go to an online market to buy a pair of river boots, remember to check, and I can't stress this enough, the site's credibility.
With the rise of online shopping, many fake sites are also popping up, promising to give the same river boots for lower prices. From a glance, this may seem like a good deal, but often times it's a scam. The river boots they sell are almost always fake copies of the ones sold by Dublin.
Some sites that I recommend for river boots are Dublinclothing, Amazon, and thedrillshed.
Do Your Research about River Boots Beforehand
My next tip would be to research river boots before venturing into the market. I am telling you this because I learned this the hard way.
When I started looking for river boots, I was stuck in a pinch, as I didn't really know the difference between river boots from an average riding pair. This wasted a lot of my time, as I went through several dozen different pairs when I could have just selected the ones I knew were river boots. So to save yourself from this hassle, I recommend you learn about river boots and what they really are.
Confirm Your Foot Size
As necessary of a tip as this actually is, a lot of riders ignore it just because many think their foot size hasn't changed in the last 4-5 years. If you do the same, you will end with a pair of Dublin river boots that are too small for your feet. That's why I recommend checking your foot size whenever you buy a new pair of river boots or any boots for that matter.
Another thing to remember is to check the length from behind the knee to the base of the ankle. Also the width of your calf. Then just compare the measurements with Dublin's size guide. This way, you can be sure you are getting river boots that are perfect for you.
Buy From Local Retail Shops
Yes, I know online shopping is much more convenient and accessible than going out and spending hours looking around retail shops to find a pair you like. But this doesn't make online shopping a default option, as it also has its own problems.
With online shopping, you can't check the material and foot feel of the river boots before buying, something I like about shopping from retail shops. Another advantage with retail shops is that you can try every size to ensure you always get the perfect fit.
My Top River Boot Picks
Dublin is a reputable brand, and when it comes to river boots, it also happens to be its pioneer. But as many other brands have also started to manufacture good-quality river boots, leaving them out of this list would be unfair.
So, I have also provided some alternatives to Dublin river boots below. If you're wondering, you can find most of these on retail shop shelves or through the links I have provided below.
Dublin® Ladies' Mid-Calf River Boots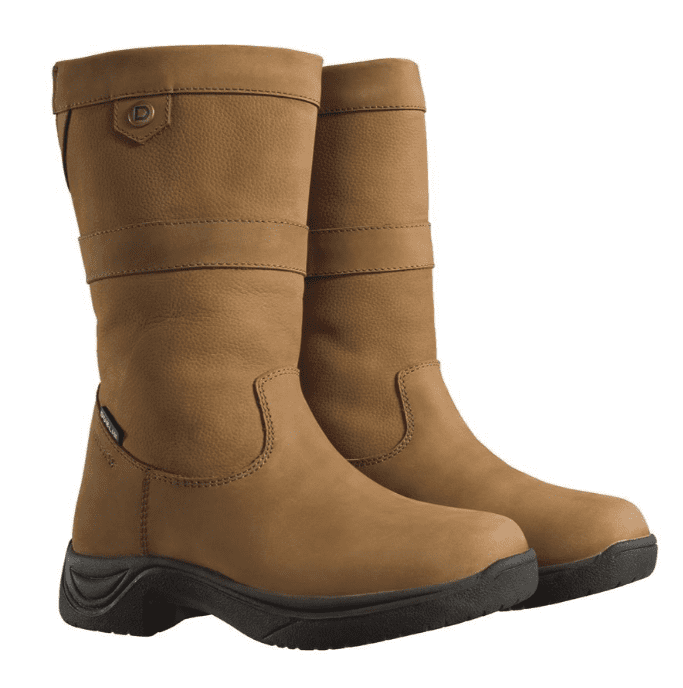 Description
A great pair made by Dublin for the masses. From first impressions, I found this pair looks and feels quite different from most river boots I had previously experienced. As these have a shorter overall calf than most, but this is intentional, making them much more manageable. I also found that these are very easy to take off and put on, perfect for when I want to quickly get ready for an out-of-blue call at the stable.
Like most river boots, it does share a full-grain leather build, which is treated with Dublin's special fabrication process that eliminates any chances of water seeping through.
As the whole boot is cut from a single piece of leather, their a lot less stitching used to keep the boot together, further reassuring its waterproof claim. Where seams are seen, the stitching is done with such accuracy that it was hard to believe it was available at such an affordable price.
Pros
Offers a reasonably breathable design, making it perfect for extended sessions.
This pair is relatively cheap compared to more river boots.
Cons
The shorter calf length can lead to your pants rubbing against your horse's coat, which may damage the horse's skin.
Dublin® River Boots III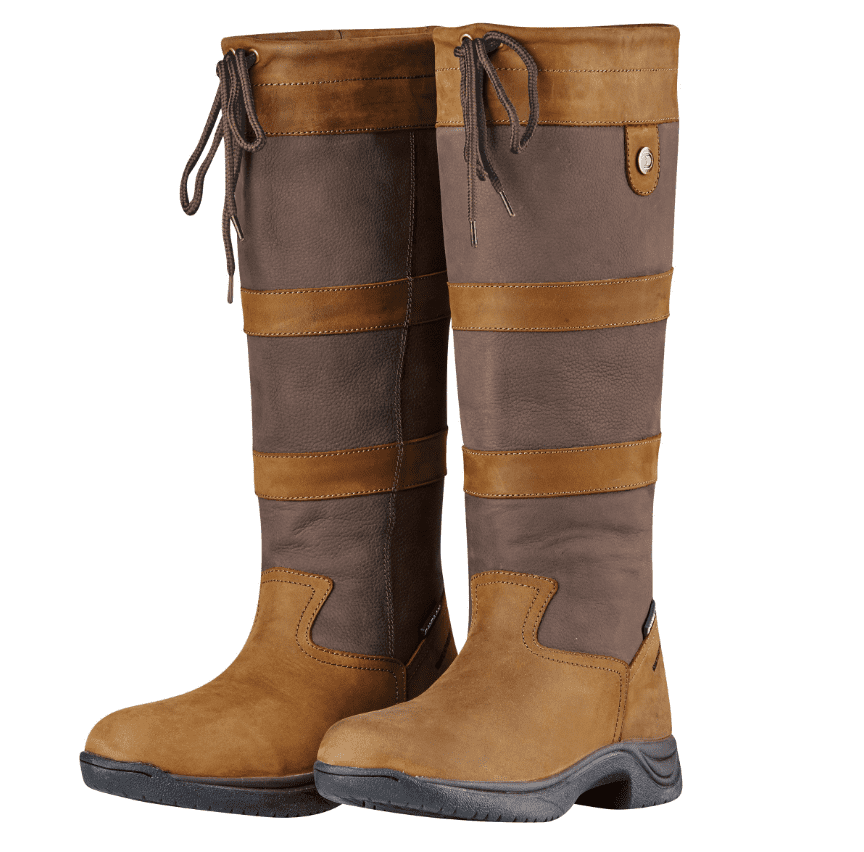 Description
Now coming to my favorite pair of river boots, the Dublin River Boots III. When I started using river boots, I started off with a lot of aftermarket boots that weren't even close to the claims they promised. But all of that changed when a friend from my stable recommended me these boots. I thought he was bluffing when I heard him talking about their advantages over any other pair. That mindset didn't change until I saw them for the first time.
When I wore them, they felt like nothing before, as the whole inner surface was lined with a cushion-like material. But despite being so snug, it was still highly breathable and incredibly light; for a second, I almost thought I was standing bare feet.
Its waterproof claim is also nothing to ignore as the whole boot is stitched with nylon, making it watertight. Perfect for when I felt like jumping into a puddle of mud; don't deny it until you try it.
It is also available in five colors: black, tan, and my favorite, charcoal/navy. But all these perks come at a cost, a pretty high one. So if you plan to add this boot to your arsenal of other stable equipment, I recommend you save up beforehand.
Pros
It has a soft velvet-like finish, which is very gentle on the horse's coat.
It is available in multiple colors to choose from.
Cons
The dyed leather may fade with constant use.
Dublin Ladies Husk Boots II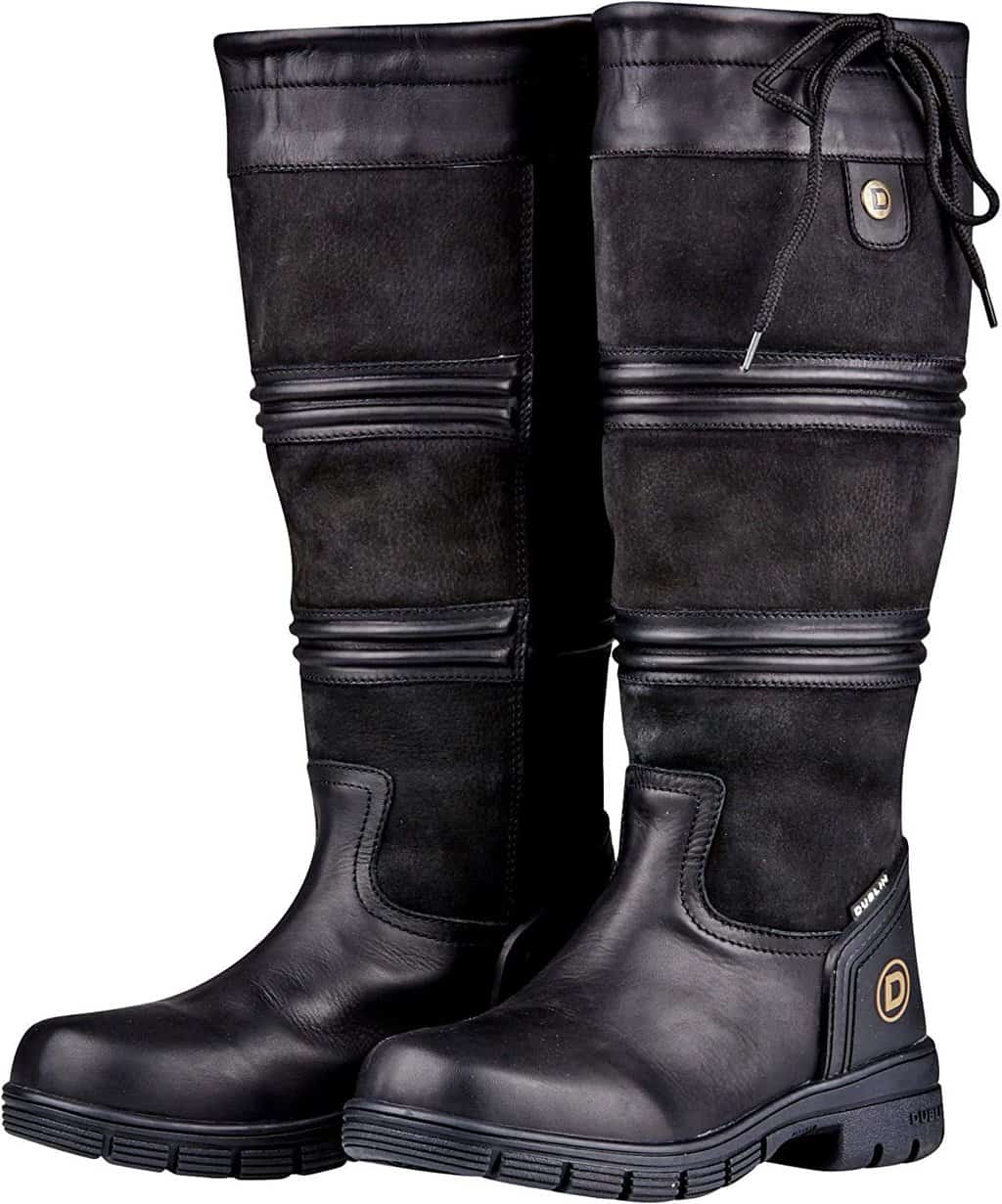 Description
Maybe you don't care about the budget and want something that has all the perks Dublin top-of-the-line river boots offer. Well, I would suggest looking at the best river boot. Their base not only has the RCS footbed system Dublins are so famous for but is also made of full-grain leather, although at an extravagant boot-dropping cost.
I first witnessed these beauties at our local three-day dressage event, and let's just say I couldn't notice anything else throughout the whole event. Another thing I was amazed about these boots was the amount of work Dublin had placed into making the entire boot so elegant yet versatile.
From the leather straps around the calf to the hard coating around the toe, everything is there for a reason to make sure this boot will be a worthy companion for any rough chores around the stable. It also includes laces around the neck of the boot to ensure it isn't falling off if your horse gets a little too wild at the rodeo.
Pros
It has a comfortable and breathable build, perfect for long strenuous days.
It is available in three distinct color pallets to choose from.
Cons
Comes at a very high price tag that may not fit most equestrian budgets.
Dublin Danman Ladies Boots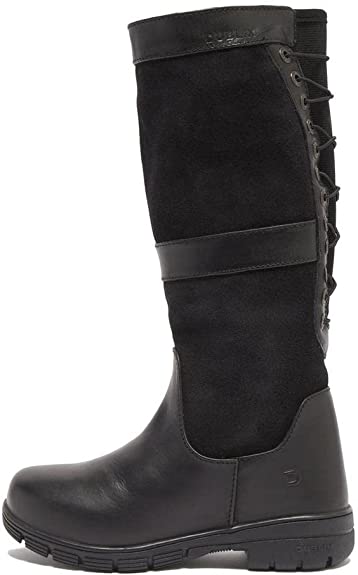 Description
Dublin may have advertised these boots for all the equestrian ladies out there. But even if you're a man and can find these in your size, I recommend you try them out. Not only do they have incredibly soft padded insoles, but they also have a glossy finish that gives them a particular shine. Perfect for when you plan to wear them on a long sunny day.
The outer layer of the boots is made of full-grain leather, which helps maintain the grip on the horse, giving them another point in my books.
But these wouldn't be my first choice anyway because of their untextured material, which can tend to pull out your horse's hair when rubbed against them. But this doesn't throw them out of the race already, as they have a thick sole made of grippy rubber, which will help you a lot walking in the mud.
Pros
It includes boot laces for a tight fit around the calf.
Has the Dublin RCS(Rider Comfort System) sole.
Cons
It is only available in lady sizes.
Expensive compared to most river boots.
DUBLIN PINNACLE BOOTS II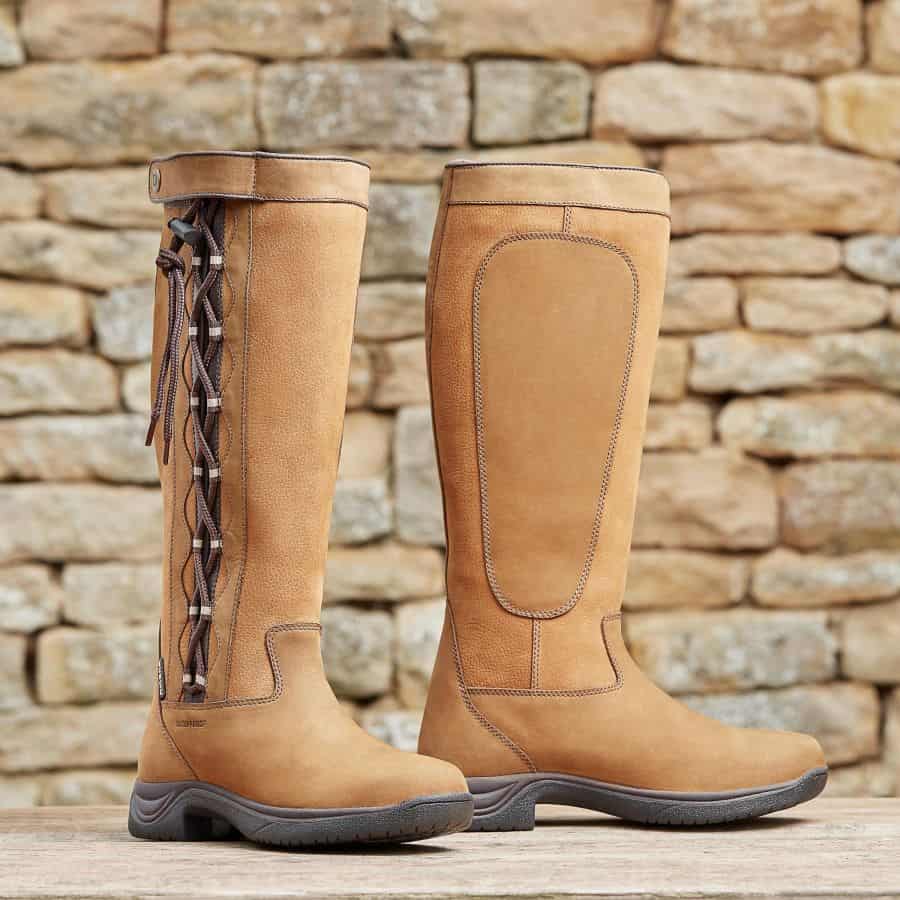 Description
Let's discuss another great option if you're in the market for high-quality river boots. Wearing these Dublin Pinnacle Boots II will surely make your next equestrian meetups much more interesting, with most of your friends complimenting the zigzag design along the boot's length. The lace isn't only there for aesthetics as it also allows for fully-adjustable width around the calf.
The inside of the boot also has a leather knee patch design that has a smooth texture compared to the rest of the boot. Which I found really helps with having a firm grip on the horse, especially in barrel racing. The toe cap of the boot is also nicely curved that fits perfectly in a standard wide stirrup.
The overall build of these boots also makes them fully breathable and waterproof, perfect for a full day of messy activities around the stable. But I don't recommend the light chocolate color option, as it doesn't tend to hide mud stains.
Pros
It has the Dublin RCS sole, which makes them highly comfortable to wear.
Suitable for any size calf with its fully adjustable design.
Cons
These are a little difficult to manage due to all their laces and fasteners.
DUBLIN FLEET BOOTS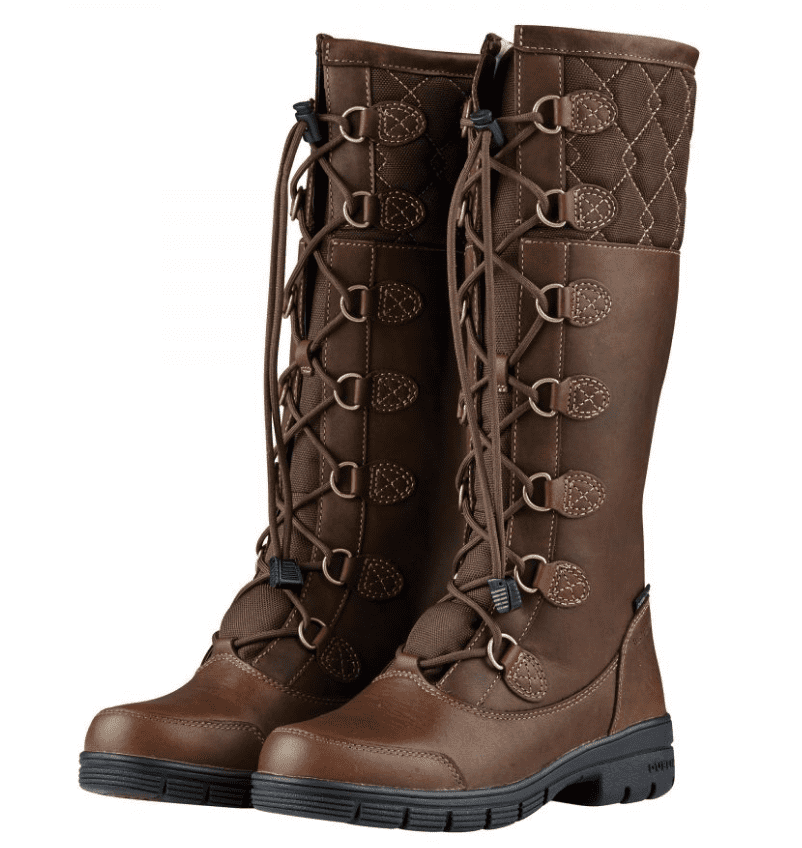 Description
Are you living somewhere a little more chilly than the state of Florida and want something to protect your precious toes and keep your feet dry as the snow melts on your boots? Then look no more because these Dublin Fleet boots are all that you would need.
The inside walls of these boots are lined with synthetic fleece. Which not only provides warmth when you're working hard on a snowy day but is also exceptionally soft against the skin.
I had a chance to wear these at a recent horse show, and as I mentioned, the fleece material was just perfect, with almost no resistance between my foot and the shoes as I was putting them on. Another unique feature of these boots is their fully-laced design which makes it very easy to tighten the boot on the go. How can I forget the groves on the sole? This gives them a lot of traction, especially if you're walking on snow.
Pros
Has a fully-breathable design, perfect if you plan to wear it for long hours.
Its nylon lining makes it fully waterproof around the ankles and the sole.
Cons
These are relatively expensive for someone on a tight budget.
Not suitable for warmer climates as the fleece provides a lot of heat.
Mountain Horse Women Snowy River High Rider Boots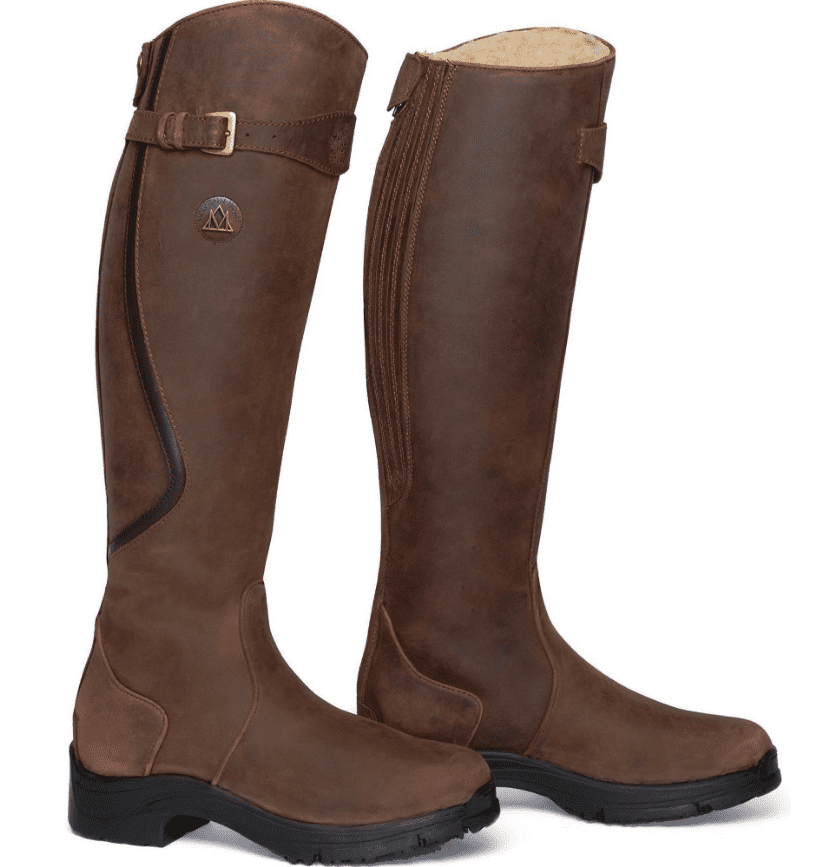 Description
Now let's talk about a pair of river boots that Dublin may not have made but definitely fulfill all the requirements an equestrian like me could have asked for. These are the Snowy River Boots made by the brand Moutain.
These are made of suede leather, giving them an overall rugged coating, which is quite different from the one seen in Dublin boots. Unlike the Dublins, these also have a relatively smooth outer texture which I feel will be softer on my Thoroughbred's coat as compared to my Dublin River Boots III's.
Overall, this is a long boot, which prevents water from getting in; perfect if you live somewhere with a lot of rain. The base and ankles of this pair are also lined with nylon which helps make them breathable while also allowing for ample flexibility, so it isn't uncomfortable to walk in for more extended periods. The insole of this pair is also very soft, with a steel shank that will further add stability to your steps.
Pros
It has a rugged overall look, which tends to show fewer scratches.
The faux fur lining helps keep the rider's feet warm in cold weather.
Cons
It can be challenging to wear for riders not familiar with long boots.
Children Dan Post Boots Little River Cowboy Boots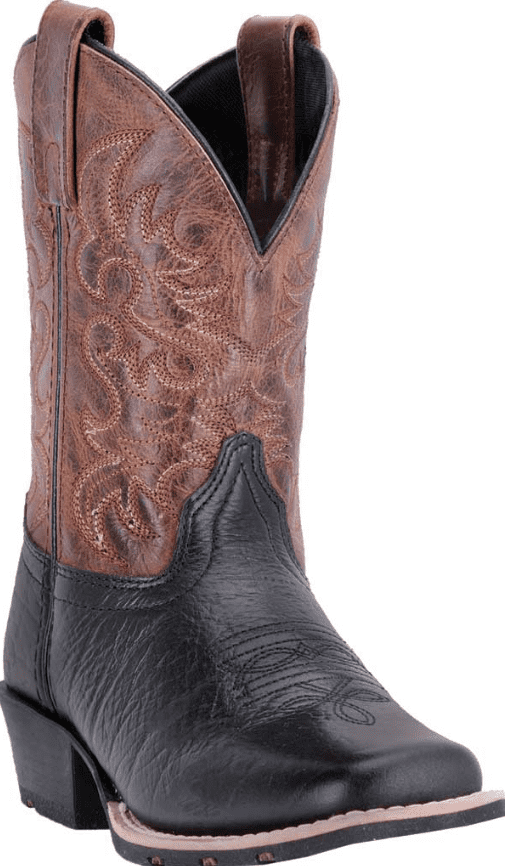 Description
Are you looking for a pair for your younger equestrian but flustered after finding that no good river boots are available in kid sizes? Then I am here to put a saddle on your worries with these high-quality Dan Post river boots that are specially tailored around the needs of a young rider.
The boot shaft is shorter and has leather pull-straps around the calf, making them easy to take off for kids and teens. Another thing to remember is that these are relatively light due to their rubber outsole, but a good amount of cushion is still provided in the footbed, making them comfortable to wear while walking on uneven surfaces.
How could I leave out the impressive stitched design on their forefoot and ankles? I found this may not be appealing to veterans, but it is something kids enjoy. The sole of the boot is also treated to make it waterproof, but I found it mainly works in keeping out the small amount of moister. But it does feature a Cuban-style heel that will provide a firm hold with the stirrup.
Pros
Pull-on entry straps make the process of taking them off quick.
Comes in at a relatively low price, perfect for younger teens.
Cons
Not made for stepping into puddles.
Mountain Horse Women's Wild River Long Riding Boots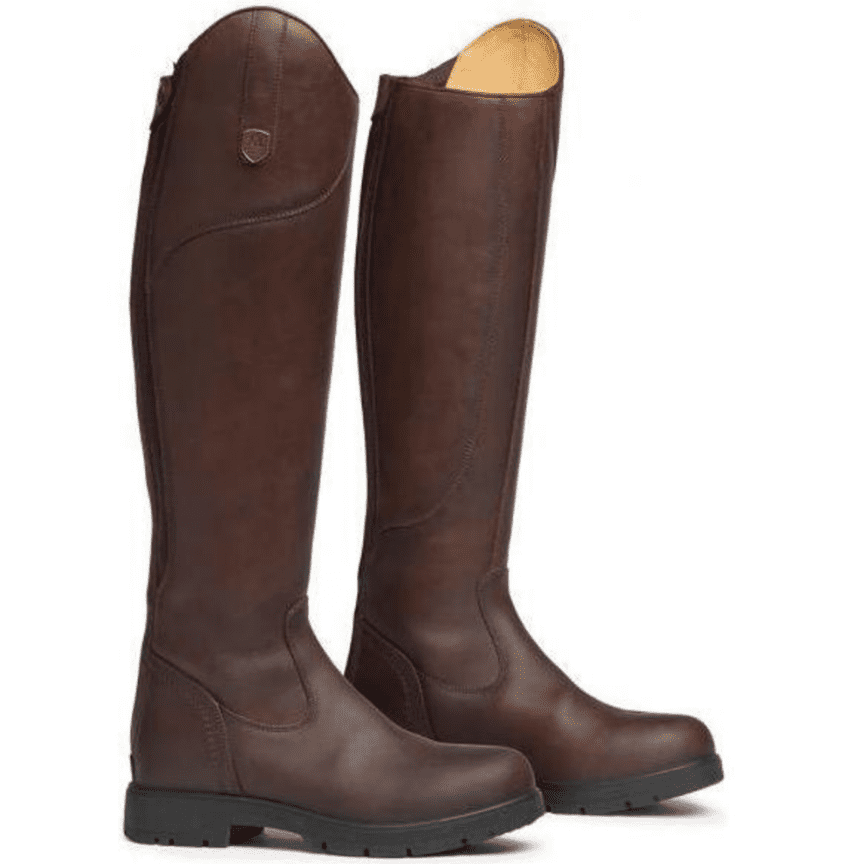 Description
Another great pair of river boots manufactured by the company Mountain. Judging by the previous version of this boot, it would be foolish of me to include the new Mountain Wild river boots on this list. These feature a long shank and an overall leather build.
The leather is also treated, which helps keep them watertight. But if even this wasn't enough for you, the whole boot is stitched with a highly breathable material.
But I do have to mention that the outer leather on these boots has a relatively grippy finish, which I found tends to pull on the horse's hair. So, I recommend not wearing these boots while riding a horse with a short temperament. But I like how every inch of the boot is adequately utilized, from shockproof soles to elastic along its back. All these may seem insignificant to a beginner, but for a veteran like me, these perks defiantly give the boots a run for their money.
Pros
The elastic material at the back of the shaft makes for an adjustable calf size.
The sole of the boot has deep grooves with sufficient grip even in wet climates.
Cons
These are relatively heavy, which makes them not suitable for younger equestrians.
Ariat Terrain Pull-On Waterproof Boots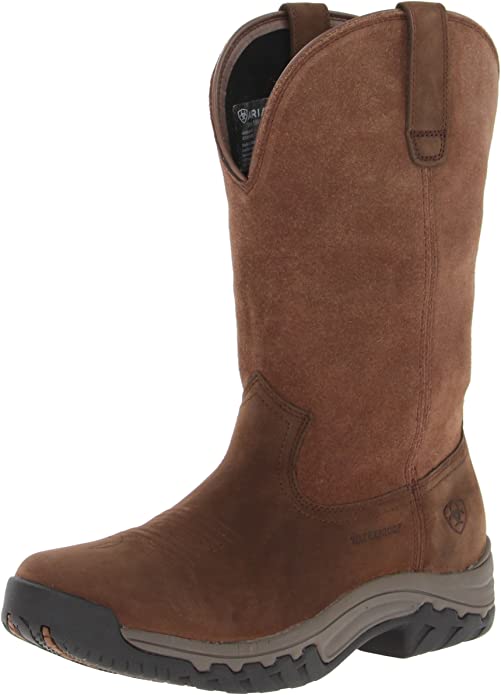 Description
This may be the only pair by Ariat on this list, but that doesn't make them inferior in any shape or form. These have a classy cowboy boots design, but unlike old cowboy boots, they are fully waterproof and lightweight. Also, unlike many river boots, these have a short calf, which I found makes them easy to wear and take off.
The top forefoot on these boots is also slightly curved, with a somewhat high heel that smoothly locks into most stirrups I tried with them. But the part that makes this pair so special is the one-of-a-kind ATS insoles that provide ample support despite my placement. Another thing I liked about these was their soft suede finish, which my horse really liked.
Pros
It includes pulling tabs, which makes them much easier to take off.
It is made of 100% pure leather, giving them a relatively smooth finish.
Cons
These are only available in brown color.
FAQs
Question: Can you wear Dublin river boots for everyday activities?
Answer: Of course, you can; Dublin river boots are specially made to be worn all day and have a relatively ergonomic design. Almost all the river boots offered by Dublin have the Dublin RCS(Rider Comfort System) footbed, which is made from five distinct layers, each with its advantages. To sum it all up, Dublin river boots are made for any occasion, whether it's daily barn activities or everyday house jobs.
Question: What are Dublin River Boots made of?
Answer: Most Dublin river boots are cut out from a single sheet of leather, preventing unnecessary cracks along the length of the boot. The leather is also treated before, making them highly waterproof and is one of the reasons Dublin river boots are so famous. The boots are also stitched with nylon threads, further making them breathable.
Question: How long should river boots be?
Answer: As these boots are made to be waterproof and horse riding, you should find a pair that comes to the backside of your knee cap. If you follow this, the part of your feet touching the horse's belly will be covered with leather from the river boots. Avoid unnecessary contact between your rough pants or jeans with the horse's coat. The longer length of river boots also helps keep the water out if you step into a puddle.
Buying River Boots: a Note Worthy End
As the world of horse riding is evolving, so are the pieces of equipment linked with it. Although river boots are not your standard pair of riding boots, they are still suitable for horse riding, and their robust waterproof build also makes them perfect for messy activities around the stable. Making them some of the most versatile and valuable pairs of riding equipment you can buy right now.
But as good as river boots sound, buying a good pair can be equally hectic, and you can face many problems on the way. But don't worry. I have mentioned many tips to streamline your buying experience. Always remember to shop from an authorized seller and learn about them before heading into the market. Check your foot size every time you buy a pair, and while on the topic of purchasing a good pair for yourself, shopping from a local retail shop is also not a bad idea.
After following all these tips, the best pair I could find were these Dublin River Boots III. These are not only very comfortable but also have a stylish two-tone design, making them perfect for activities outside the stable. As a part-time rider, I found these were a worthy competitor to any riding boots I had previously worn.
Until next time!
Read More: