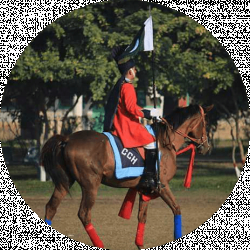 Latest posts by Boo Ali Khan
(see all)
"A knight may 'earn his spurs' as he moves up the ranks."
Our instructor would often make this statement to motivate our riding squad. Although it didn't really make any sense to me, it was still better than his disparaging remarks.
If you are an experienced equestrian, you must be aware of boot spurs and maybe even use them once in a while. But just to give our aspiring riders a brief overview of spurs, these metallic riding accessories have been in use since the Roman Empire. They complement the natural aids of a rider, such as voice commands, legs, and hands.
An experienced rider will choose a spur appropriate for their requirement. These spurs may sometimes have little to minimal usage under particular conditions. If I talk about my preference, I rarely use spurs myself, but when I do, I remember to apply the minimum amount of pressure, depending on the circumstances.
Now that you know what spurs are and how they are used, let me take you on a ride about how to find the best boot spurs. So, hang on to your saddle and hold on to your cowboy hats, as it may be a windy ride.
Bottom Line Up Front:
My favorite spurs would be the Antique Brown Engraved Buckstitch Spurs. They have great brown metal that gives off antique vibes to me. Plus, the floral design is the best part of the spur for me, and the detail is subtle yet eye-catching. Wouldn't you love to have a classic spur like this?
Now let me take you through all the options I have selected for you.
My Top Picks
 My Selection Criteria: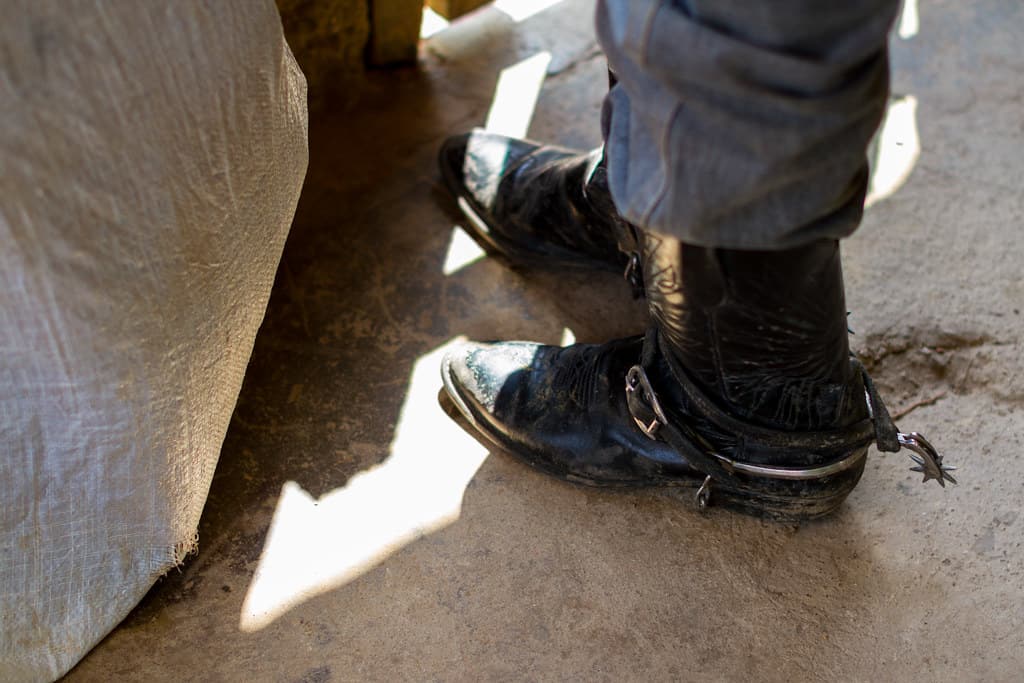 Following were the factors that I considered when choosing these spurs.
These spurs are durable, and they will last long.
The spurs are readily available online, and you may also find them in good equestrian stores.
Some spurs can really poke your horse hard. My listing does not have any such spur that may injure a horse.
Most of these spurs are affordable.
The spurs that I have enlisted fit perfectly on spur rest.
Some Buying Tips Based On My Experience:
Buy Retail:
I believe that getting your boot spurs from a physical shop is much more efficient than ordering them from online marketplaces. Boot spurs can be a very personalized item. While there are various spurs online to choose from, your personal favorites may end up being out of stock.
You can even get your custom spur design if the service is available at a retail shop. Plus, you can quickly screen out any problems and defects a spur may have in person instead of waiting for a long replacement or refunding period from online stores.
Buy An Extra Spur:
I always try to purchase an extra pair of spurs if I can afford it. Because the spurs can end up being damaged or even lost, something you never want to experience in a competition. Additionally, the rowel can also easily fall off a Western spur.
Check The Size Of Your Spurs With Your Boots:
While this may seem obvious, many people still end up with spurs too small to fit their boots or too large to practically fall off. This problem can simply be avoided by just checking the size of the spurs beforehand.
Before placing your order, ensure that your boot has a proper spur rest to hold your favorite spur in place.
Research On the Type Of Spurs Before Buying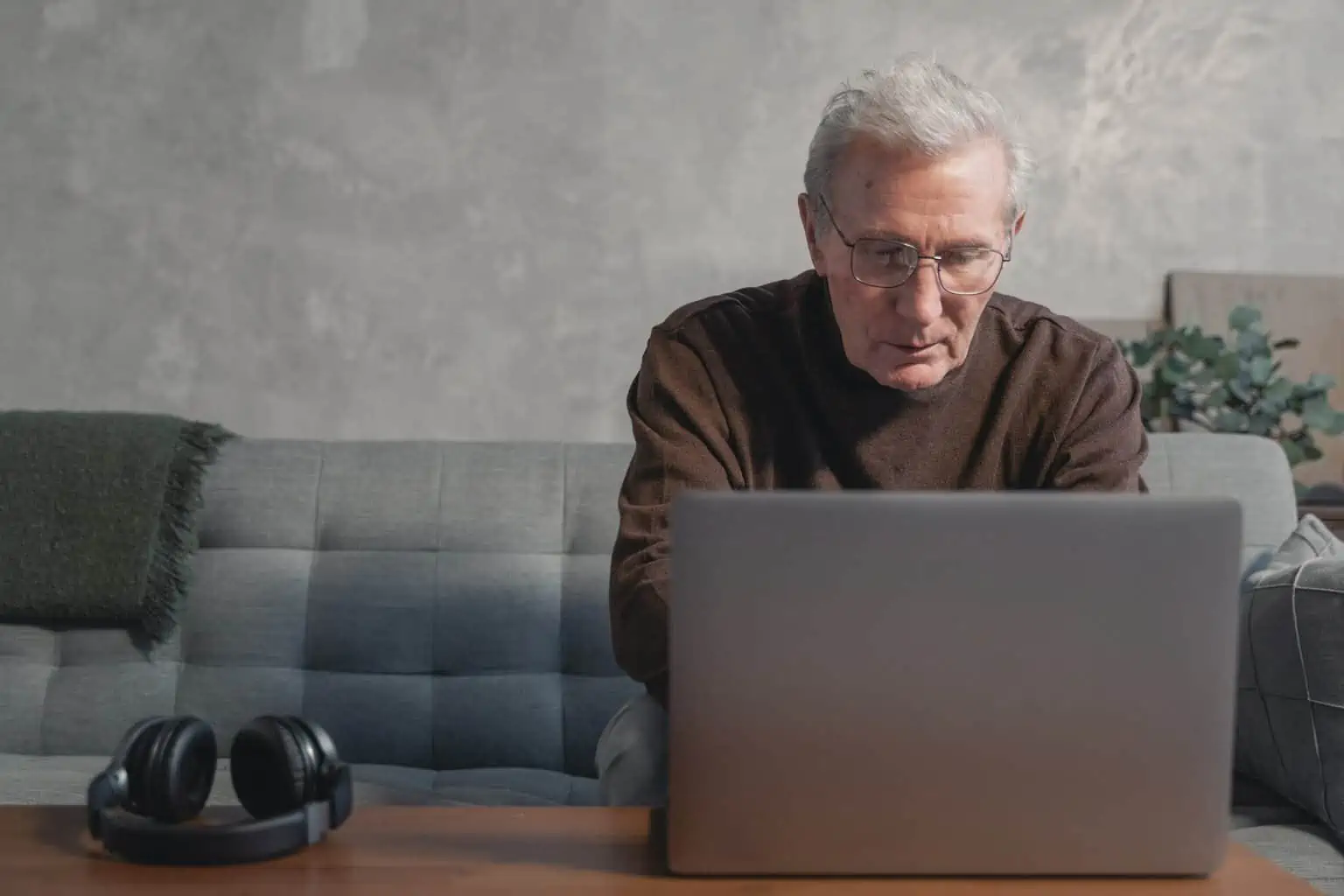 Boot spurs are available in different types, and each event or stage has its kind of spur that is preferred. The English spurs are preferred in the English riding style, while Western riders like spurs with a rowel. Even for shows and competitions, there are strict rules regarding the type of spurs. For example, most barrel racing events allow bumper spurs only.
So, do your research on what exactly you are looking at. I am sure you would never want to end up in an English dressage competition with Western spurs.
My Top 10 Recommendations:
Spurs also vary drastically depending on whether you follow a Western or English riding style. So, to provide you with a better foundation for choosing the best spurs for your needs, I will take you through various types of spurs by also giving you a short list of my favorite picks.
Round End spurs/ Waterford spurs
The spurs in this category have a ball-like round end instead of a rowel. They are preferred mainly by dressage riders who have to give constant cues to their horses to complete their elegant steps, something I love so much.
Their rounded ends are also very soft to the horse and barely leave a mark on their beautiful coat. This spur is best for horses that are a bit sensitive.
Korsteel Rounded End Spurs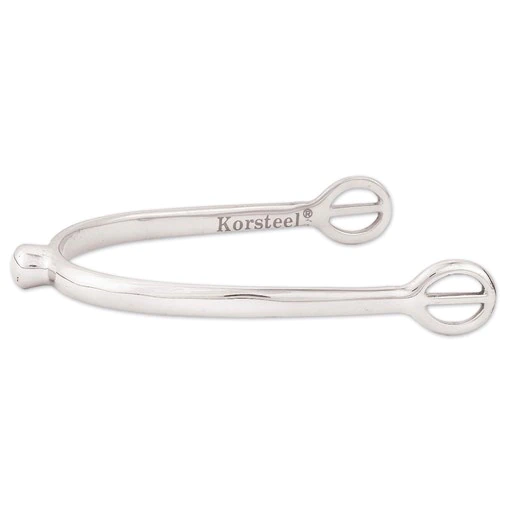 Description:
These Korsteel round-end spurs are a delight to use. They have a bright silver finish that is rust-resistant. They were a great help to me in my few appearances at dressage, helping me achieve good harmony with my thoroughbred. Because of their softened round end, I only had to apply very little pressure to cue the horse, especially for the half pass.
They are made of stainless steel, which makes them highly durable and reliable. Therefore, if you are looking for a spur that will last long over regular use, this spur will be perfect for you. But maybe the best thing about these spurs is their low price, which makes them affordable for those looking for spurs without breaking the bank.
Pros:
It is branded with Korsteel's logo, which makes it easier to confirm its authenticity.
It has a very affordable price tag.
Cons:
The strap holes tend to be on the small side, so broader straps can't be used with them.
Centaur Ladies English Spur, Waterford ball design, 1 inch, Stainless Steel

Description:
With a ball at the end, these spurs can be the most humane for your horse. They are a simple yet effective tool for equestrians who prefer a softer touch for their sensitive horses. The design is very similar to the Prince of Wales spurs, except the harsh edge is replaced with a smooth metal ball, making them much more humane and soft.
With these spurs, you can be sure that a horse will respond nicely and will not get agitated or irritated. Plus, it is much harder to accidentally hurt the horse with the ball end. I recommend this for riders who have sensitive horses.
They are made of stainless steel, which is guaranteed to last you long. They have a bright silver finish that is highly reflective. However, the long-lasting shine of these spurs is what attracted me the most. It may be a bit out of reach for those newbie riders shopping for spurs on a budget.
Pros:
Its ball end is ideal for sensitive horses.
It is very lightweight.
Cons:
It can get a bit pricey and difficult to afford for riders on a budget.
Knob End Spurs
Similar to round-end spurs, these spurs have a knob end. Although they are used mainly by dressage riders, they can also be great for training beginners on how to use spurs. These spurs are very comfortable and very humane for your horse too.
Herm Sprenger® Ultra Fit Knob End Spurs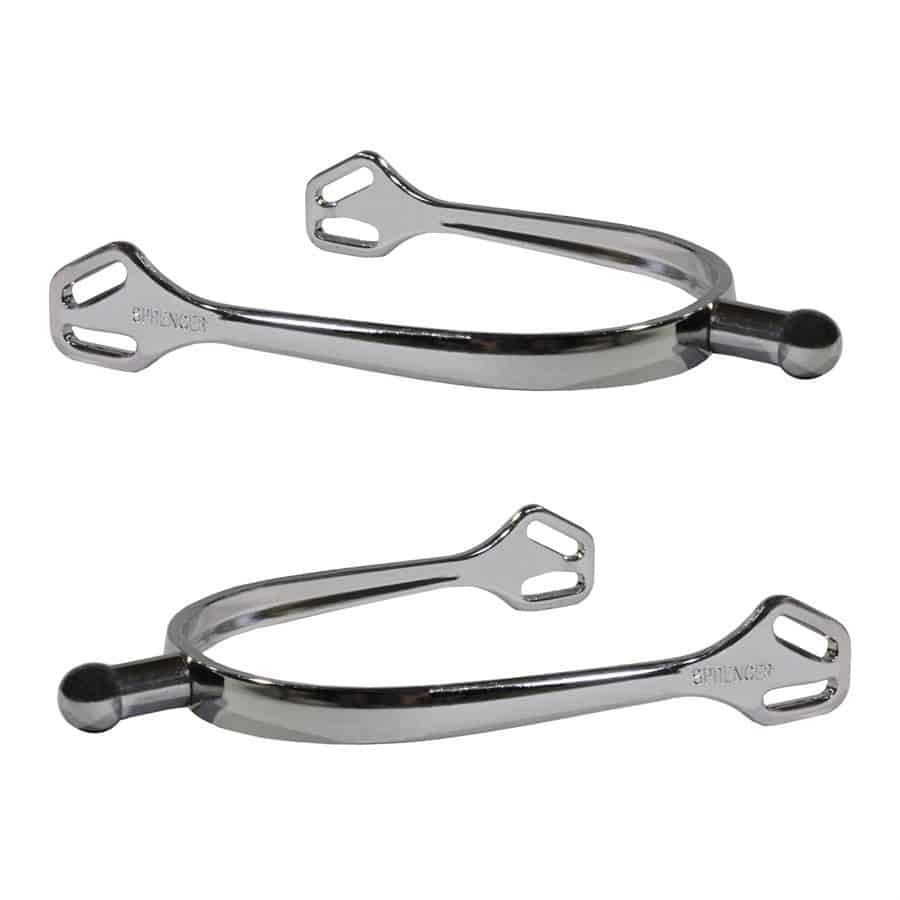 Description:
While using these spurs, you can be assured that they will help you get a good response from your horse without being too harsh. I really like the way the stainless steel on this spur is engraved with the brand name, which can help avoid fakes when ordering online.
But I did notice that their heel band is a little too wide, which can give them a loose fit around smaller riding boots, so spur straps are a must if you plan to buy them. But as the straps are sold separately, don't forget to add them to your budget.
Not to mention, in the end, these are worth the money because of their knob end, which makes them a perfect option for professionals as well as learners. Another great thing about this item is its free return policy. If you order it and do not find it to your liking, you can easily get a replacement or a refund.
Pros
A soft round end makes these spurs perfect for beginners
It has a free return policy
Cons
As knob-end spurs are usually cheap, they can be a bit expensive for their category of spurs.
Prince Of Wales Spurs
These spurs are specifically for riders that follow the English riding style. They are commonly used in dressage and show jumping.
Since the English saddles offer closer contact with the horse, these spurs are preferable with their square nub at the end to get the maximum response from a slight touch. But when applying pressure, they may end up being much harsher to the horse than the round or knob-edged spurs.
Dover Saddlery ® Ladies' Prince of Wales Spurs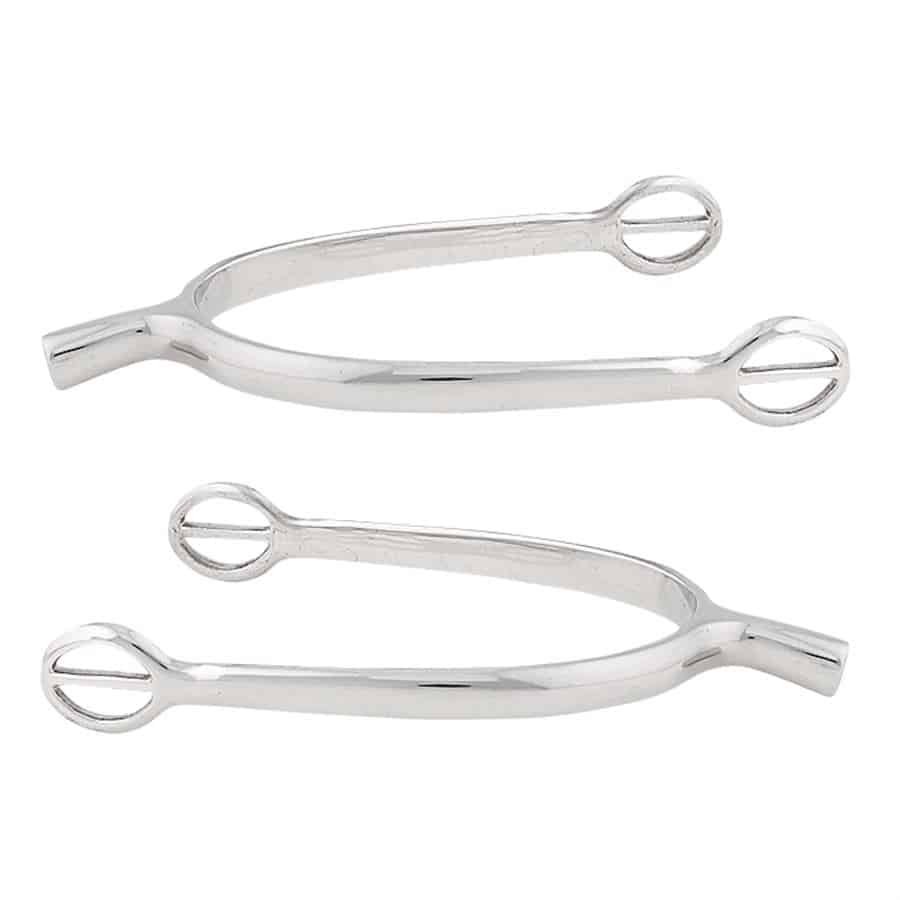 Description:
These spurs were a great addition to my riding gear and were common at our stable. They were incredibly durable and went through many rides in my equestrian journey. Still, I did notice that the stainless steel could lose its shine pretty quickly, more than I expected. And after some time, they look very dull.
I can confidently say from my experience that these spurs will offer you optimum response if you follow the English riding style. But these are only available in one size, so remember to match their heel band with your boots beforehand. Also, you have to buy spurs strap separately to wear them.
Pros:
Has an elegant overall look which makes them excellent for dressage shows.
It has a stainless steel finish that makes them rust-free.
Cons:
It is available in only one size, making them either too big or too small for many riders.
Swan Neck Spurs
These spurs can help a taller rider with legs that reach much lower on the horse's belly. The swan-shaped neck helps the rider target the horse's belly in the best position for the best response and impact. These spurs can be found with different types of rowels, from the soft round-end to the sharp six-pointed end.
Antique Brown Engraved Buckstitch Spurs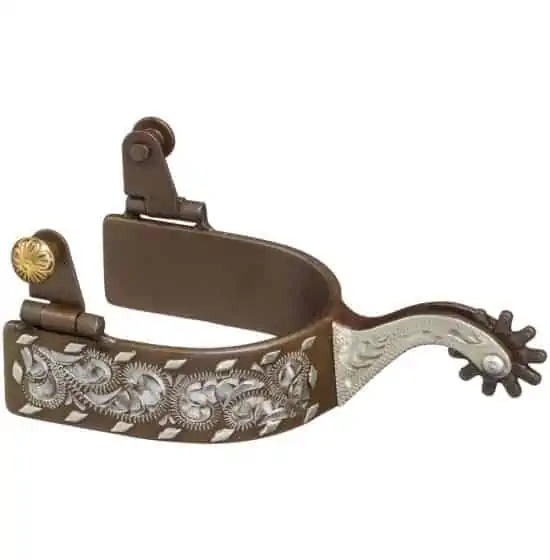 Description:
Are you a fan of antique gear and love that old-school look? These spurs look antique and elegant. With a swan neck, they help those with longer legs to reach the right position on the horse's belly to give efficient cues. They are highly durable and will not disappoint those looking for a vital spur.
These spurs also have a lovely floral design on the outside of the spur, done in nice silver color. And seeing them on riding boots makes me feel like I am riding between the field of flowers depicted in the design.
They have a 10-point system, a good option for experienced riders looking for a more accurate response while using a spur. The brown metal may start to rust, but some prefer the weathered look on these spurs which adds more to their antique aura, so it may not be a bad thing after all. However, they tend to be a bit pricey compared to other spurs in this guide.
Pros:
A classic antique look. An appealable option for senior equestrians.
It has a 10-point spur which isn't harsh on the horse's belly.
Cons:
They tend to be on the expensive side.
Barrel spurs/Le spurs
As the name suggests, these spurs are more familiar with barrel racing riders who require almost constant contact with the horse. They are shaped differently from other spurs as they do not have rowel and have teeth-like ridges on the outer of the heel band, which are the ones in contact with the horse.
Coronet™ Ladies' Le Spur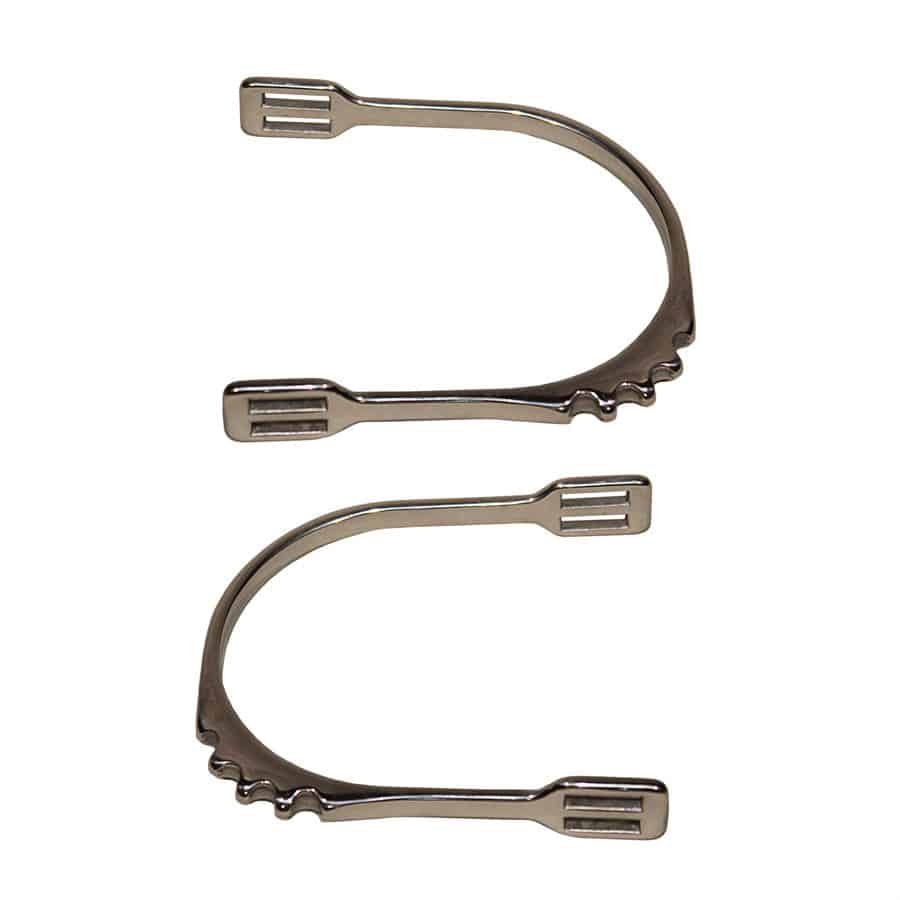 Description:
These spurs are most commonly used in the Western riding style. They help you greatly to urge your horse to rush forward in the barrel racing competition. It has three metal ridges that are softly rounded off so as to be gentle on the horse. They are made of stainless steel, which means these spurs will serve you long and well.
For those equestrians who don't know much about barrel racing, barrel racing is one of the fastest equine events. And it is only a matter of about twenty to twenty-five, wherein you should complete the dash around the barrels. Therefore, the rider must constantly cue the horse with these bumper spurs. Hence, these bumper spurs must not be sharp; otherwise, they can badly injure your horse.
Now coming back to our ladies' spurs, the metal has a dull finish. But I like it as it's not too distracting and gives it a medieval feel. Did I mention that they also have a fairly reasonable price? They are, however, only available in smaller sizes; after all, they are meant for ladies.
Pros:
They are relatively cheap, which makes them easy to fit on a tight budget.
You can use them without turning your heels.
Cons:
They have only available in smaller sizes.
English Roller Spur
This spur may be one of the best spurs to use when you have a sensitive horse. Alternatively, they can also be used as training spurs due to their very mild nature. They have a roller ball in place of the rowel, which rolls over the horse's skin and is unlikely to cause harm if pressed unconsciously.
Harrington Marley's New Pair Roller Ball Spurs Horse Smooth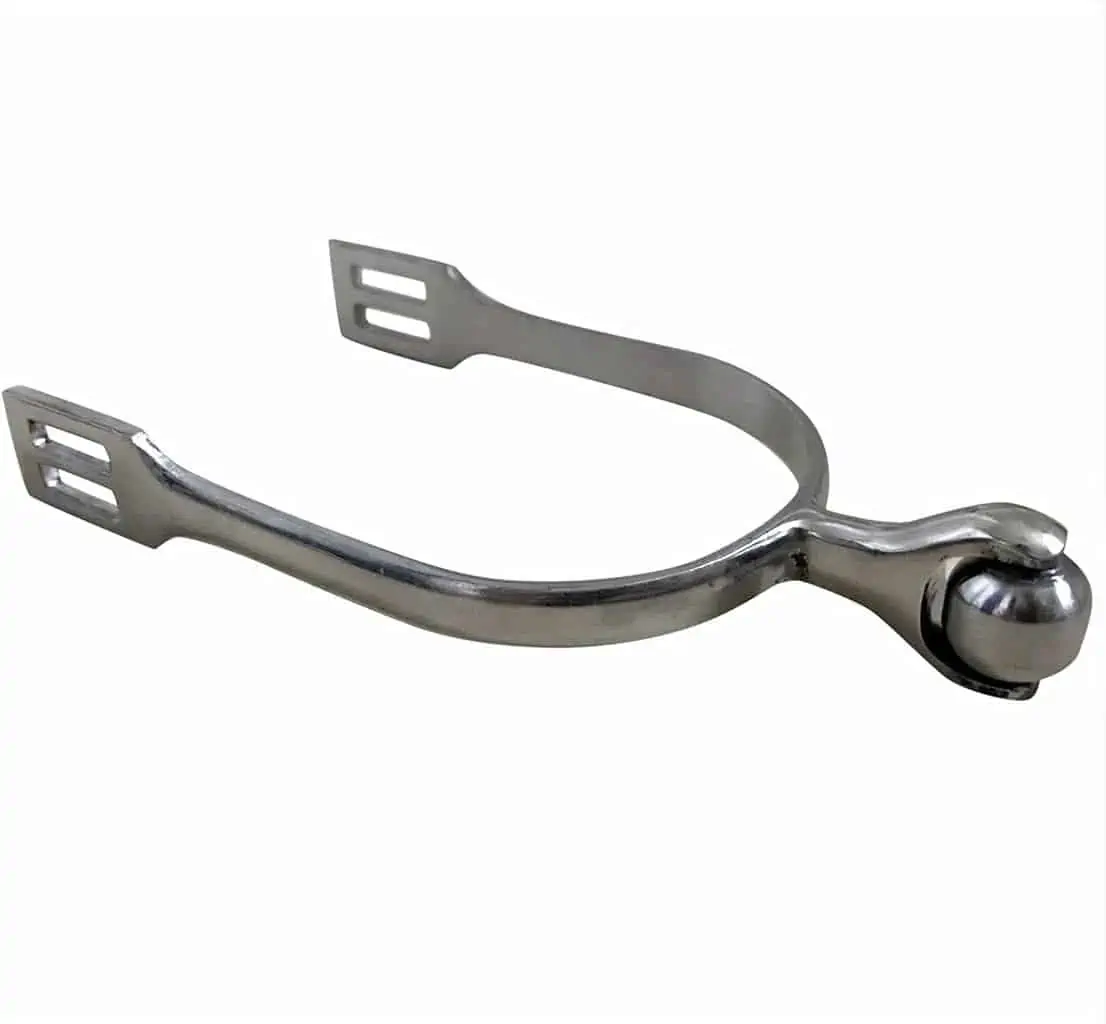 Description:
Despite my busy schedule, I recently got to work with a new horse at my friend's farm wearing these spurs. Although I had never tried these spurs before, I got off to a good start. Since I didn't want to hurt the horse, these roller spurs moved softly over the horse's coat, and I could tell the horse was calm and relaxed.
And if you are trying a new horse, you should be very very careful about the reaction of the horse to the spur you are using. I have seen and experienced, unfortunately, many horses going berserk just after a single wrong jab.
They are made from stainless steel, ensuring that these spurs are durable. However, the roller can get stuck sometimes, and you may have to lubricate the rolling mechanism to avoid this. They can also be great as training spurs for riders not accustomed to using spurs, and the riders can pick up their skills without hurting the horse. Another great point about these spurs is their cheap price tag; you don't often come across such a nice pair of spurs for under 20 USD.
Pros:
The spurs are very mild on the horse.
They have a cheap price tag.
These spurs are handmade.
Cons:
The stainless steel has a very dark tint, which does not look good.
Western Spurs
They are trendy among Western-style riders and are the most commonly known spurs, as they are usually associated with cowboys. They can range from plain-looking ones to fancy decorated ones. You can even get custom engraved rowel spurs. Sometimes, rowel can also be easily changed depending on your requirement.
Youth Southwest Spurs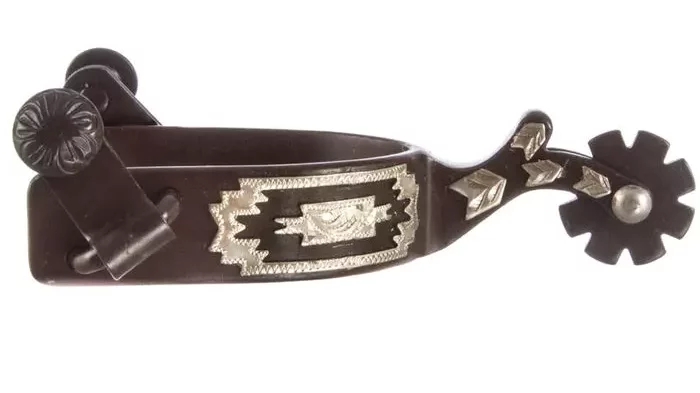 Description:
I had this pair of spurs for a long time, almost a decade if I remember correctly. I received it as a gift, but I have completely forgotten who that generous soul was. Anyway, while made of brown steel, they were very durable despite their ordinary appearance. Still, the frame design on the heel band makes this spur have a bit of personality.
These spurs are great for those looking for a simple yet elegant design. Available in smaller sizes, these spurs may lock out those with larger foot sizes. They had an eight-point rowel with square edges, which I found to be fair on the horse.
In my opinion, these spurs have a terrible combination of their design and size. The size offered by these spurs is only suitable for kids; however, the design corresponds to an eighty-year-old equestrian. Also, the metal has no anti-rust layer on top, so it can quickly rust. Some might say that it adds more to its vintage aesthetic, but I don't think kids are that much into aesthetics.
Pros:
The built quality is pretty commendable.
They have an eight-point square rowel which is fair on the horse.
Cons:
A poor choice of design for kids.
Weaver Mens' Engraved Roping Spur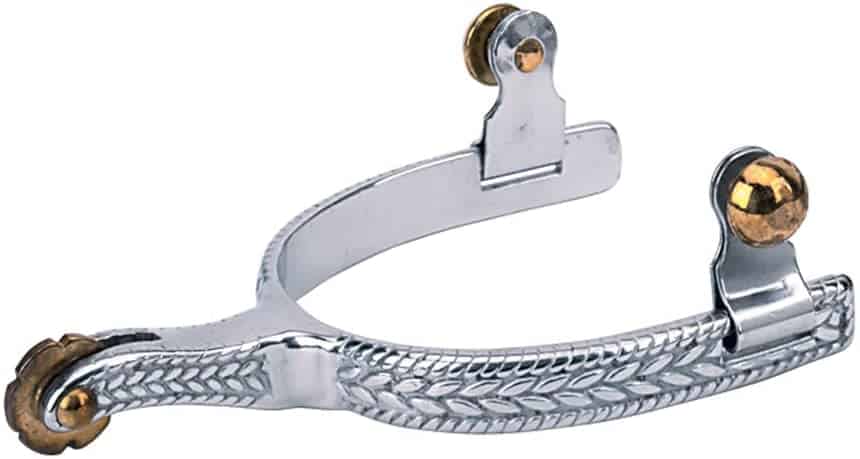 Description:
This spurs heel band grain decoration reminds me of a wheat bumper harvest and a bit of summer. The design is engraved into the metal in a detailed grain pattern, a unique way of ensuring that this spur stands out.
I remember my friend losing his mind when he lost them once when they literally slipped off his feet. I believe he was wearing a bigger size spurs. So make sure to confirm your spur size as if it will fit your boots before placing your order.
They do have slightly longer shanks to give a rider with shorter legs a better reach to the horse's belly. The rosebud rowel is also great for use in dressage and is fair on the horse, although with an inexperienced rider, these spurs can still hurt a horse.
With a slightly out-of-reach price, you may want to ensure that you budget well before purchasing these spurs. But at this price, it does have a silver coating over the metal, which makes them pretty much rust-resistant.
Pros:
They have a long shank for the short riders.
The silver overlays are done in a great design.
Cons:
The heel band's texture can irritate horses with sensitive skins.
FES Pleasure Horse & Star Spurs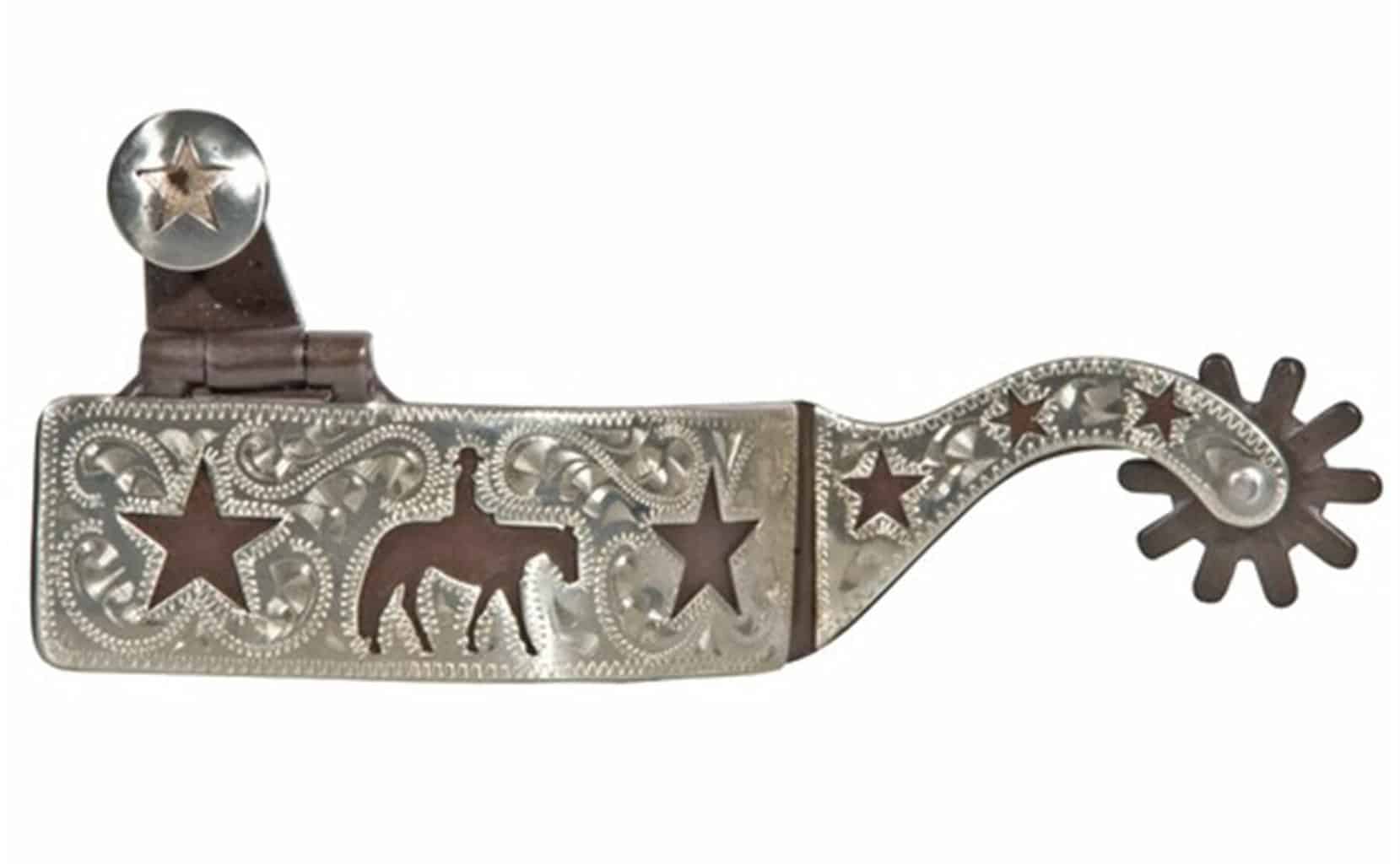 Description:
These ladies' spurs were on my mind for a while, and I gifted them to someone special. They have what I like to imagine is a cowgirl on a horse wearing a hat done in realistic silver decorations that also include five stars. The brown metal underneath is highly durable, and this spur will be helpful for a long time. The silver overlay from the heel band to the shank. And it has a roper-style rowel with ten points.
The swan neck shank is also slightly longer, making them perfect for shorter riders. This makes it easier to use, as the rider has to barely move her heel to cue the horse. But this can also cause injury to the horse at the hands of an inexperienced rider, as they might not know how much they are supposed to press.
These spurs are only available in smaller sizes, making them a perfect option for ladies. With most of the spur overlayed with silver, this spur is unlikely to rust quickly. However, these spurs are pretty expensive as compared to a regular spur.
Pros:
It has a great design.
It has a roper-style rowel with 10 points.
Cons:
It is only available in women's sizes.
FAQs
Question: Can My Spurs Rust?
Answer: This depends on the material the spurs are made of. Some spurs are made of stainless steel, which is rust-free but can also start to rust when it becomes old and chipped. If you live in a humid area, then you'd better get spurs made of brass or bronze. Both these metals are less reactive with the air, making them less likely to rust.
Question: Which Spurs Are A Perfect Fit For Me?
Answer: This depends on what your riding needs are. Each spur is explicitly made to cater to a particular activity; therefore, it is up to you to decide what to use. However, if you are unsure what to use, get guidance from your trainer. I would recommend the roller, ball end, or knob type spurs for beginners as they are much softer on the horse.
Question: Will Using Spurs Hurt My Horse?
Answer: Any spur, when misused, can hurt a horse, and therefore, it is up to the rider to ensure that he exercises restraint when using them. All I can say is that spurs do not harm the horse when used by a trained rider.
Question: Do I Need Straps With My Boot Spurs?
Answer: Yes, you need straps with most English-style spurs, which will help them fit nicely on your boots and ensure that they will not fall off while riding. But remember to get the proper straps to fit your boots' spurs cause if you get the wrong belt, you may have an uncomfortable riding experience. Too thick, and it may not fit the strap loops on the spurs.
Best Boot Spurs: Final Thoughts
Boot spurs have been around for thousands of years, and their use doesn't seem to be stopping anytime soon. They are great for riders in different events.
Due to individual specifications and needs, spurs also have specific designs to better aid the rider. This means there is no particular spur that can be said to be the best one, as they are all suited to different purposes. But this does not mean you cannot have a special place in your heart for a particular pair of spurs.
My favorite would be the Antique Brown Engraved Buckstitch Spurs. It has a rustic look that reminds me of the cowboy movies I watched growing up. It has a ten-point rowel that I would not recommend for beginners but only for experienced riders as it has a bit of a bite and may hurt the horse when misused. However, if you like this spur, you may have to dig deeper into your pocket as it has a bit of a steep price tag than other ordinary spurs.
I would suggest trying to buy these spurs in retail instead of ordering them online, and I also recommend you buy two pairs of spurs if you can afford them. Furthermore, ensure you confirm the size of your spurs before you finalize your purchase.
So after reading this buying guide on spurs, I hope you will be confident enough to select the perfect pair for your need. Still here? Don't waste your time anymore and jump on the next bandwagon to the spur city.