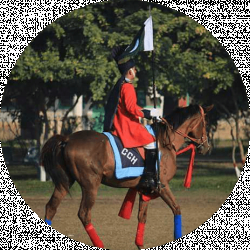 Latest posts by Boo Ali Khan
(see all)
I still remember the very moment when I first entered our college's equestrian club. It feels like yesterday when I saw several gigantic horses cantering across the arena. That whole scene was quite mesmerizing. But before I could say anything, our riding instructor greeted us with, "Where are your riding boots?" This was not the welcome I was expecting, to be honest.
To give our aspiring equestrians a brief overview of riding boots: they protect the rider's legs as well as the horse's skin during horse riding. It is commonplace for the rider's inner calves to develop abrasions if they ride a horse without putting on these boots. Hence, you hardly see any rider riding without these boots.
Dublin is an all-time favorite brand among the equestrian community when it comes to purchasing the best riding boots. Since 1980, this brand has been serving equestrian lovers by starting off first in Australia, then expanding across Europe and the US.
With its wide variety of riding boots, it is almost impossible to not find a pair of equestrian boots that do not meet your requirements.
I believe, by now, you have an idea about what purpose riding boots serve and where Dublin comes in. Without further ado, let's dig deeper into some of Dublin's best boots. In this best Dublin boots guide, I am going to talk about my top picks, along with some of my secret buying tips. So, get your horses ready; we have a long journey ahead.
Bottom Line Up Front:
Dublin offers a variety of equestrian boots if you are looking for something to make your equestrian journey pleasant. And if you ask me, I will strongly recommend Holywell Field boots due to their perfect combo of dazzling looks along with a classic touch.
I am pretty sure you will be obsessed with these boots once you wear them. Their quality offers excellent comfort to the rider as well as the horse. Also, they are a perfect match for any formal event, thanks to their elegant looks.
My Top Recommendations:
DUBLIN PINNACLE BOOTS II: A perfect match for casual dressing that can be worn at social gatherings. Did I mention they are waterproof?
DUBLIN ESKIMO BOOTS II:  Meeting the demands of teenagers, especially girls, is pretty tiring these days. If you are unsure what to buy, these boots are the solution. Made from a light material, they provide great comfort.
DUBLIN ADMIRAL BOOTS: If you are a fan of shoelaces, this pair of boots should be your go-to pair. With their stylish laces, these perfect-fitting boots can be used for multiple equestrian activities.
DUBLIN KALMAR SD TALL BOOTS: Do you need a simple, casual, affordable, yet efficient pair of riding boots? You are looking at them.
DUBLIN FOUNDATION LACED PADDOCK BOOTS: A good option for those who need paddocks for formal events. The best thing is they look perfect for the office.
DUBLIN EVOLUTION DOUBLE ZIP FRONT PADDOCK BOOTS: Do you prefer wearing good quality leather boots? Then these paddocks are not a lousy option. And with their zipper, say goodbye to tying shoelaces.
DUBLIN VENTURER BOOTS III:  If you want comfortable shoes with a stylish look, you don't want to miss this option. Also, they have a reasonable price tag.
DUBLIN UNIVERSAL TALL BOOTS:  These boots feature quality rubber, making them pretty durable. You should definitely consider them if you need an affordable option for your daily riding.
 DUBLIN HOLYWELL TALL FIELD BOOTS: An Iconic piece for professional riders, making them perfect for show jumping.
SAXON SYNTOVIA TALL DRESS BOOTS: This pair of riding boots is a perfect option for those who want plain-looking boots. Not to mention, they're made from synthetic leather but feel like genuine leather.
My Selection Criteria For These Dublin Equestrian Boots:
If you are wondering why I specifically suggested these pairs of Dublin boots, I did not remain limited to the way the boots look. Their build quality remained a substantial factor in making my decision. Still, the ancillary factors that also contributed to my selection include:
Comfortable material for the rider's desired purpose.
A standard heel size.
Length of the shaft for the rider's desired purpose.
The build of the sole according to the job.
Some Best Buying Tips From a Professional: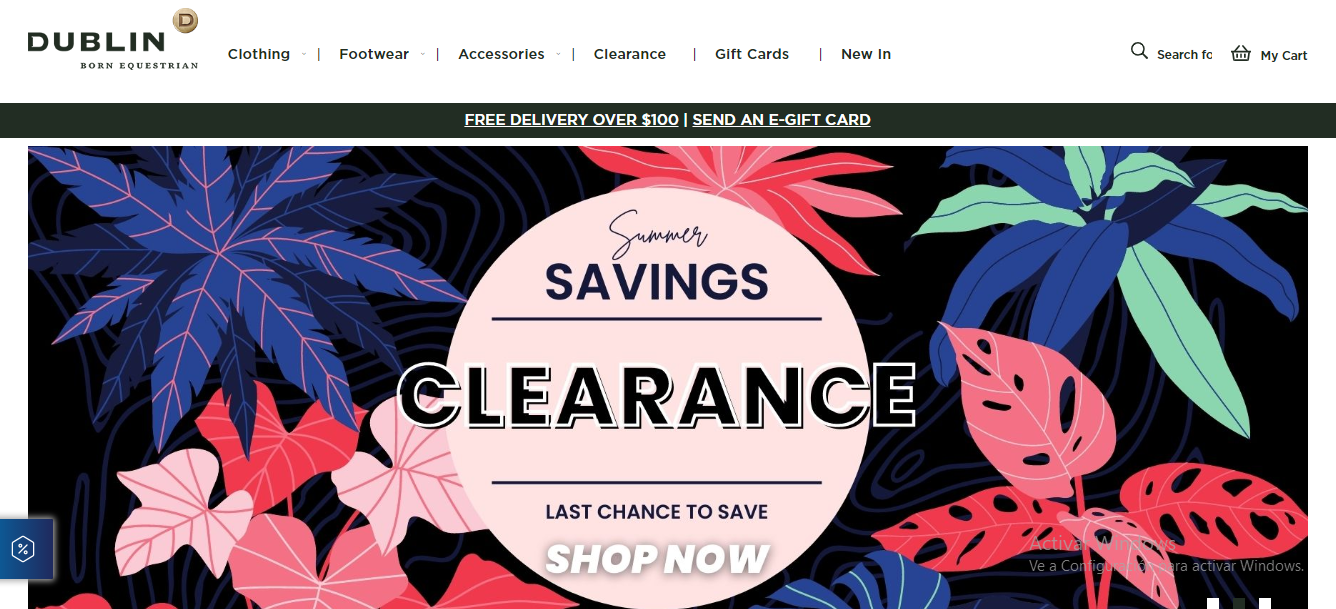 Determine What Sort Of Equestrian Boots You Need:
When buying Dublin equestrian boots, think about why you actually need them. Do you want them for riding, stable chores, or for wearing at equestrian events? If you are looking for casual footwear, you should consider light material and the softness of the sole. Dublin paddocks are the best options if you need boots for social events or for wearing them casually.
However, if you are looking for a pair for your riding activity, you should opt for the Dublin boots that have a long shaft and stiff sole.
Keeping The Price Tag In Consideration: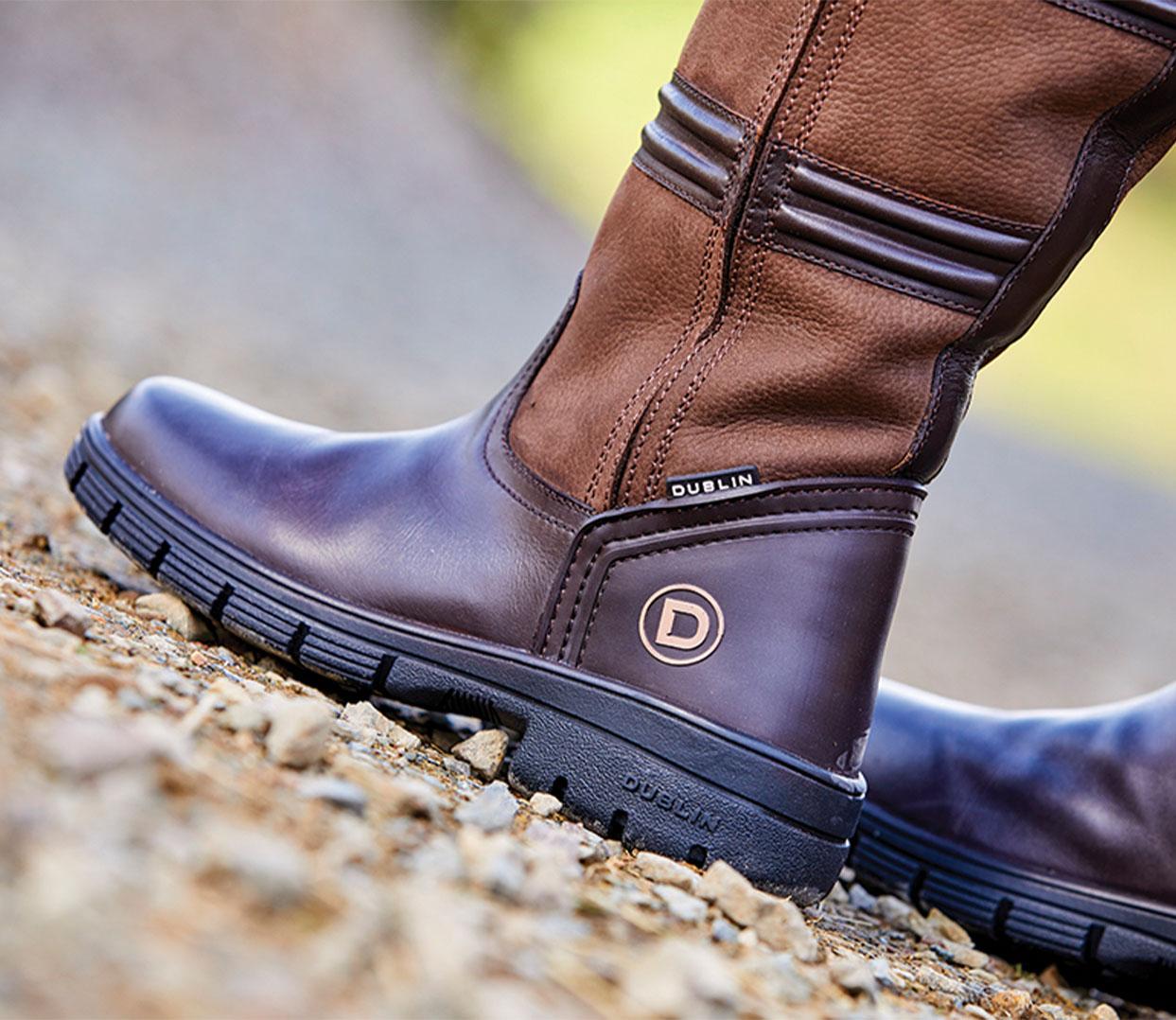 If you are going to buy the Dublin equestrian boots, keeping a check on your budget can help you in the long run. I have to be honest, if you are on a limited budget, you should keep that in mind and should forget about the extraordinary options. Also, if you are a newbie equestrian, I suggest not going for the expensive option.
Start with a simple pair of boots, such as Universal Tall boots or Dublin Foundation Laced Paddock boots. Then after honing a particular skill, you may go for Dublin's more exquisite options.
Proper Measurements Of Your Boots:
This tip does not explicitly address the Dublin boots but applies to every type of equestrian boots. It is essential to take appropriate measurements for equestrian boots before finalizing your order.
Because, unlike other boots, their sizes are complex. These measurements include boot height, calf height, calf circumference, ankle, heel, instep, waist, and ball. Furthermore, I would suggest having these measurements taken by a professional cobbler.
My Top 10 Dublin Boots Suggestions: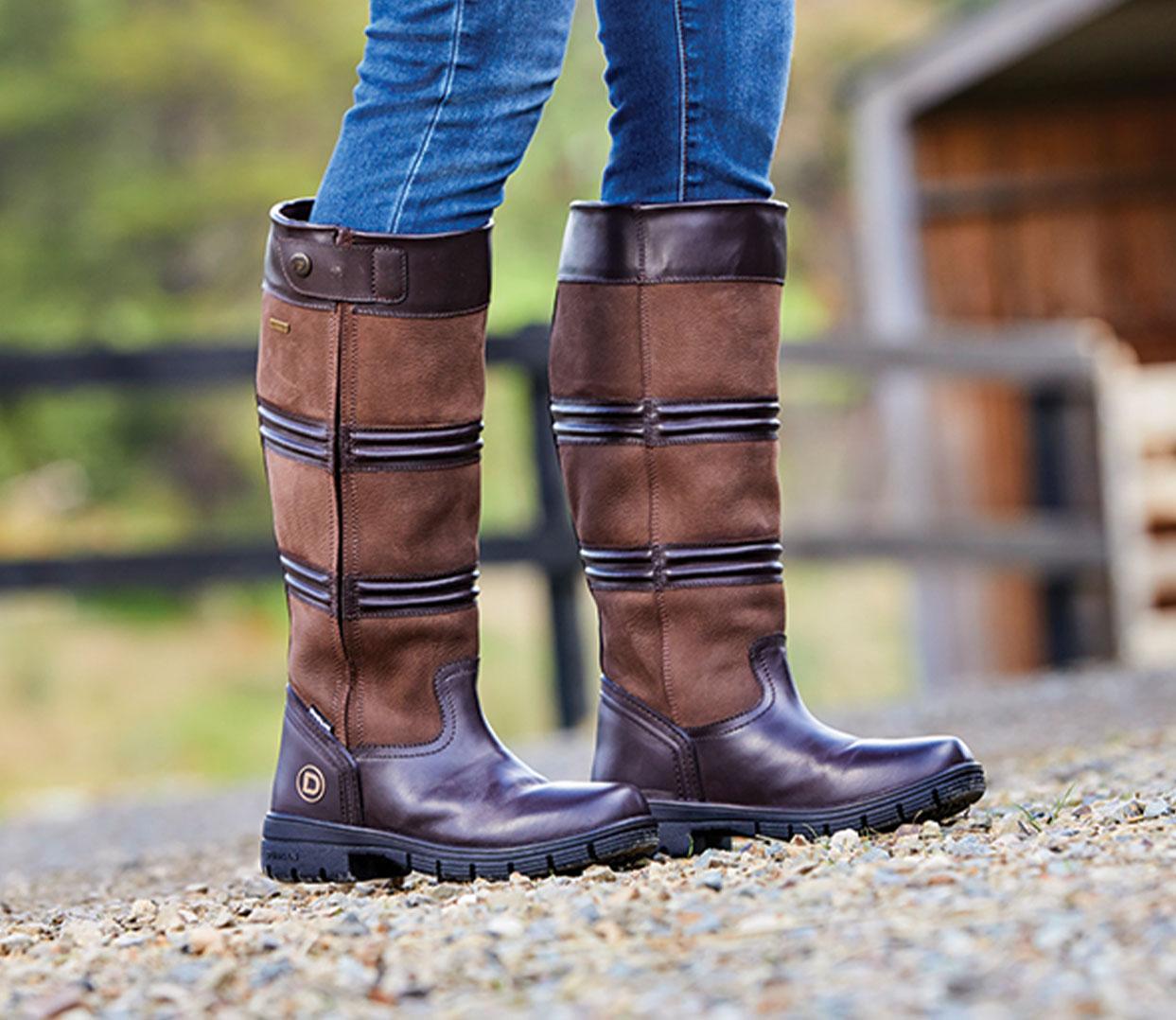 Dublin offers three broad categories of equestrian boots: Paddocks, Long boots, and Lifestyle footwear. To help newbie equestrians reach a better decision regarding their required boots, I will briefly discuss each category first before I describe every item.
Lifestyle Footwear:
These equestrian boots are used for pleasure riding. Their stylish design, light weight, and comfortable fit make them casual footwear, making them suitable for equestrian events and gatherings.
These boots are used mainly by the equestrians who spend a lot of time at the stable, e.g., riding instructors or grooms. However, these boots might not be popular among professional riders, but teenagers love to wear them.
DUBLIN PINNACLE BOOTS II: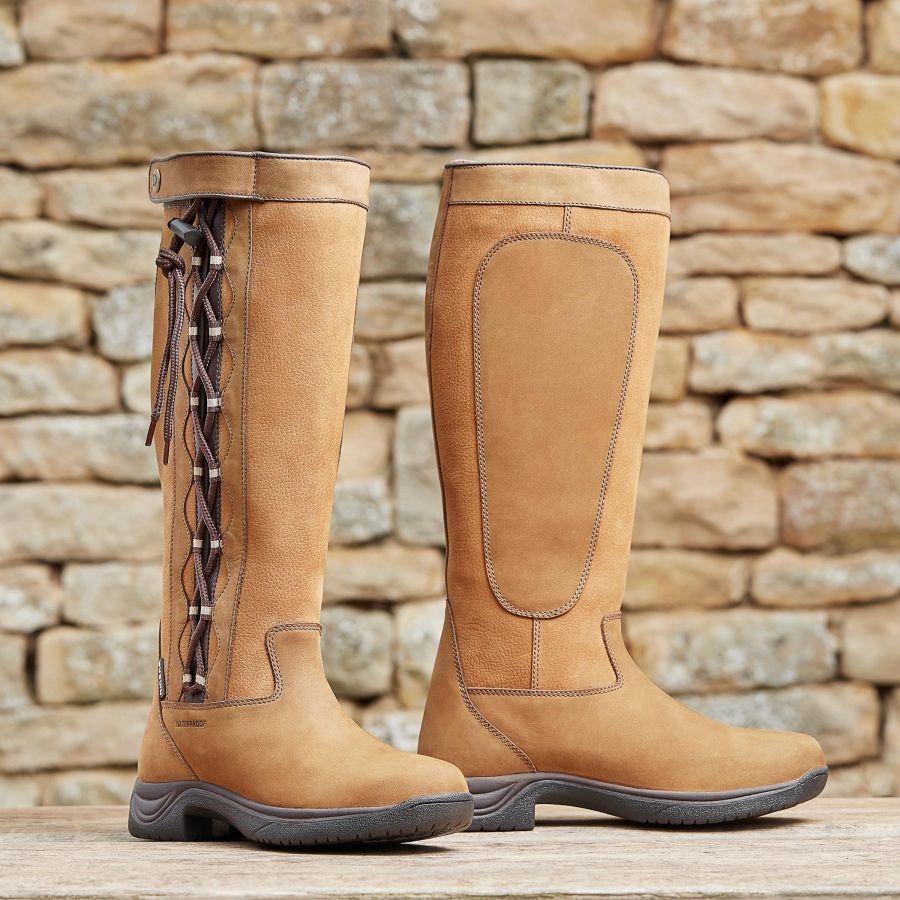 Pinnacle boots are one of Dublin's top-selling boot categories. Unlike rubber boots, the Dublin Pinnacle Boots II are breathable, providing good airflow to the rider's legs and feet. These boots have a unique style, with a calf patch present on the inner side of the boots and a lace mechanism running along the outer side of the boots.
The best thing about these boots, in my opinion, is their pretty, adjustable laces. This allows them to be shared with your equestrian fellows, as you don't have to worry about their calf size. Not to mention, these boots are perfect for those who have small feet but relatively large calves.
These boots will also keep you dry in rainy conditions because of their waterproof booty lining, making them a perfect choice for your stable work. Furthermore, because of their full leather build and RCS footbed, they can be comfortably worn for a long period. Another great feature of these boots is their outer sole. The Touch Tec sole is not only soft and grippy, but it is also pretty lightweight.
However, I must tell you that you need to start saving some bucks if you want to get your hands on these cool pinnacle boots.
Pros:
These boots are breathable and pretty comfortable.
Their laces offer an adjustable calf mechanism, making them suitable to share with your fellow equestrians.
These boots are offered in different color options.
Cons:
The shine of the leather wears off pretty quickly.
These boots come at a hefty price tag.
DUBLIN ESKIMO BOOTS II: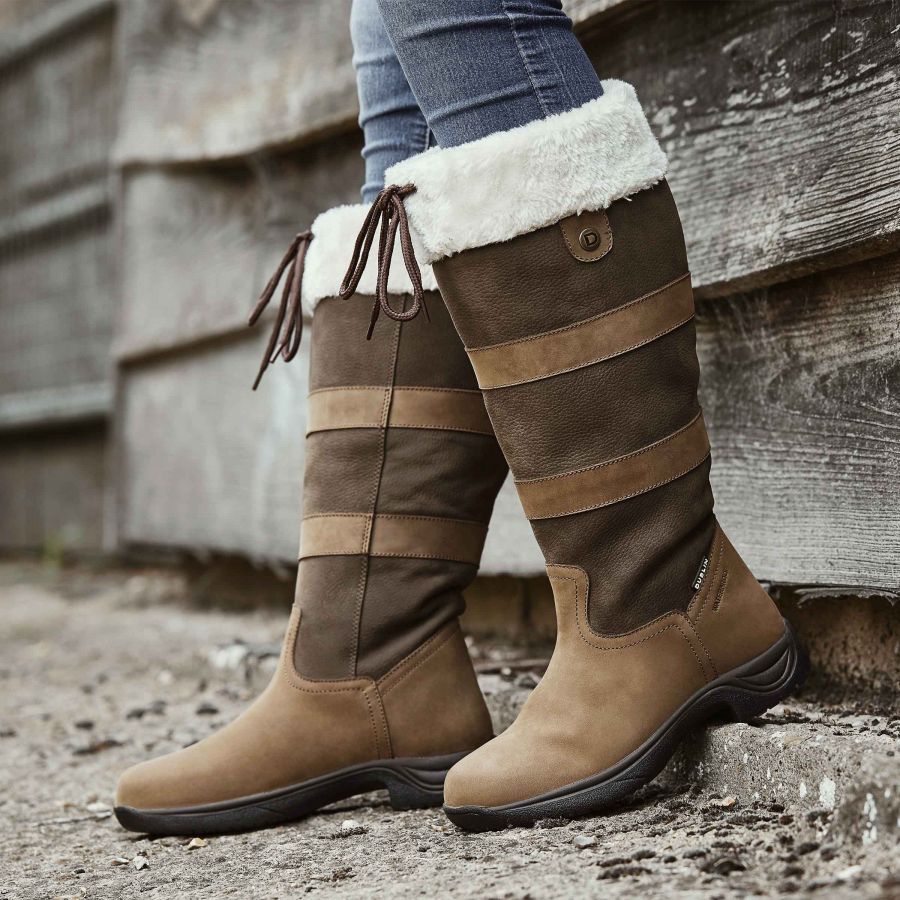 This pair of Dublin boots is dedicated to all female equestrians who are having difficulty choosing a perfect pair of riding boots. The make of these boots is similar to Dublin's most famous riding boots: the river boots. These Dublin Eskimo Boots II are pretty desirable among teenagers and are not just limited to female equestrians. Youngsters love their dark and light brown contrast and can often be seen wearing them casually.
The features of these boots are more or less similar to Dublin Pinnacle boots. They both have Touch Tec outsole, RCS footbed, and breathable lining. However, these Eskimo boots have a white cushion layer at the end of their shafts, giving them the look of snow boots.
But, in my opinion, this white cushion is not a perfect fit for the equestrian lifestyle. After all, you cannot wash them after every use.
Still, the adjustable calf grip and comfortable wear make them suitable for almost all equestrian activities ranging from stable work to equestrian events. But as already mentioned, you must pay extra attention to save them from getting dirty.
Pros:
The design of these boots is very appealing to young equestrians.
Despite their flashy look, they are waterproof.
These boots are perfect for multi-purposes.
Cons:
These boots are pricy.
The white cushion of these boots can easily get dirty.
DUBLIN ADMIRAL BOOTS: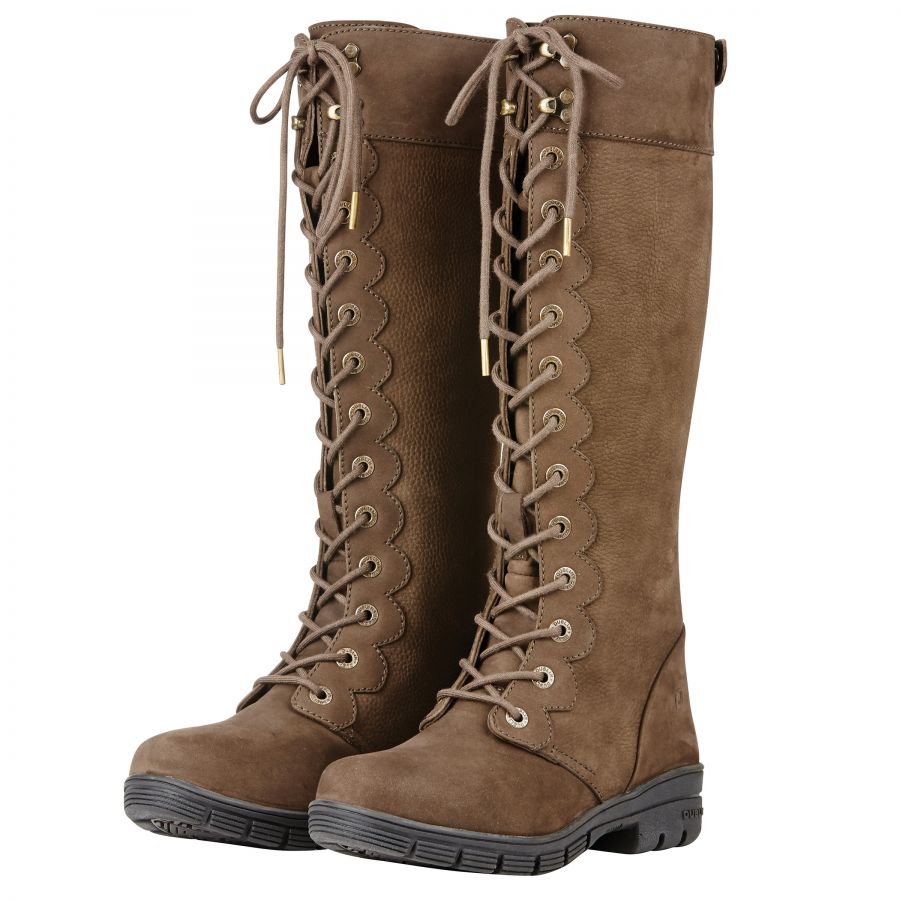 If you are an equestrian with a taste for fashion, let me present you the Dublin Admiral Boots. These boots are made of pure leather and are very comfortable because of their RCCS footbed.
These boots are smaller than tall riding boots but are bigger than mid-calf boots, allowing them to be used efficiently for riding and stable chores. Not to mention, due to their fashionable laces system, these boots will surely be an eye-catcher wherever you go.
To further improve its fitting, this pair of Dublin boots comes with a YKK zipper at the back. However, I only wish these boots were available in more than one color option.
Pros:
These boots offer a dual grip mechanism: the zip system and laces.
These boots are waterproof.
Cons:
These boots are only available in the chocolate color.
These boots may break the banks of riding aspirants.
DUBLIN KALMAR SD TALL BOOTS: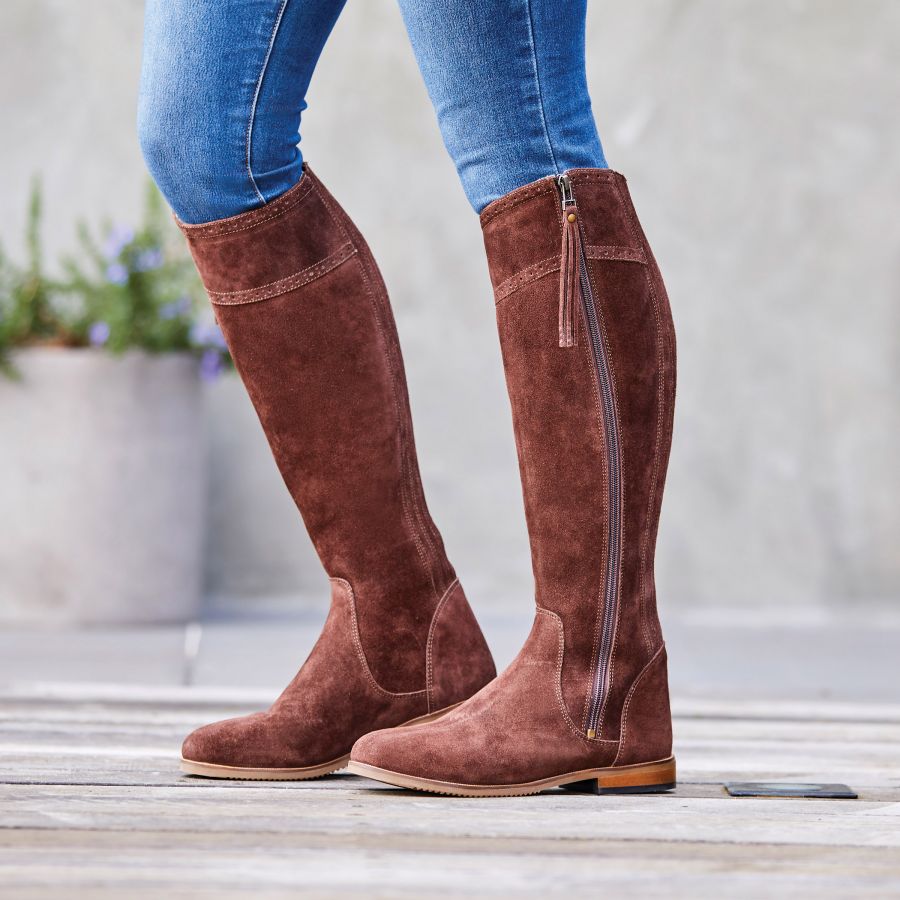 If you have sleek legs and want some stylish riding boots, you can go with Dublin Kalmar Sd Tall Boots. Unlike other tall boots that are made of PU or shinny leather, these boots are made of suede leather, making them a bit flashy.
The YKK zip runs along the outer sides of these boots, making it pretty easy to take them on or off. Furthermore, the inner lining of these boots is also relatively slim, adding significantly to their breathability. This feature makes them a good option for wearing them to equestrian events.
However, the thing I don't like about these boots is their loose and soft shaft material. The shaft easily rolls down towards your feet during riding or show jumping, and you have to pull it up after a while. So, if you ask me, I would not suggest you to specifically buy these boots for riding. But if you are looking at some stable work or are thinking about going to a rodeo event, you are undoubtedly looking at a stylish pair of tall boots…
Pros:
These boots are made of high-grade suede leather that is also waterproof.
The thin layer of their inner lining makes them very breathable.
Cons:
These boots lose their shine in a few days
These boots lose some of their color after cleaning.
Paddocks
Paddocks are equestrian boots with a shaft height of almost six inches from the arch. They are similar to short boots in their appearance and are often used along with chaps for horse riding. Not to mention, these boots are loved among the equestrian community because of their comfort, and they are used mainly by those riders that feel uncomfortable in long boots.
These boots will be a good option if you want to do stables chores, as one can easily walk in them just like regular boots. Another perk of these shoes is that they are pretty durable in intense weather conditions.
DUBLIN FOUNDATION LACED PADDOCK BOOTS: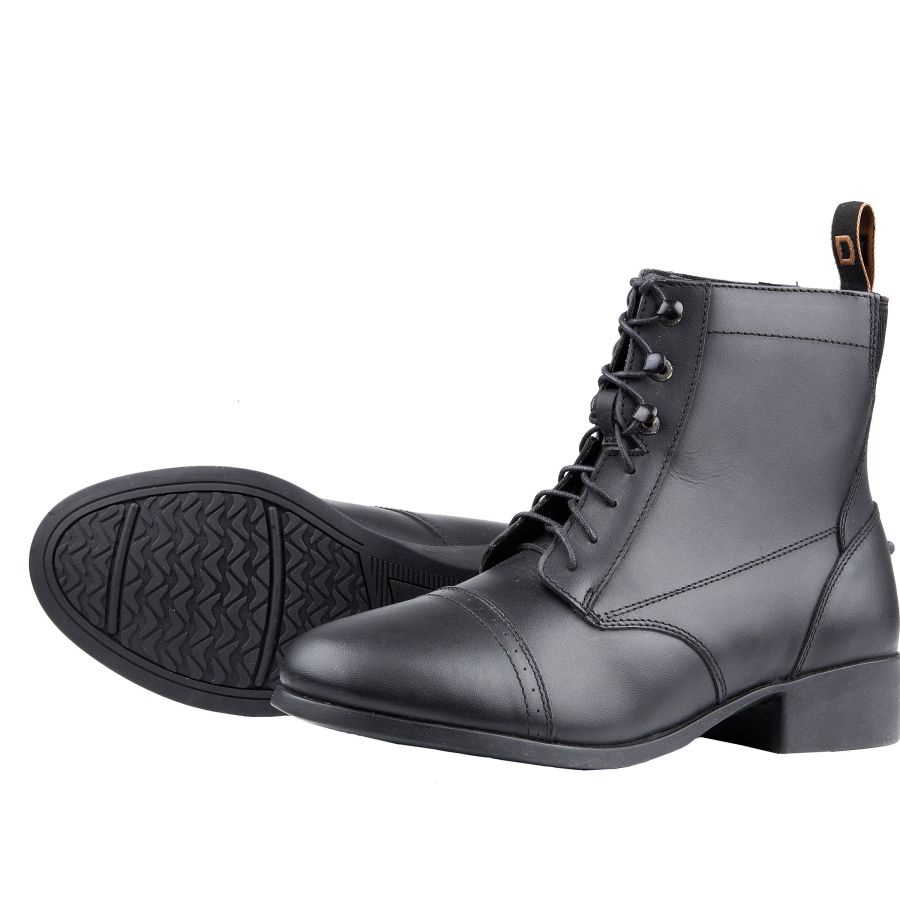 Even if you opt for lifestyle boots instead of long riding boots, you will still have your legs sweaty at the end of a long day at the stable. That's where these paddock boots come in. The Dublin Foundation Laced Paddock Boots provide a classy style that any equestrian may want.
It does not matter if you are a young equestrian or an old-school horse lover; this pair of paddock boots will come in handy in most of your equestrian journey.
The thing I most like about these boots is that they offer a very efficient lace tying mechanism. You do not have to pull the lace from each loop while tying them. Simply draw the open ends of the lace, and there you go. This might not feel like a big thing. But let me tell you, when you are running late and your riding instructor is shouting at you, you will wish for some magic to tie your shoelaces in no time.
Despite their plain look, these paddocks have a pretty breathable insole. The EVA cradle used inside the boots allows it to regulate the airflow of the boots without making your feet sweaty. Furthermore, I have to say, despite their sleek design, these paddocks offer enough spur rest for my favorite spurs to settle properly.
Pros:
These paddocks offer an efficient lace tying
Their cradle is made of EVA form, providing more air to your feet.
Cons:
A simple design that is not appealing to young equestrians.
Prolonged exposure to direct sunlight can fade their color.
DUBLIN EVOLUTION DOUBLE ZIP FRONT PADDOCK BOOTS: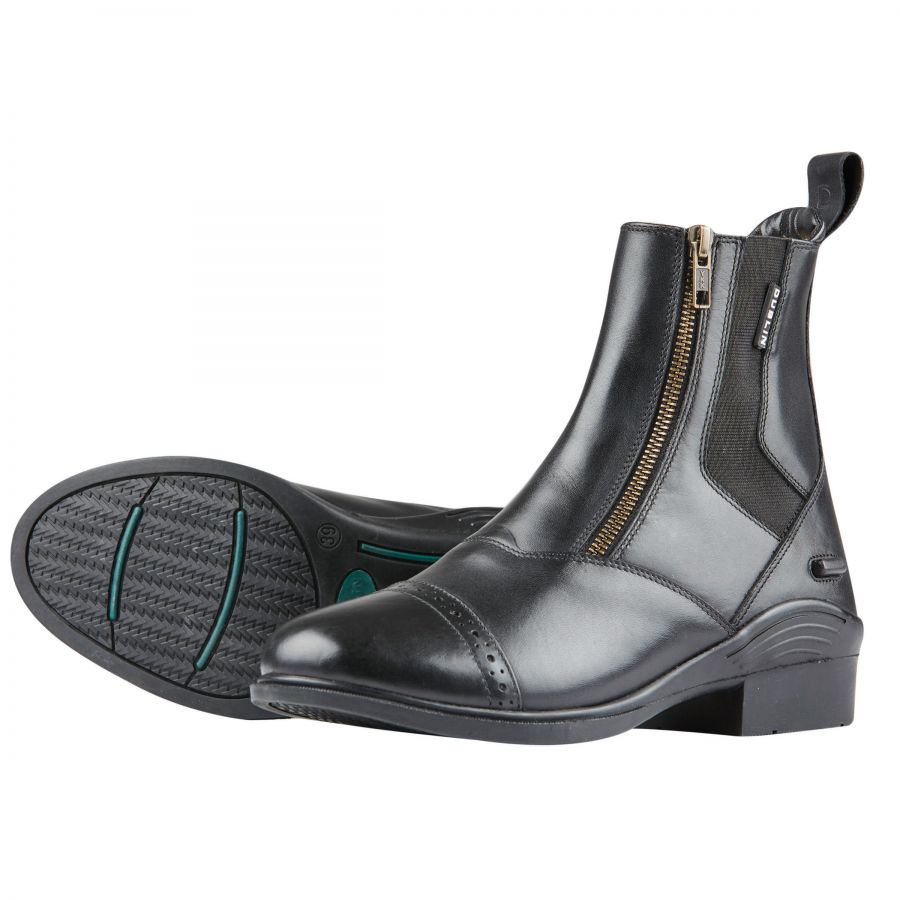 These Dublin Evolution Double Zip Front Paddock Boots are loved among equestrians for their high-grade quality. If you like classy and durable boots, then these European leather boots are made for you.
The best thing about these boots is their YKK zip system which makes it pretty easy to put them on. And if you ask me, they not only look like the 007 shoes, but they would be efficient even when there is no time to die.
These boots provide superb comfort, as they have a soft RCS memory footbed system, something many of my friends are fans of. If you are looking for a good grip alongside comfort, the slim side walls of these boots are your answer. Also, the grip of their outsole is pretty effective. I don't want to be a party pooper, but I have to say, all of this comes at a hefty price of around $130.
Pros:
These paddocks are made of full-grain leather that ensures their durability.
The YKK zip system is more efficient than ordinary laces.
The RCS footbeds provide great comfort to the feet.
Cons:
These paddocks come at a hefty price tag.
The zip is prone to rust in moist conditions.
DUBLIN VENTURER BOOTS III: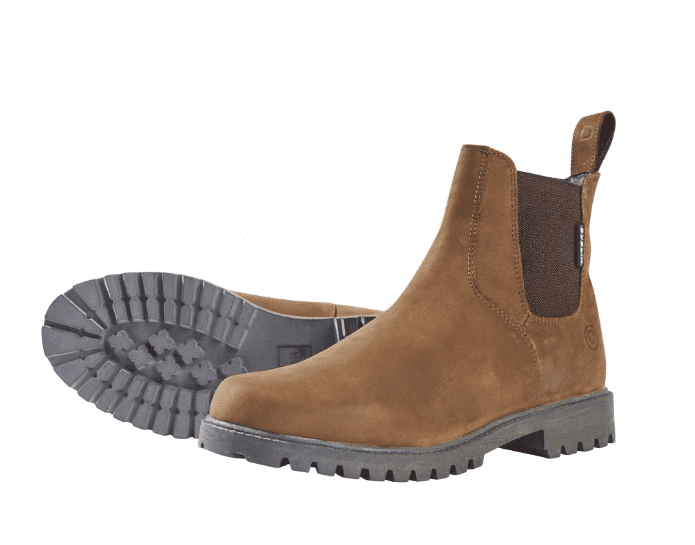 These Dublin Venturer Boots III are actually paddocks that can be used both for riding purposes or casual wear. These paddocks are made of a particular type of leather called waxed leather, which adds significantly to their shine compared to other suede leather paddocks.
The thing that really amazed me about these paddocks is that despite being made of waxed leather, they have a moisture-wicking lining on the inside, making them breathable. Also, these boots feature an EVA cradle with arch support that provides its users great comfort while walking.
Another great thing about these paddocks is their rugged rubber sole. From my personal experience, I can confidently say that these soles are one of the best outsoles I have ever experienced. Not only do they offer exceptional grip, they are also pretty comfortable and durable. If I recall correctly, it has been five years, and these outsoles have not shown any wear and tear.
If you ask me for a modish pair of boots perfect for going to equestrian events, these paddocks are my choice.
Pros:
These paddocks are pretty breathable.
The boots have one of the most durable outsoles.
Cons:
The waxed leather surface is prone to scratches.
The rugged rubber outsole makes them pretty heavy.
Long Boots:
Long boots are one of the most iconic pieces of equipment that have been the apple of the equestrians' eyes ever since. These boots have dimensions similar to paddock boots but have significantly large shaft size ranging from seventeen to nineteen inches. Just to let you know, their elegant look makes them a part of many military uniforms.
These boots aid momentously to the rider's grip on a horse. Not to mention, this grip provides sufficient balance to the rider, especially during show jumping.
Although this might not be a popular opinion, in my experience, these long boots also save the riders from getting dragged along a wild horse. Many accidents have been reported due to the riders' feet getting stuck in the stirrups when a horse goes wild. The sleek and plain sole of these boots allows the equestrians to get their feet out of stirrups and jump off its back the moment a horse goes berserk.
DUBLIN UNIVERSAL TALL BOOTS: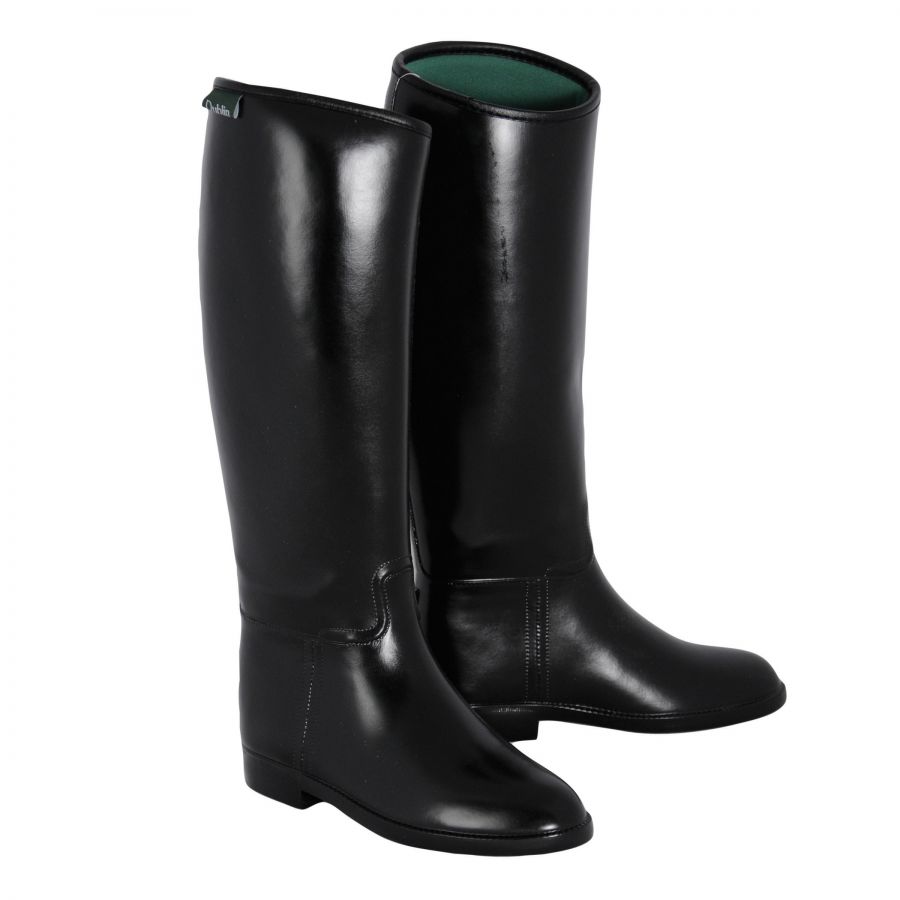 My this pick is for all those equestrians who wish to have a pair of boots to help them through stable work. And if you are on a tight budget but still want a good pair of riding boots, you can count on Dublin universal tall boots.
But let me tell you, the affordable price tag of these boots doesn't mean they lack quality. They offer good quality rubber, and their texture looks just like leather. I have to say their outsole provides a pretty effective grip against slippery surfaces. However, all this rubber construction makes these boots unbreathable.
Still, these boots are popular because of their durability and water resistance. These qualities make them very common among stable grooms, but this does not mean their use is only limited to stable chores. I still remember trying them for pleasure riding once.
And although they were a bit less comfortable than the leather-based riding boots, they did not feel any worse than an ordinary pair of riding boots.
Pros:
These are budget-friendly.
A high-quality rubber makes them durable and waterproof.
These boots offer an excellent grip on slippery surfaces.
Cons:
They don't offer an adjustable zipper or laces.
The rubber material makes them not breathable.
DUBLIN HOLYWELL TALL FIELD BOOTS: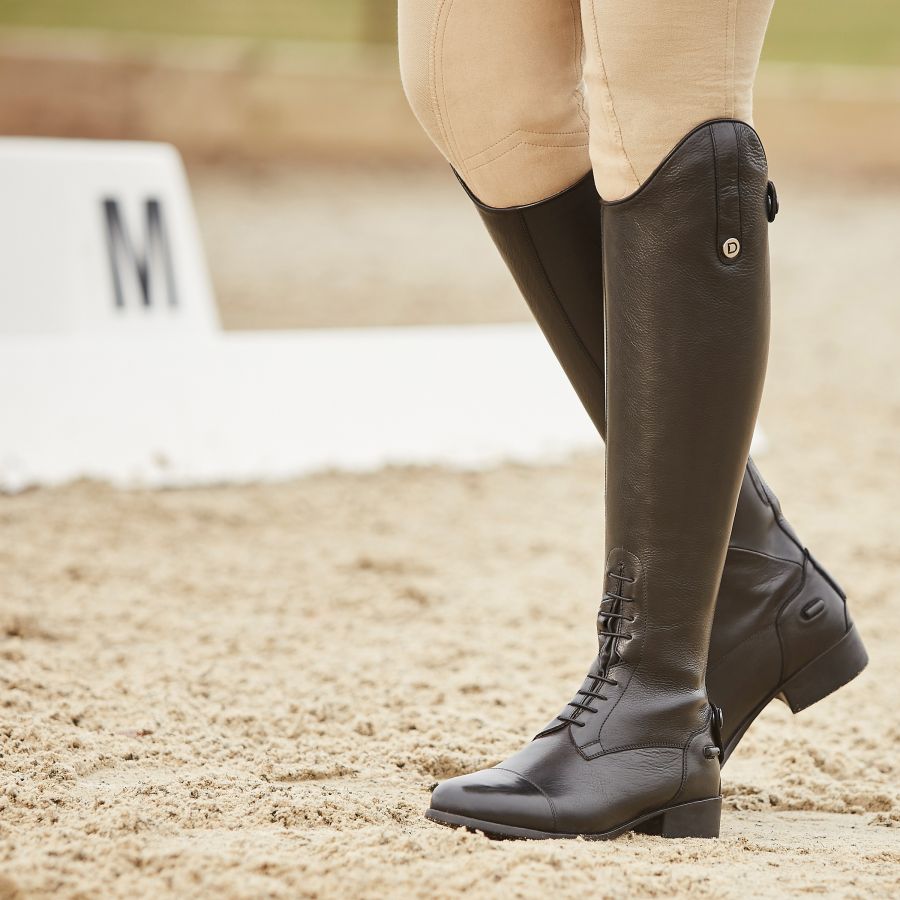 For those who do not know about field boots, as the name suggests, field boots used to be worn by military field officers. Something that adds more elegance and glamor to these Dublin Holywell Tall Field boots, right? I must mention this is what prompted me to go for these pair of riding boots as soon as I had enough savings. After all, when you are the vice-captain of one of your country's top riding squads, you have to look dashing!
One of the unique features I noted about these boots is the spur rest, an essential part to hold a spur in the right place. Also, the lace adjustment in these boots provides the sufficient amount of grip your legs desire.
Despite their fitted design, their sock liner feature makes them pretty breathable. Furthermore, the RCS footbed provides great comfort to the rider's feet. Not the mention their full-grain leather build that makes them a good investment.
Pros:
These boots offer sufficient spur rest.
Their lace adjustment feature provides the rider to choose the level of grip.
Their RCS footbeds make them pretty comfortable.
The top-notch full-grain leather build makes them pretty durable.
Cons:
This pair of riding boots comes at a hefty price of around $250.
SAXON SYNTOVIA TALL DRESS BOOTS: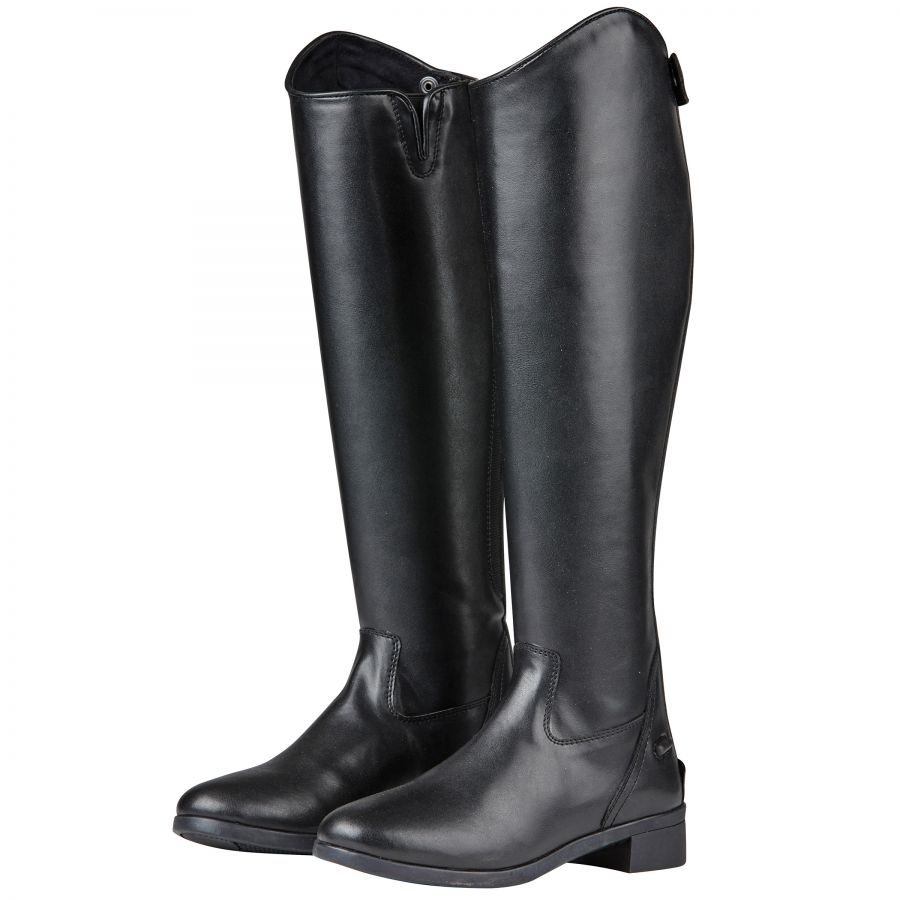 I still remember my father teaching me how to tie my shoelaces. At that time, I believed it was one of the most challenging jobs on earth. I always admired people who had perfect loops. But as they say, practice makes a man perfect; I can now tie laces in under three seconds.
Well, now I might not have a problem with laces, but I know there are people out there who still struggle with tying laces. So, this pick is dedicated to all those equestrians who cannot stand the sight of shoelaces.
The Saxon Syntovia Tall Dress Boots are made of high-quality PU, which does not look different from the original leather. They have a sizeable zipper that runs across the lateral side of the boots. Also, with the presence of an EVA footbed, they are perfect for weary riding sessions.
The best thing I like about these boots is their rigid shaft. If you have ever participated in dressage, you will agree that the position and attire of the rider do affect its score. So, the upright shaft offered by these boots will surely grab you some good scores.
Therefore, I would definitely recommend these dress boots to aspiring dressage riders with a limited budget.
Pros:
They do not have shoelaces like most other professional riding boots.
They are perfect for dressage with an affordable price tag.
The relatively hard shaft keeps the boot upright.
Cons:
As these boots are made of rubber, they are not breathable.
They are only available in black.
FAQs
Question: Are Dublin boots expensive?
Answer: Dublin boots offer both cheap and expensive products. You can find a pair of boots for under $50. And at the same time, you can go for around $300 a pair. Their price varies according to their build and material. But keep in mind, money makes the mare go.
Question: What is Dublin boots return policy?
Answer: Dublin boots return policy for refund and exchange is 30 days. And they accept unused and unwashed boots because of their customer's dissatisfaction. However, you can only return used boots that are defective.
Question: Do Dublin boots offer spur rest in all their tall boots?
Answer: Yes, Dublin boots do offer a spur rest in their tall boots. Not only this, they offer spur rest both in lifestyle footware and paddocks.
Buying Best Dublin Boots: Wrapping It Up
When it comes to equestrian equipment, equestrian boots stand at the top of the list. Dublin is one of the most trusted brands among the equestrian community. And their equestrian boots are something almost every other equestrian has experienced.
But before you start hunting for your favorite boots, see if these boots would serve the purpose that you have in mind. Also, fix a budget for your boots to not get lost in the intimidating options Dublin has to offer. And don't forget to take the proper measurements of your leg and feet!
My favorite Dublin boots is no other than the Dublin Holywell tall field boots. Their features like spur rest, laces adjustment, and RCS make these boots close to my heart. But if you are looking for some boots for stable work or casual wear, you may choose from my other top picks. Happy shopping!