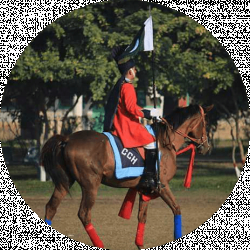 Latest posts by Boo Ali Khan
(see all)
"Forget the glass slipper; this queen wears cowboy boots."
I couldn't agree more with the above statement. I would rather spend my money on stylish boots than waste it on any other shoes. This is where Tin Haul boots come in.
Tin Haul boots are bold and full of character. Not only do these handcrafted boots give you a novel look, but they also allow you to express yourself like never before. Besides, the smooth and attractive leather finish never fails to drive several compliments your way.
As Tin Haul has its own online store, I will be choosing all the boots in this guide from their official website. These boots come in a plethora of extravagant and stylish designs. This makes it pretty tough for me to select only a handful of boots as my top picks. Their soles have various graphics imprinted onto them, and each boot is unique.
I believe, by now, you are aware of the appeal and splendor the Tin Haul boot collection has to offer. However, the number of available options for you to choose from can be a little overwhelming. So, in this Tin Haul boots guide, I will share several tips and recommendations that will assist you in deciding on a perfect pair for yourself.
Giddyup cowboy! We have some Tin Haul on the loose.
Bottom Line Up Front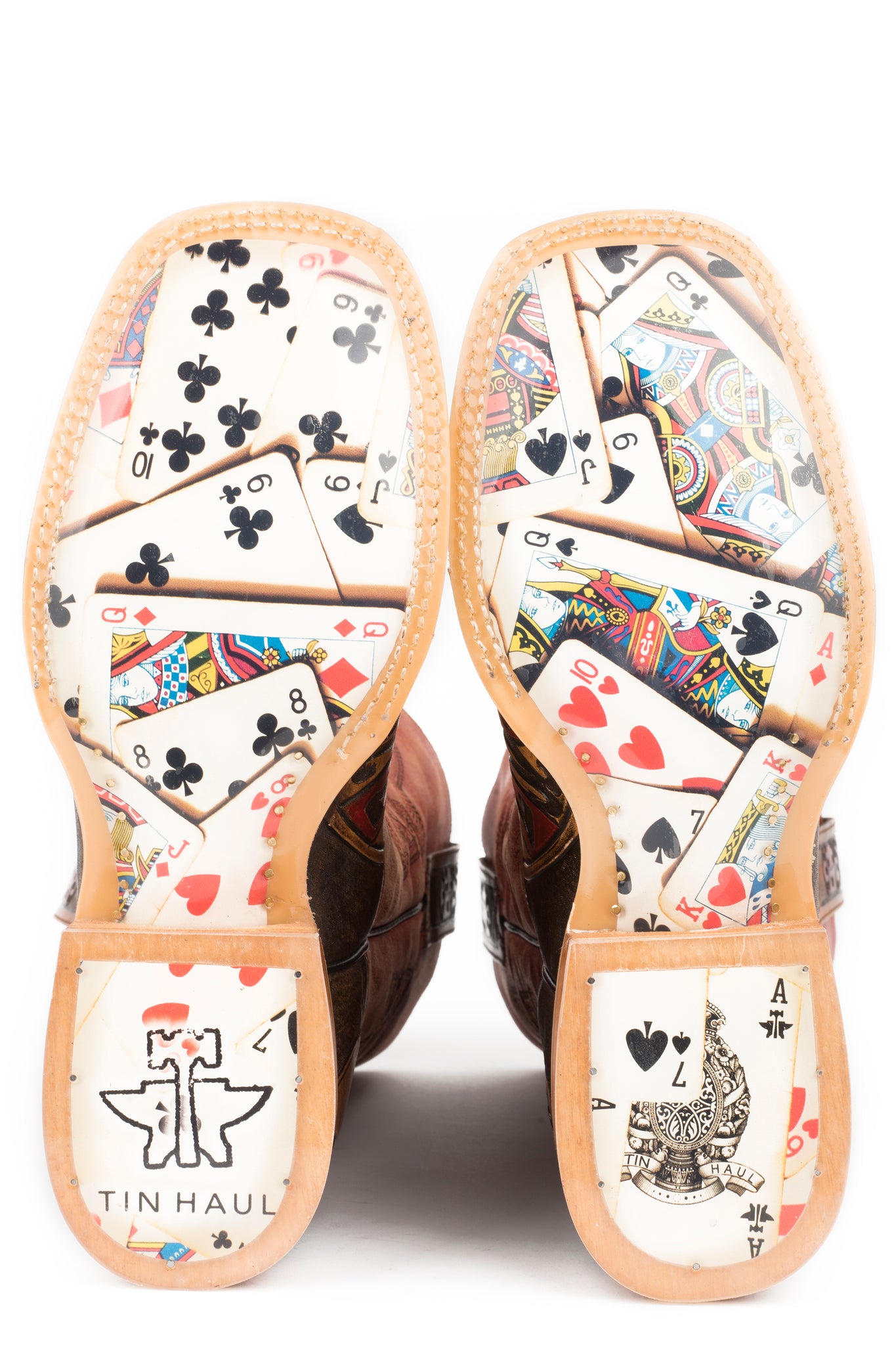 If you ask me for my favorite Tin Haul boots option, I believe I will go with the Men's The Gambler With Card Shuffle Sole due to its unique design. The sole features an exceptional design of a card shuffle, including distinct quality graphics on both boots, which will last a long time. The shoes are comfortable due to the cushion support system, combining style with coziness.
My Top Tin Haul Boot Picks
Selection Criteria
If you are wondering why I selected the products mentioned above in my top picks, here are my reasons:
I have included what I believe are the best designs offered by Tin Haul.
The boots I have included are in-stock.
These top picks have something for everyone — be they men, women, or children.
The designs that I picked go well with your overall cowboy look.
Buying Tips
Now that you have most of the basic information you need, it is time to buy your first pair. But before that, here are a few valuable tips to be mindful of while making your Tin Haul boots purchase online.
Visit Tin Haul's Website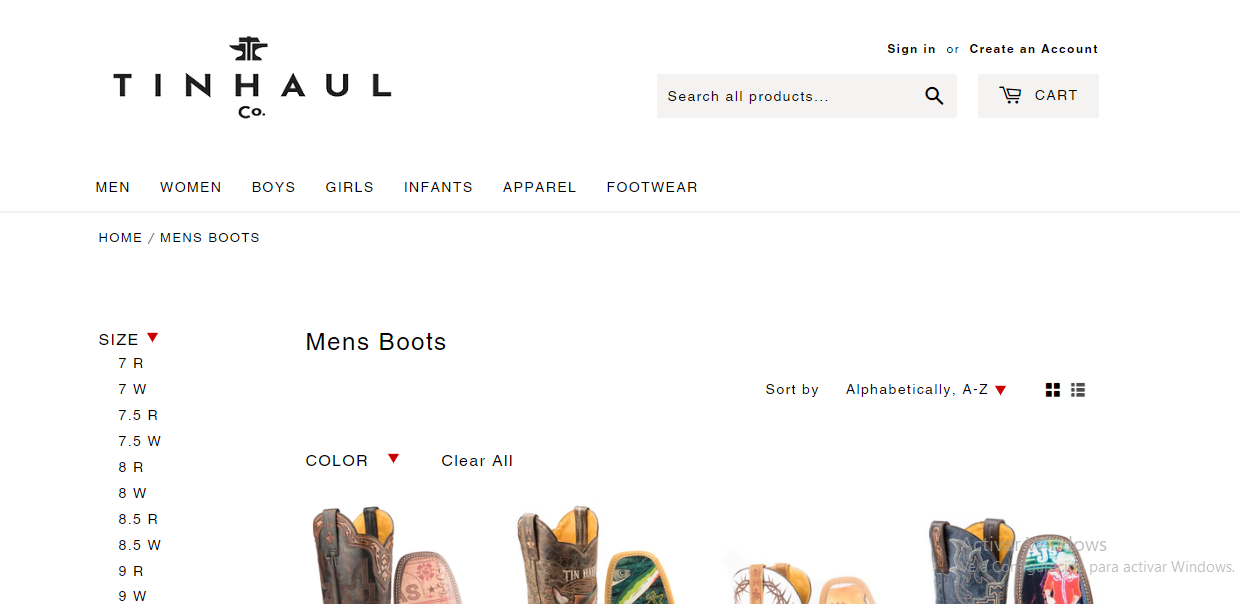 I recommend ordering directly from Tin Haul's website instead of a third-party store such as Amazon. This will ensure that you get a genuine Tin Haul product for the money you are spending and can later benefit you if you need to return an item through Tin Haul's exchange policy.
I would also recommend checking if the website you are browsing is an original Tin Haul website instead of an off-brand replica.
Use Filters
There are various filters on Tin Haul's website that you can use to your advantage. For instance, if you're on a budget, I would recommend sorting by price, low to high. Newer boot designs and products can also be seen if you sort by date.
Similarly, if you need specific-colored boots, I recommend you select your desired color from the dropdown menu on their website.
Stay Within Your Budget
Who does not want a pair of good-quality boots? However, it is always essential that you stay within your budget. I would tell you to establish a budget range before you start hunting for your boots and try not to exceed that limit. Just to let you know, researching other Tin Haul designs and sorting by price can come in handy in this regard.
Do Your Research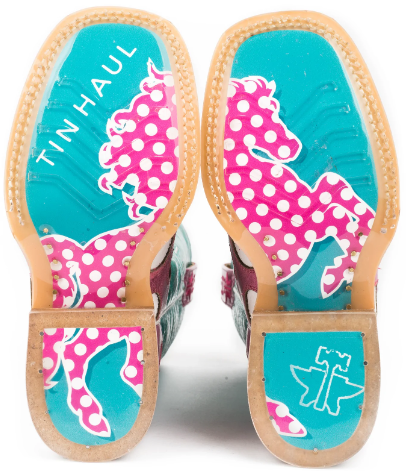 Before you get down to buying your favorite Tin Haul boots, you need to do some background research first. For instance, with Tin Haul boots, you may need to order a slightly bigger fit than your regular shoe size.
Furthermore, your chosen pair may look a little underwhelming when you finally receive it. So, look for videos of the boots you are excited about, and see if they are what they seem to be. Although I must admit, it is hard to choose an unimpressive pair of Tin Haul boots!
My Top 10 Tin Haul Boot Recommendations
Tin Haul Boots For Men
Tin Haul offers a separate section explicitly designed for men. All the boots in the men's category have distinctive embroidery and come in audacious shades. They are usually available in darker, imposing colors. Moreover, they are also available in larger sizes, as big as 10 ½.
Men's Between Two Thieves With 3:16 Sole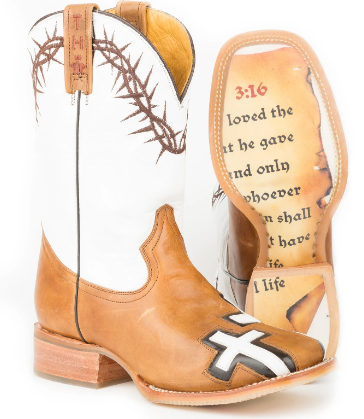 The Between Two Thieves by Tin Haul reminds me of the old cowboy movies. After seeing them, I can't help but imagine riding my horse in the sunset. Sturdy and durable, these boots come with a 100% leather lining to guarantee luxury and comfort. The double welt heel combined with a square toe makes them a snug fit. The rubber lining underneath the gorgeous graphics ensures a visible print, even after months of use.
I have to say, I am a fan of their color scheme. I feel that the light brown vamp is the perfect companion to the 11-inch white shaft. The white cross cutouts on the vamp look very appealing. However, my favorite thing about this pair is the adorned crown of thorns on top of the shaft. Not only does it add to the charm, but it also exhibits an attitude of nonchalance, something we men are usually labeled with.
The bottom of the sole is imprinted with a graphic of John 3:16 and symbolizes a sense of continued belief. However, I must mention that a verse from the Holy Bible underneath the boots might provoke some religious sentiments as well. Though this is a piece of art, after all.
I've found that any dirt that makes its way to the white-colored shaft is too prominent and appears pretty unpleasant, so remember to keep these boots from getting dirty.
Pros
It has an attractive design of thorns on its shaft.
The brown color of the vamp complements the white shaft really well.
Cons
Its white shaft can get dirty quickly.
The text on the bottom may be perceived as a bit insolent.
Men's Freedom with Dog Tags Sole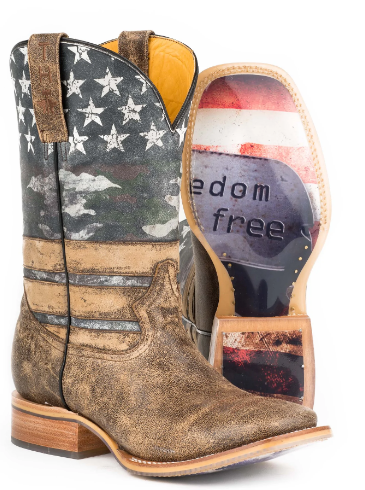 If I consider the softness of the material and fervor of the texture, it is hard to look past the Men's Freedom with Dog Tags Sole. The boots are fully made of leather, including the sole, inner lining, and cushioned support, so I am sure your feet will remain fully relaxed while wearing them. The heels come up with a double welt square toe, while the outsole is made pretty smooth to prevent scuff marks.
More than anything, the Freedom with Dog Tags Sole for Men appeals to the patriotic sense of duty and allows you to truly express your love for the American Dream. I liked how Tin Haul embellished the leather with various designs, including an American Flag on the upper shaft. The grey lining on the lower part of the shaft complements the brown vamp color.
On the bottom of the sole is an imprint of the US Army dog tag, which is an excellent tribute to the fallen soldiers of this great land. When I saw them, I especially admired the subtle way Tin Haul ingrained their logo on the shaft without compromising on the overall poise of the boots.
Pros
Their design has vibrant colors that appeal to the patriotic sense.
Has a leather lining along the shank for a snug fit.
Cons
The square toe may end up hurting your toes, especially if you have broad feet.
Men's Toastin A Gnarly Shark With Beer Girl Sole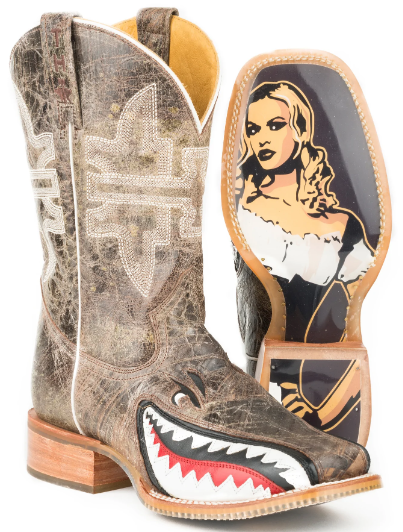 For the adventurous mind, the Men's Toasting a Gnarly Snark With Beer Girl Sole is the definition of flair. These boots are a sight to behold with their smooth finish and soft leather insole. The rubber lining underneath the sole protects the printed sole underneath, or should I say, our gorgeous bartender.
In my opinion, the highly meticulous design on the shaft, rich in detail, adds to its class. A giant Tin Haul logo is placed shrewdly to give the impression of a texture component. Although I don't own a pair, I saw an acquaintance \ boasting about these boots, and I have to say the shark design is super unique. If I'm being honest, this texture looks more like crocodile skin. And I cannot stop myself from imagining a Florida crocodile walking in these boots.
These boots are perfect for a boys' night out. I think nothing beats hanging out with boys on Saturday nights. And if you are wearing these shoes with beer girl soles while hitting a bar, your buzz is going to get much stronger. After all, you will be drunk from head to toe.
Pros
The bottom graphics on these boots are incredibly detailed.
A perfect pair to hit the bar with boys.
Cons
The tan color doesn't look as appealing with this design.
Men's The Gambler With Card Shuffle Sole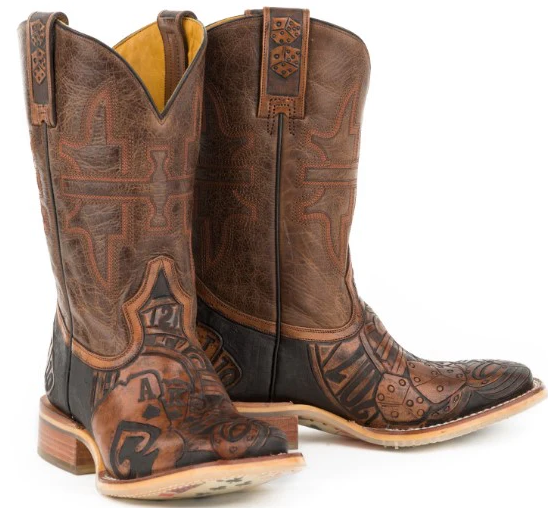 The Gambler With Card Shuffle for Men Tin Haul boots is fashioned to remind me of the folly and recklessness of my early days; with no worries whatsoever, just me and my youth.
Expertly designed to maximize convenience and oomph, these boots are a sight for sore eyes. The Gambler has a smooth finish and features an all-leather, double welt heel for ultimate comfort. The thick rubber lining acts as a solid defense against wear for the magnificent graphics. Whether or not you're in the casino business, I recommend you gamble on these.
This is one of the more expensive investments I have made, but with minimal regret. Even after years of use, these boots remain as attractive as ever. The shaft and vamp motifs are immaculate and without scratches, even after prolonged use.
It is often hard to determine which I like more, the comprehensive card design on the vamp or the sophisticated card shuffle illustrations emblazoned on the sole. The Tin Haul logo is exquisitely positioned and doesn't look out of place. Having said that, these might not be a great option for someone on a tight budget.
Pros
Its captivating brown color works really well with the rest of the design.
The vamp designs are riveting and rich in detail.
The card shuffle sole is extremely pleasant to look at.
Cons
Very expensive and can be challenging to fit into your budget.
Tin Haul Boots For Women
Tin Haul's women's boots collection is as charming and diverse as its men's compendium. Whether your preference is style or comfort, the Tin Haul women's series is an ideal choice. The women's collection includes vibrant pinkish tones with exclusive designs and is readily available in all women's sizes.
Women's Cactilicious With Looking Sharp Sole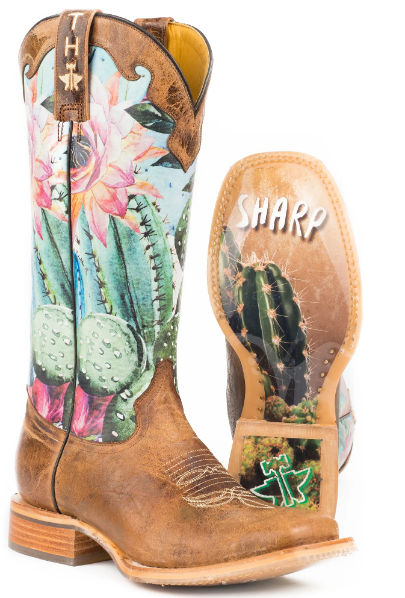 With a much longer 13-inch shaft, the Cactilicious with Sharp Sole for Women offers vivid colors and imagery. Just don't get too close to these boots, or you may end up getting pricked by their elegant beauty.
The material is 100% leather with a breathable lining and soft support inside for a relaxed fit. The outsole is non-marking to prevent scrapes. The finishing is smooth and rich, with high-quality stitching. Finally, the heels provide a touch of dominance and ascendancy, something every modern woman seeks these days.
Attached to the sole underneath is the first-rate lining of rubber that makes it hard for the cactus spines to break easily.
Now, let me talk about these boots' main attraction: the radiant images etched on the boots. The shaft features a cactus design with a wide array of colors. I have to say, featuring a pink flower with cactus is nothing short of exotic beauty. Furthermore, the crackled brown vamp presents a simple yet classy design.
The sole graphics are eye-catching and highlight a cactus painting, which seems incredibly convincing. When I looked at these soles for the first time, I had to "look sharp," since the spines looked like shining diamonds. However, the bottom of the picture is a little underwhelming as it contains a very off-putting Tin Haul logo looking extremely out of its depth.
Pros
Its shaft is alive with vibrant colors.
The graphics on the sole complement the boot color.
Their longer shaft makes them a perfect fit for equestrian purposes.
Cons
The Tin Haul logo underneath the sole doesn't fit well with the rest of the graphic.
Women's Mish Mash With Geometric Steed Sole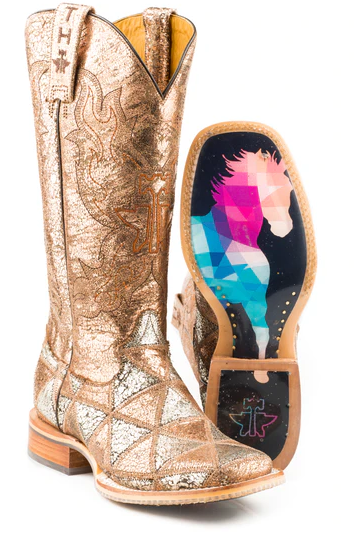 Similar to the Cactilicious sole, the Women's Mish Mash With Geometric Steed Sole also features a slightly longer 13-inch shaft; I swear if these were available in my size, I would probably be wearing them right now.
This is a handmade boot made from premium imported leather with cushion support for the insole. The sole is padded with a rubber lining underneath and double welt heels. Wearing these must feel like you're standing on a cloud, or in equestrian terms, riding on one.
Easy to put on and easy to clean, these boots are built for perseverance and will last a long time. While the Mish Mash boots are a charming selection, I feel that the more dominant colors in the triangular patchwork would further enhance its glamour.
The Women's Mish Mash are my favorite boots in the women's collection. I love the detailed shaft design and the way Tin Haul incorporates its logo in the same hues as the stitching. The colors on the outsole and the base dazzle the viewer.
Its vamp calls attention to a scintillating design of multi-colored triangular patterns. If you ask me, the whole shaft of these boots looks like being wrapped in a golden foil.
However, for me, the jewel in the crown is the graphics engraved underneath the sole. A pixelated horse in various shades of blue and pink printed over a shiny, black background creates an almost heavenly feeling. I believe any female professional rider would want to wear this flamboyant pair of boots whenever they go to a horse show.
Pros
The textures on the shaft go well with the rest of the design.
The colorful horse and black background add a stunning contrast.
Cons
The pink color on the sole can start to fade away with prolonged use.
Women's 'Don't Be Square With Conquer The World Sole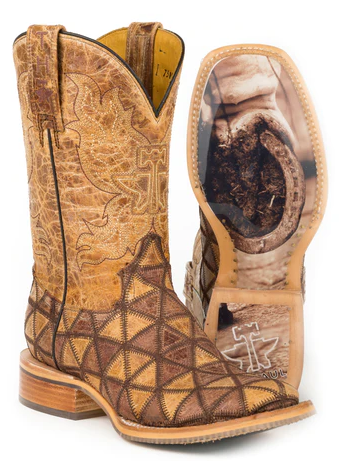 This handmade Don't Be Square With Conquer The World Sole for Women present a distressed shaft of rich brown color, accompanied by a stylish vamp, featuring a geometric arrangement of triangles similar to the Mish Mash sole. Fully lined with leather, they are a very comfy pick, in my opinion.
Among Tin haul boots, these boots offer my utmost favorite sole graphics, protected by a thick TPU rubber lining. Incredibly realistic, rich in detail, and with an added motivational quote, this illustration is one to take note of.
The print presents the hoof of a horse in subtle shades and background. If you are an equestrian like me, you would agree that the sight of a galloping horse's hooves is always close to our hearts, making this pair a Holy Grail for us.
The vamp includes two shades of brown, which complement each other very well. The Tin haul logo on the shaft has lovely stitching and embroidery, which almost looks like a blazing butterfly, making it a fantastic choice for women.
Pros
Its triangular pattern colors compliment each other nicely.
The sole graphic looks exceptionally realistic.
Cons
The brown color is slightly overpowering the rest of the design.
Tin Haul Boots For Kids
Tin Haul's wide assortment of boots also offers a massive variety for kids. Whether it is a Spiderman-themed pair for boys or a sole with unicorn graphics for girls, Tin Haul's kids' collections offer everything for our little aspiring equestrians. Offered in smaller sizes and with a much shorter shank, Tin Haul kid's boots strongly appeal to the young due to their lively colors and themes.
Little Boys Spiderboot With Arachnids Sole
Maybe you just left the theatre after watching the new Spiderman movie, and now you want to incorporate that into your equestrian journey. Well, these Little Boys Spiderboot With Arachnids Sole will surely be your favorite then; if only these weren't just available in kid sizes!
The much smaller 8-inch shaft doesn't make your kid's legs sweaty. And just like almost every other Tin Haul boot, the sole is made of imported leather, and the stitch work is fanciful. The kids would find it tough to complain of discomfort with its smooth leather lining, while the smaller shaft makes it easier to take the boots off.
The insole is removable and can be replaced with an even more padded insole if your kid wears them for a long time. Not to mention, these boots are inexpensive, making them a perfect choice for your child's birthday gift.
For me, the color scheme of the boots is very striking. Kids will love the Spiderman theme and the webbed stitching on the vamp. The blue threading atop a red shaft also adds to its attraction. The sole underneath features spiders and spiderwebs on a field of bright red. These Spiderboots, in my opinion, are almost irresistible to every little cartoon-loving equestrian.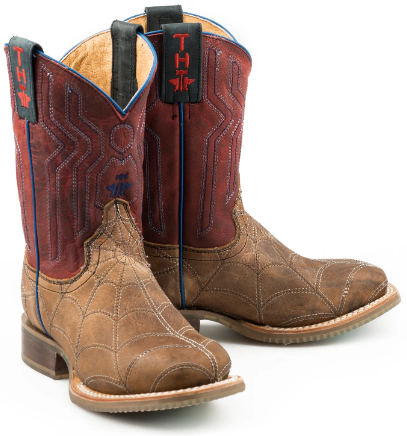 Pros
It is relatively inexpensive, making it a perfect gift for younger equestrians.
Contains a removable insole.
Cons
Tin Haul's logo looks out of place on the shaft.
Little Girls Little Miss Dotty With Horse A Dot Sole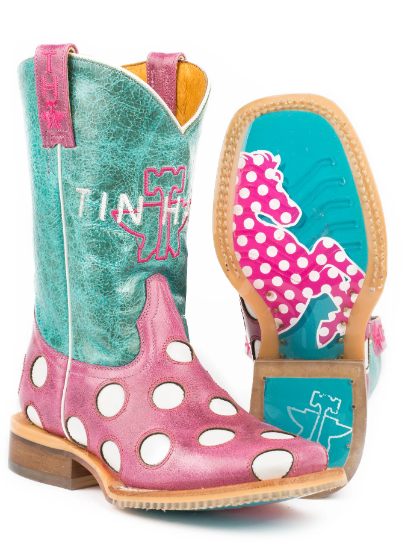 With the Little Miss Dotty with Horse a Dot Sole for Little Girls, luxury and comfort go hand in hand. And although it's not mentioned in the listing, these boots give me Minnie Mouse vibes, but with a western touch. The premium finish of imported leather with a soft lining ensures a beautiful and relaxed experience for your little one.
Furthermore, the square toe and roper walking heel are great for all your kid's needs, in my opinion, be it walking or riding. With a great assortment of colors for its embroidery and stitching, I love the look of Tin Haul's Little Miss Dotty boots. I don't know if it is just me, but I feel like the exorbitant colors take away the feel of leather from these boots.
While I might not have experienced these boots physically, I have read enough reviews for these to leave an impression on me. These Miss Dotty boots are simply cute, and their basic yet elegant shaft design makes for a great statement. The vamp's dotted layout gives them a unique and individual trademark.
Speaking of their soles, they feature a colorful pink horse lined with white dots against a turquoise backdrop. However, I believe a different vamp design, such as a geometric pattern instead of dots, would look a lot more relatable to the equestrian lifestyle.
Pros
Lined with leather for a relaxed feel.
Enticing sole illustrations in pink color for young girls.
Cons
The multi-color pattern takes away the leather look from these boots.
Little Boys Barbed Wire With All Beef Sole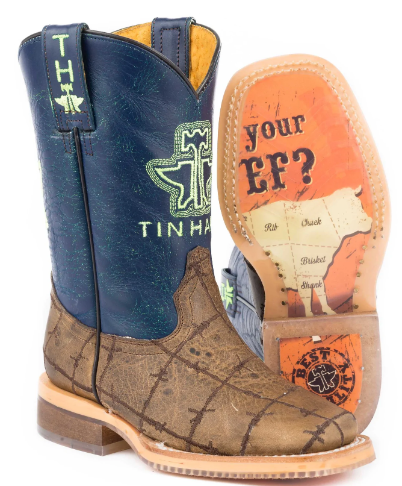 If your little one isn't convinced with the Spiderboot, the Little Boys Barbed Wire with All Beef Sole might capture their interest. The insole is removable and lined with premium leather for a snug fit. It is a durable pair of boots and would last several years even after rough use.
The stitch work is nicely done, while the logo embroidery on the shaft's center looks particularly appealing to me. A 1 ¼ inch walking heal is topped off with a thick rubber lining to safeguard your beef steak.
A magnificent shade of royal blue is a delightful companion to the brown vamp, which features an articulate barbed wire design I am especially fond of. The illustrations on the sole include a beef map showcasing where the various cuts come from, which I found both helpful and fascinating.
The graphic's intense orange shade is eye-catching. And a bit of humor on the sticker encased below would indeed have your child demanding a pair, only if they do not forget Tin Haul while bragging about their fascinating footwear.
Pros
A helpful cut-chart-designed sole for beef lovers.
Brown and blue colors accompany each other delightfully.
Cons
The orange hue of the sole doesn't go well with the rest of the boot.
FAQs
Question: Do the graphics on Tin Haul boots wear off after a while?
Answer: In most Tin Haul boots, the graphics don't wear off. The bottom sole has thick, clear TPU rubber covering the drawings. This ensures that the graphics are visible even after years of use.
Question: What is Tin Haul's shipping and return policy?
Answer: Apart from Alaska and Hawaii, Tin Haul offers shipping across all the states of the US. For all orders above $125, shipping is free. You can also return your items to claim a refund within 14 days of delivery.
Wrapping Up:
A variety of Tin Haul boots are available on their website, each with unique colors, vamp designs, and graphics. But before you make your decision, I recommend you check for the available sizes and shipping costs. Try to stay within your budget and take your time before placing your order to ensure you get the best product.
From the picks mentioned above, my favorite one is the Men's The Gambler With Card Shuffle Sole. Although it may be a little expensive, I can vouch that it is worth every penny. The Gambler is a unique pair of boots that doesn't compromise on style or comfort, and I am sure you will never lose any bet when wearing these boots.
So, order yours now, and be prepared for the endless praise and admiration coming your way once you've donned one of Tin Haul's best products.
Read More: