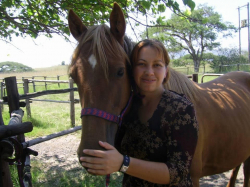 Latest posts by Talitha vanNiekerk
(see all)
One of the first pairs of boots you would have got when you were a child and started your horseback riding lessons would have been paddock.
A good rule of thumb to follow is if your horse is still overreaching despite the hooves being trimmed and their gait being its best – go grab a set of bell boots for your horse. They will thank you for them in their own special way.
The bell boot that Professionals Choice makes are still my favorite (even after reading about all these other great options) simply because of the style, support, and durability that they offer to horses' hooves. Remember, as long as you are actively making an effort to give your horse the best possible life they can live – you're doing it right!
These short boots are made from good-quality pliable leather with a zipper and elasticated inserts for comfort. Paddock boots are easy to polish, and when paired with some half chaps or gaiters, they also make for great riding boots. 
The absolute pleasure of paddock boots is their versatility, as you can easily remove your half chaps and wear the boots around the yard for all-day comfort and practicality. Since paddock boots are quite a bit cheaper than long boots, it's a popular choice for children (who quickly outgrow their boots) and beginner riders (who are just starting and don't want to spend thousands of dollars). 
With so many different types of paddock boots on the market, it can be quite challenging to find the best ones for your use and budget. Luckily, I have a friend who is a great horse trainer, and she also works with one of the top manufacturers of equestrian boots. She kindly gave me some invaluable tips on how to decide on the best paddock boots and where to find them. So scoot closer while I give you all the details of the best paddock boots on the market.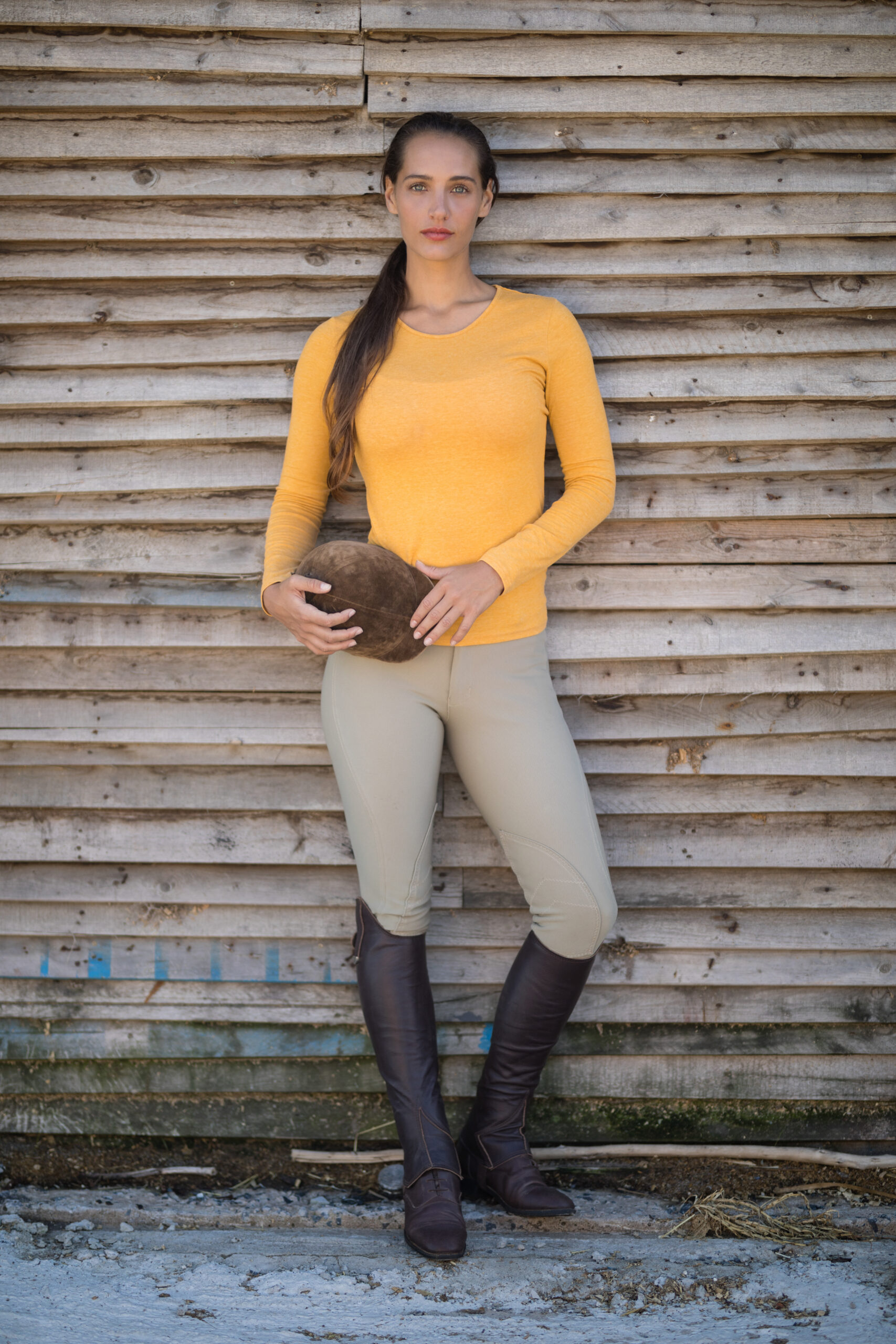 Bottom Line Up Front
I have added to my collection of paddock boots over the years, and if you care for your paddock boots correctly (and I'll include a few tips on this later), your boots can last a lifetime. However, my overall go-to boot is the OEQ Ladies Winter Paddock Boot because of its comfort, support, budget-friendly price, and, well…did I mention comfort? 
With the additional elasticated ribbing on the sides and excellent quality zip on the front, putting these boots on is a breeze, while taking them off after a long day at the yard is as simple as zip-pull-relax. When sized correctly, these boots are reasonably waterproof, with the ribbing on the elasticated inserts covering the elastic enough to flick away moisture to keep your ankles dry. 
My Top Paddock Boots Up Front
I've got the top eight paddock boots on the market for your consideration. Each of these is better suited to a particular work and riding environment or a personal style preference. 
Paddock Boots Care Tips
While buying a pair of paddock boots is relatively easy, and most online suppliers sell a wide range of these nifty boots, I have a few tips to ensure your new paddock boots remain fresh, clean, and oh-so-comfortable. 
Waterproofing Your Paddock Boots
Once you have purchased your first set of paddock boots, it is essential to treat the boots with an oil or wax to waterproof the seams. Rubbing beeswax on the stitching helps seal the seams, making for a waterproof boot that can resist mud, water, and frost. 
Cleaning Your Paddock Boots
Getting into the daily habit of cleaning your paddock boots will help you prevent unnecessary wear and tear that could quickly ruin your boots. To clean your paddock boots, follow these steps:
Use a stiff-bristled brush to scrape off the excess mud on the boots
Clean the paddock boots with a damp rag
Use a stiff nail brush to clean out the seams of the paddock boots
Scrape the soles clean, wiping these with a rag (use a hoof pick to clean up the boot tread)
Use a high-quality leather conditioner to nourish the boots 
Buff, then seal the boots with beeswax to prevent water leakage
Choose the Correct Size Paddock Boots
As with most types of boots, it is essential to choose the correct size boot. When choosing a riding boot, the boot mustn't be too big nor too small for your feet. Oversized boots create problems with your balance in the stirrups. Boots that are too small for your feet will press on your toes, creating tension and pain. 
When you fit a new pair of riding boots, keep the cut in mind, as a wide-toed boot will fit more accurately, while a narrow-toed boot may require you to size up to find a comfortable fit. 
With the boots on:
Press your fingers into the back of the riding boot 
Slip your feet to the front of the boot in a comfortable position
You should be able to insert one finger width into the back of the riding boot
Ensure you wear the socks you normally ride in to prevent an inaccurate fit
Most riders prefer a thicker sock to keep their feet warm and limit friction
Poorly fitting riding boots will strain the stitching with a too-small fit, while a too-large fit will form areas where there is no support and the leather can distort. 
Ensure that when you fit the boots, you use a boot ladle or spoon or pull on the pull tab at the back of the boot. Don't force your foot into the boot from the top without supporting the boot, as this can create pressure on the boot sides that will eventually cause the leather to split.  
A final pointer to keep in mind is that when you are on your feet for long, there is bound to be some swelling. If your ankles swell up as mine do, it can be a challenge to pull off those boots that fit so comfortably that morning. An elasticated boot that easily slips off is a blessing when you have meatier ankles like mine. 
A good set of paddock boots should hold your feet and ankles like a friendly handshake, not like someone is squeezing the life out of your feet. If you struggle to put them on, you will struggle to take them off.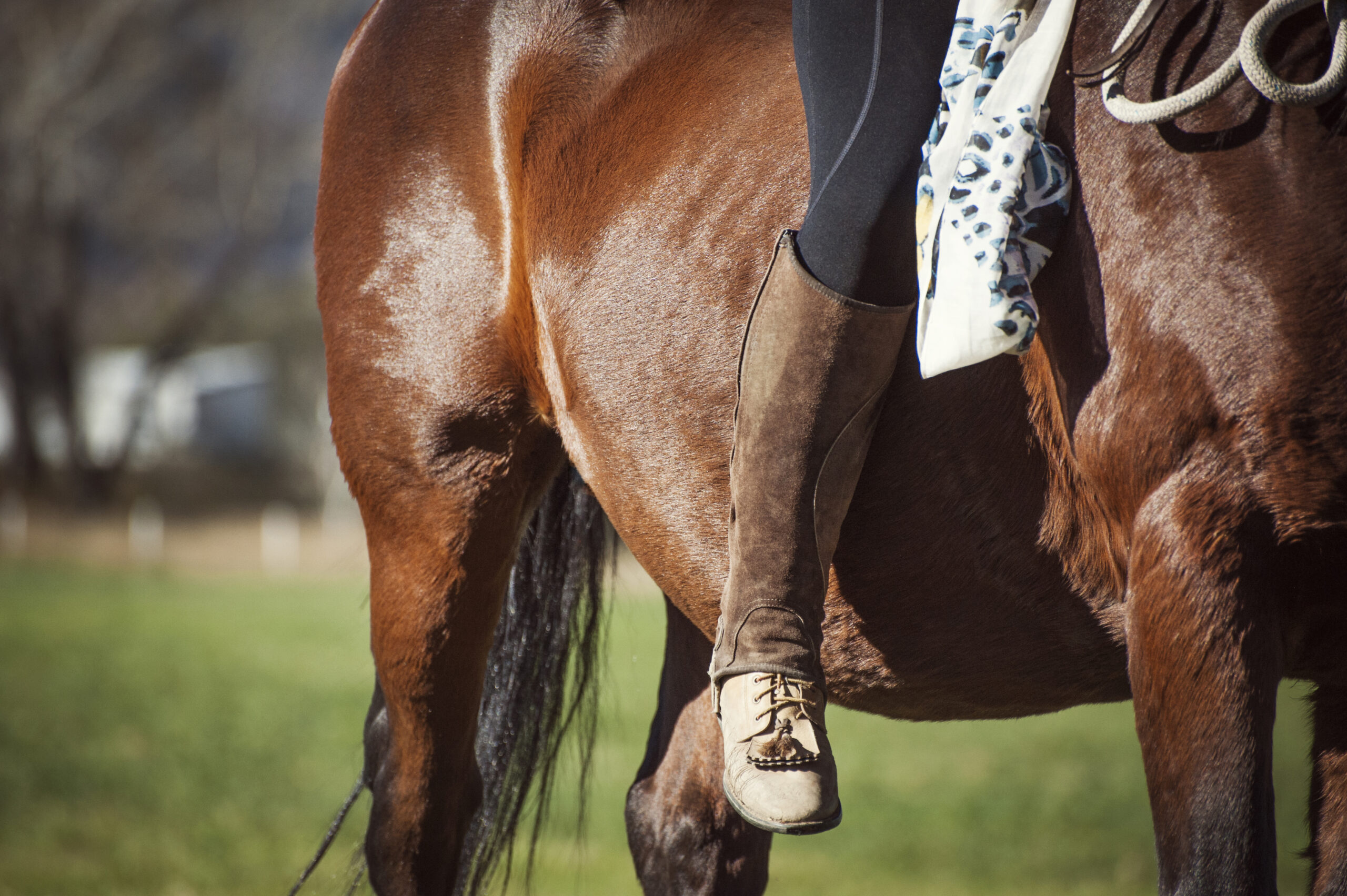 Selection Criteria for the Best Paddock Boots
Whenever you choose something new for your riding passion, whether for you or your horse, ensure you have a clear set of requirements to help you decide which product most accurately meets your needs. 
Here are the selection criteria my horse trainer friend recommended. 
Quality
While paddock boots are considered entry-level boots, you will still be paying a substantial amount for them, so they had better be quality. For riding boots, the quality refers to the leather grade, treatment, manufacturing standard, wear expectancy, and comfort. 
A cheap boot that's made of inferior paper-like leather will not offer the same quality or comfort to you. 
Comfort
When riding and working around horses, the boots you wear must be comfortable as you will probably be on your feet for several hours each day. Ensure the paddock boots you choose are comfortable, offer adequate support, and fit you well. 
Flexibility
When riding, your feet, toes, and ankles are in constant movement, so choosing a flexible paddock boot that offers grip while also being soft enough to bend and move is essential to creating comfort. 
Weatherproofing
Out on the farm or in your riding yard, you will be stepping through puddles, facing rain, and dealing with the summer heat. Having riding boots that are weatherproof is an asset. 
Your paddock boots should be weatherproof, and if the leather is not entirely waterproof, you should apply a waterproofing agent like beeswax balm. Regularly nourishing the leather with a good-quality leather balm will further protect the boots from UV damage. 
Cleaning and Maintenance
Unlike rubber boots, your leather paddock boots will not be washable, but you should be able to wipe them and scrub them down to remove dirt, mud, and grime. Selecting boots with a lot of decorative trim and fancy zippers won't work as well in terms of maintenance and daily cleaning. Instead, go for quality leather with reinforcing, a heavy-duty zip, and double stitching. 
Cost or Price
We all have a bottom line for how much we can spend. While the latest and most expensive paddock boots would be lovely, if you can't afford these, it's better to go for a medium-priced set of boots. 
8 Best Paddock Boots
When fitting these choices, move around, flex, and rotate your ankles to ensure the boots are the best for your feet and ankles. What's comfortable for me may not be the best fit for you; however, these boots have satisfied many different riders, so the odds are in your favor. 
Best Overall Ladies Supportive Paddock Boots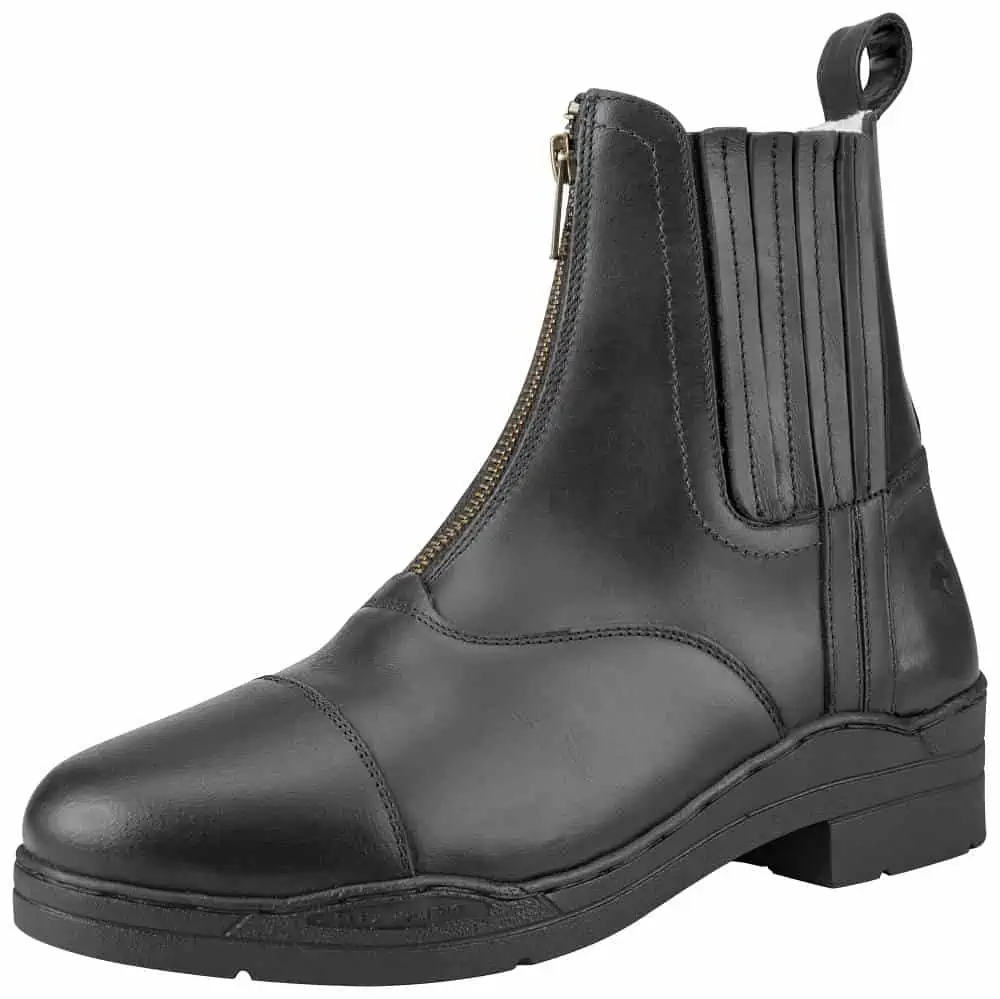 These OEQ Ladies Winter Paddock Boots offer the best paddock boots features. With exceptional comfort and support, you will surely wear these boots for years to come. 
Pros
Made from full-grain leather
Durable and waterproof finish
Flex-comfort anti-slip outsole helps prevent slipping on muddy or rainy surfaces such as in the yard
The inner sole features a steel shank for additional arch support
Soles feature stitching and glued finishing to ensure no separation from boots
Ideal for cold weather with faux fur inner lining 
YKK front zipper for easy fitment
Cons
Slightly larger than regular sizes
It may be too warm for warmer climate areas
I thoroughly enjoy my OEQ boots, and since I live and travel in colder climates, I need my feet kept warm and toasty while I work horses or muck out a stall. With comfort and warmth, these OEQ boots smoothly transition from work boots to training boots with a sturdy pair of half chaps like these OEQ Ladies CoreRide Leather Half Chaps. 
Most Comfortable Ladies Zip-Up Paddock Boots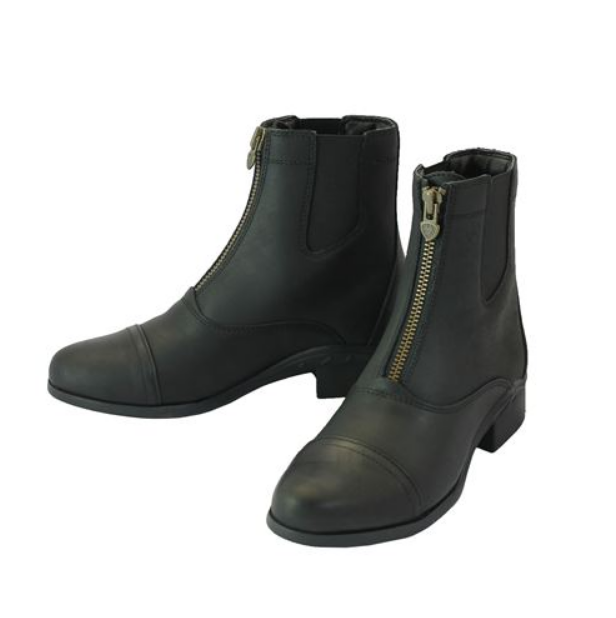 If you are concerned with the health of your feet, stability of the foot ligaments, and prefer a more scientifically designed boot, the Ariat® Ladies' Scout Zip Paddock Boots will tick your boxes. 
Pros
Advanced footbed technology for unparalleled comfort and reinforcing
Full-grain leather boot
Moisture-wicking lining 
Twin gore panels for added flexibility 
Duratread outsole 
Plain toe cap with antique zipper 
Many return clients who insist on buying this boot type again
Cons
Some issues reported with the zippers
Zip-up boots often have a weakness in the zippers, but with correct handling and regular maintenance on the zippers, there should be no issues. 
Most Comfortable Ladies Lace-Up Paddock Boots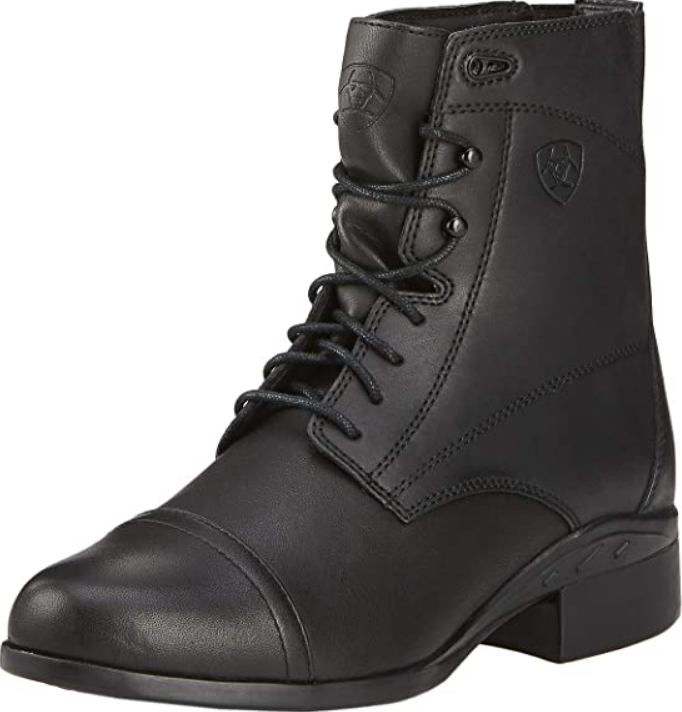 The ARIAT Scout Paddock Boot – Women's Leather Riding Boots are highly technical boots that feature the more traditional lace-up closure for a classical look. These boots are built to last, and with daily maintenance and care, you will surely enjoy your Ariat Scouts for many years. 
Pros 
Imported full-grain leather 
The twin gore panel is elastic for better comfort and fit
Upper speed laces and lace lock for security while enabling quick removal
Comfortable padded top collar
Moisture-wicking lining 
Four-layer footbed with stabilizing shank for better foot stability 
Rubber Duratread outsoles for grip and anti-slip technology 
Cons
Some bunching of the tongue, which can be avoided with careful lacing and a thinner sock
No quick release zipper, and lacing up the boots can become a chore
If you want a quick slip-on boot, this is not your set. However, the individual adjustments that laces offer across your ankle are a real winner. Sometimes you just can't get everything you want in one boot – so buy these for show days with some great half chaps or gaiters. 
Best Extreme Weather Ladies Paddock Boots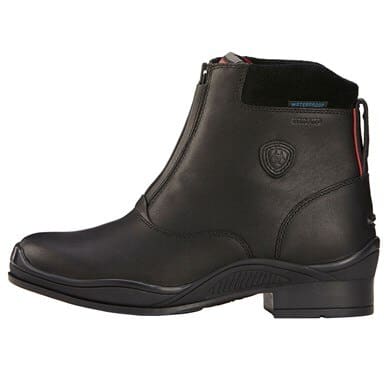 When you have horses, you are out in the elements a lot. Rain and cold frequently cause blisters when your socks rub in wet boots. The Ariat Ladies Extreme H2O Insulated Zip Paddock boots are ideal for these wet conditions, and they look great!
Pros
Full-grain leather uppers 
Membrane technology insulates the foot against wet and cold 
The moisture-wicking lining prevents foot sweating 
Reflective piping for safety at night
Padded suede collar for extra comfort and cut-away area over Achilles tendon 
Duratread outsole 
Available in half sizes from size 6 up to size 10 and then full size up to size 11
Cons
The padded collar can be a problem for people with meaty ankles (like me)
With the added padding, these run a little snug, so order half a size to a full size up
I can't argue with the sturdy quality of these boots, but I fear they may become uncomfortable with all that extra padding. The cuff especially has me worried. However, the Ariat Ladies Extreme H2O zip boots are popular and were perhaps designed with a long and lean foot in mind. Still, if you want warm footies, these are a great choice. 
Best Budget Ladies Paddock Boots

When you're a rider, you have a lot of expenses to deal with: hay, saddles, bridles, supplements, insurance, and vet bills, so money for paddock boots may be in short supply. With the TuffRider Ladies Starter Front Zip Paddock Boots, you are sorted and all under budget. 
Pros
Great price at less than $40 per set
Synthetic leather outer, leather inner
Elastic gussets allow flexibility 
Front zipper for easy on and off
Inside breathes easily 
PVC outer helps with water resistance 
Available in black and mocha
Available in 14 half sizes for greater comfort and better fit
A rounded toe cap provides greater comfort to toes
Cons
Not ideal for show riding
Not meant for frequent wear with its limited life-expectancy
When you budget shop, you often have to compromise. While these TuffRider starter front zip paddock boots will not last you as long as you may like, they will help introduce a new rider to a comfortable riding experience. 
Best Men's Paddock Boots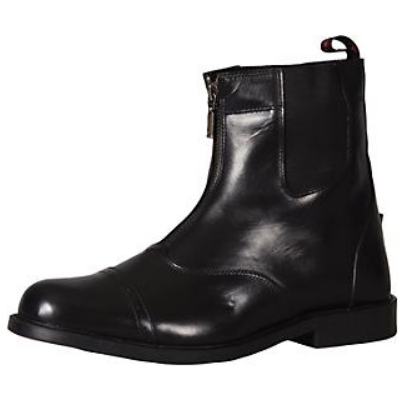 While many men prefer to ride in workers' boots, a good-quality riding boot that offers comfort and no-fuss fitting can be ideal for the male rider. The TuffRider Men's Baroque Zip Pad Boots are suitable for men who prefer a highly functional boot without too many fancy trimmings. 
Pros 
Full-grain leather 
Ideal for multiple riding disciplines, including showing
Elastic side gussets for comfort and easy fit
Front metal zipper 
Boot pull helps fitment 
Round toe with punched caps for classic styling 
Rubber outsole for anti-slip and durable tread
Spur rests 
Available in black and mocha 
Sizes 8 to 13 available with half sizes for accurate fitment
Cons
The printable size chart isn't as accurate as measurements for width and length would have been
Depending on foot width, these may order a little roomier than other boots
These work-boot-style paddock boots are ideal for a man who's not fussy about styling. These paddock boots are good quality and, when correctly cared for, will last for several riding seasons. 
Best Children's Paddock Boots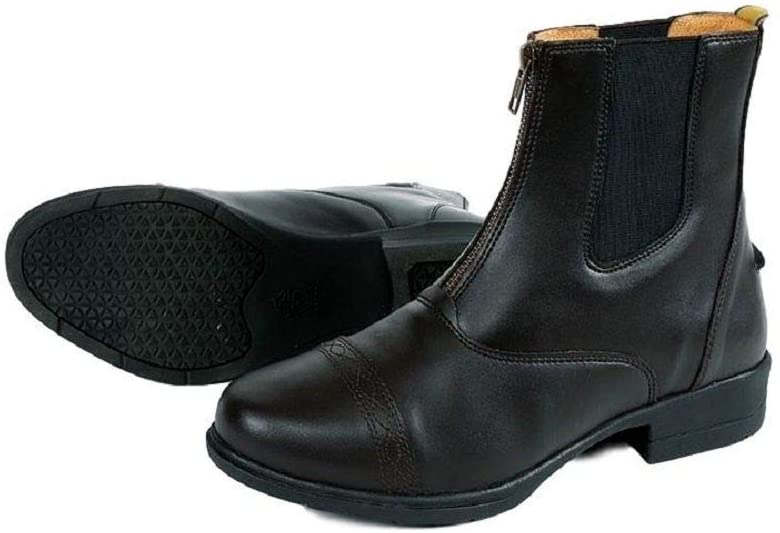 Children grow quickly, so you'd rather not invest a lot of money in buying paddock boots they will soon outgrow. However, the Moretta Clio Child's Paddock Boot is worth the expense for a talented young rider. These paddock boots are wipeable, durable, and easily fitted for growing feet. 
Pros 
Made from wipeable faux leather
Available in brown and black 
Available in sizes 2 up to size 4 big kid
The moisture-wicking lining prevents sweaty feet
Durable soles 
Inner arch support to help tiny feet cope with stirrups
YKK front zip for easy pull-on
Pull tabs at the back to assist with stepping into the boots
Spur rest at the back of the heel for easy placement of spurs
Cons
Sizing is a bit small or narrow, so order up a size or two
The zipper is not the best quality, but since your child will quickly outgrow these, it's not such a big issue
When sized correctly and handled with care, these paddock boots are practical and very comfortable for kids to ride in. Plus, the boots look great enough to show in, which is a bonus for a budget-conscious parent. 
Most Hardworking Side-Zip Ladies Paddock Boots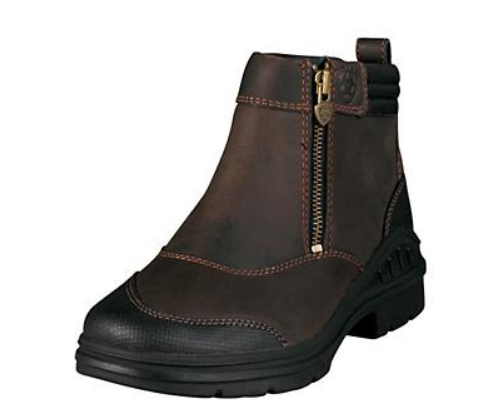 When facing cold and wet conditions at the stable yard, your feet often pay the price. However, with the Ariat Ladies Barnyard Side Zip Boots, your feet will stay dry, supported, and healthy all day long. 
Pros
Tough and durable boots with waterproof, full-grain leather upper, and rubber soles
The moisture-wicking inner lining keeps feet dry inside the boots
Uses Ariat® ATS™ (Advanced Torque Stability) to ensure the boot is super supportive of your foot
Ideal for older ladies as the boot reduces back pain and joint pain
Gel insole cushion molds to your foot shape for ideal fit
Steel shanks provide ideal footbed stability 
Padded ankle collar with Achilles cut-away 
Outer soles have extended side walls for extra non-slip properties 
Toe and heel caps for additional protection 
Cons
Quite pricey at over $110
If you have a fleshier ankle, the padded collar could prove too tight
I adore these paddock boots, and Ariat really went to town on all the features built into them, but I ended up not buying a pair as I was concerned about the potential issues with the fit if the padded collar was too much for my legs. 
The Final Boot
The paddock boot you select will depend significantly on what conditions you wear them in. If you are more prone to walking in water or through the mud in your yard, then a wipeable boot such as the extreme weather boots would do well. However, a leather boot that has been properly sealed with beeswax can also prove water-resistant if not waterproof. 
Ensure the boot you choose ticks all your requirements, and aim to buy in the upper range of your budget, as buying a cheap set of boots is not a great idea regarding craftsmanship and quality materials. 
Take the time to walk in your boot before hopping onto your horse and heading to the nearest show. Boots are living extensions of us, and before you ride, they should be comfortable to walk around and for schooling. Once your paddock boot is comfortable, please treat it with the correct care products to keep it in excellent condition for many seasons to come. 
Happy riding. 
FAQs
Question: Are paddock boots good for riding?
Answer: Paddock boots are ideal for riding and regular work around the yard. Adding half chaps or gaiters can protect your legs from friction and pinching on the stirrup leathers. Since paddock boots are comfortable and affordable, they make ideal beginner boots. 
Question: What is the difference between paddock boots and riding boots?
Answer: Riding boots are designed for use by professional riders who spend more time in the saddle than around the yard. These tall boots end below the rider's knee with a cut-away section on the inside of the knee, and these boots are designed with show riding and FEI regulations in mind. 
Suppose you find that paddock boots rub against your ankles, then opting for a structured boot like a show boot or tall boot may be more comfortable. There's less movement at the top of the ankle. 
Question: Is it better to ride in long or short boots?
Answer: Long boots may be more comfortable when you frequently ride and for cold weather riding. However, it will be cooler to ride in paddock boots and half chaps when it's summertime and warmer. 
The type of riding pants you wear will also determine whether short or long boots are more suitable for your comfort.

When riding in jeans, wearing short boots such as paddock boots may be more comfortable, as the denim pants can be folded over the short boots more easily. Long boots are not as forgiving, and you would need to wear riding slacks, jodhpurs, or breeches with these to be able to tuck the pants into the long boot. 
Question: How tight should paddock boots be?
Answer: With paddock boots on, push your foot forward until your foot is held by the boot. There should still be room in front of your toes. There should be about a finger-width room behind your heel (at the most). Ensure you wear the same socks you will be riding in when fitting to avoid a thicker sock suddenly making your boot not fit. 
Read More: