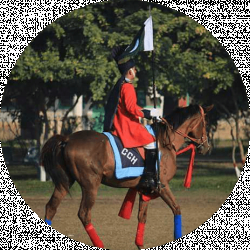 Latest posts by Boo Ali Khan
(see all)
If you have ever driven a Horse Trailer, you will know that going on a journey on these vehicles can be immensely stressful, even suffocating sometimes. So, while going on this journey, a nice gentle breeze and some light from the surrounding environment can be a nice change of pace for you.
Not to mention your beloved but nervous horses will feel at ease in a bright room where they can see their surroundings. And having some ventilation throughout the cabin will keep them from safe sweating and dehydration.
However, for all this to happen, the windows of your horse trailer should be in excellent working condition and have little to no dust or water leakage.
Now that you are well informed about the significance of horse trailer windows, I will suggest some of the best horse trailer replacement windows in this guide so that you can replace your old windows and get the best out of these new efficient options.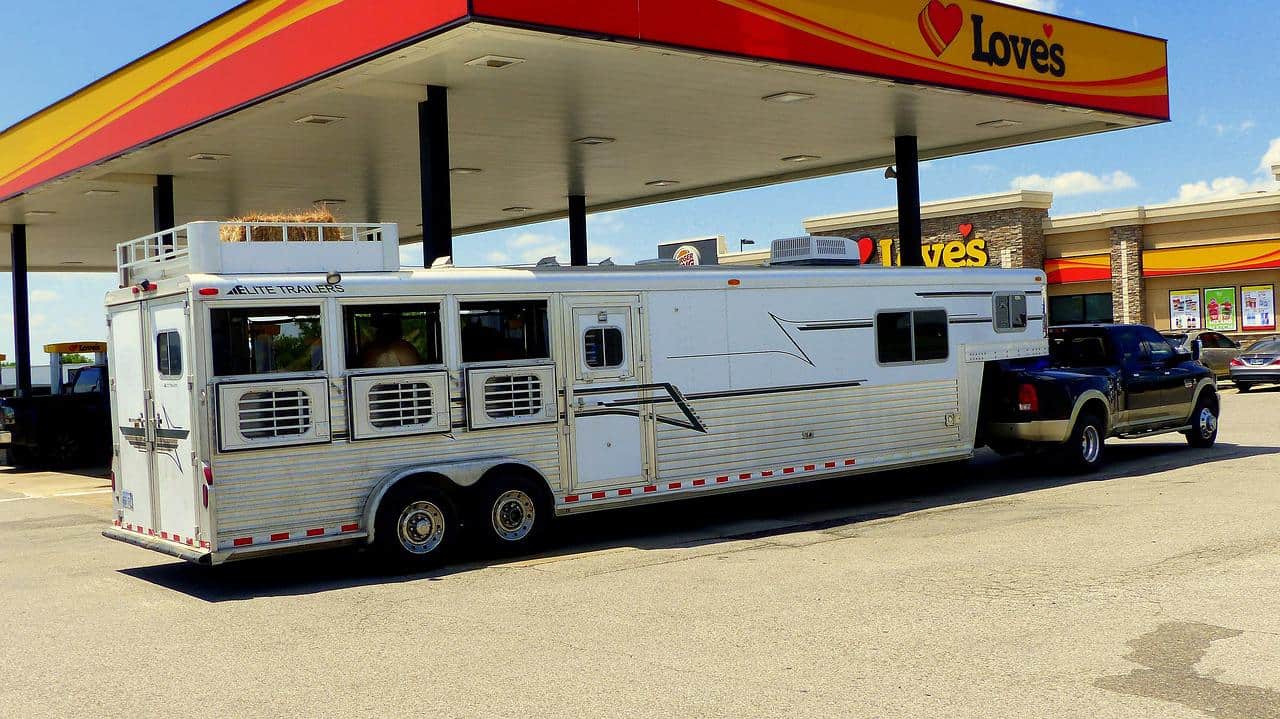 Bottom Line Up Front
There are dozens of unique options that you can pick from in this replacement windows guide. However, the one that I personally like is the Slider Window With Livestock Bars.
It has an ergonomic design with rounded corners and reachable latches, making opening and closing the windows much more manageable. Not to mention the easy installation with aluminum rings makes it an unavoidable option.
My Top Picks
My Selection Criteria
Before adding these windows to my top picks, I have ensured that all the selected windows meet the following selection criteria:
Material
All of the available horse trailer windows in my top picks are made from waterproof and non-corrosive material so that they can remain in working condition for an extended period.
Accessible Latches
To make opening or closing windows much more manageable, the windows should be equipped with reachable and simple latches. So, all the windows that I have selected have accessible latches.
Durable Glass
A horse trailer window having a thin glass can be disastrous. And If a horse accidentally hits the glass, it can break easily. So, all the windows I have picked have durable glass that can bear hits and pressure.

Buying Tips
Replacement windows come in many shapes and sizes, so choosing the window that fits your horse trailer and meets your expectations can be complex. So, to stop you from going overboard and buying every window you see, here are some buying tips that you can follow:
Check Size of the Replacement Window with Your Specific Trailer Type
There are many types of horse trailers, such as the bumper pull, goosenecks, and living quarter horse trailers. However, all of these kinds have different sizes, with the bumper pull being the smallest.
So, if you are in the market to buy a replacement window for your horse trailer, then be sure to check the window's size, as bigger windows will be compatible with the bigger horse trailers such as gooseneck and living quarter, and smaller ones with the small-sized such as Horse Boxes.
Be Mindful about the Sealing of Windows
A window is a versatile part of a horse trailer. It allows the horse trailer to be ventilated with air while keeping any dust or water outside. Not to mention it also keeps the beloved horse safe from insects. However, a window should be well sealed with a proofing filler or a rubber gasket. So, when choosing a window, carefully check if the window is properly sealed or not.
Check Customer Reviews
When you are going to search for windows on an online marketplace, be sure to check the customer reviews. Customer reviews will give you a good insight into how the window holds up over time and whether the pictures on the website are legit. This simple step is going to save you a lot of trouble when your most awaited window finally arrives.
My Top 10 Horse Trailer Replacement Windows Recommendations
Horse Trailer Drop Down Feeder Window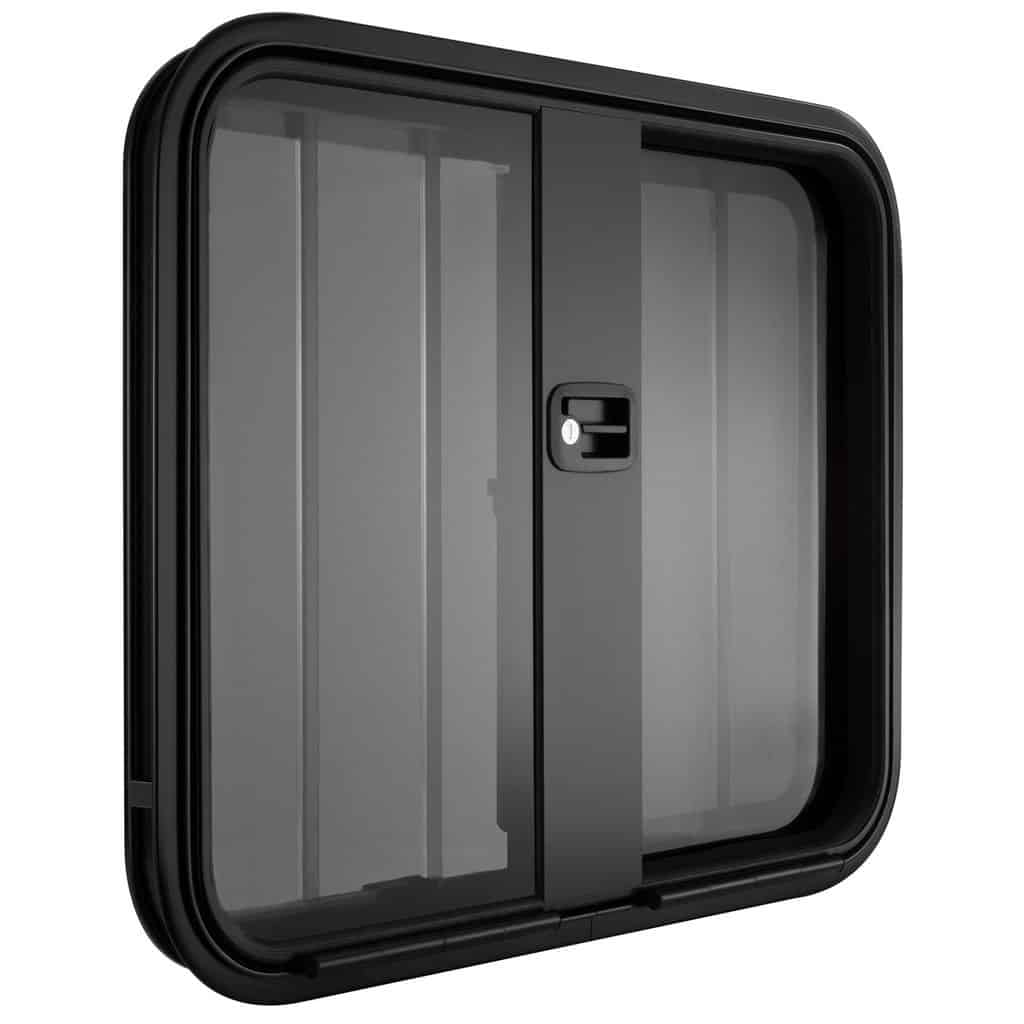 Description
This Horse Trailer Drop Down Feeder Window is a feature-packed option on my bucket list. The window is carefully designed with the horse trailer user in mind by offering a perfect size of 30 W x 24 H inches to feed the horse easily. It also has rounded edges, so handling it while installing it in the horse trailer is not risky.
Moreover, the window has a screen on the back of its glass, so even if it is opened for ventilation, no debris or annoying insects could enter your precious trailer and become a problem for you and your horses.
The trailer owners would agree with me that the latches of the drop-down windows can be a bummer, as reaching them is always difficult. However, this horse trailer window has this problem solved. It has a nicely built mid latch that makes reaching it pretty convenient. However, as all good things come at a price, this window will undoubtedly be heavy on your pocket, so be thoughtful of your budget before buying it.
Pros
It has heavy-duty hinges, so frequently opening or closing the window won't make them lose their grip.
The bars are made of durable aluminum.
Cons
This window comes with an expensive price tag.
Top Hinged External Push Window
Description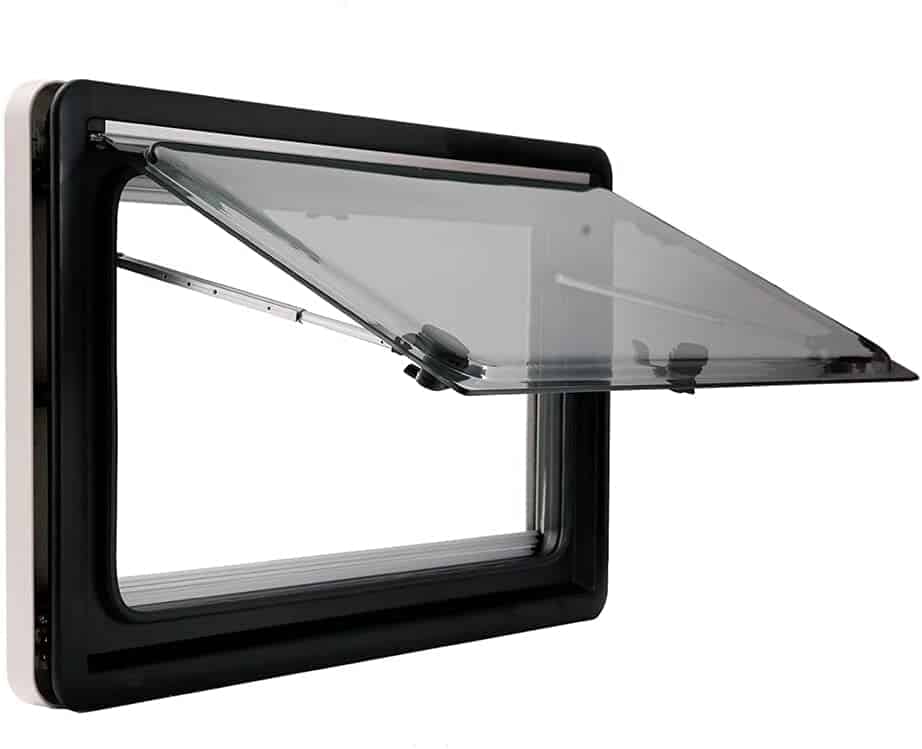 This Top Hinged External Push Window is undoubtedly a unique option on a bucket list. Unlike windows with a sliding mechanism, this window has a simple external push mechanism to open or close the window. Moreover, this window has a hinge at the top that keeps it held up and outwards without any additional support. Not to mention the hinge is built with aluminum, so it doesn't add any more weight to the frame while still being sturdy.
The frame of the window has a two-tone finish. The outside of the frame is black, while the inside is white. The window has a small compact size of 13.78 W and 11.02 H inches. And talking about its installation, it could never have been simpler as this window has clamps that attach to the body of the horse trailer.
So, there is no need for any screws to be bolted into the window's frame and your precious trailer's body. However, as nothing is perfect, this window does not offer a good sealing. So, don't forget to buy a sealing filler as no rubber gasket is installed in this window.
Pros
The window has a tinted double-glazed acrylic pane which provides sunshade
The window is lightweight and compact, so it can be effortlessly opened or closed with one hand.
Cons
Stains and dirt are easily attracted towards the white finish of the frame.
Crl Horizontal Sliding Horse Trailer Window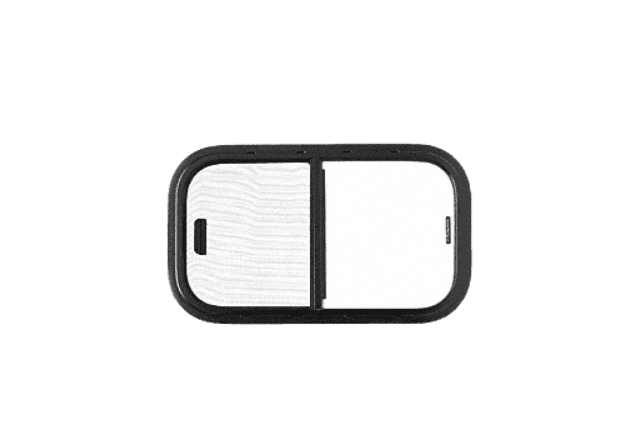 Description
If you are considering a sleek and seamless design in this large window market, then you can bet on the Crl  Horizontal Sliding Horse Trailer. This window has a black aluminum build frame, making the window corrosion resistant, and any dust or stains will be easy to clean.
Not to mention the extrusion of the frame keeps the glass firmly intact. Furthermore, the dark gray finish of the glass protects the interior from any UV light. The glass is fiberglass-based, so it is lightweight and sturdy.
This window has a sliding mechanism for opening or closing the window. There are handles on each glass to slide open one side of the window. The window's dimensions are 31 W x 15 H, so attaching it to a small horse trailer like a bumper pull will not be an issue. And if you're a minimalist, the smooth black finish will surely appeal to you. However, keep in mind that these perks are not free, so keep an eye on your budget if you decide to buy this window.
Pros
The black finish of the windows will look good with any horse trailer.
The window also comes with internal clamp rings to make installing the window much more effortless.
Cons
The scratches on this fiberglass-finished window glass are more visible than on an ordinary window.
Drop Down Feed Style Windows with Bars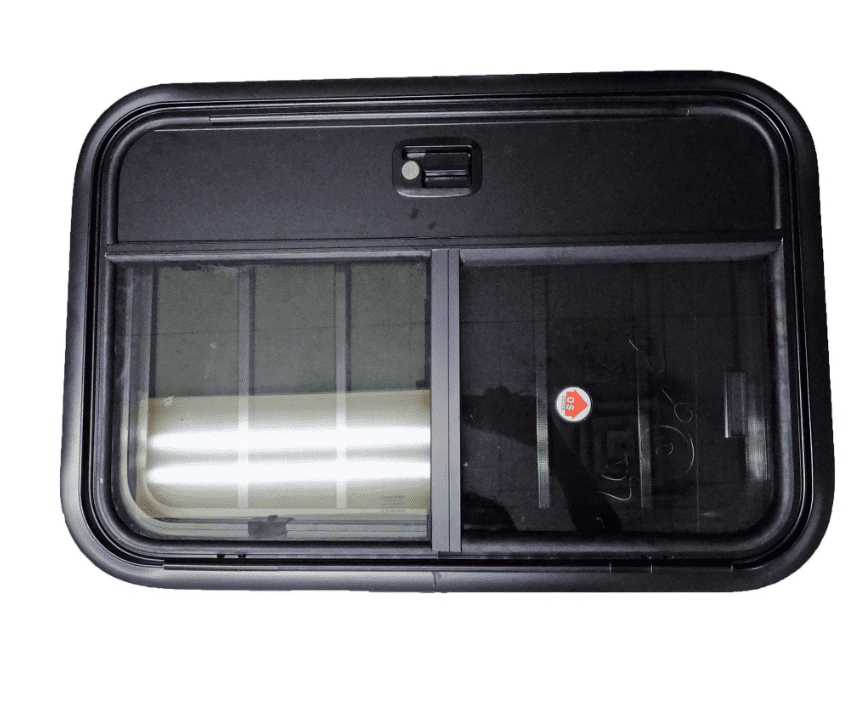 Description
Suppose you are looking for a window that provides an extra sense of protection with some more features. In this case, you should definitely go for the Drop Down Feed Style Window With Bars. While going on a trip, the windows are kept open for some air; there's always a chance that the horses will try to stick their heads out of the window.
So, to keep them safe and away from any such situation, this window comes with aluminum bars. Also, these flexible aluminum bars can even bear rough movements of horses that come in contact with them. Therefore, they not only keep the horses safe but also save the window's glass from any unaccounted harm.
Having extra protection is not the only perk this window has to offer. It also has a reinforced metal frame with a rubber gasket around it. So, there are no worries about the window not being corrosion-and-leak proof. However, this window has a high price tag, so keep your expenses in check.
Pros
The window has a drop-down system, so offering water or feed to the horse is pretty accessible.
The glass is a smoke-tinted safety glass, providing extra safety and privacy.
Cons
The hefty price tag of this window can be a problem for equestrians on a low budget.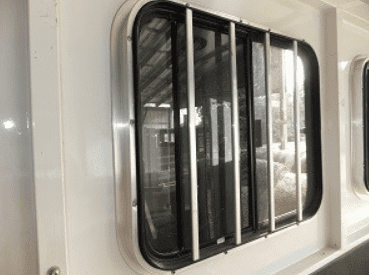 Description
Keeping your horses protected is essential. However, this does not mean they should be locked shut in the dark. So, a slider window should be added to the horse trailer to make it feel open yet safe. And what better it can be than the Slider Window with livestock bars?
It is built with 100% aluminum. However, being an affordable option, the overall build is still relatively thin, making the window lightweight and a bit less durable. Not to mention this slider window has dimensions of 24 W x 20 H inch, which is a standard size for most small horse trailer windows.
Furthermore, the window is also waterproof, so there is no need to worry about your precious horses getting wet in the rain. This might feel like a very basic detail, but I have seen some champion horses not participating in the competition after getting sick due to such water leakage into the trailers.
And if you're scared that your horses may break the glass and get injured, remember that this window comes with four durable aluminum bars on the interior side to prevent that from happening. However, as this window doesn't come with any clamp rings or screw holes, you will have to purchase new clamp rings if you want to install this window.
Pros
The window has aluminum bars that will keep your horse protected.
The window can be installed with simple metal screws or clamp rings.
Cons
The aluminum bars of the window cannot be opened, making it hard to feed the horse.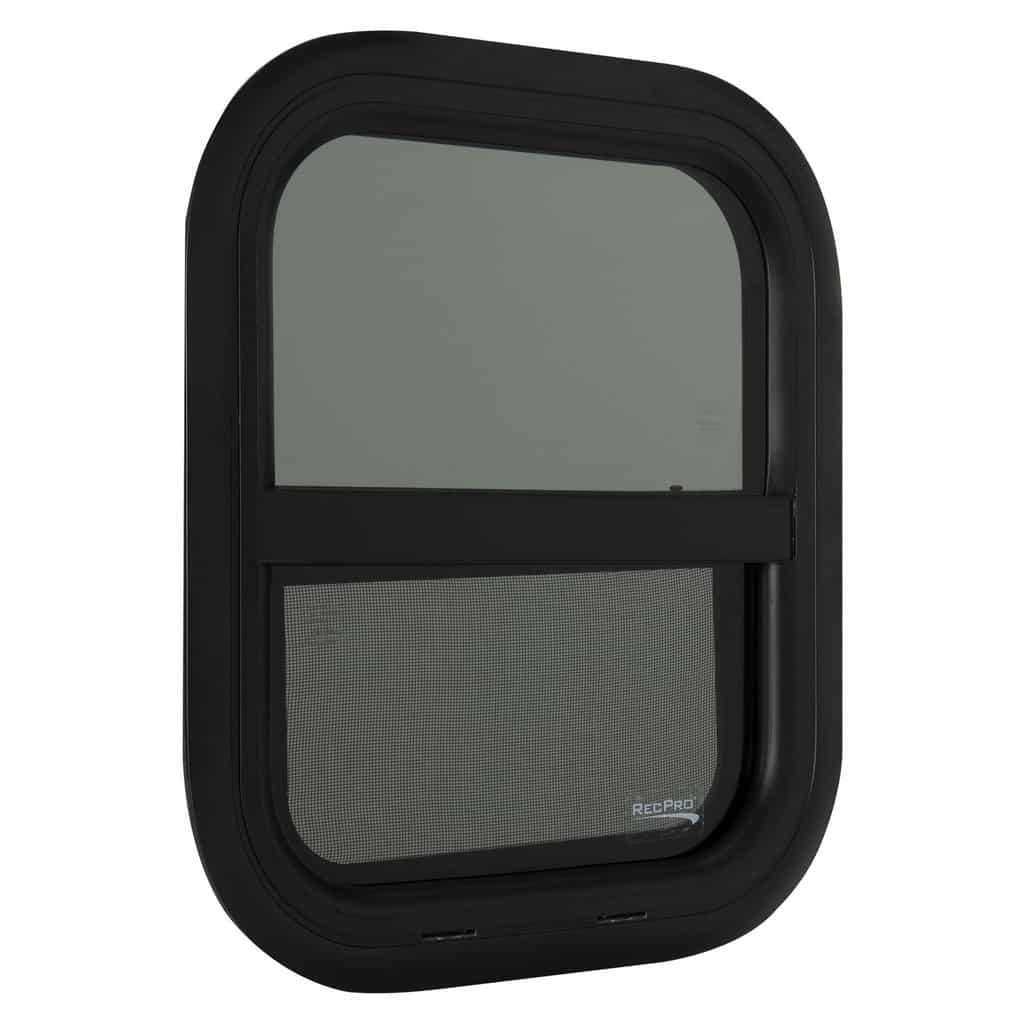 Description
Another window that I would highly recommend you add to your bucket list is this Teardrop Window. It is a perfect fit if you want a simplistic look that can match the exterior of your horse trailer. And all this is possible due to its smooth black finish and tinted windows.
Moreover, unlike the standard horizontal windows available in the market, this window is designed to be installed vertically, giving it a completely different look if examined from the outside. Being vertically installed means the height of the window is more than its width. Still, this window is very compact, with a width of 14 inches and a height of 16 inches. But the overall small size of this window won't let your horse stick its head out. Just kidding; this should not happen in the first place.
This window is a work of skilled craftsmanship as it has a lightweight yet heavy-duty construction. A rubber gasket is also included, so caulking is not needed to make this window leak and dustproof. It also comes with a central latch for extra security.
Pros
The window also offers a trim ring design that adds greatly to its appeal.
The window has a low price tag of below 100$, a great relief for equestrians looking for a good quality replacement window at an affordable price.
Cons
This window offers less ventilation due to its small size.
Entry Door Window With Internal Shade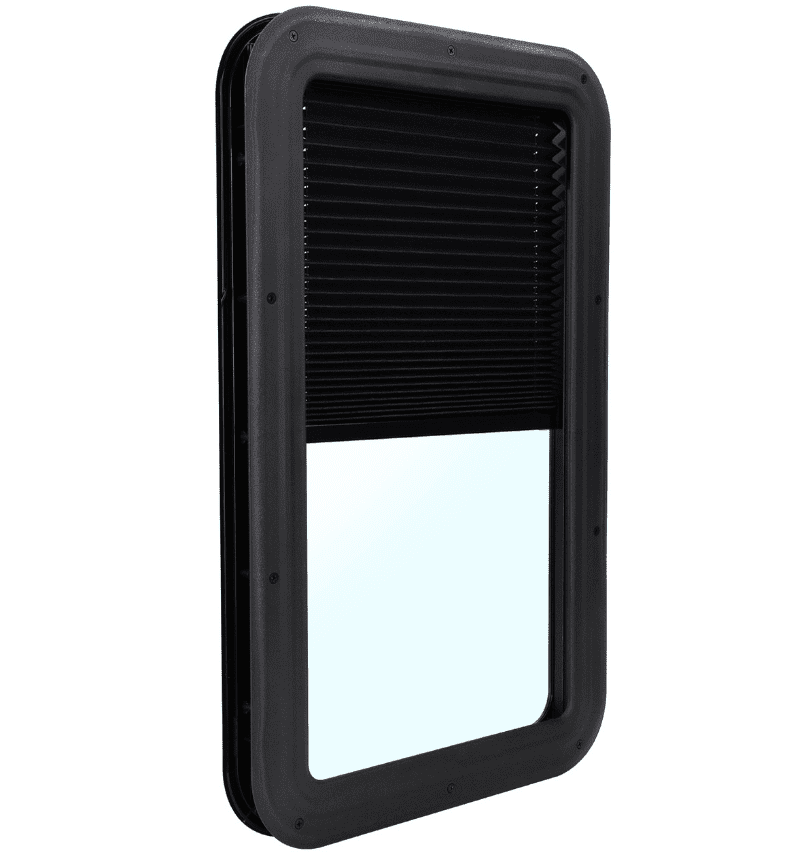 Description
This Entry Door Window With Internal Shade offers much more than an ordinary eye can see, literally. With a pre-installed blind, this window will undoubtedly provide you with the privacy you need, saving you the additional costs for any brackets or mounts.
Moreover, the blinds will keep any sunlight from entering the trailer, providing you and your horses a pleasant and comfy atmosphere, especially during hot summer days.
Talking about its looks, this simple all-black design will definitely look neat on a horse trailer's entry door. Furthermore, the window is small and has a short width of 16mm, which really complements the look of a tall yet thin entry door of a horse trailer.
The well-built frame is also sealed tight with the help of a rubber gasket so the window can withstand harsh weather, and there is no chance of any leakage. And don't forget, this is a perfect option for trailer keepers looking for a cheap yet well-built replacement window.
Pros
The window is much more impact-resistant due to the heavy-duty construction of the frame.
The window has an anodized aluminum finish, so the finish won't fade over time.
Cons
The blinds of the window are much more challenging to clean.
IFOR Williams Windscreen for Horse Transporters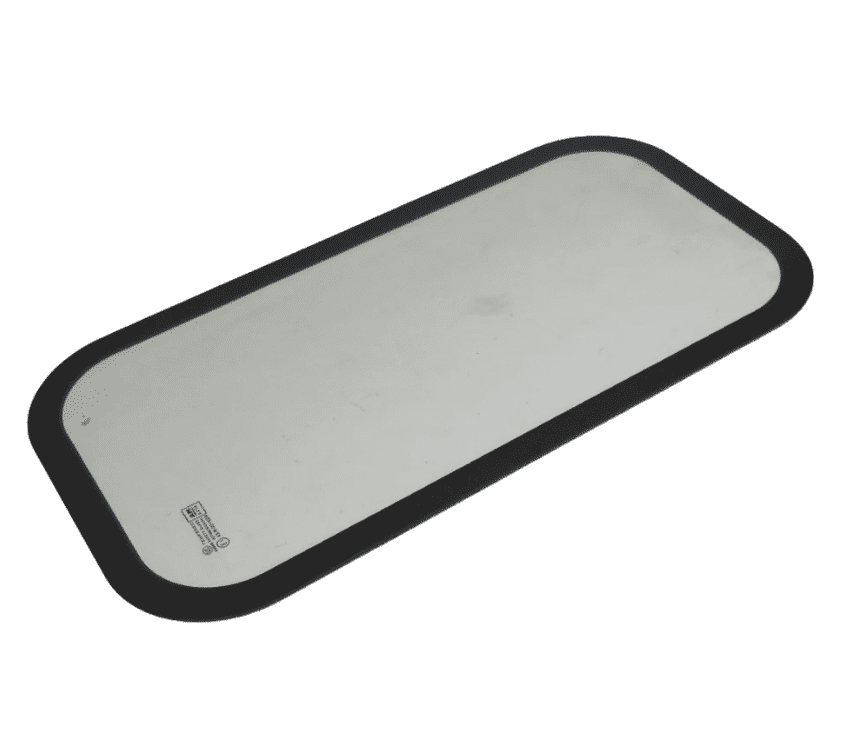 Description
This option is for all those trailer keepers who don't want to completely replace their existing window and still want a new and affordable panel.
So, if you are having trouble finding a good windscreen for your horse trailer, then look no more. This IFOR Williams Windscreen For Horse Transporters will definitely be up to the mark.
This windscreen could never be better as it has a well-built rubber frame that can withstand high amounts of pressure and jerks and keeps the window well intact. Furthermore, no water or dust can enter your beloved horse trailer through this windscreen as the rubber frame is tightly attached to it.
The dimensions of 593 x 319 mm are really suitable for a horse trailer as it is a pretty standard size for almost all types of big horse trailers. Now, as for the glass of the windscreen, it is pretty durable and reliable. However, as already said, it is a windscreen and needs to be installed on the frame of our old window. But if you ask me, this should not be an issue unless your old window is totally out of order.
Pros
The simplistic design of the windscreen will match well with any horse trailer.
It doesn't have tinted glass, which will make the view from the glass much cleaner.
Cons
You have to buy an additional frame in case your old window frame can't be used.
Horse Trailer Tinted Window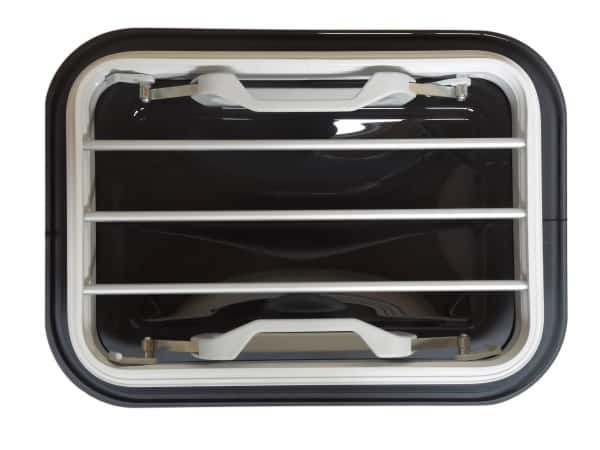 Description
You should check this Horse Trailer Tinted Window for all the novel features and quirky design it offers at a low price. First, this window has an aluminum frame mounting with a curved back that protrudes from the back quite a bit. Moreover, the back side of the frame has a lovely white finish, and, unlike the shiny finish of aluminum, the color has a dull tone.
Furthermore, the glass on the window has a black tint that does not allow sunlight in the trailer. Consequently, your horses don't have to sweat during the long trips under the scorching sun.
Furthermore, the inside of the window has two handles, which makes opening or closing a much easier task. And don't forget, this window has also got you covered in its installation process. It comes with four screws that can be easily mounted into the trailer without the help of any professional support.
Not to mention, the safety bars in the window are an addition, making this fantastic piece even better. And in my opinion, these safety bars are more durable and sturdy due to their transverse plane design.
Pros
The window has much more impact resistance due to its well-built frame.
The mounted screws of the window make for an easy installation.
Cons
The glass of the window can get scratched easily.
Horse Trailer Side Window With Protective Grill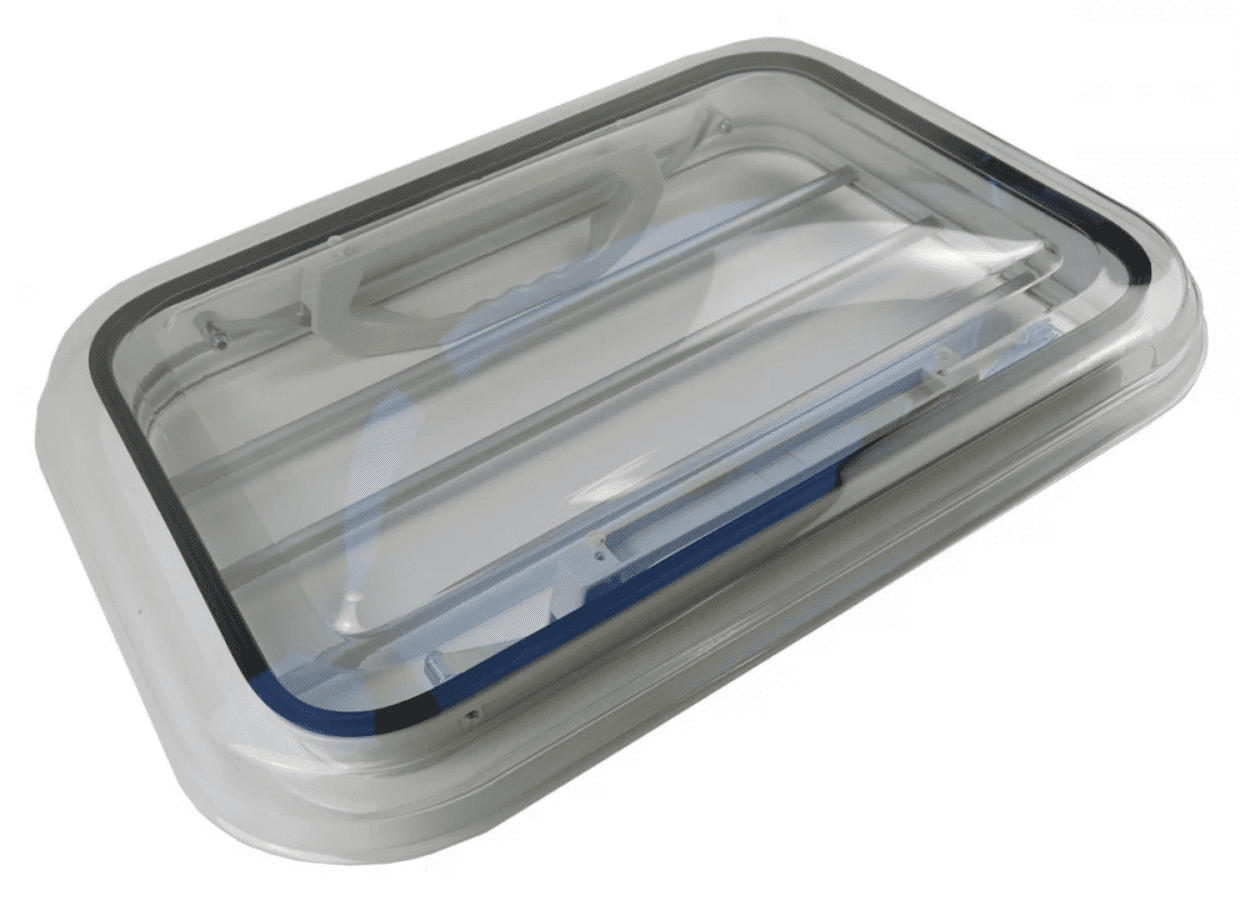 Description
If you are really into quality, another great option you can add to your bucket list is this Horse Trailer Side Window With Protective Grill. This window cuts no corners and provides every feature you can think of.
The window has a heavy-duty aluminum build that strengthens the window's resistance to water and corrosion and still makes the frame lightweight. Furthermore, it gives the frame a smooth finish that matches the exterior of any aluminum build horse trailer and complements the trailer's interior.
The window offers acrylic glass, so it doesn't add extra weight to the well-built window. And although acrylic glass is lightweight, it doesn't compromise any durability; it can withstand a much higher temperature and is much more impact resistant than ordinary glass.
Do keep in mind the glass is not tinted, so it doesn't provide any protection against sunlight or doesn't provide any privacy. But you can think of it as a blessing in disguise and add stickers or decals on the window's glass according to your liking (thank me later for the tip!).
Pros
The window can be opened easily with the two handles provided in the frame.
There is a rubber gasket between the frame and the hood, which makes the window tightly sealed.
Cons
The clear glass of the window won't provide any shade against the sunlight.
FAQs
Question: Is It Necessary To Caulk Around Your Horse Trailer Replacement Window During Installation?
Answer: When you buy a replacement window, check if it comes with a rubber gasket or if it's properly sealed with butyl tape sealant. If all these measures are taken to seal the window, there is no need for caulking. However, if no sealants are provided while buying the window, you should caulk around it to make it leakproof.
Question: Are Horse Trailer Replacement Windows Easy To Install?
Answer: These windows, in most cases, come with screws and screw holes that can be mounted into the frame of the horse trailer. Another installation process is done with clamp rings; most windows support this process. You only have to attach the rings to the window's frame and then to the trailer's body, and the installation is done. So, yes, horse trailer replacement windows are easy to install.
However, if you have never held tools in your hands, getting some professional to get this done for you is much recommended.
Question: Are Bigger Horse Trailer Replacement Windows Better Than The Small Ones?
Answer: The bigger window you have, the more air will be able to flow through your horse trailer to keep your interior cool. However, size is not always the answer because the bigger the window is, the heavier it will be due to the extra material used in its construction.
This heavyweight will make opening and closing the window much more challenging, not to mention horses will have an easier chance to take their heads out of the window if there are no grills. So, no, a bigger horse trailer replacement window is not always a better choice.
Final Thoughts
Windows are an essential part of a horse trailer and play a significant role, just like any other part. Not having any windows, or having a broken one, adversely affects the overall experience of the driver as well as the horse. So, getting replacement windows for your horse trailer is essential. However, while you understand its importance, purchasing one from the various options in the market is daunting. So, to help you decide, you can follow some buying tips.
While buying a window, as horse trailers come in different types, check if it's compatible with your horse trailer. You wouldn't want your horses to get wet, so carefully check if the window you wish to buy is properly sealed or not. Moreover, check the customer reviews to save yourself from getting scammed and get a good idea about how well the window maintains its condition over time.
Talking about my personal favorite, the option that inspired me the most is the Slider Window With Livestock Bars. This window has a smooth, shiny finish. Moreover, the aluminum used to make the frame is heavy-duty and lightweight, and the frame is also resistant to corrosion. All of these perks make it a must-have option in my book.
However, if this option is not your liking, you can go for any other option in this guide that is close to your needs. And I really hope you can now make a well-informed decision. Until next time!
Read More: