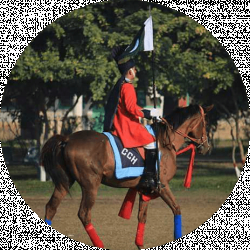 Latest posts by Boo Ali Khan
(see all)
When I started my equestrian journey, I was a lot confused about different equestrian tacks. Reigns, bridle, and stirrups all of these names felt more or less the same to me. So before I get down to my topic, let me give my aspiring fellow equestrians a quick rundown of stirrups.
Used as a mounting aid for equestrians, stirrups are the small frames you often see hanging from the saddle to hold the feet of the rider. Not only do they make the rider feel secure while riding, but they also improve their command, allowing them maximum stability and control over their horse.
Horse stirrups have been around for a long time. Over the course of many centuries, they have evolved tremendously into the delicate and sophisticated designs we see today. And while talking about contemporary Western stirrups, they are attached to the lower end of the fender of the saddle.
These Western stirrups can adapt to various foot positions and are a huge benefit to equestrians due to their shock absorption.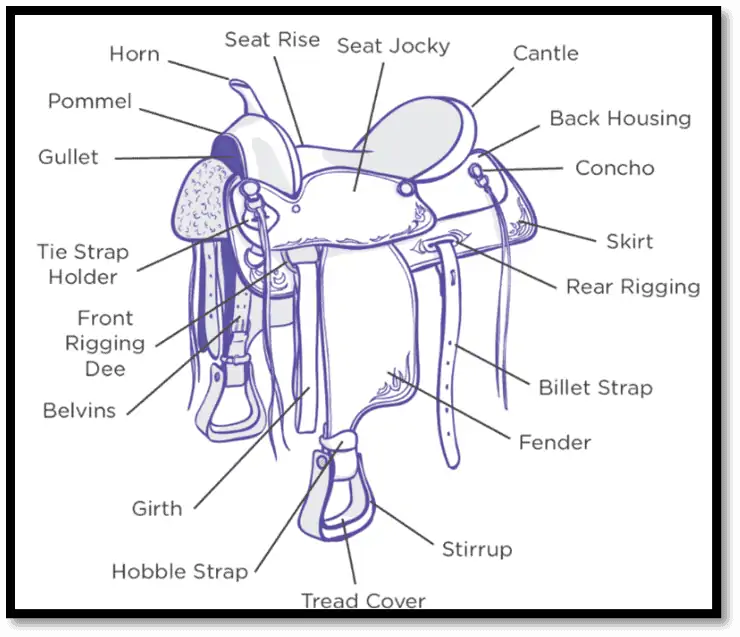 So, in this best Western stirrups guide, I will highlight what makes Western stirrups so unique and the various options available for you to buy.
To save from the problems I faced when I first bought a pair of Western stirrups, I will share my experience and some buying tips that will make your shopping experience much easier. Furthermore, to prevent any confusion that might still be left, I will also answer some frequently asked questions about Western stirrups at the end.
Bottom Line Up Front
Though I have suggested several Western stirrups in this guide, the stirrup that inspired me the most was the Tucker Ergo Balance Trail Glide Stirrups, thanks to the space and room they provide for individuals with wider feet.
Moreover, they come in different sizes to allow you greater control and better fitting. Not to mention the thick padding, which not only offers a smooth grip but also helps absorb shock. For anyone who spends a lot of time in the saddle, it is undoubtedly an excellent purchase to say goodbye to ankle pain.
Still, if this stirrup does not make it to your liking, you can always choose from several other options given down below.
My Top Western Stirrups Picks
What Makes Western Stirrups So Special?
If you are still wondering why this guide explicitly focuses on Western stirrups, then let me tell you that Western stirrups are quite comfortable and are especially known to prevent knee pain. But what makes Western stirrups special is their safety design. They are engineered to release the rider's feet if they fall to prevent him from being dragged.
Some Western stirrups come with a spring-loaded branch, constructed to apply pressure and release the foot quickly in case the rider comes off. Another example of a safety design on some Western stirrups is a stretchy rubber ring that also aids in the quick release of the feet.
My Selection Criteria For Western Stirrups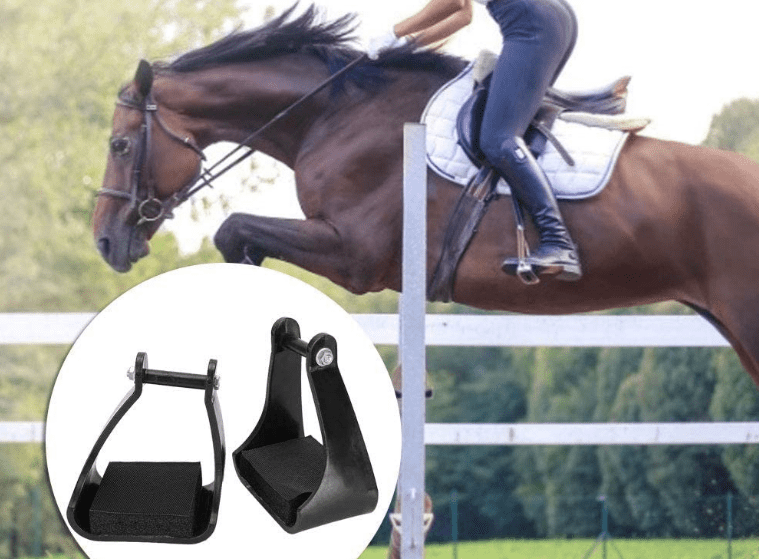 Before selecting any Western stirrups to feature in this guide, I have ensured that they meet the criteria listed below:
All the Western stirrups are available and currently in stock.
All the sites used for Western stirrups in the guide are legitimate and trustworthy.
All the stirrups feature a good grip and have their unique style ranging from minimalistic to flamboyant designs.
All the top picks are made of long-lasting material.
Buying Tips
When it comes to Western stirrups for your horse, the following buying tips will assist you in getting the best match for your needs.
Determine Your Use
Before adding a Western stirrup to your cart, it is imperative to check your intended use of it. For general Western riding or showing, Western bell stirrups are suitable. On the other hand, bling stirrups are much flashier with their vibrant designs and colors, something that is more preferred when it comes to barrel racing. I am sure you would not want to get stuck with using your expensive bling stirrups for everyday riding activities
Check Its Size
If the stirrup is too wide or too long for your feet, its benefits would be limited. Make sure to check the length of the stirrup before buying. Correspondingly, I suggest giving yourself half an inch of relaxation for the width on either side of the boots from its ball.
Sort By Parameters
Most websites provided in this article allow you to use different parameters to sort the stirrups. I suggest sorting by price if you're on a tight budget. Similarly, if you're looking for stirrups from a particular manufacturer, you can also sort by the brand. Not to mention, you can also go for sorting products by size, color, and rating.
Form A Budget
Before you start surveying different stirrups online, I would highly recommend forming a budget range. This would make certain that you don't end up spending too much on the stirrups; after all, there are a lot of equestrian tacks that you still need to buy.
See Availability And Shipping Cost
Do you know what really grinds my gears? It is searching all day long for my favorite stirrup just to end up knowing that I can't ship them to my place! So, the first thing you should do is to ensure that your desired products are available to be shipped to your location.
Set your location on the website before adding any of your picks to the cart. This would not only save you time but also display the shipping costs – if any – to give you a better idea if the desired stirrups fall within your budget or not.
My Top 10 Western Stirrups Recommendations:
Description
Manufactured by Challenger Tack, the Western Saddle Barrel Racing Stirrups come in a stunning combination of turquoise and silver color.
These stirrups are made from aluminum to prevent rust and corrosion and comprise a reinforced stirrup bar for greater durability. A smooth rubber tread is also fixed for enhanced grip, making these stirrups a great pick for racing and other Western riding events.
Although these stirrups work great for shorter rides, because of their short tread, I personally found that they cause foot pain if you wear them too long. As someone having wider feet, I also felt that the width was a little too tight for me. So, if you also have broader feet, I suggest looking for a different alternative.
Having said that, they are extremely lightweight on the feet. So, whether you require a pair of stirrups for barrel racing or an attractive one for show events, you can't go wrong with the Challenger Western Saddle.
Pros
These stirrups are ideal for barrel racing.
They are made of aluminum to enhance strength.
They feature an attractive design engraved on the bar.
Cons
Not very comfortable for longer rides due to a smaller tread.
The stirrup is a little narrow and not suitable for wider feet.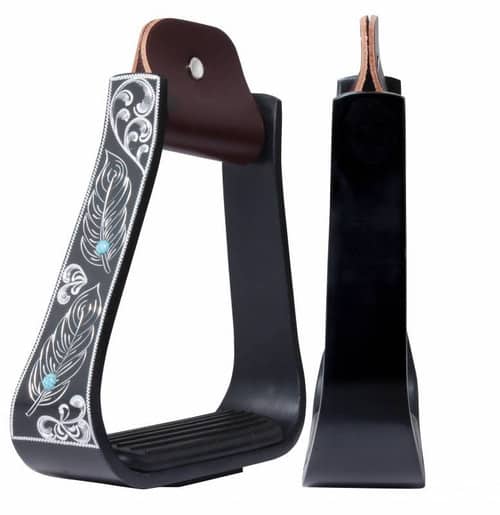 Description
When it comes to looks, there is hardly any competition to the Professional's Choice Turquoise Feather Stirrups. The black stirrups feel like an incredibly elegant addition to your Western saddle and are a welcome change from the usual silver stirrups, in my opinion.
The stirrup also features graceful swirl and feather designs in hues of silver and turquoise, which greatly complements the black theme.
The Professional's Choice stirrups are 6 inches in both height and width, making them a suitable choice for equestrians with bigger feet. The black rubber tread does not look out of place at all on the stirrup, and it really helps to increase your grip and comfort while riding. Not to mention, the dark brown leather above the neck makes installation on Western saddles a simple process.
If you're a professional looking for a decent stirrup for your parade, I would advise buying this flared-shape stirrup right away. However, unlike those shown in the pictures, these stirrups do not offer a leather stirrup bar protector.
Pros
Has a stunning look.
They have a considerable width to accommodate your feet.
The stirrups incorporate a rubber tread for greater comfort.
Cons
No stirrup bar protector included.
Description
Showman's Leather Wrapped Bowed Aluminum Stirrups are an equestrian's dream. The angled shape of these stirrups helps considerably reduce your knee stress. Therefore, I would highly recommend them to horse riding beginners who are already struggling to learn the rising trot.
I still remember buying these stirrups after extended research. And I was really happy to see that these were exactly what I was looking for. They were a perfect solution to lessen my ankle and knee pain during my tiring training sessions.
These stirrups are affordable but still add a touch of bling and flair to your saddle. The bottom is lined with a thin layer of leather accompanied by a black grip for smoother footing. Overall, the design is quite minimalistic, and if you're not fond of colorful accents, this is right up your alley.
The non-slip tread is another great feature of the Showman's stirrups. Although the foot area is smaller compared to some of the other selections in this guide, its twisted neck enables your feet to remain straight at all times while riding without exerting any extra pressure.
Pros
These stirrups are cheap and very light on your pocket.
They help to prevent pressure on the ankles.
These stirrups allow the feet to remain straight.
Cons
These stirrups offer a small foot area.
Description
Available in two distinct colors and three individual sizes, the Tucker Ergo Balance Trail Guide Stirrups are an exceedingly versatile pick for your needs. The Tucker Ergo Balance Stirrups are made from stainless steel and aluminum alloy while still offering great comfort to the rider.
The slanted bar is made from nylon and designed to keep the equestrian's feet in place. This also helps in reducing knee and ankle fatigue, especially for older riders.
So, if you are planning to go on a back-country trail with your hiking boots, the Trucker Ergo offers sufficient width for an easy fit. I am particularly fond of the foot cushioning underneath, which is quite thick and great for shock absorption.
However, I have heard a few fellow equestrians complaining about the pads preset on the stirrups, which curl up after frequent usage. Furthermore, even though the rubber sole is thick and provides a great grip while riding, the boots don't slide in and out of the stirrups smoothly, something that significantly compromises the safety of an aspiring rider to take their feet out of the stirrups in case of an emergency.
Pros
They come in two different colors.
Designed to alleviate knee pain.
Feature thick cushioning for maximum shock absorption.
These stirrups are resistant to rust and corrosion.
Cons
The pads on the stirrups curl up after extended use.
Rubber sole boots sometimes don't slide in and out easily, compromising the safety of a newbie rider.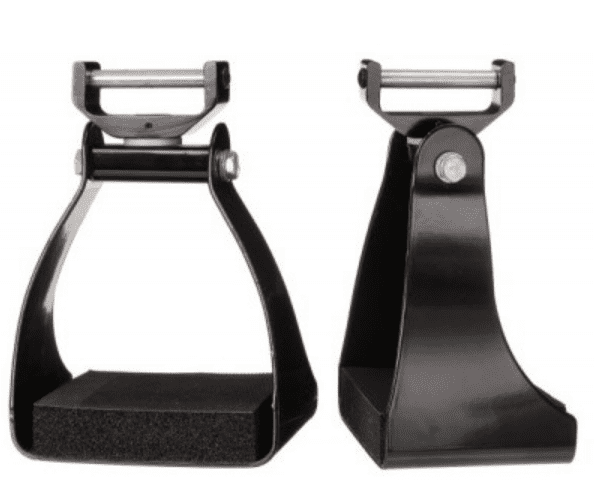 Description
Talking about the Tough-1 Swivel Head Endurance Stirrups, they are simple to install on your saddle. Being fully black in color, they show little in terms of looks, but they offer much and more when it comes to effectiveness and convenience.
The thing I love about Tough-1's swivel-head stirrups is the customization they offer. The stirrups can be rotated 360 degrees and can be locked in your preferred position to allow for maximum comfort and control. This way, you can ensure that the stirrups are adjusted according to your preferred position.
But keep in mind that it might take a few tries of locking and unlocking before you eventually find the configuration that works for you.
I believe the biggest frustration some people face is the locking of the stirrup. The product does not come with any sort of wrenches, so people might find it hard to adjust the stirrup. Not to mention, there is too little space to turn the bolt effortlessly.
Pros
They can be installed easily on the saddle.
The stirrups have a very simplistic design. One of the best options for those who do not like being flashy.
Cons
The stirrups are locked and need a wrench to be unlocked so they can swivel.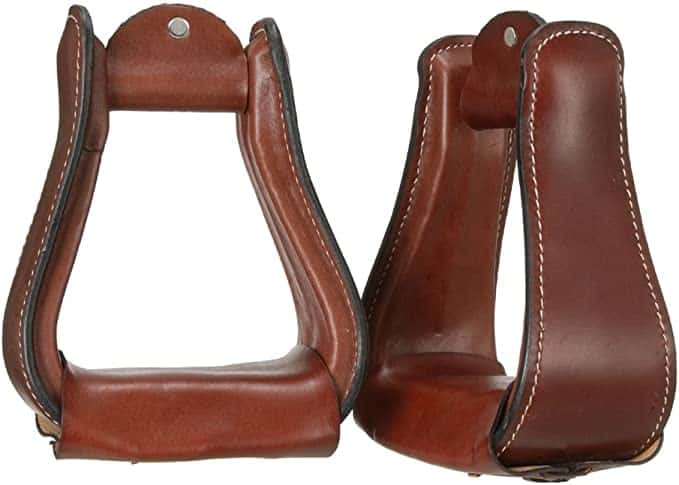 Description
The Tough-1 Wide Leather Covered Stirrups are a unique choice and differ heavily from most of the options provided in this guide. The wide tread provides relaxation to your feet, while the finished edges make them seem much more appealing to the eye.
Talking about their looks, these stirrups are as classy as you can ever wish. The white stitching at the seams of the stirrups against the dark-brown leather gives these stirrups a premium look.
Fully covered in leather, the stirrups are also longer (8 inches) and heavier (around 2.5 pounds), but more importantly, they are inexpensive. If you're looking for a cost-effective option, I would definitely suggest this wide leather-covered stirrup.
However, one thing I didn't quite like about the Tough-1 Leather stirrups was the cheap feel you get at the touch. And they almost felt like the best backup option if it were not for the very little grip they provide to the boots.
Pros
These stirrups are a comfortable choice for riders with wide feet.
They are easier to incorporate into a small budget.
Cons
They provide very little grip.
The leather quality is not what it seems.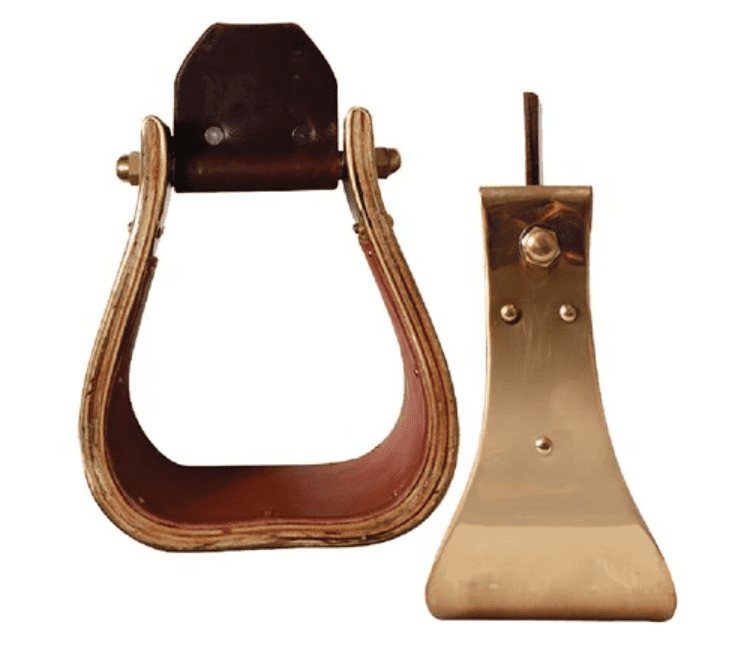 Description
With its class, elegance, and splendor, the Cashel Monel Stirrup gives you a taste of premium quality like no other. Hand-made and bound in metallic alloys, these stirrups offer excellent robustness and durability.
The thing that I like most about the stirrups is their unconventional build. The thick laminated wood is lined with leather to provide relief to sore feet during longer rides and events. The nickel alloy – Monel – used in the design is particularly resistant to corrosion and does not flake.
The addition of brass to constrain the stirrup further enhances its strength and resilience. Undoubtedly, this product of Cashel Monel is an exceptionally practical and pragmatic supplement to your Western saddle.
Nevertheless, the Cashel Monel stirrups are a significant investment. If you're just starting out, I wouldn't recommend buying them. The use of wood and leather requires a bit more care than most of the other stirrups. So, I would suggest these only for professional equestrians who know their way around a stirrup. Also, if your feet are too wide, remember that the footbed of the Cashel Monel is only 4 inches in width.
Pros
It is a wooden stirrup bound in brass for greater strength.
The Cashel Monel is lined with high-quality leather.
Hard and stiff nickel alloy will not flake.
Cons
They are quite pricey.
The footbed isn't very wide.
Using these stirrups needs extra care.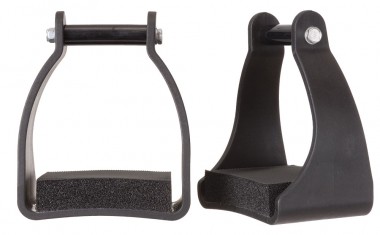 Description
Made of durable molded polymer material and featuring a shock-absorbing rubber grip, the Lightweight Polymer Endurance Stirrups are built for the long haul and are offered in multiple neck sizes to ensure you get the right fit. Compared to metal stirrups, the horses don't seem to mind these polymer stirrups a lot.
In my experience, its cushioned footpads significantly help in reducing knee pain and numbness on long rides. It can accommodate most shoe styles due to its wide footbed area. Not to mention, they can be locked into any position.
Although not known for providing great grip, they are a relatively affordable option. If you have bad knees or need a stirrup that can withstand sudden drive and thrusts, I will highly endorse going for the Lightweight Polymer Endurance Stirrups.
If you ask me, by being lightweight and enduring, I would definitely recommend these stirrups to anyone setting off their equestrian journey.
Pros
They are available in various neck sizes.
Cushioned with rubber for shock absorption.
These stirrups are lightweight and cost-effective.
Work great for endurance riding.
Cons
These stirrups give a very cheap look.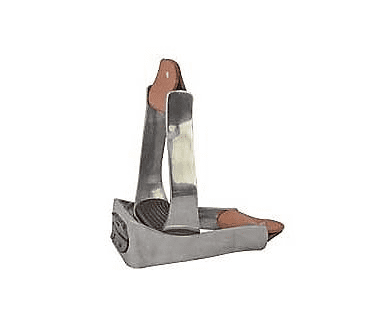 Description
Sturdy but not heavy, it is hard to beat the price of these Western Aluminum Padded Bell Stirrups. Though not intensely flashy like the Cashel Monel, they offer remarkable grip to your boots, and you can rest assured they won't be slipping in and out while you ride.
My favorite thing about these bell stirrups is how convenient they are to clean. The rubber pads are removable and can be separated to clean any buildup of dust and mud.
They are easy to fit onto your Western saddle and continue the aluminum trend on stirrups for better strength. They are also quite similar to the English stirrups and work great if you are not a fan of the broad footbed.
Due to the small width of the footbed, I have not used them personally. However, according to some of my fellow equestrians, these Bell stirrups sometimes leave scrape marks on your boots. And while you may face a hard time keeping your feet in place if you are used to wide stirrups, they may not be the best option if you need a pair to ease knee and foot pain.
Pros
These stirrups provide an amazing grip.
They are easy to install on your saddle.
Cons
These stirrups might be too small if you have wider feet.
Not especially helpful in preventing knee and foot pain.
They may leave scuff marks on the sides of your boot.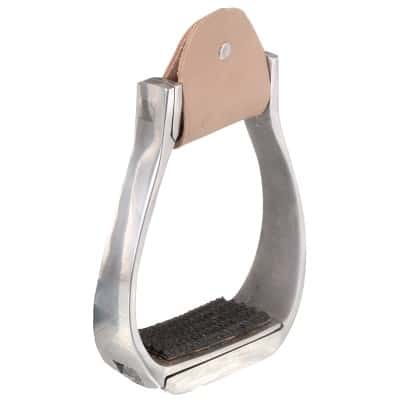 Description
The Tough-1 Youth Breakaway Stirrups place a lot of stress and importance on rider safety. These are charismatic stirrups made from high-class, polished aluminum and are the ideal saddle companion for your little equestrian.
The best thing about these stirrups is that, apart from the comfy rubber tread on the footbed, they incorporate a safety spring that release towards the outside. In the event of a fall, pressure is exerted on the outside of the stirrup, prompting the stirrup to open from the footpad to release the rider's feet. This safety feature is really crucial and can possibly help you get out of a tricky situation while on horseback.
In my opinion, these stirrups can be a fantastic present for enthusiastic young riders. They are smart, well-made, and easy to put on your saddle. Unlike some cheap stirrups, the Youth Breakaway Stirrups aren't slippery at all and are especially useful in giving you peace of mind. However, they are a little heavy and may require some time to get used to them.
Pros
These stirrups feature a spring-loaded safety release.
They are available in multiple sizes.
Cons
Some riders might find them a bit heavy.
FAQs
Question: How do I choose a Western stirrup?
Answer: There are several things you should consider, such as fitting, discipline, and your saddle type. If, for instance, your primary requirement for stirrups is barrel racing, you should go for a Western barrel stirrup such as the Challenger Western Saddle Aluminum Barrel Racing Stirrup.
Question: What should be the length of my Western stirrups?
Answer: To check if your stirrup length is appropriate, straighten your legs and drop your stirrups while mounted. Ideally, the stirrup should touch the center of your ankle. Another way is to pull the stirrup towards you with your hand on the stirrup leather/fender. If the underside of the stirrup is in your armpits, it is the perfect length.
Question: What should be the width of my Western stirrups?
Answer: As a general rule of thumb, you should give yourself leverage of half an inch on either side of your boots. To put it another way, measure the width of your boot at the ball of the foot (or just behind it), then add an inch to that measurement to get your desired width.
Question: Where do I place my foot on a Western stirrup?
Answer: For Western stirrups, the center of the footbed should be just behind the ball of your foot. This enables you to keep a softer and more comfortable angle for the leg, ankle, knee, and hip. The softer joints allow for better movement in the saddle and maintain a better leg position. This also leads to better aids and communication with your horse.
Best Western Stirrups: Final Thoughts
In this guide, I have shared an outline of my experiences and recommendations to ensure you can get the best value for money on your Western horse stirrups.
If I had to pick a favorite from the options given above in this guide, I would go for none other than the Tucker Ergo Balance Trail Glide Stirrups. They are easy to put on the saddle and very convenient to use. The different available sizes mean you don't have to let go of your favorite stirrups in case you have a bigger shoe size. Finished with smooth aluminum and steel alloy, these stirrups are tough and long-lasting. They are comfortable to ride in, and you will definitely notice a marked difference in your knee fatigue once you start using these Ergo Balance Stirrups.
And don't forget the buying tips and recommendations I have shared to assist you in getting started on your journey with the Western stirrups. I would strongly advise that you try to stay within your budget range. Thoroughly determine the type of stirrups you require for your use. And remember to check the length and width of the footbed as well as the neck to ensure you get the best match for your feet.
Don't forget to read the reviews by other buyers on the websites to get a better idea of what the stirrups feel like. And if you have any questions, don't hesitate to post them on the website to ask the seller for more information.
I sincerely hope that the information in this guide will prove beneficial to your use and also help clear any confusion you might have about Western stirrups before you make a purchase. Until next time!
Recommended Reads: