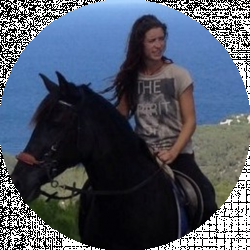 Latest posts by Tanya Taylor
(see all)
I work with horses in a warm climate, so I prefer short, comfortable equestrian boots that I can wear in all seasons for riding and barn chores. The Ariat Heritage IV paddock boots have a reputation for comfort and durability, so they are ideal for my needs.
They're made in a traditional design with high-quality leather and look elegant but are tough enough to stand up to the demands of the equestrian lifestyle. Want to know more about these incredible boots? Then take a look at my Ariat Paddock Boots review and guide below.
Bottom Line Up Front
I love the Ariat Heritage IV Paddock Boots because they are practical and comfortable with an elegant design, and you can wear them for riding or barn chores. They're made from high-quality, full-grain leather and feature unique Ariat footwear technology to reduce fatigue and enhance your riding performance.
The Ariat Heritage IV Paddock Boots are durable and perfect for the summer because they have a highly breathable moisture-wick lining. 
Let Me Tell You About Ariat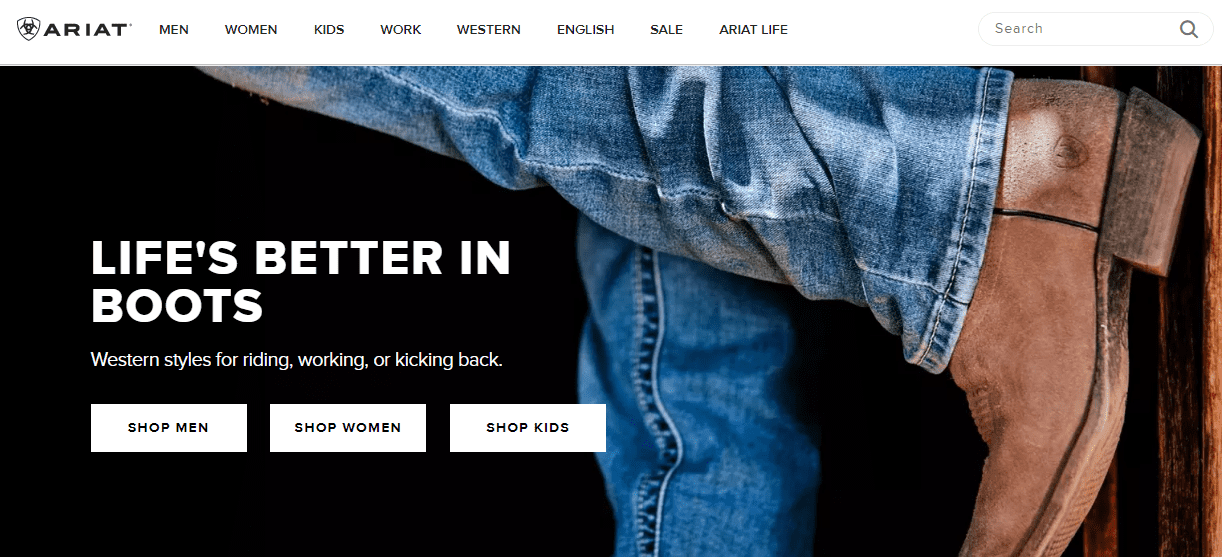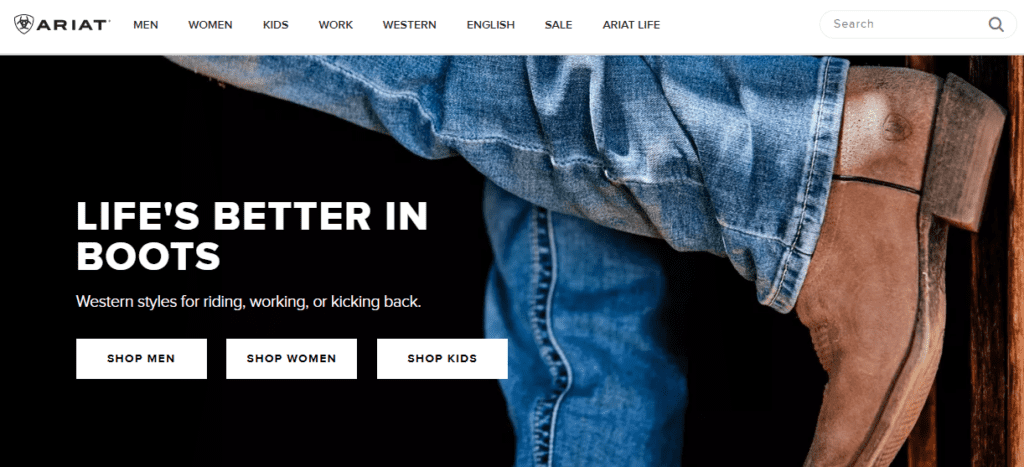 Ariat is an award-winning brand from the USA, and they have been a leader in the equestrian clothing and footwear industry since 1993. Their name comes from the champion racehorse Secretariat, and Ariat specializes in high-performance equestrian footwear.
Ariat was the first company to combine traditional leather boots with athletic footwear technology creating "the new breed of boots". 
The innovative design of Ariat footwear has gained them an outstanding global reputation for delivering high-quality, durable, performance-enhancing boots. They work with scientists and bio-mechanical researchers to create new, unique materials and their products go through intensive testing.  
Ariat boots have several key features which make them unique, including a Duratread outsole and 4LR foot bed technology. They're incredibly durable yet lightweight, practical and stylish – and they reduce fatigue and enhance stability in the saddle. 
Heritage IV Paddock Boots Overview – The Pros and Cons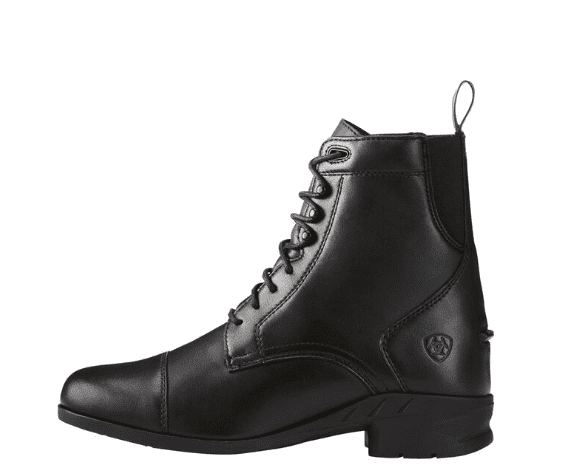 Ariat has a massive reputation to live up to, and the Heritage IV Paddock Boots don't disappoint. They ooze elegance but are tough and durable and keep my feet comfortable for hours on end.  The Heritage IV are a fantastic pair of work boots – they're sturdy but flexible with a good grip and are ideal for riding because they have a 1-inch heel and spur rests. 
The only thing you must be careful with is the sizing because Ariat boots are renowned for being over-sized. Also, the Heritage IV boots aren't waterproof – they will keep your feet dry in light rain but not in a downpour or if you walk through puddles. 
Here's an overview of the pros and cons of the Ariat Heritage IV Paddock boots:
Pros
They're super soft and supple

They're incredibly comfortable and don't need much breaking in

They look stylish and elegant

They're made from high-quality leather

They're durable 

They're breathable with a moisture wick lining. 
Cons
The boots are slightly over-sized

They are quite narrow

They aren't waterproof

They're not insulated
Here's My Honest Opinion Of The Ariat Heritage IV Paddock Boots
I work with horses, and I've been through a lot of paddock boots, but the Ariat Heritage stands out above the rest. They're fantastic working boots because they're sturdy, comfortable, and ideal for riding. 
I definitely give Ariat the thumbs up, and below I'll give you a full account of my purchase:
The Unboxing
I was so excited to receive these boots. I've known about Ariat footwear for many years, but I've never owned a pair. It was an exciting moment when the box arrived, and I couldn't wait to try these legendary boots.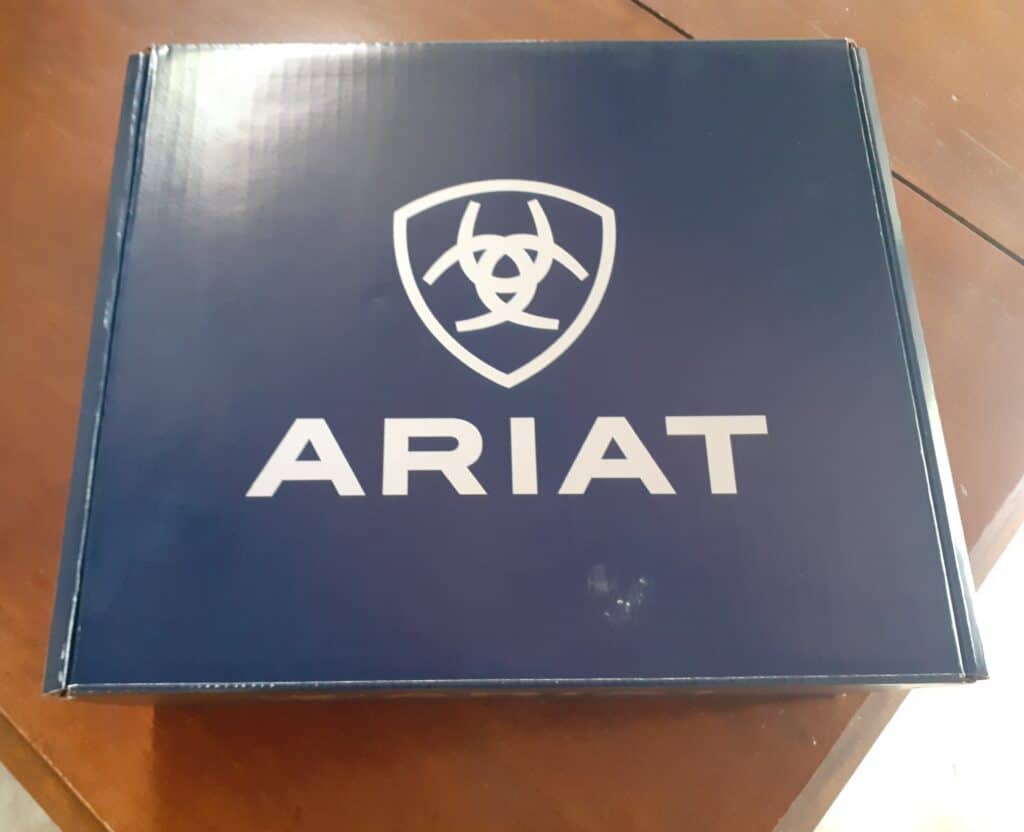 The boots came in a royal blue box with the distinctive Ariat emblem, and the packaging suggests there's a quality item inside. The luxurious feeling continued as I opened the box, the boots were packed perfectly and draped in delicate paper, also printed with the Ariat emblem.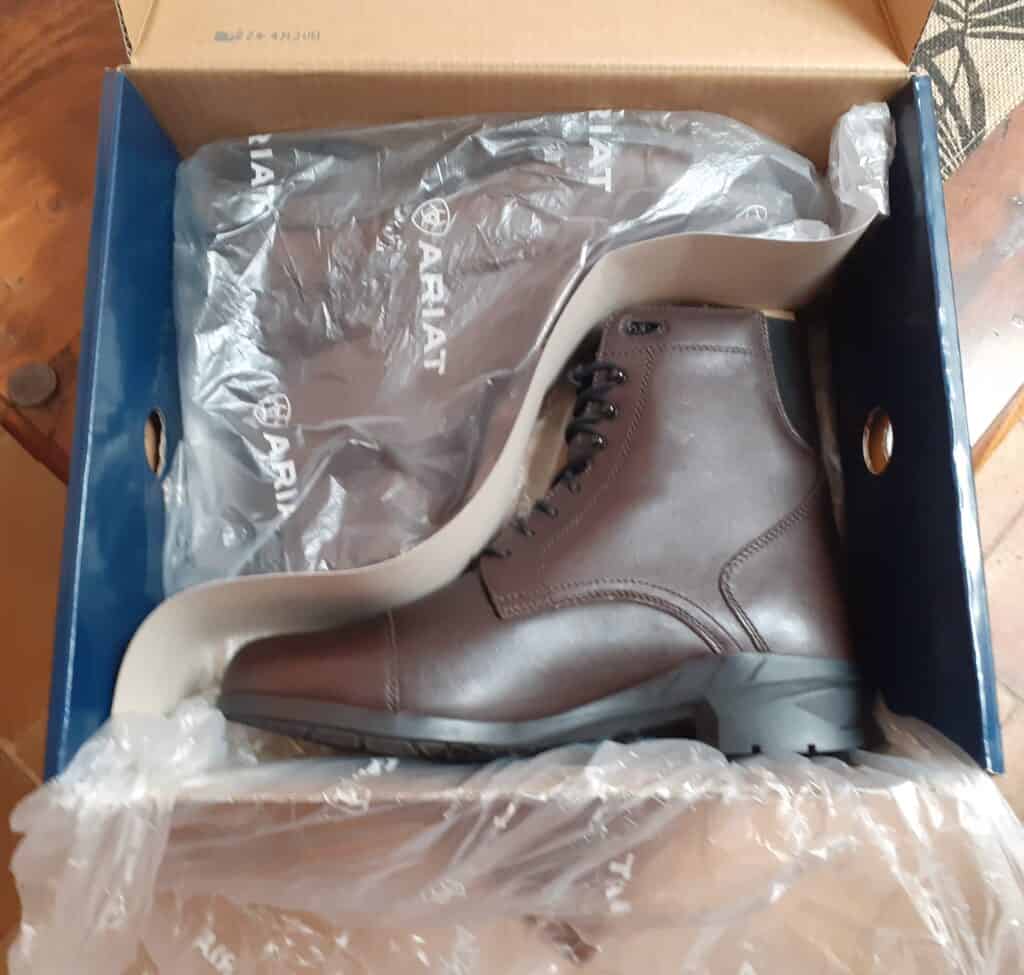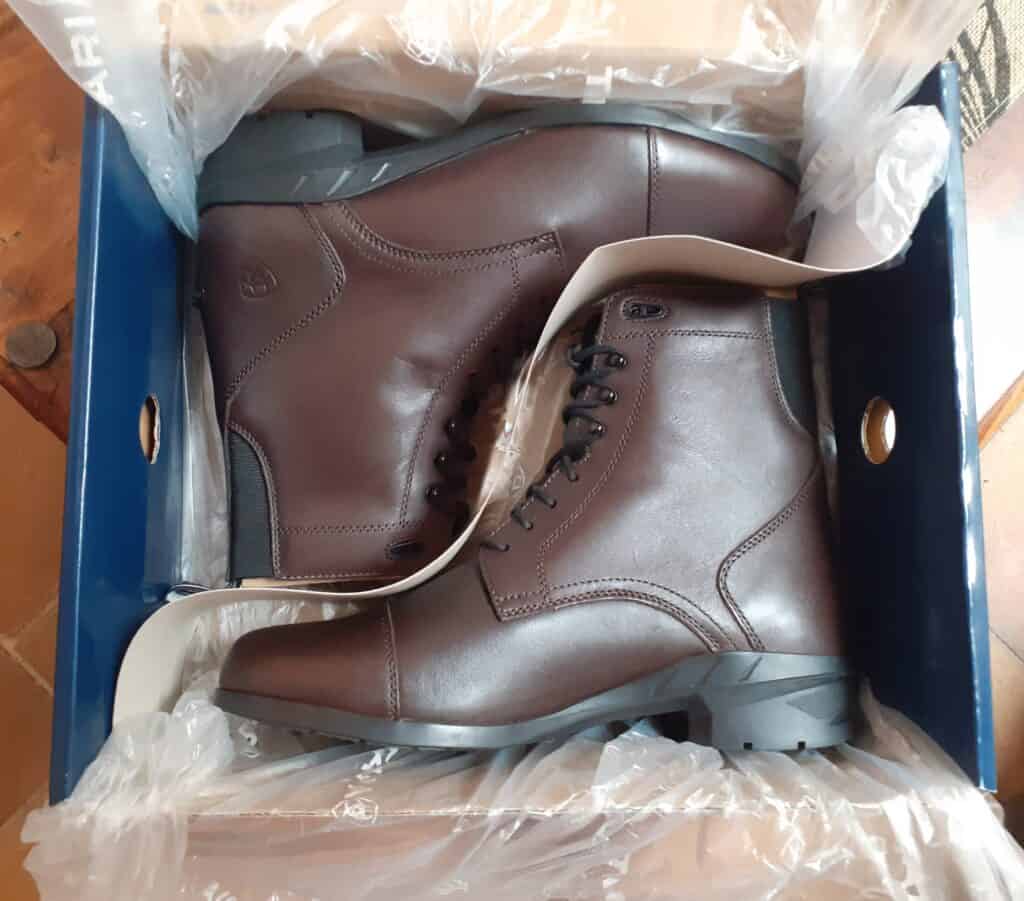 Beneath the packaging paper, the boots look beautiful and brand new. They have soft tissue paper in the toes and a small cardboard structure in the shaft to help them keep their shape. Then, that lovely new leather smell hit me, one of my favorite smells. It was a pleasure to unwrap these boots, and I couldn't wait to try them on!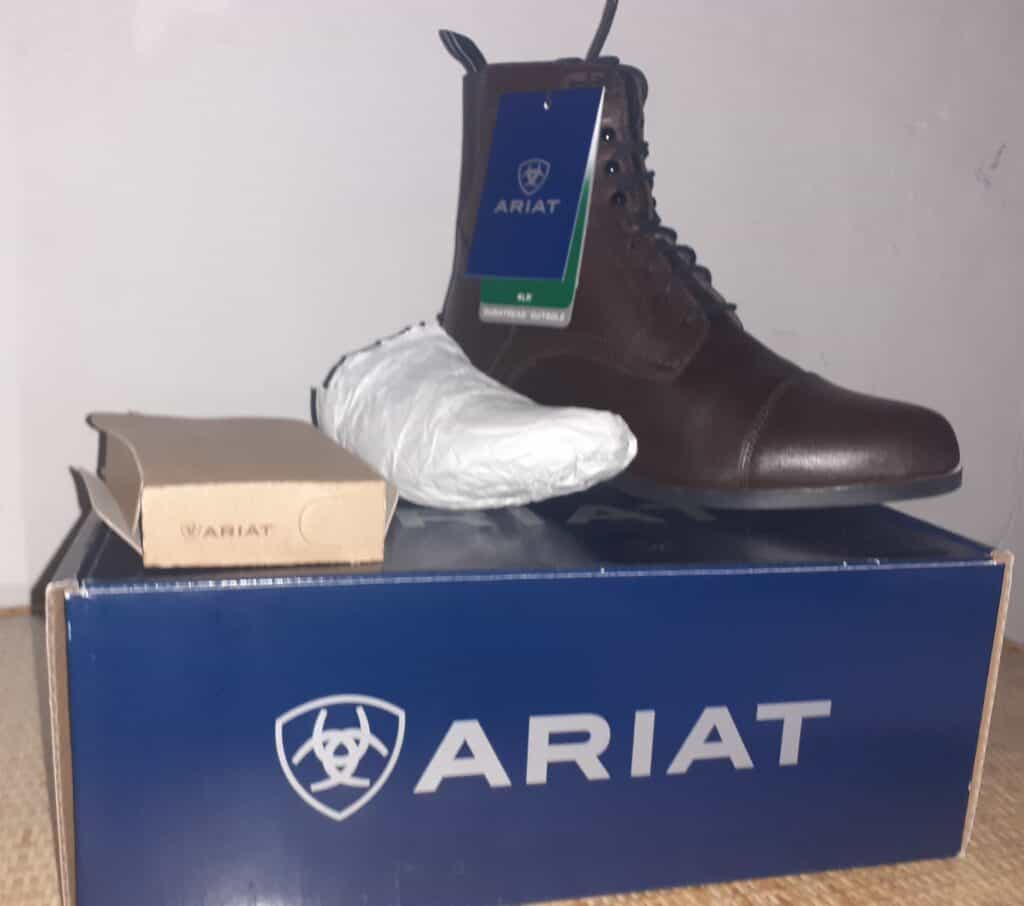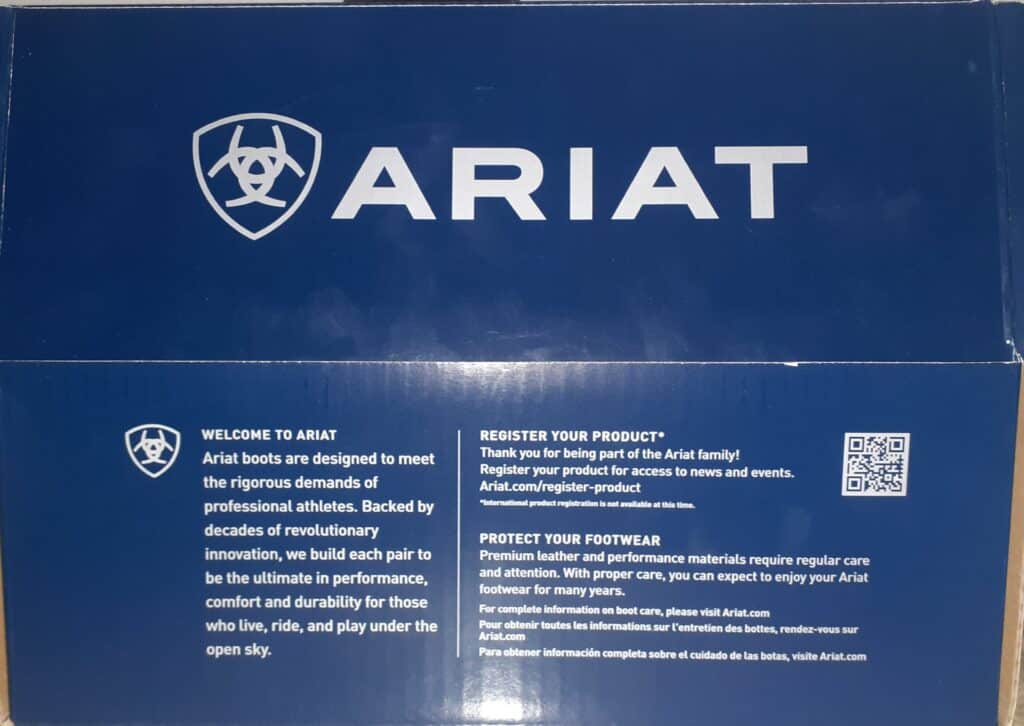 First Impressions
When I took the boots out of the box, I was surprised at how light they were. Most of the weight is in the heel, which is solid but also feels soft and spongy. The boots are a beautiful, rich dark brown color with high-quality stitching and a small Ariat logo tastefully pressed into the area around the heel.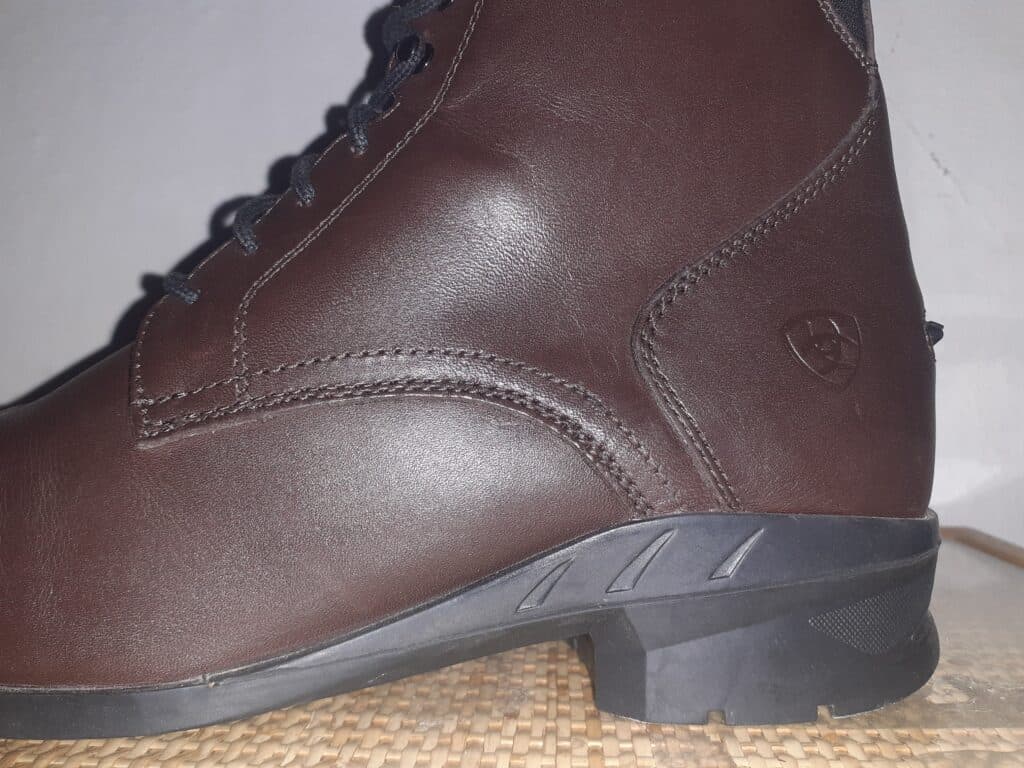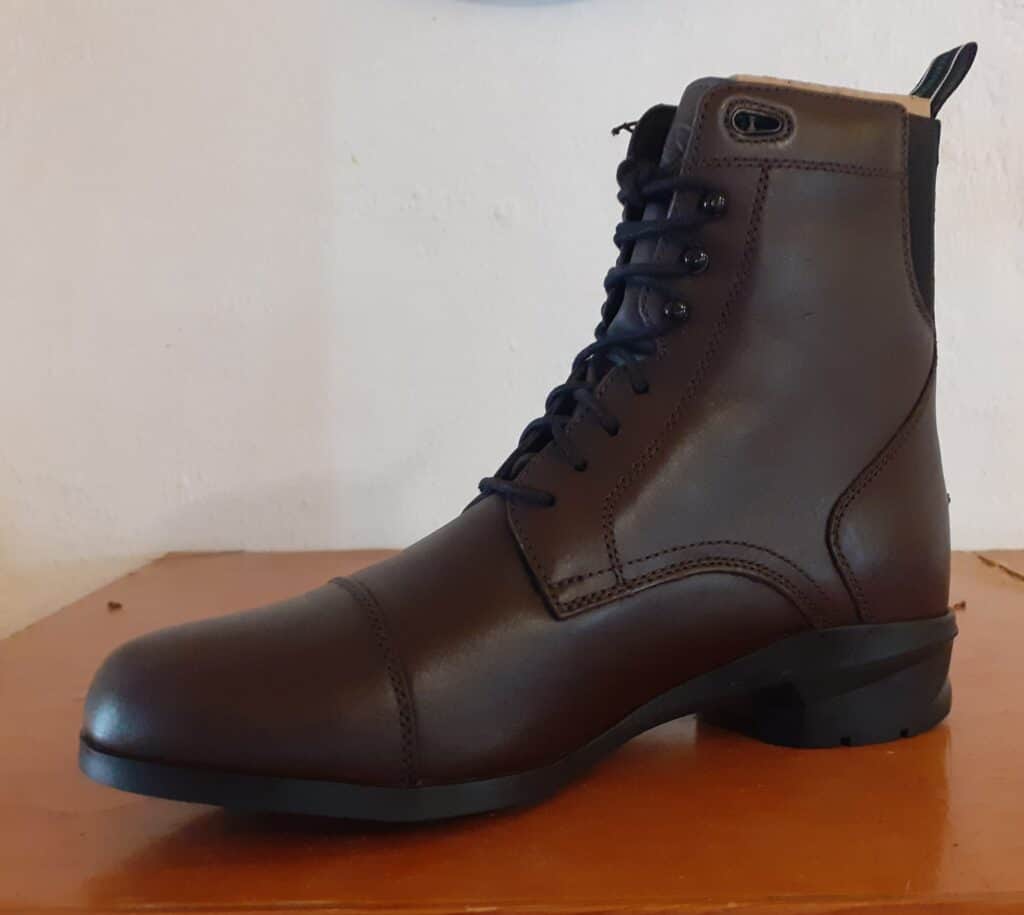 I had a feel around the inside of the boots with my hand, and I couldn't believe how soft and spongy the insole felt. I could press my fingers right into it, and it would ping right back. There is also soft padding around the top of the boot.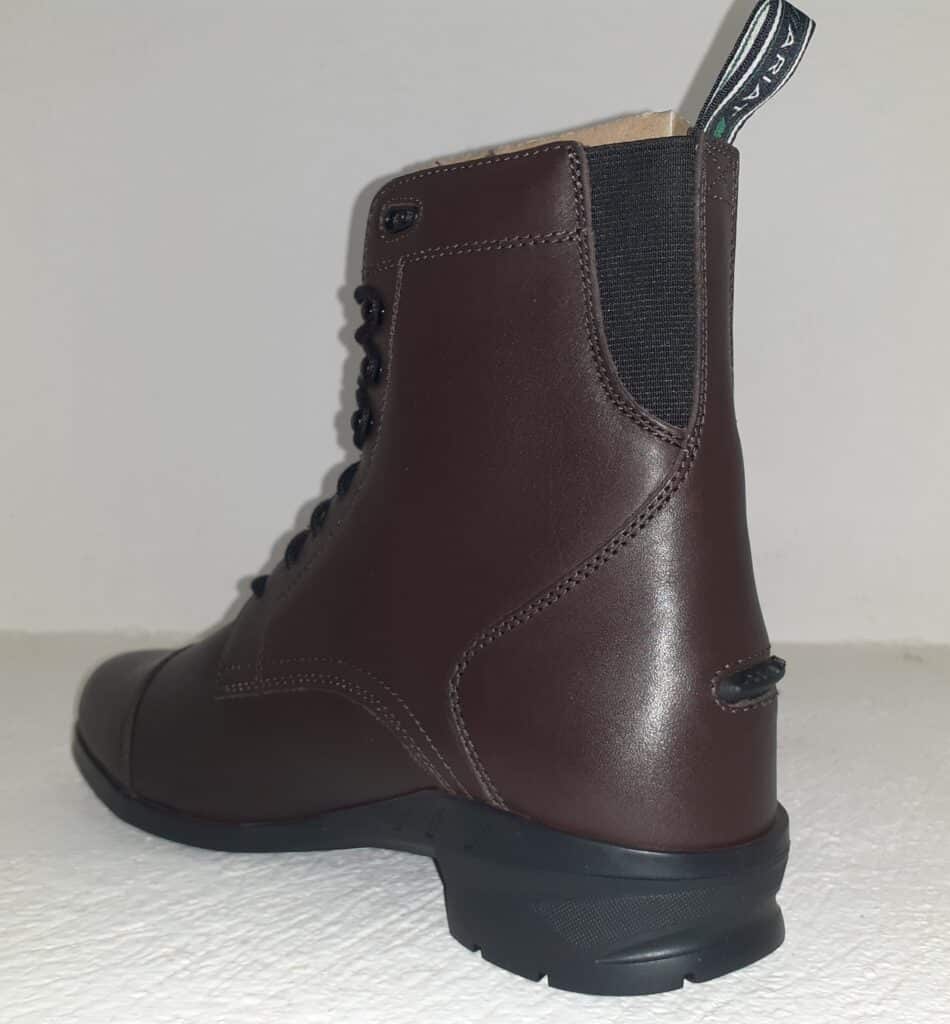 My first impression of these boots was a good one. They're well-made, and I love the traditional design. They feel robust, and they smell and look lovely.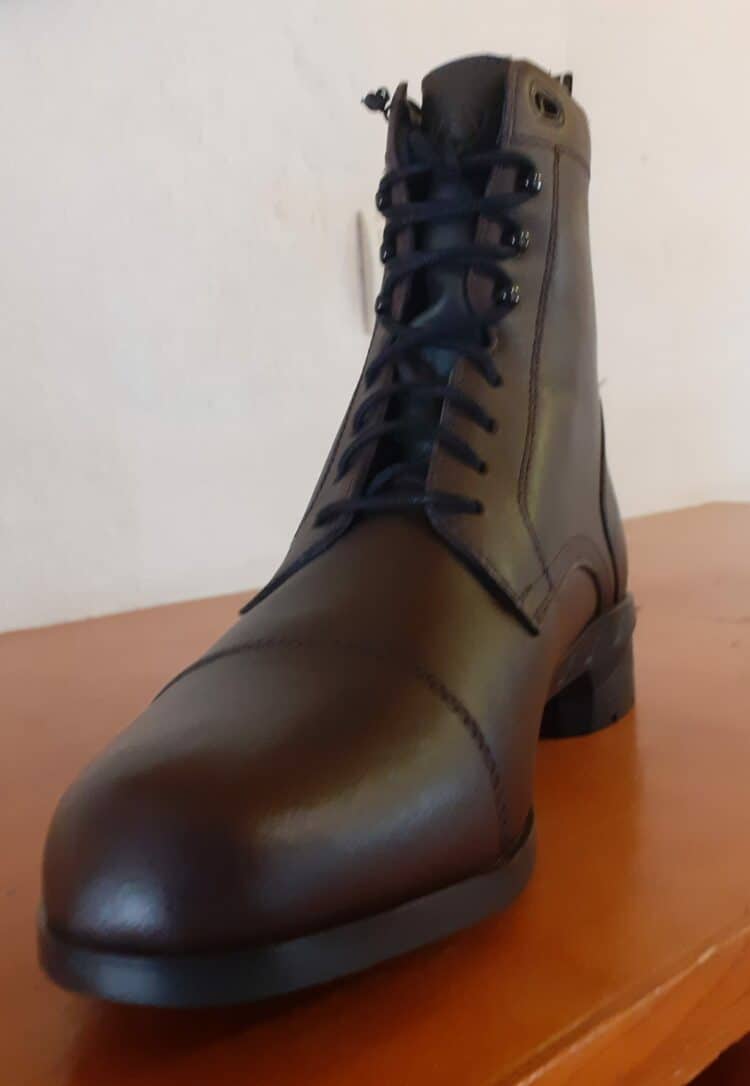 The Fit
My feet slipped into the boots effortlessly, but I have wide feet, so they were a little tight. I adjusted the laces a little – and they felt much more comfortable and didn't squeeze anymore. I love boots with laces because they give you a more precise fit. The laces on these boots feel strong and have speed lace hooks, so they are easy to put on and take off.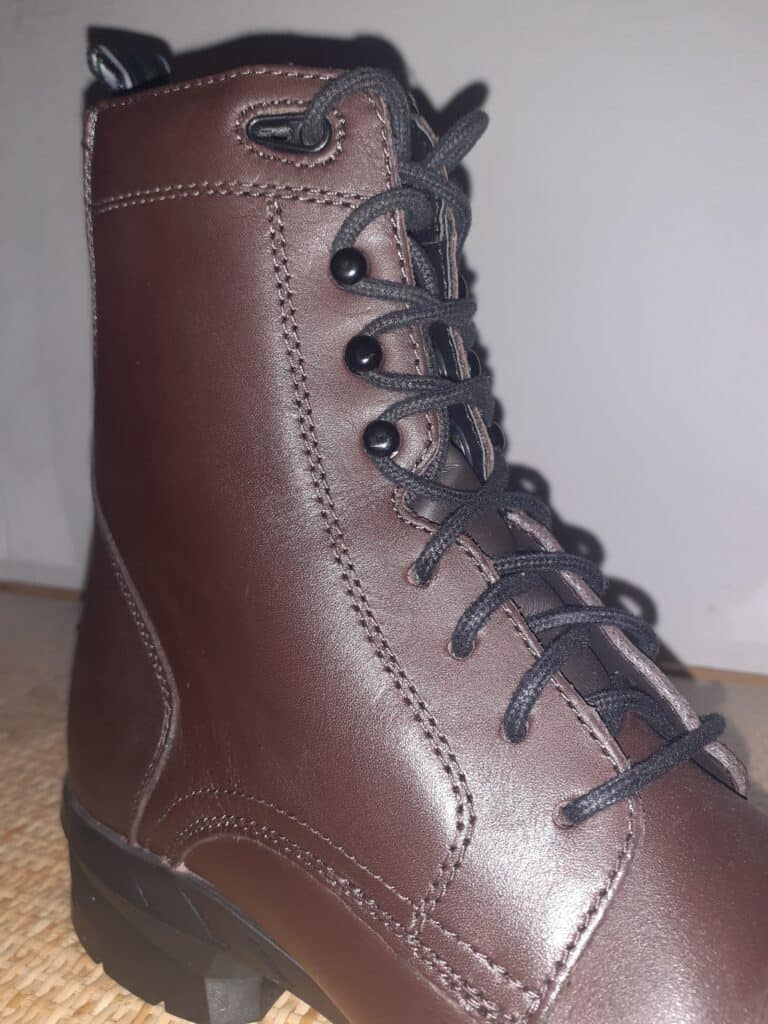 I was taken aback by how comfortable the boots were, especially for new leather, which often feels stiff. I was expecting to break them in and even suffer blisters, but these boots are soft and comfortable from the beginning. Ariat boots have a reputation for being oversized. I considered this when I bought them but decided to order my true size instead of half a size smaller because it's good to have extra space to accommodate thick socks.
The boots are a bit on the large side. I have size 9 feet, so half an inch on top of my standard size is quite noticeable, but they fit perfectly with thick socks. 
Using Them
The boots look so good, the last thing I wanted to do was get them mucky at the barn, but they are working boots after all. They felt durable, and I was sure they would stand up to the challenge. 
Here's what I found from using the Heritage IV boots:
In the Saddle

– The boots are perfect for riding, the Duratread sole gripped firmly to the stirrups, and my feet felt stable, secure, and ready to tackle any obstacle. The boots felt flexible compared to other leather boots and gave me lots of freedom around the ankle.  

For Barn Chores

– Honestly, I was dubious about the tread on these boots because it's shallow, but they have an outstanding grip, even on slippery surfaces. They have lots of cushioning, and it feels like wearing sneakers rather than boots which is perfect if you wear them for long periods.

Around Town

– These boots have a timeless, classic design, so they don't look out of place when you wear them with non-equestrian clothing. You don't have to take a change of shoes to the barn – simply wipe these paddock boots off and head into town.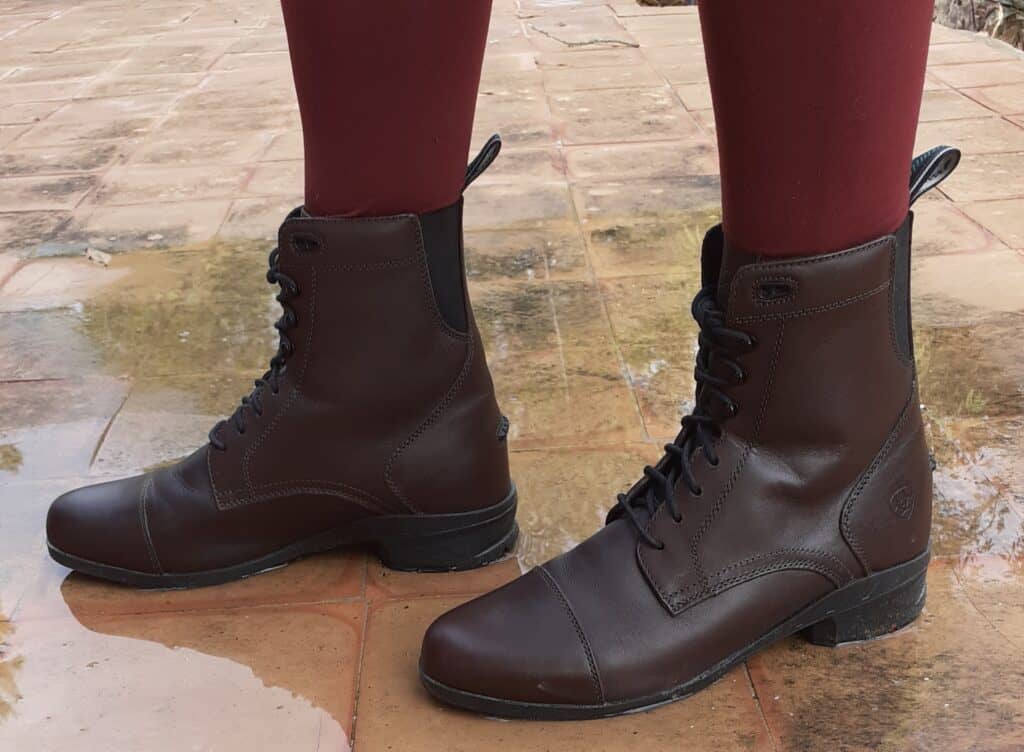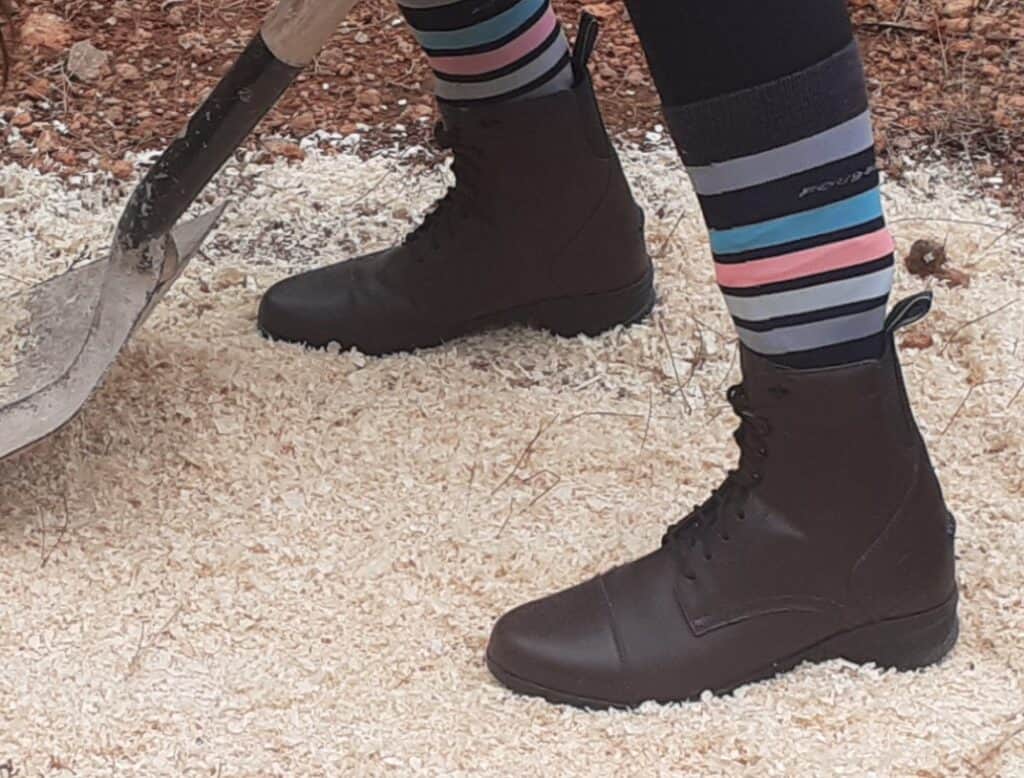 Care and Cleaning
The Heritage IV Paddock Boots aren't waterproof, so you have to be more careful with them. I wouldn't walk through muddy puddles with them on, for example. They wipe off easily with a damp cloth and seem pretty scuff-resistant. 
You must clean leather boots regularly and treat them with soap and conditioner to keep them in good shape and prolong their life. I'm looking forward to polishing these boots in a month or two to keep them supple and shiny.
The Key Features Of The Heritage IV Paddock Boots
The Heritage IV Paddock Boots encompass all the distinctive features of Ariat footwear. One of the main features is their comfort which comes from 4LR foot bed technology. They also have a unique Duratread outsole for stability and are designed to enhance your performance in the saddle. 
Let's take a closer look at what makes the Heritage IV paddock boots unique.
#1 – Comfort
These boots are the most comfortable ones on the market because of the unique Four Layer Rebound (4LR) foot-bed technology.
This is superior to standard cushioning because the lightweight materials bounce the energy from your step back up to the foot, and it takes less effort to walk. This means there's less impact from each step which reduces fatigue. Ariat boots keep your feet comfortable for longer and give you the impression that you're walking on air.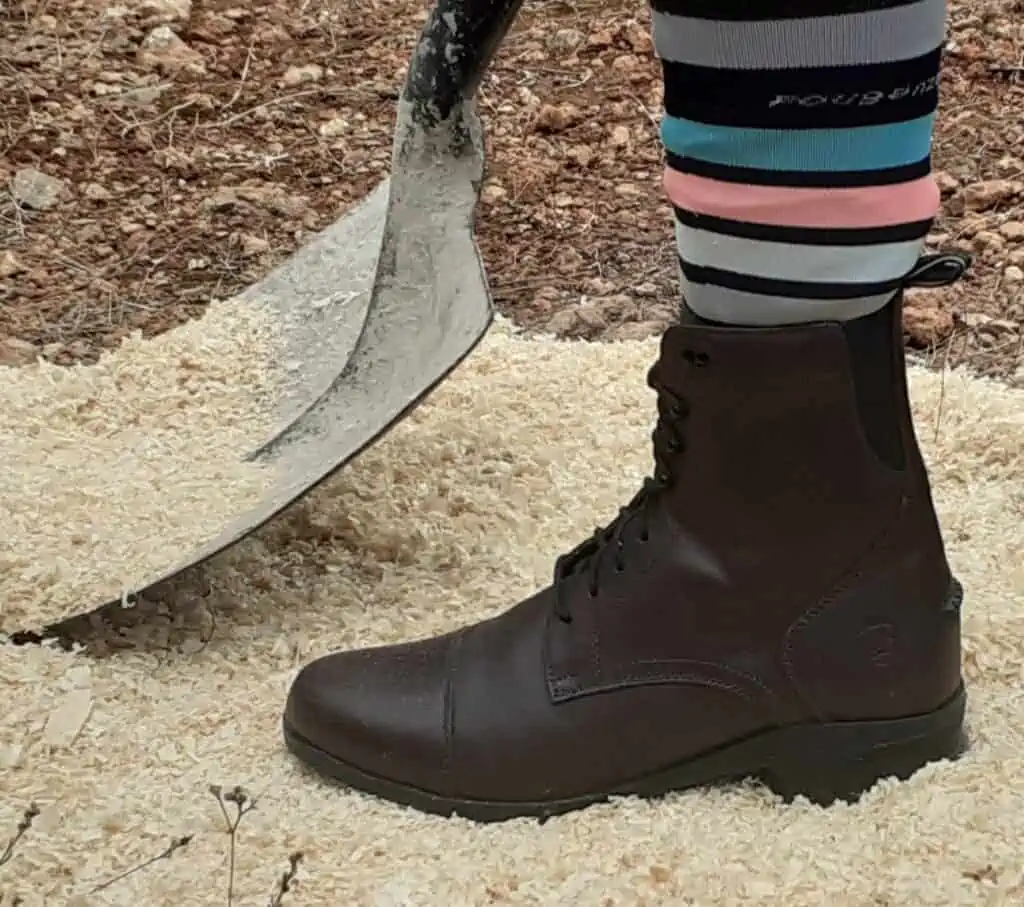 The boots feature a lightweight shank and an extra shock-absorbing heel cushion to reduce impact and increase stability.  They also have a padded collar and a breathable moisture wick lining which keeps feet cool and sweat-free. These boots molded to my feet like a pair of slippers, and I'll happily wear them for hours.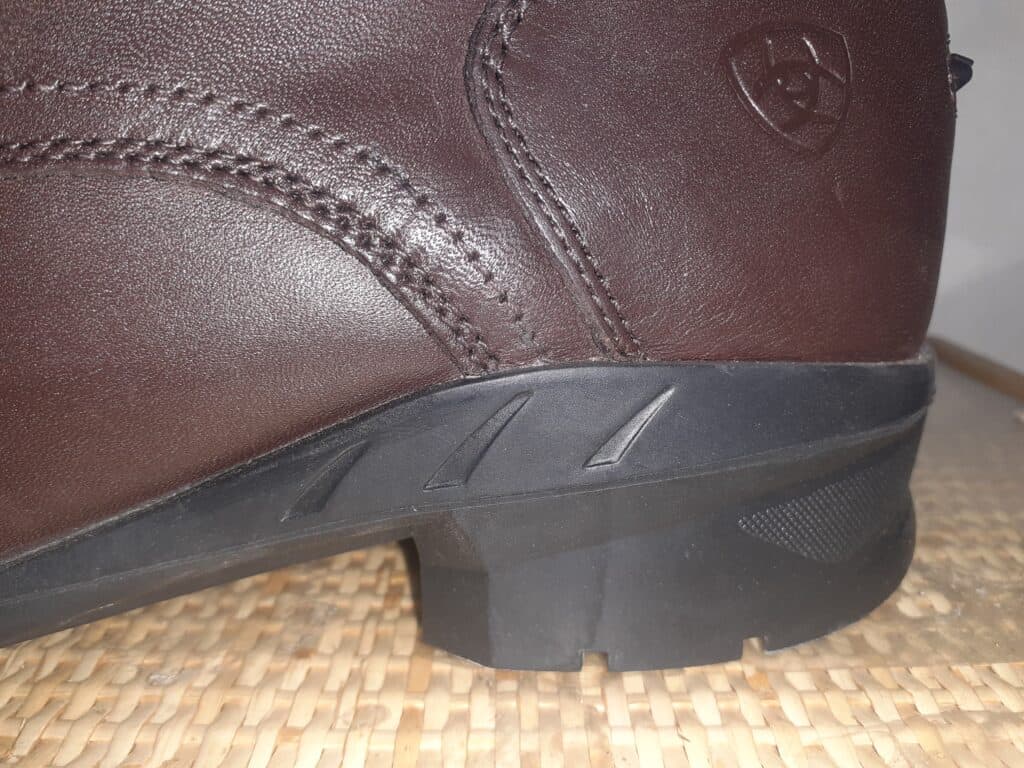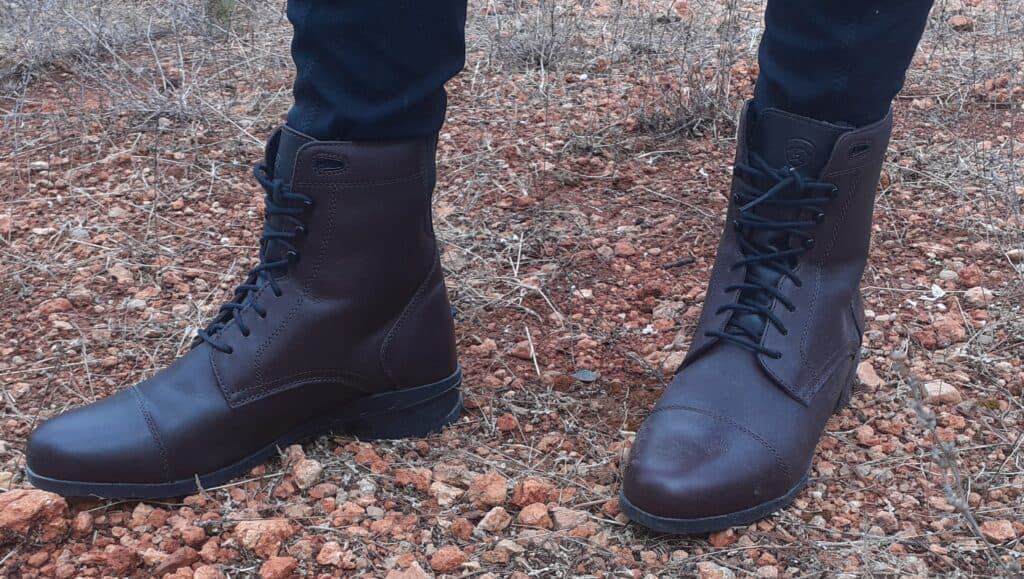 #2 – Durability
Ariat boots are renowned for their durability, which comes from superior craftsmanship and robust, high-quality materials. The Heritage IV boots are made with full-grain leather with secure stitching. Ariat footwear goes through 100 stages of testing and construction to produce a perfectly crafted and durable product.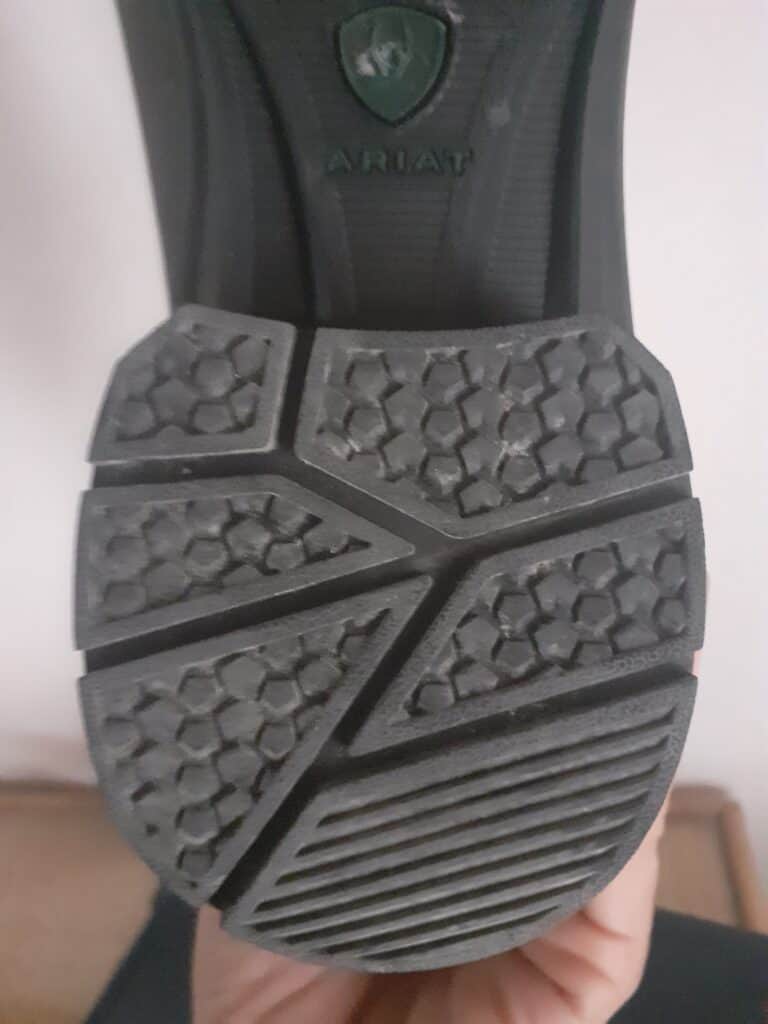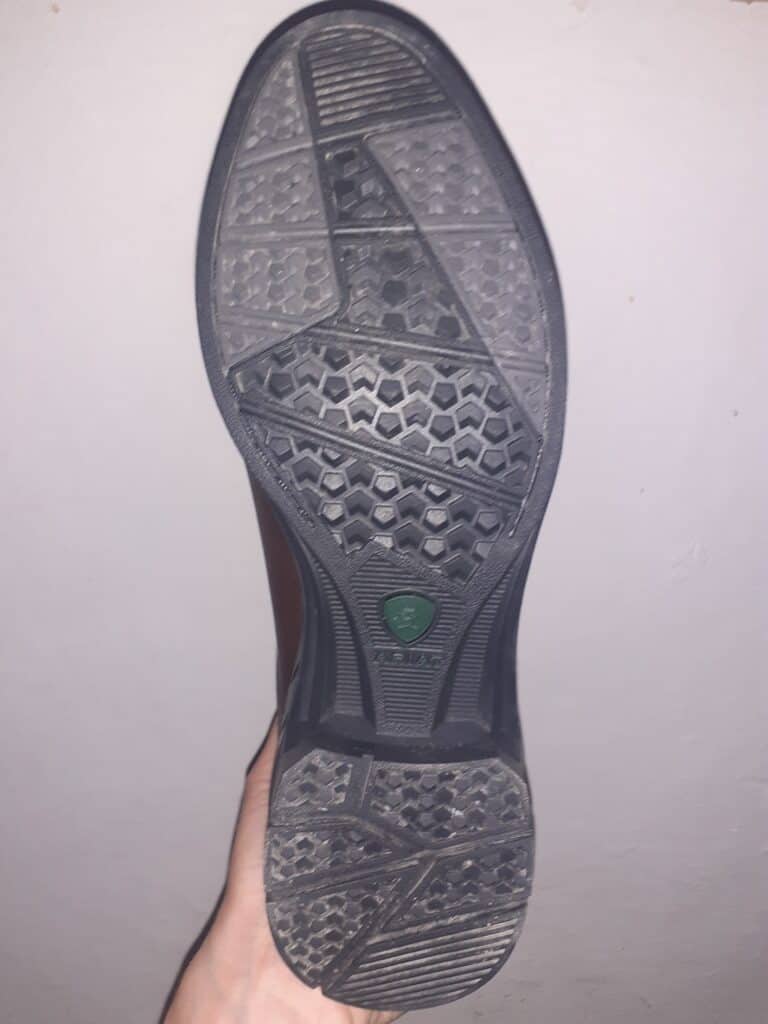 Many Ariat boots, including the Heritage IV, have a patented Duratread outsole made from unique formulated compounds, which offers flexibility, grip, and wear resistance.
Boots with hard soles are durable but stiff, while soft soles are grippy but wear down quickly – and the Duratred sole is a perfect balance of the two. It's tougher than traditional rubber, resistant to agricultural chemicals and offers outstanding traction and comfort.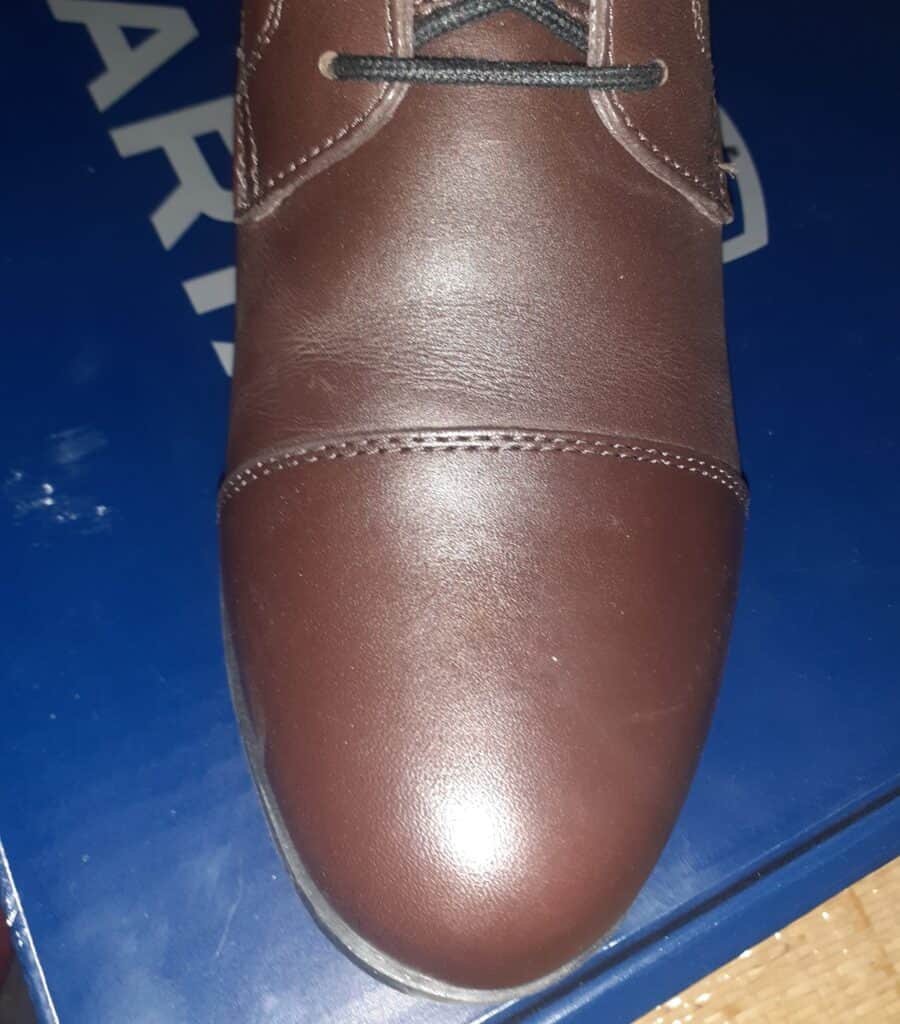 #3 – Performance
Ariat boots are built with performance in mind and will enhance the technique of any rider. The Heritage boots offer the ultimate stability and support, are lightweight and reduce fatigue. They have a sleek ergonomic heel with a grippy sole and extra traction on the area where the stirrup sits.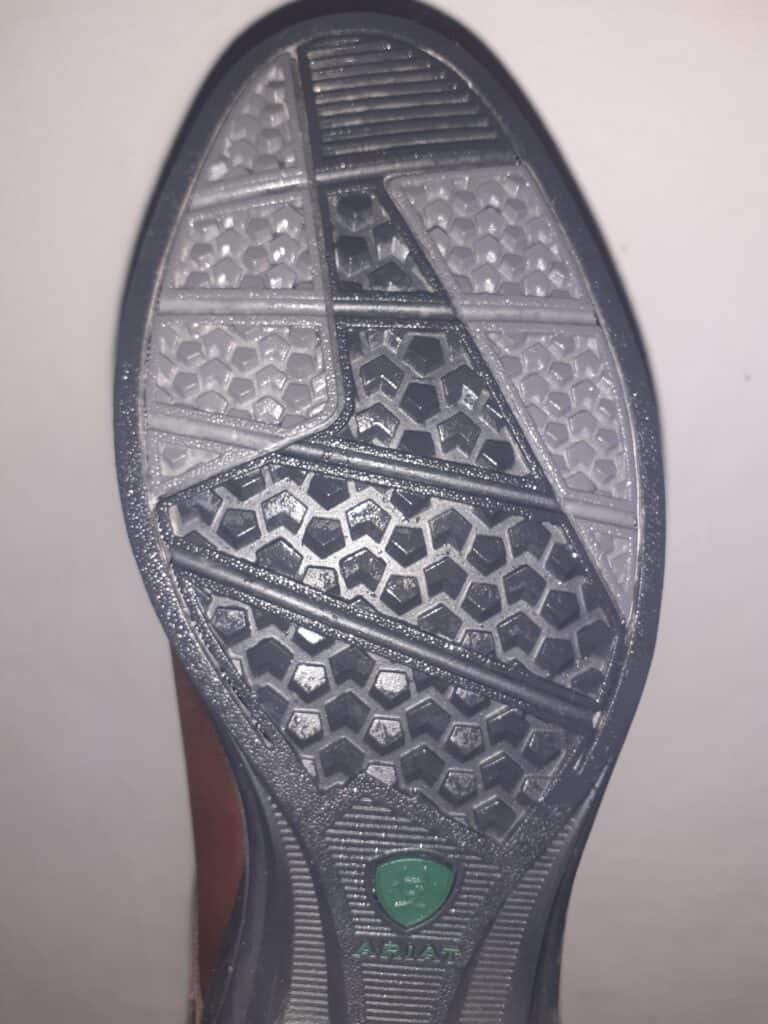 The boots also feature twin gore panels at the top to improve fit and promote heel flexibility when riding. Ariat are superior performance boots as they provide stability in the saddle, which boosts confidence and enhances overall performance.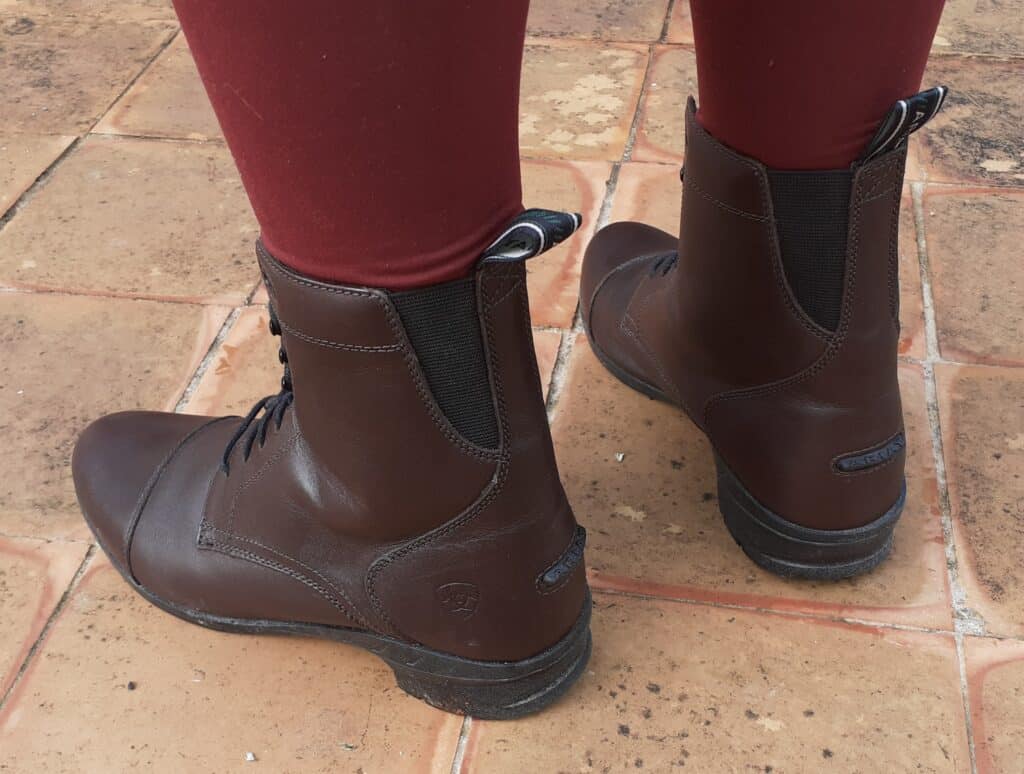 #4 – Style
Ariat Heritage IV are crafted to a traditional paddock boot design, but at the same time, they look modern and stylish.
These short boots are ideal for the summertime or all year if you live in a warm climate and are perfect for general riding. The Ariat IV Paddock Boots are so stylish I'll happily wear them around town because they don't look out of place.
Here are Some Alternatives To The Ariat Heritage IV Boots 
I adore these boots, but I understand they're not ideal for everyone. For a start, they're not waterproof or insulated, so aren't a good choice if you're looking for a winter boot or you live in a wet climate. If the Ariat Heritage IV Paddock Boots don't have everything you're looking for, I'll give you a few worthy alternatives below.
I chose these alternatives from Ariat because, like the Heritage IV, they have outstanding features to keep you safe and comfortable in the saddle.  I selected the boots on the list because they are fully waterproof and perfect for winter or cold climates. They also have more features to help with riding performance than the Heritage IV.
Alternative #1 – Heritage IV Waterproof Insulated Zipper Paddock Boots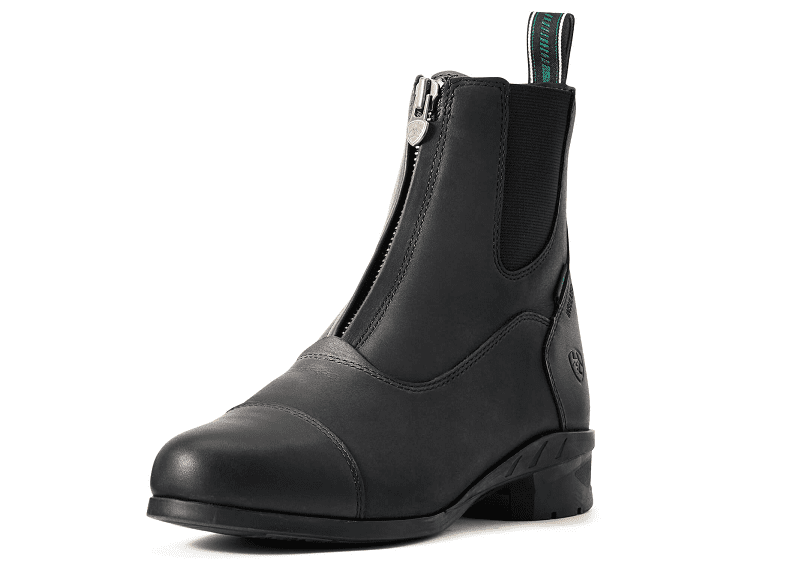 The Heritage IV Waterproof Zipper Boots have all the features of Heritage IV – but are fully waterproof and insulated, so they are a perfect alternative if you live in a cooler climate.
They are made from full-grain waterproof leather and have a zipper closure rather than laces. You can ride in all weather with the Heritage Zipper Boots because the Waterproof-Pro construction has an impermeable barrier to keep your feet dry. 
Even though The Heritage IV Zipper Boots are insulated, you can wear them year round because they feature lightweight 3M Thinsulate insulation, so they aren't bulky inside.
You will also find unique Ariat features such as the Duratread outer sole, 4LR foot-bed technology and an "all-day cushioning" removable insole. They also have an added collar for extra comfort and an elasticated twin gore for flexibility around the ankle. 
Pros
They're waterproof and insulated and are ideal for the winter.

They have a Duratread outsole and 4LR technology.
Cons
They have a zipper, so aren't as adjustable as lace-up boots.
Alternative #2 – Ascent Waterproof Paddock Boot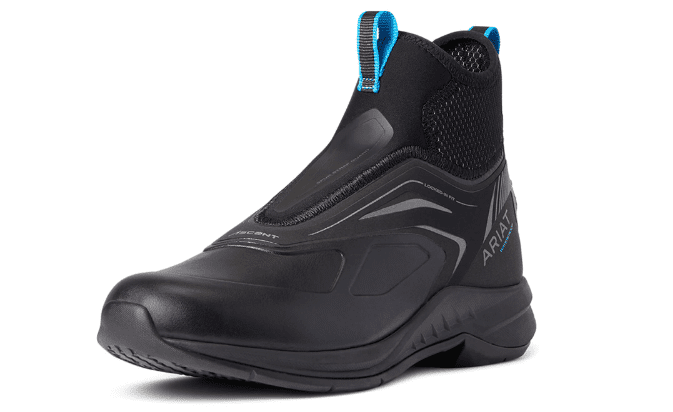 The Ascent Waterproof Paddock Boots take traditional design to the next level and will definitely make you stand out at the barn.
These unique boots are flexible, lightweight and durable with a Duratread outer sole, perfect for riding and barn chores. The Ascent boots are made from mixed materials and are fully waterproof and breathable with an impermeable membrane and neoprene collar. 
One of the main features I like about these boots is the FLX foam midsole. FLX is a lightweight cushioning which helps rebound energy from your steps back into your foot to reduce fatigue.  They also have Pro-Performance, removable insoles, which are highly shock absorbing and Advanced Torque Stability (ATS) and a lightweight shank for stability and support.
Pros
They have a stylish, modern design.

They're lightweight.

They're waterproof.
Cons
#3 – Performer Nitro Paddock Boot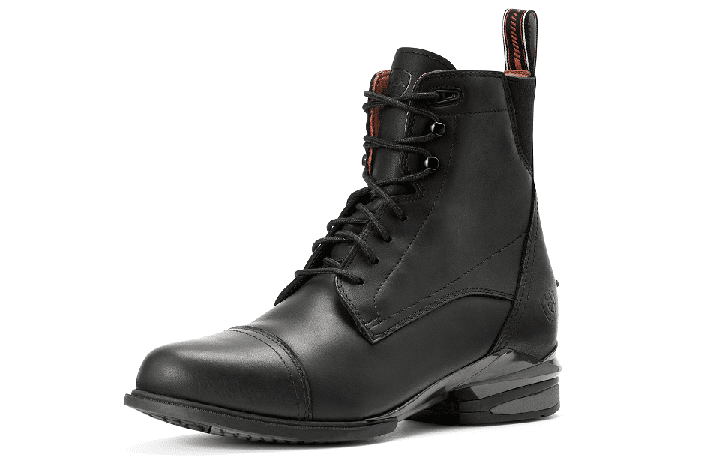 The Ariat Performer Nitro are superior, performance-enhancing boots created with a traditional paddock boot design. They feature unique Nitro technology, which is supportive yet highly flexible, and they have an internal Nitro stabilizing frame. The Nitro Boots have a waterproof finish and will keep your feet dry if you ride in the rain.
The Performer Nitro boots are made from full grain leather and have speed lace hooks – so they're easy to adjust, put on and take off.
They have a padded collar and tongue and a removable Nitro insole for comfort and stability in the saddle. The Duratread outsole will keep your feet firmly in the stirrups, and they have a shock shield heel strike to minimize fatigue. 
Pros
They are high-quality, high-performance boots.

They feature Nitro technology for the ultimate stability in the stirrups. 

They're waterproof
Cons
They're one of the most expensive paddock boots in the Ariat range.
Are The Ariat Heritage IV Boots For You?
I love the Heritage IV boots – they're ideal for my climate and are perfect for working and riding. They're incredibly versatile and perfect for all English riding disciplines. If you're still unsure about whether these boots are for you, I'll give you some clear pointers below:
The Ariat IV Heritage Boots are for you if:
You live in a warm climate

You wear your boots a lot

You want a versatile boot you can wear at the barn, in the saddle or around town, 

You work with horses – because they are comfortable, supportive and long-lasting. 
They might not be suitable if:
You perform at a high level because you need long boots

If you live in a cold, wet climate because they're not waterproof or insulated.

If you don't like fiddling with laces every time you put your boots on. 
FAQs
Question: What's the difference between paddock boots and riding boots?
Answer: Paddock boots are a type of short riding boot. Short riding boots are cooler and allow more movement around the ankle.
They are the choice boots for beginner riders, and you must wear them with jodhpurs, chaps or gaiters to protect the lower leg from the stirrup leathers. Paddock boots are comfortable to wear out of the saddle and are perfect for running barn chores. 
Long riding boots protect the whole of the lower leg, up to the knee and are usually stiff to help keep the rider's leg in the correct position. Adult riders usually have to wear long riding boots for competitions. Most long boots aren't comfortable to walk around in, so they're not suited to barn chores.  
Question: Are Ariat Paddock Boots waterproof?
Answer: Not all Ariat boots are waterproof – it depends on the style.
Some Ariat boots, such as the Heritage IV Waterproof Boots and the Ascent Waterproof Boots, are made with waterproof leather and an impermeable membrane so are fully waterproof. Whereas the Heritage IV Paddock Boots and the Scout Zip Boots aren't waterproof. 
Question: Do Ariat Boots run big?
Answer: Ariat boots tend to be on the large side, but this isn't necessarily bad for equine boots – it means there's plenty of space for you to wear thick socks.
If you don't intend to wear them with thick socks, in the summer, for example, you should choose half a size smaller than your usual size when you buy Ariat boots.  
Conclusion
I love the Ariat Heritage IV Paddock Boots and highly recommend them to any horse owner or rider. These boots are astonishingly versatile and look great at the barn or around town. They're stylish and practical and will keep your feet comfortable whether you're running barn chores or riding for hours on the trail.
The thing I was most impressed with was the Heritage IV is the comfort and the fact I didn't need to break them in.
The Duratread outsole, combined with the 4LR technology, delivers superior shock absorption and stability, which I've never experienced in other boots. The Heritage IV boots met all my expectations of Ariat, and I will certainly buy their products in the future.
Resources:
"About Us." Ariat International, www.ariat.com/about-us. Accessed 26 Sept. 2022.
"The Advanced Technology of Ariat Boots for Men." Jackson's Western, jacksonswestern.com/blog/the-advanced-technology-of-ariat-boots-for-men. Accessed 26 Sept. 2022.
"Ariat Craftsmanship: A Love of Leather | Ariat Life." Ariat International, www.ariat.com/al/ariat-craftsmanship. Accessed 26 Sept. 2022.
"Ariat Life | Ariat Blog." Ariat International, www.ariat.com/ariat-life-blog?filter=technology. Accessed 26 Sept. 2022.
"Home Page." Ariat International, www.ariat.com. Accessed 26 Sept. 2022.
Read More: