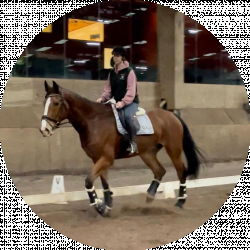 Latest posts by Maddy Chiffey
(see all)
It isn't easy finding the best breast collar for horses. Firstly, there are so many around. Secondly, how do you know which is the right type, material, and size for your horse?
Not every rider considers a breast collar to be an essential item, yet their benefits are hard to disagree with, in my opinion. If you're a rider who has a horse that can be prone to powerful acceleration, quick stops and turns, or has behavioral issues, then – like me – you're aware of the key advantage to using a breast collar.
And the key advantage is that a breast collar keeps the saddle secure and centered on the horse's back. This makes riding a much safer operation. But, this is only when the correct breast collar for your horse is used, and this is what I'm here to help with!
I have shopped around my usual equestrian haunts to bring to you my chosen breast collars for horses. You'll find my brief round-up below and further details further on in my guide.
At a Glance: 7 Best Breast Collar for Horses
Bottom Line Up Front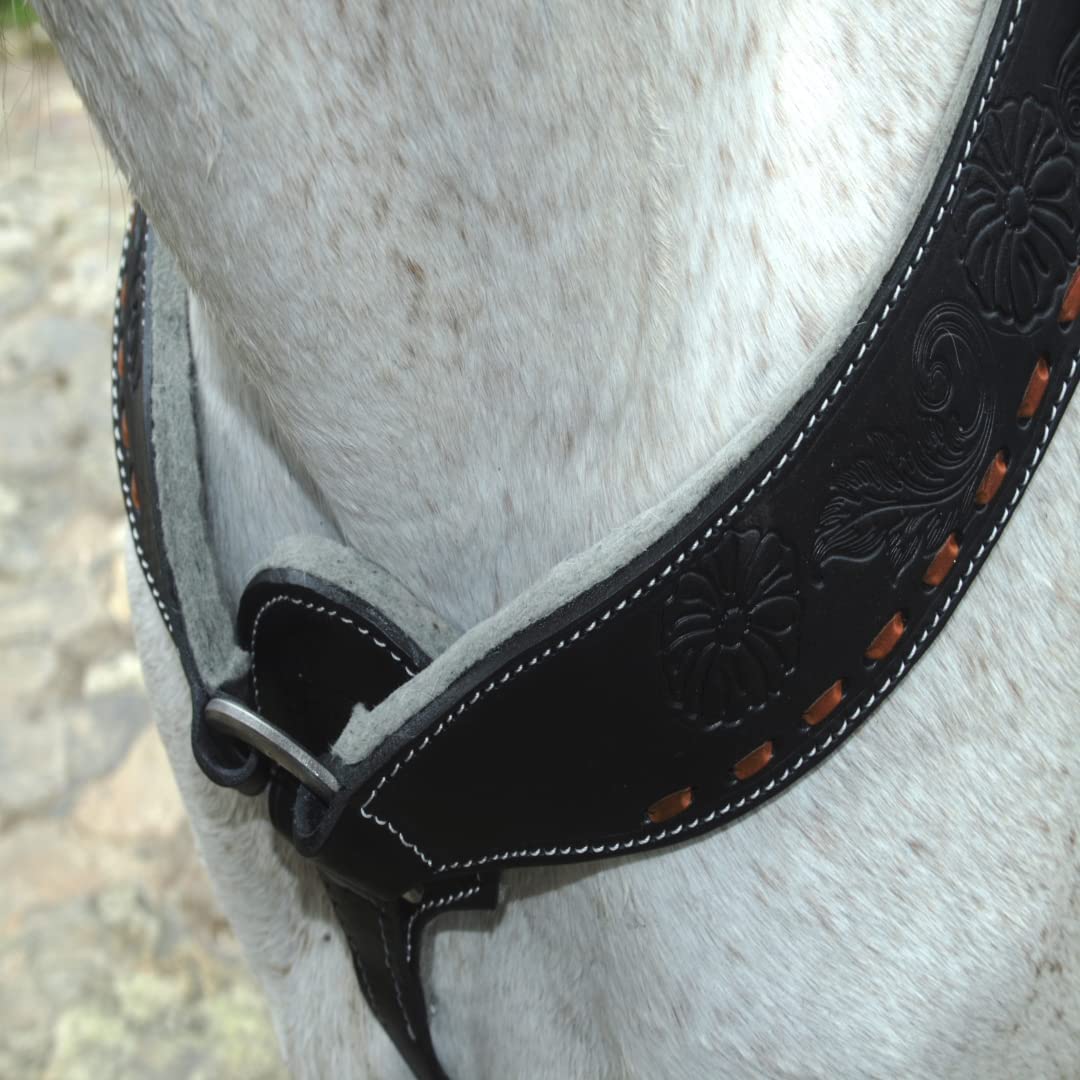 I love the durability of the CTK Saddlery Horse Stamped Breast Collar with 100% Wool Felt and find this to be one of the most comfortable breast collars for horses. The longevity of this collar is outstanding, but the price is pretty high.
A great budget pick is the Hilason Western Horse Breast Collar which you can pick up at Walmart, online or offline, for great convenience.
What is a Breast Collar?
A breast collar (also known as a breast girth and breast strap) is a piece of riding equipment that helps to secure the tack onto the horse. I have found breast collars particularly helpful on horses with a flat rib cage and large shoulders, such as the Shire Horse.
From a safety point of view, breast collars are essential in the event of an accident – for example, if the rider's billets or girth breaks, a breast collar gives the rider time to stop and dismount before the saddle comes off the horse completely. Without a breast collar, this very much wouldn't be the case.
Breast collars give your hands a firm base to hold as it sits over the withers of the horse. Beginner riders, racers, trainers, and behaviorists are the target audience for breast collars, although I believe all riders will find some benefit from this product.
Most recently, breast collars have become more of a fashion statement, and you'd be surprised at the number of owners who use them purely for their aesthetics!
Breast Collars and Saddles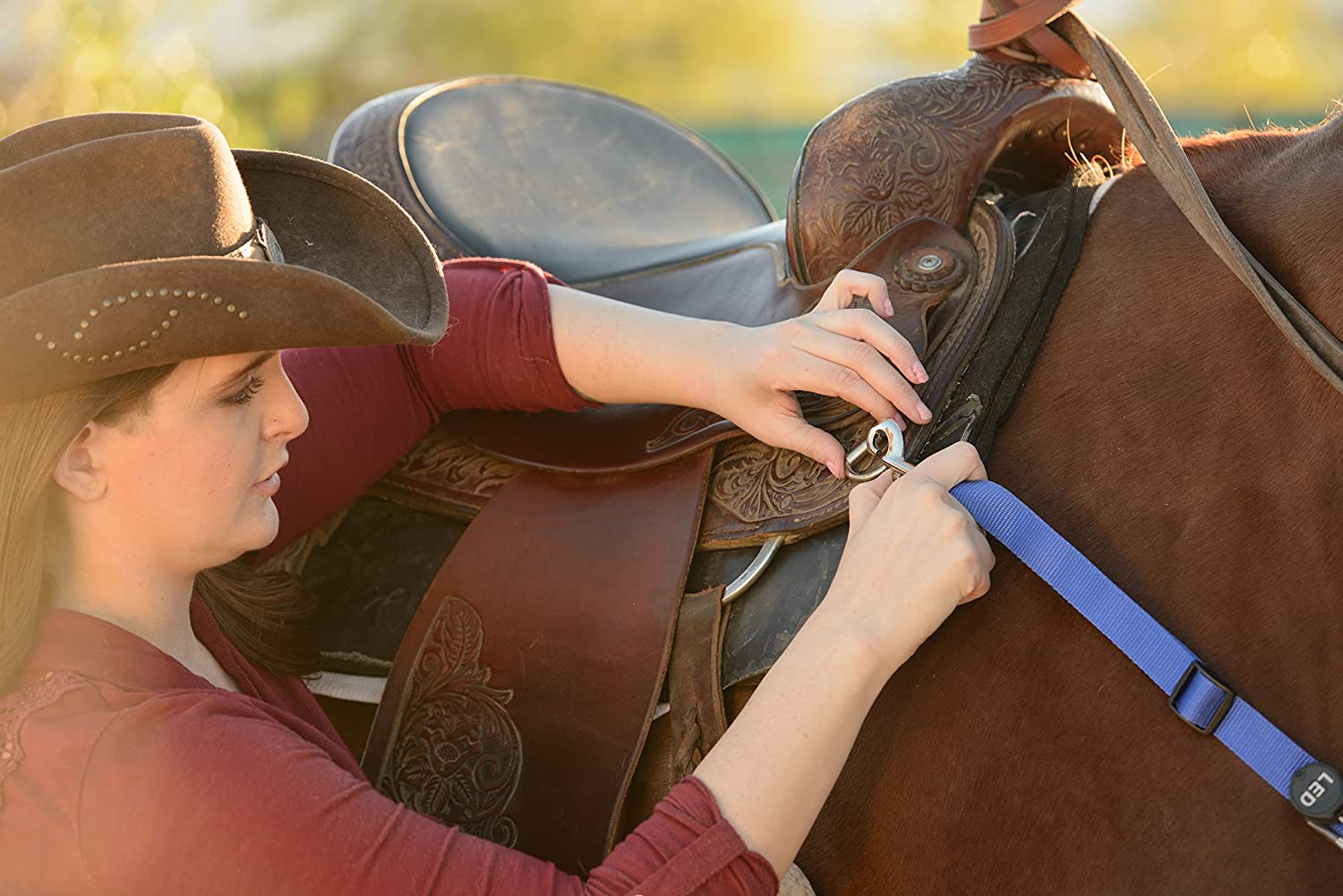 A breast collar is commonly used on Western saddles and English saddles. If a breast collar is used for Western-style shows or English riding, it will likely consist of a thin leather strap. For working Western horses, breast collars will be a stronger design and have more girth.
Finding the Best Breast Collar for Horses
A breast collar that can be adjusted to fit your horse perfectly will prevent the saddle from slipping back or rolling sideways. A well-fitting breast collar will allow for enough saddle movement and flexibility for the horse to perform powerful maneuvers but ensure the saddle is secure for the rider.
Below are my buyers' tips for getting the perfect breast collar!
Size
In my experience, people often buy breast collars that are way too big for their horses, rendering them ineffective. If you can wrap the tug straps around the saddles D rings several times, the collar is too big. On the other hand, you need to avoid having a collar that is too small or too tight, as this will be uncomfortable for your horse and will also restrict movement.
To make sure you get the right size breast collar, take note of the chest area. Ideally, a fist will fit between the chest and breast collar, with room for a hand between the withers and straps. Ideally, we're looking for a little room, so the collar doesn't rub against the skin, but not too much room to render the collar useless.
If buying the Y-shape model, you don't want any gap in the collar from the girth between the horses' legs.
Style
There are a lot of different options on the market today when it comes to styles of breast collars. For English riding, the classic breast collar is known as the hunting or stockman style – essentially a 'Y' shaped collar. This type of collar is used mostly by hunters, endurance horses, show jumpers, and eventers.
The other consideration is the more secure buckle-fastening collar. This type will be adjustable and provides a more customized fit.
Material
I would always, always, always go for leather. With leather, you get excellent durability, a good level of horse comfort (especially if you're using extra pads under the collar), and outstanding longevity. While high-quality leather can be a large investment, it is one I would advise making due to its benefits. Cheaper versions can irritate the horses and not be strong enough to support the rider.
However, this is my preference. Many riders are quite happy with other materials such as neoprene, oxford cloth, and rope.
My Product Criteria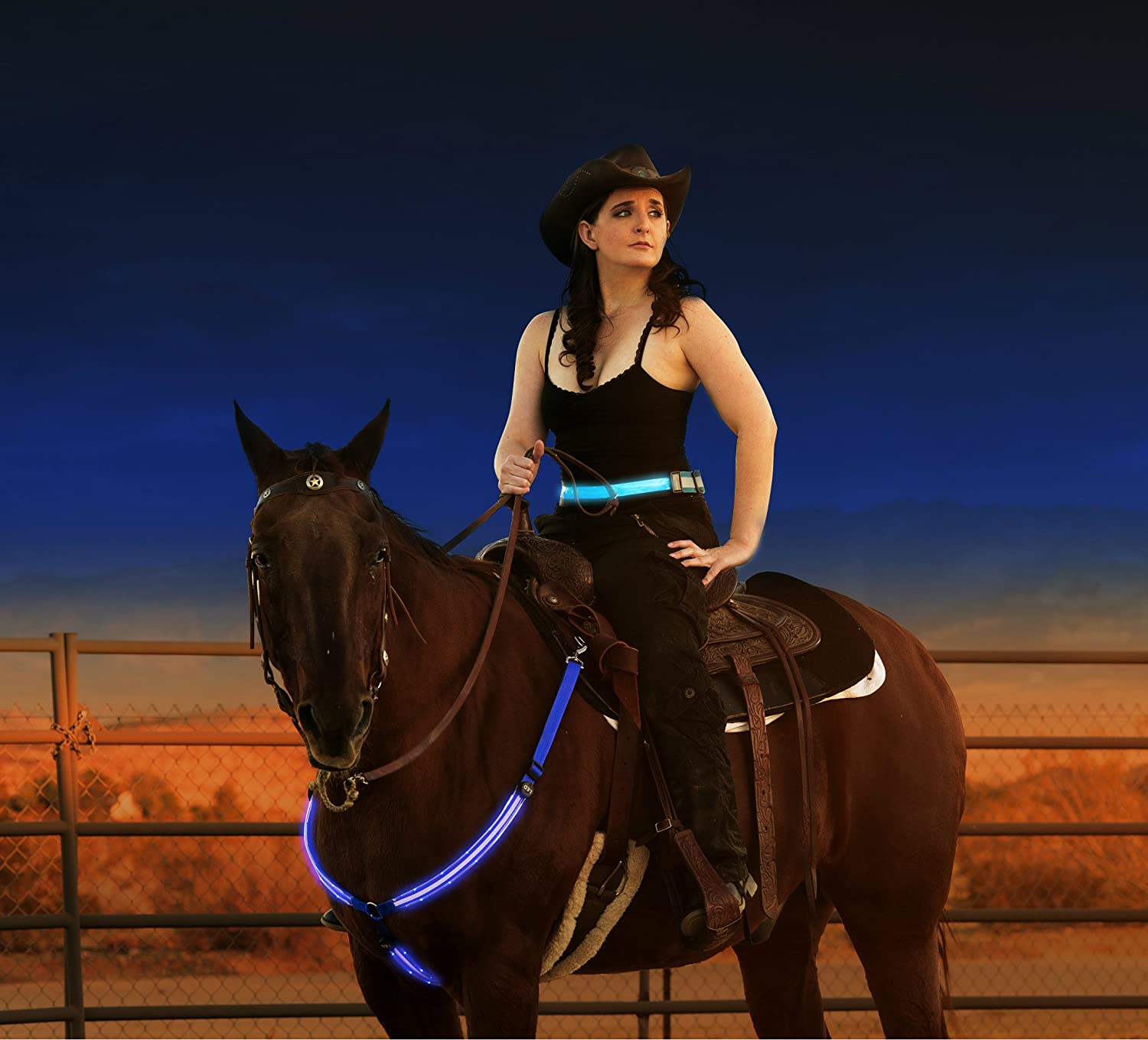 When given the challenge to find the best breast collar for horses, I did my research about what matters most to fellow equestrians. This helped me form product criteria.
Price
I usually shop around for affordability, but this wasn't my main priority for breast collars as this is truly an item that I find you get what you pay for. However, I did ensure the collars I reviewed were reasonably priced when everything was considered.
Durability
When horse comfort and rider safety are the primary purposes for equipment, the item has to be durable. I thoroughly vetted all of the collars in this guide and am confident in their durability.
Appearance
As touched upon earlier, the aesthetics of a breast collar are becoming increasingly important in our photo-ready world, so I considered this when researching this guide. While it wasn't my main priority, it was a factor.
Feedback
Consumer feedback is vital and will tell you much more than a brand's advert ever will! I was interested to know what other people thought of my preferred collars, and if the consensus was good, then I was happy to further research the breast collar.
My Chosen 7 Best Breast Collar for Horses
#1 CTK Saddlery Horse Stamped Breast Collar with 100% Wool Felt – #1 Top Pick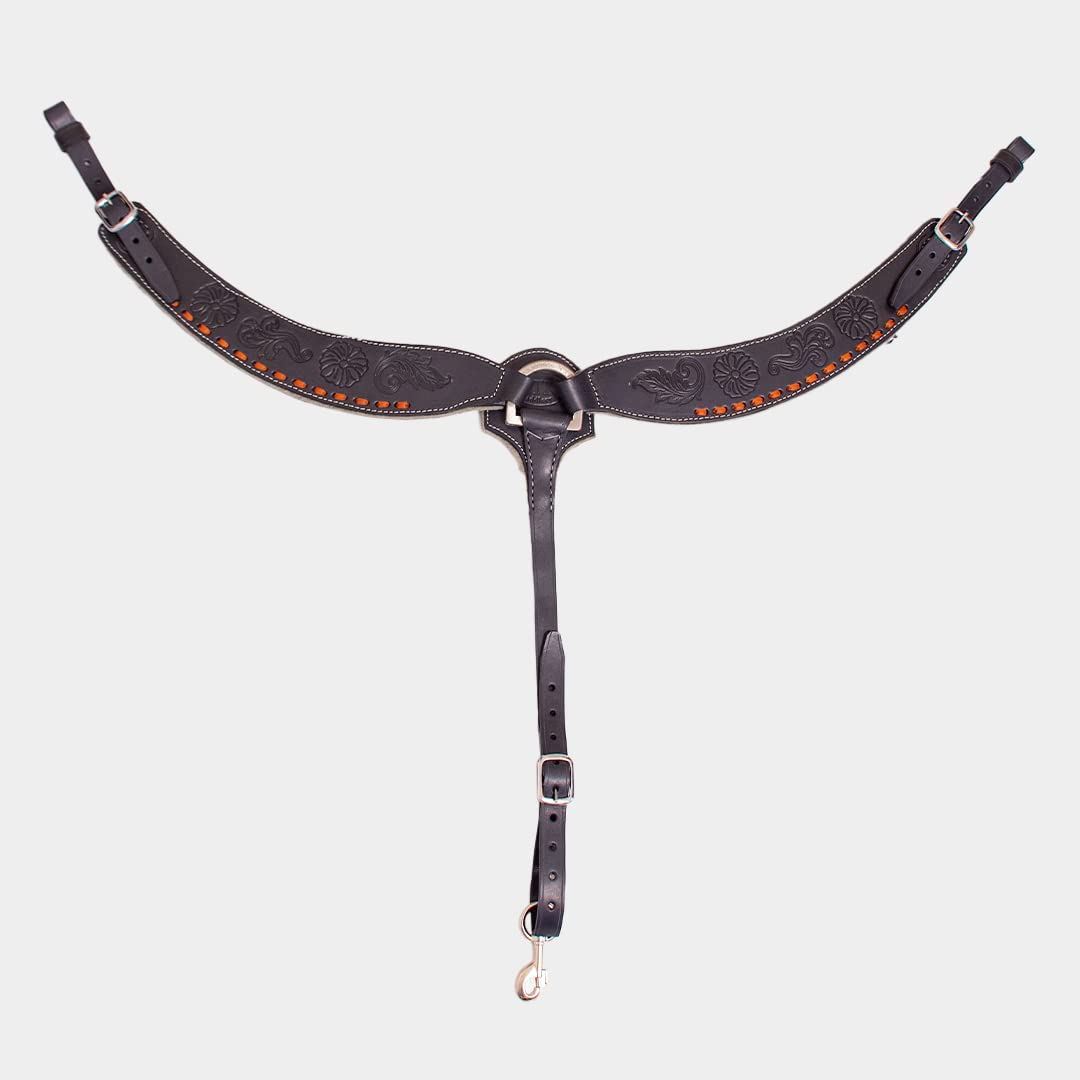 Fairly new to the market is the CTK Saddlery Horse Stamped Breast Collar with 100% Wool Felt. This collar is by a Columbian company that is starting to make its mark in the equestrian world. Although reviews are pretty limited now, the ones I have found have been positive.
The thing that worries me about breast collars is there rub onto a horse's skin; for giant creatures, it doesn't take a lot of pressure to cause a lot of damage. This risk is significantly reduced with the CTK collar due to the 100% wool felt between the collar and the skin.
This is a handmade breast collar that is fully adjustable. I like the elegant stamping on the leather (which is super high quality) and the neat stitching. I recognize this is an expensive breast collar, but one that I believe will stand the test of time. There are payment plans available if purchased through Amazon.
Pros
High-Quality Leather
Professional Looking Design
Handmade
Adjustable
Payment Plan Available
Cons
Expensive
Quite Heavy at 2.55 lbs
Limited Reviews
Relatively New Company
#2 Tough 1 Royal King Working Breast Collar – #1 Top Budget Pick
The Tough 1 Royal King Working Breast Collar is simple yet stylish, beautiful, and functional. Currently, on offer at Amazon for $34, and with free delivery, you'd be hard pushed to find a more genuine top-budget pick than this breast collar. The general feedback is excellent, although I have seen some mentions of it being relatively small in size.
This breast collar should be a good fit if you own a more petite horse such as an Arabain. However, those with larger breeds may want to look elsewhere.
There are three color options, so the Tough 1 Royal King collar should match most traditionally colored saddles. It is double stitched and made from fine imported leather, so a very durable collar that is possibly worth much more than its price point.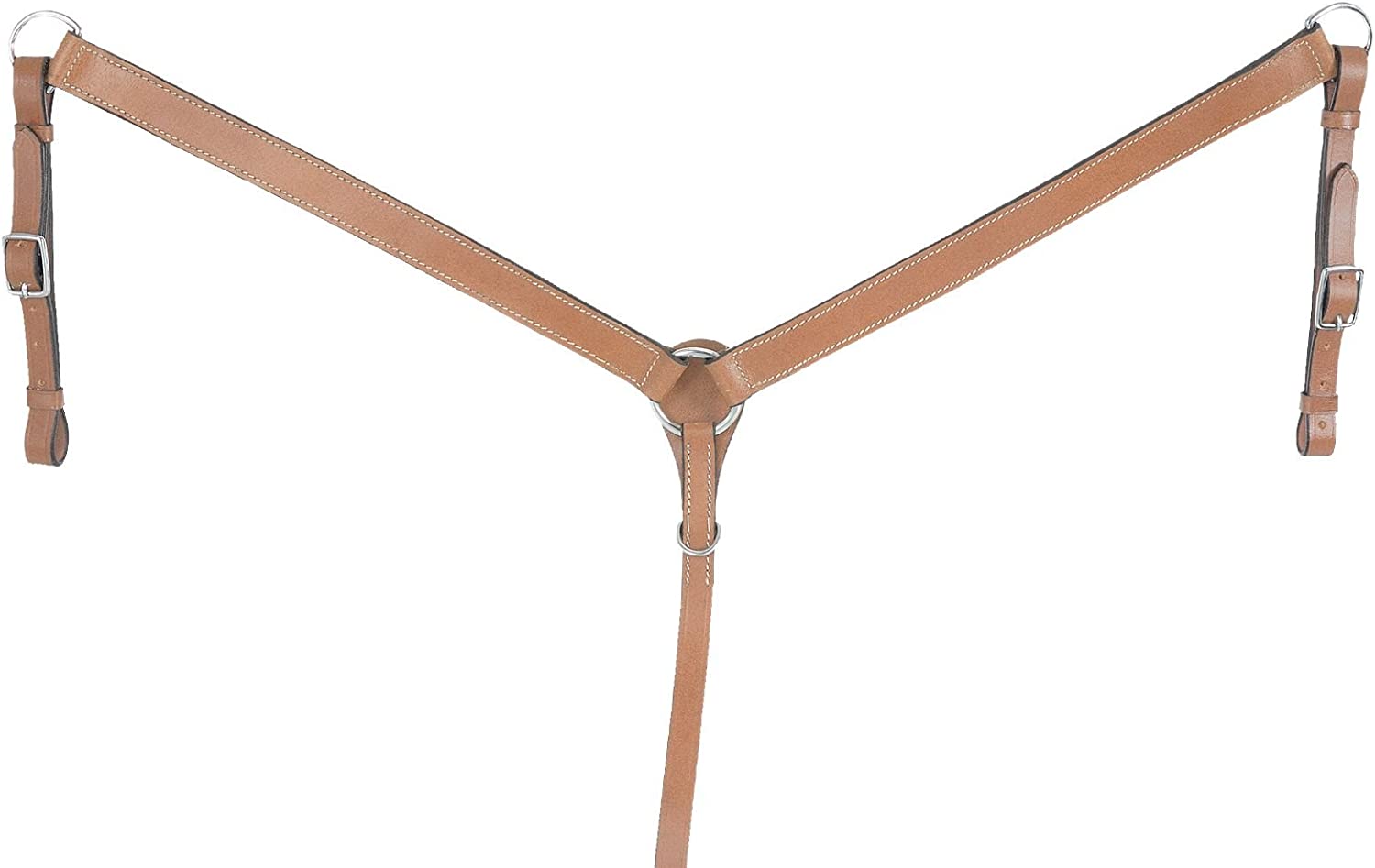 Pros
Outstanding Value for Money
3 Color Choices
Double Stitched
High-Quality Leather
Durable
Excellent Online Feedback
Cons
Not Suitable for Larger Breeds
#3 Hilason Western Horse Breast Collar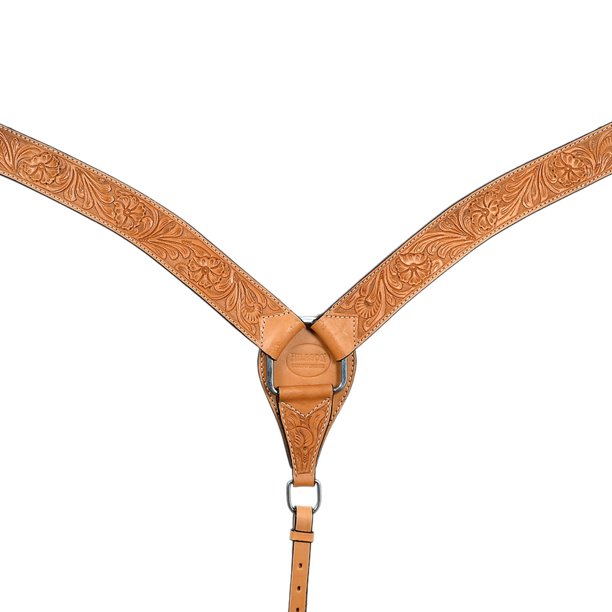 I found the Hilason Western Horse Breast Collar at Walmart and was super impressed with it. Made from top-quality, genuine American cowhide leather, this is a breast collar that will not let you down!
Great care and attention have gone into making this breast collar, with almost every aspect done by hand. Yet, it's well within the affordable bracket. I love the delicate design and feel this should please those looking for something truly pretty. The collar is perfect for any standard-sized breed, with room for adjustment.
The brand is a family-owned company that consumers praise for its fantastic after-sales service.
Pros
Fantastic Price
Genuine American Leather
Pretty Design
Excellent Feedback
Super Durable
Free Shipping
Cons
Straps May be a Little Thin
#4 Illumiseen LED Horse Breastplate Collar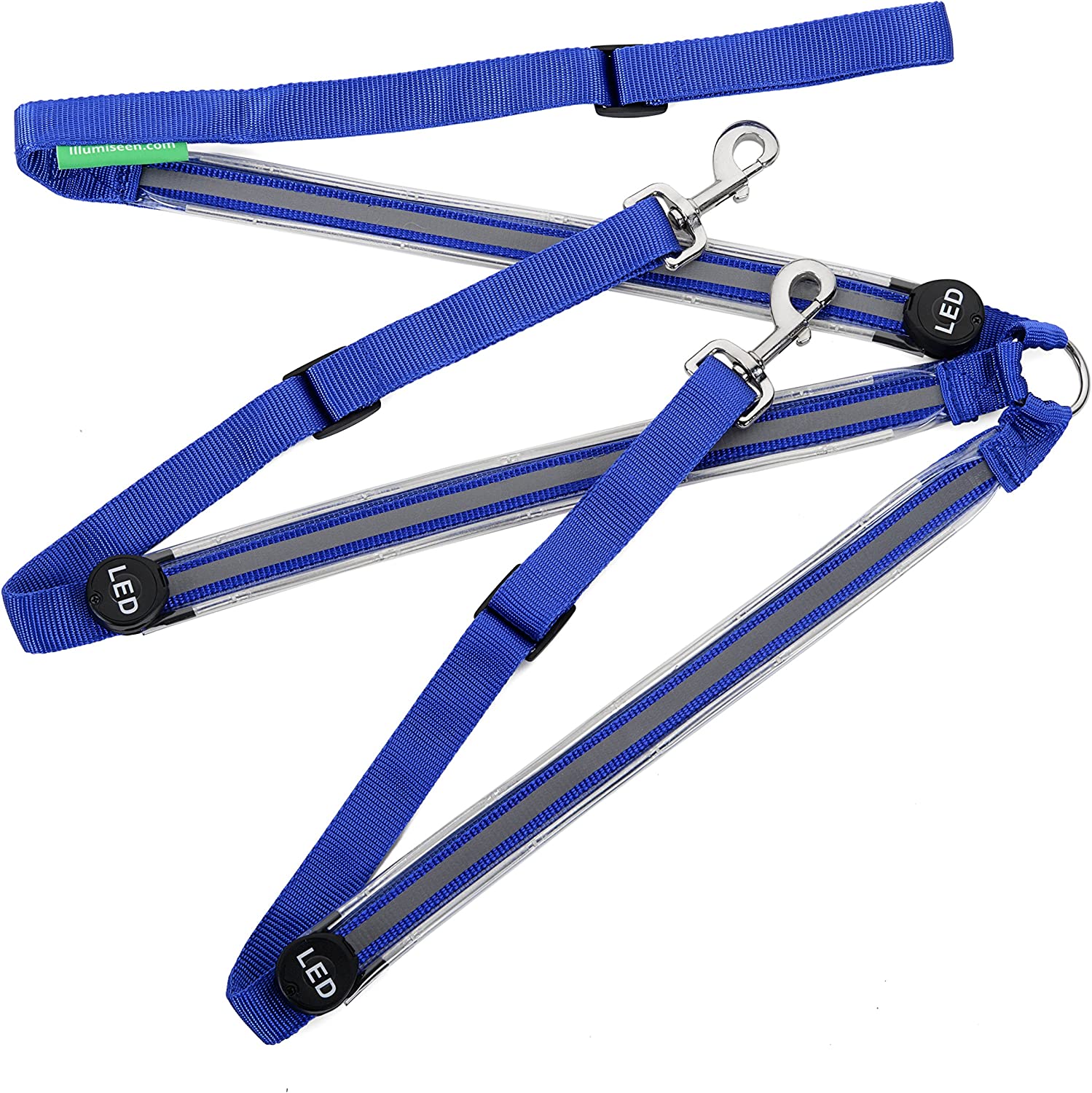 One thing that concerns me about night riding is the horses' visibility on the road. While products like high-vis coats are available, their reflection off vehicle headlights only works when nearby. That is not the case for the Illumiseen LED Horse Breastplate Collar. You'd have to be blind to miss this on the roads!
Taking a moonlit ride is much safer when you and your horse are fully visible, and you can get this for under $40 with this collar. It is easily rechargeable through USB and runs for 5 hours at a time, with interchangeable colors to suit your preference. The collar is lightweight and comfortable for the horse and easy to clean and care for for the owner.
Another great thing about the Illumiseen LED collar is that there is a lifetime guarantee that covers any issues you may experience.
Pros
Remarkable Price
Unique Product
Fantastic Safety for Nighttime Rides
Great Feedback
Superior After Sales Service – Lifetime Guarantee
Cons
While weatherproof, the collar isn't waterproof (due to the batteries), so you should avoid any rides in the rain to protect the collar's longevity.
#5 Turquoise Cross Beaded Collection Breast Collar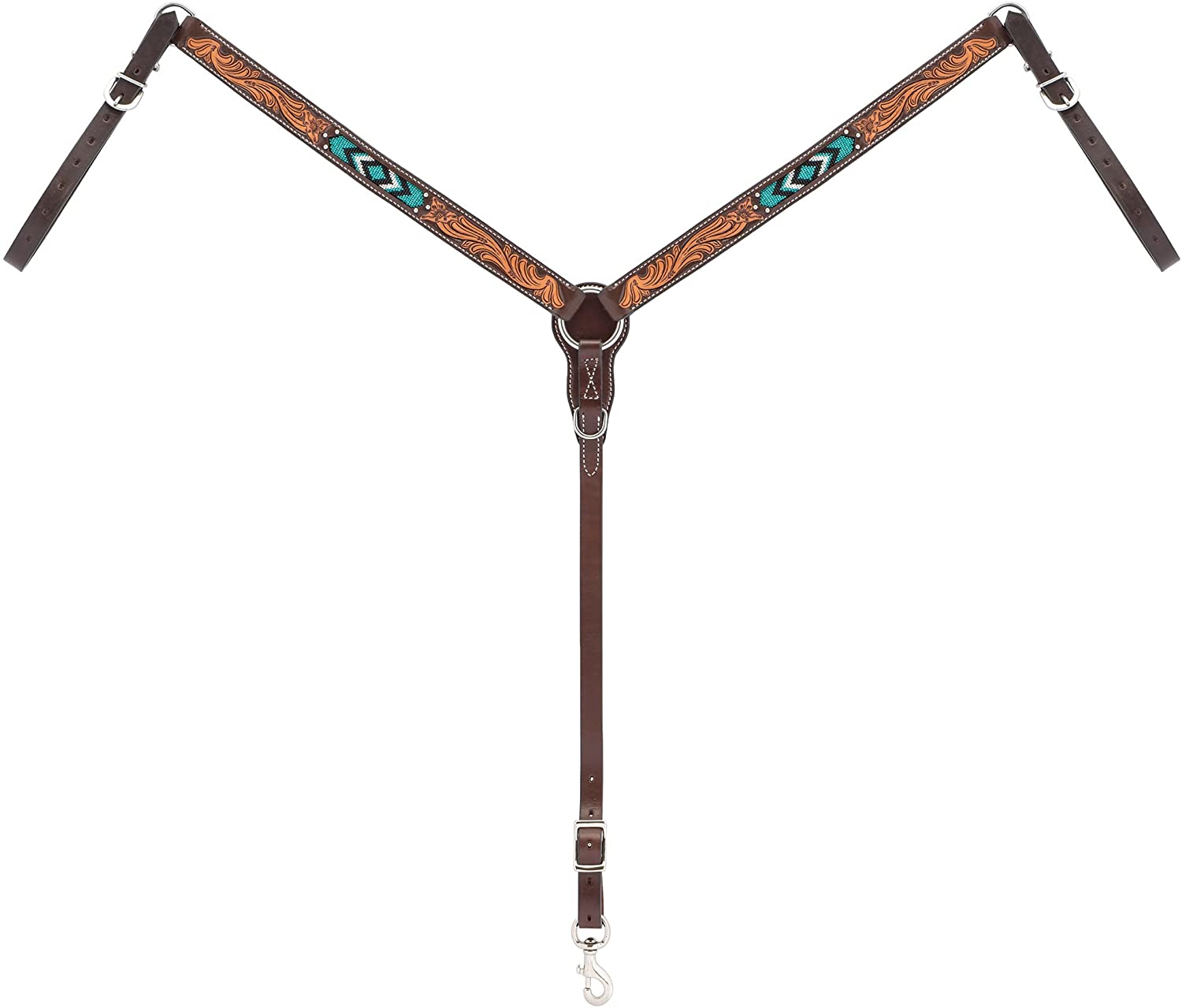 I admit I like to bling things up at times. Even rope halters can have a little more 'Je ne sais quoi' when they've been crafted with beads, and so too can a breast collar. The Turquoise Cross Beaded Collection Breast Collar is a prime example of something a little fancier.
The beaded design is not in-your-face but more refined, and the intricate carved floral accents made the perfect backdrop for the turquoise diamond beaded inlays. This is truly a pretty collar that looks stunning on. I chose the dark oil stain collar and found this to be well made of durable leather and relatively lightweight at just over 1 lb.
Some reviews mention the collar being on the small size, but it is adjustable and should fit most standard breeds well. It is not made in the US but India; however, I – and many others – are well impressed with the quality and more than happy with the price!
Pros
Beautiful Collar
Non-Rust Stainless Steel Hardware
Excellent Ratings Online
Lightweight
Adjustable
Cons
#6 Professionals Choice Equine Neoprene Breast Collar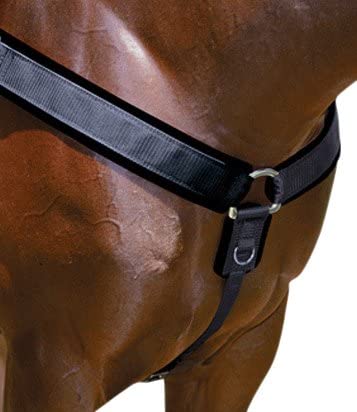 While quite pricey, I found the overall quality and workmanship of the Professionals Choice Equine Neoprene Breast Collar to be well above average.
Neoprene isn't everyone's top choice, but for some, it works; although, I did find straps to be exceptionally thin, and I doubt one would get through many riding seasons without having to replace them. Ideally, I would want to double their thickness.
A plus to neoprene is that it's super breathable, easy to clean, and doesn't require treating like leather does, making it low maintenance. Many consumers have found this collar to be comfortable for their horse and to have a long lifespan.
Pros
Above Average Workmanship and Quality
Great Horse Comfort
Easy Care
Good Longevity
Cons
Exceptionally Thin Straps
#7 Weaver Leather Breast Collar with Airflex Technology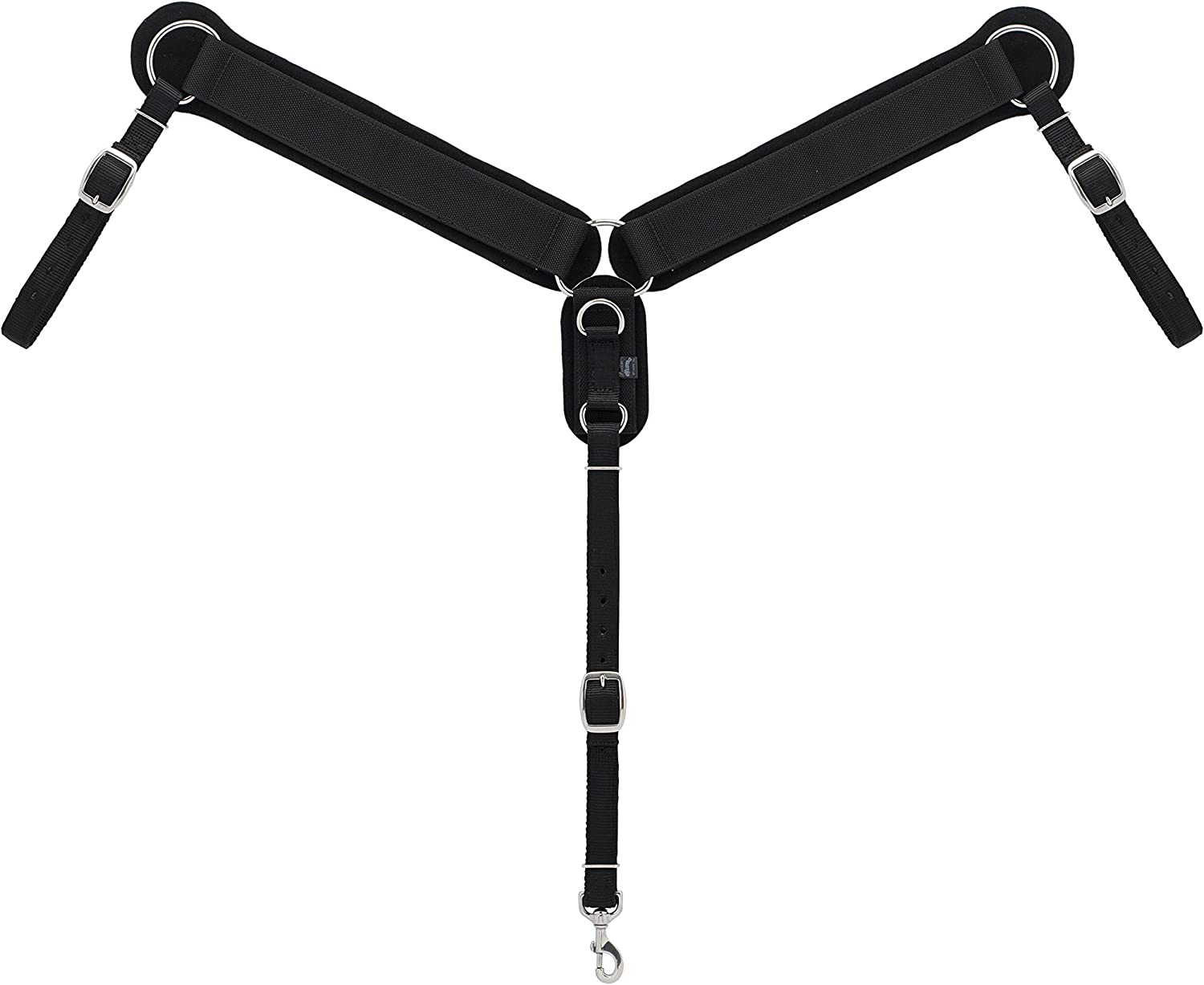 If you own a Tennessee Walking Horse, you're likely aware of the new-age extra care and consideration that is becoming mandatory for this once-abused breed. I have found multiple reviews from Tennessee Walking Horse owners who rave about the Weaver Leather Breast Collar with Airflex Technology and its supreme comfort for their horse.
Due to the airflow channels in the Weaver Leather collar, there is an excellent level of air circulation, and the cool flex foam provides comfort while keeping the horse cool. This is something neither leather nor neoprene can fully master. The collar is super flexible, so it moves with the horse and eliminates the risk of chafing.
If horse comfort is your number one, you need to look further into this breast collar.
Pros
Superior Horse Comfort
Keeps Horses Cool
Prevents Chafing
American Brand
Cons
Mentions of Squeaking When Wet
It Doesn't Seem to be Compatible With Larger Breeds.
FAQs
Question: What Is The Difference Between a Pulling Collar and a Breast Collar?
Answer: There are as many similarities between pulling collars and breast collars as there are differences. However, where breast collars are used for most breeds and multiple reasons, the pulling collar is traditionally used for working ranch horses.
Alexi Mast explains further differences at the Equestrian Writer here: Pulling Collar vs. Breast Collar: What's the Difference?
Question: What Materials Are Best for Breast Collars?
Answer: I would always go with leather, as I find this to check all the boxes; horse comfort, durability, longevity, and aesthetics. However, leather has its faults. It can be costly, requires treating, and there are more comfortable materials for the horse. Other materials that can be used in place of leather are neoprene, nylon, fleece, mohair, or other synthetics.
Question: How Do You Treat Leather Breast Collars?
Answer: You should always use appropriate leather cleaners and conditioners when treating leather breast collars. There are many myths about leather tack care that suggest alternatives are fine, but they're not and can make your collar more brittle.
Final Thoughts on Best Breast Collar for Horses
I tried to make this breast collar guide comprehensive and to help you with your search. There are so many things to consider when buying horse equipment, especially when that piece of kit can be so imperative to your safety. I am confident in all of the breast collars I have recommended here, but I do believe some shine more than others in certain areas.
For example, if you're often riding in the moonlight, I would suggest looking further into the Illumiseen LED Horse Breastplate Collar. While this collar won't stand up to harsh weather conditions, it will make your horse visible at night and has great reviews. It also comes with a lifetime guarantee, which is pretty unheard of!
For those looking at collars for fashion purposes, the Turquoise Cross Beaded Collection Breast Collar could be a good choice. The pretty beaded design is quite refined and makes the collar look far more expensive than it is. While not American-made, I found the collar to be very durable.
My budget pick, the Tough 1 Royal King Working Breast Collar, looks every bit professional yet offers outstanding value for money. There are three color choices, and each option is made from high-quality leather that is double stitched for extra durability. Some consumers found that this collar didn't fit their larger breed, but many others didn't have this problem.
For great convenience, and if you need a collar in a hurry, Walmart is currently stocking the Hilason Western Horse Breast Collar, on and offline. This collar has a fantastic price point for genuine American leather and looks great. However, I did find the straps to be a little thin.
My top overall choice is the CTK Saddlery Horse Stamped Breast Collar with 100% Wool Felt. I found this to be one of the best in most of my requirements, and although quite expensive, I feel it to be worth every cent.