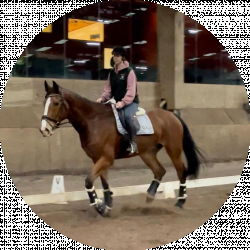 Latest posts by Maddy Chiffey
(see all)
Horse feeder bags are an essential equestrian item, no matter how many horses you have. We know that high-quality hay is a vital part of a horse's diet, but when this isn't plentiful – possibly due to extreme weather forbidding a viable pasture or when you're on the road – horse feeder bags are the answer.
However, horse feeder bags aren't made equally, nor is there an ideal bag for each situation. In my guide, I have considered the various categories that matter and found the very best horse feeder bag to suit.
My Bottom Line up Front
For me, the TOKSKS Slow Feed Hay Bags check all the boxes. This feeder bag is made from durable Oxford fabric. It features an adjustable strap closure, folds for convenience, and comes in four different colors.
At a Glance: 5 Best Horse Feeder Bags
Finding the Best Horse Feeder Bags
Finding the best horse feeder bags for your pastures, stalls, or horse trailer will mean your horses have access to the good stuff, and there's less waste and mess for you, which also makes this item very cost-effective. Additionally, if you have a horse on a specialized diet, horse feeder bags can help you to control how much they're eating.
There are several popular reasons you may be looking for horse feeder bags.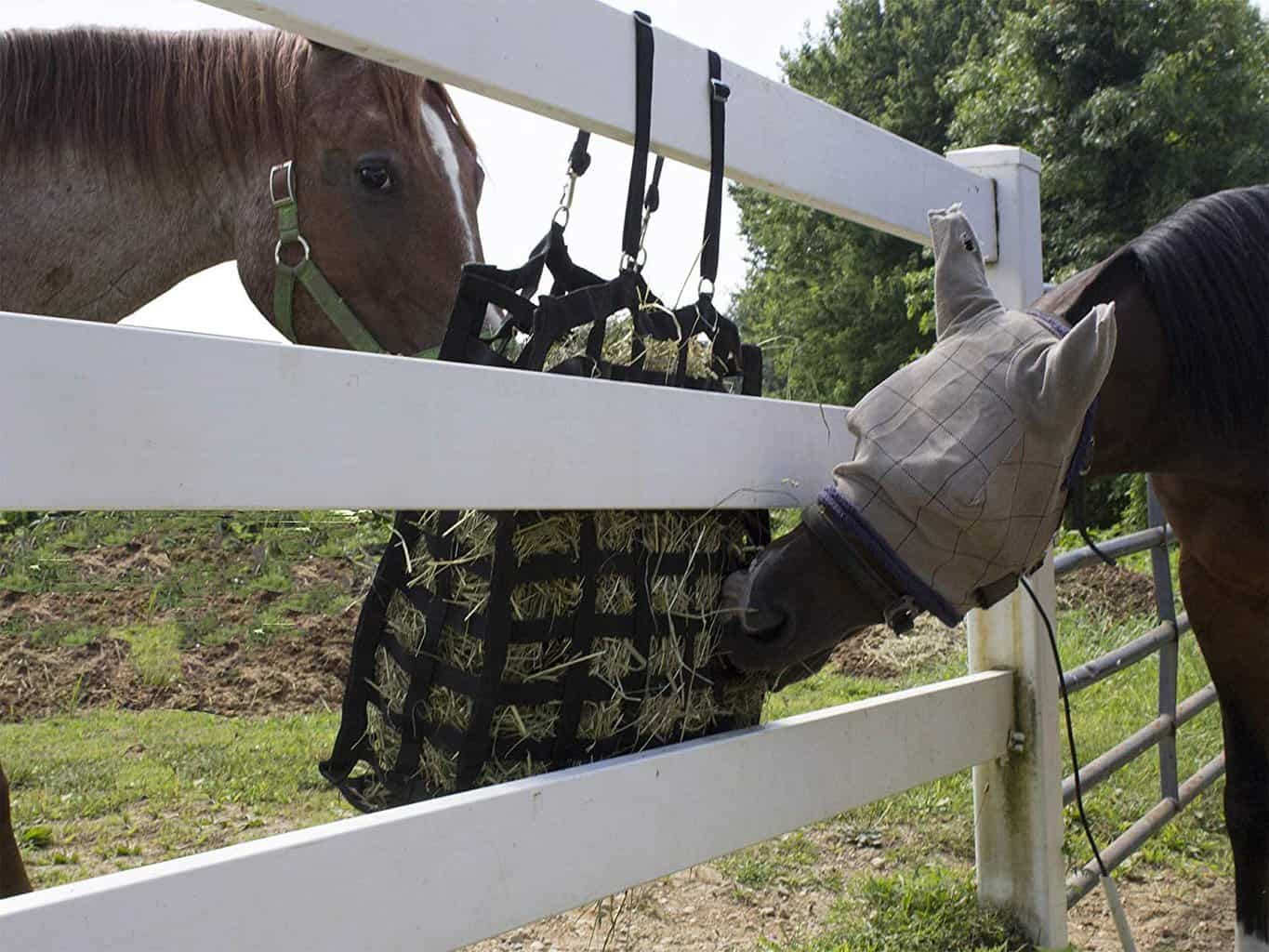 It may be that you're about to put your horse in a trailer and go on a long-distance road trip. It might be that you're looking to slow your horses' eating and prolong their grazing time. It could be that your pasture is experiencing issues with foliage. Or, it may just be that you want to enrich your horse's diet.
The reason that you want a horse feeder bag will determine the things to consider when shopping for one. Primarily, there are two major factors; bags for the field and bags for the road.
Let's clarify what this means!
Field Bags: Slow Feeding
The aim of slow-feeding horse bags is to provide a horse with continuous access to foliage while slowing down their eating and prolonging grazing at the same time. This is a concept that simulates natural free-choice foraging, but it has a whole host of benefits, too.
Decreased secretion of cortisol
Reduced risk of ulcers
Increased digestion
Natural wear of the teeth
No waste
Weight management
What to Look for in a Slow Feeder Bag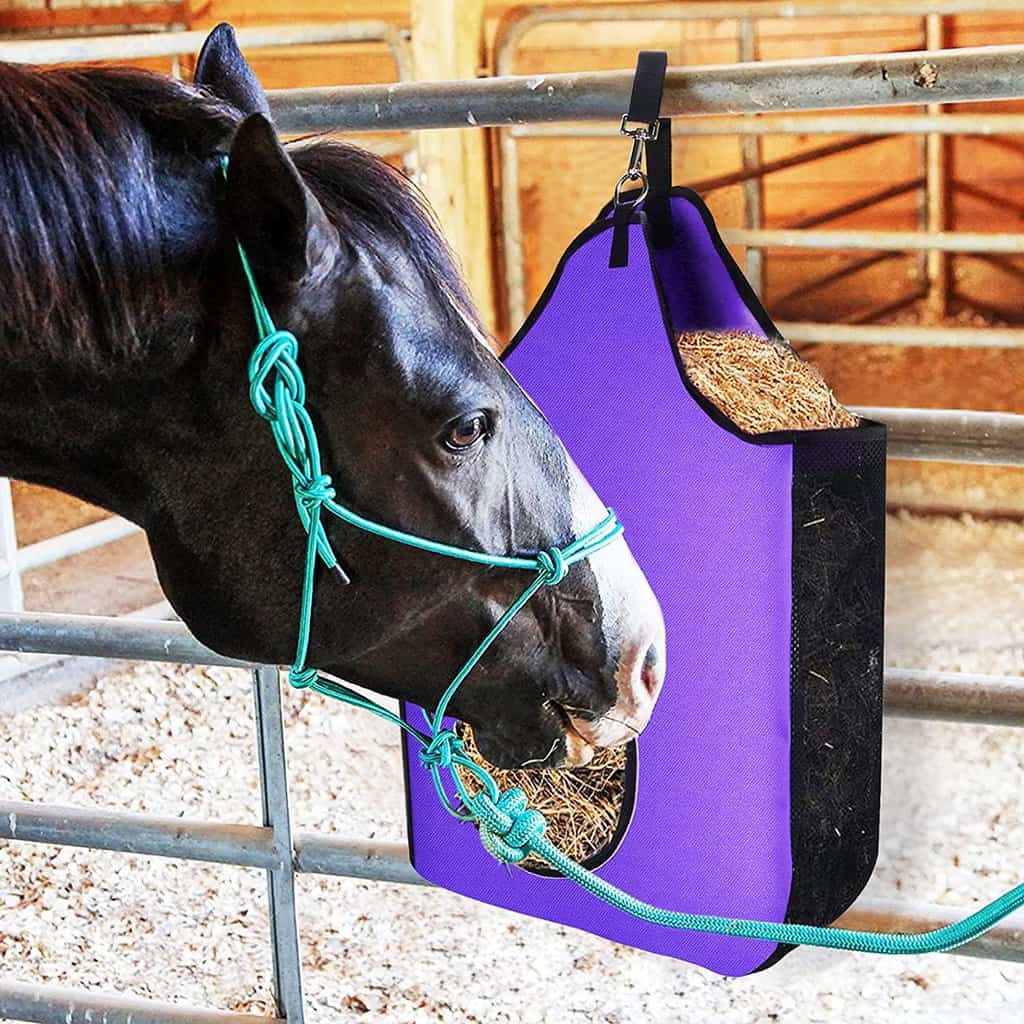 A feeder that has smaller holes or areas to get to the hay, the slower the horse will be able to eat and the longer the feeding time will be. Slow feeders that entice a horse into getting their head down for a longer period are much closer to horses' natural feeding habits.
Travel Bags: Portable Horse Feeders
Portable horse feeder bags are the product to look for if you're planning to travel with your horse. The price spectrum for this product is vast, yet the actual product doesn't change a whole lot. Portable horse feeders will keep the hay together – not on your trailer floor – and free from dirt.
If you're traveling for horse shows and fairs, there are additional benefits to portable horse feeder bags. For example, you can hang them up on walls using hooks so your horse can continue eating while you groom or tack it.
What to Look for in a Portable Feeder Bag
You want something that's easy to fill, with convenient features such as snap closures.
Additional Tips for Choosing The Best Horse Feeder Bag
Here are some additional things to consider when selecting horse feeder bags:
Size
I consider size to be the most important aspect of horse feeder bag selection. The bag, or net, must be big enough to store adequate hay for your horse. And, if you have more than one horse, obviously, you have to factor this in and buy larger bags or one bag per horse.
Ideally, you want to be looking at bags that are a minimum of 42-in in length, as this is perfect for a standard breed size of 14-15hh.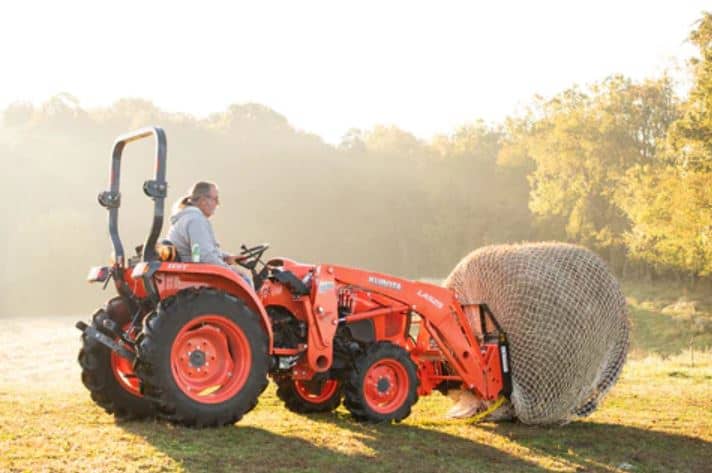 The size of the hole in the bag is vital, too. Most feeding bags have holes of around 2-in x 2-in, although there are many slow feeder bags that will be as small as 1-in x 1-in. Hole sizes can make a huge difference; if too small, they can frustrate some horses, and if too big, they can allow a horse to overfeed, or excess hay to fall out and be wasted.
The experts over at Texas Hay Nets have written up some excellent guidelines for choosing the hole size that best meets your horse's needs.
Material
You will find that most horse feeder bags are made from nylon or poly cord; chosen for their durability and longevity. I would advise looking for a bag that has a seamless construction – seams are like magnets to horses and won't stay hemmed for long!
Look for sturdier materials such as heavy gauge if you have a horse with behavioral issues, but ensure you avoid bags that contain any metal or steel as these can really damage horses' teeth and gums.
My Selection Criteria
I was given free rein (I'm sorry) when it came to choosing the horse feeder bags to review. Here are the things I was looking for when making my selections.
Price
Most equestrian products are pricey. Look for a saddle, and you can expect to part with over $100, but this certainly shouldn't be the case when it comes to horse feeder bags. And while I didn't particularly look for cheap, I did look for justifiable price points.
Variety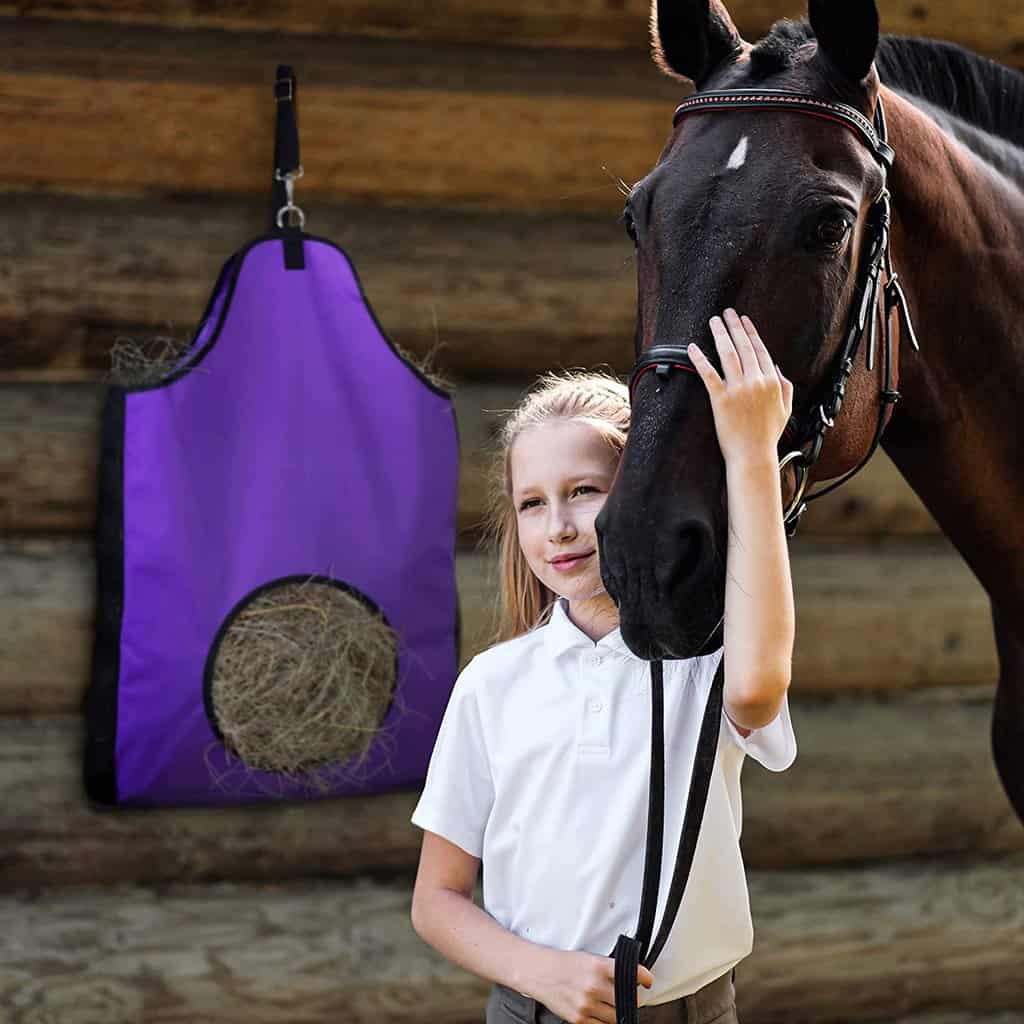 As discussed above, people want horse feeder bags for different purposes, so I tried to ensure every possible circumstance was covered here.
Durability
There is no point buying anything of poor quality that is going to be in close proximity to horses' teeth! I needed my recommended bags to be durable, and for this, I looked at the quality of the materials.
Consumer Feedback
It's so important to consider the experiences of other consumers, especially when you're shopping online. These people have seen, felt, handled, and used the products, so they are well placed to educate you on their findings. I read so many consumer reviews before deciding on any particular feeding bag.
My 5 Best Horse Feeder Bags
#1 TOKSKS Slow Feed Hay Bags – #1 Top Pick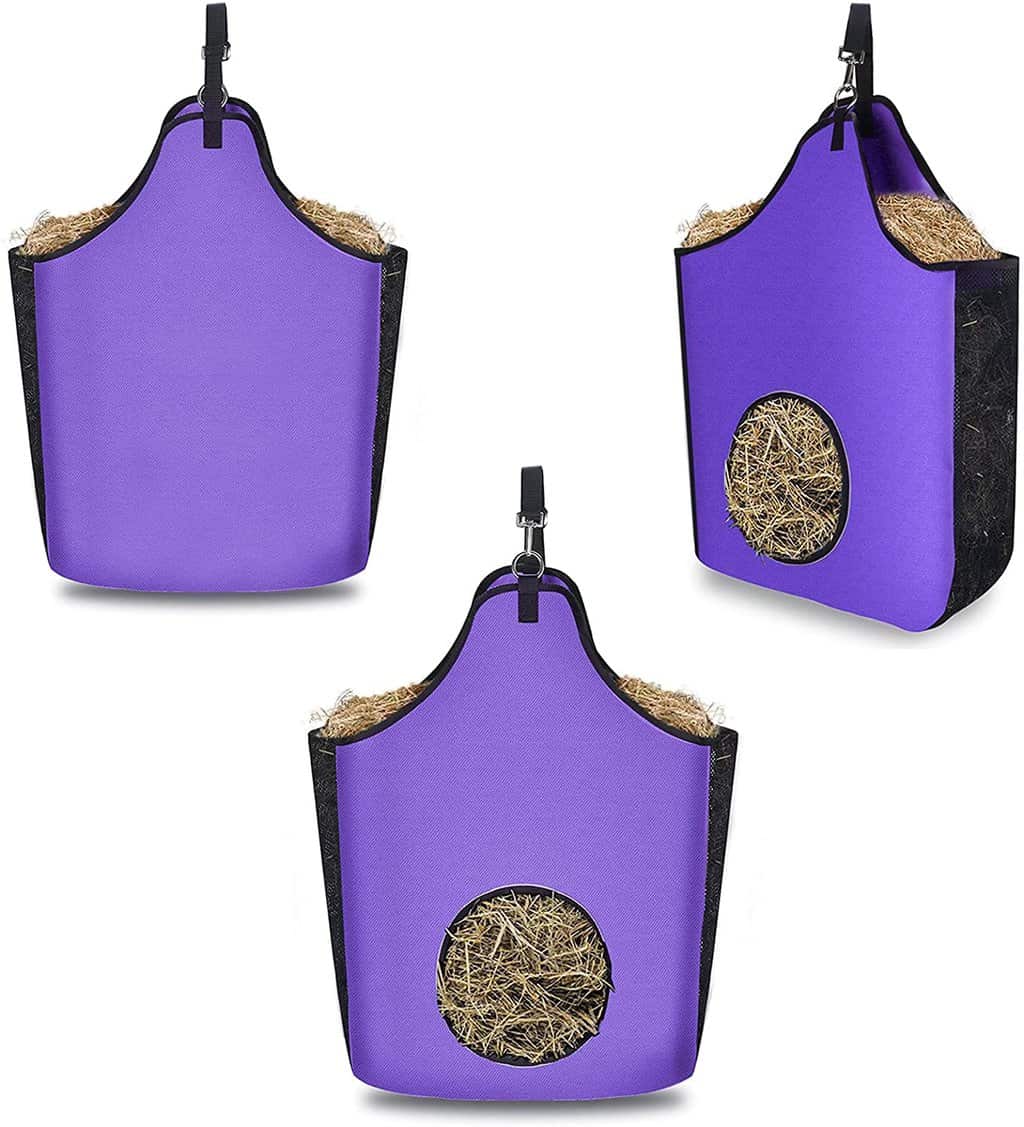 The TOKSKS Slow Feed Hay Bags will be an excellent solution for most people. It is made from heavy-duty Oxford fabric and comes with sturdy hooks for secure hanging. When erect, this feeder is 27.5-in x 19.8-in x 5.9-in, and it folds to a pretty compact 9-in x 7-in x 2.5-in.
One of my favorite aspects is the mesh at the bottom of the bag, which prevents any of the hay from getting wet. The outside of the bag is water and windproof, too, so there's excellent protection for the contents. Additionally, an inner liner helps with the removal of old hay.
There's a choice of four different colors: blue, red, black, and purple – so even the fashion-conscious horse can be accommodated! I think the price offers real value for money, and despite me finding one review where a consumer found the feeder to be flimsy, most ratings are very positive.
I feel confident in recommending the TOKSKS Slow Feed Hay Bags.
Pros
Great Value for Money
Excellent Food Protection
Waterproof, Windproof
Inner Liner
Potable
Folds Down for Easy Storage
Cons
A Mention of it Being Flimsy
It is on the Small Side
#2 yashchykov Hay Bag – #1 Top Budget Pick
For smaller horses like the Shetland Pony, foals, or the elderly, the yashchykov Hay Bag is a budget-pick feeder that could meet their needs. While similar to the TOKSKS feeder, it isn't as durable, which is reflected in the price. However, the material is a heavy-duty nylon, and it features an adjustable belt to control the amount of feed. I find this a great feature.
If you're looking to try this product without making a large financial outlay, then this could be a good choice. But, if you own strong, large breeds, I'd probably skip this one!
Pros
Inexpensive
Heavy-Duty Nylon
Adjustable Belt
Cons
#3 Heavy Gauge Round Bale Hay Net by Texas Haynet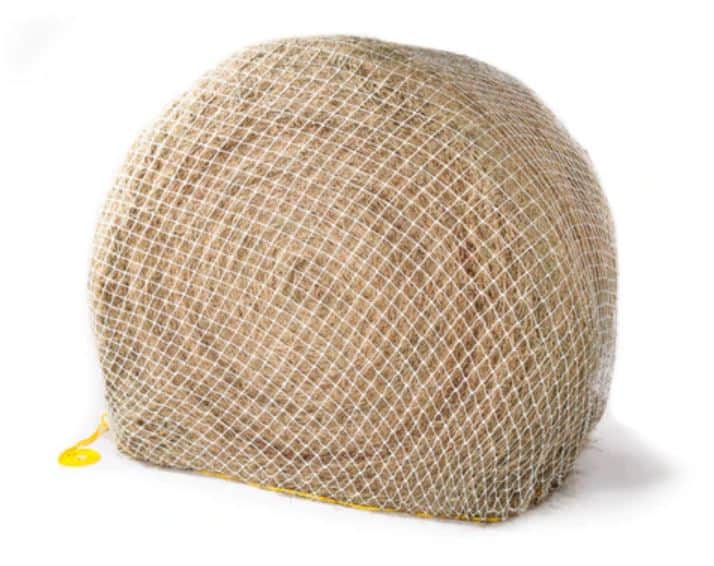 Sometimes the beauty of a product is its simplicity, and this is certainly the case with the Heavy Gauge Round Bale Hay Net by Texas Haynet. This horse feeder is made from knotted nylon mesh and is fundamentally a large netted bag with a drawstring.
These horse feeders are available in a variety of sizes to meet the needs of most. However, one of the most popular options is the largest size which can accommodate full standard hay bales. There are different hole sizes to choose from, from 1.75-in to 3-in, and you can have standard or heavy-gauge configurations.
I would recommend this feeder for fields with multiple horses, but there are some pretty significant drawbacks. Firstly, it was expensive. Secondly, this feeder will leave hay exposed to ground moisture and harsh weather conditions. The company includes repair twine with every purchase, and there is a 30-day return and exchange policy.
Pros
Perfect for Multiple Horses
Simple to Use
Included Repair Twine
30-day Return and Exchange Policy
Cons
#4 Majestic Ally 2 pcs Hay Net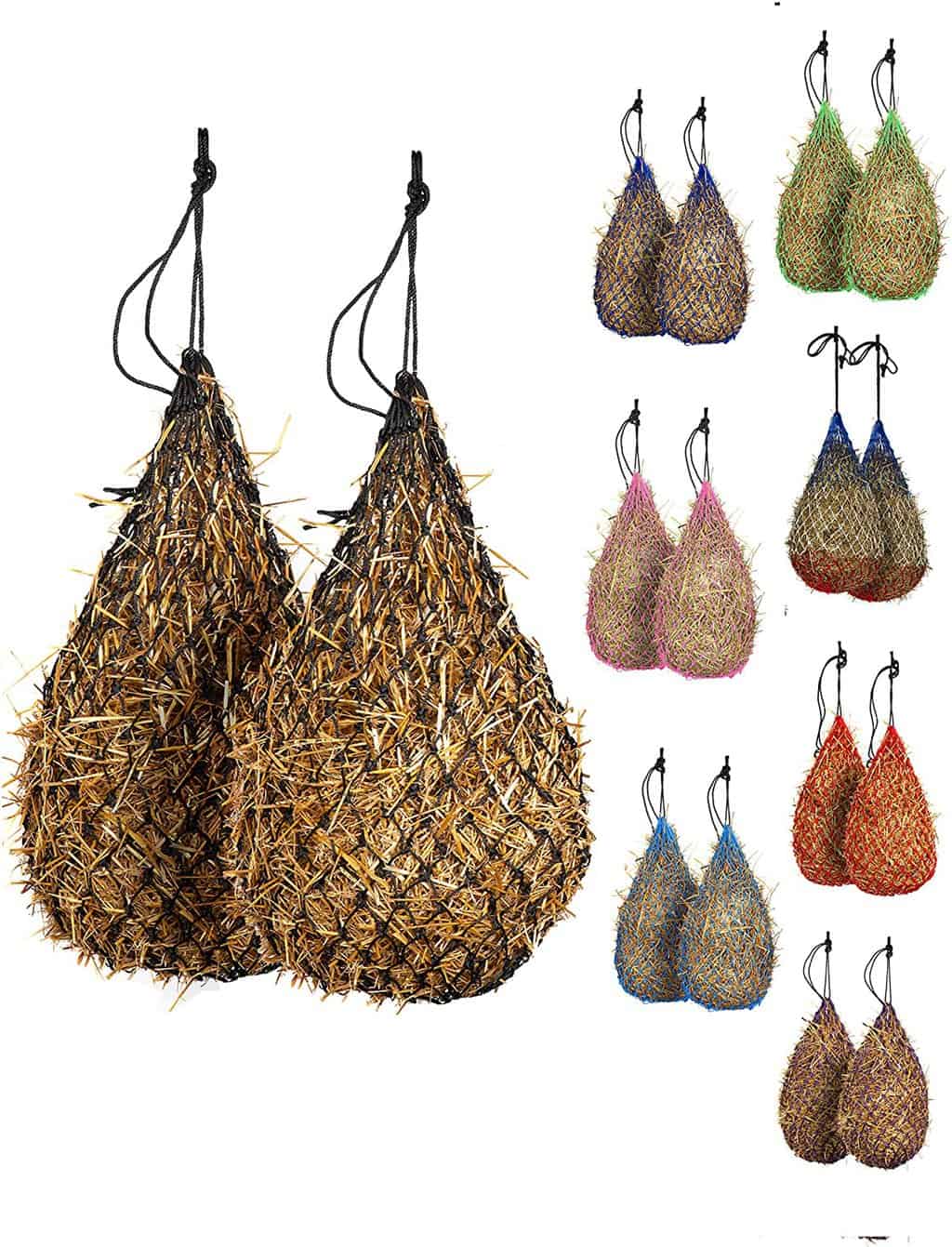 One of the best things about the Majestic Ally 2 pcs Hay Net is the value for money, and other consumers have regularly commented on this. People can't believe the durability, given the highly affordable price; especially when you factor in you're getting two feeders for just over $20!
When fully stretched, these horse feeder bags are 42-in long – perfect. They're made from durable nylon and have 2-in x 2-in holes for slow feeding. There are nine colors to choose from, too. If you need feeder bags for the field or the road, then this 2-pack is a reliable choice that's also an online best-seller.
Pros
Amazing Value for Money
2 Feeders Included
9 Color Choices
Highly Durable
Online Best Seller
Local Pickup Available
Cons
Limited Stock Available (at the time of writing!)
#5 Derby Originals Supreme Patented Horse Hay Bag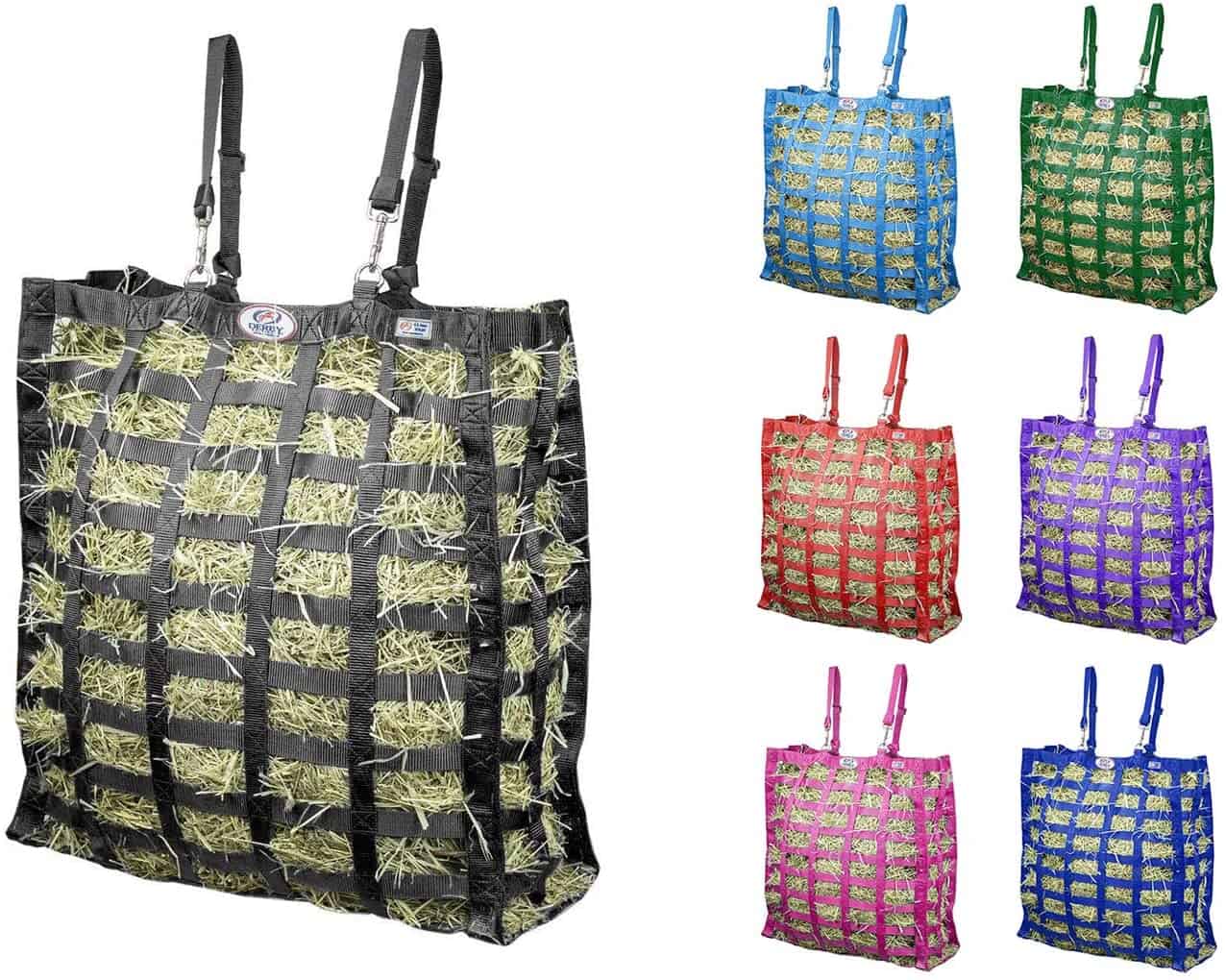 I like to thoroughly do my research, especially about brand claims. When Derby Originals said that they patented the Derby Originals Supreme Patented Horse Hay Bag, I wanted to clarify this. It's true; they have a patent (#D742078). And it's also true that this feeder is one of the best out there on the market for people looking for a slow feeder bag.
The feeder is made from super strong, reinforced, webbed nylon and has small 1.75-in square holes. It isn't the largest feeder, at 22-in x 25-in x 8-in, so it is best suited to one or two horses at most. It is simple to hang, but there is some general frustration in reviews about some difficulty with the fasteners and how time-consuming they can be to close.
Overall, the Derby Originals Supreme Bag has impressive online reviews; it is totally unique and patented, there are six colors to choose from, and the price point is well justified.
Pros
Patented Design
Affordable
Reinforced, Durable Nylon
One of the Best Slow Feeders
Cons
FAQs
Question: How Much Hay Should a Horse Have Per Day?
Answer: According to the Ontario Ministry of Agriculture, an adult horse should have around 5.4 to 6.8 kg (12 to 15 lb) of hay daily. However, this is a very rough average, and horses will require more or less depending on various factors. Age, metabolism, health, workload, and breed should all be considered, as a draft breed, for example, should have double this, and a pony less than half.
Question: Can I Add Additional Food to Horse Feeder Bags?
Answer: Horses require a balanced diet to live a long and healthy life, and this includes extra vitamins, minerals, and fruit and veg. It is fine to add additional food to your feeder bags, providing you will be cleaning it out regularly to remove the risk of perishables becoming rotten.
Question: Are There Any More Benefits to Slow Feeder Bags?
Answer:  Aside from the benefits mentioned above, additional benefits include:
• Less strain on the skeletal system
• Alleviation of boredom; an occupied horse is less likely to develop harmful vices such as self-mutilation, chewing on inanimate objects, pacing, stall kicking, etc.
• Elimination of undesirable behaviors associated with food aggression
My Final Verdict on the Best Horse Feeder Bags
Horse feeder bags certainly have their place in the equestrian world and can make a massive difference to a horse's physical and mental health in the field and in the trailer. However, there are so many things to consider when buying this product, as the durability needs to be extraordinary.
My personal favorite feeder bag is the TOKSKS Slow Feed Hay Bags. I believe this versatile bag is perfect for all situations and cannot fault its durability. The bag offers excellent value for money, and although I found one critical review, on the whole, this is a highly rated product.
I also liked the Derby Originals Supreme Patented Horse Hay Bag, and you won't find another product quite like this due to the patent. This is a super strong feeder bag, and although a little time-consuming to close, it is one of the best slow feeders around.
For people wanting a budget pick, the yashchykov Hay Bag is a good choice. I like that it is adjustable and feel it could adequately meet the need of smaller horses. At the other end of the price spectrum is the Heavy Gauge Round Bale Hay Net by Texas Haynet, and, although expensive, there is an efficient after-sales service that provides great peace of mind.