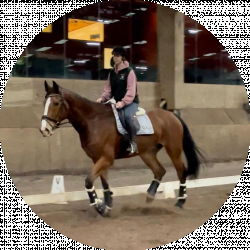 Latest posts by Maddy Chiffey
(see all)
Finding the best English saddle girth for your horse is often the difference between a fantastic riding experience and one you don't want to repeat. While saddles and pads are vital, girths are equally essential as they help to keep everything securely in position during riding.
If you're looking for a new English saddle girth, there are many things to consider – which I will cover in this article. I'm also recommending my chosen seven best girths. Still, if you want to skip all of this and begin shopping straight away, a brief overview of this feature is just below.
My Bottom Line Up Front
If you're looking for a well-priced and comfortable English saddle girth that features durable hardware, then the INTREPID INTERNATIONAL Fleece English Girth is a solid choice. For those needing horse comfort as the main priority, the SIE EQUESTRIAN Contoured English Chafeless Girth offers this and is highly affordable.
At a Glance: 7 Best English Saddle Girths
What Is a Saddle Girth?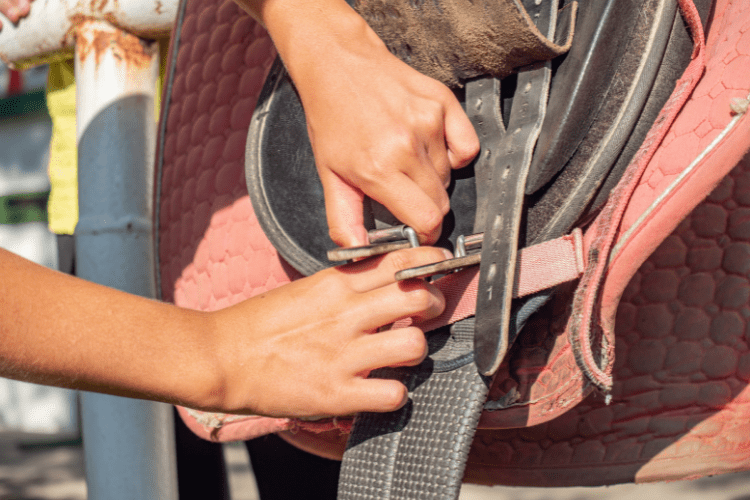 A saddle girth is a necessary addition to any saddle. Without one, a saddle is of little use.
A girth is a broad material strap that is attached by buckles to the billet strips of an English saddle, going around the horse to secure the saddle properly onto the back. The objective of a girth is to keep the saddle in place and prevent it from slipping backward, forward, or sideways.
How to Choose an English Saddle Girth?
Girths are not made equally. Additionally, they will come in many different materials or material combinations. Styles, lengths, and widths vary, too. Choosing the right style and fit girth is important to ensure safe riding and comfort for the horse. For this, there are a few things to consider.
Size
Probably the most critical aspect of a girth is its size; too tight can cause chaffing or discomfort and even injure the horse. Too loose, and it won't serve its purpose. A girth that fits correctly should leave room for you to be able to fit the palm of your hand between it and the horse's skin.
It is important to purchase a girth that will be the right size for your horse. But measuring a horse can be challenging! If you have a mild-mannered and well-behaved horse, you will be able to measure them in a few easy steps, but patience is the main requirement with all things in the barn.
Material
Girths are made of many types of materials and combinations. All have their advantages and drawbacks, which I have covered here:
Leather
Leather is the preferred material for girths due to its durability and comfort. This is a longer-lasting choice that has excellent longevity. Often, you'll find customization options and matching items for a seamless look.
However, leather is the most expensive choice; it requires conditioning and can shrink over time.
Synthetic Materials
Synthetic materials are easy to maintain compared to leather girths and almost as durable. This is a good choice for those exposed to wetter conditions due to the water resistance. Some people feel that you don't get an authentic look with this material type.
Neoprene
Neoprene is ideal for horses with sensitive skin or that are prone to sores and rubs. You won't get as long out of this material type, but it can be the most comfortable for many horses.
Fabric
Easy care and machine-washable; it is simple to keep a fabric girth clean and hygienic. However, the strength of a fabric girth isn't on par with leather or synthetic materials.
My Product Criteria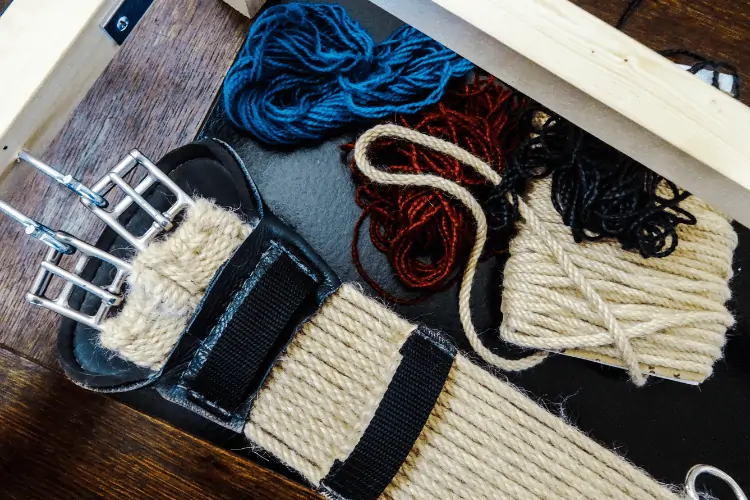 When looking for saddle girths, I have a set of strict criteria that I have used for this feature. I have also gone a little further to ensure all readers find a suitable saddle girth here.
These are the things I was looking for:
Girths Strength
The first thing to look for is the strength and durability of the girth material. You want to avoid any material that can easily break or that won't be able to withstand regular use. I am one for a bargain, but I would urge people never to consider a second-hand girth. The condition is so critical. You need to know that no part of the girth is worn to the extent it'll give way when put under strain.
When shopping online, consider the material and how strong that is. It's also helpful to read the reviews about this from verified consumers.
Horse Comfort
A girth must also be comfortable for the horse to avoid injuries like girth galls. If this is an issue your horse currently has or is extremely prone to, it may be best to look for a shaped girth to relieve some of that pressure. Fleece and quilted girths could also be good options.
Variety
People like different things, and to ensure everyone's preferences were catered to, I went away from my usual go-to products to find the best English saddle girths of various colors, materials, and styles.
Affordability
For some items, you expect to pay a premium price. But, this should only be if that price is reasonable, when manufacturing, craftsmanship, materials, and the brand have been taken into account. I have tried to find girths to suit all budgets and ensure each one is fairly priced when everything has been considered.
My Chosen 7 Best English Saddle Girths
#1 INTREPID INTERNATIONAL Fleece English Girth – #1 Top Pick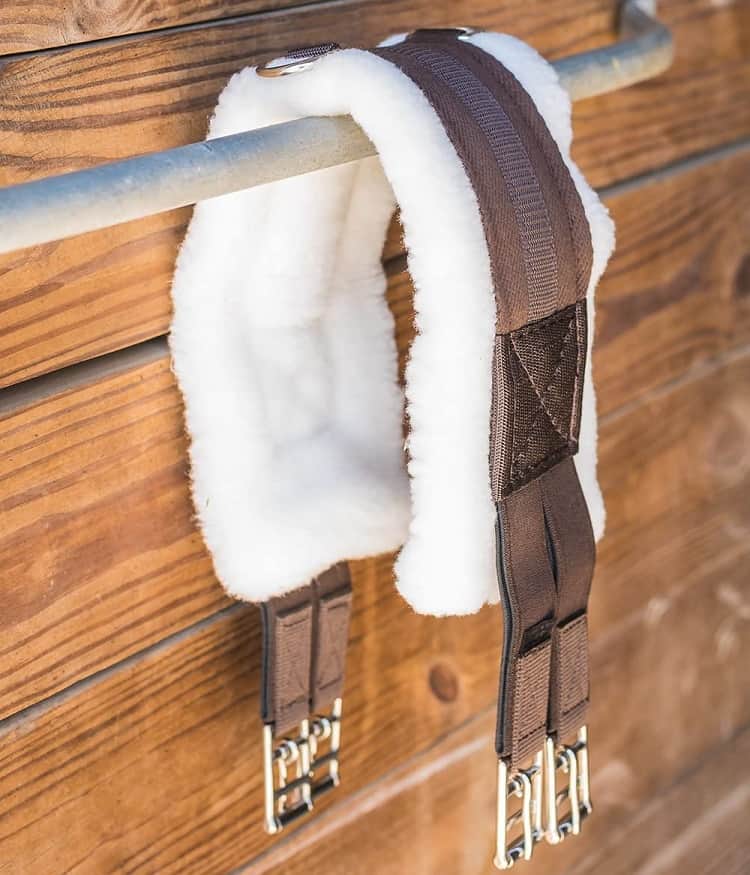 Available from sizes 30-in to 56-in and with prices starting at under $40, the INTREPID INTERNATIONAL Fleece English Girth is an excellent choice with many buying options. I was particularly impressed with the padding and softness of the strap and the durability of the hardware.
I believe this to be a long-lasting and hard-wearing girth. The material blend of layered nylon and heavy fleece results in a highly durable girth with excellent comfort for the horse. Although there are multiple size options, they're all adjustable; so if you aren't 100% sure of the size you need, you're pretty safe going for the most likely and adjusting on arrival.
There are free returns available in most sizes. Because this girth features double elastic. It allows for natural rib movements when the horse is breathing, making it super comfortable for more sensitive or aged horses. This level of flexibility can be too much in some girths. Still, many find the INTREPID model to be pretty perfect.
The reviews online are overall very positive, with consumers even taking the time to update their reviews over time to remark on the durability of the girth. The brand is a leading global manufacturer of equestrian products and has been in business for nearly 5-decades. This gives incredible peace of mind.
Some people found the girth too short, others too large. I feel this could be down to buying errors rather than the product itself. I have found a couple of mentions of poor washability, but generally, this isn't the case. Overall, I would be more than happy to use this product with my own horses and have faith in its effectiveness, comfort, and durability.
Pros
Excellent Comfort for the Horse
Great Durability
Nice Style
Multiple Buying Options
Free Returns Available
Good Value for Money
Long-Standing Equestrian Specialist Brand
Cons
Not Every Girth is Returnable
Some Mentions of Poor Washability
Tough 1 Padded Cotton English Girth – #1 Top Budget Pick

With prices starting at under $20, the Tough 1 Padded Cotton English Girth is a great budget pick. While cheaper girths are available, I believe it is only a 'budget pick' if the product will last; otherwise, it is counterproductive. The Tough 1 girth seems to have great longevity (according to feedback) and feels super durable.
This isn't the most padded girth I have found, but for the price, the padding is more than I would have thought and results in a good level of comfort for the horse. It is lightweight and elastic and made from soft cotton with heavy nylon straps.
The Tough 1 girth is available in sizes 40-in to 52-in, and there's a black or brown color option.
Pros
Low Price
Various Size Options
Comfortable Cotton and Extra Padding
Durable
Easy to Wash (hang dry)
Cons
#3 SIE EQUESTRIAN Contoured English Chafeless Girth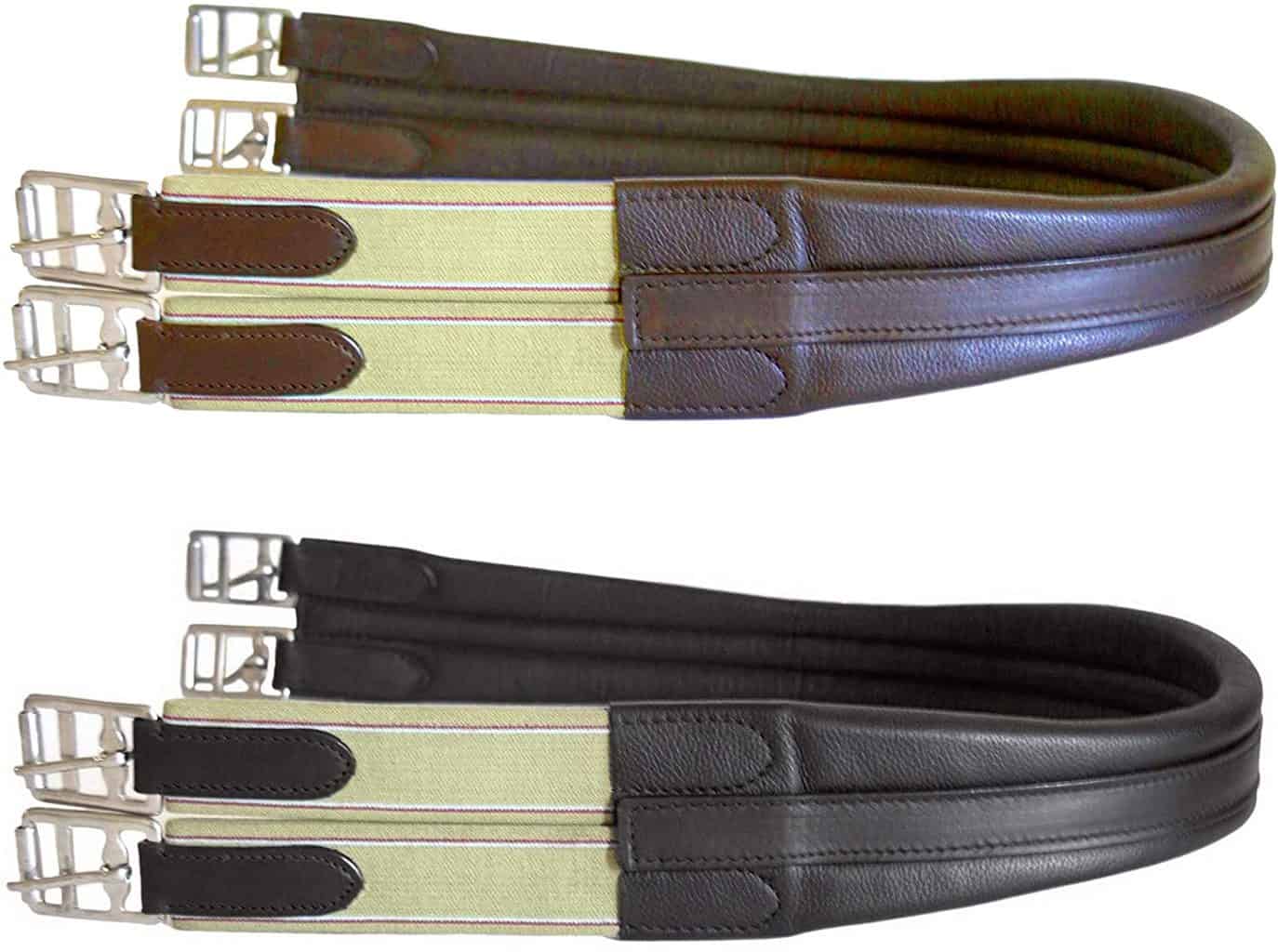 SIE EQUESTRIAN is a trusted brand that makes many best-selling products. However, the SIE EQUESTRIAN Contoured English Chafeless Girth is fairly new to their catalog. I am confident to recommend this based on its own merit, but also due to having looked at the feedback for some of the brand's other products.
Contoured girths can cost hundreds of dollars, so finding one at under $40 is a bit of a rarity. It can make you question the quality, but I genuinely believe this to be worthy of a much higher price point. The stainless steel hardware and top grain leather are materials found in more expensive products, so there's real value for money to be had here.
The SIE EQUESTRIAN girth comes in sizes 46-in to 56-in, with black or brown color options.
Pros
Excellent Value for Money
High-Quality Materials
Contoured Girth
Super Horse Comfort
Multiple Size Options
Cons
#4 Dover Saddlery Everyday Fleece Girth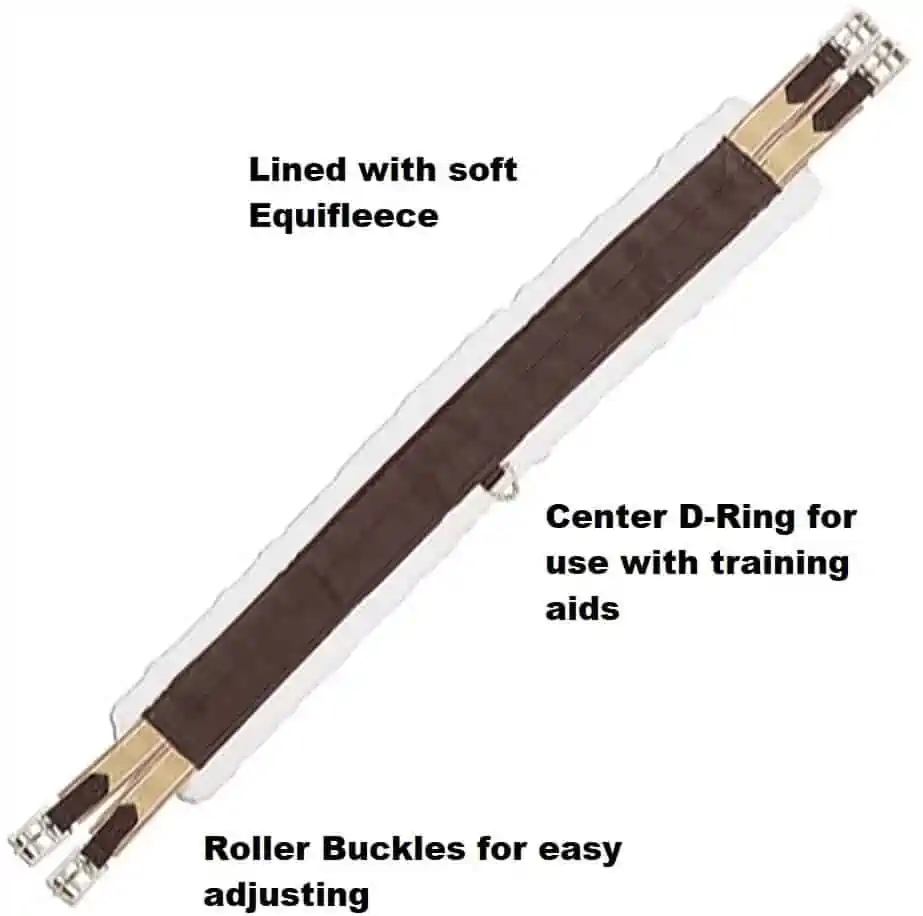 The Dover Saddlery Everyday Fleece Girth is an online best-seller by a leading Equestrian brand with more than 40-years in the industry. There are multiple sizes available, from 46-in to 56-in, and they all retail at the exact same price (under $60). I believe this girth offers incredible value for money!
The Dover Everyday Girth provides chafeless comfort for the horse due to the soft fleece lining. Another horse-friendly feature is the elastic on both ends, which allows for natural ribcage movement for the horse. The roller buckles on the ends make tightening more straightforward for the owner.
The girth is made of nylon with a synthetic backing. It is super comfortable to hold and feels very strong. It doesn't rub or chafe, and I like the amount of stretch. Another great feature of this girth is that it is machine washable.
Pros
Incredible Value for Money
Good Range of Size Options
Horse Comfort Taken into Account
Machine Washable
Durable
Leading Equestrian Brand
Cons
Limited to One Color Option (Brown)
#5 Professionals Choice Equine Ventech English Girth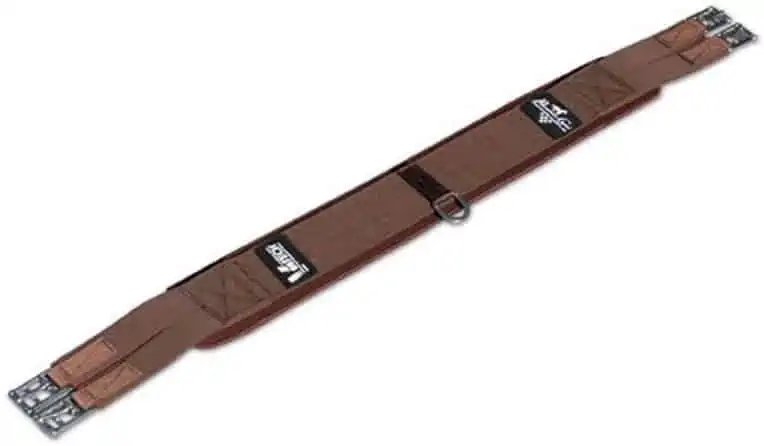 Hands down, the best aspect of the Professionals Choice Equine Ventech English Girth is the detachable lining – this is such a convenience, as there are times when a horse doesn't need additional fleece, and it can be counterproductive. Not an issue with this girth.
Professionals Choice is a premium brand, so the RRP is high compared to some. But, the quality is outstanding. If you buy a girth of this caliber, you're unlikely ever to need to replace it – which means it's actually good financial sense in the long run.
There is an incredible range of size options, from a small 38-in up to 56-in, and four natural, rustic color choices. The balance between soft and secure is perfect here, and it's straightforward to adjust sizing until you find the ideal fit. I have found this to be one of the more comfortable girths for horses and one of the easiest to use for riders. The stability is also remarkable.
Pros
Premium Quality
Long-Lasting
Easy Care
Comfortable
Large Range of Sizes
Detachable Fleece
Cons
#6 Professionals Choice Equine Smx English Girth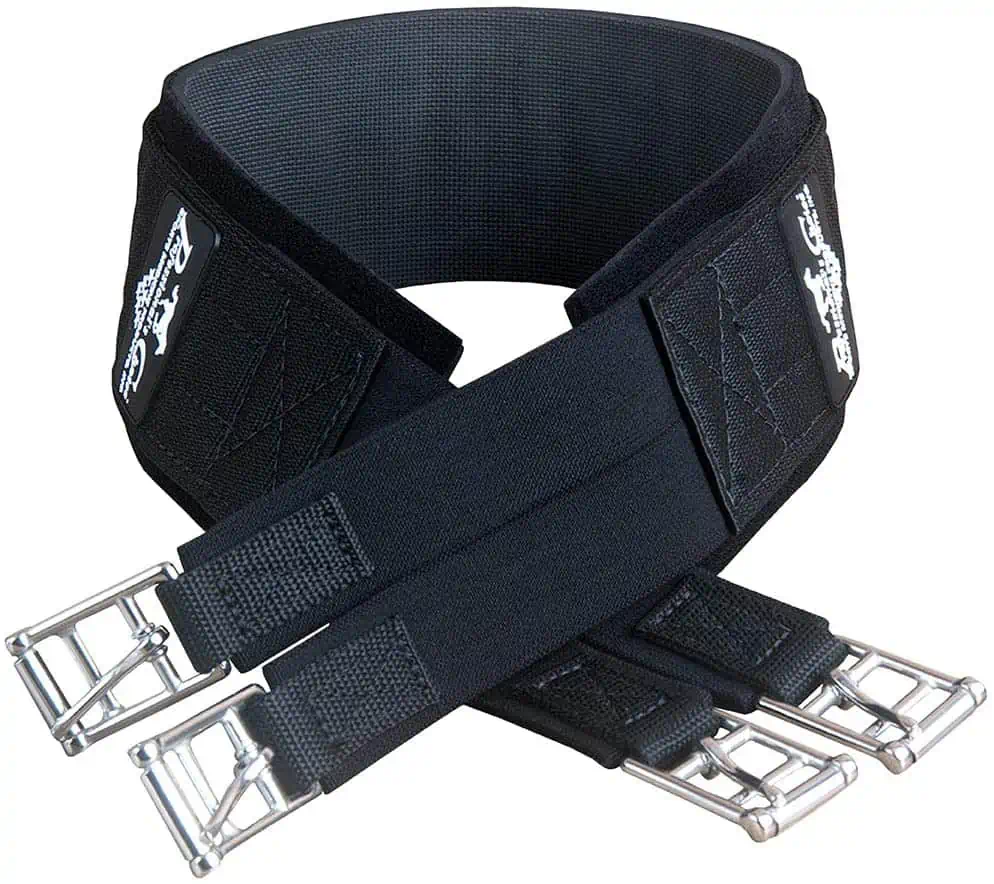 The best feature of the Professionals Choice Equine Smx English Girth is that it is absolutely non-slip. No matter how fast you ride or for how long, this girth is pretty much guaranteed to keep the saddle in place.
I found this girth to be exceptionally easy to adjust and believe horses will find the material blend super comfortable. It is an easy-care, no-nonsense girth that works as described.
Professionals Choice is a leading brand, and often their products are pretty highly-priced. But, the Smx English Girth is basically an economy-range item and retails at under $100. Considering how long this will last, it's an investment that I'd be happy to make.
There are two color options (brown or black) and sizes between 38-in to 56-in. Free returns are available on some girths.
Pros
Leading Equestrian Brand
Easy Care
Non-Slip
Durable
Long-Lasting
Free Returns Available
Cons
Limited Color Options
No Fleece Lining
#7 Collegiate Memory Foam Dressage Girth

If you have a smaller horse, you may want to consider the Collegiate Memory Foam Dressage Girth. With sizes from 22-in to 36-in, this caters especially to the more dainty of the herd.
The memory foam padding is unusual but seems to work extremely well and provides supreme comfort to horses. I haven't found it to cause any excessive rubbing or chafing, and both ends are easy to stretch and feature roller buckles. There is a center dee ring for the easy attaching of training equipment.
It is easy to care for but seems to take a while to fully dry, which can be a drawback if you regularly plan to use the girth. The price is fair if a little steep.
Pros
Memory Foam
Perfect for Smaller Horses
Comfortable
Easy to Care For
Cons
Price Maybe a Little Steep
Drying Could be Quicker
FAQs
Question: Is it Ok to Buy a Second-Hand Girth?
Answer: Personally, I would avoid second-hand girths. While some leather girths can last decades if well cared for, other material types, such as synthetic, are prone to wear and tear. For the price of this product, I would advise buying new for peace of mind and safety.
Question: How Much Should I Spend?
Answer: Girths range from around $20 to $400, and as the price goes up, so too should the quality. However, this isn't always the case. Rather than using price as a benchmark, look for the material, brand reputation, and general feedback – especially if buying online.
Question: How are English Girths Measured?
Answer: English saddle girths are measured from buckle end to buckle end. However, because of the placement of the buckles, there can be some discrepancies on how long the girth is. If it features buckles that sit a little back, it will be slightly longer than a girth with buckles sitting at the very end.
The Best English Saddle Girths – In Summary
A girth can make a hugely positive difference for a serious rider or someone who plans on horse training or horse shows. However, the girth has to be well-fitting and of good quality. I believe the seven English saddle girths in this guide would all be good buying choices, yet some shine in different areas.
For example, I love the memory foam of the Collegiate Memory Foam Dressage Girth. It is suitable for much smaller horses than most girths cater for. This girth is a little pricey, but overall it is well designed, with some great features.
The non-slip Professionals Choice Equine Smx English Girth provides outstanding stability. It is highly durable, but it is limited in color choices. I would feel very confident using the Professionals Choice Equine Ventech English Girth and think it is remarkably long-lasting.
I also like the detachable lining, but I am aware this is an expensive girth that could be out of some people's budget. If budget is the main priority, I wholeheartedly recommend the Tough 1 Padded Cotton English Girth. My top recommendation is for INTREPID INTERNATIONAL Fleece English Girth. This girth has excellent online feedback, feels exceptionally comfortable, and I believe it will have a significantly longer lifespan.
Being leather, there will be a little care needed to keep it in top condition, but this aside, I see no other negatives – even the price is excellent!