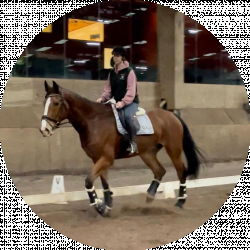 Latest posts by Maddy Chiffey
(see all)
This rope halters guide should be useful if you're looking to replace your current rope halter or are new to equestrian life and want to know more about this product.
Rope halters have their own set of benefits and some possible drawbacks. I'm also aware of some of the controversy surrounding this product and the importance of ensuring you find and fit the most suitable rope halter for your horse.
Durability, longevity, and the brand reputation of the halter are essential considerations you should take note of. These equestrian items are not made equally, and in my guide, I'm going to uncover what I think are the best rope halters in the industry.
Eager to get going? Here's a brief overview of my findings.
My Bottom Line Up Front
I believe the Weaver Leather Silvertip Four Knot Rope Halter to be the Goldilocks of rope halters, with the delicate balance between stiff and soft perfectly met. I love how comfortable this halter is for horse and hand, and I think it is excellent value for money.
At a Glance: 5 Best Rope Halters
What is a Rope Halter?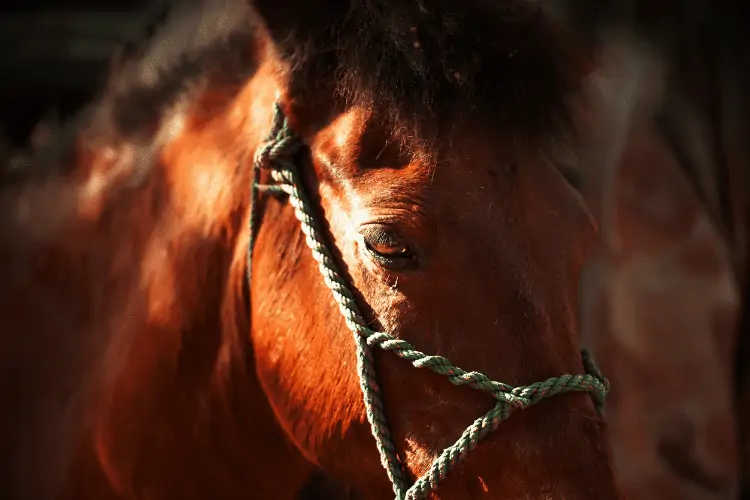 Rope halters basically consist of a thin rope knotted into a harness. You can also find polypropylene or nylon materials because these are equally as robust as rope. Some rope halters will include wrapped nosebands for additional comfort, and all should offer a good level of flexibility.
A rope halter will generally have a loop that sits underneath the chin of the horse, where you will attach a lunge line or lead rope.
Benefits and Drawbacks of Rope Halters
Pretty much anyone who works with or owns horses will find a rope halter to be a highly versatile bit of kit.
With a little practice – and more patience – rope halters are straightforward to tie on any horse that enters the barn. While there are a number of uses for rope halters, such as for leading and guiding, their primary use is for communication during training or riding.
Many trainers find that rope halters are the ideal way to control a horse throughout any form of activity. A rope halter needs to fit the horse perfectly for it to be the most effective, and once this is achieved, most owners find an increased bond with their animal and a better connection.
However, rope halters aren't everyone's go-to piece of equipment, as they are very much focused on the pressure and release style of natural horsemanship, which isn't to the liking of every trainer. Additionally, rope halters are strong and shouldn't be confused with head collars, which can be left on a horse or used to tie a horse to a trailer.
Finding the Right Rope Halter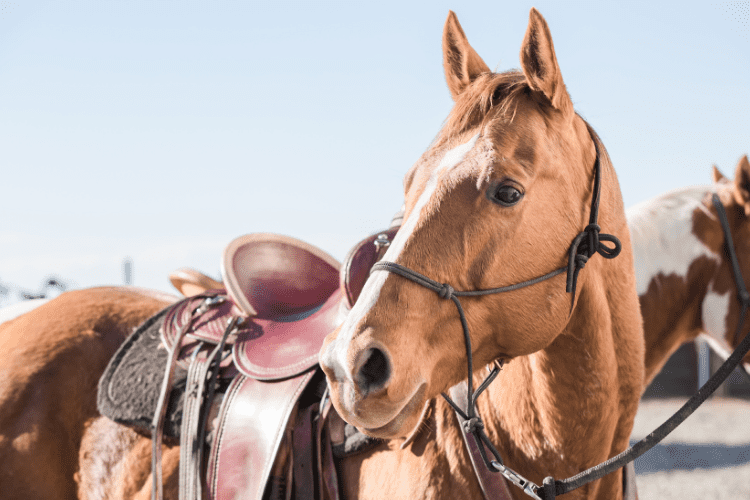 Rope halters are very basic compared to other types of harnesses like leather reins and breakaways. They're basically a piece of rope, but it is essential to make the right buying decision to ensure it will be an effective piece of equipment and, more importantly, so it doesn't cause injury or upset to the horse.
Here are a few things to consider:
Size
It is vital that the rope halter fits the horse properly for you to be able to gain full control over the animal and to prevent injuries. While most rope halters will come in a one-size-fits-all and be fully adjustable, I would still urge you to get the correct size for your horse before ordering this item.
You can do this in the following four steps:
Put a side of the measurer at around the halfway mark between the horse's nostril and cheekbone, then wrap it over the nose to the other side. Take a note of this (noseband) part of the head.
Take the measurement from the same spot (between the nostril and cheekbone) and wrap it underneath the head to find an accurate measurement for the bottom part of the noseband.
The next step is to put the measurer below the cheekbone on the side of the head and wrap this around to the other side of the face. This will tell you the measurement for the crown piece of the halter.
And finally, place the end of the measurer near the top of the larynx part of the neck behind the horse's eyes. Take down the measurement from below the throat.
If you're still unsure, there are many video tutorials to help you with finding the measurements of your horse's head, or you could enlist the help of a professional in your area.
Soft of Stiff
Some riders prefer stiff rope halters because they are sharper and more precise. While there is some truth to this, I would always go for softer rope purely for the horse's comfort. The onus really is on improving communication between person and animal. For this to be mutual, I believe the animal has to feel comfortable and not respond out of fear.
It is worth looking further into this, as it's a pretty big debate with strong opinions on both sides. I can only tell you my preference. However, soft and stiff as a selection process is something to consider, and to know this, one should look at the materials used. For example, cotton will be softer and nylon a little stiffer.
Top Tip: Knotty Girlz has a rope sample bundle available to buy so you can feel the difference for yourself.
Durability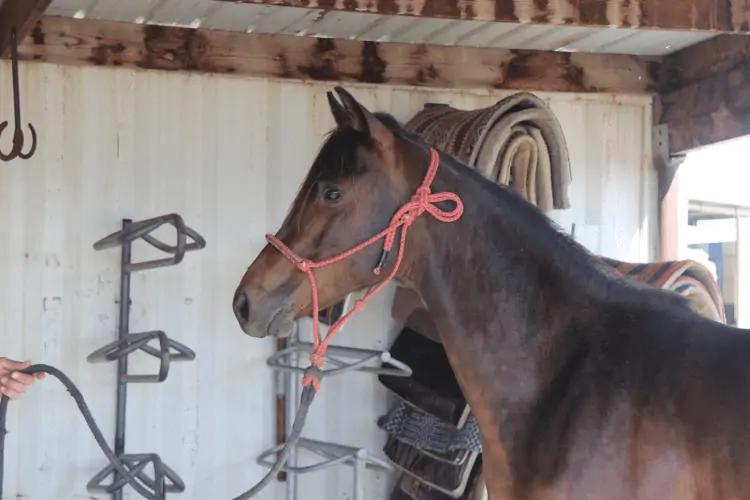 Again, for the durability of the rope, you need to look at the materials used. Additionally, the thickness is important.
Warranty
Suppose you choose a rope halter that just doesn't suit. In that case, you're going to want your money back. So, it is best to look for a reputable brand with a good exchange or refund policy.
Additionally, the length of the warranty can be a determining factor. For me, the more generous it is, the more faith that the company has in its products.
Consumer Feedback
When buying any product online, the best asset you have is the experience of verified consumers. Look for what people are saying; the good, and the bad, then you can form a more educated decision about the best rope halter for your needs.
My Product Criteria
As with any feature I am asked to do, I want to ensure I have complete faith in the products I choose to review for readers. And this is no different here. To give me this confidence for rope halters, these are the things I was looking for:
Price
Fundamentally, this item is a piece of rope. I wanted to ensure that every rope halter I liked the look of was priced reasonably before I went further with it.
To feel confident with pricing, I looked at the material, manufacturing process, and the brand. There are some price differences, but I am satisfied that readers with all budgets will find an affordable halter here.
Feedback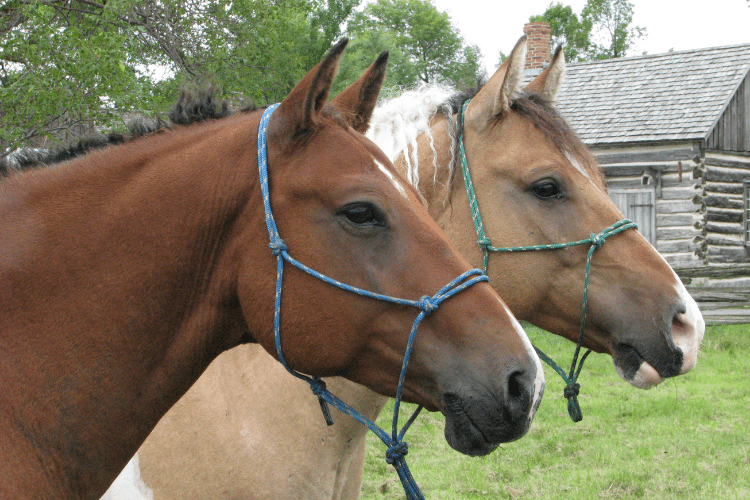 As highlighted above, feedback online is incredibly valuable. While it would be naive to trust all of it, it's wise to look for the general consensus. I wanted to ensure that I wasn't the only one confident in my chosen rope halters, so I made sure there were lots of positive – and accessible – reviews for them, too.
Brand
Sometimes it makes sense to stick with big brands; other times, you're merely paying for a logo or name. With rope halters, there are some major players here, but there are also some lesser-known brands that aren't getting the recognition they deserve. I have included halters from both groups, providing they met my above criteria.
My 5 Best Rope Halters
Weaver Leather Silvertip Four Knot Rope Halter – #1 Top Pick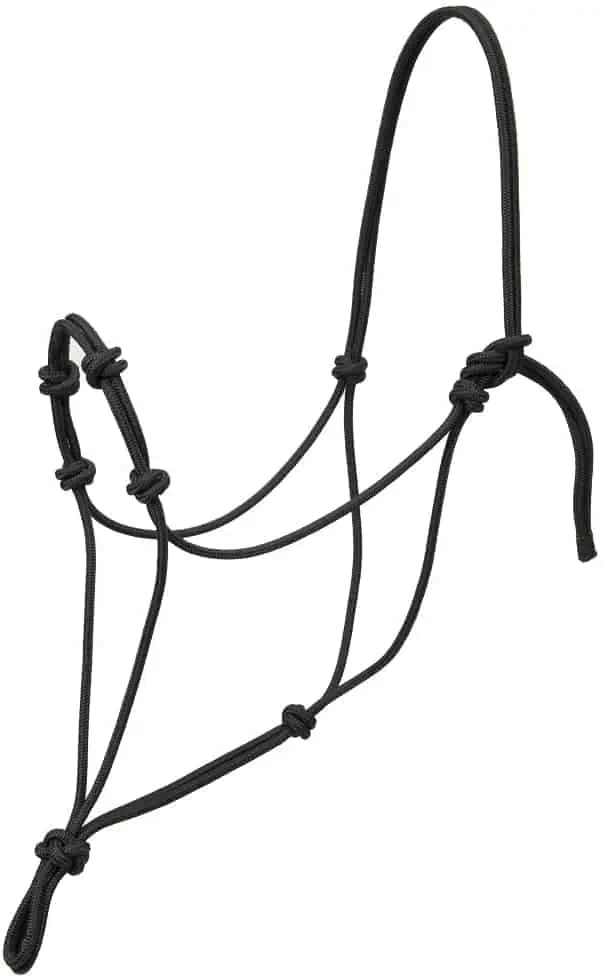 Leather is a super comfortable material for horses to wear, but more than this, it is one of the most durable and high-quality types of rope halters out there. The Weaver Leather Silvertip Four Knot Rope Halter is no exception.
This one-piece construction has been hand-tied in Ohio, US, by Weaver, a brand known for its excellent equestrian products. The consumer feedback is excellent for this, and with so many sizes and color options, there's plenty of variety to ensure everyone can find a suitable halter.
I like the slim, non-bulky fit and was surprised at the strength – you can easily control a powerful buck with very little material. The stiffness feels within the medium range, so this Goldilocks of rope halters is a fine balance for those who don't want too soft or too stiff!
The price of the Weaver Leather Silvertip Four Knot Rope Halter varies, from $25.99 to $57.05, and there are free returns available on some colors and sizes.
Pros
Hardwearing
Comfortable
Different Size and Color Options
Trusted Brand
Made in the US
Great Online Feedback
Free Returns Available
Cons
Weaver Leather Diamond Braid Rope Halter – #1 Top Budget Pick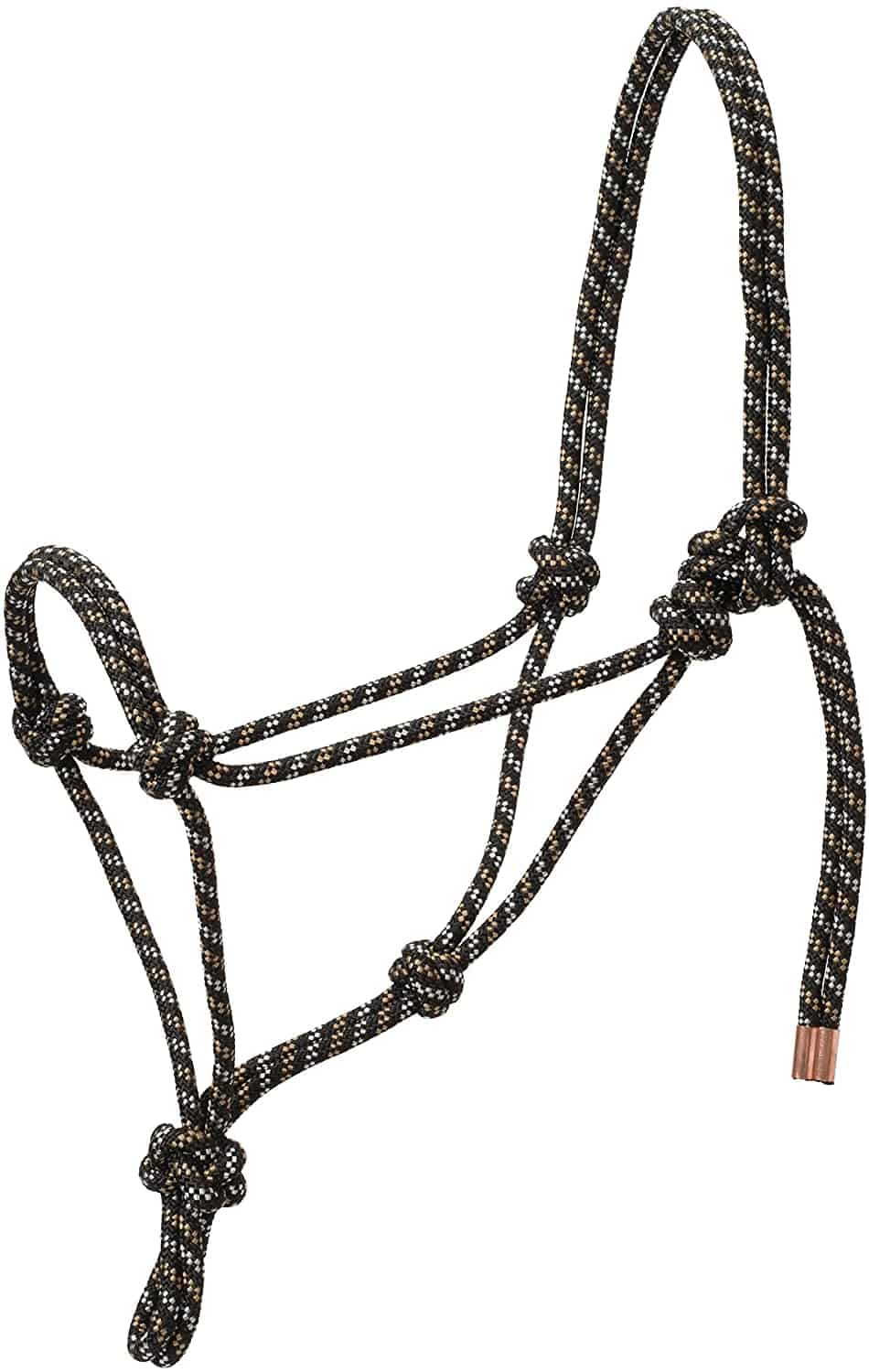 With plenty of change out of $20, the Weaver Leather Diamond Braid Rope Halter is a great budget pick from a top American brand. However, it is important to note that Weaver themselves call this rope' economy,' so it will not be the most durable around.
The Weaver Leather Diamond Braid Rope Halter is hand-knotted in the US from a continuous piece of poly rope and features a comfortable crown strap and double noseband. It is available in six different colors, with the cheaper options being just over $13.
I found this rope halter to be extremely soft, with lots of give. For short-term training or to be used intermittently, it's a good choice, but if you need something that will stand the test of time, then it may be best to look at other options.
However, free returns are available, so there's little harm in trying if you're particularly taken with a color choice.
Pros
Branded Halter for $13
Free Returns
Lots of Color Options
Cons
Maybe a Little Too Soft
Not the Most Durable
Some Highly Critical Reviews
Knotty Girlz Horse Rope Training Halter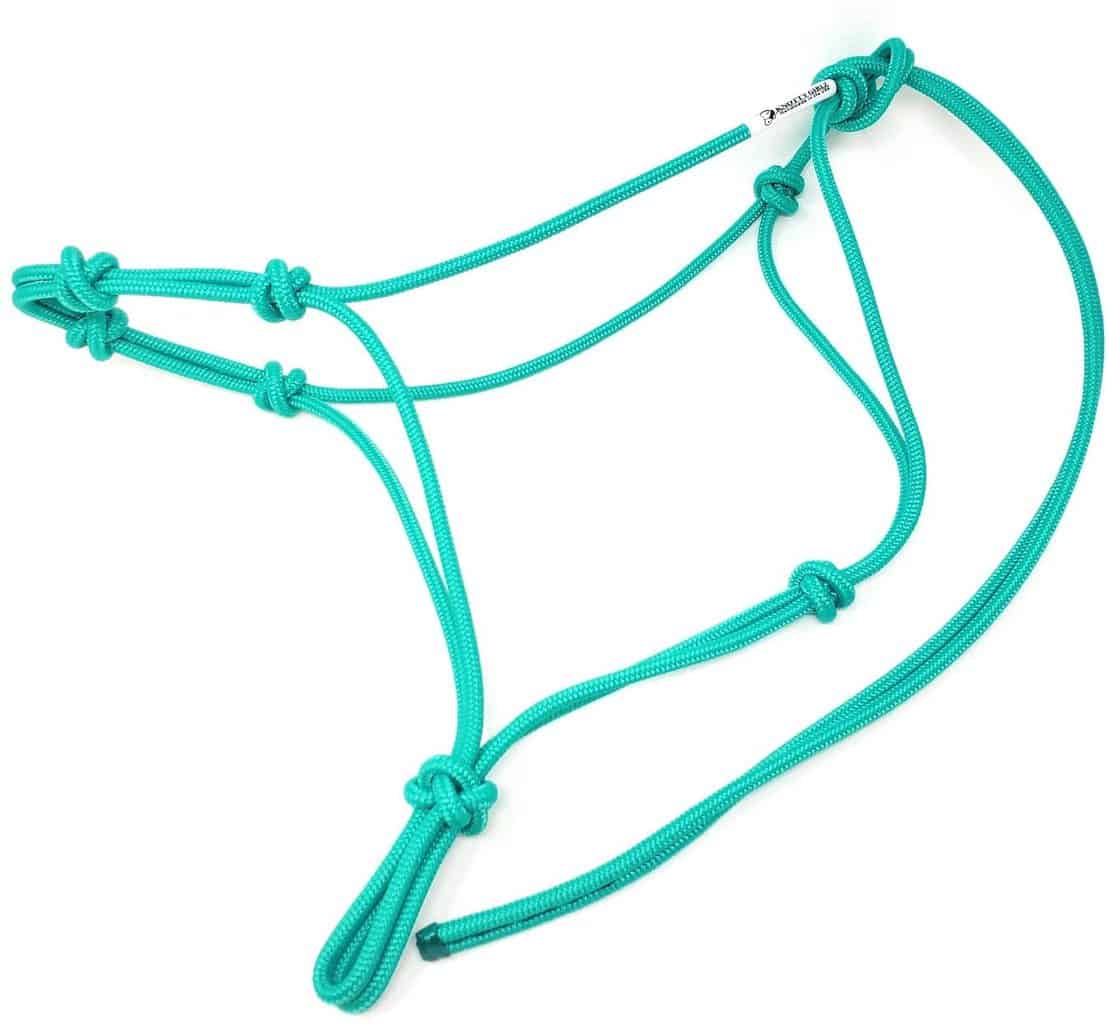 With multiple size options, ranging from mini to large (with everything else in between), the Knotty Girlz Horse Rope Training Halter will come in the perfect size for you. Plus, there are an incredible twenty color options, so every preference is truly catered to.
If you wish to purchase the matching double braided horse rope lead, it's worth noting that this is only available in ten colors. 
The Knotty Girlz rope halter is made from premium stiff polyester, which results in a super durable halter that stands up well to harsh weather conditions, and has excellent longevity. For my liking, it is a little too stiff, but this does mean it holds its form well and can be better suited to more stubborn or difficult-to-manage horses.
There are knots on key pressure points for training, and the halter is cited as effective by most consumers – one even comparing it to rope halters by much more expensive brands.
Pros
American Materials and American Manufacturing
Durable and Holds Form Well
Multiple Size and Color Options
Good Value for Money
Matching Lead Available
Cons
It May be too Stiff for Some.
CHALLENGER Nylon Horse Braided Rope Halter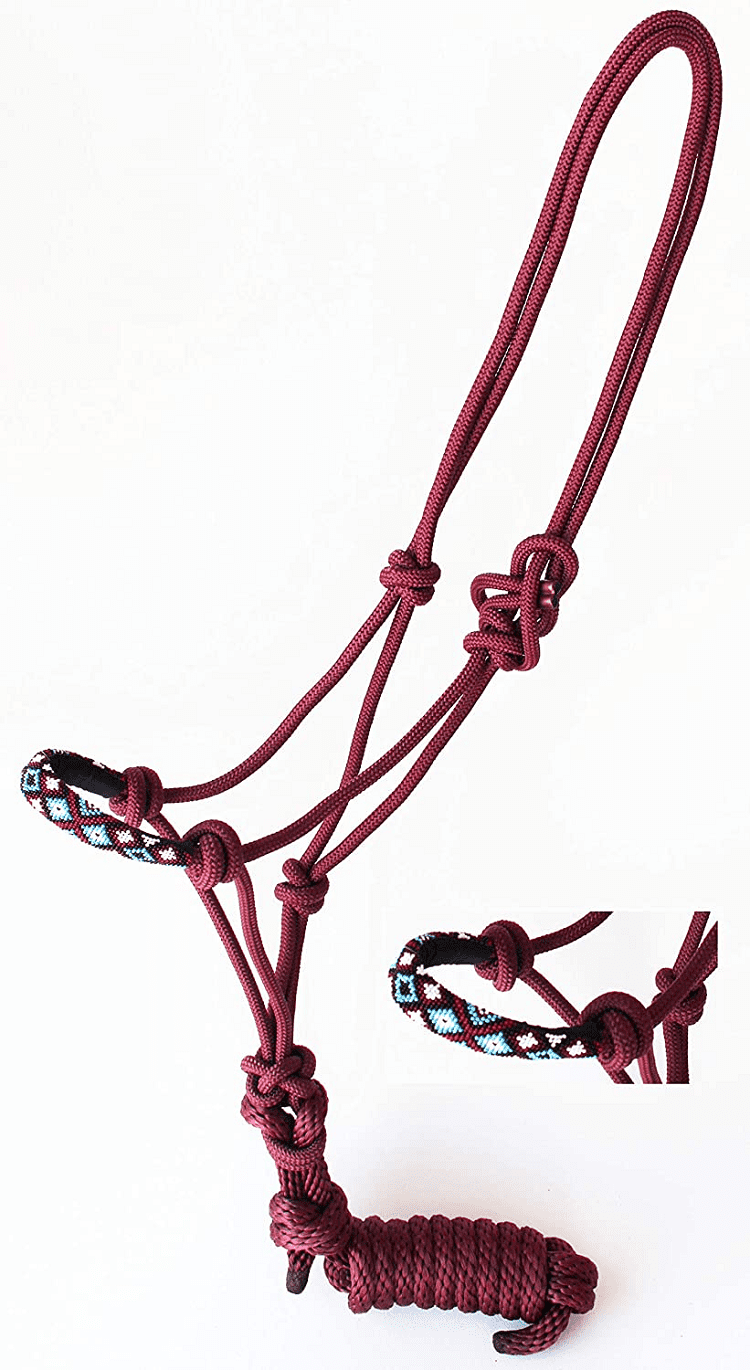 Now for something a little special. If you have ever looked at your horse and felt they lack a little 'je ne sais quoi,' then a jazzy rope halter with real beads could be the answer! The reviews are fantastic for this one, too. The CHALLENGER Nylon Horse Braided Rope Halter is a beautiful piece of equipment that is the height of horse fashion in the field! Plus, it works very well, too!
I found the rope to be slightly thicker than most, which can mean it'll be more durable, but it also means those knots are a little tougher to tie. The material feels soft yet sturdy and is straightforward to use with immediate effectiveness.
The main advantage for me has to be the beauty of the rope. It is so well designed, and the noseband is so pretty – quite unlike the mundane everyday block color options. It also comes with a matching 10-foot lead and is under $30.
Pros
Truly Beautiful Designs
Great Value for Money
Matching Lead Included
Cons
The Rope is Quite Thick, Making Tying Knots Tricky
Weaver Leather Silvertip Rope Halter with Lead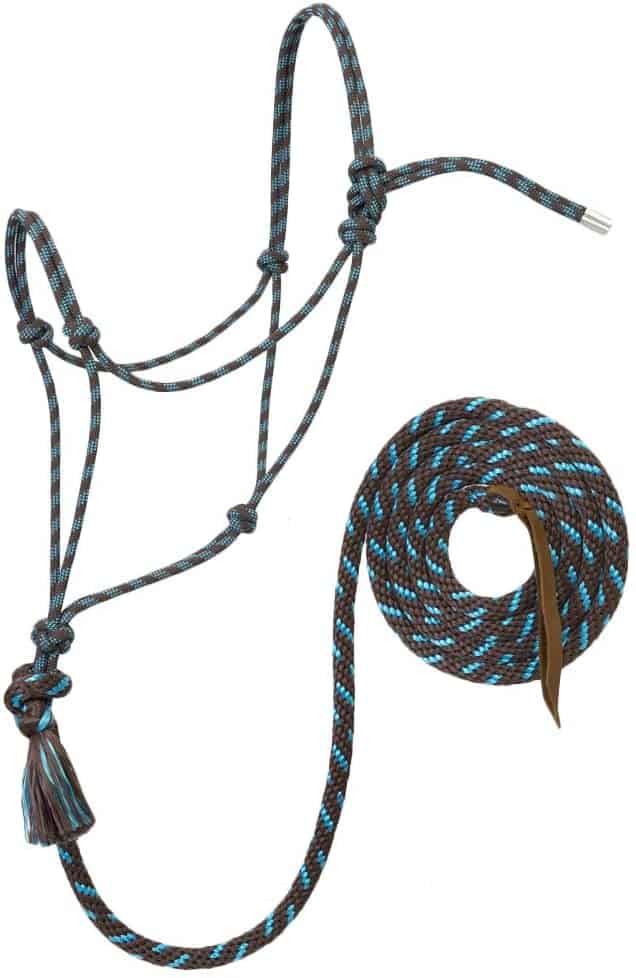 Coming in fourteen different colors, including some truly stunning options (I particularly like the gray/silver/lavender/pink!) is the highly regarded – and best selling – Weaver Leather Silvertip Rope Halter with Lead. This piece of kit is flying off the shelves at the moment and has some of the best reviews I have found.
Again, another Weaver product, this all-American made rope halter is built to last. I found it to be extremely comfortable on the hands and the horse and to feel more lightweight than some. There are some minor fraying issues over time, but this is to be expected.
Prices are around $40 to $60; color depending. A drawback is that delivery can take some time – up to 10-days for some designs. However, ordering is simple, and free returns are available.
Pros
Lovely Color Options
Strong Lead (10-feet) Included
All-American Made
Lightweight
Comfortable
Free Returns Available
Online Best Seller
Cons
Delivery Can Take Over a Week
Some color options go quite quickly and aren't always in stock
FAQs
Question: How Should a Rope Halter Fit?
Answer: The fine rope and knots need to act in certain places on the horse, but people make some mistakes when fitting rope halters that remedy them ineffective – not to mention uncomfortable for the horse.
To fit a rope halter correctly, the noseband must lie about 1.5-in below the zygomatic bone for the knots to sit below, and the chin strap must be positioned behind the cheekpiece. Finally, when knotting the halter, protruding ends of rope points must be pointing away from the horse's eyes.
Question: Is a Rope Halter the Best Choice?
Answer: Rope halters aren't everyone's top choice, but they're a go-to product for some people. Read The Great Debate: Rope Halters Vs. Flat Halters to see the advantages and disadvantages of the most popular halter choices if you're unsure which way to go.
Question: How Do I Get My Horse Used to a Rope Halter?
Answer: Much like getting a horse to get used to entering a trailer, halter breaking will take time and much patience. It is never going to work if you try to rush this process, and time is needed initially to get the horse used to his head, ears, and neck being handled.
This is a process that will build trust and acceptance, but with reward and praise, the end goal is achievable with even the most stubborn mule!
Recap of the Best Rope Halters
If I were looking to buy a new rope halter, I would be happy to use any of the five I have recommended in this guide. My top choice would be the Weaver Leather Silvertip Four Knot Rope Halter, predominantly because I found the stiffness to be pretty perfect.
I found it to be remarkably durable and liked the variety of color options. However, it is a pricey choice.
My top budget pick is the Weaver Leather Diamond Braid Rope Halter. With this halter, you get the same expert craftsmanship and all-American manufacturing as you do with the Leather Silvertip, but as Weavers economy version, it is a little less durable; and a little less costly.
If you're looking for a different color for pretty much every day of the month, then the Knotty Girlz Horse Rope Training Halter has an incredible twenty color options and one of the largest size ranges I have found. For me, this rope halter is a little too stiff, but if that's what you're looking for, it could be a perfect choice.
The Knotty Girlz Rope Halter is comparable to much more expensive brands and withstands harsh weather conditions better than most.
Suppose image is everything. In that case, I would have to suggest the truly beautiful CHALLENGER Nylon Horse Braided Rope Halter. Visually, this rope halter is stunning.
But, more than this, it's highly effective, too. This halter comes with a matching lead and is under $30, which makes it incredible value for money.