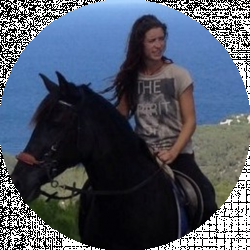 Latest posts by Tanya Taylor
(see all)
Western saddles are one of the most characteristic saddles in the world, and they come in many different styles and designs. With so many to choose from, trying to find the perfect saddle can be overwhelming. So, to help you make the correct investment, we've created this guide to tell you exactly how to find the best Western saddle.
In this Article, You'll Discover
The difference between English and Western saddles

The different types of Western saddles

How to fit a Western saddle

How to find the best Western saddle

How to take care of a Western saddle
What Is a Western Saddle?
Western saddles originate in the USA, and the first ones were made by Spanish and Mexican Vaqueros (cowboys). The Vaqueros created their saddles based on a traditional Spanish/Moorish design but modified it to suit ranch work.
The first Western saddles didn't have the distinctive "horn" at the front – this was added a bit later. Contrary to what a lot of beginner riders think, the horn isn't a handle – it's used for roping and dallying cattle.
What's the Difference Between an English and Western Saddle?
English and Western saddles are different in their function, style and design. A Western saddle is a working saddle traditionally, so it's strong, sturdy, heavy and robust. English saddles are smaller and more delicate to allow plenty of contact with the horse in English riding disciplines such as dressage and showjumping. 
Western saddles are much bigger and heavier than English saddles, but they cover a larger area of the horse's back. The result is that they distribute the weight more evenly, which helps support the horse and rider during long hours on the trail or for ranch work. 
What are the Different Types of Western Saddles?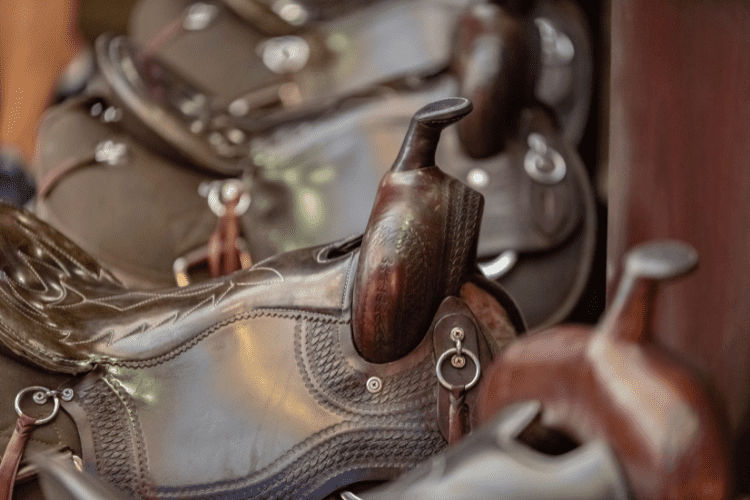 Western riding encompasses a whole range of different riding activities – from the challenges of ranch work to riding long hours on the trail and even roping cattle. You can find Western saddles that are perfectly designed to enhance the performance of both horse and rider for each activity.  
To give you a clearer idea about the different types of Western saddles, we've listed the 9 most common ones below:
#1 – Trail/Pleasure Saddle
Trail riding is one of the most popular Western riding activities, and if you ride for long hours on the trail, you need a lightweight, comfortable saddle. Trail and pleasure saddles are designed with comfort in mind, for both horse and rider.
As well as being lightweight, trail saddles usually have a padded seat to provide extra comfort for the rider and rounded skirts for the horse's comfort.
Trail saddles have a medium-sized cantel and are often used with a breastplate to keep you and the saddle firmly in place when you ride steep uphill slopes. A good trail saddle will also have wide stirrups, double rigging and plenty of "D" rings and leather ties where you can secure your gear. 
#2 – Ranch Saddle
Ranch saddles are one of the most sturdy Western saddles and are designed to bring comfort to both horse and rider during the long hours involved in ranch work. 
Ranch saddles are heavyweight, so they sit securely on the horse's back and have a deep seat and a tall cantel for extra comfort and security for the rider. A good ranch saddle will also have a thick, tall horn, double rigging and lots of D rings.
#3 – Reining Saddle
Reining is a major Western riding discipline, where horse and rider must execute quick, high speed turns, spins and abrupt stops. A reining saddle has a low cantel and shallow seat to give the rider more maneuverability. 
Reining saddles are less bulky than other Western saddles and feature short skirts and narrow fenders to give you more contact with your horse. They also have a medium fork and horn that doesn't get in the way of the rider's hand movements. 
#4 – Roping Saddle
Roping saddles are designed to help you excel in any roping activity or event when you must be well anchored into the saddle. Roping saddles are heavyweight and sturdy, with a well-anchored horn, a deep textured seat for extra grip, and a strong, sturdy tree. Roping saddles also feature forward set stirrups to help counteract the pull from roping an animal.
A good roping saddle keeps the rider stable and secure in the saddle while allowing for plenty of free movement, which is essential for roping cattle.
#5 – Cutting Saddle
Cutting saddles are one of the most versatile Western saddles, and their small design gives you plenty of leg contact with your horse when you cut a cow from the herd.  Cutting saddles are distinctive because they have a tall, thin horn with narrow, long forks and a flat seat, so you can move freely in the saddle. 
Cutting saddles are fantastic for training, reining, and any other cutting activity, but they're not suitable for roping.  
#6 – Barrel Racing Saddle
A barrel racing saddle is one of the smaller, lighter Western saddles. It has a deep, roughed-out seat with a tall pommel and cantle to help hold the rider in place through the fast paces and turns that come with barrel racing. 
Barrel racing saddles give you lots of contact with your horse and allow you to maneuver freely in the saddle. They also have short, rounded skirts to give your horse plenty of free movement. Barrel saddles are incredibly versatile, and you can use them for lots of other types of Western games and events. 
#7 – Training Saddle
A training saddle is ideal for starting horses off in their riding career, they're small, lightweight and have cut-out skirts and a low pommel to give you plenty of leg contact. Training saddles usually come with a suede seat for extra grip, and they have plenty of D rings so you can have all your training aids on hand. 
#8 – Show Saddle
Show saddles are the most extravagant type of Western saddle – they're ornate and eye-catching and designed to help you stand out in the show ring.
Show saddles usually have a comfortable padded suede seat and extensive tooling in the leather and are finished off with silver trims. Show saddles look amazing in the show ring, but they're not very practical as general riding saddles.
#9 – General Purpose Saddle
General-purpose saddles can be used in most different types of Western riding. They're medium weight and versatile and are suitable for trail riding, barrel racing, reining and cutting. General-purpose saddles are a fantastic option if you like taking part in many different riding disciplines. 
How Do You Find the Best Western Saddle?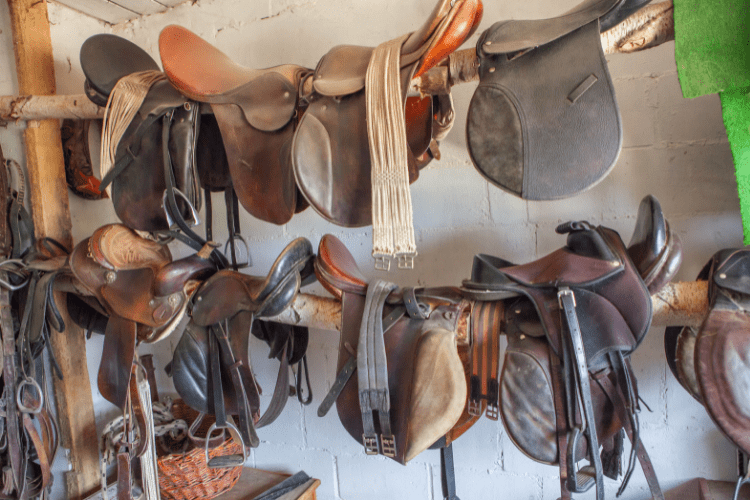 Buying a new saddle is a big investment, and when you buy one, bear in mind it's also an essential piece of safety gear. If you want a safe, comfortable saddle that will last you a long time, you must choose one that's suitable for your needs. 
Before buying a saddle, you should consider things like the function and purpose, the material and the design. To give you a clearer idea about how to find the best Western saddle, below, we've listed five essential things you must consider.
#1 – The Function and Purpose
The first thing to consider when you're looking for the best Western saddle is its function and purpose. What will you be mostly using it for? Do you ride a specific Western style such as barrel racing, or are you more of a trail rider? Always choose a saddle to suit your riding discipline. 
Next, are you looking for an everyday functional saddle, or do you want something more spectacular for a show? Show saddles look amazing in the show ring but aren't suitable for everyday riding – they will get easily beaten up on the trail, for example. If you want an everyday working saddle, choose something less extravagant.
When you have the right saddle for your needs, you will maximize you and your horse's safety and performance. 
#2 – The Material
Traditionally, Western saddles are made from leather, but these days, you also have the option to buy synthetic Western saddles. Leather saddles are usually more expensive because they're super durable and attractive to look at. If you take good care of a leather saddle it can last decades, but you must maintain it regularly with special soap and cleaning. 
Synthetic saddles are usually less expensive, and they're more lightweight and comfortable. Many people prefer synthetic saddles because they're easy to maintain and are usually scratch resistant and waterproof. Synthetic saddles are pretty durable, but they usually won't last as long as leather ones. 
# 3 – The Adjustability
Saddles are a lot more technologically advanced these days, and you can find many adjustable saddles on the market. The benefits of an adjustable saddle are that you can use it on several different horses, or it can adapt to any changes in your horse's shape and condition. Adjustable saddles are also fantastic for horses who have abnormal back conformation.
If you want an adjustable saddle, look out for a treeless saddle or one with a flexible tree. Treeless saddles are lighter, and they flex and move with your horse's back when you ride. You can also buy saddles with adjustable bars or ones where you can add and remove the padding. 
 #4 – The Design
As much as you might want the glistening saddle with all the tooling and trimmings, don't buy one on looks alone – a saddle must be fit for purpose. If you use an expensive show saddle on the trail, it won't look fancy for very long. Of course, you need to pick an attractive saddle you like the look of, but the design shouldn't be the main reason why you buy a saddle. 
# 5 – The Brand
One of the best ways to determine the quality of a saddle is by doing a little research about the brand. The best Western saddles will be made in the USA and the most trusted brands include Silla, Circle Y Billy Cook, and Tucker Saddlery.
If you're looking for a quality mid-range or budget saddle, check out ones from Big Horn, Dakota or Wade, and for synthetic saddles, check out Wintec Saddles.
How Do You Fit A Western Saddle?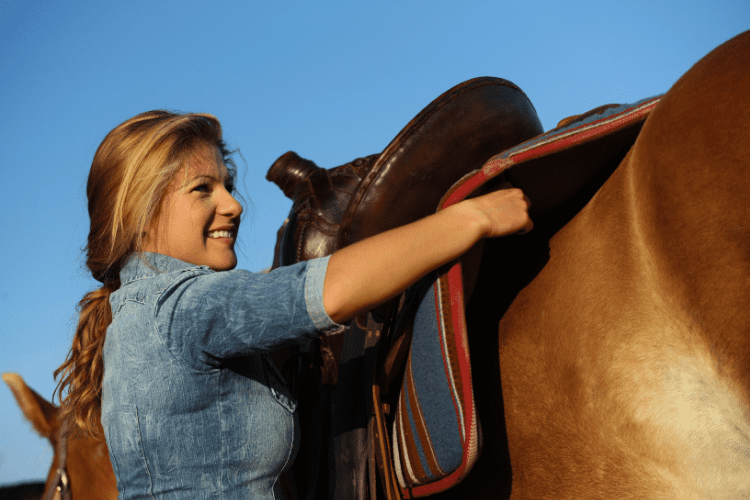 Western saddles come in many different sizes, and when you buy a new saddle, it must fit you and your horse. You must buy the right sized saddle because a poorly fitting one can be dangerous to ride in. To get a better idea about how to fit a saddle, take a look at the information below. 
Fitting The Horse
To find the best-sized saddle for your horse, you need to establish their tree or gullet size. You can usually guess this by looking at your horse's withers. If your horse's withers are raised and very prominent, you need a saddle with a narrow tree.
If your horse has flat or very low withers, your horse needs a wide tree. Western saddles usually come in five tree sizes which start at 5 inches for a pony and run up to 8 inches for a large draft horse. In an ideal world, you should try the saddle before buying it. When you try a new saddle on your horse, do it without a pad to see where the saddle contacts your horse's back. 
Here are the signs that a saddle fits well:
The saddle will sit level on your horse's back – evenly with equal pressure.

The skirts will be close-fitting.

The front of the saddle should sit behind the horse's shoulder blade.

The saddle should be stable with no rocking if you put weight on it.

The gullet should completely clear the withers by two or three fingers.

The saddle gullet mustn't clear the withers too much – if you can fit your whole hand in there, it's too high.
Here are some signs that a saddle doesn't fit well:
If it's touching the withers.

If it sits too high over the withers.

If it sits too high on the front or back and slopes up or down.  
Fitting The Rider
As a rider, you need to discover your seat size before buying a saddle – for this, you need a chair and a tape measure. Sit in the chair and use the tape to measure the length of your outer thigh. Start measuring from your knee and go up to the back of your buttocks.
Western saddles usually come in five different seat sizes, starting from 12 inches for a child and going up to 17 inches for a large adult. Don't assume if you've measured your seat once, it will be the same for every saddle. Seat sizes can vary between different brands because of things like the seat depth, slope and fork angle.
Take a look at this table to get a better idea about Western saddle seat sizes:
| | |
| --- | --- |
| Rider Size | Seat Size in Inches |
| Youth | 12 – 13  |
| Small Adult | 14  |
| Average Adult | 15 |
| Large Adult | 16 |
| Extra Large Adult | 17 |
If you haven't fitted a saddle before, don't be afraid to reach out for advice – ask more experienced owners at your barn to help you out. If your horse has back problems or unusual conformation, you can always enlist the help of a professional saddle fitter. 
How Do You Take Care of A Western Saddle?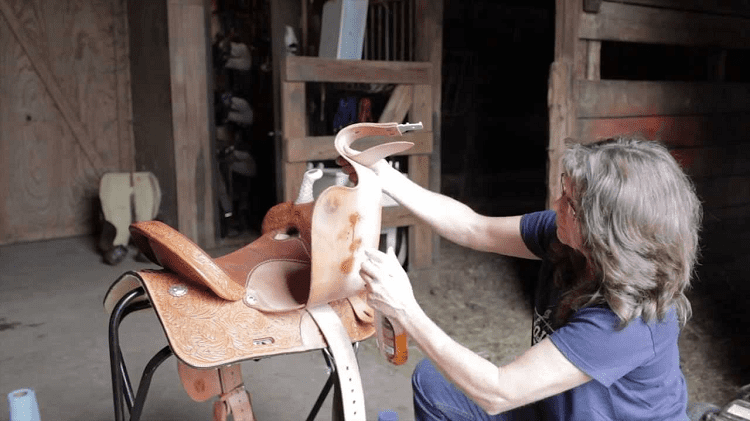 When you invest in a brand new saddle, if you want it to last a long time, you must take care of it properly. To keep your saddle in good condition, always clean off any sweat and debris after riding and keep it covered after use. Always store your saddle on a saddle stand to support the tree, and so it keeps its shape, and never leave your saddle splayed out on the floor. 
With a leather saddle, you must treat it regularly with special saddle soap or conditioner – and don't keep it in a damp place because it will go moldy. Synthetic saddles are easier to maintain – you simply wipe them over with a moist cloth. Always clean your saddle according to the manufacturer's instructions. 
FAQs
Question: Is it Ok to Buy a Used Western Saddle?
Answer: Brand new Western saddles can be expensive – you can pay thousands of dollars for a top of the range one. If you want a good quality saddle with a tight budget, it might be cost-effective to buy a used saddle. 
High quality used saddles are more comfortable and durable than cheaper new ones and often have many years of use left. If you buy a used, high-quality saddle that's been well cared for and in good condition, potentially, it can outlive a cheaper, new saddle.   
Question: How Can You Tell If A Saddle is Good Quality?
Answer: The first indicator of a good saddle will be the cost – you can expect to invest at least a few hundred dollars in a good quality saddle. The leather on a good-quality saddle will be thick and flexible as opposed to thin and stiff, and the stitches and trimmings will be thick and even all around. 
Generally, a good quality Western saddle will be made in the USA and have a brand stamp or serial number to prove it. The brand will often be stamped into the leather or embossed onto a small metal plate. If you can't find a stamp or serial number on the saddle, it's probably not a genuine, good-quality one. 
Question: How Can I Tell If a Saddle Fits my Horse?
Answer: When you try a saddle on your horse, always do it without a pad to clearly see all the points where it contacts your horse's back. A saddle that fits well will sit evenly on the back, and it shouldn't slope up or down or rock when you move it.
The saddle must sit behind the horse's shoulder, and the gullet shouldn't touch its withers. You should be able to fit two or three fingers in the gap between the saddle gullet and the withers. 
Question: What's the Average Cost of a Western Saddle?
Answer: A good-quality, leather, Western saddle will cost, on average, between 600 and 1200 dollars. The price of saddles varies a lot between brands, and synthetic Western saddles generally cost less than leather ones. You can buy a budget saddle for 2 or 3 hundred dollars or pay thousands of dollars for a top-of-the-range one. 
Conclusion
If you want to find the best Western saddle, firstly, you must choose one suitable for your needs. There are many different Western saddles out there that are designed for specific riding disciplines. If you like trail riding, buy a trail saddle, for example, or if you like to take part in several Western riding styles – buy a general-purpose one.
If you want a good quality saddle, make sure you buy one from a trusted American brand, the best Western saddles are made in the USA. Most importantly, make sure the saddle fits properly – a poorly fitting saddle can cause injuries to you and your horse.