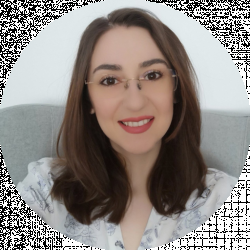 Latest posts by Alexandra Gavrilescu
(see all)
Today's article is all about the best western saddle pads. I began to look for these items when I started practicing horseback riding over seven years ago. After a couple of lessons, when I learned all the basics of this beautiful sport, I fell in love with horseback trail rides alongside my fellow equestrian enthusiasts.
Then I discovered that searching for and buying saddle pads isn't as easy as I thought. So I've created this post to help you with your selection process and ease your purchase and decision-making steps. First, let's take a quick look at my favorites, and then you can read about them in more detail.
The best western saddle pad for you and your horse should fit perfectly and embrace the shape of your horse's body while also relieving pressure and tension. Moreover, it should provide painless rides and improve comfort. For me, the best saddle pad is the one that helps me avoid back pain and sore muscles, mainly because I have a lower back pain issue.
When I first dealt with my back problems, my physician told me I should quit horseback riding, which, for me, was terrible news. Still, my love for horses drove me back to my previous equestrian lifestyle, even if that means that nowadays, I must avoid doing jumps and other complicated tricks to protect my spine.
My Bottom Line Up Front!
Of all these saddle pads I've reviewed today, my favorite would be the Diamond wool cowboy pad due to its breathability, durability, and elegant design. But, I also like the Montana wool saddle pad because of its superior cooling features.
Here I am, during one of my horseback riding sessions: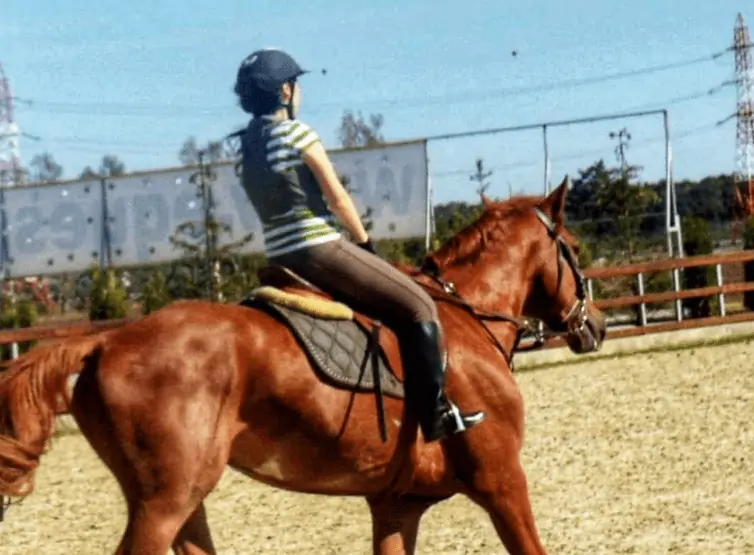 Selection Criteria
I have chosen to present these saddle pads based on their practicality, comfort level, and versatility. Ok, I confess that I've also liked their design, especially in the case of those that feature leather details.
Top 10 Best Western Saddle Pads to Consider
The following saddle pads are some of the best on the market. I've chosen them because of their level of comfort and practicality. After all, you and your horse should feel safe and comfy while riding. Still, the order in which they're listed is random.
1. ECP Western Pad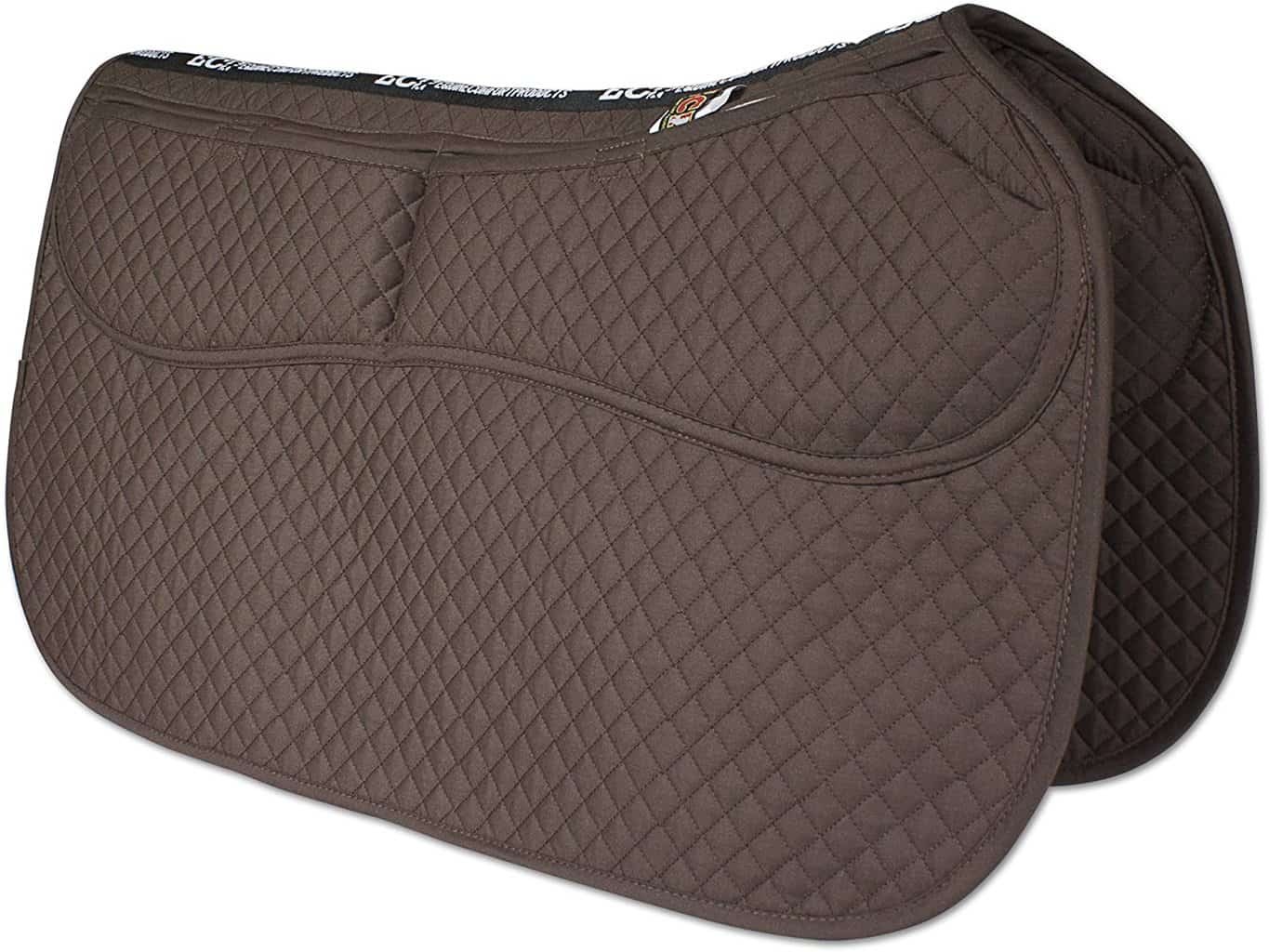 The ECP saddle pad is one of the most popular choices on the market. If you want a solid product with a couple of contour correction features, then this western saddle pad could be the ideal option. I don't think I've told you this yet, but I'm in love with memory foam and all items made of it.
Hence, the ECP pad, having memory foam, is one of my favorites, too. It allows the rider to move it on the horse's back precisely where one feels the most comfortable. So, this pad provides optimal comfort. I deal with sensitive skin issues, so the fact that this saddle pad is hypoallergenic makes me happy. It truly is gentle on your skin.
Besides being made of breathable materials, the ECP pad is also great at wicking moisture and regulating body temperature. Once I saw this pad's measurements, I knew it would be excellent for me since it suits smaller riders who have more miniature horses. But, on the other hand, that could be a downside, considering that larger riders cannot use it.
Pros
Contour correction features;
Memory foam filling – boosted comfort;
Hypoallergenic;
Breathable.
Cons
Not suitable for larger riders or broader horses.
2. Weaver Leather & Wool Pad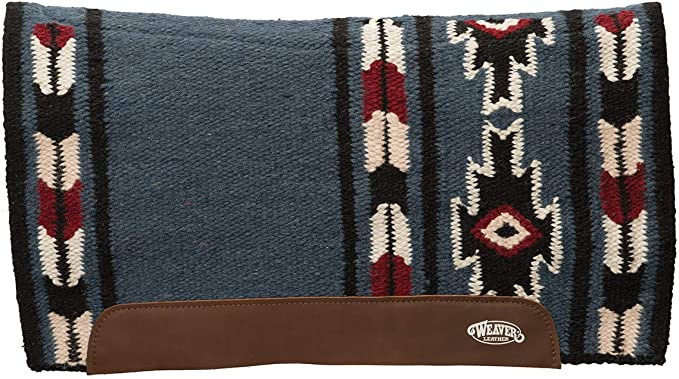 The Weaver leather contoured pad is a decent budget-friendly choice. Its contoured shape ensures an improved fit. In addition, I love how durable the materials are. Both the wool and leather are high-quality fabrics. You'll be pleased to see how well the wool blend removes any sweat and moisture away from your horse's body.
This is a unisex saddle pad made of fleece wool which isn't the same thing as natural wool. Fleece might resemble wool, but it's a synthetic fabric that I don't really like. However, I must admit that fleece performs better than wool in terms of aeration and effectiveness. In addition, it's a lightweight material.
I don't like that this saddle pad is relatively thin and less cushioned, but it does a decent job removing moisture. The size of this saddle pad is average which means the product is suitable for a wide range of riding activities. I like how easy this Weaver saddle pad is to clean and how resistant it is to mildew and mold.
Pros
Affordable;
Contoured;
Durable;
Good-quality materials.
Cons
Synthetic fabric;
Thin & less padded.
3. Challenger Saddle Pad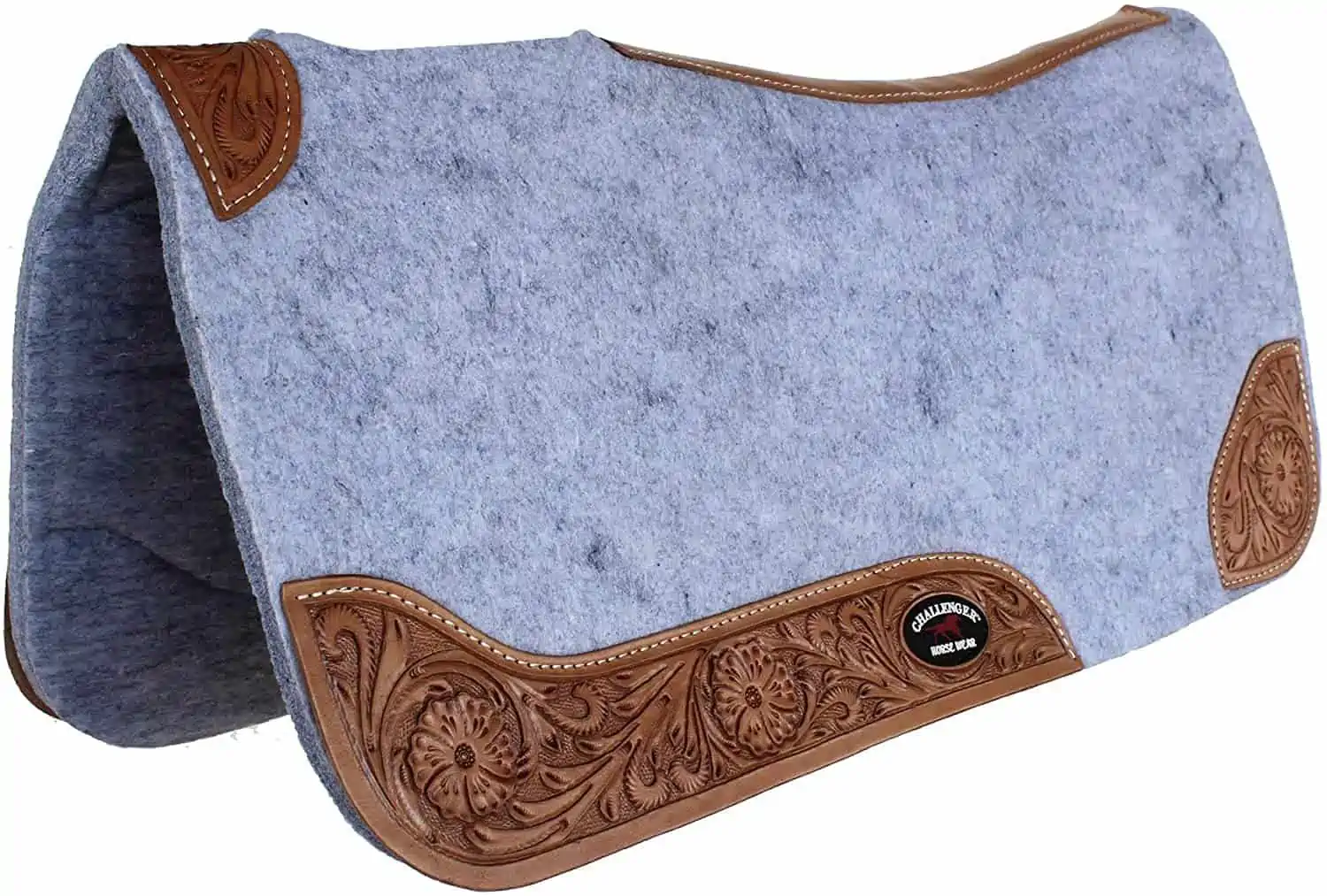 Just look at this fancy leather-detailed saddle pad. I adore the design of this Challenger pad, and if I wouldn't have a great saddle pad at home, I would certainly purchase this one. I love how quickly this pad wicks moisture away, and I enjoy its contoured design. It has an average thickness of around 3-4 inches, and it's made of wool.
My favorite color is grey tan leather, but you can also pick one of the other available options: purple, black with tan leather details, and black with blue leather details. Due to its premium fabric, this saddle pad will remain soft without losing its shape. Still, I would have liked it to be more efficient in terms of breathability.
Pros
Good fit;
Soft and durable;
Great color options;
Thick.
Cons
Its breathability could be improved.
4. Montana Wool Pad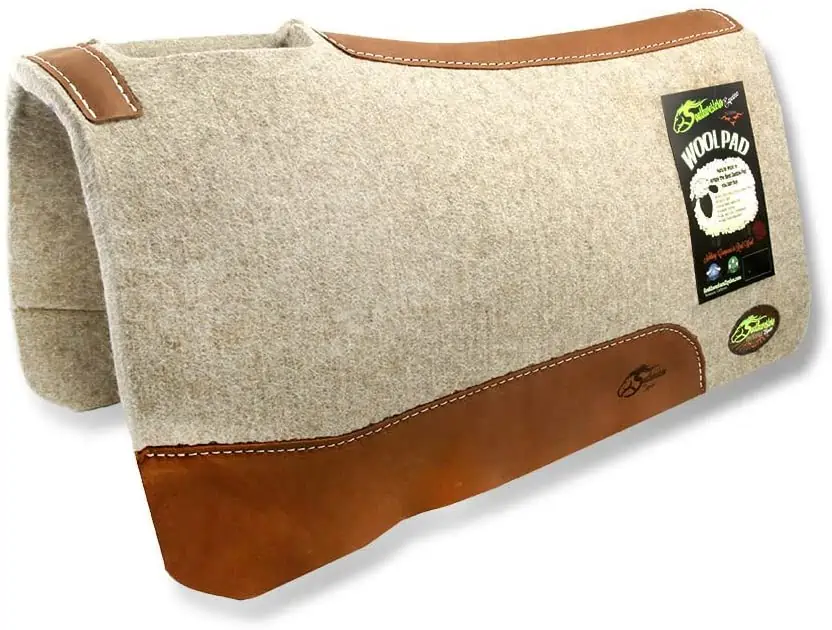 I love this one. This Montana saddle pad is made entirely of fine and high-quality wool. I enjoy looking at it due to its sleek and elegant design. I'm also confident that its fit will keep the pad snug and firm around your horse's back. It even comes with superior cooling properties, and, for me, that's pretty impressive. The details are natural leather, and I'm a fan of natural fabrics.
Being pure wool instead of wool blend, this material is super durable and soft. Furthermore, it excels at shock absorption.
In terms of breathability, the Montana saddle pad is one of the best products. Its size and features make it an excellent purchase for large riders and mature horses. You can also use it on swayback horses due to the saddle pad's contoured shape.
The only downside is that it's a bit hard to maintain this pad, and cleaning it can be tricky.
Pros
Premium fabrics;
Great cooling features;
Natural leather;
Soft and durable.
Cons
5. Tough-1 Saddle Pad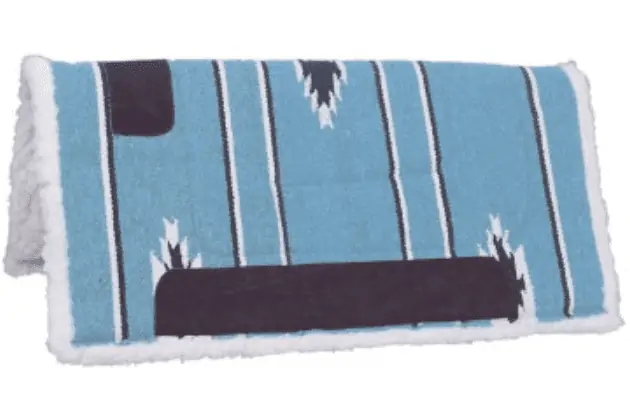 This Tough-1 saddle pad is made of wool, fleece, and other sturdy fibers. It's affordable, breathable, and soft. The pad works well for more miniature horses and does a decent job absorbing shock movements. Moreover, it's used during demanding riding activities because of its thickness.
On the other hand, this saddle pad isn't suitable for larger horses. In addition, it lacks contouring features which means you cannot use it on swayback horses.
I cannot say that I am impressed by this saddle pad. I consider it a decent choice, but I believe it lacks the wow factor that I'm always looking for in this product.
Pros
Sturdy;
Breathable and soft;
Thick;
Affordable.
Cons
No contouring features;
Not suitable for wider horses.
6. Mustang Contoured Saddle Pad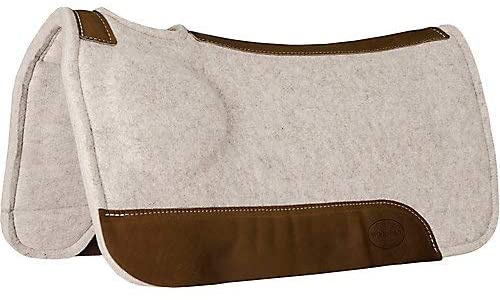 This saddle pad won my heart right after I saw the brand name. Mustang products are known to be made of durable and high-quality fabrics, and they've much appreciated among us riders. The only thing that stops me from getting one is its pretty high price that exceeds my current budget.
This Mustang saddle pad is contoured and has a corrective fit. I can't say I'm a fan of its dull grey color, but I like the soft wool material and the pad's discreet leather elements. The pad is excellent at absorbing shock, although I wish it was thicker than one inch.
Pros
Good-quality wool material;
Contoured;
Corrective.
Cons
Not thick enough for me;
Expensive;
Not enough color choices.
7. Tahoe Tack Contoured Saddle Pad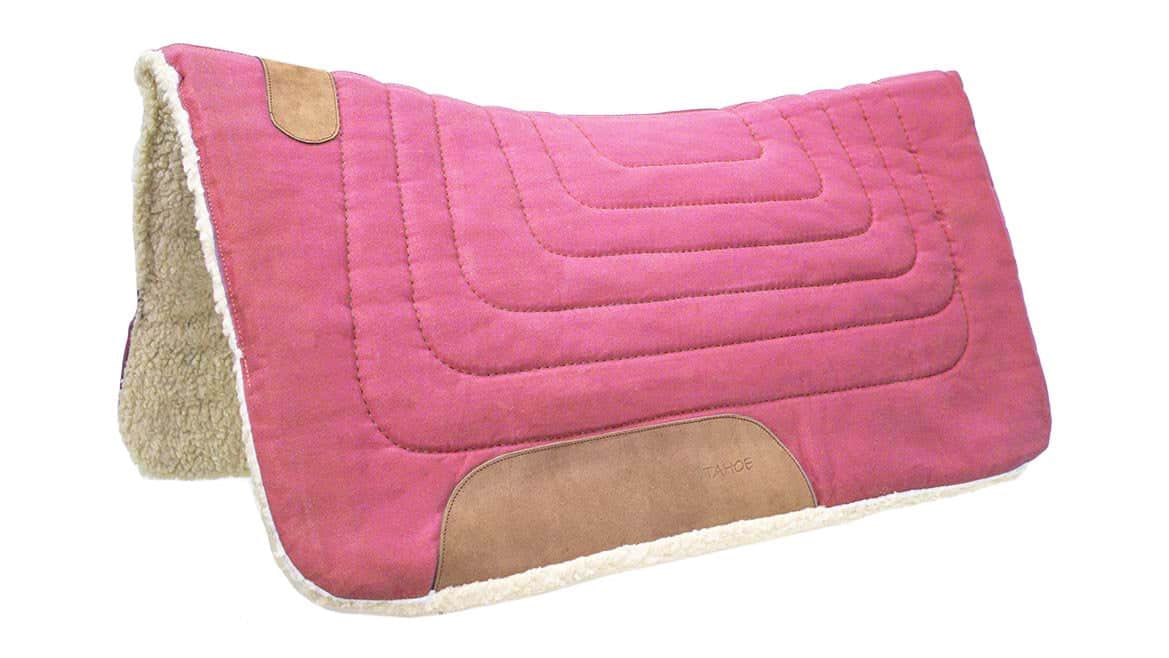 I am so glad to review the Tahoe Tack saddle pads because of their comfy designs and small sizes. I could even use this pad on mini horses and ponies if I were to ride them (I won't because I am too big for them, but I could consider this saddle pad an excellent option for my future kids).
Another feature I enjoy is the pad's bright color. There are several excellent color choices you can opt for, including my favorite hue, sea green, among others like tan, red, denim, and more. I'm not a fan of pink, but I would love to have the green one.
The Tough-1 saddle pad has three layers of cushioning, which I think it's a pretty good feature. Moreover, it's made of a blend of wool and fleece. That means it's easy to maintain and clean, and the fabric is highly breathable. My horse tends to sweat a lot if I ride during hot summer days or longer than one hour at a time. So, breathability plays a vital role for me.
Pros
Comfortable;
Bright colors;
Breathable;
Well-cushioned;
Easy to clean.
Cons
8. Diamond Wool Contoured Cowboy Pad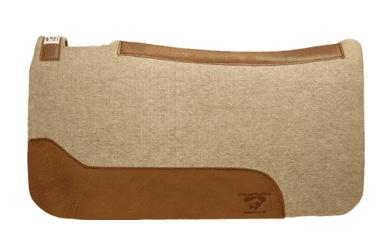 This contoured cowboy saddle pad is among my favorite options due to its design, durability, and breathability, not to mention how affordable this product is. The pad is contoured and thick, reinforced with distressed leather, making it even more durable.
I don't do riding activities such as colt training or roping, but these saddle pads should do the trick if you perform any or both of them. I like how well the material absorbs shocks and relieves pressure. Moreover, the wool is thick, which ensures very good cushioning. While there are low-cost alternatives on the market, the Diamond pad (medium-priced) is more effective and sturdier.
Doesn't it look fancy and elegant? Ok, I must confess that I have a thing or two about aesthetics, and the way a product looks represents an essential aspect.
Pros
Contoured;
Breathable;
Elegant;
Durable;
Cushioned.
Cons
9. Impact Gel Saddle Pad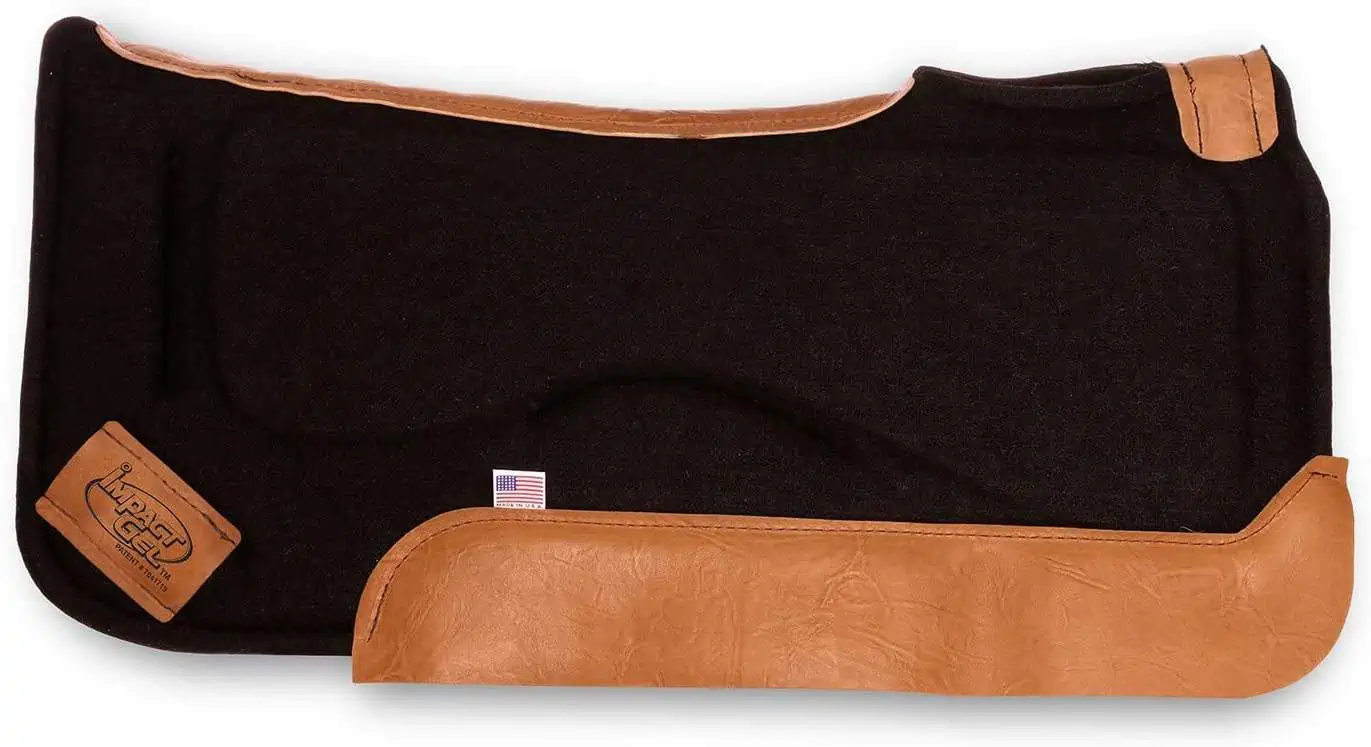 This Impact Gel saddle pad comes with gel inserts in between the two layers of wool blend, which made me include it in today's list of the best saddle pads. Besides the fact that it looks exquisite, I also love how comfy and supportive this pad is. In addition, this pad is breathable, and it also ensures air circulation due to its clever construction.
I bet you'll be happy to know that this saddle pad is handcrafted in the US, which says something about its quality. The Impact Gel pad would perfectly fit my current round-backed saddle, but it's also suitable for square-backed saddles. It provides an incredible level of shock protection.
Pros
Gel inserts;
Contoured;
Flexible;
Breathable;
Shock protection.
Cons
10. Classic Equine Wool Pad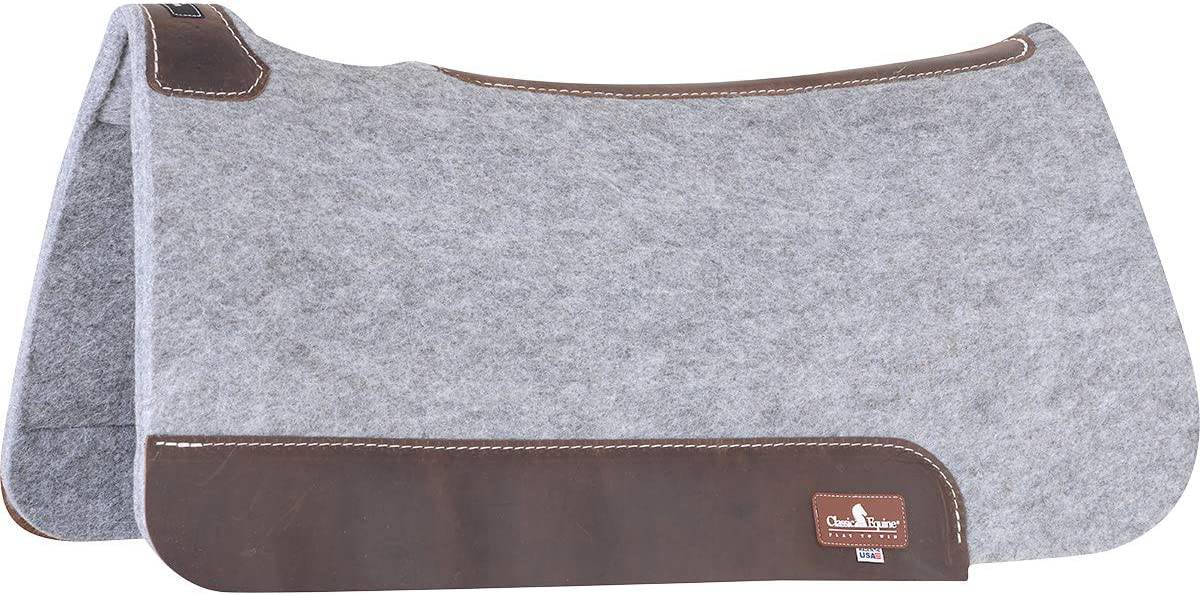 This Equine saddle pad is another option with a simple yet elegant design. It also provides a straightforward structure and efficacy. It's contoured and has an exciting feature that allows it to move gently and quickly on the horse's back. You can use this saddle pad on its own (due to its soft fabric) or place a blanket underneath it.
The Classic Equine pad has a butterfly cut, and it's pretty thick when it comes to shape and design. I like thickness in a saddle pad because, after my riding sessions, I tend to suffer from sore thighs. Still, I would never pick a very thick pad if that would mean that it affects its breathability (which is not the case with this product).
The fabrics are solid yet breathable. This saddle pad is great at removing moisture and sweat from your horse's body. When I first saw this product, the thing that instantly got my attention was the pad's cushioning. Experts say that this pad could be seen as an orthopedic-grade saddle pad.
The only thing I didn't like about it was its price tag. Unfortunately, it can be a tad costly.
Pros
Elegant;
Contoured;
Soft;
Thick;
Breathable;
Orthopedic.
Cons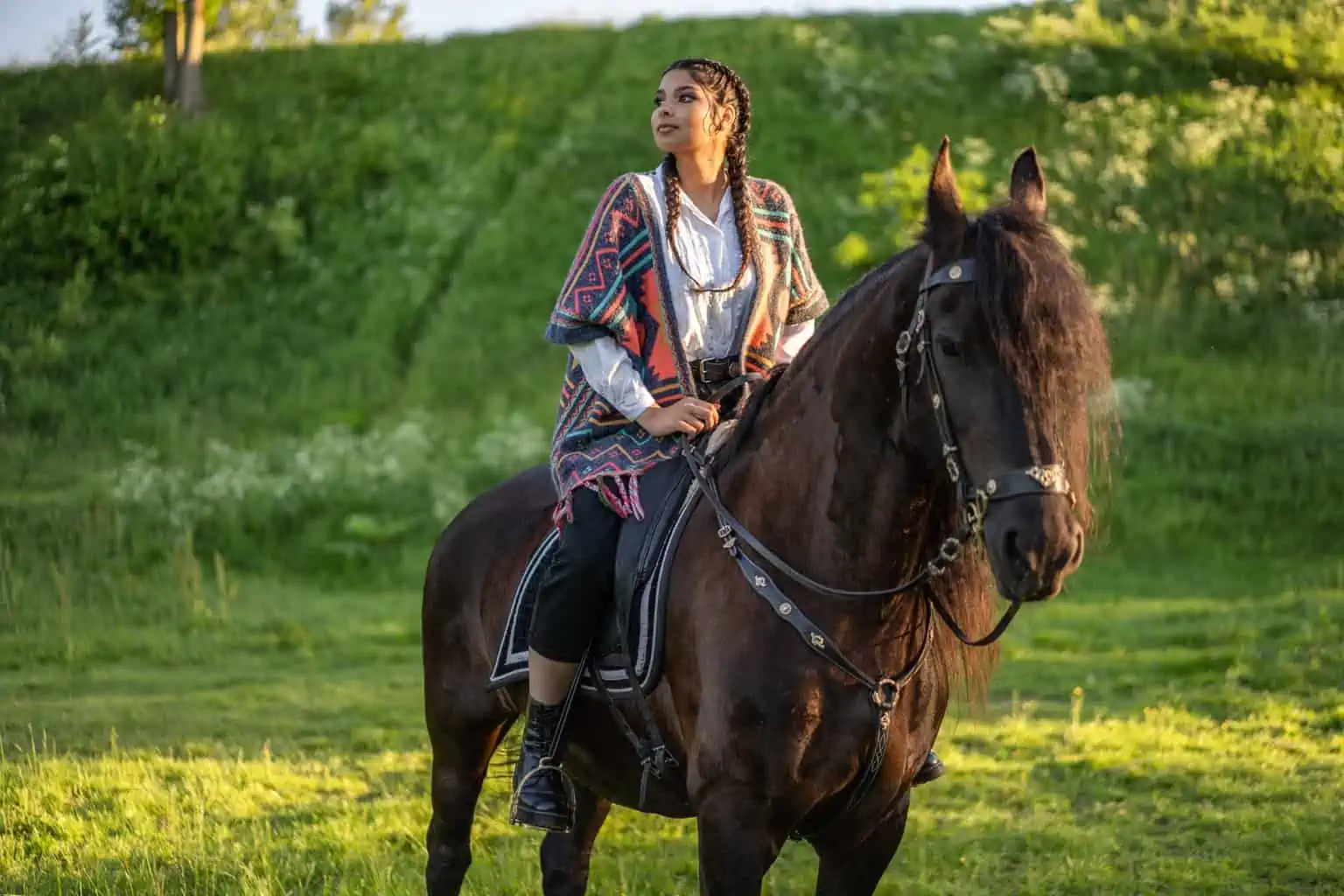 Image source: Pexels
Best Western Saddle Pads – How I Chose Them
Let's look at a few valuable guidelines I've considered when choosing the best western saddle pads. First of all, let me tell you the saddle pads you should look for based on your riding style and a few other special requirements.
Before we start, you should be aware of the most common types of western saddle pads. Western saddle pads represent a large category consisting of various pad models.
Based on their shape, materials, size, and more, there are woolen pads that have the highest fabric quality, corrective pads for high-withered or swayback horses, orthopedic pads, which are the hospital-grade therapeutic types of saddle pads, and contoured pads that are the ones providing the best fit and embracing the shape of your horse's back.
Next, you should think about your riding style and riding activities. For instance, more strenuous riding techniques like trail or endurance riding require more supportive and thicker saddle pads. If I were you, I'd pick a breathable and lightweight saddle pad for barrel racing, while roping requires a highly-protective and gel-cushioned pad.
Finally, if you use a treeless saddle, you need a thickly cushioned pad that's good at protecting your back and absorbing shock. Make sure to opt for one with foam or gel inserts.
Bonus Tip
I have had the luck to only ride young and healthy horses. However, if your horse is older, you should buy special pads with additional support. Orthopedic pads that don't restrict your horse's movements are ideal in these situations.
Size & Shape
I've tried my best to include various pad sizes and shapes, although I believe the most versatile ones are those with average measurements that can fit numerous horses and riders.
So, the size of the pad is certainly a priority. Standard ones measure 30 by 30 inches, while larger pads are 32 by 32 inches. The best saddle pads for tiny horses or ponies are the ones that have 20 by 20 inches. As you can see, sizes vary, so make sure you opt for the right one.
I now use a rectangular saddle pad, but I've also used square pads in the past. I admit I've never had a round pad. These three shapes are among the most common ones. Other forms are cut back and contoured. If you're on a tight budget, you could opt for either a rectangular or square pad. High-withered horses need cut-out pads, whereas short-backed horses require round pads.
Fit & Placement
Image source: Wikimedia
The fit of the pad allows for a proper setup. Even the thickest and softest blankets cannot replace a well-designed saddle pad in terms of fit and contour. To check if your current saddle pad is the right one, you should look at how the sweat spots gather on your horse's back after your riding session.
If the spots are uneven, your pad is inappropriate or worn out, and you must replace it. The same goes for horses with special needs, such as swayback horses.
The other important aspect when picking a saddle pad is placement. First, be careful where you put the pad on your horse's back. It should rest right on the horse's withers, not towards the tail. Then, make sure the cushion stays in place and shows symmetrical length on both sides of the horse's body.
At first, I didn't know where the saddle pad should go, but after years of training, my trainer allowed me to prep my horse on my own, so now I know what I'm talking about when I say that fit and placement are essential aspects.
High-Quality Materials
There's no such thing as the perfect material because certain fabrics are suitable for specific types of riding activities. For instance, both the purpose and the length of your horseback riding should give you an idea about what kind of material to choose. I prefer using contoured saddle pads because I believe they conform to my horse's back the best.
So far, I've never used wool blankets; I've used only contoured pads. But, perhaps for your needs, there are other, more suitable types of pad materials such as fleece. For example, there is wool fleece which is cushioned but less durable, and synthetic fleece which is sturdier.
Another saddle pad material is felt, which resembles fleece in breathability, cushioning, and moisture absorption. Wool felt is pricier than synthetic blend felt. Regardless of your opinion, you should know that felt is thicker and offers increased cushioning, but fleece has boosted breathability.
If you want a pad that's easy to clean, you should consider a neoprene one. Its tacky surface prevents the pad from sliding. It's excellent at maintaining its shape. The downside of a neoprene pad is its low efficacy in dissipating heat.
I, myself, prefer natural materials. However, I also like gel and foam fillings, both synthetic, due to their features regarding bodyweight distribution and lowered pressure.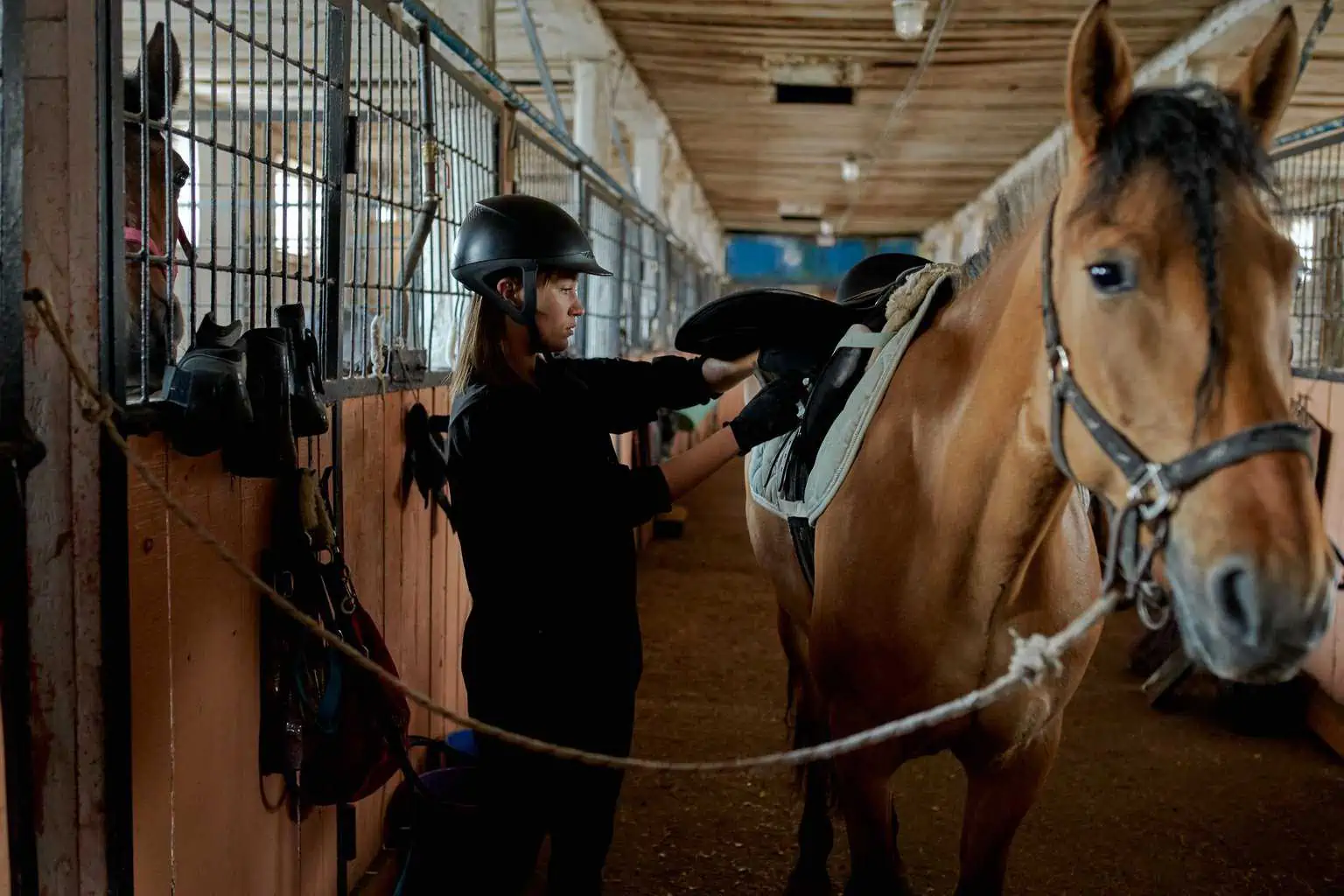 Image source: Pexels
It goes without saying that, no matter what type of saddle pad you choose, you must take good care of it and clean or wash it regularly if you want it to last longer.
FAQs
Question: What Items Should I Place on My Horse, Under the Saddle?
Answer: Here are some of the items that go under the saddle: saddle blankets, saddle pads, saddle cloths, and other similar cushioning inserts. They're meant to lower pressure, absorb moisture and shock, and protect your horse's back.
Question: Is a Western Saddle Harmful or Bad for My Horse?
Answer: Generally speaking, saddles won't harm your horse. But they should be well-designed, have the proper fit, and their construction should match the shape of your horse's back.
Question: How Thick Should Western Saddle Pads Be?
Answer: In general, a good saddle pad should have a thickness of a minimum of one inch. Larger riders should use thicker pads that are around 7 or 8 inches. If you ride on harsh terrain, the pad should be thicker.
• When you try to choose the thickness of your new saddle pad, remember these tips:
• The longer the ride, the thicker the pad should be;
• Larger riders and heavier loads require thicker pads;
If you engage in riding sessions on mountain trails or hills, you should use thicker pads.
Question: Could One Ride Without Saddle Pads?
Answer: Yes, but you shouldn't try that. It's not wise to ride without a saddle pad, even if your saddle has padding. The right pad ensures a proper weight distribution, boosts shock absorption, and protects sensitive areas (both yours and your horse's).
In Conclusion
While choosing the best western saddle pad can be daunting, it's an important thing that all riders must do. All the pads I've detailed above are worthy of your consideration, although some are better and more effective than others. After that, it's up to you, based on your needs and budgets.
My two personal favorite pads are the Diamond wool pad and the Montana saddle pad. They're both well-constructed, durable, and aesthetically pleasing.
Other than that, you should be careful when buying a new saddle pad and make sure it has the proper length, fit, and contour that suits your horse's body the most. Technical details aside, I firmly believe riding should be an enjoyable experience that you can achieve when you create a strong connection with your horse.
A strong rider-horse bond based on trust also relies on a comfortable, high-quality, and supportive saddle pad. So, keep that in mind the next time you search for this type of product.
Read More: