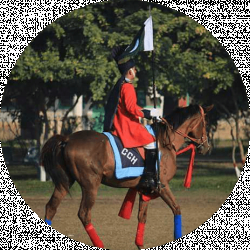 Latest posts by Boo Ali Khan
(see all)
"If you climb into a saddle, be ready for the ride."
This line may look pretty generic to you. Still, to a rider like myself, such lines are the sole motivation that pursues us to do what we love; horse riding.
But as most of you may know, horse riding comes in many forms and styles, making it much more fascinating. And one of these equestrian events is roping, characterized by rough tugs and pulls. And because of these hard moves, the saddles used in them are also pretty unique, called the roping saddles.
I always wanted to use one of these saddles; however, I never had a chance to try them in person. But I did get the chance to at least see these saddles in action in some roping events that I visited a few years back. Seeing so many beautifully crafted saddles left me in awe. But after that, my desire to use one by myself grew even more.
So, in this roping saddles guide, I will guide you through one of the items on my bucket list. I will also try to answer your queries about what makes a roping saddle different and which roping saddles you should buy.
Bottom Line Up Front:
Roping saddles are a one-time investment, so the option you choose must not lack anything you desire. And therefore, I carefully picked the option I loved. So, my favorite roping saddle is the NRS Competitor Roughout Team Roper.
Its well-padded stirrups, sufficiently tall Horn, and thick leather build provide comfort and durability at the same time. The stirrups on this saddle are unique with their gorgeous layer of hand-crafted roughout leather, which provides exceptional mobility while sitting on the saddle. While still keeping a robust grip on the horse.
My Top Roping Saddles:
My Selection Criteria: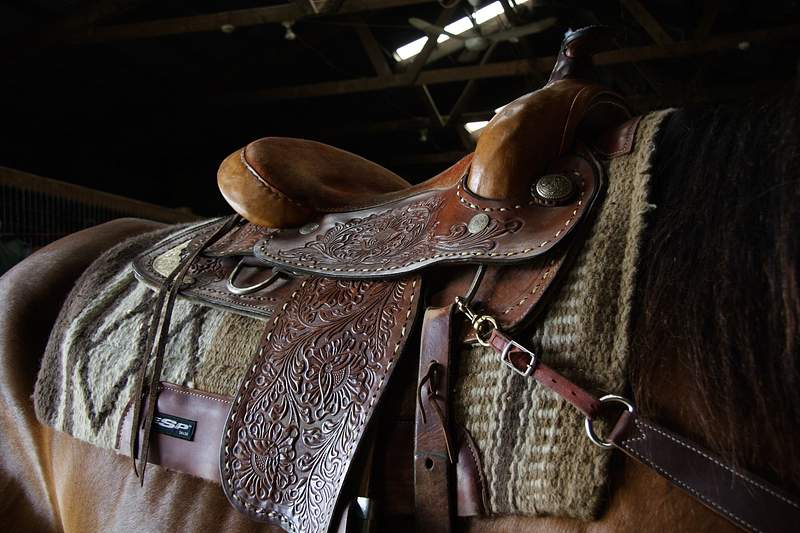 Before adding any roping saddles to my top picks, I have ensured that they meet the following selection criteria.
Availability:
All options added to my top picks are well in stock on the online stores and can also be found at many equestrian retail stores.
The Durability Of The Horn:
I carefully analyzed whether the Horn on the front could bear the animal's pull and whether a rider could grip it firmly. So all the options in my top pick have durable horns.
Material:
All the roping saddles I picked are built with quality leather, and their bottom is well-padded for the horse's comfort.
Some Buying Tips To Get You Started: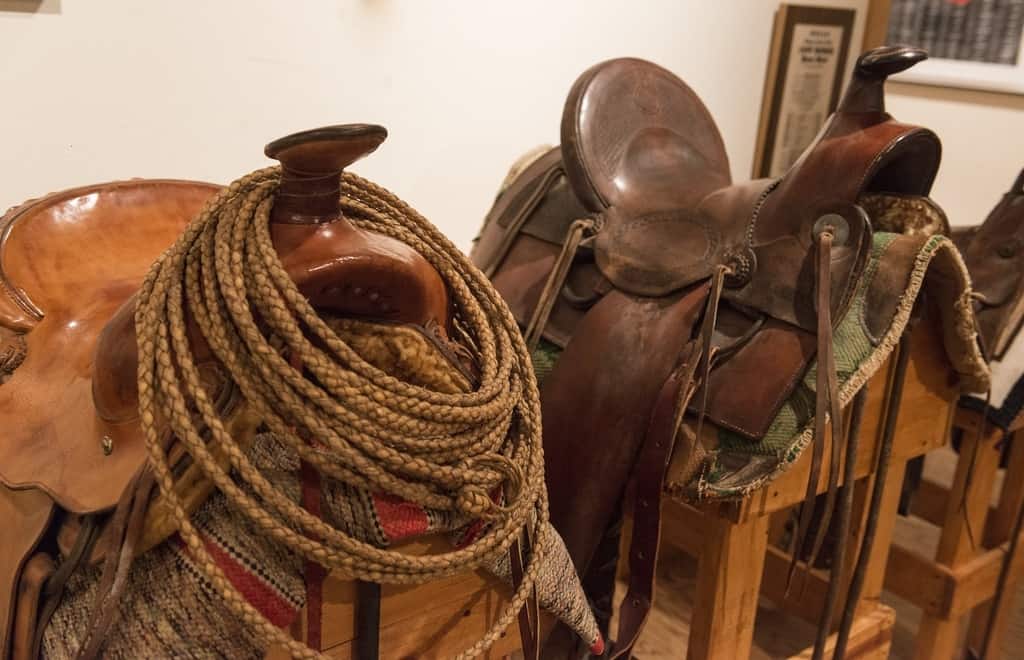 Buying the perfect roping saddle that suits all your requirements can be pretty overwhelming in this evolving sport. So, here are some buying tips you should keep in mind while betting your money on a roping saddle.
Match The Dimensions Of Your Roping Saddle With Your Horse:
When you decide to buy a roping saddle, be sure to carefully match its dimensions with the body measurements of your horse, as a size that does not sit perfectly on the back of your horse can make him very uncomfortable. Not to mention that a saddle that is either too narrow or too wide, not sitting properly on the horse, can affect the safety and performance of a rider as they won't be able to make any swift maneuvers.
Be Cautious About The Size Of The Saddle Seat:
When deciding on the perfect roping saddle, you need to check the size of the saddle seat. If the saddle seat is too short, it gets really annoying for the rider to properly maintain their balance, which makes controlling the horse really difficult.
Furthermore, if the saddle seat is too long, the rider's shoulders are put under a lot of pressure due to the challenging maneuvers of the horse while roping.
Going For Used Roping Saddles:
The prices of roping saddles can be overwhelming. So, going for used roping saddles can also be your next safe bet. However, when looking for used roping saddles, be cautious and look for any defects in the saddle. Don't forget to check if the saddle stitching is loose or if the saddle's design has not faded.
You can find these used roping saddles on eBay or NRSworld at almost half their original price.
My Top 10 Roping Saddle Recommendations:
NRS Competitor Roughout Team Roper: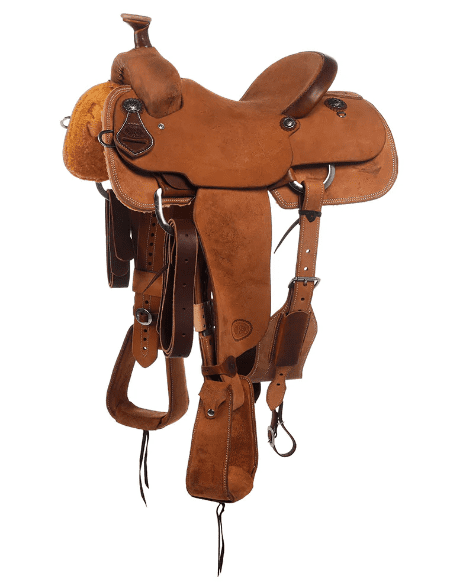 Description:
This roping saddle is built with 100% natural heavy oil Roughout leather, a luxury not found in many. Moreover, it has a minimalistic design with subtle hand-carved stitching on the leather. Not to mention the exceptional Horn on the roping saddle provides not only a firm grip but also a sleek design which is liked by many professional roping teams.
If you ask me about one of the top-notch saddles on my list, I will definitely vouch for this Team Roper. The matching color scheme of the leather straps makes it look exquisite. In addition, I really like how they went above and beyond with the textures on the saddle seat.
The seat has a chocolate quilted texture which feels soft to sit on and doesn't let the user slip off the saddle while moving around on the horse. And this is something you should always be cautious of.
However, with all these perks comes an incredibly high price, so be mindful about spending a significant amount in one go. With a price tag of more than 2000 USD, you might be bewildered to buy this roper saddle or go for a show pony!
Pros:
The leather straps match well with the overall color scheme of the saddle.
It has a simplistic leather finish which looks very decent.
Cons:
This roping saddle has a high price tag for many customers on a low budget.
Cowboy Ranch Roping Hilason: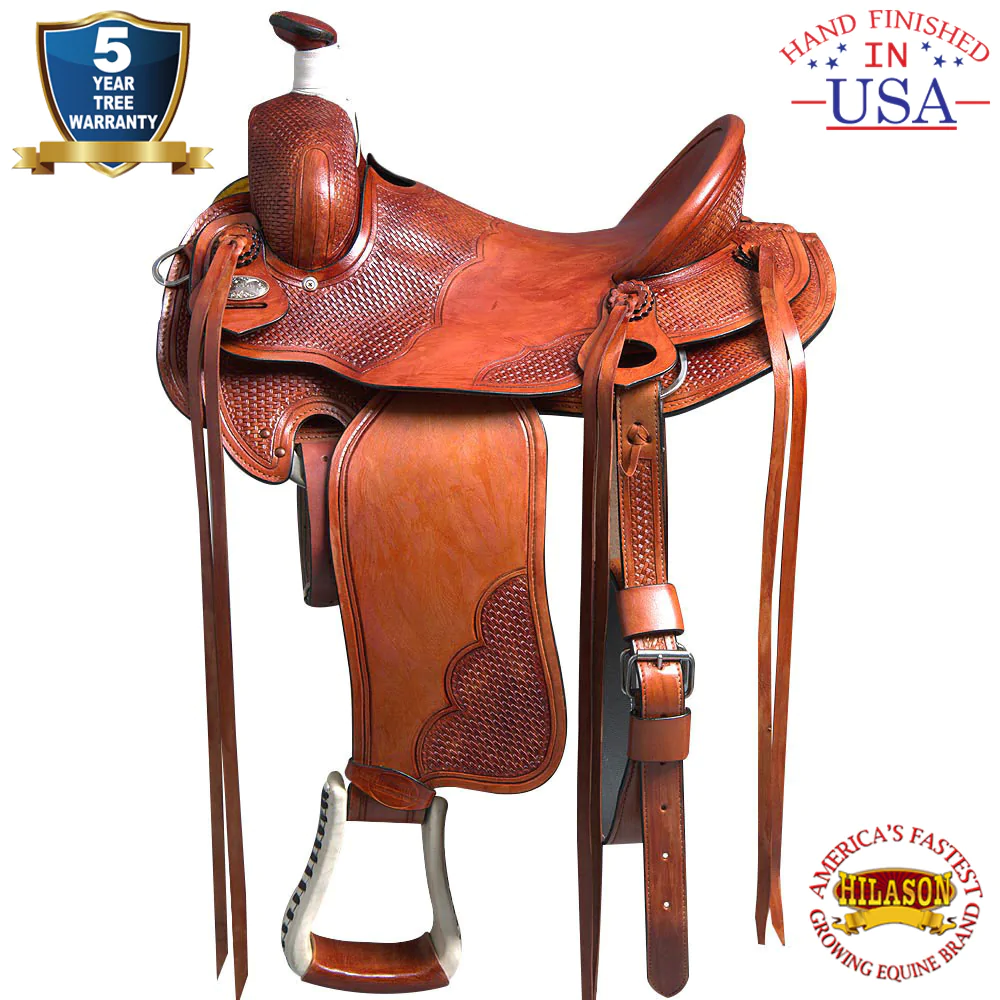 Description:
This ranch roping saddle is one of the finest works of Hilason. If you are an old-school rider who likes classy style, this roping saddle is definitely going to get your attention. It is a 16-inch roping saddle, a size that is compatible with most adult horses.
This roping saddle is undoubtedly a work of good craftsmanship as it looks like it's made from one whole piece of thick skirting leather. Not to mention, the finish on the leather is mahogany which covers the roping saddle all around.
When I first came across this roping saddle, it was not short of any work of art. Everything just lined up so perfectly. And I must mention here that the thing that's sometimes overlooked is the underside of a saddle seat; however, this saddle had a nice balanced bottom.
And this aspect makes it look like it was built while keeping in mind the comfort of the horse. I assure you that this roping saddle will not make you regret your purchase. And maybe it is just me, but its seat does feel a bit slippery due to its smooth leather.
Pros:
The foundation of the saddle is made with a good quality tree.
The 7-inch gullet makes this roping saddle an option for many horse breeds.
Cons:
Any dust or stains on the white-colored stirrups will be easily visible.
Ranch Roping Trail Hilason Saddle: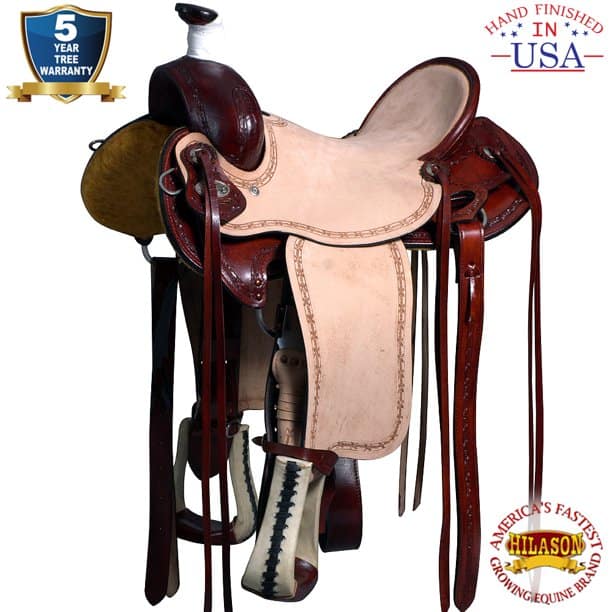 Description:
If you are wondering about the perfect roping saddle that suits you, look no further. This roping saddle is the option that will fulfill most of your equestrian requirements at an affordable price.
The roping saddle has lavishly made thick skirting leather, and the leather's finish is mahogany, excluding the saddle seat and leather straps. The latter is something on its own with its unique beige color and a novel stitching around the saddle. The stitching is also done in a barbed wire design, something that perfectly relates to a cattle form that further defines its purpose.
The most peculiar thing about this saddle is its color scheme. Though I am not a big fan of a mahogany-beige contrast, it is still appealing to most of the cowboys. The weight of the roping saddle is also well distributed, allowing the rider to ride comfortably for long hours of ranching. Moreover, if I talk about its cantle at the back, it gives a unique sense of security due to its raised height.
This saddle is also available on Walmart online store. But if you want to get the real feel of this saddle before buying it, I would suggest you check this saddle at your nearest Walmart. However, don't forget to see if the store you are going has it in its stock or not.
Pros:
The raised cantle keeps the user safe from slipping off the horse.
The stainless steel concho is very durable and would not deform over time.
Cons:
The heavier weight of this roping saddle can be a little too much for smaller horse breeds.
Dakota Roughout Roping Saddle 502: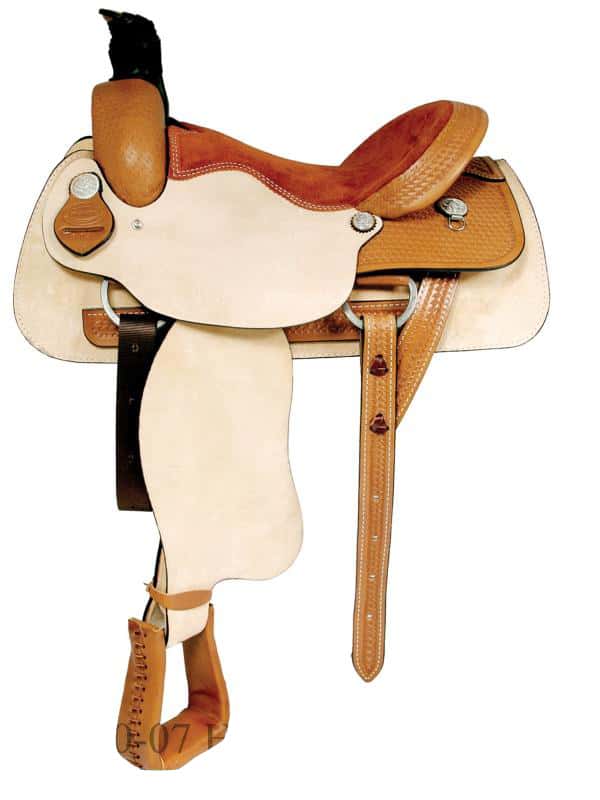 Description:
Roping is a heavy-duty sport and requires a firm roping saddle. So, this Dakota saddle can be a good option if you are looking for one that will stay with you many years down the line. This roping saddle is heavy-duty and sturdy, as every roping saddle should be in my view, and has a strong base made of a fiberglass-covered tree and FQH bars.
I still remember watching this saddle at a rodeo event, and just like the previous listing, the first thing I found very particular about it was its color. And I have to say that the color scheme on this roping saddle was not very appealing, as none of the parts of the roping saddle didn't really complement each other.
Its Horn has a black color finish, while the Roughout leather is Beige in color. But I guess it does redeem itself with its seat, which has a darker brownish tone and a smooth finish, which helps hide minor scratches.
The skirt beneath also has a hand-tooled basket woven texture. Not to mention that the stirrups offered in this saddle are made of Aluminium, which makes them pretty light. However, keep in mind that this roping saddle is not cheap, so keep your budget in check.
Pros:
The Horn of the roping saddle is really firm and is also covered with thick leather.
Because of their Aluminium built, the stirrups are pretty lightweight.
Cons:
The color scheme of the parts does not match well with each other.
Dark Brown Leather Ranch Roping Saddle: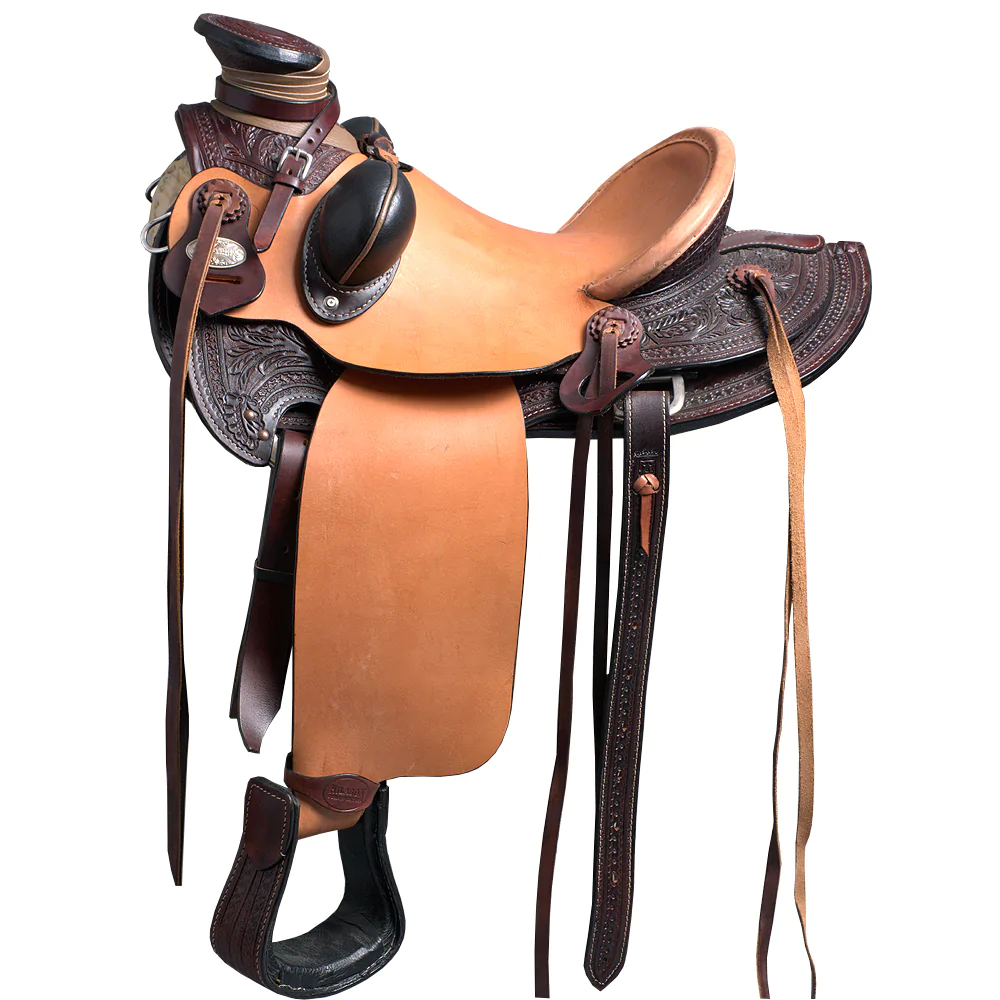 Description:
This is another appealing option on my bucket list. The roping saddle is carefully designed, featuring a rigid dark brown finish and stylish hand-tooled pattern going from the front of the roping saddle to the end of the skirt.
It has a light brown textureless finish so that the user is comfortable when he sits on it. And yes, this is something that most cattle farmers prefer who wear breathable riding pants that are usually thin. The strings around the roping saddle match the dark brown finish, while the leather straps look similar to the saddle seat.
I have to say the Horn on the front is pretty thick, which also makes it quite durable. The Horn was also covered in flexible rubber, which helps grip the lasso firmly with the Horn. The roping saddle also features a drop plate rigging system with a center ring, which helps distribute the weight evenly throughout the saddle and avoids unequal pressure points at any specific joints.
Pros:
The underside of the roping saddle is made with soft leather to provide comfort to the horse.
The leather on the skirt won't fade even after long-term use.
Cons:
The height of the Horn is also small, making it hard to make more loops around it.
Hilason Western Ranch Roping Saddle: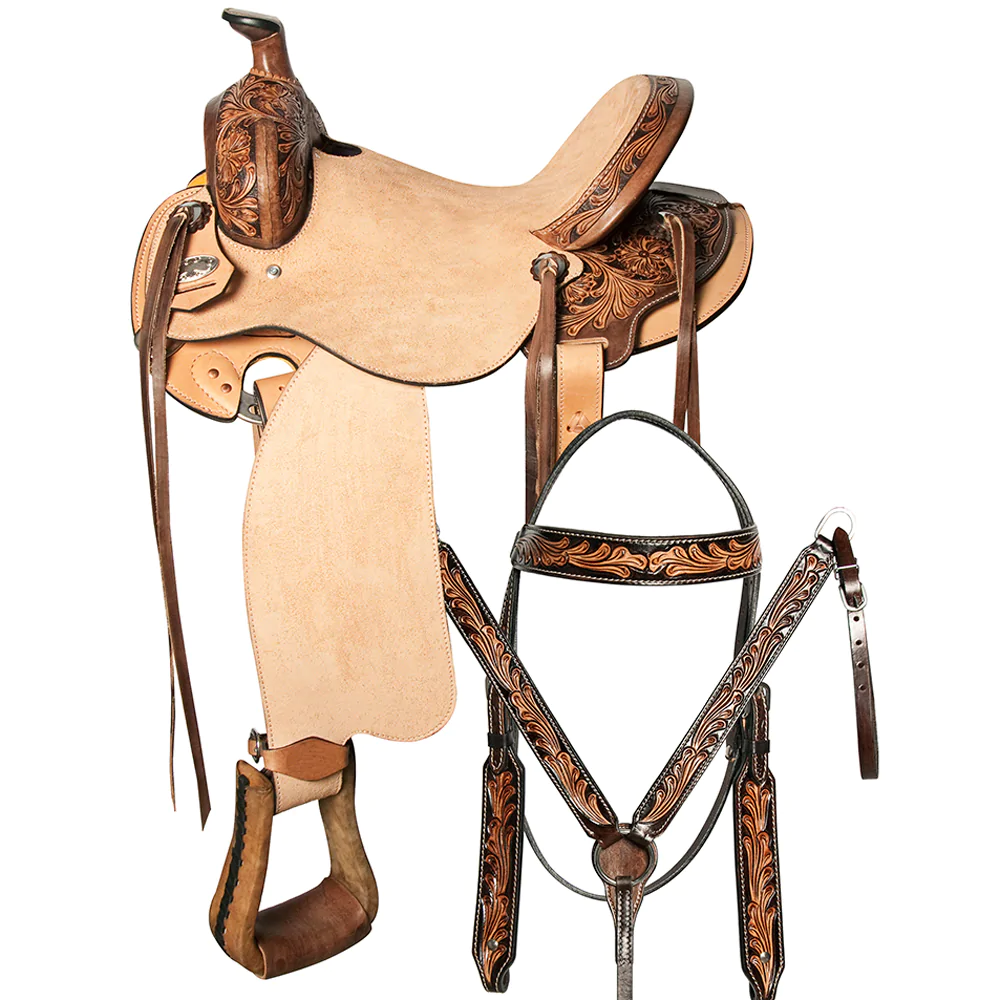 Description:
This roping saddle features a refined floral design on the pommel, cantle, and skirt. It really looks gorgeous and makes the roping saddle look like it was meant to be used in a dressage event rather than a heavy-duty roping event.
Moreover, this roping saddle has a nice weight, which speaks about its sturdiness and how well it can handle pressure. The weight also helps keep the roping saddle from slipping even on the most demanding maneuvers. The cantle of the roping saddle also has a much taller height of 4.5 inches which makes this saddle much safer to use; I would even recommend this for beginners.
I like how they made this option exceptional by providing a complete tack set that sweetly blends in with the design of the roping saddle. This roping saddle also has a gullet that is 7 inches with a full quarter horse bar which can easily fit many adult horses. Moreover, the users of the roping saddle are also provided a custom strap. I have to say this Hilason roping saddle is one of the most classy yet elegant saddles that I have ever seen.
Pros:
The roping saddle has a visually appealing floral design.
The foundation of the saddle is built on a strong tree and has a 5-year warranty.
Cons:
The small screws on the front and back can easily rust.
Hilason Dark Brown Ranch Roping Leather Saddle: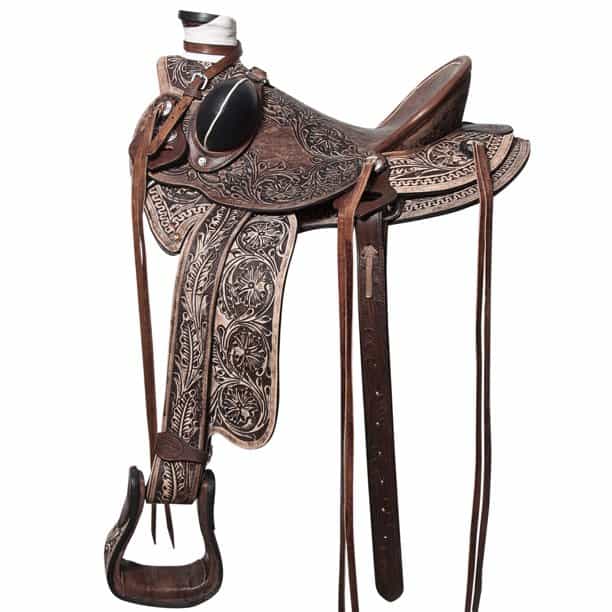 Description:
This option shouldn't go overlooked on your radar if you plan for a western showdown after you are done ranching. With its badass design, it does look quite intimidating.
Even the fender is hand tooled into this beautiful design. Although the roping saddles are used for heavy-duty work, and their design is not a top priority, this roping saddle, with its all-around high-grade thick leather and a flower pattern design, would break the records of dressage, only if it also had a roping event.
Although the design is appealing, it's not the only unique thing about this roping saddle. It has a lot of care put into it, as even the stirrups are made with a soft leather finish to provide the optimal comfort to a rider. But don't forget, the stirrups are still adorned with the saddle's beautiful design pattern.
This roping saddle also features buck rolls for extra security as it will stop the user from slipping forward during challenging maneuvers. Not to mention to provide maximum grip to the lasso, a strap is also attached to its Horn. A good option for any rider looking for a roping saddle with no compromise to design, comfort and security.
Pros:
The strings are attached to a durable Concho, and it won't be falling off any time soon.
The pommel on the front is raised high to provide more protection to the user.
Cons:
The seat of the saddle is a bit small, making it uncomfortable for healthy riders.
2783 Mesquite Roper: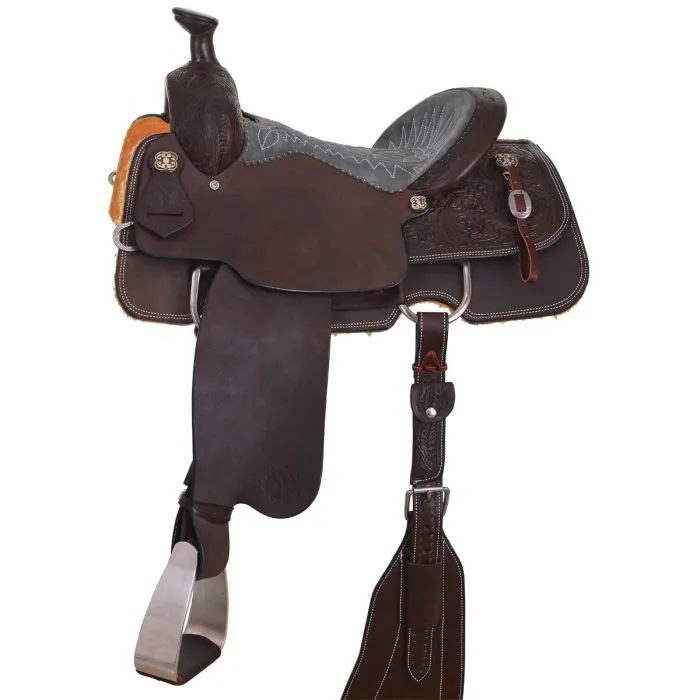 Description:
For the exotic riders reading this guide, it would be foolish not to include this roping saddle on my bucket list. It offers a unique polished tan leather finish around the roping saddle other than the seat. The seat has a textured finish to provide extra grip to the user.
Furthermore, the underside of the roping saddle is made with padded leather to make your horse feel relaxed while you move around.
The belly strap is also made with polished leather, but it also has engraved textures so that it remains gripped to the horse and doesn't slip to the back or front. This further reduces the hard pulling of the strap around the belly when putting the saddle on the horse.
The Conchos on either side of the roping saddle are also unique, with molding on both, making them quite visually stunning. There is rich attention to detail on this roping saddle. However, this is only understandable considering the price of approximately $3000.
Pros:
The molded design on the Concho looks very appealing.
The tree is reinforced with LTM Kevlar, which makes the base sturdy.
Cons:
The high price tag of this might be too expensive for most equestrians.
Cashel Kids Wade Saddle: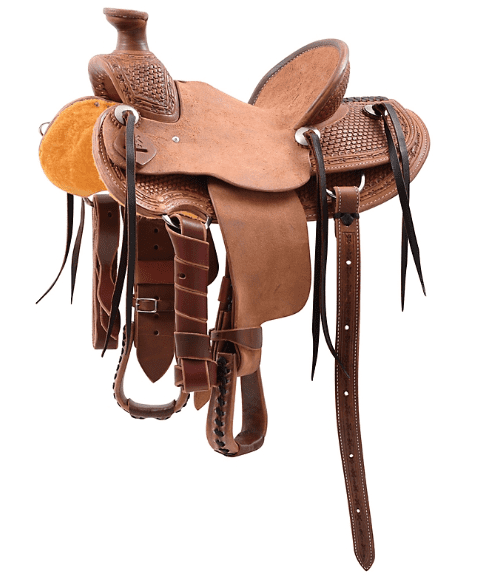 Description:
Does your kid want to be a part of any kids roping events? Or do you want to raise your child to be the best rancher in the west? Then look no more; this Cashel Kids Wade Saddle will fulfill your dream.
With its 12 to 13-inch size, this roping saddle is perfect as it can easily be fitted on young or small horses, even ponies. Even though this is a roping saddle made for kids, it doesn't cut corners and provides a polished leather finish on the saddle seat. The leather on the skirt and fender also has an evenly distributed pattern.
However, making the roping saddle weigh like a proper one would've been too harsh, so the weight is kept just around 22 LBS. The stirrup leather is also pretty adjustable to make it easy for young fellas to reach.
Another unique thing about this roping saddle is the intertwined belt, which makes the belt extra durable and aesthetically appealing. Moreover, this uniqueness will undoubtedly make this roping saddle the center of attention.
Pros:
The cantle is raised to keep the kid secured while horse riding.
Cons:
The simplistic design might not be appealing to kids.
A bit costly as compared to other kids saddles.
NRS Competitor All Around Saddle: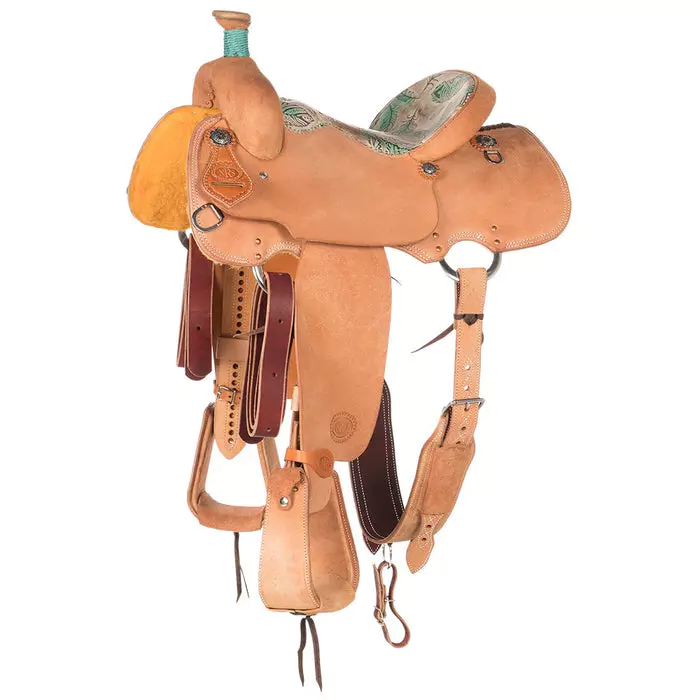 Description:
The NRS Competitor All Around Saddle is one of the luxurious options on my bucket list. However, it has some excellent features that make it an option many horse riders love.
This roping saddle has a design not found in many, with a turquoise finish going from the saddle seat to the Horn, something that will go perfectly well with my favorite western turquoise spurs. Not to mention the feather pattern is also a unique choice for the saddle to stand out.
Unlike the other options on the list, this roping saddle has a low cantle of just 2.5 inches. It allows easier dismounting. However, you have to be very careful when it comes to rising trot as there is a risk of slipping backward much more easily compared to saddles with a taller cantle.
The foundation of the saddle is on a thick, strong tree, so there is no need to worry about it being unable to handle pressure. But don't forget, all of this comes at a price tag that might feel heavy on your pockets.
Pros:
The unique design choice gives the roping saddle an eye-catching aesthetic.
The Roughout leather-covered stirrups have a good grip while still really easy to take your feet out of them.
Cons:
The high price ceiling might not be a good offer for everyone.
FAQs
Question: How Are Regular Saddles And Roping Saddles Different?
Answer: Roping saddles are heavy-duty equipment meant to handle a lot of pressure. Unlike standard saddles, they have a thick horn, so dallying a horse can be done quickly. Moreover, their cantle is usually on the longer side to provide more safety for the rider. The Horn on most roping saddles is also quite thick, making them very durable.
Question: Should You Use A Roping Saddle As An Everyday Saddle?
Answer: Roping saddles usually weigh much more than a standard saddle. So, it takes a lot of strength to lift it up to put it over the horse. Moreover, it puts more pressure on the horse than an ordinary saddle. This makes a roping saddle bad for long-term horse riding and for everyday use. So, no roping saddle shouldn't be used as a regular saddle.
But if you use cold blood or warmblood horses, who have more durability and a sturdy build, for your ranching activities, you may use these roping saddles on such horses for your daily farm activities.
Question: How Do I Know If My Roping Saddle Is Too Heavy For My Horse?
Answer: A roping saddle can weigh between 30-60 LBS. So, any roping saddle within this range can be used on a horse. But it is common sense that every increase in the saddle's weight will put more pressure on the horse.

What I would suggest is that if you see a dip in your horse's performance, consider changing to a lighter roping saddle, as the weight of the roping saddle and your added weight on top of it might be too heavy for your horse.
Question: How Do You Pick A Roping Saddle?
Answer: Frankly speaking, there are a lot of factors you should keep in mind while picking roping saddles. But if I talk about some of the most determining factors to see if the roping saddle fits your size, you should be able to insert two to three fingers (about two inches) between the saddle's skirt and your thigh.

You should also check if the saddle isn't too heavy for your horse and if its width is also perfect for your specific horse breed.
Best Roping Saddles: Wrapping Up
Roping saddles are still a versatile piece of riding equipment and can be used for many situations ranging from trail riding to different equestrian competitions. And its sturdy tree base and leather stirrups for grip make them all the better for rough rodeo events. However, where they really shine is the roping events, as these have various belts and harnesses which help these saddles stay on the horse even in the roughest situations.
All these small details make them somewhat difficult to buy as many new equestrians still don't know what to look for in a roping saddle. But don't panic; if you consider my buying tips, you will not face much trouble deciding on your favorite roper saddle.
When buying a roping saddle, be mindful about purchasing an inch larger size so that you can easily fit in the saddle seat. Also, match the dimensions of the roping saddle with your horse. The best way to do this is to search for the saddle size calculator you can easily find on the internet.
And don't forget to check if the Horn is durable or not. A durable Horn is essential as it has to handle a lot of pressure. However, remember to be thoughtful about your budget during all this process.
If I have to pick my personal favorite among these beautiful roping saddles, I will go with the NRS Competitor Roughout Team Roper. The NRS Competitor Roughout Team Roper is secure with its raised cantle and has unique leather stirrups that provide excellent grip while on the horse.
Even if it comes at a high price tag, I believe its quality justifies the price. However, if this is not up to your taste or you want some affordable roping saddle, you can pick from other options in this guide. Until next time!
Read More: