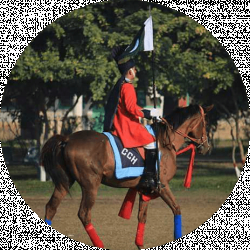 Latest posts by Boo Ali Khan
(see all)
Spurs are ancillary aid, in addition to a riding-whip, that gives riders more control over the horse. They are specialized riding accessories that trained riders should only use. Misuse of spurs may cause your horse to have dead sides, which means they will no longer respond to command and light cues.
Now, when it comes to Western spurs, its market is very diverse, with something available for every rider. These spurs also feature many types of ends, such as round, knob, disc, rowelled, etc. I get it; hearing this can be pretty daunting at first, and you may be wondering which one should you buy first.
But, don't worry; in this best Western spur guide, I will give you tips and key points to remember while buying the best Western spurs that suit your needs.
Bottom Lines Up Front
Whether you want to use it for your daily riding needs or visit a horse show, this Antique Brown Cactus Turquoise Spur will make you look fresh and stylish wherever you go. With a unique turquoise gem, they have one of the most mesmerizing designs I have ever seen on a spur. But if you want other options, check out the spurs I have listed below:
My Reasons for picking these Western Spurs
They have a great design.
They are durable and long-lasting.
Most of them have a classy style that every cowboy needs.
My personal experience with the spurs.
Buying Guide
Check the reviews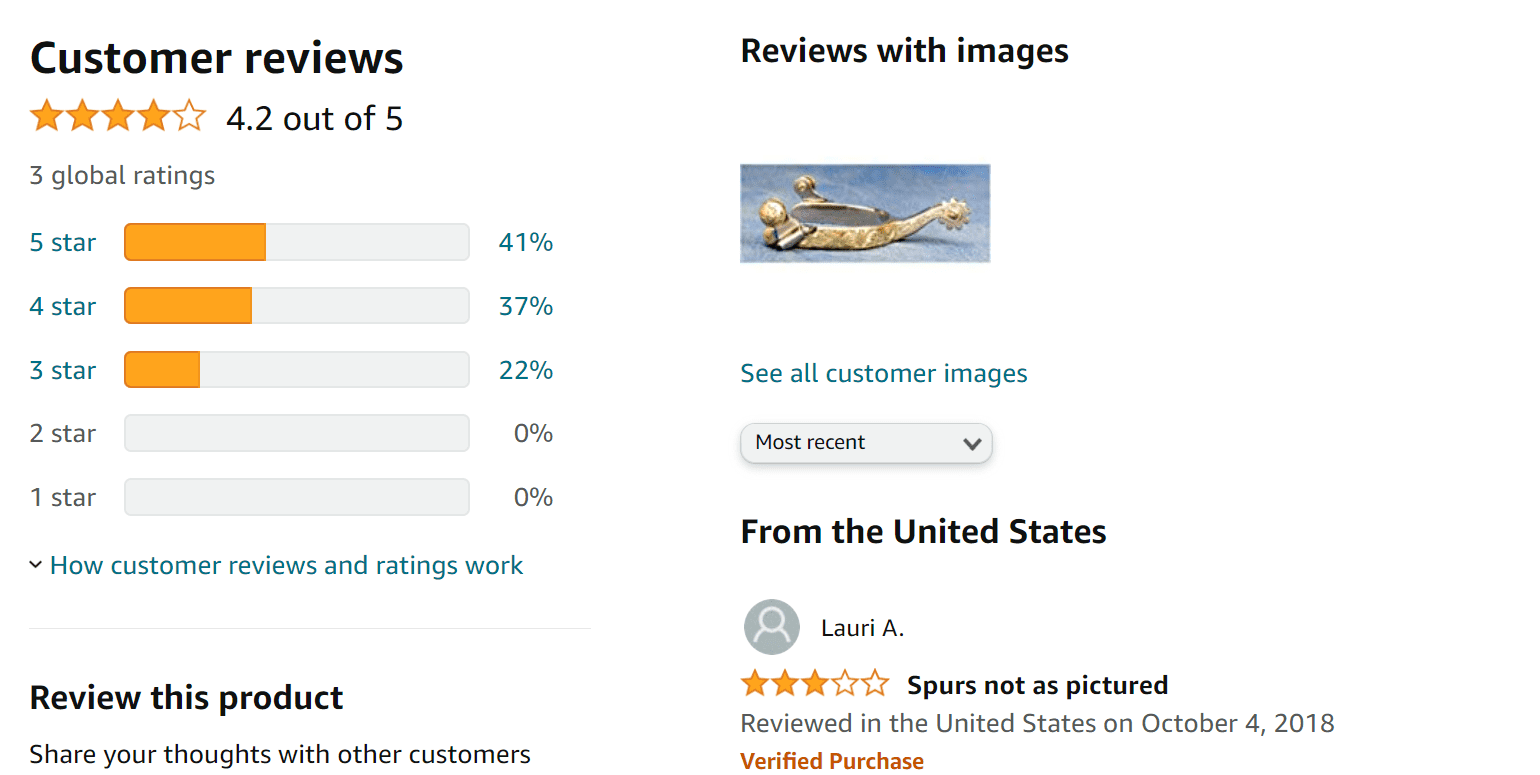 When you decide to order your western spur online, it's best if you take some time to read the reviews present under the product's description. You may get crucial information that will help you make an informed decision about the spurs you are going for. Reviews are also a great way to understand what to expect from your spurs.
Buy retail
Do not think twice if you can get the Western spurs at a nearby physical shop. This way, you can inspect the Western spur and check for defects. Sometimes the photos posted online don't fall in line with the spurs at hand. But if you buy from retail, you know what they offer.
Budget
Western spurs are a niche product item due to which they can become very costly. Suppose you don't set a budget beforehand. In that case, you may find yourself very frustrated by the number of options ranging from affordable to expensive. Having an idea about your price range for your favorite spur can help you avoid getting overwhelmed and make a better decision.
Check the size
Western spurs are essentially cast iron bent into shape, so they don't offer one-size-fits-all. You must be prudent while ordering to ensure the spur matches your heel size perfectly. Remember, it can end up being too small, and it will be hard to make them wider unless you use a mechanical tool, something I would never suggest.
My Top Picks
When my friend told me about a new Western spur he had been using recently, I wasn't sure if he was being real; because they sounded too good to be true. But when I finally saw them in person, I was baffled and had to agree that these spurs were every bit as impressive as my friend described them.
This pair of Western spurs are tastefully crafted with black-colored steel and covered in a floral design. This is quite appealing to watch and shines bright in broad daylight. This pair also features a clover style rowel which is softer on the horse's skin, making this pair easy to manage for beginners.
But I found the size to be a bit large for female boots. Furthermore, the floral design crafted on the spurs may also start to catch rust after a few months.
Pros
This rowel is perfect for beginners and is soft on the horse.
The steel design is excellently crafted.
Cons
The steel used for the design may rust after some time.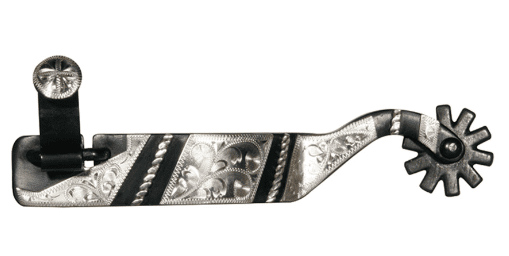 This pair of FES Engraved Spur is undoubtedly a work of art, and seeing them displayed at my local stable always made me want to have them. Unfortunately for me, they were only available in female sizes. But luckily, one day, I witnessed a female rider wearing them at a horse show I was attending as a spectator. And I must say they really lived up to my reputation for them in my heart.
These spurs are made from stainless steel with a polished black finish. The silver plate with an intricate design perfectly overlaps around its heel band. It also has a 10-point rowel which incites the horse's responsiveness while also providing a large surface area, so it doesn't hurt much. I also love that it has a spur button that makes them easy to attach with riding boots.
Pros
They have a 10-point rowel which ensures a quick response from the horse.
They are made from stainless steel, which prevents rusting of the spurs.
Cons
They are only available in female sizes.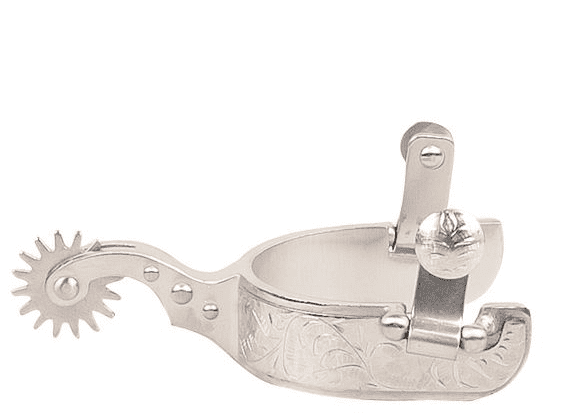 Are you looking for an elegant piece of horse equipment to level up your riding game? These spurs are engraved with a fabulous floral silver trim that looks exquisite. In addition, it has a very elegantly unique pure silver finish. Admiring it from a distance almost made me feel like I was staring into a mirror.
Another good thing about these spurs is that they use a 16-point rowel, which, if you don't know, has a large surface area, so it isn't uncomfortable for the horse when you poke them with it. It also has a longer shank than most spurs, giving you better leverage, and you don't need to push your spurs harder when trying to cue the horse.
Pros
It has a longer shank than most spurs which means you require less leg movement when using them.
A shiny and bright finish is a great way to attract attention to a show.
Cons
Its price can be pretty high for an average equestrian.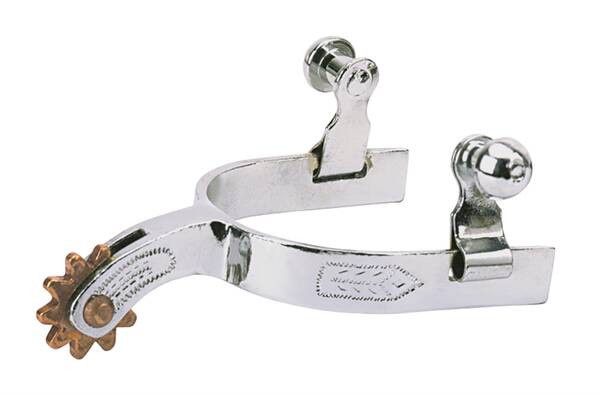 This pair of spurs make great gifts for kids interested in horses because it features a chrome-plated shiny finish, which is quite appealing to a younger audience. It also had a unisex design, making it easy to recommend to a larger audience. The rowel is brass colored, which gives the spur a particular contrast and makes it unique amongst others of the same kind.
These spurs proved to be an excellent present for my younger cousin, who is always delighted to wear them on her little pony. Due to their rowel's 10-points style and blunted ends, I always knew they would not be harsh. The edges on the rowel are very smooth, so if you are looking for a spur for your younger equestrian, this can be a safe bet. The chrome-plated finish also prevents it from rusting over time.
Pros
They have an affordable price tag.
They are chrome-plated, which means they are resistant to rust.
Cons
They are only available in one size.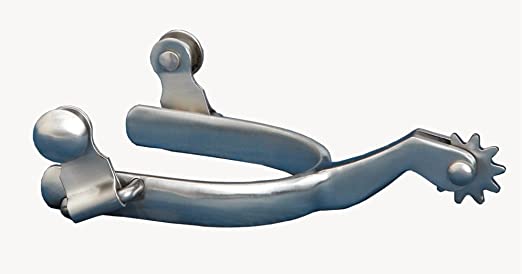 These spurs used to be worn by my fellow rider in the stable. Ever since he got them, he has never replaced them. That speaks volumes about their durability. They are made from brushed stainless steel, but I like that they are not too shiny.
These spurs have a 10-point rowel which, in my experience, offers better responsiveness to commands. They also feature forward-leaning buttons for extra comfort when you put them on with straps. Summing up, this is a perfect pair of spurs for anyone who wants to properly guide their horse without being too flashy.
Pros
They are made of rustproof stainless steel.
They are very durable.
Cons
The design is a bit dull and too simple.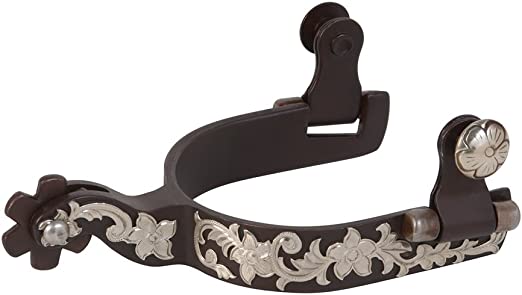 Although I have not worn these spurs, they have been on my radar for a while now. I was fortunate to find a girl in a dressage contest wearing them. I asked her opinion about them, and just like me, she was a great fan of the floral design. But to be honest, her insight did not go any good, as she only talked about their design.
When I finally got a chance to try on a pair myself, I noticed that the 6-point rowel system wasn't too hard on my Thoroughbred's skin. Otherwise, his reaction would not have been what I anticipated.
Unlike other spurs, these spurs are relatively lightweight because of the material, i.e., aluminum, used in their making. Another selling point for these spurs is that this pair has a replaceable rowel system. So, you can change the rowels if they get damaged, rather than buy a new pair altogether.
Pros
Has an interchangeable rowel.
These spurs have an excellent and simple floral design that is attractive to both men and women equestrians.
Lightweight spurs. The best option for long training days.
Cons
When improperly fastened, the rowel can sometimes fall off.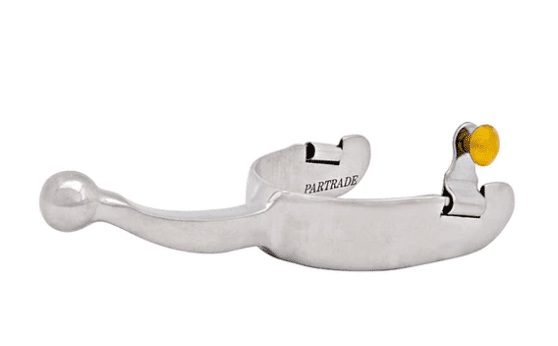 If you are looking for a pair of spurs with a smooth rowel, you willdefinitely like this one. I know it is made for ladies, but who cares if it fits on your boots? It has a softly rounded knob at the end. The shank is also a bit longer, making it easier and faster to cue the horse.
Due to its rounded build, the knob is also painless for the horse, making it perfect for beginners. It has a glossy stainless steel finish with a soft gold-colored spur button. I know it is small, but I like how the button leans slightly, which gives it excellent comfort when fitted with straps.
It is also durable and hard to rust due to the somewhat sanded finish, so you don't have to worry about losing its classical finish.
Pro
Its rounded rowel makes it perfect for beginning riders.
It has a stainless steel finish which helps it avoid rusting.
Cons
Only available in a ladies' size, and it might not fit boots with wide heels.
Are you a bit of a gambler at heart but can't show your love for it openly? Then here is your chance. Because this Western spur is craftily designed in a brown color that gives it a rustic look, its design is studded with a club, diamond, heart, and spade with beautiful German silver trim. I am sure you would love to wear them to every racing event, especially if you have your favorite sprinter competing in the race.
Like the vintage cowboy spurs, these also include jingle bobs which will catch quite some eyes. But I personally find the sounds annoying, so I would probably remove them. This pair has a 10-point rowel which provides a large surface area, making it very comfortable for the horse. The buttons on the spur are also pretty big, making them easy to clip and unclip on your boots.
Pros
It includes jingle bops, which signify your presence in the stable.
A classical style that is appealing to senior equestrians.
Cons
The metal can start to rust after prolonged use, which can be problematic when it rubs off the boots or jeans and stains them.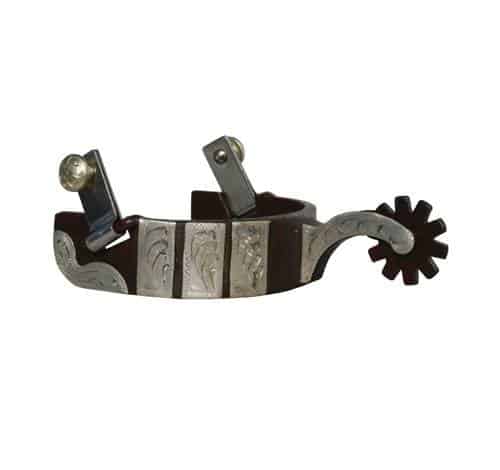 When I first used this pair of Western spurs, I thought it looked like a vintage pair taking me back to the old cowboy movies. It is made from steel and is painted with an earthly brown color, which gives it an antique feel. It also provides this pair with a rustic look. At the same time, the engraved silver floral decorations make it look exquisite.
It has a 10-point rowel with blunted edges, ensuring it does not hurt the horse. The 21/2-inch shank is longer than what is seen in most spurs, which makes it perfect for shorter riders who can't properly reach the belly of the horse. But do remember to check the band size of these spurs beforehand, as I found these spurs to be a little too small for most riding boots.
Pros
Its brown finish gives it an antique look.
Has a longer shank which is less strenuous on the legs.
Suitable for both amateur and professional riders.
Cons
The silver plates on their sides can catch rust.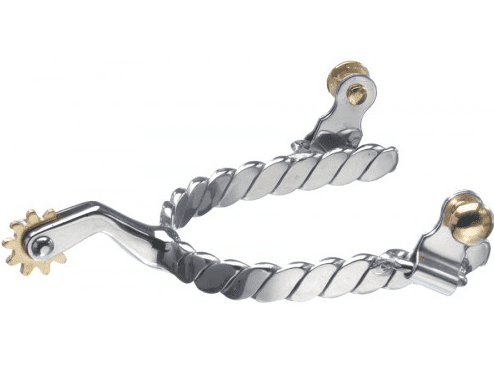 This spur has a unique twisted wire design that looks like something very impoverished to an old-school person. However, just like those stripped-off jeans that have now become a fashion, these spurs share an uncanny resemblance with the trendy twisted platinum bracelets.
They are made of pure stainless steel, making them highly durable and preventing them from rusting over time. The finish is also gleaming, and the stainless steel is nicely polished. I also love how this pair of spur stands out in the sunlight, giving it a soft glow.
Another feature of these spurs is their 9-point rowel which may not be as comfortable as the 10-point or the knob style rowel but still gets the job done. Plus, you can't really be complaining, especially after seeing its relatively low price and robust build.
But remember, it has a short shank, so if you're already facing difficulty reaching the horse belly, I recommend looking for other options on this list.
Pros
It has a solid and durable stainless steel finish which makes it rust-free.
It has an affordable price tag.
Cons
It has a relatively short shank which isn't appropriate for shorter riders.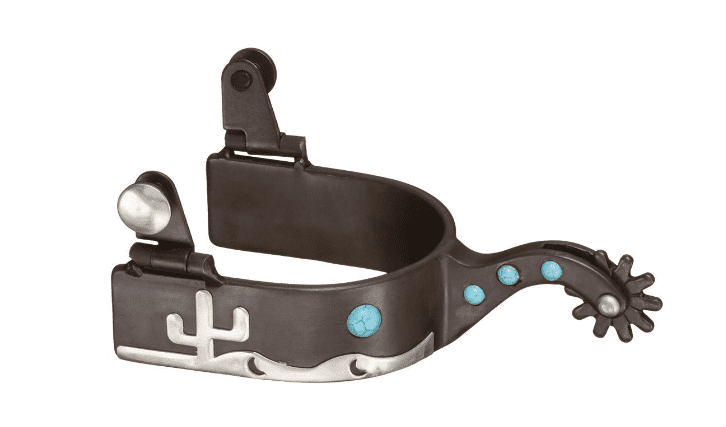 Now let us talk about my favorite Western spurs in this guide. Their finish makes them a captivating piece of art. They feature a night scene of a desert with a cactus depicted in great detail. These spurs also have two crescent moons on the lower silver overlay and a beautiful turquoise stone as the moon. No Western spur gets any better, right? This pair of spurs is guaranteed to make you stand out and keep you the center of attention whenever you attend an equestrian show.
The rowel has a 10-point style, which in my opinion, is the best type of rowel you can get right now. It has a 1 ¼" inch band that will fit most riding boots. I did find the metal on the spurs does get rustic over time. Don't call me a hypocrite; I genuinely feel this rust further adds to their detail.
Pros
It has a turquoise stone, giving it a unique design and style.
It is very stylish and perfect for show events.
Cons
The turquoise stones usually fall out.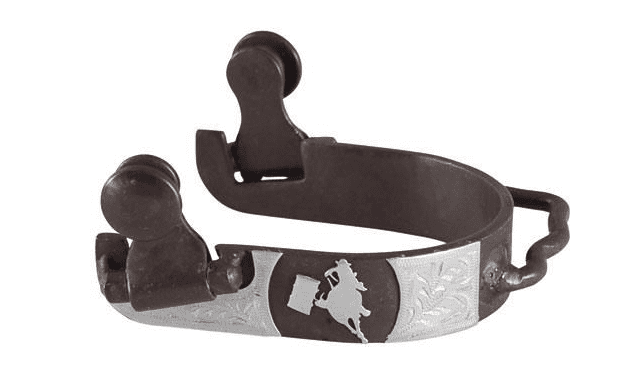 These brown bumper spurs define their very purpose. The cowboy turning around the barrel is pretty classy. Even though I don't have much experience in the sport, the design of these spurs still makes them a collectible for me. I admit I have worn them in most of the rodeo events, even at some equestrian shows. After all, what is wrong with letting your spurs speak for who you are?
This spur has a heel band with small wavy ridges instead of a rowel at the end. It also has a nice silver overlay depicting a cowboy on a horse beside a barrel. The brown metal has a rustic look, and I love the old antique vibe I get from using these spurs. The silver overlays are also perfectly cut out, flush with the rest of the body.
Pros
It has a softer edge than a rowel.
Perfect spurs to wear casually.
Cons
The brown metal is prone to rusting after some time.

Want to show your love for poker and still look stylish at the same time? Then these Western spurs will work perfectly for you. It is made from antique bronze with a silver overlay of a heart, spade, club, and diamond. It also has an 8-pointed rowel, which is well rounded and does not poke hard.
It has a slightly shorter shank than most spurs I have seen, meaning the rider must apply more pressure on the horse to get the same response. But ignoring the technical stuff, it still has an antique finish that gives it a relatively rustic and vintage look. The bronze medal also ensures that the spur is less likely to rust. I would definitely recommend this for riders living in moist areas.
Pros
The bronze medal means no oxidation occurs to ruin this spur with rust.
It has international shipping available.
Cons
The silver overlays may fall off after prolonged use.
This spur will surely be an excellent addition to any cowboy enthusiast due to its classic antique finish and magnificent floral silver trim on the shank.
I first saw them at a recent horse show on a rider's boots, and from the first impression, I knew I had to experience them up close. To my delight, it also has a highly detailed depiction of two crossed pistols on the heel band.
This pair of spurs have a clover leaf rowel which gives the rowel a large surface area. It is very friendly for the horse and tends to hurt less if misused. The other thing that tempted me towards these spurs was their shank, and I have to say, I have never seen such well-crafted shanks based on the hammer of a six-shooter. It feels like these spurs are always ready to shoot.
Pros
They have a clover leaf rowel making it an excellent buy for beginners.
The small pistols on the heel bad are highly detailed.
Cons
The hammer-based shank gets stuck in clothes.

The last spur on this guide is unique as it has both characteristics of a barrel racing spur and the rowel of a typical roping spur. Also, the wavy rolls on the heel band are like the bumper kind. It can benefit those particularly stubborn horses that need an extra push.
The metal has an antique finish and a classic rustic look often seen on cowboy spurs. This especially goes well with the floral design in stainless steel. The rowel at the end is a 5-pointed one with smooth square edges.
Although bumper spurs are usually known for being soft on horses' skin, the small rowel on this pair of spurs can be a bit painful for the horse. The bare metal can also start to rust after prolonged dedicated use. But its solid metal build will not cause any problem.
Pros
A fabulous discrete floral design on the barrel roll.
It has an exceptional build quality, so it isn't going to deform with constant use.
Cons
The small rowel negates the purpose of a bumper spur.
My Top Picks
FAQs
Question: Can I wear Western spurs casually?
Answer: Unlike in the movies, Western spurs are not everyday wear. Although they have a particular usage attached to them, it will be your choice to use them as some fashion accessory or not.
I would suggest wearing spurs at horse shows if you want to. Avoid making them part of your casual wear as they can get stuck or poke into many things.
Question: Can spurs hurt the horse?
Answer: Spurs give riders better control and compelling command of the horse. However, with improper use, a spur can potentially hurt the horse and cause bruising. Therefore, I only recommend a spur with at least a 10-point rowel with sizeable ends for beginners.
Question: Do I necessarily have to use Western spurs while riding?
Answer: Although spurs are very helpful in controlling a horse and benefit professional riders, there is nowhere in the rule book that you can't handle a horse without a spur. This also depends on your bond with the horse because if you have a good bond with your ride, you don't need to worry about wearing a spur. But if you own an overly enthusiastic horse like a few Thoroughbred that I experienced, wearing a spur isn't that bad of an option.
Wrapping Up
Western spurs have been part of the classic cowboy look for ages. For an equestrian, a Western spur is an excellent horse aid as long as they are properly used. I mostly recommend beginners avoid using them, as they don't know how much pressure is suitable for the horse. However, a spur with at least a 10-point or clover-end rowel can be a relatively better option for them.
My favorite Western spur is the Antique Brown Cactus/Turquoise Spurs. These spurs include turquoise stones, making them unique as I adore this shade. The night sky design with the cactus is also perfectly depicted in the design. If you can, always try to buy spurs from retail shops. Make sure you confirm the size of the Western spurs before purchasing them. Don't forget to make a budget for yourself. So, when will you complete the equestrian look and get a Western spur? No better time than now!