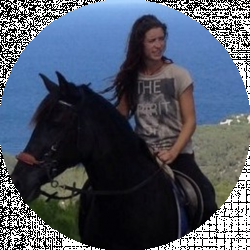 Latest posts by Tanya Taylor
(see all)
If you want to find the best dressage saddles – you've come to the right place. Choosing the best saddle for your needs isn't always an easy task. Before you buy one, you have to consider many things such as your budget, your riding level, and the size of your horse.
If you want to know more about how to find your perfect saddle, take a look at our comprehensive guide to dressage saddles below. 
In this guide, you can learn:
What a dressage saddle is

How to take care of a dressage saddle

How to fit a dressage saddle

How to choose the best dressage saddles
What is Dressage?
The word dressage comes from the French term "dresseure" which means training. The dressage we know today was developed by the cavalry in the 17th century to help horses behave on the battlefield – because, in their situation, a misbehaved horse would cost lives.
These days, dressage is a popular equestrian activity, and it's one of the three equestrian events at the Olympics, along with eventing and showjumping.
Dressage is an elegant sport that is the ultimate demonstration of horsemanship. Many people practice dressage because it helps you improve communication with your horse, making them more responsive. Dressage also helps both horse and rider increase their stamina and it helps strengthens a horse's muscles and improves their flexibility. 
Even if dressage isn't your favorite riding discipline, it's good to incorporate it into your usual riding routine. The skills you and your horse develop with dressage can help you excel in other equestrian events such as show jumping. 
What is a Dressage Saddle?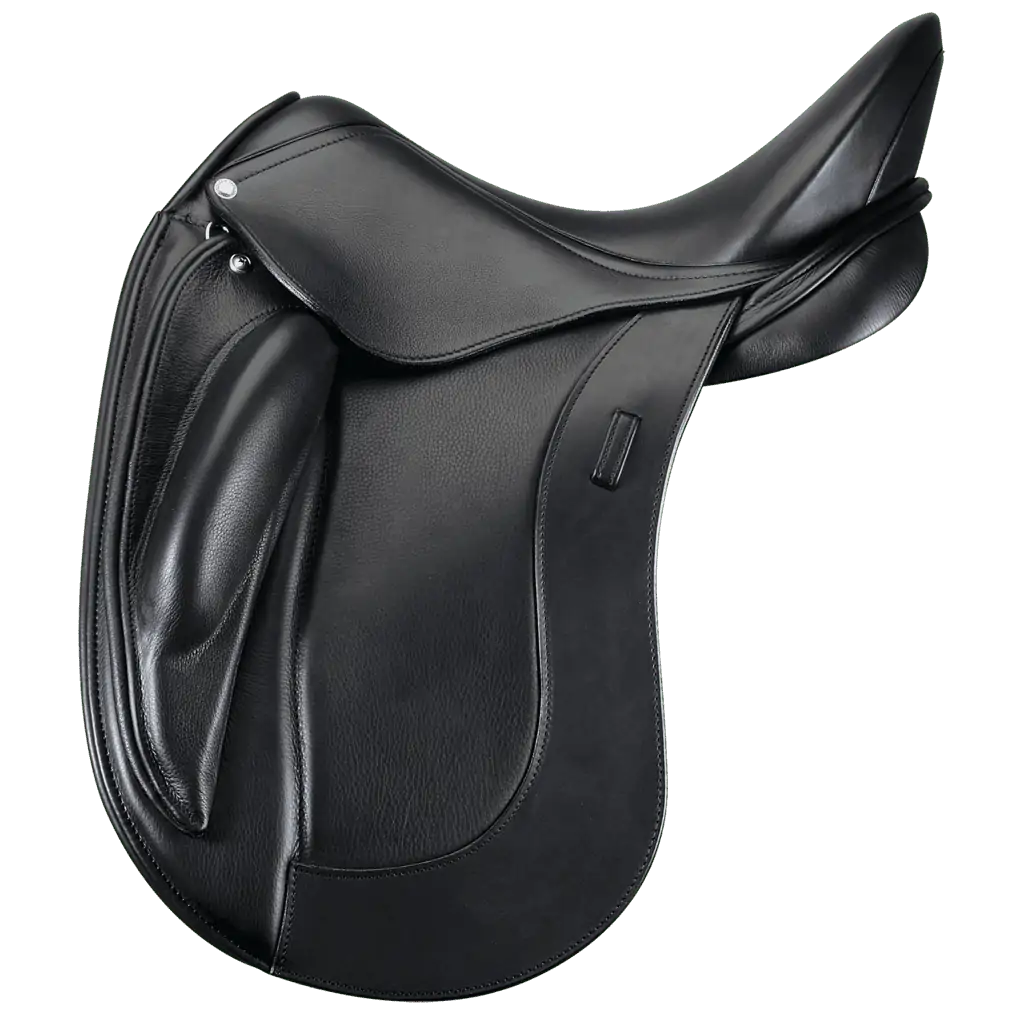 A dressage rider needs a deep seat, good leg position, and close contact with their horse, so dressage saddles are built with a high pommel and deep, comfortable seat, which keeps the rider upright. A deep seat and long leg position help riders attain the centralized balance essential for dressage. 
Dressage saddles also have distinctively long, unpadded flaps and long billet straps – which encourage the rider to keep a long leg position and allow plenty of contact with the horse. The straightened flaps and drop girth found on dressage saddles also give the horse more freedom of movement around the shoulder.
What's the Difference Between a Jumping Saddle and a Dressage Saddle?
Jumping saddles have a shallow seat, short stirrups and forward-pointing flaps, which help the rider sit up and forward in the stirrups for jumping hurdles and obstacles. Jumping saddles are designed to allow the rider plenty of mobility in the saddle, as opposed to dressage saddles which anchor the rider securely in the saddle.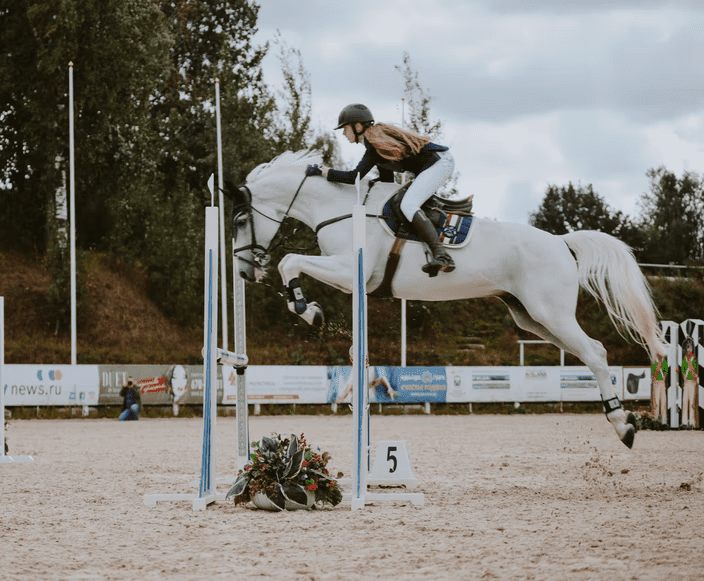 How Do You Fit a Dressage Saddle?
When you buy a new dressage saddle, you must ensure that it fits both the horse and rider. A poorly fitting saddle is dangerous and can even injure you or your horse. Dressage saddles come in many different sizes, so below, we'll tell you how to fit a dressage saddle for both horse and rider. 
How To Fit A Dressage saddle For The Rider
As a rider, you need to find a saddle with the right seat size for your height and weight. You can find out your seat size by measuring the length of your thigh. The best way to do this is by sitting in a chair and using a tape measure. 
While you're seated, measure from your knee, along your outer thigh to the back of your rear – so you include the hip in your measurement. Dressage seat sizes start at 14 inches and go up to 18+ inches. You must measure your seat every time you buy a new saddle because seat sizes may vary between manufacturers. 
Take a look at this table below to get a clear idea about dressage saddle seat sizes. 
| | |
| --- | --- |
| Rider Size | Saddle Size in Inches |
| Child or Small Adult | 14 – 16  |
| Average Adult | 17 |
| Large Adult | 17.5 . 18 |
| Extra Large Adult | 18+ |
If the saddle fits correctly, you should have around a hand's width of space free at the pommel and the back of the seat. If your seat size falls between saddle sizes, always choose a size up so you have enough room to maneuver in the saddle comfortably.
How To Fit A Dressage Saddle For The Horse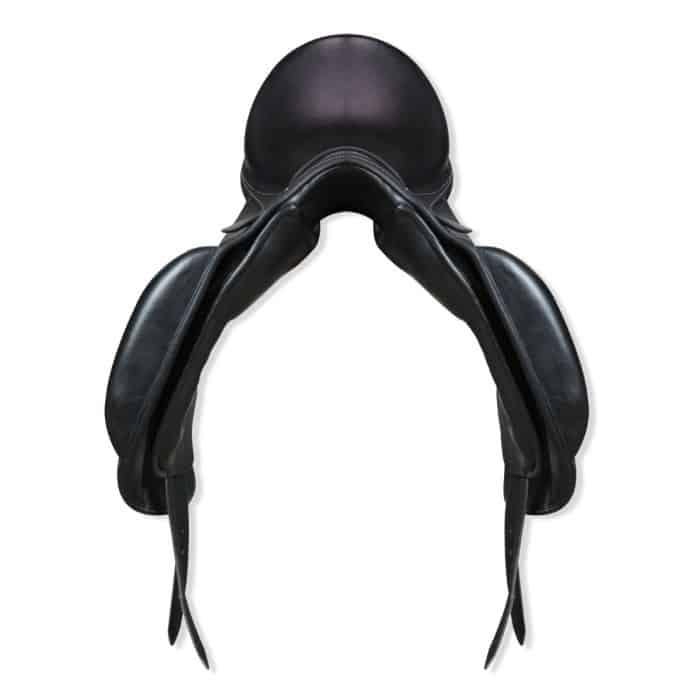 When you choose a dressage saddle for your horse, you need to establish your horse's gullet size. The saddle gullet is the hollow part underneath the seat, which runs the length of the saddle. 
You might be able to guess your horse's gullet size just by looking, or for a more accurate measurement, you can always measure across its withers. In English saddles, you can find gullets in four sizes: narrow, medium, wide, and extra-wide.
Take a look at this table below to get a better idea about saddle gullet sizes:
| | |
| --- | --- |
| Horse Gullet Size – Inches | Saddle Gullet Size |
| 6 | Narrow |
| 6.5 | Medium |
| 7 | Wide |
| 8 | Extra Wide |
Saddle Fitting Guidelines
If you want to see if a saddle fits your horse – first stand your horse square on a flat, level surface. Don't use a saddle pad when you're checking the size because you need to see where the saddle makes contact with your horse's back. Instead, use a thin sheet to protect the saddle when you fit it.  
When you put the saddle on your horse, place it ahead of the withers and gently slide it back until you arrive at a natural stopping point. The saddle shouldn't make contact with the horse's spine, and there should be lots of room under the gullet – you should be able to fit three or four fingers between the pommel and the withers. 
If the saddle sits high on your horse's back – the gullet is too narrow. If the saddle sits too low, then the gullet is too wide. If it's your first time fitting a saddle, always seek advice from a more experienced owner at your barn or reach out to a professional saddle fitter.
Here are the signs that a saddle fits well
The saddle sits level on your horse's back – behind the shoulder.

The skirts of the saddle fit close to the horse's body.

The saddle shouldn't rock back and forth when you put pressure on the front or back. 

A poorly fitting saddle will
Touch the horse's withers.

Sit too high over the withers.

Slope up or down.  
How to Choose the Best Dressage Saddles
New saddles don't come cheap, and when you invest in one, you want it to last a long time. A saddle isn't just a financial investment – it's also an investment in you and your horse's safety. So, to make sure you put your money in the right place, below, we'll tell you the most important things to look out for when you choose the best dressage saddles.
The Material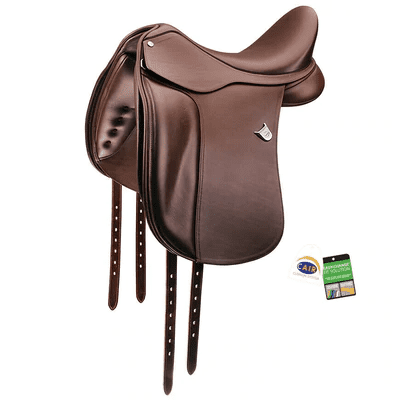 When you choose a new saddle, usually you have the option of either leather or synthetic ones. Leather is the traditional material for English saddles, and it's a favorite among horse owners because it's super durable and looks very elegant, especially in the show ring. However, high-quality leather saddles can be expensive, and you need to maintain them regularly with soap or conditioner to keep them in good condition. 
Synthetic saddles are made with synthetic materials, so they're lightweight and generally less expensive to buy than leather saddles. Synthetic saddles look pretty elegant these days, and they're durable and easy to maintain – you can wash them off easily with a cloth and water. 
It's Purpose
If you're a beginner dressage rider, or you only practice dressage occasionally, you don't need to go out and buy the best dressage saddle on the market. It's better to invest in a less expensive saddle while you learn dressage or a general-purpose saddle, which you can use in other disciplines too.
If dressage is your favorite riding discipline and you enjoy competing, you need to invest in a high-quality dressage saddle. A good quality dressage saddle looks better in the show ring, and it will also enhance you and your horse's performance. 
The Adjustability
Saddle technology has come a long way in recent years, and there is a range of adjustable saddles on the market. The benefits of an adjustable saddle are that you can use the saddle on several different horses and you can also adjust it if your horse's weight or condition changes over time. Adjustable saddles are also a good option for horses with unusual back conformation.
If you're interested in an adjustable saddle, look out for treeless saddles or ones with a flexible tree. These will flex to suit the shape of any horse's back. You can also find saddles with adjustable bars to change the tree size or saddles with removable pads.
Some dressage saddles also come with knee blocks or knee rolls to help keep the rider's leg in place. If you like riding both with and without knee rolls, choose a saddle with removable ones. 
The Brand
Before buying a new dressage saddle, always research the brand and choose a saddle from a trusted brand with a good reputation. If you want a high-quality performance saddle, look for brands endorsed by professional dressage riders such as John Whittaker, Prestige, Passier or Bates.
If you're looking for a quality budget saddle, EquiRoyal and Silver Fox have a fantastic range of saddles at a more affordable price. If you're looking for a synthetic saddle, check out the Wintec range. Wintec are leaders in the equine industry when it comes to synthetic saddles and they have ones to suit every budget. 
How To Take Care of A Dressage Saddle?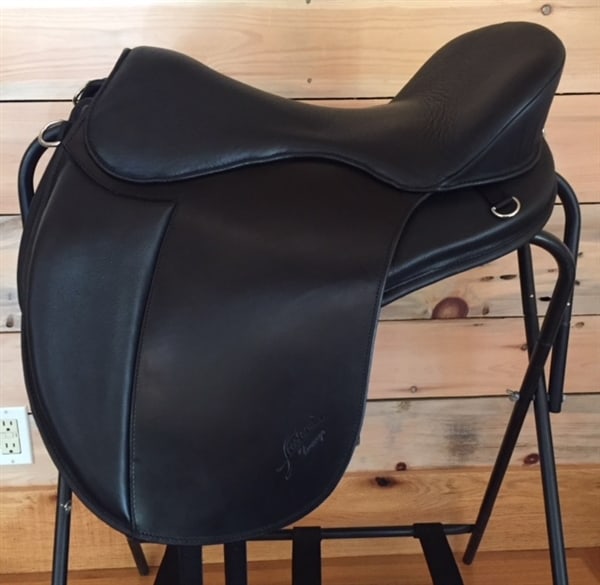 If you want your saddle to last a long time, you must take care of it correctly. If you have a leather saddle – to keep it supple, you must treat it with saddle soap or conditioner every 6 to 8 weeks. Synthetic saddles are easier to maintain – you can simply wipe them off with a damp cloth when they're dirty. In addition to regular cleaning and maintenance, you should also:
Always store your saddle on a saddle rack or stand – never leave it splayed out on the floor.

Keep your saddle covered in a sheet or saddle cover when you're not using it.

Don't store your saddle in a damp or humid place.

Always wipe off dust, sweat and debris after riding.
FAQs
Question: What Is The Most Expensive Dressage Saddle?
Answer: One of the most expensive dressage saddles currently on the market is the Equipe E-carbon Victoria SP Single flap. The Equipe E-Carbon Victoria SP is lightweight but highly shock absorbing and durable, and it has a price tag of around 6450 dollars. 
The Passier Optimum II Dressage Saddle (adjustable PS Tree) is another expensive dressage saddle that will set you back around 6,100 dollars. The Passier Optimum II is perfect for enhancing rider position, and it's made of high-quality leather and has lots of leg support. 
Question: What Saddles To Top Dressage Riders Use?
Answer: World-class dressage rider Charlotte Dujardin currently rides in a Fairfax Saddle. Charlotte has teamed up with Fairfax to develop a range of high-performance dressage saddles. 
Olympic champion Isabell Werth uses a Wintec saddle she helped to design – the Wintec Isobell. British dressage champion Carl Hester uses Professional Dressage Solutions (PDS) Saddles, and Anky van Grunsven has her own brand of Anky dressage saddles.
Question: What Is A Mono-flap Dressage Saddle?
Answer: Traditionally, English saddles have two flaps on either side of the seat with the girth and the stirrup leathers sandwiched between the two. A mono-flap saddle only has one flap, and they have longer billet straps, so the girth buckles don't sit under the rider's leg. 
With a mono-flap saddle, there's less bulk under the saddle flap so it gives you more contact with your horse, which makes them a good choice for dressage riders. Mono-flap saddles are easier to clean and give you a deeper, more secure seat, but they're usually more expensive. 
Conclusion
Choosing the best dressage saddles might seem a bit complicated at first, but if you stick to the points in this guide, you'll be sure to make the right decision.
For you and your horse's safety and comfort, make sure you choose a correctly fitting saddle and do a little bit of research about the different brands first. If you have any concerns about fitting a saddle, always seek advice from a more experienced equestrian or hire the services of a professional saddle fitter.