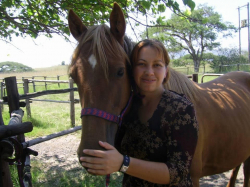 Latest posts by Talitha vanNiekerk
(see all)
Most high-end saddles are sold as "unfitted," which means the saddle comes without the stirrups, stirrup leathers, and (most importantly) a girth! When I ordered my first quality English saddle, I was devastated that in addition to the cost of a rather expensive saddle, I also had to buy the tack needed to fit the saddle to my horse. 
Since I have several horses at my riding school that I ride with the same saddle, I had to find the perfect saddle girth for each horse so they would be comfortable and to ensure the saddle would fit each securely. It's been quite the journey!
From my oh-so-fatty barrel-shaped pony to my slender warmblood, each has its own saddle girth requirements and goes way beyond length. I discovered just how big a difference a girth can make to your riding experience when I teamed up with a professional saddle fitter to find the best girths for my horses.
It was such an exciting journey, and I want to share that with you now. 
Best Saddle Girth Up Front
With so many saddle girths up for sale, it can be challenging to determine the better brand and design for your horse and pocket. 
My personal favorite for the equestrian sport I participate in is the Collegiate Memory Foam Dressage Girth, which is ideal for dressage saddles. The girth offers maximum comfort for my horse, prevents girth sensitivity, and allows freedom of movement, so my little mare can do a stunning extended trot for bonus marks on the tests. 
So, if you've heard you can't buy success, all I can say is that this girth was an investment in success, and we've scored the mid-70s in our last couple of tests because of the great improvement in how we ride. 
Saddle Girths Explained

For those who don't know what a saddle girth is (because, yes, I've had students call it that "thingy" that ties the saddle on), a girth is a belt that passes from the billet straps on one side of the saddle to the billet straps on the other side of the saddle. 
There are also many different girths available, from elasticated, padded, neoprene, and fur-lined to string girths and leather girths for Western saddles. Each type of girth has its own profile and characteristics. Many saddle types require a special girth. 
Here are the main types of saddle girths and a great example of each. 
1. Dressage Saddle Girths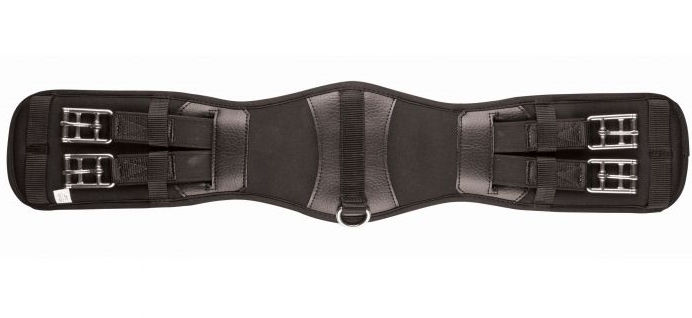 A dressage girth needs to be comfortable, allow freedom of movement for the horse (which is why it's usually shaped), and it needs to be as close to invisible as possible (so black, brown, or white; no funky colors). 
A dressage girth is often elasticated or double-elasticated (where the buckles are fixed to elastic straps), so the girth can expand with the horse's breathing. Since a dressage girth is relatively short, it also helps to have elastic buckle straps to cinch up the girth more easily. I almost wish my own riding belt was elasticated after last winter's feasting from Thanksgiving to New Year's. 
A great example of a dressage girth is the Collegiate Memory Foam Dressage Girth. This girth is slightly shaped to allow more elbow room for the horse, elasticated to prevent chafing, and made from memory foam covered in neoprene.
Pros
Anti-chafe
Double elasticated
Roller buckles for fastening assistance
Cons
Neoprene absorbs sweat, which makes the girth soggy if you have a sweaty girth
Overall, the girth is comfortable and easy to cinch. It also provides a comfortable ride while keeping the saddle where it belongs. 
There is also a reinforced center dee ring for attaching a martingale or draw reins (though this is illegal in dressage competitions). I like that I can lunge my horse with the saddle and this girth using an A-frame guide to help achieve correct head carriage. 
What I Like About It:
The memory foam is soft, and the neoprene makes the girth washable. And trust me, you will want to wash this girth if you do loads of schooling with your dressage horse. 
2. Jumping Saddle Girths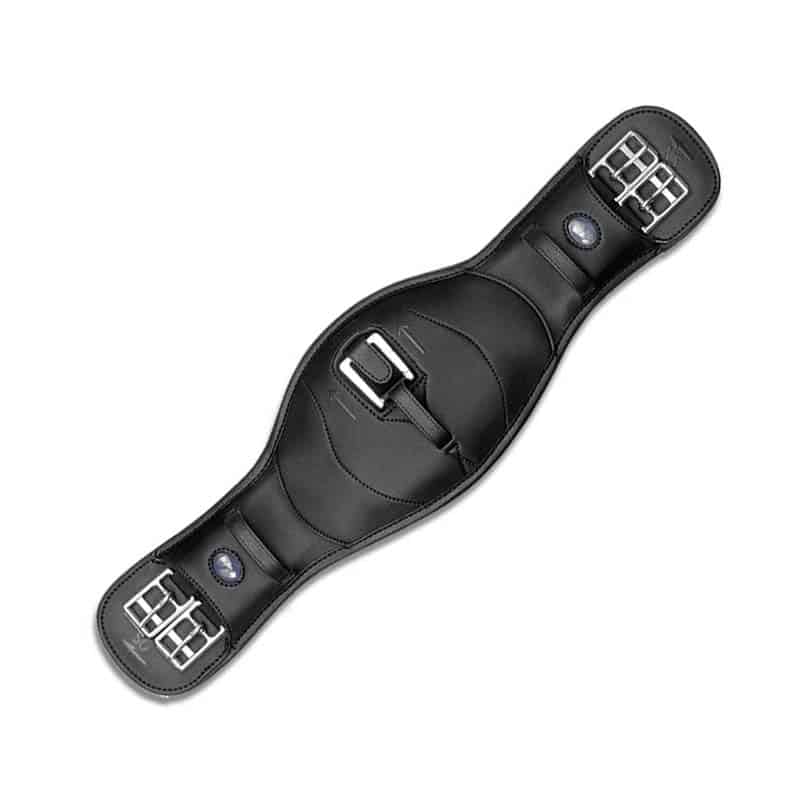 Jumping saddles have to stay in position, with the horse performing some extensive movements like arching over jumps, landing, and launching over obstacles. A girth that distributes the rider's weight evenly will help the horse not become sore and keep the saddle secure over the horse's back and barrel. 
The horse's body will change shape with each jump, so it is essential to allow them freedom of movement. Encourage correct breathing with a generous elasticated girth that allows the ribs to expand and contract while staying in place. 
In jumping, breastplates secure saddles. There may also be martingales attached to allow better control of excitable horses. Choosing a girth with enough dee rings for the different straps is essential to enable your tack to fit well. 
The Wintec Anatomic Elastic Girth with CAIR is ideal as it is available in a short or long girth with the same great features. The CAIR cushioning system offers greater weight distribution, making for an even ride. The anatomical design and elasticated buckles create a riding system that gives your performance horse the best chance at success. 
Pros
CAIR (central air cushion)
Anatomical shaping
Roller buckles are stainless steel
Cons
Girth is quite thick and may seem inflexible at first
Further protect your jumper with a kick pad like the Wintec Stud Girth Attachment, which slips onto the regular girth, providing better protection of the horse's barrel when jumping. Jumpers often wear studded shoes, which can bruise the bottom of their ribs when the horse tucks their front hooves while jumping. The kick pad helps protect their ribs from the impact of studded hooves. 
What I Like About It:
The Wintec Anatomica Elastic Girth is ideal for amateur jumpers. It can easily be used in dressage or trail riding. The even weight distribution is perfect for helping to save your horse's back and protect their ribs, no matter where you ride. 
The double-elasticated buckles are a blessing if you lack the physical strength to cinch up your saddle (like I recently did when I broke my arm while cycling – yeah, I should have stuck to horse riding, right?).
3. General-Purpose Girths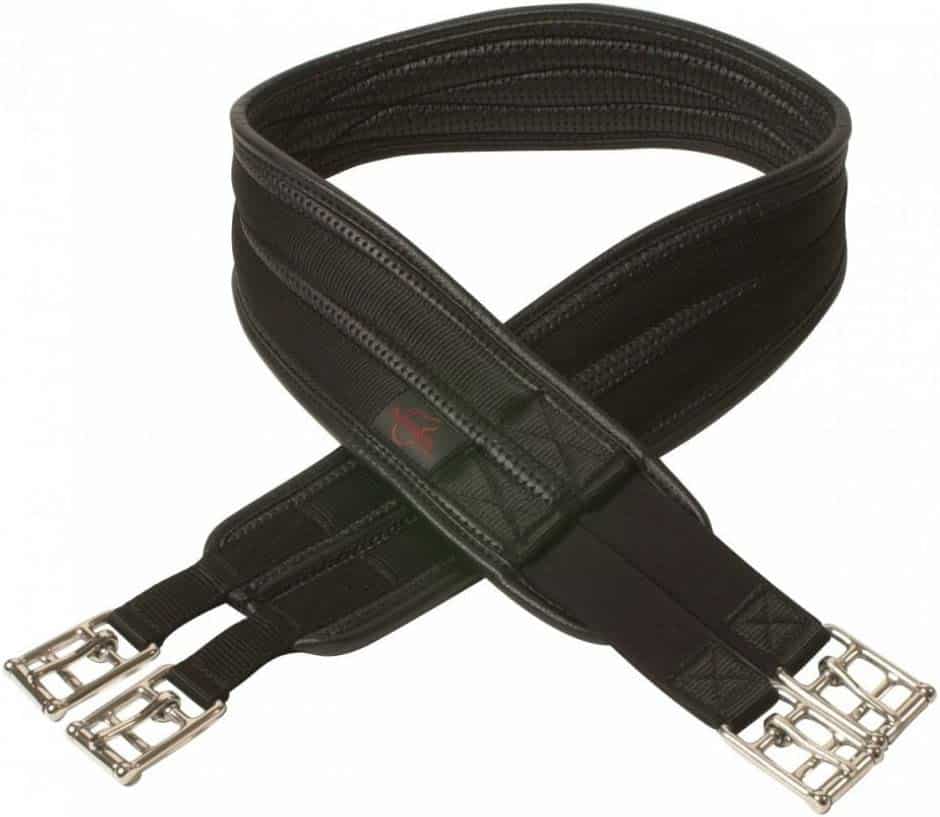 My riding students mostly do regular riding, consisting of light schooling, a few mini jumps, trail riding, and even a little lunging with the saddles on. Since I use many different ponies (each with its own size girth requirement), I prefer to use a good quality but more affordable girth for each pony since excessive wear and tear ruins these girths quickly. 
A firm favorite is a padded cotton girth as these can be machine washed and air dried to remove sweat and dirt. While some webbed nylon straps shrink and the buckles may discolor, these girths generally remain hardworking. 
When I can't find a cheaper cotton-padded girth, I opt for a neoprene girth with at least one side of the webbed straps being elasticated. This style of girth is also long-wearing, comfortable, and rarely pinches the sensitive girth area. 
The Air Formed Elasticized Girth is an excellent quality general purpose girth. The girth is made of memory foam and has elasticated buckles on one end to help make the cinching process easier. The longer length is ideal for general-purpose saddles that have shorter billet straps. Because the girth is lightweight, it is perfect for daily use and quick saddling. 
Pros
Lightweight
Double elasticated
Roller buckles on all straps
Cons
No billet retainers to secure straps once cinched
What I Like About It:
While this girth is affordable enough for daily rides, it's been designed with enough foresight to create a nice and anatomically shaped girth for a fraction of the cost of other more advanced girths. 
The elastic is excellent, though it is stiff when the girth is new. I played tug of war with my nephew for a few minutes and could feel the girth was much more flexible and easy to cinch afterward. 
4. Racing Saddle Girths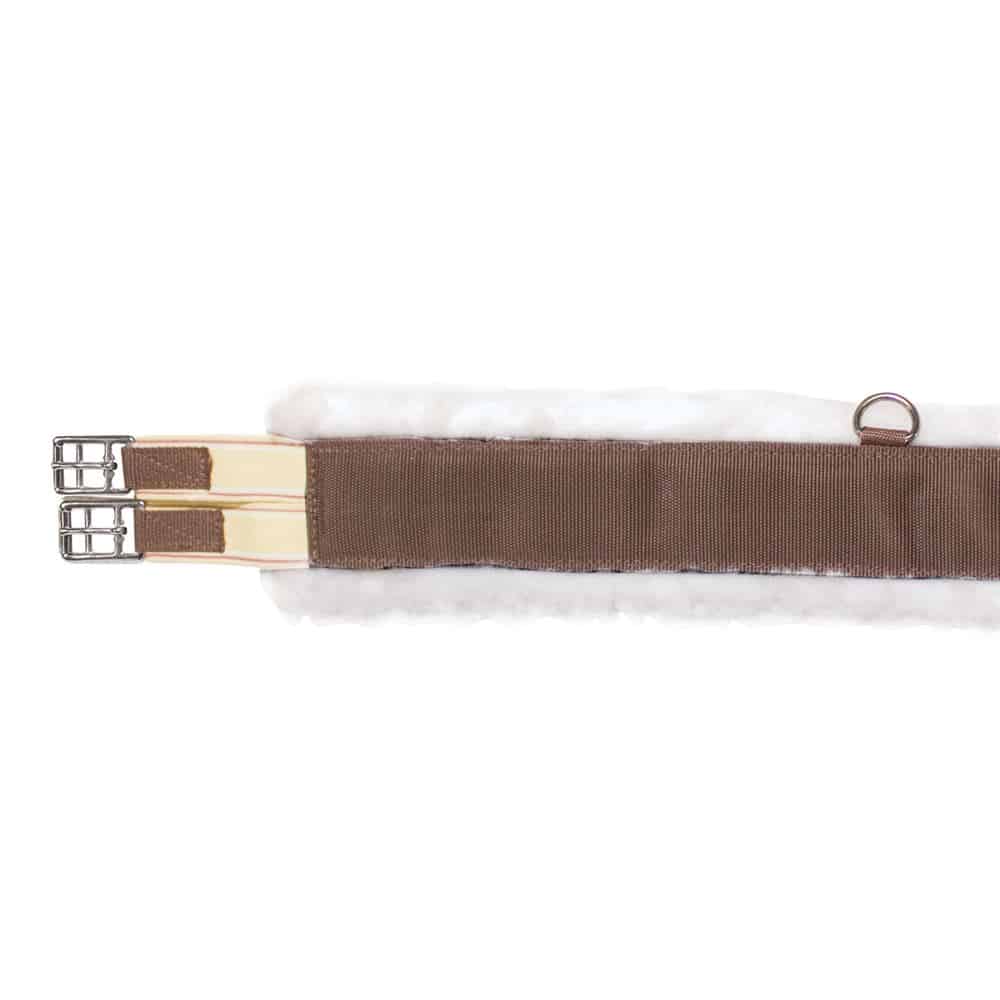 If you've ever had an off-the-track-thoroughbred horse, you'll know just how sensitive these horses can be to being saddled. Some are cold-backed, meaning any girth that's not very elasticated causes severe pain. 
So a girth for a racing saddle is usually a highly elasticated surcingle type girth. However, when a girth is very kind, softly padded, and elasticated, it is also suitable for training runs and re-schooling such a horse for work after the racetrack. 
The Nylon Fleece Girth is an ideal girth for a cinchy horse, a horse being re-schooled from a racing saddle to a general purpose saddle or dressage saddle, and for training riding. The nylon girth is fully washable, which is excellent since these horses often sweat excessively, especially when training. (Just like I sweat excessively when schooling!)
With super soft fleece padding, there is no chance of the girth pinching or creating girth sores. Since it's elasticated on both ends, the girth is also ideal for gradually cinching up, which helps sensitive horses adjust better. 
Pros
Fleece lined
Extra comfort for girthy horses
Double elasticated
Cons
Fleece quality is not the greatest, so wash carefully
What I Like About It:
This particular girth is lightweight, super soft, and very padded, so there's no chance of rubbing or bruising on the horse's heart line (where the girth fits). 
5. Trail Saddle Girths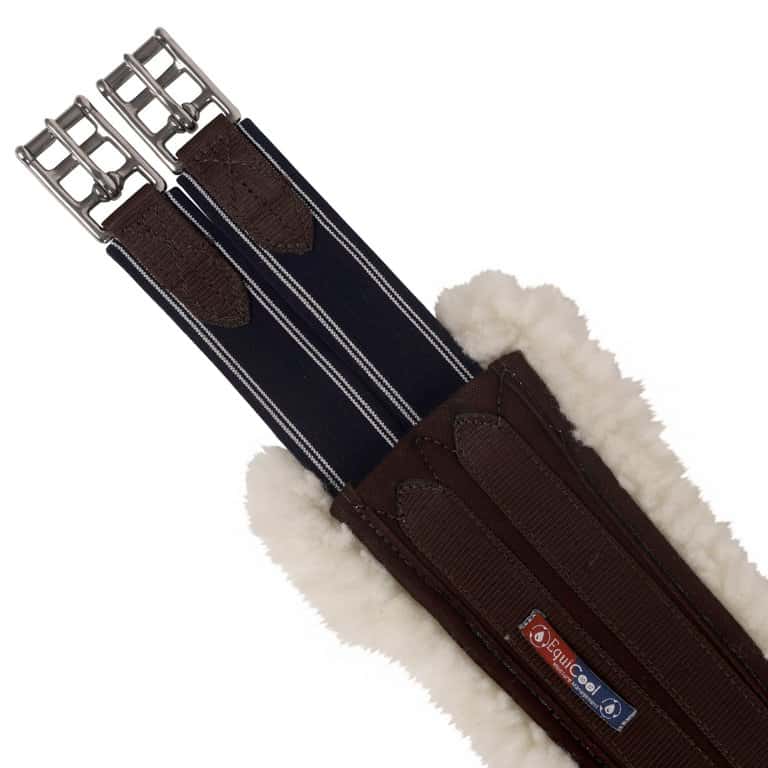 Trail riding is perhaps one of the most pleasurable forms of riding. However, it does mean your horse will be dealing with a full scope of terrain, inclines, sweating, rubbing, and potentially even jumping (in case there's no other way over a stream or if a wild buck jumps out from the bushes). A great saddle girth that is washable, breathable, and flexible is a real winner. 
The Henri de Rivel AP Equicool Fleece Girth comes highly recommended. The straight girth fits most English saddles and trail saddles with billets—the synthetic outer rests on a padded fleece inner that is shaped away from the horse's elbows. The horse now has more room for those tricky maneuvers along a treacherous path. 
A central dee ring allows for fitting a breastplate and martingale if your horse or saddle needs it. The girth is fully reinforced with nylon web straps that overlap and run the length of the girth for maximum stability. Both ends are elasticated for a perfect fit and gentle cinching. 
The unique air system naturally wicks moisture away to help keep your horse's skin healthy and prevent fungal infections. The girth is available in two colors (black and Havana brown) and 11 sizes, so finding the right size for your horse is a breeze. 
Pros
Moisture wicking
Double elasticated
Stainless steel buckles with rollers
Cons
Size runs about half a size smaller
What I Like About It:
There is an extensive range of sizes in this girth, and the interwoven webbed girth straps contribute to the quality and durable girth. The wider center section helps redistribute the saddle weight equally. 
6. Western Saddle Girths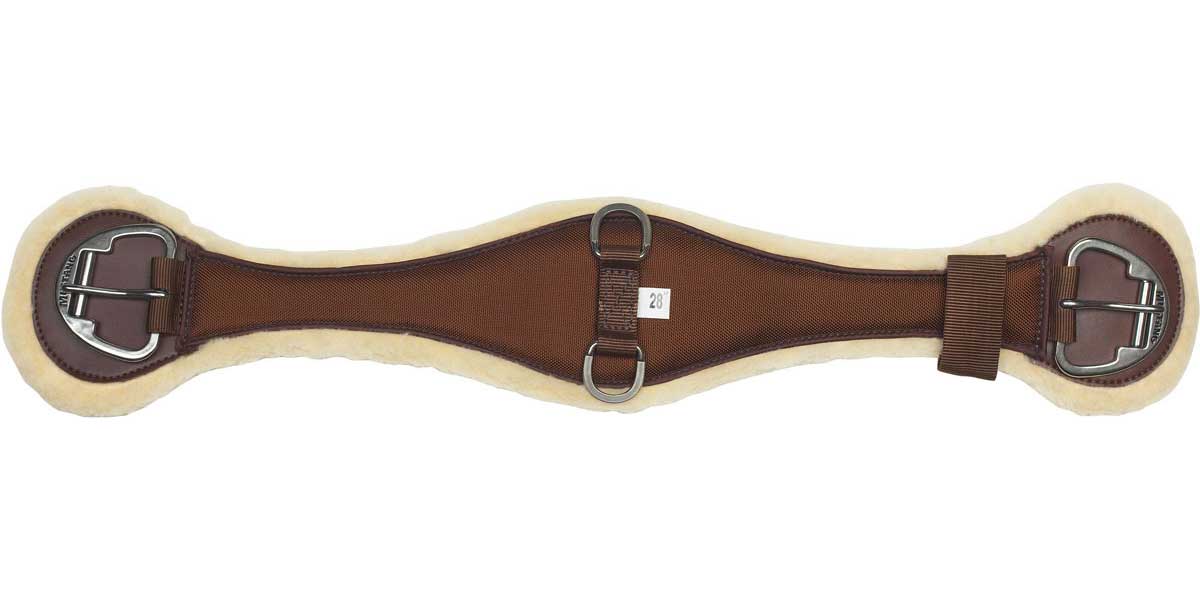 The Western saddle is the epitome of trail and ranch riding. Many types of girths are available, from string girths ideal for roping and competition riding to padded girths that work well for those stocky ranch horses (or fat pleasure ponies). 
The main difference between Western girths and English girths is the buckles versus dee ring attachment that the girths fasten with to the saddle. Western girths tie differently than the billet system of an English saddle. As a result, the girths aren't interchangeable. Like my ex-husband, a Western girth won't fit an English saddle – no matter how you try to make it work.  
The Mustang Contoured Fleece Cinch might strike you as being a typical fleece padded girth at first glance, but when you look closer, you'll see it's a Western girth with the tell-tale large dee rings to cinch the girth with the saddle. 
The top layer is nylon, while the bottom fleece layer guarantees comfort. The thinner layers of the girth combine with the shaped contours to produce a comfortable girth that won't rub your horse or cause sores. 
While the girth is only available in brown, this is no problem since most Western saddles have a traditional brown leather color. A massive bonus of this girth is the nylon top, which means you can machine wash the girth to keep the fleece fluffy and white. 
Pros
Thinner shape prevents girth galls
Durable nylon top and fleece bottom
Great for sensitive horses
Cons
Fleece wears fast with regular washing
What I Like About It:
The girth is highly practical and can be machine washed and air dried. When training or doing ranch work, it's a blessing to have a fully washable girth. Cleaning up your girth means less sweat rubbing and less bacterial and fungal growth that can seriously compromise your horse's health. 
7. Specialized Girths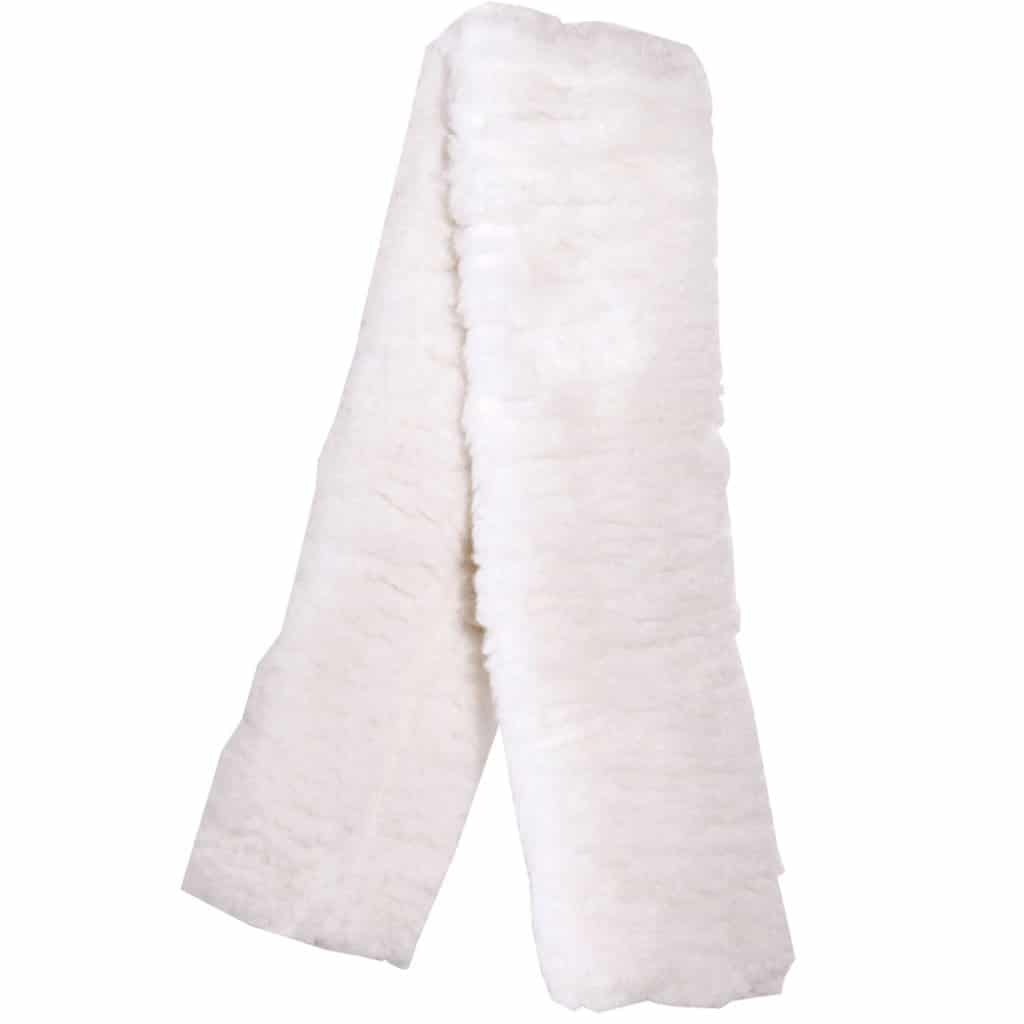 There are numerous specialized girths, some having more dee rings to allow the attachment of a wide range of training aids, while others are specially designed for sweat-wicking and comfort. All girths serve the same essential function—to fasten the saddle to the horse comfortably so it doesn't move on the horse's back. 
Sometimes you'll find a girth that fits perfectly, except it still makes your horse a little edgy when you cinch up and ride. Fancy girths can rub a horse raw, which is why you need a Synthetic Sheepskin Girth Cover. 
A girth cover is like a glove for your girth. The sleeve has a Velcro closure, so you simply open the sleeve, place your girth inside, and then close the sleeve with the Velcro again. Take care to turn the Velcro outside the girth to prevent uneven pressure and rubbing on the horse's body. 
The synthetic sheepskin cover is fully washable, dries well, and lasts long. It helps soften a standard girth while also helping to wick moisture away from the girth. 
Pros
Affordable
Washable
Soft and luxurious with good quality fleece
Cons
Only up to 36 inches in size
How to Fit a Saddle Girth Correctly
Regardless of how comfortable a girth is, when the girth fits poorly, the horse is bound to suffer discomfort. 
Here are a few basic pointers on how to correctly fit a saddle girth: 
Check that the saddle girth's center dee ring is facing forward when you hold the girth under the horse's chest. 

Attach the billets on the far side of the saddle, secure up to the second buckle hole on both billet straps, and then move to the horse's near side. 

Bend carefully to retrieve the free end of the girth from under the horse's barrel. Bring the buckles into the proper position, slipping the billet straps into the girth buckles. 

Check the saddle fits correctly with two finger widths between the horse's shoulder blades and the front skirt of the saddle before tightening the girth. 

When fully tightened, the girth should allow four fingers to be slipped between the girth and the horse's barrel. Four fingers should be between the girth line and the corner of the horse's shoulder. 

Remember to stretch the horse's front legs forward to help remove any wrinkled skin that the girth could pinch. 
How to Choose the Best Quality Girth
When you visit your local farm goods store or general tack supplier, you may be unable to choose between several great girths. How do you choose the best girth out of many promising products? I know that I am often overwhelmed by the gorgeous choices on offer.
You can take a few steps, so your purchase doesn't disappoint, to ensure the girth is good quality and that the girth doesn't rub the horse. 
Check the Seams
Poorly finished seams are what will ultimately lead to chafing and rubbing. When the one end of the girth has a folded seam left uncorrected, the seam will rub away the hair along the girth line. 
Buckle Quality
Stainless steel buckles are the best, while roller buckles help with cinching. Brass buckles are also a good choice, though the brass will discolor over time. 
Fleece Thickness
Many girths are fleece lined. This is great to help the horse remain comfortable, but there are also many different quality fleeces or fake sheepskin textiles. Not all of these are suitable for a girth lining. 
Inspect the fleece or faux sheepskin by separating the fluffy bits until you can see the bottom layer of the textile. A high-quality textile will have thick fleece or sheepskin fibers to the very bottom. Lesser quality fleeces will thin once you separate the strands, revealing a mesh-like underlayer, but these fleeces don't last. 
Washability
Every girth will need to be cleaned at some stage. Leather girths will require cleaning in the same way you clean your leather tack and saddle. However, all other synthetic girths need to be washable. Ensure the girth you choose indicates what wash method is best, as shrinkage is a real challenge with a girth. 
Preferably, wash a girth in cold to cool water, letting the girth air dry. 
Even Padding
Most girths are produced in mass factories, so workers may not necessarily pad a girth evenly. When you handle a new girth at the tack dealer, ensure you run the girth over your hands, feeling if there are any lumpy sensations and whether there are any holes in the girth where the stuffing was unsuccessfully applied. I always say it's like feeling up the girth for cellulite. 
The Final Girth
While I grew up grabbing the first girth off the hook in the tack room while I rushed to saddle so I could ride for as long as possible, I have since changed. As an adult and a riding instructor, I know how important each piece of tack is. 
A poorly fitted girth can cause bucking, rearing, and other delinquent behavior. It's like wearing underwear that fits poorly—it won't be comfortable, right?
Choosing the right girth is about knowing your horse, what they need from the girth, and deciding how you will keep them comfortable. A girth isn't just an afterthought. It's an essential piece of tack that helps secure your saddle while ensuring the horse is relaxed. 
Read my horse anatomy guide to learn more about horses and why they are so unique.
FAQs
Question: How tight should the girth be?
Answer: Tighten the girth enough to keep the saddle in place, but it shouldn't be so tight that the girth pinches the horse's skin. When a rider is in the saddle, the saddle may sag, loosening the girth. Therefore, check and tighten the girth once the rider is mounted. 
Question: What is the average size girth for a horse?
Answer: The size of each horse is unique, based on the width of their barrel, but on average, the size chart for horse girths is as follows:
English Girths should be measured according to the horse's height. A 14-hand to 15-hand horse should take a size 42 to 44 inches long girth, with a 22 to 24-inch short girth for a dressage saddle. 
A horse that's 15 hands to 16 hands high should take a size 46 to 48-inch girth, with the size for a short dressage girth being 26 to 28 inches. 
Question: How do you know what short-size girth your horse needs?
Answer: If you know what size long girth your horse needs, you can easily convert to the size for a shorter girth by deducting 20 inches from the long girth measurement. So if the long girth is 46 inches, the short girth should be 26 inches. 
Question: When do you use a short girth, and when do you use a long girth?
Answer: Short girths are used when the billets reach over the saddle blanket or saddle pad. Usually, short girths are used with dressage, bareback pads, and some trail saddles where the saddle skirt is much longer than other saddles. 
Long girths suit saddles with a higher cut saddle skirt. These have billets that don't reach past the saddle pad. Eventing saddles, jumping saddles, and some general-purpose saddles require a long girth. 
Question: How do you know a saddle girth is best for your horse?
Answer: Since saddle girths are available in many designs, listening to your horse's needs is essential. A cut-away girth can help prevent chafing if your horse has deep elbows. Horses with pressure sensitivity require a padded girth to equalize the pressure for a more comfortable ride. 
Recommended Reads: