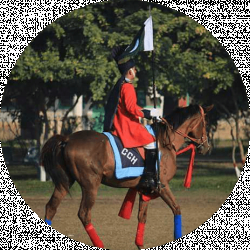 Latest posts by Boo Ali Khan
(see all)
Hi equestrian lovers, I am back with another saddle guide, where we will discuss one of the biggest names in the handmade saddles industry. And if you haven't guessed it yet, I am talking about Big Horn.
Big Horn has been making saddles in the states for more than 50 years now. But looking back, Big Horn wasn't always anything like this, as the brand had a pretty humble start, with only a handful of saddle options in their lineup. But now, the brand has established itself as a global supplier of saddles.
Overall from a consumer point of view, I found Big Horn saddles to be one of the best in their class. But this also means their price points are some of the highest in this category. But the price isn't the only thing Big Horn is ahead in; keeping in mind all the colors, designs, and sizes, the brand has a catalog of over 614 different saddles!
And while some of you may be excited to know this, others may be wondering what to choose from this massive collection. But don't worry; I will try to answer everything you need to know about this brand in this extensive Big Horn Saddle Brand Guide.
Bottom Line Up Front
When it comes to Big Horn, I can confidently say that no other brand can compete with its quality. And with its whopping catalog of saddles, if I were to land on one saddle, I would go with Big Horn Synthetic Saddle 500-502.
It is exceptionally lightweight, has a soft overall texture, and is not very heavy on the pocket. But if you don't like this saddle option, something that I am really doubtful about, you can also go for the several other leather options I have listed below.
My Top 10 Big Horn Saddles Picks
My Selection Criteria
Most of the options that I have enlisted in my top picks follow the following criteria:
These saddles are available well in stock.
They provide a good-quality build.
These saddles are comfortable for both the horse and the rider.
They are not used or preowned.
A Brief Story Of The Brand
Big Horn set off in 1965 in Chattanooga, Tennessee. The main reason Big Horn started off in such an isolated area was the river, as the water was one of the only ways of driving the chemicals inside the saddle for tanning.
As simple as this may sound, Big Horn tried its best to come up with the best quality saddles rather than focusing on quantity. And this also made them the pioneers of modern saddle styles like the "Sil-Cush" saddle lines and many more.
But unlike many modern saddles manufactured around the globe, Big Horn kept making saddles using the traditional handmade technique passed down through generations. Although the craftsmanship remained the same, Big Horn, now a part of American Saddlery, did streamline their manufacturing using modern tools. This significantly helped them reach the mark as one of the biggest names among saddle manufacturers today.
Where To Buy Big Horn Saddles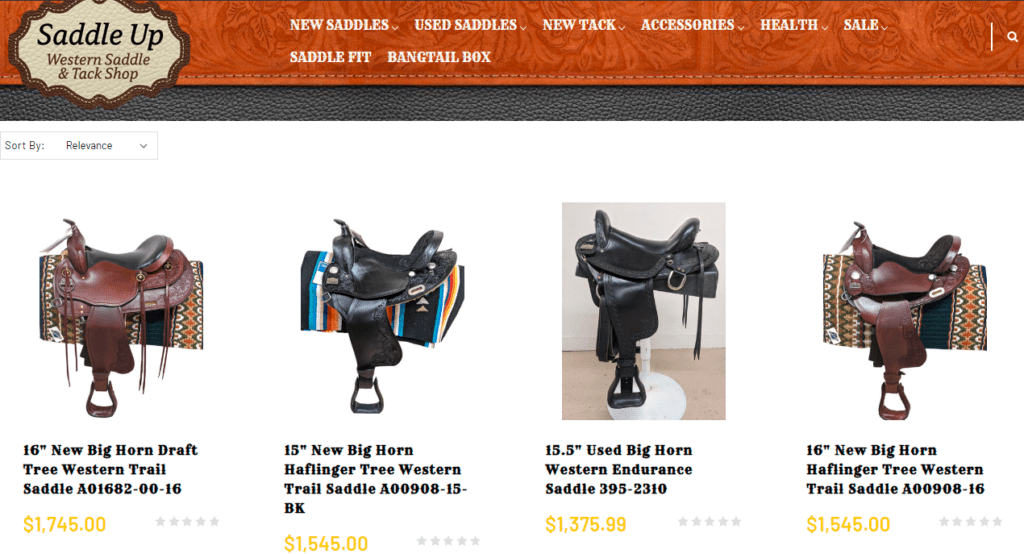 When buying Big Horn saddles, obtaining them can be a little more than a walk in the park, as the brand doesn't really have a dedicated website or retail store. So, you usually have to rely on different websites and marketplaces. And while this can be pretty daunting, I have mentioned some authorized sellers who deal in Big Horn Saddles for your convenience.
Best Buying Tips To Get You Started
If you are buying Big Horn saddles for the first time, it is not something you can pass off as a child's play. So, to help you through the tedious process, I mentioned some tips to make your buying journey even easier than riding an American Quarter Horse.
Check The Width Of Big Horn Saddles Before Buying
Although this tip may seem pretty obvious, I am still shocked at the number of my equestrian friends who still buy their saddles without even considering if they would fit their horse or not.
So, I always recommend that if you're buying a Big Horn saddle, check if that saddle is a perfect match for your horse or not. And this shouldn't be that difficult, considering Big Horn has individually sorted each saddle into separate categories according to the breeds.
Look For Review On Youtube
Another great tip for buying your next Big Horn saddle is to look for a video review relating to the specific saddle on Youtube. Just search the name of the Big Horn saddle that you want to buy, and you will be met with many detailed review videos. This will properly guide you on things that are good or bad about that particular saddle.
Watching review videos is also perfect if you're not a fan of reading a dozen of different reviews these saddles have on their listings. Plus, who doesn't prefer easy-to-understand videos over a plethora of mixed opinions, which many of these online marketplaces have? Not to mention, some of them are fake!
Consider The Saddle That Fits Your Purpose
If you're buying a Big Horn saddle, you should consider whether it fits your purpose or not. As a rider, you will know that horse riding goes far beyond standard equine racing and cattle farming. Nowadays, you can find a lot of different equestrian activities going around; Roping, Dressage, Polo, Jumping, and Rodeo are just a few.
If you're a fan of roping or rodeo events, pick a saddle that is made to last and has a durable build. But if you are into barrel racing, look for the Big Horn saddles that are lightweight and compact.
If you don't know how to differentiate between these different types, don't worry; Big Horn has you covered. Just take a look at their catalog; you can easily find the saddle that best suits your purpose.
My Top Picks From Every Famous Big Horn Saddle Category
Of course, when it comes to the massive catalog of Big Horn saddles, it has been adding a wide range of options constantly. If you look up Big Horn saddles, you will find that the brand has considered the width and dimensions of almost every common breed out there. They are also deeply invested in the equestrian show business and offer many premium saddle options in those categories.
Draft Horse Saddles
As a draft horse is specially bred for heavy work, Big Horn has made these saddles with that in mind. The gullet and back housing on these Draft Big Horn saddles are also on the broader side to go with the breeds with more robust builds.
Big Horn Draft Tree Western Trail Saddle A01682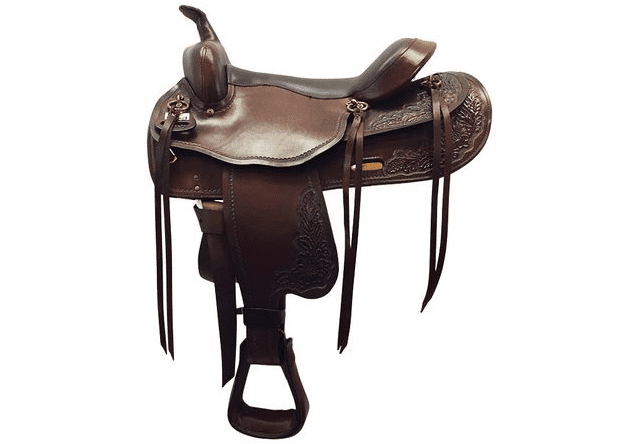 Description
The unique thing about the Draft Tree Western Saddle is its flexible tree build. As it is softer, it sits comfortably on muscular draft horses like Belgian and Percheron. The Big Horn's unique fiberglass tree design and the flex also provide a close fit with your horse's back, which will help distribute your weight across the bars of this saddle.
The seat on this saddle also can't be ignored, as I noticed that its grain texture provides a lot of grips and will surely keep you in place even on the roughest rides.
But the leather makes it less breathable, so if you have a sweating issue, I recommend you try a saddle with a synthetic seat. However, don't forget that Big Horn has included three leather belts on either side of the saddle for extra gear and accessories.
Pros
The bottom of the tree is lined with thick memory foam material, providing extra comfort to your horse.
The whole saddle is supported with double stainless steel rigging, providing equal pressure on the horse's back.
Cons
The horn on the saddle is relatively thin and a little hard to grip for riders with big hands.
Training Saddles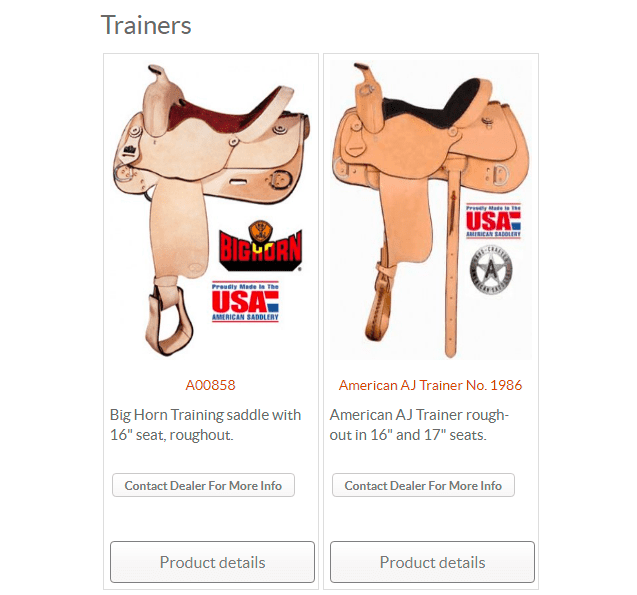 Training saddles are another form of saddles Big Horn deals in. And these types are specially geared towards new riders. In most cases, these have a soft padded seat. And also several D-rings to attach training equipment for the aid of beginners.
Big Horn Training Reiner Saddle A00858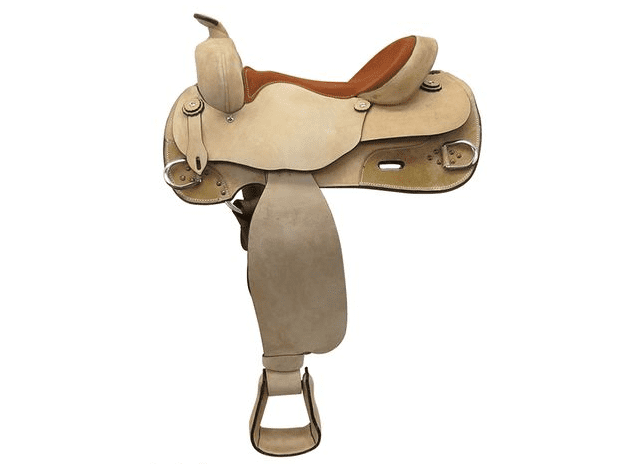 Description
Are you an aspiring rider looking for a saddle option to help maintain your balance? And do you also want added benefits that many professional saddles have?
Then look no more; this Big Horn Training saddle A00858 will perfectly fit your needs. Big Horn has equipped it with a 4" tall Cantle with a thick overall build. So if you want to make your training sessions less tiring, and safe as well, you can bet on this saddle.
The seat on this saddle has a nice suede texture, providing grip and comfort for long rides, something I personally love. It also has long 19"-inch fenders with an 8"-inch width, providing a lot of surface area for your legs. And while talking about the fenders, the stirrups on this saddle are also 4.5"-inches thick which will come in handy if you like riding boots with wider toe caps.
Pros
The saddle has a wide-angle gullet and a 27"-inch skirt perfect for short-back breeds.
It has a flat Visalia-style stirrup, which looks pretty classy.
Cons
This saddle has an extremely high price, especially considering its purpose.
Gaited Saddles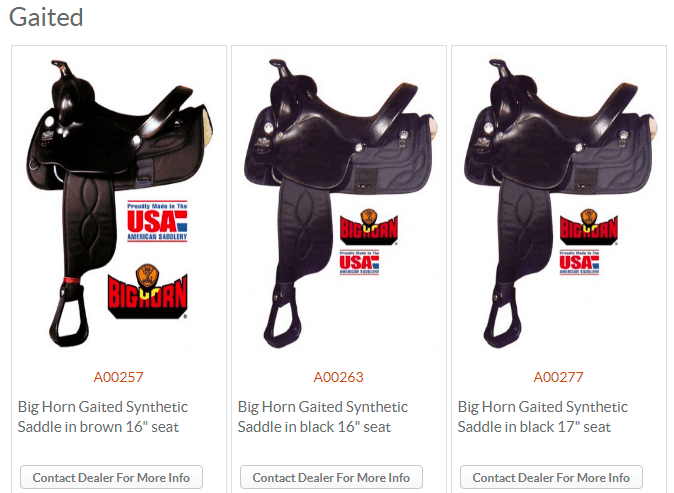 Big Horn has made these Gaited saddles with a relatively short tree base. Their skirt is also on the more rounded side to not interfere with the movement of the horse, something that becomes quite irritating while on long rides.
Big Horn Gaited Saddle 1685-1687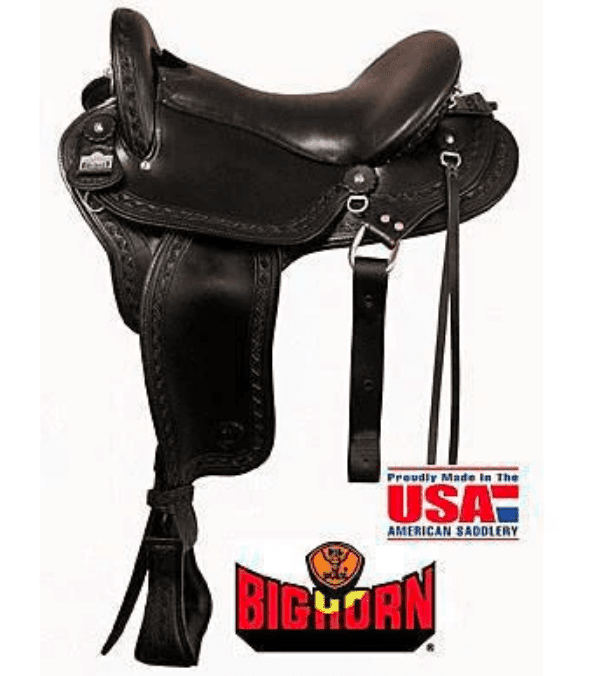 Description
If you are an equestrian and own a good Gaited horse, I am pretty sure it is one of your most precious possessions. However, considering the bulk of options, you might not be the only one still confused about buying a perfect saddle for your horse.
Allow me to introduce the Gaited endurance saddle from Big Horn, a saddle that is not only comfortable but will also perfectly fit your Gaited horse, be it Appaloosa, Quarter, or Morgan.
The most unique thing about this saddle is its Sil-Cush line bars, which feature a high-quality cushioning layer between the saddle tree and your horse's back.
The leather bars are also very durable and will nicely fall in line with the shape and contours of your horse. Another thing I noticed with this saddle is that it has almost a tunnel skirt, allowing a constant airflow from the front to the back of the saddle.
But that's not all; the seat on this saddle also has very soft foam padding, something that you will definitely need for long trail rides on your favorite gaited horse.
Pros
Available in two tree widths, making them perfect for most breeds with wide builds.
All the metal hardware attached to the saddle is made of stainless steel; therefore, they are rust-free.
Cons
The saddle being a little on the heavier side can be uncomfortable for smaller breeds.
Roping Saddles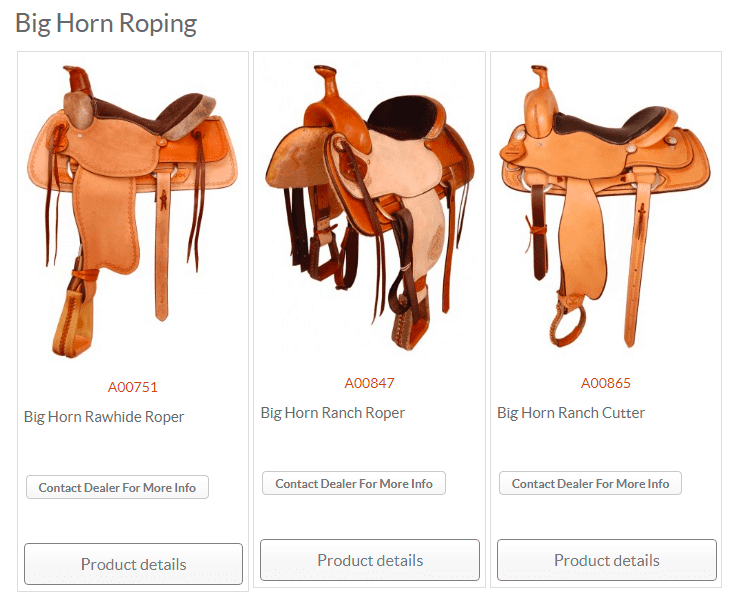 Big Horn again shows off its superiority in the saddle industry by manufacturing some of the best roping saddles out there. Not to mention, most of the roping options they provide are heavy and made from premium leather with hard wooden bases.
Big Horn Floral Tooled Roping Saddle 880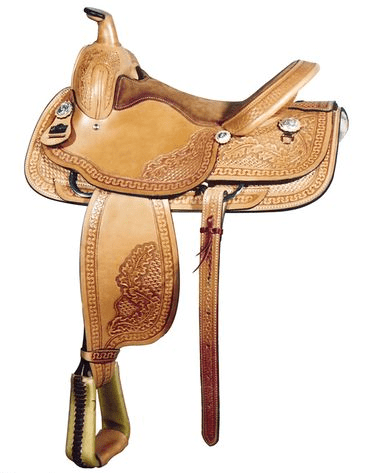 Description
When it comes to roping saddles, the mix of comfort and durability that this Big Horn Floral Tooled Roping Saddle provides is superior to any of its counterparts. The saddle base is made on Equi-Fits premium Steele tree, which, due to the mixture of fiberglass and wood, makes it relatively strong while giving it the flexibility that most saddles lack.
The flexible nature of the fiberglass also helps the saddle sit well against the horse's back. Furthermore, as most roping saddles lack design due to their tough build, this Big Horn roper has an appealing snake-border design and a spine stitching pattern along its stirrups. And of course, this roping saddle wouldn't be complete without its horn that comes with a  Double T lock structure for added durability.
Pros
Comes with a rich engraved California-style design, which will not wear off with time.
Has wide rawhide-covered stirrups that increase their durability.
Cons
The saddle has a rough texture on its skirt, seat jockey, and fenders, which can be uncomfortable for some riders.
Endurance Saddles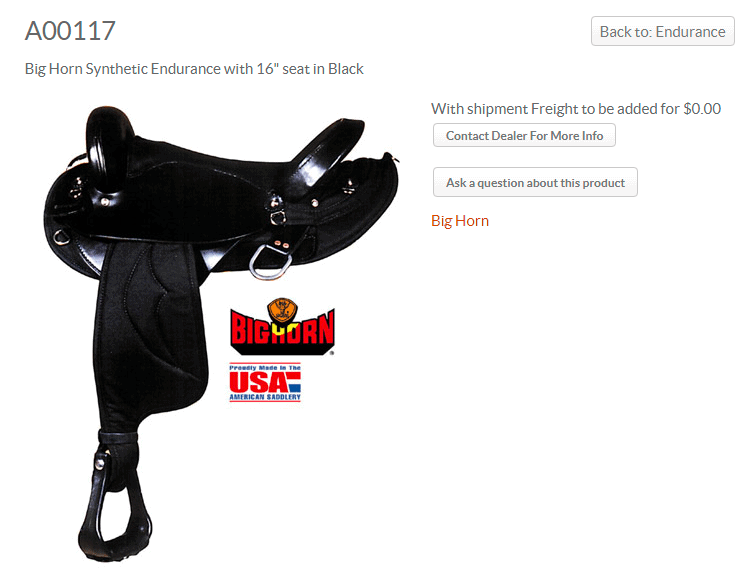 The Endurance Saddles have been specially designed for long riding sessions or events spanning over a couple of days. Not to mention, this category is the only one that does not offer a Horn.
Big Horn Center Fire Endurance Saddle 117-120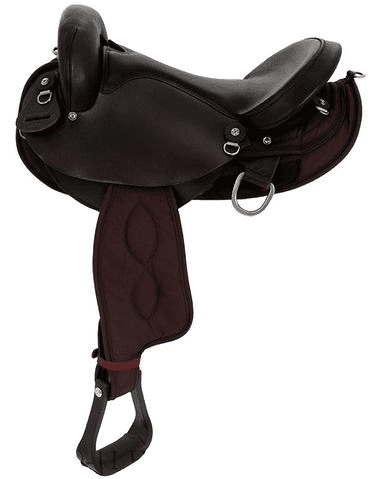 Description
If I talk about another elegant design by Big Horn, this Endurance saddle is worth mentioning. This saddle comes with a center fire-rigging system, which adds greatly to the saddle's endurance as it helps avoid pressure points forming on the front and back of the tree. This fact is also supported by its flexible tree, which fits horses with broader shoulders and backs quite well.
The trim on this saddle has rounded edges, which don't interfere with the wide hindquarters of the horse. The seat on this saddle is a little less tall, which can be uncomfortable for some riders who have to trot for hours. But it is nice to see that it is sufficiently padded to provide comfort.
Pros
It has soft, stuffed long fenders which are smooth against the legs of the rider.
This saddle weighs almost half that of other Big Horn saddles.
Cons
The Gullet on this saddle is relatively smooth and doesn't provide much to hold on to during rough rides.
Synthetic Saddles
Big Horn synthetic saddles are a good alternative to leather saddles by being lighter and more breathable. Their low production cost makes them a perfect option for equestrians on budget.
Big Horn Synthetic Saddle 500-502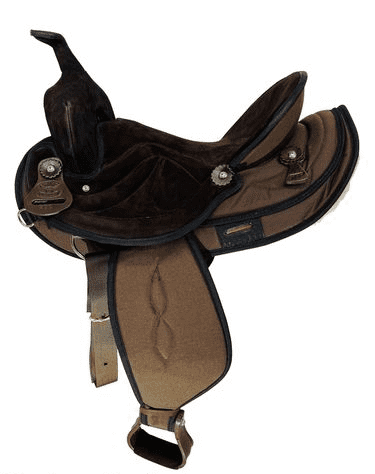 Description
Now let us talk about my favorite Big Horn saddle, the Big Horn Synthetic Saddle 500-502. It is the lightest saddle option on this list, making it very easy to put on and off the horse. The whole saddle also has a velvet-like texture, which feels incredible against the skin while also giving the saddle a unique shine.
The seat and jockey of this saddle are made of suede which gives it a fuzzy look, making it perfect for riders who don't like the smooth seats that most saddles have. However, this doesn't mean it provides any less grip, so I wouldn't shy away from recommending this for competitive sports like roping or rodeo.
Furthermore, this saddle has a premium fleece fabric along the bottom of its skirt, providing your horse with the optimal level of comfort.
Pros
This saddle is incredibly lightweight at only 15 Lbs, making it perfect for smaller horse breeds.
This saddle comes at a relatively low price, making it a perfect first saddle.
Cons
The synthetic build of this saddle is comparatively less durable than a leather one.
Haflinger Saddles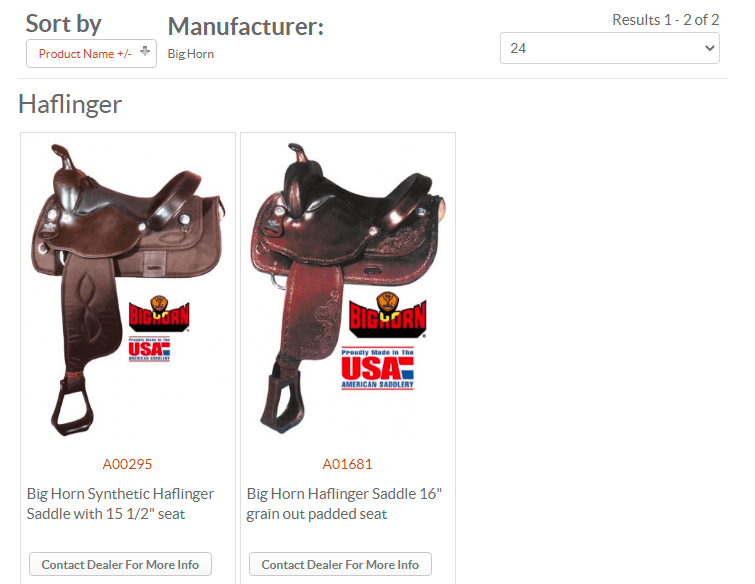 The Haflinger saddles in another famous category in Big Horn's massive catalog. This type is mainly categorized with wide gullets and flat angle bars.
Big Horn Haflinger Saddle A00908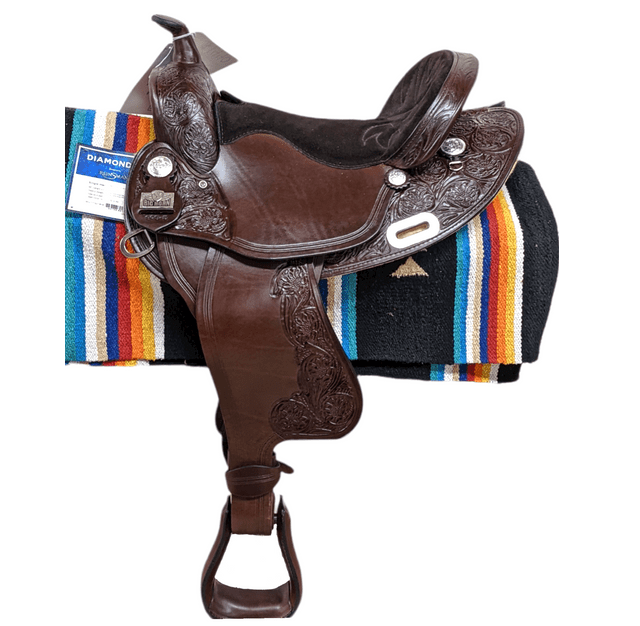 Description
If you are looking for a saddle that perfectly fits your Haflinger's unique build, you might want to consider Big Horn Haflinger Saddle A00908. It has a special fiberglass-infused wood tree, which adds the perfect mix of flexibility and durability for optimal comfort. And, with its even width throughout, this saddle will give your horse a snug fit.
This saddle has rich brown color leather with shiny Conchos, which complement the rest of its elegant design. In my opinion, the floral design on its fenders and the skirt also give it a unique pop. And let's not forget about the 4"-inch cantle that will provide your back with the much-needed support it requires during bumpy rides.
Pros
This saddle has in-skirt rigging, which is relatively lightweight than other rigging options.
The seat is made of a suede fabric which is more comfortable than seats made of grain leather.
Cons
With its high price tag, it is hard to fit it into a tight budget.
Show Saddles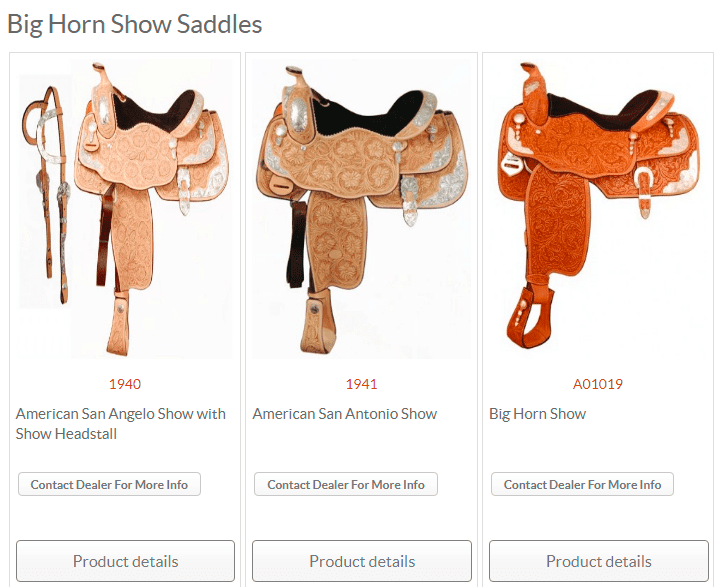 Show saddles are a staple for any dressage competition. And of course, Big Horn has also sought its roots in this category. Big Horn's show/dressage saddles feature leather engraved skirts with various elegant designs.
16" Big Horn Show Saddle A01943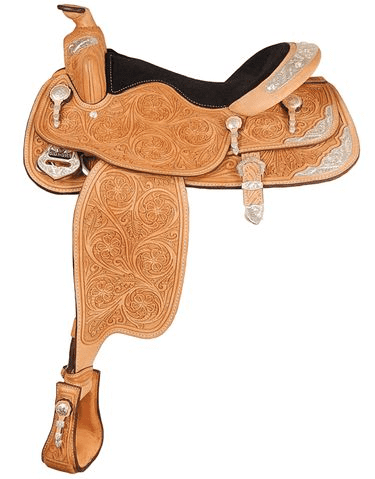 Description
For all those equestrian fellas who own an American Saddlebred, a Tennessee Walking horse, a Thoroughbred, or a Racking horse, and love to participate in show events like Cowboy Dressage, you should not overlook this Big Horn Show Saddle. But as they say, beauty comes at a price; you should be willing to cut your right arm off if you want to get a hold of this beauty.
With its full tool finish, the whole skirt, back housing, and fenders of this saddle are covered in a classy yet gorgeous floral design.
The leather straps, Conchos, Tie Holders, and even the Gullet are decorated with silver accents that add another depth to the already rich design. And to wrap it all off, it has a beautiful golden tan finish which will surely make you the center of attention at your next show event.
However, don't expect to use this saddle in rodeo events, as the 3.5"-inch cantle is a little too short for those.
Pros
The D-rigging system on the 7/8 position helps distribute the saddle's weight towards the back of the horse, making it easier for the horse to fully utilize its front quarter.
The saddle has a round cut on the saddle's skirt to not interfere with the horse's movement.
Cons
Due to all the decorated Conchos and relatively wide build, this saddle is rather heavy, making it slightly unusable for small horse breeds.
Full Quarter Horse Saddles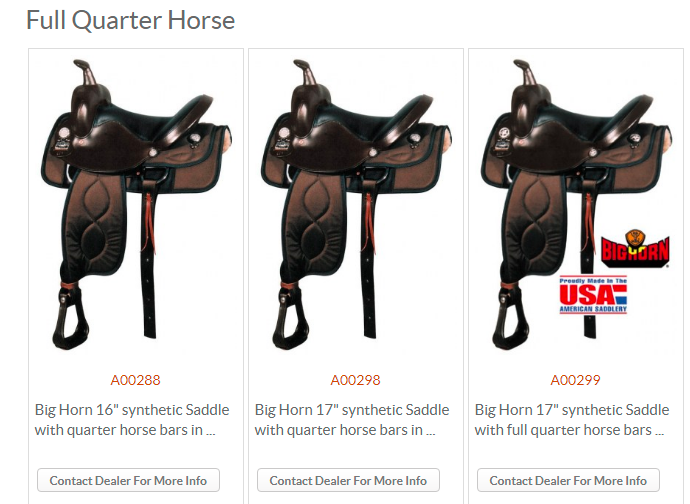 These saddles are specially designed by Big Horn for Quarter Horses, featuring a much wider gullet than most. These Big Horn full quarter horse saddles also have a unique quarter bar that sits at an angle with the fork.
16" Big Horn Wide Flex Tree Saddle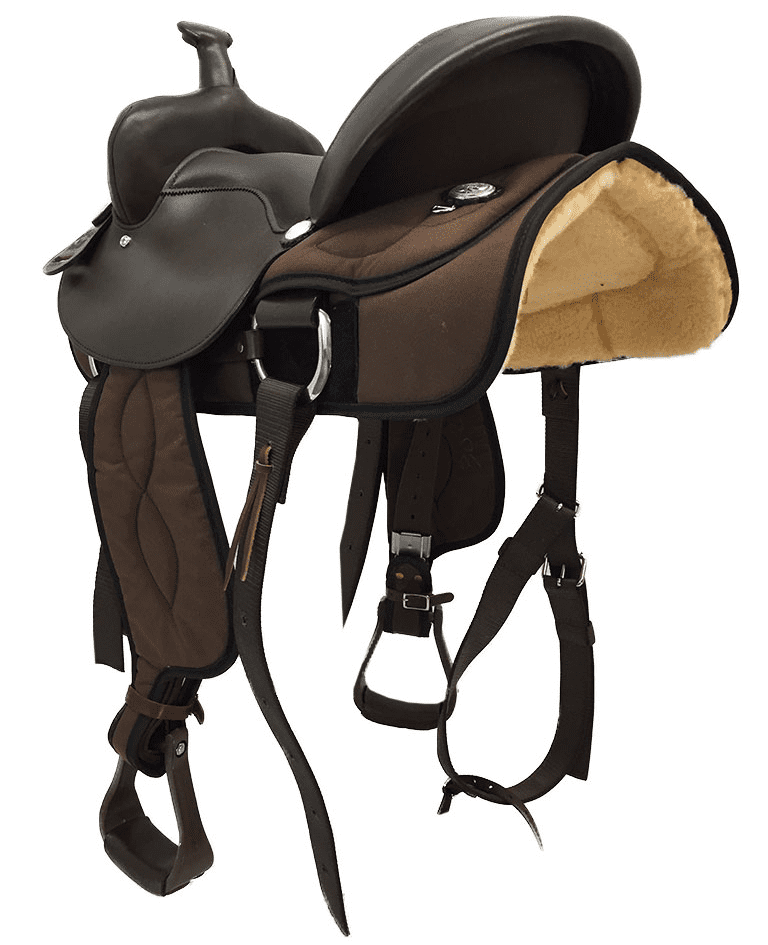 Description
The first thing I consider worth mentioning about this Cordura saddle is how Big Horn went all out on the comfort factor of this saddle. Its underside is lined with premium fleece which, while many riders may ignore, goes a long way in providing comfort for your horse. The fiber lining along the tree of this saddle also helps to deliver better grip between the saddle and the horse.
The saddle is made on Steele's Equi-Fit flexible tree, built with a mix of wood and fiberglass. This helps make this saddle lighter than most at only 24 pounds while also making it more durable.
Big Horn also didn't leave out the Fenders as a quilting pattern is quite evident on their sides, which helps the brand stuff more padding, keeping them soft for a long time.
Pros
Both sides of this saddles Fenders are padded to provide comfort to both rider and horse.
This saddle has a tall Cantle, safeguarding the rider from slipping back.
Cons
The seat on this saddle has a relatively stiff back which can be uncomfortable for longer rides.
Trail Saddles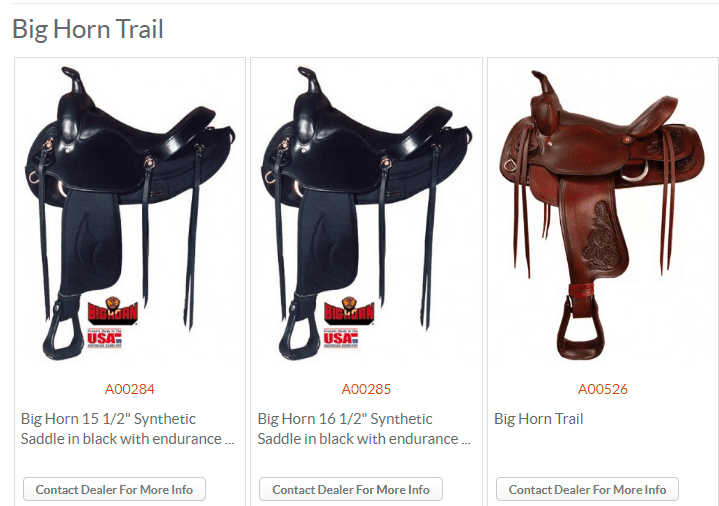 Talking about trail saddles, these aren't made for competitive racing events or dressage competitions. Instead, they are focused on providing comfort and endurance for long trail rides.
Big Horn Voyager Trail Saddle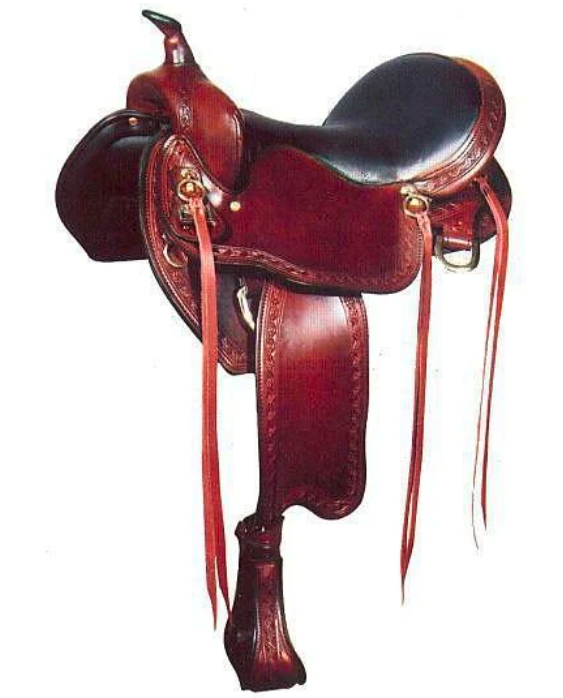 Description
Maybe you're a country boy/girl who likes to go on week-long trail trips. Then this trail saddle will make your ride a lot more interesting. The Big Horn Voyager Saddle is linked with many different clips, rings, and strings, allowing you to attach anything from bottles and bags to even extra gear you may need on your trip. In my opinion, the black and brown contrast gives this saddle a vintage look, which will definitely awaken the cowboy spirit within you.
The front and back leather strings also feature quick snap locks, which greatly help remove and add equipment quickly and without getting off your horse. The seat on this saddle comes with very cushy and soft padding, assuring you don't get tired on long trips. And let's not forget the center fire rigging on this saddle, which will help to equally distribute your weight across the horse's back.
Pros
The Sil-Cush padding across the liner of this saddle will provide the perfect mix of comfort and grip on your horse.
The shiny nice brown finish with a beautiful border trim adds to this saddle's appeal.
Cons
The long leather belts on the sides of this saddle tend to come in the way of riding.
FAQs
Question: How Are Big Horn And American Saddlery Related?
Answer: Big Horn was an independent saddle manufacturer. However, in recent years, the Big Horn name has operated under American Saddlery, following other manufacturers like B.T. Crump and Tuffy products.
Nevertheless, while Big Horn does serve under American Saddlery, it still manufactures independently with no change in its saddle-making techniques.
Question: Where Is The Serial Number Located On A Big Horn Saddle?
Answer: All authentic Big Horn saddles have a specific serial number, and you can find them printed on the tag or stamped on one of the saddle flaps. The primary purpose of these stamps is to confirm the saddle's authenticity. The serial number also helps to identify and link a specific Big Horn saddle to a particular type in their catalog.
Question: Where Are Big Horn Saddles Made?
Answer: Big Horn saddles are still manufactured where they were made fifty years ago, i.e., in Chattanooga, Tennessee, USA.
Question: What Types Of Saddles Do Big Horn Make?
Answer: To put it into simple words, Big Horn manufactures almost every saddle type there is. From reining, training, roping, endurance, trail, barrel, and show jumping, the massive catalog of Big Horn has saddles for all these purposes.
Final Thoughts
Talking about Big Horn as a brand, it is one of the few in the United States market that actually cares about making customer satisfaction. And that can easily be seen through its quality craftsmanship and build.
Since 1965 this brand has made its identity solely on the idea of creating and designing handmade saddles. And looking at its trajectory, I don't see its success ever coming down.
I have compiled some of my buying tips to save you the trouble when buying your favorite Big Horn Saddle. Before placing your order, check out the Big Horn's catalog and only go for the saddle option that perfectly fits the size of your horse.
Watch as many Big Horn video reviews on Youtube as possible to get an idea of which features you want or don't want in your next saddle. Always consider your use of the saddle beforehand, i.e., whether you need it for sports like roping or show events like dressage. And, of course, only buy from authorized Big Horn dealers like the ones mentioned above.
If I have to vouch for the best Big Horn saddle in my view, I will go with the 15" to 17" Big Horn Synthetic Saddle. It is made of a light, synthetic, and relatively soft material, making it perfect for both the rider and horse. And let's not ignore the price as it is pretty easy to fit into a reasonable budget.
But if you are a fan of pure leather and got some extra buck to spend, you can always check out some of the other popular Big Horn saddles in this guide. Good Luck!
Read More: