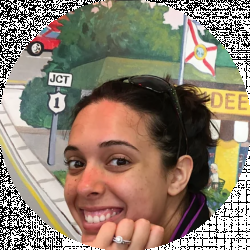 Latest posts by Marissa Moss
(see all)
When you own a horse, there is never a dull moment. Whether it's a daily inspection of their coat or getting ready for a show, the random dirt that tends to show up on your horse's coat can leave you dumbfounded.
During what every horse owner fondly refers to as "muddy season," the mud that accumulates on your horses' hooves and ankles is unreal…how in the world does the dirt get caked like that? Or when they roll? My favorite is the classic roll in the mud right after a bath. For whatever reason, horses enjoy being dirty, and we humans enjoy making them clean.
Don't even get me started on the stress of getting ready for shows! Whether it's your first 4-H show or your 100th professional horse show, getting ready to go into the ring takes a lot of effort and time: making sure your horses' coats are spotless, getting all the poop stains cleaned off, and making sure every hair is in place can be next to impossible. That is where a Tiger's Tongue can be a godsend.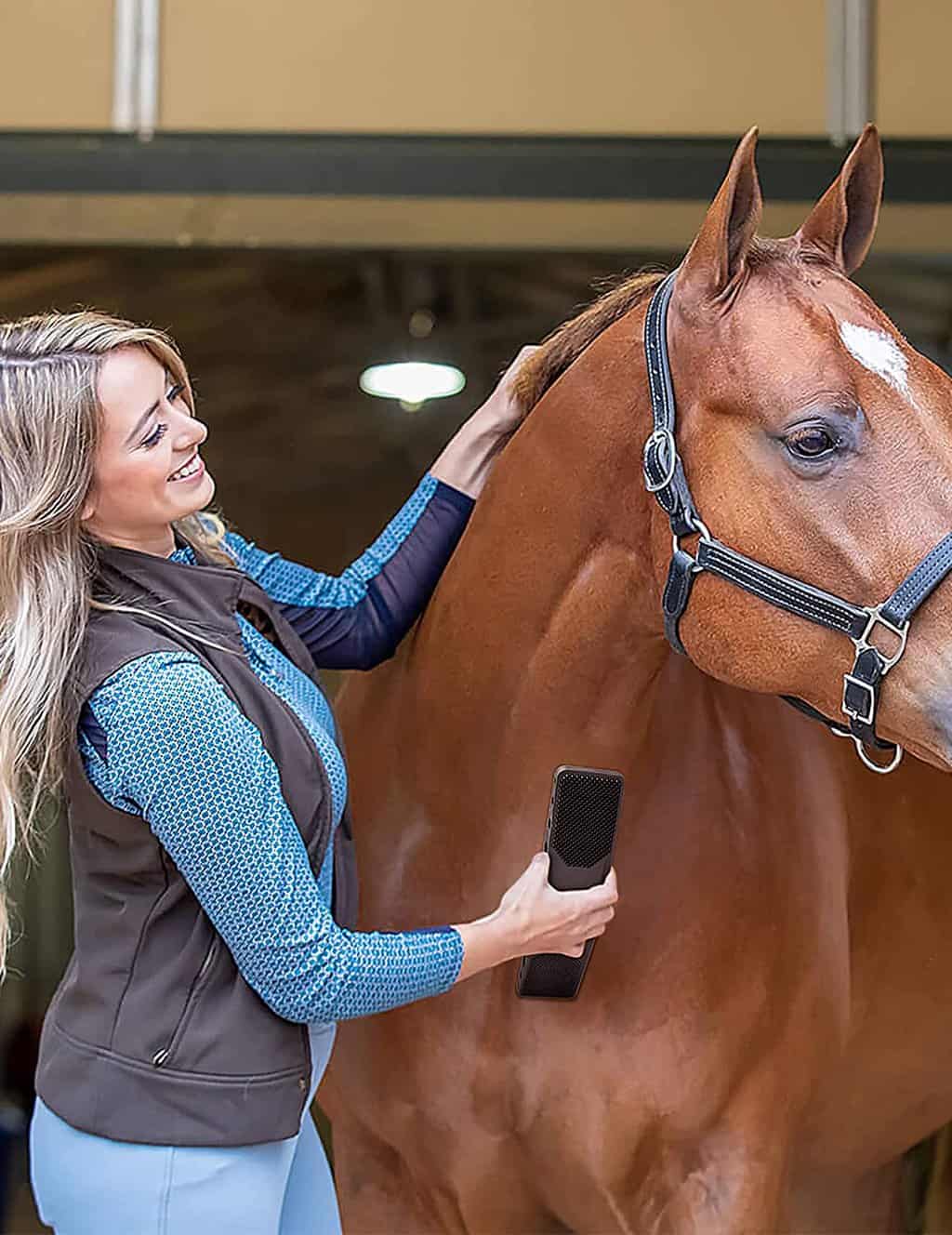 Bottom Line Up Front
Tiger's Tongue is a grooming tool that is designed to act just like the tongue of a cat (or tiger). As you use it on your horses, saddles, and buckets, it wipes away the dirt, leaving every surface smooth and dirt free. Tiger's Tongue is a great asset to add to your grooming tool collection. Chances are, the Epona Tiger's Tongue may even become your favorite tool!
How to Find the Best Tiger's Tongue
Tiger's tongue is not the tongue of an actual tiger. Instead, it is a specialized brush-meets-sponge combo made by Epona that is extremely soft and an amazing way to do a quick, relaxing clean-up on your horse's coat. Essentially, it's a man-made tiger's (and/or cat's) tongue – hence the name. A Tiger's Tongue grooming tool is perfect for horses sensitive to the typical body brush or curry comb.
What Is Tigers Tongue Used for?
Have you ever been getting ready for a horse show – all the prep work has been done. Your horse is cleaner than you are. Your tack is nice, neat, and organized. Even your show clothes are neatly hanging in your truck cab. You arrive at the show; get settled in. Once your horse is nice and comfy in their stall, you look them over.
What?!?
How does this even happen?
As you're looking them over, you find dirt. Dirt!
After taking a peek in the trailer, you realize the culprit is not just ordinary dirt; it's manure. Lovely.
Tiger's Tongue is a great way to get your horse's coat super clean, brushed, and ready to go without the typical cloud of dust – keeping your show clothes nice and still clean looking. This factor makes Tiger's Tongue an invaluable asset to your horse show tack box.
In addition, Tiger's Tongue can even be used wet, as a sponge to wash your horse or even clean water buckets and saddle pads. Who doesn't love such a versatile tool?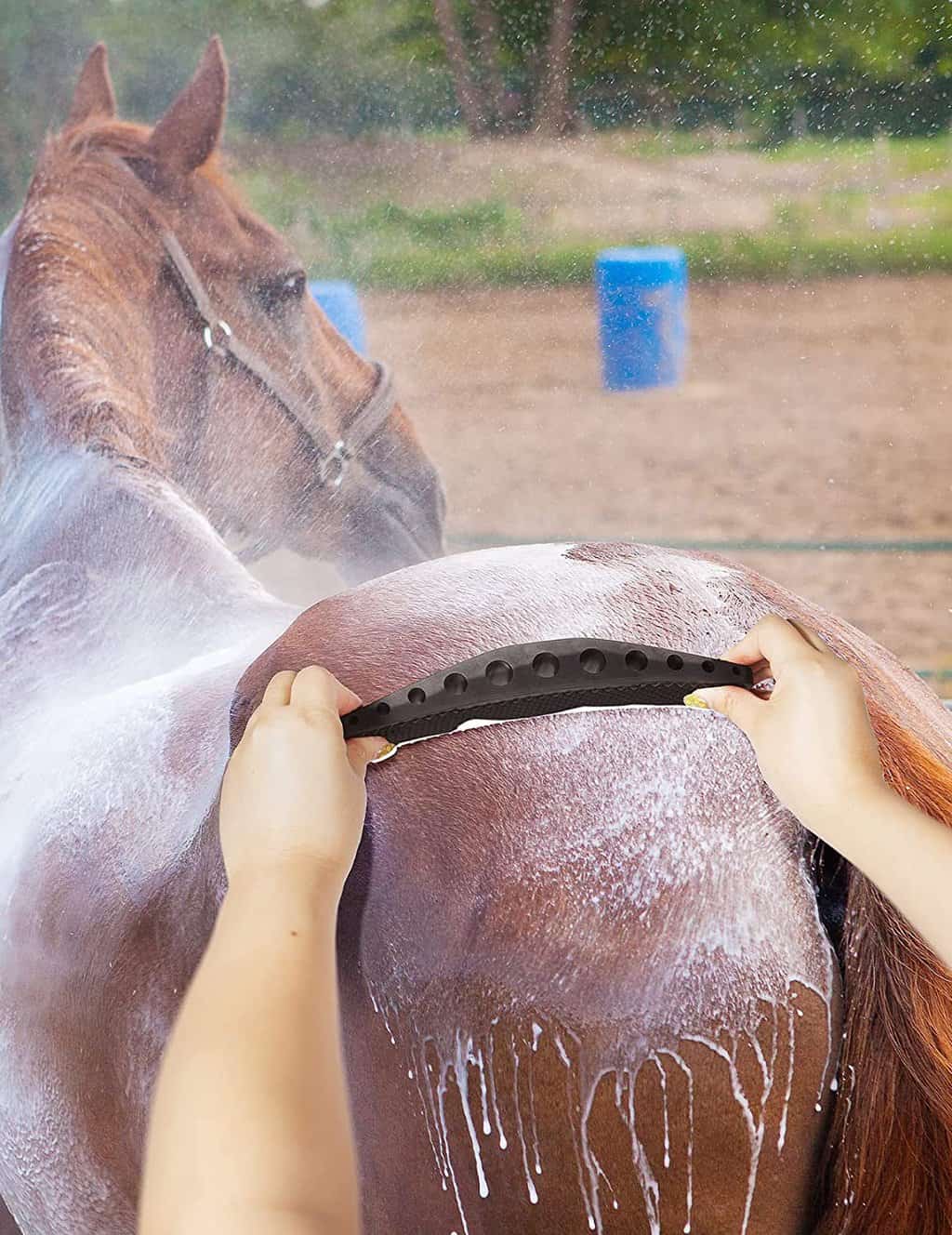 How Does Tiger's Tongue Work?
Tiger's Tongue works just like it sounds. You know how a cat licks her kittens to clean them? That's pretty much how Tiger's Tongue works. It's a soft yet grippy sponge-like tool that essentially "licks" the dirt right off your horse, water buckets, or saddle pads.
My Favorite Tiger's Tongue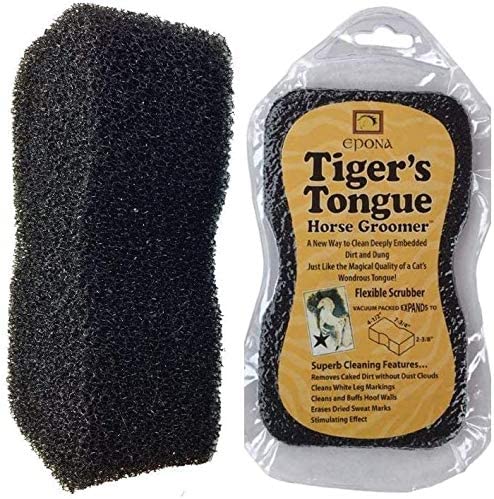 Epona makes a wonderful Tiger Tongue grooming tool. They specially designed it to gently and thoroughly remove caked-on dirt and manure. This Tiger's Tongue is a wonderful tool for horses with sensitive skin and for groomers with arthritic hand, arm, or shoulder joints.
This company has come up with one of the most innovative tools for grooming horses. It gathers the dirt as you remove it from your horse's coat, your saddle pads, or even your water buckets. When it's time to clean the Tiger's Tongue, you just rinse it well, let it dry, and use it again! So far, Epona is the only company making this type of grooming tool.
Here are some things I really love about their Tiger's Tongue:
Gentle on horses' skin
Great for groomers with arthritic hands
Easily removes caked on dirt, mud, and manure
One of a kind!
Pros
Easy to use
Removes dirt without creating a "dust cloud"
Great option for horses with sensitive skin
Cons
Can seem a little large for groomers with small hands
Items Similar to Tiger's Tongue
While there is only one company (at least for now) that manufactures Tiger's Tongue, there are a few products out there that are similar to Tiger's Tongue. While they can get the job done, it's hard to beat all the amazing benefits of Tiger's Tongue.
Here are some good ones.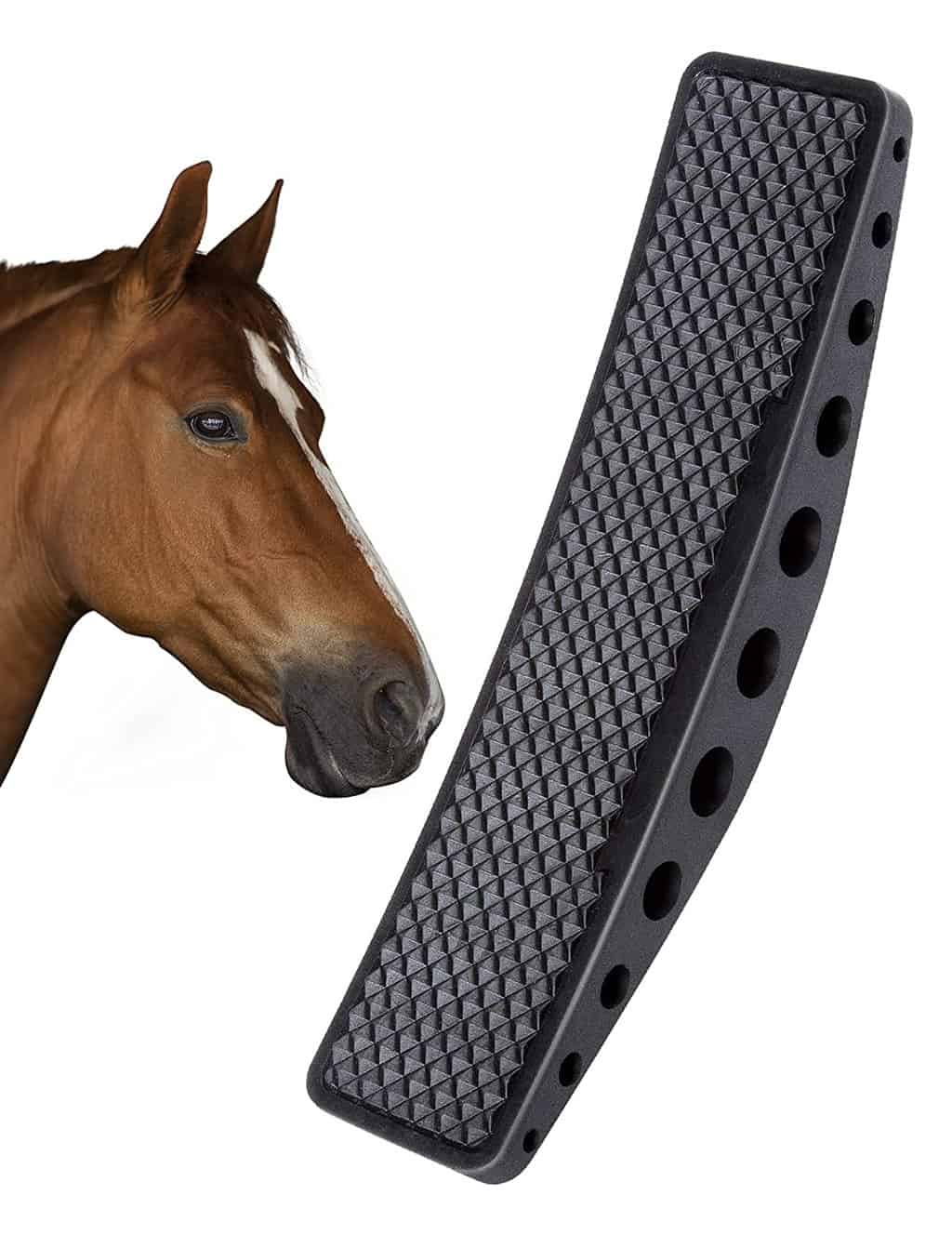 HJV makes a brush similar to Tiger's Tongue. Their horse brush is more of a two-handed tool. It's great for shedding season and getting the extra hairs off your horse before they end up on your clothes. This brush is also great for those times of the year when your horse may be dealing with dry skin – it helps to exfoliate the skin and relieve those dry, itchy patches.
The HJV horse brush happens to be a great tool for equine massage therapists as well. This brush, while helping to de-shed and exfoliate, also helps to increase circulation. This will help to keep your horses muscles nice and loose as they go about their day – whatever that tends to look like – out in the field; working on a dude ranch; or competing in horse shows.
Pros
Great for shedding season
Exfoliating
Massaging – helps to increase circulation
Cons
Can create a dust cloud
Is mostly a two-hands-needed tool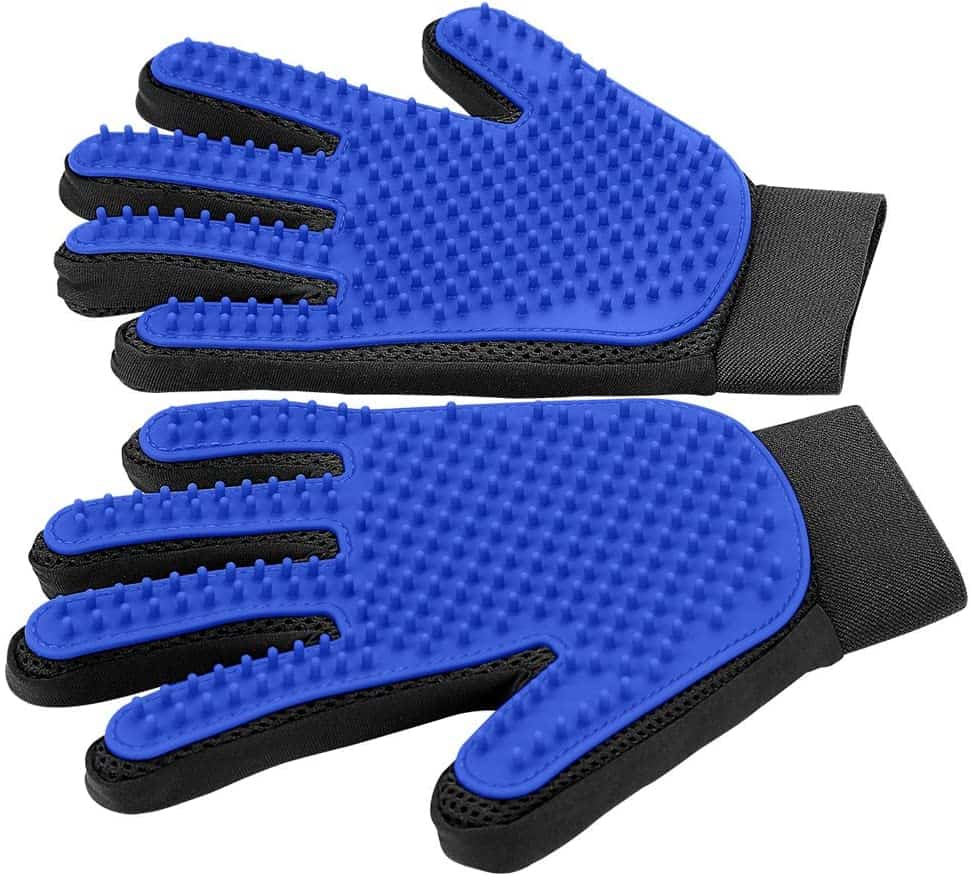 This pet grooming glove is a useful tool to have around. They are great for grabbing shedding hair – the hair just kind of ends up creating a carpet on your hands as it gathers on the gloves. These can also be used to bathe horses. They're great for lathering up the soap, removing dirt, and making your horse feel amazing.
Pros
Shedding hair sticks to it
Can be used for bathing horses
Gently removes dirt
Cons
Dust can gather inside the gloves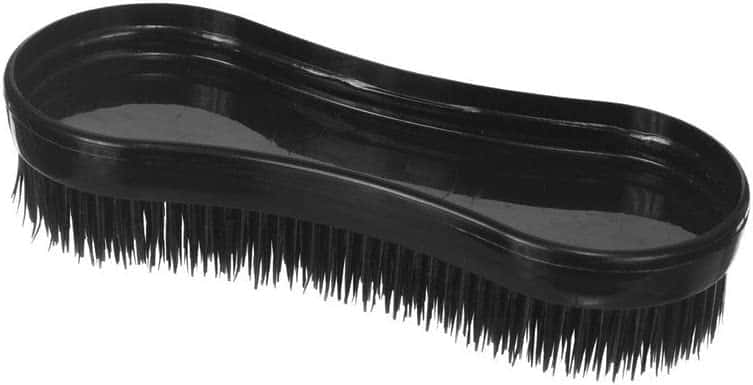 The Genie Brush is a combination of a typical body brush and rubber curry brush. Its unique design allows the Genie Brush to collect a good bit of shedding hair as you brush your horses coat. It is also super easy to clean. Some soap and water does the trick!
Pros
Works like a body brush
Easy to clean
Gathers shedding hair
Cons
Can create the dreaded dust cloud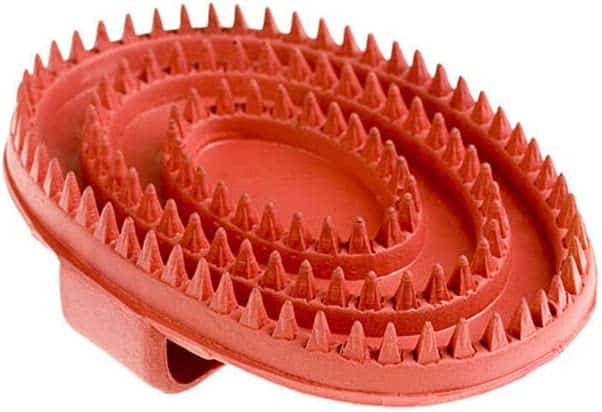 The rubber curry comb has been around for several years. It's a typical staple in a tack box. The HORZE Rubber Curry Comb is made of very durable, yet soft rubber. Though it doesn't collect everything, it is a great tool for removing big mud clumps and shedding hair. This curry comb also has a handle which makes it easier to use in the winter months when using it with gloves or mittens.
Pros
Removes big mud clumps
Helps remove shedding hair
Handle makes it easier to use
Rubber is soft on a horse's skin
Cons
FAQs
Question: Is Tiger's Tongue soft?
Answer: Yes. Well, kinda. Have you ever been licked by a cat? It's soft enough to feel nice and soothing, though at the same time it is rough enough to clean dirt, grease, grime, and even cobwebs off of your horse.
Question: How does Tiger's Tongue work?
Answer: Tiger's Tongue acts like a sponge. It can be used dry or wet. When used dry, its sponge-like qualities collect the dirt within itself. When used wet, it's a great for cleaning surfaces and removing the dirt.
Question: What can I use Tiger's Tongue for?
Answer: Tiger's Tongue can be used for brushing horses, cleaning their coats, removing dirt or mud clumps, and getting rid of manure stains. It is also a handy all round cleaning tool, as it can clean your saddles, saddle pads, and even water buckets!
Best Tigers Tongue Guide: Final Thoughts
While there are a few grooming tools that do the job of grooming horses well, the Tiger's Tongue remains my favorite. The fact that it…
cleans your horse's coat amazing well
you can use it to wash your horse
it can be used to clean saddle pads
water buckets also benefit from its cleansing powers
All of that from one grooming tool!! Gotta love such a versatile thing. It's like the Swiss Army Knife of grooming tools. I highly recommend grabbing a Tiger's Tongue groomer before your next event. It will be a huge sanity saver and it will help keep your show clothes clean during the last touch ups before you and your horse enter the show ring.