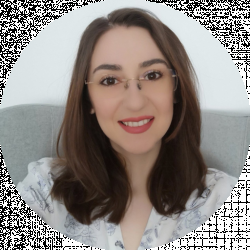 Latest posts by Alexandra Gavrilescu
(see all)
In today's best horse blankets guide, you'll discover a lot about some of the most popular horse blankets and their selection guidelines. The right blanket provides optimal insulation for your beloved horse, protecting it from cold weather.
Blankets made for horses are unique and different from the standard blanket that we, humans, use. These accessories help horses maintain or regulate their body temperature by covering their back and neck. Most blankets manufacturers use cotton, wool, or, polyester to create these coverings.
Bottom Line Up Front!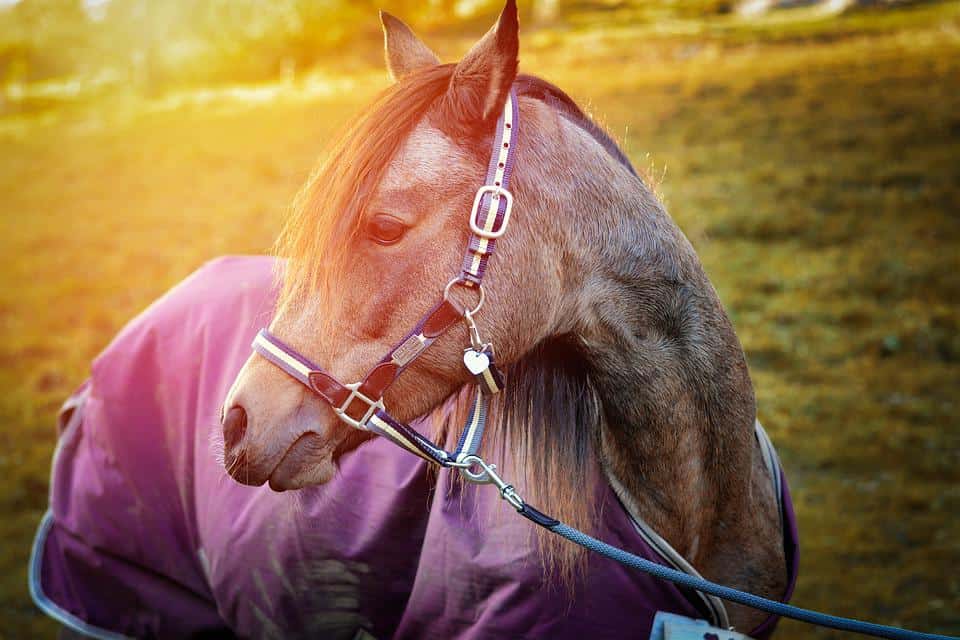 My favorite blanket is the one made by Tough-1 with a denier of 1200 due to its enormous covering power, vibrant color options, thickness, and waterproof features. But, I also like the Amigo Bravo blanket because of its premium materials, elegant design, durability, and breathability.
My brief top selection would be the following one:
Tough-1 1200D – for its wide design and waterproof features;
Amigo Bravo – for its elegance and high-quality fabrics;
Challenger – for its affordability;
WeatherBeeta Comfitec – for its lightweight construction;
Benefac – for its therapeutic functionalities;
AJ Tack – for its adjustability and versatility;
Derby Originals – for its vibrant colors. 
Selection Criteria: I've chosen the following horse blankets based on their durability, comfort level, insulation characteristics, and secure fit.
Best Horse Blankets Guide – My Top 7 Recommendations
I've detailed these horse blankets in no particular order.
1. Tough-1 1200D Horse Blanket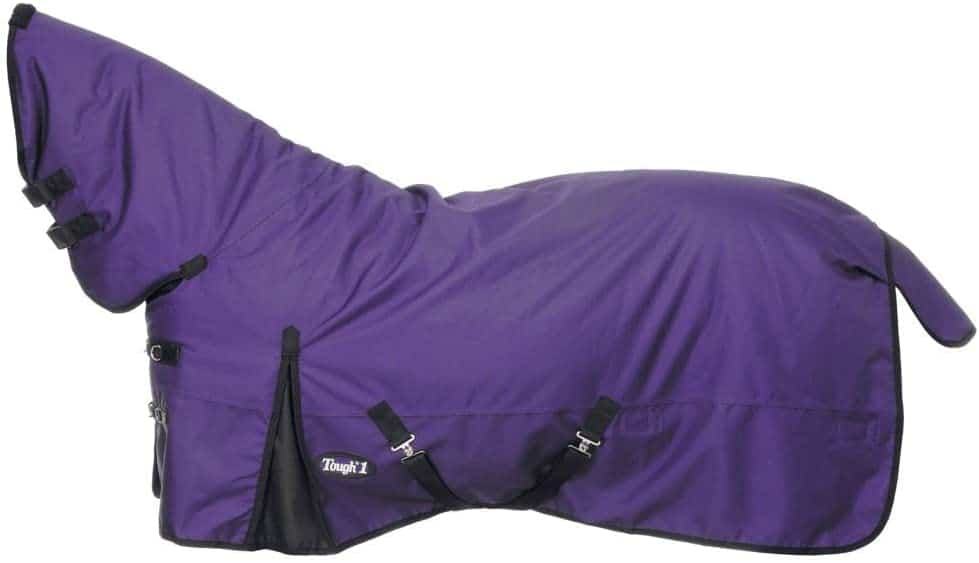 This Tough-1 horse blanket is ideal if winters are harsh where you and your horse live. The blanket is thick and wide, covering a large part of the horse's body, including its neck. You can choose from three available colors: purple, hunter green, and blue.
My favorite is the dark green one. I love how well this blanket covers and protects my horse from the freezing winter wind.
Another great benefit that I appreciate is the waterproof characteristic that stops snow or raindrops from reaching all the way to your horse's body. Tough-1 1200D is made of durable fleece and has an average thickness of 78 inches. Because of that, this isn't a lightweight blanket. In fact, it weighs 300 grams which makes this cover a medium/heavy one.
Pros
Made of high-quality and durable fabrics;
Offers protection against rain, snow, cold, and wind;
Covers all your horse's back and neck areas;
Provides your horse with increased comfort due to its inner lining;
Fantastic fit due to elastic leg straps and adjustable buckles.
Cons
It seems that this horse blanket might be a bit tight around the neck, especially for certain horse breeds such as Arabians;
The friction movement between the material and the horse's back could lead to hair ratting.
2. Benefab Therapeutic Horse Blanket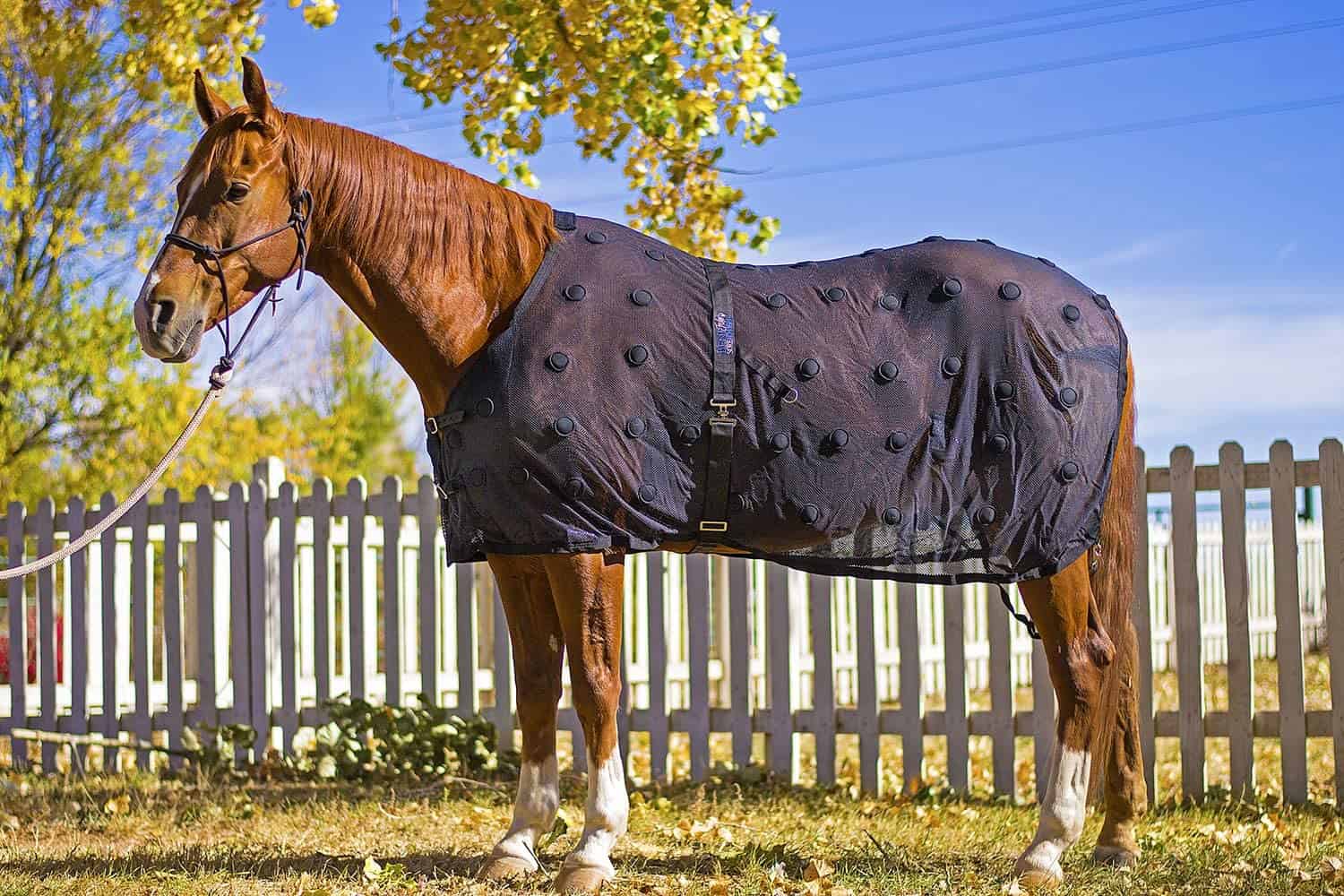 This Benefab horse blanket is actually a mesh sheet infused with ceramic powder. It's therapeutic and relies on magnetic therapy. I hate to admit it, but this horse blanket is expensive. However, despite its price tag, I would love to know that my horse is taken care of at all times, especially if it suffers from sore muscles or pain.
I am happy to have found a blanket that's clinically tested. It lowers back pain while also lowering soreness, pain, and stiffness. If your horse has special needs or has recently undergone a muscular injury, you should opt for this product since it promotes quicker recovery and improves blood flow.
Pros
Promotes blood flow and recovery;
The therapeutic blanket is clinically-proven;
It's durable;
Features effective acupressure points.
Cons
It's expensive;
It doesn't suit cold weather since it's made of sheer mesh;
It has a thin material.
3. Challenger Waterproof Horse Blanket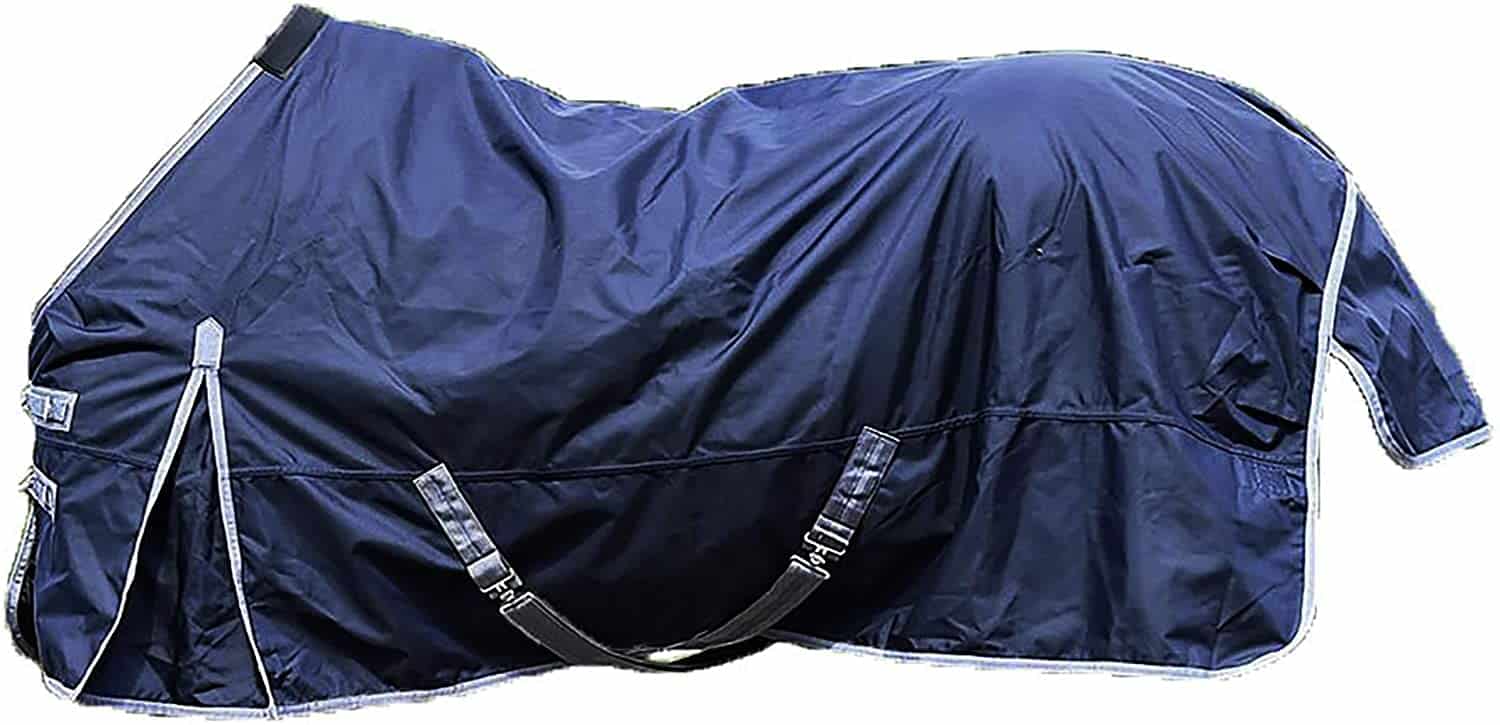 The Challenger brand is known for its high-quality horse products, and this turnout blanket makes no exception. The price was the first thing that caught my attention, and I can honestly say this is a very affordable product. I don't really like that there's only one available color, navy, but, on the bright side, you can choose between three insulation levels based on your horse's needs.
This Challenger horse blanket is made of fleece and provides your horse with a comfortable fit due to its adjustable front part and leg straps. It allows the animal to move freely, which is something I wish for my horse when I'm searching for the best horse blanket.
A feature that made me curious and excited at the same time is the part of the blanket that covers the tail and protects that area from moisture.
Pros
It's waterproof;
It's affordable;
The horse will feel comfy and will be able to move freely;
There are different levels of insulations;
The blanket has a versatile and medium-weight design.
Cons
I couldn't find any negatives about this blanket.
4. WeatherBeeta Comfitec Blanket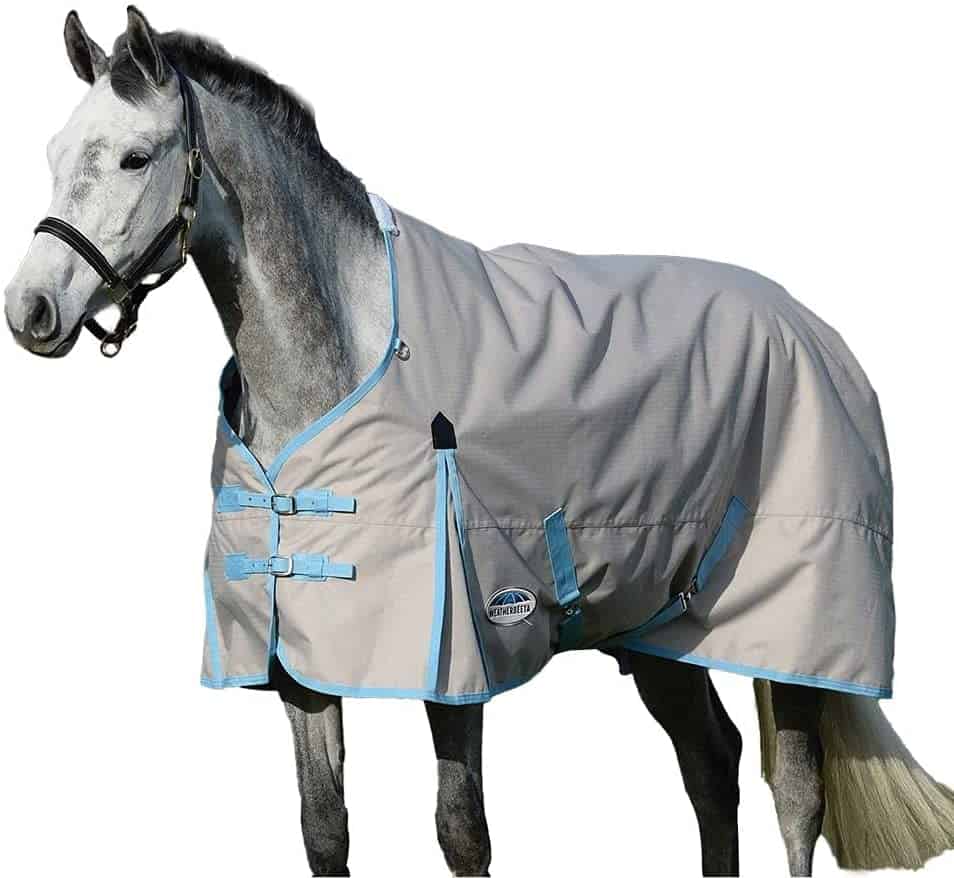 This horse turnout sheet comes in multiple colors and patterns. You can choose whichever you want; I can't help but tell you my favorite, which is the light blue and taupe combo. The WeatherBeeta horse cover is made of a mix of fleece and polyester. I can't say I'm happy with the synthetic material in its construction, but I have to say it makes the blanket a lot more durable.
I like how lightweight this blanket is without sacrificing the insulation characteristics. As a result, it provides the necessary warmth that your horse requires during cooler days. One thing's for sure: with this blanket, my horse will never deal with chaffing or rubbing due to the cover's inner lining. In addition, it's highly versatile and adjustable.
Pros
This blanket is lightweight and breathable;
It's adjustable and waterproof;
It's a durable horse cover;
Allows your horse to move without any issues whatsoever;
The fit is comfy and secure.
Cons
The front closure lacks a Velcro system;
It might be too tight on some horses;
It may not be suitable for high-withered horses.
5. Derby Originals Winter Horse Blanket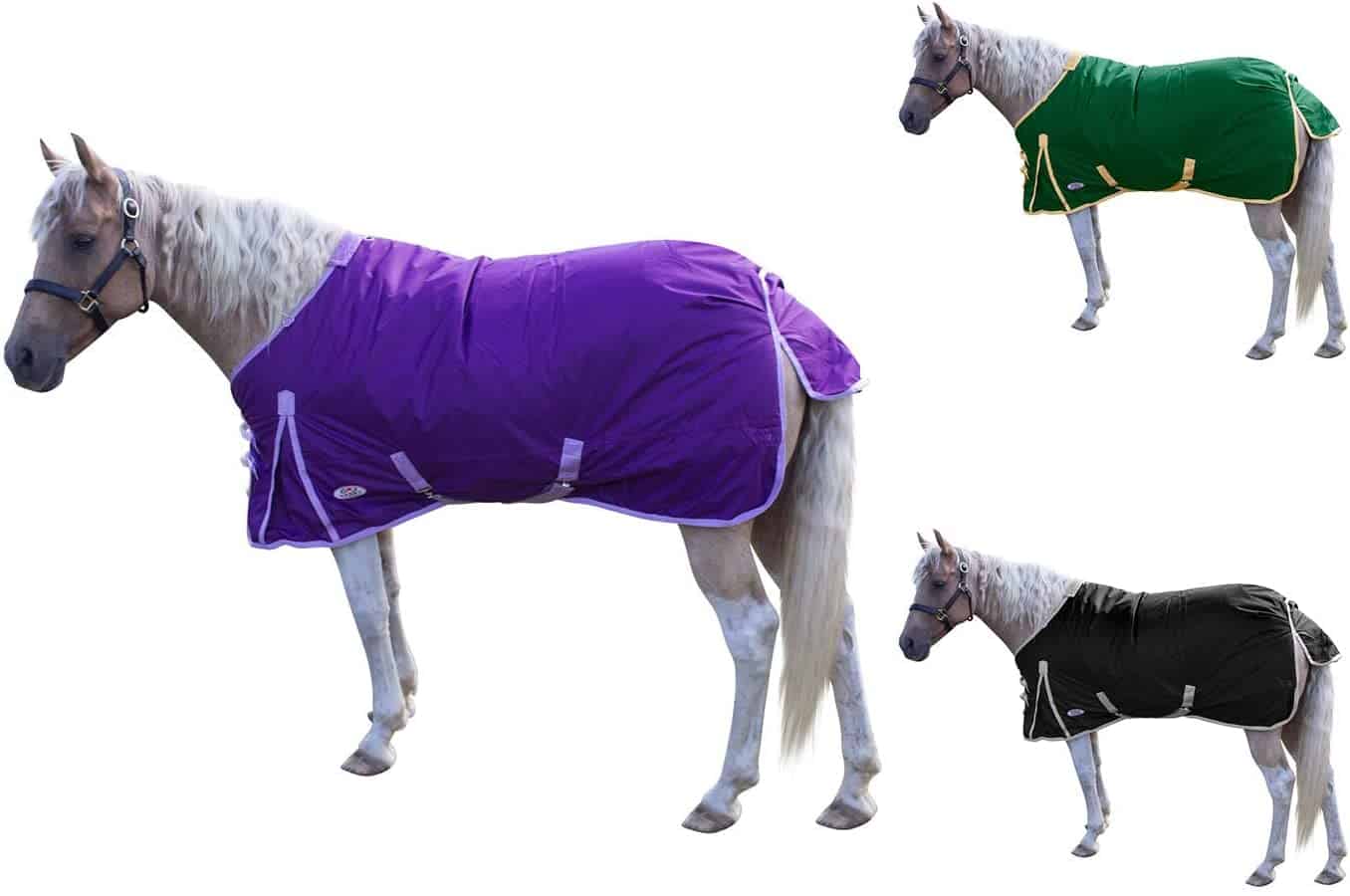 This Derby Originals blanket is adorable since you can purchase it in three available colors: purple, black, and green. My two favorite colors are blue and green, so I would undoubtedly opt for the green one if I were to buy this horse blanket.
In addition, it has medium weight, at an excellent price, and it's waterproof. So, what's not to like about this horse cover?! Did I mention it's also adjustable?
The manufacturing company prides itself on designing horse blankets while focusing on offering optimal comfort. Being an everyday turnout cover, you can safely use it daily, both indoors and outdoors. I love how sturdy the fabric feels. Still, I must mention that this blanket might not withstand the pressure created by heavy-duty activities.
One thing I consider innovative about this item is its triple-layer design that keeps your horse's body warm without restricting airflow.
Pros
It's affordable and good-quality;
It keeps your horse warm and protects it from rain, snow, and wind;
All the fastenings and straps are adjustable.
Cons
Not meant for heavy-duty work;
The purple option is lighter than in the photos – it reminds me of lavender;
It can be a tad large for some horses.
6. AJ Tack Horse Blanket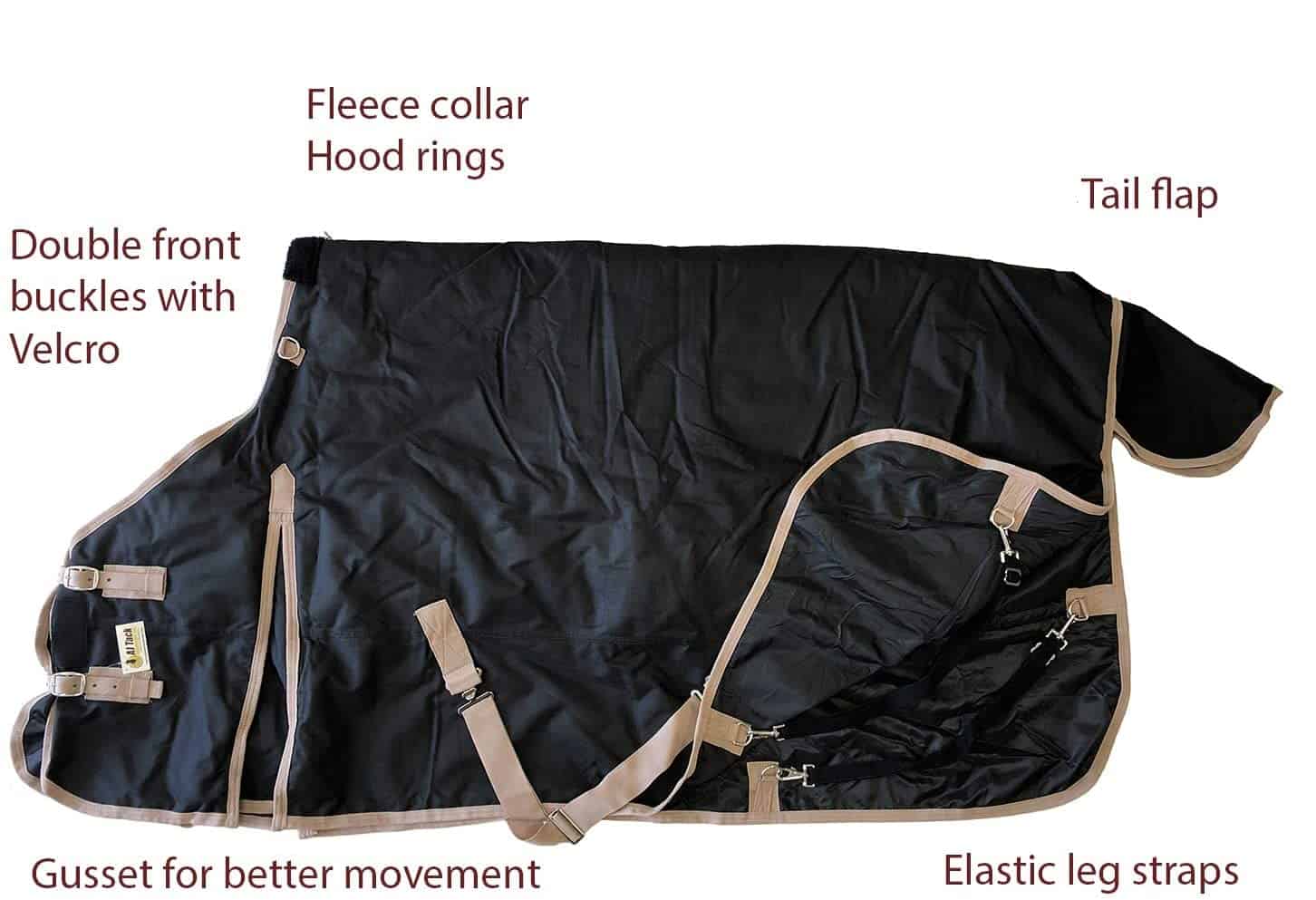 The AJ Tack 1200D turnout blanket is one of my favorites because of its Velcro front buckles which ease the process of putting on or taking off the cover.
Its leg straps are elastic, so I know that my horse will remain protected and comfortable when it wears this blanket. The outer layer of nylon is waterproof, while the inner layer is made of polyester, creating excellent insulation and keeping your horse warm.
What I don't like about this blanket is the lack of material around the horse's neck. It doesn't cover the neck area, so I don't feel very comfortable knowing that my horse could feel the cold if the blanket doesn't cover all essential body areas.
Pros
It's pretty affordable;
This is a waterproof horse blanket;
It's adjustable.
Cons
It doesn't cover the horse's neck;
It can be pretty restrictive.
7. Amigo Bravo All-in-One Horse Blanket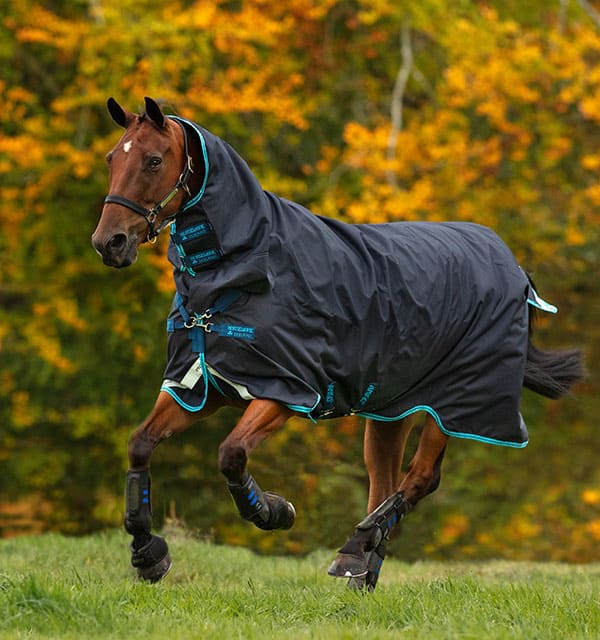 The Amigo Bravo horse blanket is a comprehensive all-in-one cover. It's made in Ireland and provides both comfort and security due to its seamless design.
If I wish my horse to be almost completely covered and protected from cold and rain, this is the blanket I would opt for. However, you should know this blanket is suitable for narrow-built horses. Fortunately, my horse's back is pretty narrow, but if yours is wider, you should check the measurements.
I love how large this horse cover is and how breathable the material is. Moreover, it's made of durable polyester. Gosh, this Amigo Bravo blanket comes with so many wonderful features that I almost feel the urge to order it right now; it has fiberfill insulation. Its polyester lining is both anti-static and antibacterial.
Pros
It features front-leg arches for a comfy fit;
Covers the neck of the horse;
It's waterproof;
There's a strap that holds your horse's tail into place;
The front closure has a V-cut, which makes this blanket easy to put on;
The materials are breathable and sturdy.
Cons
The shipping might take longer than expected.
Best Horse Blankets Guide – How to Choose Them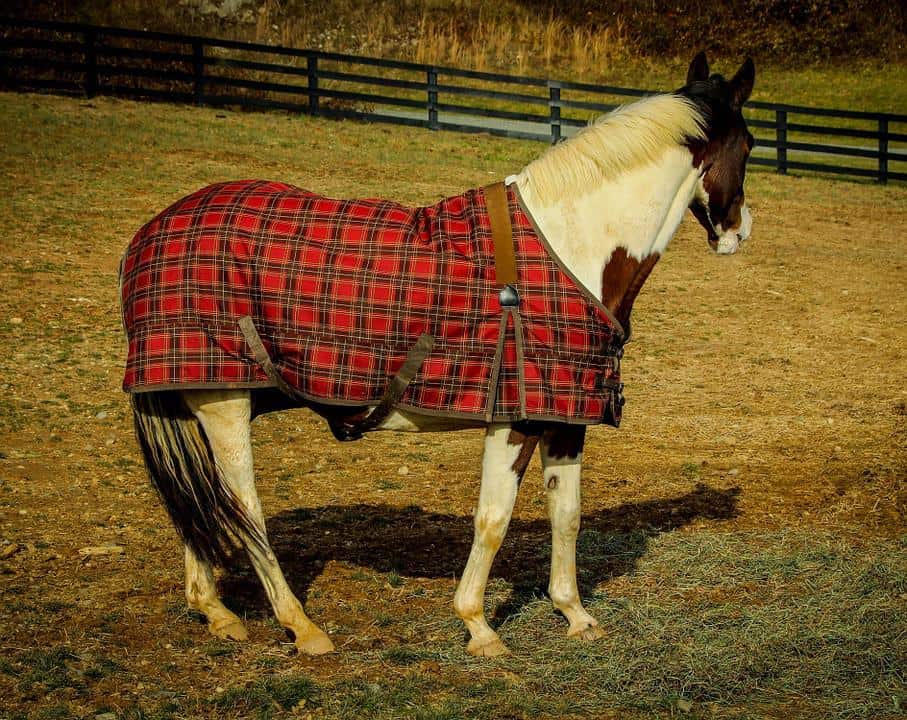 Here are the most important attributes I always consider when choosing the best horse blankets on the market.
1. Finding the Proper Size
To make sure you pick a blanket that features the correct size, you must first measure your horse. The ideal blanket should not be too tight or loose when wrapped around your horse's body. Instead, it should offer a snug fit that protects and secures your horse, allowing it to move without restrictions.
To establish your horse's unique measurements, you must use tape to see the length between its chest and tail. Do that while your horse stands still, on flat ground, upright.
The shoulder area where a horse's body is the widest will give you a clearer idea regarding the appropriate blanket size. If you discover that your horse's measurements fall within a specific manufacturing interval, always pick the highest number (the larger version of the cover).
2. Knowing the Main Types of Horse Blankets
You'll find two major blanket types: stable and turnout blankets.
Stable Blankets
During cold periods, your horses must be kept warm even when indoors, in the stable. That's what stable horse covers are made for. By comparison, stable covers are less expensive than turnout blankets, but they're usually not waterproof. You can use one or the other, or you can purchase both.
I'm using a turnout blanket for my horse. Despite the higher price, I consider it an excellent investment since I can safely and efficiently use it even when I keep my horse inside the stall. So, I don't really see the point in getting two types of blankets if one of them can do both jobs.
Turnout Blankets
Turnout covers come with waterproof layers, hence their higher price tag than stable blankets. If you keep your horse outdoors a lot, including when it's raining or snowing, then a turnout blanket is what you need to protect your animal friend. These blankets are well-insulated and waterproof without sacrificing other attributes such as breathability.
They're usually made of durable materials.
Additional Types
There are also secondary types, including rain sheets (which are thin and don't keep the horse warm because it's made for rain, not cold weather) and quarter blankets (these are smaller sheets that only cover your horse's lower back, and you must use them as soon as you remove the stable blanket).
Other types are cooling sheets (coolers serve to protect your horse from very harsh weather conditions due to its thick fleece and wool fillings, but these aren't waterproof, so you should use them with rain covers on top for optimal protection).
3. Considering the Blanket's Durability Level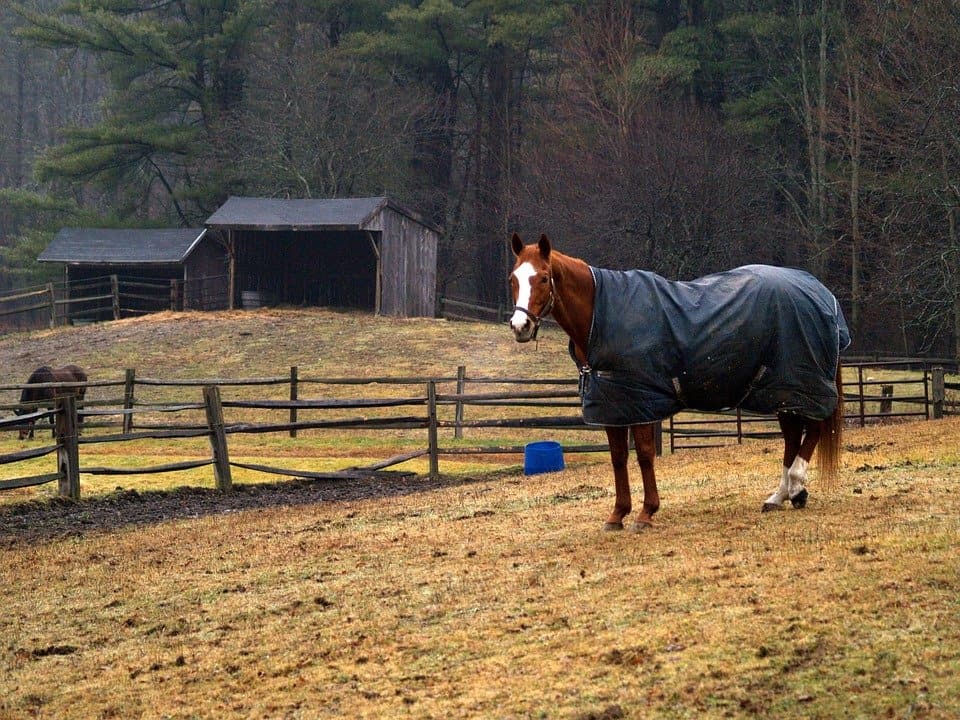 Obviously, I would want to avoid all low-quality blankets that can easily tear or wear because any rips in them will mean that my horse becomes vulnerable in the face of nature's elements. So, you should keep that in mind when you find shady offers with unbelievably low prices.
I'm sure you know it's wiser to pay more for a durable blanket than pay less and change the cover more often. In the long run, you'll save money if you opt for a better-quality alternative. At least, that's what I did. Next, I will tell you how you can recognize the various durability levels of a horse blanket. It's all in their name where the letter D appears. In this case, D stands for "denier."
Thicker blankets come with stronger fibers and higher durability levels. I'm currently using the 1200D horse cover made by Tough-1, and I'm happy with it due to its resistance to tearing, rips, punctures, and abrasion. On the other hand, if the weather is warm and you only want to protect your horse from the wind, you could opt for low-denier covers, also known as liners or sheets. Or, you could do as I do and use a blanket and a liner together simultaneously.
4. Choosing Well-Insulated Blankets
I wouldn't recommend buying a horse blanket before making sure it's well-insulated. Otherwise, the blanket loses its purpose. Blankets with excellent insulation will keep your horse away from moisture and cold. I love the feeling that a good blanket placed on my horse's back keeps it dry and warm, regardless of the weather conditions.
5. Buying Low-Maintenance Blankets
If I were you, I'd always look for a horse blanket that's easy to clean. Although I practice horseback riding, I don't have the privilege of owning a horse yet, but I am still aware of how messy things can get with a horse. So, browse and purchase a machine-washable product that is at least easy to clean.
6. Think About Thickness and Weight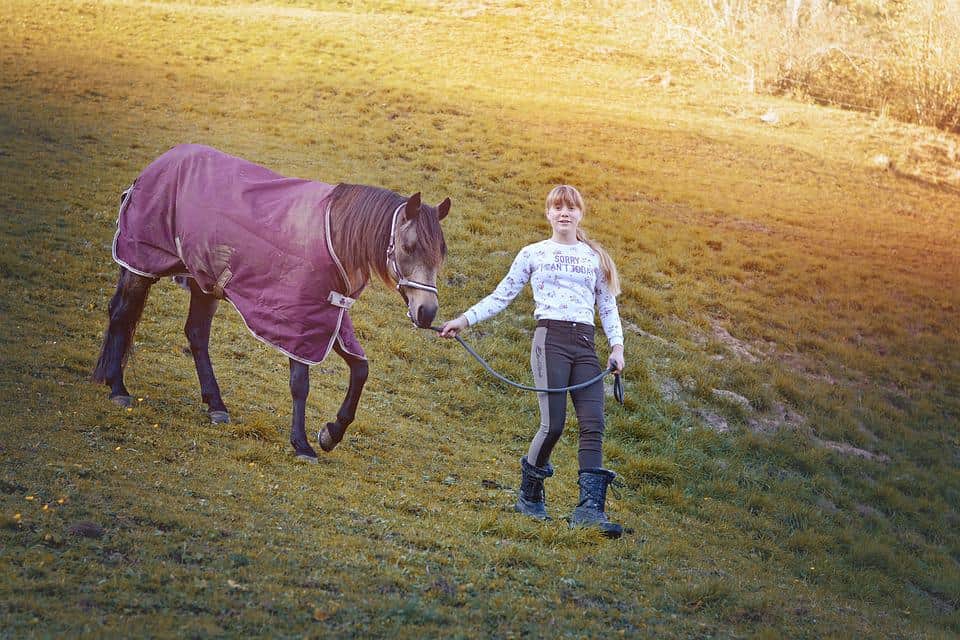 Let's discuss a bit about the thickness and weight of a horse cover.
Thickness
The thickness goes hand-in-hand with durability, and it all comes down to the D or denier, which is the thickness factor. I use a medium-thickness blanket for my horse during the winter months and a thinner cover during late autumn and early spring.
Obviously, I prefer to use thicker covers on cold days because their fibers are more durable and won't show signs of ripping or tearing any time soon. It also depends on your horse's personality. Mine is quite tamed and friendly, so it treats the blanket pretty well. But, strong-tempered horses might tear the blanket quicker. Hence you'll need a thicker cover.
Besides the denier, another thing to look for is the blanket's material which can give you an idea of the cover's durability. Certain types of nylons are less durable than other nylon alternatives. Also, basic polyester fibers are less durable compared to other nylon options. If your horse tends to destroy or damage its blankets, you might want to opt for a premium fabric with a thicker structure.
Weight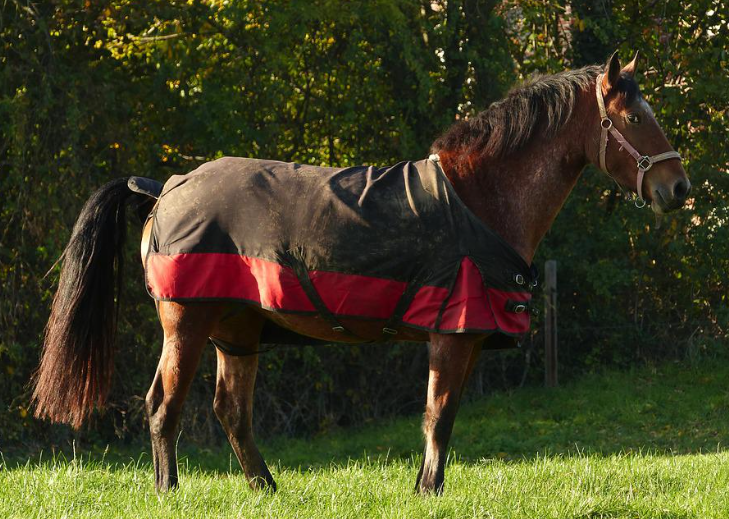 A horse blanket's features, such as comfort and warmth, are directly influenced by the product's weight. I must confess that I'm not very pleased to put something too heavy on top of my horse because I don't want it to feel any discomfort.
Still, a lightweight cover won't resist as much as a heavier one in some instances. Plus, lightweight materials might be less durable than heavier fabrics.
From what I've seen, it's pretty easy to find out the weight of a horse blanket since it's mentioned in the product's name and featured in grams. Lightweight blankets weigh around 100 grams, whereas the heaviest types of horse covers weigh over 300 grams. If I were you, I would opt for a medium-weight alternative. My current horse blanket weighs a little over 200 grams.
On the other hand, if you're careful with the product you choose and purchase a premium blanket made of high-quality materials, your horse will benefit from a high level of warmth and comfort even with a lightweight sheet.
FAQs
Question: When Should You Cover Your Horse with a Blanket?
Answer: It's mostly common sense. Like us humans, horses can also suffer from excessive heat or cold. So, one must take measures to prevent any discomfort a horse could experience. I use a good-quality blanket to keep my horse protected from moisture, wind, and low temperatures, mainly because where I live, winters can become a bit harsh.
Also, if your horse has short hair, it will definitely need protection during cold days. It all comes down to your horse's living conditions and whether or not it stays more outside or inside a stable. Besides that and your horse's hair coat, age is also important because older horses cannot regulate their body temperature as quickly and efficiently as younger horses.
In other words, younger horses can do just fine with lightweight covers, while senior horses might need a warmer and thicker blanket.
Question: What Are the Components of Horse Blankets?
Answer: You might think a horse blanket is pretty simple and has a straightforward design, but that's not always the case. Some of them feature intricate designs. For instance, my horse's blanket has adjustable buckles in the front part that allow me to create the comfiest fit. However, other coverings might have buckles that you cannot adjust.
I prefer to use a wide-covering horse blanket that features a neck cover to protect my horse from all the elements in wintertime. Mine has a standard neckline, and the neckpiece is removable. But, other blankets have high necklines.
Moving on, I consider both leg straps and belly surcingles essential accessories that any blanket should have because they ensure proper fit and secure the cover into place. The ideal choice is to opt for adjustable straps or, at least, pick elastic ones.
Finally, I'm a sucker for tail flaps, although they're not really necessary in all circumstances. I prefer to protect my horse as much as possible. Hence I've opted for a blanket with a long tail flap. On the other hand, smaller horses might benefit more from standard tail flaps that aren't too long.
This is what a short tail flap cover looks like on a horse.
Question: Should You Choose a Horse Blanket or a Sheet?
Answer: Sheets are thinner, more lightweight, and have no filling, while blankets are padded, thicker, heavier, and warmer. You must choose one or the other based on where you live, your horse's needs, and so on. If your horse doesn't need a lot of warmth, you can safely choose a sheet. Also, sheets are low-maintenance and easier to clean than blankets.
Question: How Long Will Your Horse Blanket Last?
Answer: That depends on your blanket's quality, type, durability, and how well your take care of it. If you use the blanket daily, it will need replacing sooner than later. If your horse chews on its ends and doesn't treat the cover well, it will (again) wear or tear pretty quickly. If your current horse blanket features a waterproof outer layer, you can expect it to last around 12 months. Non-waterproof blankets that are treated with care will last longer than one year.
Question: Which Horses Don't Need to Be Covered with a Blanket?
Answer: Some horses need a blanket based on their breed and characteristics, while others don't. For instance, horses with short hair, those required to perform a lot outdoors during winter, horses born in warmer climates and still need to be acclimated, and horses that must stay outside because their shelter is temporarily unavailable all need blankets.
At the same time, you don't have to use blankets if you live in warmer climates, you keep your horse in a heated stall, or your horses can get inside a heated and protective shelter when needed.
Bottom Line
I tried to make this horse blanket guide as comprehensive as possible to help you know exactly what you should be looking for. I'm sure you want the best for your dear horse because I would also want mine to feel as warm and comfy as possible during the cold winter months.
Horse blankets are not just an accessory; they're necessary if you want your horse to be healthy and comfortable all year round. No matter the type of blanket you want to purchase, make sure it is the correct fit that hugs your horse without being too tight on its body. Moreover, pick a well-insulated horse cover and inform yourself before deciding.
I'm a fan of Tough-1 and Amigo Bravo blankets due to their outstanding characteristics, including premium materials, covering power, and more. Remember to consider size, weight, thickness, and fabrics when purchasing a new cover for your horse.