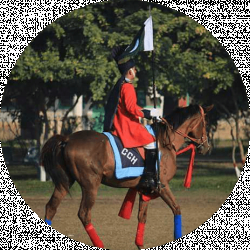 Latest posts by Boo Ali Khan
(see all)
When it comes to taking your equine buddy on a long road trip or country cross roadeo event, nothing beats having a horse trailer. It will make your journey a lot easier and ensure that your horse is treated correctly along the way. But like most good things, all of this comes at a price that isn't bearable for most equestrians.
So, the second best thing you can do is, rent a trailer. This way, you can enjoy a horse trailer's complete set of pros at a fraction of the price. But the story doesn't end there as renting one brings forward its own issues and problems.
So to overcome any such issues and make the renting process more accessible, I have sought out some of the best tips for this Horse trailer rental guide. Furthermore, I have given a detailed account of why you should rent one. To make it even easier, I have compiled some of the best horse trailer rental services in the State that I would always recommend you to check out.
Bottom Lines Up Front
Finding and renting a horse trailer can be a big struggle. Often, it is due to the improper corporation and management of rental services. But one service that really stood out to me was Leonard Truck & Trailers.
They provide phenomenal customer service, and renting a horse trailer is as good as it gets with their highly efficient business model. They also provide really competitive prices on an extensive collection of horse trailers.
My Top Horse Trailer Rental Services Recommendations
Renting A Horse Trailer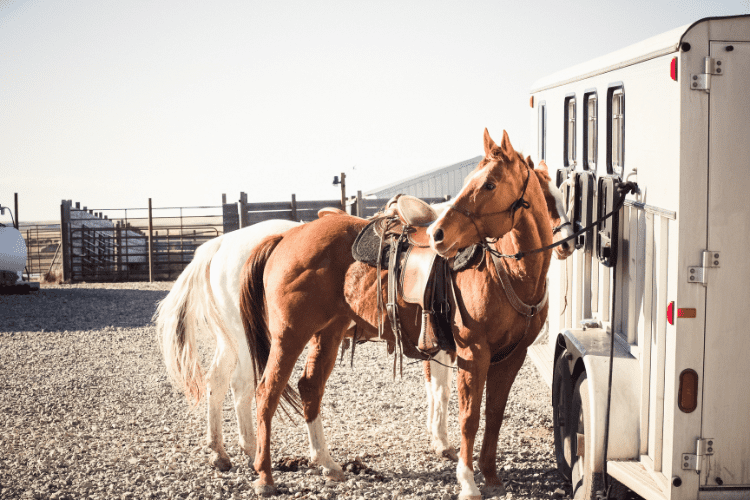 You might have already known that renting a horse trailer is a hassle. Then why do people still go for this option? This is because renting has a couple of significant advantages over buying, some of which are mentioned below:
Offers The Experience Of Owning A Horse Trailer
Even if you have the resources to buy one, before buying a horse trailer, renting one can be a great way to practice and build up your experience without actually paying the total cost of a trailer.
Renting can also help you decide whether you're ready to buy a horse trailer for yourself or not. Moreover, renting a specific model can help you determine whether that particular trailer will suit you in the long run.
A Far Less Expensive Option
For most equestrians, the reason why they don't buy horse trailers is that they lack sufficient funds. Renting somewhat solves this problem; it ensures you are only paying for the time you use it, be it a couple of days or weeks.
No Need For Extra Storage/Garage
When it comes to horse trailers, most of them are pretty huge and require a lot of storage space. However, parking them in your garage is not a valid option unless you have a barn, as many home garages aren't big enough for horse trailers, especially those with a living quarter.
But if you rent a trailer, you can just send it back to the rental service after use without worrying about its parking.
No Worries About its Maintenance
If you ask a friend that owns a horse trailer, he will tell you that these massive hauling vehicles require a lot of maintenance, mostly 2-3 times a year. If you don't do so, it can lead to enormous repair costs after a couple of years.
But you don't have to worry about this issue when renting a horse trailer. As you are mostly going to rent it for a few days or weeks, you don't have to take it to a workshop or spend money on maintaining it. Not to mention, these horse trailers are well-maintained by the dealership in the first place.
Who Horse Trailer Rentals Are Geared Toward
While it is true that there are many advantages of renting a horse trailer, not everyone should consider going this route. But if you are any of the following, you can definitely go for horse trailer rentals.
People Who Hual Their Horses Once In A While
Rental Horse Trailers are perfect for equestrians that want to haul their horse once a month or like to participate in annual cross-country events. For these people buying a trailer can be a waste of money as they won't be using it quite often to justify its cost.
People That Don't Like Maintaining Their Horse Trailers
Although this point was referenced earlier, a rental trailer is a suitable alternative for laid-back equestrians who don't like cleaning or taking their trailer to workshops. As with rentals, they are maintained by the rental service. So, people who can even afford a horse trailer don't go for buying one for the hassle that comes with it.
People Who Don't Own Space To Park Their Horse Trailers
If you don't own a big barn or massive garage, it is better to go for the horse trailer rentals. Also, as trailers are a pricey investment, you would not want to store them in a place you are not confident about. So, with rental services, you can book the trailer and send it right back after using it.
Tips To Get You Started
Before you get to the reliability of a rental service, you have to start somewhere. Though it might seem a very trivial thing to do, I have found many equestrians who don't even know where to look for when they want to rent a horse trailer.
So, the following are some options from where you can start your search for horse rental services:
Look For Companies Near Your State
If you're new to renting horse trailers and want to land a rental service with minimum effort, I recommend you start looking within your State. This will allow you to personally visit the establishments and meet one of the representatives. Which can significantly help you judge the performance and service of the company and find whether it will suit you.
Ask Fellow Equestrians
Another way to find a trusted horse trailer rental service is by asking your equestrian friends or local stable owners. There is a great chance that they have experienced a rental service themselves. Furthermore, they can give you a good and practical insight into the rental service.
Use The Internet
In today's world, one of the best ways to find horse trailer rentals is by searching them on the internet. If you simply search for "horse trailer rentals," you will find several websites and marketplaces offering various rental services. One such website I recommend is horse and travel.
It is a little dated but contains information about different rental services in every State. You can also look for horse trailers on Facebook groups, where several individuals post their horse trailers for rent.
Things To Look For In Horse Trailer Rental Services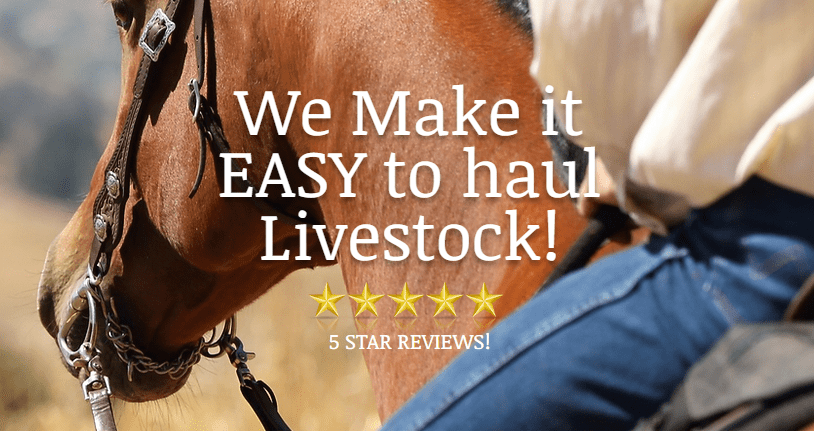 Now that you have gathered some general information before you decide on a horse trailer rental service, you should look for the following essential things that will immensely improve your chances of choosing a legit service.
Look For Reviews
A great way to check for a horse trailer rental service is by looking at its reviews. However, in my experience, these services do not mostly offer a review section. Or even if there is one, fewer people have actually left their thoughts. So, if you are not personally aware of some horse trailer rental services, it is better to avoid one that does not offer reviews.
Don't forget reviews will give you a genuine insight into the real-life performance of the service.
Check The Conditions Of The Horse Trailers
While looking for a horse trailer rental service, looking at their trailer's condition is also a good idea. This way, you will get an idea of how well-maintained these trailers are. A shabby and dirty horse trailer generally means that it did not get proper maintenance and needs a lot of work before it can be put to any good use.
Ignoring the condition of the trailer can result in any unaccounted breakdown during your journey. It can lead you to pay extra damages and repair charges.
Go Through The Paperwork In Detail Beforehand
With most rental companies, you must sign an agreement that legally holds you liable under certain terms and conditions. So before signing your name, I recommend you go through the full agreement first.
Although this isn't usually the case with legit suppliers, going through the paperwork will allow you to look into any discrepancies hidden in between fine print, which could be red herring. After all, we are talking insurance and liabilities here.
Average Horse Trailer Rentals Rates
Most commercial 2-horse trailers cost around $60-70 per day, and this price can increase up to $100 per day for larger 3-4 horse trailers.
To rent the same trailers for a week, you can expect around $350-400. $1200-1400/month if you plan to rent these trailers on monthly bases.
Of course, this is still not the final rate as you also have to account for taxes, which usually go around 5-6% depending on the size but vary from State to State.
Factors Affecting The Horse Trailer Rentals Prices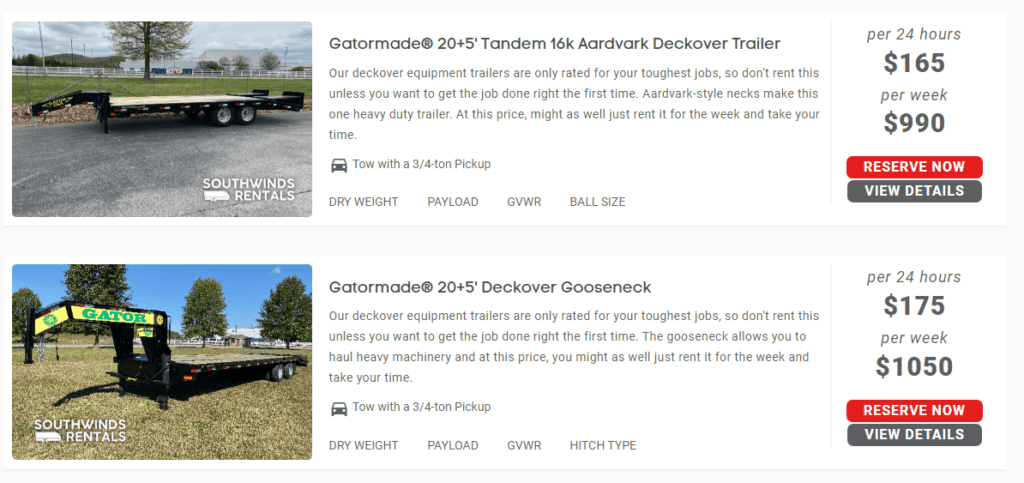 When renting horse trailers, you can find them in various price brackets, which depend on several factors. Every trailer and company has its own rates and charges. But despite this, some factors that primarily affect the rental price of these trailers are mentioned below:
Size And Capacity Of The Trailer
This rate of a trailer almost works in tandem with its size, significantly affecting the rental price of a horse trailer. Just like the size, the greater the storage capacity of a trailer, the more expensive it is to rent. Thus 4-5 horse trailers are pretty expensive, while 2 horse trailers can be rented at a significantly lower price.
Rental Period
The rental period is another factor that can affect the rent of the horse trailers. While it is obvious that the rental for one day is less than what you would be paying if you rented the trailer for a week, the overall value is way better.
For instance, if you rent a trailer on a daily basis, you would be paying around $60-70/day, which comes to about $420-490/week. But if you go for the weekly package, you would be spending far less at about $350-400/week.
The Specific Time Of The Year
While this may not look like an apparent factor concerning the horse trailer rental prices, it can drastically affect the availability of horse trailers, indirectly increasing the cost of trailers. Typically horse trailer rental prices are highest during the middle of the year when most horse-related events occur, and the demand for trailers is usually the highest.
Insurance Policy For Horse Trailers Rentals
The insurance for a rental horse trailer is like any other insurance plan viable for motor vehicles like cars and trucks. It is there to provide you financial protection in case of any physical damage to the trailer that may have been caused by traffic or any other physical act outside your control.
Horse trailer rental insurance can also cover roadside assistance fees, which is helpful in case your rental trailer breakdowns on the way. Some insurance policies even include compensation for theft if your trailer or belonging inside it are stolen, but this is usually an add-on that is quite expensive.
Things Not Included In Horse Trailer Insurance
While it is true that most physical damages are included in a horse trailer insurance plan, there are still a couple of exceptions that are usually also stated in your insurance package.
Harming The Trailer Yourself
In case the damage inflicted on the rental trailer, for example, scratching its paint or causing physical damage, is caused by you, the insurance policy would not compensate for that.
Having A Third Person Drive The Trailer
Whenever you rent a horse trailer, its insurance policy will include the driver's name. If someone else operates the trailer and gets involved in an accident, it will be considered a breach of the contract.
Breaking Laws During Driving
Intentionally breaking road laws and getting a ticket won't be covered under the horse trailer rental insurance. This also includes any damages a trailer may sustain during such violations, and you must get it fixed out of your pocket.
My Top Horse Trailer Rental Service Recommendation
This guide would have been incomplete without any reference to my horse trailer rental recommendations. In this section, I will not only mention some of the top rental services you can find in the States but also give you my brief review of each service.
Horse Trailer For Rent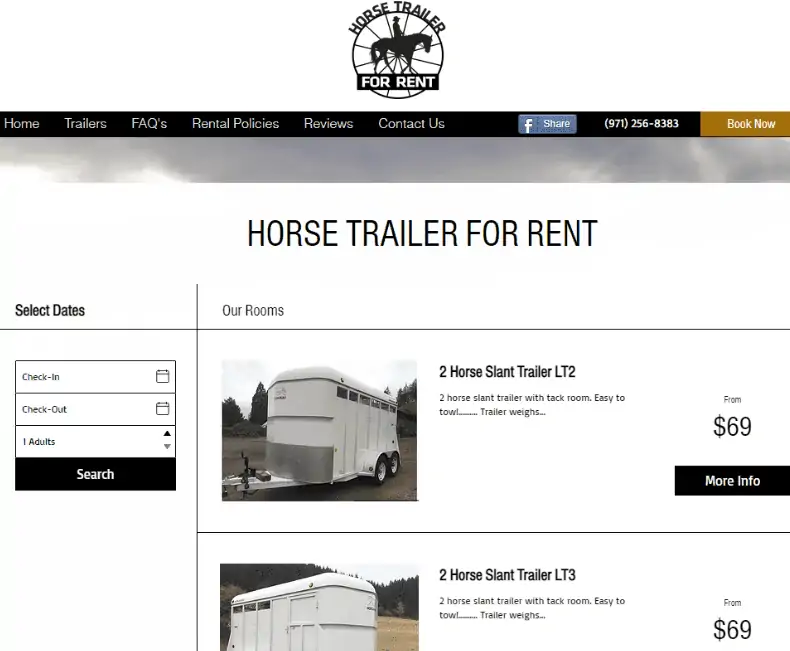 Horse Trailer For Rent is a modest rental service working with several major trailer companies to provide equestrians with various horse trailer options. They also offer fast bookings for a quick and hassle-free rental experience. Their appointments also come with a short cancellation policy, so you get a full refund if you ever feel like changing your mind.
Alongside that, the service also provides an immediate pickup service so you can rent a horse trailer on short notice, which can be really helpful during emergencies. One of the best things about this service is the number of different trailer types they offer, from small 2-horse trailers to extra extensive 3-4 horse trailers options.
They are also pretty economical at around $70 during regular weekdays. While they primarily operate in Oregon, they also offer outside travel, which will cost you some extra bucks.
Pros
The rental company offers impressive customer service that helps save a lot of time.
The service offers a variety of trailer models and types to rent from.
Cons
The prices of their rental horse trailer are higher during the weekends.
South Winds Rentals
South Winds Rentals are one of Tennessee's most trusted and well-established horse trailer rental services. One of the best things about their service is how intuitive it makes for new equestrians to rent horse trailers with little to no paper involved. Send them a short brief rental request through their messaging service for a quick booking, and you are all set.
Offering nationwide service, another great thing about their trailer services is how they educate their customers through various forms and FAQs on how the service works and what things you can look for when renting from them. Alongside that, they also encourage equestrians to contact them through their mobile number or visit their establishment in Mt. Juliet, Tennessee.
Moving onto their horse trailers, they provide an extensive option, from sizeable heavy-duty ones to smaller bumper pull options, making the service suitable for most equestrians. Their prices are a little high, starting at $95 per day or $570 per week, but it is quite expected from a service offering such a variety and good customer support.
Pros
South Winds Rentals offers phenomenal customer service perfect for equestrians new to renting trailers.
They allow nationwide travel and even offer delivery anywhere in the USA, so you don't physically have to visit their establishment to pick up the trailer.
Cons
South Winds Rental's horse trailer rates are relatively high, which can be a bummer for equestrians on a budget.
AZ Horse Trailer Rental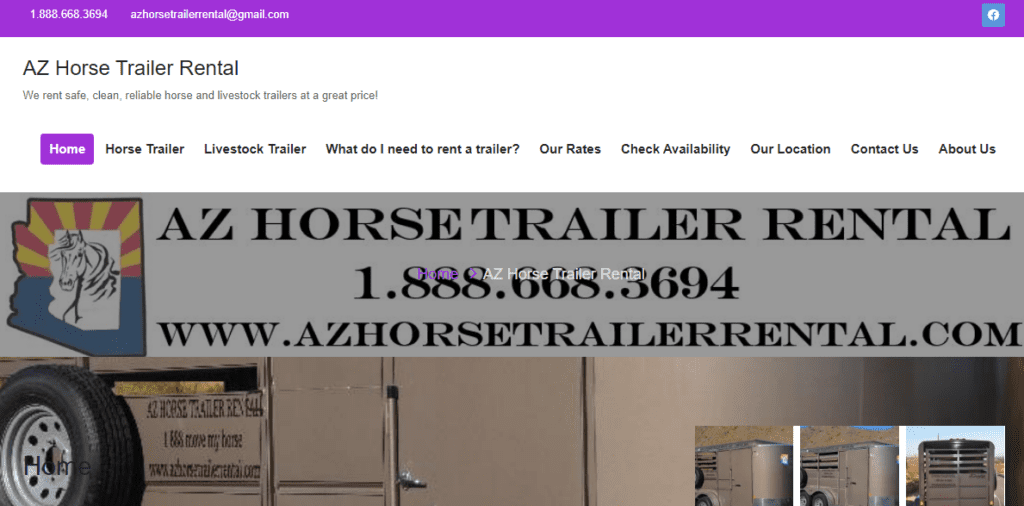 Now, if you're looking for a horse trailer rental service with new model trailers at a reasonably economical price, I recommend you visit AZ Horse Trailers' website. This rental business is operated by a lovely couple that focuses on providing new equestrians with an easy way to rent trailers. A perfect couple goal if you ask me.
On the service side, they offer easy booking options through email or voice mail. They even accommodate short notice requests for medical emergencies. Alongside pickup, they also provide delivery around the State, but you are expected to pay extra. They have three options for trailers, from 2 to 3-horse options to larger 16-inch trailers with center gates.
Their trailers start at around $80 to $100 per day. For weekly bookings, they can go up to $630 per week, depending on the size.
Pros
All their trailers are 2020 to 2021 models and are available in pristine condition.
They offer trailers in several sizes and models, making them suitable for a wider audience.
Cons
Their pickup service is only available in Arizona.
Leonard Truck & Trailers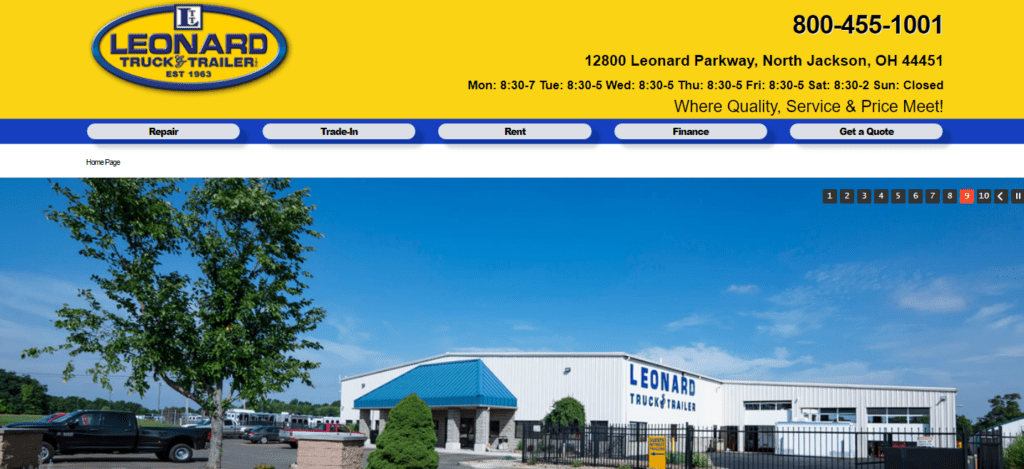 Now while it is true that all the rental services on this list are good, the one that impressed me the most was Leonard Truck & Trailers.
These guys almost bring everything a horse trailer rental service should have brought, addressing them in such a way that makes renting trailers almost easy. They provide a hassle-free pick and drop-off service, and their hospitality practically makes you feel like you're a part of their family.
Their website also offers a world-class assistance service where you can drop a mail and get a quote for the horse trailer perfect for your needs. With their nationwide delivery service, you can request a trailer straight to your doorstep. Plus, the number of trailer types they offer makes their service all the more recommendable, with both gooseneck and bumper pull hitches.
But this service comes at a high price, at around $100-200 per day, so do tally that with your budget.
Pros
The rental service offers nationwide delivery, making it a viable option for anyone living in the states.
The website has full email support to answer all your questions regarding the service.
Cons
The service doesn't offer any living quarter horse trailers for rent.
FAQs
Question: How To Make sure That The Horse Trailer Is Returned In Good Condition:
Answer: While this may look like a simple task, not taking enough precautions and returning the trailer in not-so-good condition can lead you to pay massive repair charges. So to avoid this, I recommend you follow the below-mentioned tips:
To prevent traffic accidents and keep collision chances to a minimum, driving at a safe speed is always recommended. This is especially true if you're operating the trailer at night.
While finding a safe parking spot is essential for a couple of reasons, saving the trailer's bodypaint from scratches is one of them. Parking the trailer on a secure or supervised road or a private garage can prevent kids from damaging its paint job.
Question: Should I Invest In A Separate Insurance Plan When Renting A Horse Trailer?
Answer: This primarily depends on the insurance plan. In most cases, better rental services provide a well-equipped insurance plan with almost everything you need, like damage protection for the exterior and additional compensations for any troubles you may face with the horse trailer. But these usually don't include theft protection, so if you are worried about that, you can buy them separately for a premium.
Question: Renting From Private Trailer Owners Or Large Companies, Which Is The Better Option?
Answer: When renting horse trailers, most equestrians choose well-established rental services as they provide peace of mind and quality control that isn't seen with private rental services. But this doesn't mean private rental horse trailers are a terrible pick. In most cases, these can also be a great option, especially if you know the trailer's owner.
Don't forget; private trailers are also far less expensive. You can even further haggle the price down, something you can't do with large establishments.
Question: Should I Rent Larger Horse Trailers?
Answer: This, of course, depends on your use. If you usually haul 4-5 horses, I recommend you go for a gooseneck or a living quarter trailer. But smaller bumper pull trail trailers would be better if you only own around 1-2 horses. Another thing to consider is the price, as most larger horse trailers are far more expensive to rent than smaller alternatives.
Question:  What Should I Do Before Buying A New Trailer?
Answer: If you have no previous experience owning a horse trailer and are new to driving large vehicles, I recommend you try the rental route. Buying one is a considerable investment, usually over $30,000-40,000, and having a little experience beforehand could make a huge difference.
Horse Trailer Rentals: Dropping It Off
Renting a horse trailer is a great way to save money and free yourself from taking care of an always-staying horse trailer. Also, you don't have to worry about storing them in your garage. The best part about rental horse trailers is that they are a great way to level up your experience and decide whether you are ready to own a horse trailer or not.
But renting a horse trailer isn't easy at all, and you have to consider many things before proceeding with the transaction. Always read all the paperwork and rental policies beforehand and look for any hidden charges. Going through the services' reviews is also a great idea. Remember to look at the condition of their trailer before deciding.
Alongside these tips, I have also mentioned some of the best horse trailer rental services in the States. If I had to choose one, it would be Leonard Truck & Trailers. These guys offer a large variety of trailers at pretty reasonable rates. Their nationwide delivery service will also be an excellent add-on for many equestrians.
Read More: