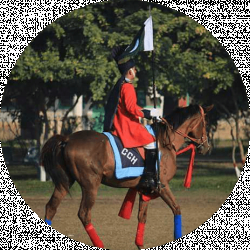 Latest posts by Boo Ali Khan
(see all)
Who doesn't love a saddle that is crafted with comfort, style, and functionality in mind? But as simple as these may sound, many saddle brands still fail to incorporate these features into their products. Well, what if I tell you that Devoucoux not only specializes in these three delicacies but has also redefined what it means to make good quality saddles?
I first came across Devoucoux while looking for a new saddle for my Thoroughbred. And It was a pleasant surprise to see a brand thriving on the sole basis of delivering genuine, quality products to their customers. I would be lying if I said these morals didn't intrigue me.
So in this Devoucoux saddle guide, I will take you through the journey this French brand followed, while also guiding you through some of the best saddle options in its lineup.
Bottom Line Up Front
Devoucoux is a brand that has come a long way since its wholesome start and has now become one of the world's most recognized horse saddle brands. But this isn't a surprise especially considering its expert craftsmanship and French-inspired designs.
And while all the saddles in its catalog are impressive in their own right, the one that inspired me the most is the 18" Devoucoux Makila Lab Dressage T-146. It comes with a deeply padded seat and an overall simple design. Its price is a little hard to get by, but its hand-cut and stitched build make it well worth considering.
My Top 10 Devoucoux Saddle Picks
Amongst Devoucoux's massive saddle collection, the following are some of the saddle options I would urge you to check out:
My Selection Criteria
Looking at the extensive list of saddle options from Devoucoux, it was hard not to pick all of them as my top picks. So, to avoid that from happening and to make sure I was selecting the best saddles Devoucoux has to offer, I followed these selection criteria:
All the saddles in this list are well built and will last a long time.
All my top picks have an extended warranty for their leather or tree.
All of these have nice smooth colors that complement the typical color of horses.
All the Devoucoux saddles in my top picks are sufficiently padded.
A Brief Overview Of Devoucoux: Its Story And Vision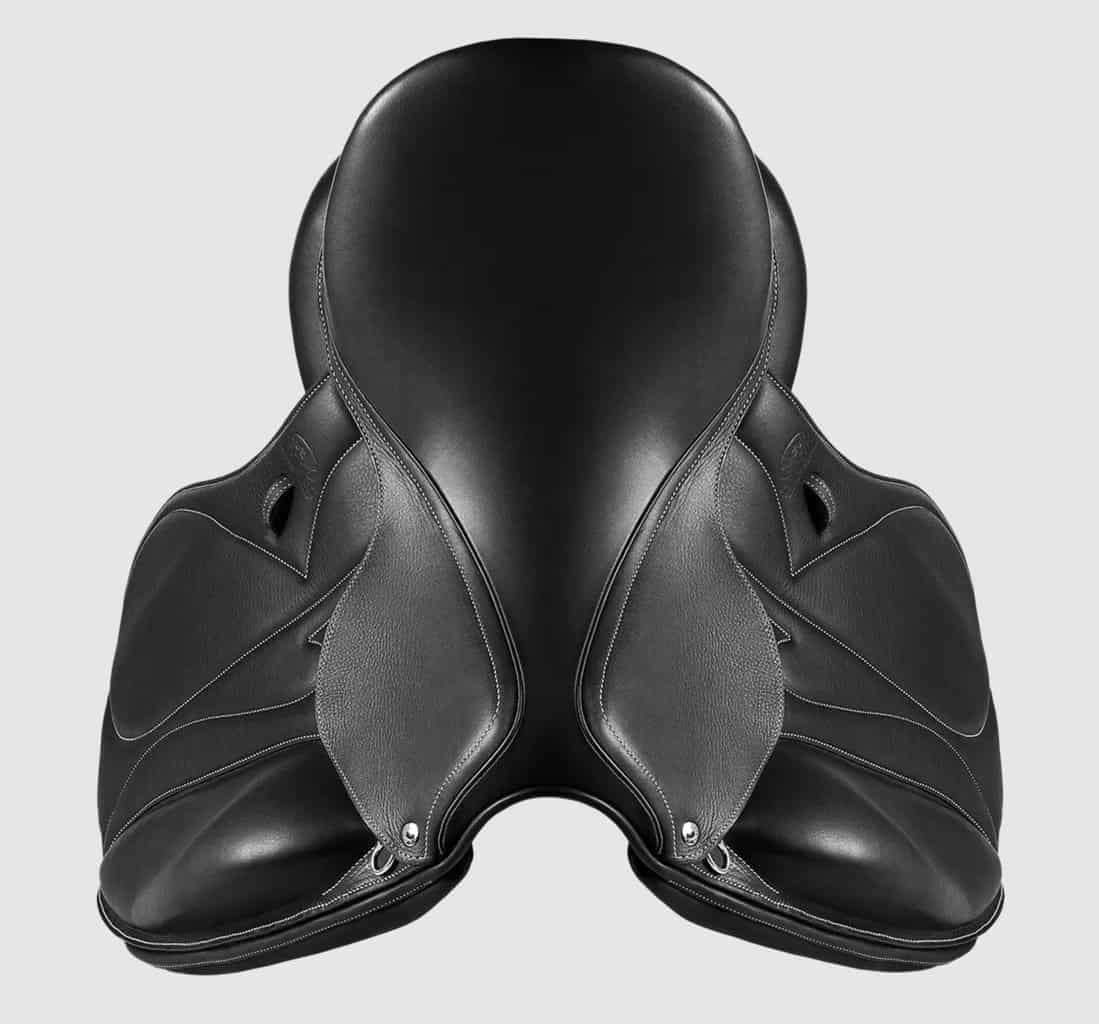 The brand Devoucoux originally began from a small garage workshop, which started with making handmade saddles. And although this was nothing special at the time, their quality and dedication set them apart, which proved that it's not the large conveyor belts that make good saddles. And the same can be achieved through good quality leather and an expert's hand.
Another thing that sets Devoucoux apart is its six-part manufacturing process which starts with oiling and cutting all leather, and then hand-stitching it all together. Almost all of this is done by hand and gives their saddle the handmade touch they are famous for.
The way Devoucoux achieved such morals was through its strict principles and methods. And these can even be seen in every saddle manufactured by the brand. This might be the reason why their saddles are one of the most expensive options on the market, ranging from 3000 to 8000 USD!
Buying Devoucoux Saddles
Devoucoux, being one of the most well-known saddle manufacturers in the market right now, has built outstanding trust through its quality and performance. This also led Devoucoux to form strong sales networks in the west. And you can even buy their saddles from Devoucoux's official website.
However, Devoucoux also sells its saddle through several dealers. And some of the more well-known Devoucoux saddle suppliers are listed below:
Things To Keep In Mind While Buying Devoucoux Saddles
While buying from Devoucoux's massive saddle collection, many of you may face potential problems. So to get over them, I have carefully examined and listed some tips you should keep in mind while hunting for your next saddle.
Buying Used Devoucox Saddles Isn't Always a Bad Idea
Almost everyone tries to save a buck or two from the final cost when buying saddles. And this is especially true in the case of Devoucoux, where most of their new saddles go for over $8000. So, what I would recommend is going the used saddle route.
In most cases, I don't encourage the practice of buying used saddles. Still, in the case of Devoucoux, the concept isn't as far-fetched as other brands. It has established a separate demand for its used saddles and also sells them on its website. This makes it relatively easy for newcomers to buy used Devoucoux saddles in good condition at a reasonably low price.
Use Devoucoux Fitting Service Before Buying Their Saddles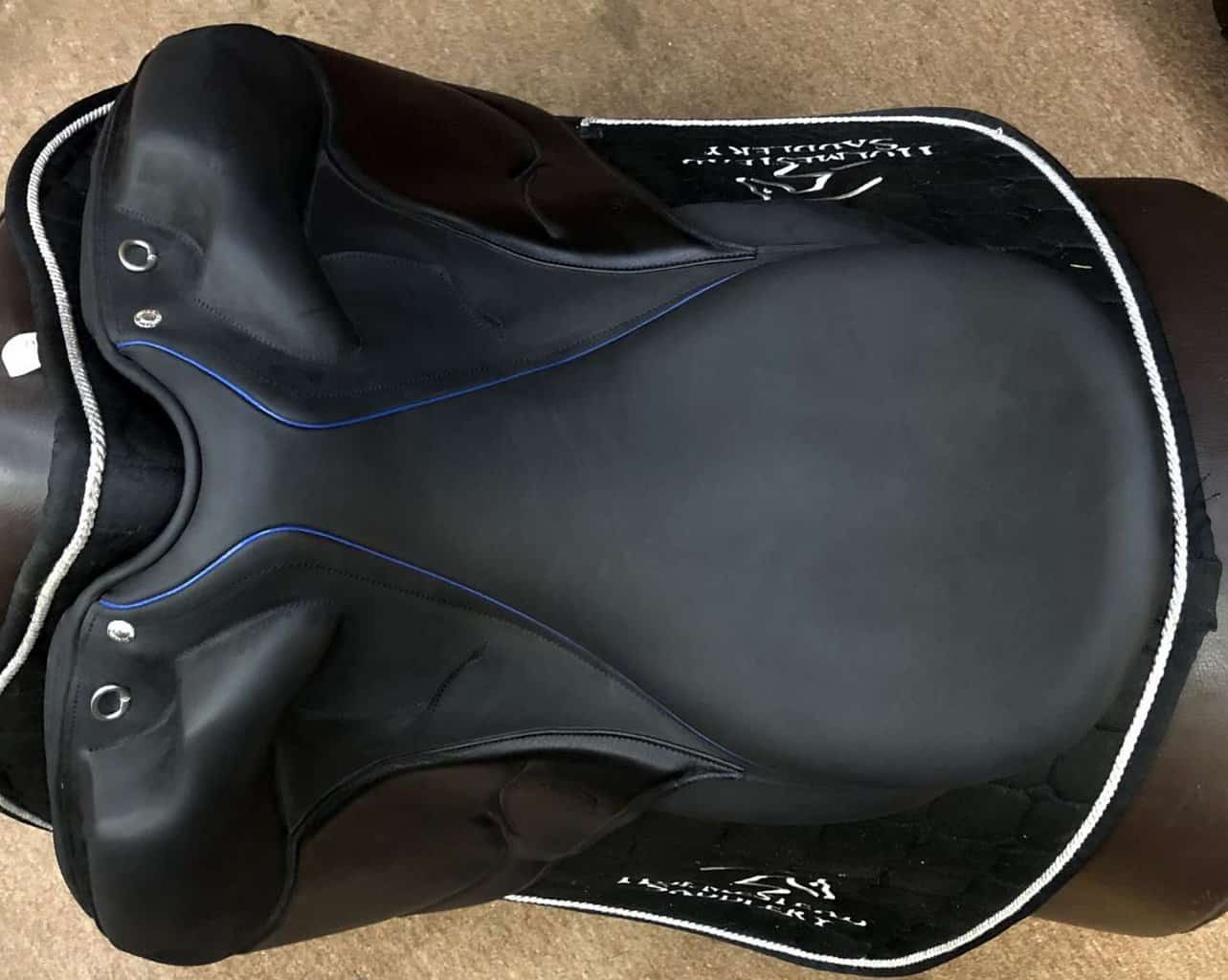 Many of you may already know the importance of having a perfect saddle fit for your horse. But many still lack the skills and experience to take your horse's measurements properly. This can lead you to buy saddles that are either too big or too small for your horse. Which in turn leads to an uncomfortable fit.
So, to prevent that from happening, Devoucoux offers a free saddle fitting service, which I recommend you try before buying your next saddle. Contact Devoucoux through their website, punch in your details and wait for their advisor. That advisor will check your horse movements and riding style and recommend the saddle and size that best fits your needs.
Check Whether the Specific Devoucoux Saddle Fits Your Discipline
Like any other major saddle brand, Devoucoux also makes saddles for almost every discipline, for example, jumping, trail riding, dressage, etc., making them ideal for a broader audience. But while this is a good thing, it also leads to a lot of confusion for newcomers who end up buying the wrong saddle type for their job.
So, I recommend you first research and check which saddle type best fits your discipline. In the case of Devoucoux, its Chibera lineup features knee rolls, making them best suited for jumping and cross country events. At the same time, its Makila saddles are best for dressage events due to their deep seats.
Some Alternative Brands
While it is true that Devoucoux saddles come with expert craftsmanship and quality, they are also expensive. So, if you do not have a lot of money lying around, you can definitely go for some of the more budget options listed below:
Henri De Rivel: When it comes to HDR saddles, very few can deny their mix of aesthetic appeal and comfort. And the price is another area where their saddles really shine.
Wintec: If you're not one to participate in show events and just want saddles built with endurance in mind. Then I would definitely put Wintec as a strong competitor.
Collegiate: What sets this brand apart is its use of an Opti-Fit changeable gullet and 10-year tree warranty. And with their affordable price, it's hard to beat them in a head-on match.
My Top 10 Devoucoux Saddle Picks
Here I will discuss all the saddle types in Devoucoux's lineup. While also giving an in-depth review of a few saddles in each category.
Makila
This type is mainly used in dressage competitions and has been in the market for more than 20 years now. The unique thing about the Makila saddles is their extra long flaps that avoid your knees rubbing against the horse's belly.
Makila Model S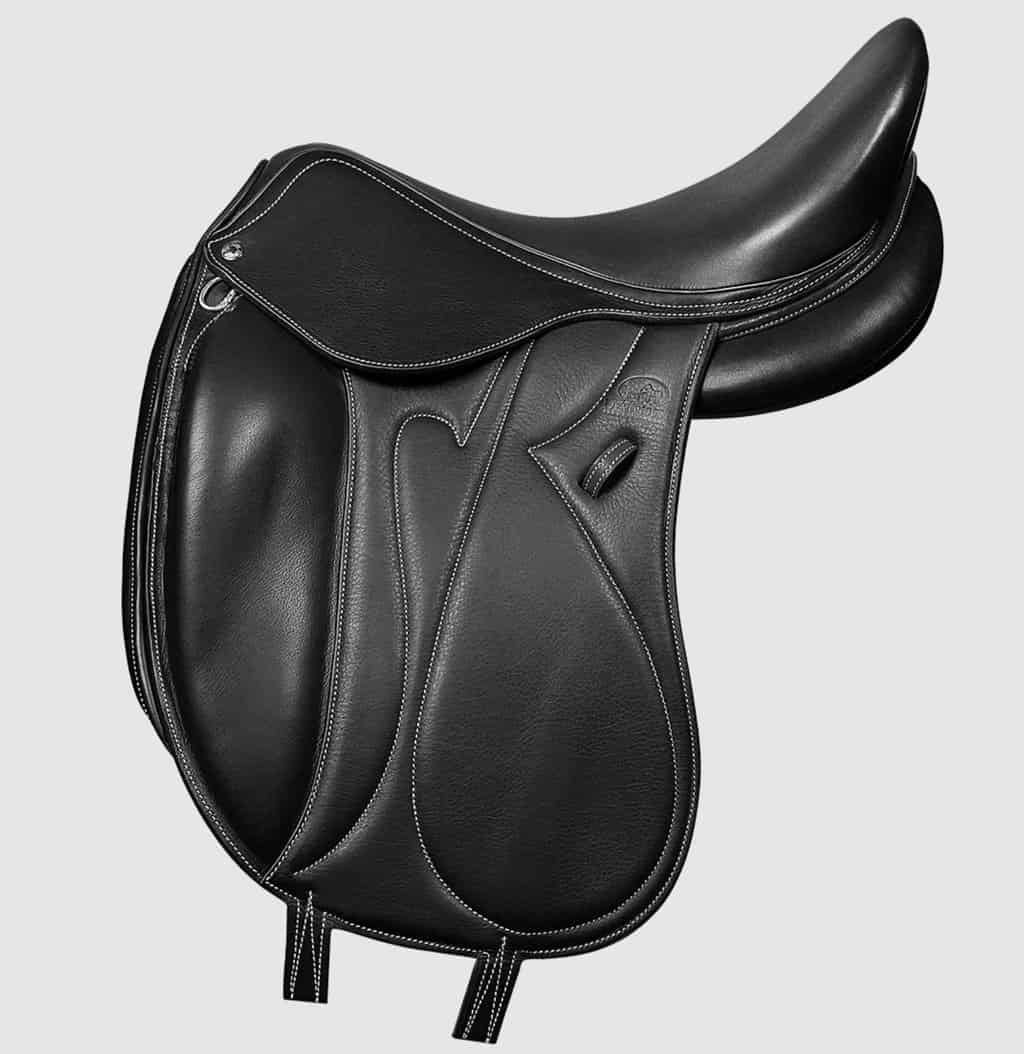 Description
Now, I have to warn you before I begin; this saddle will cost you more than just a few grand. But knowing the brand and looking at this Makila Model S's expert craftsmanship, it's hard not to add it to your arsenal.
First, let's talk about its nice deep seat and soft panels beneath, making it comfortable for both the rider and horse for extended sessions. And the same is also true for its high-rise cantle, which helps you sit in a more upright position.
The Makila Model S is designed for dressage events. However, it still features knee rolls, which you can use to your advantage in casual jumping events.
This saddle has an overall even leather texture, with a single stitch pattern throughout its body. This, linked with its Black and Havane color options, gives it an elegant look. And let's not forget the included whip holder, which I think is an excellent addition and makes this saddle feel like a complete package.
Pros
It has an overall grain finish which helps hide any minor scratches on this saddle's body.
This saddle is available in full calf and buffalo finish so that you can customize it according to your preference.
Cons
It has an exponential price tag, and even the $95 per month lease doesn't help much for equestrians on a budget.
Makila Harmonie – Full Buffalo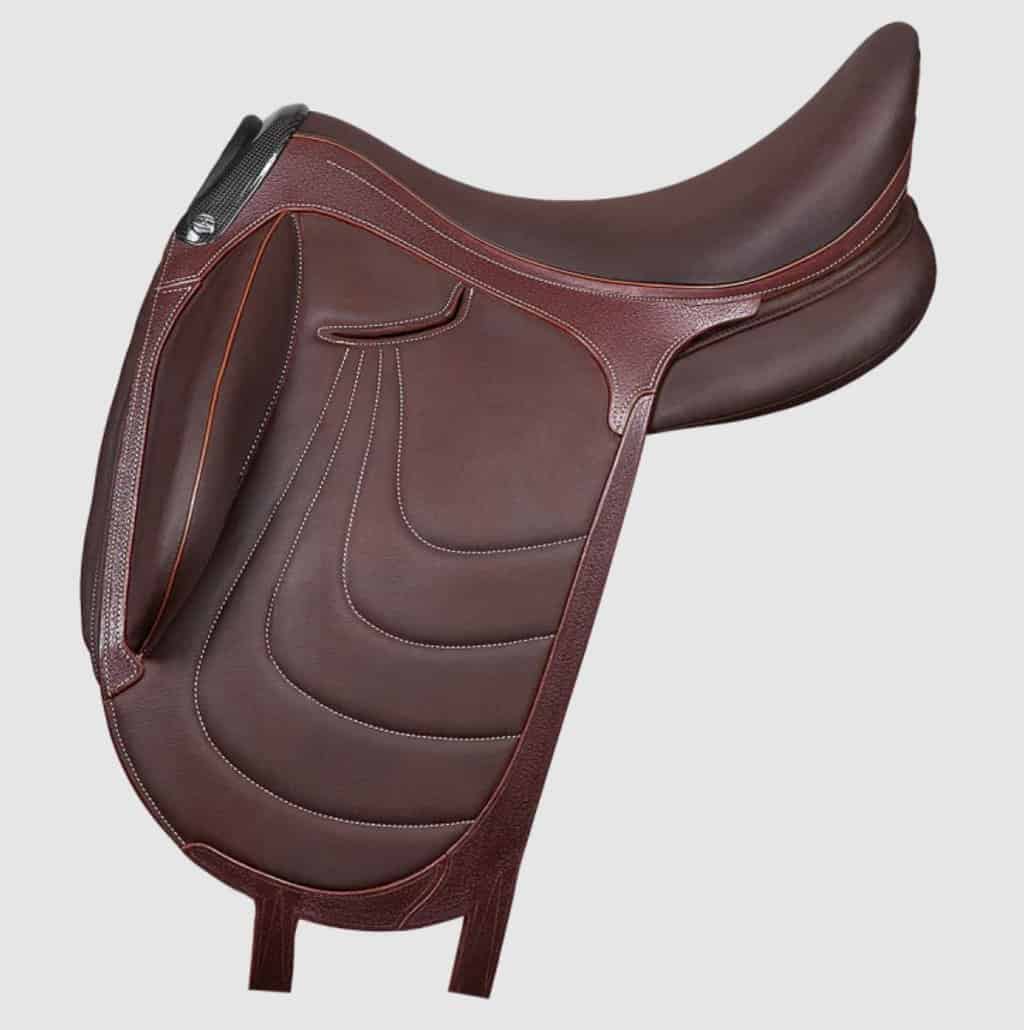 Description
This Harmonie – Full Buffalo saddle features a robust, rugged leather texture around the rim, which avoid slight scuffs and scratches. While the flaps and seat of the saddle have more of a smooth finish, providing a nice balance of grip and comfort.
This saddle also features a Dynamick® tree, specially made to be more light and flexible. And alongside that, it also features a close contact style, with a flared padding layer to help better distribute your weight on the horse. The included knee rolls and deep seat will give you a more firm grip on the saddle. And the stitching is another talking point for this saddle, as it comes in a slight curve pattern which adds to its aesthetic appeal.
Pros
The saddle comes in 17" and 18"-inch seat sizes, so you can pick which fits your horse better.
The mix of smooth and matte finish on this saddle gives it a lovely contrast.
Cons
The saddle is made to order, so you can expect a production time of 12 weeks.
18" Decouvoux Makila Lab Dressage T-146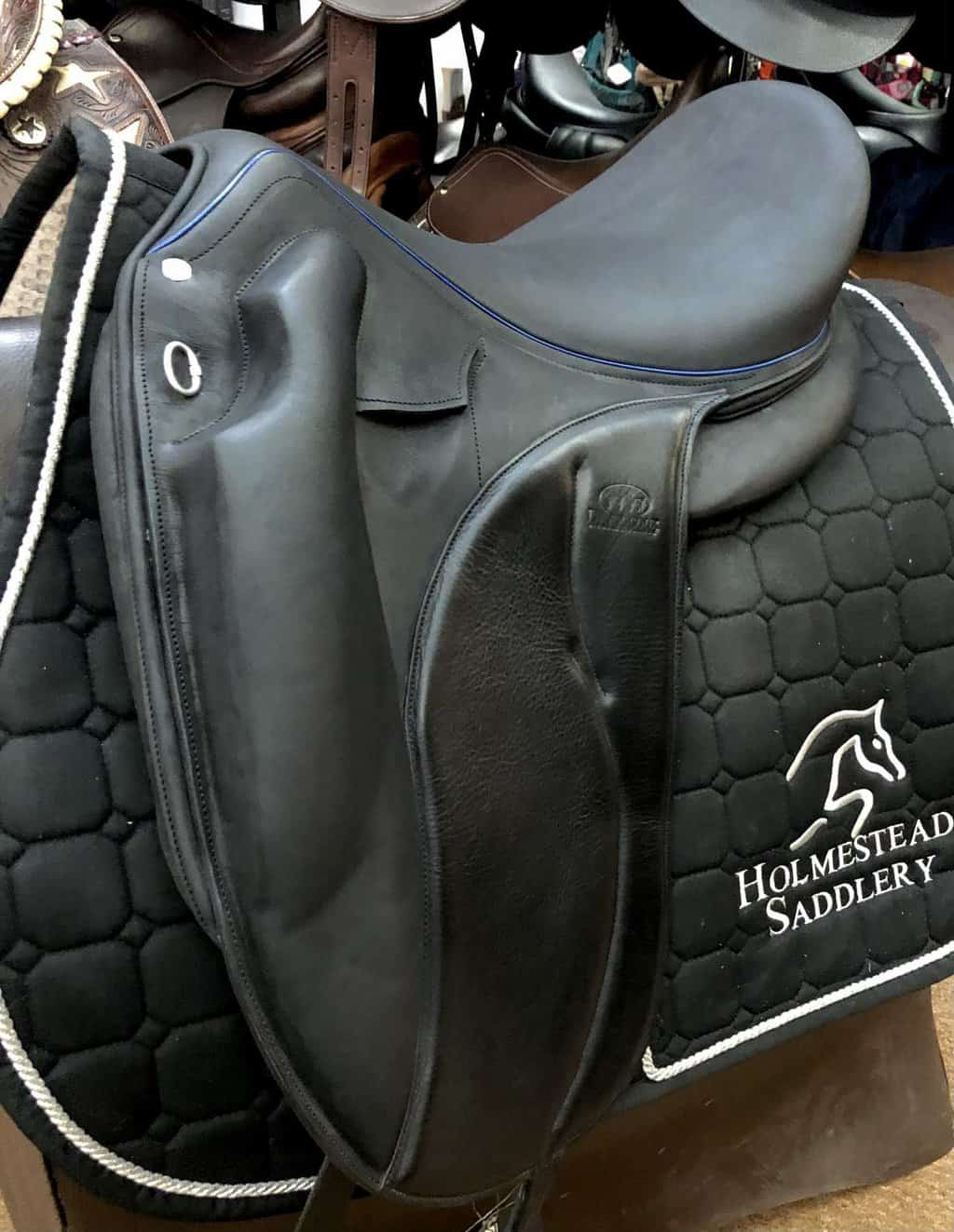 Description
If you're looking for a more simplistic design and a relatively sturdy build, I recommend you consider this Makila Lab Dressage saddle T-146. This saddle features a rough finish and a tactical design, making it perfect if you avoid cleaning your saddles daily. But unfortunately, this also means it won't be winning any aesthetic appeal awards on this list.
This saddle's panels and gullet have a layer of padding, providing a comfortable fit for your horse. And its base also features a leather finish, so you don't have to worry about it sliding around your horse's back.
It also has a front-cut knee roll with downward flaps, which provides a firm grip on the horse and prevents your knees from rubbing against its skin. Another thing that makes this saddle more convenient is its front Dee ring hooks, which can be used to attach breastplates.
Pros
The saddle's rough finish helps hide any minor scratches.
The seat of this saddle features a high-rise cantle that provides sufficient support to the rider's back.
Cons
The saddle's overall bland color and texture make it a less desirable option for dressage competition.
Devoucoux Makila Lab – Full Buffalo Leather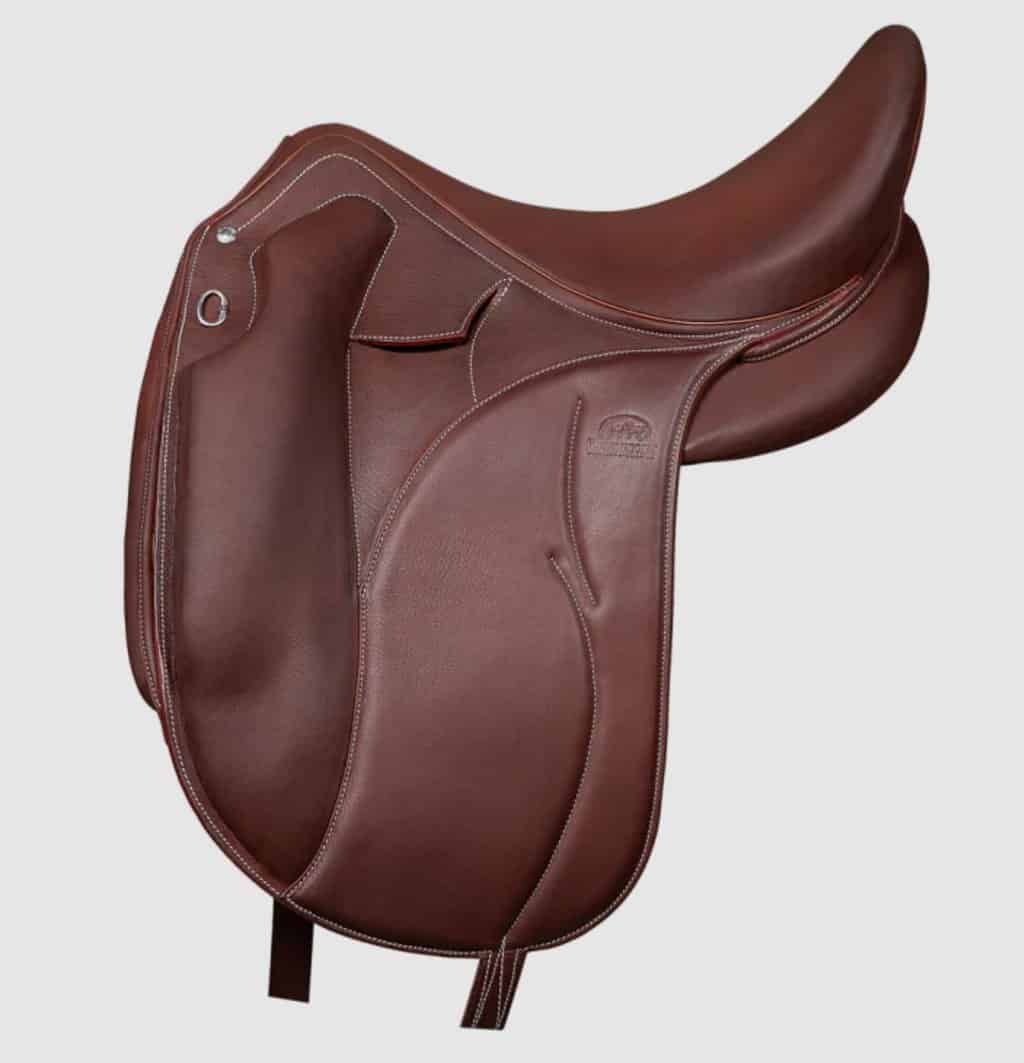 Description
If you're looking for a saddle with an overall light weight, this Makila Lab Full Buffalo should definitely be on your bucket list. It features integrated flaps and an overall slender design, which helps makes it lighter. While its close contact built makes it easy to understand your horse's movement and mood.
The seat on this saddle also has a U-shaped curve upon looking at the side, which helps provide a more balanced fit. This also allows your weight to be evenly distributed along its seat, avoiding any pressure points.
This saddle is also available from 17-18.5"-inch seat lengths, making it perfect for both larger and smaller horse breeds like the Thoroughbreds and Morgans.
The bottom of the saddle also comes with quality girth straps, so you can easily tighten it according to the size of your horse.
Pros
The saddle is available for both larger and shorter horse breeds.
The saddle features rounded corners, so it doesn't irritate the horse.
Cons
The leather finish on the saddle is relatively dull.
Biarritz
This type features a flat build and a low-rise cantle, making it perfect for showjumping. It also comes with a shorter skirt than most, which makes it ideal for broader horse breeds. Another fascinating fact about this model is that it was named after the town of Biarritz, as it strongly connects with the city of Basque (where Devoucoux originally came from).
Biarritz Lab Full Buffalo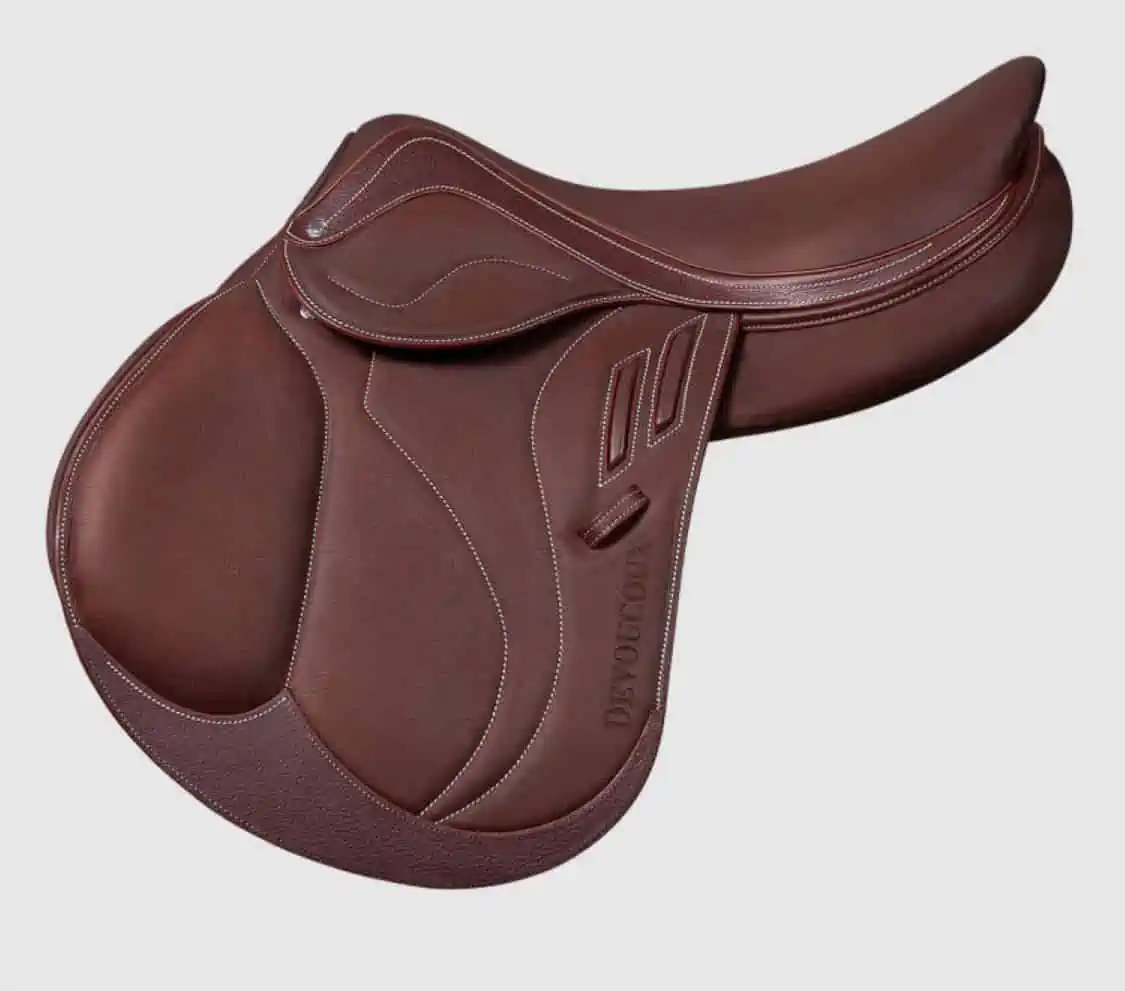 Description
Maybe you're not a fan of dressage events and want something that is not only durable but also stylish. Then this Biarritz Lab saddle will definitely be a strong competitor. It features an even full buffalo finish, making it exceptionally resistant to tugs and pulls. And it is also made from a special 3D printing technology that ensures you always get the perfect fit regardless of the breed.
It is available in a matte brown and black finish, so you can select the color that best fits your horse. But the customization doesn't end there; it comes in five-seat sizes ranging from 16.5" to 18.5"-inches.
Another unique thing about this saddle is its entirely vegetal build sprayed with Devoucoux's particular tanning solution, which gives it the grip equal to a leather alternative. This also makes it relatively light and flexible, so it can quickly adapt to your horse's back.
Pros
The saddle comes with a smooth finish which is also very grippy.
It has small stitched holders on both flaps, so you can easily store your whip.
Cons:
As it offers custom fitting, the manufacturing process is relatively long.
17 1/2″ Devoucoux Biarritz T-298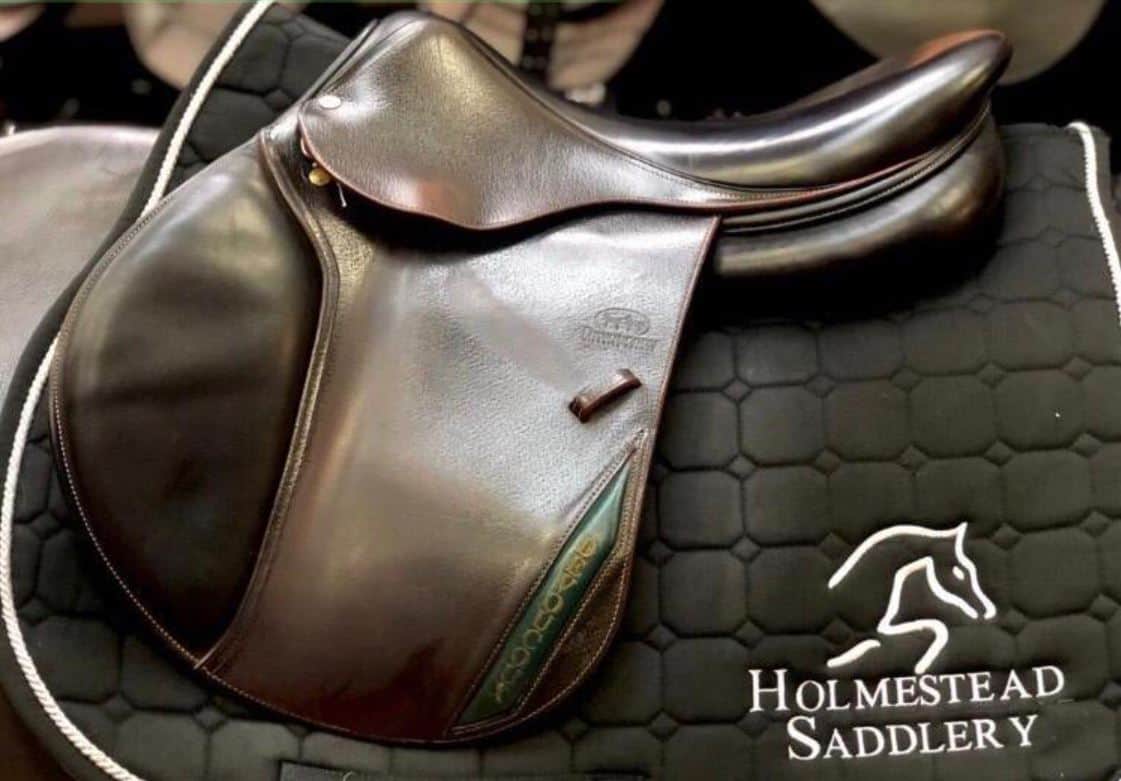 Description
While looking for some of the more popular jumping saddle options from Devoucoux, this Biarritz T-298 definitely caught my eye. It features a glossy finish thanks to Devoucoux's extensive sanding and oiling during production, which also makes the saddle somewhat water-resistant. The saddle features nail heads on the skirt with a brass finish which further gives it an elegant look.
The bottom of its flaps has knee blocks that add a layer of protection for your knees during jumping events. While the front of the flap feature flocked knee pads that are not only relatively soft but also helps provide a consistent grip for the rider.
Alongside that, the saddle features a low-rise cantle and the same smooth finish on the seat, making the riding experience much more comfortable. The Devoucoux name can also be seen on its flaps with a slightly transparent green look, making the saddle easily recognizable from a distance.
Pros
The panel on this saddle has a thick layer of padding, which makes it more comfortable for the horse.
The brass finish nail heads and the Devoucoux name on the flap give the saddle a unique contrast.
Cons
Constant maintenance and oiling are required to maintain this saddle's shiny look.
17″ Devoucoux Biarritz O 2A (2018) Full Buffalo Leather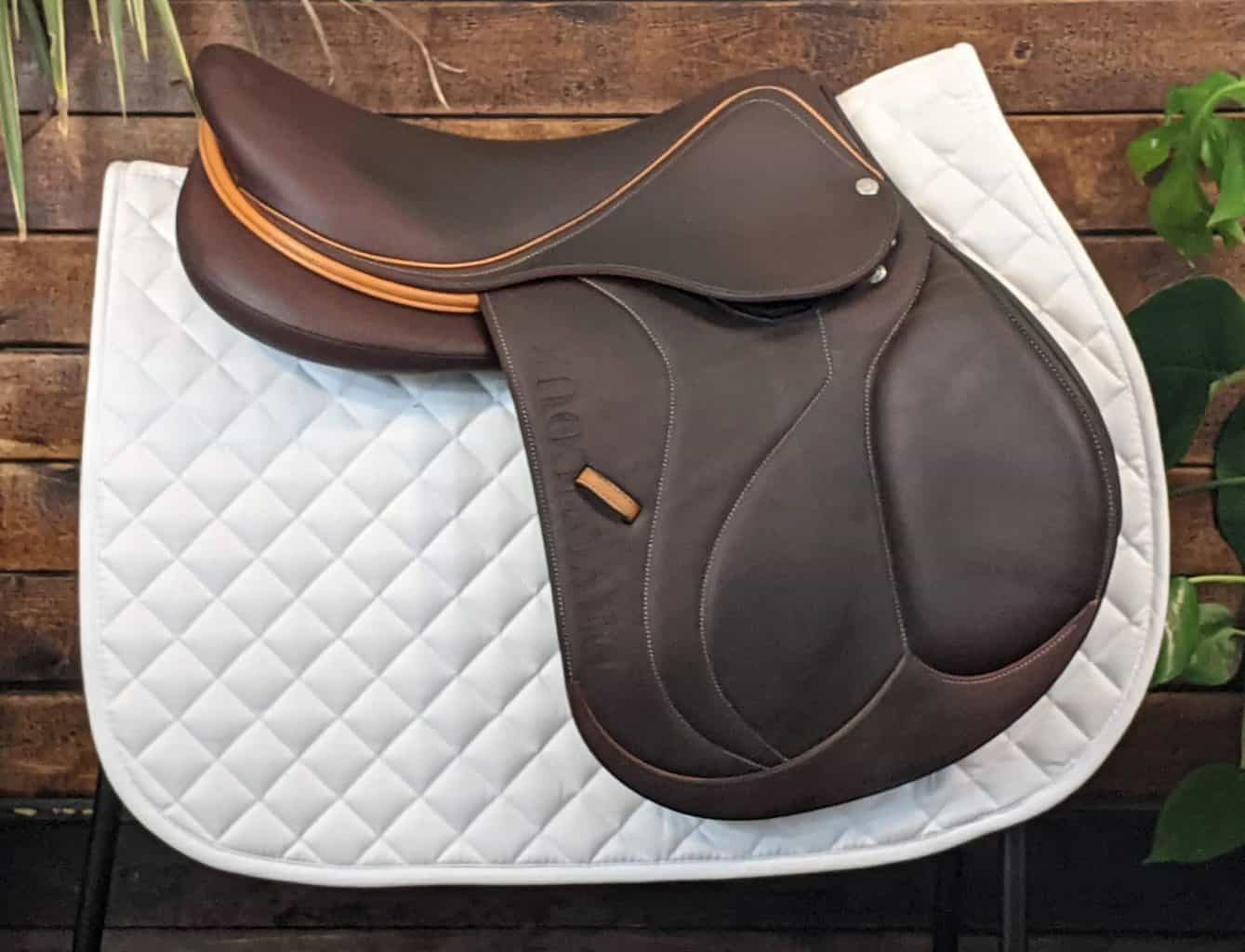 Description
Before I talk about the comfort and features of this saddle, let's first look at its unique design. The Biarritz O 2A Full Buffalo saddle has a dark brown finish with yellow accents along the panel, seat, and whip holder. It also features nail heads to link the leather with the tree; however, I wasn't a fan of their silver finish which doesn't complement the darker tones of this saddle.
Although this saddle comes with a wide 4.5"-inch gullet, which may be perfect for most larger horse breeds, you may find it too big for miniature horses. But this fact is somewhat overcome by the included three billet straps underneath its flaps, which provide a firm grip to hold the saddle in place.
Talking about the seat, it has a semi-deep style, which gives it a close contact feel. But it does come with a layer of padding, which makes it comfortable to sit on for extended sessions.
Pros
Full Buffalo leather is used in this saddle's construction, giving it a premium and grippy feel.
The saddle comes with Devoucoux's fleece-lined cover, which adds a soft layer between the saddle and the horse.
Cons
The wide gullet width on this saddle makes it somewhat unsuitable for smaller horse breeds.
Chiberta
The Chiberta model is another excellent option for equestrians participating in show cross-country events. This model usually features a complete leather build with added supports, so the stitching doesn't break with constant pulling.
Chiberta Lab – Full Buffalo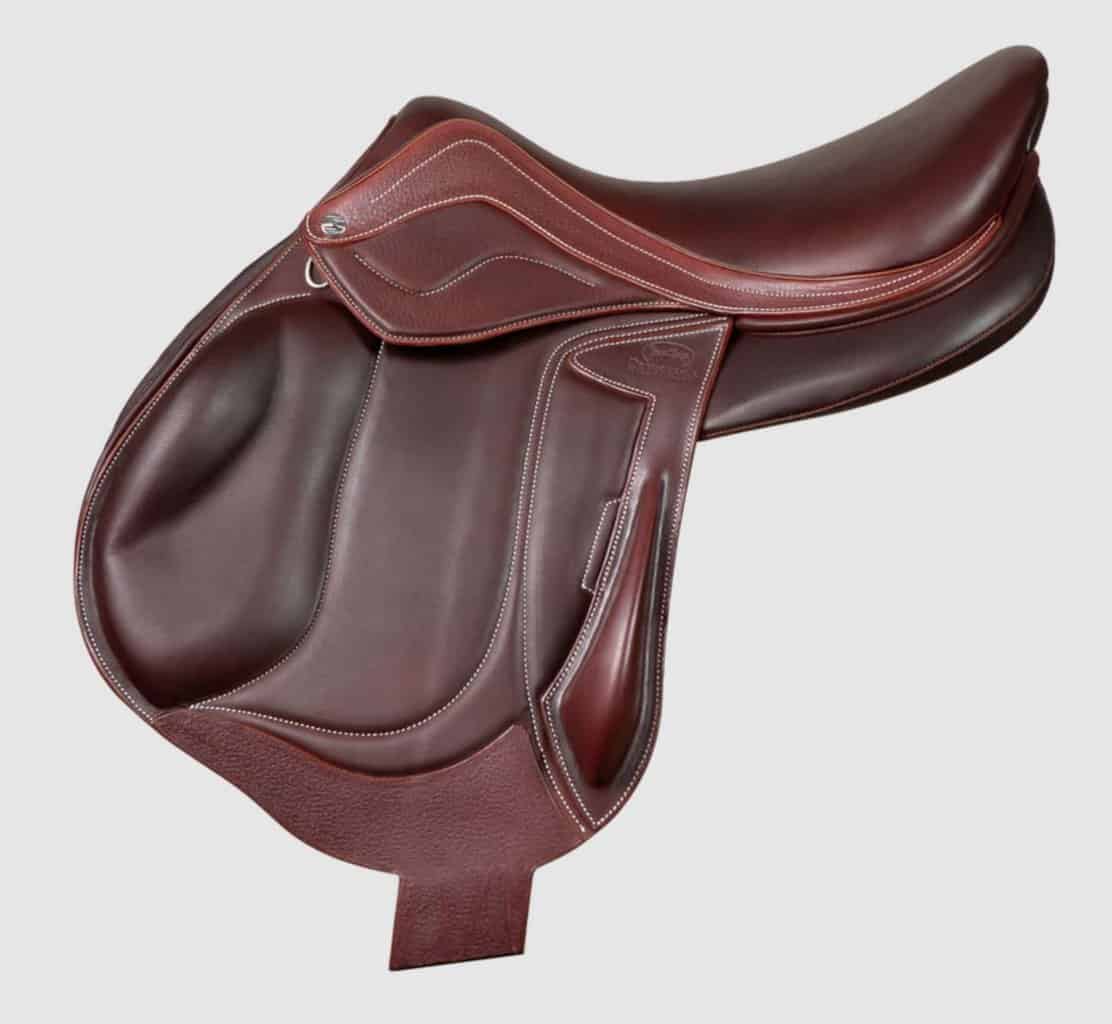 Description
This is another saddle I would highly recommend you add to your bucket list. This Chiberta Lab is the perfect saddle for cross-country events. And this is somewhat credited to its featherweight composition, which is why the saddle is relatively lightweight.
The saddle tree is also somewhat flexible, so you don't have to worry about it being too stiff on your horse's back. And it is not only about the horse's comfort as it also features a padded seat. So, you don't feel like your back is getting numb, one of the biggest bummers when it comes to extensive riding sessions.
The saddle flaps also feature knee blocks for added protection for your knees, so you can properly concentrate on the course. And it also has center stitching along the whole build, which makes it quite durable.
Pros
The saddle is available in a brown and black finish, so you can select the one which best complements your horse's coat.
The skirt on this saddle features a rugged texture, making it exceptionally resistant to scratches.
Cons
The metal rings and hooks on the saddle can rust after some time.
Devoucoux Chiberta Enara Jumping Saddle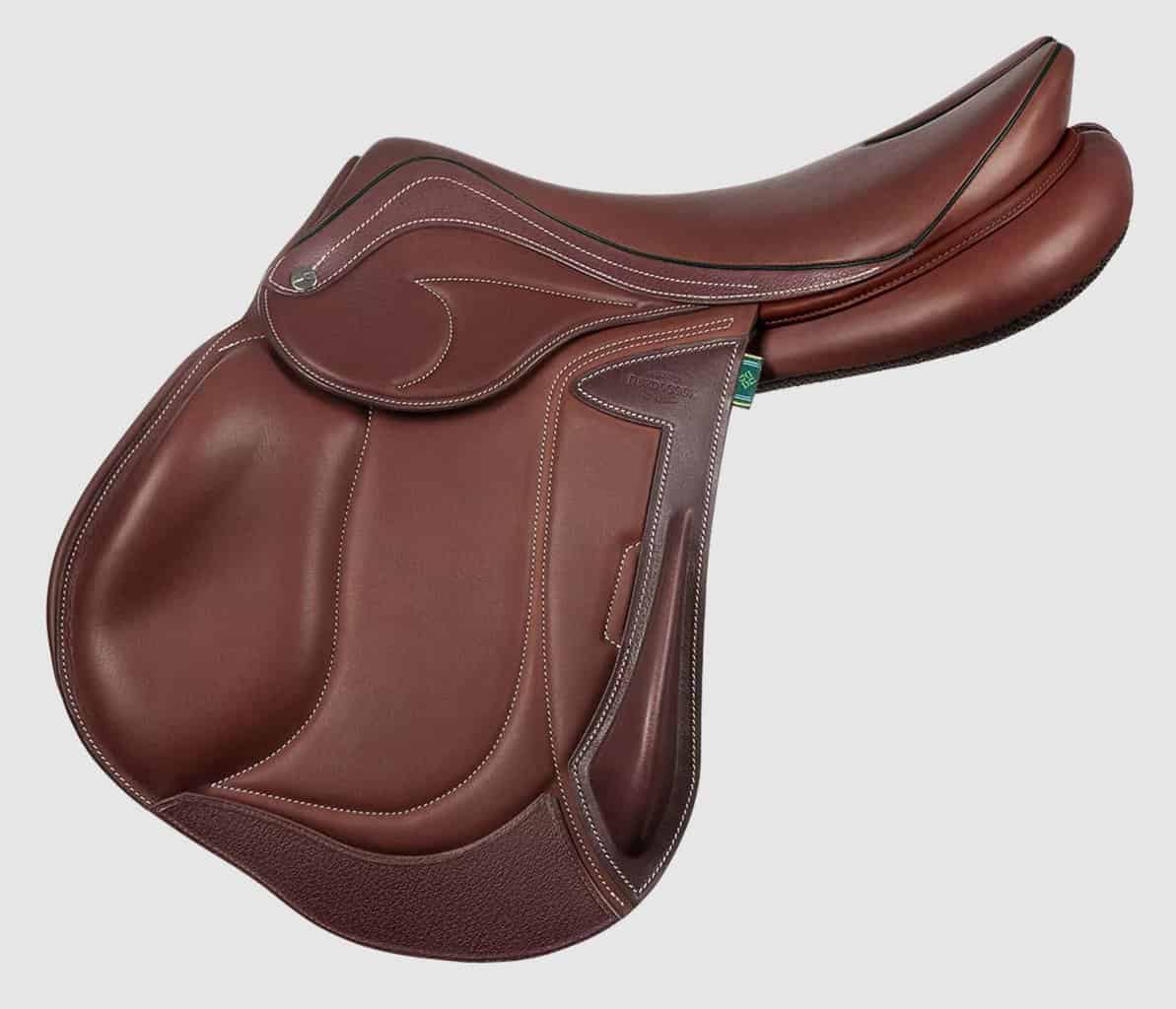 Description
The Chiberta Enara is another great saddle designed by Devoucoux with comfort and safety in mind. And alongside that, it also has the aesthetic appeal to prove that it really is an all-in-one package. The saddle is stitched with white nylon, which is very strong and yet makes the saddle somewhat flexible.
The saddle's seat is also quite unique as its cantle is split into two, providing plenty of space for ventilation. If it were me, I would just buy it due to this uniqueness. The panel is also quite special as it features a fully ventilated design that will help keep the horse's temperature lower even on hot days.
And like many cross-country saddles, this one also has a slightly high pommel that emulates a deep seat, providing a secure fit for the rider during sudden stops.
Pros
The saddle is available in full calf and buffalo finish so that you can pick according to your preference.
The saddle tree is made from Devoucoux D3D technology that helps provide the perfect fit.
Cons
The saddle comes at a very high price which will be unsuitable for equestrians on a budget.
18″ Devoucoux Chiberta 1AA (2013) Monoflap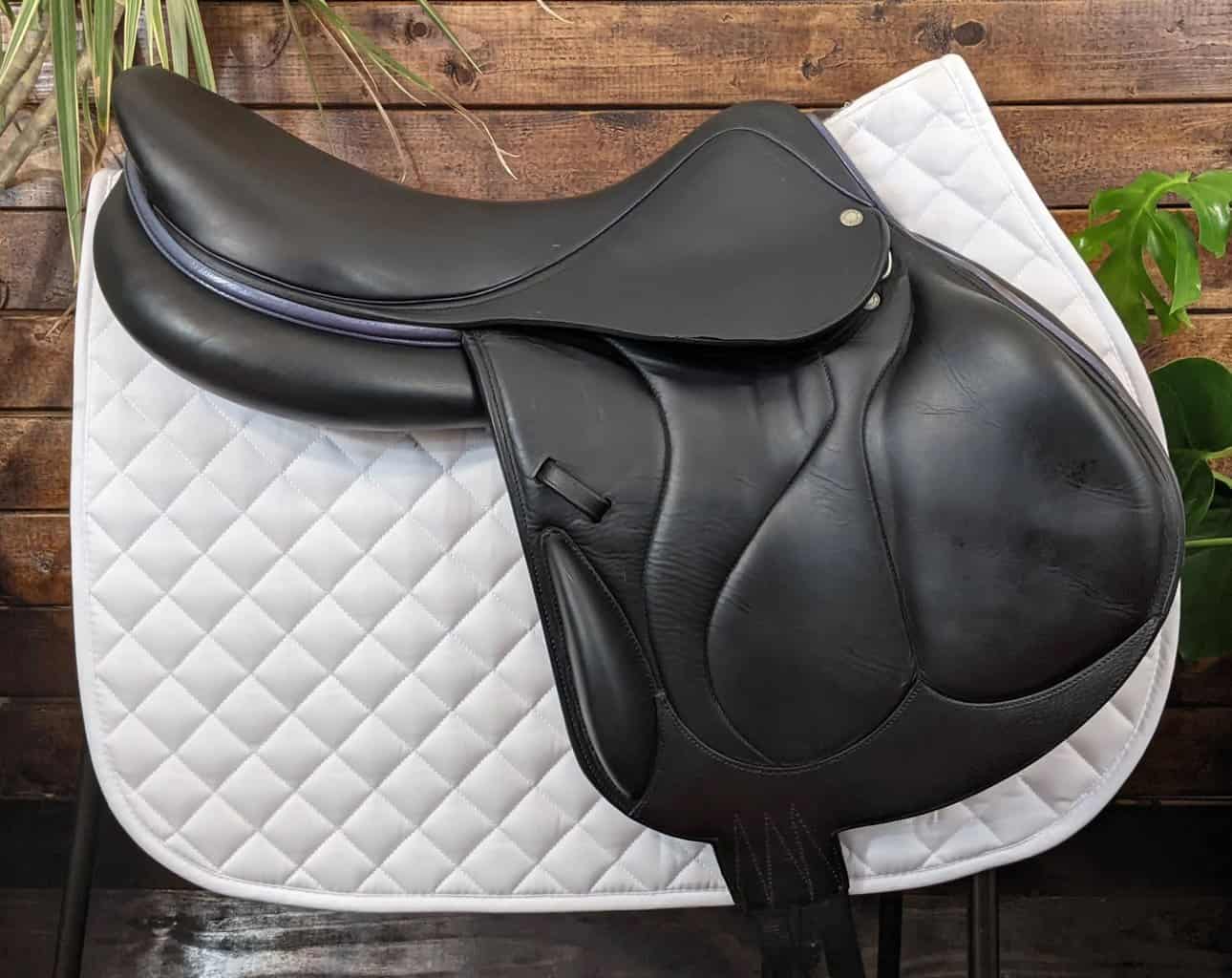 Description
At first glance, this Chiberta 1AA Monoflap saddle may look simple. But on closer inspection, you can easily see the fine lines of detail in its design. First, it has Bleu de France accent lines along the panel, referencing its French origin. The front of the saddle also features silver accent nail heads that go really well with the rest of its complete buffalo build.
It features a forward-style flap which is ideal for cross-country events. But these are relatively short at around 12"-inches, so your knees might rub against the horse's skin. Still, it does feature thick padding on the panel and seat, adding comfort for both the rider and the horse.
It also has a Monoflap build, making it relatively light, giving you a slight edge in your next cross-country or showjumping event. And It also comes with an 18"-inch seat and 5"-inch width gullet, which will be perfect for most larger horse breeds. Not to mention its black stitching, which brings this whole saddle together and goes well with the rest of the dark finish.
Pros
The saddle has an elegant brown finish that looks nice in natural light.
It comes with a fleece-lined cover that adds to its value.
Cons
The leather finish on this saddle gets scuffed really quickly.
FAQs
Question: Where are Devoucoux Saddles Manufactured?
Answer: Devoucoux saddles started manufacturing in a small Basque village of Sare. But even as the company's popularity and demand grew, manufacturing and designing remained exclusively in the outhwest region of France.
Question: Are Devoucoux Saddles Wool Flocked?
Answer: Almost all the saddle options from Devoucoux are wool flocked. This ensures that their saddles have an even overall surface while also adding a layer of padding between the rider and his horse.
Question: How Do I Read The Letters Stamps On Devoucoux Saddles?
Answer: If you ever browsed for Devoucoux saddles, you must have noticed that all their saddles have a distinct alphabet in their name. This is actually there to indicate its flap's angle and seat width. The letter 'C' indicates that its flap has a more forward angle, while 'L' means a standard flap. Just like that, 'E,' 'N,' 'L,' and 'XL' mean that the saddle has a narrow, standard, wide, and extra wide seat, respectively.
Devoucoux Saddles, Concluding Remarks
Devoucoux is a brand that has specialized in saddles for more than 35 years. Through hard work, they have proved themselves as one of the biggest names in the industry. And the love and success they have received are purely due to their unmatched craftsmanship and quality.
But despite their immense popularity buying and choosing saddles from their catalog can still be a massive hurdle. So, I recommend checking whether the specific saddle fits your use; this will help you limit your options. If you're not skilled at taking measurements, use Devoucoux fitting service. And if you're having budget issues, remember that going the used route in the case of Devoucoux saddle isn't that bad of an idea.
All the saddles from Devoucoux are handmade from some of the finest leather in France. But this also makes them one of the more premium options in this category. So, if you're looking for cheaper alternatives, you can check out HDR, Wintec,  Collegiate, and Big Horn.
Now, if you're wondering about my ideal saddle pick from Devoucoux's lineup, it is the 18" Devoucoux Makila Lab Dressage T-146. The thing I like about this saddle is that it has a relatively rough overall finish, making it relatively grippy. But it also makes it does not show minor scratches. It also has a reasonably robust and padded build, further making it durable and comfortable.
So, by now, I hope you have gotten a gist of what Devoucoux saddles bring to the table and also have an idea of which Devoucoux saddle type will be perfect for you. Happy Shopping!
Read More: