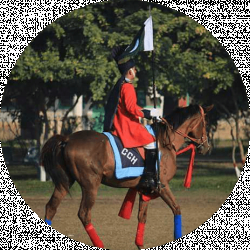 Latest posts by Boo Ali Khan
(see all)
Maybe you are looking for a saddle but don't have a lot of money to spend on expensive brands like Big Horn. Then you don't need to go anywhere else but to the legendary Henri De Rivel(HDR).
Henri de Rivel's saddles always steal the show with their unique looks while offering the rider the proper balance and position at an affordable price. It is also worth mentioning that HDR's riding equipment is carefully made with supreme craftsmanship and focuses on fair value and selection of the finest materials. HDR is mostly known for its English line of saddles made in-house with a great effort put into their quality.
As Henri De Rivel deals with an extensive range of saddles, it can lead to many questions pilling up in one's mind. So, here in this Henri De Rivel saddle brand guide, I will try to explain what makes this brand and its saddles so special, while also addressing most of the queries you may have. Furthermore, I will provide a simple roadmap of the things to consider while buying the HDR saddles that serves their purpose well.
Bottom Line Up Front
HDR produces saddles with a remarkably high level of quality, also ensuring European artistry. They include top-of-the-line engineered saddles specifically built for passionate riders. In my view, Henri De Rivel Memor-X-Close Contact is one such option that really stands out.
I adore its sleek and sophisticated style, and the incredibly soft memory foam makes the riding exceptionally comfortable. But if that doesn't pique your interest, there are still several other excellent alternatives you may choose from the list below:
Top Picks List
My Selection Criteria
While compiling my above-mentioned top picks, the factors I took into account are as follows:
The HDR saddles have an excellent design and texture, making them a show stopper.
All the HDR saddles meet the standard of quality that any good saddle can have.
All of the saddles are adequately padded, making them comfortable to sit through long and bumpy rides.
All the HDR saddles that I have mentioned are available in stock.
Background and Vision of Henri De Rivel
Originally the concept of the brand was conceived in Europe, and to further the business, the brand started its production in Argentina. Henri De Rivel was created on the strong ideals of making good quality equestrian products for the masses at an affordable price.
Some of you might argue that a good HDR saddle costs a few hundred bucks. But let me tell you, they are still pretty cheap when you compare them with the same quality saddle offered by various other brands.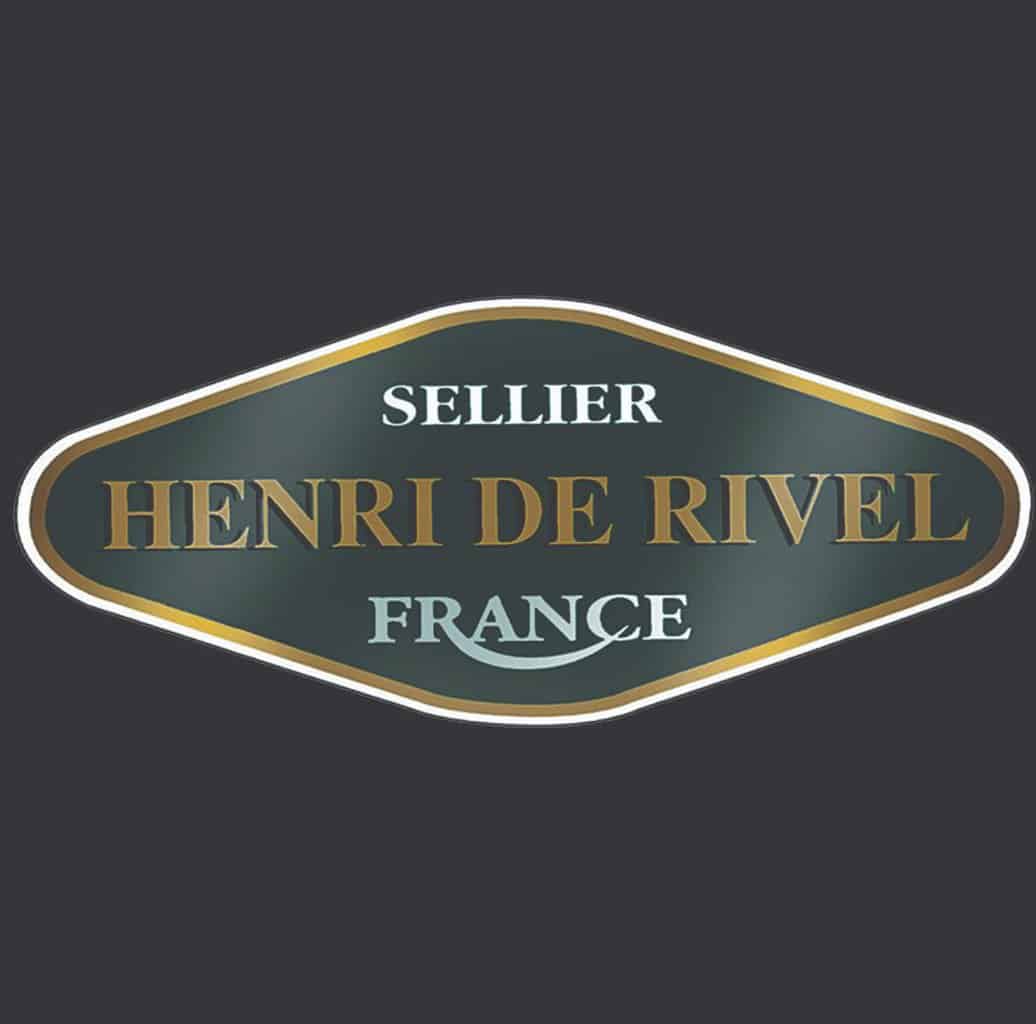 And with skill and devotion, the brand also branched out on various saddle options, including many famous English saddle types like jumping saddle, dressage saddle, and English showing saddles. Overall the HDR saddles are known for their unique builds and quality. And the primary factor that makes that happen is the brand's use of Argentine leather.
HDR's saddle manufacturing process is also quite different than other big brands as they aren't manufactured on massive conveyor belts. This allows the brand to make small personalized changes that provide their saddles with greater attention to detail.
Sources For Buying HDR Saddles
When it comes to Henri De Rivel's, they don't really have an official website or brand store. So, in order to buy HDR saddles, you have to sort to other dealers and online marketplaces, which can be challenging for many equestrians. So to make the process of finding these saddles a little easier, I recommend you check out the online marketplaces listed below:
Some Alternative Brands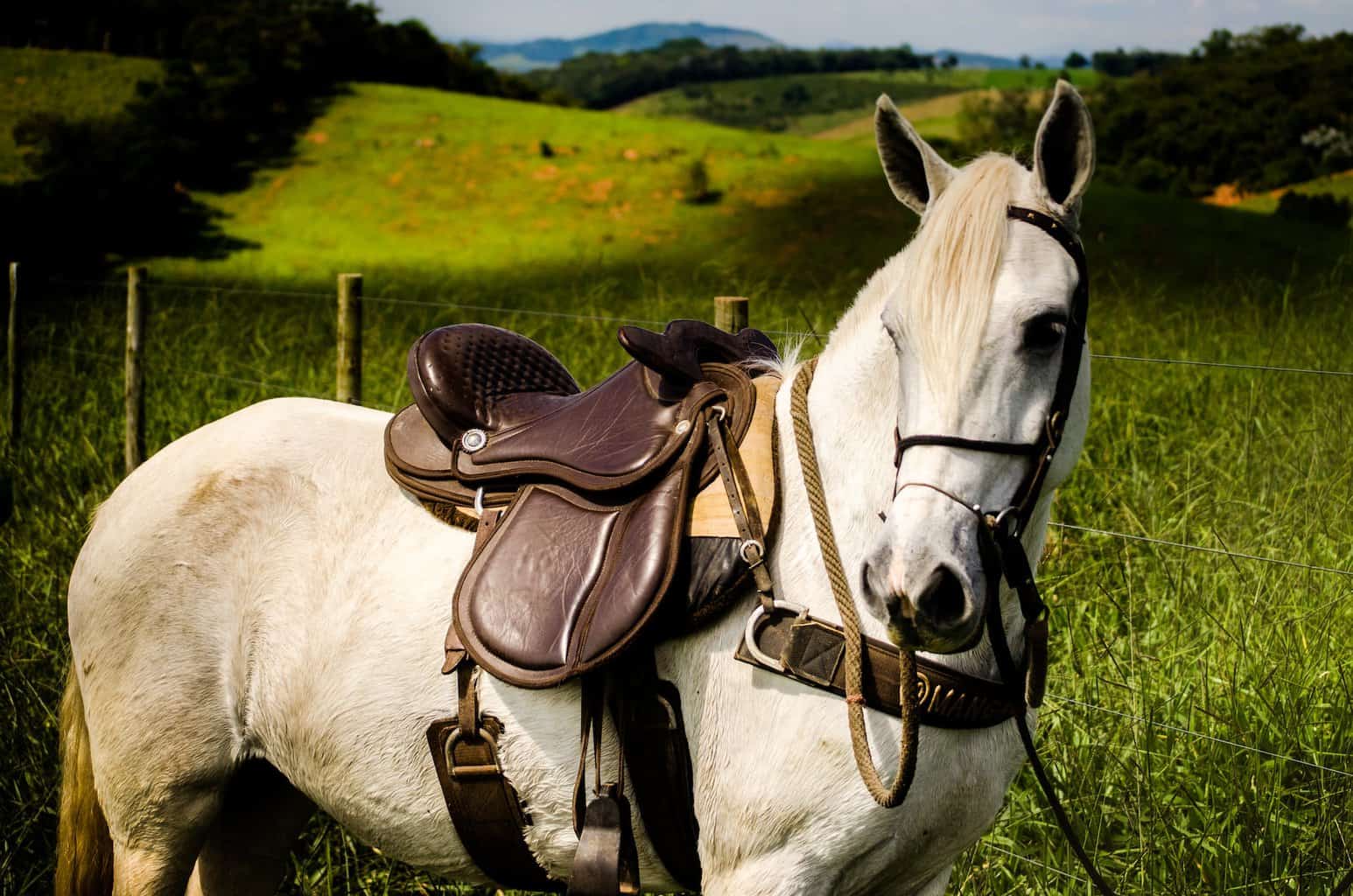 I definitely believe that when it comes to budget-friendly saddles, HDR would be the first choice of many equestrians. However, if you want some more exquisiteness in your riding experience, you might want to consider the following alternative brands:
Antarès: When it comes to Antarès, no one can ignore the granduer its saddles provide. However, owning one of these French saddles might break your bank.
Bates: It is hard to satisfy the never-ending requirements of professional riders. But Bates surely knows how to deal with them.
Circuit: Another affordable yet durable saddle brand for those who cannot afford Antarès or Bates saddles.
DP Saddlery: Every equestrian who owns more than one horse has at least one saddle from DP Saddlery in their rack. With their famous adjustable gullet, DP saddles are really worth the investment.
Marcel Toulouse: When it comes to the craftsmanship of handmade saddles, it is hard to overlook M.Toulouse. This French brand has a wide variety of saddles ranging anywhere from $1500 to $3000.
Best Tips for Buying Henri De Rivel Saddles
Since HDR deals with many saddle options, a few things to consider when choosing an HDR English saddle are as follows;
Function Of the Saddle
Make sure the saddle you buy is appropriate for the use you have in mind. Using a saddle for more than one discipline always involves compromise. For instance, go for a close-contact saddle if you want to master jumping. But if you are fond of participating in dressage events, go for one of the dressage saddles from HDR's lineup.
Fit Of the Saddle
"One size fits all" is not an option for HDR saddles. You will really feel a lot of difference in your riding experience if you get the right size for your horse. To get a perfect saddle, you have to carefully pick the right gullet size, which mainly depends on the width of your horse, its spine, and the height of its withers. Similarly, you should be comfortable while riding if you choose the seat size that properly fits you.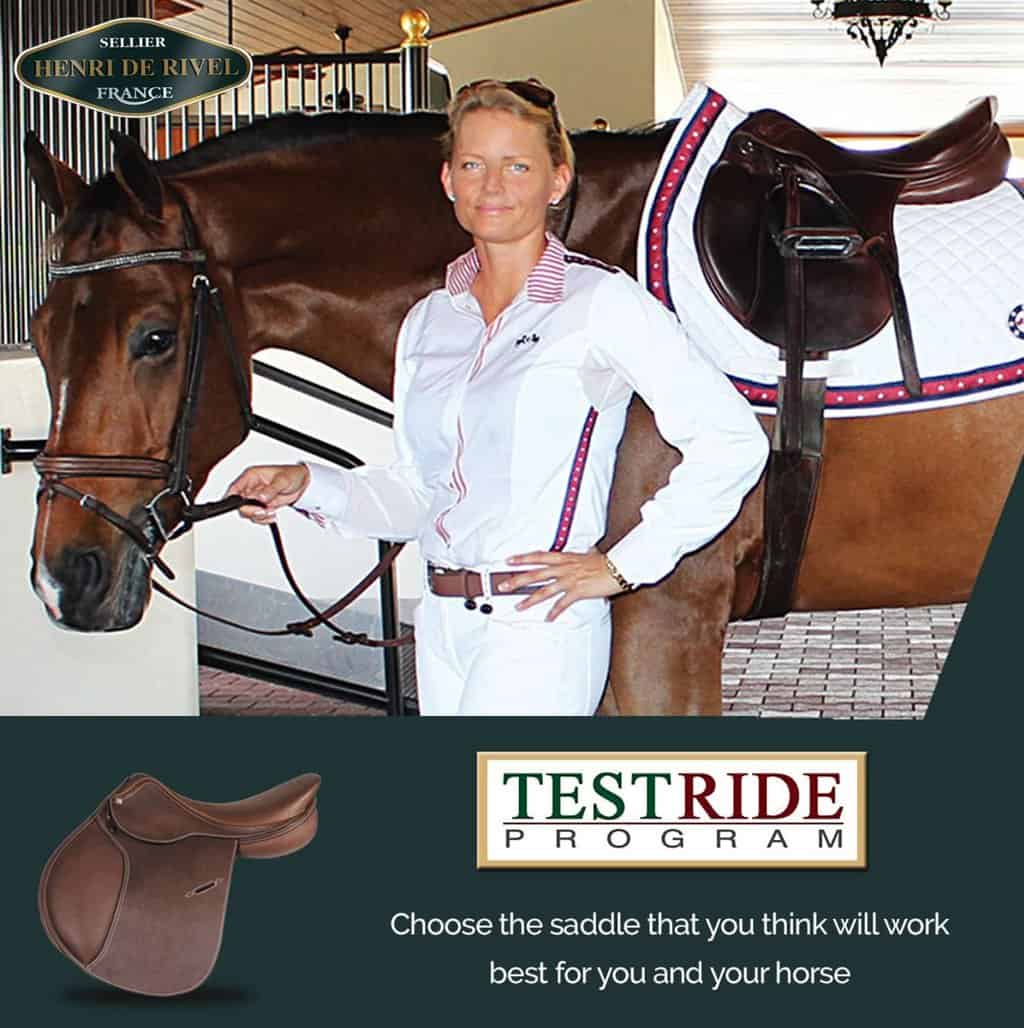 Set a Budget
It is usually said that the horse and saddle are the two areas of an equestrian sport wherein you should spend as much as possible to get the best out of it. But I believe you should never go overboard when buying a saddle, as no saddle is perfect, and there would always be room for improvement.
I recommend you set a budget first, then look for the HDR saddles that fit in. But remember that while making this budget, it should be sufficient enough to not comprise the required quality and build of your HDR saddle options.
My Top Picks
All-purpose saddle
Like to have a saddle that can handle everything? Then go for the All-purpose saddle, which is proficient for almost all riding styles. Henri De Rivel specifically designed them to accommodate the riders involved in hunting/jumping, dressage, and trail riding.
Henri De Rivel Vegan –X All Purpose Saddle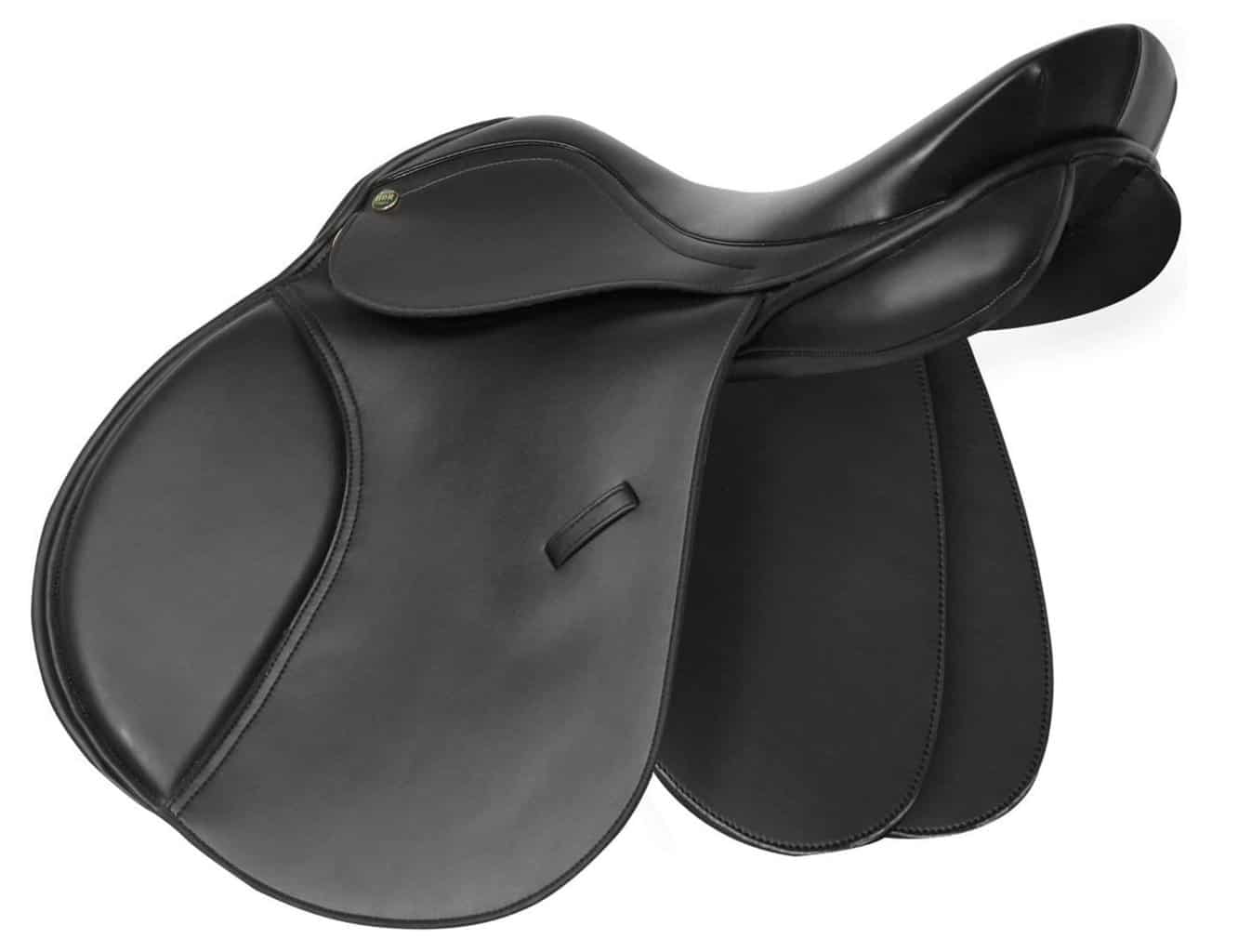 Description
HDR Vegan-X All-purpose Saddle's versatility sets it apart from all other saddles. Its vegan leather has a refined finish, making it resemble genuine leather. And its grain texture makes it hard to believe it's not made of animal products. Good news for those who are not into employing goods made of animal skin.
The wool flocking of the saddle provides a comfy feel to the horse. At the same time, it quickly adapts to your horse's back which helps provide a good fit.
And due to being mostly synthetic, this saddle's overall weight is also very light, making it perfect for smaller horse breeds like Falabellas and Shetlands. Likewise, its medium-deep seat and supporting knee rolls allow the rider to have excellent contact with the horse.
This saddle also features slightly forward flaps that don't go straight down, making them perfect for jumping. But not so forward that it would make the rider uncomfortable. Not to mention, this makes the saddle an easy recommendation for beginners.
Advanced riders used to traditional saddles may find it a little hard to use as it can be a little restricting when it comes to legs' movements.
Pros
This saddle's synthetic built makes it exceptionally lightweight.
The vegan leather on this saddle is soft to the touch, making it perfect for both the rider and the horse.
Cons
The synthetic leather built makes it less durable than a saddle made of leather.
Henri De Rivel Advantage All-purpose Saddle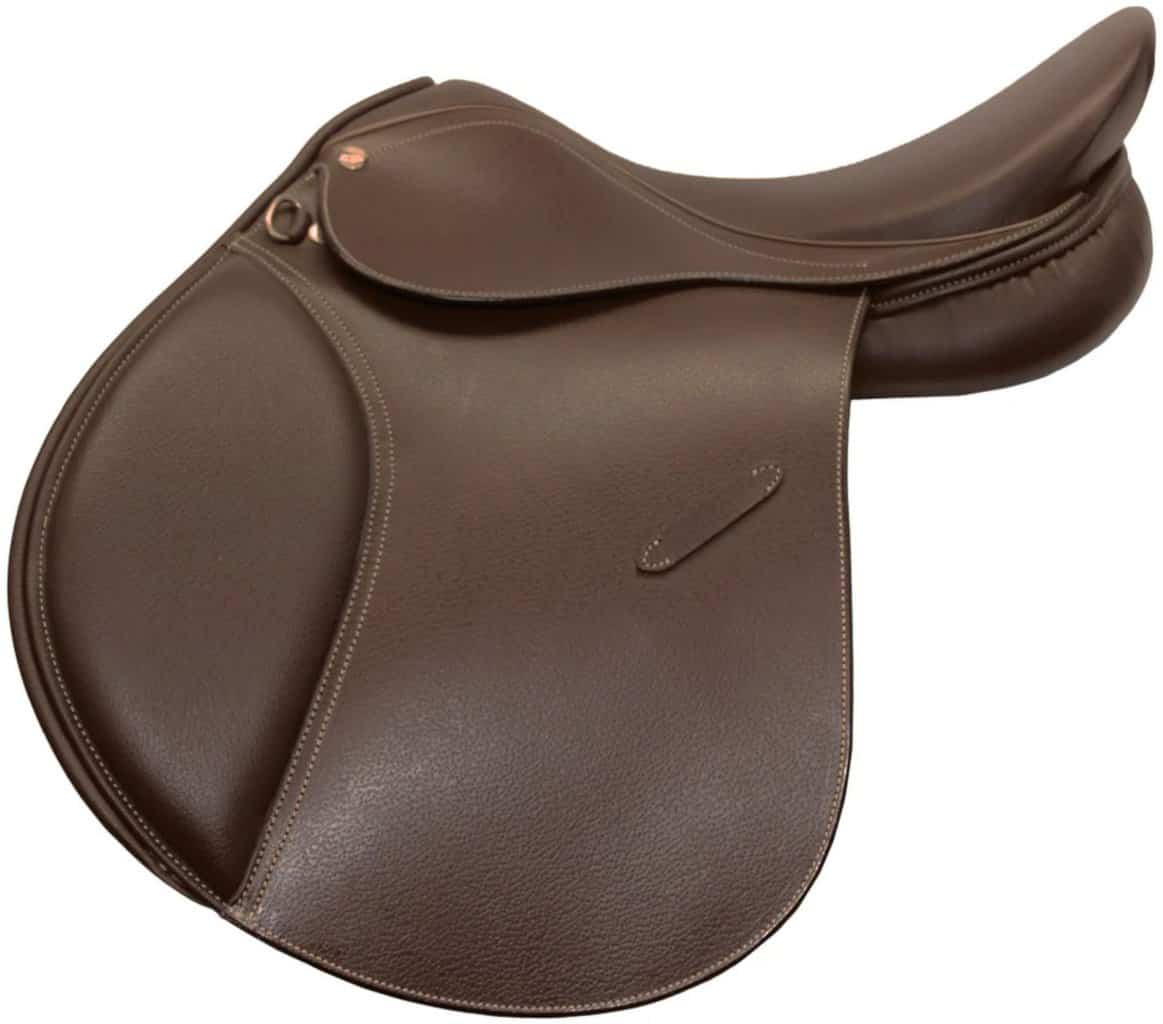 Description
This 14' inches HDR Advantage All Purpose Saddle is excellent for both beginners and advanced riders as it's designed with a moderately deep seat. Furthermore, it has a moderate round cantle to save you from slipping backward when it comes to show jumping and dressage.
The tree on the saddle is also available in regular and wide-width options, so select the size that best fits your particular horse. The front flaps on this saddle are also sufficiently padded, which provides protection against the poking buckles of billet straps. At the same time, the added soft texture on the skirt also makes it comfortable to rest on the horse's back.
The saddles also feature a side sown design, which makes the stitching resilient to pulls and tears. While also not taking away from its shiny brown finish. And considering its leather built, I can confidently say that it will last a long time. It also comes with adjustable nylon billet straps, which are far more convenient in tightening or loosening the girth as per your horse's comfort.
Pros
The saddle is available in both standard and widespread tree options.
The bottom of the saddle has a thick layer of padding for the horse's comfort.
Cons
Its 14-inch seat size is not appropriate for highly muscular horses with strong builds like draft breeds.
Close Contact/Jumping Saddle
Henri de Rivel close contact saddles come with a little less padding between their panels, giving the rider a sense of closeness to the horse. These saddles are perfect for riders who have issues understanding their horse's flow.
These saddles are also known as Jumper saddles. They feature a two-point design on the seat that allows for a more relaxed sitting position. While also making it easy to maneuver in the jumping position.
Well, I have a long history with show jumping, not to mention some of the bad memories associated with it. So, I will be referring to these jumping saddles more than the other saddle types, as I know a good jumping saddle can pretty much save you from quite a dangerous fall, something that I learned the hard way.
Henri De Rivel Memor –X Close Contact Saddle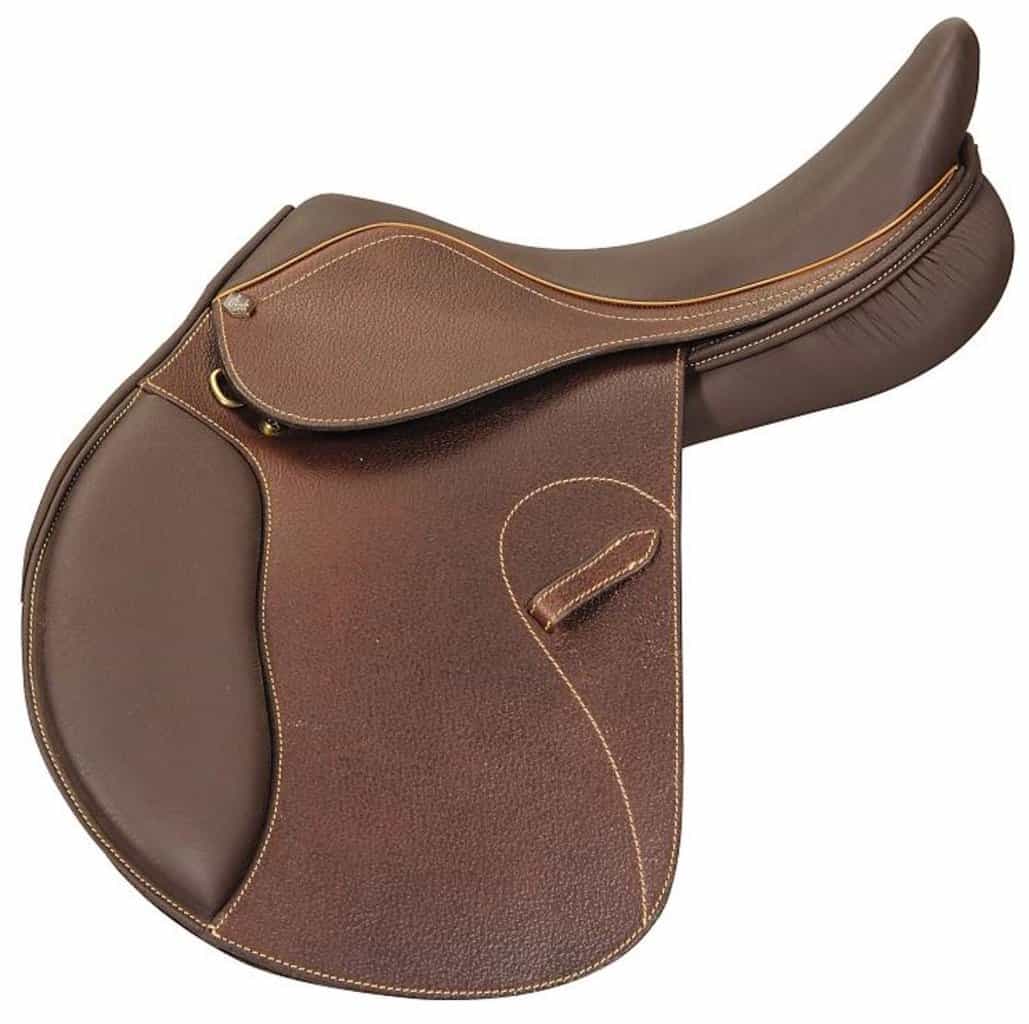 Description
Henri De Rivel Memor –X Close Contact is my favorite among all other HDR saddle options, as it fits like no other saddle does. Its moderately deep seat made of a thin layer of Memory Foam gives this saddle a comfortable feel for equestrians fond of longer riding sessions. This Memory Form also contains material sensitive to pressure, making the seat conform to the shape of a rider's body.
Its tree is made of injection molded polymer, while leather covers the whole thing to give the saddle a secure grip. And its added knee blocks add another level of protection for the rider as they help keep the knees in place, preventing them from swinging around during show events like jumping.
All this is great, but what inspired me to mark this saddle as my favorite is its quality build. Nylon-reinforced billet strips, high-density foam panels, and padded forward flaps make this saddle last for years. And besides its functionality, its Australian nut color and its ship-shape stitching give it a classy look making it a perfect fit for a show ring.
Pros
This saddle is lined with gold-colored stitching, making it durable as well as stylish.
The polymer-based tree of this saddle is both light and flexible.
Cons
The High-density foam panels in this saddle are rigid that might not be comfortable for your horse.
The material of the saddle's tree tends to deform at high temperatures, making it incompatible for people who live in hot regions.
Henri De Rivel Lumina Close Contact Saddle
Description
While researching for a good quality close contact saddle, another option that caught my eye was the HDR Lumina Close Contact Saddle.
This saddle comes in 16 1/2 to 18 inches with regular and wide tree sizes making it perfect for any horse breed regardless of its length and width. And its medium-deep seat also allows the rider to rise properly in the half-seat position when jumping over the fence.
By the same token, it has foam panels that cushion the horse's spine and make it easier for the rider to have a closer feel with the horse. It is also made of grippy leather, providing a better grip to the rider even in the briskest equestrian events. And talking about its exterior, it has an oak bark color and white contrast stitching, making it gorgeous yet different.
It also features a hook and loop closure that allows the knee blocks to be concealed so as not to take away its relatively elegant build.
Pros
The saddle has removable knee and thigh blocks that can be adjusted according to the rider's comfort.
This saddle comes with a lifetime warranty on its injection-molded polymer tree.
Cons
Compared to most HDR saddles, this option comes at a relatively high price, making it a hard pill to swallow for budget-conscious individuals.
The Henri De Rivel Pro Revelation Jumping Saddle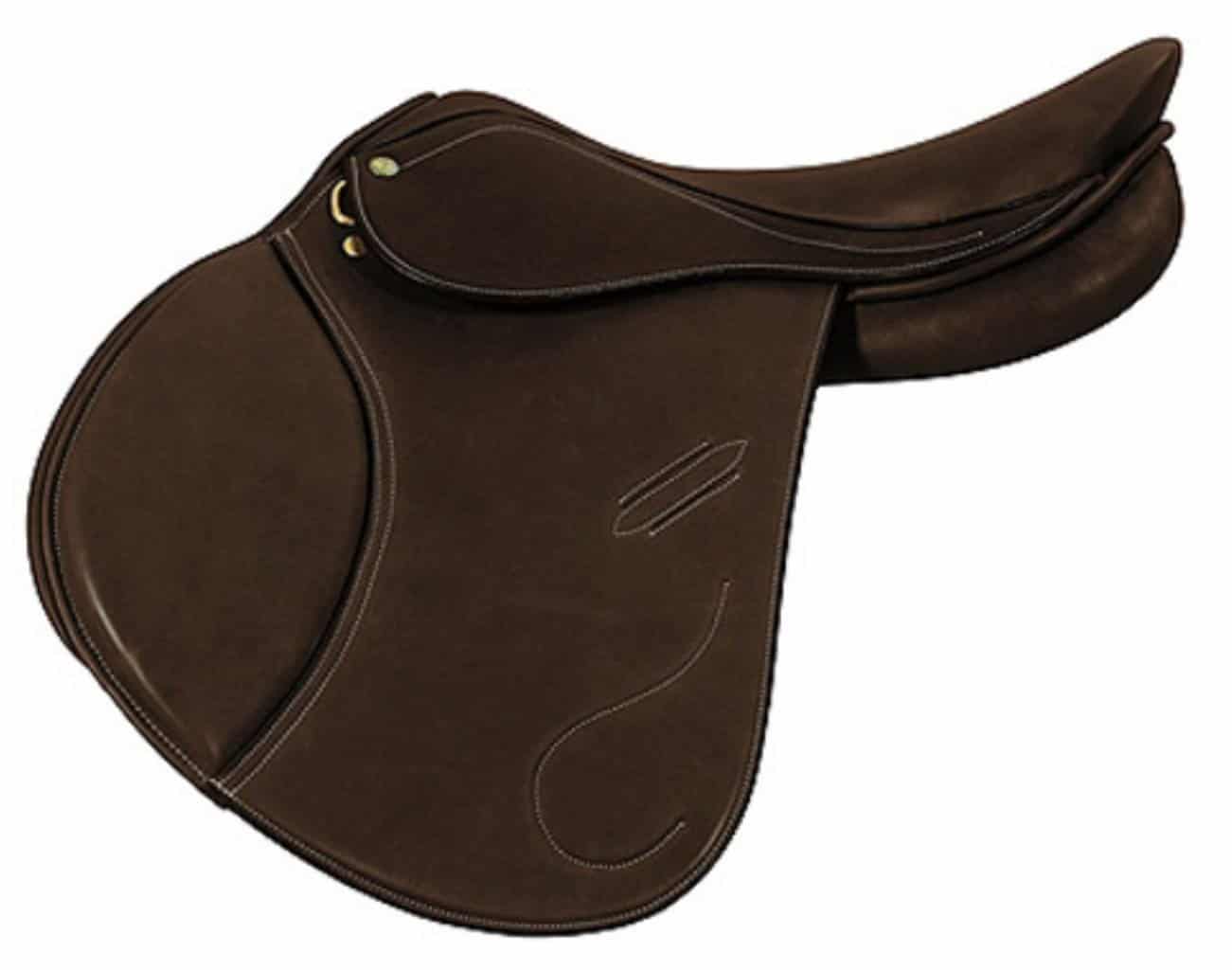 Description
If you're fond of show jumping like me but cannot find a saddle to compliments your hobby without breaking your bank. Then I would recommend you to settle for the HDR Pro Revelation Jumping Saddle. This saddle has a comparatively flat seat that allows the rider to attain a balanced jumping position and freedom of movement while in the air.
It also features extra forward flaps with three concealed leather billet straps that allow for a perfect tight fit on the horse regardless of size. The flap also features removable knee rolls that provide an ideal place to rest your knees, and if you are a jumper, you already know that the knees play the most significant part in controlling your horse.
And talking about the looks, this saddle features a soft suede texture on the seat and the skirt with a slight shimmer on the knee roll for added contrast. And to bring everything together, the whole thing has a dark Havana-colored leather finish that just seems a pure luxury.
Pros
This saddle's flat seat allows the rider to manage a balanced jumping position.
This saddle comes at a relatively affordable price while still featuring all the features of much more expensive saddles.
Cons
The saddles come with a relatively low-rise cantle, which doesn't provide much support to the back of the rider.
Henri De Rivel Carmel Jumping English Saddle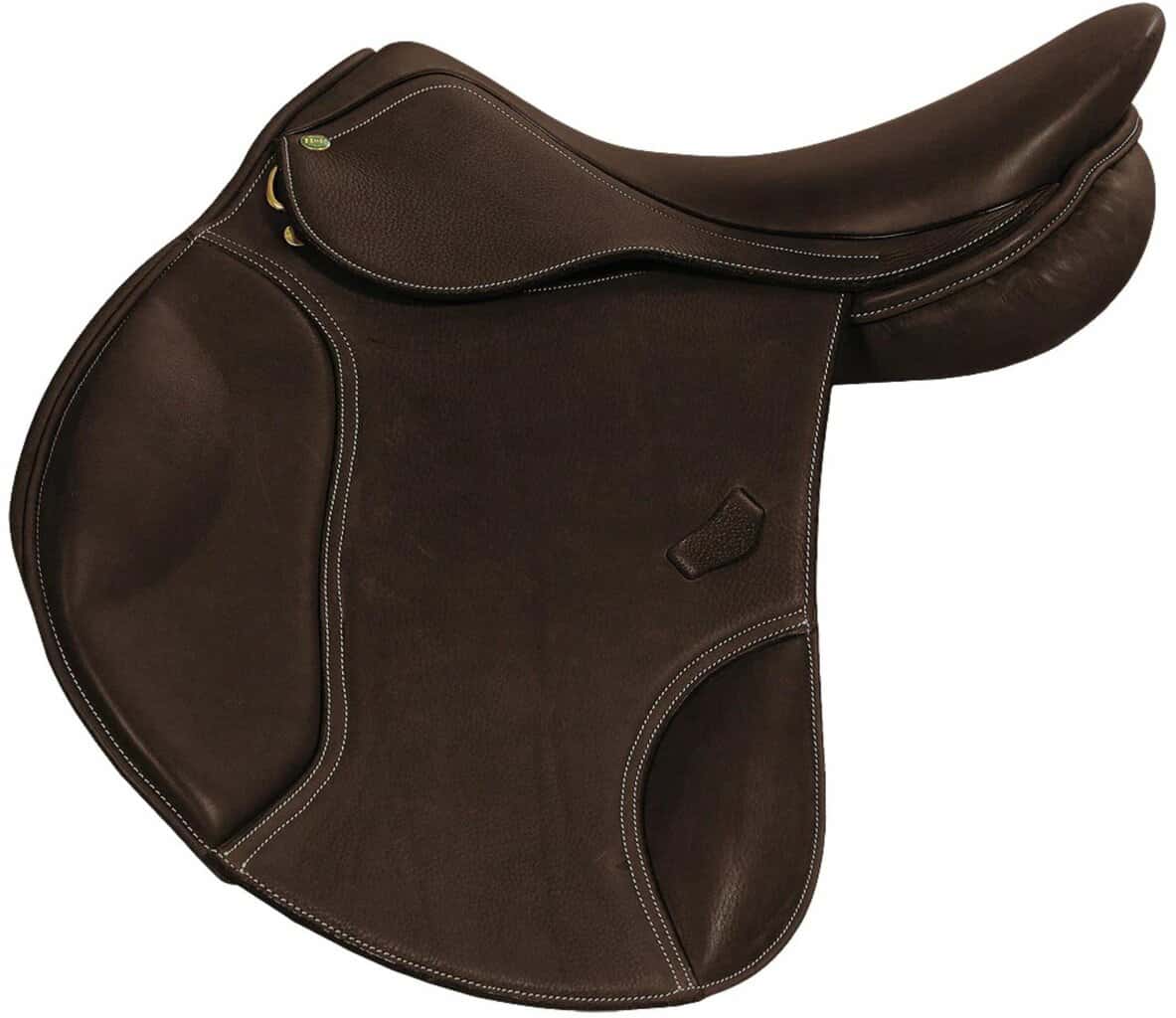 Description
The HDR Carmel Jumping English Saddle features a deep seat which encourages a much-relaxed posture for longer rides. And talking about its show jumping characteristics, it features forward flaps that provide a much more ergonomic design.
Padding at the front of the flaps includes stability and protection for the lower leg during jumping obstacles, making this saddle an appropriate fit for fox hunting.
In this saddle, billet straps are made of nylon that not only keeps them unaffected from continuous sunlight but also provides a better adjustment mechanism. While a thin dense layer is used in between its panels, giving the ride a closer feel and allowing for better communication between the horse and the rider.
It also features double stitching along the knee rolls, which adds extra durability, so you can feel assured that this saddle will last you a long time. And let's not forget its golden rivets undeath its skirt which provide a rustic look with the rest of the brown finish, making it all the way more mesmerizing.
Pros
This saddles molded polymer tree ensures durability.
This saddle buys you a chance to adjust knee and thigh blocks.
Cons
Some riders may feel trapped in the deep seat and find it hard to rise while jumping.
Dressage Saddles
If you like to participate in dressage competitions while also living the fantasy of being in the old Victorian era, you should consider the following dressage saddles offered by Henri de Rivel. These HDR dressage saddles will definitely steal the spotlight whenever you enter the ring.
Henri De Rivel Ventura Dressage Covered Saddle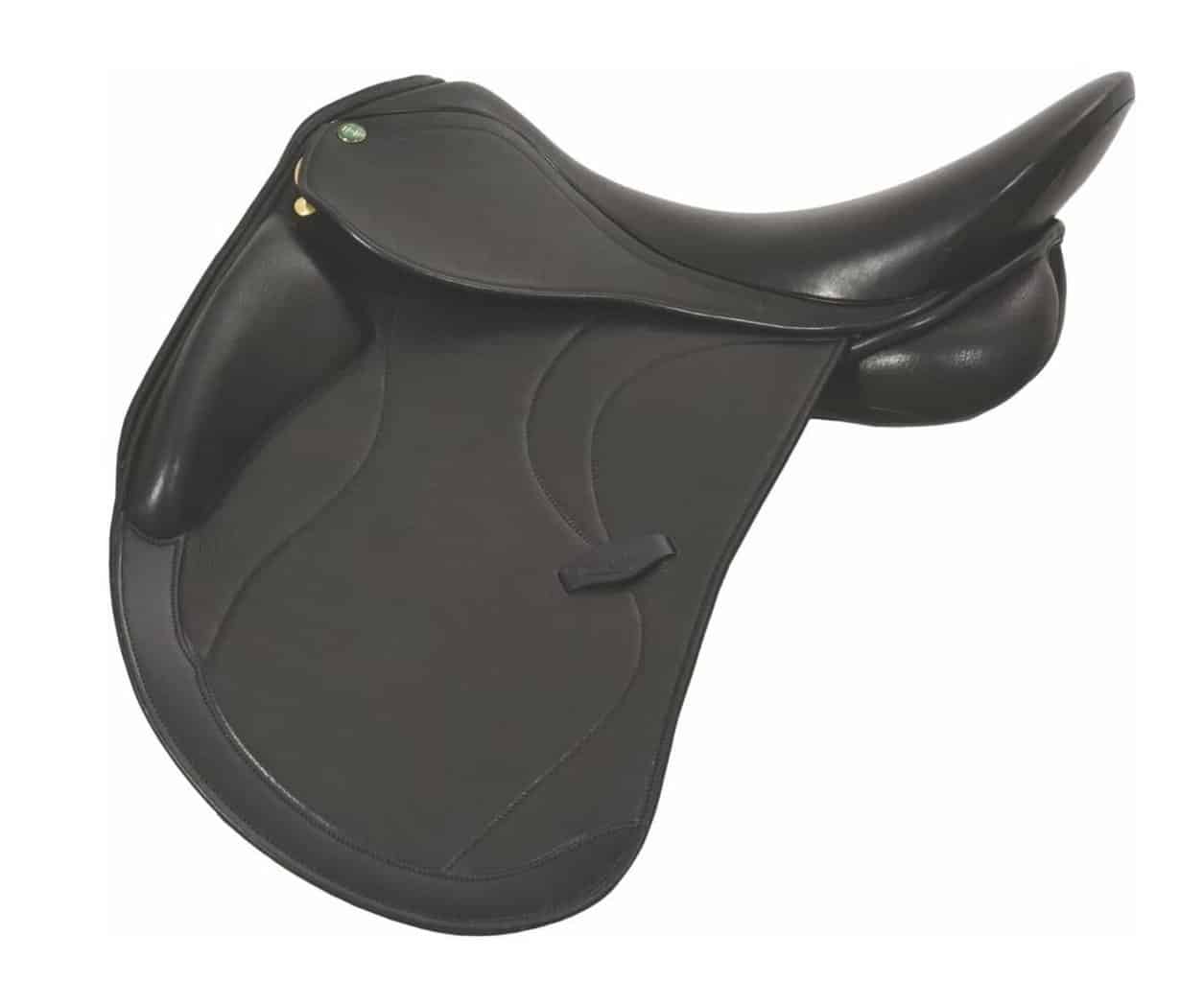 Description
The HDR Ventura Dressage saddle is made of soft leather with padding all around it to ensure maximum comfort. In this saddle, the bottom area of the flaps is reinforced for durability. And at the same time, the wide channel between the molded flocked panels will provide a comfier fit for most horses.
The concealed knee blocks offer superior leg support while keeping the knee from shooting forward, but this may also temper the riders sitting position. Unlike most English dressage saddles, the stirrup leather keeper is sufficiently wide that wouldn't break off easily. The HDR embossed stud on the skirt also gives the overall saddle an eloquent look.
Its sufficiently deep seat allows the rider to have closer contact with the horse and is responsible for an exceptionally safe ride. But I did notice that the seat can be a little slippery due to its smooth finish. But overall, the black finish and a blend of different leather textures will definitely turn some heads in your next dressage show.
Pros
The padding on the skirt and underneath the saddle makes it comfortable for both the rider and the horse.
This saddle's reinforced area at the bottom of the flap distributes the weight of the rider and saddle evenly, ensuring comfort for your horse.
Cons
This saddle is a bit more expensive than most of the HDR saddles.
Henri De Rival Parisian Monoflap Dressage Saddle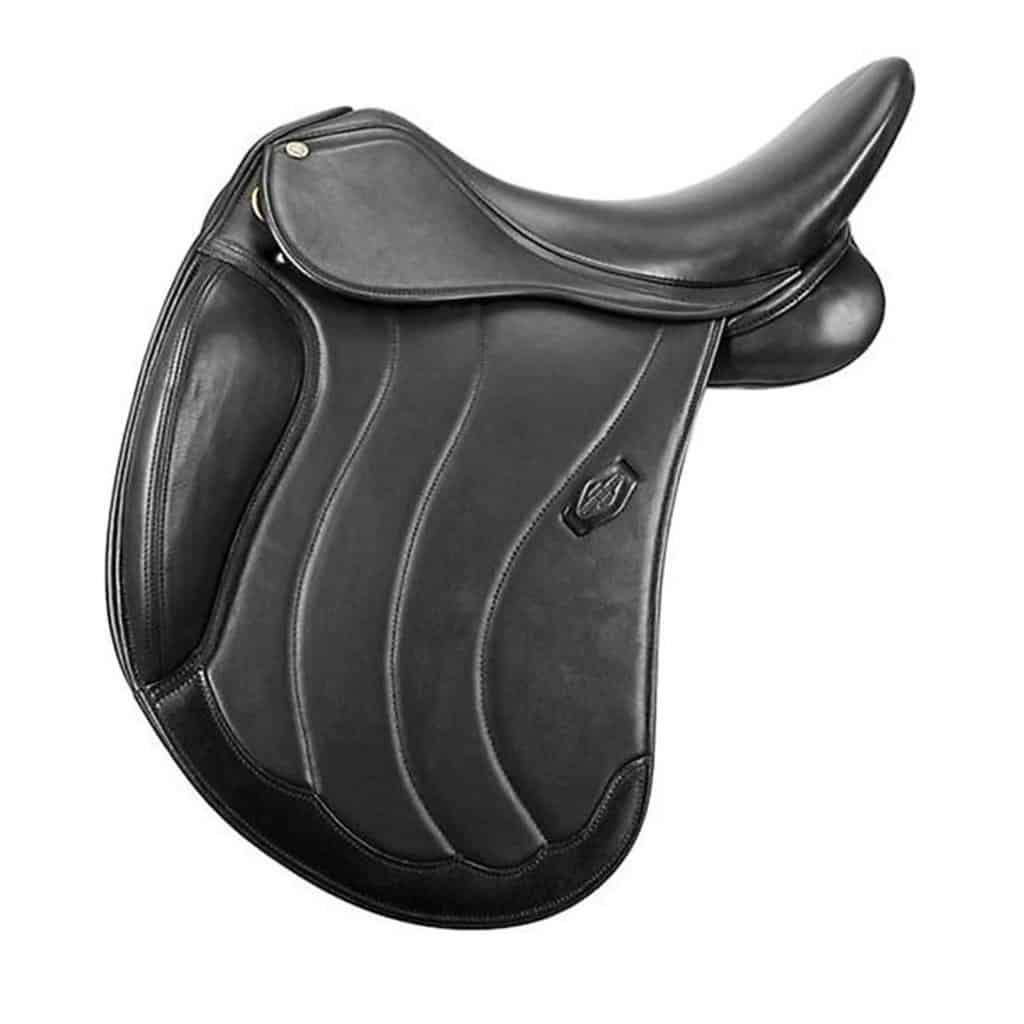 Description
Although I have never tried this HDR Parisian Monoflap Dressage Saddle, I can confidently say that it is worth considering just by looking at it. It has a soft leather build that provides phenomenal grip. And its smooth, easy-to-clean finish completely negates the necessity for using a leather conditioner.
Furthermore, its big padded knee blocks make it easy to maintain the correct posture throughout the ride, something you don't want to overlook when participating in a dressage competition.
I also found that this saddle is quite distinct from all the other options because it only features one flap on the left side, significantly reducing the overall weight of the saddle. Moreover, it contains an Interchangeable Gullet System (IGP) that prevents the need to swap a saddle when your horse grows, saving you from spending extra money to buy a new saddle in the future. Not to mention, this also allows the rider to adjust the gullet's height to the desired level.
The synthetic wool-flocked panels bring comfort and efficiency to the saddle, as wool is more breathable than foam. And lastly, its pure black color with stitched grooves unquestionably provides a professional and classy look.
Pros
This saddle has soft leather with a relatively grippy feel.
It has IGP (Interchangeable Gullet system) that makes it an investment for riders, allowing them to fit it to multiple horses.
This saddle is pretty lightweight, only weighing 16lbs.
Cons
The weight distribution is very uneven as the saddle only features a flap on one side.
Leadline Saddle
Henri de Rivel's line of saddles also deals with lead line saddles for children. These saddles are designed to comprise a grab strap at the front of the pommel for the child to hold on to make them feel safe.
HDR Advantage Pony Leather Leadline Saddle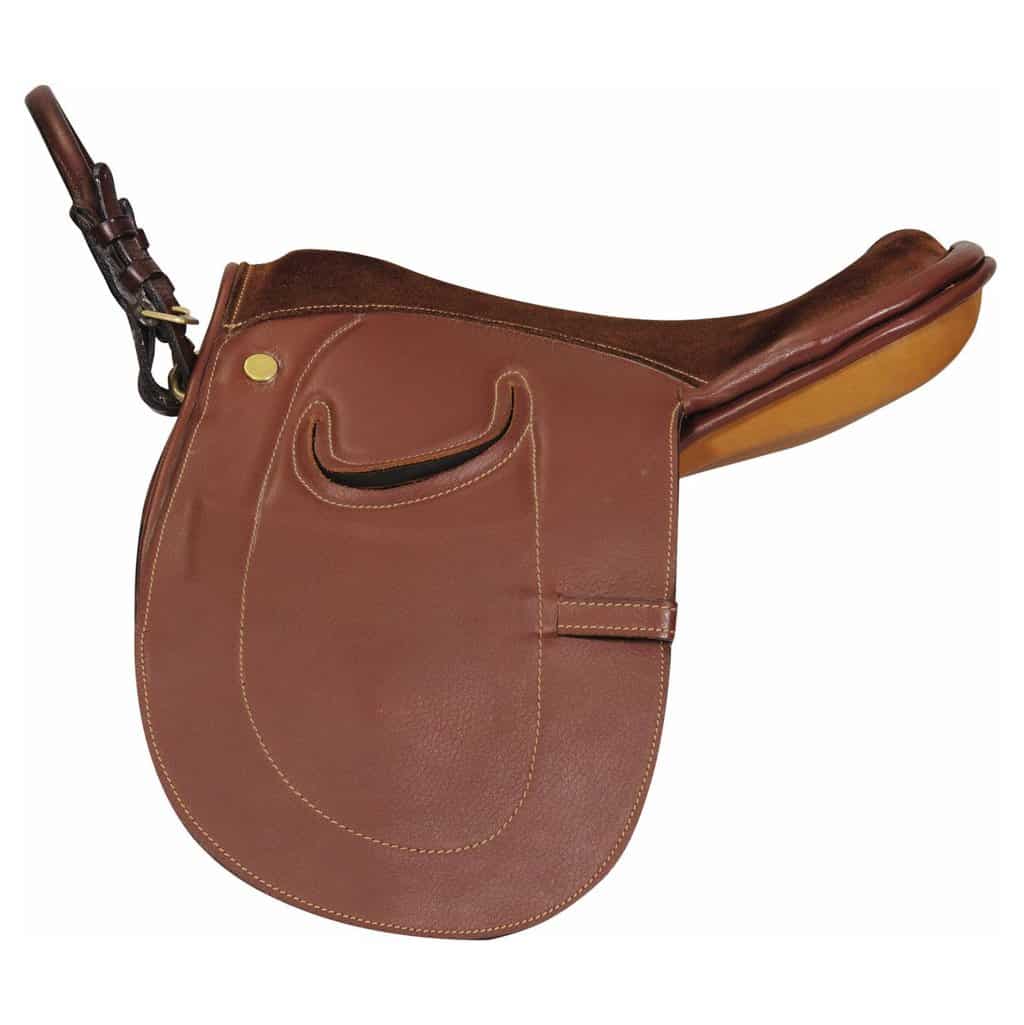 Description
Start your child's riding career without any worries with this HDR Advantage Pony Leather Leadline Saddle. It has a detachable grasp strap for the security of your child and a suede seat to keep their little bottoms in place. Also, the suede seat has a rough texture that provides perfect grip and prevents your child from slipping.
Moreover, it features plain oak bark printed flaps with a wing-like stitching pattern giving it a beautiful and kid-friendly look. And the short skirt length makes it appropriate for short legs.
This saddle is lightweight and an excellent fit for ponies and most small horses. And it also comes with a small stitched pocket, so our young riders can easily rest their feet inside. So, whether your child is just starting out or is a more advanced rider, this is the perfect English saddle for them.
Pros
This saddle comes at a pretty low price, making it perfect for young equestrians.
The saddle has an exceptionally light build, making it perfect for smaller horse breeds.
Cons
Due to this saddles' smaller design, it isn't appropriate for teens or adults.
Cutback Saddles
Another kind of saddle HDR offers is Cutback saddles, also known as Saddle Seat saddles. This type is helpful when riding gaited horses as it comprises a cutback pommel to accommodate their higher withers.
Henri De Rivel Belmont Cut Back Saddle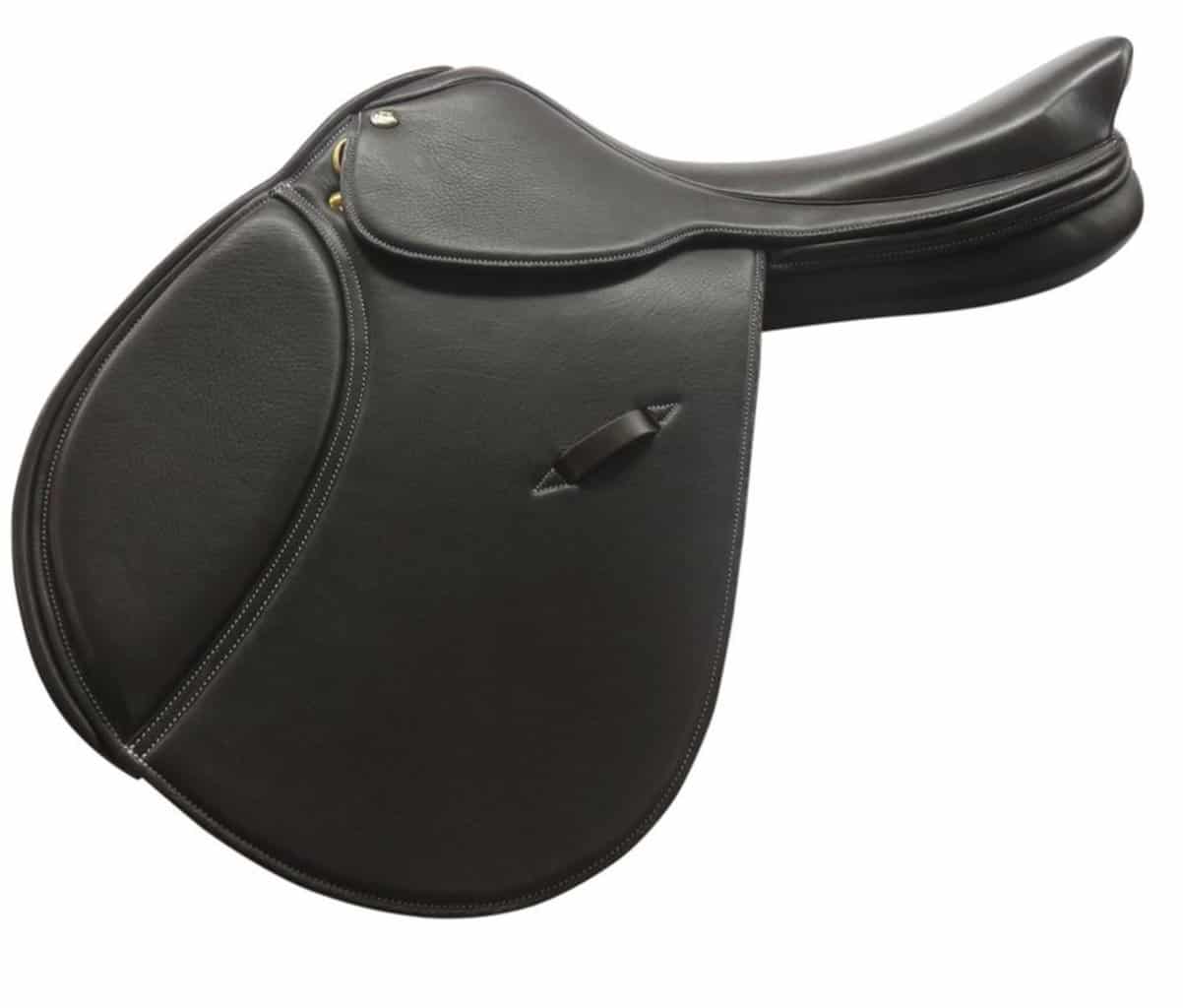 Description
Now, coming to another great HDR saddle option, especially if you own a Morgan or a Tennessee Walking horse. However, if you don't own them, I would still recommend this Belmont Cut Back Saddle solely due to its sleek design.
Its foam-flocked panels allow for a comfortable fit with a cushioning surface between the saddle and the horse. While the smeared and smooth leather makes the whole riding experience much more pleasurable.
With a cutback pommel, the horse can freely move its shoulders without rubbing them against the gullet, which may, otherwise, lead to dead skin. This saddle also features protruded padded flaps that end even further from the pommel to prevent the rider's leg from being bruised by the girth buckles.
Its moderately deep seat allows the rider more changes in the position, making it comfortable for longer distances. However, I do not like the sleek stirrup leather keeper. It can easily break off if any pressure is applied while passing the stirrup leathers through it.
Pros
This saddle saves the horse from developing calluses at its shoulder area due to continuous rubbing against the saddle.
Its protruded flaps are perfect for riders who have long legs.
Cons
The Havana color of this saddle makes it look pretty old.
FAQs
Question: Where are HDR saddles made?
Answer: Henri De Rivel's saddles are comprehended and designed in Europe while manufactured in Argentina using the finest Argentine leather.
Question: What types of saddles do HDR deal in?
Answer: HDR deals in the English line of saddles proposing a large variety. However, some more popular HDR saddle types include All-Purpose Saddles, Dressage Saddles, Jumping Saddles, Leadline Saddles, Exercise Saddles, and Cut-back/Saddle seat Saddles.
Question: What does a serial number read on an HDR saddle?
Answer: An HDR usually has its serial number inscribed under its flaps. The first two digits are the seat size which can be 16, 17, or 18 (in inches). While the following two numbers in the four-number block are the tree size in centimeters.
Wrapping Up
Few saddleries can compete with Henri De Rivel regarding quality at an affordable price. They are popular among riders of all skill levels because of their enduring design and superb craftsmanship. And let's not forget the wide variety of types they offer, making them one of the go-to saddle brands.
However, certain factors might influence your decisions when it comes to purchasing a saddle. You need to match the dimension of the saddle with that of your horse. Also, you have to pre-determine the purpose your saddle will serve. And let's not forget the most crucial, i.e., tip setting a budget for yourself beforehand.
Talking about my favorite HDR saddle, I found Henri De Rivel Memor -X Close Contact a highly sensible bet. The memory foam seat of this saddle makes it cozy for the riders who have to spend a long time riding. Its beautiful stitching and Australian nut hue make it the ideal choice for the show ring. And its quality materials, like nylon billet straps and padded panels, ensure that this saddle will last for years.
By now, I hope you have understood what makes HDR saddles so impressive. And I am pretty sure you have decided which HDR saddle will best serve your interest. Happy Shopping!
Recommended Reads: