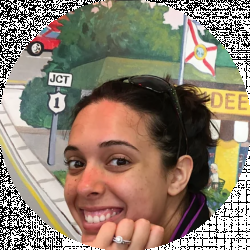 Latest posts by Marissa Moss
(see all)
I was so excited to purchase my first saddle!
There was a tack shop near my home where an older Amish gentleman with a righteously long beard owned it. I must have popped into that shop at least a dozen times to ask questions and drool over all the saddles he had in there. Thankfully, he was a patient man because I was a new horse owner with a boatload of questions.
I finally went with what fit my budget best and provided the best comfort to both my horse and me. It was a synthetic Western saddle with a pink seat. I was so proud of that saddle. The thrill that went through my whole being when I first put it on my horse and climbed up in it – nothing quite like that feeling.
So now we're here, and you have decided on getting a synthetic saddle but are, perhaps, slightly overwhelmed by all of the options. Totally understandable. There are so many options!
Bottom Line Up Front
Finding the saddle that works best for you and your horse can be challenging. Make sure you have the right fit for the two of you and that it fits what you do – either Western or English riding.
And let us not forget that you two, being a team, have your unique blend of personalities, and a saddle can help present that uniqueness to those around you. The options presented here will hopefully help in giving you some guidance on how to find your perfect saddle.
What is a Synthetic Western Saddle, Anyway?
Let's start with synthetic. What makes a synthetic saddle a synthetic saddle?
A synthetic saddle is crafted from man-made materials, usually nylon or vinyl, or a combination of the two. Since these materials are cheaper than leather, synthetic saddles tend to be cheaper than leather ones.
Western saddles were created to provide comfort for both horses and riders. They're comfortable to ride in for hours at a time, and things like canteens and saddlebags can be easily attached. While Western saddles made of leather are quite heavy and difficult to manage, synthetic Western saddles are much lighter and easier to manage.
How to Select Your Perfect Saddle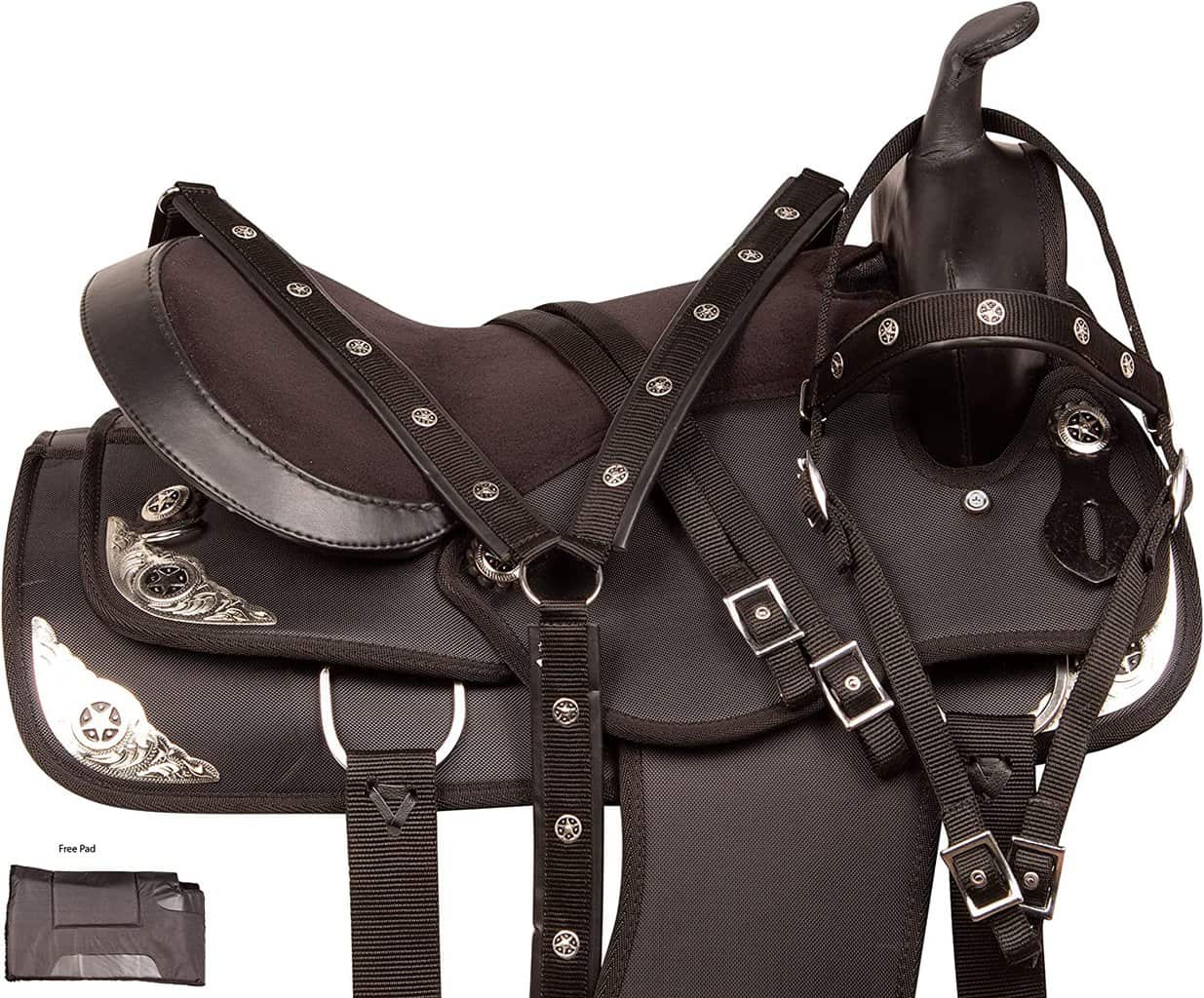 There are a few things to remember when you're looking to buy a saddle – whether it's your first or fifteenth saddle. The most important thing to keep in mind is the saddle's purpose. Below are a few purposes that you could find different saddles for.
Newly Trained Horses
Are you just starting to get your horse ready to ride? If so, the Mustang Soft Ride saddle would be a good choice. It's light and small enough that the size or the weight won't overwhelm your horse.
Trail Riding Saddles
What if you want to ride with your horse on a long trail ride? Personally, I like the Wintec saddle for a good, long trail ride. It's comfy for both you and your horse.
Show Horses
Entering a show or competition with your horse? The Acerugs, King Series, and URBAN Leather saddles are my suggestion. These saddles are classy, durable, and practical all at the same time.
My Criteria for Choosing the Best Saddles
Each of these saddles is great for riders and horses alike, with:
A comfortable seat for the rider.
Comfy padding for your horse.
A "comfy" price for your budget.
Best Synthetic Western Saddles Guide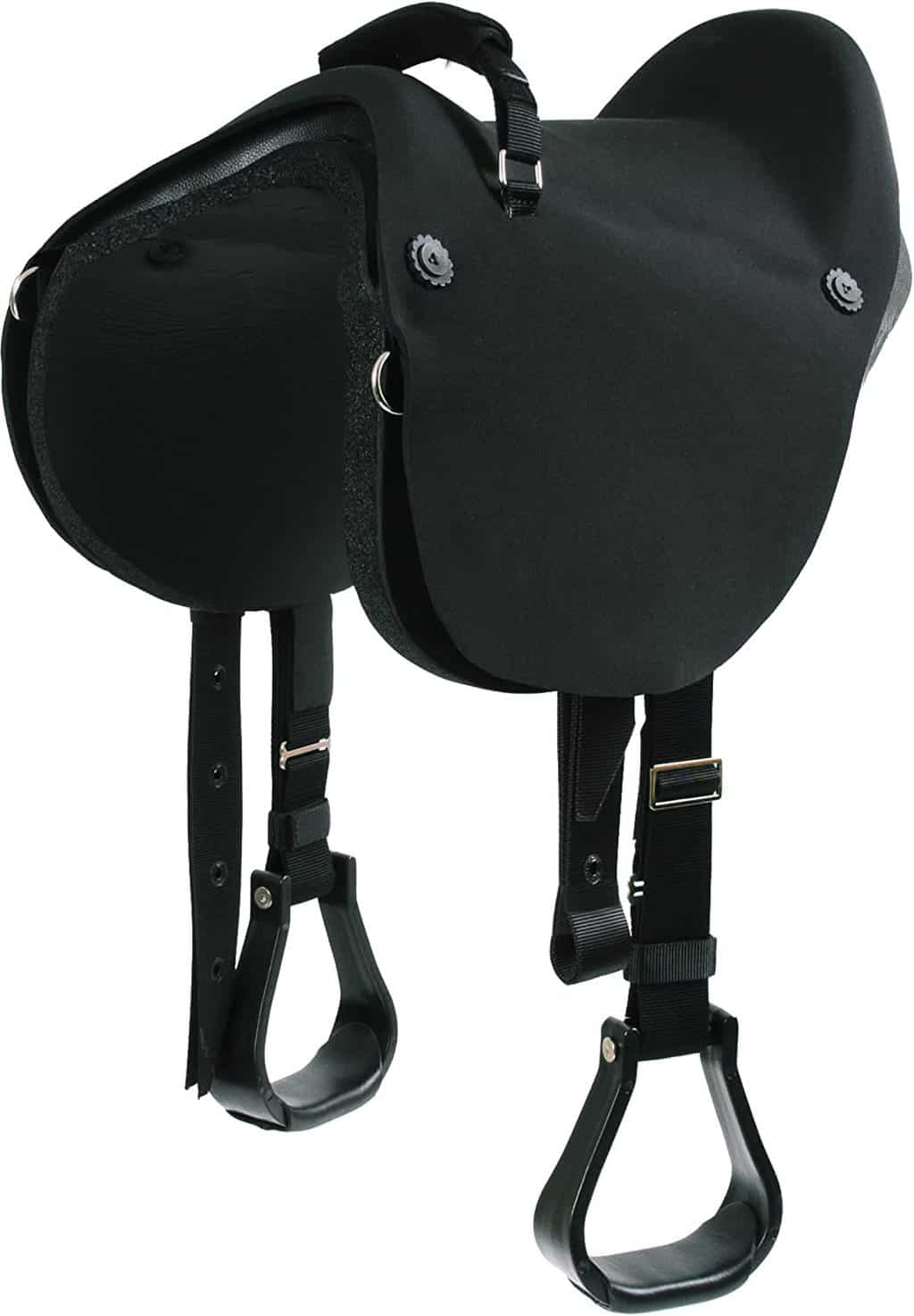 Acerugs Western Saddle is a good "starter saddle." It's made of synthetic materials, making it extremely lightweight; easy to clean and care for. Its tree (the center support from which the saddle "grows") is reinforced, making this saddle incredibly durable.
Pros
Easy maintenance
Synthetic materials
Reinforced saddle tree
Lightweight
Good bang for your buck
Cons
Seems cheaply made
Fit on your horse may be a little iffy
Not made for intense use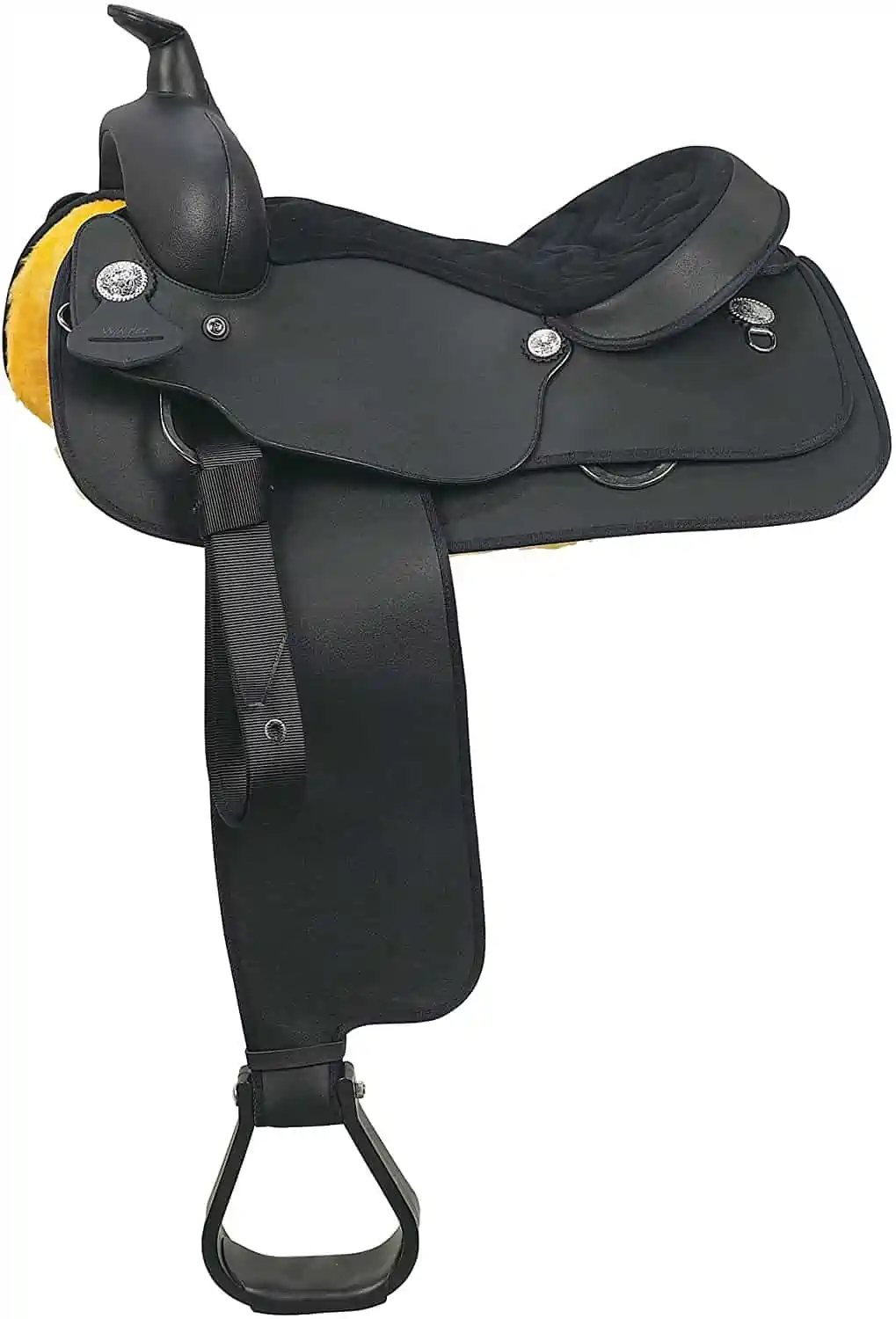 This saddle is great for getting a horse used to being ridden. Its lightweight design is perfect for hitting the trail or doing round-pen exercises. It is also very easy to clean, making it perfect for going from the trail to a show!
Some riders have expressed that the stirrups are set a bit awkwardly, not too big of an issue, but maybe something to keep in mind when purchasing. Also, if your horse is a bit on the rounder side, a thicker saddle pad may be needed to help keep the saddle in place.
Pros
Easy to clean
Adjustable handle and stirrups
Great for trail rides
Cons
Stirrups are set in a slightly awkward position
Can sometimes slip on rounder horses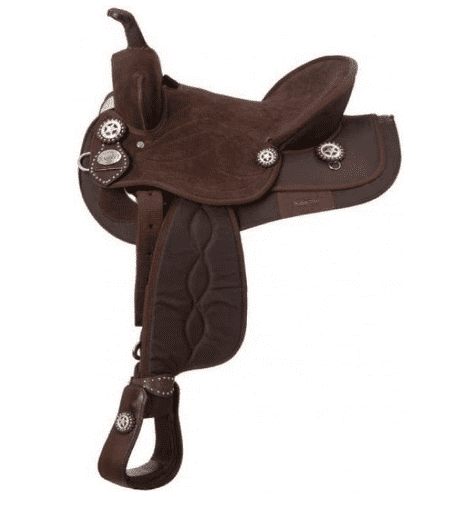 I personally love Wintec's synthetic western saddle. They're lightweight, affordable, and extremely durable! On top of all that, they're stylish. They can also be used for trail riding, round pen exercises, shows, rodeos, you name it. The one bummer is that their girth belts tend to be a little short, so a longer girth will most likely be needed.
Pros
Weather-proof
Lightweight
Durable
Affordable
Cons
Girth belts are a little short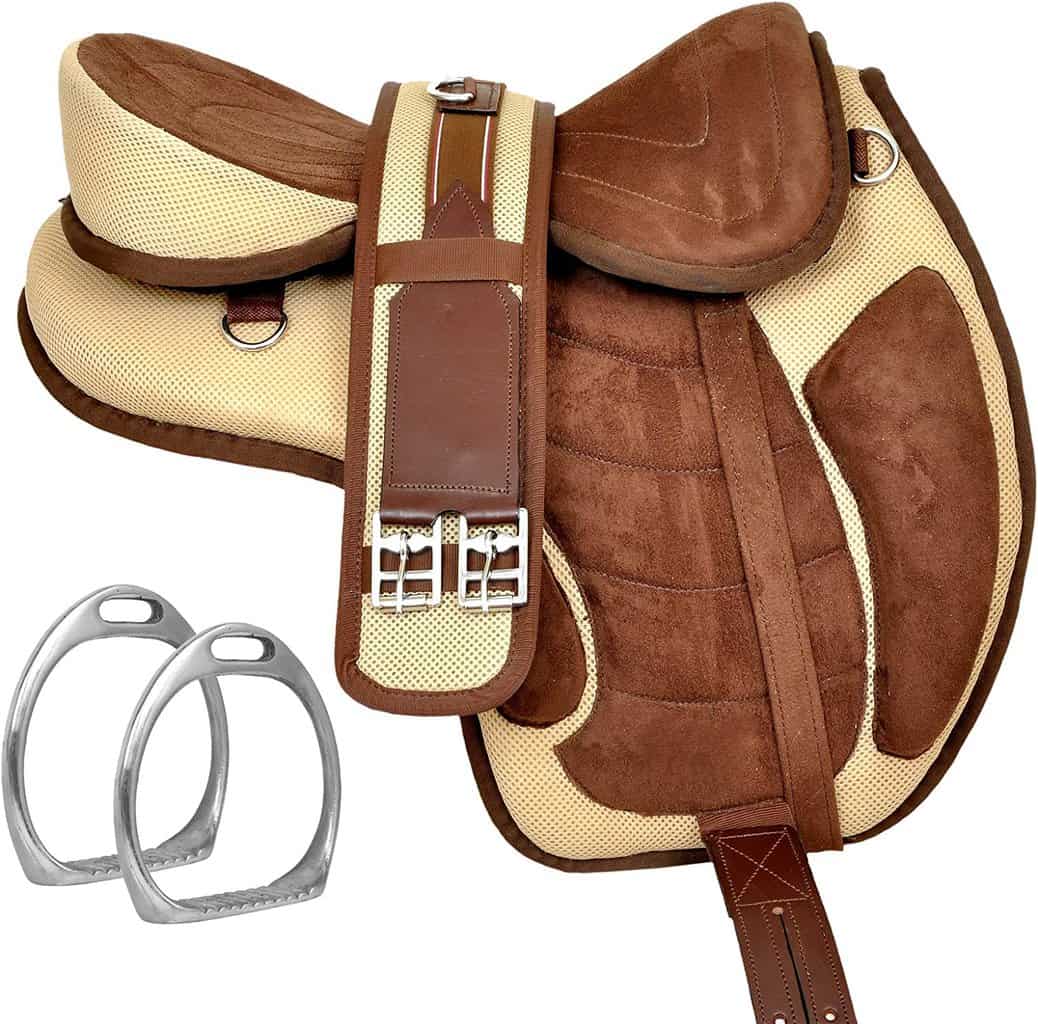 This tough saddle is created for tough competition. Think barrel racing saddle, catting roping saddle, pole-bending, and the like. The quality is great, and it's scratch resistant which keeps it looking good throughout your competitions. The seat is super comfy!
For this saddle, the only downside is that they make it with wide shoulders in mind. If your horse has more narrow shoulders, I'd recommend either using an extra saddle pad or purchasing one extra thick pad.
Pros
Lightweight
Scratch resistant
Good quality
Very comfortable
Cons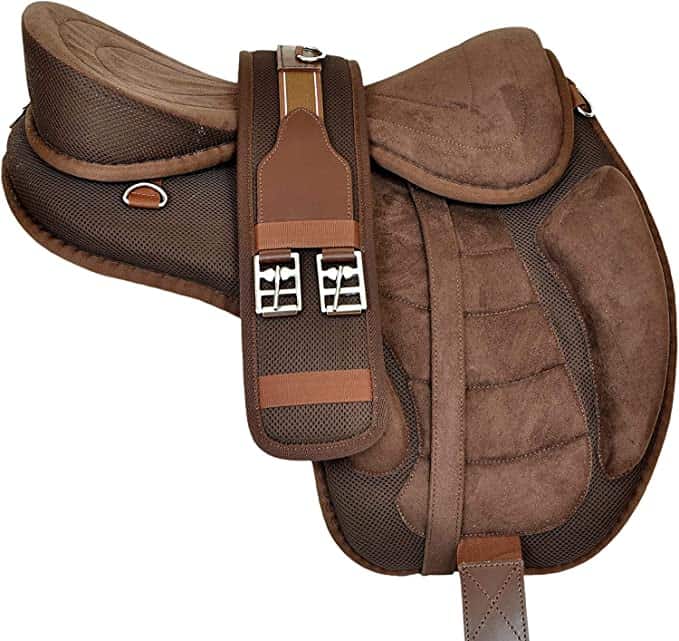 I threw this one in here simply because it is so unique and interesting to look at! URBAN LEATHER designed a unique saddle in that they made it treeless – meaning there is no middle structure like there is in most saddles. This design facilitates a comfortable ride for both you and your horse.
They've also made it out of suede that is extremely easy to clean and lined the underside with ultra-soft fleece – that's a win-win in my book!
Pros
Suede is washable
Fleece is super soft
Great for pleasure rides and daily exercising
Cons
Coloring is a little strange (at least to me)
FAQs
Question: What are you using the saddle for?
Answer: Trail riding? Rodeos? Dressage? Jumping? Racing? For trail riding and rodeos, I find that Western saddles are the most comfortable and the more practical option. Dressage, jumping, and racing typically calls for an English saddle.
Question: What is your budget looking like?
Answer: When you're looking for the perfect saddle, chances are it's going to take a few tries to get it right. The synthetic saddles listed here are perfect for just that purpose. Not so expensive that they break the bank, but also not so cheaply made they fall apart on the first use.
Question: What is best for your horse?
Answer: Does your horse have narrow shoulders or broad? Think about their comfort level – you may not want to add the weight and heat of a fully leather saddle. Especially during the hot summer months, so a lightweight, synthetic saddle is a good choice.
Final Thoughts
While finding the best synthetic western saddle can be overwhelming, it can also be a really great experience! While shopping for my first saddle, I met many new and fascinating people. Each person would share what they did or didn't like about a particular saddle, and I would tuck that information in the "saddle section" of my brain and use it to make my final purchase.
The saddle I went with – which ended up being my and my horse's favorite for years – was the WINTEC Western saddle. It was all black with a pink seat and pink horn. What can I say? I like to show off my fun personality even in the saddle I use to ride my horse. It's fun to be fun!
As you're shopping for your perfect saddle, make a list of what you want and what your horse needs the saddle to be. Take the necessary measurements to help ensure a comfy saddle fit. Being armed with that information will help you in making your final decision.
Remember to enjoy the process. That will make using your new saddle all the more fun and enjoyable!
Read More: