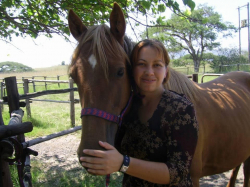 Latest posts by Talitha vanNiekerk
(see all)
The Wade saddles brand has become a much-desired Western saddle for those interested in authentic horsemanship and natural horsemanship. The unique cut, tree design, and proud history of the Wade brand have made it the pinnacle of Western saddlery. 
I was instantly hooked when I first saw a video of Ray Hunt riding in a Wade saddle. There was just something about the effortless way in which he could maintain balance, communicate with his horse, and get the job done. Whether roping, loping, or barrel racing, the Wade saddle ticked all my boxes, and I began the long journey of looking for the perfect Wade saddle for my horse and me. 
I would discover that there are "Wade" saddles, and then there are WADE saddles. The first Wade saddle designers would cringe at some saddles sold under the Wade name today. The Wade name often becomes a sales gimmick.  
Digging deeper, I learned what to look for when choosing a Wade saddle and how to ensure I only got the best. If you've ever wanted to buy a quality and genuine Wade saddle, you've come to the right place. I've got all the information on what makes a Wade a Wade and how to choose a Wade to suit your own riding purposes.  
Best Wade Saddles Bottom Line Up Front
I chose to buy the Star Trading Company Premium Leather A Fork Wade Tree Western Roping saddle since it suits my small budget, while it also delivers fantastic quality at that price. The saddle comes with a matching bridle, has a quality wood (wrapped in fiberglass) Wade frame, the typical short and stubby Wade saddle horn, and enough detailing to fit in at the Western shows I attend. 
My Top Picks Up Front for the Best Wade Saddles
Wade Saddles: Tips, Facts, and Advice
When you look at a Wade saddle, it's essential to look at it from all angles. Don't just think it's called a Wade saddle; therefore, it needs to be perfect. There are some really dodgy saddle manufacturers who sell "Wade" saddles. You'll understand why regret comes too late when you ride in these.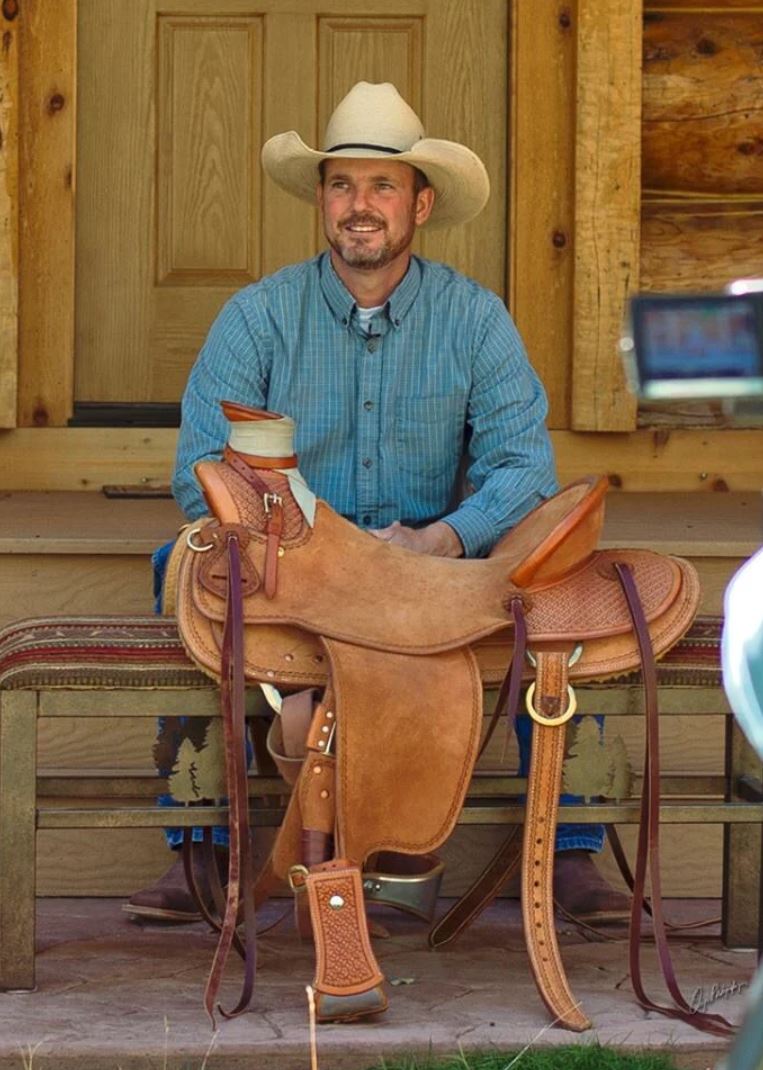 Did You Know? The secret to a quality Wade saddle is the single pommel with an integrated horn that is shorter and thicker than other Western saddles. The wider bars provide closer contact while clearing the horse's spine enough for airflow and connecting the rider's body to the horse's. 
A Closer Look at the Wade Saddle Tree
The Wade saddle tree looks quite different from other Western saddle trees, especially to the trained eye. Sadly, many manufacturers pass off non-Wade saddle trees as Wade saddles, trading on the name and not providing the quality. 
Wade Saddle Tree Shape 
The Wade saddle tree isn't shaped the same as other Western saddles. The Wade saddle tree has a definite and one-of-a-kind shape and style. It sits closer to the horse's body, better matching the rider's center of gravity to the horse's. This closeness is made possible by the renowned wider Wade saddle fork. The wider bars of the Wade-style tree help carry the rider's weight better. 
Because the horse carries the rider better, and due to the lower setting over the horse's back, the horse has better leverage on a roped steer. 
The Slick Wade Fork
The Wade fork opens more at the bottom of the fork, which is what centers the saddle better over the horse's back. This system is also known as a slick fork. 
A swell fork is where the fork opens further up the fork. 
Integrated Wood Horn in the Fork
The saddle tree is perhaps one of the main areas where you can tell whether you are looking at an authentic Wade saddle or not. The horn on a Wade saddle can never be metal or any other material, and the horn needs to be shaped by hand from the same piece of wood as the fork and integrated into the rest of the saddle tree. 
Wade saddles gain their strength as a roping saddle from this unique integration. The horn is stronger because it is shaped out of the same wood as the fork and integrates better into the saddle tree due to its unique construction and joining methods.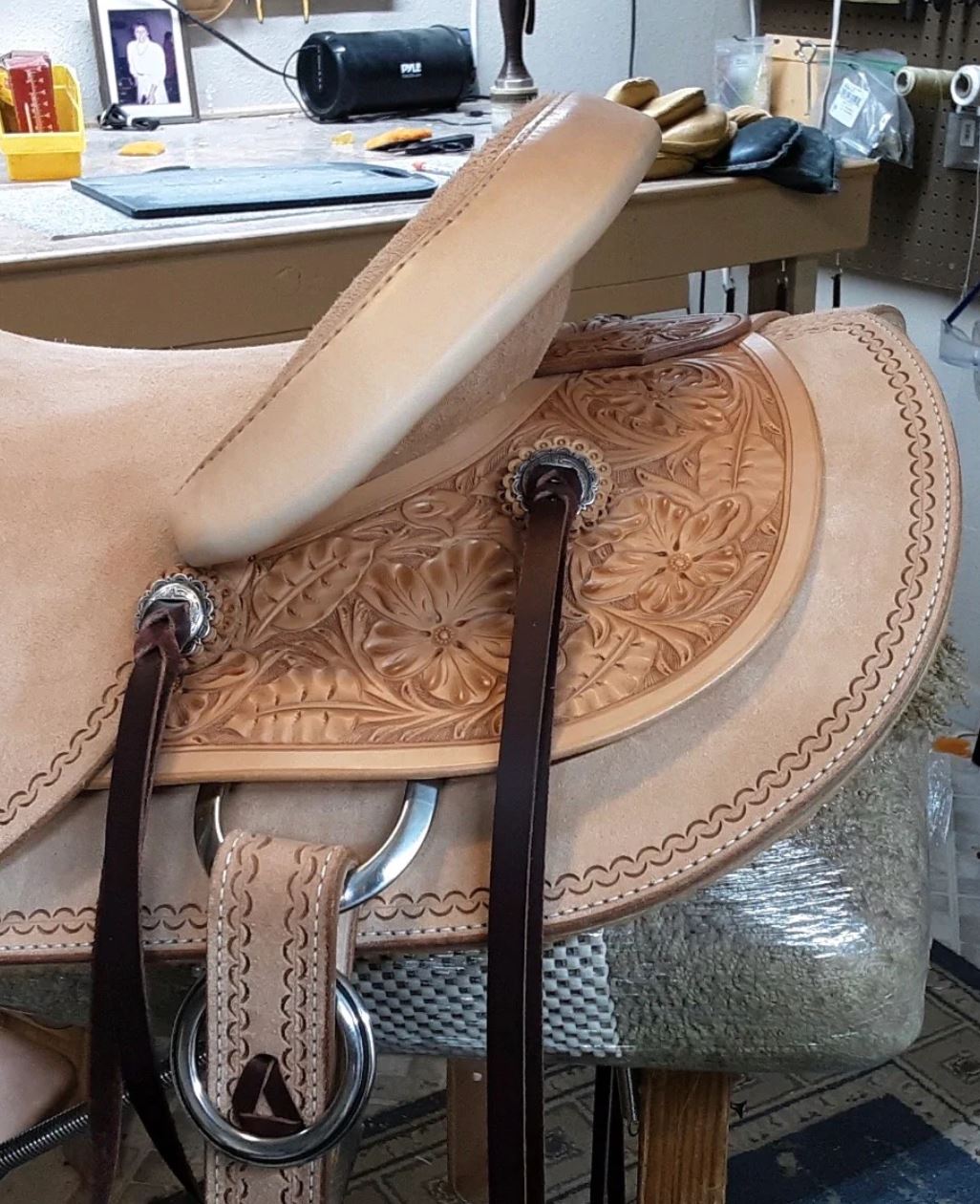 If the horn of a Wade saddle is made as a separate piece that is then added to the fork, the saddle is not authentically Wade-style.
Also, the length of the Wade saddle horn is shorter than other Western saddle types. A shorter horn with a prominent lip to the horn means the saddle is more comfortable for the rider over rough terrain, and the rider can work the rope on steers with much more ease. 
Thinner Gullet
While you've probably grown accustomed to thick and bulky pommels with a tall horn, this is not the Wade style. Instead, the Wade saddle has a thinner and more shallow gullet or pommel area. 
The saddle's strength lies in the single piece of wood used to make the pommel, gullet, and horn. With a thinner pommel, the saddle becomes lighter and more streamlined, and it can sit much closer on the horse's back, giving you that almost bareback sensation. 
Getting the Best of the Best: Buying an Authentic Wade Saddle
If you have the budget I sadly didn't; you can approach a master saddler and have them build a saddle on a genuine Wade saddle tree for your needs. A hand-crafted Wade saddle is not a mass-produced saddle, and it will cost you a large sum of money, but it is totally worth it. 
I visited a saddler in Oregon, right in the home of Wade saddles, and he offered me a ride on his quarterhorse with a custom-built Wade saddle. The level of comfort, communication, and balance is breathtaking. 
Making a Wade saddle from scratch is time-consuming, and it is involved. The wooden saddle tree is turned by hand, cutting the pommel from a single piece of wood and attaching it with traditional methods to the bars and cantle ridge. The Wade tree is then fitted to your horse, ensuring an entirely even fit, considering your horse's and your own build. 
Only then is the saddle padded and covered in the highest quality leather. It's genuinely a saddle that lasts a lifetime (and more). 
Selection Criteria for Finding the Best Wade Saddles
When you look at all the different "Wade" saddles available online, finding a Wade saddle you will be happy with can be challenging. Yet, these criteria helped me find the best Wades on the market, and I'm taking the hassle out of this for you by sharing these saddles here.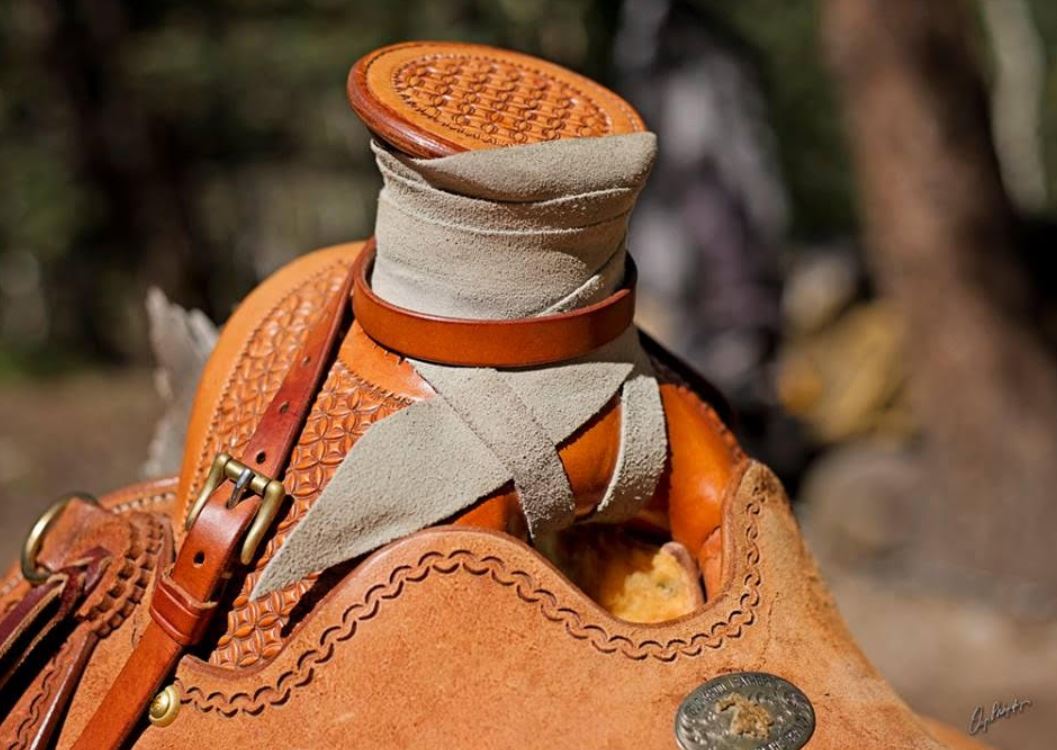 Find a Seat that Fits You
A saddle seat should fit your body's dimensions. As a general guide, your saddle should offer:
Four fingers between your belly button and the horn or pommel

One finger width between your legs and the round part of the pommel or swells where these join the saddle bars (One finger gives a snug fit, while two to three fingers provide a more relaxed fit)

Your tailbone and back should sit comfortably without feeling pushed into the cantle
Find Small Swells for a True Wade Saddle
Wade saddles were never designed for rodeo riding, so the swells are small and cut away to create a smaller front end of the saddle. If you are looking at a saddle with a large pommel and a tall horn—it's not a real Wade saddle. 
A Scooped-Out Gullet
Most traditional Western saddles have a tall gullet, where the gullet is thick and high. The extra mass also means the saddle has an elevated center of gravity, limiting the horse's leverage when working a rope to keep a steer under control. 
So find a saddle with a lower and thinner gullet to lower your center of gravity for better balance. 
Consider Your Horse
While a Wade saddle is a highly functional saddle type, it isn't for every rider or every horse. A tall withered thoroughbred may not find a Wade fork comfortable at all due to the dropped gullet. 
Likewise, a horse with large shoulders may not benefit from the lower bars on a Wade saddle. Therefore, keeping your horse's build in mind is essential, not just buying into a name or brand hype. 
The Comfort of the Horn
Since the Wade saddle's horn is cut from the same block of wood that shapes the gullet, creating a single piece of wood that joins the tree, the Wade horn is strong and functional. If you see a saddle with a metal horn or a tall horn with loads of trimmings, it's not a Wade saddle.
If you do work steers, a metal horn may not be a good idea as it won't carry the weight of a roped steer as well. The shorter, integrated five-inch Wade horn offers strength and helps your horse stay balanced when a thousand-pound steer is pulling at them. 
Budget
Yeah, unfortunately, budget is a real consideration for most of us. I would have loved to buy a custom-built Wade saddle for my training work, but sadly, it wasn't in my budget. Fortunately, I could find a quality Wade saddle that did fit my budget, and I am grateful for the quality and affordability it offers. 
Consider your budget, what you are buying for the price, and whether the saddle will really be worth it in the end. Wade saddles are great, but they aren't the only great Western saddles out there. 
Best Wade Saddles Recommendations
Best Wade Roping Saddle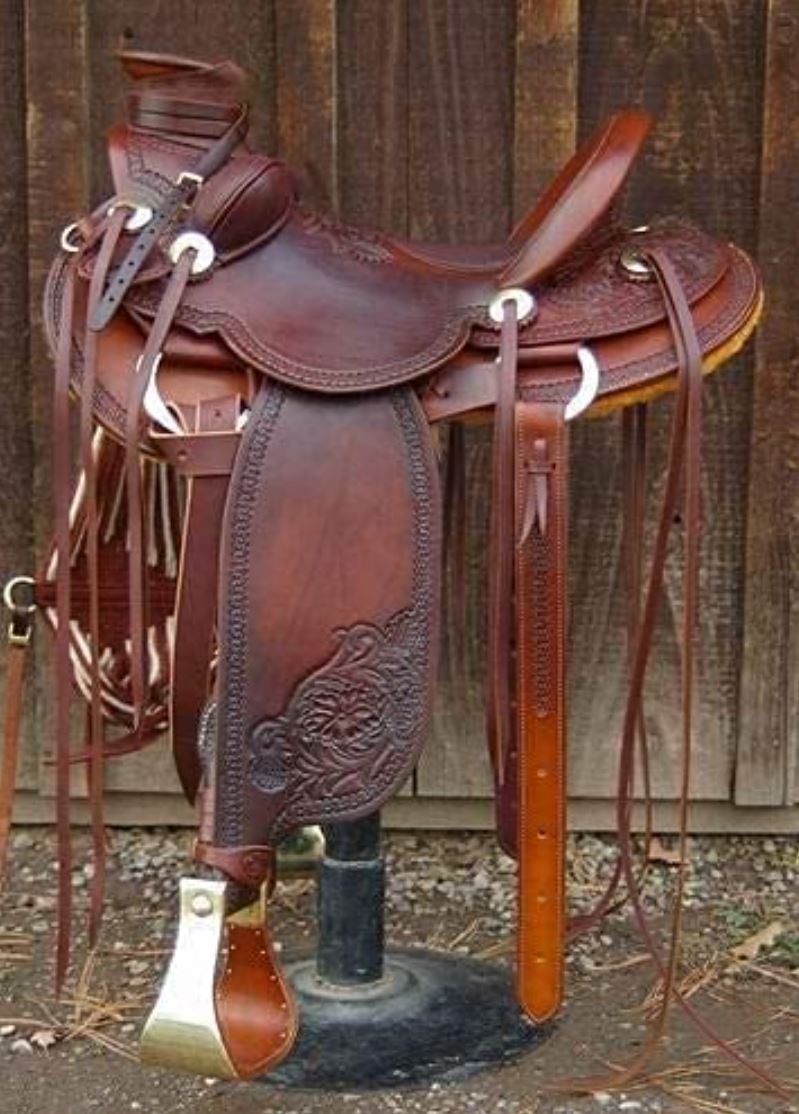 The Star Trading Company Premium Leather A-Fork Wade-Tree Western Roping saddle offers all the great benefits of a Wade tree and the tooling and stylizing that comes from handmade quality. Additionally, the saddle comes with a matching bridle, stirrup leathers, and Western stirrups. 
Pros
Covered with cowhide for strength

Double-wrapped mule skin horn for extra strength and durability

Low and wide horn for roping and holding steers

Stirrups come with Blevins buckles 

Fiberglass reinforced Wade tree 

Silver conchos and leather ties complete the functionality 

Low price at $359.99
Cons
It doesn't come with a front or back cinch

Imported, so some variations on detailing are to be expected
Best Basic Wade Saddle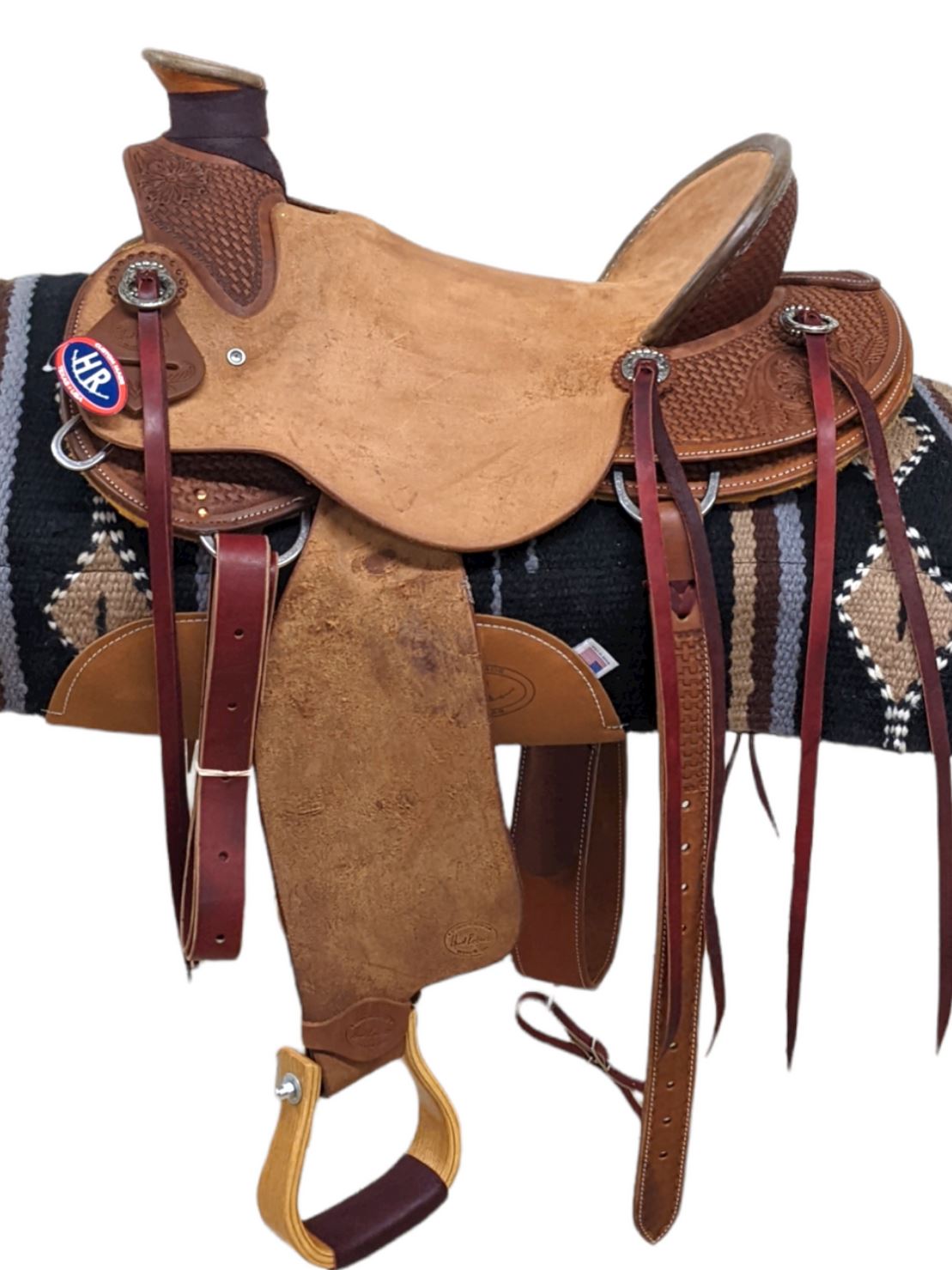 A basic Wade saddle need not be a cheap saddle. The 16" New HR Saddlery Western Staci Wade Saddle is a costly but high-quality rough-out saddle. It's ideal for crossing rivers, roping steers on the range, and enjoying a canter up the local canyons. 
Pros
Includes rough-out seat, fenders, and saddle jockey

A seven-inch gullet rides low for better balance while still clearing the horse's withers over rough terrain where more movement is required

Strings and conchos are functional and decorative 

Front and back cinches are included 

The cantle features a pencil roll to help secure the rider in the seat

A curved skirt helps cool a horse during a day of ranch work
Cons
Pricey at $2,136

Light color may stain over time

Fenders and saddle seat are both made from rough-out leather, which can become fragile if exposed to rain
Best Trail Wade Saddle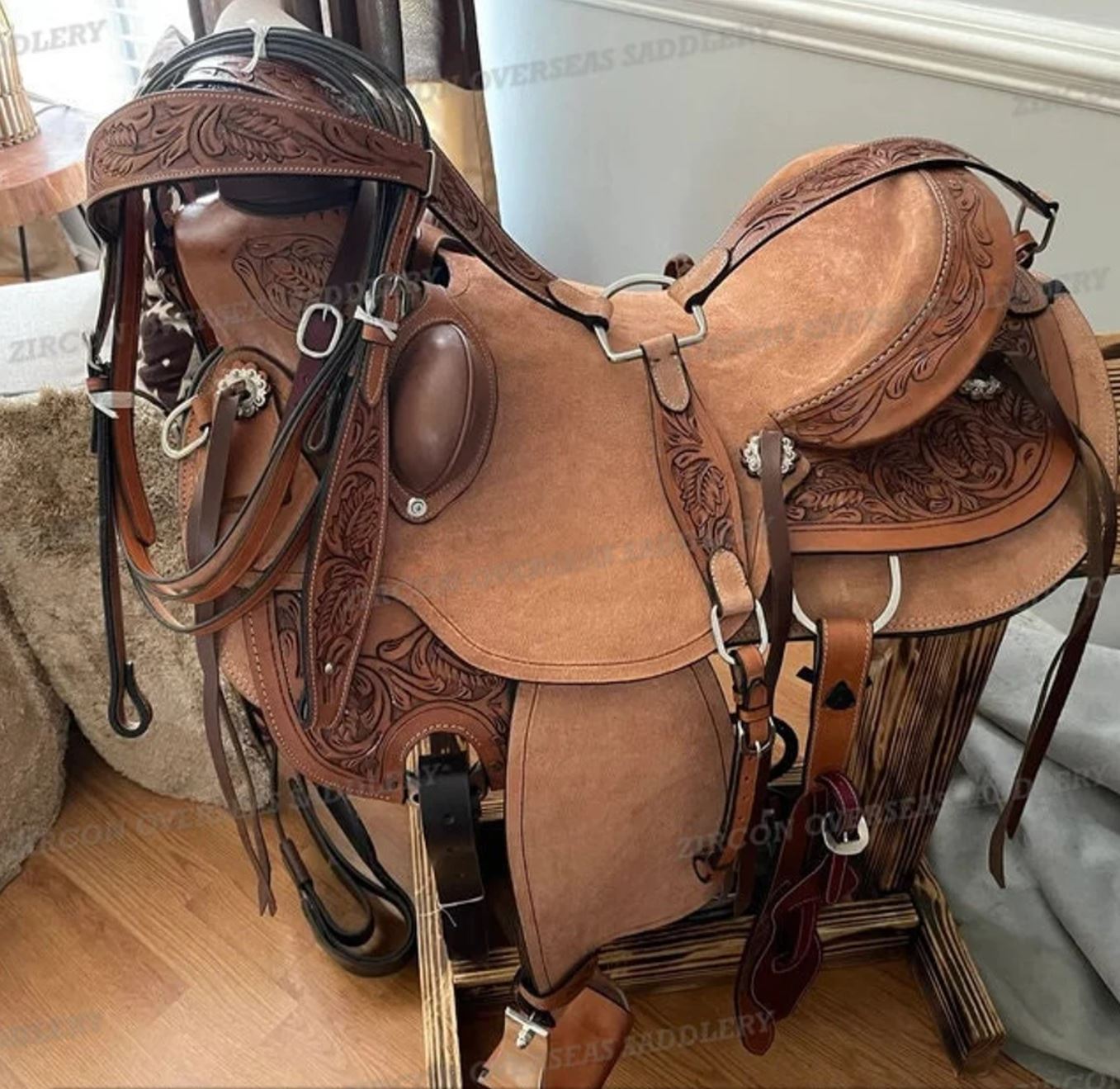 I really love this Wade Tree A Fork Premium Western Leather Roping Ranch Work Equestrian Trail Horse Saddle tack set. It's a complete tack set, including breastplate, bridle, saddle, front and back cinch, fenders, and Western stirrups. While imported, this is a high-quality saddle set with rave reviews from many satisfied riders. 
Pros
Complete Wade saddle system with a seven-inch gullet over full quarterhorse bars

The swell is eight inches, with the cantle being four inches

The thick Wade horn is carved from the same wood as the rest of the pommel, and it's short at the perfect three by five inches dimensions. 

The saddle is surprisingly light at 28 pounds

Beautiful tooling completes the picture-perfect saddle 

Stainless steel fittings and aluminum stirrups covered in leather ensure safety 

Reasonably priced at $380.10 (but remember that import tax will apply)
Cons
While the swells are adjustable, these are not typically an authentic Wade saddles accessory

Limited conchos and strings to attach saddle bags and a bedroll for overnight rides
Best Classic Wade Saddle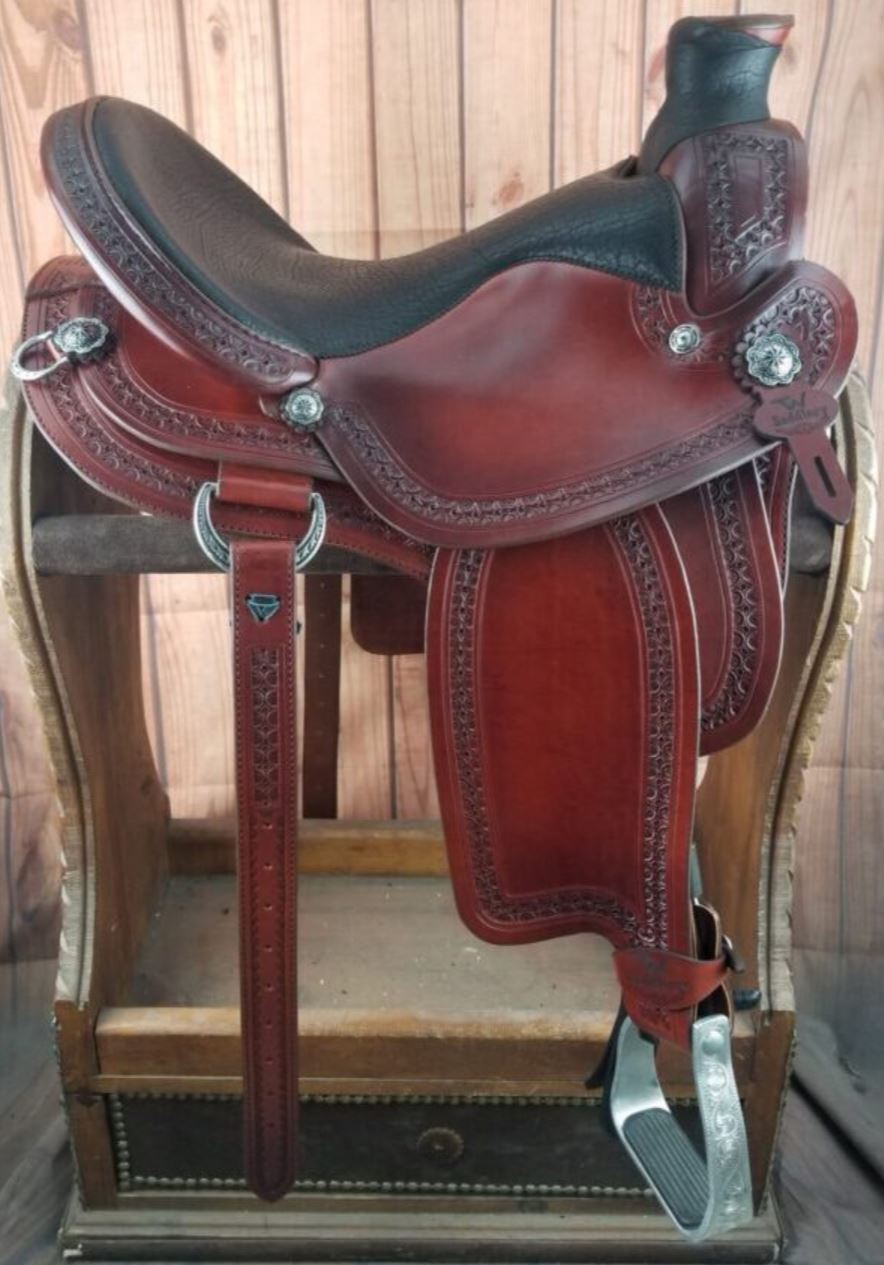 The classic Wade saddle is not just about the saddle tree. It's also about the overall quality and craftsmanship, and the TW Saddlery Classic Wade saddle doesn't disappoint. 
The saddle is FULLY customizable. You can choose different colors and finishes for every part of the saddle, from the horn, the jockey, the seat, and the fenders, as well as the shape of the skirt, the type of conchos used, and the overall finishing. 
I spent a good few hours drooling over the gorgeous design options, but ultimately, the price was simply out of my reach … but one day! (A girl can dream, right?)
Pros
Reinforced roping horn constructed from the pommel wood

Comfortable seat for trail riding 

Adjustable to fit a range of horses

It comes with a shim adjustment kit that fits beneath the bars to customize your saddle

Reasonably lightweight at 23 pounds
Cons
Very pricey at $3,195

Saddle colors can be customized, but this makes cleaning a bit of a challenge as each type of leather requires its unique oil and cleaning process. 
Best Ranch-Style Wade Saddle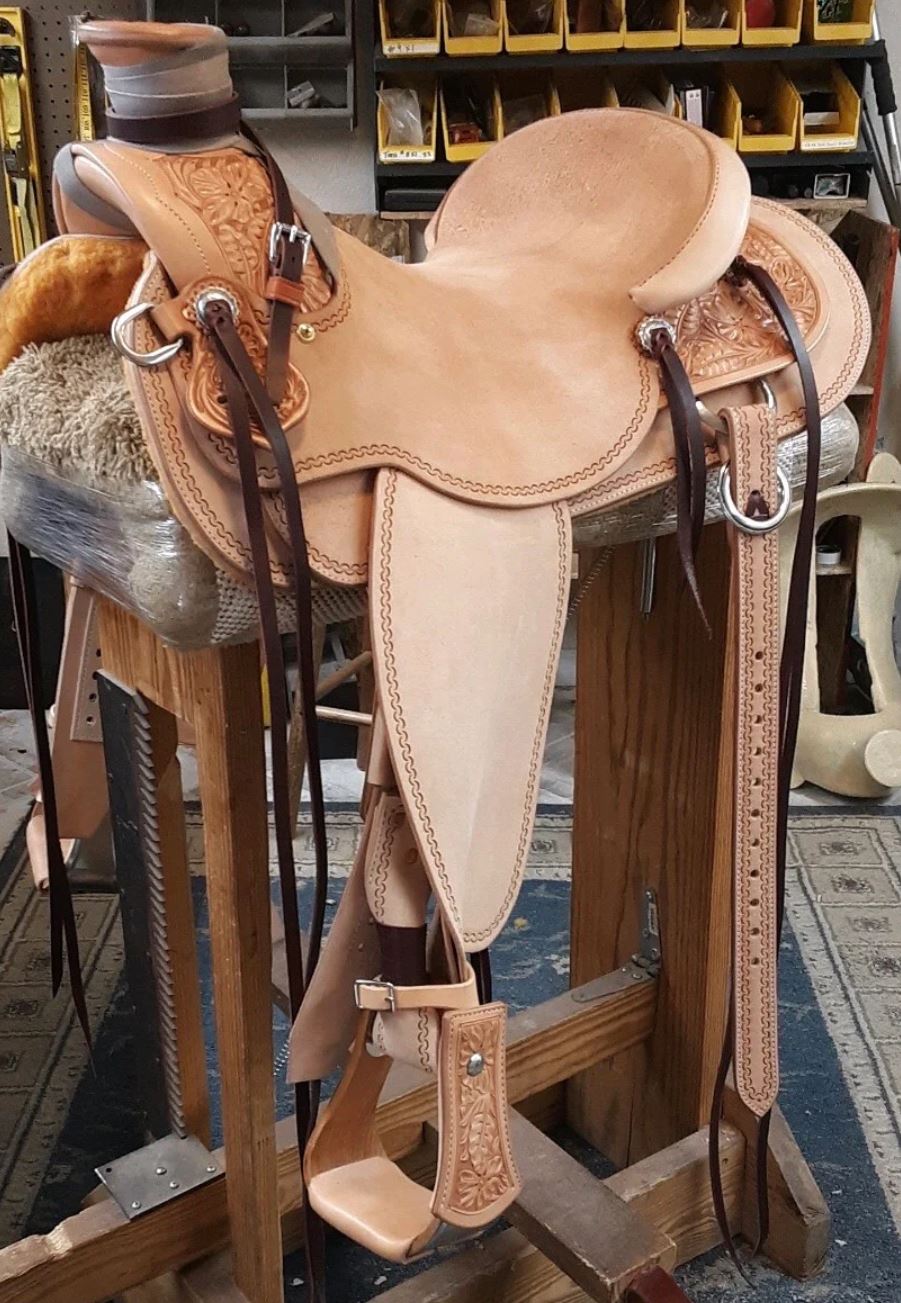 If real ranch work is your goal, the Clifford Wade Buckaroo Ranch Saddle is a quality investment you won't regret. 
Despite the hefty price, the saddle comes with a lifetime "cowboy sense" warranty. This warranty is a lifetime guarantee to fix any ranch-related damage your saddle may incur. It doesn't cover neglect or abuse, but you're covered if your horse falls on the saddle while roping a Texas longhorn bull. 
Pros
Available in three leather finishes according to your preference

Custom fitting, where the wood saddle tree can be customized

Bowden-style Arizona Bars are fitted with a Wade slick gullet

The company guarantees their saddles won't cause saddle sores

Top-quality leather used and finished with hand-rubbed neatsfoot oil

100% wool used to line the saddle up to an inch in thickness for extreme comfort for your horse

Three-inch stirrup leathers and leather-covered aluminum stirrups
Cons
Hold onto your seats; the price is a whopping $3,950 (better save up for this one)

Limited size seats available (only 15.5 and 16-inch seats)
Best Youth Wade Saddle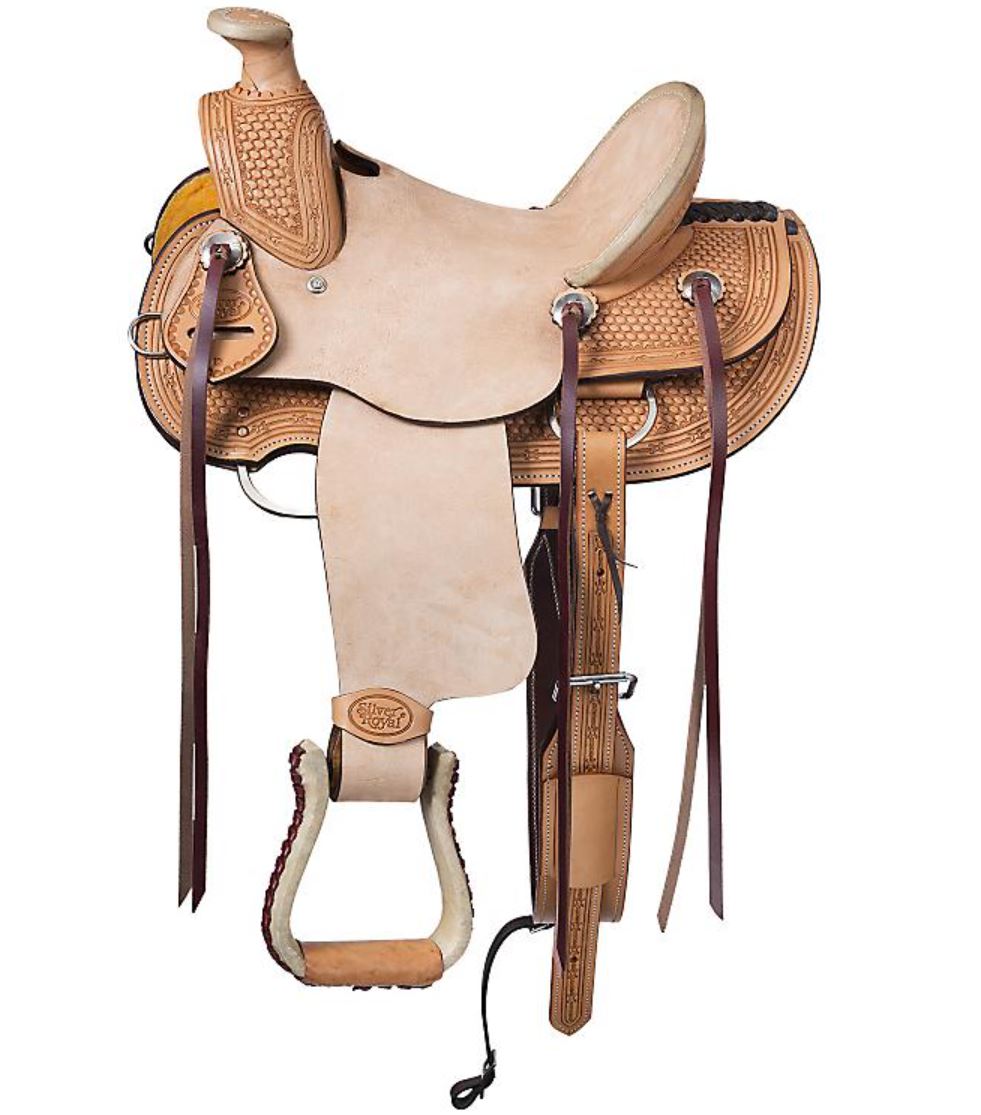 When your kiddo is ready to start loping and roping, the Silver Royal Walburg Youth Wade Saddle is ideal. 
Pros
Wade tree is rawhide covered for strength

Full quarterhorse bars for a generous fit

Three-inch horn 

Four-inch cantle

Six-and-a-half-inch gullet for a lower center of gravity 

Basket weave finishing 

Weighs 30 pounds (so you may need to help your kiddo saddle)

Fair price at $499 (regular price $899)
Cons
The light seat may stain if exposed to rain or soiling 
FAQs
Question: Are Wade saddles good?
Answer: Wade saddles are excellent saddles that are hardworking, durable, and offer the best close-contact feel of most Western saddles. 
Question: Can you rope off a Wade saddle? 
Answer: You can absolutely rope off a Wade saddle. The saddle horn is especially useful for roping as it is lower and thicker, allowing the roping action to happen smoothly, while you can tie the steers down with the horn much quicker. The lower center of gravity of the gullet and horn also helps your horse's leverage power increase. 
Question: Do Wade saddles fit any horse?
Answer: Like most saddles, the fit will depend on the horse's build. Some horses require a different shaped set of bars, and high-withered horses will struggle with a lower gullet such as the traditional Wade gullet. 
The Final Wade Saddle
Without question, Wade saddles are something special, and they are great hardworking saddles for the professional rider, novice, or clinician. However, judge your "Wade" saddle with a careful eye, making sure that it truly is a Wade tree hiding under all the leather and trim. 
With a slick fork that rides low over the withers, an authentic Wade is a work of art. It will improve your roping skills, help you in your daily ranch work, and provide a comfortable ride for you and your horse. If you want to learn more about different types of saddles, why not read my saddle guide?  
Recommended Reads: