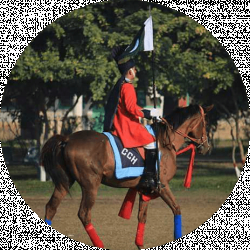 Latest posts by Boo Ali Khan
(see all)
"You will never plough a field if you only turn it over in your mind."
Controlling a beast necessitates a long span of its training. Even after you have successfully trained a beast, you would still need proper pieces of equipment to keep him under your control.
And one such item is a riding whip. It is a riding gear that changes its form from training a horse to riding it. Even when you have become a good rider, you would still need a whip, and it would keep on varying according to your need and activity.
Almost all equestrian whips follow more or less the same structure. A whip can be divided into three parts: the handle, the shaft, and a lash or keeper. However, the length and the material used in these parts vary according to the type of whip.
As the name suggests, the handle provides a better hold on the whip, and it is thicker than the shaft, which improves its handling. The shafts of whips vary in size but are usually composed of fiberglass or carbon. It is flexible in nature; however, smaller whips have rigid shafts.
The other end of a whip can either be a lash or keeper. Their usage varies from activity to activity; whips with lashes are used for training, while whips with keepers are used for riding. This guide is dedicated to the top whips, in my view. And how you can avail these options in the market to make your equestrian journey a lot easier.
Bottom Line Up Front
My favorite whip of all is the Black or Brown Horse Riding Whip. Its simple yet classy look always fascinates me. However, the best thing about this whip is its built quality. Its rigid yet flexible shaft makes it easy to use without the underlying fear of its breakage.
My Top Picks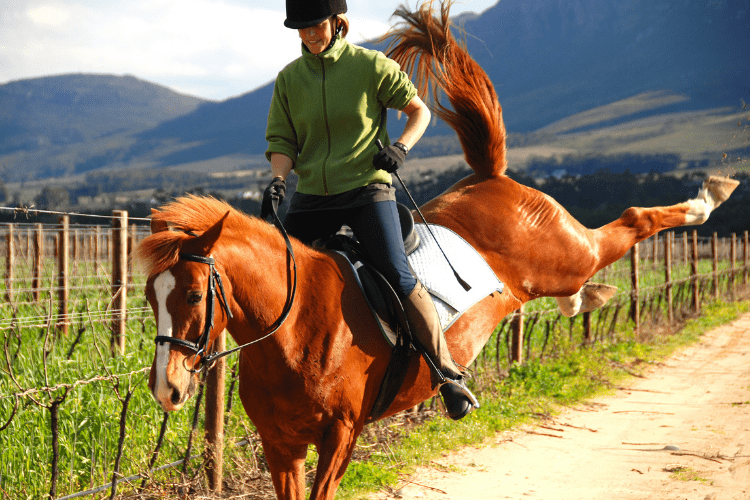 Whip: A Tool from Training a Horse to Mastering it:
So for How Long Have Whips Been There?
Just like horses, the exact origin of the whips is unknown. Old historical texts and engravings suggest their usage in Ancient Egypt. They were used as a symbol of power and status. Although these whips were not precisely like the riding whips, they shared the same features, such as a lash or flap attached to a shaft.
Even if equestrian whips do not provide a thorough history, it is believed that they have been around since humans became acquainted with horses. However, they were not in the form we observe today; instead, they were primarily sticks or tree branches.
Nevertheless, the popularity in the use of these whips was observed in the Victorian era, and it is all credited to the all-time famous horsebreaker Catherine Walters, aka Skittles.
My Equestrian Journey and First Encounter with Whips
Horses were a part of many activities throughout history, e.g., transport, entertainment, agriculture, wars, etc. Even today, their utilization in agriculture, transportation, and policing is not hidden from one's eye. But have you ever thought about what goes into making these, one of the most powerful, beasts listen to the commands of humans?
My love for horses began when I first saw the movie Spirit: Stallion of the Cimmaron in 2002. It was there that I observed that there was a stick-like structure in the hand of the "Colonel," who was using it to break the horse, "Spirit."
When I entered my college and joined the Equestrian club, I recalled that the stick Colonel was using was actually called a crop, a variant of a whip. And during my five-year equestrian journey at college, rising to become the Vice-Captain, I learned that a variety of riding whips exists that serve different purposes.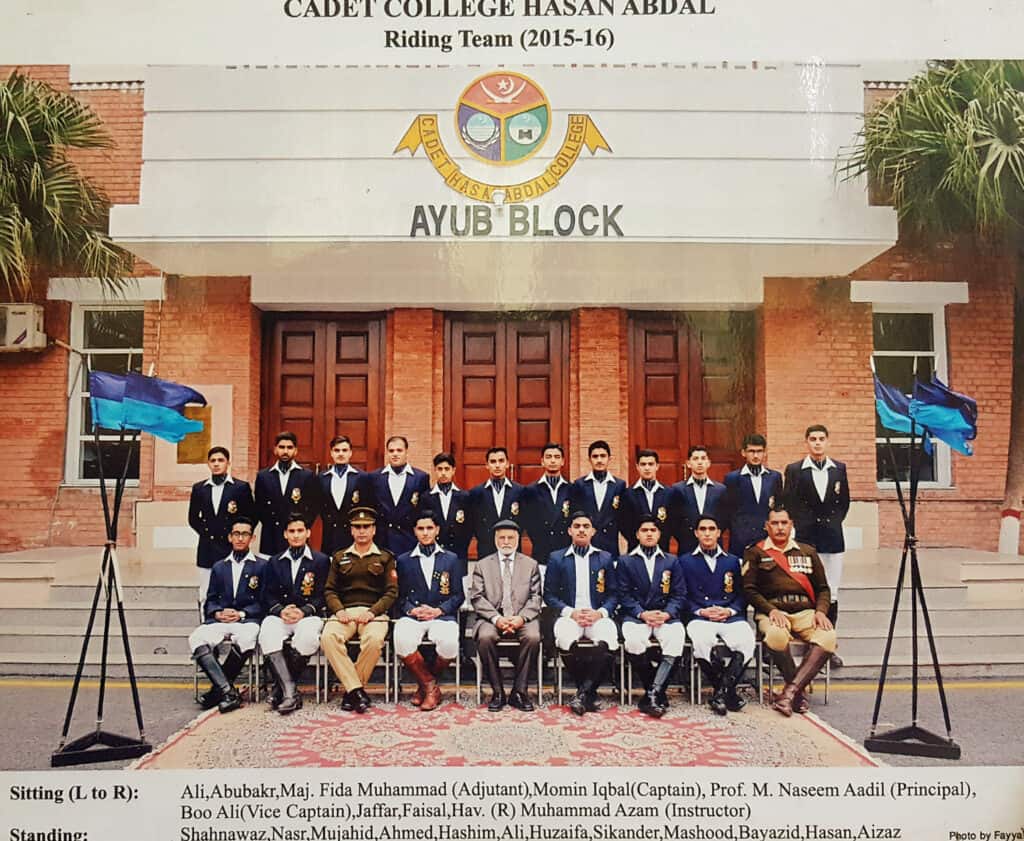 Some of the Common Problems Associated with Buying Whips:
Type of Whip You are Looking for
The biggest problem an aspiring horse rider faces is the selection of whips. When you visit an equestrian shop or shop online, first clear your mind about your riding stage. You might not even need a whip if it is just the beginning of your equestrian journey.
Still, it is always better to ask your riding instructor what sort of whip you need. However, If you are a quick learner and are committed to becoming a good rider, I would suggest going for the Dressage Whip.
High Expectations from a Whip
If you are expecting much from a whip, then please don't. In my experience, whatever quality of whip you buy, be it carbon or fiberglass, it always breaks. The striking look of a riding whip, especially a crop, makes it look like something built to last forever. But let me tell you,  no whip in my experience has stayed more than a year or year-and-a-half, and I used to ride almost daily.
Therefore, to avoid getting frustrated at the end when your whip gets broken, give your mind a real thought: Nothing lasts forever!
Quality of a Keeper
Keeper, also called popper or "business end," is usually made of leather or faux leather. The problem you might face after the prolonged use of a whip is that its keeper starts losing its stitches from the primary fiber/wrap covering the shaft.
When you start your equestrian journey, you have to give time to your equipment and gears, as you will be counting on them. Therefore, whenever you get a hold of your whip, I suggest you take your time out to solidify the joint of the keeper. The simplest way to do it is by lining the joint tightly with a good thread and applying superglue over it.
Some Tips to keep in Mind before Buying a Whip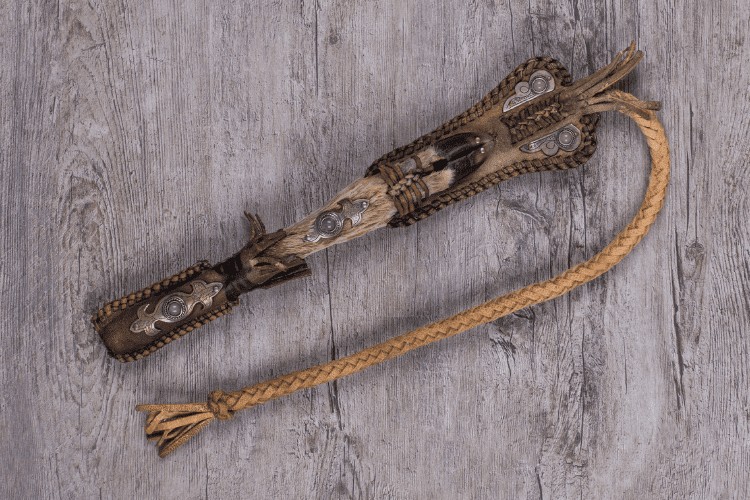 Purchase from a Good-Rated Seller
One of my worst experiences while buying a whip was that the seller who sold me the whip used small packaging. Although the whip did not break, it never became even, as it remained bent for many days in the package. My suggestion would be to never buy from a seller who does not have a good rating. They do not know how to handle your whip, and you will be frustrated to see your favorite whip in such a heart-rending condition.
Ask Seller for the Original Pictures of the Whip
With an array of whips that exists out there, the rider always wants to go in style. And there is nothing wrong with being picky when it comes to choosing your favorite color of the whip. After all, it's the grace of a rider that matters.
Before you confirm your order online, I would suggest asking the seller about the original unedited pictures of the whip. The color of the whip may be scarlet, not maroon, or mustard, not pale. You don't want to disappoint yourself when your whip arrives in a different color.
My Top Whips' Recommendations
It is hard to narrow down all the whips out there to the overall best whips, as every kind of whip has a specific use and is best suitable for that purpose. However, in my view, I have enlisted the best-recommended whips in terms of their efficiency and utility.
Lunge Whip
Every horse, when born, is alien to following human commands and is not used to riding with a person sitting on it. Even after millennia of domestication of horses, they need to be trained before they can be put to use. The training of horses starts when they are two-four years old, and the quintessential gears in this regard are whips.
The most helpful and necessary whip in training is often called a lunge whip. A lunge whip is the biggest equestrian whip used in horse training, ranging from six to fourteen feet. A typical lunge whip has a handle, a shaft, and a big lash, usually bigger than the shaft.
The lunge whip is used by a trainer to train a horse for some fundamental movements, e.g., moving forward, rotating, halting, etc. The whip is used primarily to make a pop sound, called whip cracking, and is least used against the horse's body.
The Epic Animal Lunge Whip

Description
This lunge whip looks like any other lunge whip, with a handle at one end and a popper at the other. It comes in a purple color that might even feel weird to a rider. However, having experienced a purple color whip, this color gets along well with your riding attire. Also, it makes your whip different in a good way.
Specifications
Design: The shaft has a rubber handle, providing a good grip against sweating due to tedious training. Its sleek design makes it flexible, producing a good "pop" or whip crack.
Material: Fibreglass body covered in fabric. The lash is also fabric-based.
Size: 72 + 84 inches
Price: 45 USD
Pros
It is not heavy like other lunge whips and weighs about one pound.
Cons
It costs more than an ordinary lunge whip.
Karlslund Carbon Lunging Whip, Telescopic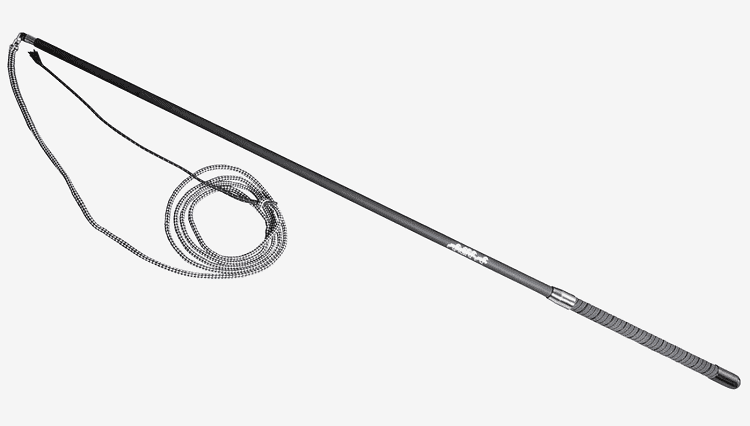 Description
This lunge whip looks like an old heavy whip; however, it is pretty light. What makes this whip apart is its telescopic folding. Lunge whips, being large in size, are sometimes hard to manage. Telescopic folding allows this Karlslund whip to be carried conveniently while traveling.
Specifications
Design: It has a conveniently long handle with a steel tip at its end. This whip is lightweight, and its size is also adjustable.
Material: Carbon
Size: 72 + 84 inches.
Price: 39 USD
Pros
It can be folded into 3 feet long, making it easily portable.
It comes at a good price tag for its quality.
Cons
The telescopic folding can malfunction, making it hard to adjust its length.
Dressage Whip
Dressage is a French word meaning "training." The term "Dressage" was used to denote the training of horses to precisely follow a rider's commands. With time, this developed into an equestrian sport involving a set of precise moves to be performed by the horse. The combined skills of the horse and rider are then graded by a jury.
The whip used during this "training" later became known as the Dressage whip. A dressage whip is smaller than a lunge whip but bigger than the rest of the whips, and it is usually 3.5-4 feet long. Unlike other whips, a dressage whip is used to tap the horse's hindquarter.
Intrepid International Capped Dressage Whip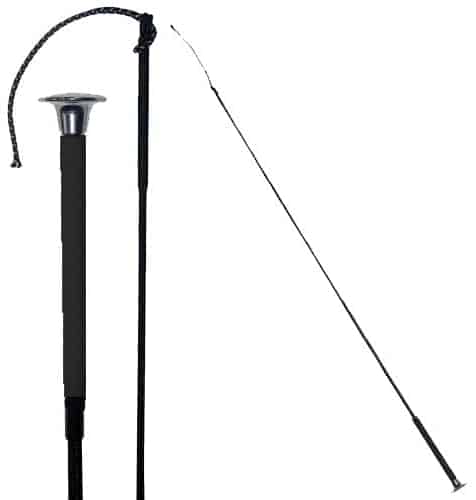 Description
This whip comes in two colors: black and white. It has a chrome-plated stopper at the end of its handle that offers better handling of the whip. Its ample length allows it to be used against the horse's hindquarter without lifting your hand from the reins.
Specifications
Design: This dressage whip has a sleek handle at one end, followed by a shaft with a popper at the other end. The fiber-based popper allows the rider to cue the horse with easy wrist movement.
Material: Fiberglass shaft covered with fiber.
Size: 39 inches
Price: 23.63 USD
Pros
A handsome and flexible popper that makes tapping easy.
It also offers the handle in an exquisite white shade.
Cons
The shaft, although slim, is not as flexible as a dressage's shaft should be.
Dublin Suregrip Handle Dressage Whip

Description
When preparing for the competition, you have to spend hours riding a horse, and your riding gears, even clothes, start to feel heavy. This lightweight whip comes in handy when you go through weary dressage training.
Specifications
Design: A simple, lightweight dressage whip weighs only 3.5 ounces and comes in silver color.
Material: Fiberglass body covered in fiber.
Size: Two sizes: 39 and 47 inches
Price: 10.37 USD
Pros
The best thing about this dressage whip is its price tag, and it is one of the cheapest dressage whips you can find on the market.
Cons
The grip on the handle is not attached correctly, and it often unravels after a few weeks of usage.
The whip is not that durable and gets cracked easily when a sudden bending force is applied.
Riding Crop
As the name suggests, this is the most common whip used in equestrian activities. It extends to 2.5-3 feet in length and is used for the front portion of the horse.
The riding whip is usually the first whip that an aspiring rider is introduced to. With its manageable length, it can be used in most riding sports. However, it serves its purpose best when casually riding a horse, be it walking, trotting, or cantering.
Telescopic Horse Riding Whip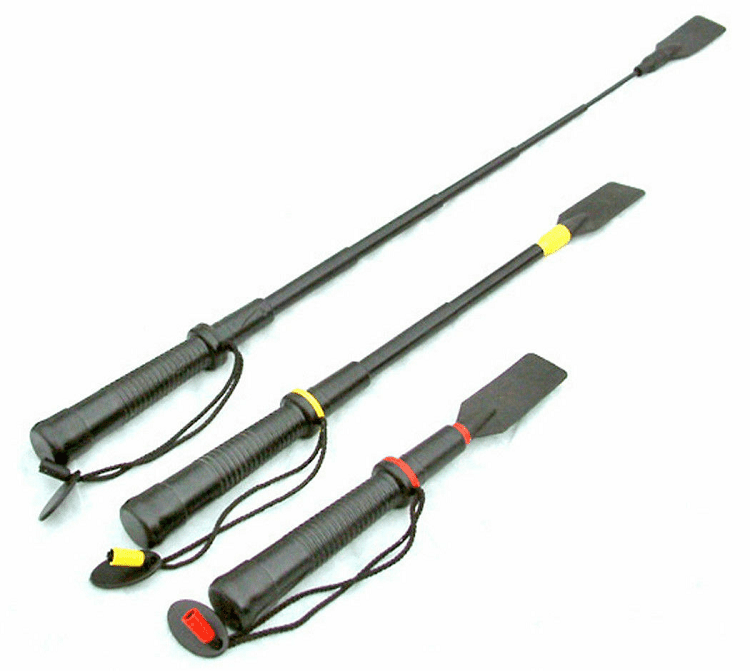 Description
This whip offers excellent portability and can be fit in a place as small as 10 inches. The telescopic nature of this whip also makes it super light, as it does not have a shaft made of fiberglass. It also comes with a strong wrist strap that saves the whip from falling out of hand due to unexpected jerks.
Specifications
Design: This whip can be extended to different sizes. The folding ability of this whip allows you to even carry it in your pocket. The design of this whip looks most similar to a foldable baton.
Material: Plastic
Size: 28 inches
Price: 27 USD
Pros
It is offered in three different colors: black and red, black and yellow, full black.
Its keeper is attached better to the retractable shaft.
Cons
The telescopic nature of this whip makes it pretty hard. Its rigidity makes it prone to breakage due to any uneven pressure.
Black or Brown Horse Riding Whip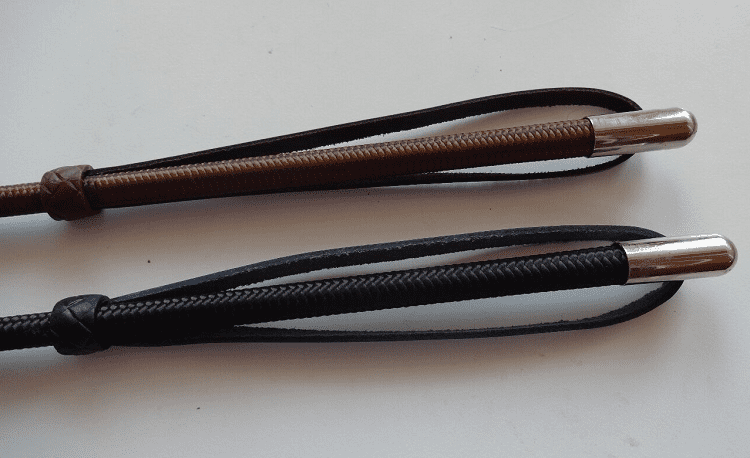 Description
This whip is one of the classiest riding whips in my view. It looks like a cane, but its body is beautifully covered with a strong fiber lining. The whip also offers a durable leather strap intricately sewn at the top end of its handle.
This whip offers two beautiful shades: black and brown.
Specifications
Design: Unlike other whips merely covered with fiber, the cover of this whip adheres tightly with the shaft. There is also a chrome-plated silver topper at the end of its handle.
Material: Fiberglass
Size: 26 inches
Price: 17.5 USD
Pros
The best thing about this whip is its quality. Its rigid yet flexible, making it more durable than other riding whips.
Cons
Its classic design might not be popular among kids.
Jumping Bat
The Jumping bat is the shortest whip in the equestrian industry, ranging from 1.5-2 feet in length. Because of its small size, it is used against the horse's neck to cue it to make the jump when near an obstacle. Its use is limited chiefly to jumping or the training for jumping.
Jumping bats usually have a long and wide keeper/flapper at their end. However, its use is to be managed time efficiently, and a wrong tap at the wrong time may result in a disaster.
Jockey Horse Racing Bat Whip or Eventing Crop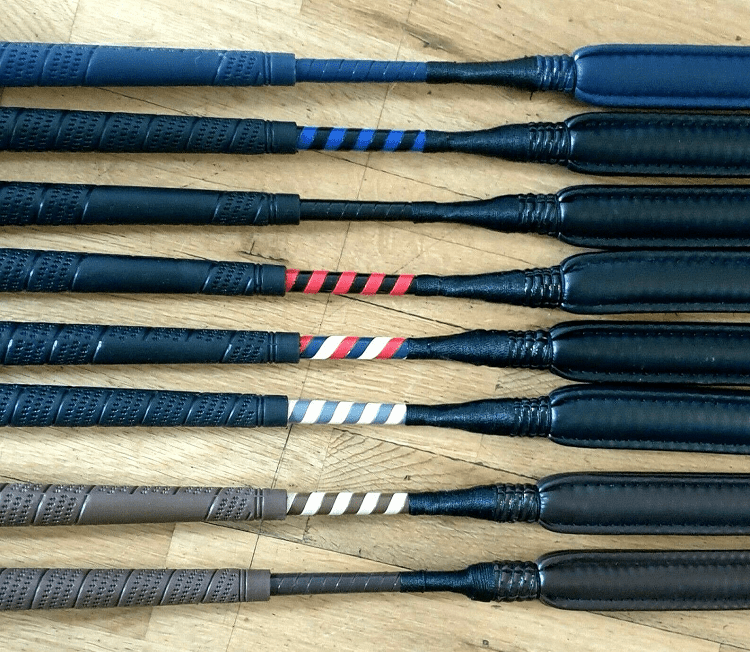 Description
The bat of this whip is almost as long as its handle. Because of its significant size, the bat is firmly attached to the shaft with two layers of threads to make it more durable.
The jockey horse racing bat comes in various colors, i.e., black, blue, gray, and coffee. Even its shaft offers a variety of colored fibers twirled around its surface.
Specifications
Design: The bat of this whip is less flexible than a keeper of any other whip, and the seams of the bat offer strong stitching on both of its lateral sides. Also, this jumping bat does not provide any wrist strap.
Material: Elastic material covered with soft rubber fabric.
Price: 20 USD
Pros
Offers a variety of color schemes to choose from.
Cons
This jumping bat does not have a quality grip. Its wrapping lacks good adhesion and unravels after a few uses.
Fleck Jockey Race Bat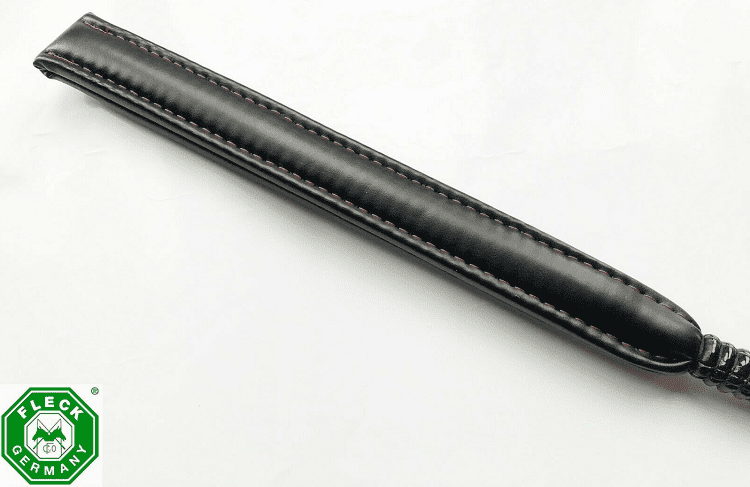 Description
Because of its full black color, this jumping bat is the favorite of aspiring jumpers and professionals. With a commendable display of handicraft, the finish of the Fleck jockey race bat is not less than any machine work.
This jumping bat also offers a porous rubber material wrapped around the handle, making it efficient to use even without wearing riding gloves.
Specifications
Design: A slim baton-like design that looks elegant for both sexes. The Fleck jockey race bat has an overall sleek texture. It also has an ergonomic handle that is crucial to efficiently use the bat in a jumping competition.
Material: Cushioned keeper and a fiberglass shaft
Size: 28 inches
Price: 43 USD
Pros
Its smooth cushioned flap protects the horse's skin from scratches.
Being a handmade product, it offers better quality than other jumping bats.
Cons
This jumping bat can be heavy on some people's pockets.
Show Cane
Show cane does not mainly serve a practical purpose and is only used for exhibition. However, the beauty and elegance of these things are always a head-turner.
Their length varies a lot. They can be as small as 1.5 feet and as big as 3-3.5 feet. Because of their decorative purpose, they are more expensive than the other whips. Their composition also varies. Some are made of solid cane, some of the leather, while some are covered with a steel layer.
Their structure also varies, and most show canes only have a big shaft with steel tips at their ends.
Ball Topped Showing Whip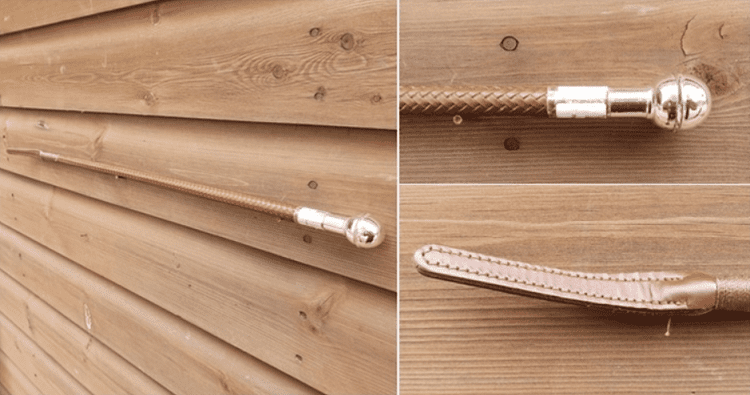 Description
In my experience, almost every rider wants to look sassy, and there is nothing wrong with that. One of the things that make a substantial difference to the outlook of a rider is his whip.
And this ball topped showing whip does not leave you behind in this regard. With its two color options, brown and black, this show cane always lets you ride with grace.
Specifications
Design: The plain view of this show cane is similar to an ordinary whip, i.e., a long shaft with a leather keeper at one end and a handle at the other. However, the whole shaft of the cane is plaited with leather, while the handle is made of chrome-plated steel. The end of the handle has a chrome-plated ball to give it a more bourgeoisie look.
Material: Shaft made of fiberglass, covered with leather.
Size: 22 inch
Price: 54.5 USD
Pros
The plaited leather body provides an efficient grip.
Cons
It may look old school to some aspiring riders.
The ball top is prone to damage because of slight misuse.
Leather Crystal Show Can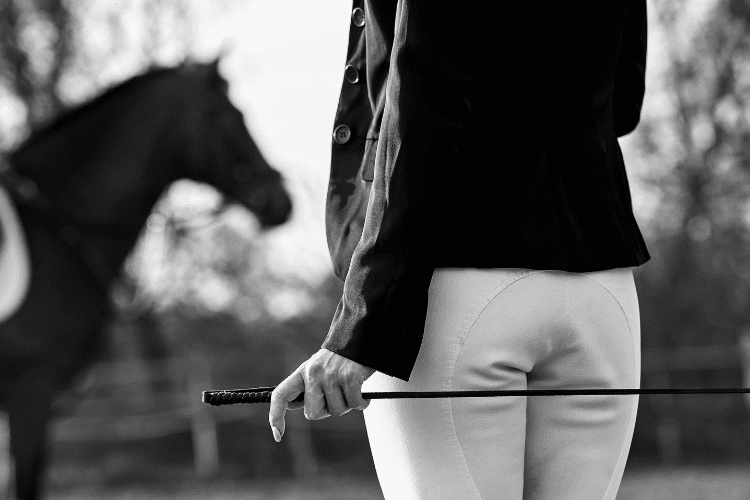 Description
Leather Crystal Show Cane offers two beautiful show canes in navy-blue and scarlet color. These canes are available in three different lengths to make them efficient for every rider to handle. Holding this show cane in your hand will make you look no less than a king or a queen. Although this show cane is not cheap, its exquisiteness justifies its price tag.
Specifications
Design: The show cane follows a shaft covered in leather, and the keeper looks like the extension of the leather covering the shaft. The handle is wrapped with glittery fiber, with a diamond topper at its end.
Material: Fiberglass wrapped with leather
Size: 18, 22, 26 inches
Price: 105 USD
Pros
This show cane is available in two of the most robust colors, i.e., navy-blue and scarlet.
Its size variation allows riders to choose what suits them the best.
These whips can also be bought in four easy installments.
Cons
The white-colored fabric wrapping its handle is prone to dust and stains.
FAQs
Question: Are Whips Only Used for Punishing Horses?
Answer: Contrary to the common misconception, they are used to back up the natural aids of the rider. They collaborate with the natural signaling and cue the horse to better understand what the rider wants to say.
Question: Can I Hold these Whips in Any Hand?
Answer: Yes, there is no bar to using these whips in a specific hand. However, it is suggested that they should be held on the inner side while riding the horse in a circle. Otherwise, you may have the whip in your dominant hand to use it easily.
Question: What Should I Do if My Wrist Strap Keeps on Breaking?
Answer: It is one of the most common issues with almost all the whips. The strap on the whips prevents them from slipping out of the hands. However, these wrist straps are slim and are not tied fastly to the whip's handle.
After receiving my whip, I roll a strong thread around the joint, attaching the strap with the handle. I keep the tread lining pretty intact and apply two to three knots at the end. Sometimes, I even use instant glue over the thread.
Best Horse Whips: Wrapping Up
The equestrian journey involves a constant interaction between a man and his horse. This journey will never move forward unless the rider can make his horse listen to his commands. One such tool to make your horse better follow your instructions is a "whip."
Whips are always there in one's equestrian journey. From training a horse to becoming an all-time famous rider, whips never lose one's sight. During my equestrian journey, I have experienced a variety of whips serving different purposes.
However, to purchase a good whip, you have to keep certain things in your mind, e.g., the quality of the keeper, the seller's profile, or narrowing your whip's choice. Keeping these tips allows you to reach a better decision.
Out of all the recommendations made above, my favorite whip is the Black or Brown Horse Riding Whip. The affordability of this whip, coupled with its quality and durability, makes it essential for every rider. Furthermore, its broad application allows it to be used for different equestrian activities.
I hope my top whips recommendations will help you choose the best whip for yourself. Happy shopping!