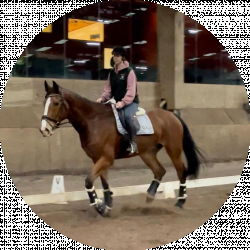 Latest posts by Maddy Chiffey
(see all)
If you have an Australian saddle and are in the market for a new pad, I've rounded up the absolute five best Australian saddle pads out there today to help make this venture a little easier. A saddle pad is arguably the most important piece of tack to protect a horse's back, improve saddle longevity and fit, and make the overall riding operation more pleasant for the horse and owner.
Australian saddle pads come in a range of patterns and colors, with lots of different material and size options. Luckily, this guide includes a large variety of Australian saddle pads, so no matter what your riding style or preferences, I hope to have you covered.
My Bottom Line Up Front: Super soft for the horse and offering great value for money for the rider, the ECP Equine Comfort Products All Purpose Contoured Correction Saddle Pad is an all-round top pick.
Lightweight and easy to use, this Australian saddle pad is supplied with memory foam inserts to be customized to your horse's specifics, and it's available in 11 different colors to suit all preferences.
At a Glance: 5 Best Australian Saddle Pads
What Is an Australian Saddle?
An Australian saddle is pretty much a hybrid between a Western saddle and an English saddle, taking a few aspects from each design.
For those looking into Australian saddles for the first time, you'll find some notable benefits – and drawbacks. Personally, I love the extra comfort provided by an Aussie Saddle, but for lesser-experienced riders, they're often not the wisest choice.
Back to my hybrid analysis. English saddles are all about performance, while Western saddles are known more for work. While this may not make a whole lot of sense to non-riders, or new riders, consider it like this: Western saddles are great for cattle drive, English saddles are the chosen type (usually) for speed and endurance events. Australian saddles do both.
A drawback to this type of saddle is that there isn't as much flexibility as with Westerns or English. However, if you're looking to spend a lot of time in your saddle or traversing rugged terrain, then an Australian saddle is perfect. But, what is any saddle without its pad? Let's look into Australian saddle pads.
How to Buy the Correct Saddle Pad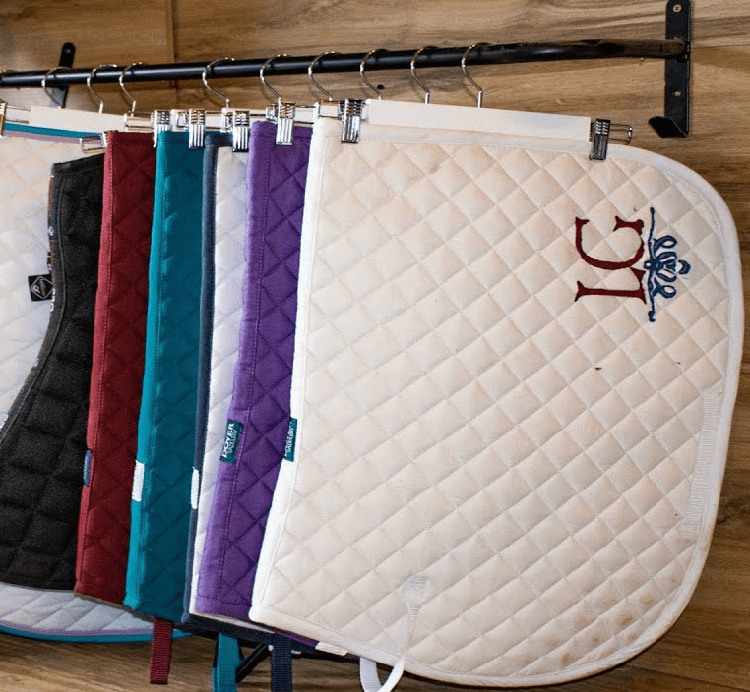 There are incredible benefits to using saddle pads, but none greater than the added protection it provides for the horse's skin; from discomfort, scratches, rashes, and unnecessary pressure. Even the most expensive saddles can injure a horse if a pad is not in place.
A good quality saddle pad will protect the horse's skin during the ride and absorb sweat; without this, sweat will undoubtedly lead to rashes and irritation. Additionally, a saddle pad offers greater stability to the rider and helps to prevent the saddle from slipping, which could lead to huge dangers for the rider.
But, as with most equestrian products, Australian saddle pads are not made equally. And, finding the best from the rest can be overwhelming. Below, you will find some pointers to consider when looking for a new saddle pad.
Shape
You will find various shapes available, such as oval, square, and circular, but the right-shaped pad to use for any Australian saddle is rectangular. The pad should be big enough to cover the underside of the saddle by a couple of inches to enable more grip.
Size
Once you have found a rectangular-shaped Australian saddle pad, it's essential to make sure it is big enough for your saddle and your horse. Universal sizes, or one-size-fits-all, really doesn't here – although some can be cut to size if you're anything of a seamstress, and this can save big bucks, too.
Material
The materials that saddle pads are made from can vary, and like with most things, you will often get what you pay for.
There will be a mixture of textiles, but it's important to look at how breathable and durable the pad is and how it will absorb the horse's sweat. It is essential that the pad allows the horse's skin to breathe, and this isn't always the case with lower-quality pads.
The thickness of the material is something to consider, too, for the horse's comfort. Generally, the softer and thicker the material, the more beneficial this will be for the animal, but it must equally be breathable.
Overall Quality
With a quick internet search, you will easily find Australian saddle pads online for a few bucks. But, often, it is the case that when you invest in quality, you have a product with a longer lifespan.
The price point for saddle pads varies between $20 to $200, and while I wouldn't recommend always avoiding the lower end, I would urge you to question why – this should be across the board.
My Product Criteria
I know what I automatically look for in saddle pads and have used the same criteria for this feature. Additionally, I have considered other options such as materials, patterns, and styles, that don't meet my preference but may meet those of the readers. This way, I hope to have catered to every rider.
Affordability
As touched upon, saddle pads have a large price spectrum. But, I didn't want to include budget picks simply because they were inexpensive. While you will find some diversity in RRP in this post, in order to meet most budgets, all of the saddle pads I have recommended will be of good-to-excellent quality.
Material
I have looked at different types of materials so that riders with different preferences will find something to their liking. I have strived to ensure that these materials will be comfortable, durable, and breathable.
Consumer Feedback
It can be challenging to verify the quality of any item online, but your greatest asset is the feedback from other consumers. I have used this as a benchmark for the pads in this post, and ensured that all of the reviews and ratings are verified and accessible.
My Chosen 5 Best Australian Saddle Pads
#1 ECP Equine Comfort Products All Purpose Contoured Correction Saddle Pad – #1 Top Pick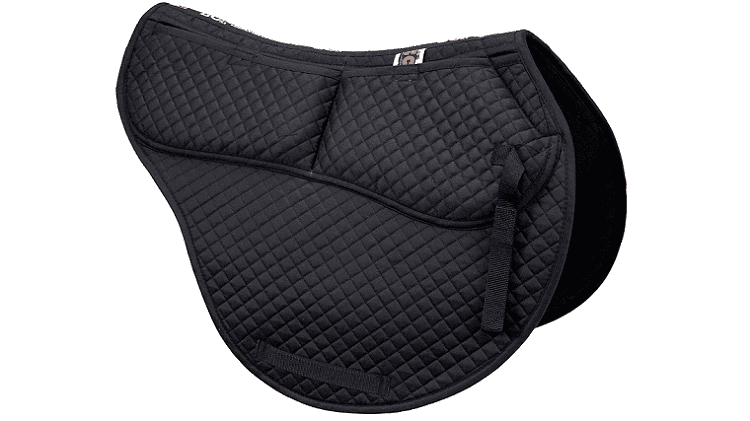 The ECP Equine Comfort Products All Purpose Contoured Correction Saddle Pad is perfect for riders who want a good amount of protection for their horse and saddle. The pad is a solid choice for people who swap and change between English and Australian saddles, as it suits both.
Due to the contoured design, this pad almost cuddles the horse and provides a closer, tighter ride. It also results in a more streamlined profile, making it a good choice for those who are into competitive riding or showing. This pad is wider than all saddles, so it ensures no rubbing or discomfort for the horse. And the addition of memory foam is excellent at shock absorption.
One of my favorite aspects of the ECP Contoured Saddle pad is the four memory foam stuffed pockets. These are enough on their own to offer a wow factor, but the design goes one step further as you're able to replace and position the inserts where extra support is needed (such as pressure points), making this a truly unique ride.
The fashion-conscious rider may be pleased to learn that this saddle pad comes in eleven different colors to suit all tastes. Free delivery is available, and the pad is eligible for free returns at Amazon.
Pros
Can be Tailored to Your Horse
Sleek and Streamlines
Diamond Quilted Cotton Top
Moisture Wicking Underside
Lightweight
11 Color Choices
Free Delivery and Free Returns Available at Amazon
Cons
Can Take Time to 'Wear in' Compared to Some
#2 ECP Grip Tech Non-Slip Half Saddle Pad – #1 Top Budget Pick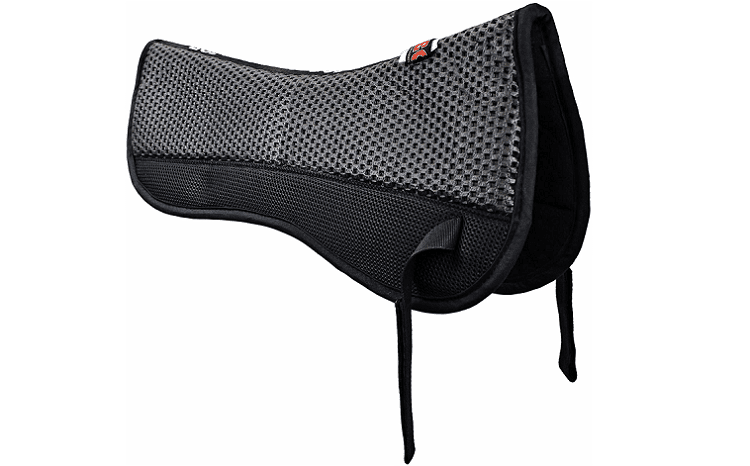 Coming in at around $20 cheaper than #1 is the ECP Grip Tech Non-Slip Half Saddle Pad, my #1 top budget pick. You get the same level of durability and quality as the contoured comfort pad, and it's from the same long-standing American brand. However, this is a more basic, less padded saddle pad with a no-frill design.
Yet, it's pretty awesome.
The bottom of this saddle pad is moisture-wicking to keep the horse's skin free from sweat build-up and irritation. The top is foam and non-slip. While it isn't the softest pad around, the ½-in compression foam offers a good amount of shock absorption and stability without being too thick. I feel the balance here is pretty spot-on for most horses.
My favorite thing about this saddle has to be its ease of care. You can stick this in the washing machine and hang it or lay it flat to dry. It's super durable and feels exceptionally well made, so I am confident that this saddle pad will have a long lifespan.
Free delivery and free returns are available, and you can choose between white or black.
Pros
Excellent Value for Money
Non-Slip
Moisture Wicking
Easy to Care For
Machine Washable
Free Delivery and Returns
Choice of Two Colors
Cons
#3 CHALLENGER Australian Trail Rider Comfort Neoprene Saddle Pad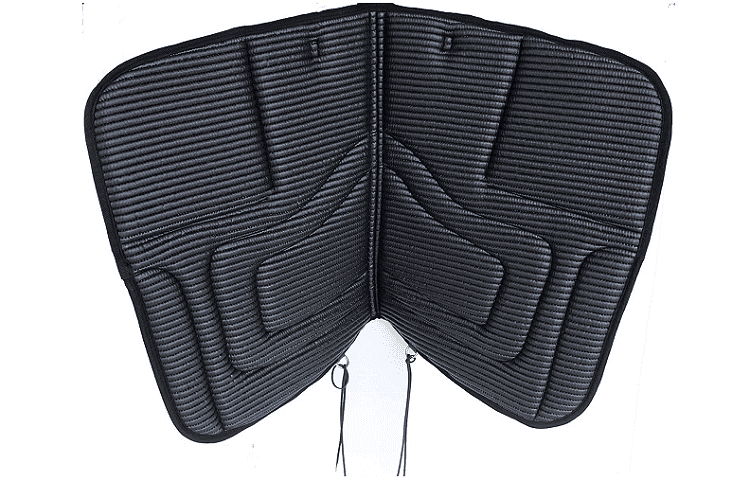 While those with experience will be knowledgeable about the CHALLENGER brand, the lack of accessible reviews for their CHALLENGER Australian Trail Rider Comfort Neoprene Saddle Pad made me a little reluctant about whether to review it further. Thankfully, I opted for common sense and went ahead. And, you may be pleased I did!
This Australian saddle pad is pretty perfect. Slightly expensive, but the saying is true that you get what you pay for here.
CHALLENGER only ever use American leather, and they proudly own the largest retail store in Texas (it's an Aladdin's cave; if you can visit, you so should!). But, if you're buying online, then it can be hard to appreciate the quality.
This pad feels super comfortable. It is lightweight and provides excellent breathability. I feel that the interior cushion supper offers an incredible amount of comfort for the horse, especially as it is partnered with a contoured design. The Neoprene bottom leads to an excellent grip and feels robust yet soft.
The CHALLENGER Australian Trail Saddle Pad is available in brown or black, but stock does run low (currently, there are just six available on Amazon).
Pros
Long-Standing American Brand
American Leather
Excellent Breathability
Good Grip
Lightweight
Contoured Design
Cons
Stock Can Run Low
Limited Reviews
#4 CHALLENGER Australian Wool Shaped Saddle Pad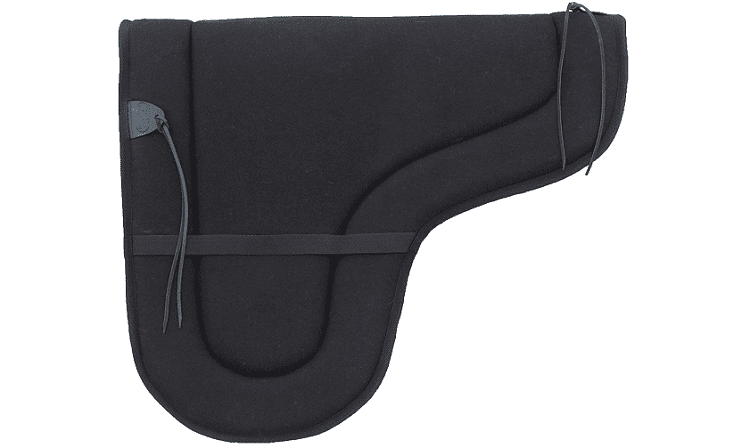 Shaped to fit any Australian saddle, the CHALLENGER Australian Wool Shaped Saddle Pad is an excellent choice for people who want simple comfort at a reasonable price.
This is a straightforward design, but with a supreme comfort level – soft poly-fill center and pure wool on the outside. There are genuine American leather tabs and tie straps to help to reduce slippage and four block colors to choose from.
Pros
Well Priced
Supreme Comfort Level
Genuine American Leather
4 Color Choices
Cons
Questionable Breathability – May Not Suit for Long Term Wear or Long Distances
#5 Reinsman Wool Contour Trail Saddle Pad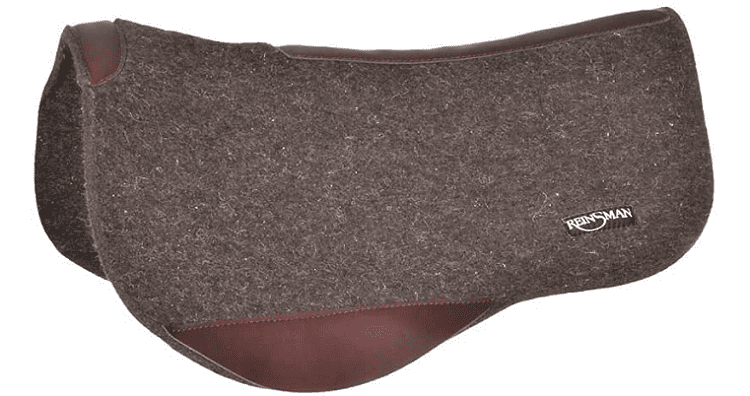 The Reinsman Wool Contour Trail Saddle Pad is one of the more expensive pads in my guide, but I feel its price is well justified. This pad has been on the market for almost a decade and is still well-liked today. This shows me that it's durable and of good quality with excellent longevity.
Made from a wool and felt blend, this saddle pad provides excellent shock protection and will naturally get rid of moisture resulting in a cooler ride for horse and rider. It is also very quick drying. I like the contour shape, and the pad looks very stylish. It is heavier than most but feels of superior quality.
Pros
Superior Quality to Most
Highly Durable
Stylish Design
Long-Running Design
Cons
FAQs
Question: Why Aren't Australian Saddles Popular?
Answer: The history of the Australian saddle is interesting, and it is certainly a saddle that has evolved over time to today's model. The original design of the Australian saddle was to cater to riders who were riding for many hours at a time, in very harsh conditions and on difficult terrain. As we now have vehicles for this type of work, the Australian saddle is less needed.
However, it is still an excellent choice for people who need endurance, durability, and comfort.
Question: Do You Need a Saddle Pad?
Answer: There are many equestrian products popping up in today's market that we simply do not need. And if you're very old-school, you may even consider bareback riding as sufficient. While I'm a little nostalgic at the thought of days gone by, I am also conscious of the effects riding has on horses and the want for a more comfortable ride for myself.
Saddle pads cater to both those needs. This item relieves pressure on the horse's back and protects the skin while also providing greater stability for the rider.
Question: Can I Just Use a Blanket Instead of a Saddle Pad?
Answer: Blankets can do an adequate job positioned between the horse and the saddle. But, they're not entirely effective unless equestrian-specific, i.e., made for the task. Saddle blankets need to have the same level of breathability and grip as a saddle pad has for them to offer the same benefits.
Summary of The Best Australian Saddle Pads
A good-quality Australian saddle pad can be the difference between a safe and comfortable ride for you and your horse or an unpleasant experience for both. I am confident that all of the saddle pads I have reviewed are up to the job, but some shine more than others in different areas.
For example, those looking for a simple and stylish look may lean towards the more expensive Reinsman Wool Contour Trail Saddle Pad. I like the feel and the look of this saddle pad, and I feel the comfort level is superior to most. But, I'm not so in love with the price point.
The CHALLENGER Australian Wool Shaped Saddle Pad is made from similar materials as the Reinsman saddle but is much less expensive. I don't believe the breathability to be on a par with the Reinsman, though. The comfort level is certainly high, and I think the choice of four colors could meet the preferences of more riders.
A pad that really stood out to me was the ECP Grip Tech Non-Slip Half Saddle Pad; I just love the way the air flows naturally and how easy this is to care for. Not many pads are machine washable, and few that are would survive it as well as this pad.
I'm confident that the CHALLENGER Australian Trail Rider Comfort Neoprene Saddle Pad will meet the needs of many, although reviews are a little thin on the ground for this one. It is a comfortable pad that provides excellent breathability and has a contoured design.
My overall favorite is the ECP Equine Comfort Products All Purpose Contoured Correction Saddle Pad. This pad is very well priced and perfect for those who switch between Australian and English saddles, as it suits both. There are eleven different colors to choose from, and the memory foam pockets can be adjusted to make a truly customized pad.