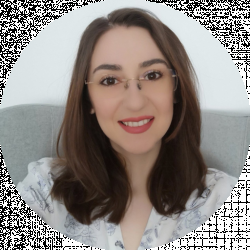 Latest posts by Alexandra Gavrilescu
(see all)
I love horses, and even though I started as a hobby rider, my trainer eventually taught me how to groom the horse I was about to ride or have just ridden.
That's when I discovered that loving horses takes more than just petting them and giving them carrot treats to eat. I must say that, at first, I was surprised when my trainer encouraged me to groom my horse, but eventually, that process helped me bond with it at a more profound level.
So, today, I want to talk about the best horse grooming kits to help you create a stronger connection with your lovely horse. As you can see, grooming is more than just taking care of your horse; it's also about bonding and building trust.
Below, I have gathered some popular horse grooming kits, but you'll also discover what I considered when choosing these particular products.
Bottom Line Up Front!
My favorite grooming kit is the Oster Equine set due to its classy design, long-lasting and high-quality tools, and boosted portability. It was a tough choice since there are a few kits on this list that I liked:
Oster Equine – best overall;
Weaver Horse kit – best value for the money;
Long River grooming kit – the best budget-friendly set (without sacrificing quality).
Selection Criteria: I've chosen the following horse grooming kits based on their wide variety of items, level of usefulness, popularity, and because they received excellent reviews.
Best Horse Grooming Kits – My Top 10 Choices
I might have chosen these kits due to their features and components, but I haven't listed them in any specific order.
Weaver Horse Grooming Kit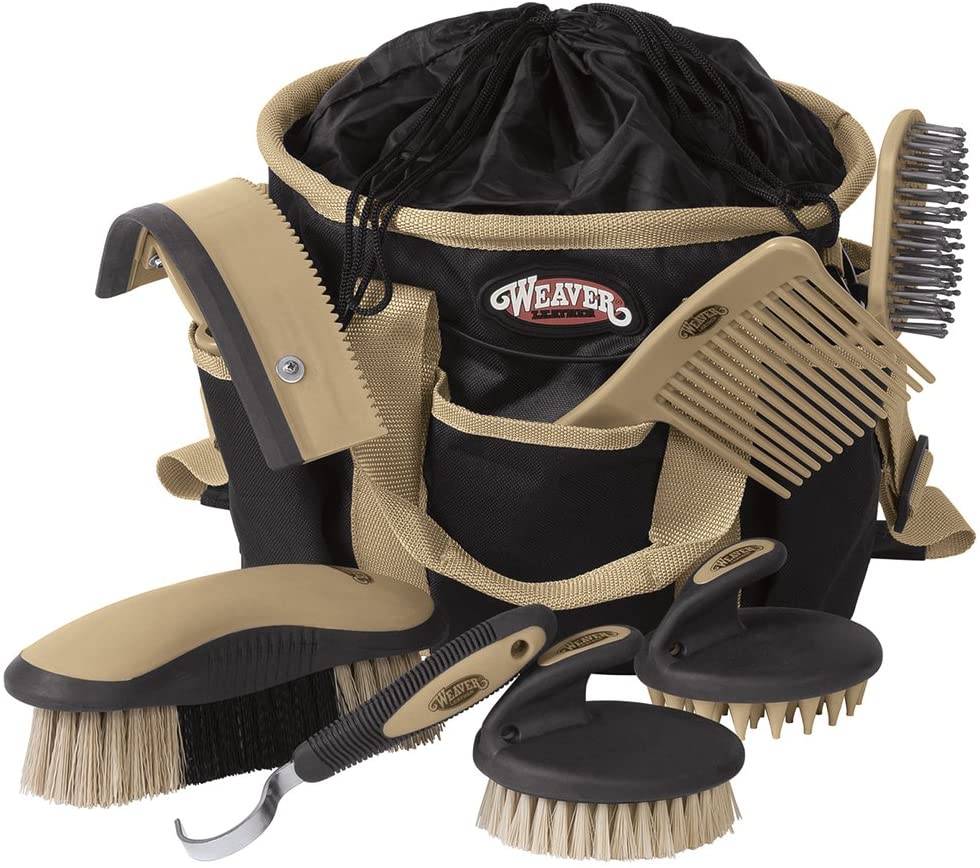 The Weaver grooming kit is one of the most complex and beautifully-designed options on the market. All seven pieces come in a portable bag. I also love how affordable this kit is. There are four available color choices, including gray, pink, and blue glitter. But my favorite one is the black and beige combo because it seems the most elegant for me.
Inside the bag, you'll find useful grooming items such as a face brush with softer bristles, a sweat scraper, a comb, a hoof pick with a rubber handle, a coarse curry, and a tail brush, and a dandy brush. I consider all these elements extremely helpful, but the one I use most frequently is the dandy brush. I use it to remove sweat and dirt from my horse's body.
I love the brush's ergonomic shape because it enables a good and comfy grip. Moreover, this grooming set will help maintain the health of your horse's coat and skin. You should use it at least a couple of times per week.
I like the curry comb of this kit due to its effectiveness when it comes to removing dirt particles and loosening hair. I bet your horse will love those circular motions when you rub his skin with the comb. It feels like a muscular massage.
Pros
I love how portable this kit is due to its durable tote bag;
All the tools come with comfortable handles;
The kit offers great value at an affordable price;
The bag's handles are both durable and padded, so it's easy to carry it around;
My horse loves being brushed with this kit's face brush; I think it's its moment of spoil;
It's versatile, so you can also use the brushes on your other pets. I use them on my British shorthair cat.
Cons
The parts made of plastic can break if you don't take proper care of them;
The curry comb is a bit stiff and pointy, making it a tad uncomfortable to hold and use.
Tough-1 Grooming Kit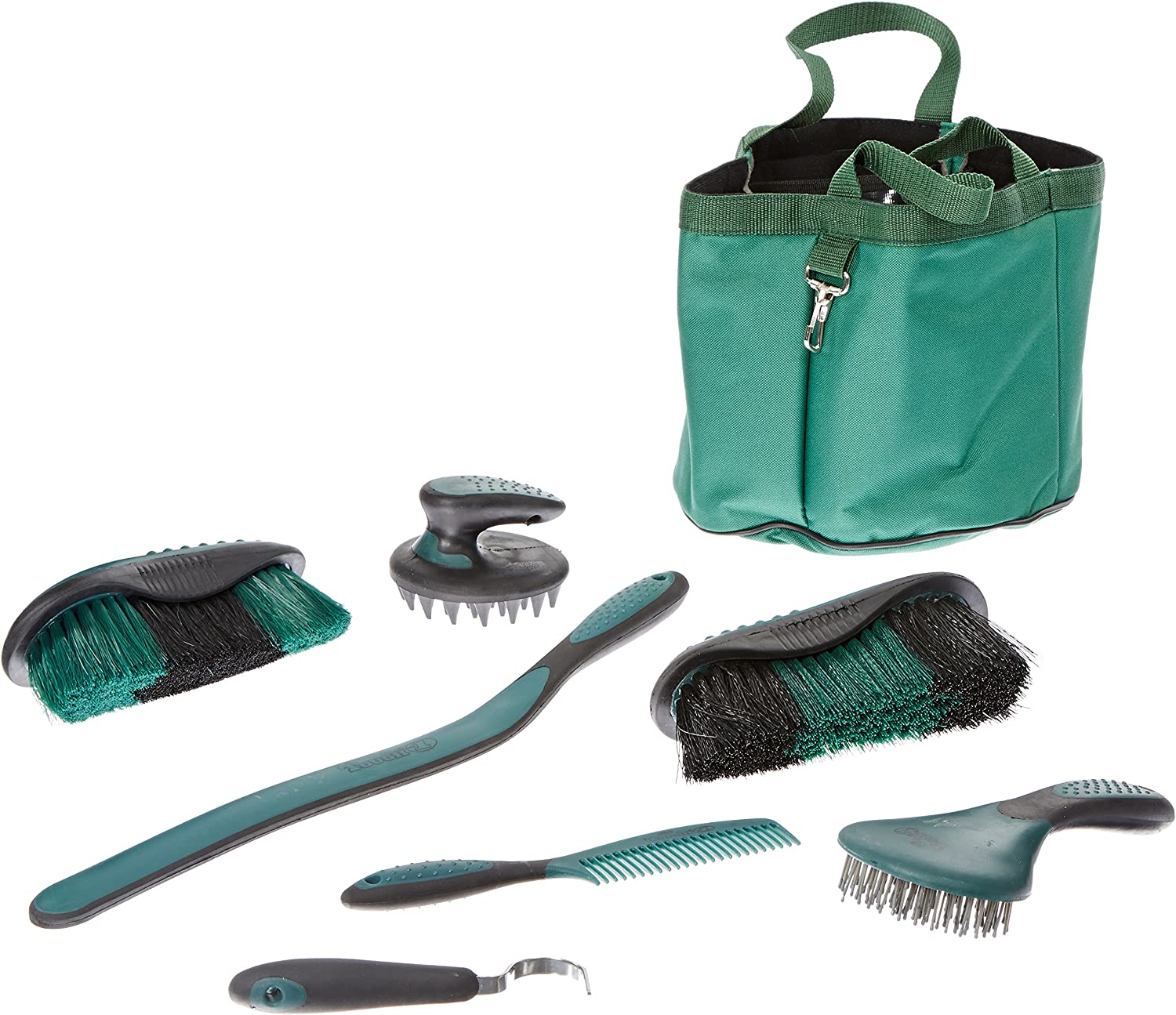 When I first saw this horse grooming kit made by Tough-1, I knew it would be good due to the brand's reputation. They market a lot of great equestrian-related products. I like this kit since it comes with ergonomic tools, and there are many fantastic color options. My personal favorite is the hunter-green one.
Like many other horse grooming kits, this one also consists of seven pieces you can easily carry around in a color-matching tote bag. Another small yet significant design feature I like is the black and green color combo featured by both brushes. The set is nice, and the tools are of decent quality, although I believe there are other, more durable kits.
This kit lacks the standard sweat scraper, but it comes with an excellent dandy brush that has the purpose of removing dirt, debris, hair, and other tiny elements.
The brush's bristles are made of plastic and I would prefer them to be made of natural hair. However, they're soft so your horse won't experience any discomfort. In fact, good dandy and body brushes make your horse feel pleasant and soothing sensations.
Pros
Good grooming set with nice design and appealing colors;
The bag looks pretty durable and practical;
Seven different grooming tools;
I like how soft the bristles are of the face brush.
Cons
The tote bag's bottom doesn't seem very long-lasting, despite the decent quality of the bag overall;
While this is a good grooming kit, I like others better in terms of quality;
The company should and could improve the brushes.
Oster Equine Grooming Kit
I love this grooming kit due to its elegant design and the way the tools come in that cute and well-organized storage bag. I like everything about this product, including the two available color options: blue and pink. Still, I would opt for the blue one since, in my opinion, looks classier.
The Oster Equine grooming kit consists of seven pieces, everything necessary for complete grooming. I have small hands, but this set's handles are suitable for any hand size. Moreover, they're comfy because of their rubber layer, which also provides excellent grip. With this kit, you can groom your horse's entire body, from its head to its tail.
The hoof pick on this kit is a bit small but it does the job pretty well. However, the metal curry comb really caught my attention because its bristles look sturdy. This one works similarly to curry combs with plastic bristles but its metal bristles offer a tougher finish. I don't know if you were aware of this but metal curry combs aren't supposed to be used on the horse's body.
Instead, they are great at cleaning all the other tools included in the kit. Their strong metal bristles can remove debris and other build-ups from any other grooming brush.
Pros
It's a lovely complete set for horse grooming that includes essential tools such as a tail brush, a hoof pick, a curry comb for coarse hair, and more;
I love how classy this set looks, especially when all the items are placed inside the carrying bag;
All the tools are easy to clean and durable, and the entire kit is easy to hold and transport;
There are other more affordable sets, but this one is still a medium-priced kit.
Cons
Compared to other similar kits, this one is a bit on the pricey side, but it's also made of high-quality materials;
It's hard to find faults, but there's one thing I'm not fond of – the rubber curry has very rare bristles, which might not be enough to remove all the dried mud from your horse's hair and coat.
Lohkko Horse Grooming Kit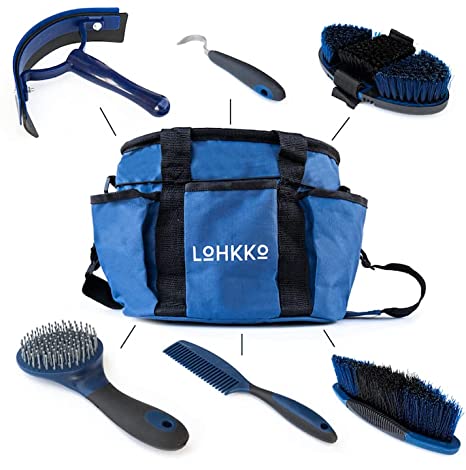 The Lohkko grooming kit comes in two available colors: blue and purple. I like the blue one, and I also like this set in general. One of the things I like less is the tote bag's material which is nylon. On the other hand, I must admit that having no less than six exterior pockets and a padded shoulder strap makes this horse grooming kit a pretty sweet deal.
Another thing I noticed is that the handles of the tools are made of plastic instead of rubber. It's a medium-priced kit that comes with all seven standard items that most of the other sets have. I would enjoy using this lovely kit to create a fantastic bonding opportunity with my horse.
Let's get something straight! All grooming kits contain the exact same tools or very similar items. All these items serve the same purposes. So, I get it that it can be difficult to choose one since they look alike. Still, in some cases, a kit stands out due to one or a couple of its tools. In this situation, the one that caught my attention was the sweat scraper which looks durable and large enough.
A good sweat scraper removes any moisture and sweat from your horse's body. The arch-shaped rubber blade works great without hurting your horse or damaging its coat. Still, you may want to avoid using it on your horse's head and leg areas.
Pros
Great tote bag with plenty of storage space;
The set seems durable enough;
It will help you keep your horse's coat clean and shiny daily;
It's one of the best essential grooming kits and pretty affordable.
Cons
The hoof pick isn't as effective as I would've expected. I needed to use a hoof brush after the pick to finish the job;
It lacks inside pockets;
I find it a bit annoying that, at times, the taller tools fall off because the outside pockets don't have the proper length.
Long River Grooming Kit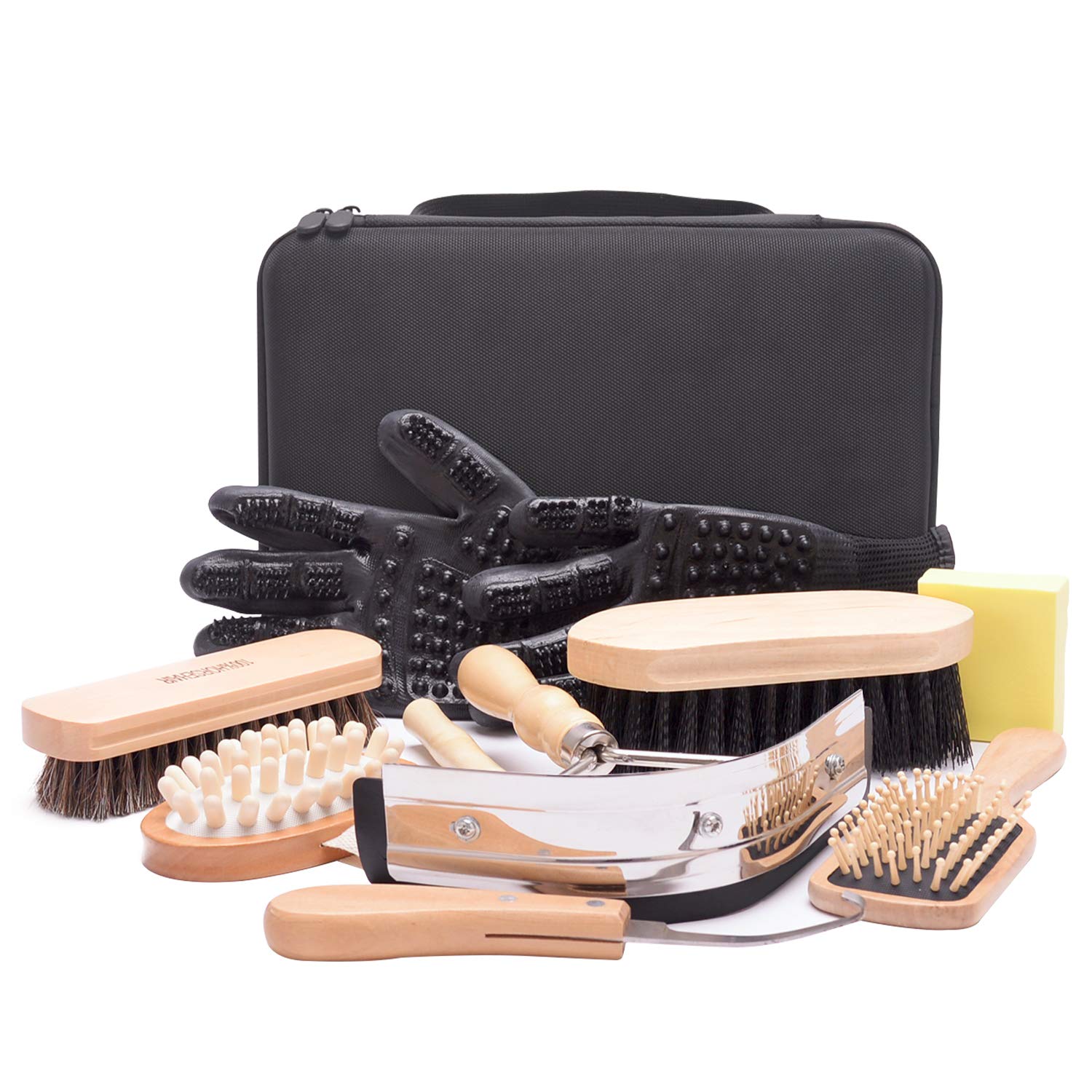 I was simply amazed by how affordable this Long River kit is. Moreover, it comes with not seven but ten pieces. Unlike other similar sets, this one also comes with grooming gloves, a compressed sponge, and an exquisite black bag.
One feature that makes me consider this kit a premium one is that all the handles look elegant since they're made of wood. I particularly like the water brush of this kit because you can use it to untangle your horse's tail hair and the hair surrounding his face. It also works to flatten and tame coarse hair.
Another advantage of the kit is the black grooming glove that helps you massage your horse's body while also removing dirt and loosening hair. Put on the glove and gently rub your horse's coat using circular movements.
Pros
Classy and long-lasting grooming kit with wooden handles;
The materials are sustainable, which I like since I do my best to protect the environment;
It has ten different tools, including grooming gloves;
I love how elegant the portable bag is – it almost looks like a suitcase.
Cons
I'm sad to say that the bag can wear and tear quite quickly if you don't handle it with care;
It's a pretty decent deal considering its price, but the brushes' effectiveness could be improved.
Hilason Grooming Set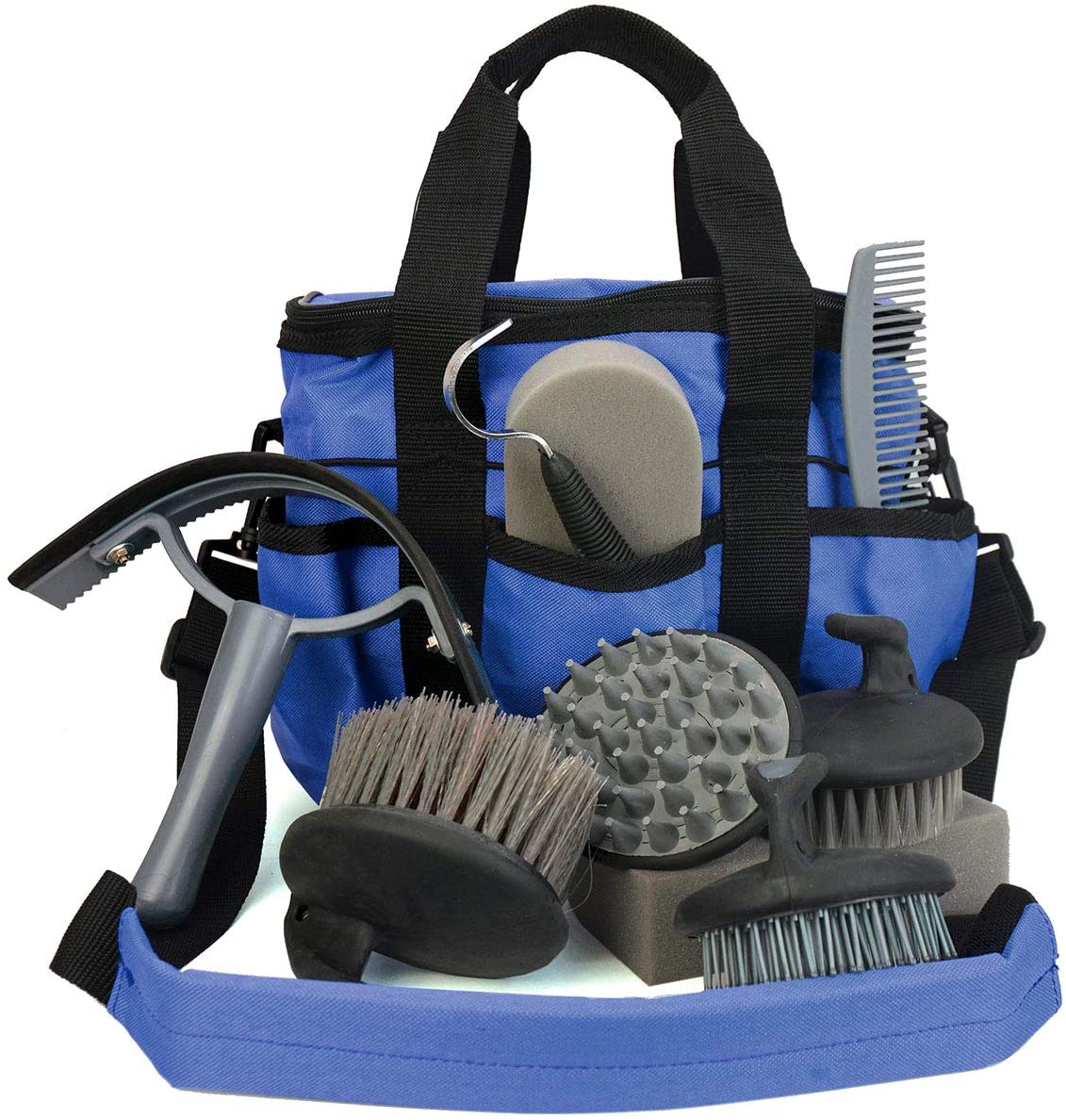 I've chosen to list the Hilason grooming set because it's another kit with ten different grooming pieces. It's more expensive than I expected, but I like how easy it is to clean and hold due to all the ergonomic rubber handles. In addition, the tote bag has plenty of outside pockets to carry all the tools wherever you go.
There are so many storage spaces that I can even carry my water bottle or smartphone with me on the go. Also, I always like to have tasty treats for my horse that I can give after I groom it. So, I could place those treats inside this kit's tote bag. The Hilason set is one of the best and most complex options suitable for all riders, regardless of their experience level.
I really like this kit's sponge which is soft and very easy to clean. It's made for the horse's sensitive areas such as the eyes, lips, ears, and nose. Let me tell you a little secret: if you soak the sponge in warm water, you can then wash larger body areas of your horse, including the legs.
Pros
It's one of the best starting sets I've ever seen with a lot of durable pieces;
I appreciate the ergonomic handles that enable good grip;
I love horse grooming sets that contain more than just six or seven tools.
Cons
The brushes' bristles are not solid and durable enough;
If I were to buy a ten-piece grooming set, I would personally opt for a different, premium brand.
Rambo Grooming Kit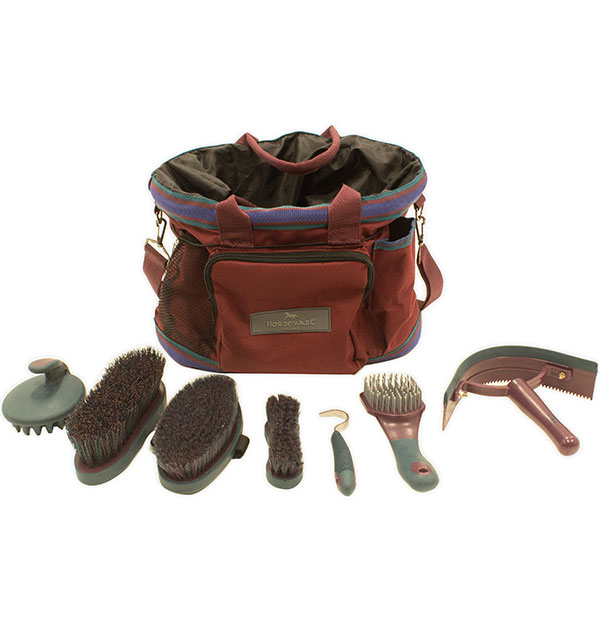 The Rambo grooming set is definitely one of the best options on the market with its wide range of available colors and durable materials.
Moreover, the kit contains all the essential tools you need to groom your horse. It's a bit pricey for my taste, but I love the tote bag, which has a beautiful design and is very well made. You can transport all seven Rambo tools in this durable and spacious bag.
I like less the fabric used to create the bag's top part. Other than that, I genuinely like this grooming set, mainly because I can use the sweat scraper's other side as a shedding blade.
There are many pluses when it comes to choosing this grooming kit, and one of them is the sturdiness of the sweat scraper which has two sides: a softer rubbery one and a rougher metal one. Please, use the metal side with caution and very gently to avoid hurting your horse.
Pros
The color of the set suits my preferences: burgundy with accents of both navy and teal;
This grooming set looks good, and I especially love the tote bag due to its design and durability;
I think this set's brushes are really great, and I enjoy keeping all of them organized in the tote bag;
It's a versatile set since you can use it on regular horses and tiny ones, including ponies.
Cons
The hoof pick could be sturdier. It looks so delicate to me that I'm afraid to use it to avoid breaking it;
There's only one available color;
One thing I would improve would be the top part of the storage bag. I would make it from a more long-lasting material.
Hy Equestrian Grooming Set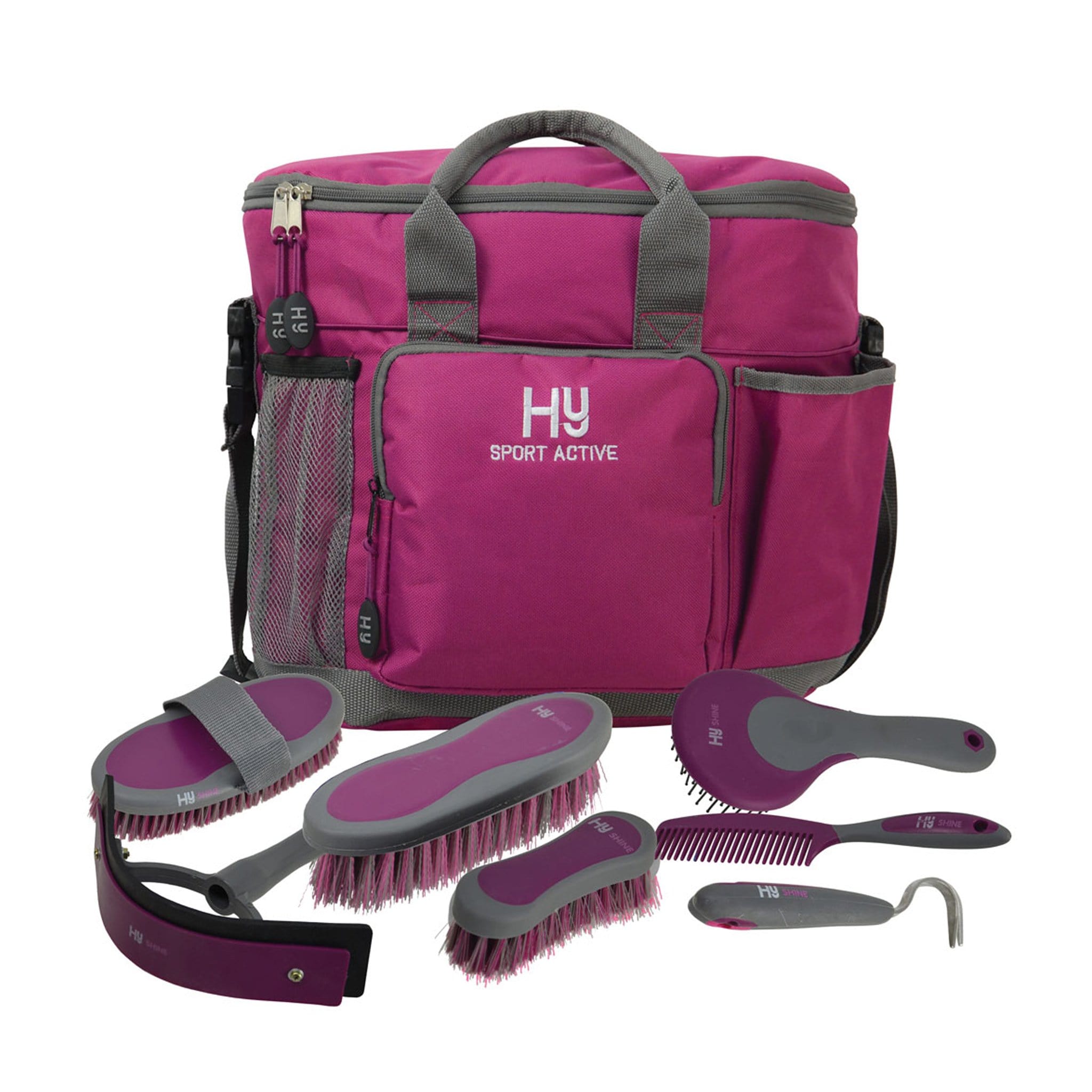 Oh my God, how cute is this Hy Equestrian grooming kit with all its wonderful and cheerful color options? My favorite is spearmint green, but you can choose from a wide range of alternatives like midnight navy, regal blue, emerald green, and others.
What's not to love about this kit since it has so many storage spaces and the inside of the bag is spacious enough. Besides the bag, the kit consists of seven important grooming items: brushes, combs, a scraper, and other essentials. It's a great choice if you and your horse are often in contests, shows, and competitions. Also, I love how sturdy and robust the hoof pick is.
This is among my favorite kits, and speaking of the hoof pick, I enjoy its split-up end. Basically, this useful hook with a rubber handle is excellent at removing stones, dirt, fallen leaves, and mud that can get trapped on the bottom of your horse's hoof, inside its sole.
Before using this hooked grooming tool, you should gently lift your horse's leg. That way, you will reach its hoof's underside a lot easier. Start from the heel and work your way towards the toes.
Pros
One of the cutest grooming kits I've ever seen, with so many excellent color choices;
It features six outer pockets and plenty of storage space;
This kit is very easy to clean and maintain;
It's an all-in-one alternative for riders who compete frequently.
Cons
It only contains seven pieces instead of ten like other kits.
Equestria Sport Grooming Set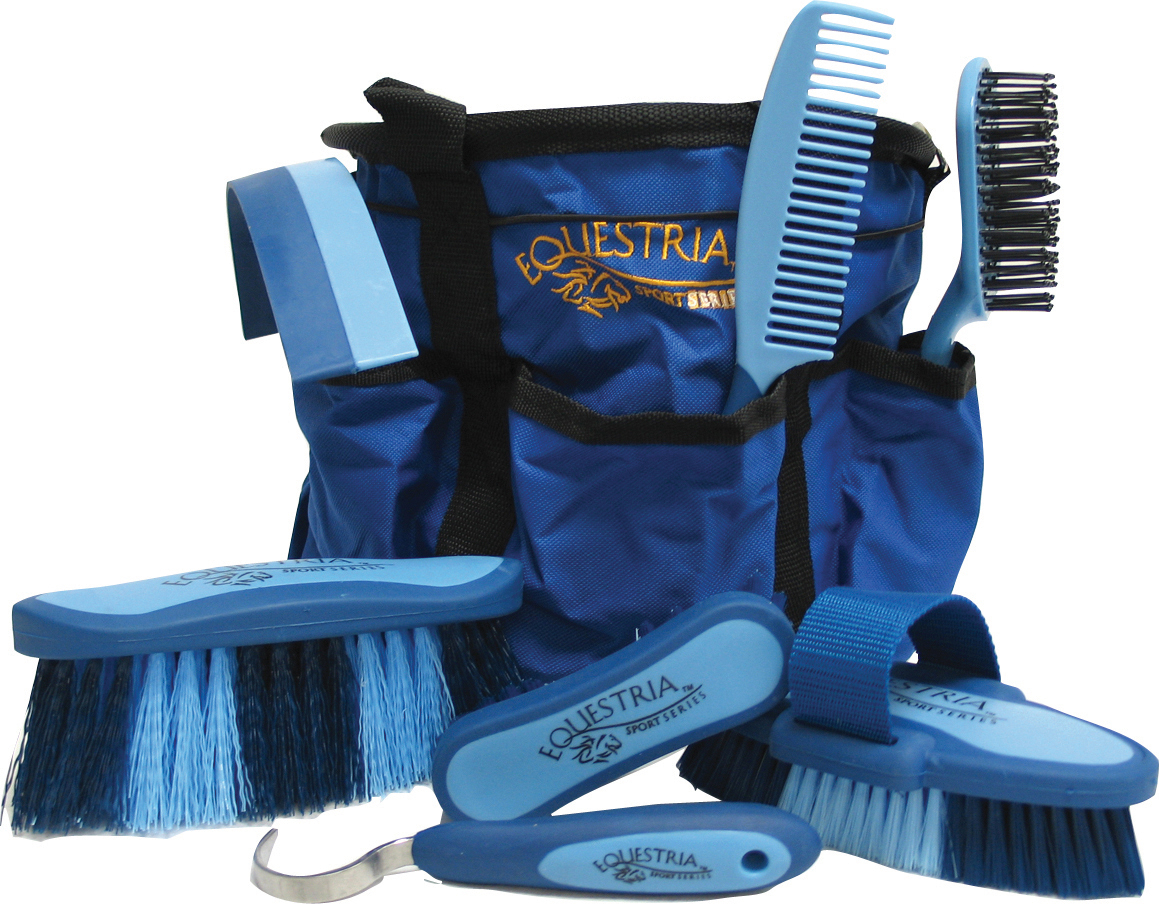 This Equestria grooming kit is a lovely set made of eight items, including the tote bag. While I wish the outside pockets would've been taller so that the tools don't fall out, I still like this kit due to its pretty design, vibrant colors, and the fact that it comes with everything I need to groom my horse fully.
I particularly love both brushes that come with this kit since they are larger than your regular grooming brushes. So, they cover wider body areas which means you'll finish the grooming process quicker. The water brush is great and effective since you can cover your horse's body with warm water and wash it in no time. It will help you dampen its coat while enabling a quick cleanse.
Pros
I love how roomy the tote bag is;
The bag featured an adjustable and padded shoulder strap for boosted comfort;
This kit comes with a warranty policy of a minimum of 90 days with the possibility to prolong that period.
Cons
It's a bit on the pricey side;
There are only two colors available: blue and pink. So, if you prefer something more classic and toned-down like black or beige, you won't find it here;
For me, the fact that the materials contain potentially-harmful chemicals is a definite downside.
Borstiq Everyday Horse Care Kit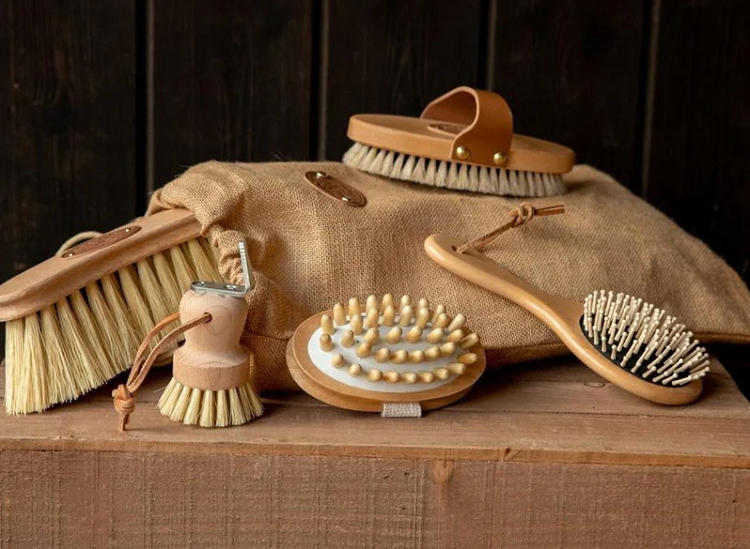 The Borstiq horse grooming kit is the perfect choice if you're all about preserving the environment using sustainable and eco-friendly products. All the items included in the set are made for daily use. I bet my horse will be pleased to be pampered and massaged with these cute brushes.
An exciting thing I like is the brushes' bristles, which are made of animal hair and plant-based fibers. In addition, all the handles are made of durable beech wood. What I like less is the fact that the kit comes with just a few items. It lacks a sponge and hoof pick. However, the mane brush is great and looks lovely.
You can safely use it to untangle or even style your horse's hair. The mane brush is the one with wide teeth and because you must use sweeping motions, this step of the grooming process becomes significantly quicker without compromising on efficiency.
Pros
It's a long-lasting and eco-friendly kit;
It's excellent for daily grooming;
Made of durable and natural materials.
Cons
A bit pricey;
It only has five grooming pieces;
The bag, while sustainable, isn't spacious enough.
Best Horse Grooming Kits – How I Chose Them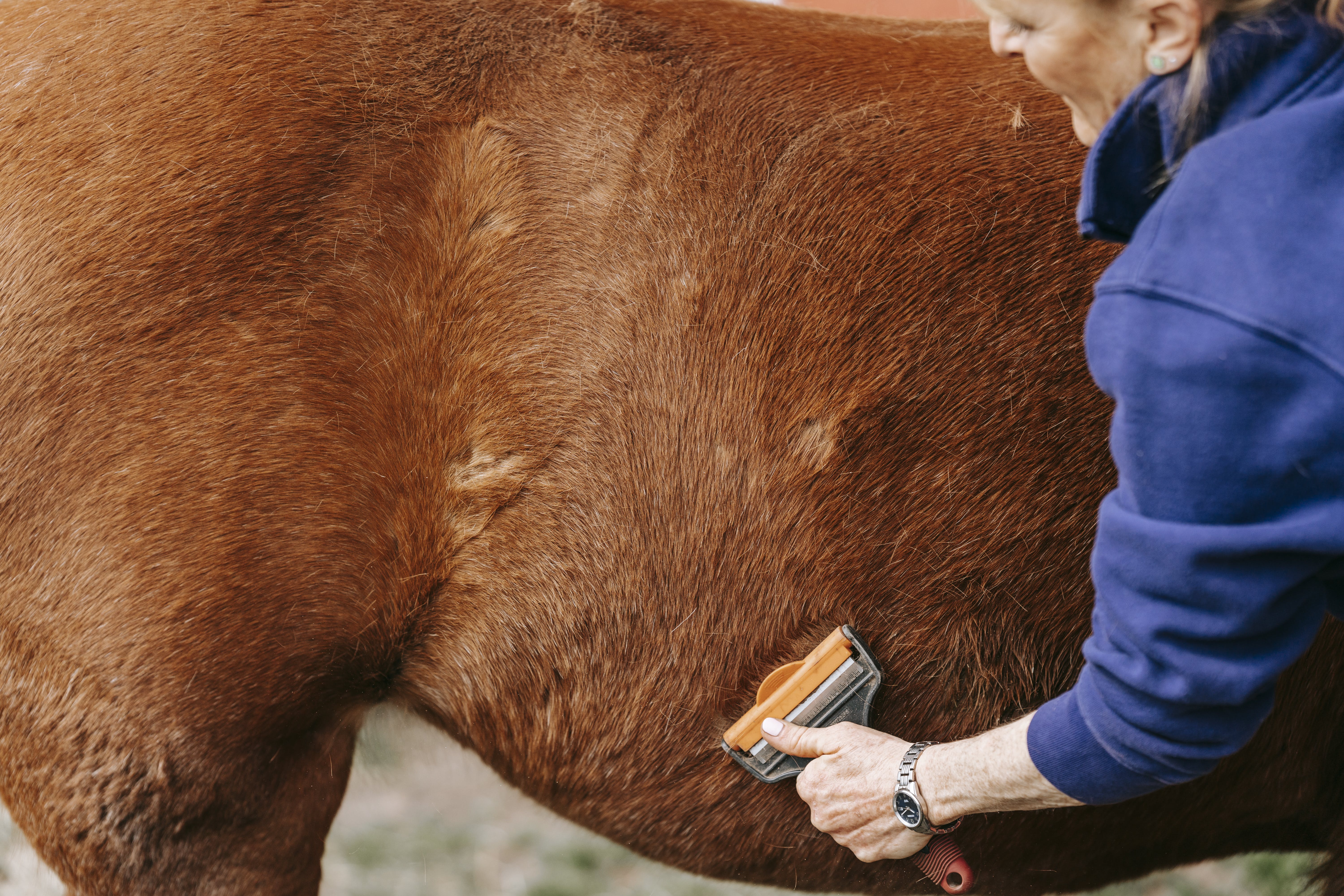 When presenting the above grooming kits, I always kept certain factors in mind. First and foremost, you must know what a good kit should contain, and those necessary items for proper grooming are different types of brushes, sweat scrapers, hoof picks, combs, and more.
Secondly, I tried to include different versions of the same product type so that you can find at least one kit that matches your needs, budget, and preferences.
Besides the items included in the set, I also thought about materials and their durability. As you can see, I've even included a few eco-friendly choices made of sustainable fabrics. However, most of these sets are made of rubber, metals, plastic, and polyester, all of which are synthetic materials.
Ergonomic design was another significant aspect I considered since comfort is an essential factor for me, as I'm sure it is for you as well. For example, grooming tools should have handles that are easy to hold and handle. Then, the cleaning process should also be reasonably easy to do.
Finally, I considered these products' lifespan since grooming kits are something you will frequently use, if not daily. So, make sure to pick high-quality and durable horse grooming sets. If you can't afford premium sets, start with a basic one. And, remember that a more expensive product isn't always a better one.
FAQs
Question: What should Horse Grooming Kits Contain?
Answer: Ideally, a kit should consist of various grooming items, including brushes, combs, scrapers, and others. If you're on a limited budget, you should at least purchase a decent quality set made of at least 5-6 grooming tools. Opt for those that have ergonomic handles and are preferably made of long-lasting materials.
Question: How Often should I Groom My Horse?
Answer: Ideally, you should groom your horse a couple of times per day. Or, if you don't ride on a daily basis, you could groom it once a day. Still, you won't need to use all the grooming items every single day. For example, hoof picks aren't required daily. Instead, you can use the pick once every few days.
Question: What are of a Horse's Body should I Avoid Brushing?
Answer: Obviously, you should change brushes based on the area you want to groom. For instance, soft-bristle brushes are made for sensitive areas such as the head, legs, and ears. On the other hand, you can safely use the hard-bristle brush on the body and around the belly.
If you mix up these two types of grooming tools, your horse could develop skin irritations. Moreover, brushes with tough bristles might cause a lot of unwanted discomfort.
Question: Which Are Better Between Tall or Short Winter Riding Boots?
Answer: Both models are great for riding. It's up to you and your resistance to cold weather. Shorter boots, which are known as paddock boots, are less expensive. Still, I prefer the tall ones due to their boosted coverage and protection, despite their higher price tag.
Best Horse Grooming Kits – In Conclusion
I like many of the grooming kits I've presented today, but my absolute favorite is the Oster Equine set because of its good-quality pieces. Moreover, this set is portable and looks nice. But, the ultimate choice is yours since you know best what your horse needs. As you can see, there are smaller sets with only 5-6 items and more complex kits with 9-10 pieces.
At first glance, I would jump for the most comprehensive grooming set, but I must also consider other aspects such as price, portability, durability, quality, and materials. Also, before purchasing one of these kits, think about your horse's hair type and daily activity.
See other useful and topic-related articles below: