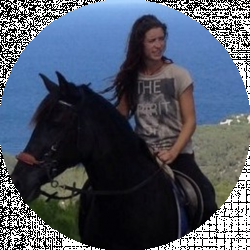 Latest posts by Tanya Taylor
(see all)
Grooming is an essential part of any horse care routine, and it's one of my favorite barn chores because it helps me bond with the horses at work.
I've used a lot of grooming brushes in my time as a Stud Assistant, and I know each one has a unique function and purpose. So, if you want to know how to choose the best horse brushes for grooming, I'll tell you everything you need to know below. 
In this guide, you will learn:
The different horse grooming brushes

How to choose the best horse brushes for grooming 

The best horse grooming brushes on the market
Bottom Line Up Front
My overall top choice in horse grooming brushes is the Wahl Professional Soft Brush. This is an essential item for any grooming kit, and it's the best tool to remove dust and make your horse's coat shine. This brush is a treat for owners, too; it has a unique ergonomic handle which takes the effort out of grooming.
My Top Choices at a Glance
Before we start, I want to give you a quick overview of my top brushes and why I chose them:
Eqi Essentials Dandy Brush

– I love this Dandy Brush because it's strong, sturdy, and fantastic for removing dirt and smoothing the coat.

Oster Coarse Curry Comb

– This is the best tool to remove caked mud and loose hair from your horse. It's comfortable to use, and the thick rubber bristles massage your horse while you groom.

Wahl Professional Soft Brush

– This Soft Brush brings out the shine in a horse's coat and is one of the best brushes for finishing the groom.
The Benefits of Grooming Your Horse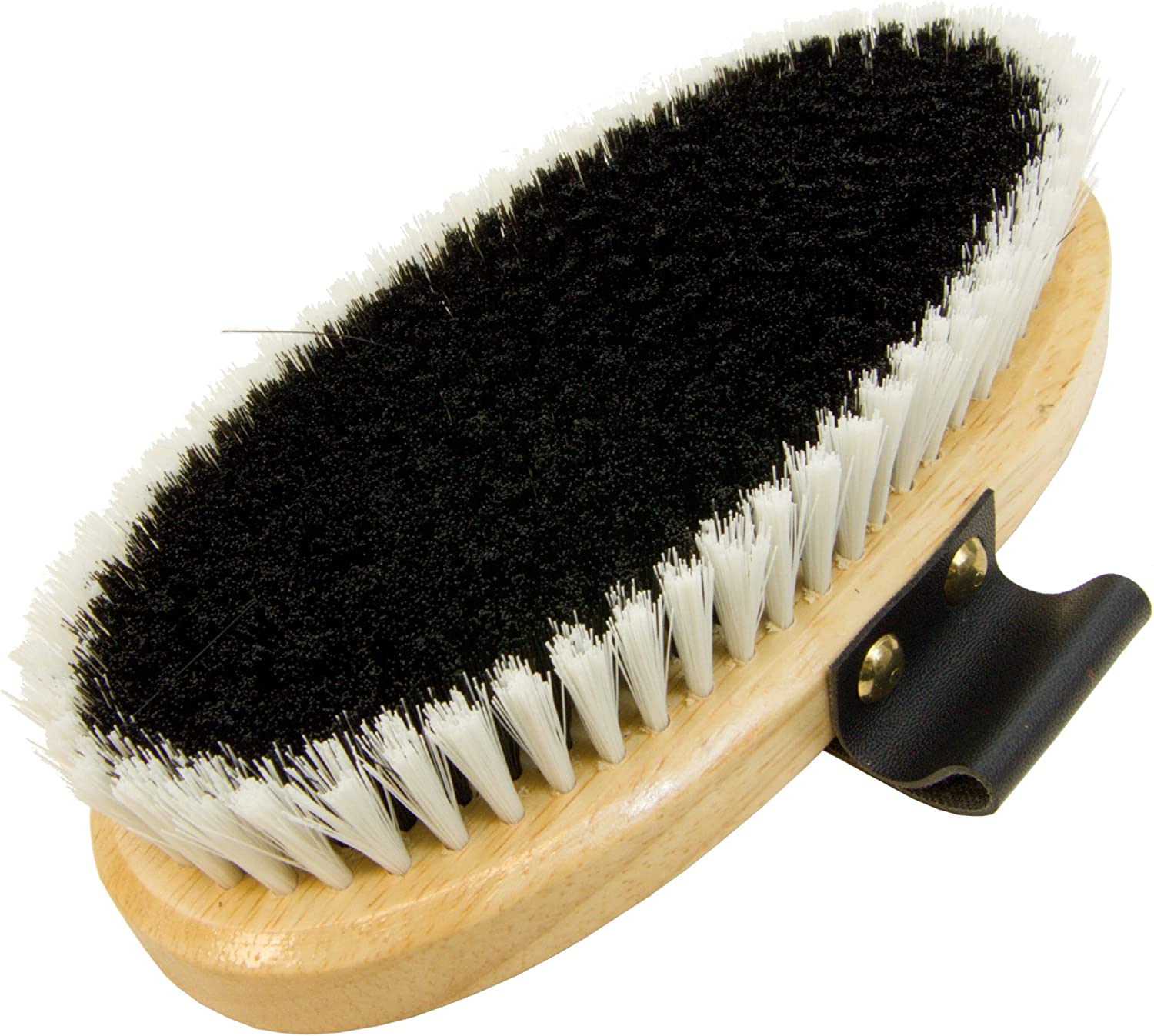 Grooming is one of the best ways to promote a shiny coat – it helps distribute the natural oils of your horse's skin and encourages circulation, which increases hair growth. Grooming is particularly important when the seasons change because it helps horses shed their thick winter coats. Senior equines, in particular, usually need extra help to get rid of their hair after the winter.
Grooming is also good for a horse's general health and condition. When you groom your horse, it's the equivalent of giving a massage. Grooming encourages circulation to all bodily systems and can help your horse relax and release muscle tension.
I like to groom my horses regularly because it's better for their health when I'm intimately acquainted with their body – I can quickly spot changes in their condition. Daily grooming is also a fantastic way to spot abnormalities, such as bumps, cuts, or swelling.  
Grooming is satisfying and rewarding and is an excellent way to get to know your horse – its sensitive spots and areas where they love a good scratch. Horses groom each other in the wild to bond with each other.
What are the Different Types of Horse Brushes for Grooming?
A good grooming kit will consist of several brushes and tools, including a hoof pick, and I usually store my brushes together in a sturdy box or tote bag. There are many different horse brushes, but they fall into one of several categories, depending on their purpose. It's good to have a range of grooming brushes because each has a specific function. 
Below, I've listed the most common horse brushes so you can get a better understanding of them. 
Mane and Tail Brushes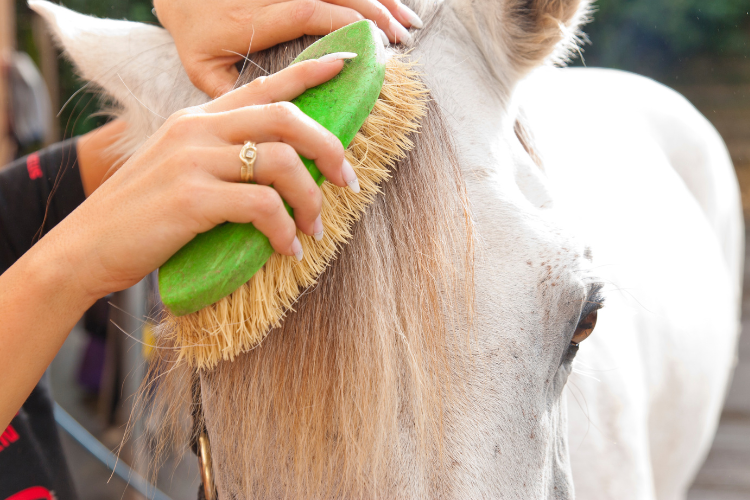 A horse's mane and tail hair are different from the rest of its coat, so I always use a mane and tail brush for their long hair. Mane combs are usually made from metal or plastic and are between 3 and 7 inches long.
They do a great job of removing knots but can damage your horse's hair if you don't use them gently. You can use a mane comb on the tail, but if your horse has a thick tail, you need to use something more robust like a plastic curry comb. 
Curry Combs
There are three types of horse curry combs – plastic, rubber, and metal. Plastic and rubber curry combs are good for removing shedding hair and dried mud – they promote circulation and bring dried skin to the surface. 
Rubber Currys

are round, and you use them with a firm circular motion on the horse's coat. 

Plastic Currys

are rectangular with stiff plastic bristles and are excellent for cutting through dried mud and oily hair. 

Metal Currys

are not for your horse's coat – you use them to clean your brushes. They have several rows of toothed metal, and when you drag them across bristles, it removes hairs, dust, and debris. You can use some metal curry combs like you use a grooming blade.
Grooming Blade
A grooming blade is 10 to 15 inches long and made from a thin piece of metal. It has short teeth on one edge, with plastic handholds at each end. A grooming blade is the best grooming tool for removing matted hair and caked mud from a horse's coat. 
Grooming blades are sharp, so I always use them gently, and I never use them on my horse's spine, limbs or face. One side of the grooming blade is flat, so I like to use it as a sweat scraper to remove excess water after a shower or sweat after exercise.
Dandy Brush
Dandy brushes have short, firm bristles and rectangular handles and are great for removing the dirt and hair stirred up from currying. The firm bristles cut through dried mud and help smooth out the coat. Dandy brushes are ideal for giving your horse a quick groom in the winter because they won't remove excessive amounts of oil. 
Body Brush/Finishing Brush
Body brushes are the softest horse brush, and I use them to remove dust and finish off the groom. They have short, soft, dense bristles, which distribute the natural oils in your horse's coat to help them shine and bring out their color. You can use the body brush on every part of your horse, and it's fantastic for the face and sensitive areas. 
How I Choose the Best Horse Brushes for Grooming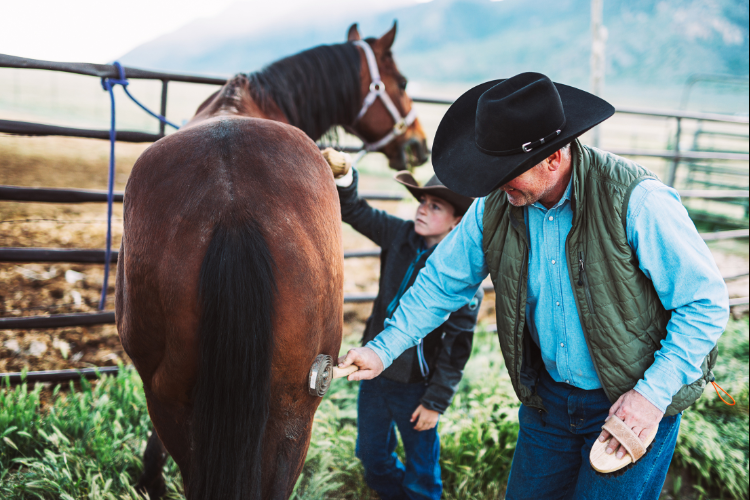 When I buy grooming brushes, I want them to be sturdy, durable, and comfortable, and I always choose them according to my horse's needs. If you want to know how to choose the best brushes for grooming your horse, I've listed the most important things to look out for below. 
The Materials
Grooming brush handles are usually made of plastic or wood. Plastic handles are generally more hard-wearing, but wood feels more comfortable in your hand. Some brushes come with straps made from leather or synthetic material. Brushes with leather straps are more comfortable but are usually more expensive. 
The Bristles
Grooming brush bristles are made from either natural, synthetic, or mixed fibers. Natural bristles promote a shiny coat, and you usually find them on soft brushes. Synthetic bristles are stronger than natural ones, so you usually find synthetic bristles on hard brushes. 
Hard, long bristles are better at removing tough dirt and dead skin. Soft, short, dense bristles are good for smoothing the coat, removing dust, and distributing the coat's natural oils. 
User Comfort
A good grooming session should feel like a bit of a workout. It takes a lot of energy to groom a horse, so you must choose brushes that are comfortable to use. If you groom a lot, invest in ones with extra comfort features such as an ergonomic design or soft-grip handles. 
Horse Comfort
Each horse is unique, and they all have a preference for their favorite brushes. Sensitive horses with a thin coat and delicate skin might prefer soft body brushes. While ticklish horses usually like it when you use stiff brushes. If your horse has a thick coat, you must use hard brushes to penetrate it.  
My Recommendations for The Best Horse Grooming Brushes on The Market
There are thousands of horse grooming brushes on the market, and I know it's not always easy to find the right ones. Some are good for tough mud, while others are better for smoothing the coat and removing dust. To help you in your search for the best horse grooming brushes, I've listed my favorite ones below:
The Best Mane and Tail Brushes
Oster Mane and Tail Comb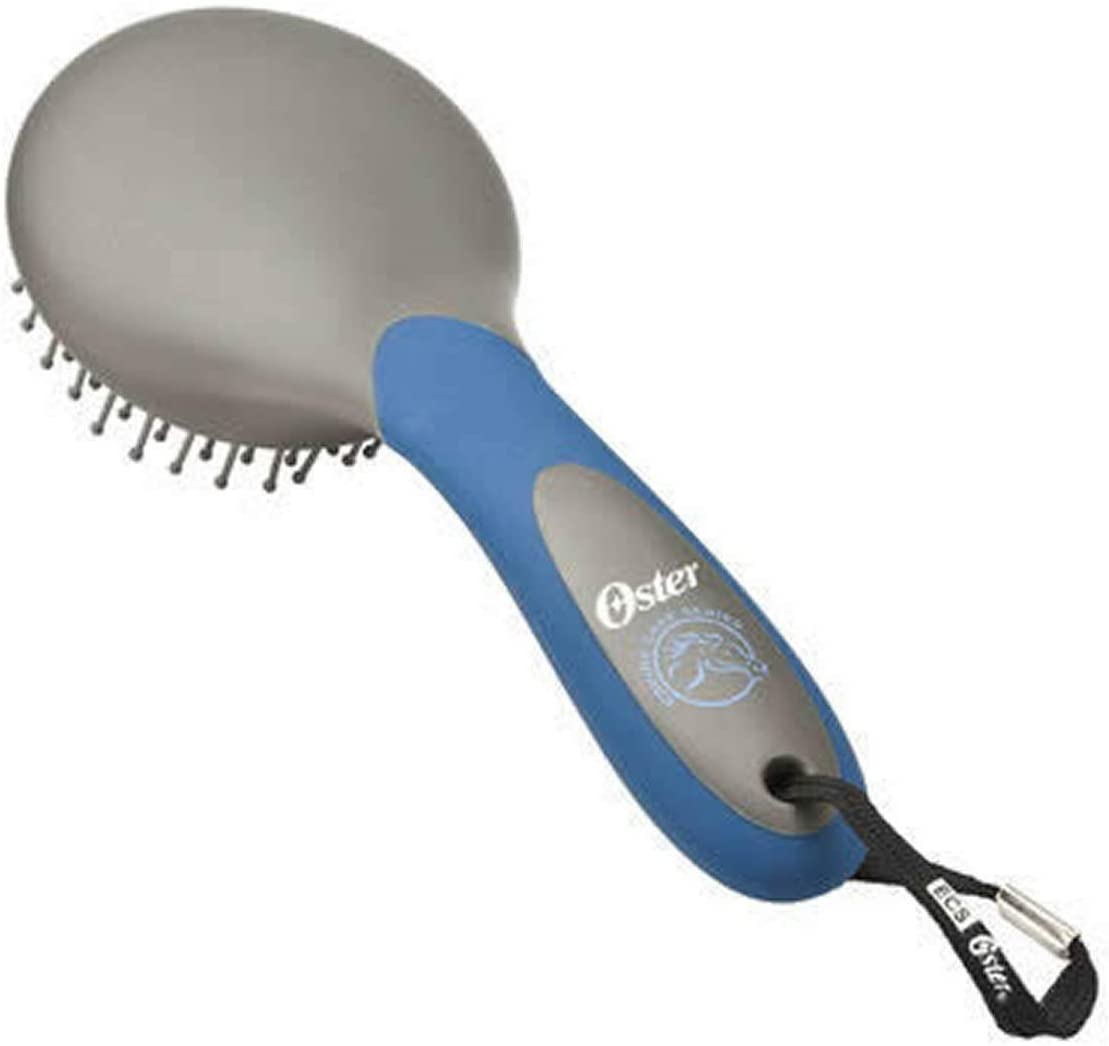 In my opinion, this is by far one of the best brushes to use on your horse's mane and tail. It has long, flexible, ball-tipped bristles which gently cut through knots without causing lots of damage.
I love this mane comb because not only is it gentle on my horse's hair, but it's also super comfortable to use. This is a high-quality, durable mane and tail brush that will last a long time. It's a favorite among horse owners and has very few negative reviews. 
Pros
Gentle on mane hair

Comfortable and easy to use 
Cons
Some owners find it too big and bulky
Partrade Aluminum Mane Comb with Wooden Handle

I love this classic mane comb from Partrade because of its sturdy wooden handle, making it easy to use. The comb is made from durable aluminum and has 20 six-inch teeth, which are strong and durable. This mane comb easily cuts through knots, but I find it too strong for horses with wispy hair. 
Pros
Durable

Comfortable wooden handle
Cons
It can be too strong for horses with delicate hair. 
Solo Comb Mane Comb

The Solo Comb has blades, so I only use it for pulling a horse's mane. It's a fantastic way to pull a mane instead of yanking the hair out with a traditional mane comb, and it takes a lot less time and effort. The great thing about the Solo comb is that you can buy replacement blades to prolong their life. 
Pros
More humane than traditional pulling

It comes with full instructions
Cons
Not very strong on thick manes and tails

You have to buy replacement blades separately. 
The Best Brushes to Remove Mud and Dirt
Shires Plastic Curry Comb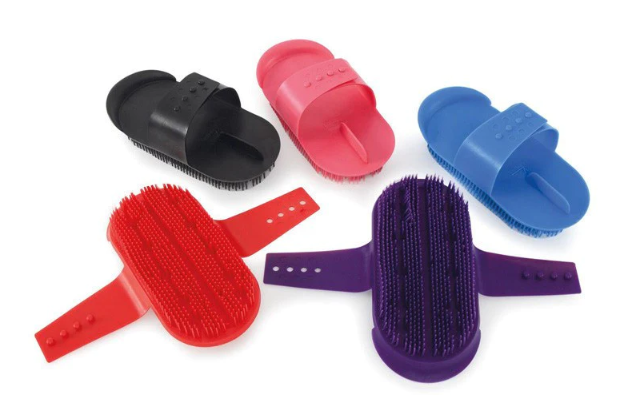 I love this plastic curry from Shires because it's sturdy, well-made, and cuts through caked mud easily. I mostly use this plastic curry on horses with long, thick hair, and I use it as a mane and tail comb in some situations. It comes in a range of colors to match your grooming kit, and it has an adjustable strap handle so you can fit it to the size of your hand. 
Pros
Adjustable handle

Fantastic on caked mud
Cons
Bristles wear down over time
Oster Coarse Curry Comb
I love this curry comb because it feels so comfortable in my hand, and it effortlessly removes dirt and caked mud from my horse's coat. It has thick, widely-space, durable, soft rubber bristles, which massage the skin and help with shedding. Oster also has a fine curry comb for horses with a shorter or thinner coat.
Pros
Comfortable to use.

It's good for a horse's circulation.
Cons
Not good on horses with a fine coat – choose the fine curry comb instead.
EquiEssentials Dandy Brush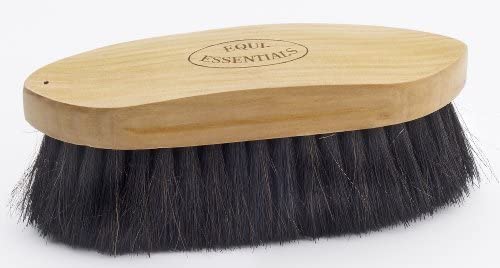 A dandy brush is one of my favorite pieces of grooming equipment, and I love this one from EquiEssentials. It glides through mud easily with its tightly-packed natural bristles and helps smooth the coat.
It has a traditional wooden handle which is polished and smooth and makes it comfortable to use. This is a durable brush ideal for any grooming kit. 
Pros
Natural bristles

Tough on grease and mud
Cons
A little bit on the small side.
The Best Brushes to Remove Molting Hair
Bettys Strip Hair Groomer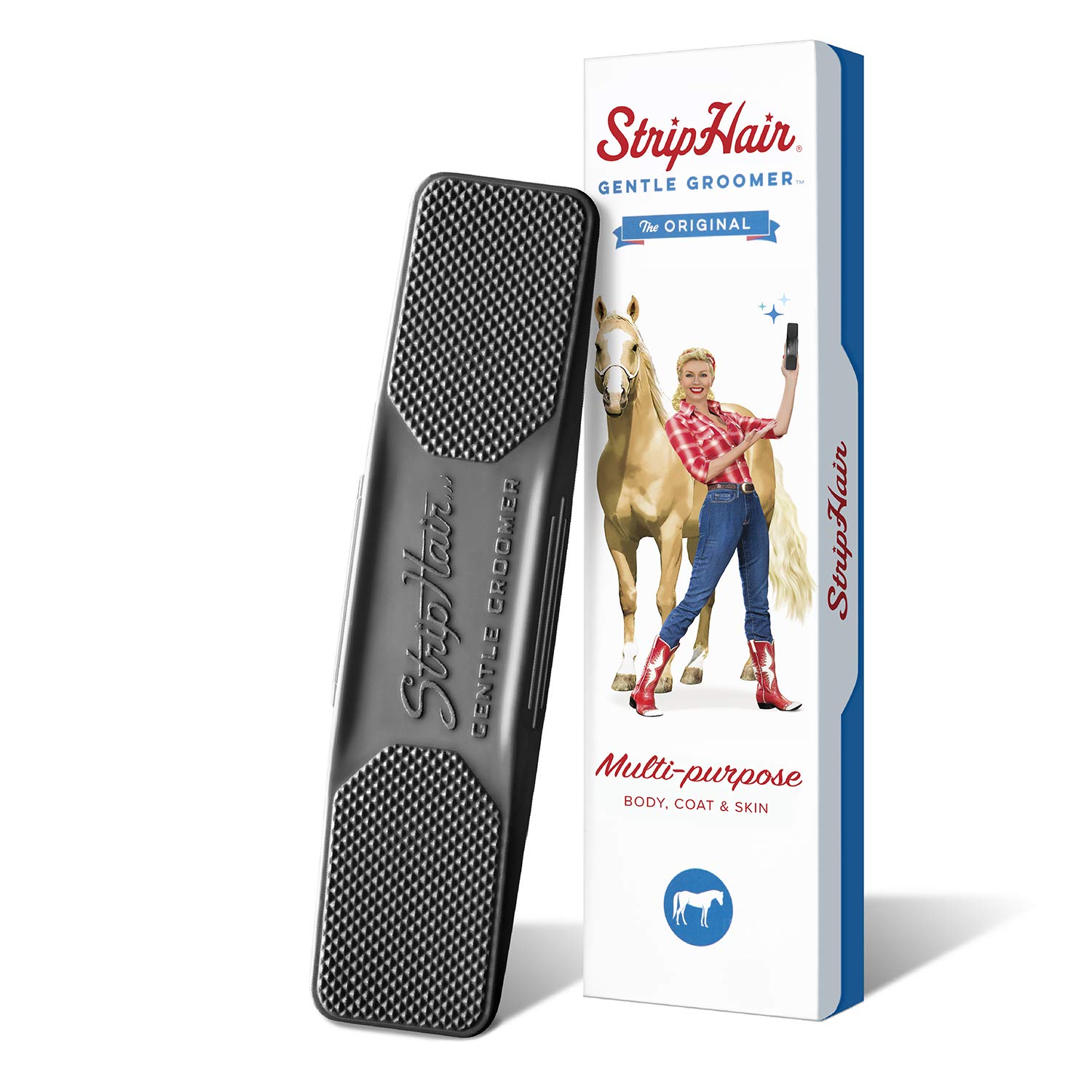 I like this Strip Hair Groomer because it's gentle but effective, and I use it on horses with a short coat. It has a therapeutic effect on horses because it massages them and promotes blood flow.
The Strip Hair Groomer is a versatile piece of kit which promotes shine and removes dust and hair – I even use it to remove horse hair from my clothes and tack. I also use this tool to lather my horse during a shower and scrape the water off afterwards.
Pros
Multi-purpose

Comfortable to use
Cons
Not good for horses with thick, long hair.
Decker Double Grooming Blade

This is a fantastic de-shedding tool from Decker, which I love to use in the spring when my horses lose their coats. The double stainless steel blade system removes twice as much hair with each stroke. The vinyl handles feel comfortable and are easy to grip when I use them in a loop or stretched out like a blade. This tool doubles up as a sweat scraper in the summer too, making it an essential piece of grooming kit.
Pros
Fantastic deshedding tool

It doubles up as a sweat scraper in summer
Cons
It's delicate, so you must use it gently
Lincoln Rubber Curry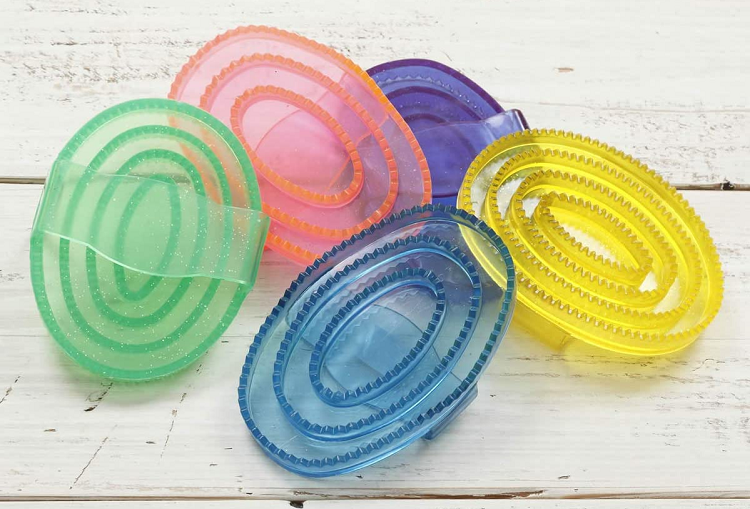 I always have a classic rubber curry in my grooming kit, and I particularly like this one from Lincoln. It's strong and durable and has a soft strap which keeps my hand firmly in place even with rigorous grooming. It's a fantastic multi-purpose tool, ideal for all coat types – it easily cuts through caked mud and removes shedding hair. I even use this rubber curry instead of a metal one to clean my softer brushes off after grooming.
Pros
Cons
Not as effective as a shedding blade.
The Best Brushes to Make Your Horse Shine
Oster Finishing Brush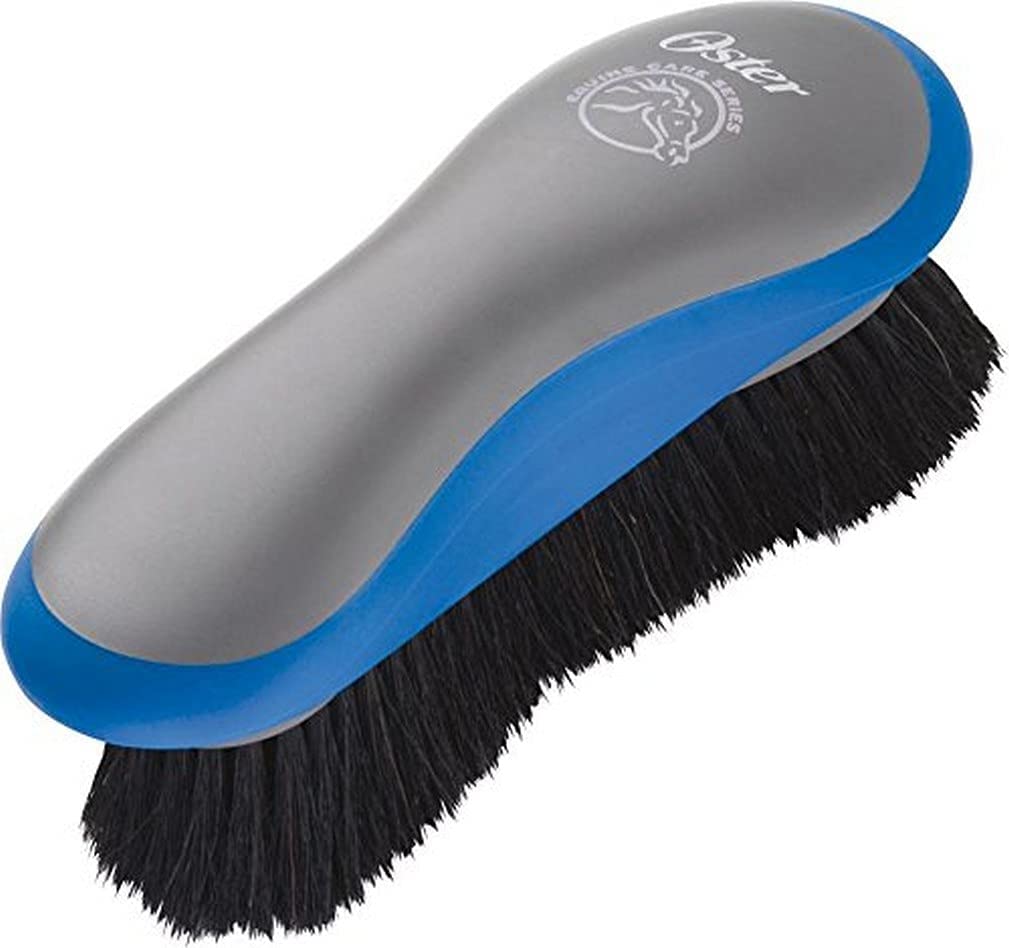 I love Oster brushes because they're high quality and comfortable to use. They have a soft rubber, contoured grip, which takes the strain out of grooming.
This finishing brush removes dust and distributes oil, and the soft, densely-packed, natural bristles really bring out a horse's shine. Oster brushes are some of the most comfortable ones on the market that conform to your hand size and shape.
Pros
Ergonomic design

Natural bristles
Cons
It's narrower than most finishing brushes, so it doesn't have as much coverage
Wahl Professional Soft Equine Grooming Brush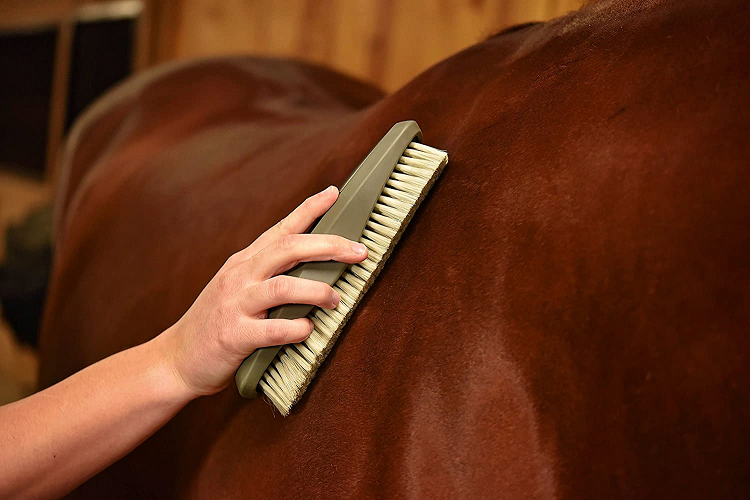 Wahl are animal grooming experts, and I love to use this soft body brush to bring out the shine on my horses. I can honestly say that this is one of the most comfortable brushes on the market with its unique ergonomic, soft rubber handle.
It is a pleasure to use, and it effortlessly removes dust, dead hair, and debris to produce an excellent finish on my horse's coat.
Pros
High quality

Durable

Comfortable
Cons
Very soft bristles, so it's not good for tough stains.
Intrepid International Soft Panda Brush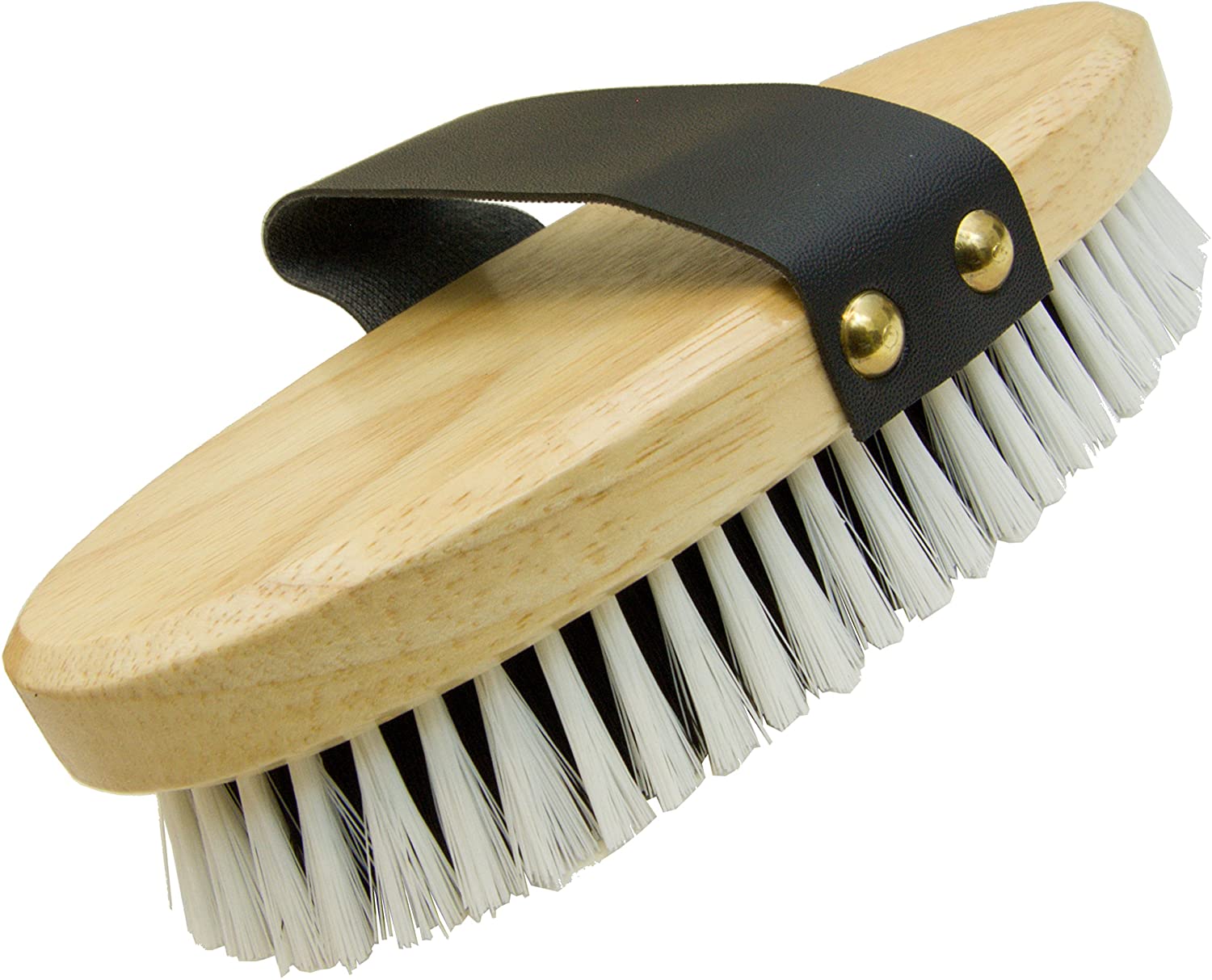 This traditional body brush from Intrepid International has medium-length, soft bristles to make my horse's coat shine. I enjoy using it because it feels sturdy in my hand, with its wooden back and fabric hand strap. I also like to use this soft brush on my horse's face and sensitive areas.  
Pros
Large size and good coverage

Good value
Cons
It needs to be cleaned regularly with a metal curry comb during grooming.
My Top Choice in Horse Grooming Brushes
If I could only have three items for my grooming kit, I would certainly choose the Oster Coarse Curry Comb. This is the best tool to cut through caked mud and remove shedding hair. It's comfortable to use and even massages my horses as I groom them. 
The next item my grooming kit couldn't be without is the Equi Essentials Dandy Brush. This is one of my favorite dandy brushes on the market because it's tough and durable, and the firm bristles effortlessly remove mud and dust and smooth out the hair.
For me, finishing the groom with the right brush is vital, and for finishing, I would choose the Wahl Professional Soft Brush for my grooming kit. The super-soft bristles are perfect for removing that last layer of dust to bring out the shine on horses. 
FAQs
Question: What are the Best Horse Grooming Brushes?
Answer: The best horse grooming brushes are comfortable to use and suitable for the job you want them to do. The best brush for removing hair is the grooming blade or rubber curry, while the best one for removing caked mud and dead hair is the dandy. The best brush to remove dust and promote a shiny coat is the body brush. 
Question: What Kind of Brushes do You Use for Horses?
Answer: You should only use brushes designed for equines on your horse. Grooming tools for other animals will be too small or sharp and might damage your horse's skin. If you want to groom a horse well, you need to use several different brushes, such as a body brush, dandy brush, curry combs, or a grooming blade. 
Question: What Brush do You Use First when Grooming a Horse?
Answer: When you groom a horse, always begin with the firm brushes and work your way to the soft ones. Firm brushes, such as the rubber curry or grooming blade, work deep into the coat to remove dried mud and bring dried skin to the surface.
Medium brushes such as the plastic curry or dandy do a great job separating the hairs and loosening dust and debris. Finally, the soft brushes will remove the left-over hairs and dust and bring out the shine in your horse's coat.  
My Overall Top Choice and Conclusion
Grooming is an essential part of any horse care routine, and you must have the right tools for the job. If there's one brush I simply couldn't live without, it's the Wahl Professional Soft Brush. I love using it because it feels comfortable in my hand and makes grooming feel effortless. Not only is this brush easy to use, but the dense, soft bristles bring out the sheen in any horse.