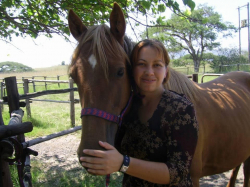 Latest posts by Talitha vanNiekerk
(see all)
Recently, I moved to a homestead of my own. My dream home with a lovely parcel of land is a bit further from where I had been living with my horses, so my farrier couldn't come out for regular maintenance as often. 
Luckily, she was happy to teach me a few basic trimming techniques so I could maintain my horses' hooves in between their regular trimming sessions. However, I needed my own set of farrier tools. What an adventure into the farrier rabbit hole this proved to be! 
With my very patient farrier guiding me, we looked at different farrier tools, making up my first farrier set as we went. I never knew that choosing a nipper, rasp, knife, and apron could be so technical, but we ended up with a nice set of tools that have not let me down since I began maintaining my horses' feet. 
If you're busy putting together your first farrier set to start trimming your horse's hooves, you'll find all the best guidance, tips, and products right here.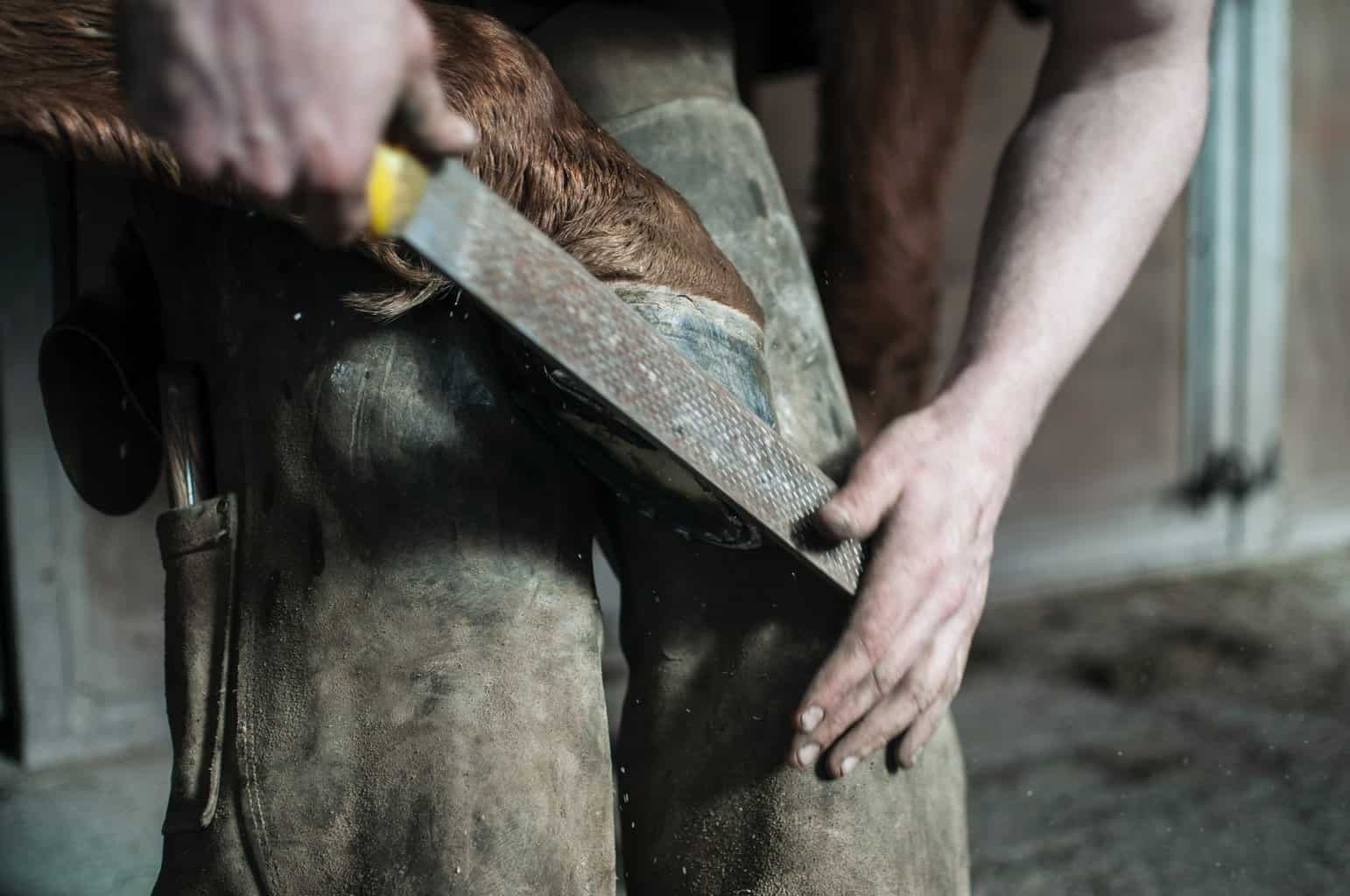 Best Farrier Tools Bottom Line Up Front
The absolute best farrier tool that I would choose is the Heller Excel Legend Farrier Rasp because it is a great tool that can shorten hooves when needed, balance the hoof nail surface, and fix chips and cracks if used correctly. 
My Top Farrier Tools Up Front
Best Farrier Tips and Advice
The professional tools tempted me, but my farrier was aware of my budget restrictions and readily shared some great tips and advice to help me find great budget beaters. 
Cutting Corners
There are several items that a professional farrier uses that I wouldn't need since I would only be trimming or rasping my horses and only every six to eight weeks at that. To help me cut corners, my farrier advised that I could substitute-buy these items:
Gloves
While I thought I didn't need gloves, my first rasping session ended with bloody fingers since I didn't wear gloves. However, genuine farrier's gloves are pretty costly, and often, these gloves aren't designed for a lady's hands. 
My farrier advised me to buy regular rubberized gardening gloves that fit snugly. To help reduce the vibrations of the rasp, she said to wear two pairs overlaid to create a nice buffer that protects my fingers and stops the dull ache that comes from rasping hooves. 
Steel-Toed Boots
Most horse owners wear steel-tipped boots around their horses, but when you are doing farrier work, this becomes a non-negotiable. Horses tend to drop their hoof on your toes, so these boots have been a real life-saver. Plus, the wider sole and extra grip help me assume the farrier's stance—which is hell at the best times. 
Apron Substitute
Initially, I didn't have the budget to buy a real farrier's apron, but my farrier said I could probably get away with a pair of jeans. The main idea with a farrier's apron is to provide extra grip when holding the horse's leg up while also protecting your legs from being rasped. 
Since I wasn't going to shoe horses, I wouldn't need a complete farrier's apron—just yet. 
Leverage 
When you have small hands as I do, you need all the help you can get, so my farrier also had a tip I really appreciate. Whichever farrier tool I purchased, she said to go for the longest handles I could find. The reasoning? The extra length translates into leverage, which helps me cut through the horse's nails by giving me a little extra power. 
My instinct was to go with smaller tools such as mini nippers, not realizing that those would lack the power I needed to trim a horse's nails.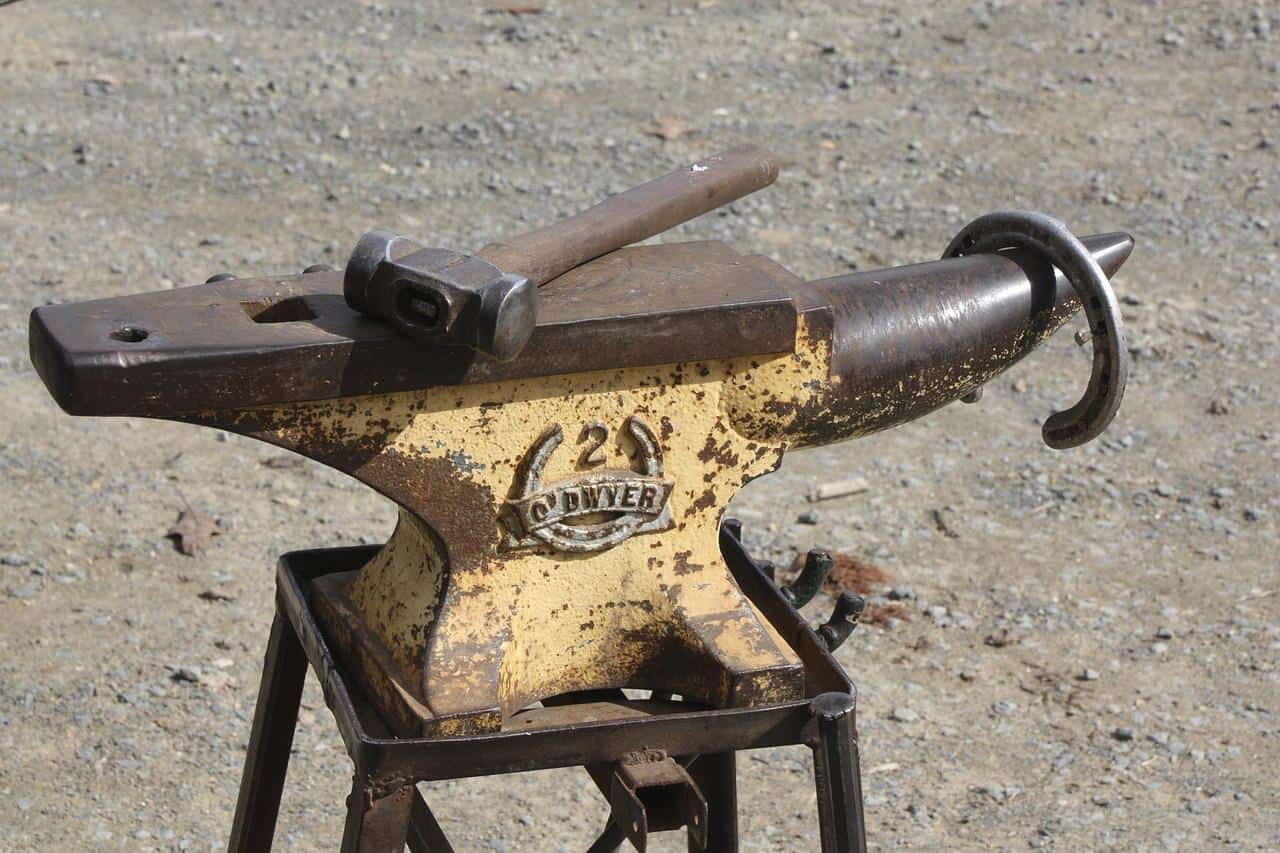 Non-Negotiables in Farrier Tools
When spending money on your farrier tools, you need to get the best quality you can afford while making sure you purchase tools that you can use. 
My farrier was kind enough to train me quite well in checking the hooves' angles, knowing where and how much nail to trim, and how to finish a hoof nicely so the horse would be comfortable. One of her non-negotiables, when it came to new tools, was that I know how to take care of them. She had these rules:
Stay Out of the Rain
Farrier tools are made from steel, but they easily rust when exposed to moisture and dampness. Trimming outdoors on rainy days is a big no-no. Laying the tools directly onto the damp ground is also a don't-do. I use a rag or piece of leather to keep my tools on when I work. 
Keep Your Tools Clean
Without the correct tools, you won't be able to trim your horse's hooves the right way. These tools can be expensive, so you should look after them. Cleaning your tools is included in this care. 
Clean your tools with a soft brush, then wipe them down with an oiled cloth and spray a good-quality steel lubricating spray on the hinges of the nippers. Use a wire brush to clean out the teeth of the rasp, ensuring the rasp works correctly. 
Sharpen your nipper teeth/edges frequently, as a blunted nipper won't cut easily or accurately. 
The Right Tool for the Right Job
Respect your farrier tools, and don't use them for anything they weren't designed to do. Your rasps can't rasp wood, stone, or steel because they happen to be handy in the toolshed. Preserve your hoof nipper's edge by keeping it only for hoof nipping. Don't let anyone use it to trim the garden hedge or randomly bang it around. 
Farrier tools are finely balanced to enable your work when trimming hooves. Try not to throw these tools around or handle them roughly, as this can damage their balance. 
Stick to Horses
Oddly, when people hear you can rasp hooves or nip nails, they expect you to help out with their other animals too. Never use your farrier tools to trim or rasp other animals, such as goats, pigs, or cows. These animals have different hoof structures, and your farrier tools are designed for use on horses, not other cloven-footed animals. 
Best Farrier Tools Selection Criteria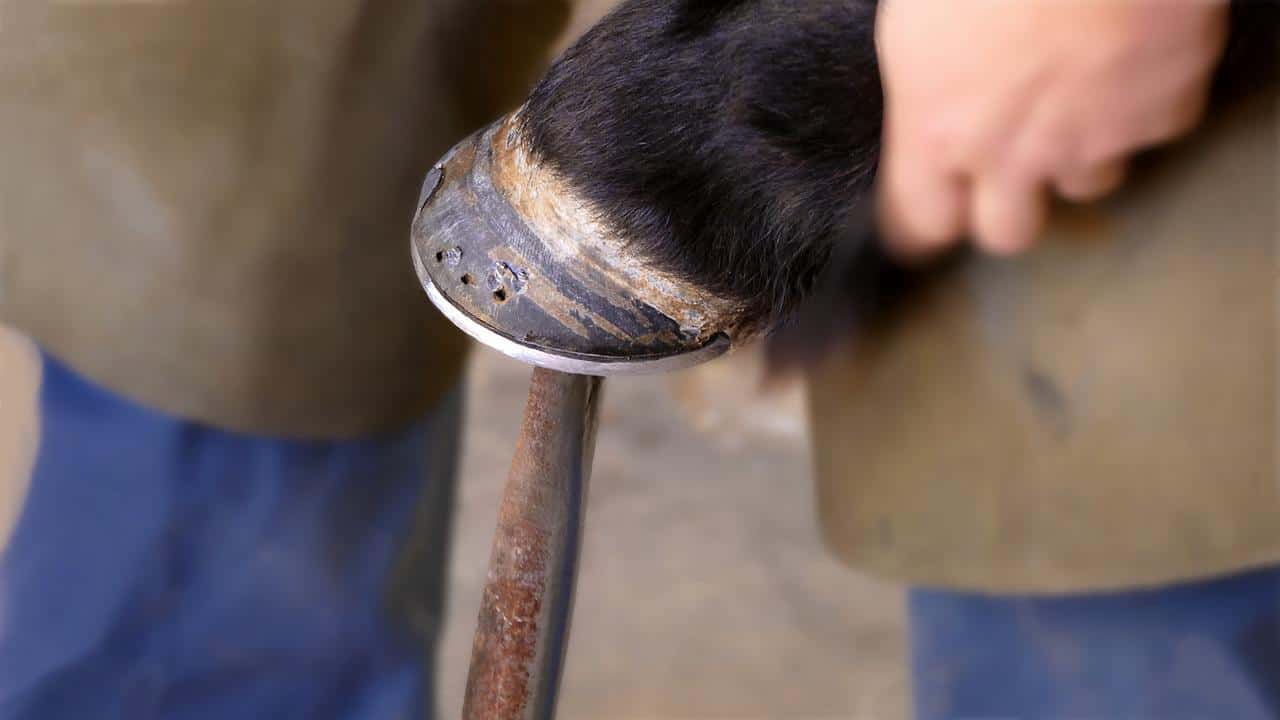 When comparing different farrier tools, knowing what to look for to ensure you have a quality tool is essential. Here are some great considerations to help you choose the best for your use and pocket: 
Quality of Material
Farrier tools are made from different kinds of steel. Vanadium steel is one of the best types of steel to use as it retains shape, offers enough resistance to work effectively, and has rust resistance (though, if you leave it in the rain, it will rust). 
Carbon steel is also used to make different nippers, shoe pullers, and rasps. When handling the tool, you may find that carbon steel comes in various qualities. Dark-colored carbon steel tools tend to be softer and may lose shape, reducing the tension required to nip through a hoof. 
Design
When it comes to design, it can be tricky. One hoof nipper may look like another to the untrained eye, but there is a vast difference between a quality design and an inferior one. A great way to tell that something is not an ideal design is when it is marketed as suitable for various animals (and even trimming hedges). 
Quality, functional tools will have a high rating and will be designed for purposes such as nipping horse hooves (not other animal hooves). These tools are specifically designed to suit their function.  
Size
The size of the tools is equally important. Nippers may come in different lengths, from 12 inches to 16 inches. If you have short arms like me, you would need an in-between size to allow you both leverage and reach. A popular size is a 15-inch nipper, as it won't strain your ability to position the tool while still offering you enough leverage to help you cut through the hoof nail. 
While you may believe you need smaller tools because your hands may be small like mine, the size of the tool needs to be appropriate to the size of the job. If you are trimming mini hooves, then a smaller size nipper is correct, while standard-size hooves would need a 14 to 15-inch nipper. If you are up for the challenge and need to trim a large breed horse like a Percheron or Clydesdale, you would do well with a 16-inch nipper. 
Price
As with all things related to horses (and other hobbies in life), there is a fine line between cheap tools that should be avoided, functional budget-friendly tools, higher priced precision tools for professionals, and brand name tools that are extremely expensive. The trick is to find the balance between quality, price, and what you can afford. 
Functionality
When you start doing hooves, you may not have the budget to buy the best of everything at the start. While reasonably decent beginner farrier tools are available, it may be worth it to buy a quality hoof nipper and a basic rasp, as these are some of the tools you will use most often when trimming. 
Over time, as your skills improve, you can then upgrade to more expensive tools that can replace the lower-quality ones you have. Remember, a tool is only as good as the hands wielding it.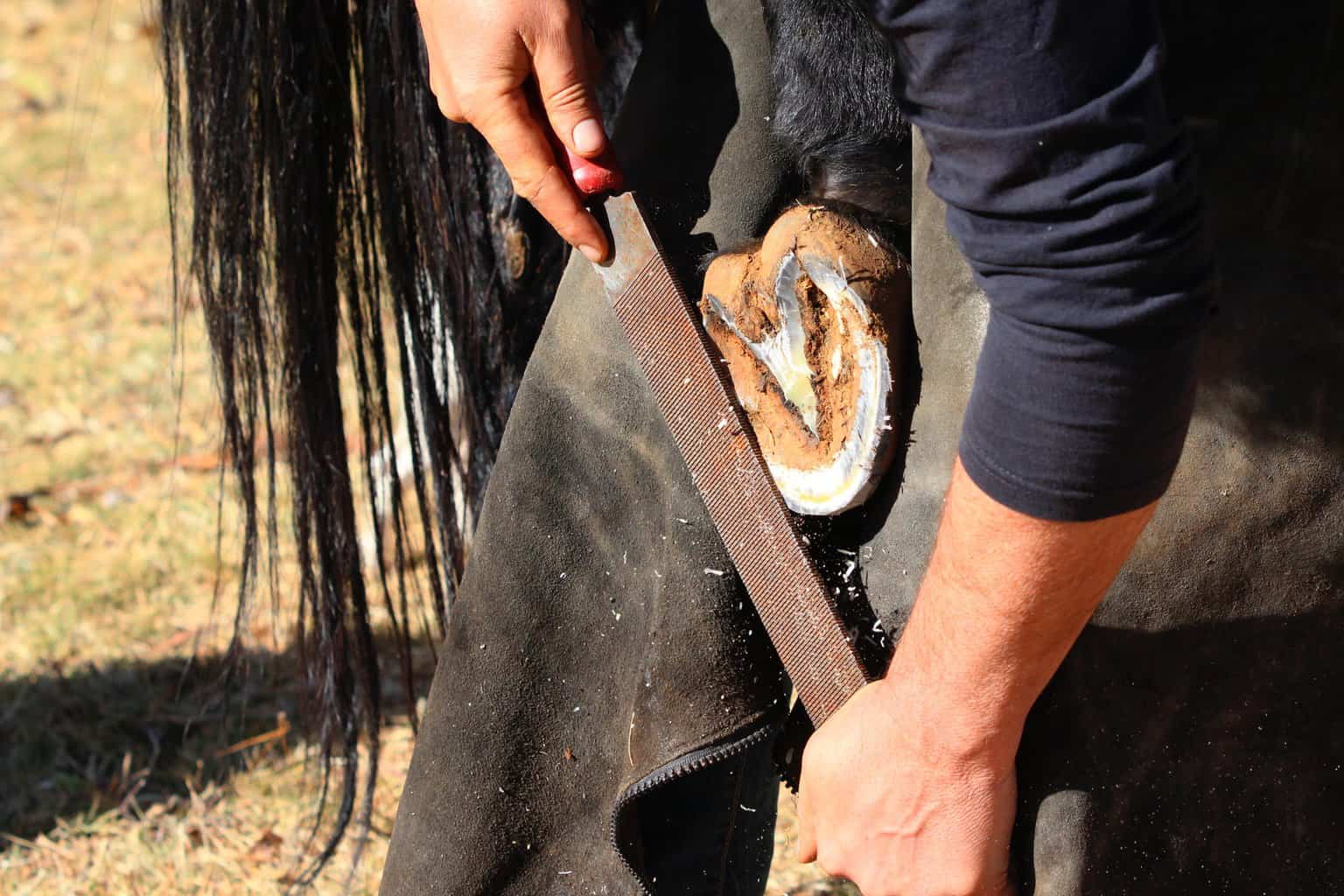 Best Farrier Tools Recommendations
Farriers use different tools for the three services they offer: barefoot trimming, shoeing, and testing for abscesses or hoof issues. Let's look at the best tools for a farrier for trimming (up first) and shoeing a horse (up next).
Best Farrier Tools for Hoof Trimming
Hoof trimming requires three primary tools: a hoof nipper, a hoof rasp, and a hoof knife. With these three tools, you can trim a horse anywhere. Other tools that make life easier and help improve the quality of the trim are a hoof stool, a farrier's apron, and protective gloves. 
Best Hoof Nipper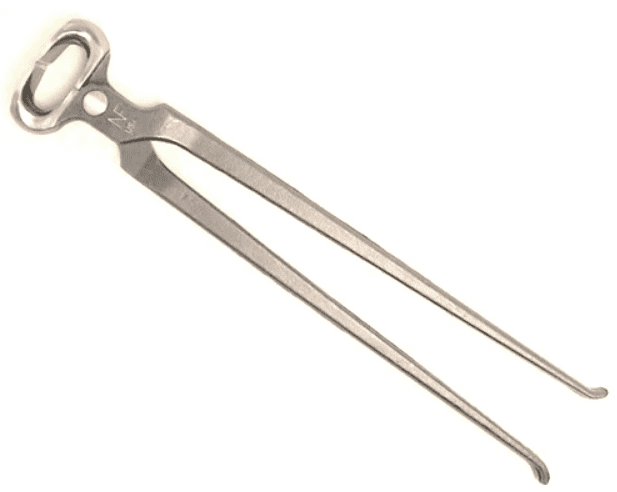 Best for: Cutting the hoof nail back to the correct length
The Nordic "Viking" Polished 15" Hoof Nipper is my choice for affordability and quality. Being a 15-inch means this nipper is appropriate for any horse's hooves, and in a pinch, you can even trim smaller mini hooves.
Pros
Made from the highest quality tool steel so that it will retain its shape

Adequate pinching distance between the two handles ensures a good grip and efficient leverage

Sharp cut with precision inside bevel on blades

Priced at less than $130 to save your budget
Cons
Tooled steel will eventually lose shape, making this nipper appropriate for home use and not for a professional farrier
I like the Nordic brand, and it's made in the U.S., so if I have any issues, a refund is easy. 
Best Hoof Rasp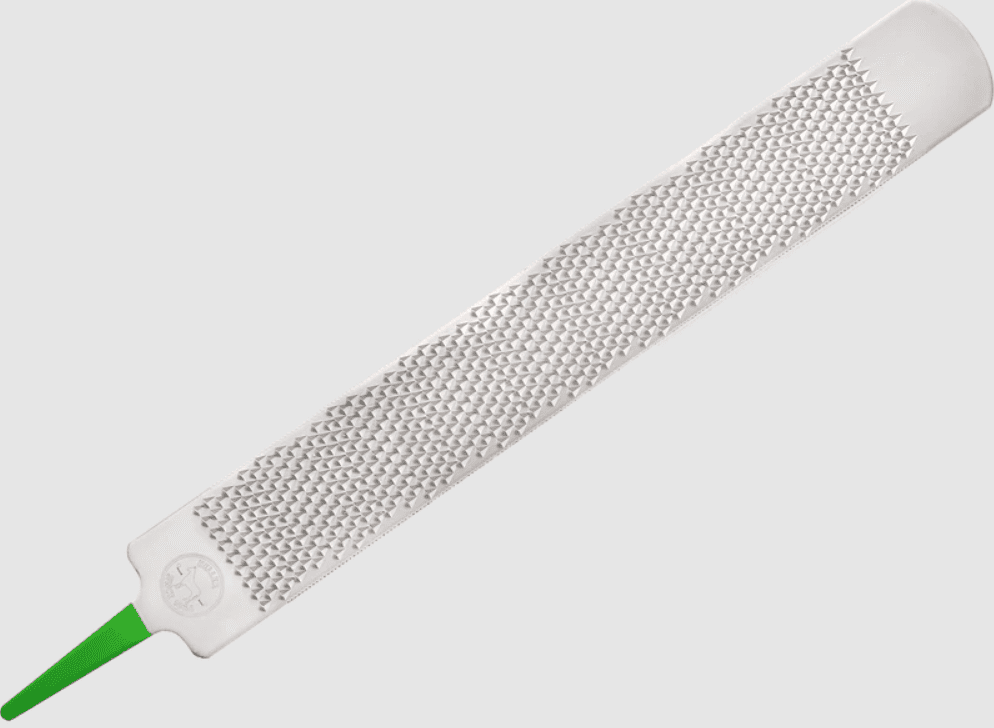 Best for: Filing the hoof back into shape, correcting the hoof angle, and taking away sharp edges
There's a reason the Heller brand is a "legend." Heller rasps are excellent quality at very affordable prices. My choice is a Heller Excel Legend Farrier Rasp because it has great value for money and excellent service. 
Pros
It makes rasping hooves much easier with a 10% wider rasp surface

Mid-size rasp teeth to prevent clogging 

650 rasp teeth on file side to enable swift work

Ideally suited to damp hoof horn or wet conditions

Rasp and file side, with file side offering a smooth polishing effect to finish hooves

Quality rasp that will provide lasting service for multiple trims
Cons
Priced slightly higher at $32 than regular rasps, but worth the extra cost
Remember to get a rasp handle for your Heller rasp, as these are sold separately. Be sure to clean the hoof before you rasp to protect the rasping and filing surfaces from mud, stone, sand, and other foreign material that can damage the teeth. Avoid using new rasps when shoeing or on nails.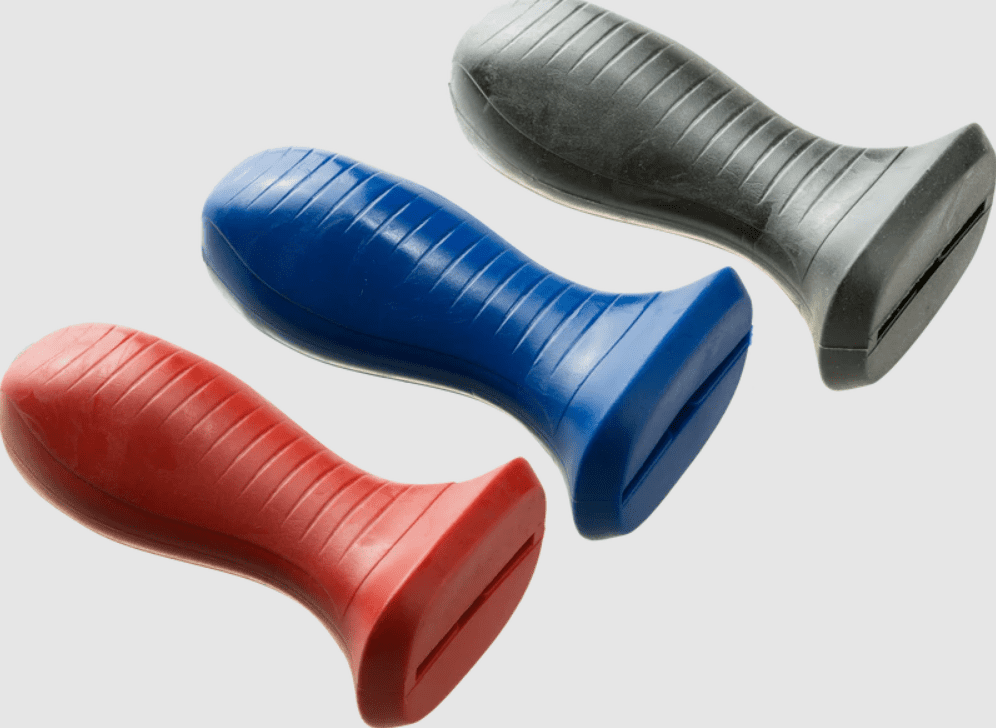 Best Hoof Knife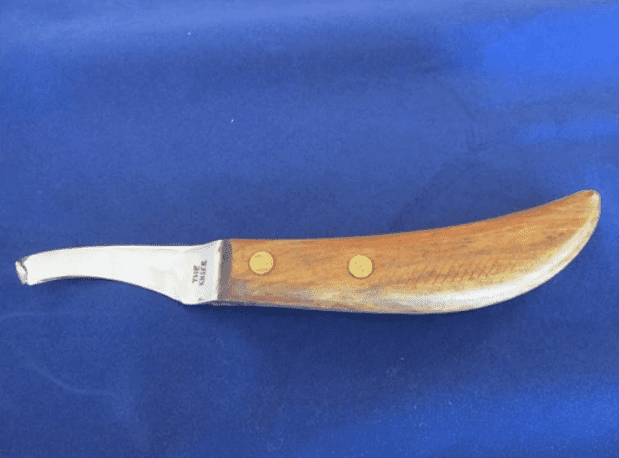 Best for: Removing dead sole, cutting back overgrown heels, trimming the frog, and balancing finer points on the hoof surface
Farriers also use hoof knives to clean up and open cracks to prevent further cracking and rotting. Having a quality hoof knife is an investment. 
The Knife – Regular or Long Handled Hoof Knife from Anvil Brand is a good choice for affordability and good workmanship. These knives come in a left and right-hand cut, making it much easier to cut the sole and open the frog. 
Pros
6-inch handle for better grip

The 2.75-inch blade is made from quality steel

The blade is heat-treated to Rockwell "C" scale for resharpening purposes

Each blade is individually hand-sharpened for precision
Cons
Priced at $32.50, it's not the cheapest on the market

The front curved tip is shallow curved, making it less ideal for opening the frog cleft and any cracks in the hoof
When considering farrier knives, my farrier cautioned me against using a double-sided blade as they can slip more quickly and cause serious injury. I was astounded by just how sharp these knives are and how easily they can slice human flesh.
Best Hoof Pick for Farriers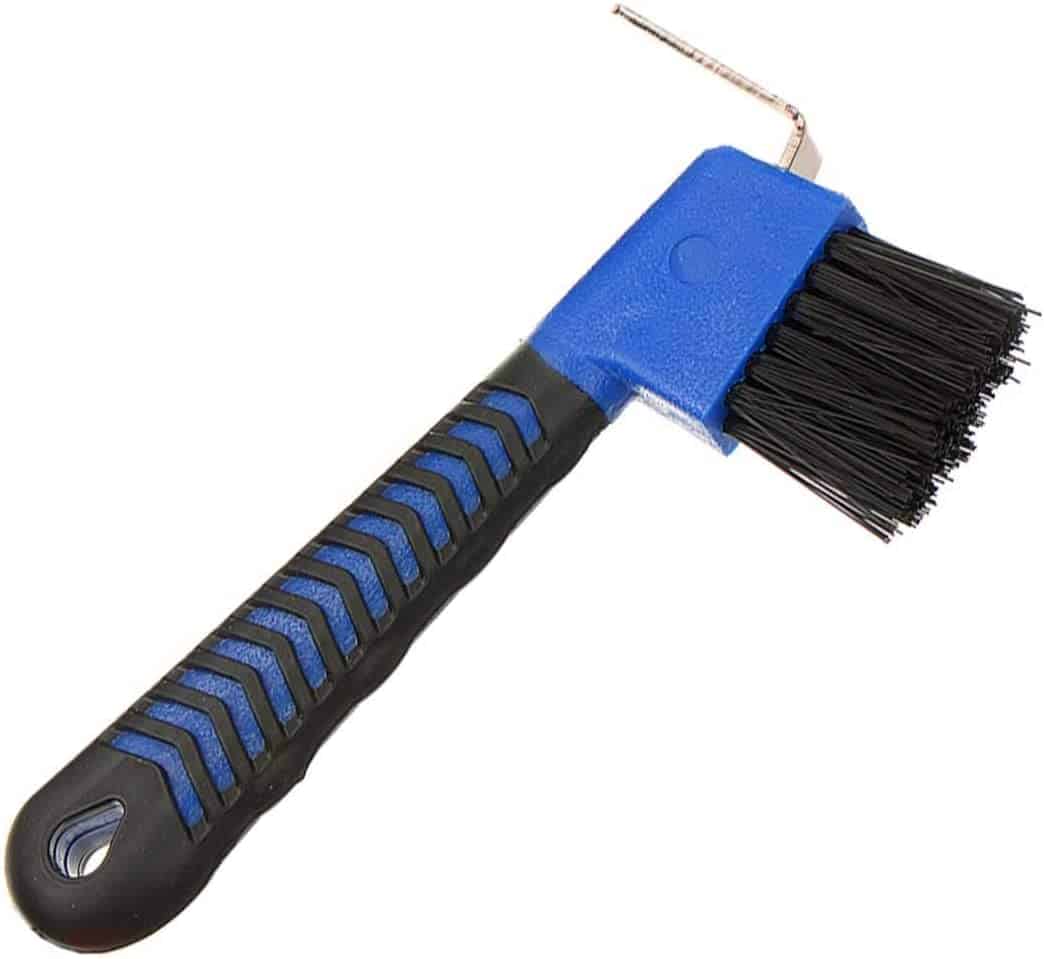 Best for: Cleaning the horse's hooves, picking out stones, and cleaning the hooves
While every horse owner should never be without a hoof pick, it is crucial to farriers. The tools a farrier uses can be costly, and when these tools are exposed to mud and dirt, their surfaces wear away faster. Cleaning the hoof before working on it is a great way to extend the life of farrier tools. 
The BOTH WINNERS Horse Hoof Pick Brush with Soft Touch Rubber Handle is great for in-depth hoof cleaning. 
Pros
Soft grip handle for comfort

Pointed pick for getting into those hard-to-reach places

A brush is attached to the pick to help clean the hoof surface before working on the hoof

Economically priced at $8.99
Cons
No additional scraper section at the top to scrape off built-up mud from the hoof exterior

With frequent use, the brush hair will fall out
A quality hoof pick is really an asset, and as a farrier, it will help protect your tools and clean up the hoof work surface.
Best Farrier's Hoof Stool or Stand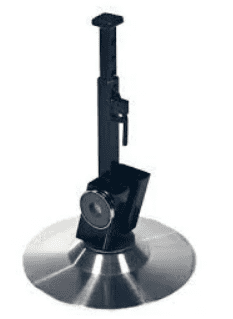 Best for: Resting the horse's hoof on when rasping or filing the hoof or clinching the shoe nails
Farrier work is murder on the back and hips. Balancing a hoof on your leg while rasping the sides is best left for old-style farmhands who learned it from Noah before the flood or professional farriers. For the rest of us mere mortals, a farrier's hoof stool or stand is a real blessing. 
I chose the N.C. Adjustable Stand, which has been an absolute treasure. The stand is fully adjustable, helps stabilize the horse's foot while working, and takes the tremendous strain off your back and hips. 
Pros
Fully adjustable with an interchangeable head assembly

Can change from hoof rest to hoof cradle as you work on dressing the hoof or rasping the hoof surface

Hoof rest is anti-slip to help deal with restless horses

The addition of a magnet to the side holds the rasp when not in use so that you can adjust the horse's hoof with both hands

Solid base for greater stability on rough terrain

The solid weight of 15 pounds to help balance the horse's leg
Cons
Priced at $205

Limited disassembly makes it harder to transport the stand, but this increases the stand's stability, so worth the trade-off
I simply love this hoof stand. It's lightweight enough to pick up but sturdy enough to handle any size horse's hoof.  
Best Farrier's Apron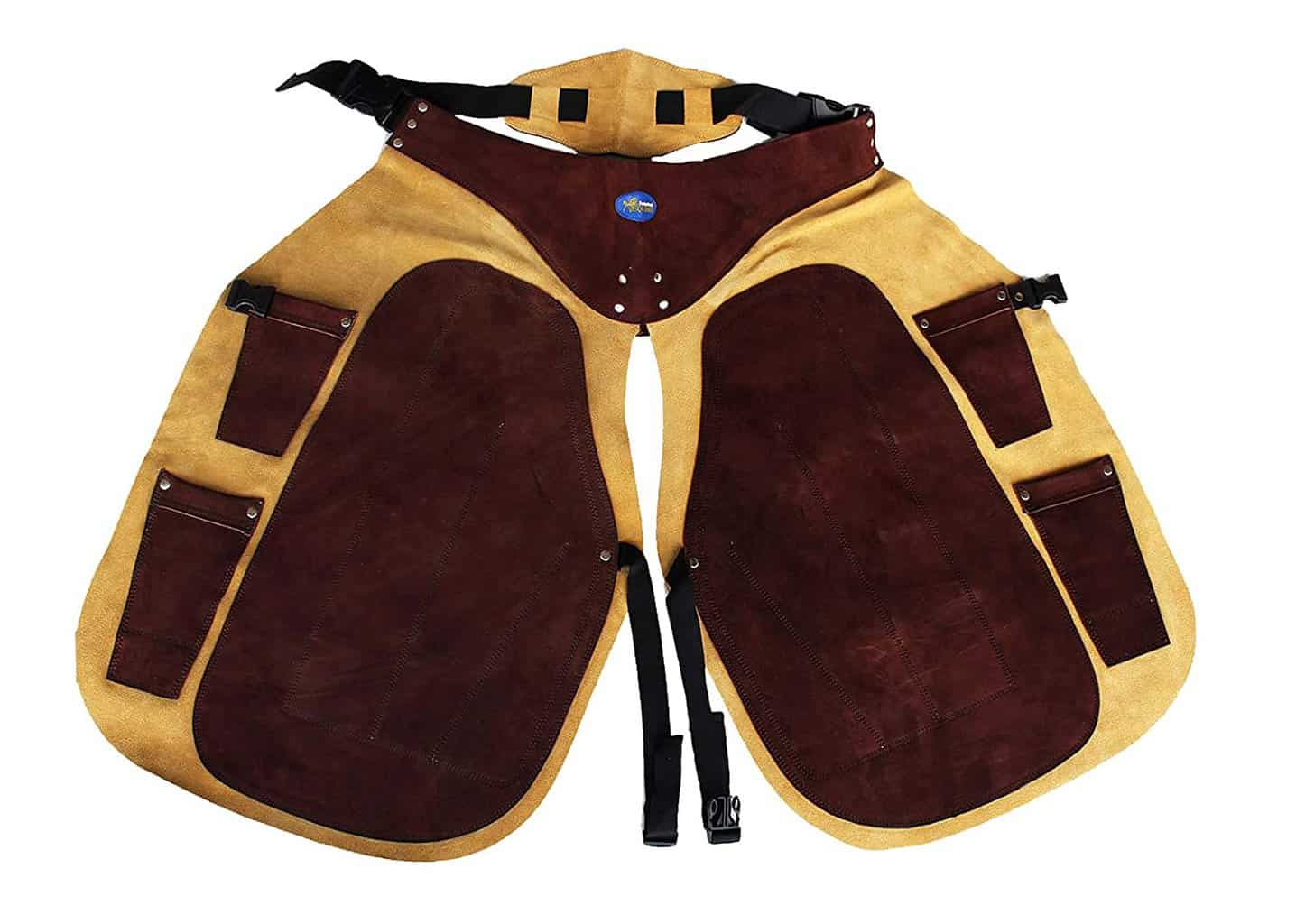 Best for: Protecting the farrier's legs and gripping the horse's leg, and can also hold tools like brushes and hoof knives
I tried on several farrier's aprons, but in the end, I was delighted with the fit of the Pro Equine Western Leather Fully Adjustable Horse Farrier Apron from Pro Rider. The quality is good, and it's fully functional with four side pockets and a back brace. 
Pros
Easy to fit with quick-release buckles for the leg sections and around the waist

Padded compartments for extra wear and to provide extra grip for the horse's leg

Four side pockets for holding hoof knives and other farrier equipment

Coverage up to mid-calf with a 26-inch drop

Reinforced crotch area and on sides with riveted sections

A handy back brace to help support your lower back against strain
Cons
The leather dye can bleed through to your jeans in damp conditions

No nail magnet for use when shoeing horses, though the bottom pockets can be used for this purpose
The leather of this apron is soft enough to fit well while being thick enough to protect your legs while working. The reinforced stitching on the padded sections of the legs provides a little extra grip for holding the horse's hooves. 
Best Protective Gloves for Farriery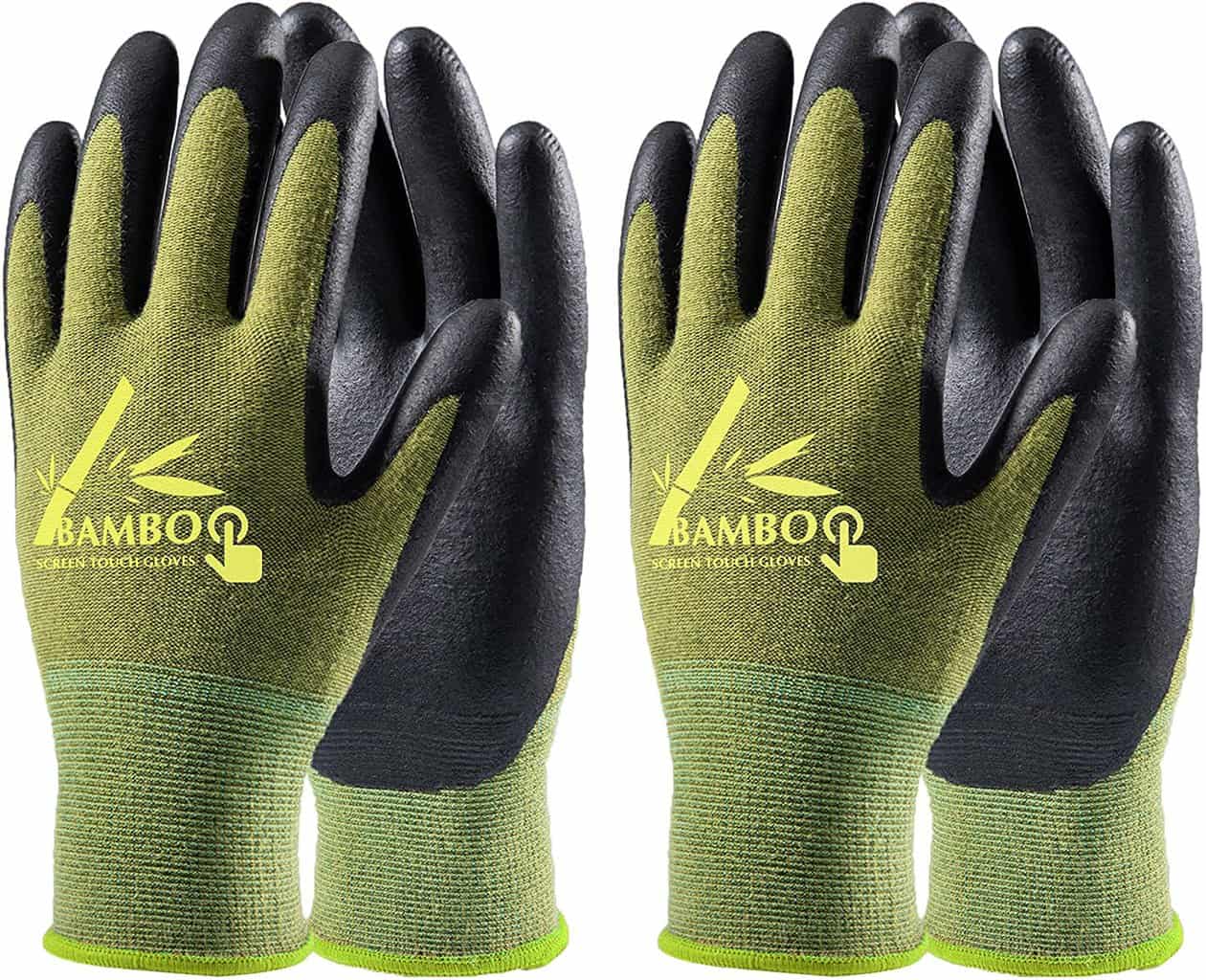 Best for: Protecting the farrier's hands during trimming and shoeing and for extra grip
The first time I slit my finger on the raw unfinished hoof, I realized I needed gloves. Real farrier's gloves are pricey, especially if you only do the occasional horse's trim. I truly love the idea of double gloving with regular garden latex-coated gloves, and they really work. 
My gloves of choice are the COOLJOB 2 Pairs Bamboo Gardening Gloves from Amazon. These gloves already come in a set of two, so I don't need to buy two sets, and they are touch-screen enabled, so I can stay in contact with my phone while working. 
Pros
Comfortable and breathable gloves 

Stretchy fabric that allows a great range of motion while protecting your fingers and palm of the hand from scrapes and cuts

Double-gloved to reduce friction and pad your hands against tool strain

Great price at $12.99 for two sets
Cons
Won't last as long as farrier's gloves, but the price is a great offset

It can be stiff when new

Double gloves take some getting used to
When the gloves are new, they tend to be a bit tight. I like to launder them in lukewarm water to soften up the fibers before I wear them. A neat trick to get extra wear out of them is to swap the two sets around every so often, so you wear both the top and bottom glove evenly. 
Best Farrier Tools for Shoeing a Horse
While I'm not confident enough to shoe my own horses, my farrier has kindly taught me a lot about different shoeing tools to help me understand what's involved in shoeing a horse. The following tools are the bare minimum tools needed to shoe a horse in addition to the trimming tools already covered. 
Best Farrier's Anvil 
A farrier's anvil is essential to shape and level a shoe before fitting to the horse's hoof. It provides a solid surface that the shoes can be hammered on and special hooks to bend a shoe closed or open. No horse has identically shaped hooves, so shaping is needed to perfect the shape. I know my farrier prefers a heavier anvil that can really reduce the vibrations and ensure the shoes are shaped accurately. 
She uses an NC Tool 70lb Anvil with all the necessary shaping sections to help open clips, shape toes, and flatten heels.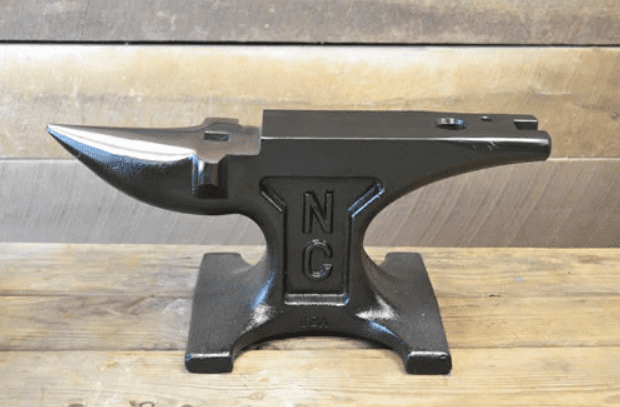 Pros
Features turning cams on the heels

A square clip horn

A thin heel for better molding

One-inch Hardie hole in the heel

Pritchel hole located in the heel

Solid wishbone-base design to better distribute vibrations

Fairly priced at $395
Cons
Anvils are heavy to move about, so permanently mounting the anvil is a better option, but if you need to travel, you will require an 

anvil stand

 to help balance your anvil correctly. 
Best Farrier's Shaping or Rounding Hammer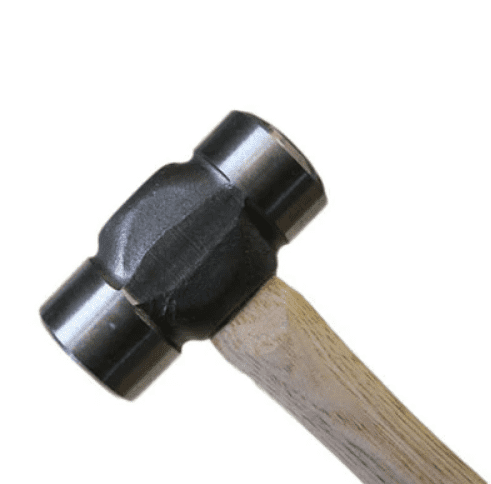 Shaping the horse's shoes is an essential part of excellent farrier work, and a balanced shaping or rounding hammer will make life much easier for you. My farrier prefers the Nordic 2 L.B. Rounding Hammer as a great budget option. 
Pros
The outstanding balance of the two-pound weight for the ideal swing

Good balance between hammerhead and shaft

Made from high-quality tool steel

One flat face with a beveled edge, and the other round or crowned and beveled

Arkansas hickory wood was used for the handle

Great price at $34.58
Cons
When practicing with the hammer, missed swings can easily damage the handle, which can lead to the hammer handle breaking

Tooled steel may rust over time
The rounding hammer is an important part of a farrier's kit for shoeing a horse. The type of shoes you shape, your hammering style, and your work environment will determine the weight hammer.
Best Farrier's Driving Hammer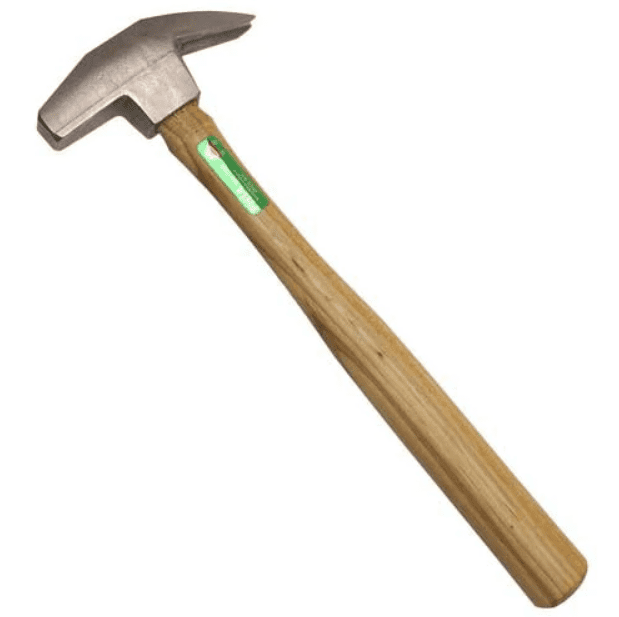 The driving hammer is used to hammer the nails into the shoe and secure the shoe to the horse's hoof. Precision and balance are required to nail the nails accurately. If the angle of the nails is off, the horse may suffer pain should the nails drive into live tissue. 
An excellent driving hammer is a thing of beauty. It should be lightweight enough to give a good swing. The Diamond 14oz Driving Hammer is a good choice. 
Pros
Great balance

A slightly heavier hammerhead allows for more driving force

Hardwood handle for better grip and durability

12 inches in length and 14 ounces in weight

Reasonable price at $42.35
Cons
Steel head can rust easily
With a driving hammer, you will also need a quality clipping hammer to close the shoe clips, such as the Bloom Clipping Hammer 1 3/4 lb.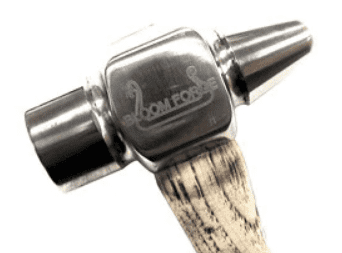 Best Clincher for Nails

The clincher is important when shoeing horses as it allows the farrier to "pull" the nail into a snug position to secure the shoe. Farriers like the Diamond Saddle Horse Clincher. It is affordable, durable, and efficient at clinching nails. 
Pros
Made from quality steel

Button rivet mechanism 

Curved upper jaw on clincher

Both jaws have textured surfaces to help grip the hoof and nail surface

Fairly priced at $72.55
Cons
The steel can rust if it gets wet

The rivet mechanism can rust if the clincher isn't used frequently and oiled when necessary
The clincher is easy to use, and with the longer handle length, the process of clinching nails is made easier. 
Best Shoeing Puller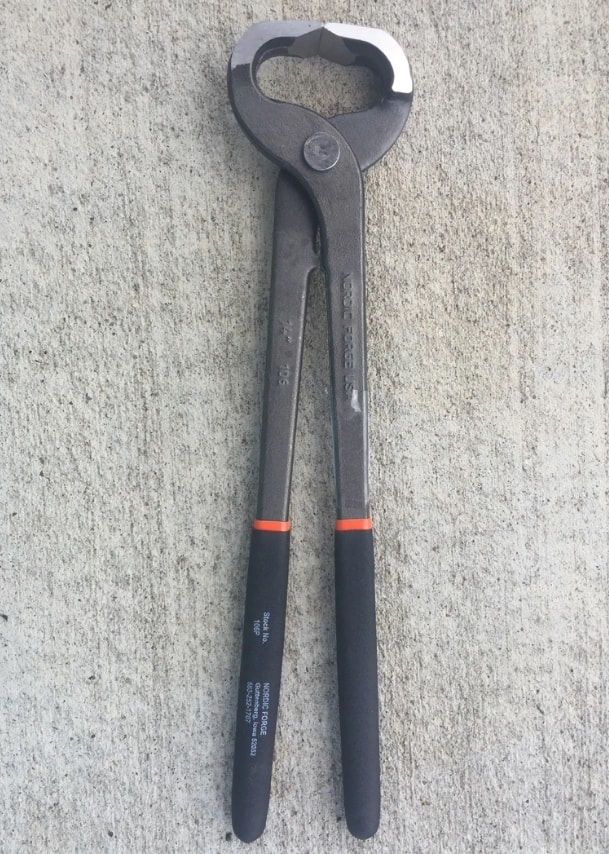 Pullers are used to remove old nails when reshoeing a horse. Farriers rely on this tool to dislodge the shoe and pull a bent nail out of the hoof. The Nordic 14" Pulloff is an excellent buy. 
Pros
Made from quality carbon steel

14-inch handles to reduce muscle strain and offer sufficient leverage to dislodge shoes

Double beveled edge to enable easier lift of shoes

Riveted mechanism

Great price at $39.70
Cons
It can easily rust when wet

The rivet mechanism can become stuck if not oiled regularly
Shoe pullers are required to loosen old shoes, and with correct use, they can help reduce breakage when removing old shoes. 
Best Round Nipper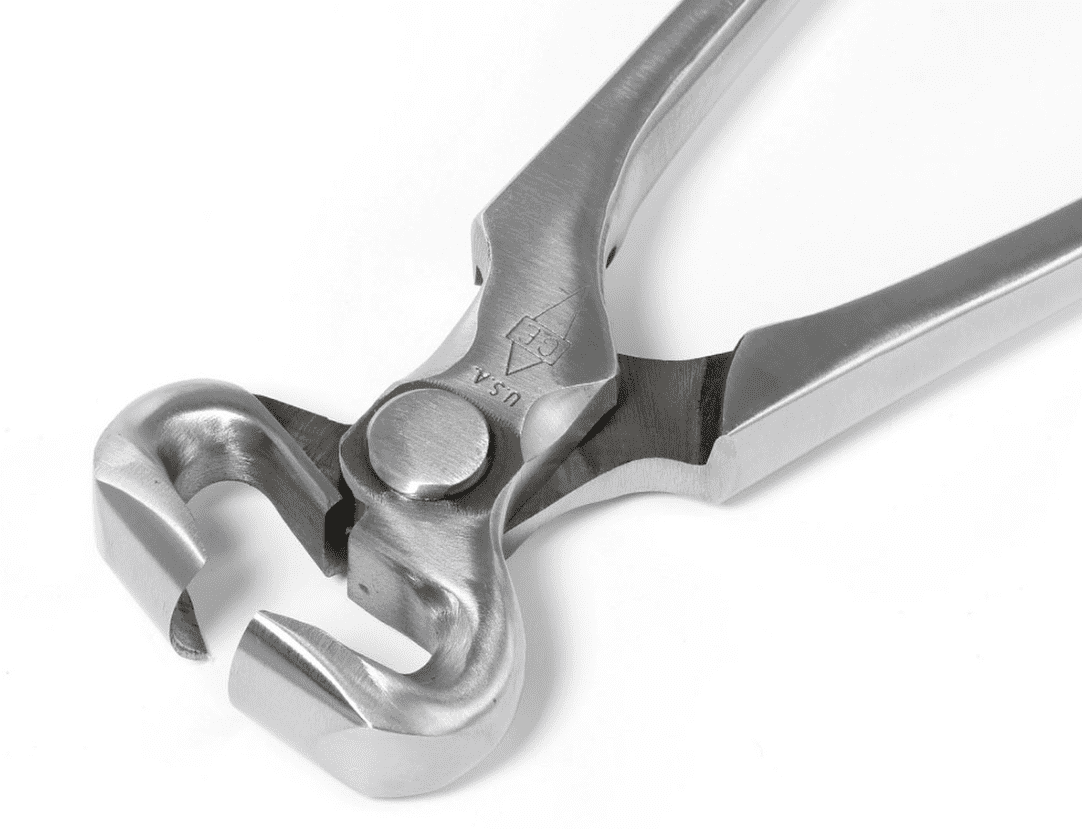 Since some shoes have toe clips that require being bent flat against the hoof toe, a round nipper is used to remove the edge of the toe where the clips fit. Cut out any excess sole with greater ease by using a round nipper. The G.E. EZ HALF-ROUND NIPPER 12 "are half-round nippers that cut the front clips with ease. 
Pros
Made from chrome Vanadium steel for extra strength

Aligned and sharpened by hand to ensure precision cutting

Quality rivet mechanism that is rust-resistant
Cons
Quite an expensive tool unless you do loads of shoeing at $259

If mishandled, the half-round jaws will go out of alignment
My farrier explained that while these aren't required for all types of shoeing, they make her life much easier for front clips. 
Best Clinch Block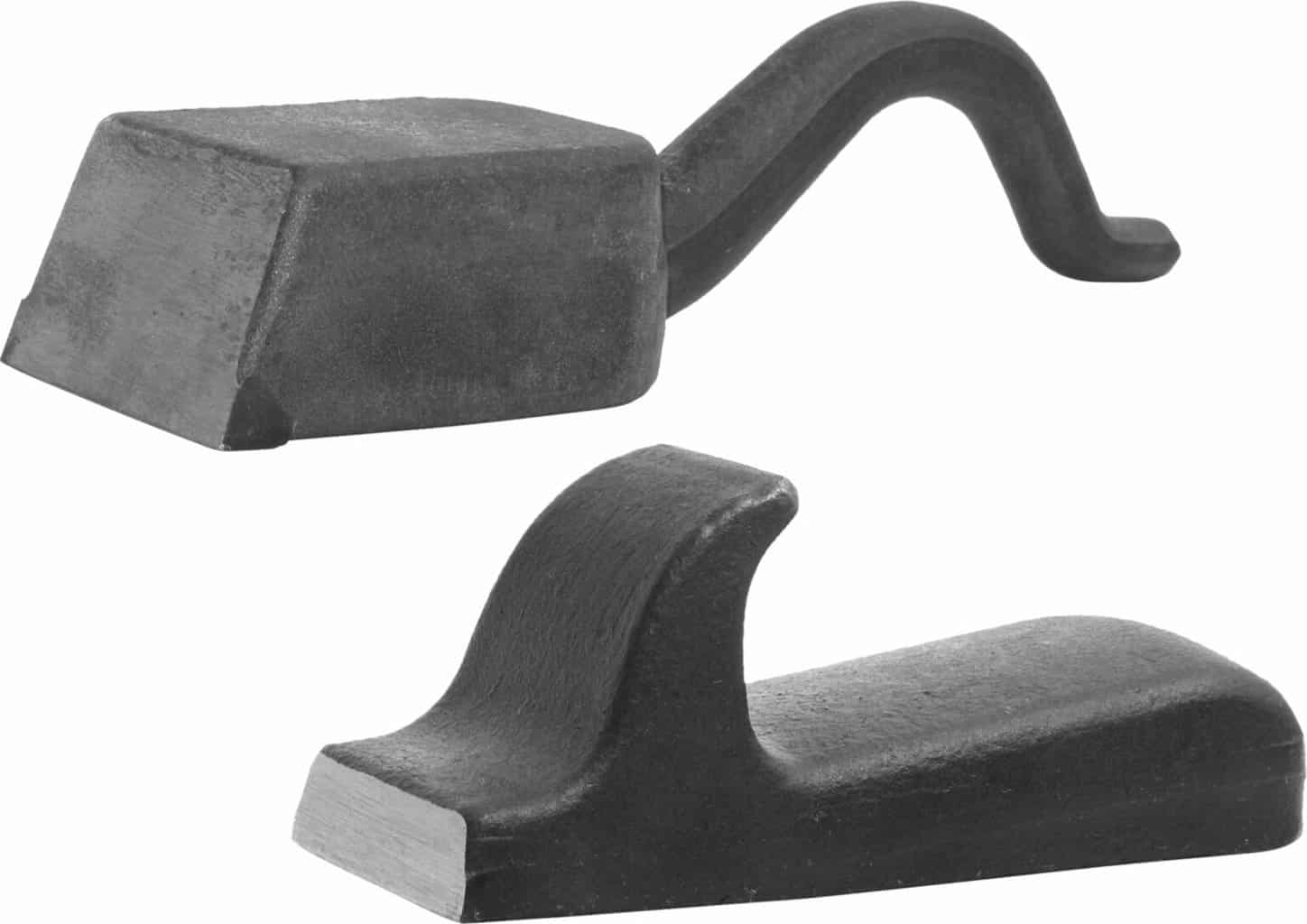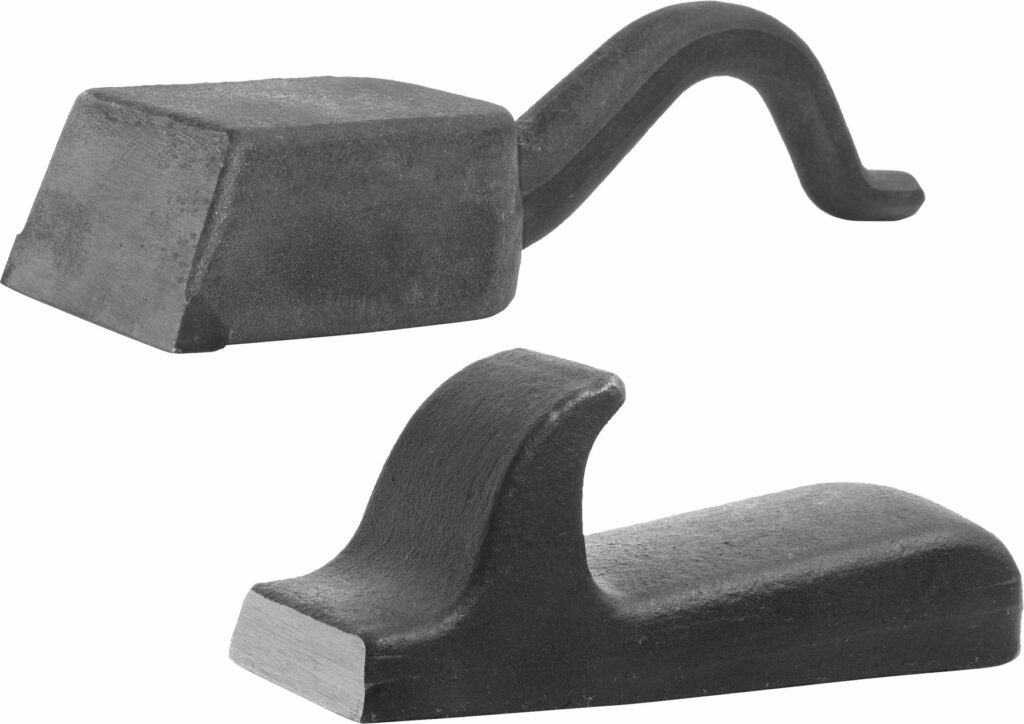 A clinch block or hoof buffer is designed to help direct the exposed nail ends away from the hoof wall so the farrier can then clinch them over. The Mustad Clinch Block is an ideal design. 
Pros
Mustad is a reputable brand in farriery

Made from quality steel

Handy finger rest to provide adequate resistance against the nail end and protect fingers from hammer blows

Reasonably priced at $31.99
Cons
The finger rest can become rusted and break off from the block
Best Hoof Tester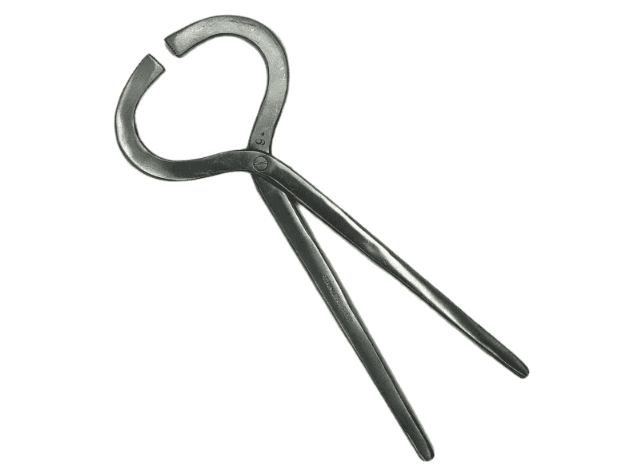 The HOOF TESTER FLAT 14.5 "is an economical solution to help farriers apply direct pressure to specific areas of the hoof to check for pain and inflammation. Using force, farriers can identify issues in the foot, find abscesses, and check the soundness of the hoof. 
Pros
Affordable at $55.24

Functional and easy design

Available in round steel design too

13-inch handles for easy pressure application
Cons
Can easily rust

Not a tool used every day, so when not in use, it can become damaged
FAQs
Question: What tools do a farrier use?
Answer: Farriers use different tools for different aspects of their work with horses' hooves. A farrier would need a hoof knife, hoof nipper, and hoof rasp for trimming. 
When shoeing a horse, a farrier would need their trimming tools. These include an anvil, a heavy hammer to shape the shoes, and smaller nail hammer to drive in the shoe nails. A medium hammer to close the toe clips and hoof clincher to bend the steel nails also helps. A buffer helps to bend the nail ends over, and a special rasp to finish the nail ends to ensure the horse doesn't hurt themselves on sharp pieces.
Question: How hard is it to be a farrier?
Answer: Anyone can train to become a farrier. While some physical strength is required, it is not difficult to learn the trade of farriery. An apprenticeship with a registered farrier is one way to learn the trade. Usually, an internship lasts about 48 months to thoroughly understand all there is to know about barefoot trimming, shoeing a horse, and balancing hooves. 
Question: How long should a hoof rasp last?
Answer: A hoof rasp can last between 20 and 50 rasping sessions, depending on your rasping action's skill and the rasp's quality. The variability is due to some horses needing a lot of rasping, while others may require little to no rasping with only minimal finishing required. 
The Final Rasp
With so many different farrier tools, it was hard to decide what tool was the best overall. The tool I simply can't go without is a quality hoof pick and an excellent hoof rasp such as the Heller Legend rasp. A hoof rasp can fix many smaller flaws, and if used correctly, cleaned frequently, and kept out of rain and mud, it can last for a surprisingly long time. 
No matter the farrier tools you choose, your horse deserves the best possible hoof care, so be sure to always maintain your horse's hooves at the optimal length and correct issues before you have a case of "no hoof, no horse." 
If you want to learn more about the care that's required for keeping a horse at a boarding facility, read my Horse Boarding Guide.