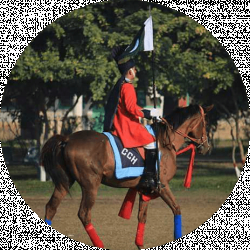 Latest posts by Boo Ali Khan
(see all)
Do you want to safely store your precious belongings during your next ride? But also want them to be accessible? Well then, I would recommend looking into a saddle pommel bag. These are easy to reach and also provide you with the peace of mind that your cell phone and all other belongings are safe and sound.
But as good as owning a pommel bag may sound, finding one isn't easy, as it requires you to do plenty of research. You have to find an option that does not only go well with your saddle pommel but also comes with a set of compartments that are suitable for your needs.
You also need to remember various other factors that I will be discussing later in this Best Saddle Pommel Bag Buying Guide. Alongside that, I will also share with you some tips I personally follow during my buying ventures. And to make your journey more accessible, I have even added a list of some of the best pommel bags I personally recommend. So without further ado, let's get into it.
Bottom Line Up Front
If you have ever searched the phrase "Saddle pommel bag," you must have seen several dozen options. And each of them brings something new to the table. But when it comes to my favorite, I have to pick the Weaver Leather Trail Gear Pommel Bag Turquoise.
Not only does it come with a vibrant geometric print. But it also has everything you need, including two medium-size compartments with bottle holders. And an overall rugged build makes it a relatively durable option. It also comes at an accessible price considering what it offers, making it a good budget option.
But if you feel this bag does not meet your requirements, you can always consider some of the other options in my top picks.
My Best Horse Saddle Pommel Bag Picks
Some Buying Tips to Get You Started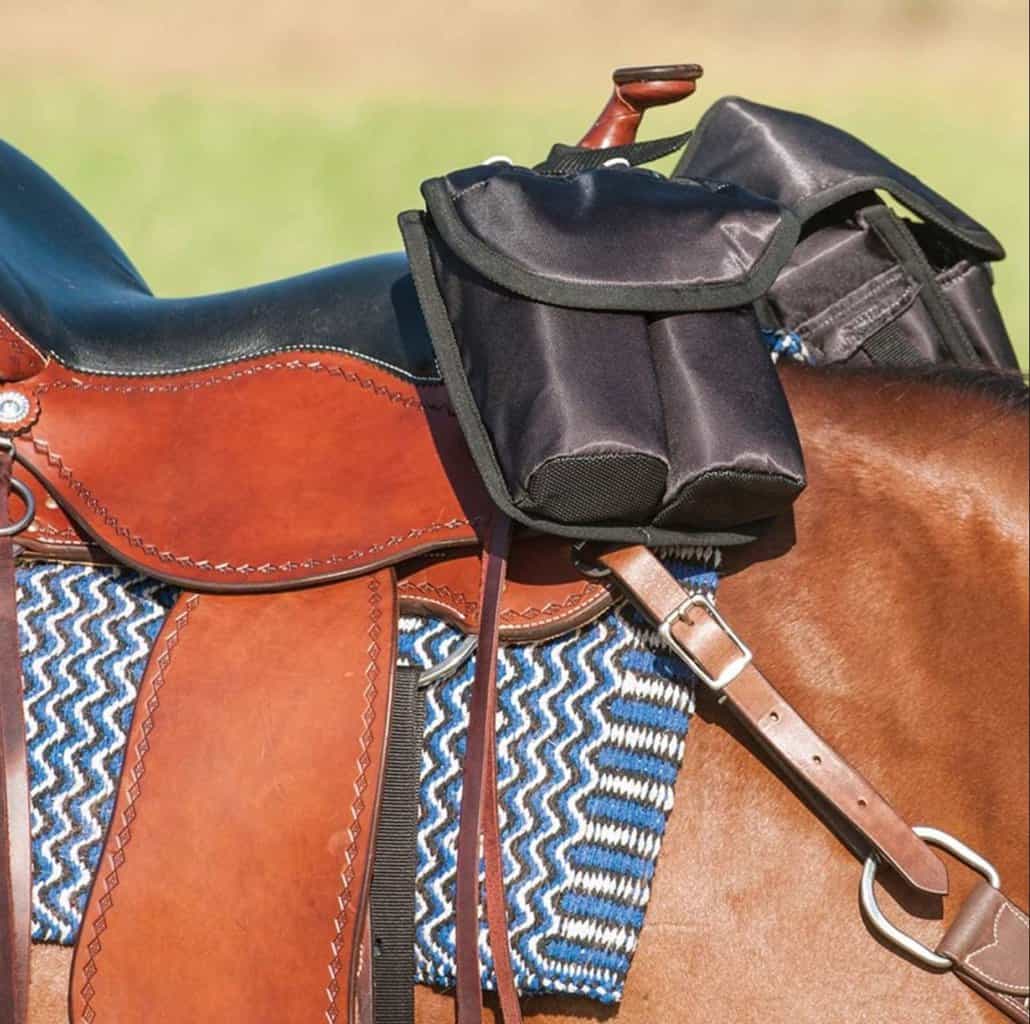 If you are buying these pommel bags for the first time, I am pretty sure you will face many queries and problems that might lead you to an awful buying experience. So to make sure you're not wasting your time and money, I have compiled the best buying tips that will significantly streamline your buying journey.
Consider the Gear You Need to Carry
It should be quite obvious that you must consider what you are going to carry in your pommel bag. A compact pommel bag should be enough if you only want to carry small items like your mobile phone and wallet.
But if you're looking to carry a lot of accessories for your journey, I would recommend going for the pommel bags with more compartments. Knowing the type you want will significantly reduce your buying options and save you a lot of time and hassle.
Buy From Authorized Sellers
As a rule of thumb, I recommend new riders looking for pommel bags to do their research and see whether the seller is actually authorized and selling a good quality product. And don't forget to look for reviews as it is a good way of getting practical insight from other customers. Another way to distinguish authorized sellers is to check if the dealer is offering low prices that seem too good to be true.
Try to Buy In-store
While it is true that online marketplaces usually offer a lot of variety while not leaving your couch, they also have their cons. For example, not knowing what you're getting, poor quality leather and fabric used in the final product, damaged bags, etc.
So for someone who is new to the equestrian lifestyle, I recommend in-store shopping. This way, you can spot any minor defects in the pommel bags and have the peace of mind that cannot be imitated by buying online. After all, you will know what you are really buying.
Set a Budget for Yourself
While this may not apply to some exotic equestrians out there, it is still a good tip for anyone on a tight budget. Setting a budget for yourself and sticking to it will save you a lot of trouble, as you don't have to sift through the options that will not be possible to buy.
And don't forget, setting a budget will also make you more aware of the value of every cent, and you won't be spending mindlessly.
Where to Buy Horse Saddle Pommel Bags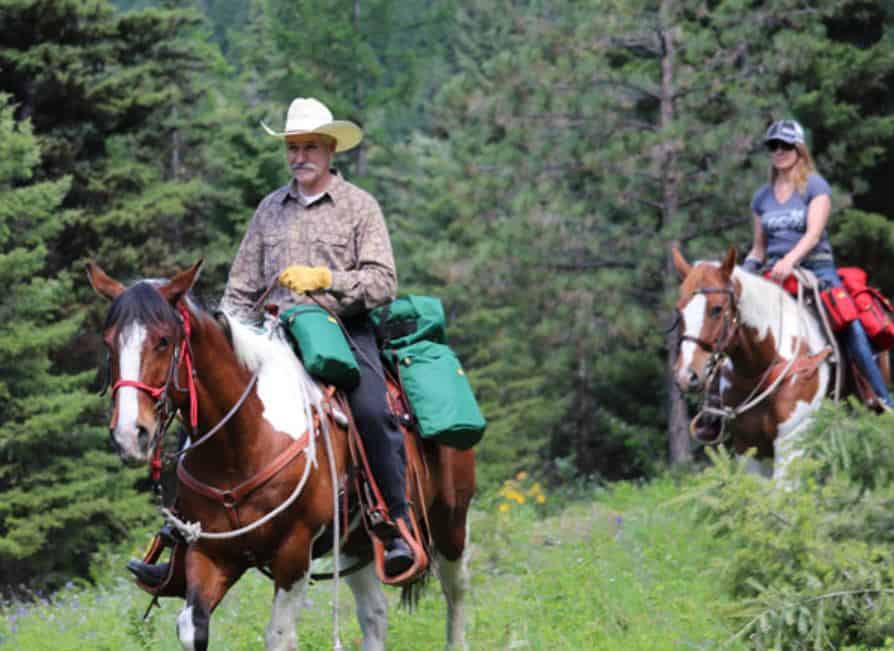 If you are still wondering where you should buy pommel bags, I would recommend starting with the websites I have mentioned below:
My Selection Criteria
The picks that I made in this pommel bags guide are based on the following criteria:
Made of Robust Materials
A pommel bag must survive through vigorous trail roads and random tugs while also carrying a significant load. So I made sure that all my top picks were made of robust fabrics like nylon to ensure they would last a long time.
Not Too Heavy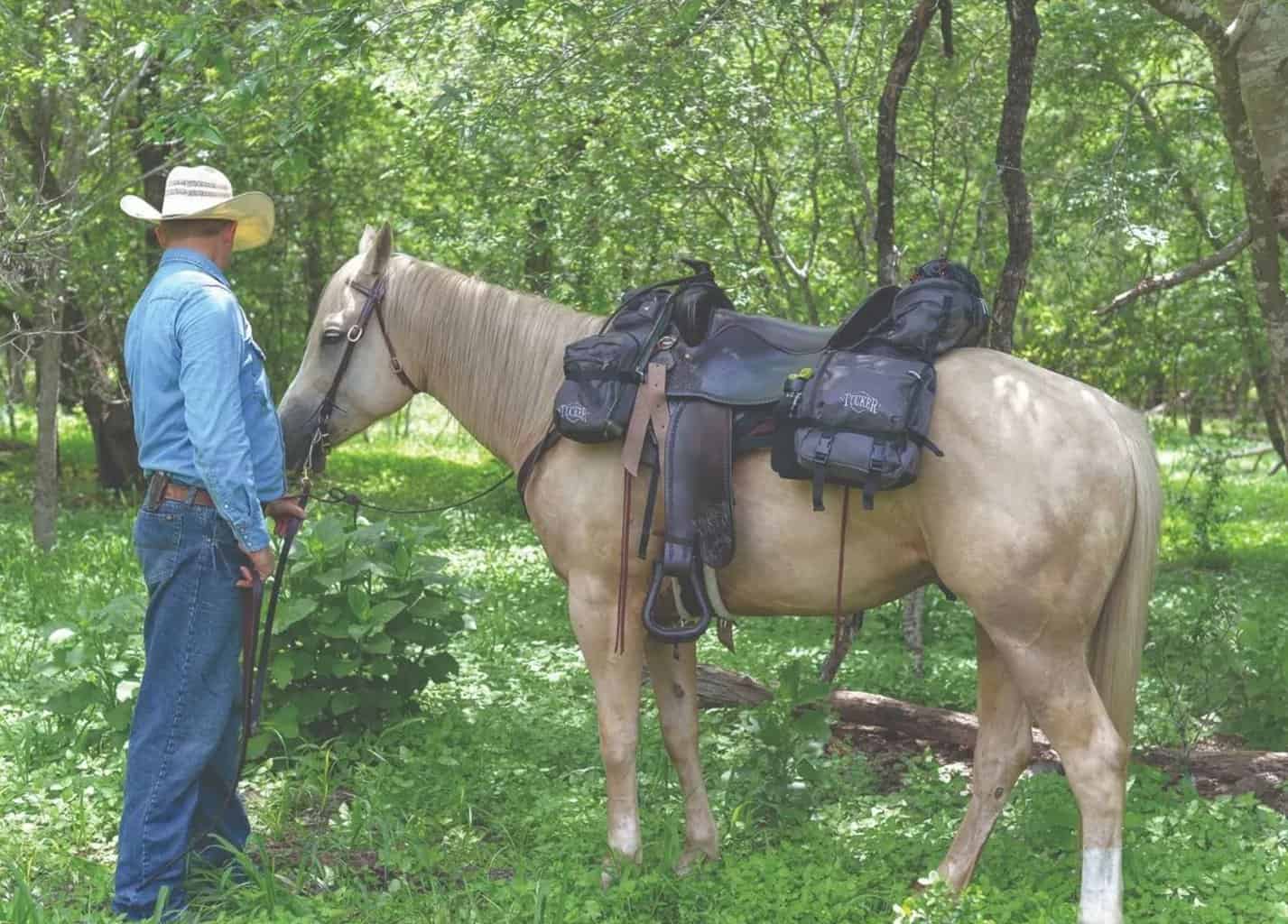 Just like saddles, pommel bags are another thing a horse needs to carry during rides. So I made sure that my top picks were lightweight that won't be uncomfortable for horses.
Have Ample Storage
At the end of the day, a pommel bag is mainly used for storing your precious belongings. So my top picks have several large storage compartments to provide ample storage area.
All the Compartments Are Easily Accessible
While it is true that pommel bags need large compartments, they also have to be easily accessible so the rider can quickly access all their belongings during rides. So all my top picks have smooth zippers with pockets upfront, making them very convenient to use.
Available Across the States
A saddle pommel bag is no use if it is unavailable in the market. So all my top picks are readily available around the States that can be bought from several online and offline marketplaces.
My Top 10 Horse Saddle Pommel Bag Picks
Weaver Leather Nylon Pommel Bag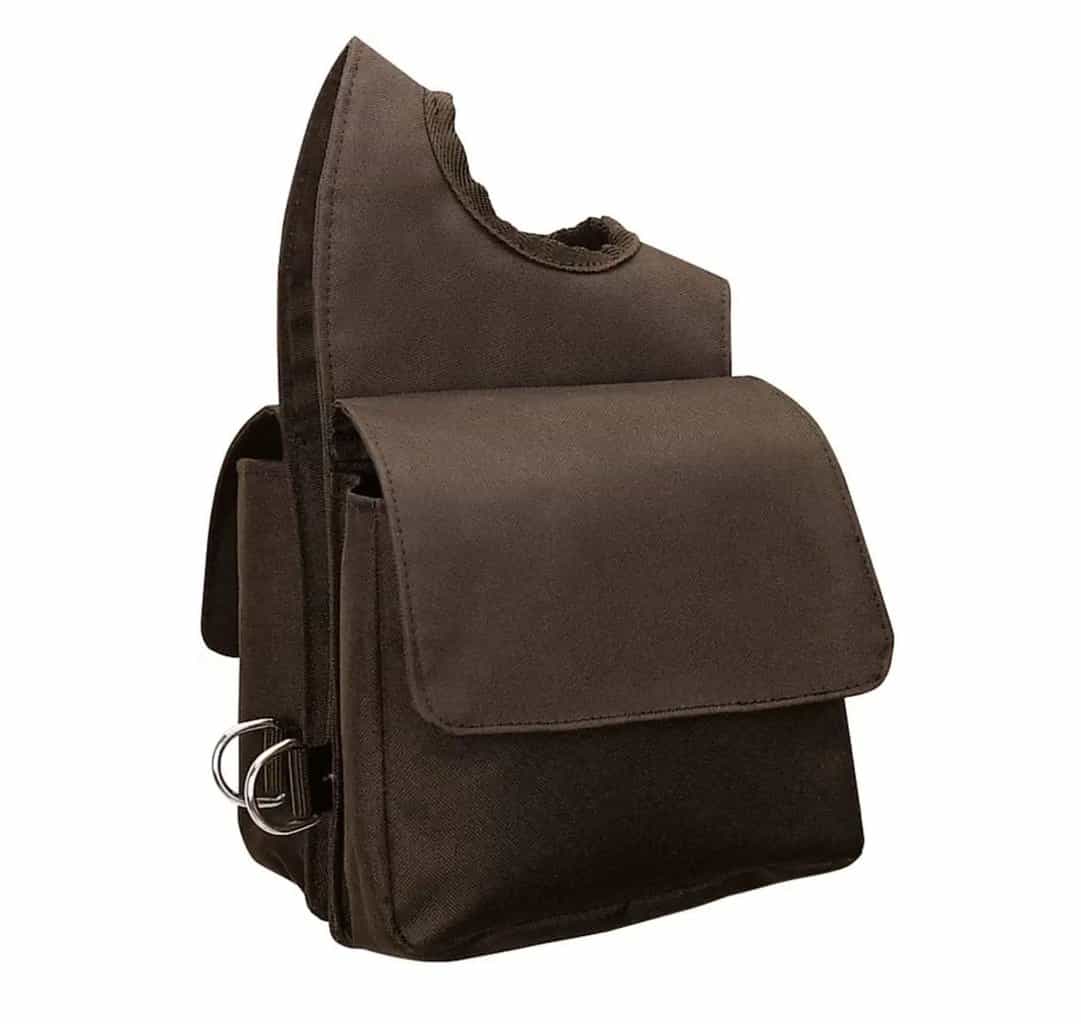 Description
If you're looking for more of a simple pommel bag with a moderate storage capacity and a sleek design, then you don't want to miss this Weaver Leather Nylon Pommel Bag. It features a mix of nylon and leather, making the bag light and durable. And the smooth textures also enable it to be relatively soft against the horse's coat.
This pommel bag also features a relatively large hole through which you can easily mount it on the saddle. But it also makes the bag a bit loose and less secure, and it will constantly be rocking during bumpy rides.
However, I am glad to see that the center area is lined with a double layer of nylon, which will prevent it from wear and tear due to constantly mounting it on and off the saddle horn.
This pommel bag also has 6 inches by 7-1/2 inches storage pockets with velcros so you can access your belonging with a simple pull. And although it comes in dark brown and navy blue, I believe the brown one is a more compatible option that will go perfectly with most of the saddles.
Pros
The bag has good quality velcro pockets, making them pretty manageable.
The hardware on the bag is coated with nickel making them highly resistant to weather.
Cons
The lack of straps gives the saddle bag a very loose fit.
TrailMax Junior Horn Pommel Bag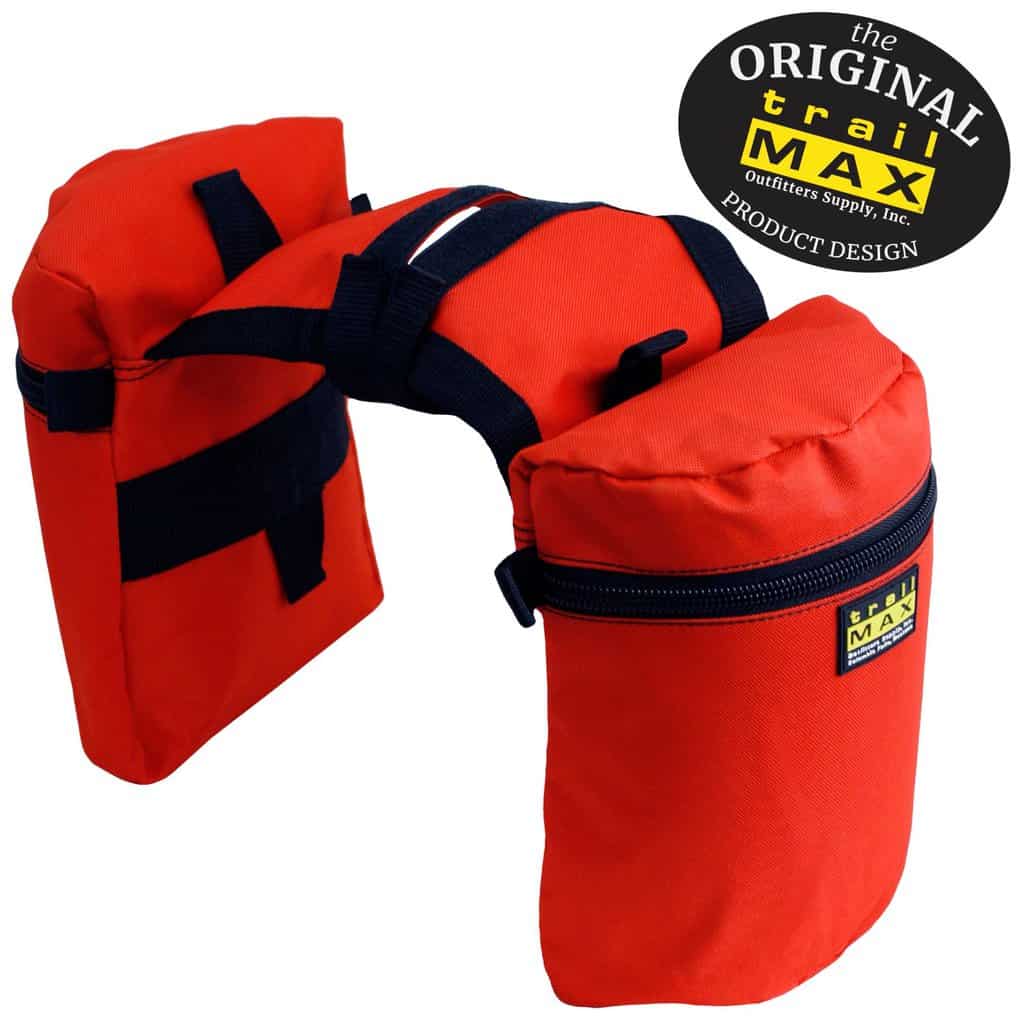 Description
The TrailMax Junior Horn Pommel Bag is one of the more rugged options on this list. It features a robust nylon coating that gives the bag the quality and durability to withstand even the roughest pull and tugs while also carrying heavy weight. But it does have its drawbacks, as I found that the textured material has a rough feel.
In my view, even an extremely durable pommel bag is useless if it constantly slides off and falls during bumpy rides. So to counter that, this bag comes with multiple straps that will provide you with a secure fit. Not to mention, the velcro straps offered in this pommel bag allow them to be installed on different size pommels, even ones without horns.
But if even that wasn't enough to satisfy you, this pommel bag has multiple liners inside, which can be rearranged according to your fit, whether it's storing bottles or small items like your phone and wallet. And don't forget, this pommel bag comes in four colors: orange, black, brown, and green.
Pros
The pommel bag has a relatively rugged build which can even hide small wear and tear.
The polyester shell on this saddle bag is machine-washable, making it easy to clean.
Cons
The rough texture on the bag's surface can irritate your horse's skin.
Cashel Quality Deluxe Medium Horse Pommel Bag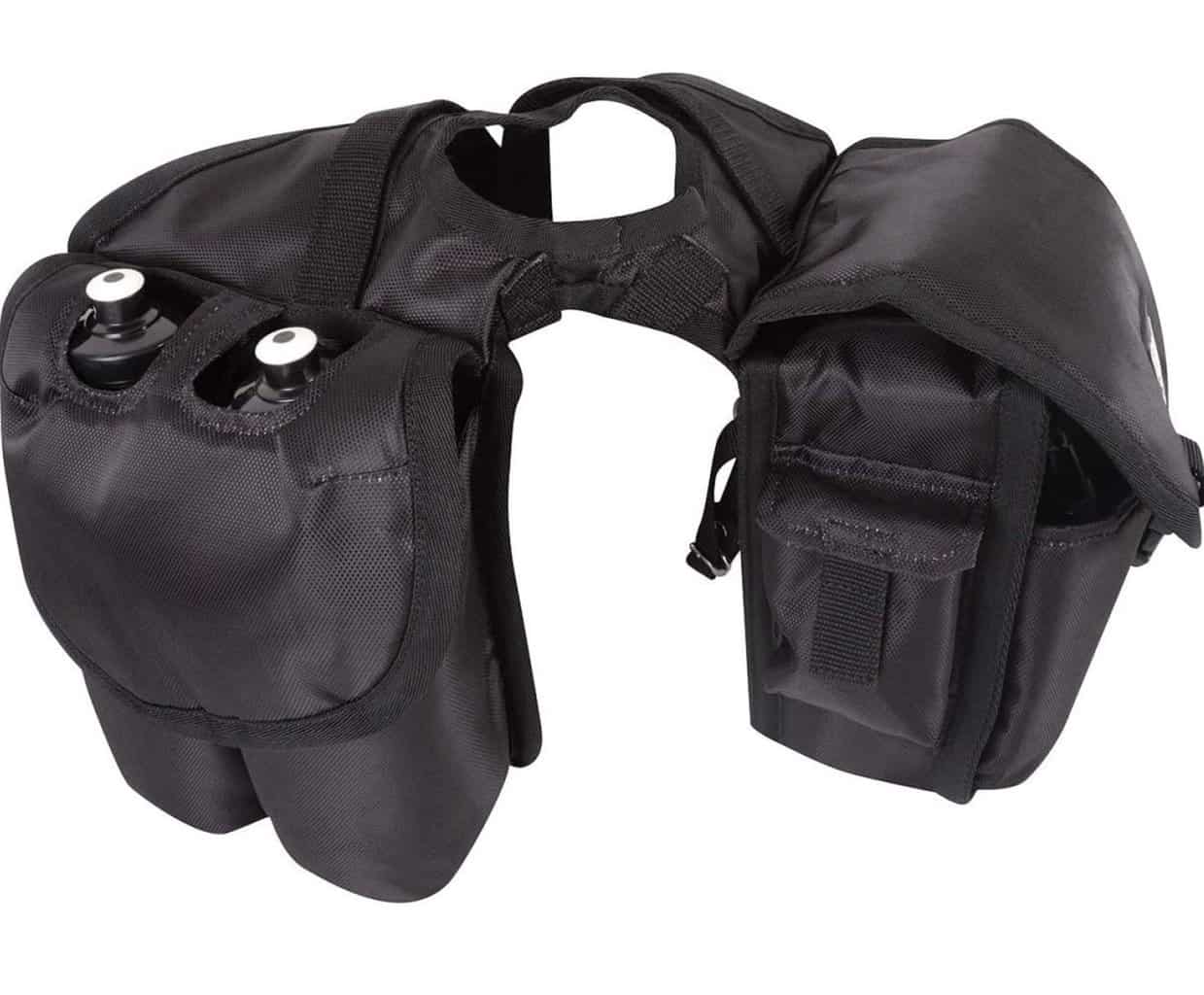 Description
If you're planning to take a couple of chilled bottles of water to your next riding venture, there isn't a better way to do it than this Cashel Quality Deluxe Medium Horse Pommel Bag. It isn't only equipped with two insulated pockets with quick access holes, but the overall padding inside will also ensure the bottles aren't constantly banging against each other.
This bag also offers hook-and-loop straps, providing a secure fit around the pommel while making it easy to take off as well. And the bag also comes with a secondary 8-inch pouch which can easily fit a couple of medium size gear like a med kit or lunch box, or even some apples as a treat for your horse.
But that's not all, as it also features small side pockets perfect for objects like cell phones. And to bring everything together, it uses 600D polyester, which makes this bag pretty tough.
Pros
The hook-and-loop straps on this bag make it relatively easy to install and provide a secure fit.
The inside of the bag is well insulated, maintaining the temperature of the water bottle stored inside.
Cons
The pommel bag comes at a pretty high price.
Tough 1 Nylon Horn Bag in Prints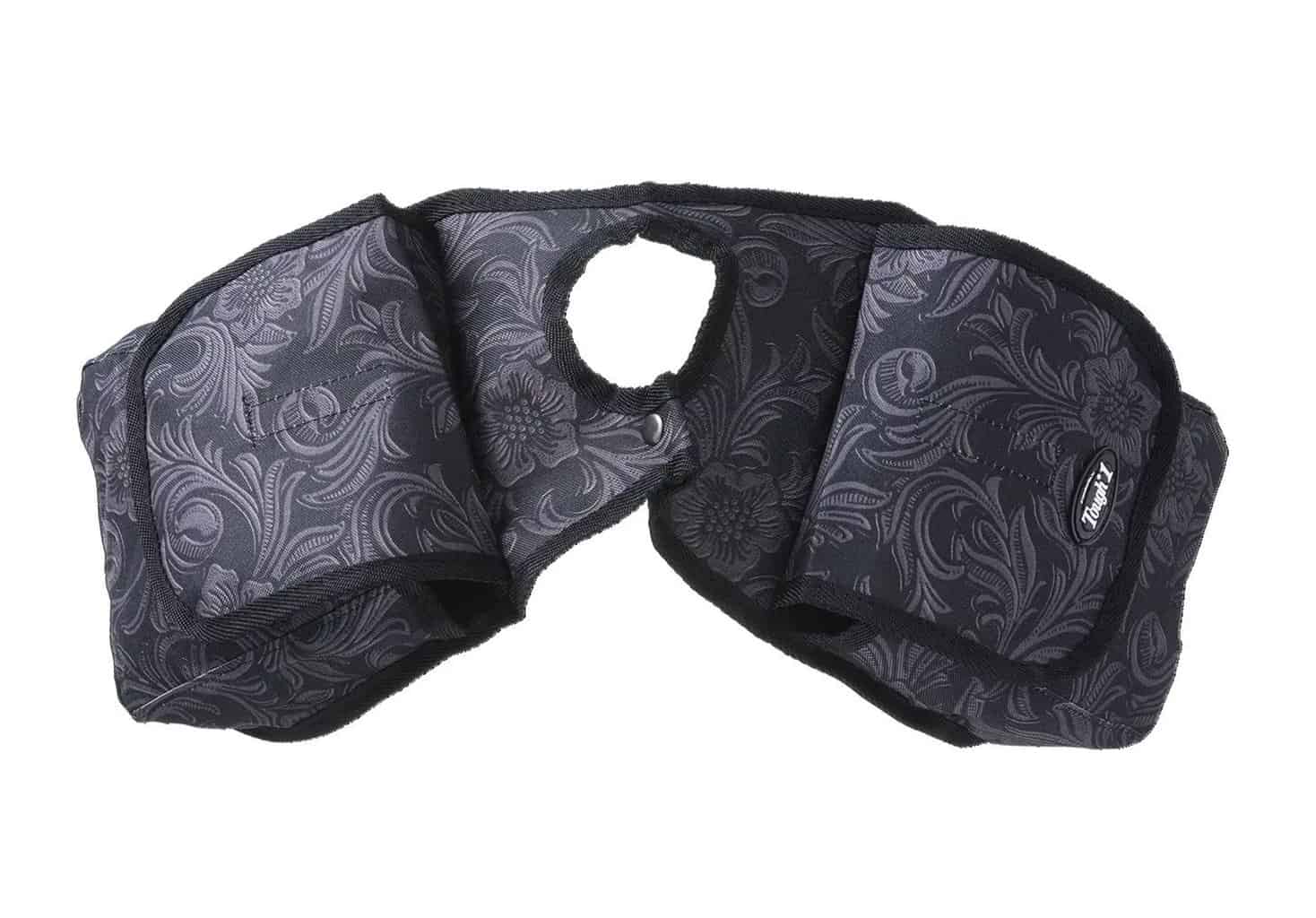 Description
The Tough 1 Nylon Horn Bag in Prints is a suitable alternative to many of the more expensive options on this list. This bag features two storage pockets on either side with no central divider allowing for a relatively spacious area despite their small size.
The pockets have velcro lined with nylon fabric. However, as this bag does not have a padded structure, the pocket flaps come off easily when a heavy gear is put inside the bag. Therefore, I wouldn't recommend this to anyone who plans to carry large pieces of gear.
This pommel bag also uses a clip on the central hole, which makes it easy to adjust, but that doesn't mean you can fit it on thick horns like one's seen on roping saddles.
Still, what compelled me to add this to my top picks is its floral design, which can be seen throughout the bag. Not to mention, this design is available in black and brown color options.
Pros
The bag comes in two colors, so you can pick the style that best suits your horse's coat.
The saddle bag comes relatively low, making it a suitable option for equestrians on a budget.
Cons
The smaller mounting hole on this bag doesn't fit on most large saddle horns.
The unpadded build of this bag gives it a cheap feel.
TrailMax 500 Series Pommel Pocket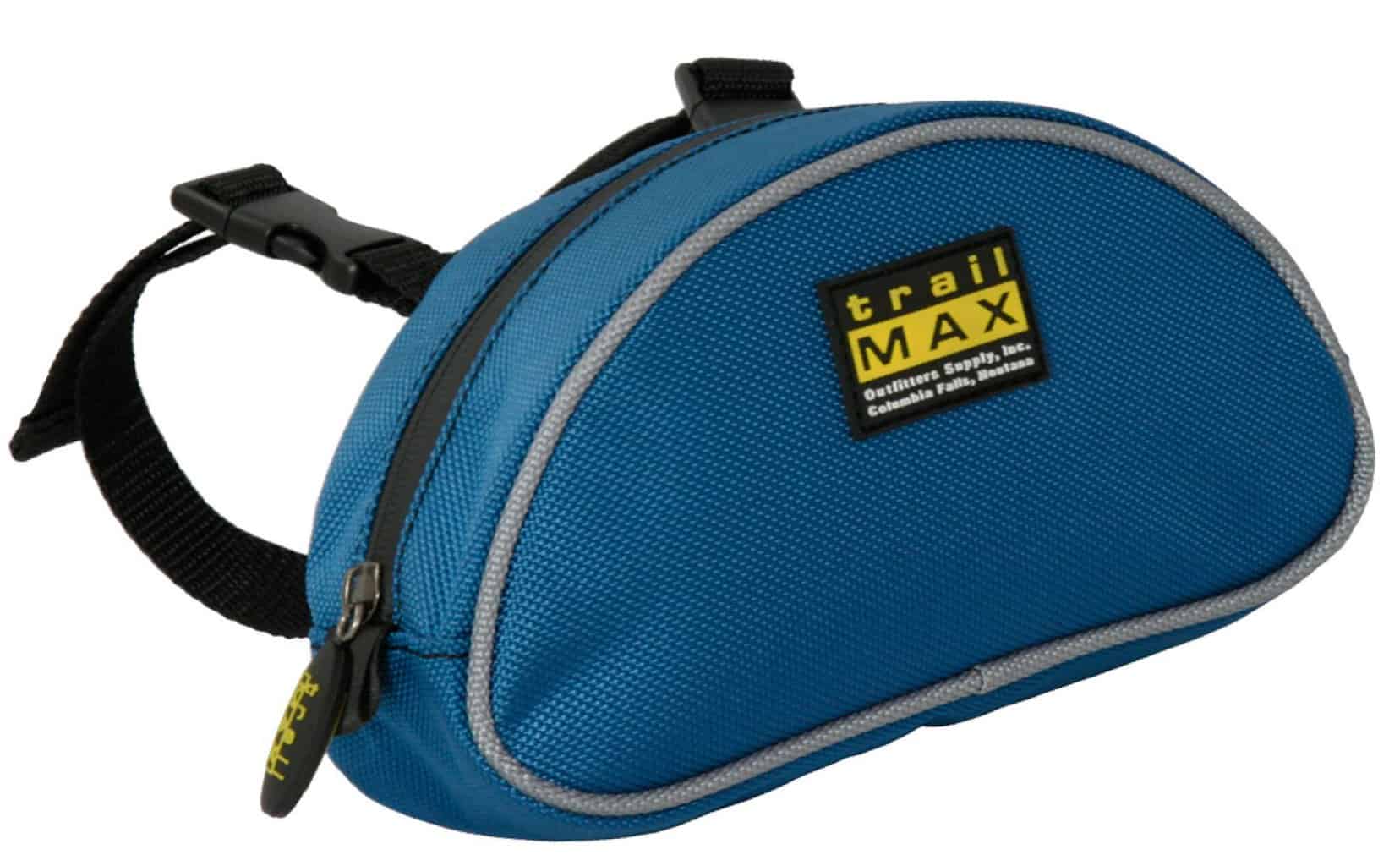 Description
Although, looking at the size of the TrailMax 500 Series Pommel Pocket Bag, I wouldn't recommend this to equestrians looking to carry something heavy or need a lot of space, this doesn't make it a lesser option on the list.
Due to its small size, this bag is pretty lightweight and easy to carry on your trails. And this also allows it to be used like a carrying bag that can even be clipped to existing pommel bags for added storage. This option from TrailMax comes with tough denier nylon, making it quite durable and resistant to wear and tear. And the small compartment is perfect for things like protein bars or walkie-talkies.
To offer further protection to your electronic belongings, this bag features ripstop style zips that prevent excess moisture during rains, keeping the inside dry. You can even select from three colorways to pick the one that best fits your style.
Pros
This bag can be attached to any other pommel bag.
All the zippers and stitching have a moisture resistance backing making them waterproof.
Cons
The pockets on this pommel bag are relatively small, so you can't carry many gears.
Ipretty Horn Saddle Bag Set Durable Pommel Saddlebag Combo for Riding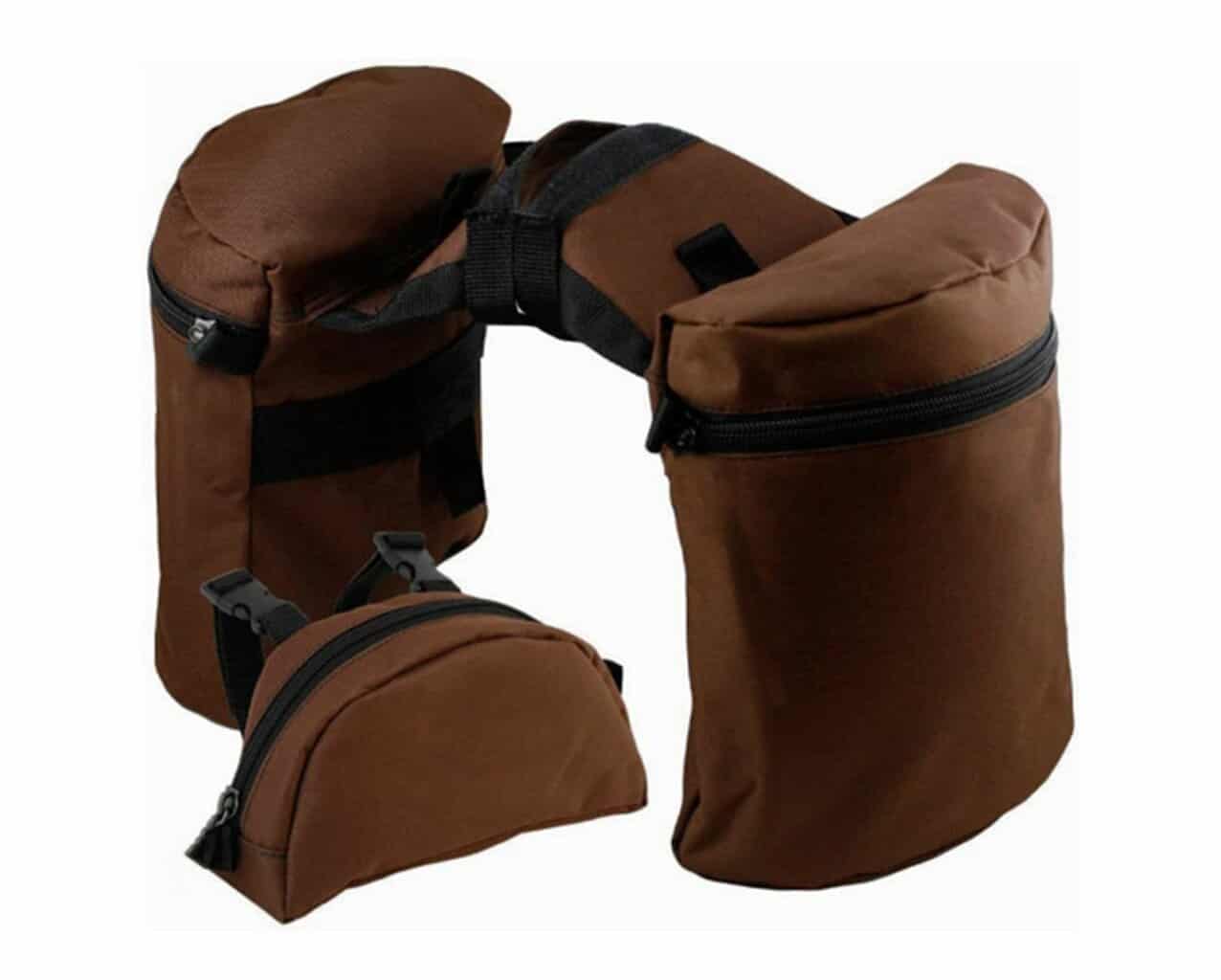 Description
This is another pommel bag option that brings in a mix of both versatility and quality. The outer layer of the bag features a relatively rigid build with a soft-to-the-touch texture, making it a comfortable option for the horse. But the best thing I found about this pommel bag is its padded structure which almost makes it feel like a soft pillow.
The fastening mechanism of this bag is also relatively easy to handle, with a big opening for the horn to slide in. And the inclusion of a couple of nylon straps further gives it a secure fit. The storage compartments on this bag are also nothing to worry about as it features two relatively large pockets, which will be perfect for storing multiple accessories and personal gear.
This pommel bag also comes with a secondary mini pommel bag which you can also attach with it. And this mini bag looks a lot like TrailMax 500 pommel bad. The best part about this bag is that all this storage capacity is available for under 30 USD!
Pros
The saddle bag comes with an additional tiny bag for smaller items.
This bag is made of anti-ultraviolet fabric that keeps its shape intact while also retaining its color.
Cons
The bottom of the bag doesn't include any straps meaning they will constantly be sliding during rides.
Circle Y Tucker Adventurer Pommel Bag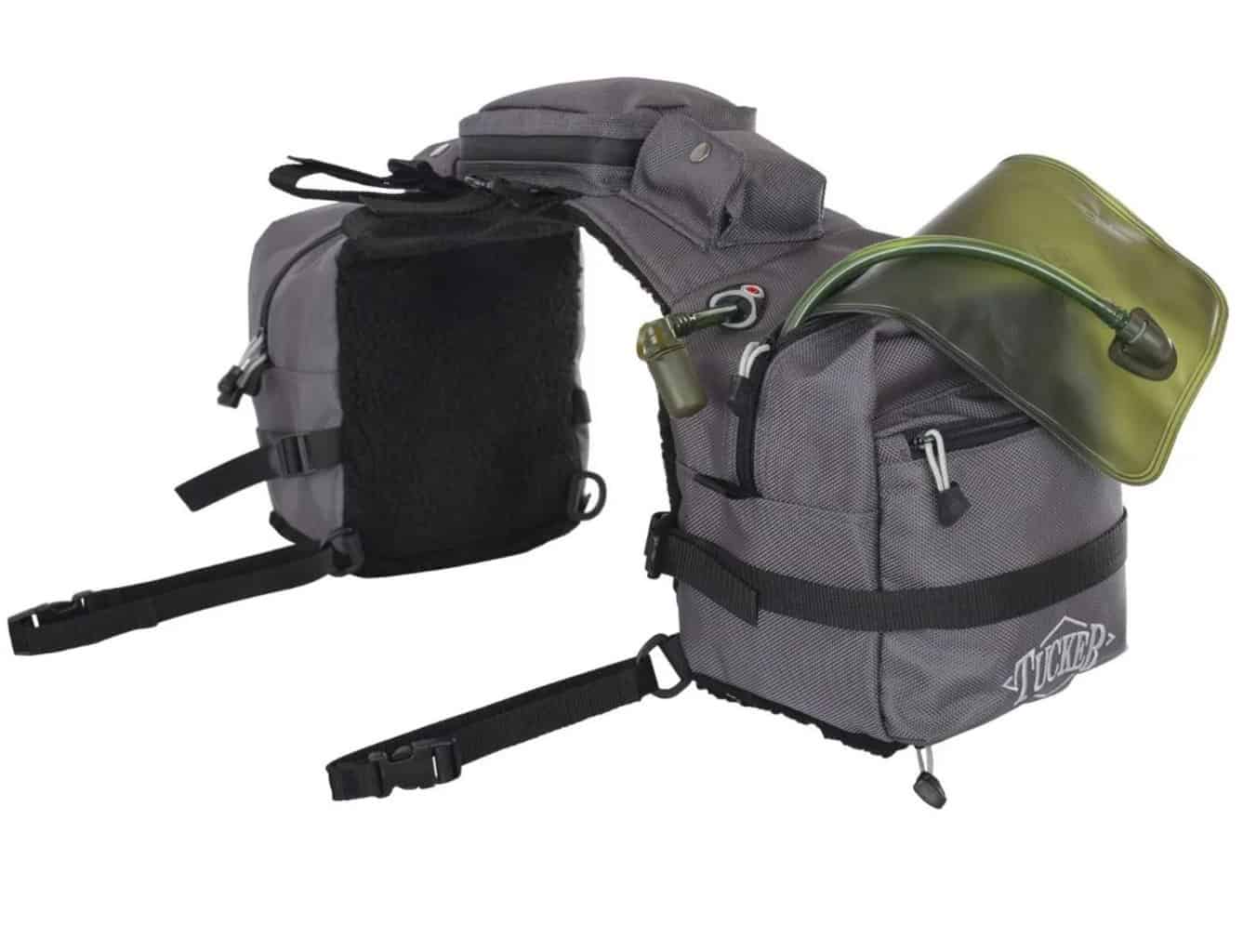 Description
Now bear with me; I know this Circle Y Tucker Adventurer Pommel Bag is pretty expensive, but what it brings to the table is like none other on this list. This bag features a 3-liter water bag that will keep you hydrated in the scorching heat. While its valve system will ensure that the water does not leak.
But of course, a pommel bag isn't complete without storage pockets. And this one, despite having an in-built water pouch, can still squeeze enough space for you to store all your precious belongings. It even features multiple smaller pockets along the strap and sides, making it all the more versatile.
Another unique thing about this pommel bag is its 4-point attachment system with multiple hooks and straps to ensure it isn't rattling or bouncing around on your horse, which can be pretty comfortable, especially when you are on long rides.
Pros
The water pouch inside the bag is pretty easy to remove and refill.
The bag has fully waterproof pockets, so you don't have to worry about your electronics getting wet.
Cons
The bag comes at a relatively high price, making it not suitable for riders on a budget.
Challenger Horsewear Suede Leather Saddle Horn Bag Tan 102AA38TN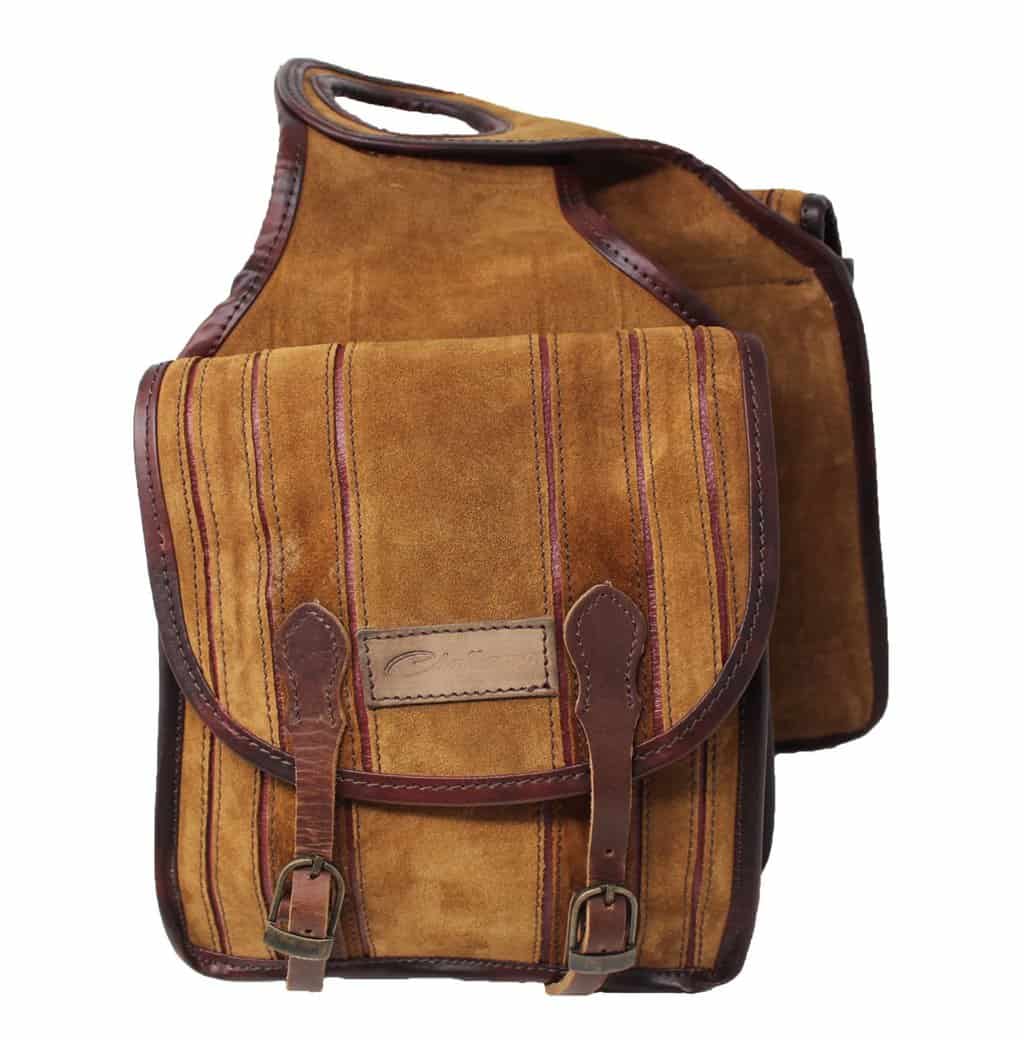 Description
This pommel bag from Challenger Horsewear is another excellent option that is quite famous among equestrians due to its full-leather build. And its soft suede texture makes it all the more lovable. This texture also makes the pommel bag relatively sleek and gives the bag a natural Tan hue.
And due to the rugged build, the bag doesn't show any scuffs or scratches. But don't get it dirty because its suede leather is relatively hard to clean. Another plus point of its leather build is its durability, which is more enduring than almost any other option on this list.
But this also makes it a little expensive despite its lack of extra features. Although this pommel bag does have two medium-size square pockets on either side, with leather belts and metal hooks for added security, the design does not seem user-friendly. You have to bend a lot to take anything out of the bag during riding.
Pros
The leather build on this pommel bag is relatively durable and will last a long time.
The leather build goes well with your horse and does not cause any irritation to its skin.
Cons
Even if you buy a brand new bag, it will look like a used one.
Weaver Leather Trail Gear Pommel Bag Turquoise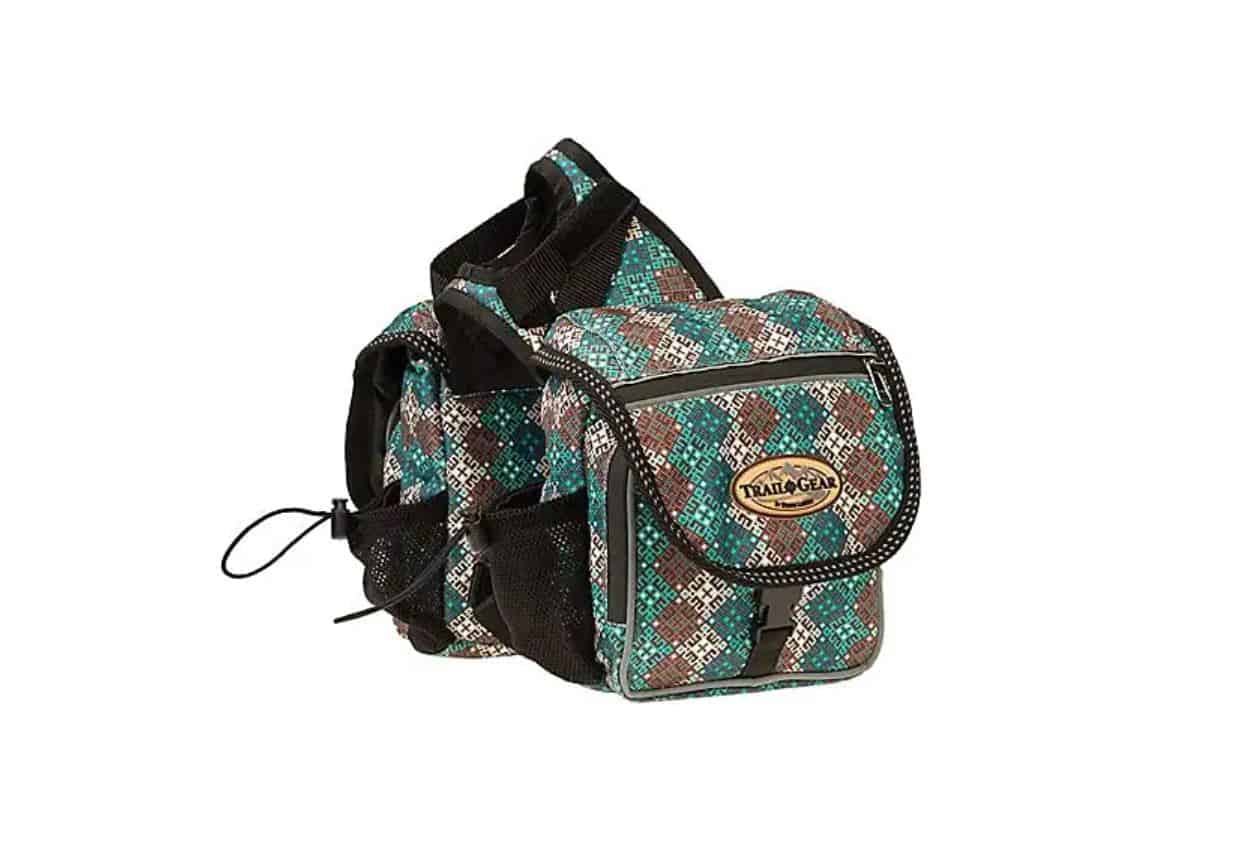 Description
If you have already researched pommel bags, you must have heard about Trail Gear's Weaver bags collection. And one bag that really stands out in its lineup is the Weaver Leather Trail Gear Pommel Bag Turquoise. And this is not only because of its extravagant design but because it contains everything a pommel bag of such caliber should have.
It features two medium side pockets with in-build dividers so you can properly manage all your belongings. And it also has extra padding around some compartments that can be used to store more delicate belongings like your sunglasses or cell phone. But that's not all, as it also comes with side loops with ties to keep your water bottles.
This pommel bag comes with velcro straps along the middle bar, which can be used to securely attach it to any size pommel or horn.
Pros
The pommel bag has a relatively elegant design which adds to its aesthetic appeal.
This bag's multiple pockets and smallholders are convenient when storing small objects.
Cons
This bag has an extended shipping time.
Mountain Ridge Gear Pommel Bag – Customizable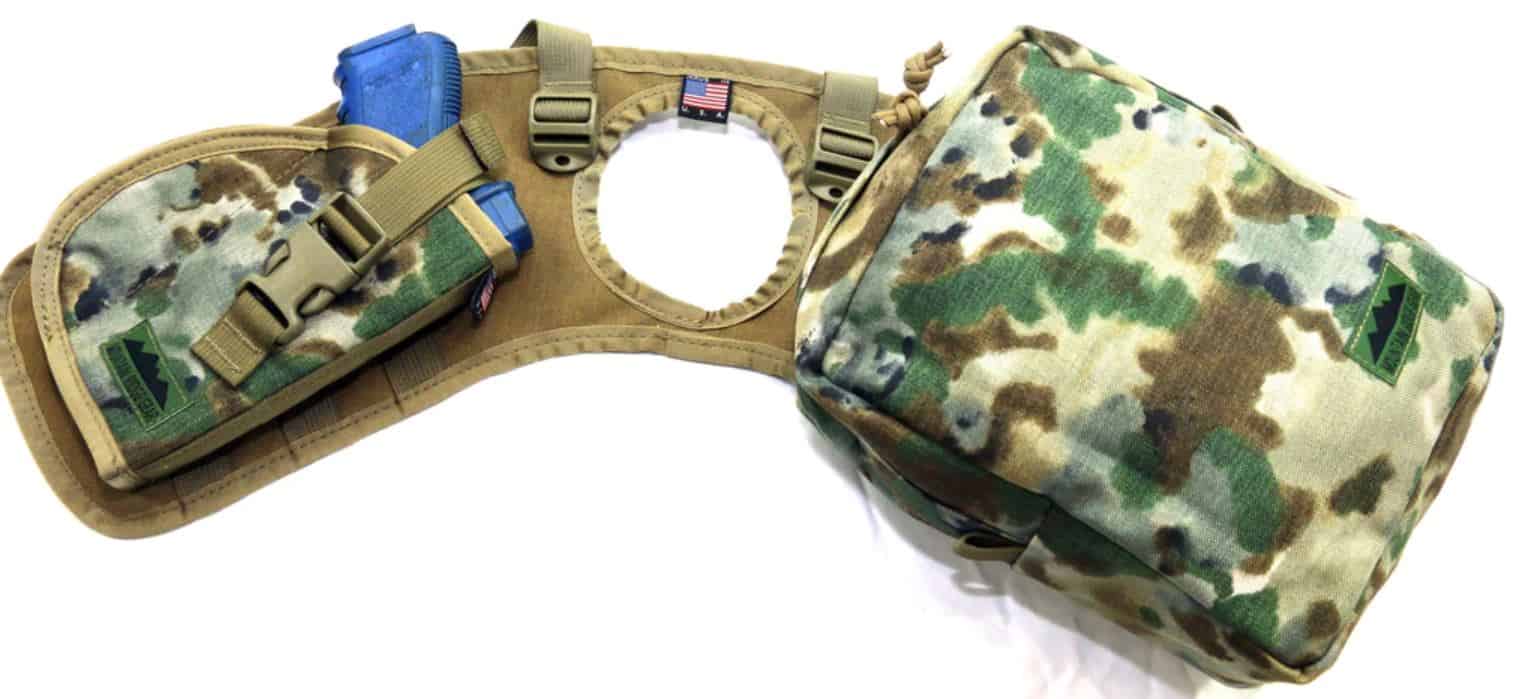 Description
Having a pre-built pommel bag with preinstalled compartments is nice, but what if you plan to customize everything on your pommel bag? With Mountain Ridge's Gear Customizable Pommel Bag, you can order what you actually need in your pommel bag. Not only does this bag feature a 1000D Nylon Cordura base for maximum durability, but it also comes with water-tight pockets and zippers for the most unexpected weather.
But if you ask me, the main feature that differentiates this from any other pommel bag is its customization level. You can choose pouches for either side from the multiple available options, including a hydro pouch and even a gun holster. And don't forget you can order this bag in a variety of color options available on the list.
Pros
The pommel is relatively lightweight, making it easy to carry.
The bag has several levels of customization, which makes it suitable for a wider audience.
Cons
All the added customization options can be too expensive for people on a budget.
FAQs
Question: Are Saddle Pommel Bags Better Than Rear-Mounted And Cantle-Mounted Saddlebags?
Answer: In most cases, a pommel saddle bag is considered superior to rear-mounted and cantle-mounted saddle bags, but before buying a saddle bag, you must consider your use.
Rear-mounted saddle bags are great for storing things that you don't want in a hurry, like your lunch or a first-aid kit. On the other hand, a cantle-mounted saddlebag is perfect for storing trim light options on the back of the cantle. But when it comes to pommel bags, these are best suited for water bottles, snacks, or even small whips that you would frequently need during rides.
Question: What Are The Different Methods Of Mounting Saddle Pommel Bags?
Answer: Traditionally, there are two ways of mounting pommel bags. One method involves attaching the bags with the included leather or nylon straps with the pommel or the D-rings of the saddles. This method is usually the most popular one as it isn't only more secure for the bag but also allows it to be mounted away from the rider's legs.
The other way pommel bags are mounted is by using the horn. The center hole of the bag is passed through the saddle's horn allowing the load to rest on the pommel. This method is relatively easier to mount but also a little frustrating as the bags constantly touch your legs.
Question: How Much Weight Can A Pommel Saddlebag Carry?
Answer: Although there isn't a clear answer to this, one thing is sure, a pommel bag can usually carry more weight than a traditional saddle bag. And this isn't because of the materials they use but their positioning.
A standard rear-mounted saddlebag is generally mounted just above a horse's kidneys, making that area quite sensitive to weight. While pommel bags are located just above or on the sides of its withers, an area where horses can withstand a lot more weight.
Another thing to remember is that the size of the pommel bag can also affect the maximum weight it can carry. For most medium size pommel bags, this capacity is around 200 lbs.
Best Saddle Pommels: The Ending Load
Horse saddle pommel bags are a great way of carrying your everyday essentials on your horse rides. And this is primarily because of the versatility these types of bags offer. These are relatively easy to mount, and due to their front-mounted design, almost all pommel bags are easily accessible, even while riding.
And this point is further substantiated by the amount of variety they offer; from different storage compartments to various designs, you can get the bag best suited for you. But this also makes them a huge hassle while buying, as you just can't settle on one option, especially if you are purchasing them for the first time.
So to make your buying venture more streamlined, I recommend you decide what you want to carry in your pommel bag beforehand. Also, try to look for authorized and genuine dealers, and if possible, always try to shop retail. And, of course, setting a budget for yourself is always a good idea.
Now, if you don't want to follow all these tips and just want one reliable pommel bag option, then you can count on my favorite Weaver Leather Trail Gear Pommel Bag. This bag doesn't only have an elegant lively design but is also relatively lightweight. It also comes with several multiple-size pockets so you can store as much as you want.
I hope, by now, you have gained a good insight into how to buy a good horse saddle pommel bag. Now get ready to go on long trails without worrying about leaving anything behind. Happy loading!