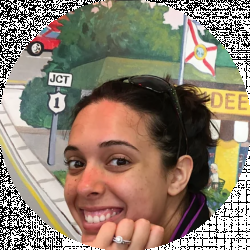 Latest posts by Marissa Moss
(see all)
I was on my way to pick up my very first horse. Didn't know the first thing about ACTUALLY transporting a horse. But I was determined to make it happen. My dad and I made our way from Ohio to Indiana in a borrowed pickup with a borrowed horse trailer.
While the pickup was in great condition, the horse trailer was a little bit of a different story. It was a two, maybe three-horse trailer that looked as if it might not make the trip there, much less back home. However, the owner of the trailer assured us it was sound enough to make the trip.
My dad and I didn't know how to transport a horse. When I think back to that day, I shake my head as I'm reminded of the saying, "God protects babies and idiots."
Since that day, I have learned a great deal more about horse trailers. How to care for them, and how to make sure your horse is comfortable in them. One of the ways to keep your equine friend comfy on a trip is to make sure that what they're standing on is good for their joints – which is kind of important when traveling for a show or competition.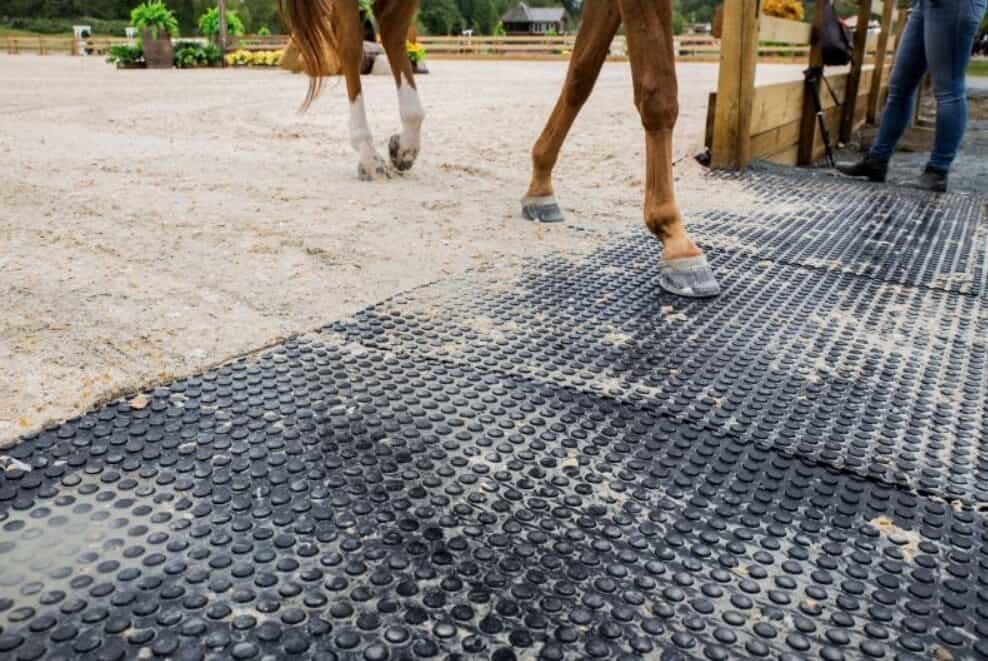 The Bottom Line
Horses were designed to be transportation – not necessarily to be transported. Horses can experience stress and discomfort when going on a road trip. Trailer mats help make any journey a little less stressful for them and their joints.
My personal favorite trailer mat is the one made by Etrailer. It is a half-inch thick and comes in a minimum 15-foot-long roll. So if your trailer is on the smaller side, you have plenty to cover pretty much the whole inside!
Personal Favorites at a Glance
Etrailer Mat Roll – Best Overall
TCS Stall Mat – Most Durable
Red Barn Stall Mat – Best for Minimizing Odor
What Is a Trailer Mat?
A trailer mat is basically one of those rubber kitchen floor mats that make cooking or doing the dishes so much more enjoyable because they keep your feet and back from hurting. They also provide great traction for your horses – enabling them to find good footing either while you're driving those winding country roads or when someone inevitably cuts you off in traffic, and you have to break suddenly.
Trailer mats can also be installed along the inside walls of your trailer and provide extra assurances that your horses won't get injured during your road trips.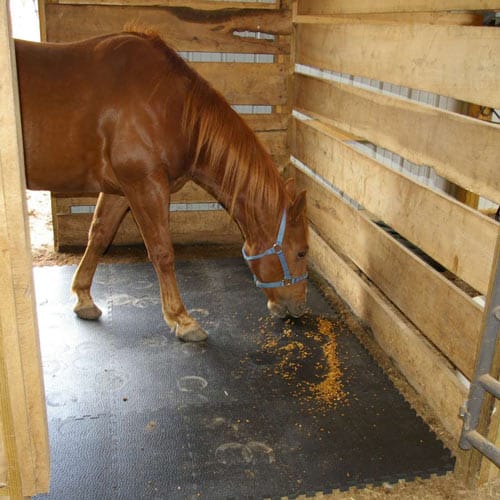 Buying Tips
Trailer mats are typically made of rubber. New mats can sometimes have a strong rubber smell, so I suggest installing them a good week prior to your road trip – if possible, of course – if you don't have that extra time, it's totally not the "end of the world."
What I suggest looking for when getting ready to purchase mats for your horse trailer is to look for ones that are no less than 1/2″ thick. Some mats are made as much as 2″ thick. Keep in mind that the thicker they are, the better they'll hold up over time. One idea to keep in mind is to make your horse trailer more comfortable for your horse is to put the 1/2″ thick mats on the inside walls of your trailer and thicker ones on the floor and ramp of your trailer.
Selection Criteria
Here is what I like to look for when getting ready to purchase trailer mats.
Durability – making sure the mats are durable is probably one of the most important things. This is going to be for a horse to walk and stand on, not a ballerina, so durability is priority #1
Thickness – a mat that is 1/2″ to 3/4″ thick is perfect for the floor, the ramp, and the walls
Quality – if the company you're purchasing your mats from come with a solid quality or money-back guarantee, you're getting quality (most companies know it's only safe to offer that if they never or rarely have to offer it – that's just good business)
Here Are My Top Picks for Trailer Mats
Trailer mats are used to help to protect the horse during travel and to help keep them from slip-sliding around both during travel and on-boarding/off-boarding the trailer.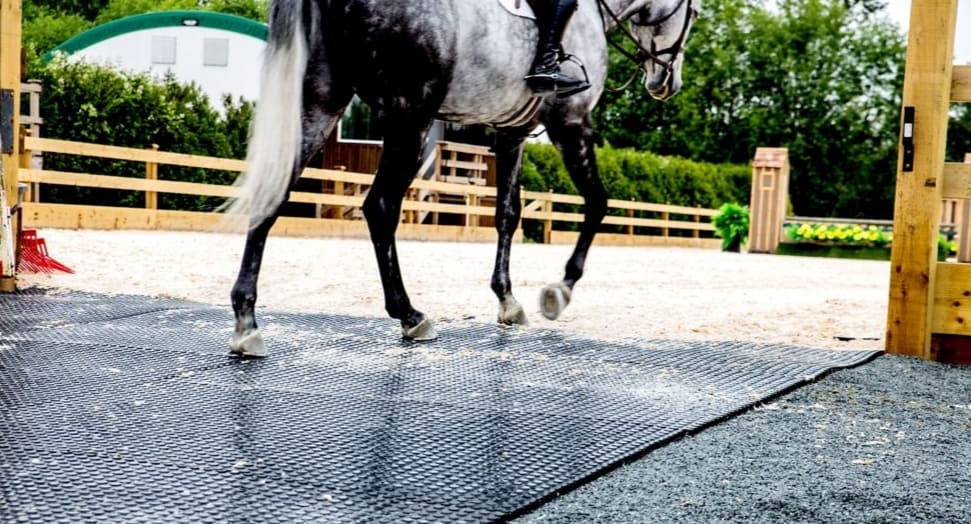 TSC provides some heavy-duty, durable mats. They have the tensile strength of 321psi, shore hardness of 65, and tear resistance of up to 122.5psi. These mats are crazy strong. They also come with a 5-year warranty, which is helpful if you transport your horse frequently.
These mats can sometimes run a bit on the small side. Take the measurements of your horse trailer carefully, so that you can purchase all the mat you need and not be surprised coming up short when completing installation. They can be semi-easily cut to fit anywhere with a sharp utility knife.
The fact that TCS can brag about how durable their mats make them a very smart purchase. I do enjoy know exactly what I'm getting myself into when making such an important purchase. If it's great for my horse, it's great for my peace of mind as well.
Pros
3/4″ thick
Can be used for floors and walls
5-year warranty
Cons
Strong smell
Smaller than advertised
Pricey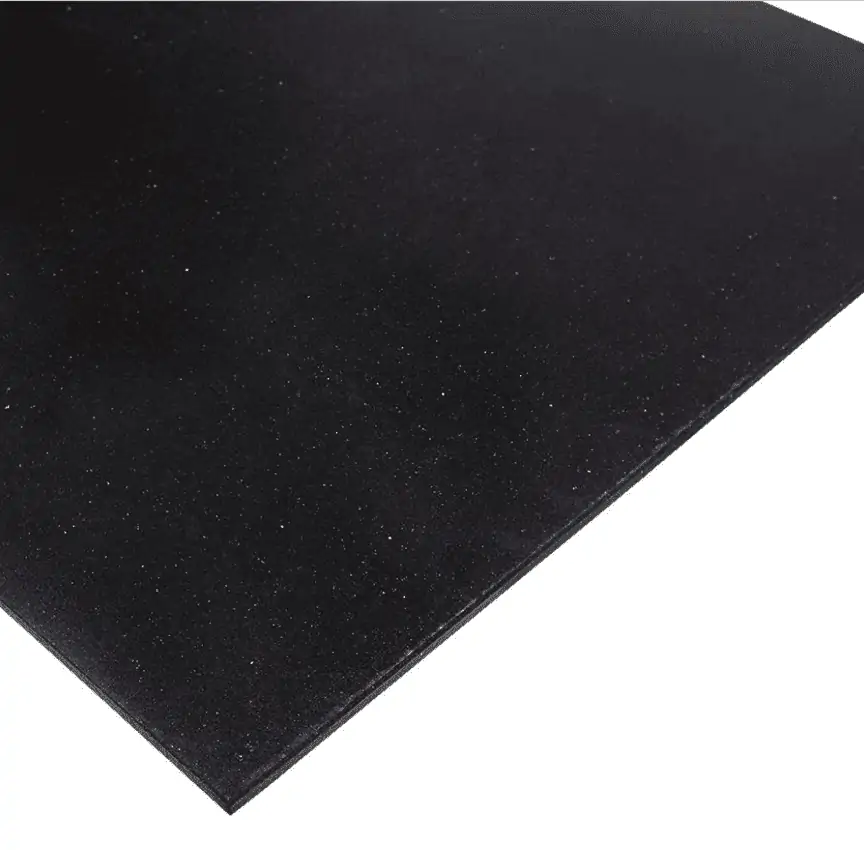 You'll be hard-pressed to find anyone who dislikes the Red Barn Classic mat! It's extremely durable, provides traction and comfort. They minimize the smell of urine and other "animal-y" smells and come with a 15-year warranty…15 years!
This particular mat is 3/4 inch thick and comes in several different sizes, making it easy to find the perfect fit for your trailer. The mats can also be cut to size with a utility blade.
Now don't be fooled by the title. Though it says "stall mat," these bad boys can be installed in your horse trailer as well. In fact, these mats are some of the highest-rated mats you can find! Pretty much anyone who has bought them goes on and on about how great they are. Definitely a worthwhile investment!
Pros
15-year warranty
Urine/Odor management
100% Recycled Vulcanized Rubber
Cons
potentially slow shipping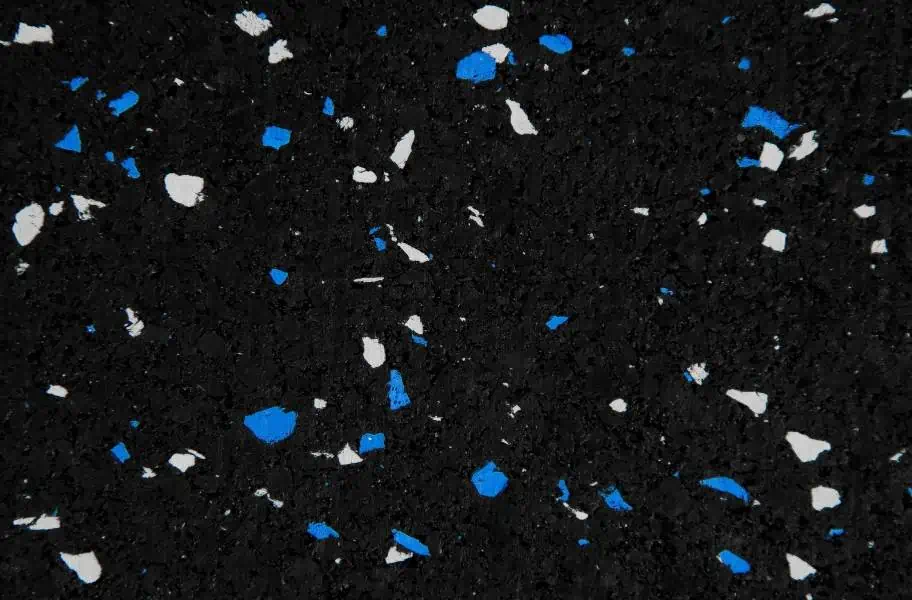 Rubber Flooring Inc makes a great rubber flooring! This one comes in a roll measuring 4 feet wide. They do require a minimum of a 15-foot long – or more than 15 feet – roll to be ordered. The roll can be cut with a carpet blade. It's pretty tough stuff, so have a few replacement blades at the ready.
Rubber Flooring also includes a 5-year warranty with the purchase of a roll of their rubber flooring. It's also easy to clean and relatively easy to install. While it typically takes two people to install, it can easily be installed with double-sided (think carpet strength) tape or super strong glue.
Pros
Priced by the square foot
Easy to clean
Easy to install
Cons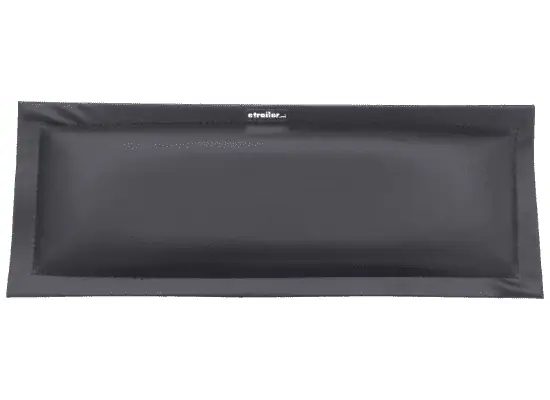 The Horse Trailer Breast Pad that Etrailer provides to horse owners is absolutely revolutionary. It provides extra protection that is perfect for your horses' shoulder area. The pads are a bit on the smaller side. This is mainly because they are designed to be used for a specific area. I recommend purchasing a few pads at once – enough to fully pad your horse trailer.
I really love how they have packaged their trailer mat. They do require that you purchase at least 15 feet at a time (but you can absolutely buy a longer roll if your trailer is on the larger side). To me, that seems much easier than figuring out how many individual mats I may need. Plus, I grew up with a mom who liked to quilt, so I'm a little OCD about lines and corners matching up.
Pros
Quality Product
Great Customer Service
Cons
FAQs
Question: What are Trailer Mats good for?
Answer: Trailer mats are great for adding protection to your already safe horse trailer (or, if it's like the one I borrowed, a not-so-safe trailer). Mats on the floor and ramp helps to add traction so that your horse doesn't slip-slide around while riding inside. Mats on the walls, however, help to ensure that your horse doesn't get scraped or injured on anything.
Question: Are Trailer Mats necessary?
Answer: While trailer mats aren't absolutely necessary, they do greatly help reduce the risk of your horses getting injured while on the road. If you and your horses tend to frequent shows often, then trailer mats would be a smart accessory to your trailer.
Question: What should I look for when purchasing Trailer Mats?
Answer: Start by looking for mats that are 1/2″ to 3/4″ thick. Next, make sure it's made of super durable rubber. The company's quality and/or money-back guarantee is a good place to start. Product descriptions and other customer reviews will also help you determine what would be the best choice. A good place to start looking is with the aforementioned trailer mat options.
Final Thoughts
Whether you are putting serious miles on your truck and horse trailer – or if you keep your trips local. Trailer mats are going to be one of the best investments you will ever make for your peace of mind and your horses' protection.
Full disclosure, I was one worried 15-year-old that whole trip to Indiana and back to Ohio. I prayed the whole way there and back that everything would work out smoothly.
Good news…
It did!
Turned out to be the best trip ever!
While I didn't know about trailer mats back then, I can say that having some mats installed prior to the trip would have made it a lot less stressful.
And I think it's safe to assume that having mats installed in your horse trailer will make your trips much easier for you and your horses.
Read More: